The Speedhunting Express Train which I boarded back in April this year has taken me on an interesting and exciting journey. During the recent Gatebil adventure to Norway my eyes were treated to so many new automotive happenings that even nearly two weeks on, I'm still struggling to take it all in. One thing my brain has 100% processed and reaffirmed is this: it's the people that make Speedhunting so special.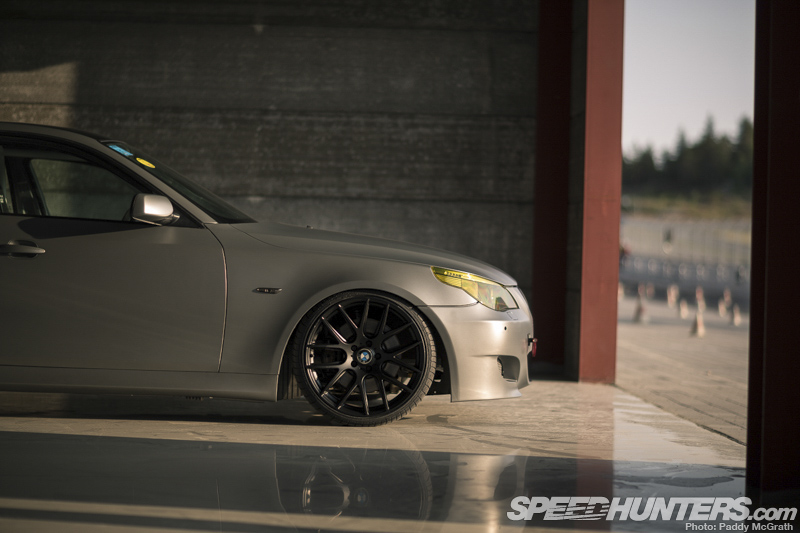 Before I could even say "Hello", I remember being told by grown-ups that unknown people were dangerous. "Don't talk to strangers", they said. Okay, so outsiders and newcomers are not to be trusted. You've got to avoid them, right?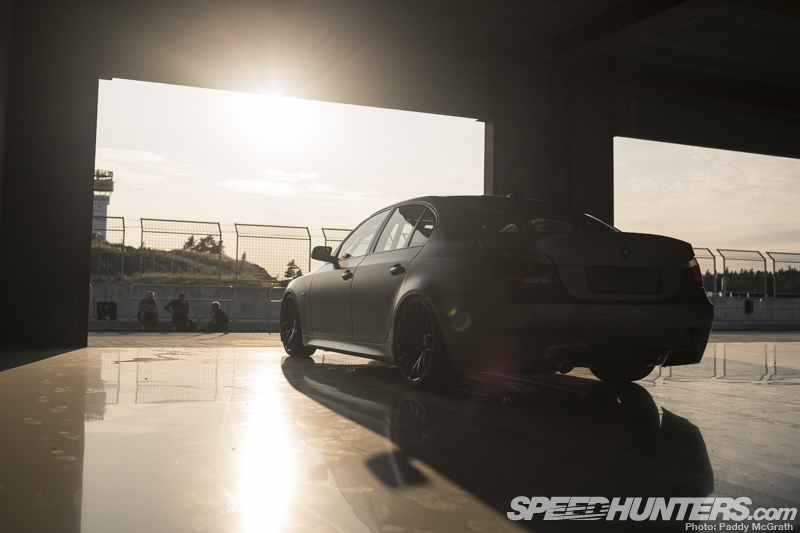 Absolutely not. What a load of old nonsense that 'rule of life' turned out to be. Take Gatebil, for example. After a ridiculously tedious and slow drive from the airport (the speed limits are so low I swear Norwegians must crash due to boredom), we arrived at Rudskogen Motorsenter and Paddy disappeared. Maybe he's gone to find beer in order to celebrate the airline finding his twenty-five grand's worth of camera gear they temporarily lost during his multiple flight journey to Oslo, I thought.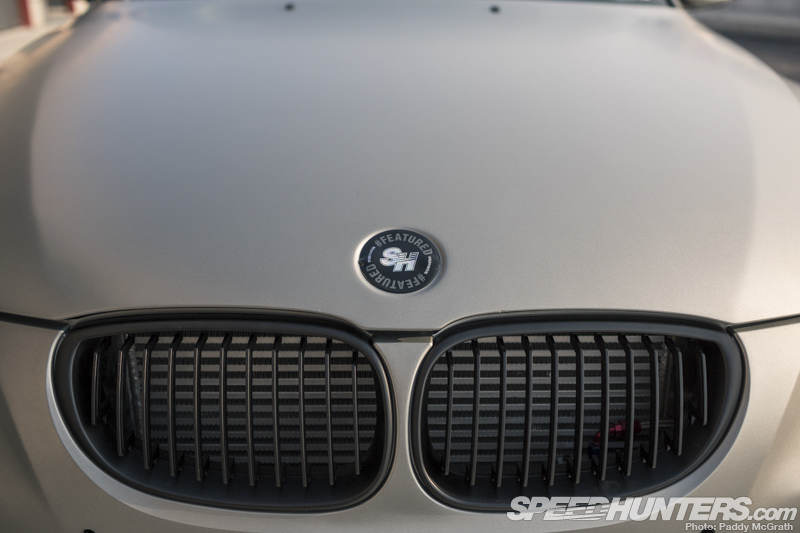 But no, Paddy is a man on a mission. He and Rod were talking to strangers, making friends with them and were finding out about their pretty cool-looking E60 BMW. On face value, it looked like one of the many matte wrapped BMWs that I get to see on a daily basis roaming the streets of London. What's all the fuss about? I wondered.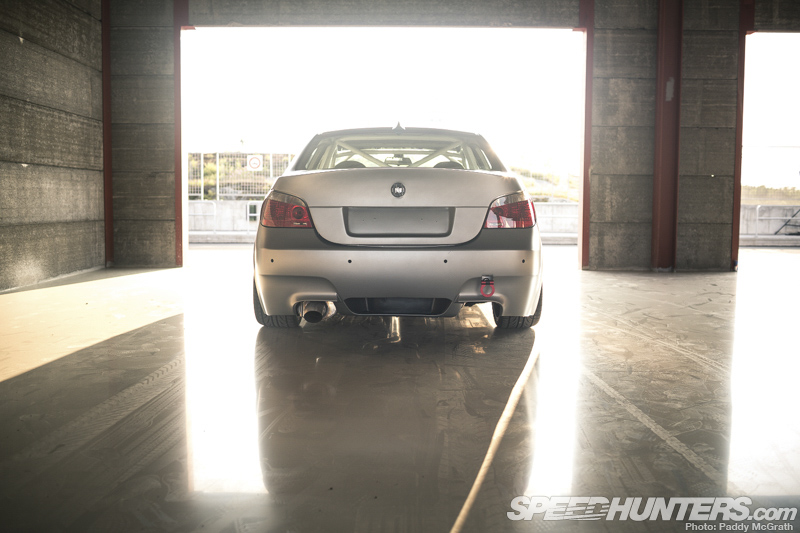 Getting closer to their private pit garage party that I was about to crash, I spotted a cage in the car…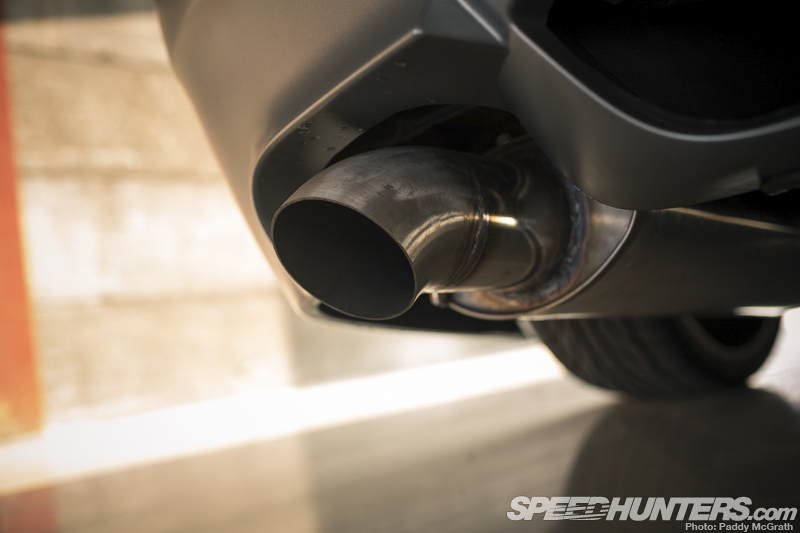 … and then the exhaust. This BMW wasn't your usual city-slicking attention seeker – this car was here for the race track party!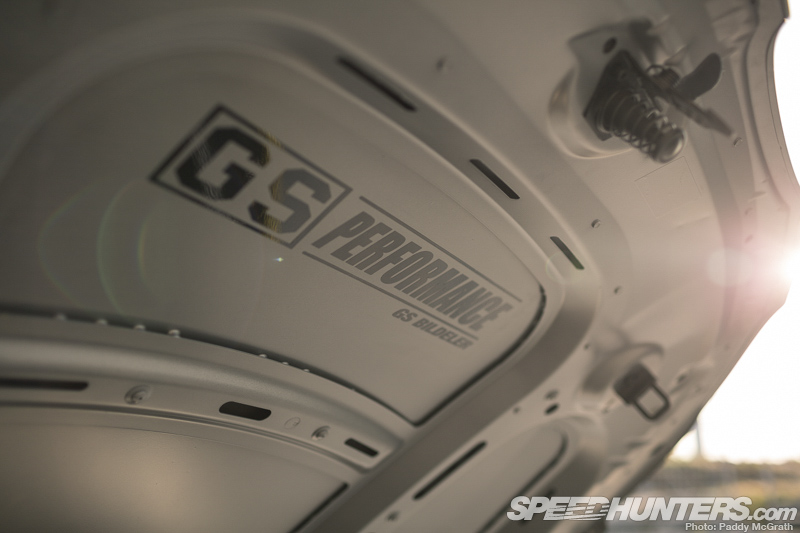 Bonnet up and things were surely going to be interesting. The single exhaust suggested something more interesting than the usual M5 motor would be nestling in the engine bay.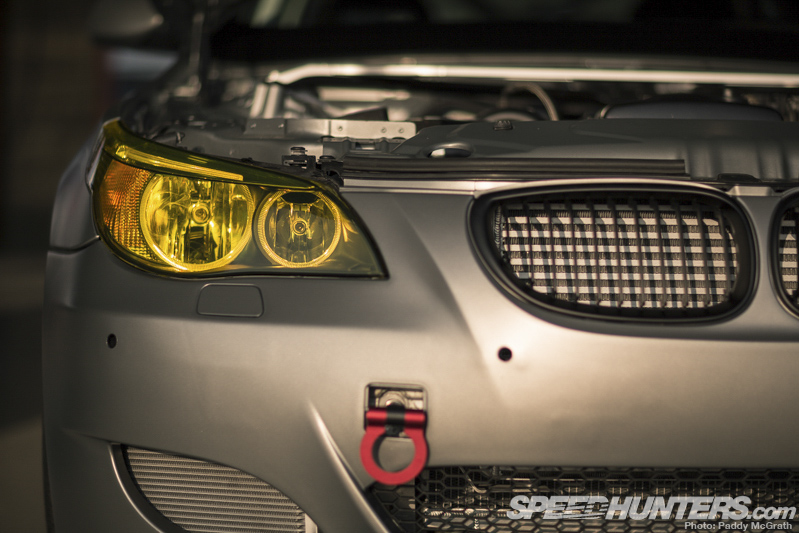 Moving in, I figured it would be a force induced lump of the BMW kind packing some insane power.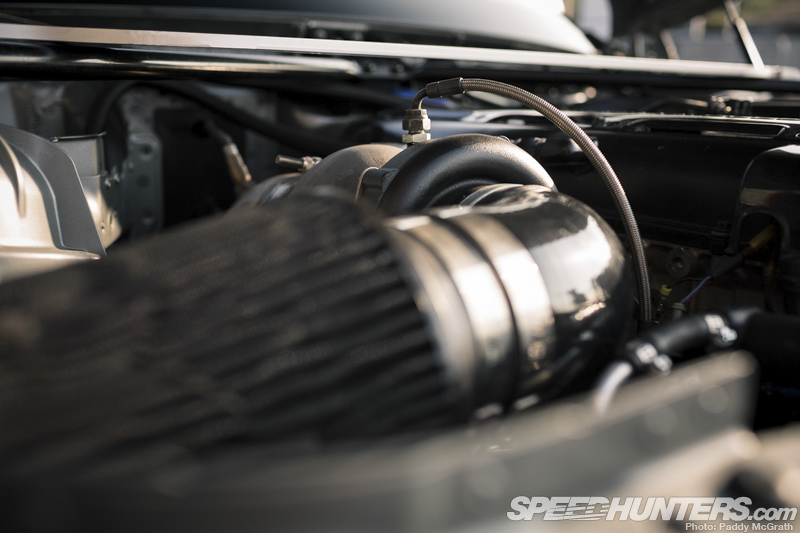 And for sure there it was, the obligatory great big turbo. Scandinavia is great… I love every single inch of this fantastic place and the lovely people that build these wonderful machines. But just when you think things are looking pretty-damn-good-out-of-ten, the Scandi people always manage to turn things up a notch…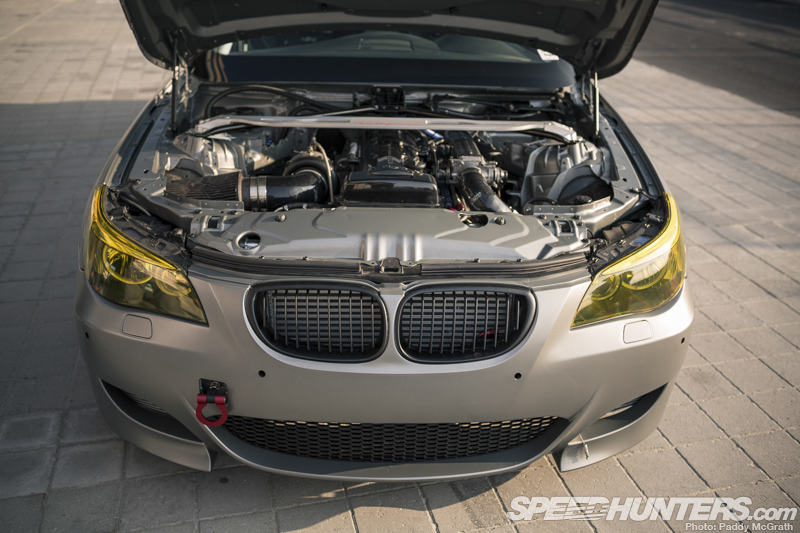 Yep, that there is a 2J-motor. This car is a hybrid!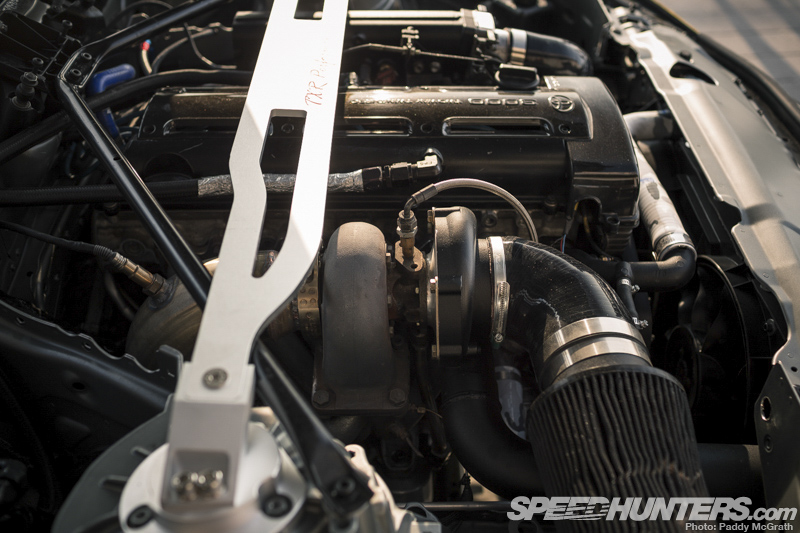 But of course this is not some eco-warrior pleasing creation kicking out high MPG figures on a mission to save fuel and the planet we live in. No, no, no… This automotive creation is a hybrid of the very best kind. It's a German body with a Japanese heart and a Norwegian soul.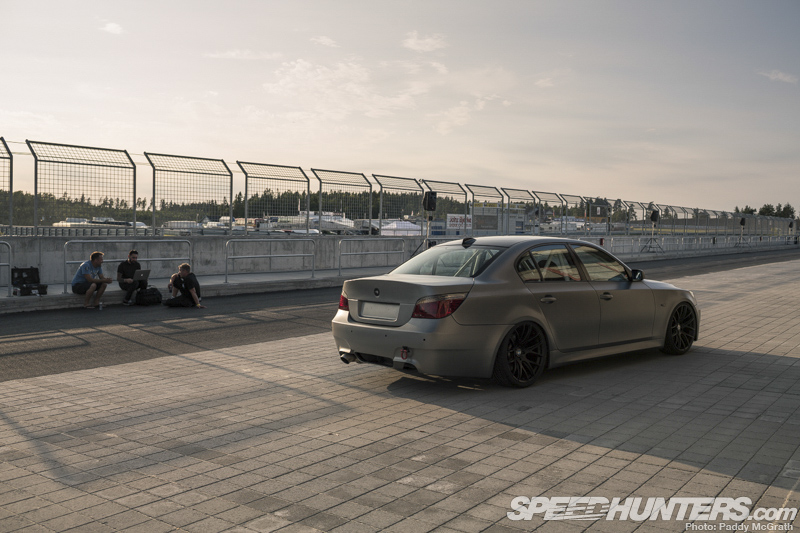 Sitting down in the perpetual golden hour that graces Norway at this time of year, I soon realise that the owners and builders of this machine are not normal. Stig Berge and Sigurd Steensohn are, in the most positive way possible, both insane. You only need to spend a few minutes with these two to realise how passionate they are about car culture and they're an absolute pleasure to be around. I love the way that people who are genuinely into cars will often give up their time to chat about their creations pretty much no matter what. Stig and Sigurd had just arrived at Rudskogen and had much stuff to do. Y'know, just minor things like finishing off mapping their BMW's Toyota heart!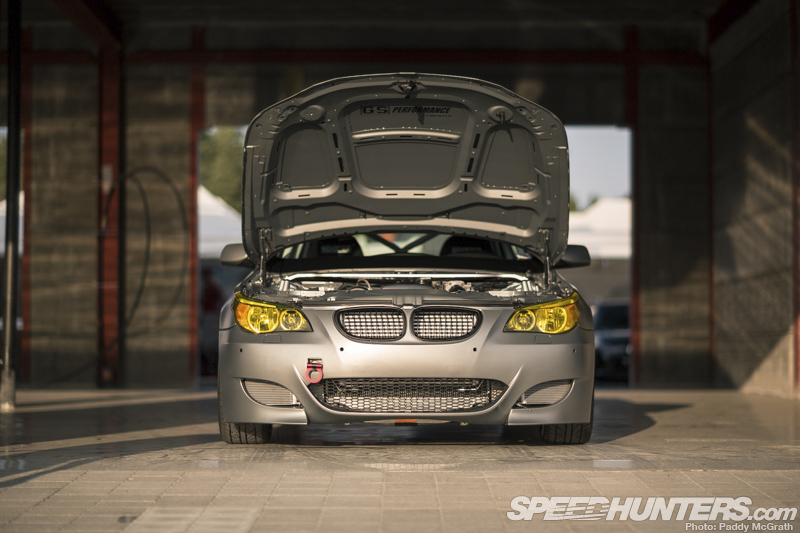 These two guys have been coming to Gatebil since the year 2000 and at that time they were into Sierra Cosworths. In fact, that's how they met. This story is beginning to sound like some sort of relationship that results in a marriage, but worry not, these two are not a couple (I checked). Stig and Sigurd are a pair of like-minded people brought together through their love of going fast. They both still have their three-door Cosworths, but after doing the usual 500bhp+ thing, they got sick of their big-powered YB motors constantly breaking. It was time to have a rethink.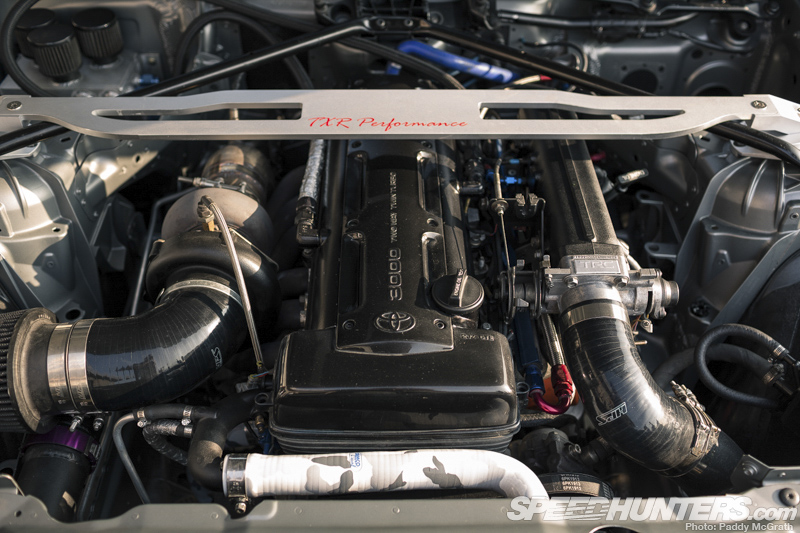 Based in Grimstad, which is around a six hour drive from the track we were at, the guys have a workshop where they live out their automotive fantasies. Their current car building location is actually their third unit which they have rented together. It's not a buiness, though. Simply a place to go and enjoy creating madness, which also provides a place to store their vehicles.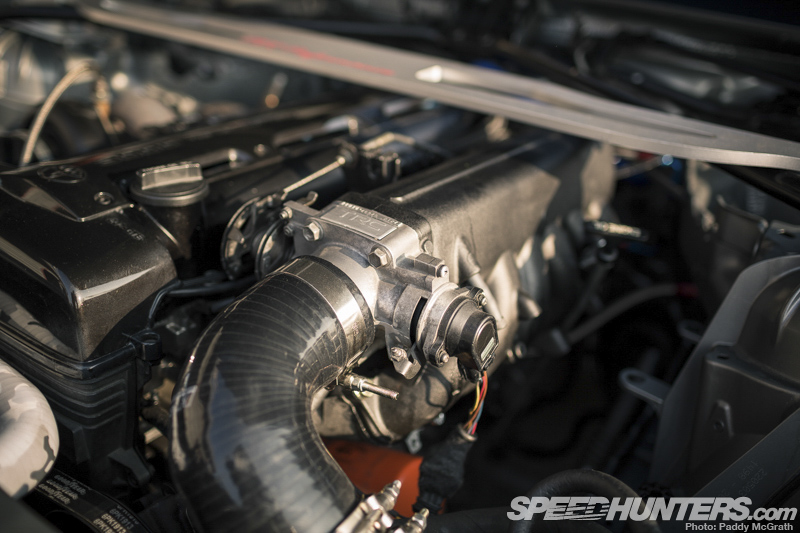 But why a 2JZ motor? Well around five or six years ago both Stig and Sigurd saw a Supra out on the racetrack and had an epiphany that would see their automotive direction change for good. Intoxicated by the sound and blown away by the performance and reliability of the 2J-powered Supra they saw, the friends made the decision to go for a motor of the Toyota variety.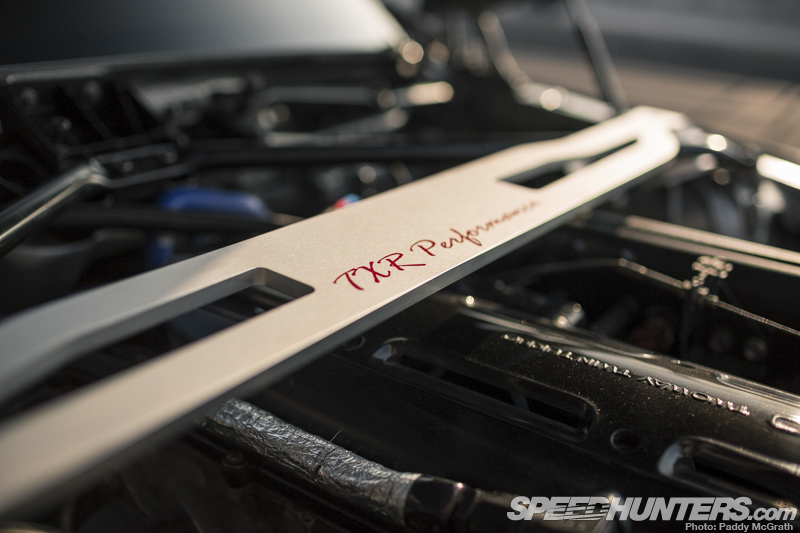 So the friends bought a Supra, right? Oh course not… This is Scandinavia: they purchased a Volvo!
In 2008 this E60 wasn't even thought of. Nope, back then Stig and Sigurd had just picked up a Volvo 240 which was a wreck car and sourced a 2JZ motor from a Toyota Crown. Three weeks of frenzied work saw the power plant packing a single turbo and delivering just over 500hp. The 240 ran a Hi-Ace gearbox, which, as Stig and Sigurd joked, was not as strong as the turbocharged motor!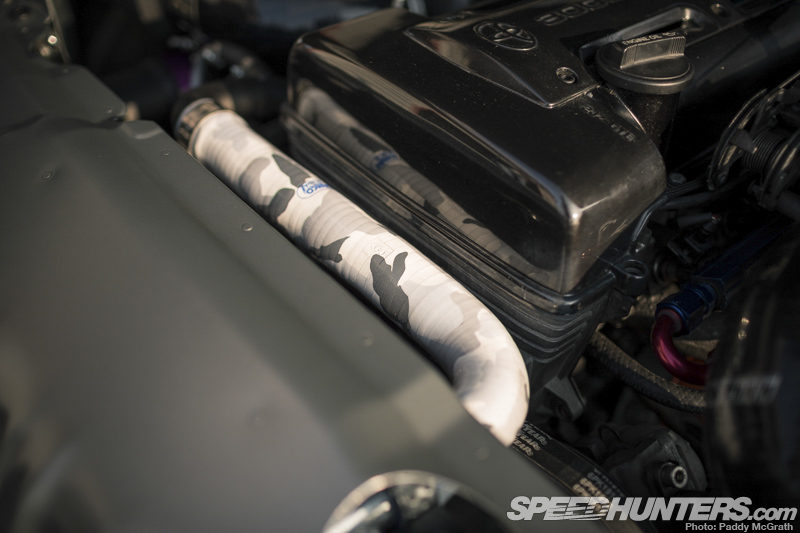 Fast forward to the following year and the Volvo is getting re-developed. In 2009 the turbo was swapped and this change, combined with new engine management and E85 fuel, helped the lump achieve 651hp on the engine dyno. With an R154 Supra gearbox employed to handle the power it was time to have some fun. And much craziness was had until a new opportunity presented itself.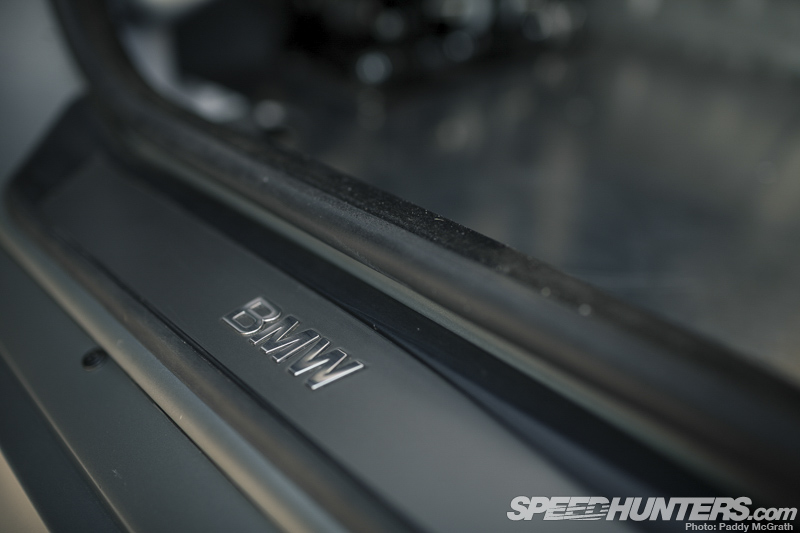 An opportunity of the Bavarian Motor Works kind. Back in December last year Stig and Sigurd sourced this 520i shell from Denmark. Apparently there were some riots a couple of years before and five of these cars had been set on fire and subsequently written off by insurers. Lets hope they were the terrible 2-litre powered E60s and not the awesome M5 models! Anyway, this E60 was a burns victim which had suffered a fair bit and it was Stig and Sigurd's job to bring this shell back to life.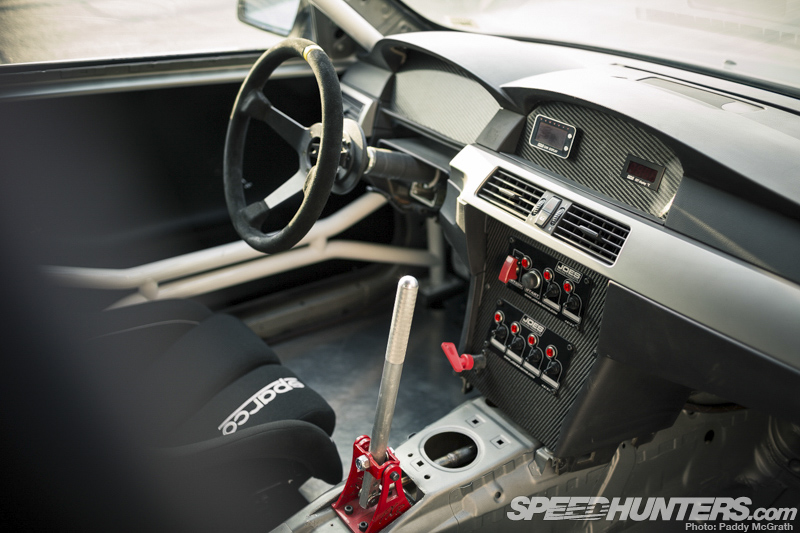 Looking at the BMW's innards I think it's fair to say that the two friends have done a pretty amazing job on the resurrection! The interior is a sight to behold. The cockpit is phenomenal! When you're sat in the drivers seat the switchgear makes this feel more like a fighter jet than an automobile and long gone is the terrible BMW iDrive system. The car is now destined for a life of race tracks and high speed rather shopping trips and climate control confusions!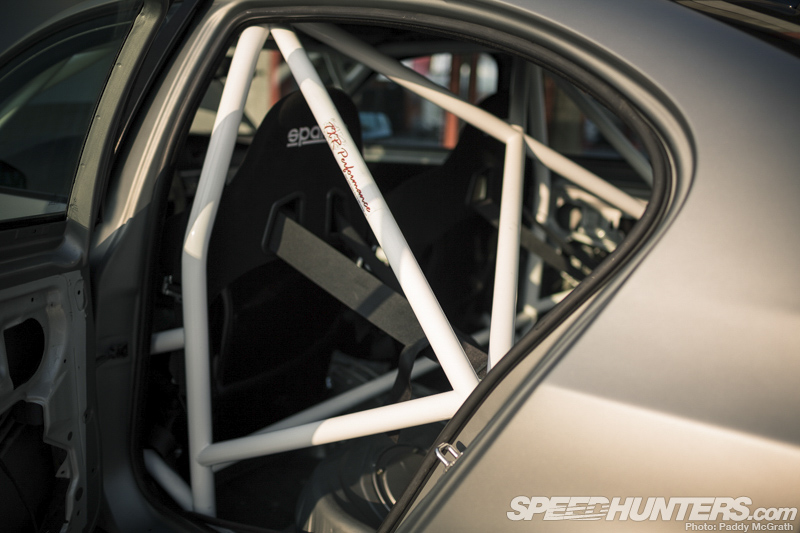 This car has been built with one purpose: ultimate velocity! And the best thing? It's pretty much all down to the hard work of Stig and Sigurd. They made this dream a reality.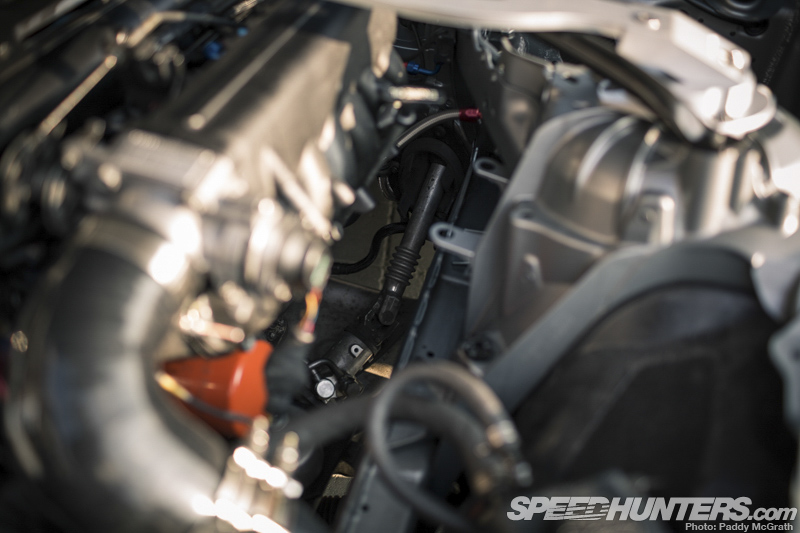 The reliable 2JZ motor was removed from the Volvo 240 and installed into the 5 series. So what's happening with the Volvo then? The friends are currently building that car to casually take it ice racing! I told you these guys were nuts. Apparently the motor swap was fairly straightforward. By employing an ABC clutch adaptor plate and a custom made propshaft the 530D gearbox which they planned to use could be installed.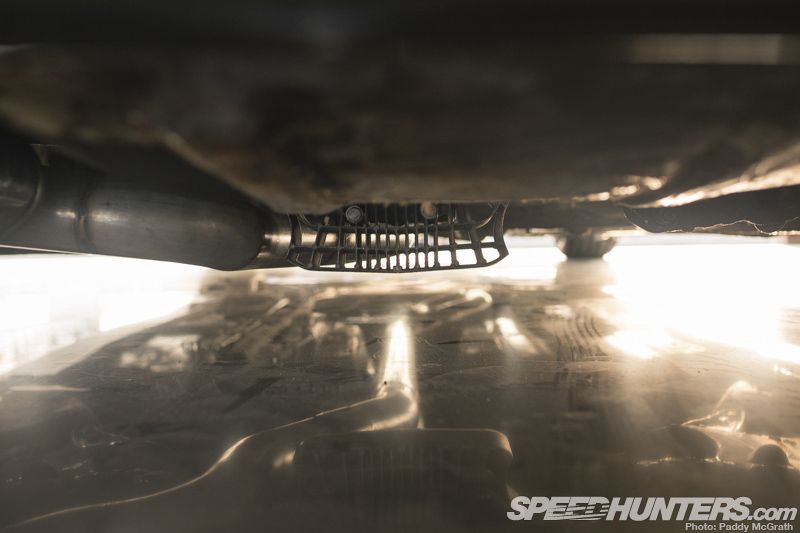 An M5 diff helps get the power down all via the back wheels, of course.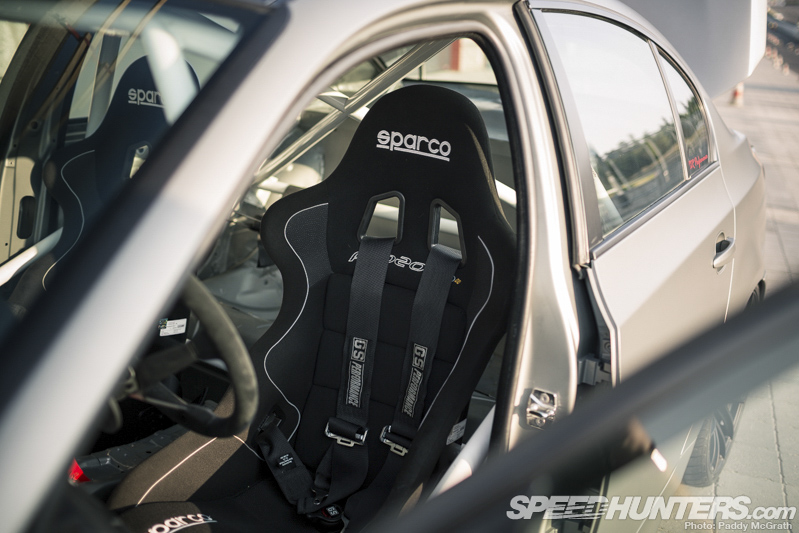 So anyway, back to that awesome interior…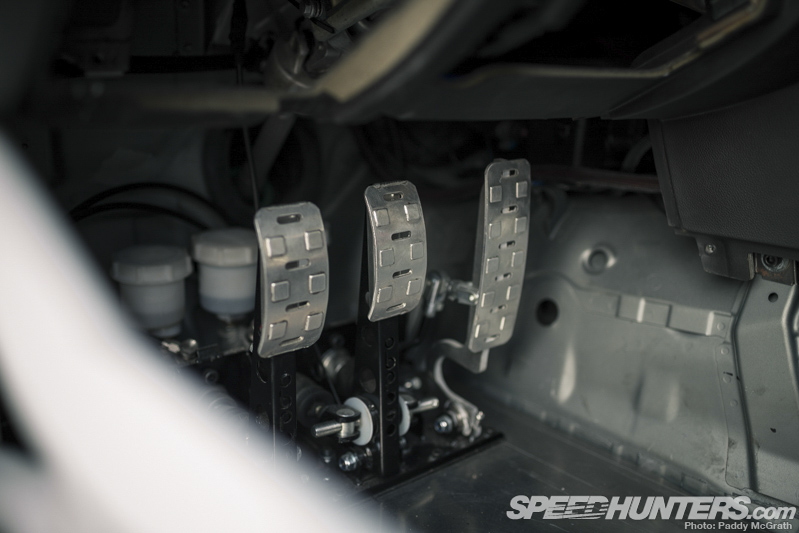 … never have I seen an E60 BMW with so much awesome. I think I must have asked if I could sit in it about five or six times – my new friends must have thought I was a complete crazy horse!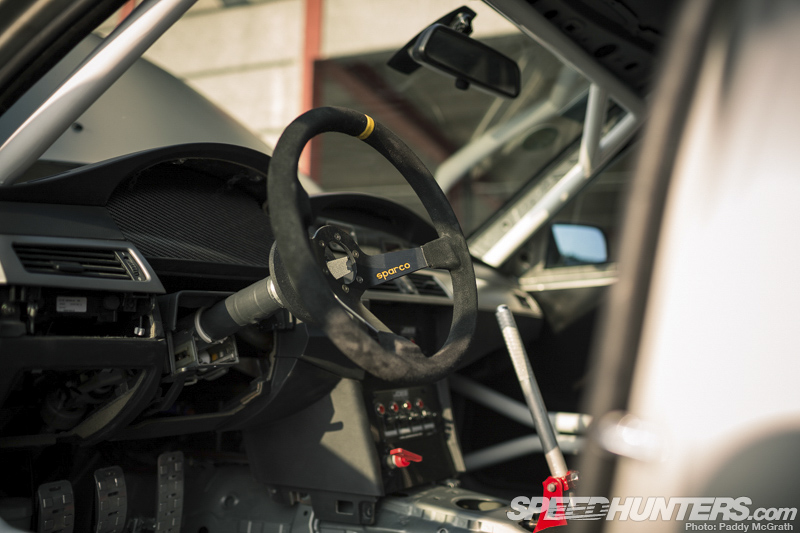 I thought the lack of dash display was pretty cool, but it transpired that the car was not 100% finished and, along with the engine mapping, there was still some work to be done later that evening.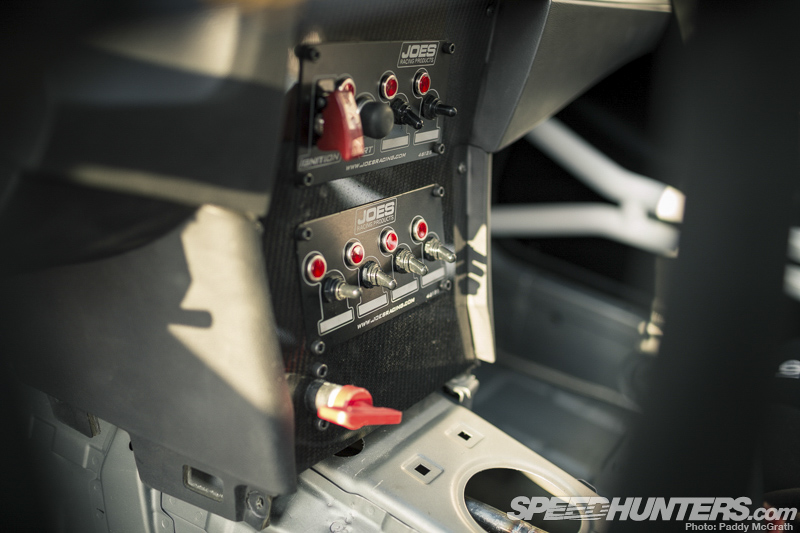 From the hot seat, things are more like a military weapon than anything you'd expect to find in a 520i.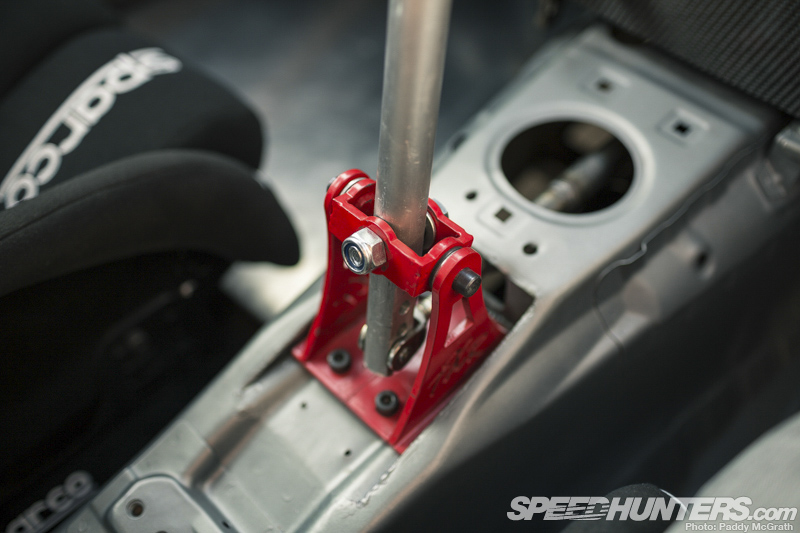 Sitting there, I realise that this fusion of body, heart and soul is quite possibly one of the most awesome BMW builds I've ever had the pleasure of being around. And then the guys gesture for me to start the car. I don't know how. But they explain. Wow! All I can say is wow! This is the most surreal experience. I'm sat in a BMW, but the engine note is all-Japanese. The sound is super-smooth and it feels aggressive.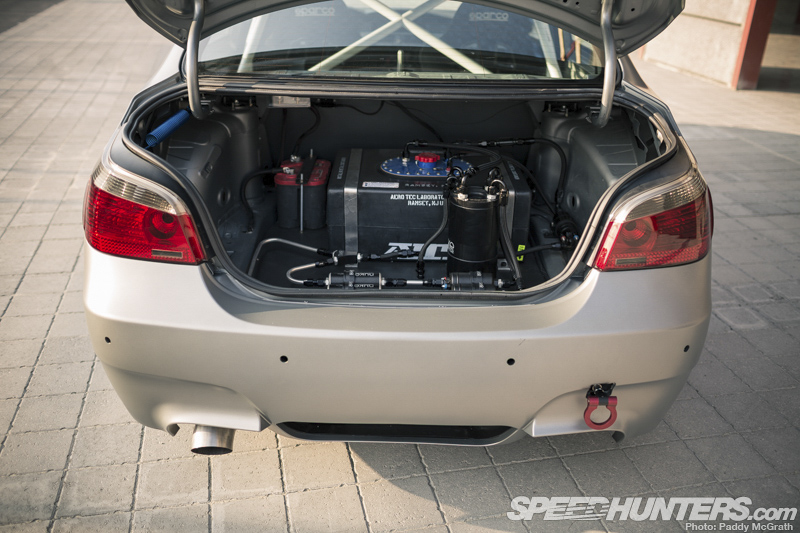 To fuel this awesome power plant every care has been taken.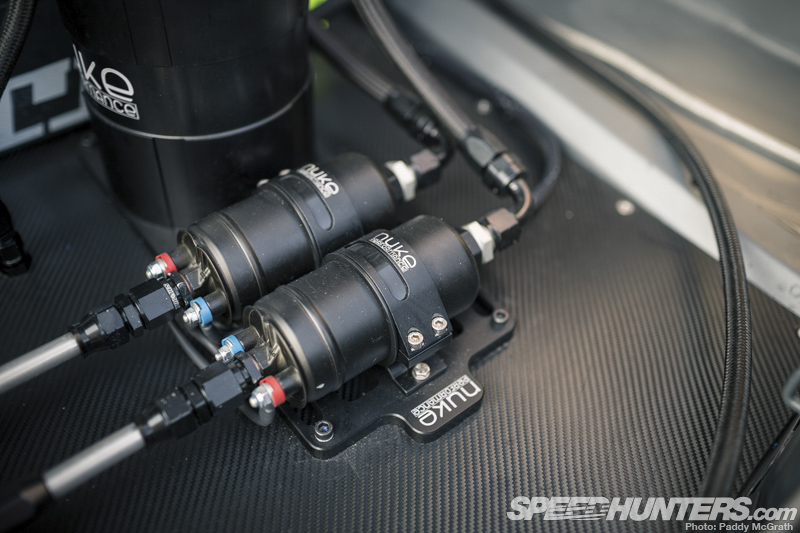 A mega 60-litre ATL cell has been combined with Nuke everything and three Bosch 044 fuel pumps.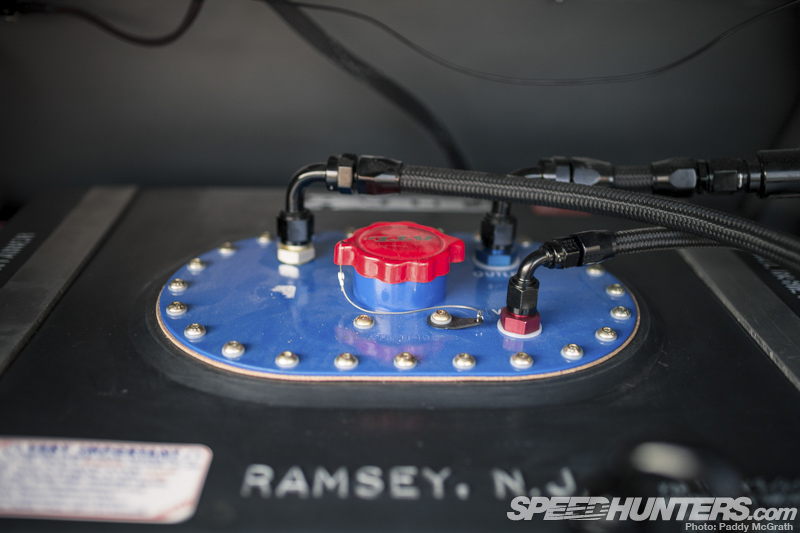 The layout in the boot area is a treat for any petrolhead's eyes and the purposeful XRP fuel lines and fittings deliver all the fuel needed to the thirsty engine.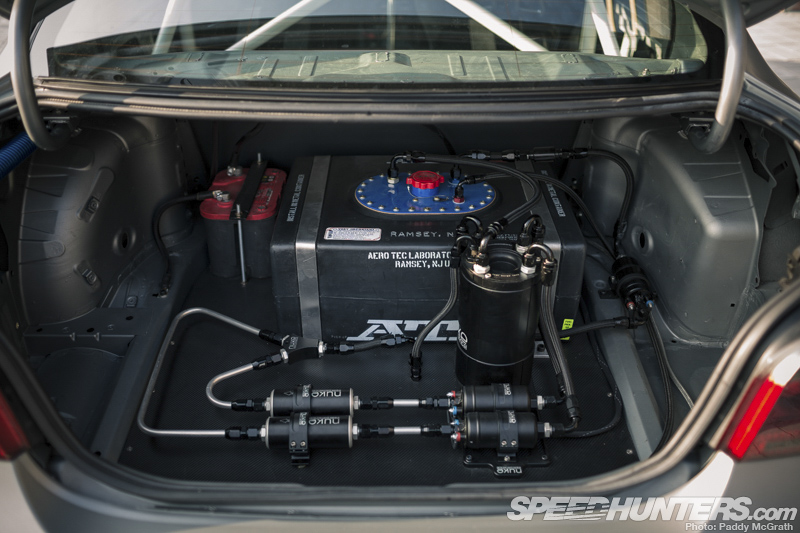 It's amazing, crazy and weird to think that some guy in Denmark used to drive this 520i to work and back!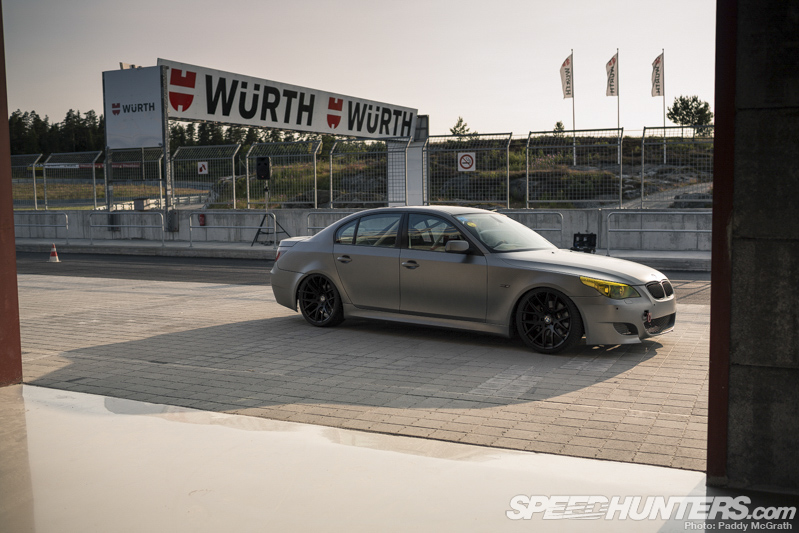 And here's the thing. At first glance the car looks like a mildly-played-around-with BMW. But there's nothing mild about this car at all. It's not wrapped, it's painted in a OEM BMW colour called Frozen Grey. The people behind this build are really interesting and have a cool story to tell. But if Paddy and Rod hadn't wandered off to go and explore then maybe I wouldn't be sharing this awesome car with you. The next day I got a text message from Stig saying that the motor made 851hp and 770lb/ft of torque. This is definitely no ordinary E60!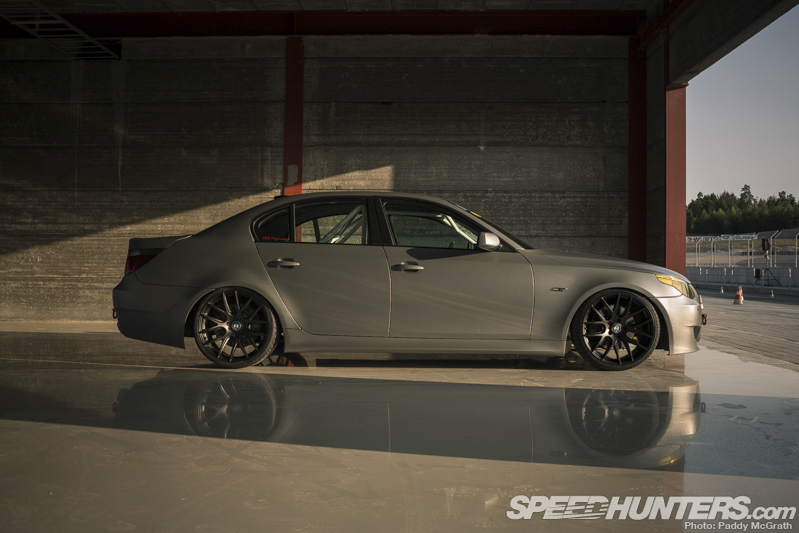 Going places and meeting new people is the best thing ever. Next time you're at a car event make sure you go and speak to people you've never met and make new friends. Wonderment is good, but it's a lot more rewarding actually finding out how that car you're looking at came about. Bryn and I were joking about the whole experience and we decided that the strapline for Gatebil (and life in general) should be this: Drive fast, take chances, talk to strangers.
Words by Ben Chandler
Twitter: @Ben_SceneMedia
Instagram: @ben_scenemedia
Photos by Paddy McGrath
Twitter: @PaddyMcGrathSH
Instagram: speedhunters_paddy
paddy@speedhunters.com
Stig Berge and Sigurd Steensohn's E60 BMW
Engine
Toyota Crown 2JZ motor, 272 camshafts, ported head, precision 6265 turbo, KMS engine management, Supra front mount intercooler, Koyo radiator from a Supra, a pair of 30-row oil coolers and a 7-row for the power steering system, 4-inch downpipe with 3.5-inch stainless system all the way back with one big box as a silencer, ATL fuel 60-litre cell, Nuke catch tank, three Bosch 044 fuel pumps, all fittings from Nuke, special Nuke swirl pot, Nuke pressure regulator, XRP fuel lines and fittings running 3.8 bar of fuel pressure on E85 fuel
Driveline
530 diesel gearbox, M5 diff, ABC clutch adaptor plate, custom made propshaft
Suspension/Brakes
One-off K-Sport coilover system, 545i braking system
Wheels/Tyres
8.5-inch and 9.5×20-inch wheels of unknown origin that got donated to the car by friend, Fevikdekk. 245/30×20 Achilles ATR Sport (front) and 285/25×20 Falken FK452 tyres (rear)
Exterior
GS Performance bodystyling package incorporating M5-style bumper (not as wide), carbon fibre rear deck lid all finished in BMW Frozen Grey
Interior
Sparco Pro 2000 GRP Tech seats, TXR Motorsport shifter from a cool company in Sweden, custom made shifter linkage, Sparco 350mm steering wheel, clocks removed, KMS data display
More Scandinavian builds on Speedhunters
More BMW stories on Speedhunters