As car enthusiasts, there are few traits which suggest one's love for cars is more of an obsession than a simply hobby. Buying parts for cars you don't own is one of them, as is starting a build around an engine rather than a car. The latter is most certainly the case when it comes to this 2JZ-powered Skyline spotted at the recent Gatebil event in Sweden.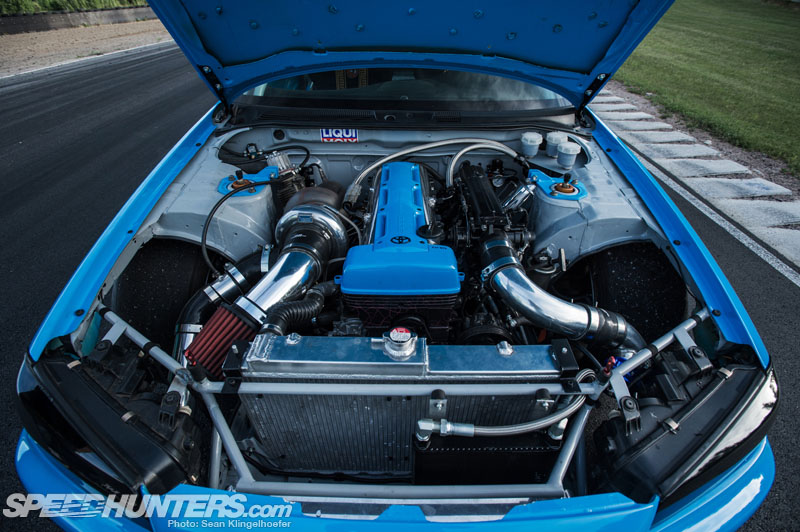 Yes you read that right. This R34 is powered by a Toyota 2JZ-GTE motor – the ultimate collision of two things JDM fanboys have drooled over since the beginning of time. No matter what your brand allegiances might say, there's no denying the car's impact. It's a perfect example of the Gatebil mindset.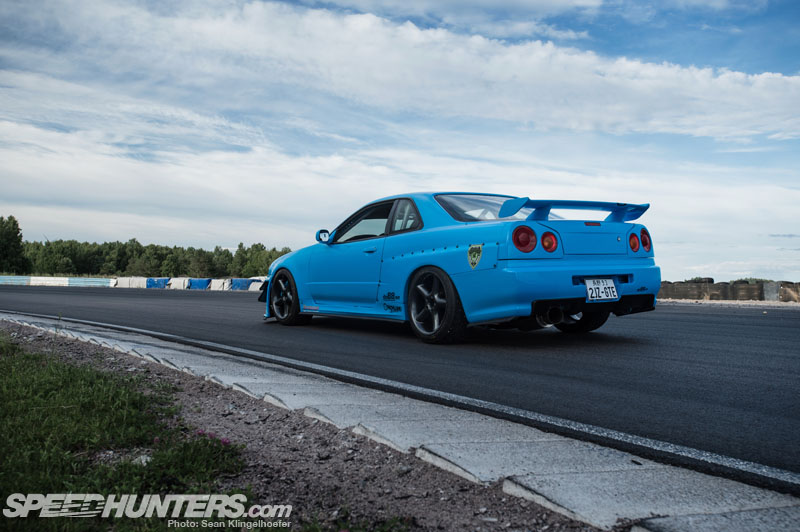 Niclas Frohlund is the owner and builder of this Skyline, and prior to getting a hold of the R34 he drove an S14 200SX at Gatebil events for about three years. In his own words, the S14 was just "too slow" and he wanted to build a car that was not only faster, but one that would stand out from the crowd. Given what we know about the Gatebil scene, that's not such an easy task.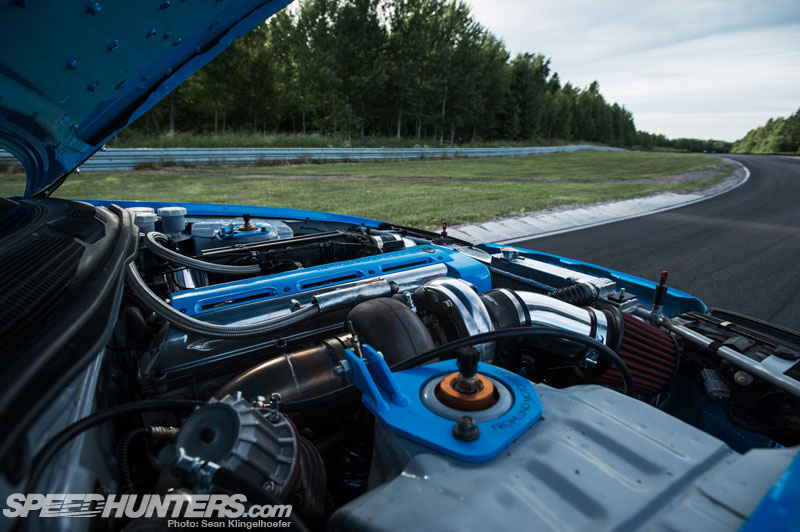 So rather than buying a new chassis to start building, Niclas did the crazy car guy thing and bought himself an engine – a good old 2JZ. You can't really fault him, given the engine's potential to make serious horsepower in whatever car he decided to put it in. Originally, the plan was to put the motor in a RWD-converted Audi S2.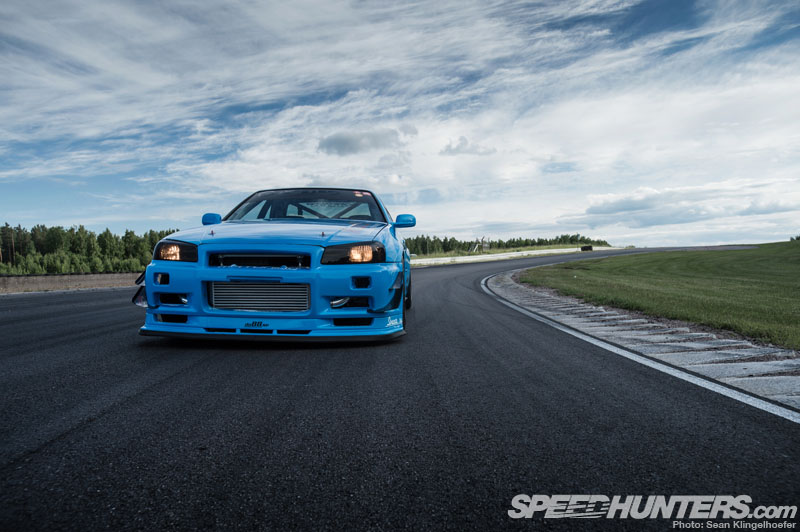 But about a year and a half ago he came across an R34 Skyline for sale that needed an engine and his plans changed. As Niclas says, at that point there was only one thing to do. The Skyline roller was purchased and the swap work began.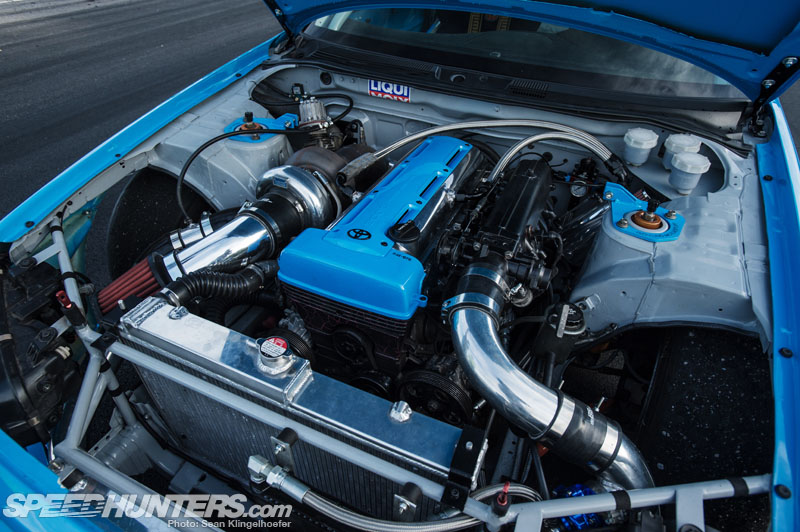 Needless to say, a factory-spec 2JZ wouldn't suffice for the kind of madness Gatebil requires, so the engine got a lot of work as it made its way under the hood of the Skyline. Namely, there's a GT45 single turbo conversion, along with a stainless steel exhaust manifold and all the required ignition and fuel system upgrades to match.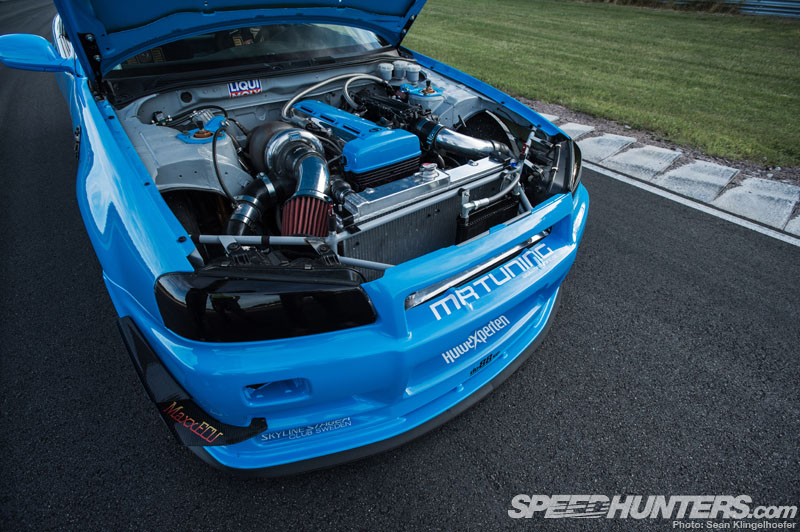 Of course you might be asking, why not just go with an RB? Well, first there's the fact the car was motor-less when Niclas bought it and also there's the simple 'WTF' factor. Don't forget we are talking about Gatebil after all!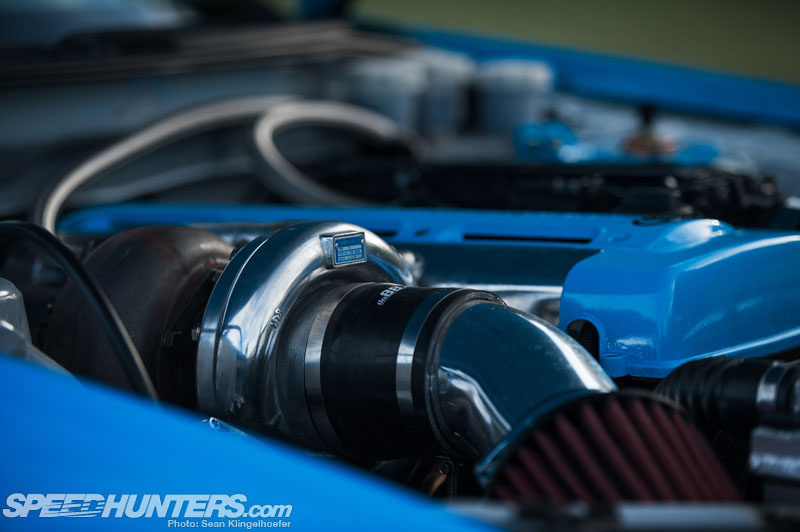 With all of the work, the Toyota six is making a stout 624 horsepower. Perhaps not a huge number for a tuned 2JZ but still a big jump from the S14 he previously drove, and more than enough to run with the Gatebil pack.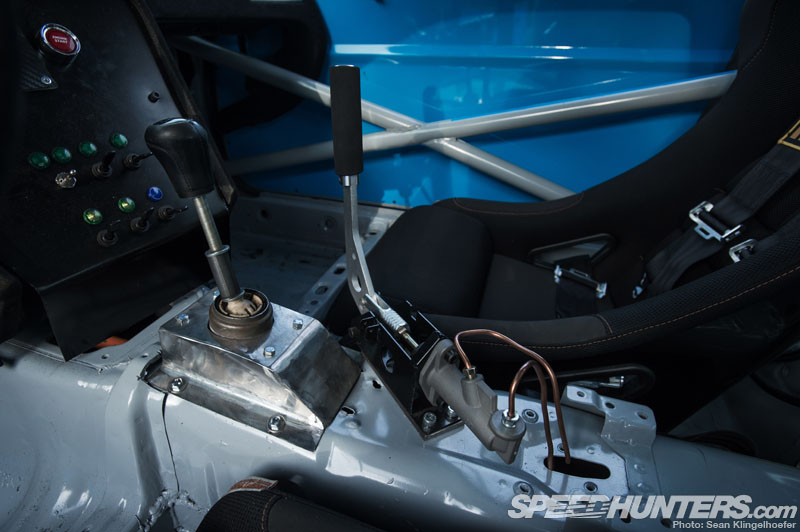 What's especially interesting is the transmission Niclas decided to mate the engine to. It's not a Toyota gearbox, nor a Nissan one, but a piece sourced from a BMW E46 diesel. To help handle the extra power a Tilton OT-2 clutch has also been fitted.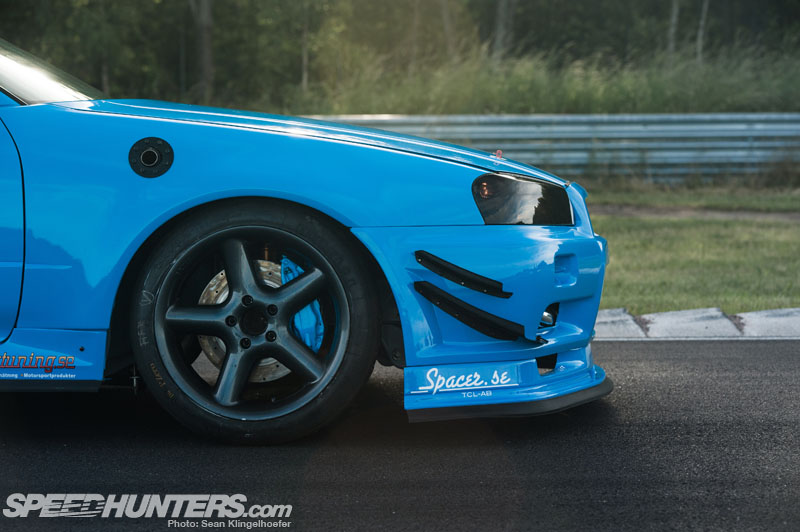 To me there's just something cool about builds that reuse parts from a variety of different cars, and that's very much the case here. The brakes for example are a set of Brembos sourced from a Mitsubishi Lancer Evolution X.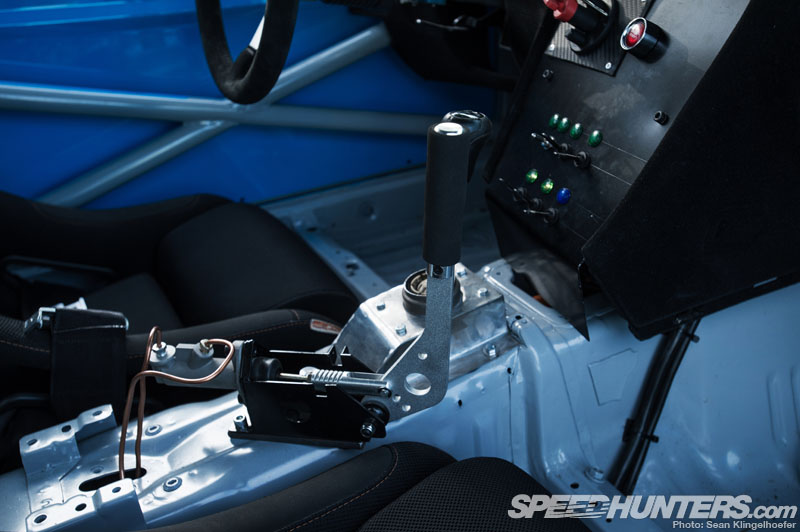 Additionally, the Skyline is equipped with a hydraulic e-brake system for those times when Niclas feels that some sideways driving is in order.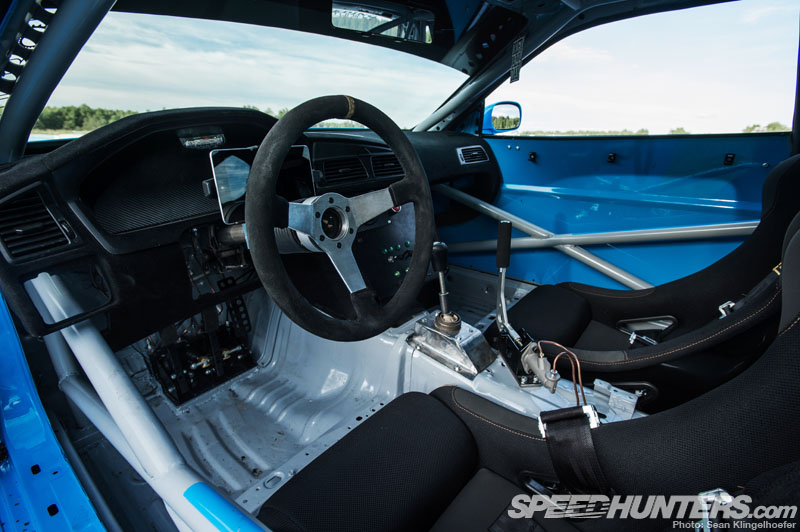 If the fact that this R34 is powered by a Toyota engine isn't enough to throw you off, there's also the little tidbit that it's been converted to left-hand-drive.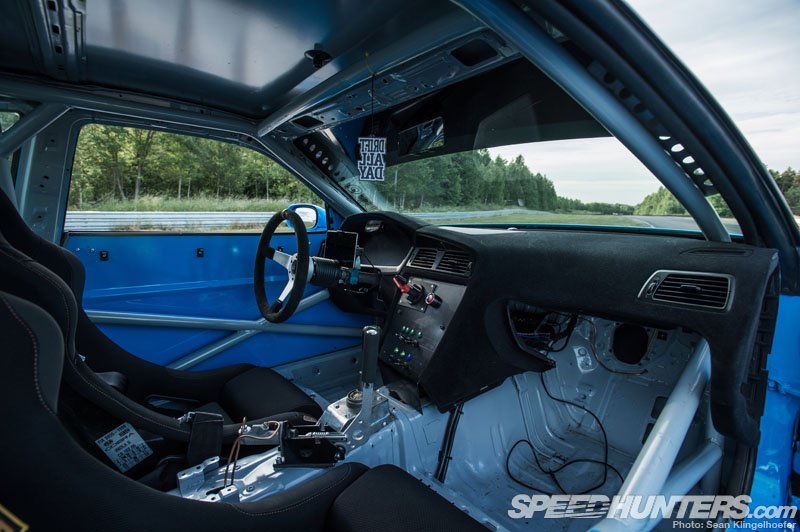 Along with plenty of custom fabrication, the swap was made possible by a using a Volvo dash panel which happens to look right at home in the Skyline's cockpit. The conversion also made easier by the fact the Niclas built the car exclusively for track use.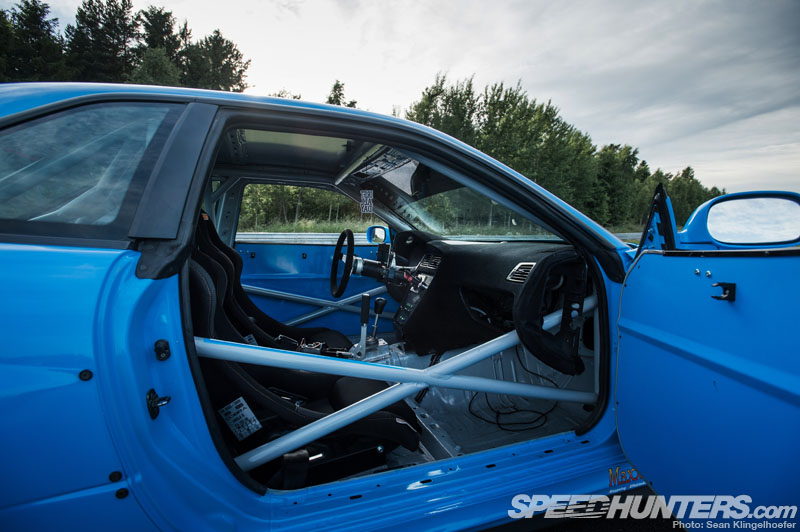 That also means the car is equipped with all of the safety equipment you'd expect to find on a race car, including a full cage…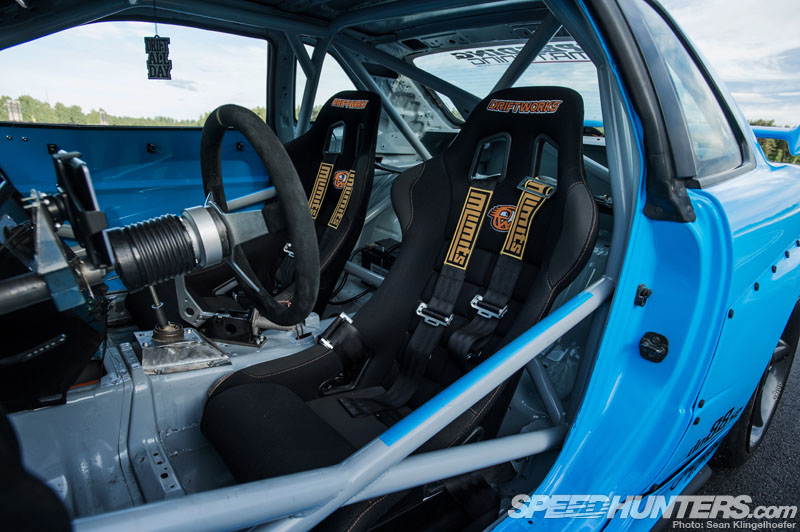 … and a pair of Driftworks bucket seats with Mlimits four-point harnesses.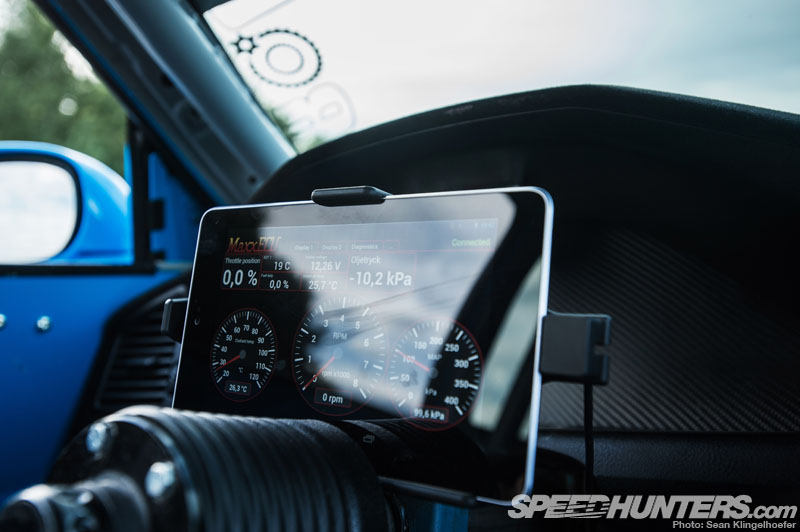 In place of traditional instruments there's a Maxxtuning dash logger which of course complements the car's MaxxECU engine management system.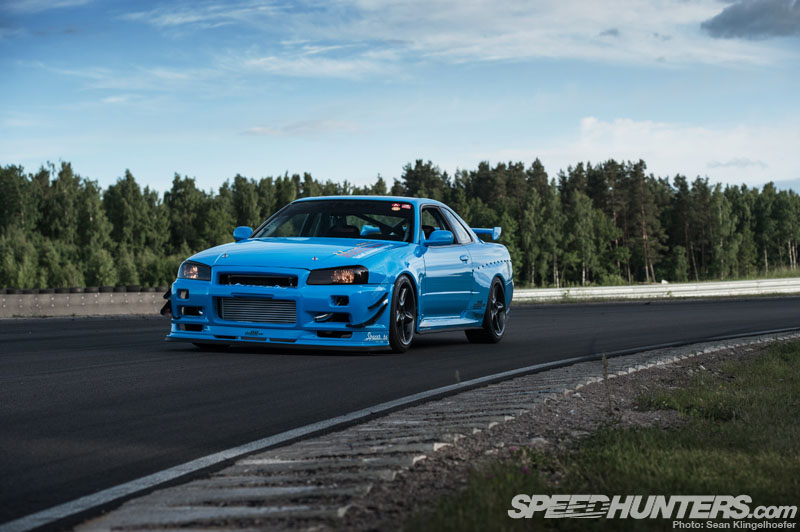 For as mad as it is beneath the skin, the exterior treatment on the Skyline is actually quite tame.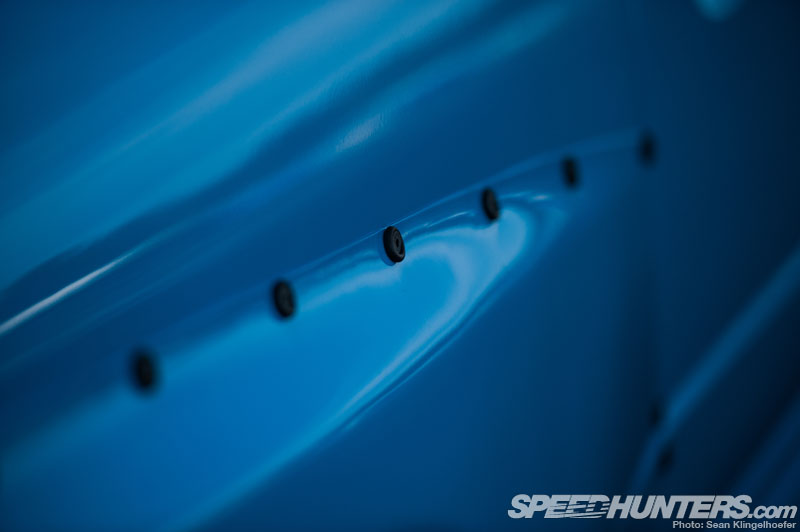 The major change to the R34's exterior is the addition of OEM-type GT-R body work, including the signature GT-R front bumper, wide body panels and rear spoiler.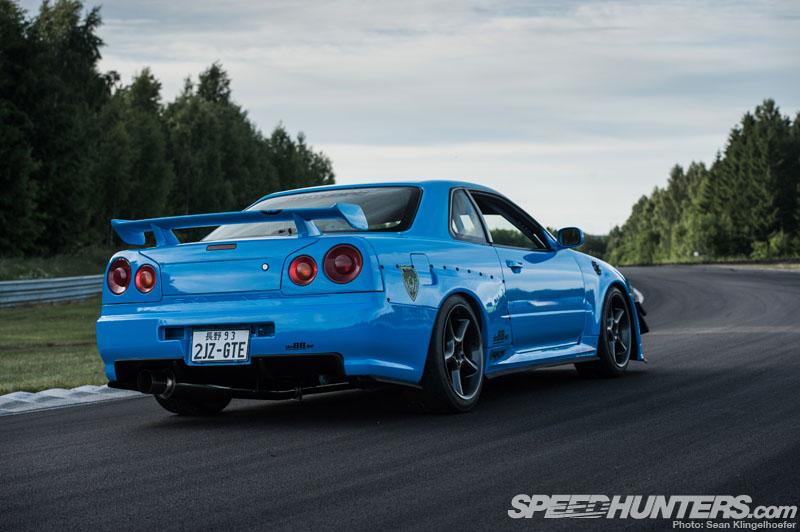 There's also EZ-Lip material all around the car and a set of canards mounted up front.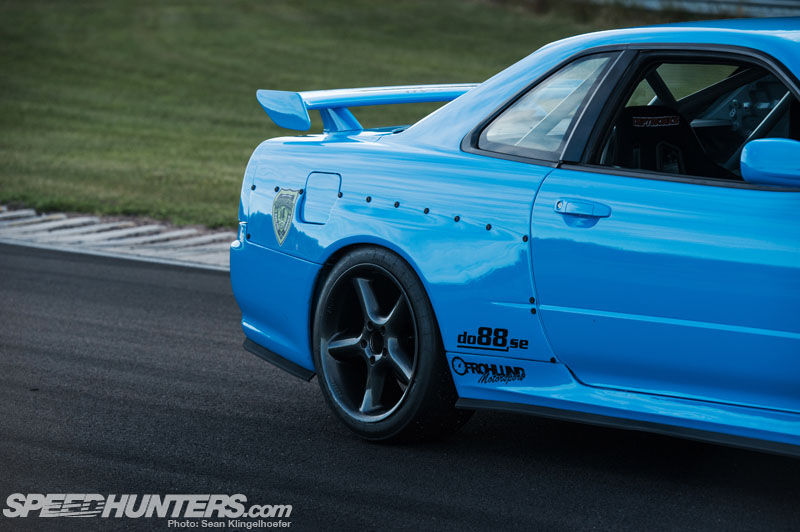 As for wheels, Niclas actually has a few different sets. Here you can see the car is wearing  a set of 18×10-inch Artec wheels mounted with Dunlop slicks.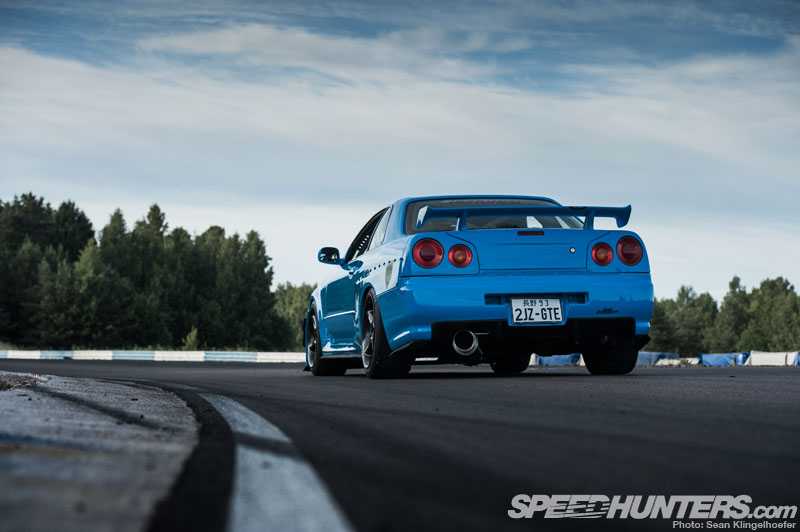 And that brings me to one of the coolest parts about this build. Not only is this a car with a rather unconventional engine swap, but Niclas also wanted to build a car that could be used for both normal circuit driving and for drifting. In the same day he can throw on the slicks and run for time, and then change the tires and go have some fun alongside Gatebil's best sideways drivers.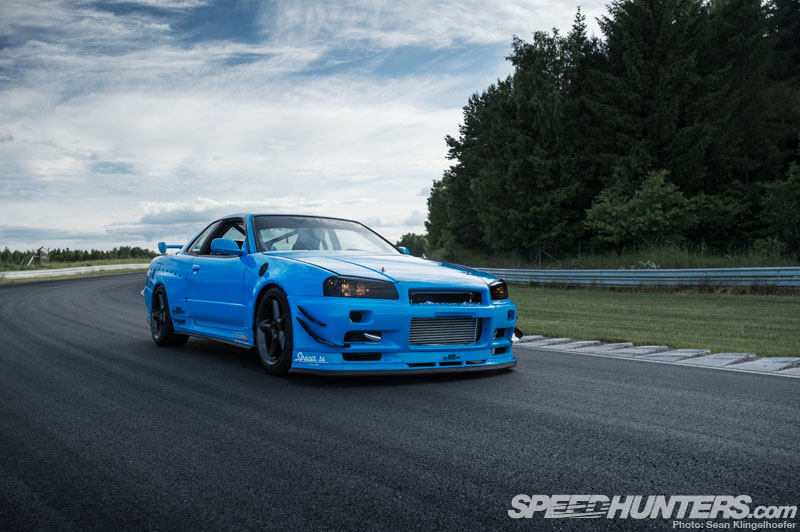 As unusual as it is, Niclas's LHD 2JZ-powered R34 is actually pretty tame by Gatebil standards. It might not be the fastest, craziest looking, or the strangest of the Scandanavian builds we'll be featuring this month, but it's still a perfect example of the unique car-building approach that's so prevalent in that part of the world.
How can you not like a place where imagination seems to be the only limit when it comes to building a car?
Mike Garrett
Instagram: speedhunters_mike
mike@speedhunters.com
Photos by
Sean Klingelhoefer
Instagram: seanklingelhoefer
sean(at)speedhunters(dot)com
Niclas Frohlund's Nissan Skyline R34
Engine
Toyota 2JZ-GTE swap, GT45 single turbo conversion, stainless steel exhaust manifold, VAG ignition coils, Bosch 1700cc injectors, Nuke Performance fuel rail, Aeromotive fuel pressure regulator, Bosch 044 catch pump, SX Performance head pump, AN10 fuel hoses, Fuel cell, aluminum radiator, two 12-inch fans, AEM 4-inch intake filter, B&M oil cooler, Driftworks sandwich plate, 4inch down pipe, 2-inch screamer pipe, MaxxECU engine management

Driveline
BMW E46 diesel gearbox, Tilton OT-2 clutch, Nismo slave cylinder
Suspension/Brakes
Mitsubishi Lancer Evo X Brembo brakes, hydraulic e-brake, Aragosta front coilovers, D2 rear coilovers
Wheels/Tires
18×10-inch Artec wheels, Dunlop slicks, 17×10-inch Enkei wheels, Yokohama slicks
Exterior
GT-R body conversion, EZ-Lip all around
Interior
LHD conversion, Volvo dash panel, full rollcage, Driftworks seats, Mlimits four-point harnesses, window net, Maxxtuning dash logger