Energy. That's what I feel when I talk to the owner of this Mercedes-Benz 190E. Although he's just 22, Alexander Lindquist has managed to piece together an incredibly cool machine that's nothing short of rowdy with an amazing sense of vigor. Cars for me should be an extension of someone's personality and this Benz is exactly that. It would be easy to take a quick look at this car and not give it full respect for what it actually is. And you know what? I kind of like that. From some angles the car looks like just another stance-pleasing creation. But that's not the case. I promise it's not.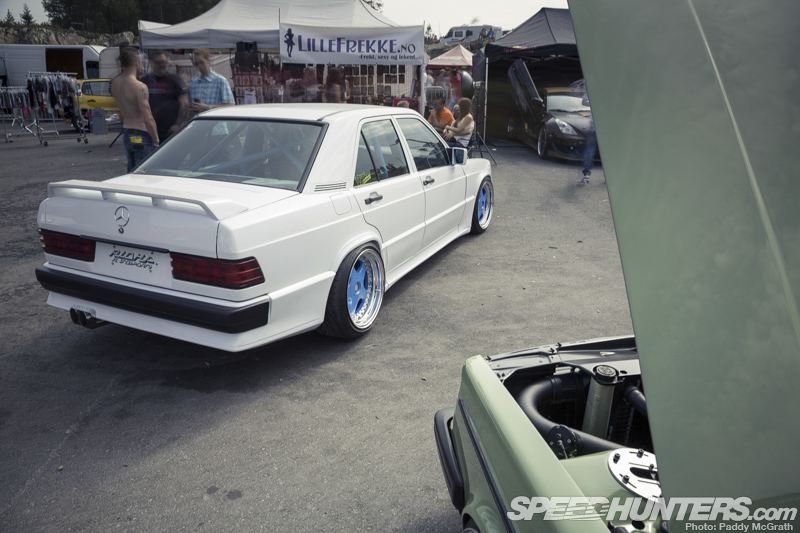 For me personally, the recent car features on Speedhunters have been some of the most interesting ever shown on the site. Not just because of the the extreme nature of the builds, but also down to the discussion which some of these machines have provoked. I always think that there's one thing – and one thing only – that matters about all of this car building malarky and this is fun.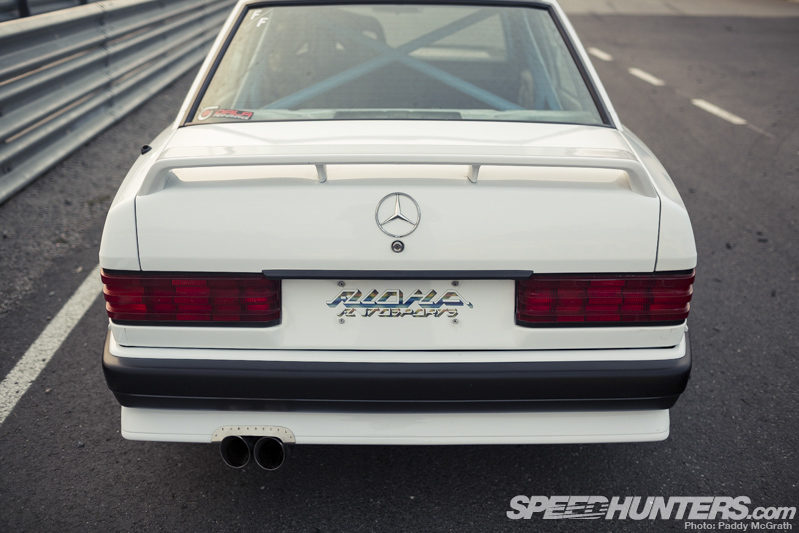 I don't know about you, but my passion for cars goes in waves – sometimes I can think about nothing else at all and my mind builds multiple cars on a daily basis. Then every now and then, usually when things aren't going quite to plan with a project, I question why I am in this game at all. If you're ever having a slump then you only need to hit up a quality event to get inspired again. It's things like this DTM-style exhaust that make my mind go mental. Immediately I want to buy a car from the 1990s and incorporate a pair of upswept exhaust tips into the build.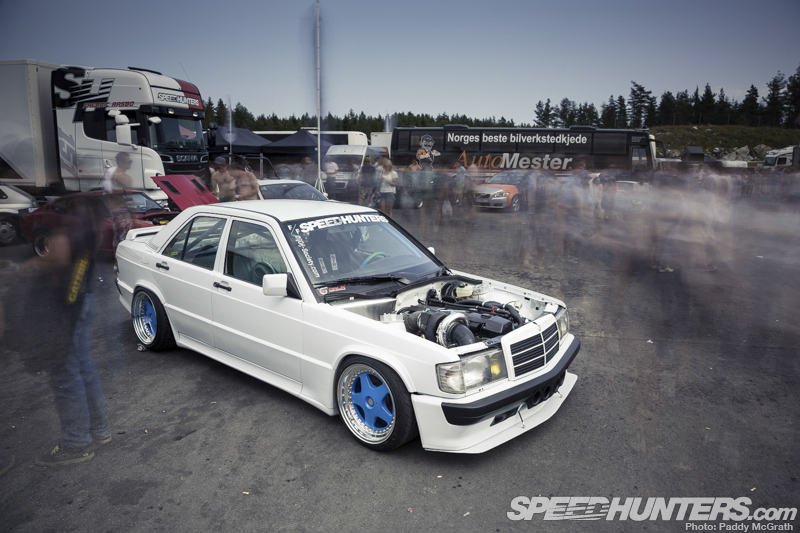 When it came to the promotion of creativity, Gatebil was a very positive experience. Alex kindly brought his car along to the event where it sat on the Speedhunters stand for a weekend that was full of awesome. As you can see Paddy couldn't wait to shoot this car and pulled it away from the stand, into the crowd slightly, and made up his own personal feature car location right in everyone's way – you gotta love the Irish!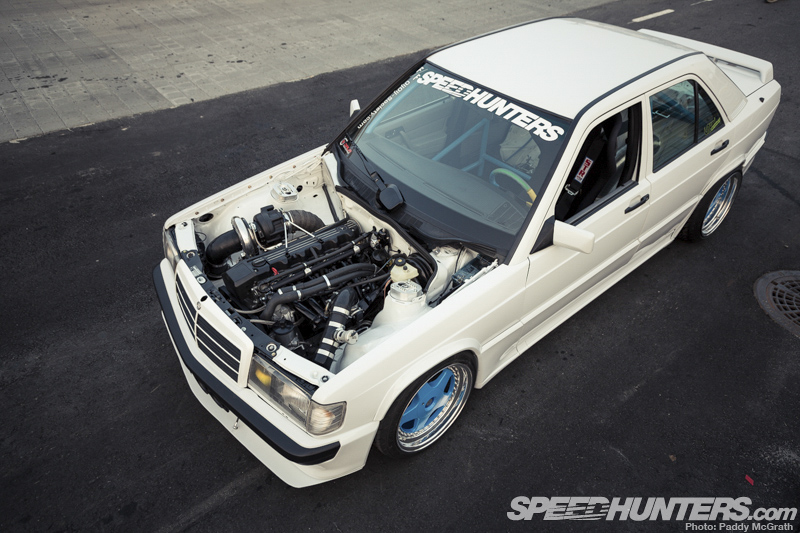 What anyone at all thinks of your car should not be important. As long as you are enjoying the build and the resulting driving experiences which come as part and parcel of creating these automotive dreams, then surely that is all that matters?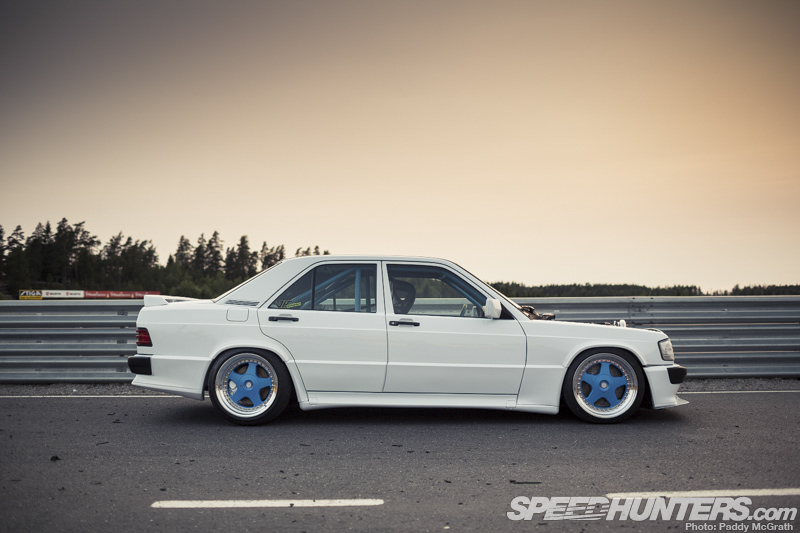 It seems to me that the Scandinavians are far too busy building, driving and having fun with their cars to give a single care about anything else at all. And it's this attitude that makes every moment that you're submersed in car culture over in Scandinavia an awesome one. I've just finished up reading Larry and Brad's epic 'Attack Mode Enabled' story on MI Performance's BMW 5 Series E34, which I've been really looking forward to. Brad really nailed it with the opening line of that feature when he said: 'If there's one thing our look into Scandinavian performance car culture over the past month has taught me, it's to always expect the unexpected.' This sentence could not be any more on-point when it comes to Alex's Mercedes…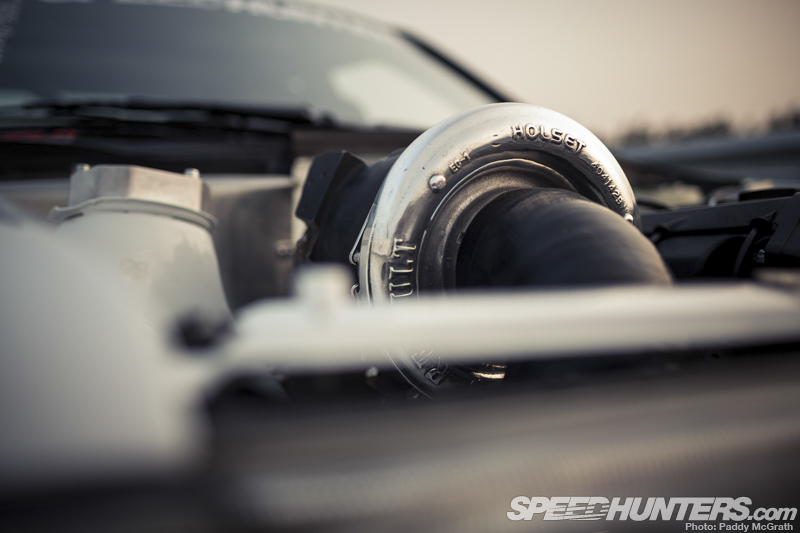 … and the gargantuan turbo that I never expected to see in the engine bay of a Mercedes 190E. I really do love Scandinavia!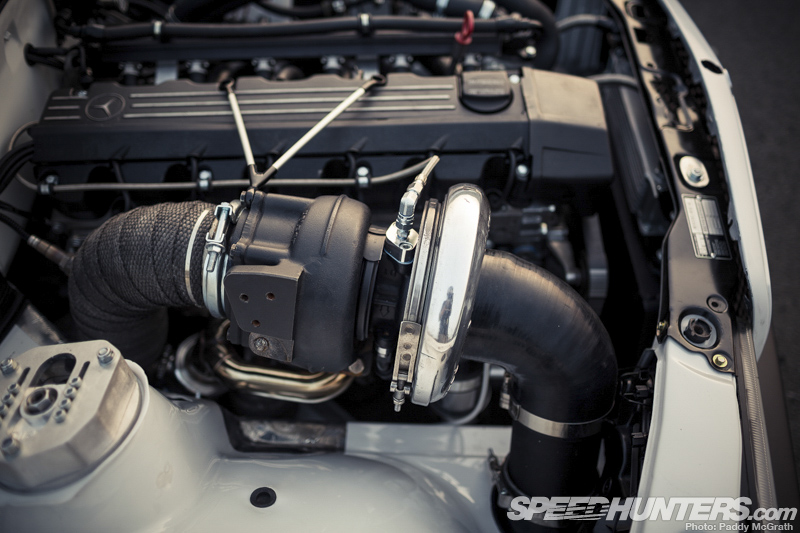 This is a serious forced induction device, and that Holset HX52 turbo is surely too big for a 22-year old? Which kind of got me thinking…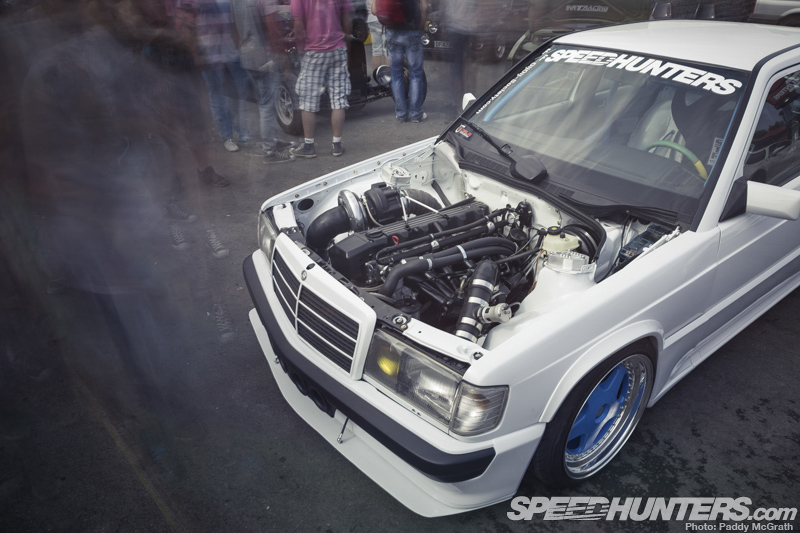 … this whole car is a celebration of what is exciting about building cars when you are young.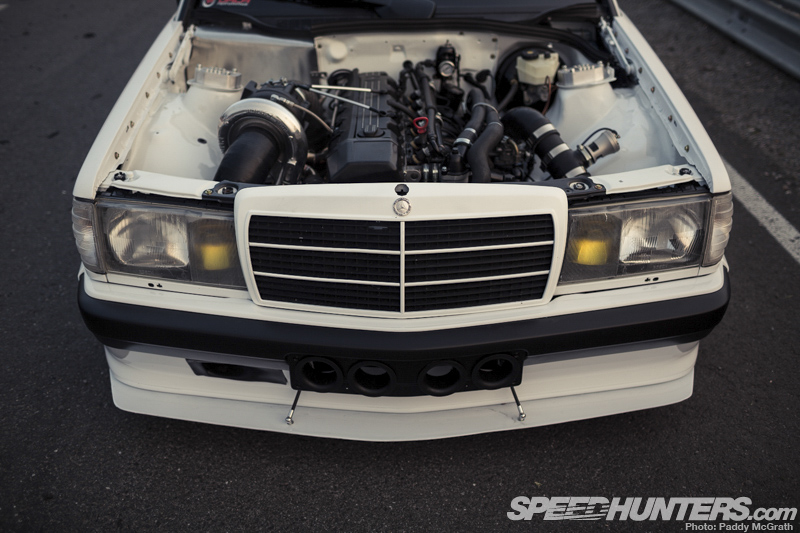 Personally, I just cannot get overly excited about builds that incorporate parts that have been brought together for the sake of box ticking. Predictability in the automotive world, and of course life in general, is tedious. Don't get me wrong, we need people who live on the safer side of unexciting so as builds like this one can stand out. In its current guise, this Mercedes is not going to set the fastest time around a race track or lay down record-breaking quarter mile times. The build of this 190E is in its infancy. And, much like his car, Alex too is at the beginning of a very long and exciting automotive life of adventure.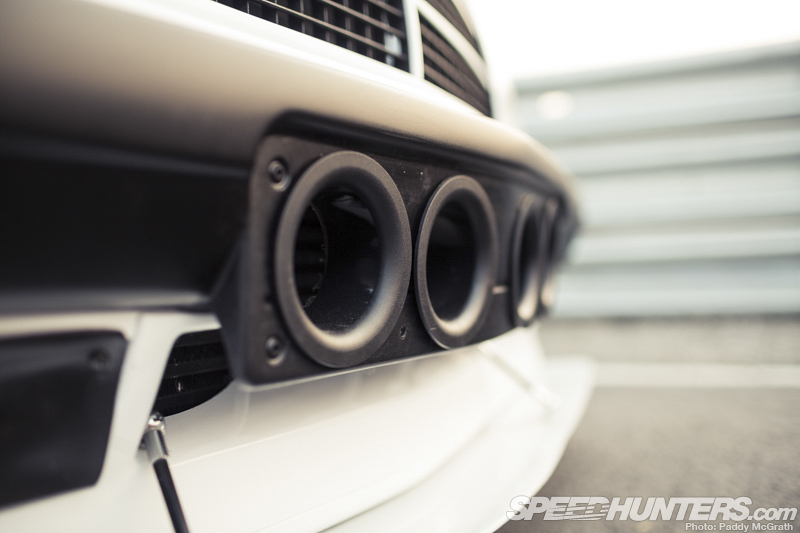 In my short time as a Speedhunter I have enjoyed the experience of encountering cars at different stages of their life. Some have seen a few much action and abuse, some are unfinished and a handful of cars have literally just been completed. Like many, Alex had worked hard to get his car complete for the Gatebil event. It just required some final mapping to the motor and a few other tweaks before it was ready, hence why it didn't get any track time. I love fresh builds and I wonder what the front end of Alex's 190 will look like in a few years time? Hopefully the motor will ensure that the business end of the Merc gets peppered in track debris during its next outing at Gatebil.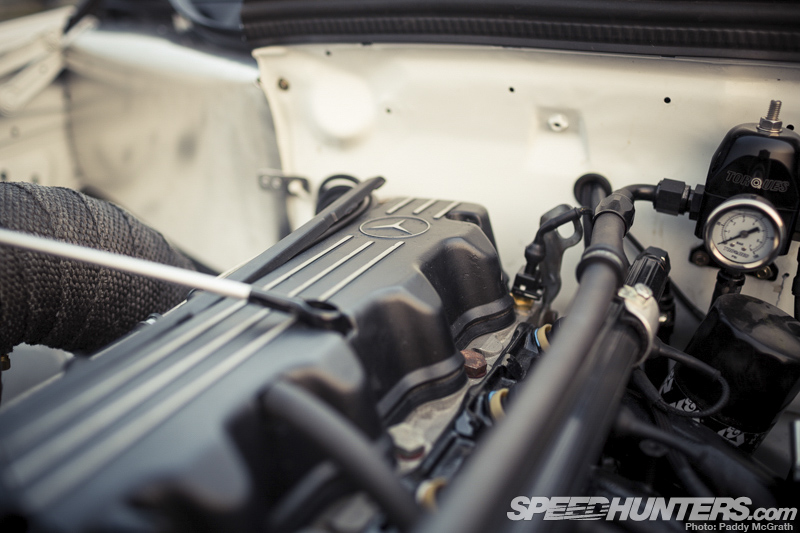 The project started in September for Alex and he has been in the garage working on his creation almost every night.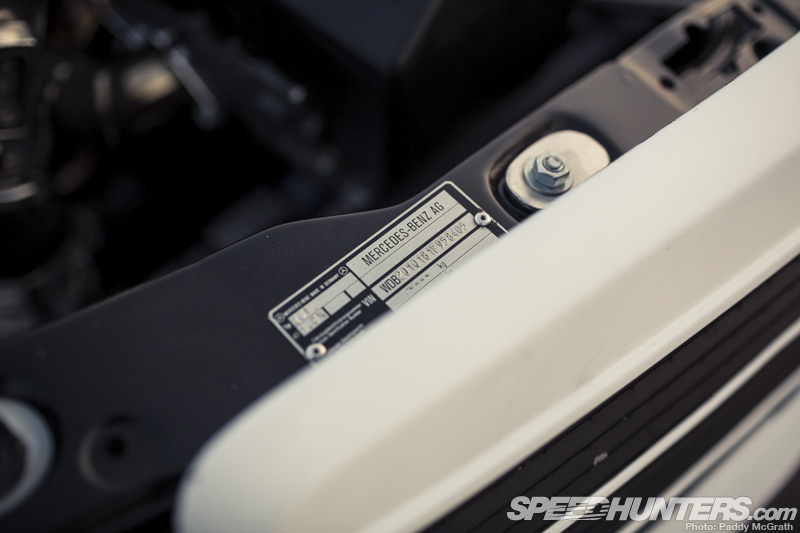 In January his daily BMW got sold to release some money so that he could carry on with the build he was passionate about. Everything has been a massive learning curve for this dedicated car creator.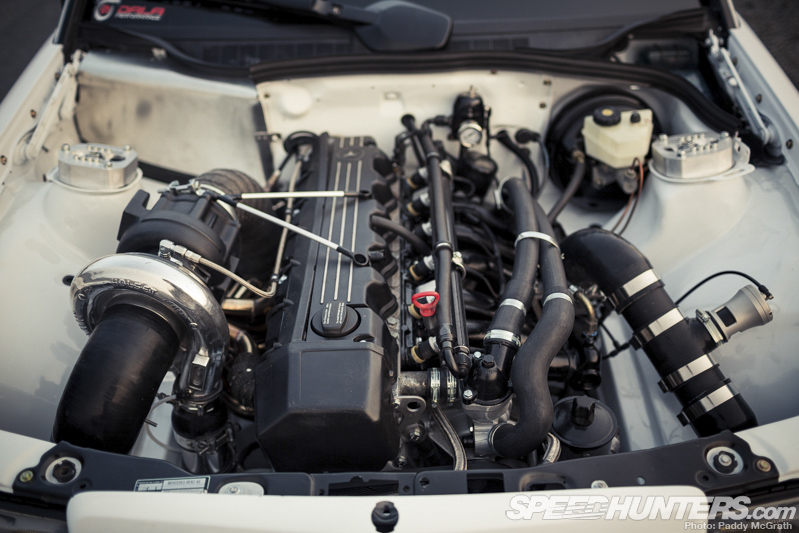 At the beginning the 190 had an M102.910 motor, which for those of you unfamiliar with Mercedes-Benz engine codes is a 1.8-litre lump that doesn't make much power. Obviously it was really slow, and to make the car even less cool it even had a tow bar. The only time Alex used that tow bar was when he bought the new engine that you see in the bay now. The new M103 103.980 is a straight-six displacing 2960cc in factory form.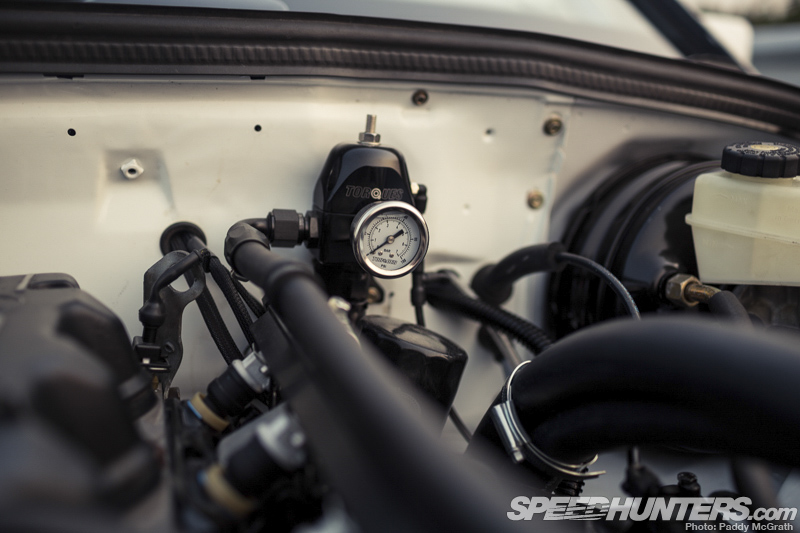 So was it hard to install? Well this was the first time Alex has ever built a motor and, like anything I guess, in the beginning it was a challenge. But, everything is possible if you really want to achieve it. I think it's fair to say things are looking pretty good in this bay now.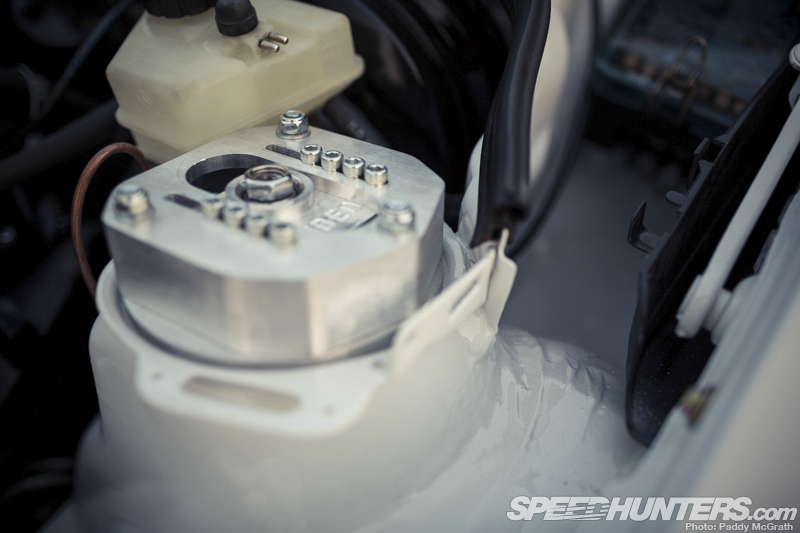 The car itself has been rebuilt from scratch. Alex had a lot of rust to take care of and many hours were spent repairing all of the gaping holes. This is his first attempt at a really involved build and I love his attitude. Suspension-wise the 190 uses Bilstein B8 shock absorbers on all four corners with AP lowering springs from a R129. The front anti-roll bar is 28.5mm thick and came from a A124 300 24V, with the rear item sourced from a 190E 2.3-16 Evolution 1.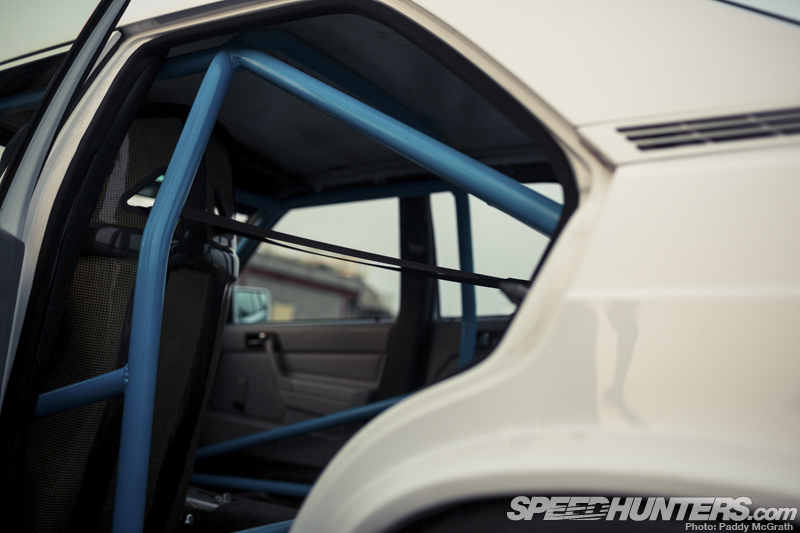 Although Alex had never welded before and as soon as all of the rust had been attended to, he made a start on the roll cage – another first. He's the first to admit that some of the welds on his car aren't that perfect, but they did become better as the build progressed. Alex joked with me that you can follow the welds and see where the cage starts!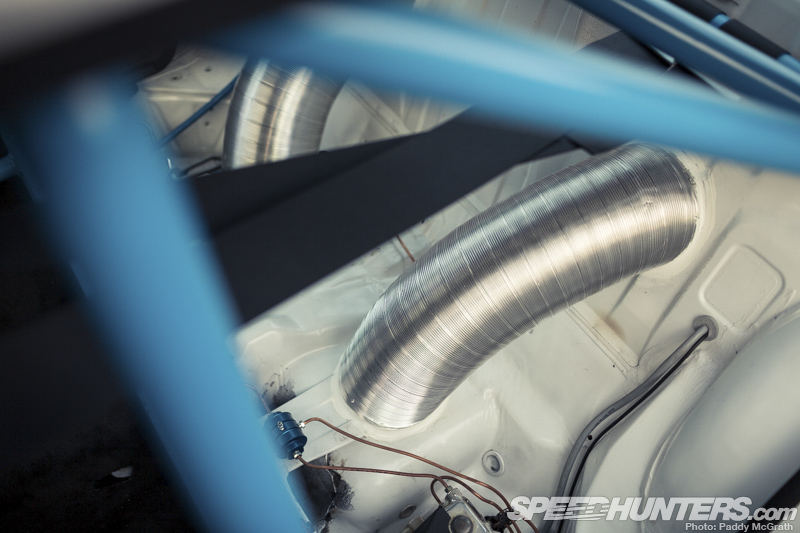 Another innovative aspect of the build is the cooling system, which Alex has designed and created himself. It has yet to be tested with the car at full noise, but of course, this is all part of doing things in an outside-of-the-box fashion. I guess, once the motor is fully mapped Alex will find out how all of his ideas have come together.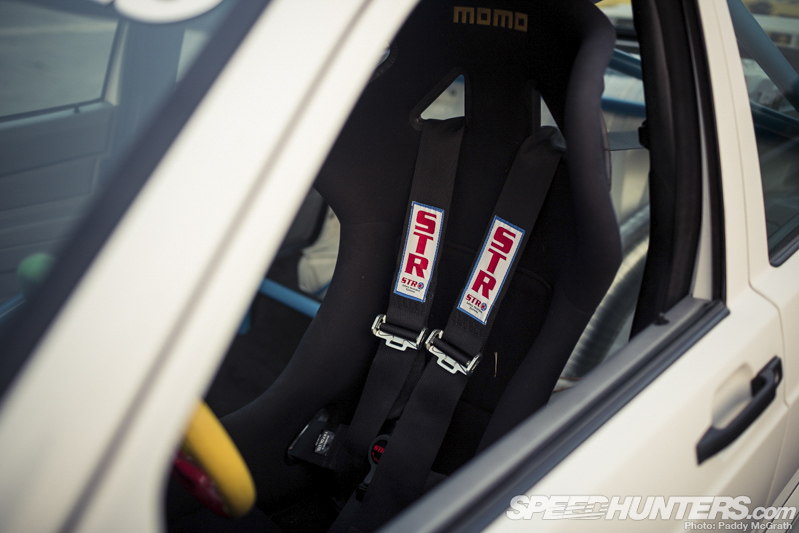 The innards of the 190 are pure class. In keeping with the ago of the car, period styling is rife, and I'm a massive fan.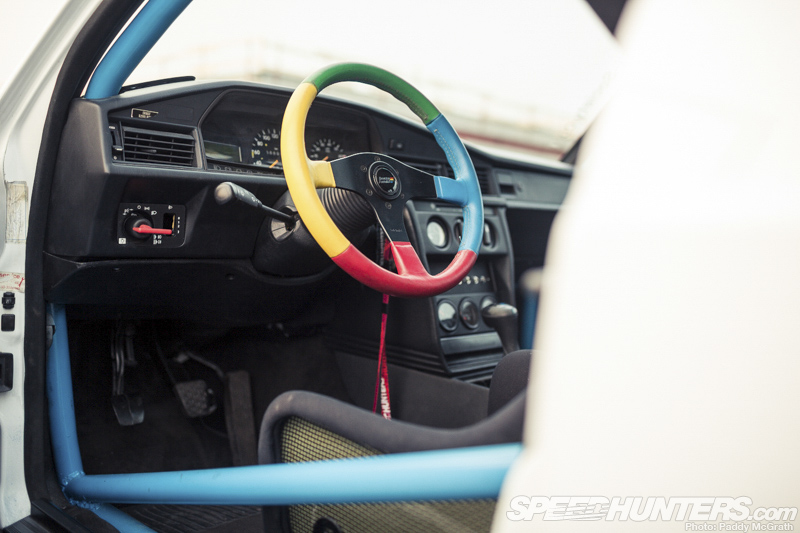 That Benetton steering wheel – just awesome.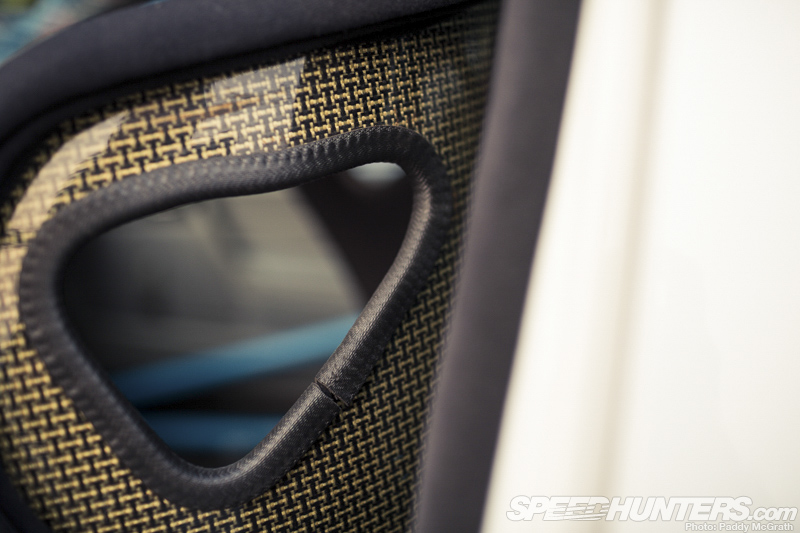 Stepping back the details of the Momo Corse Extreme seat in carbon/Kevlar add a nice contrast to the fresh white bodywork, and are still perfectly in keeping with the rest of the build.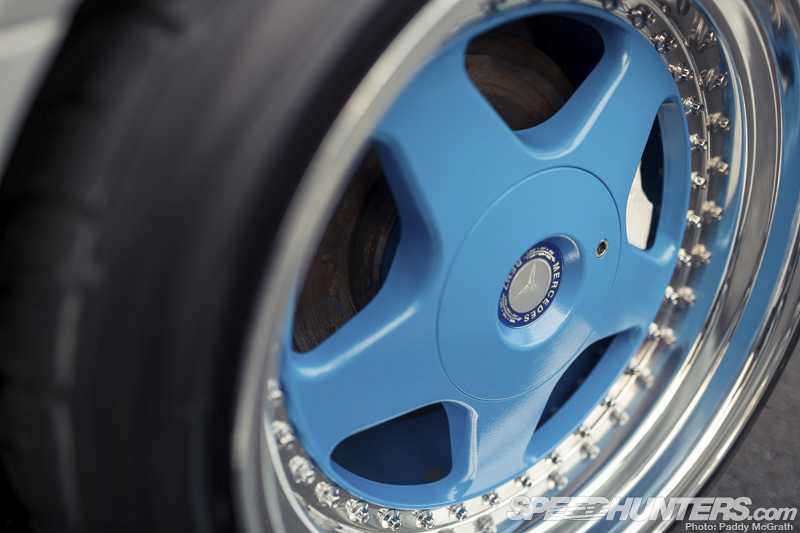 Another nicely chosen upgrade is the rolling stock. Dreamy 17-inch OZ Racing Futura wheels measuring 9.0 inches wide at the front and 10.5 inches wide at the rear are bang on the money.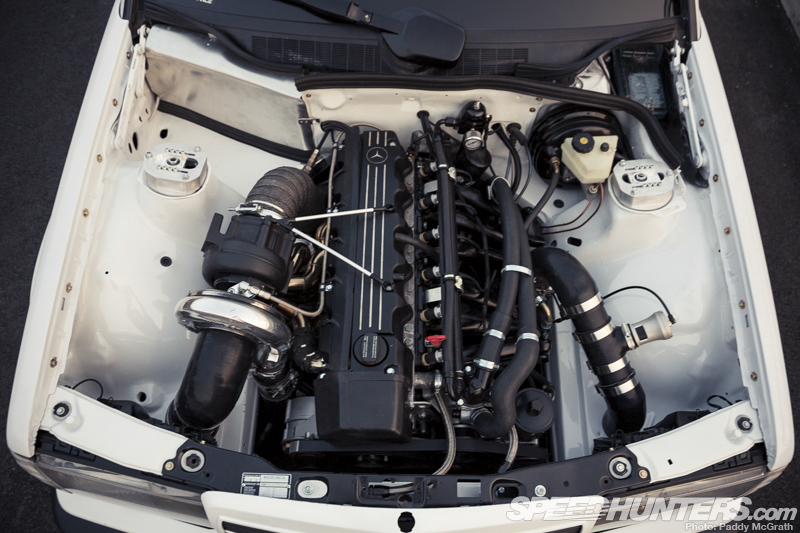 The reason for selecting this engine was simple: it's understated and people do not expect mad power from a Mercedes. These are just old engines now but 700hp is no problem. Plus they're extremely cheap and reliable. For such a young guy Alex sure does have a bright head on his shoulders. In just a short time he's built a motor with his own hands and clearly is on a mission to create some awesome motor vehicles. Keep an eye out for this kid.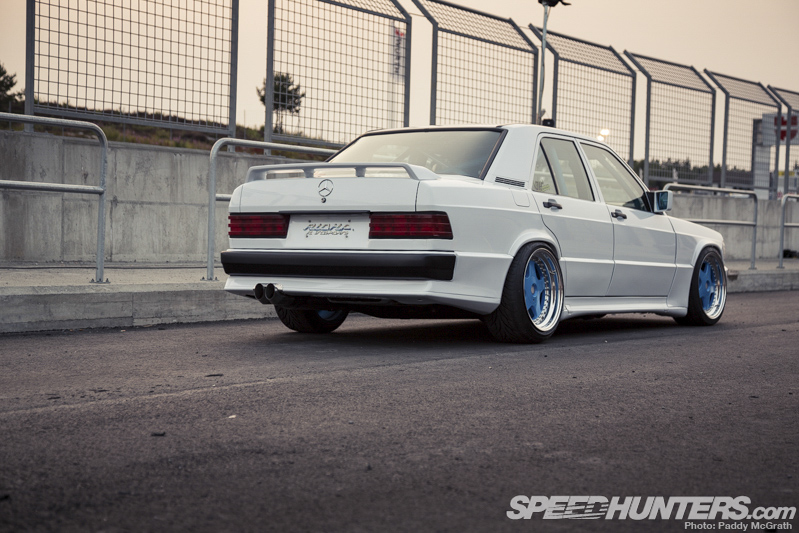 Like Brad highlighted, the Scandinavians do not do the expected. I can't wait to get back over to there and hopefully I can see how this Mercedes 190 is evolving. Predictability does not exist in Scandinavia and that alone makes it worth a trip to an event in this amazing part of the world. Sure a can of Coke might be $5 (I joke not) but the experience is absolutely priceless.
Words by Ben Chandler
Twitter: @Ben_SceneMedia
Instagram: @ben_scenemedia
Photos by Paddy McGrath
Twitter: @PaddyMcGrathSH
Instagram: speedhunters_paddy
paddy@speedhunters.com
Alexander Lindquist's Mercedes-Benz 190E
Engine
M103 103.980 2960cc, standard bottom, pistons, rods, match-ported head with standard camshaft and dbilas valve springs, Elring head gasket, OEM head bolts, modified manifold for Bosch 1680cc injectors, custom fuel rail, 500x350x76mm Intercooler, 3″ piping, Marmander blow-off-valve, Turbobanditen stainless exhaust manifold, Holset HX52, 60mm wastegate, 4″ stainless downpipe and 3.5″ exhaust, oil cooler,  KL-Racing 044 fuel pump x2, 13mm feed line, 11mm return, 19L fuel cell, rear-mounted radiator, 16″ cooling fan, Bosch Motorsport coil pack, Vems ECU, running on E85 with 2-bar of boost.
Driveline
Getrag 717.404 dog-leg 5-speed gearbox, lightened and balanced flywheel by DLI-Teknik, 4-puck sintered clutch, Sachs 765 pressure plate, ASD differential from W124, 2.5-16V ASD driveshafts.
Suspension
Bilstein B8 shock absorbers, shortened AP springs from R129, Dibed camber plates, R129 wheel hubs, Hedgehog polyurethane control arm bushings, delrin subframe bushes, 28.5mm front anti-roll bar, 13mm rear, S124 drop links, stiffened subframe and rear top mounts.
Brakes
Brembo 4-piston calipers, EBC YellowStuff pads, 330mm drilled discs (front), ATE 2-piston calipers, EBC YellowStuff pads, 300mm discs (rear), steel braided brake hoses, rear mounted ABS, hydraulic handbrake.
Wheels/Tyres
OZ Futura 17×9-inch (front) and 17×10,5-inch (rear) with Federal EVO 595 215/40R17 (front) and Federal SS-595 235/40R17 (rear).
Exterior
Full 2.3/2.5-16 body kit, shaved front fenders, custom DTM-splitter, red tail lights, white turning lights.
Interior
Full roll cage, stripped interior, Momo Corse Extreme seat in carbon fibre, Momo Benetton F1 steering wheel, STR 6P harness, 2.3/2.5-16V centre console.