After seeing all of the mad vehicles we've featured this month, it'd be logical to think that every car built in the Scandinavian region is some sort of zombie-like, engine-swapped tire-destroying machine. While those bonkers cars might define the scene for many, Scandanavian car enthusiasts also have plenty of appreciation for simple, more detail-focused builds – like this AE86 that Larry Chen photographed during his recent visit to Norway.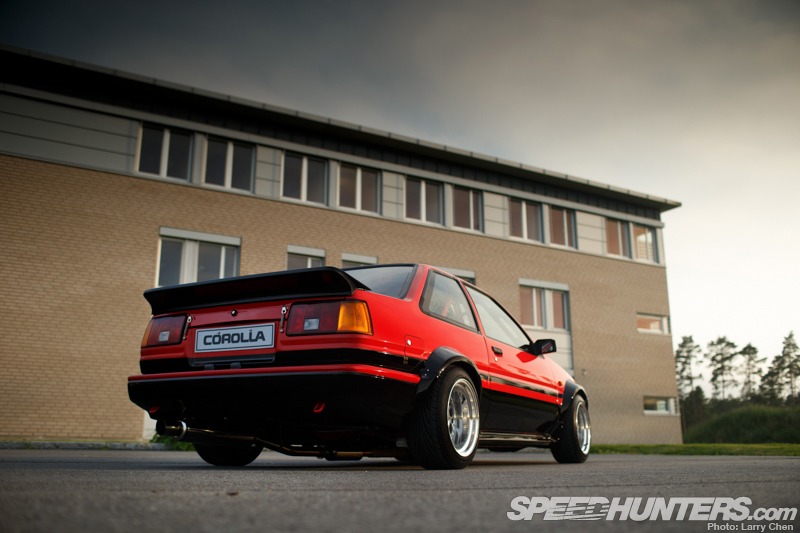 When compared to the rest of the cars we featured as part of the Scandinavian theme, this little Corolla is positively tame. It's also probably packing the lowest amount of horsepower of any car we've featured this month.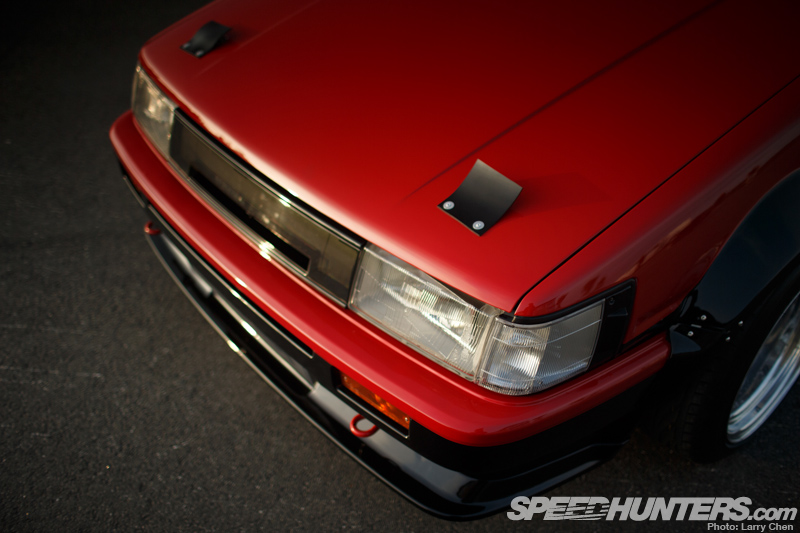 But that's not at all a bad thing. It's not always about ridiculous horsepower figures or mind-bending engine swaps, right?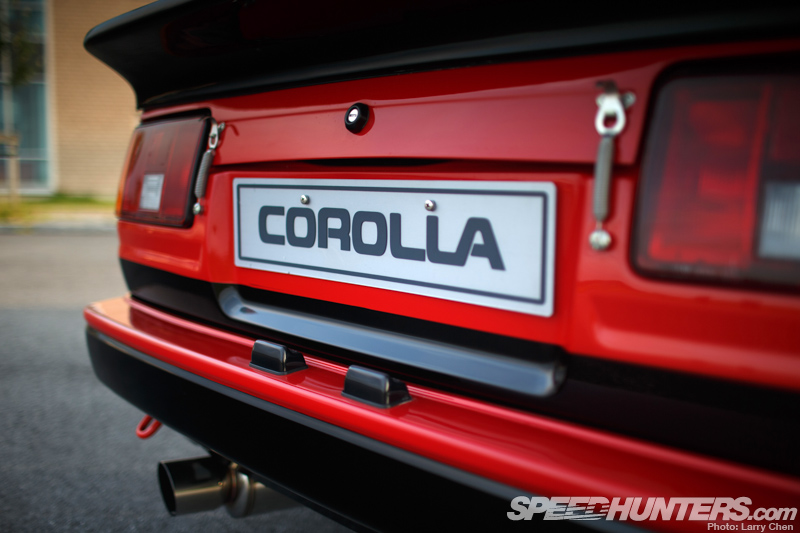 It's that 'less is more' ideal that the AE86 has been preaching to car enthusiasts around the world for three decades now. Among the followers is Norway's Petter Hongseth – the owner and builder of this red-on-black beauty.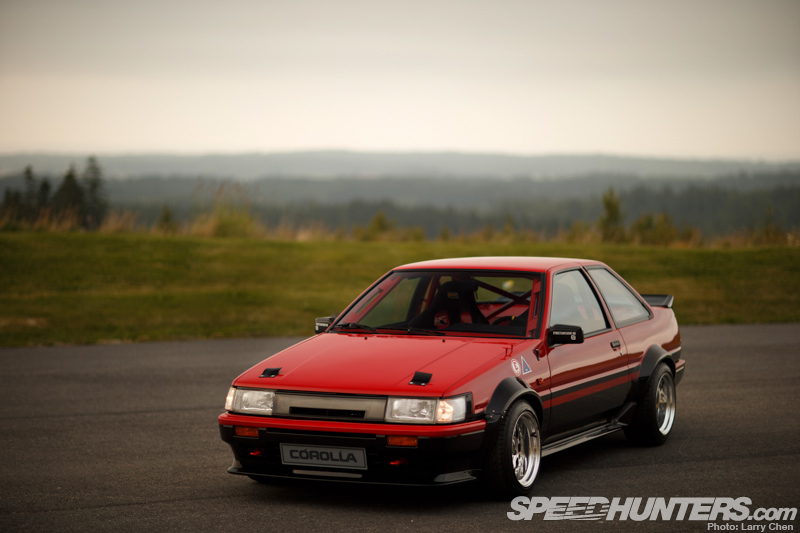 What Petter's AE86 lacks in terms of monster power it more than makes up for with its obscenely-clean style and keen attention to detail throughout. The car was actually displayed in the Speedhunters booth at last year's Gatebil Rudskogen event and more recently Rod Chong scouted it during the Elmia Show in Sweden. Finally, we now have the chance to share this Toyota in detail.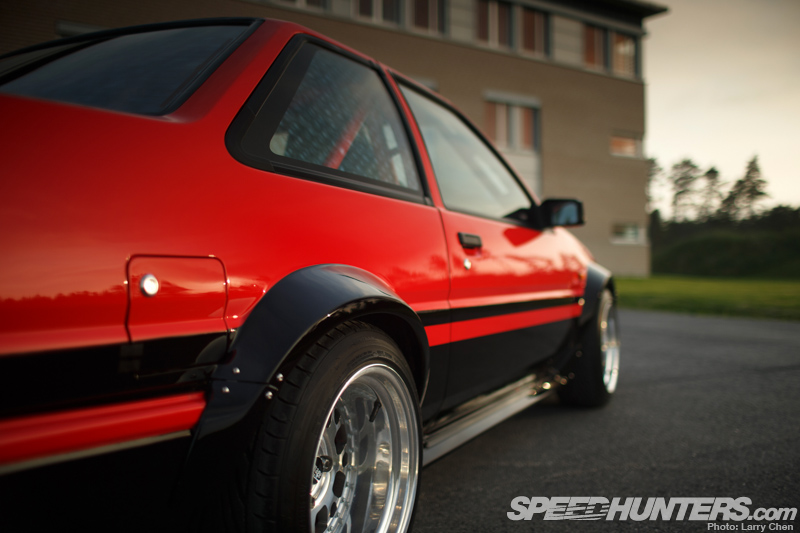 Using a 1984 model Levin two-door coupe as his base, Petter got to work transforming his AE86 into a machine with a race car's soul and a show car's presentation.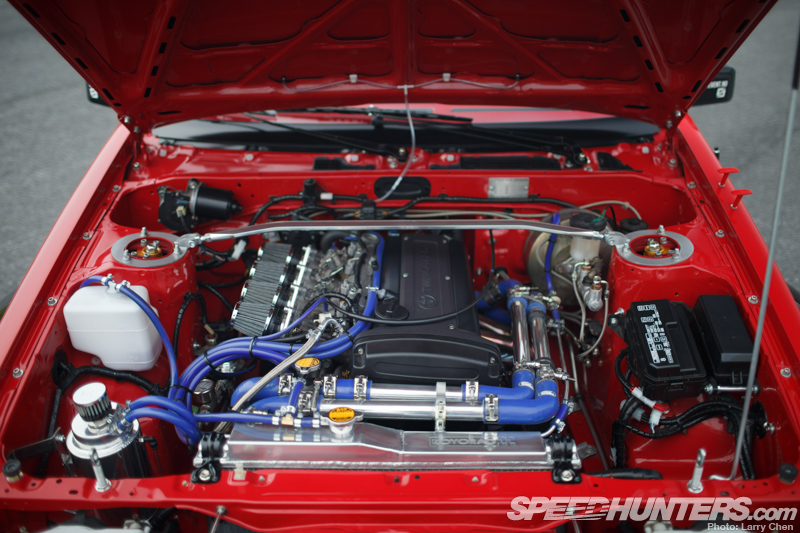 Pop the hood on Petter's Levin and you'll find – gasp – an engine that actually looks like it belongs there. Just as it did when it rolled off the assembly line almost three decades ago the AE86 is still powered by Toyota's venerable 4A-GE twin cam engine.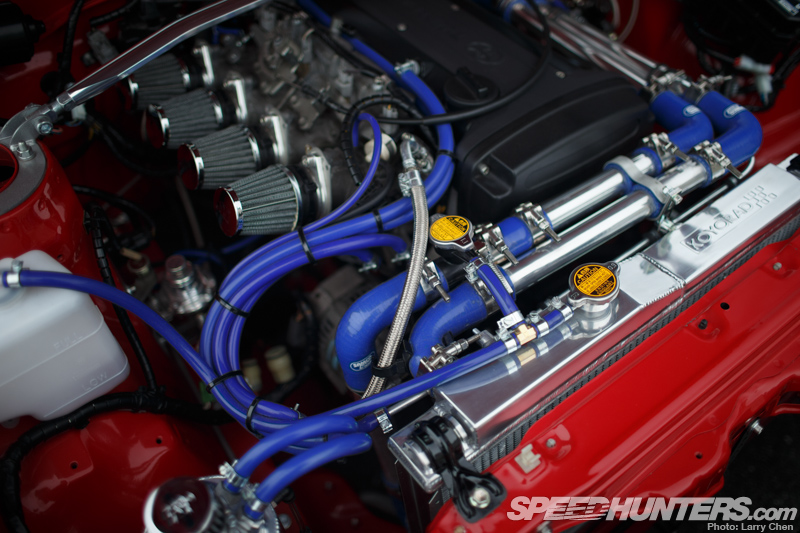 But rather than the 16-valve unit that came factory-fitted in the car when it was new, Petter swapped out the motor for a later model 20-valve 4A-GE and its factory individual throttle bodies.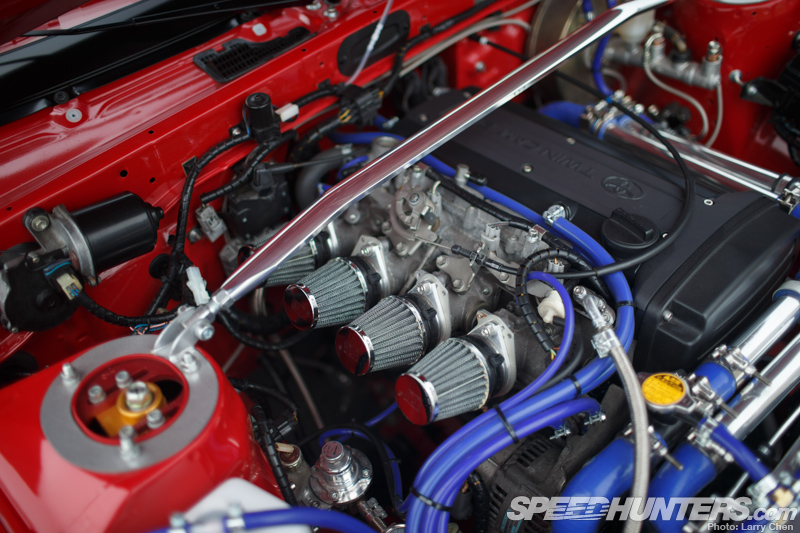 With just some light work done on the induction and exhaust, Petter believes the motor is making around 170 horsepower. But really, do you need more? To me 170 is an absolutely perfect number to get the most out of the AE86 chassis.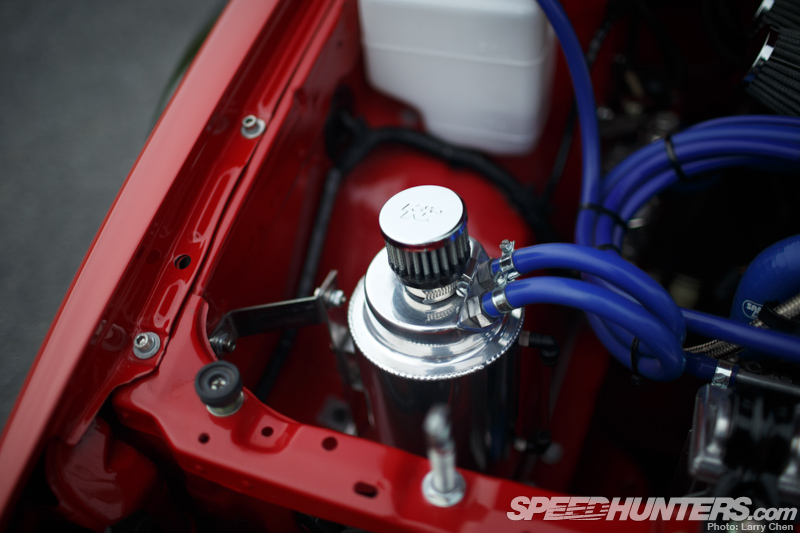 But what impresses just as much as the hardware under the hood is the cleanliness of it all. It seems there's not a spot of dirt or grime anywhere in the engine bay.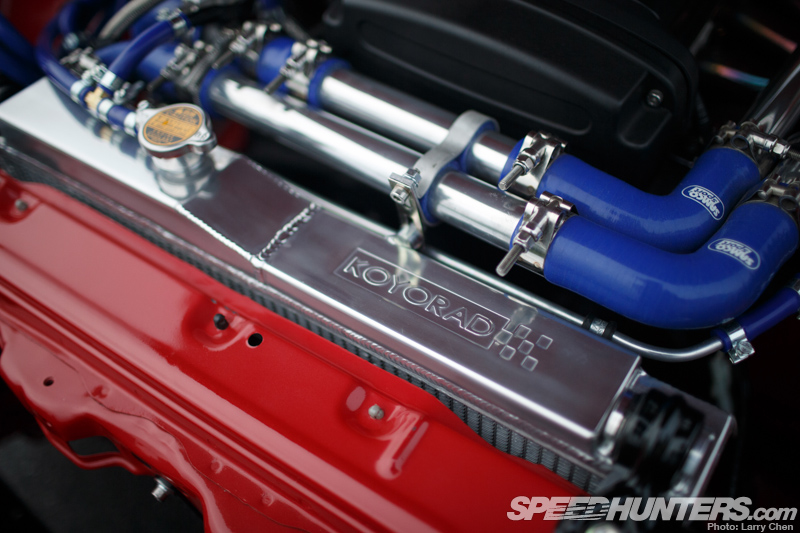 From the Samco hoses to the aluminum Koyo radiator, everything is just laid out so clean and it all fits with the mechanical simplicity that's such a big part of the AE86 experience.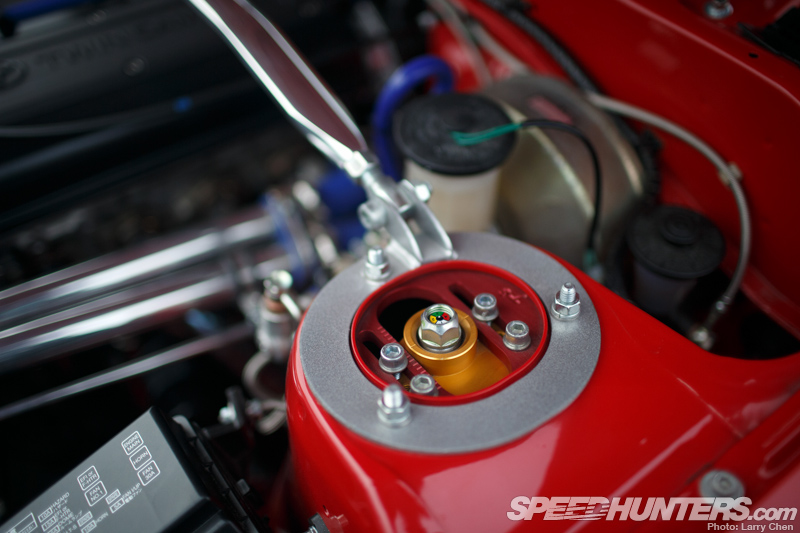 Petter also did some work on the Corolla's suspension, including the addition of adjustable control arms and a set of custom-built coilovers with adjustable KYB dampers and Eibach springs.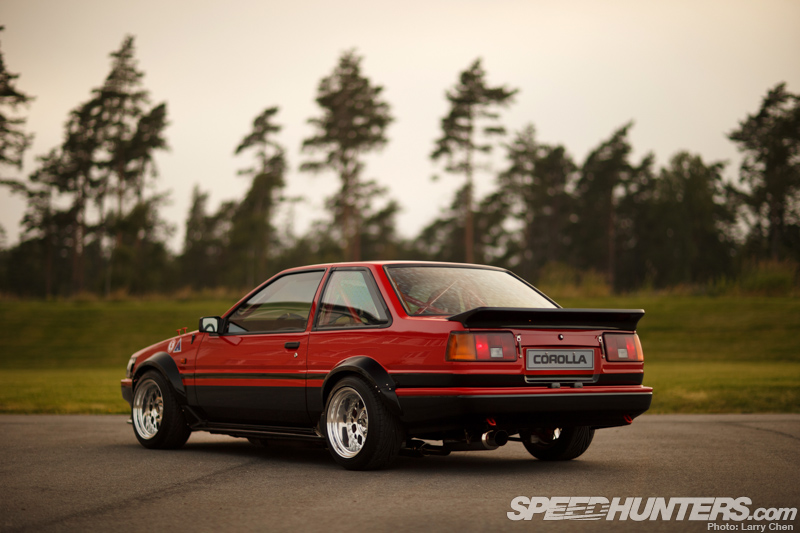 Rounding out the major mechanical changes is a KAAZ two-way LSD that's been installed out back. As with the 20-valve engine swap and suspension upgrades, it's something that AE86 owners have been doing for years.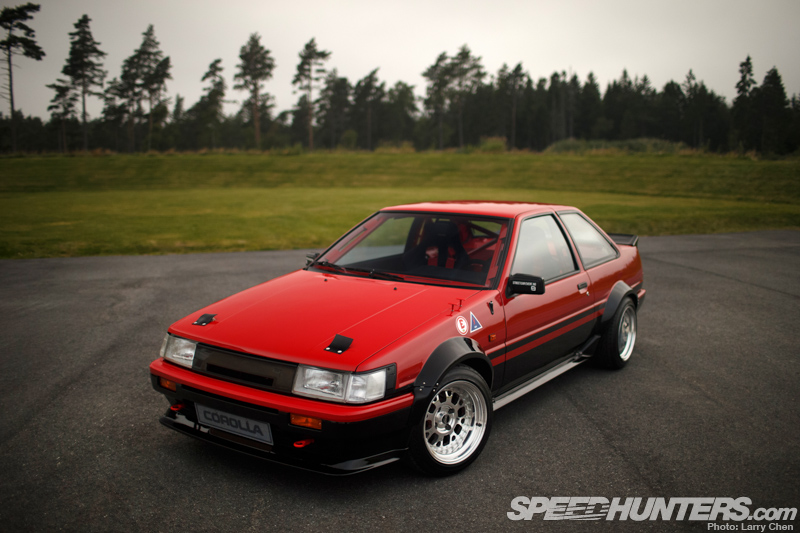 As I'm sure you've already noticed, the exterior of the Levin follows the same simple philosophy. The body is colored in the AE86's signature two-tone color scheme with a few choice additions to lend a more aggressive look.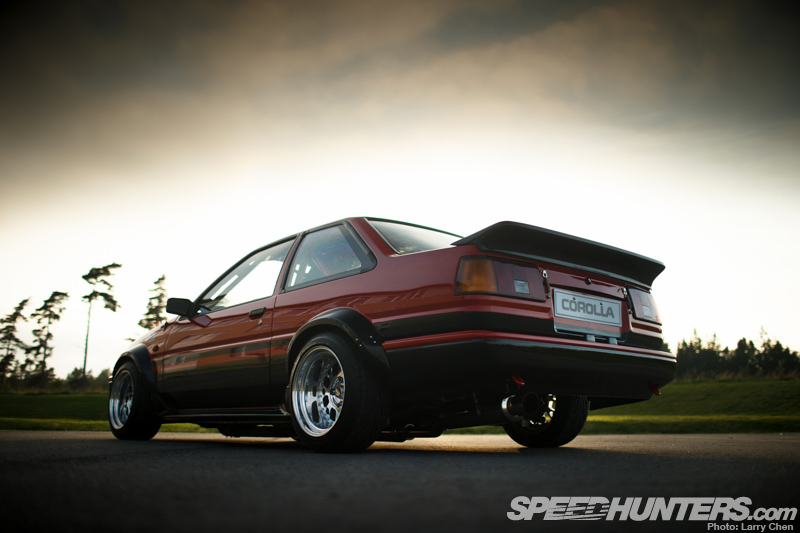 Namely there's a TRD rear spoiler which hangs nicely off the rear decklid…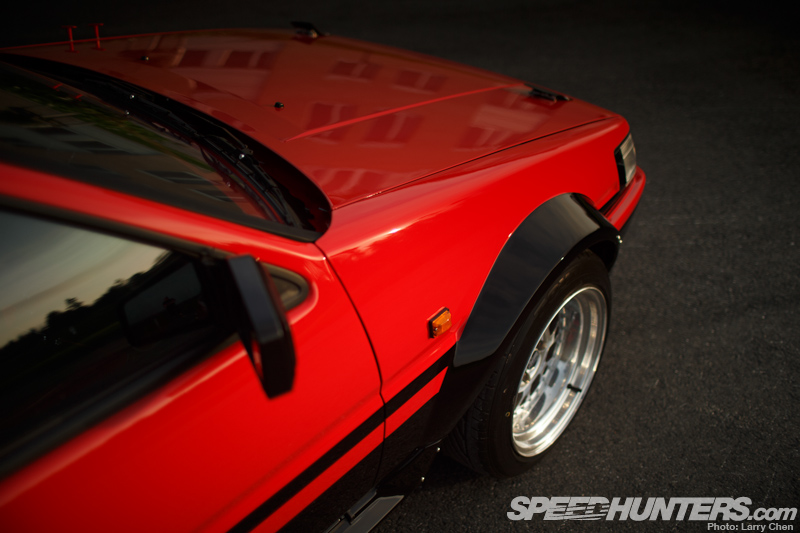 … and a set of fender flares from Japan's Crystal Body Yokohama, better known as CBY.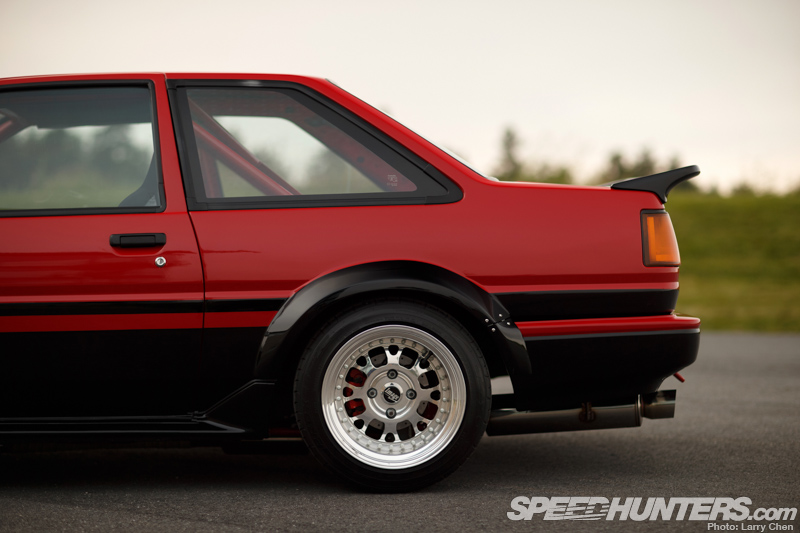 Sitting beneath the fenders are a set of custom Image wheels, sized 15×9-inch on each corner and fitted with 215/45R15 tires.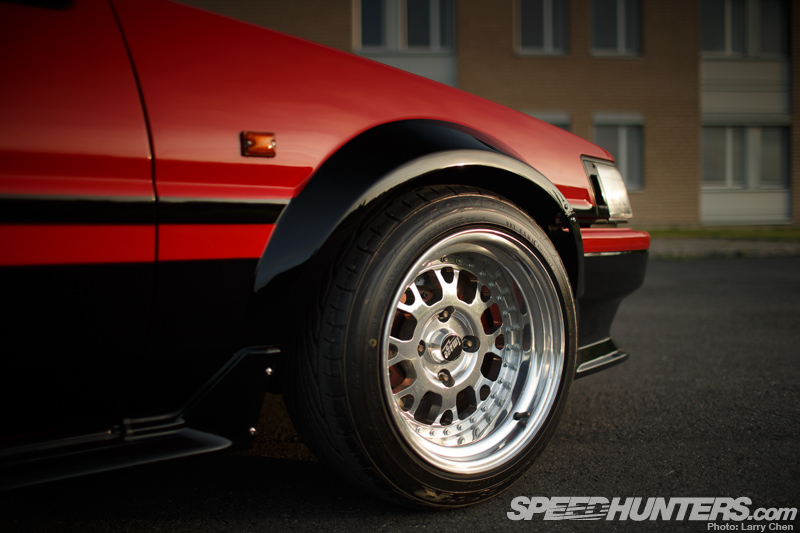 The result is something that perfectly fills up the widened fenders without looking over the top. Just another example of the attention to detail found throughout the car.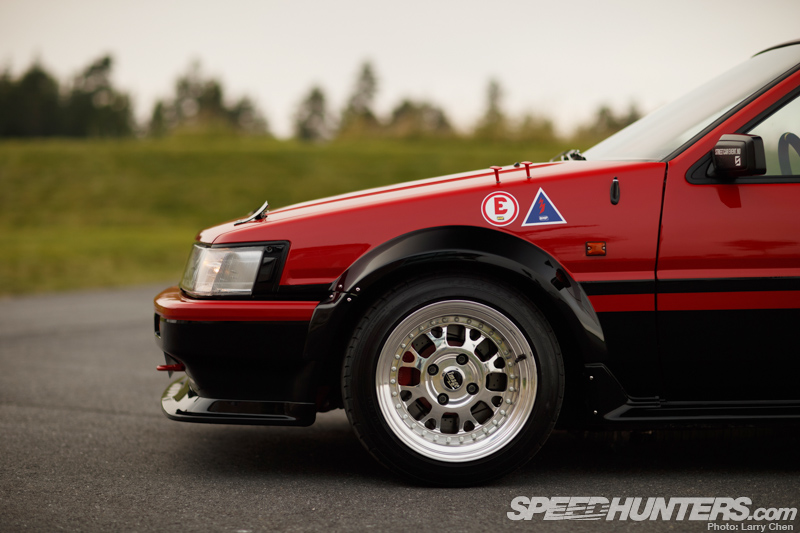 Hiding behind the spokes of the wheels, you can also catch a glimpse of the Wilwood big brake kit that's been installed up front.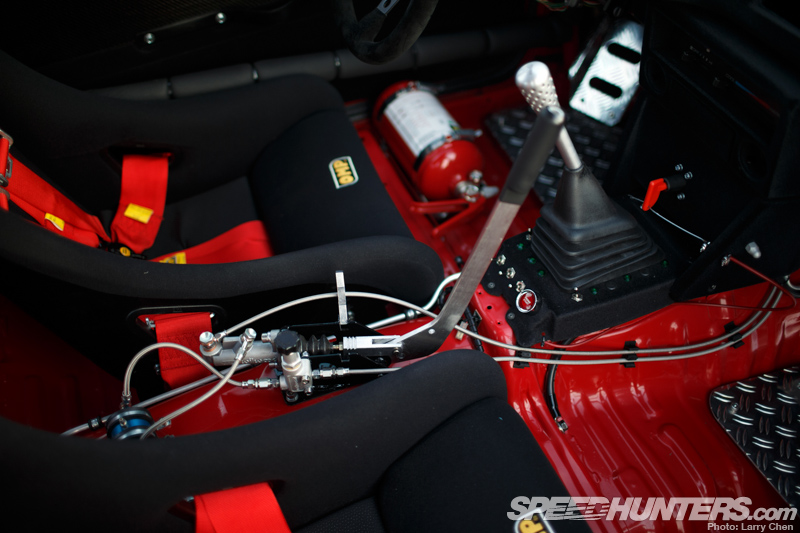 The car's custom E-brake setup was also built using parts from Wilwood.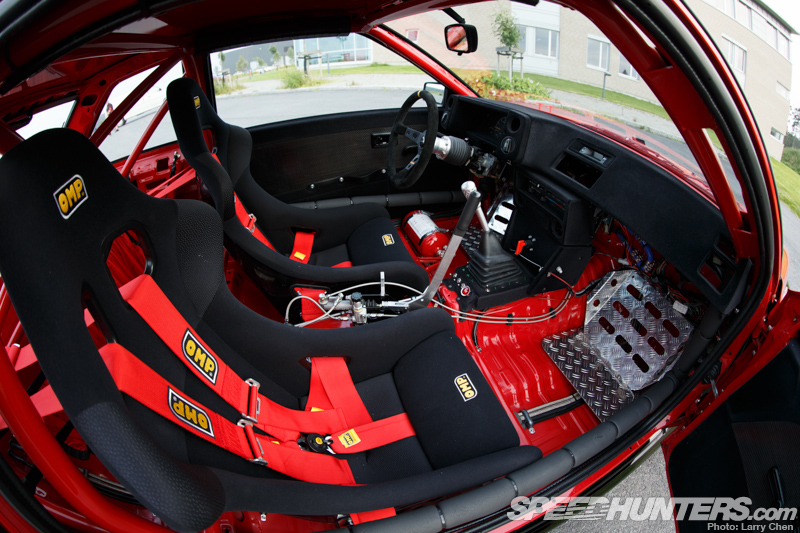 Of course the E-brake is just one part of an interior that's been stripped down and completely refreshed throughout. All of the non-essentials have been removed, with the same precise attention to detail as the rest of the car.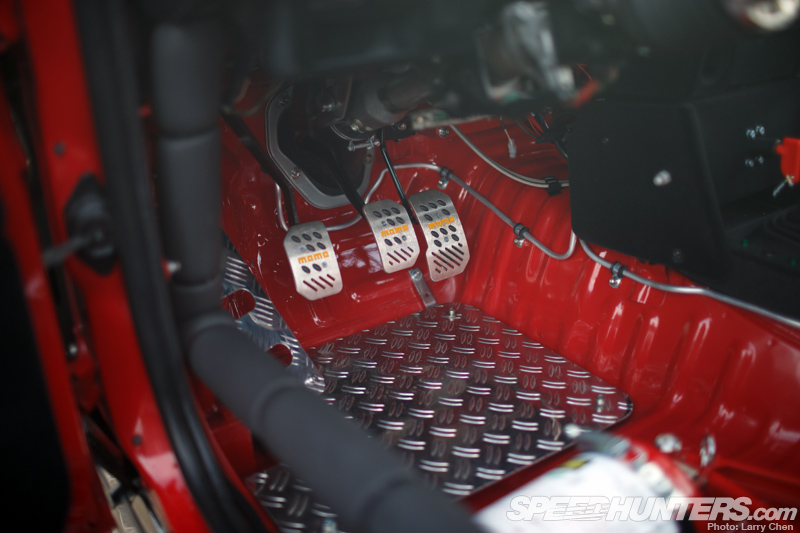 The interior panels are finished with paint that looks nicer than the outside of most of my cars, and Petter also installed some diamond plate panels in the foot wells.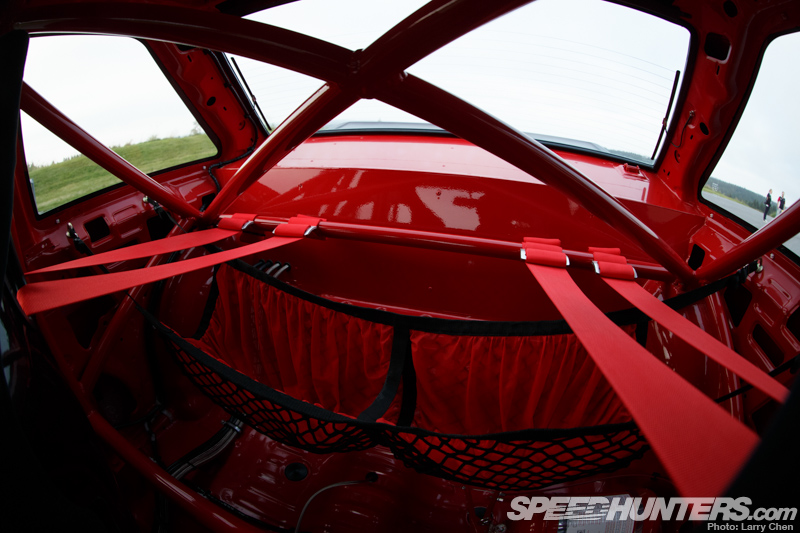 The 86 has also been fitted with a complete roll cage that looks like it's perfectly up to the task of any sort of track day that Petter might want to do.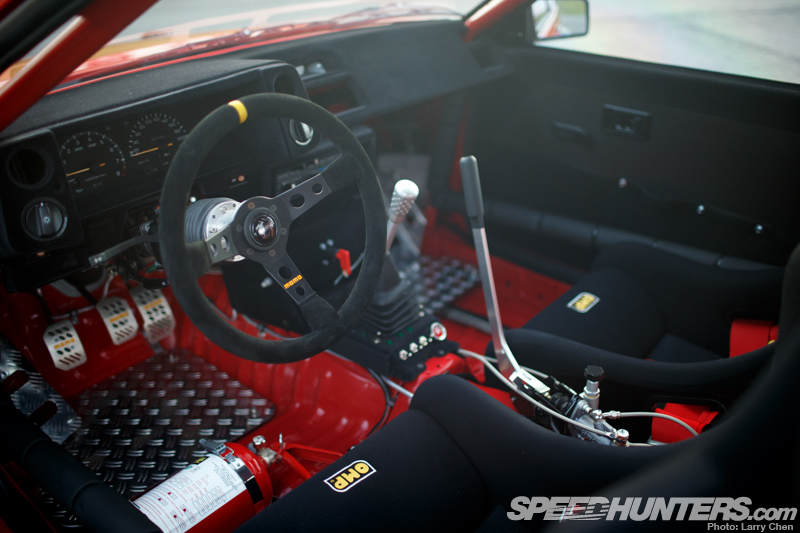 There's also a Momo steering wheel…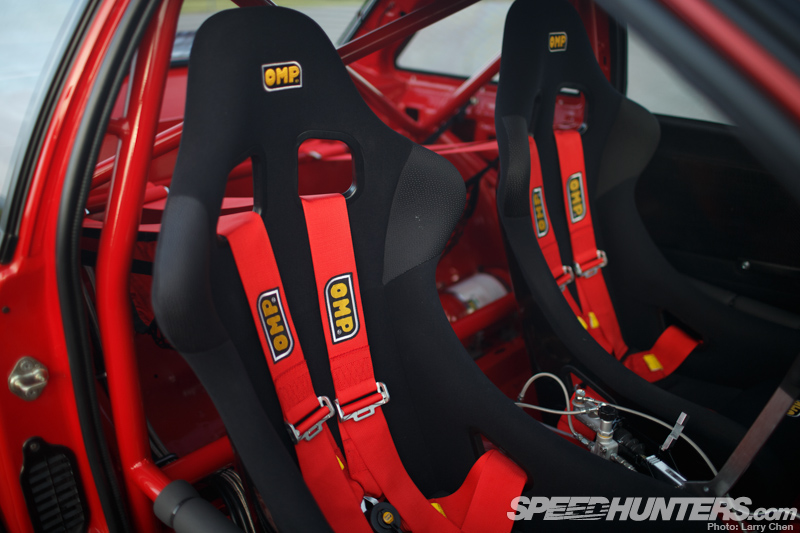 … and a pair of OMP racing seats with matching six-point harnesses.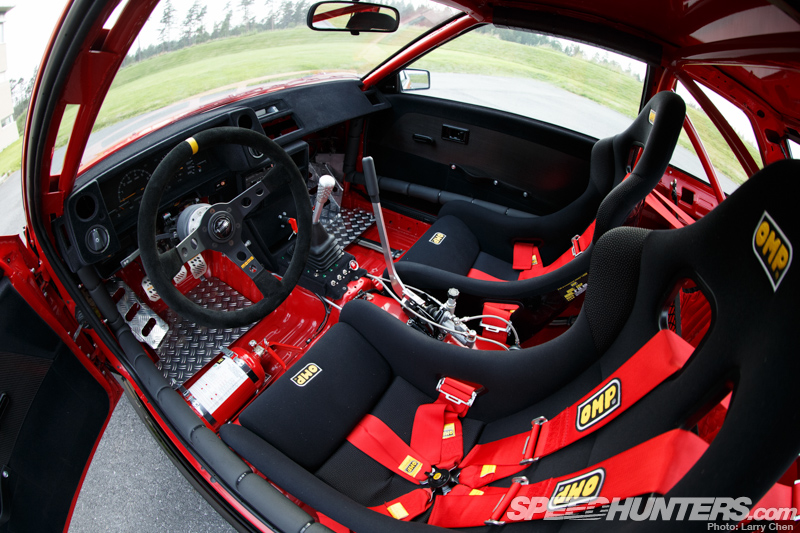 But again as with the engine bay, it's the sense of detail and cleanliness in the cockpit that really sets the car apart.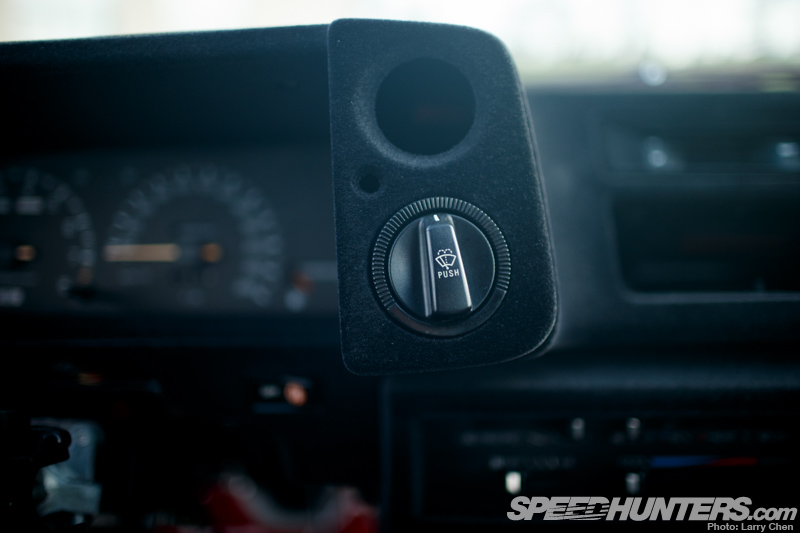 There are nice little touches like custom flocking on the dashboard…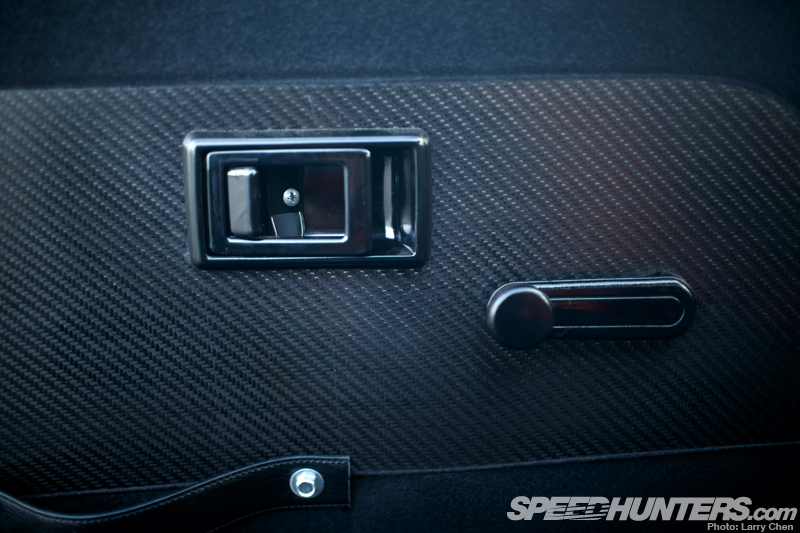 … along with these subtle carbon fiber inserts that add a bit more character to the cockpit without going too far.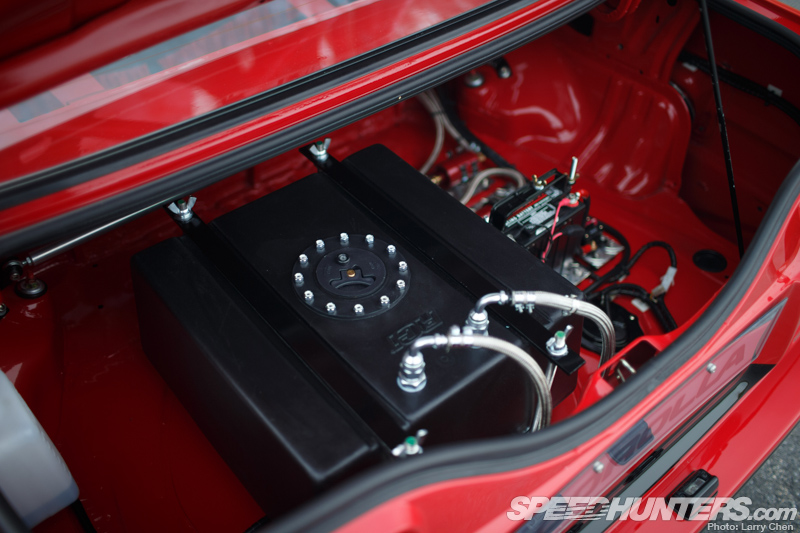 The same attention to detail even carries over to the Corolla's trunk, which is home to a custom fuel cell setup. Once again, it's just spotless in here.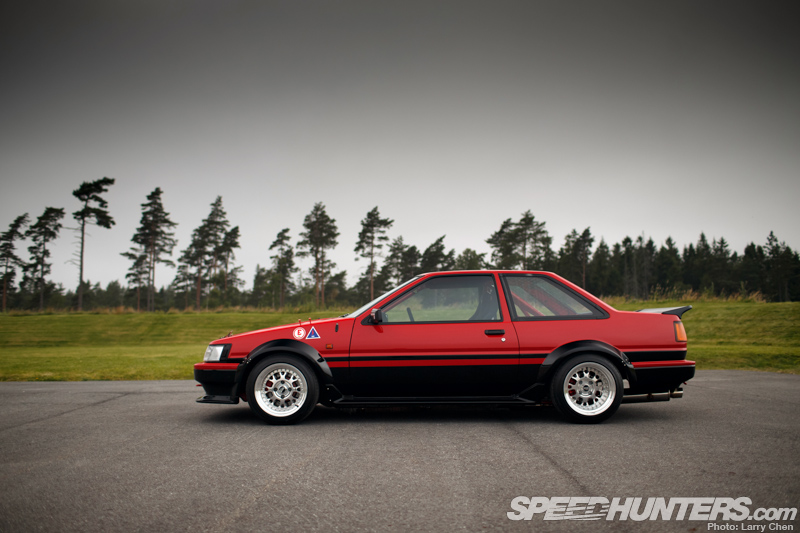 So while this AE86 might not match with the image of bonkers builds and insane driving that we've come to associate with Scandinavia, it can actually be a breath of fresh air to see a simpler, more restrained build like Petter's.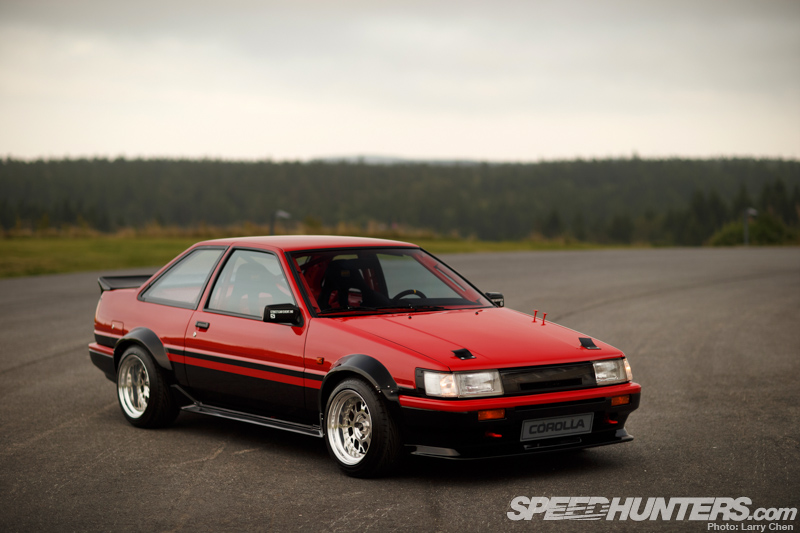 In a place where there really are no rules when it comes to building a car, it's nice to see something that strokes the purist side of our automotive interests.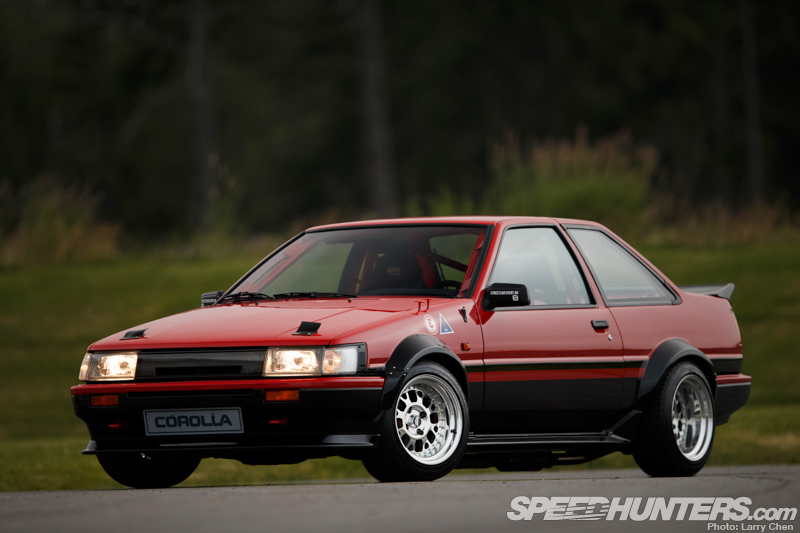 Whether you fancy the insane builds or the subtle cars like this one, Petter's 86 is just one more slice of the delicious pie known as Scandinavian car culture.
Words by Mike Garrett
Instagram: speedhunters_mike
mike@speedhunters.com
Photos by Larry Chen
Instagram: Larry_Chen_Foto
Petter Hongseth's AE86 Toyota Corolla Levin

Engine
Toyota AE111 20-valve 4A-GE swap, custom exhaust, custom intake filters, custom fuel cell set up

Driveline
Toyota T50 5-speed transmission, KAAZ two-way LSD

Suspension/Brakes
Coilovers with KYB dampers and Eibach springs, front and rear tower bars, adjustable control arms, Wilwood front brake kit, Wilwood E-brake
Wheels
Image 15x9J -20 (front) -40 (rear), 215/45R15 tires
Exterior
TRD rear spoiler, OEM side skirts, CBY fender flares
Interior
Full roll cage, OMP bucket seats, OMP harnesses, diamond plate foot panels, Momo steering wheel, Momo pedals
More AE86 Stories on Speedhunters