1963 was a pretty good year for cars. A small-time German manufacturer released a new lightweight 2+2 sportscar at the Frankfurt Motor Show, and a New Zealander racing driver decided the time was right to start his own team. Mighty oaks from little acorns grow: Porsche and McLaren are now both part of the lexicon of the automobile, and both were celebrated in style at this year's Goodwood Festival Of Speed.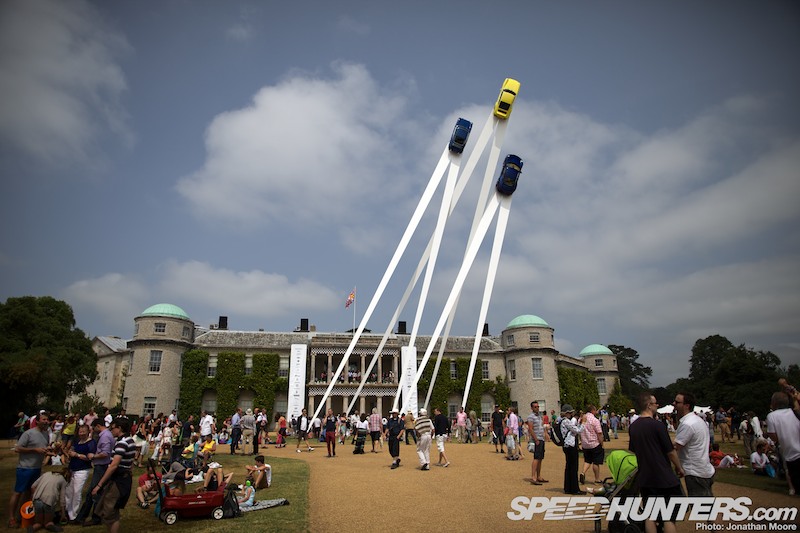 Each year the lawn in front of Goodwood House, home to Festival organiser and passionate car fan Lord March, is adorned with a magnificent sculpture dedicated to a particular marque, and this year the 911 took centre stage.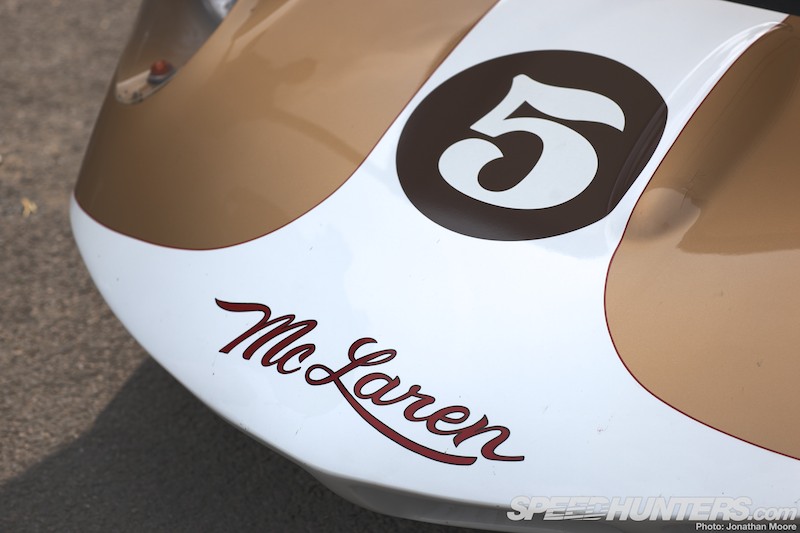 Like Porsche, McLaren's activities have touched on most aspects of racing over the last 50 years, from sportscars to single seaters in racing, and of course more recently their foray into road cars. The logo may have changed but the dedication hasn't.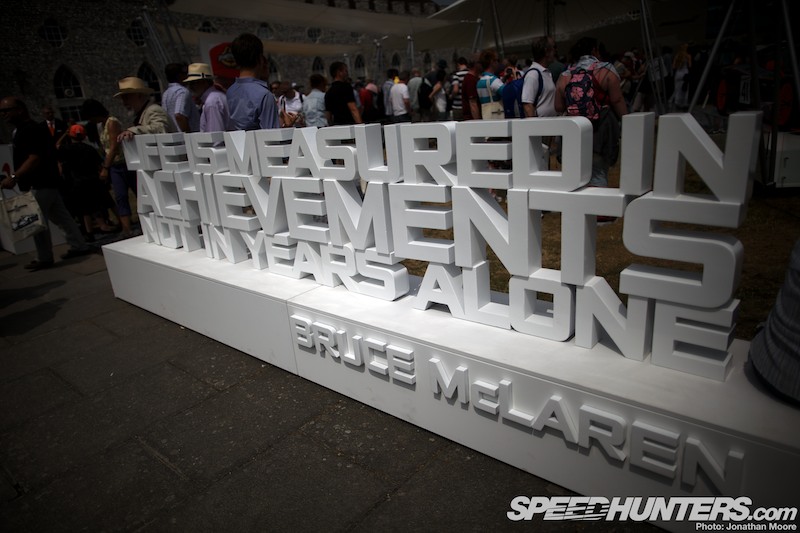 The anniversary might be an important milestone, but this quote from team founder Bruce McLaren still sums up the company's ethos.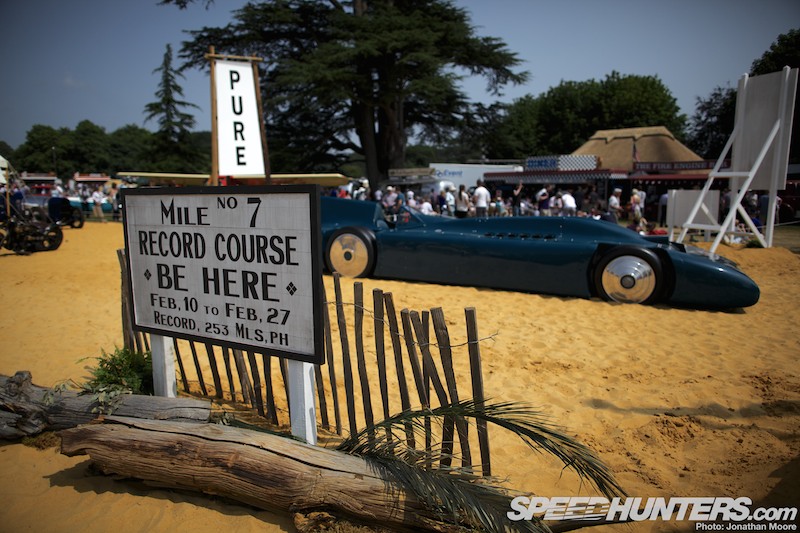 Following that theme, I'll be finishing off this story with a trip down to the land of Speed Record holders, Daytona Beach, whose sand was recreated down by Goodwood's cricket pitch.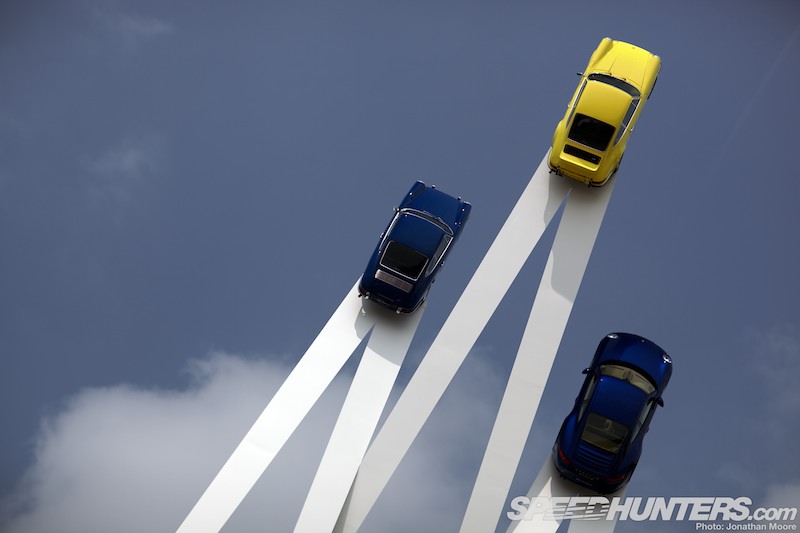 But first the sky. Everyone's eyes were drawn upwards by the 22 tonnes of metal soaring a gravity-defying 35 metres into the air, courtesy once again of the creative genius of resident Festival artist Gerry Judah. These pieces are always stunning; I always wonder what happens to them afterwards!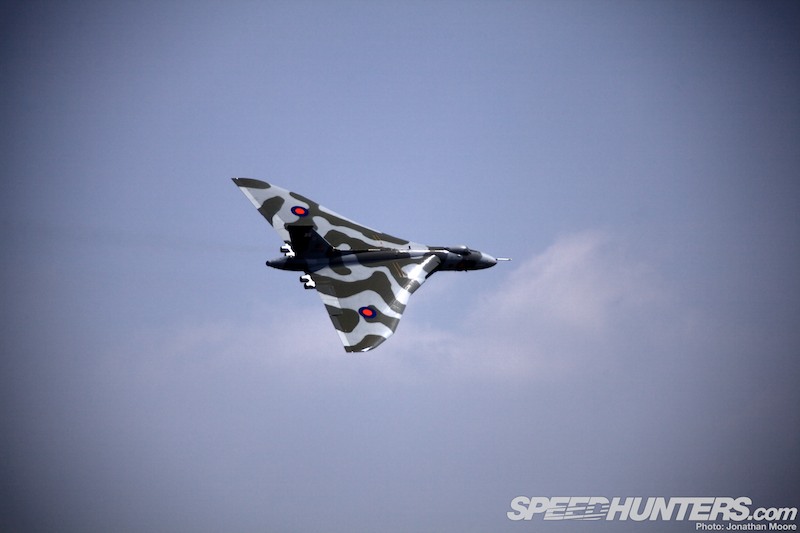 As if the sculpture wasn't enough to make people watch the skies, the arrival of 40 tonnes of Vulcan bomber pulverising the air certainly was. The majestic V-bomber is the last one in operation, and 2013 is likely to be its final operational year before airframe life dictates permanent retirement.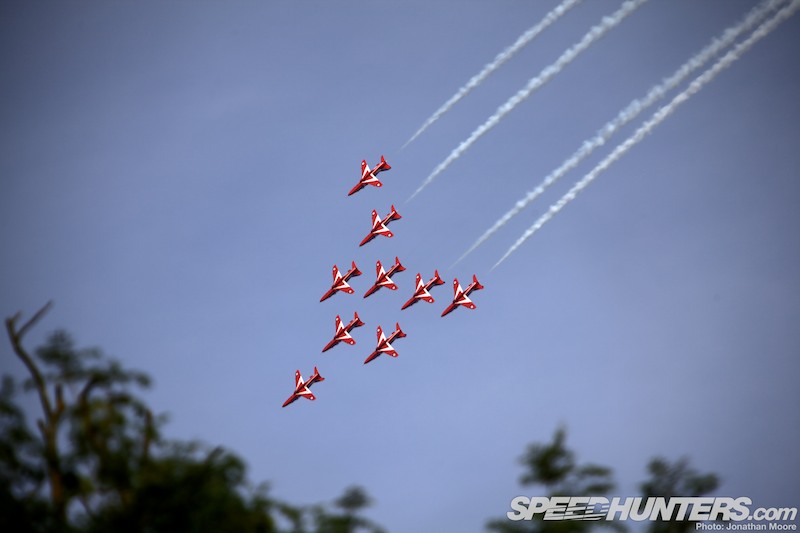 The Vulcan was seconded by regular displays by the ever-popular Red Arrows display team, whose Hawks buzzed through the sky trailing smoke. The team performed outrageous manoeuvres with their usual unbelievable precision, before diving so low that it seemed they were flying into the paddocks below.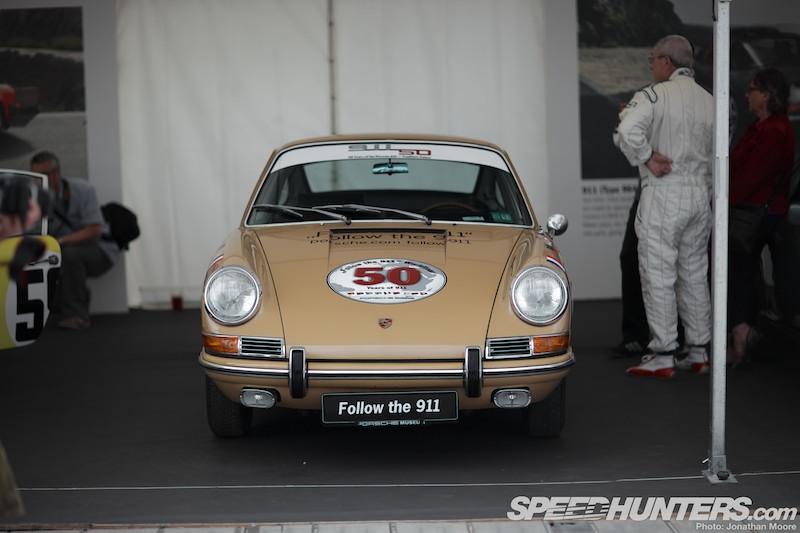 Coming back down to earth, let's get back to the 911. Porsches were everywhere, which is not a surprise for the Festival Of Speed – or any event that involves racing of course. But it was the variety of models on show which stunned and amazed everyone in attendance.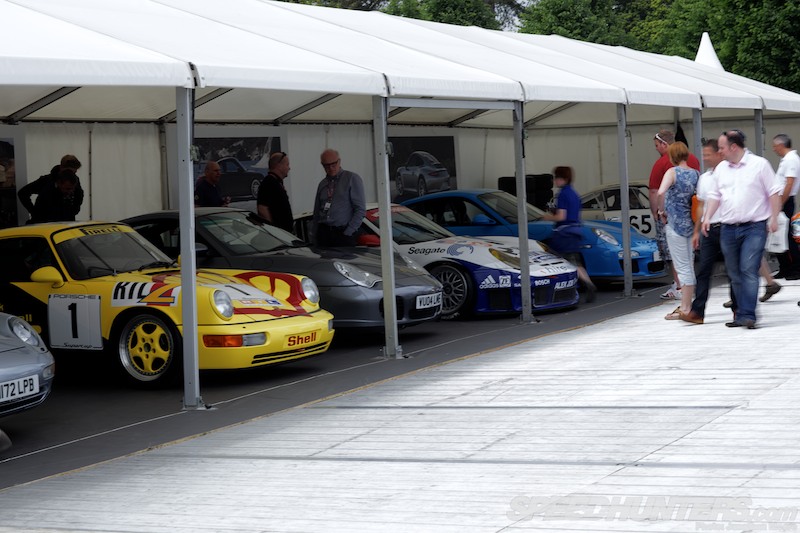 A long line of 911 of every vintage were assigned their own dedicated area, from which they set out twice a day to join a massed rank of Porsches ascending the hill.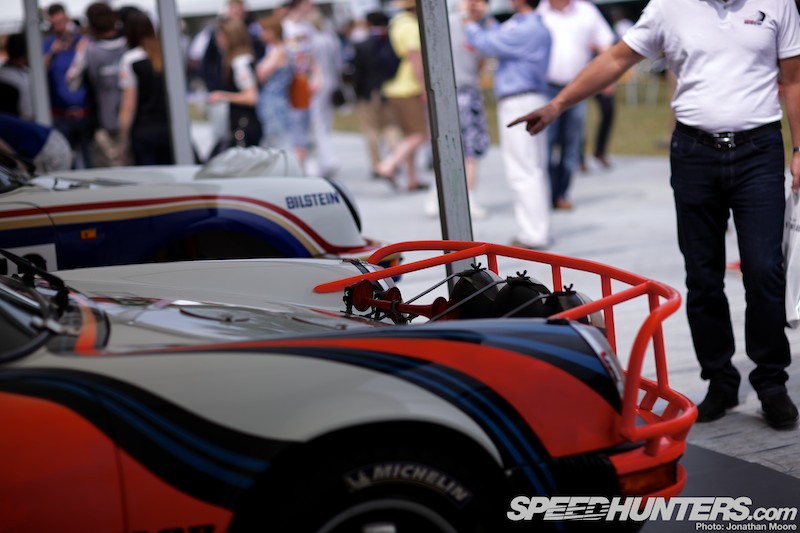 This wasn't just about the road-car output – and not even limited to road and racing. Two classic examples of Porsche's rally weapons from the '70s and '80s also drew plenty of deserved admiration.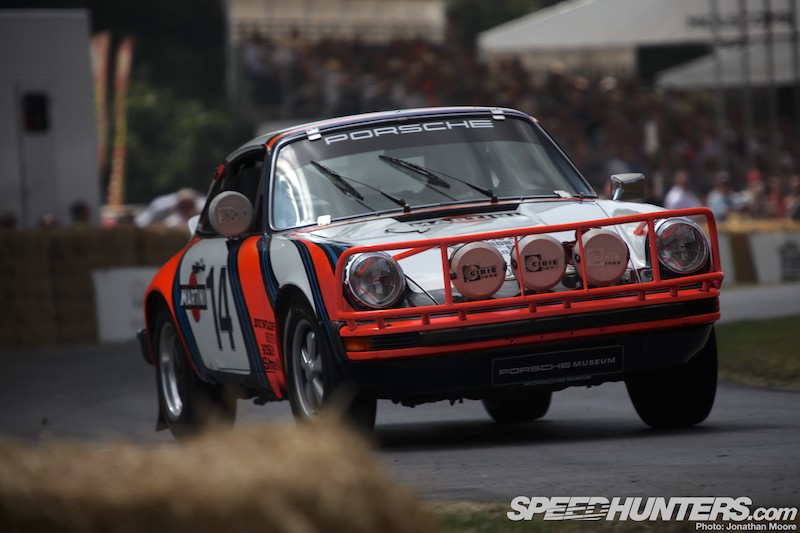 Out on the hill, the 1978 911SC ran in Safari spec…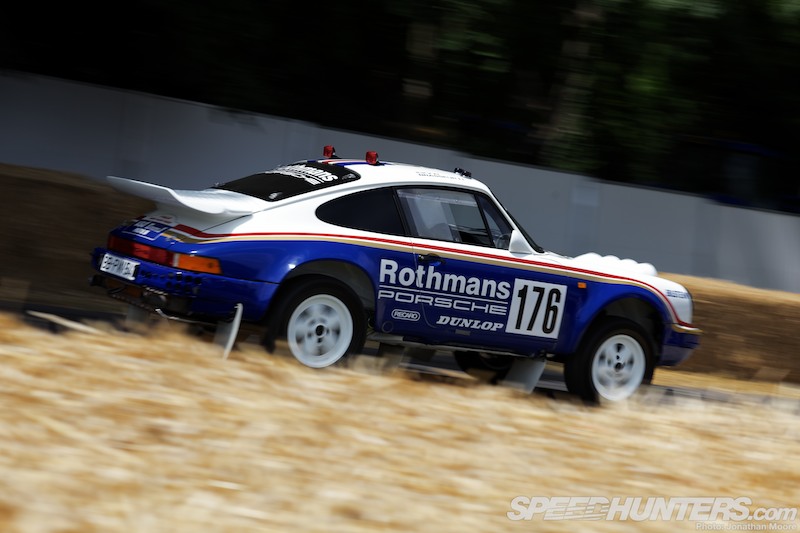 … whilst the jacked-up machine that won the Paris-Dakar in 1984 tottered up the hill like it was on high heels courtesy of its hugely long-travel suspension set-up!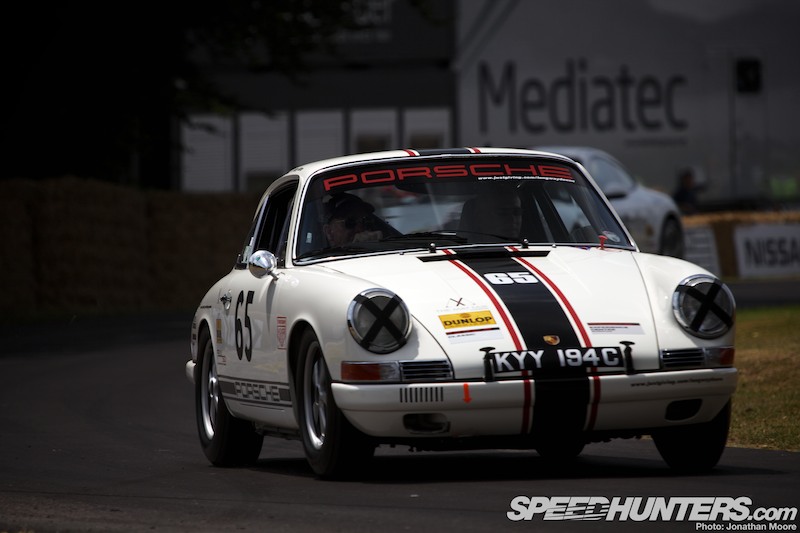 Watching all this Porsche silverware from behind the straw bales was an inspiring experience; a museum on wheels that wowed everyone. Porsche GB broke out their 1965 'Project 50′ 911, which was driven by veteran Porsche pilot Richard Attwood…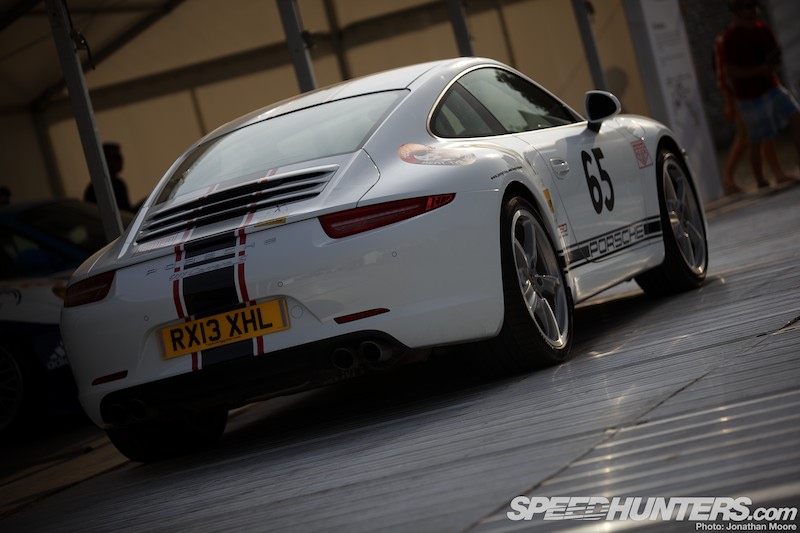 … whilst they bookended the demonstration runs with a new 991 Carrera S decked out in a matching tribute livery.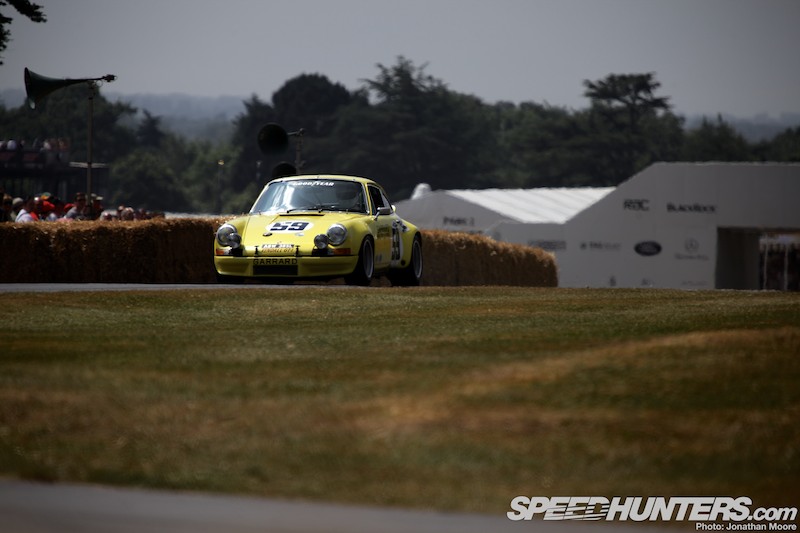 Watching on, there was a seemingly endless wave of Porsches that passed by, from narrow-waisted '60s machines through wide-body '70s RSRs, '80s Carreras…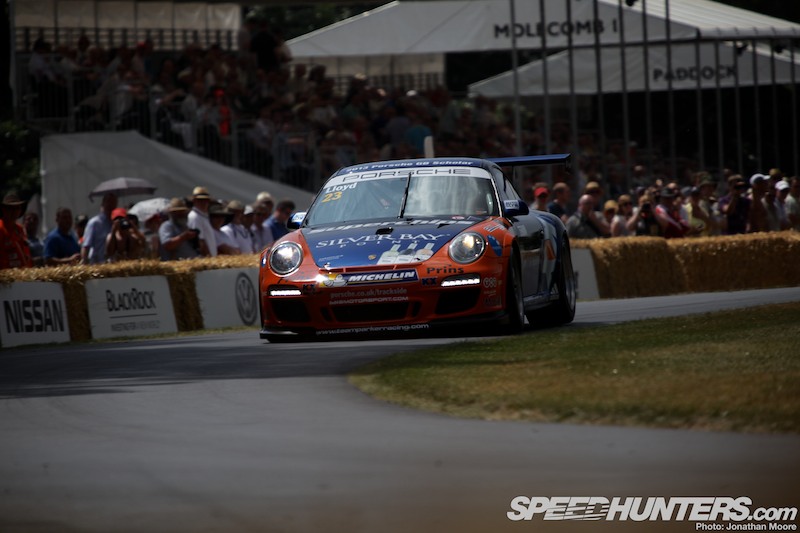 … a '90s GT2 from the American Le Mans Series and a modern GT3 Cup – the latter setting one of the faster times up the hill on its run.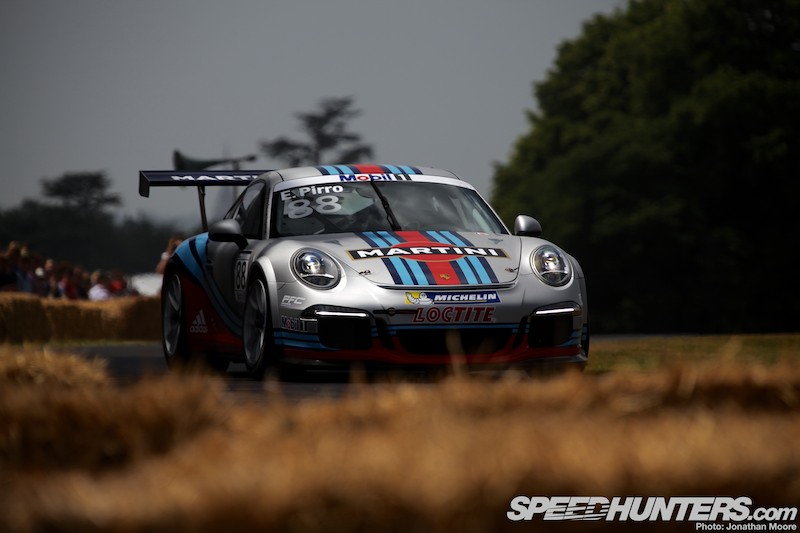 Racing is entwined into Porsche's DNA, and their bread and butter Cup cars were also supplemented by more exotic prototypes – the 956, 936/77 and trio of 917Ks mentioned in the previous story and more besides that I'll touch on further down.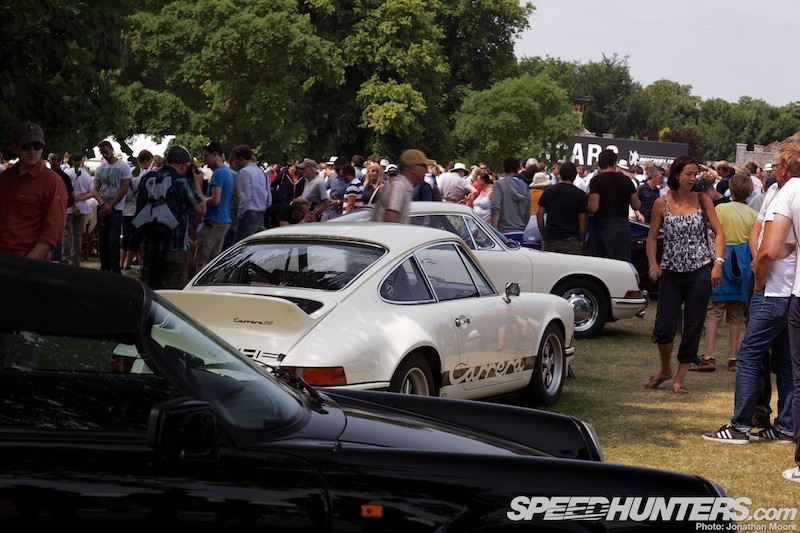 Cartier's stunning Style Et Luxe display similarly entailed a sensory overload of static 911s to suit all tastes. The original 901 that started the whole story was supplemented by a beautiful kick-tail '73 Carrera…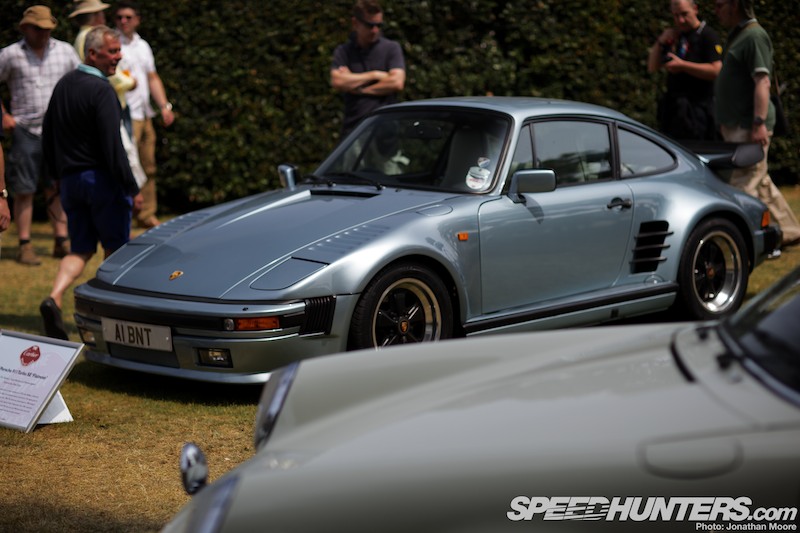 … and then some of the more brutal machinery to emerge from Porsche, such as the '87 Turbo SE 'Flatnose'…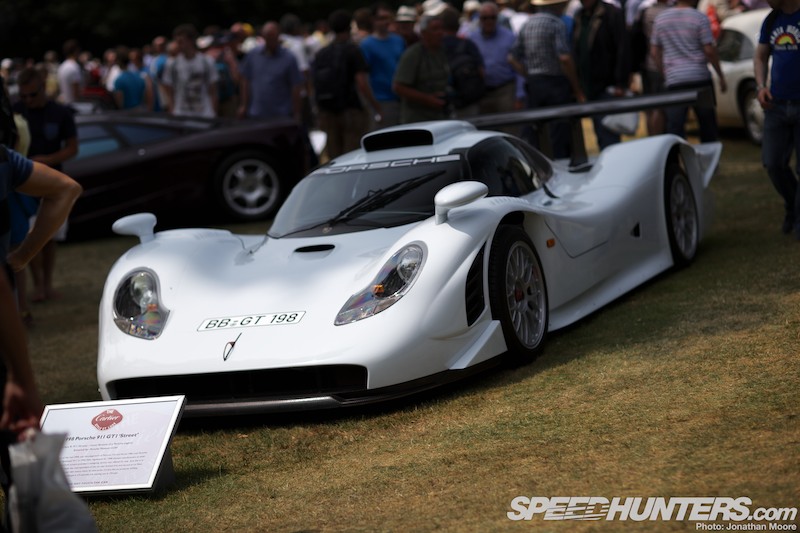 … and the utterly insane, barely street-legal version of the 1998 911 GT1-98: the Straßenversion. That's a 200mph street car with a twin turbo 3.2 litre flat six. Just what you need to go shopping.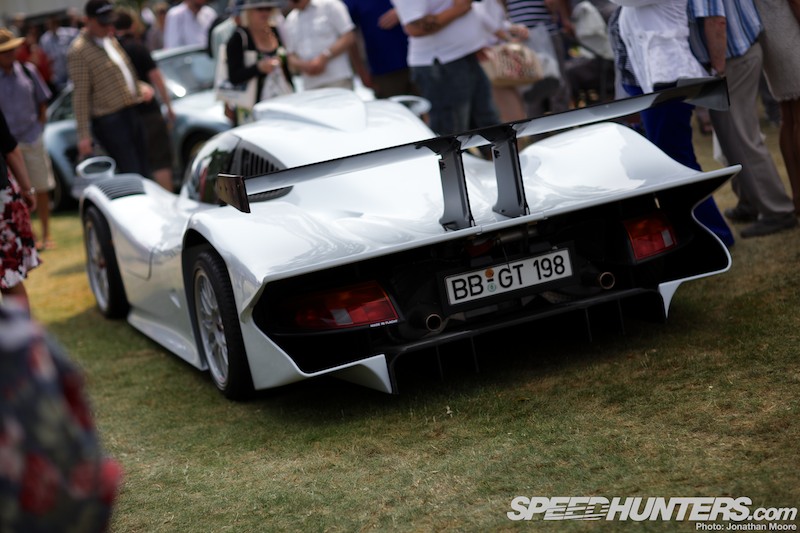 In true manufacturer homologation style, it proved Porsche could rather than would build the road cars necessary to race in the FIA series… Porsche built this one for testing by the German government. The other 24 that were expected? Well, we're still waiting…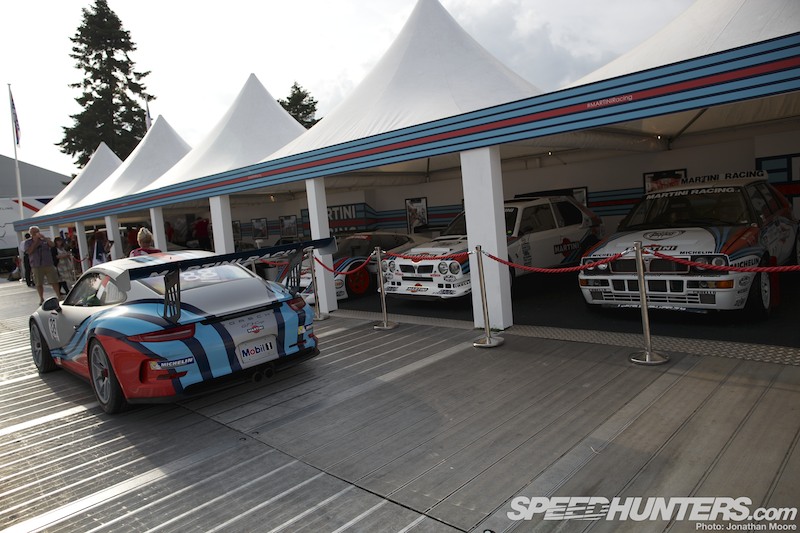 Porsches have carried many iconic liveries, though few as instantly recognisable as the blue and red stripes of Martini, who are celebrating their 125th anniversary this year, as well as 45 years of motorsport sponsorship.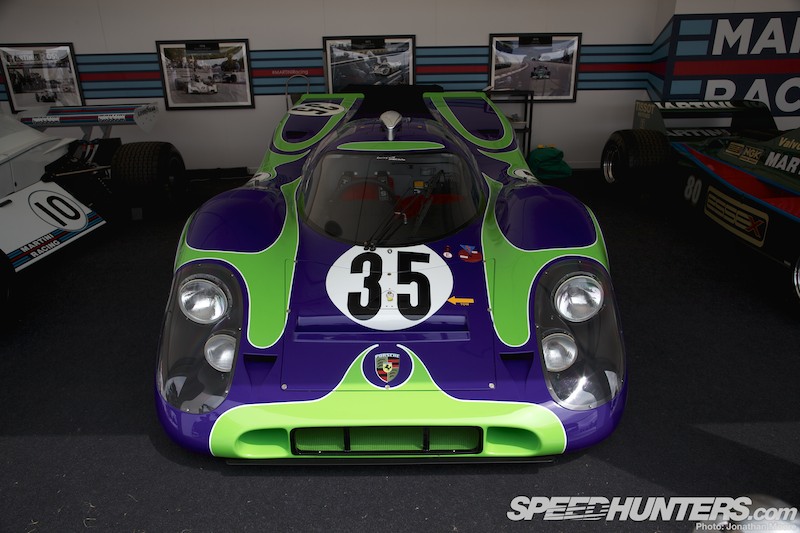 That said, the design wasn't always that way. One of the drinks brand's early forays into racing was with the psychedelic livery on this 1970 917K, and silver was the original background colour before flat white took over.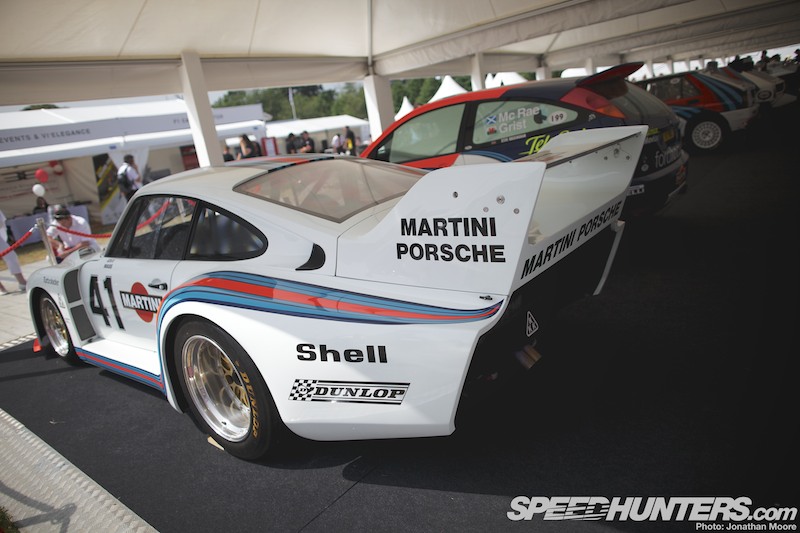 The clean, fresh design makes almost any car look great, and it makes great cars look epic.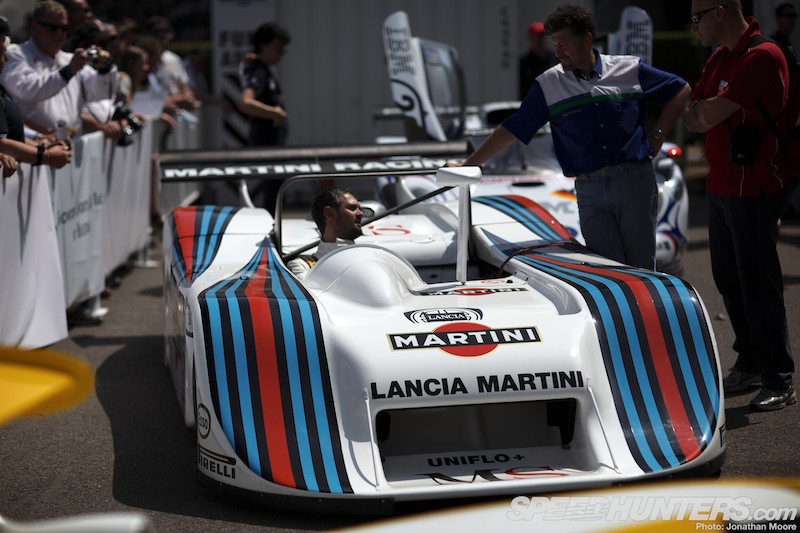 Martini's display was opposite the line of 911s, and like the Porsches their cars were not standing idle: the majority headed out several times a day to join in with a relevant display. Lancia's LC1 prototype is a rare sight…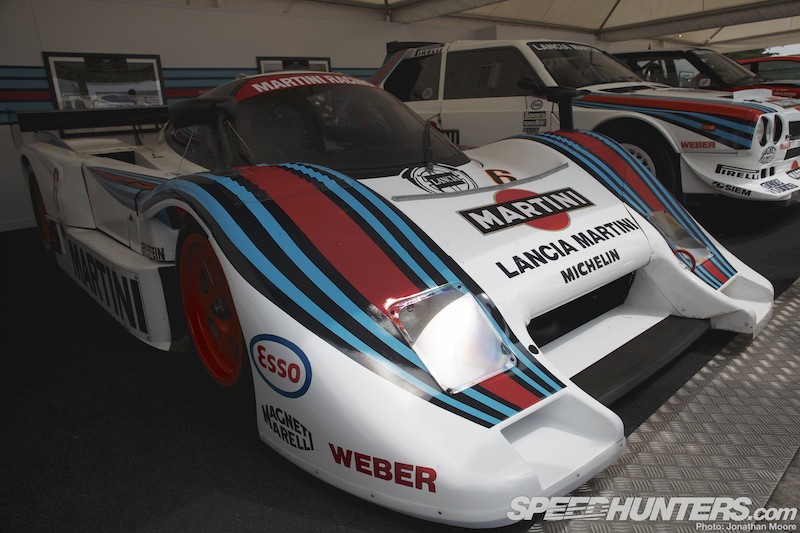 … and I never tire of seeing the gorgeous LC2 Group C racer that followed.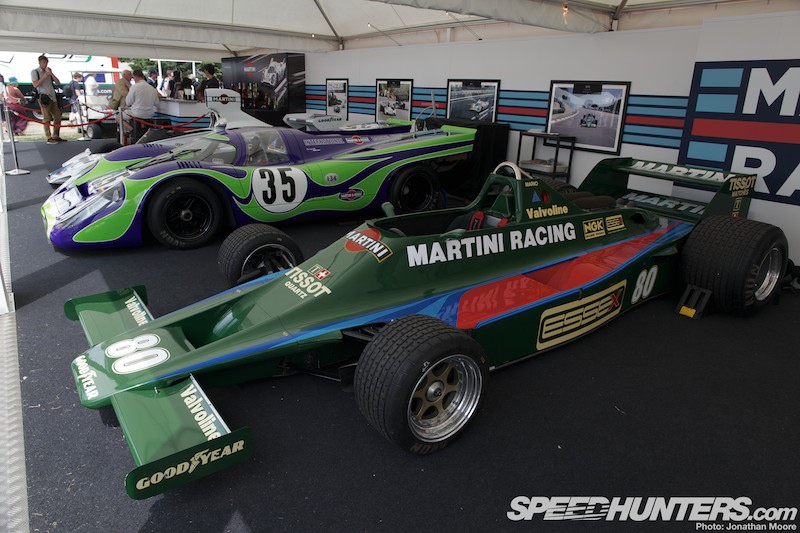 For another variation, the iconic stripes were matched with British Racing Green for Mario Andretti's ground effect Lotus 80 of 1979.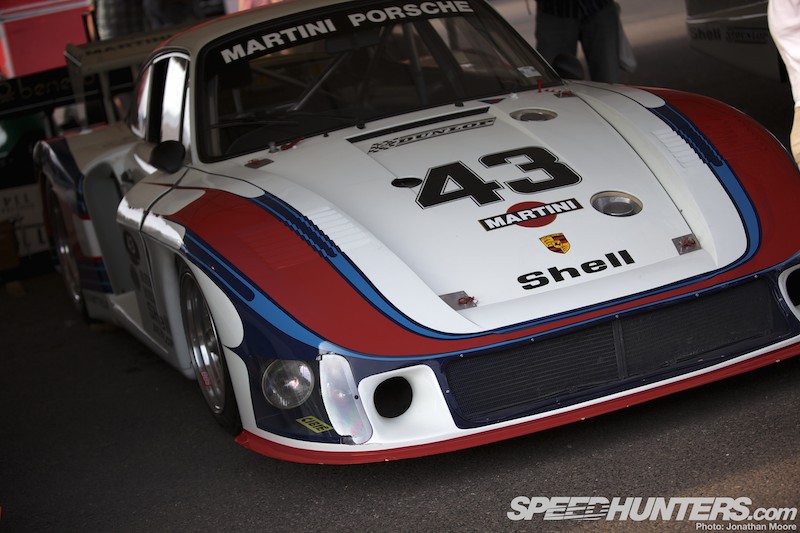 I love the way that Martini stripes are always altered depending on the car they're applied to, giving a coherent, unmistakeable overall look but meaning that every car has individuality. And matching it to perhaps the most extreme Porsche ever – the Group 5 935/78 'Moby Dick'…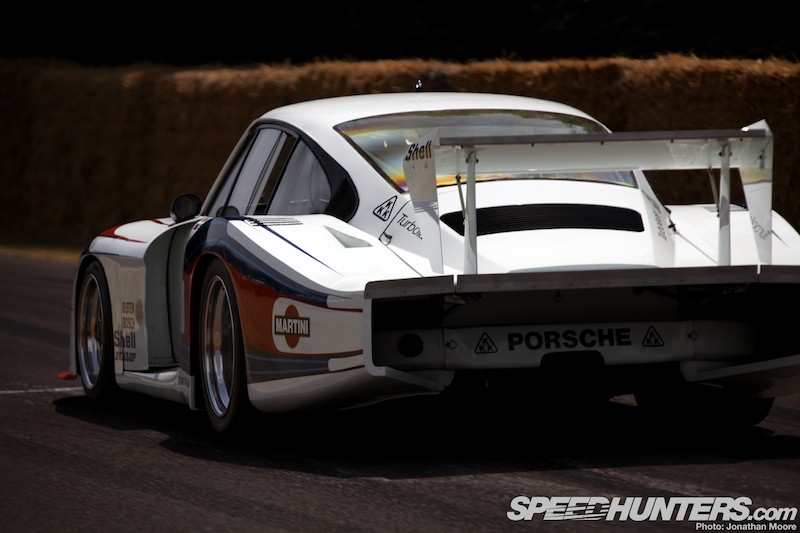 … with overhangs that put even the GT1 to shame, is pretty much the epitome of their usage. The stripes seem to be melting off the back of the car thanks to the 1,000kg and 750hp of brute force. This was yet another car that I almost became quite teary over seeing.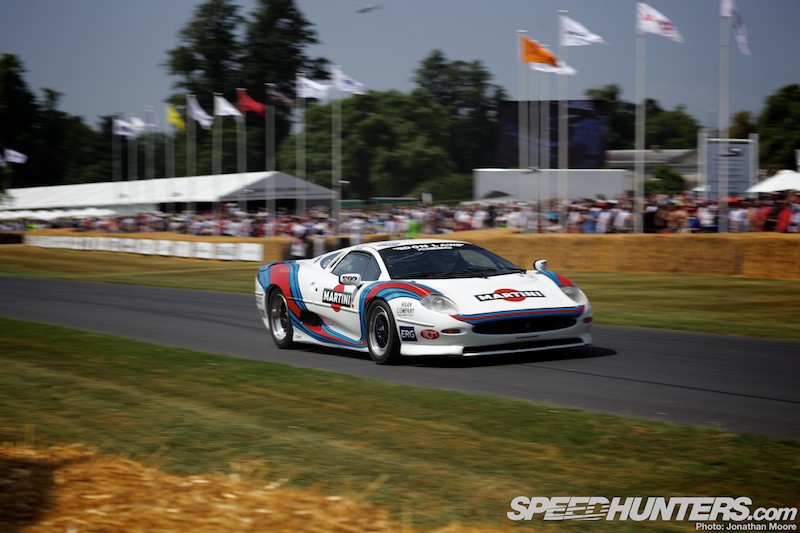 The 1993 Jaguar XJ220 was originally listed as a static-only display – the owner must have been wishing they'd kept it that way, after it clipped a bale just after the car passed me, bringing out the red flag and taking a chunk out of the rear quarter.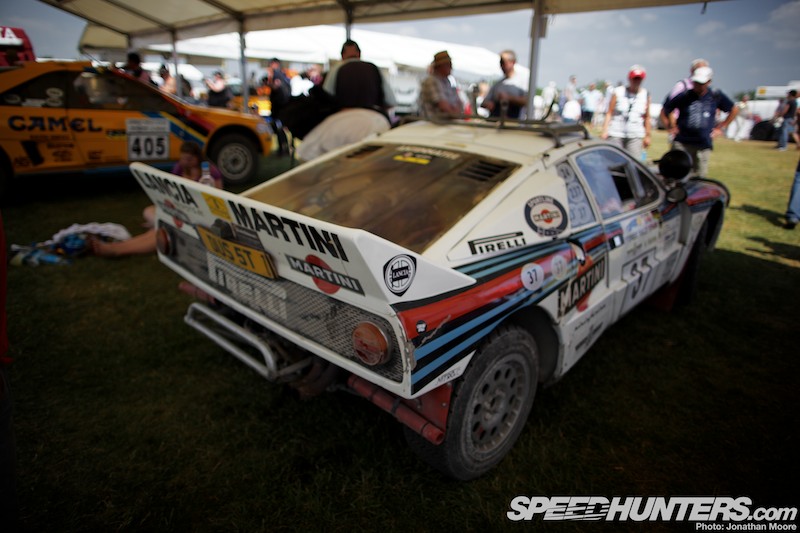 Martini moved into rallying sponsorship in 1982, predictably with the Lancia team and their 037 – a works example outfitted in Safari specification was taking part in the Forest Rally Stage.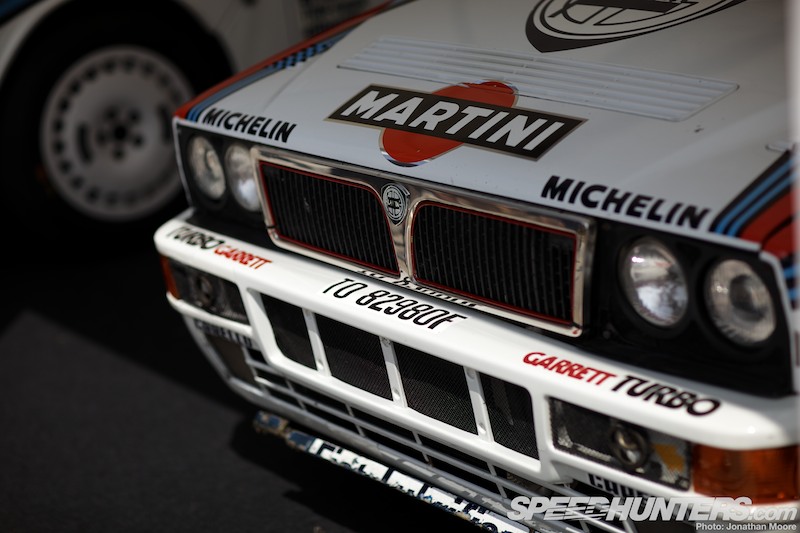 Down under the Martini awning, a Delta Integrale, S4 and Focus represented their rallying heritage in static form.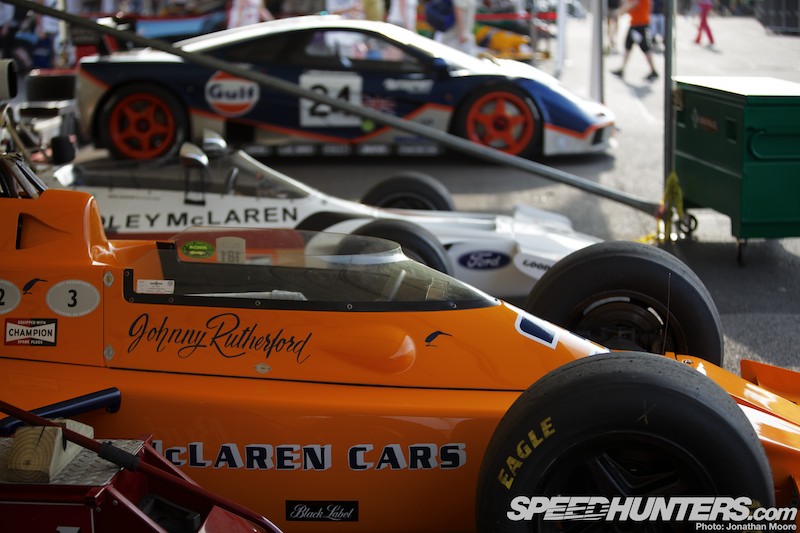 So onto our third celebration, and back to the track. McLaren are another team who are intrinsically linked to iconic looks, starting with the appearance of their traditional orange team colour in the '60s, then white and red during the '70s and '80s and most recently silver and red.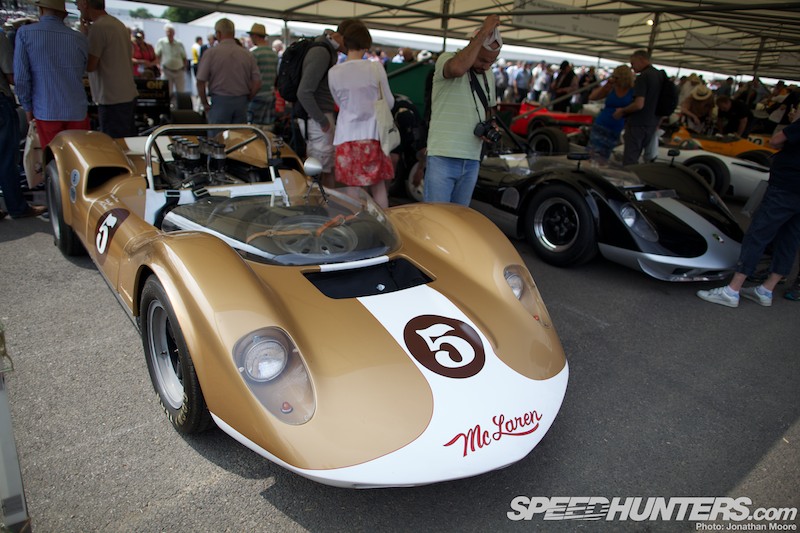 CanAm success was represented by three McLarens, starting with the M1A Oldsmobile from 1964.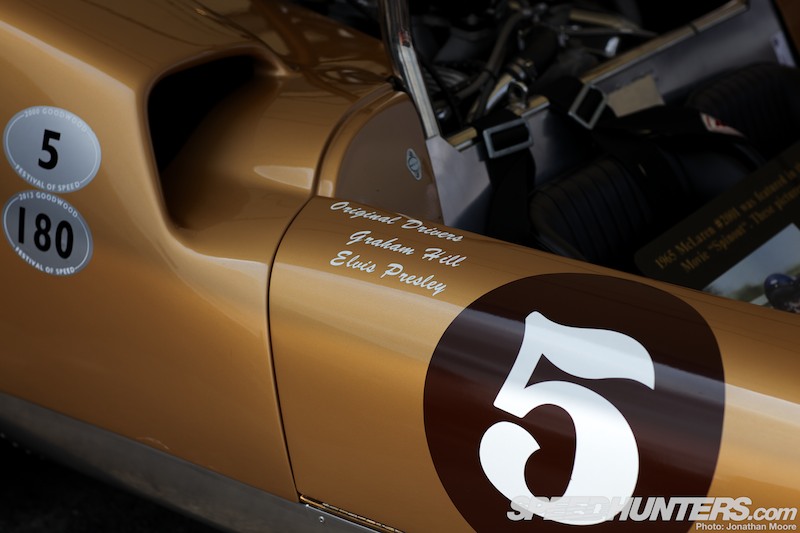 This was the first car to bear the McLaren name – and it also bears some interesting names on the door. Graham Hill isn't such a surprise, but it turns out that Elvis Presley drove this M1A during the filming for the movie Spinout!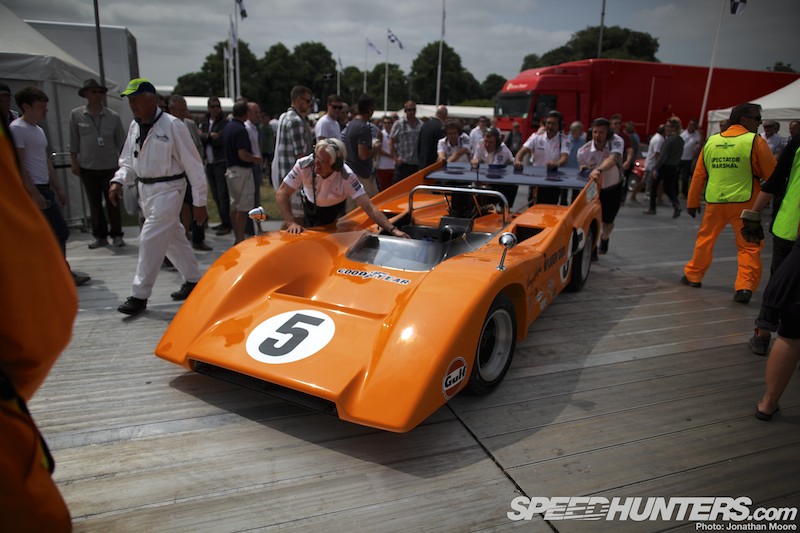 McLaren pounded the CanAm opposition between 1967 and 1971, winning the title five years on the bounce. The 1970s wedge M8D gives me mixed emotions, being both one of the most impressive and intimidating CanAm cars there was and also the car in which team founder Bruce McLaren lost his life in a testing accident at Goodwood.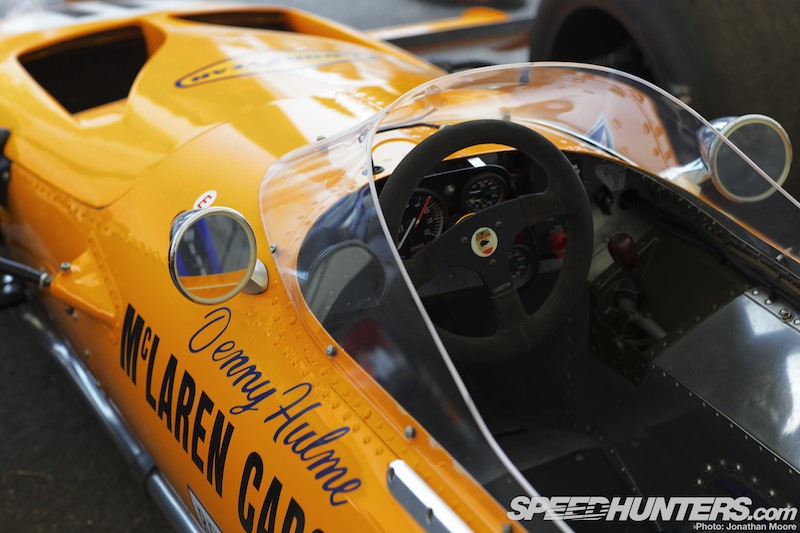 It fell to fellow Kiwi Denny Hulme, Bruce's F1 and CanAm teammate, to pick up the team by the scruff of its neck and push them on; he took his second CanAm title that year.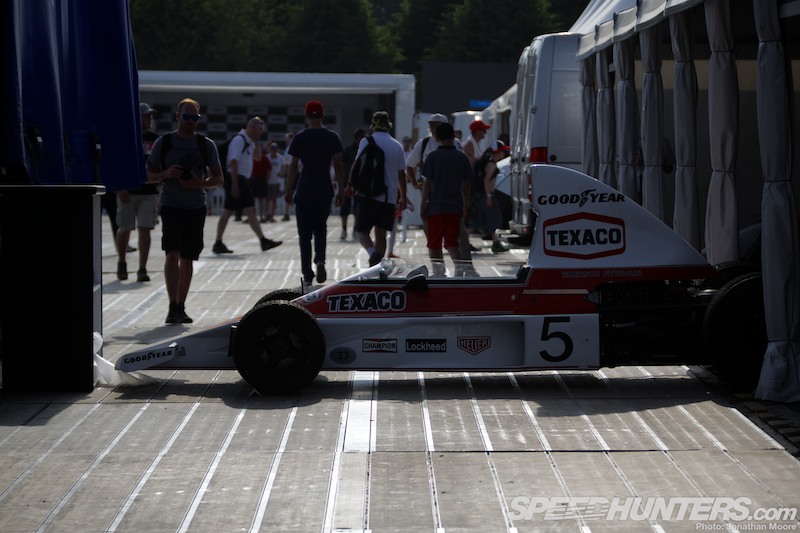 Red and white first came courtesy of fuel suppler Texaco: this is the M23 that took Emerson Fittipaldi to the F1 World Championship in 1974, and was a car that was still in service three years later. That was a very different time.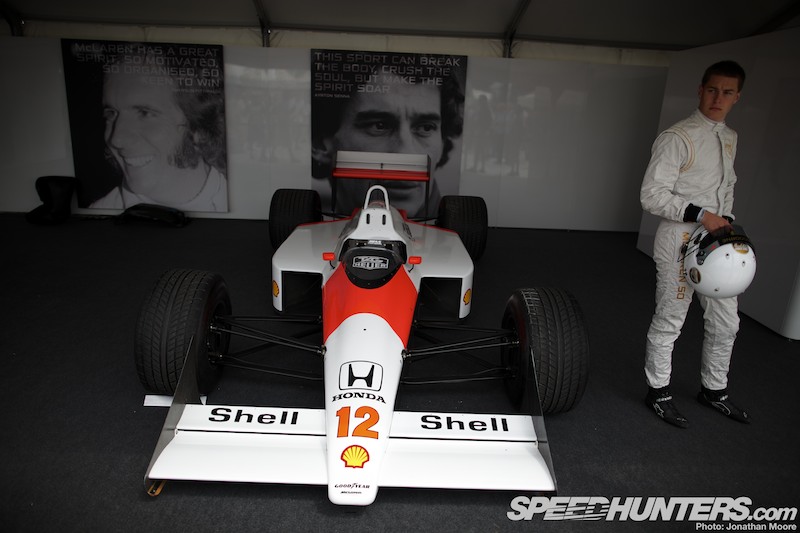 The luminous red chevrons of the 1980s meant only one thing: domination. The MP4/4 was unstoppable, with Senna and Prost winning 15 out of 16 races during 1988. A legendary car worthy of legendary drivers.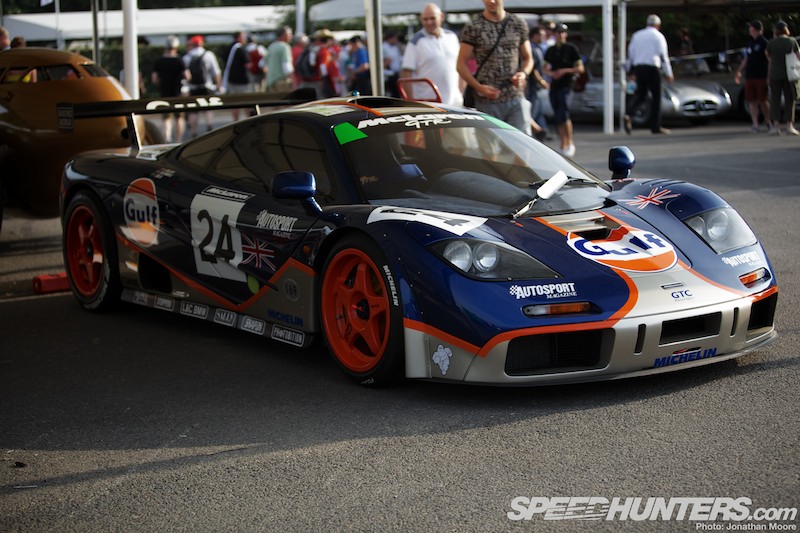 McLaren returned to sportscars almost accidentally, their hand 'forced' by customers of the F1 road-car programme. This was the result: the sublime F1 GTR, and its original driver Ray Bellm was back behind the wheel at Goodwood, 18 years after winning on his first time out in Jerez.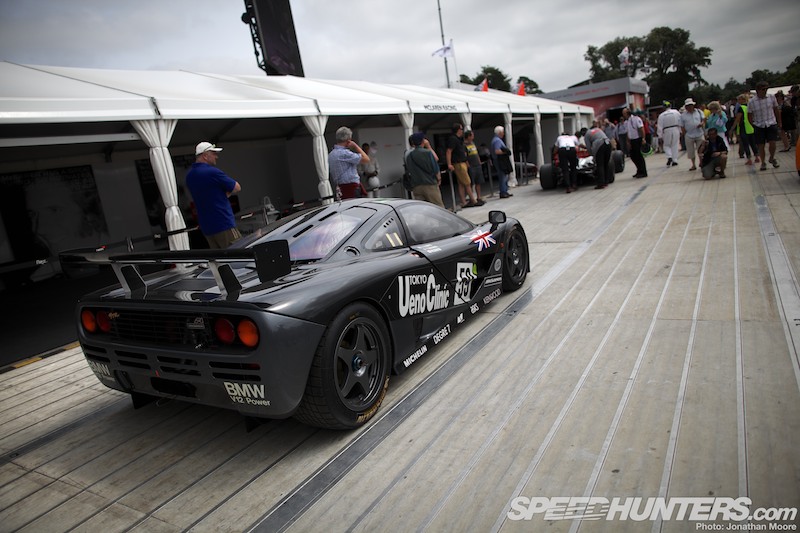 The following year's Le Mans campaign was even more successful: the #59 GTR led home another three McLarens in that year's top five, making McLaren the first debutant winner at the 24 Hours since Ferrari in 1949. Usually this car is tucked up at the McLaren Technology Centre alongside many of the team's other historic cars, so it sent a shiver down my spine to hear the V12 howling away.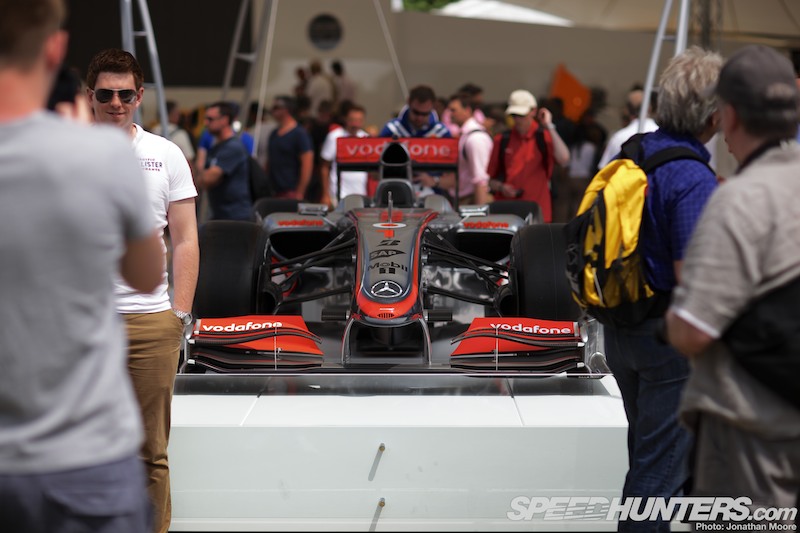 McLaren had their own dedicated display and café area by Goodwood's stable yard, which was heaving with people all weekend.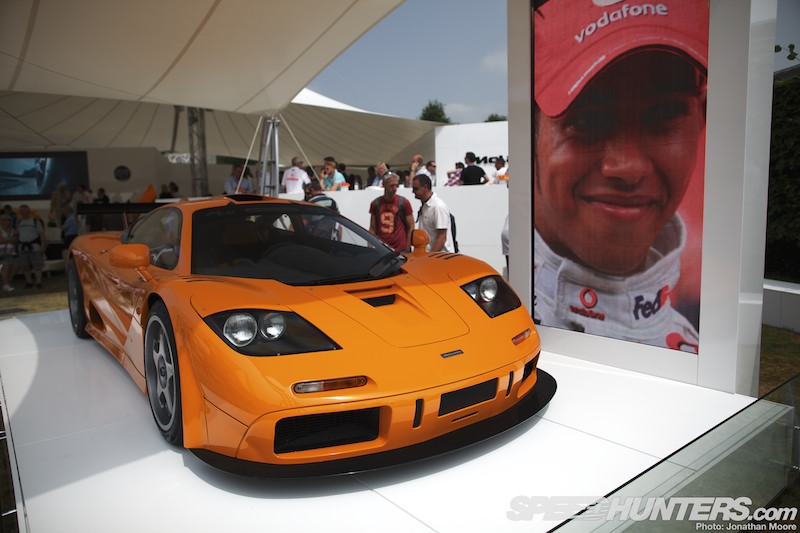 Important cars sat on pedestals, accompanied by video screens – again, hugely rare and important cars that you'd rarely expect to see in person (let alone have had the experience of sitting in!).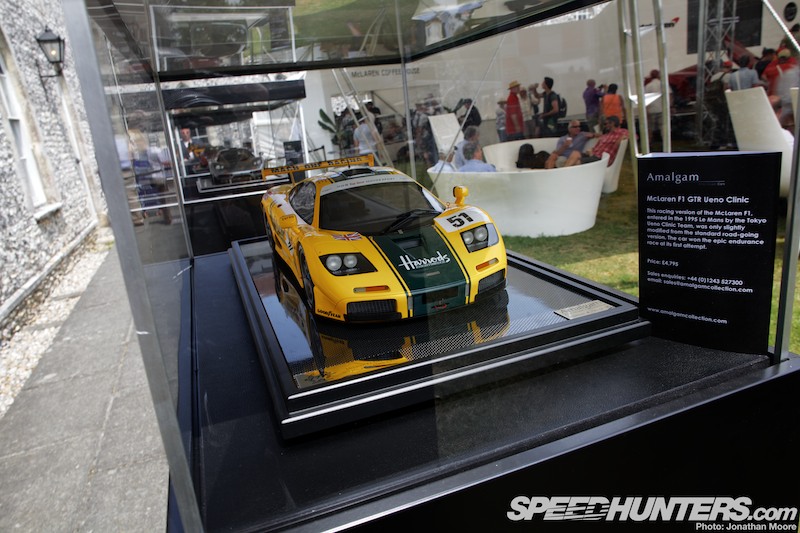 Being an owner of an F1 is to be a member of an exclusive club, but even buying one of these gorgeous scale models would require you to be a person of some means!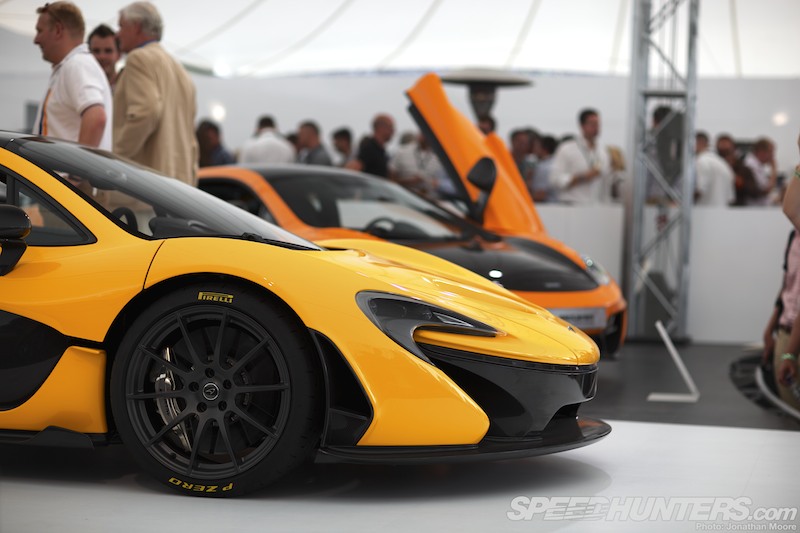 Centre stage was taken by the current road-car range, with pride of place given to the canary yellow P1, flanked by MP4-12Cs. The gloss black P1 that was tackling the hill looked pretty intense as well…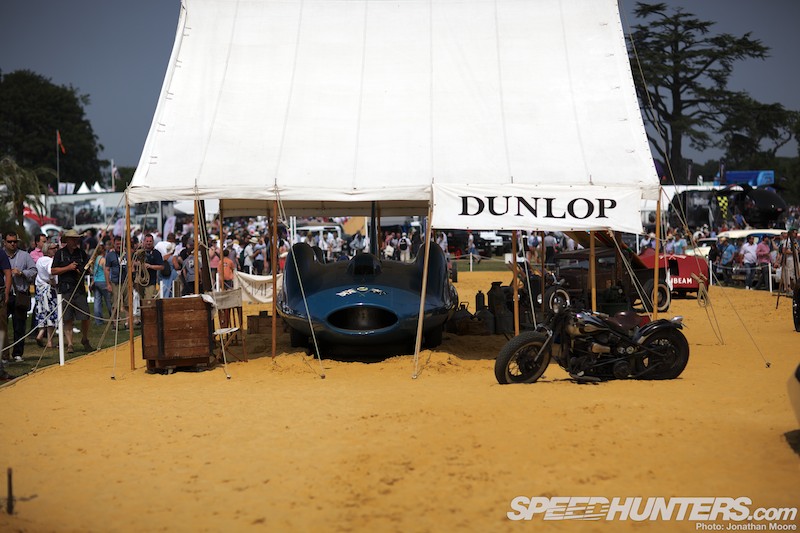 On the subject of intense, the idea of replicating the heat and sand of Daytona Beach in England would normally appear to be overly optimistic, but the weather played ball and if you squinted through the heat haze you could almost believe you were standing on a beach in Florida 80 years ago…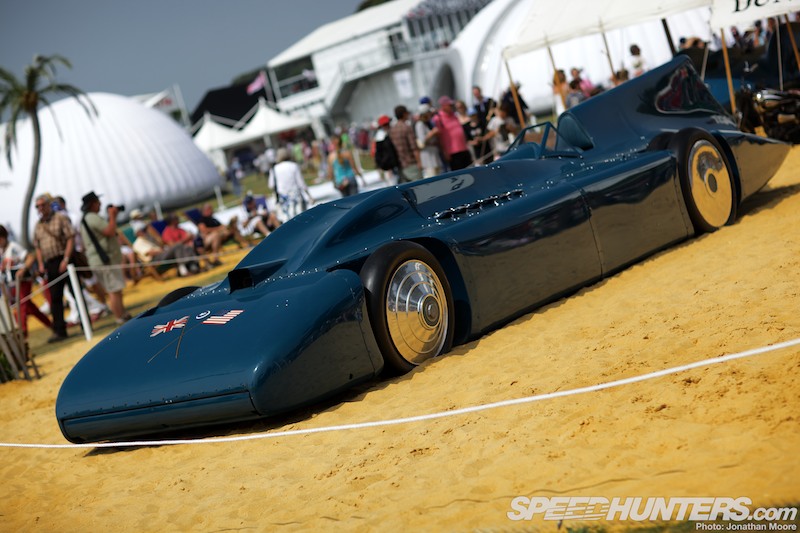 The Land Speed Legends display was truly spectacular, these utter legends shimmering in the sun just as they would have done all those years ago when they were driven to unthought of speeds. Sir Malcolm Campbell's final iteration of the famous Bluebird line of LSR cars from 1933 had been shipped over from the Daytona museum. This is an 80-year-old with 2,300hp, which hit 300mph at Bonneville in 1935. There's hope for us all.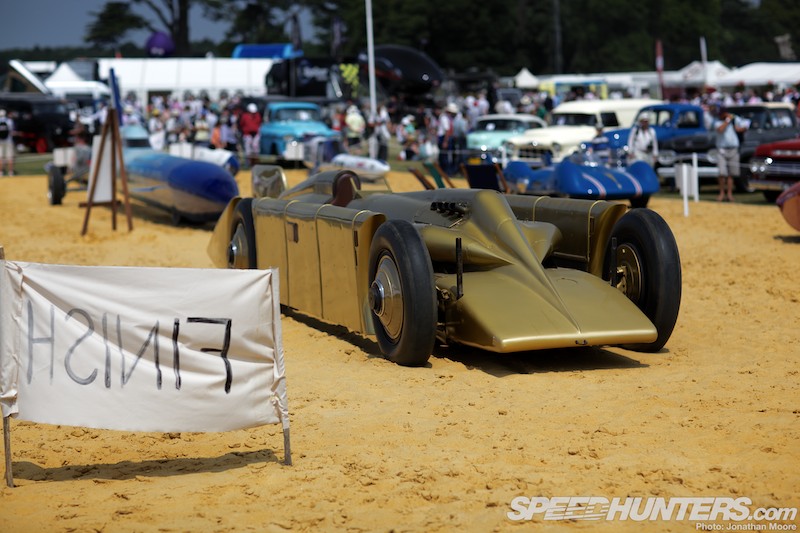 The last time I saw the 1929 Golden Arrow and several of its compatriots was safely under cover in the UK's National Motor Museum at Beaulieu; seeing them out in the open was truly magical. These old LSR cars are simply incredible machines.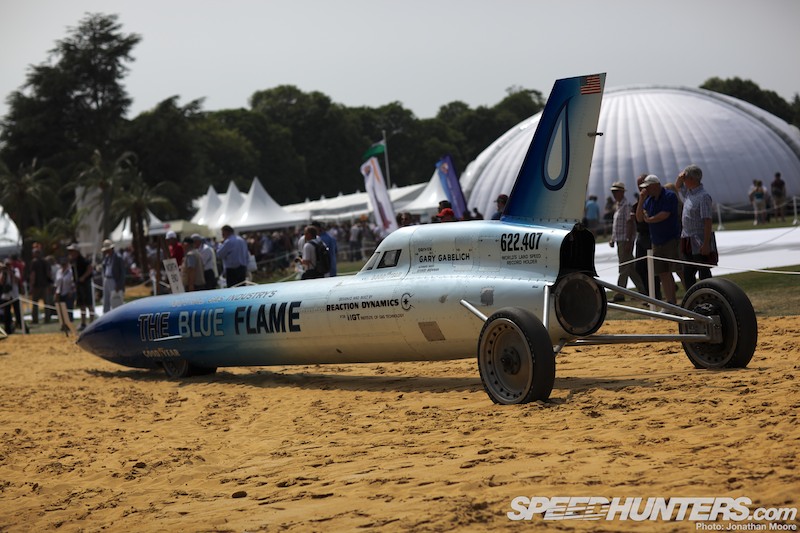 More recently, rocket-powered record holders took up the story from the Campbell family's achievements: Blue Flame was from 1970, and with an equivalent to 58,000 horsepower on tap, reached 622.4mph on the Salt Flats. It shows just how tough these record attempts are that the speed wasn't beaten for another 13 years, and has only been bettered twice since then.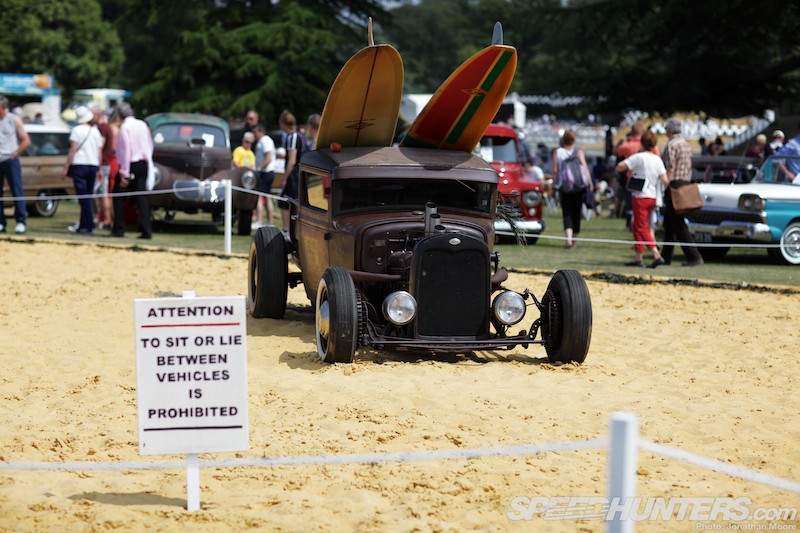 Ah, I can't wait for this year's Bonneville Speed Trials! But for me, I have a final story to come from this year's Festival Of Speed, swapping sand for dust – plenty of dust. The Forest Rally stage awaits!
Jonathan Moore
Instagram: speedhunters_jonathan
jonathan@speedhunters.com
The 2013 Goodwood Festival Of Speed on Speedhunters
More Goodwood stories on Speedhunters