"Everything new is old." Heard that one before? Well it's true. When people moan about putting BBS wheels on a Golf, because they want to see something 'different', you know what? Chances are somebody did your 'different' thing a long time ago. I'm sure in the future there will be two distinctly recognisable eras of car modification: pre and post internet.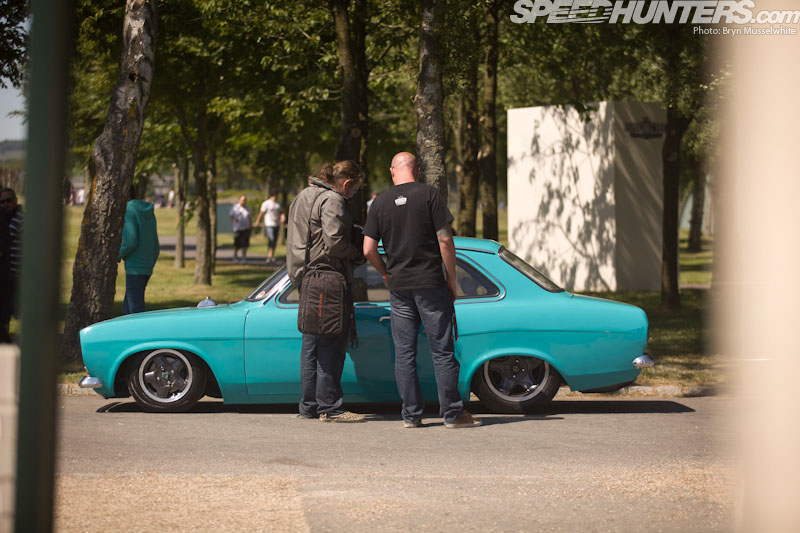 Karl Fiara's Mk1 Escort is a trip back in time for me; sat here in the glorious sun of the recent Players Classic Show at Goodwood it transports me back around 20 years. To when you had to be at one of the big season-opening shows to see what everybody had been building during the winter, where you could catch up with friends without knowing how many laps of the Nurburgring they'd done the month before,when the excitement was tangible in the air and cars like this Escort two-door were more commonplace and that can only be a good thing.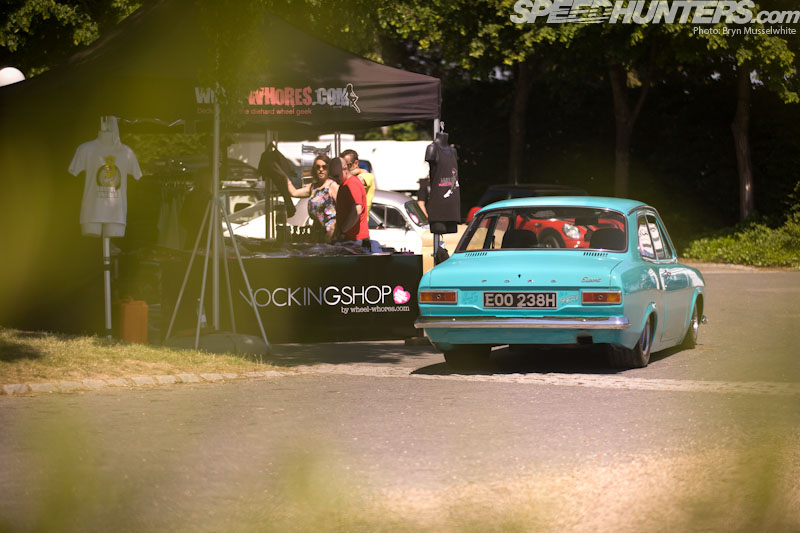 There was something familiar about the Ford when I first saw it the previous weekend at the Classic Ford Show at Santa Pod in the UK. It was parked on the Wheel-Whores.com stand as the guys had decided to award it best wheels of the show. A quick conversation saw them invite Karl down to Goodwood for the following weekend, where the Escort did a great job of attracting the crowds.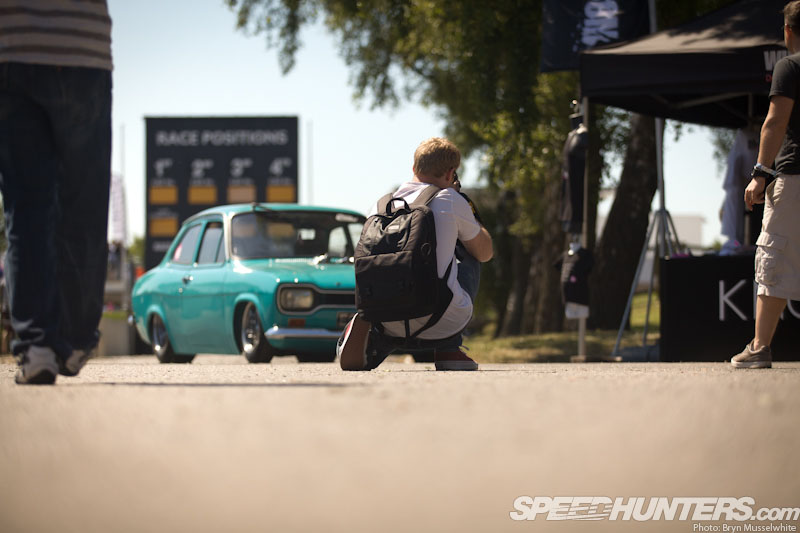 The Players crowd rightly enjoyed the old Ford. Walking around it and then talking to owner Karl Fiara it still felt achingly familiar, but it was still no small surprise to find that the Escort was built over 20 years ago. Which places it slap bang in the middle of my 'golden era' for car modification in the UK. It's an age thing y'see: I'd just started driving and anything seemed possible, regulations were slacker than they are now, the police didn't run your plates from half a mile away through a computer and there was less traffic on the road.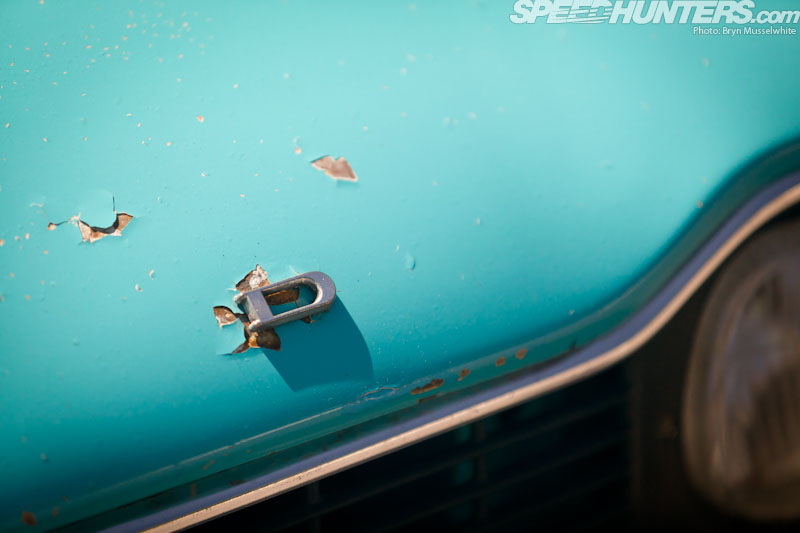 Sure the Escort isn't immaculate. It has proper patina though; it's a survivor, unlike a lot of its contemporaries. The early '90s were a time when half decent cars that weren't overly complicated were cheap enough to chop up without really caring. You had sleek, simple, cool and sometimes boxy shapes from the '60s and '70s that could be built in a home workshop on a budget without looking like some vintage renegade that was about to fall apart. Pastel shades were popular, grunge music and rebellion were in the air and change was happening after the all-consuming hunger of the '80s had exploded at the end of the decade.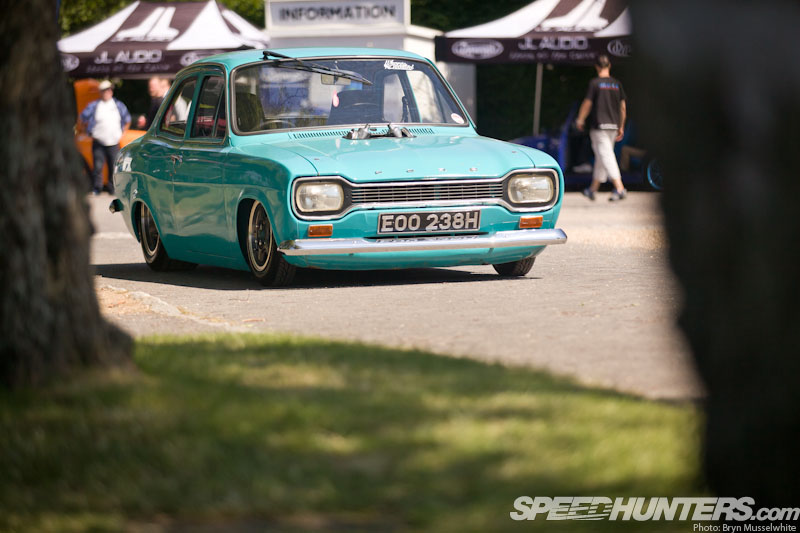 Like I said, it was pre-internet and you'd make a scene by building something to go to a show, and using it until the annual inspection test ran out. Cutting the roof off and welding a four foot gearstick on it, roof chops that left a windscreen the size of a letter box, home built chassis with the abundant Rover V8 slotted in because there were plenty of them in the scrapyards and they sounded good. Splatter painting it at home, the louder the better; it was about having fun. That's what this Escort reminds me of.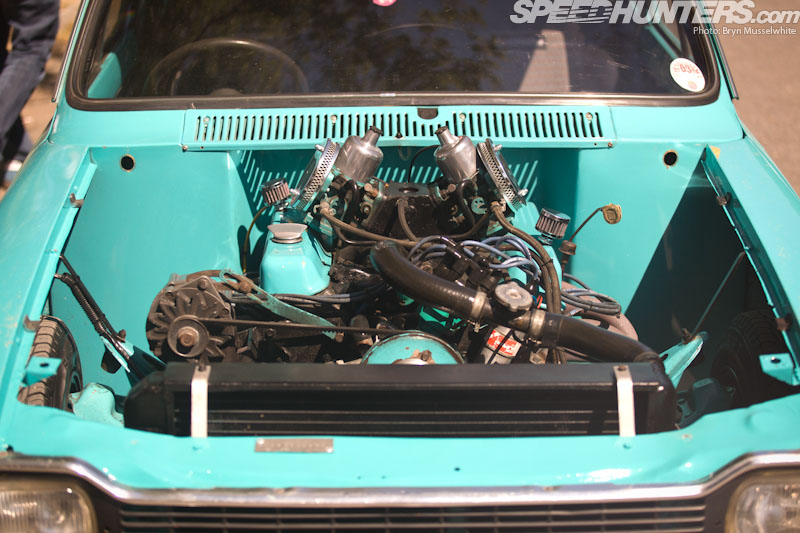 The V8 first went in around '86/87, with the Escort being stripped down shortly after and the full build taking place. So what you're looking at now is a 1969 Escort bodyshell mounted over a home-built, ladder style box section chassis. It was all built up by Warren Cole, who amazingly was here at Players Classic too. Karl bought the Escort complete as you see it in the late '90s, tucking it up in his garage shortly after, only getting it back out very recently as Warren lives fairly locally and it seemed like a good opportunity for a reunion (also as he'd thought previously the Escort was long gone).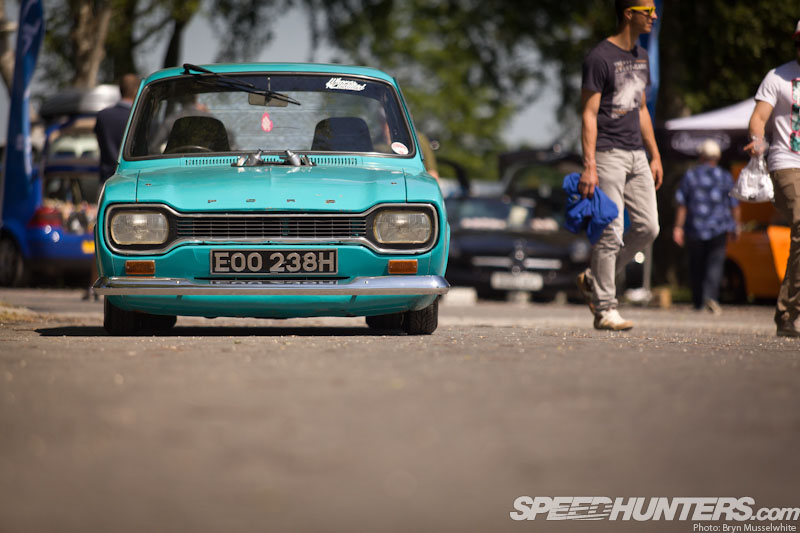 But it's obviously very much alive. Nowadays any Mk1 Escort two door shell is worth big money to the right buyer. So to see one like this is unique. I know of a handful of V8-engined examples but all of them retain a very 'enthusiast' orientated look to them. This thing? It stands alone for me. What Warren wanted was a fairly simple, very low cruiser that he could use anywhere, any time.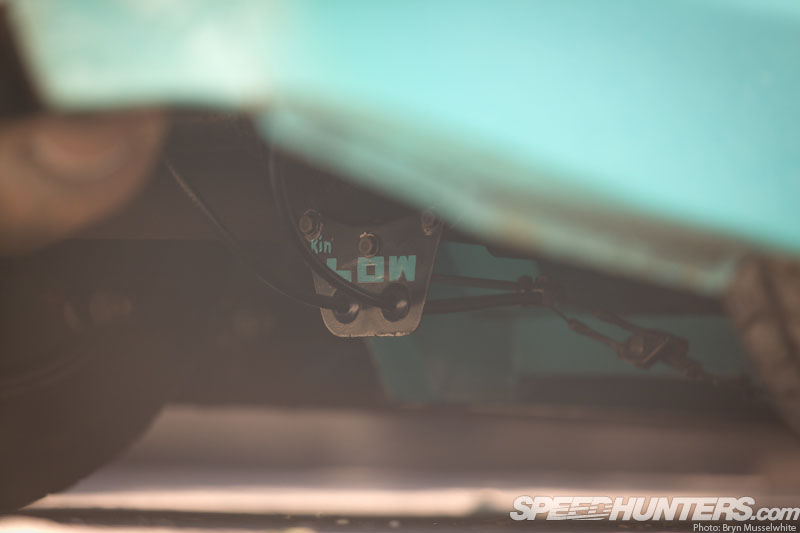 He used everyday, affordable, mechanical parts that combined in the right way to make something that grabs your attention. It wasn't long after the era of everybody naming show cars, so you used to add small phrases here or there, much like a well-placed sticker these days. Like the hand painted "Kin LOW" on the handbrake cable carrier. Did we mention it was low? Well maybe not as much as you might think.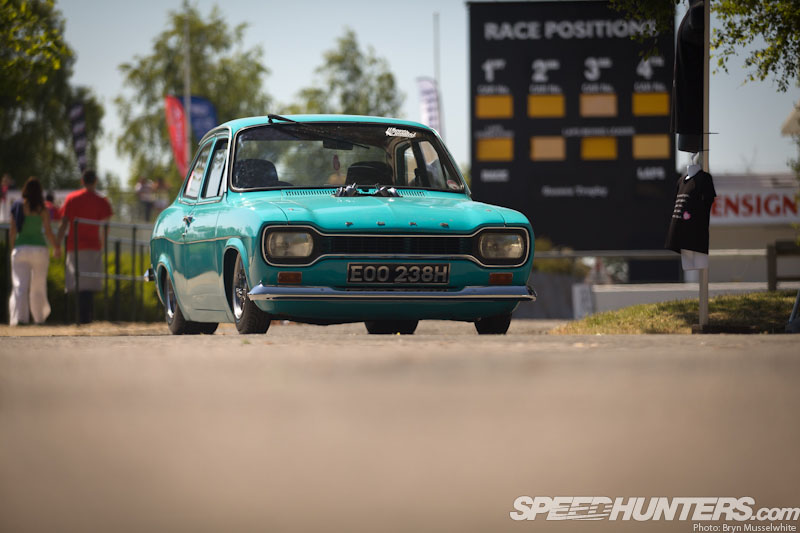 That's the beauty of channeling the body over a new chassis: everything is tucked up out of harm's way. Airbags were still a decade away from becoming vaguely affordable or practical so this was the best way of keeping everything safe.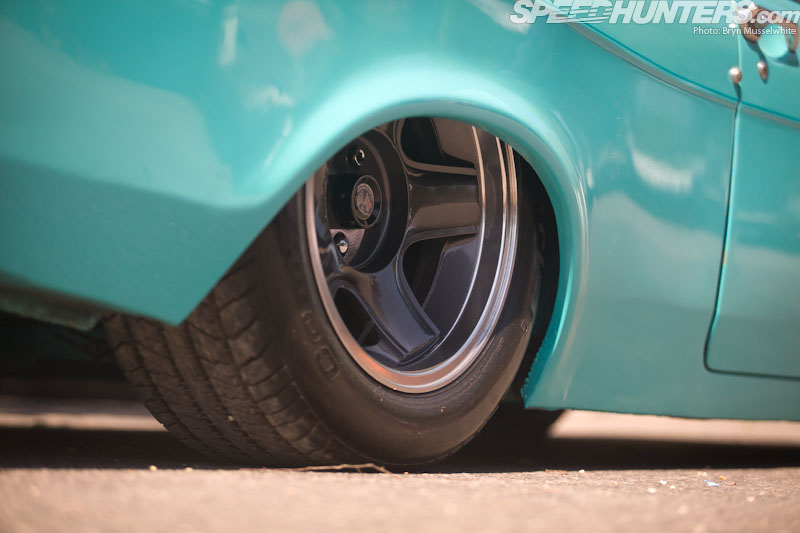 The reason why it was on the Wheel-Whores.com stand is because of these Revolution RFX wheels. We all know hot rods and drag cars run big and little combos, but one of the stand out, gutsy choices of this build has to be the 9x16s out back…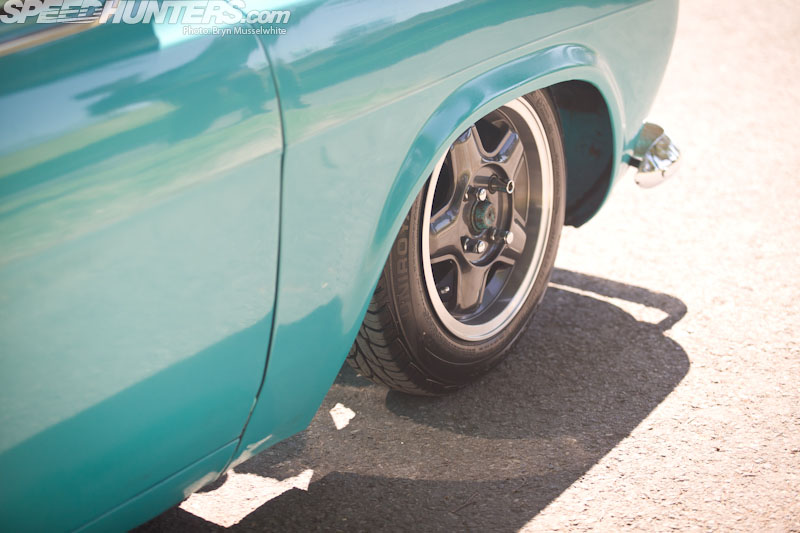 … and the skinny 5.5x13in same style on the front. Revolution are a traditional UK-based wheel company and the RFX is probably one of their most memorable wheels; it's a real late '80s/early '90s choice. You can often date a build by wheel choice and these are spot on; remember again most factory cars were riding around on 14s or 15s maximum at this time. Many smaller cars still ran 13s, so the big 16s on the back were literally that. BIG.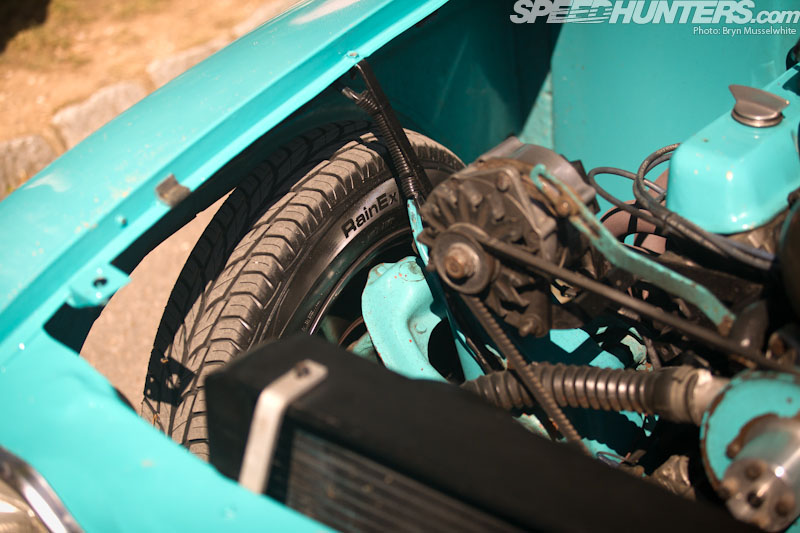 No inner wings mean clearance isn't a problem and the rear end has been tubbed to cover the 245/50x16in tyres. The pastel paint spills over to all the components and suspension parts; again this bright colour coding was really indicative of the time. Looking back I can only really think this was because body-coloured bumpers had been around for five to ten years on mainstream manufacturers cars, so the modified scene started to emulate this and add a little more.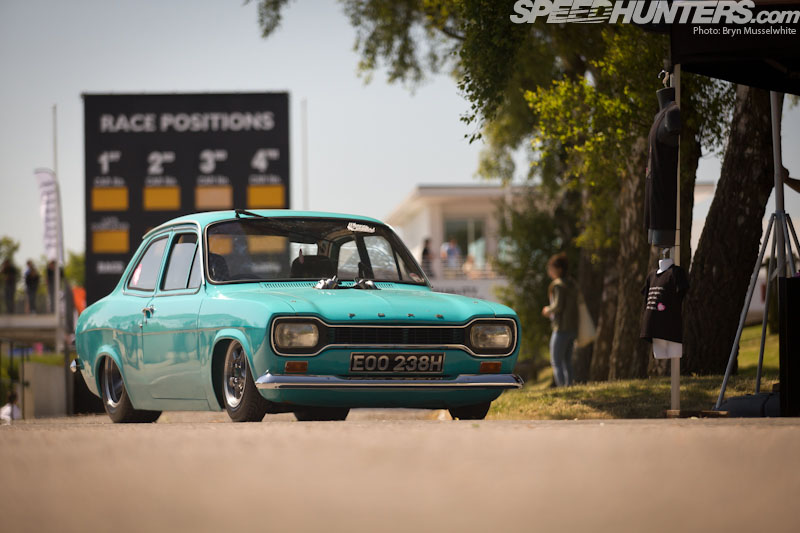 Although of course the Escort has retained its factory standard chrome bumpers and oblong headlights, rarer than the usual round items and showing it's now desirable 1300GT origins.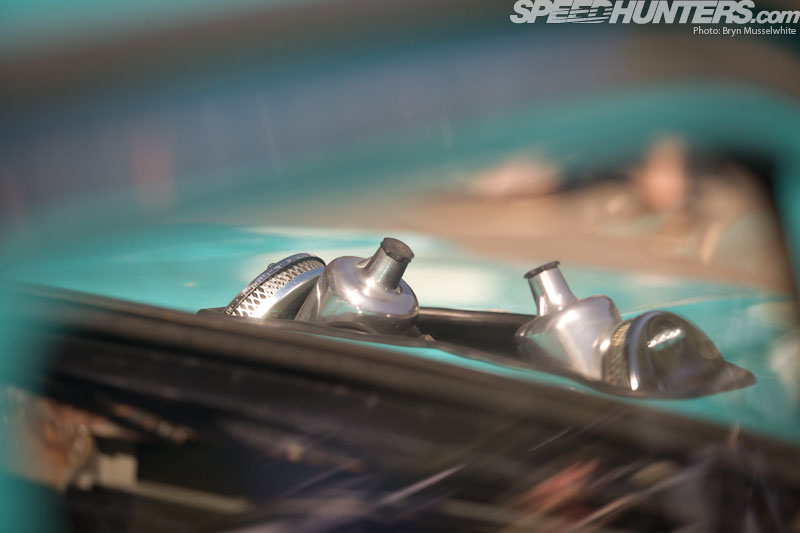 The body is largely stock, save for some stretched front arches, but there are a few extra holes around the place. The most obvious is for the standard SU carbs to poke through the bonnet, as clearance was needed and let's face it, those two inches or 50mm would have meant more space under the sills… not an option.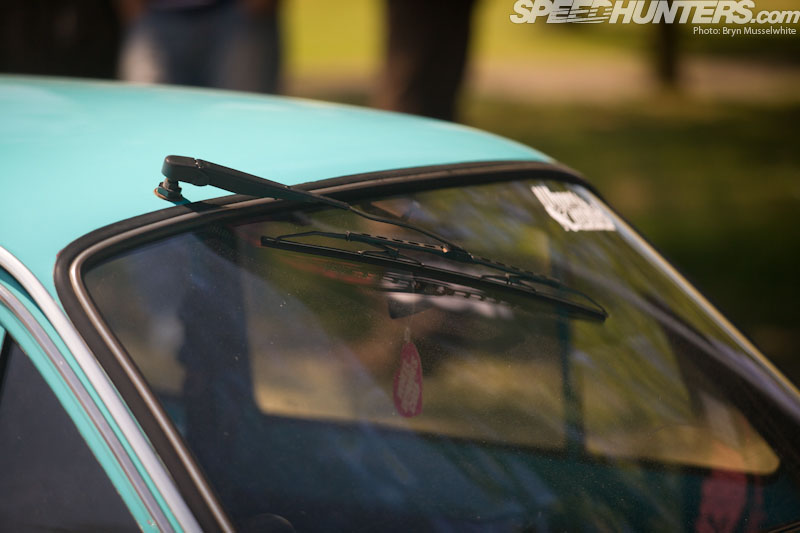 The other one is for the top-mounted windscreen wiper, which although looking a little messy to some eyes is a clever solution to a problem that would otherwise thwart a builder with less imagination. There's just no room above the back of the engine for a traditional set-up, although Karl and Warren were discussing the cable-driven wipers of a Mini that could be used now…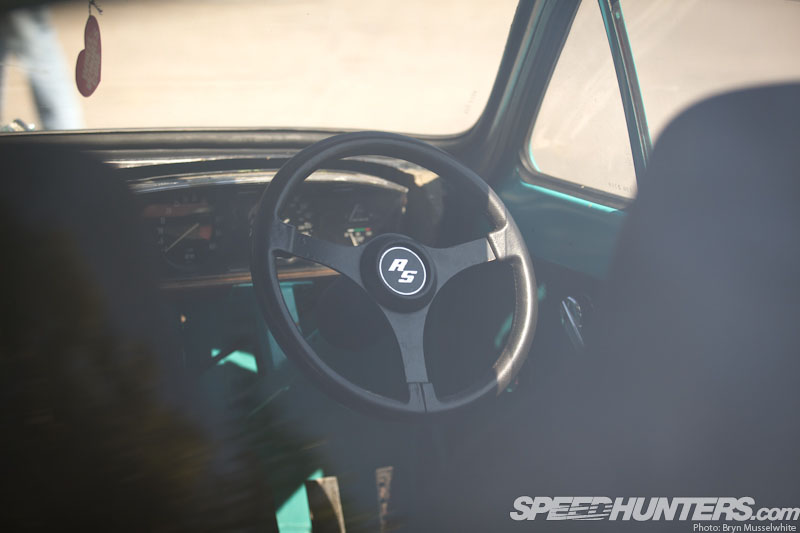 Inside you'll find a period RS steering wheel and behind that a standard set of Rover P6 gauges that talk to the engine and gearbox easily.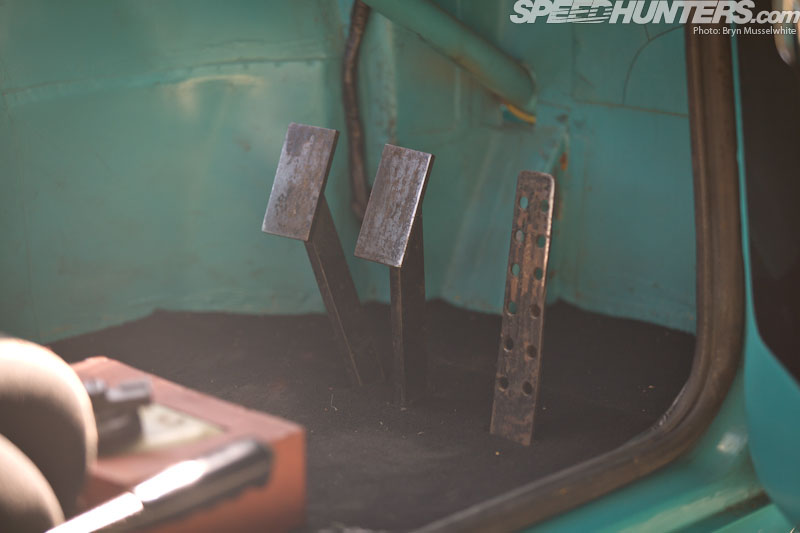 There are no top-mounted pedals like standard, because of course Warren made the chassis, which means the hidden master cylinders are now activated by these.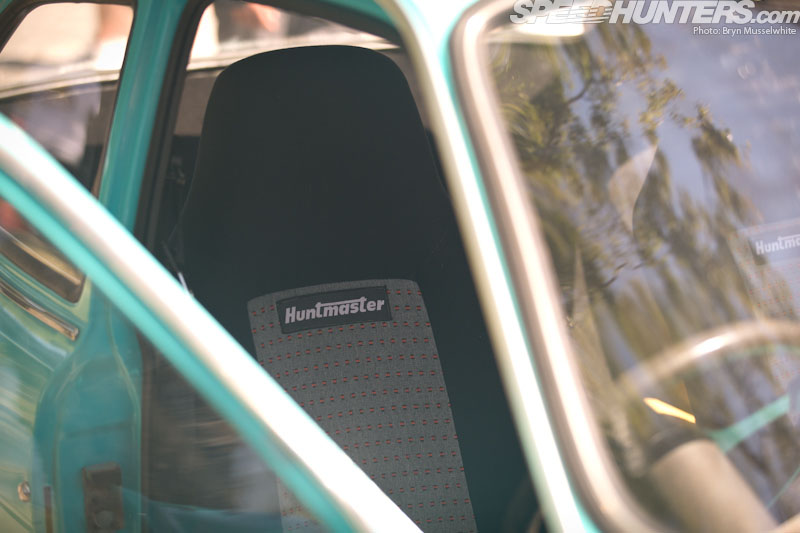 Another blast from the past are the Huntmaster bucket seats. Sure they're no Takatas but again these are twenty-five years old and you felt like a proper race driver when you bolted a set of these in.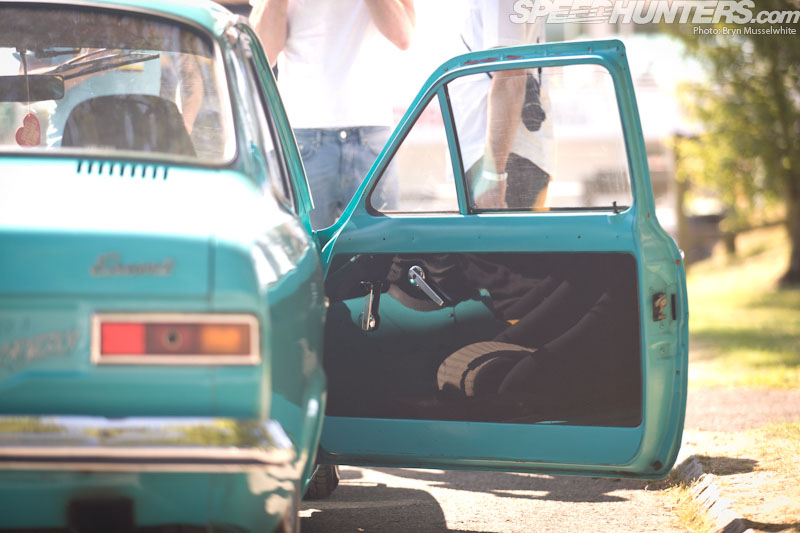 Here you can see them reflected in the polished door panel; again, simple and stylish, it all helps to keep the Escort of the period yet timeless all the same.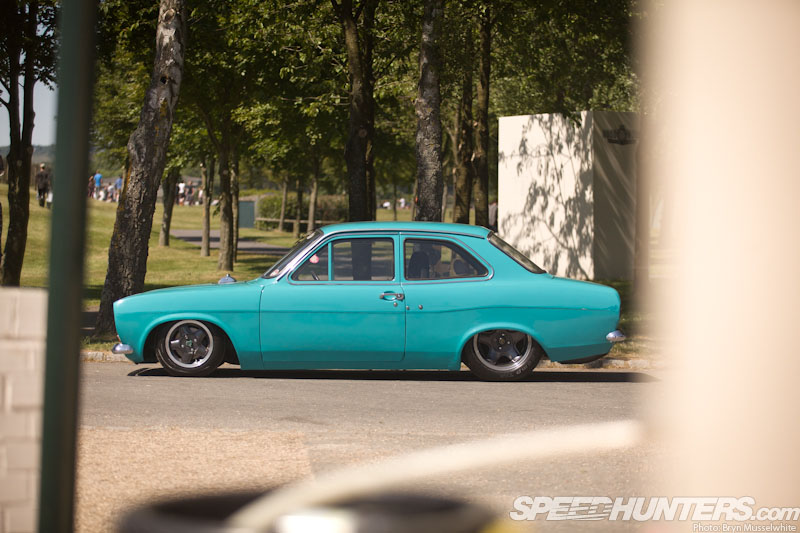 This is probably the best view to see just how dramatic the difference in wheel size is, which just adds to the toy car effect I hear people mention when they see the Escort.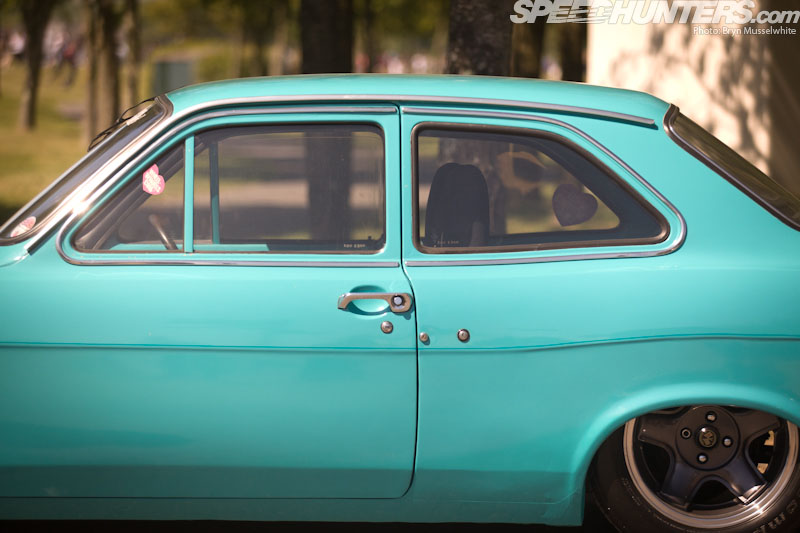 The chrome window trim on a Mk1 Escort has always been one of my favourite styling cues; it neatly encapsulates the glass in a bubble, making a very ordinary shape kind of special. You can also see the almost body colour, swage pinstripe line. Another '90s favourite was extra locks and security devices, because you could 'lift' a Mk1 Escort as easy as a toilet seat.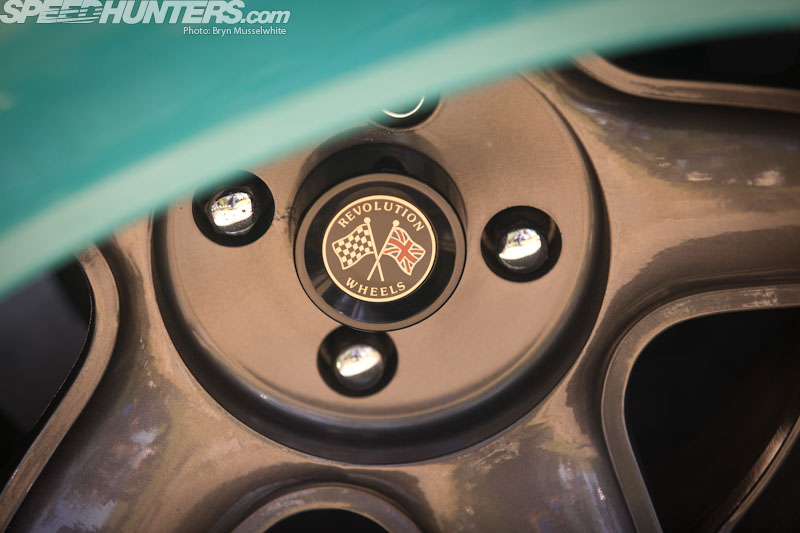 So how does a car built on a budget in a home garage twenty five years ago keep turning heads today? To tell the truth I'm not sure, it could be a case of being 'simply clever'.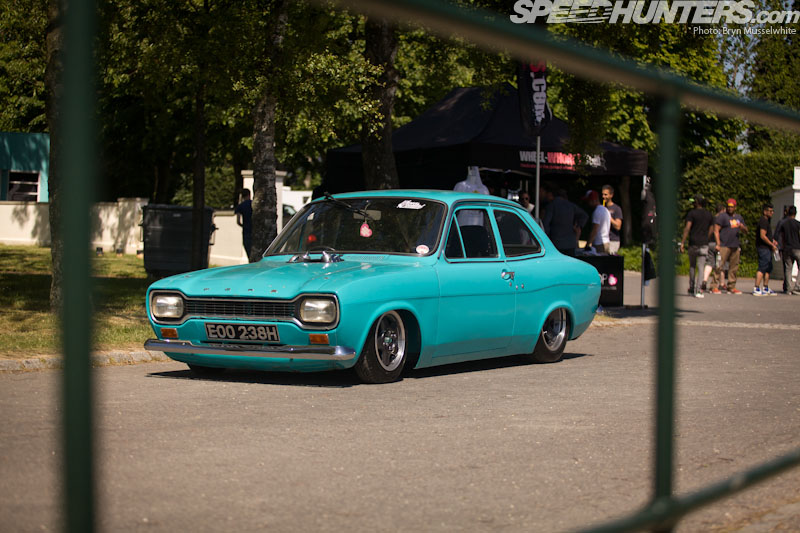 There are no wild graphics, it's just very well observed. Both Warren and now Karl wanted a very low Escort, itself a very popular car, that could be used any time. Add some instantly recognisable wheels in a slightly outrageous choice of sizes, a burbling V8, pastel bodywork and you tick a lot of boxes.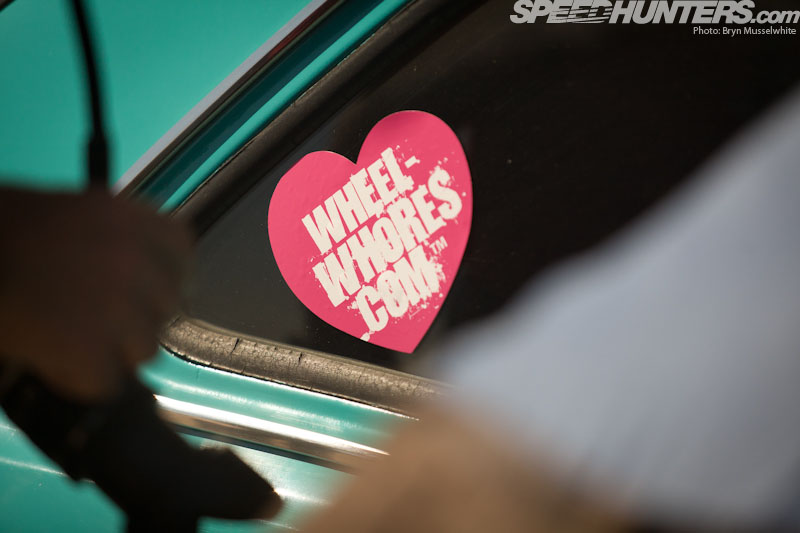 I'm just glad Wheel Whores spotted it and convinced Karl to come along to Players Classic, so now you guys get to see the Escort after all these years.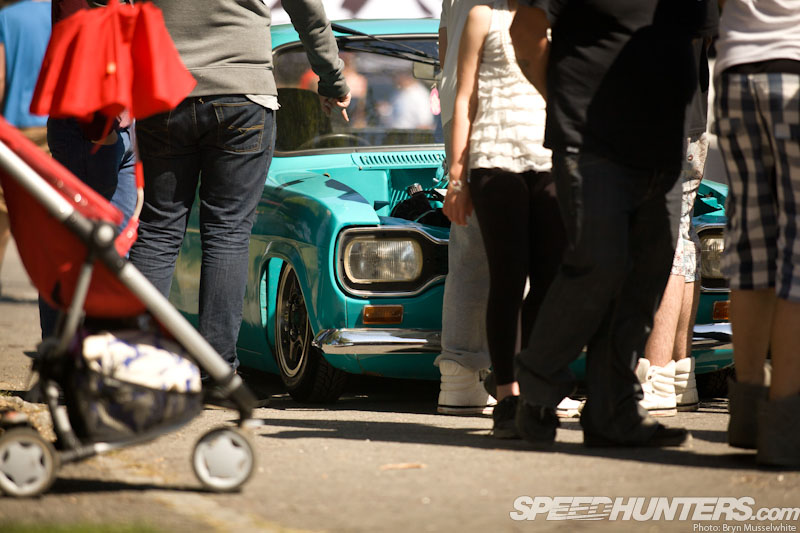 And yes, I know I'm perhaps being overly sentimental towards the time this was built, because of course, every generation has its favourites. That's how the march of time works, but this simple Escort proves to me that good things never go out of fashion and now a whole new audience can appreciate it and be inspired.
Bryn Musselwhite
Instagram: brynem
bryn@speedhunters.com
Karl Fiala's 1969 1300GT Ford Escort V8

Engine
Chassis mounted, Rover 3.5ltr V8 on standard SU carbs
Driveline
Rover four speed manual gearbox, narrowed Ford Capri 3.09 baby Atlas axle
Suspension/Brakes
Rack and pinion steering with modified arms, Cortina Mk4 independent front suspension, shortened springs, narrowed cross member, Cortina Mk4 front discs, Jaguar rear coilovers located on L brackets,  panhard rod, Competition Engineering ladder bars with solid rod ends, standard Capri drums
Chassis
Custom-made box section with narrow front end and kicked up rear, body channeled around 6in
Wheels/Tyres
Revolution RFX 5.5×13 with 135/80×13 tyres (front), 9×16 with 245/50×16 tyres (rear)
Exterior
All steel 1969 Ford Mk1 Escort, removable front end, stretched front arches, reformed bulkhead, raised tunnel and floor, tubbed rear, Citroen roof mounted wiper unit, enlarged radiator aperture in front panel, DZUS bonnet clipped at front, additional door locks
Interior
Two Huntmaster bucket seats, Rover P6 instrument panel, handmade pedals, underfloor clutch/brake cylinders, bespoke fuel tank in boot, battery fitted NSR, right hand side hand brake lever using Morris Minor cables
A Car Is For Life – Not Just Another Ford Escort
Players Classic coverage on Speedhunters