Given our geographical position in the world, us New Zealanders are pretty lucky when it comes to international motorsport events. Sure, there's little chance our four million people will ever see a Formula 1 event on home soil, but with regular rounds of the WRC and the V8 Supercars series on the doorstep – and very soon a proper GT event – there always seems to be something interesting going on.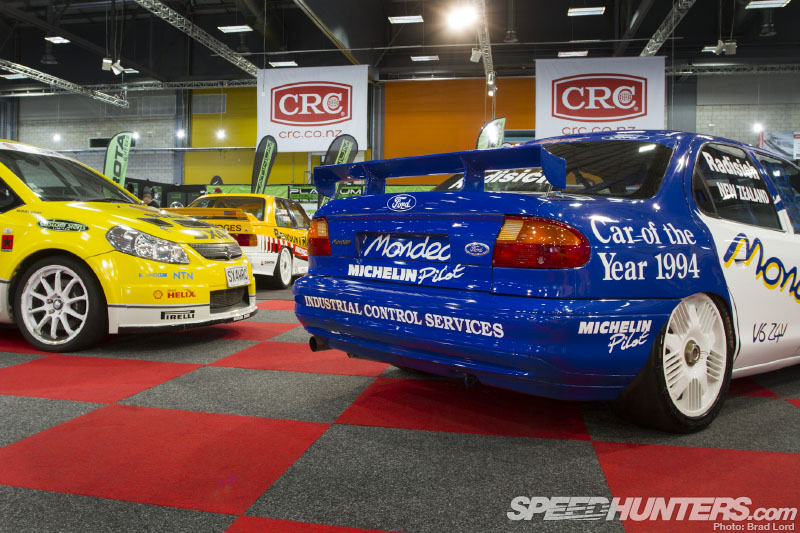 Over the weekend it was the annual CRC Speedshow, held at the ASB Showgrounds in Auckland. As the closest thing New Zealand has to a proper motorshow it's always well attended, and with a new team behind the event this year things seemed like they were really being stepped up a notch.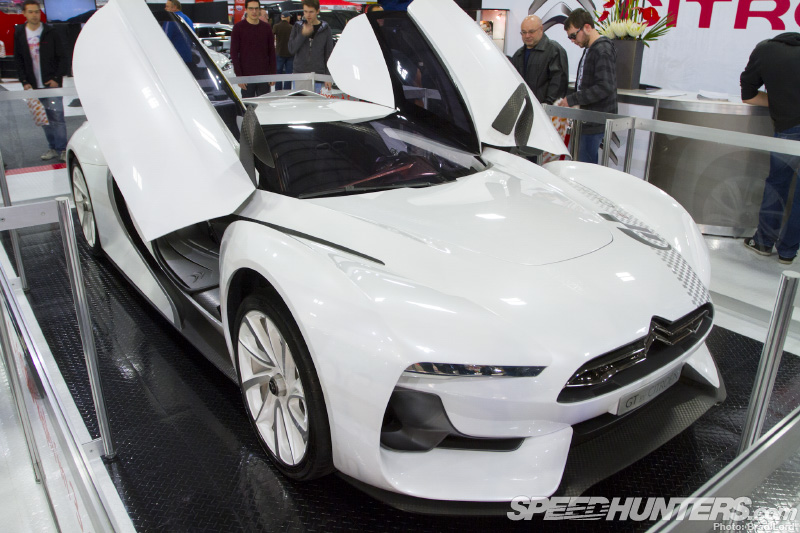 Like the names suggests, Speedshow has a motorsport focus, and although the actual content of the event encompasses the wider automotive industry, there was some pretty neat stuff on static display – some of which had never been seen in the country before. The GT by Citroën was one of them – a concept first shown at the 2008 Paris Motor Show, and the supposed prequel to five more road-going versions, which I don't think ever came to fruition.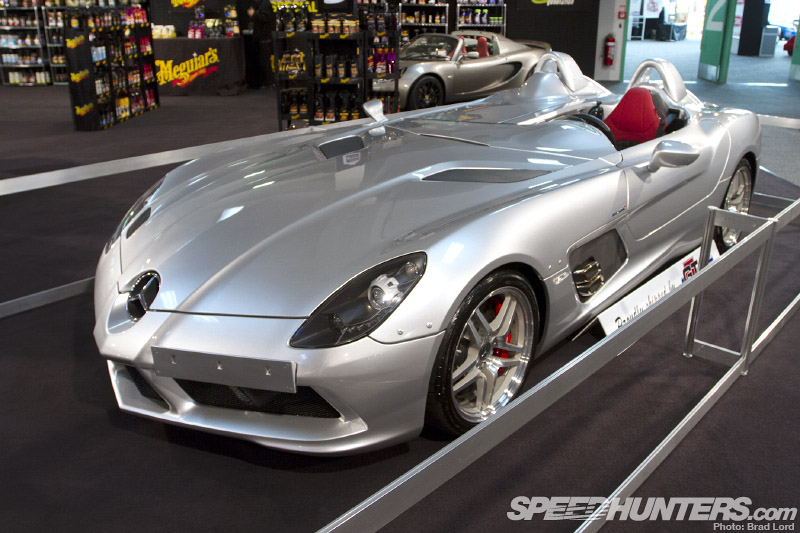 Something that did make it off the production line – albeit in a very limited run of 75 cars – was the 2009 Mercedes-Benz SLR McLaren Stirling Moss edition.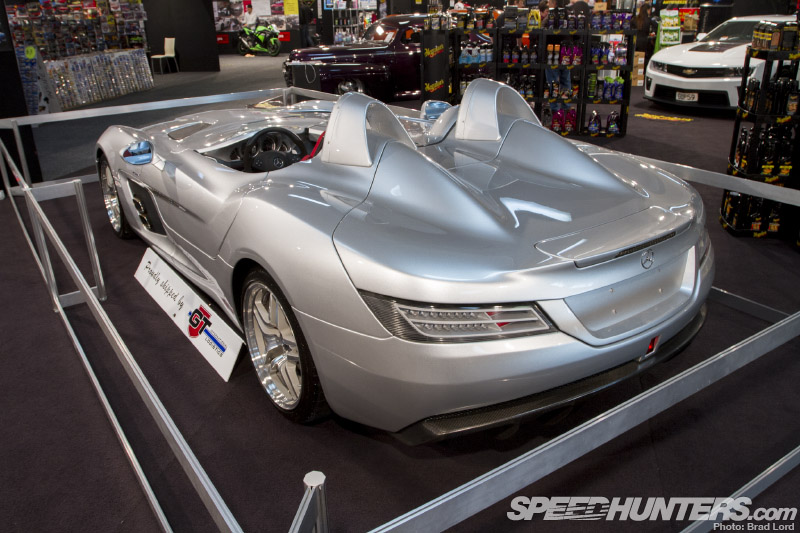 For your money – £700,000 in 2009 – you didn't get a roof or even much of a windscreen, but what the SLR Stirling Moss speedster lacked in basics the McLaren-built machine more than made up for with its 640hp AMG-engineered, supercharged V8 and 350km/h top end performance. Given its rarity and collectability you'd probably need a few million dollars in your back pocket if you wanted to buy this car today.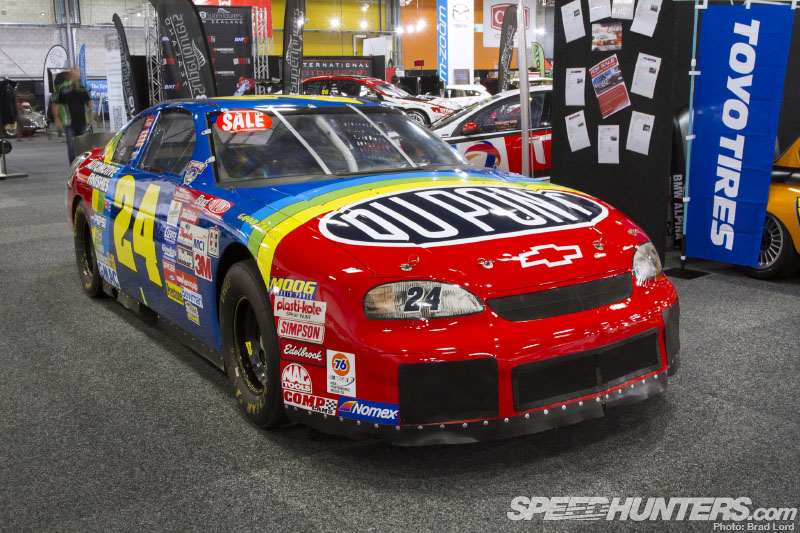 I suspect that you wouldn't need pockets quite that deep to get your hands on this ex-Jeff Gordon NASCAR – not that there's really anywhere in New Zealand where you could use it for its original purpose. Although, that didn't stop the Chevrolet Monte Carlo's owner driving it up Rod Millen's driveway earlier this year.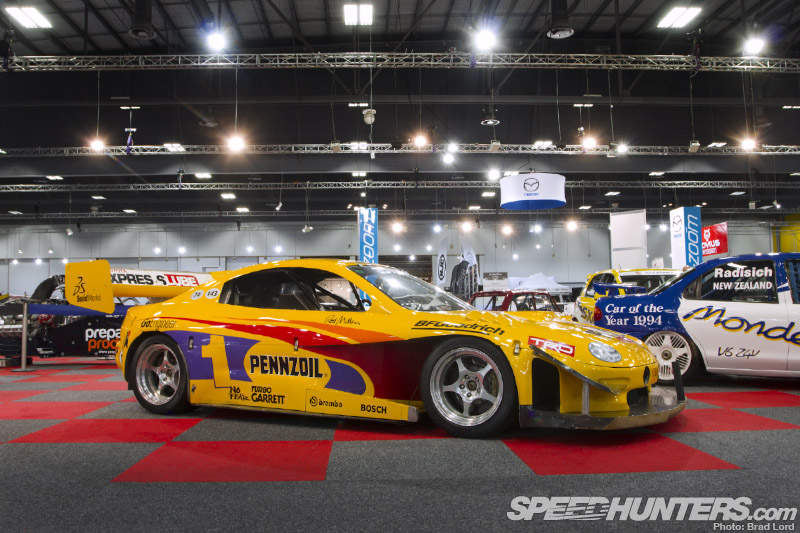 Speaking of the Pikes Peak legend, I'll savor any moment I can get up close and personal with this iconic machine.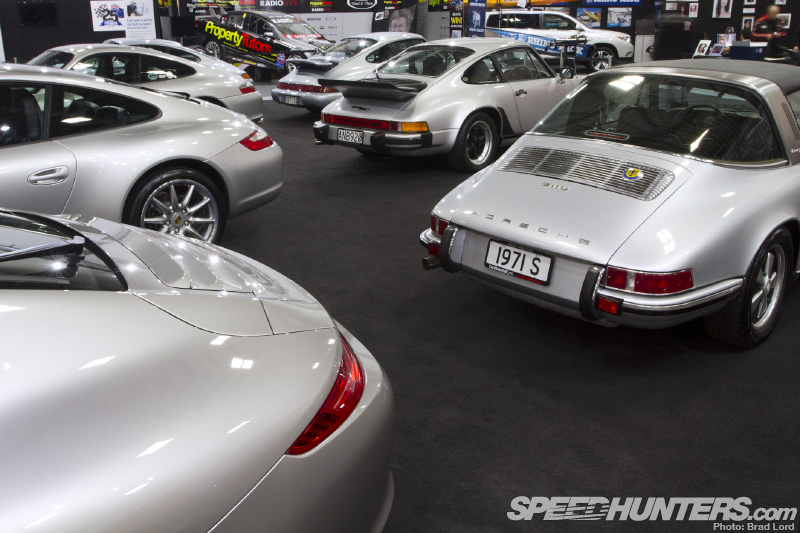 Through various displays, Speedshow also paid homage to a few important automotive anniversaries that are falling in 2013. The Porsche 911's 50th birthday was recognised by a line-up of immaculate silver beauties spanning more than 40 years.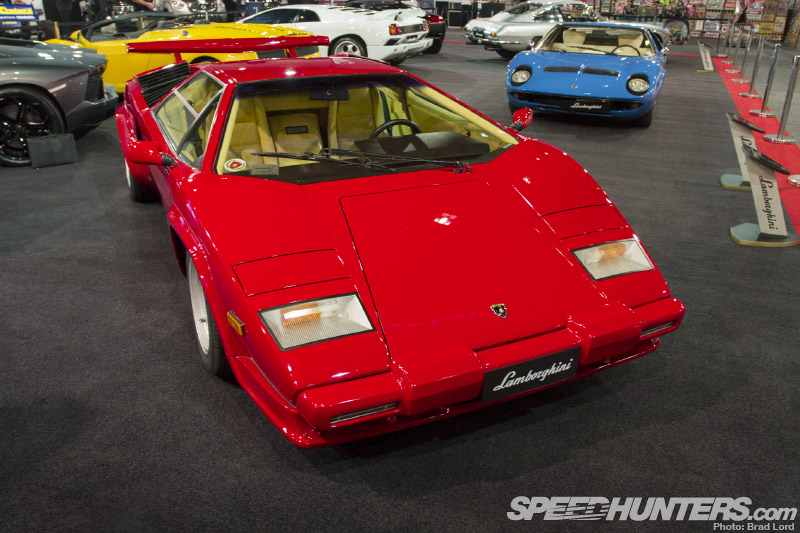 1963 is also the year that Lamborghini was founded, so local distributor Independent Prestige marked the occasion with a large display featuring both classics and recent models from the Italian supercar house including the current range-topping Aventador. Of course, no celebration would be complete without a poster-perfect Countach would it?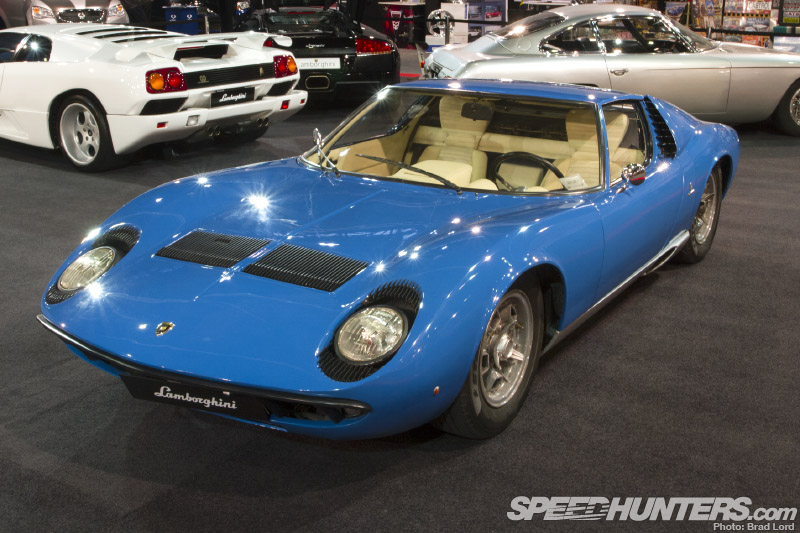 It was the '68 Miura 400 that had my undivided attention though – one absolutely stunning example of the 764 Miuras built between '66 and '72. What I wouldn't give to have one of these Gandini-designed, V12-powered beauties in my garage.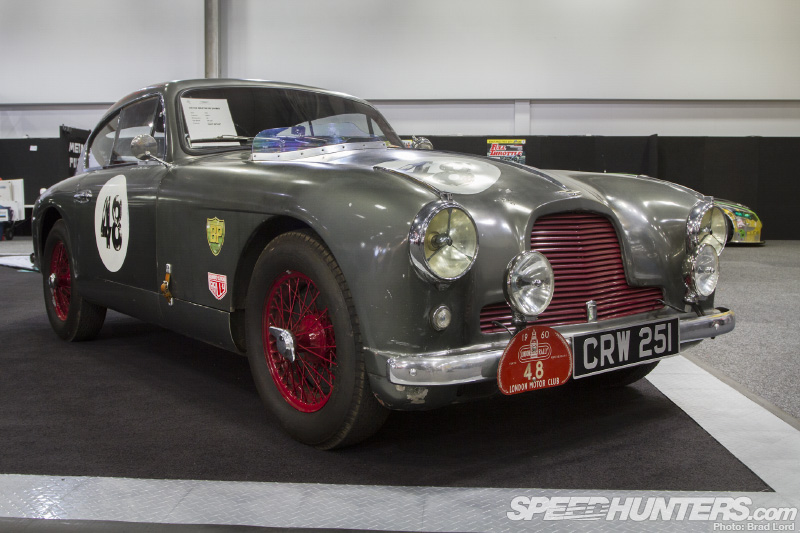 While Lamborghini was launching, Aston Martin was celebrating its 50th, which makes the British brand 100 years old this year. That milestone was celebrated through a small collection of cars including this vintage DB2/4 race car from 1955. Its 2.9L Lagonda straight-six engine bestowed it with 120mph performance.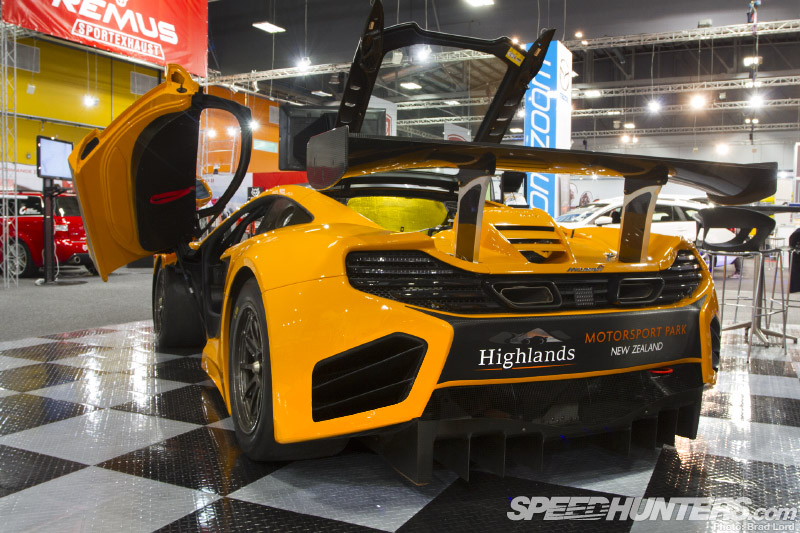 At the other end of the spectrum there were no shortage of late-model competition cars on show. That spanned everything from Highlands Motorsport Park's lap-record-setting McLaren MP4-12C GT3…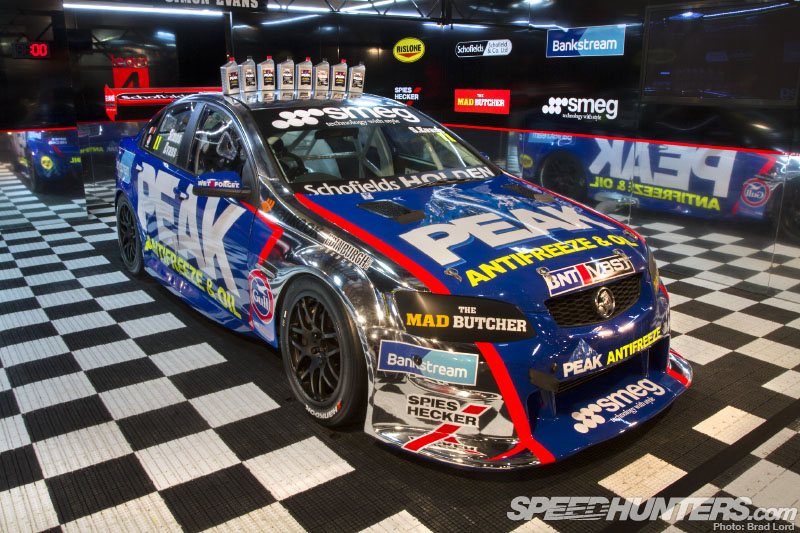 … through to new generation V8 Supertourers…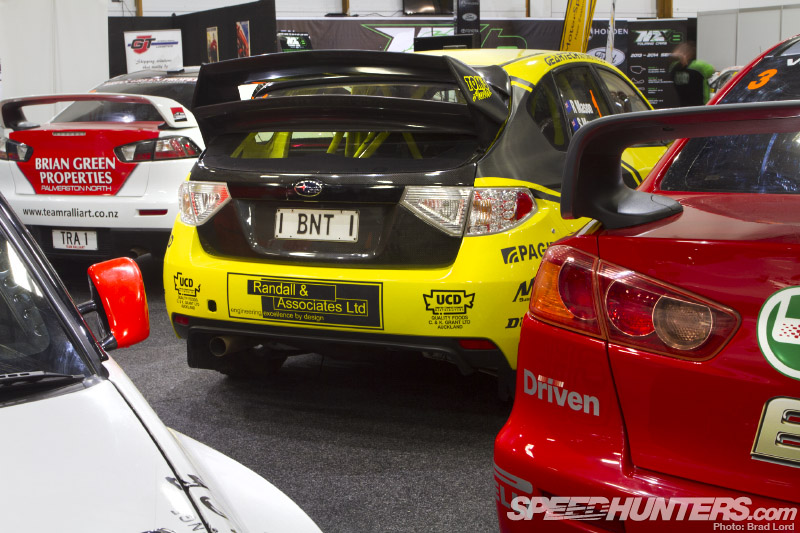 … to the crème of the New Zealand Rally Championship crop.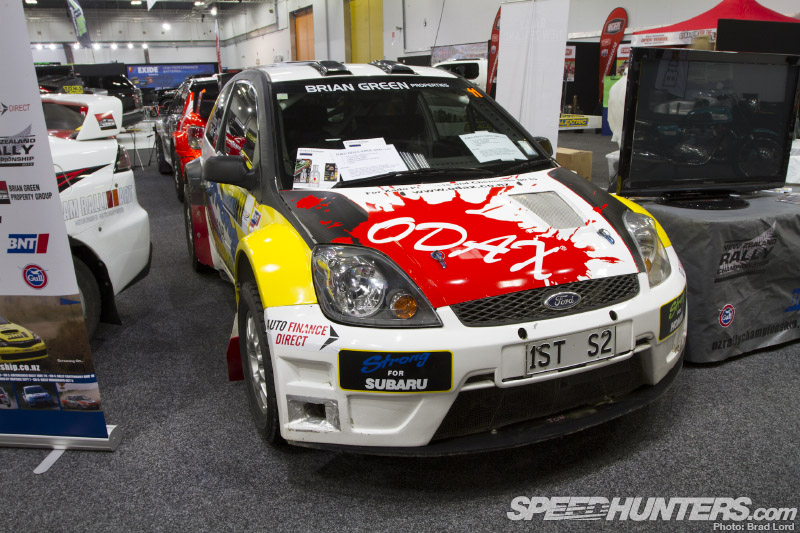 The latter included this small, and slightly unassuming little weapon of special stage destruction.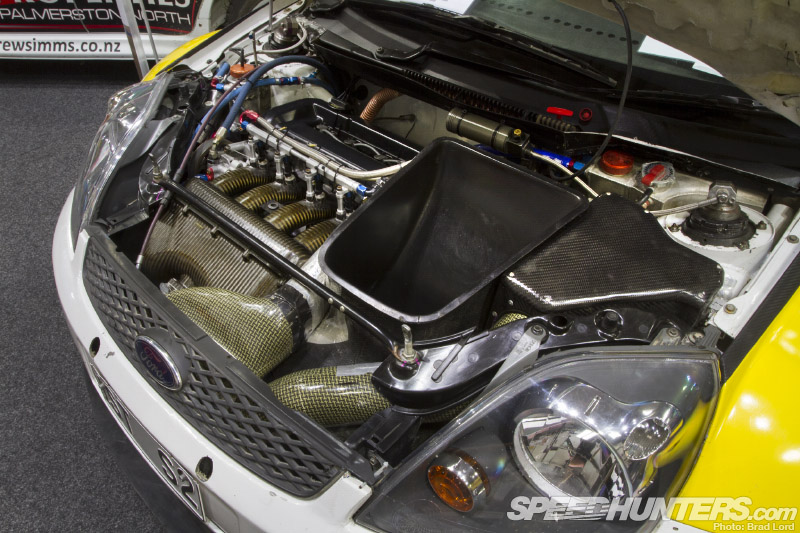 It might have begun life as a front-wheel drive Super 1600 car for Jari-Matti Latvala, but after being converted to S2000 spec in Australia a few years ago, the Mk6 Fiesta now packs a 2.0L, 270hp punch backed up by a six-speed sequential transmission and an all-wheel driveline.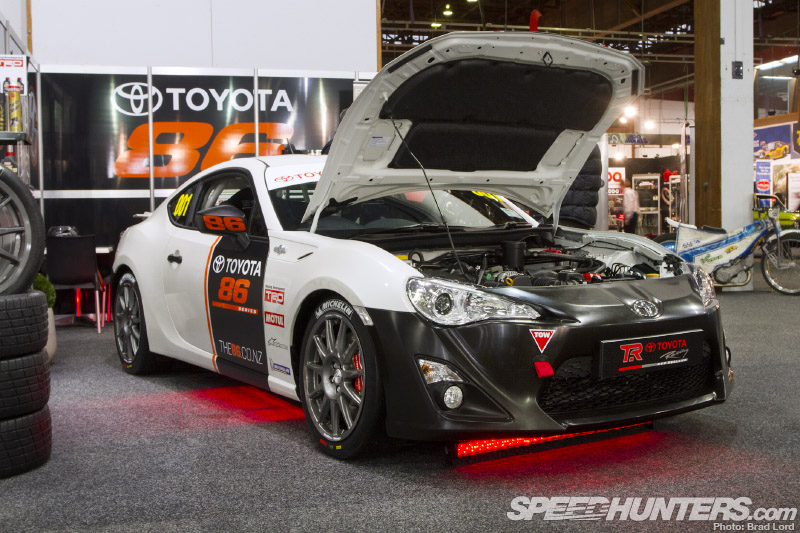 The event provided the perfect opportunity for Toyota to officially launch a new one-make racing series that is kicking off this summer. Under the newly-formed Toyota Racing New Zealand banner, more than 20 RC-spec 86s are currently being prepared for the production-based championship, with high-grade modifications extending to FIA-grade rollcages, MCA suspension, Sparco seats, Speedline wheels, MoTeC dash/data logger displays and more.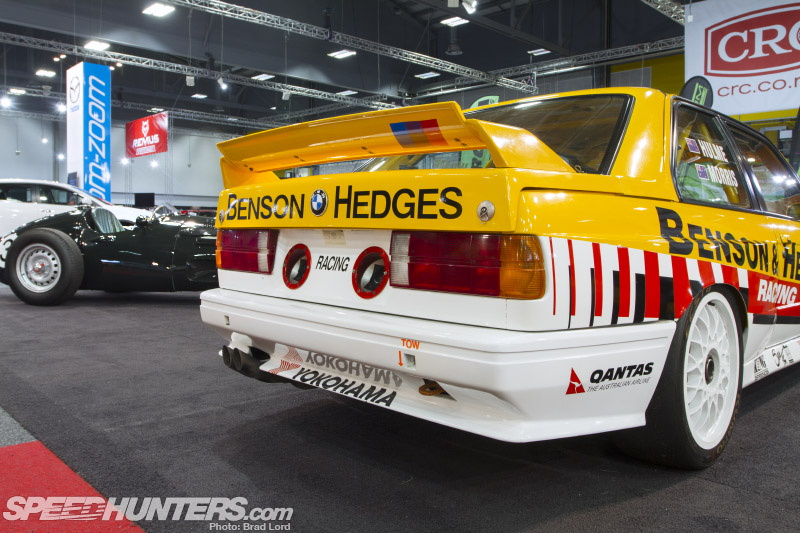 One of my favourite parts of the show was the  'NZ Legends of Speed' collection in the main pavilion, where an ecletic mix of internationally-renowned motorsport machines – each with strong New Zealand ties – were displayed together.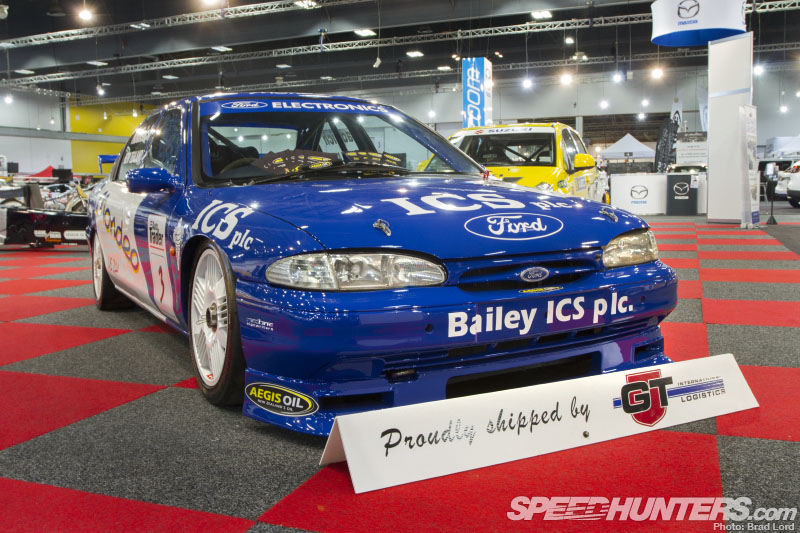 Cars like the Ford Team Mondeo  that Paul Radisich used to win the FIA Touring Car World Cup in 1994. The Andy Rouse-built, front-wheel drive V6 machine, competed in the  heyday of European touring car racing against drivers like Steve Soper, Joachim Winkelhock and Gabrille Tarquini, so to see it in the metal was a real treat.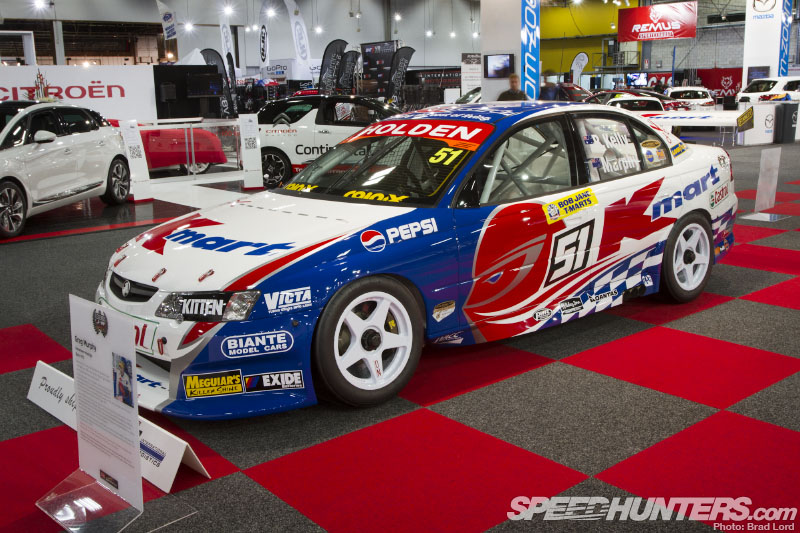 Any New Zealander or Australian who knows anything about V8 Supercar racing will surely recognise this car – the #51 Kmart Commodore that Greg Murphy drove to the 'Lap of the Gods' at Mount Panorama, Bathurst, during qualifying in 2003. Smashing the lap record by over a second not only broke new ground, but it set up the Kiwi driver and his Aussie counterpart for overall victory at the 'Great Race' the next day.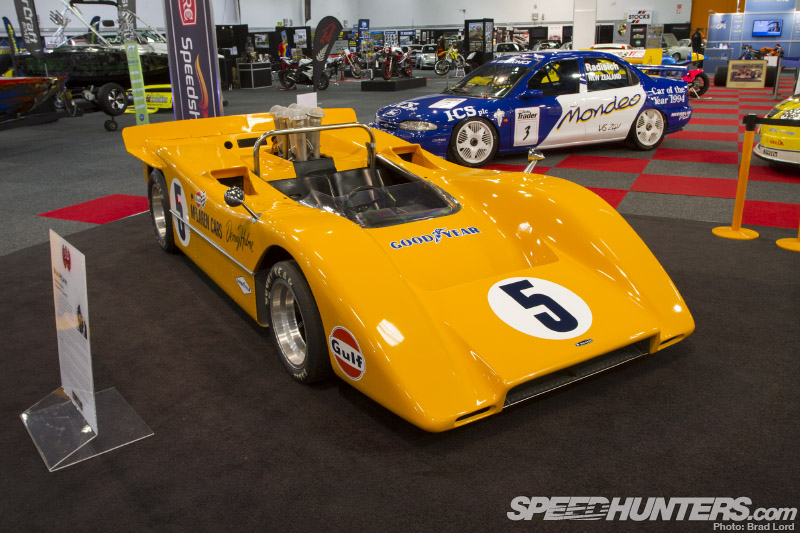 Of course, no legends display would be complete without a McLaren Can-Am car – in this case the Bruce McLaren Trust's recently restored M8A/2.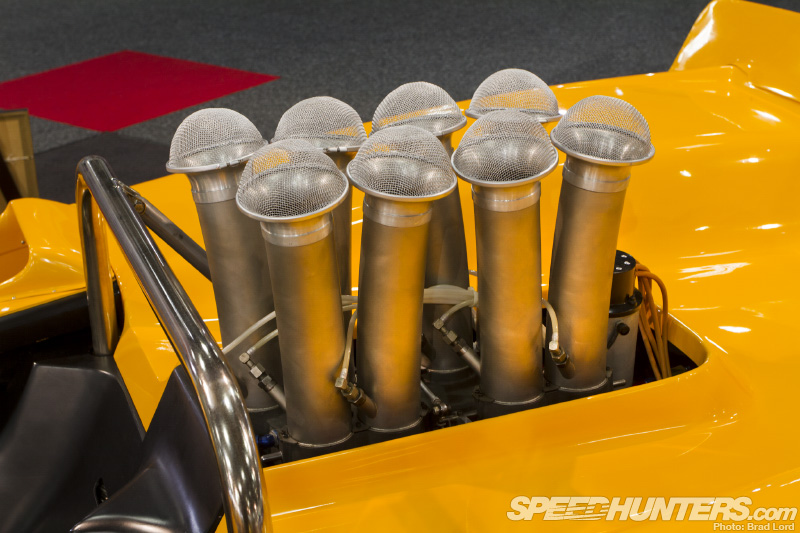 I believe the #5 Denny Hulme car was actually the last Can-Am car that Bruce raced before his tragic death at Goodwood Circuit in 1970, so it has some real importance to the McLaren brand and New Zealand motorsport as a whole.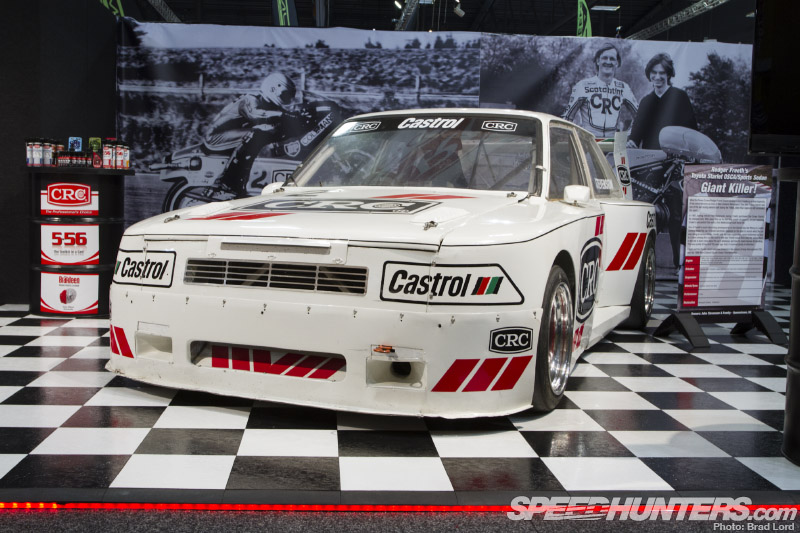 Throughout the show I came across a number of other iconic local cars too, including the ex-Rodger Freeth Toyota Starlet which was displayed on the CRC booth. Originally engineered by Trevor Crowe and featuring an Oldsmobile V8 engine, it was later upgraded with a Tom Walkinshaw-built Rover V8.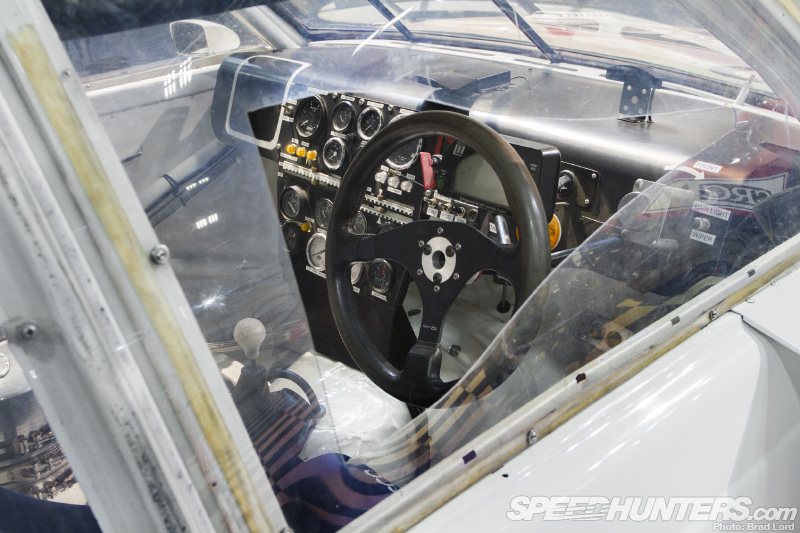 To use the phrase 'giant killer' is appropriate here, because from behind this wheel, in the the company of some much larger competition, that's exactly what it did in the NZ Sports Sedan Championship during the '80s.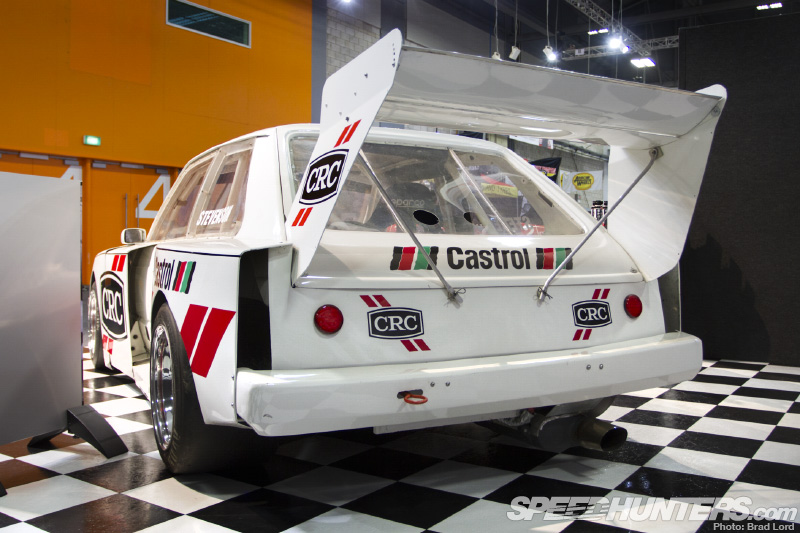 Although the Starlet has been re-powered and updated since its original racing days, it remains somewhat true to its heritage by its exterior which has been faithfully restored to the way it was campaigned by Freeth in 1990.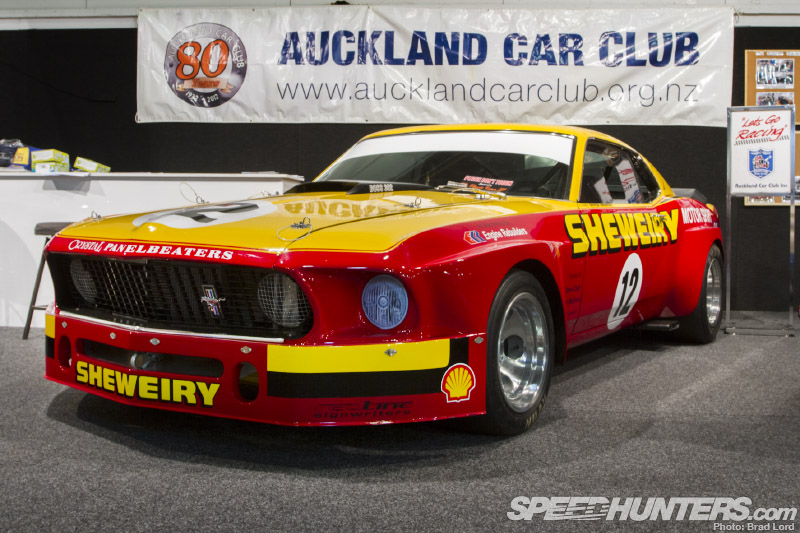 Staying with Sports Sedan racing for a moment, it was also very cool to see the ex-Jim Richards Sidchrome Mustang finally back together after an extensive restoration by its current owner George Sheweiry.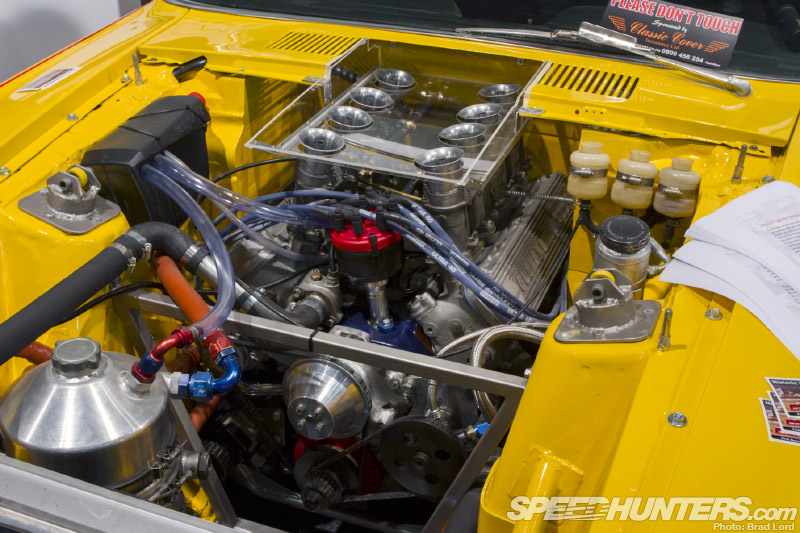 The '69 wide-bodied Mustang  features a Gurney-Weslake Ford 366ci V8 and was originally run in New Zealand and Australia by a Kiwi team during the '70s, with great success. I can't wait to see it out the track amongst the ranks of the new Historic Sports Sedans series launching this summer.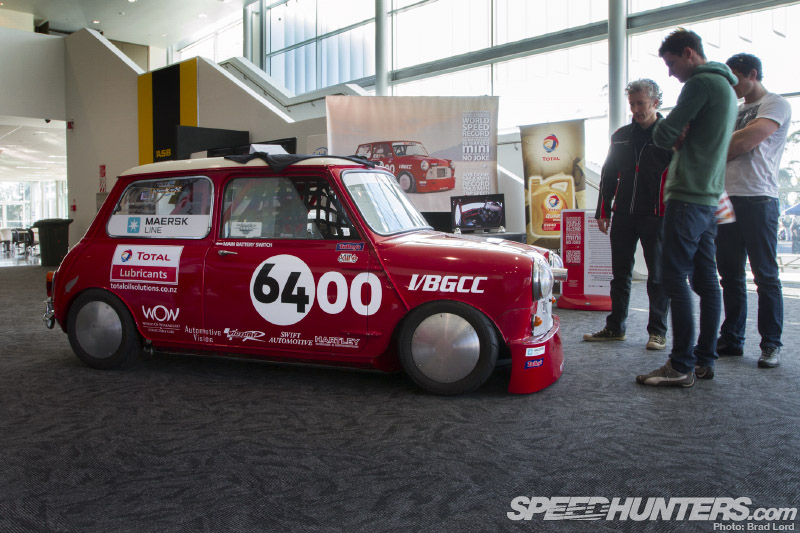 It might be older than the Mustang, but this Morris Mini Cooper is still an icon in the making. Built on a whim by a group of talented Kiwis, 'Project 64′ fronted at Bonneville Speed Week last August and promptly obliterated the land speed record for the I/BGCC 1000cc class with a 146.6mph average (156.0mph top speed). Having a twin cam, turbocharged and methanol-fueled A-series engine up front definitely helped the cause – something they hope to improve upon when they return to the salt in 2014.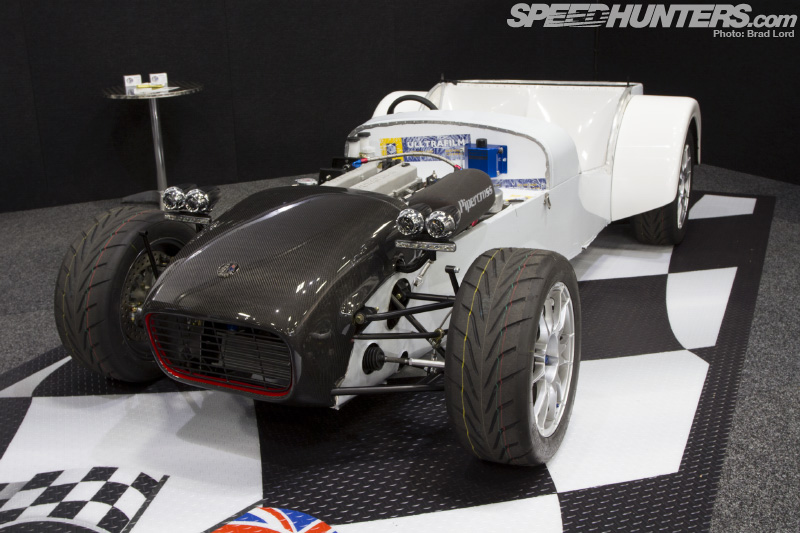 The locally-engineered Fraser Clubman turns 25 this year, and the company celebrated the occasion by revealing a new build currently under construction by one of its customers.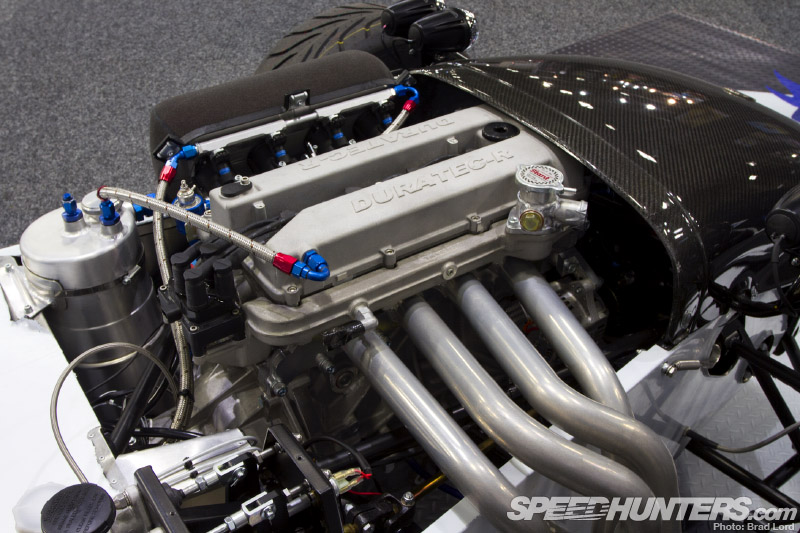 A far cry from the basic Lotus 7 replicas that Fraser began making, this 2013 Clubman S features a dry-sumped 2.0L Raceline Ford Duratec-R engine, race-ready inboard suspension, OZ Ultraleggera wheels and carbon fibre detailing.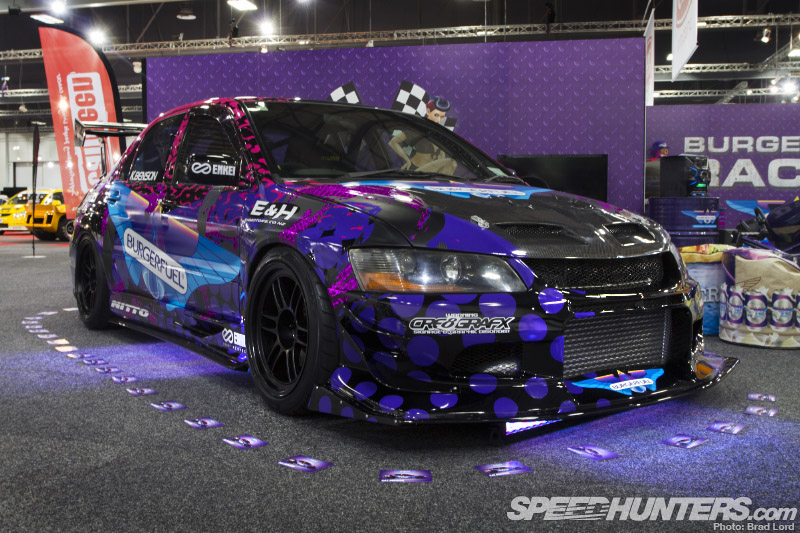 On the subject of reveals, Burgerfuel took the wraps off two new sponsored cars for the coming summer season and beyond. Kat Benson's wide-bodied Mitsubishi Lancer Evo VII time attack car has a pretty wild look thanks to Speedhunters' own Mad Mike Whiddett, and with a fully-built, 550hp 4G63 up front it should go rather well too.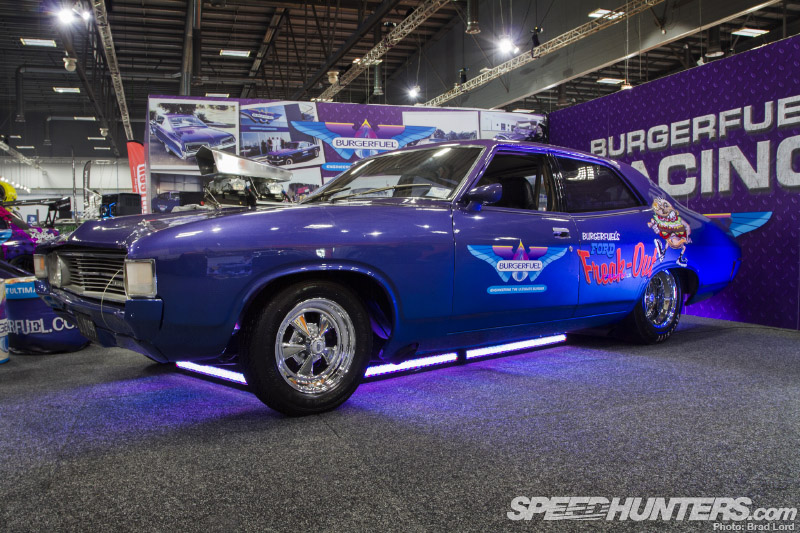 Burgerfuel's 'Ford Freak-Out' on the other hand has been engineered exclusively for straight-line duties. 700hp will do the trick nicely.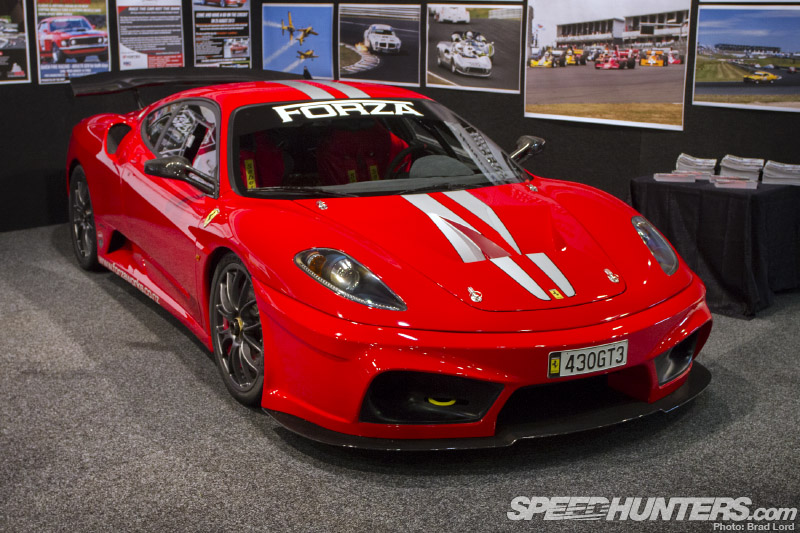 The thing I really like about Speedshow is the fact that you never know what you'll find around the corner. One minute it's a 430 Challenge, freshly upgraded to GT3 Scuderia specification…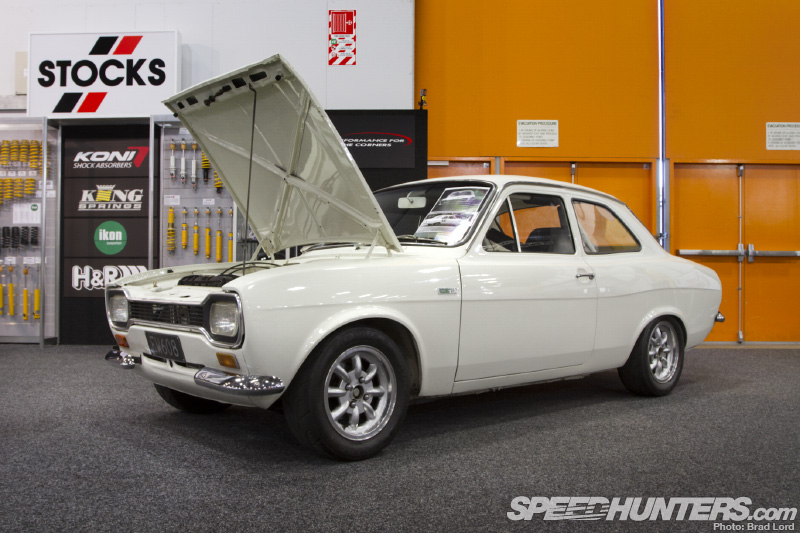 … and the next it's a fastidiously maintained 1968 Escort Twin Cam – the Lotus-powered predecessor to Ford's Cosworth BDA-powered RS1600.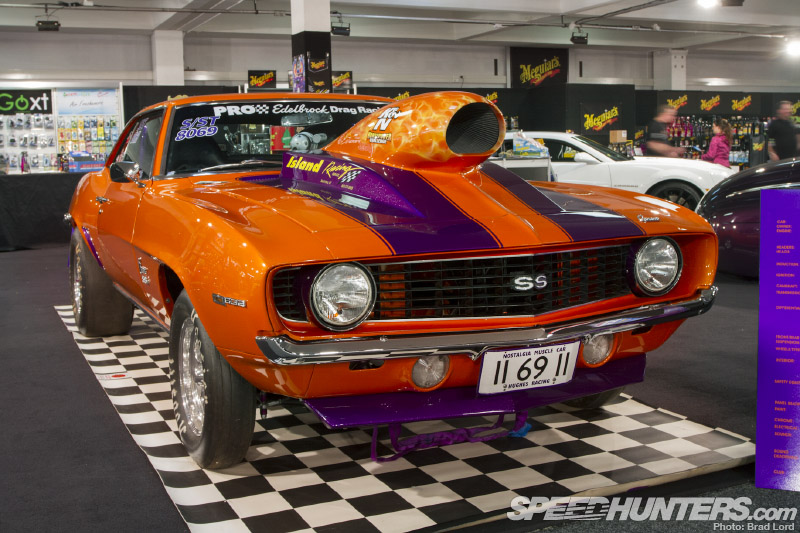 From US-derived quarter mile warriors – in this instance a '69 Camaro SS running a 632ci Dart engine…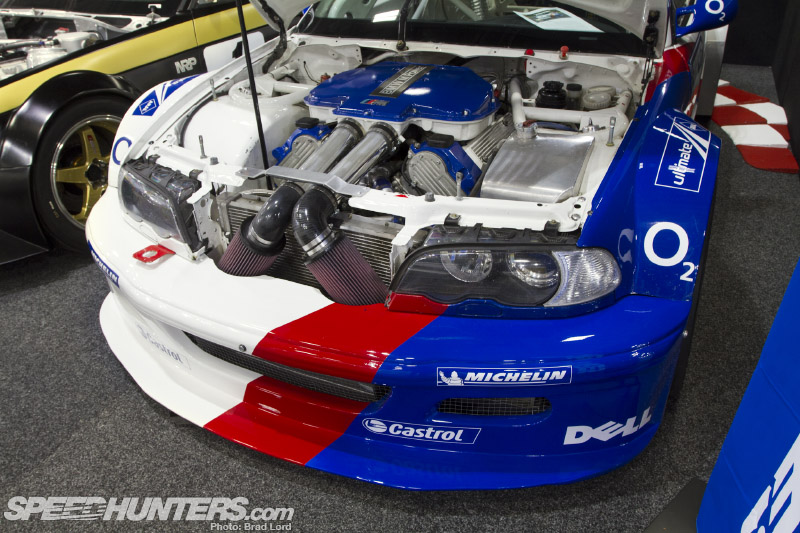 … to Euro-derived circuit racers – like this BMW E46 M3 GTR replica.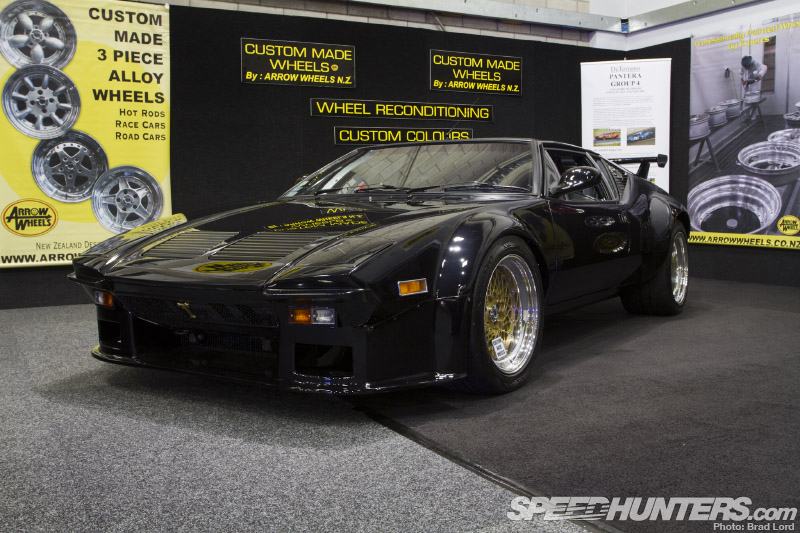 Sometimes you'll find a bit of both all rolled into one. DeTomaso Pantera anyone?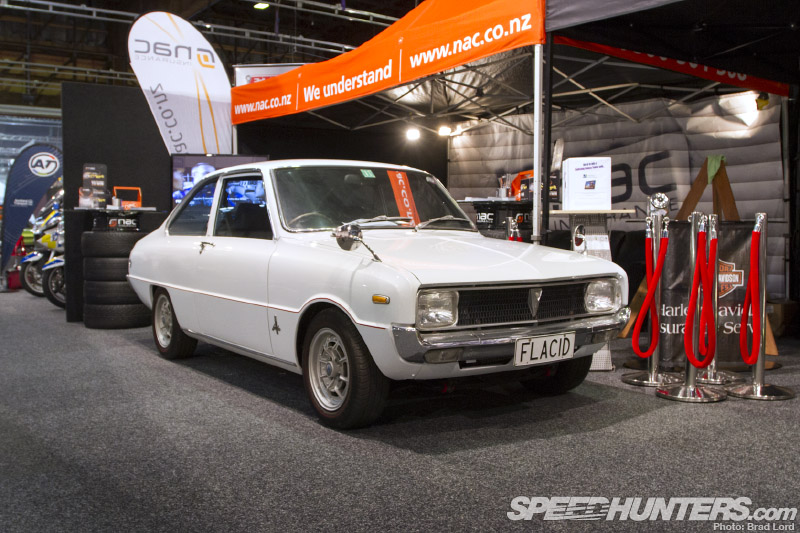 As I'm sure you already know, New Zealand has a pretty strong old school Japanese car culture. And while the majority of cars within the genre are modified, every now and then you come across a great survivor, like this factory original Mazda R100.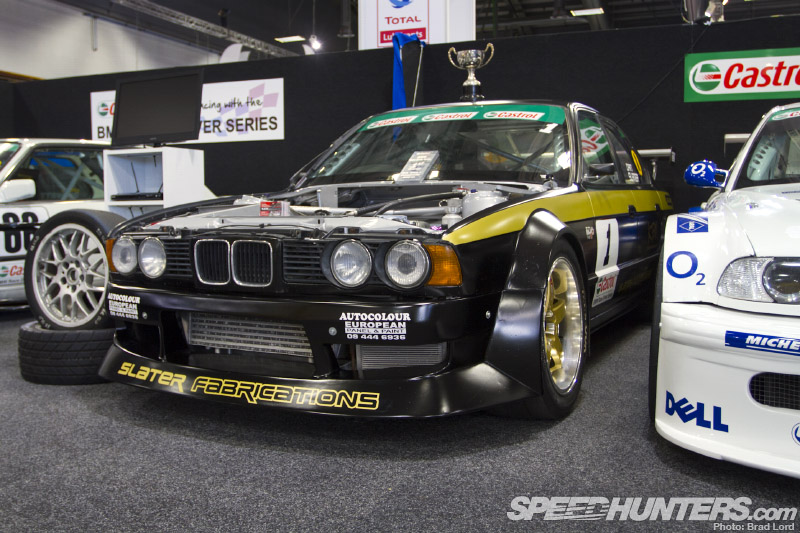 This E34 BMW – the overall winner of the 2012/2013 Castrol BMW Race Driver Series' Open Championship – is most definitely not stock though.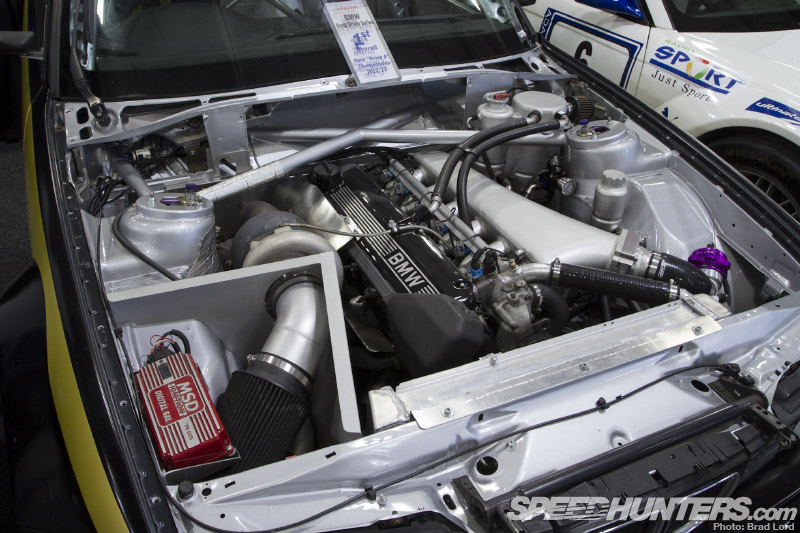 Some stunning fabrication has gone into the creation of this car by its owner/driver Dan Slater, and not only is the turbocharged 535i fast,  it's rather powerful too – if you hadn't already worked that out for yourself.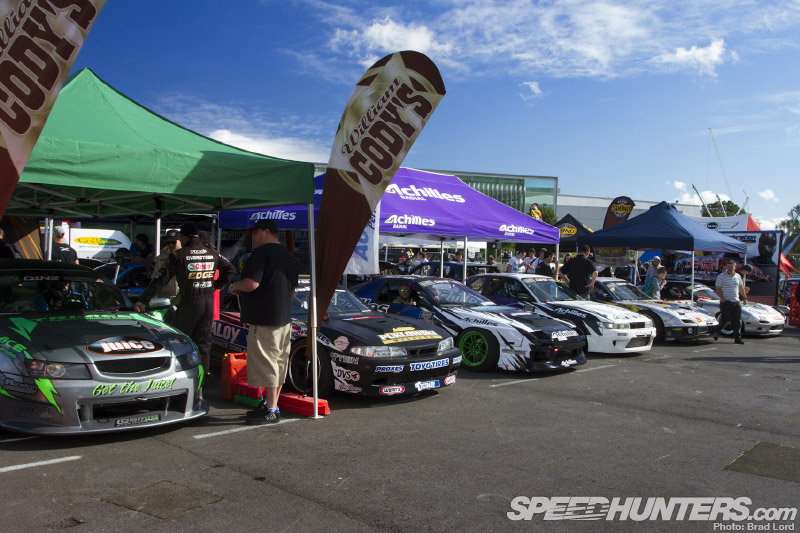 Along with the indoor displays, there was plenty going on outside at Speedshow too.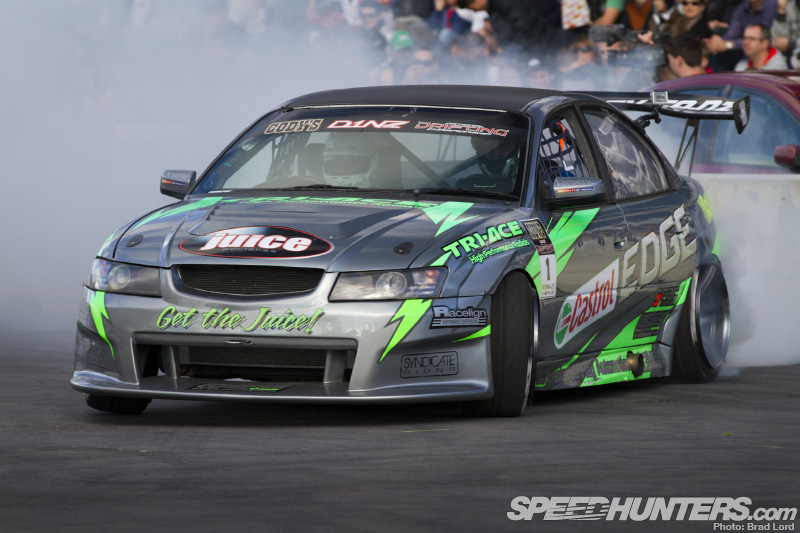 Fresh from winning the 2012/2013 Cody's D1NZ National Drifting Championship, Fanga Dan Woolhouse was one part of a group of high-profile local drifters who demonstrated their art in the Ezybuy Live Action Arena.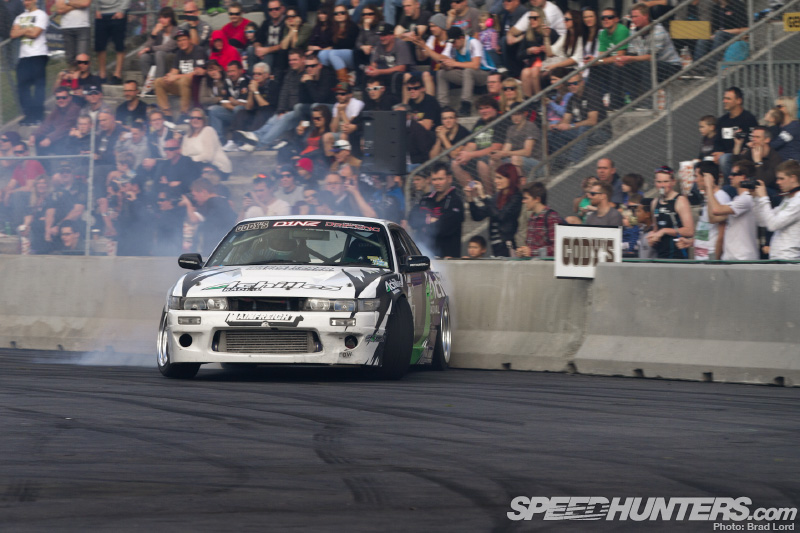 Although the drift set shared the arena with karts and stunt drivers (not at the same time, of course!), their smokey, sideways antics stole the show.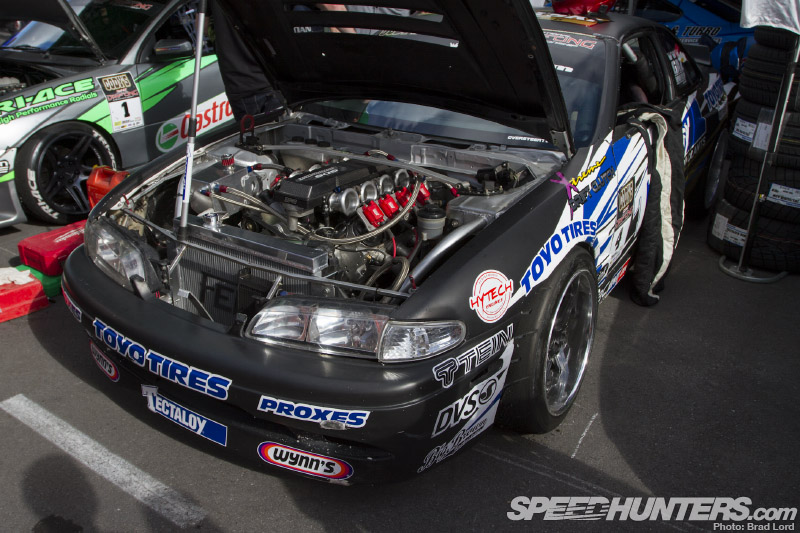 In between sessions, an open pit allowed the public an opportunity to take a closer look at some of New Zealand's most well-known drift machines, like Gaz Whiter's LS7-powered Silvia S14.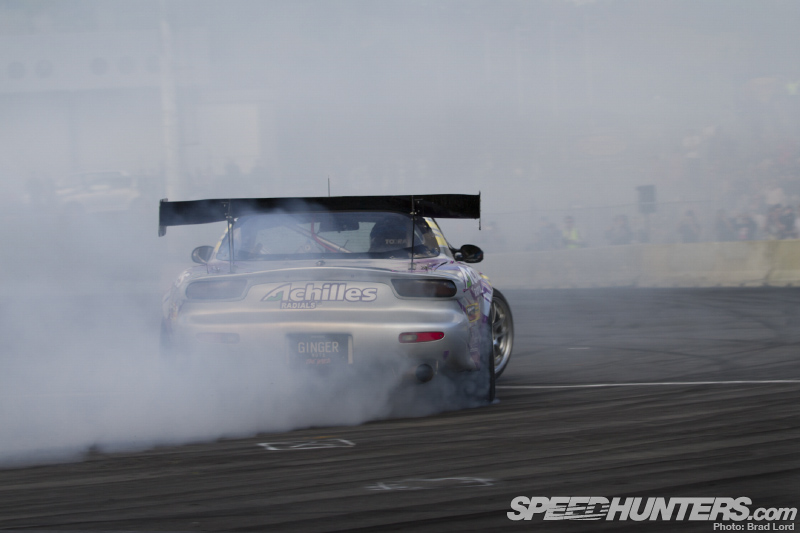 Unfortunately, too much smoke and noise meant the Speedshow organiser copped a couple of rather large fines from the local authorities, meaning not all of the planned expression sessions ended up going ahead.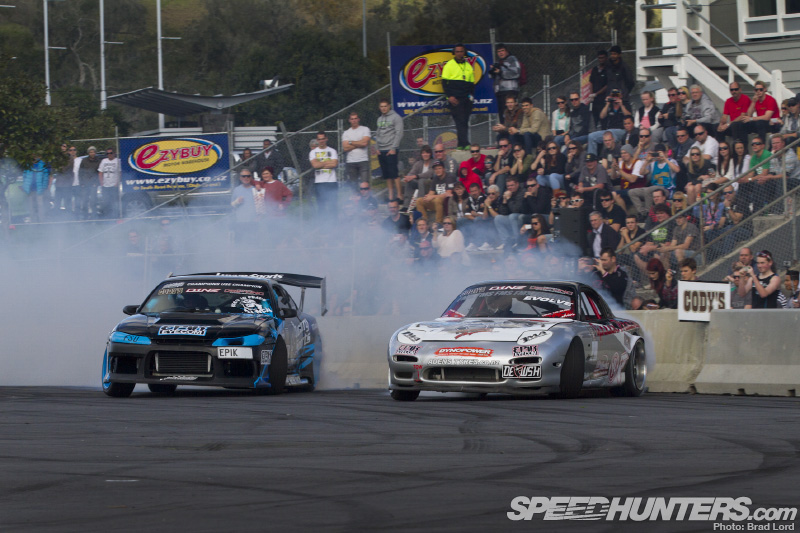 For the drivers and spectators alike, it was definitely fun while it lasted, though.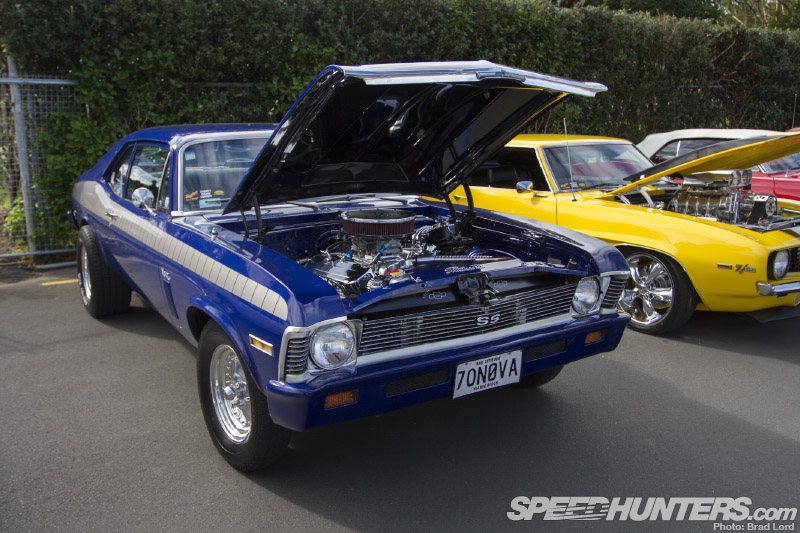 On Sunday morning the Meguiar's Car Crazy Charity Cruise rolled into the venue, adding an impromptu car show to the overall spectacle. The event attracted plenty of notable machines too, including this drag-stanced big block Chevy Nova.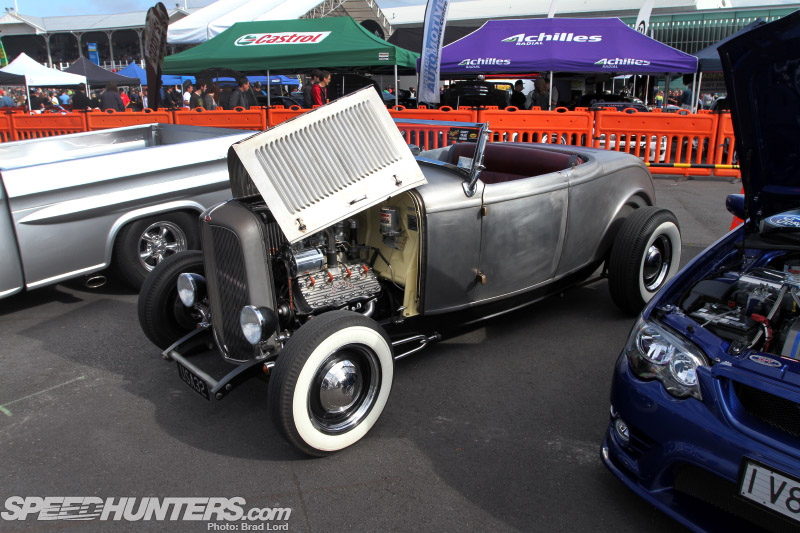 It's pretty hard to beat a traditional '32 Roadster build, and this one was as clean as they come.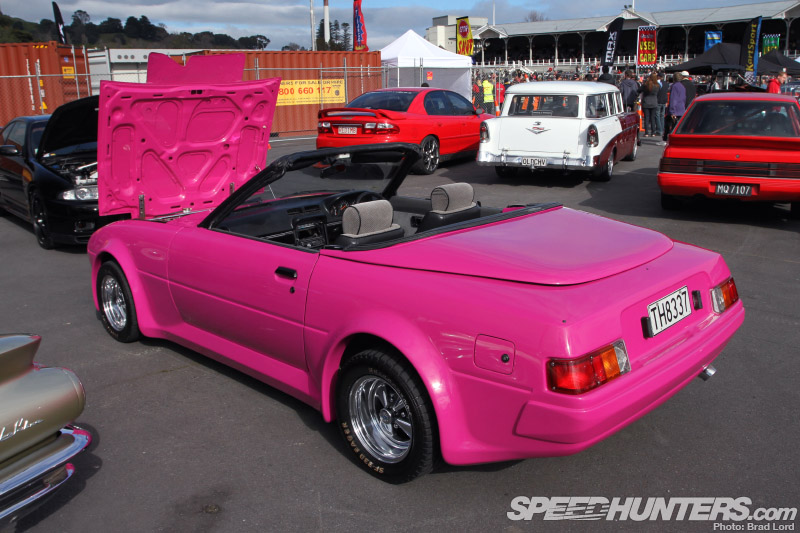 I got a bit of shock when I spied this first generation Mazda RX-7 from across the car park, and not just because of its colour. This custom creation featuring a 'Tron' body kit was actually featured on the cover of the pilot issue of NZ Performance Car magazine – which was a bound insert in NZ Classic Car magazine – way back in 1996, and I hadn't seen it since the MREC 'Rotary Nationals' the same year. It looked exactly the same though, almost like it had been stored in a time capsule for the last 17 years.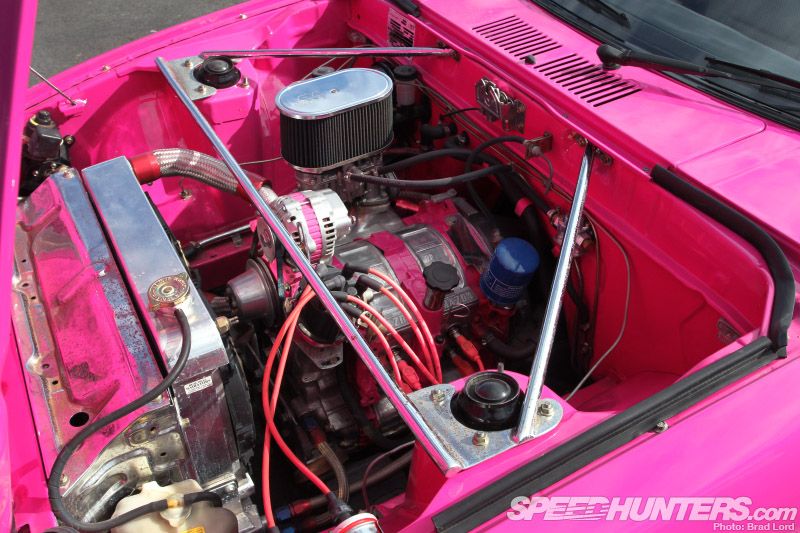 I wonder if that's the same Rotech 'stage two' 13B engine that originally powered the build? It certainly looks like it!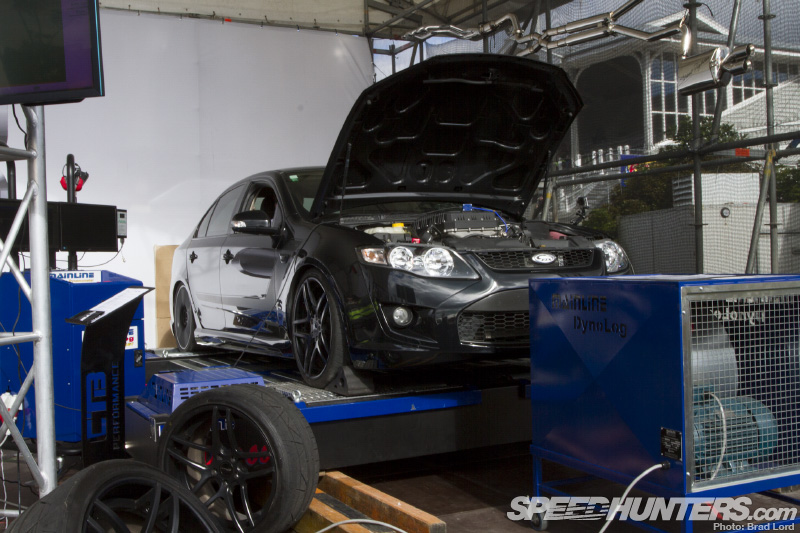 I'm going to wrap up this post with the CTB Performance FPV GT, which pushed out 570whp on the dyno as part of Speedshow's outside entertainment. Who wouldn't want that in a street car?
There's more coming from CRC Speedshow 2013 too with a look at what was an amazing Castrol EDGE/Teng Tools Custom & Classic Show component.
Brad Lord
brad@speedhunters.com
More New Zealand stories on Speedhunters
4&Rotary Nationals on Speedhunters