When I hear the words 'homebuilt car' I can't help but conjure up images of poorly-put-together open-wheeled kit cars that never really end up being properly finished by their usually over-enthusiastic owners. However in Scandinavia a homebuilt car is something entirely different. When I asked Henrik Mattsson a few questions about his white Volvo V70 I was instantly confused. He kept using the term homemade while pointing at details of his project that so obviously couldn't have been created in one's garage.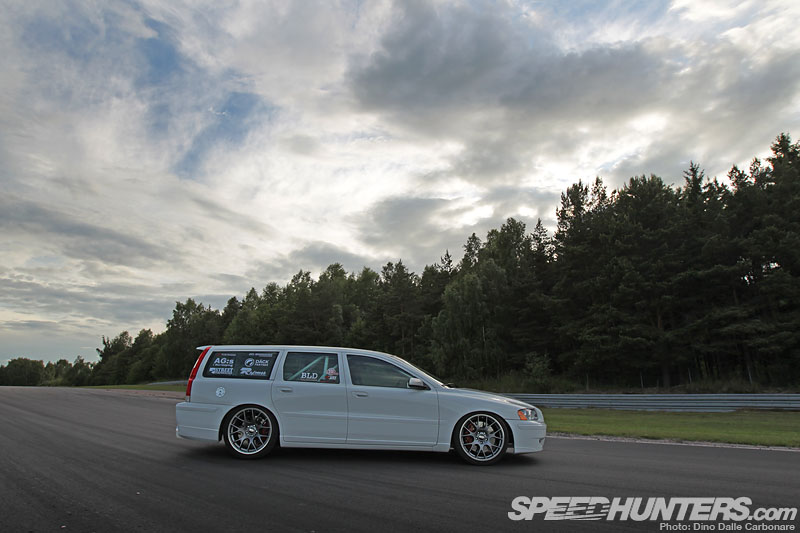 After asking him for the third time if he really had put this one of a kind station wagon together by himself, he replied, "Ok not everything – my brother made the carbon parts and painted the body in his garage". Alright then! Henrik works at a Volvo dealership as a mechanic so you can begin to see the possible connections…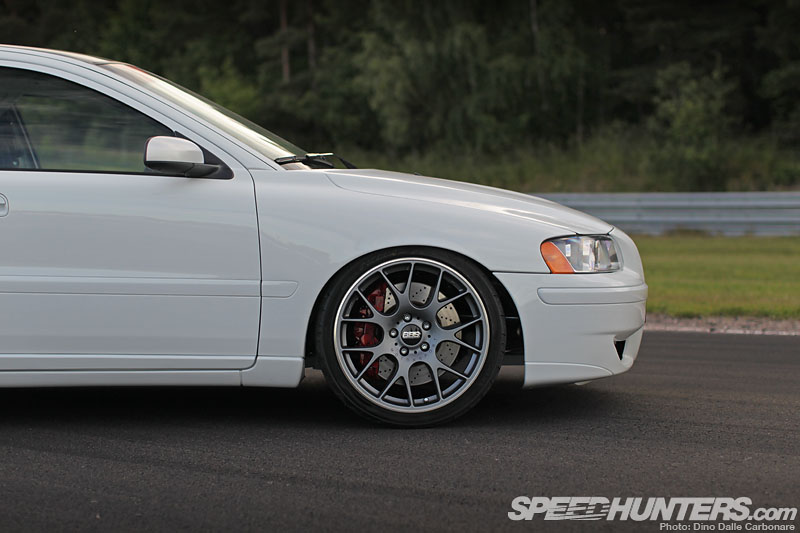 … that led him to create this V70 – a car that is very well known in the show and performance scene in Sweden. If you like the idea of a sleeper then you will definitely appreciate what's been done with this car's exterior, and that is close to absolutely nothing. Aside from the set of 19-inch BBS wheels…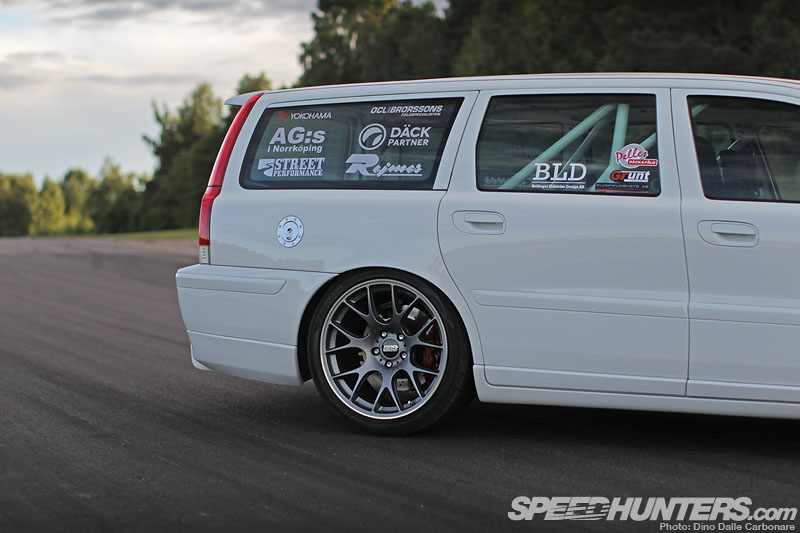 … Henrik has kept the V70's body completely stock, concentrating on getting rid of everything else underneath.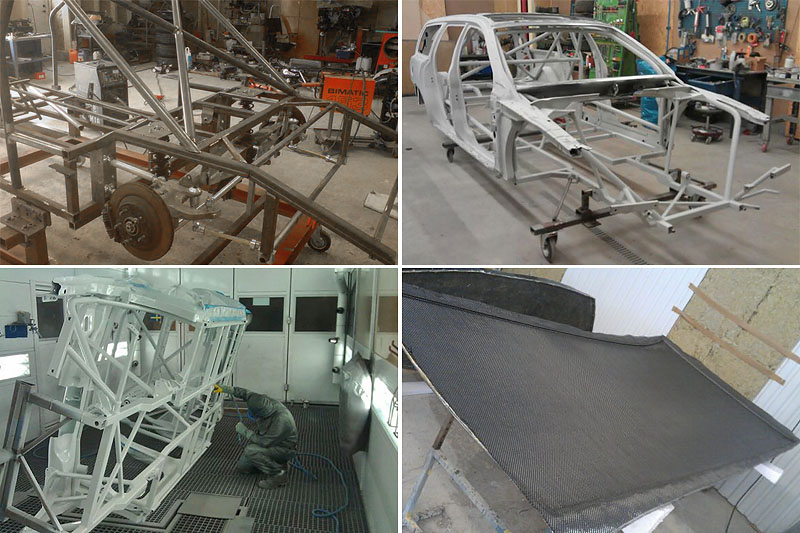 And when I mean everything, I really do mean every single bit of metal from the chassis. Henrik's fabrication skills really came in handy here as he designed and welded up his very own space-frame with bespoke suspension pick-ups. The floor, firewall and roof are all made from carbon fiber that his brother put together for him. Above, you can see his brother spraying the completed chassis in the same ice white that the exterior was painted it.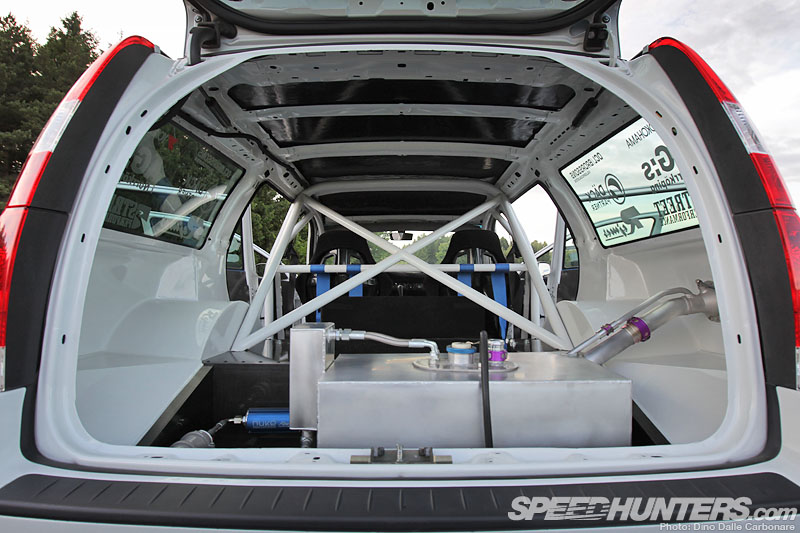 The result is unlike anything I have ever seen: a station wagon that thinks it's a bit of race/drift/street car. But it isn't until you open up the rear gate and really begin to look at this V70 in detail that another thing becomes pretty obvious. Henrik must have a mild case of OCD because the attention to detail is second to none. From the quality of the welding or the beautifully tubbed rear wheel arches, to how the fuel system and custom fuel cell have been laid out. You can also get a glimpse of the carbon roof from inside the car…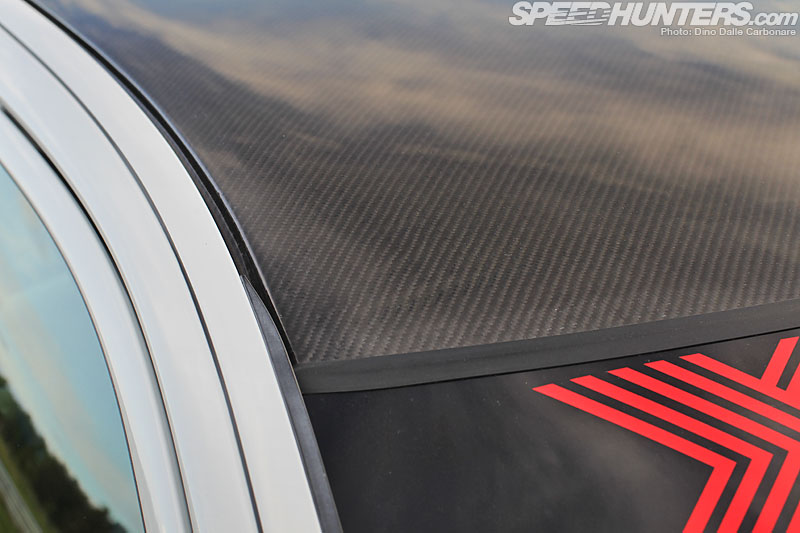 … as well as outside where those hand-laid fibers have been left exposed rather than hidden by paint.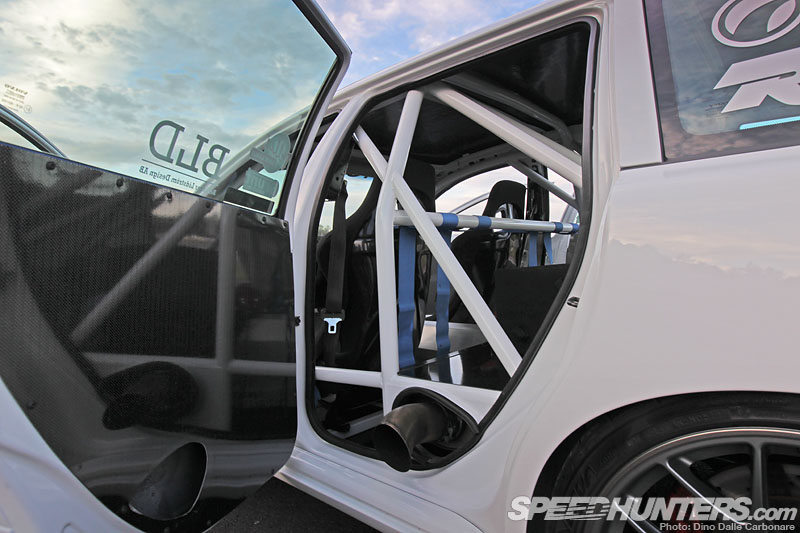 There are no rear seats so when you open the rear doors all you are confronted with is a whole lot of roll cage…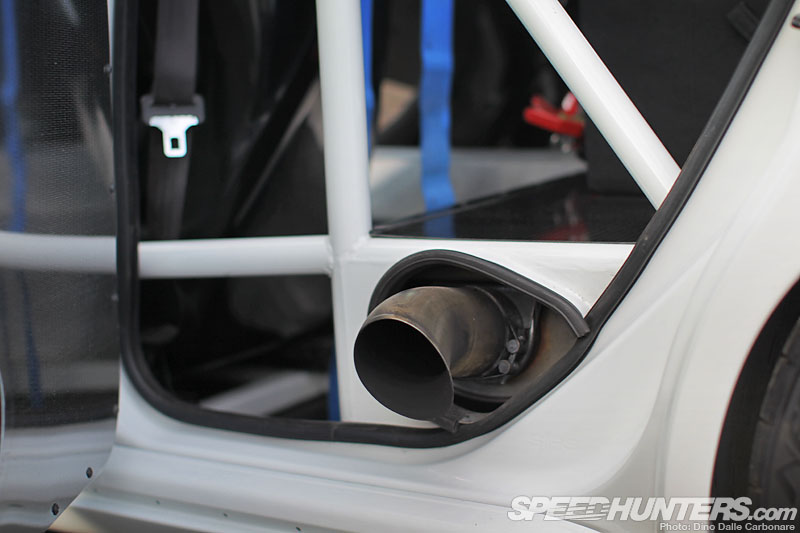 … and the side exit exhaust, which takes us to the performance side of things.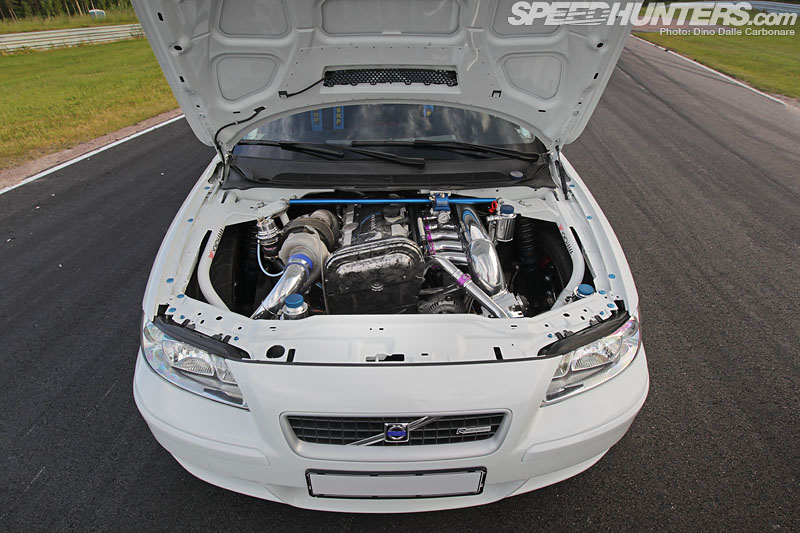 Under that stock unsuspecting hood, suspended on custom engine mounts fabricated onto the front section of the space-frame, is the five-cylinder Volvo lump that Henrik wanted to use in order to give the car a true Scandinavian feel. First thing that you notice is the engine's position – sitting longitudinally and as far back as possible now that the car is no longer front-wheel drive.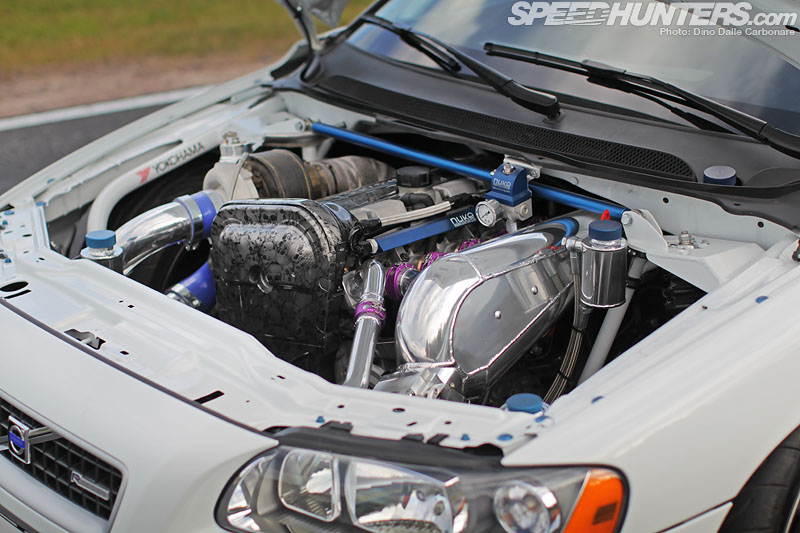 The motor has been built up with a forged bottom end, and everything finely balanced and finished off with a fully ported and polished head running 270 degree camshafts with an 11.5 mm lift.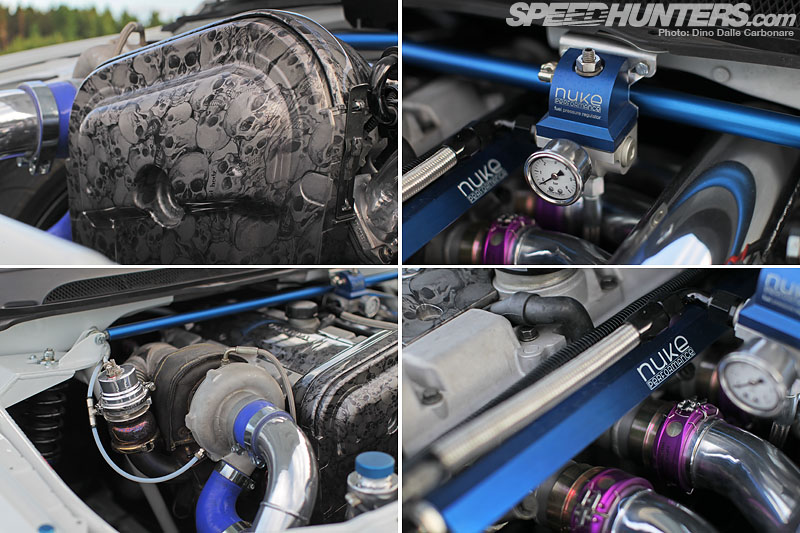 The 1.4 bar of boost that is force fed to the engine is provided via the SC61 Precision turbo, controlled by a 50mm external wastegate. Presentation, like on the rest of the car, has been at the top of the list in the overall execution and includes a long list of parts that Henrik fabricated himself starting with the headers and exhaust system as well as the aluminum intake plenum. Nuke Performance billet parts help make up the fuel system which picks up fuel in the custom tank we saw further up above, and sends it to the five  1000 cc/min injectors.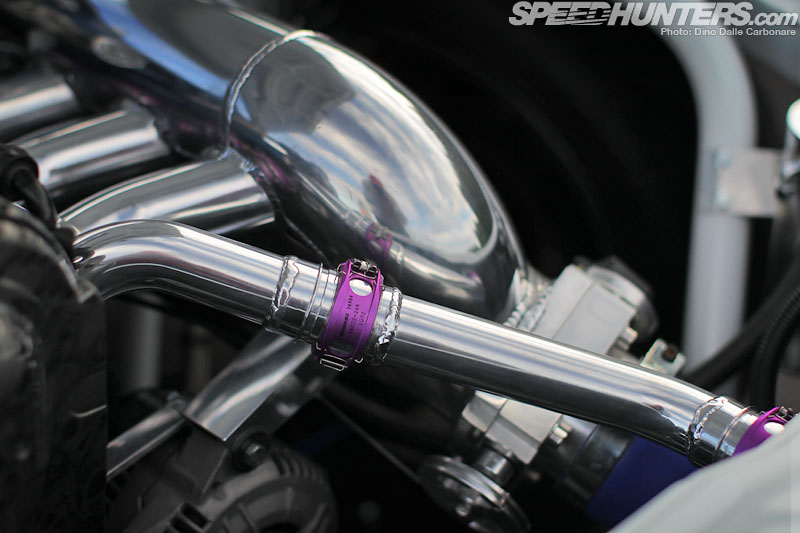 The copious amounts of purple anodized aluminium clamps to hold various piping together, from the intake, radiator top and lower feeds as well as the fuel filler in the tank aren't actually Wiggins clamps. These are very special aerospace-certified items that Henrik has sourced from his friend that works for the Swedish airforce. Each one costs hundreds of dollars and is a perfect example of just how fanatical the attention to detail is. "Only the best"' as Henrik puts it!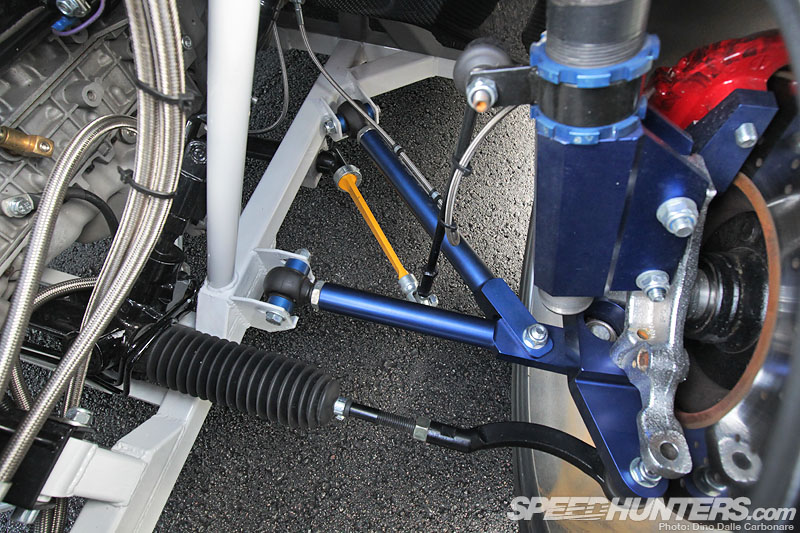 And then of course there's the suspension, made up of beautifully machined custom links, all anodized blue to match the rest of the detailing in the engine bay. Everything sits on pillow ball links to eliminate any slack and as a finishing touch, adjustable swaybars were also integrated into the set-up.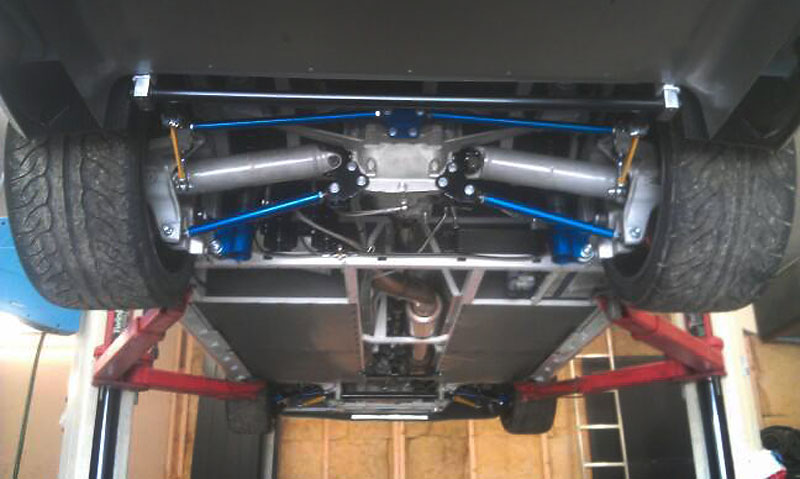 An E36 BMW M3 transmission along with an upgraded clutch sends the 450hp the engine develops to the rear wheels via a custom propshaft; yet another homemade part that Henrik created. Thanks to the above image you can see how the Corvette C4 rear end has been positioned in the custom chassis and you also get a good view of the axles, shortened by 4 cm on each side to fit the narrower dimensions of the track. We find yet more custom blue suspension arms and the yellow adjustable knife-type sway bars, just like you would find in a proper race car. Oh and sealing off the underside of the car is the carbon fiber floor!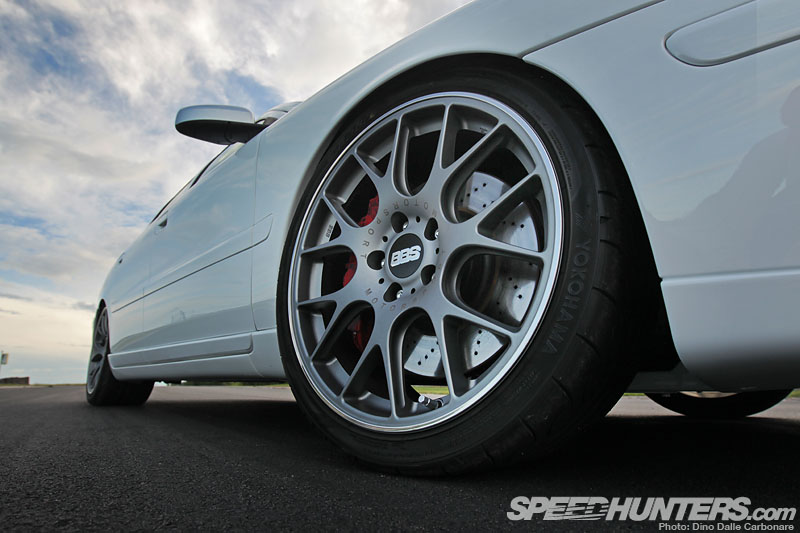 Behind the 19-inch BBS CH wheels…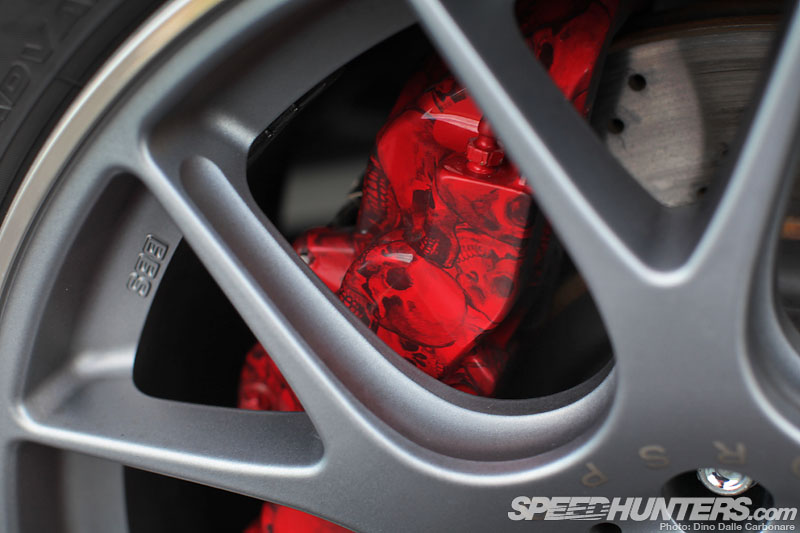 … lies a brake system borrowed from AMG, made up of massive front 8-pot calipers, and more compact 4-pots at the rear. These are mounted on CNC-ed brackets and finished off with a similar skull design as can be found on the engine's covers.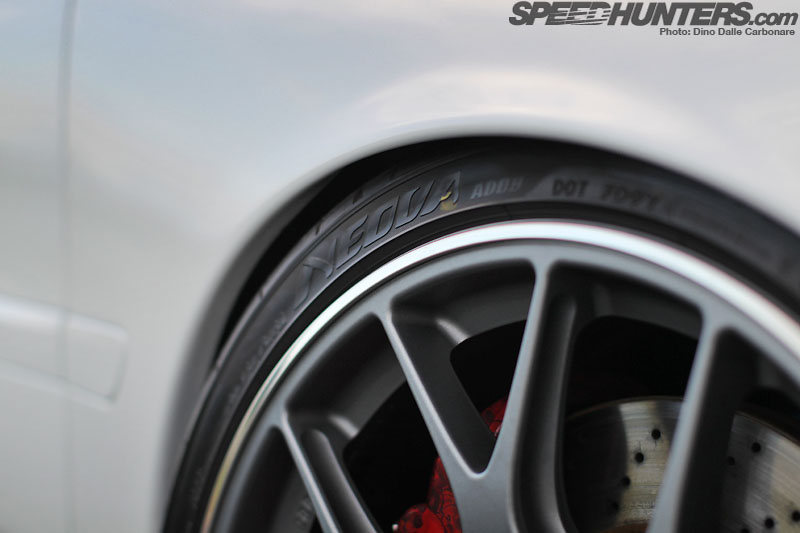 For grip Henrik has gone for a set of Yokohama Neova AD08, 235/35R19 at the front and a nice and chunky set of 295/30R19 rears.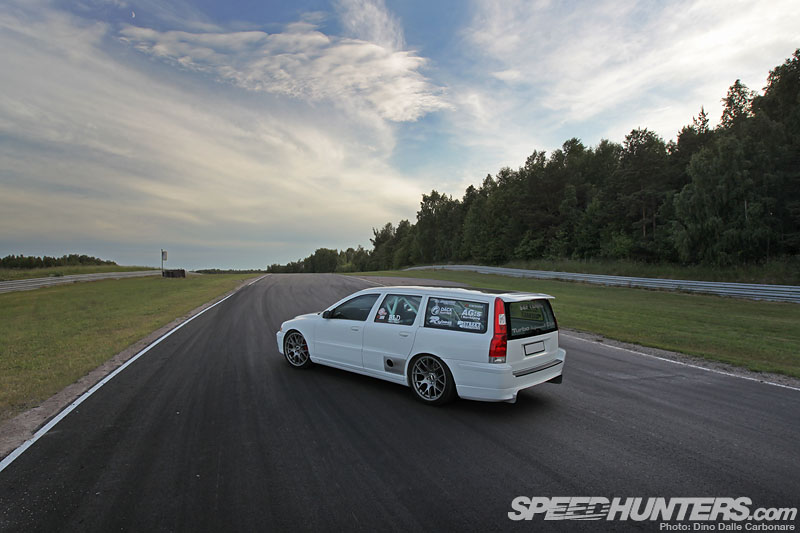 This is one build that couldn't possibly have been more dictated by function…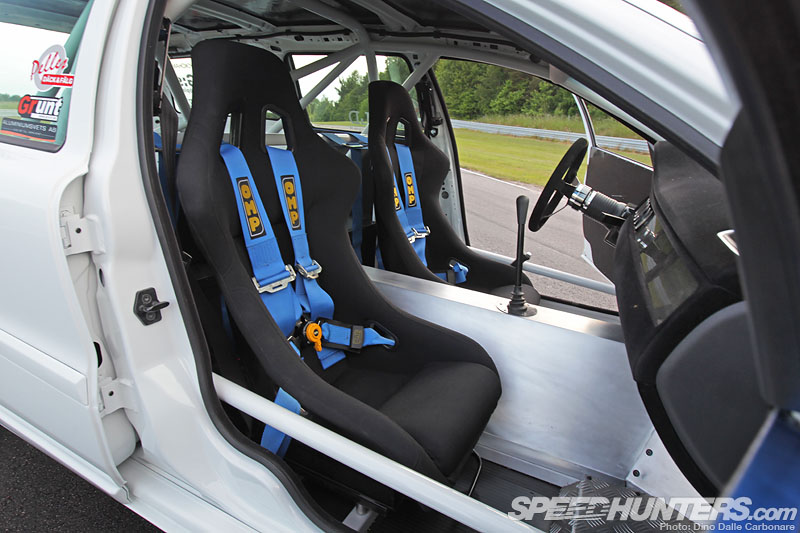 … down to the smallest of details. The interior is minimalistic to say the least: the bucket sets are fitted directly onto the square piping that makes up the floor section of the chassis and are separated by…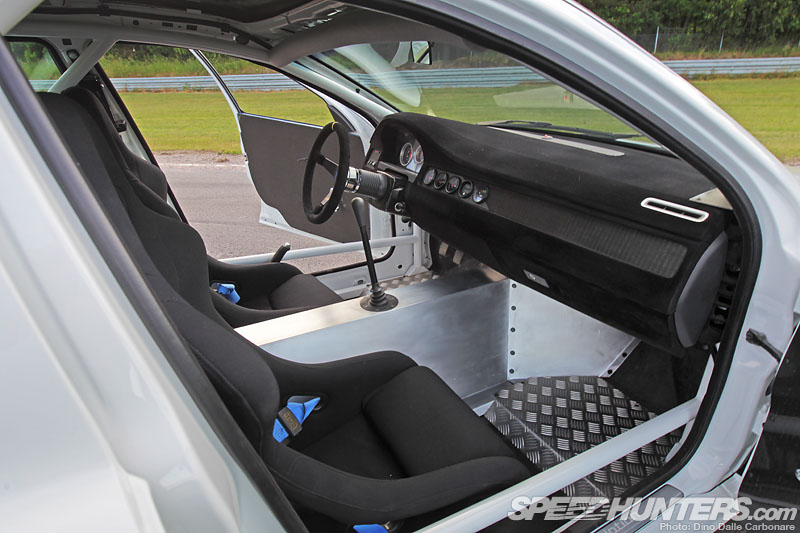 … the tall transmission tunnel…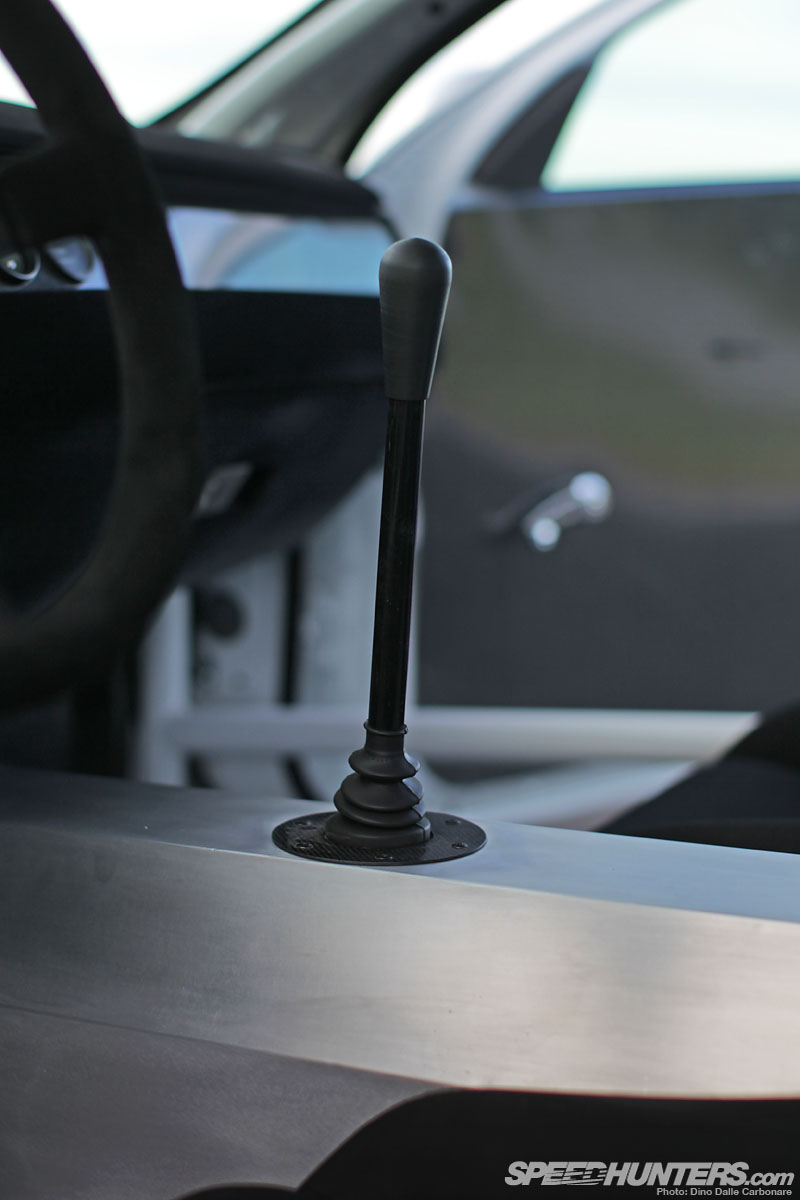 … from which the long gear lever sprouts from.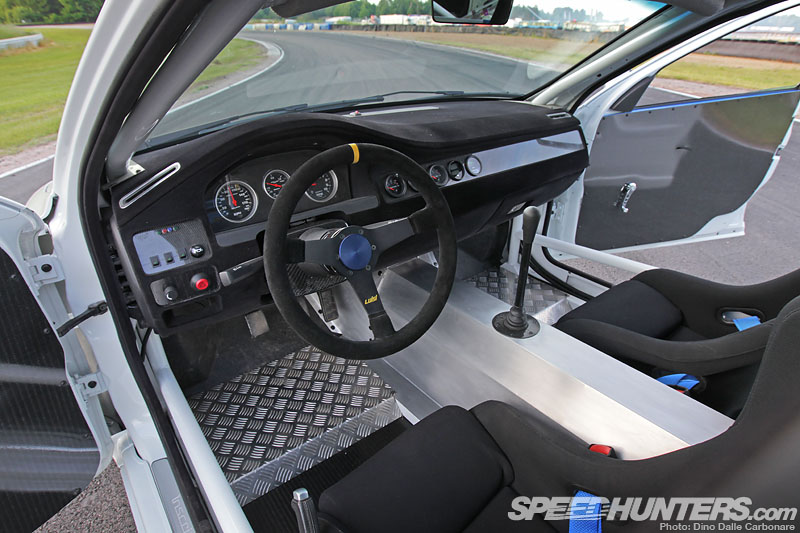 A V70 series II dashboard, flocked to eliminate reflections, houses a series of Auto Meter gauges coherently laid out in carbon fiber panels.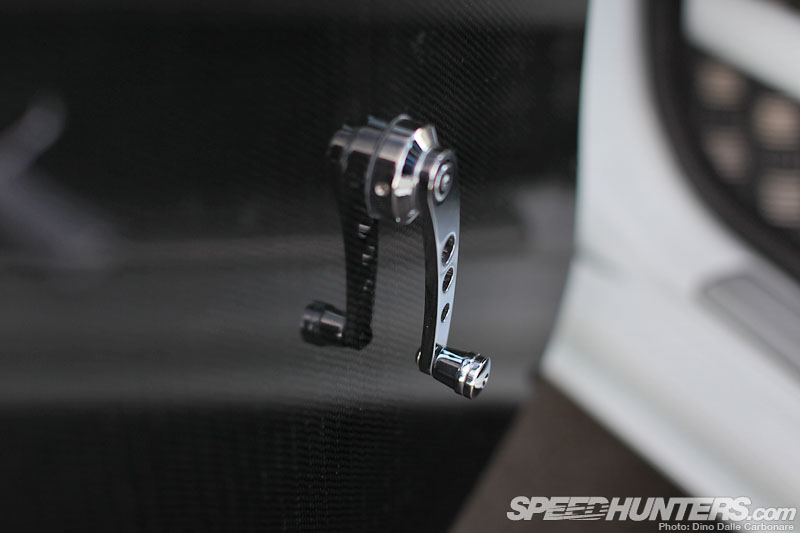 The carbon door cards are just another great touch as are the billet window winders.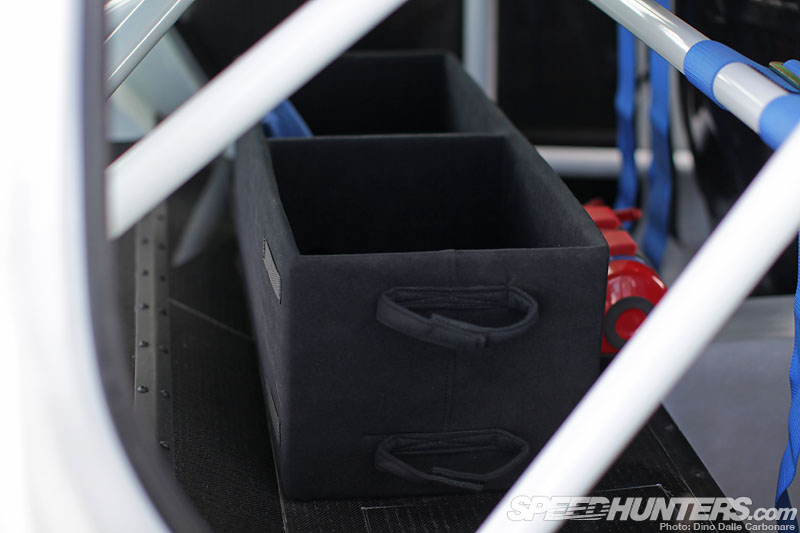 Where the rear seats would be on a regular production V70, Henrik has fitted a suede-clad box, useful for holding his helmet and race suit when he's going to the race track.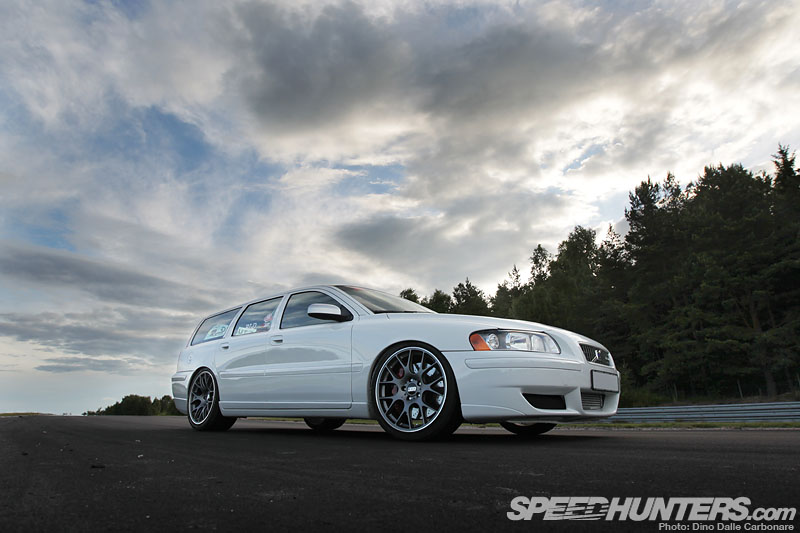 Henrik has easily created the most bonkers V70 Station Wagon known to man; a car put together with an admirable mix of skill and imagination, and executed with pure passion. It's yet another car that perfectly demonstrates what a wonderfully crazy place Scandinavia is – a quirky corner of the world where nothing seems impossible.
Dino Dalle Carbonare
Instagram: speedhunters_dino
Henrik Mattsson's RWD Volvo V70
Numbers
450hp / 1.4 bar
Engine
Steel conrods, forged pistons, RN crank, ported head, 270° cams with 10.5 mm lift, solid pivots, PP SC61 turbo, 50 mm waste gate, 90 mm throttle, home made manifold and intake, 1000cc injectors, homemade fuel system with Bosh 044 pump, MS ECU
Driveline
Sintered clutch, 707 pressure plate, lightened flywheel, BMW E36 M3 transmission, Corvette C4 differential, individual pumps and oil coolers for transmission and differential, axles shortened 4cm each side, home made propshaft.
Front end: Volvo 960 wheel spindle, Volvo 960 servo, D2 coilovers, homemade control arms with uniballs, knife-type sway bars.
Suspension/Brakes
MercedesBenz AMG 8-pot front calipers with 355 mm discs front, 4-pot with 355 mm rear, Jaguar handbrake calipers
Wheels/Tires
BBS CH-R 8,5Jx19″ front 10.5Jx19″ rear, Yokohama Neova AD08 235/35R19 front, 295/30R19 rear
Exterior
Everything taken from V70R to make it look as original as possible, Volvo 614 ice white body color, homemade carbon roof
Interior/Chassis
Tubular chassis made in 40x40x2,5 pipes, roll cage made in 40×2,5 pipes, V70 Series II dashboard, Grunt seats, OMP harnesses, Auto Meter gauges, floor, door cards and firewall all homemade carbon fibre.
Gatebil Sweden coverage on Speedhunters
All Gatebil coverage on Speedhunters