See, these are the sort of builds that really get me excited. I've spent over a decade shooting Silvias in Japan and up until the start of Gatebil Mantorp, I thought it was safe to say that I had seen pretty much every possible variation of these cars, especially of an S14, the most abundant of them all. I was of course wrong and extremely happy my assumption had been proven so, because there's nothing quite as refreshing as seeing a popular chassis done in a fresh new way.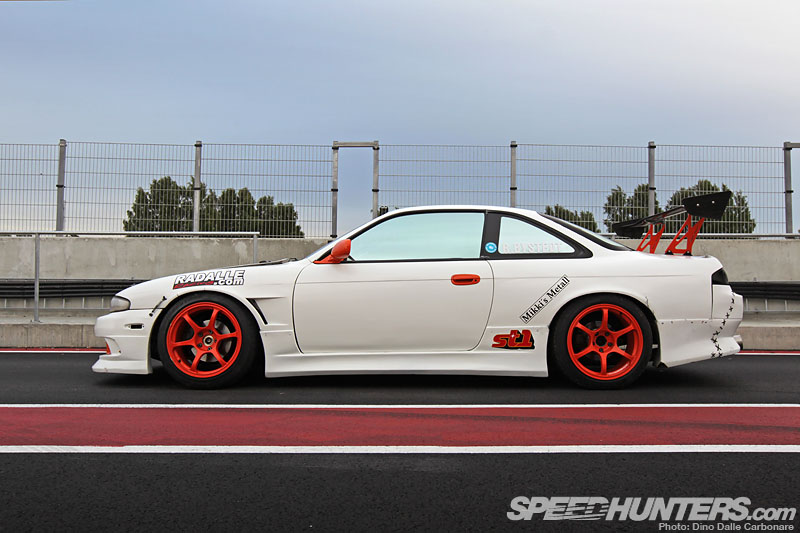 Robin Bystedt and his buddies from Finland put together what stood out as the coolest JDM car at Gatebli, and as he told me, when approaching his zenki S14 he had no intention to either use the stock engine nor do the usual American LS V8 swap. As we have seen, Scandinavians that build cars for Gatebil are quite the resourceful bunch and with tons of potential usable parts at their disposal from the European market…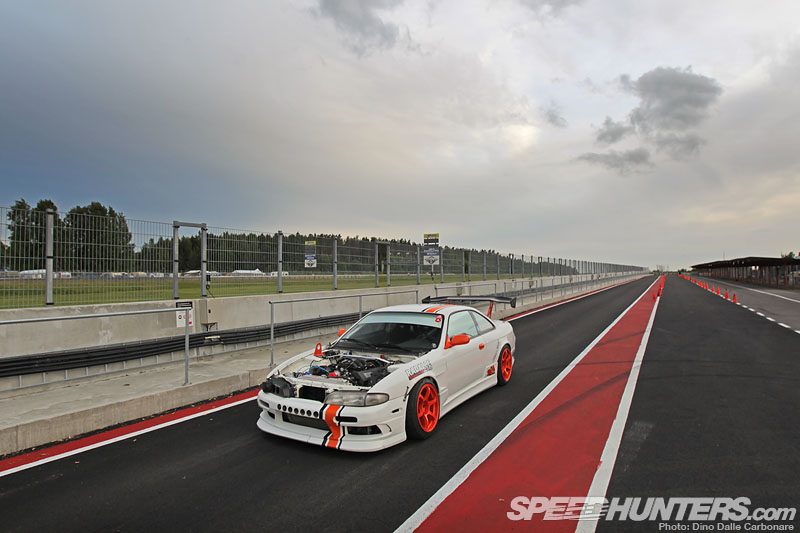 … Robin had plenty to choose from. The main goal for the engine had to be good power but the most important thing was ample and usable torque at any rpm. So after a little thought and discussion he settled for a BMW V8…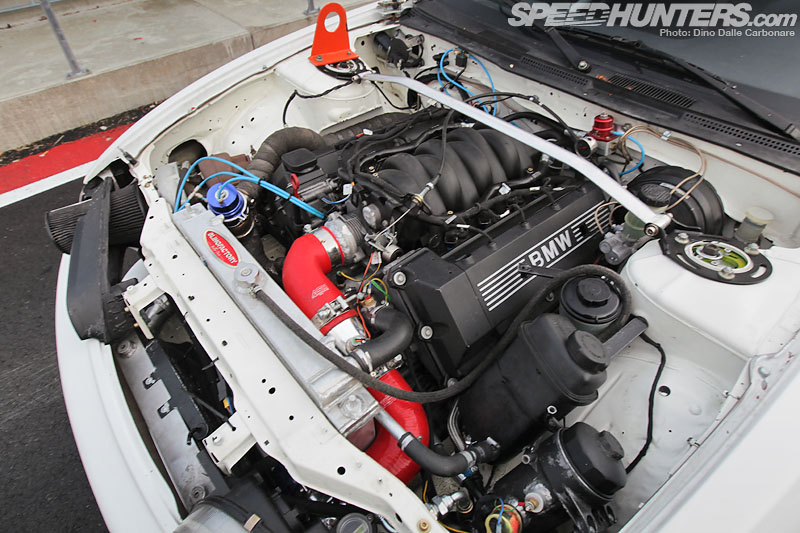 … more precisely a 4.4L M62B44 out of a 740i. Little did this silky-smooth V8 know that once it had spent its life wafting a big 7-series around…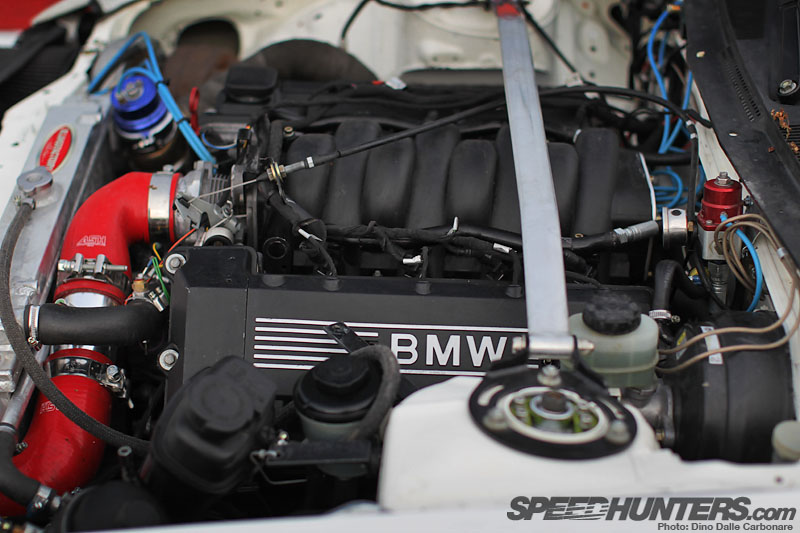 … it would be transplanted over into an S14 chassis. Width aside, there wasn't that much size difference with the stock 200SX engine, and even the weight wasn't too far off (30 kg more for the V8). As you can see, it all fits in there rather well with plenty of space to spare up front.  Mind you…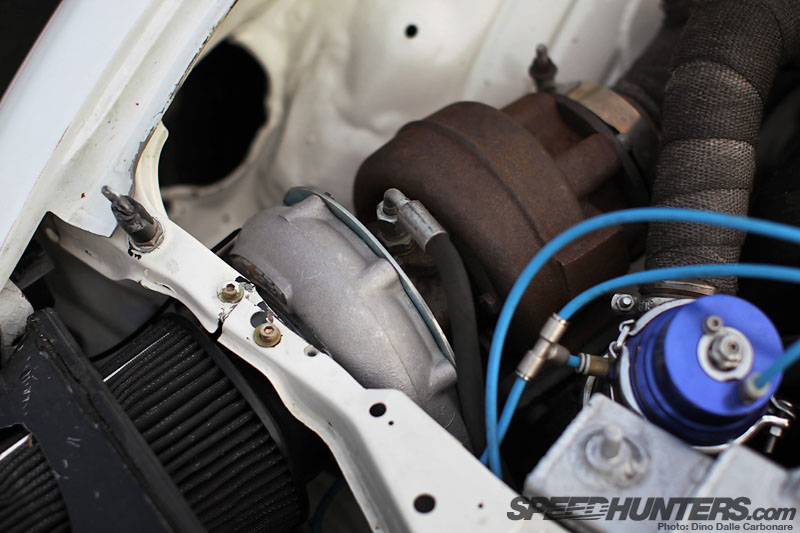 … most of that space is there for a reason as Robin's goal for copious amounts of torque called for a little dose of forced induction. Come on, did you expect to find a Gatebil car without a big snail somewhere under the hood?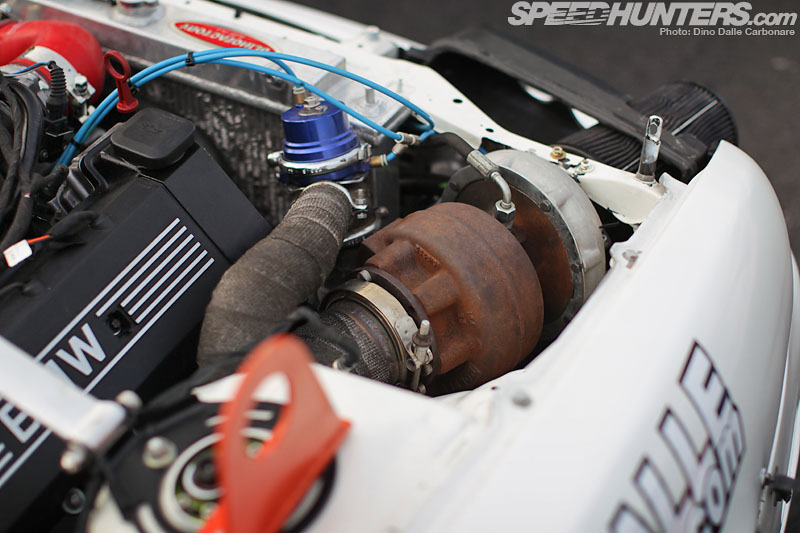 So the stock motor was mated to an externally gated Holset HX50 positioned on the right side of the engine bay…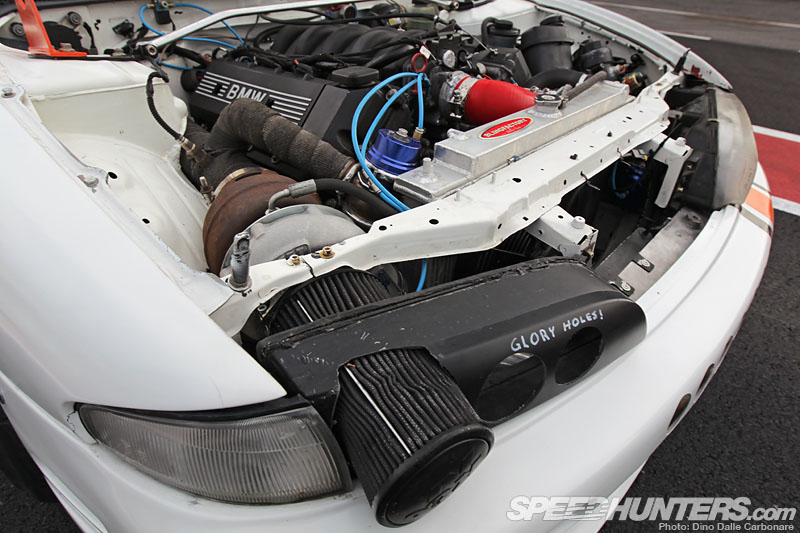 … so that it can fish as much air as it would possibly need directly through one of the three holes that have been drilled out of the dummy headlight. Now, while 1 bar is probably not that much for a 'lazy' engine like this, boost is boost and when you are sustaining it at high rpm it's always better to give a little thought on where potential failures might occur. That's why both heads were removed and copper ring gaskets inserted and sandwiched in between the block and heads and then held down with strengthened ARP bolts. Custom engine mounts were fabricated to hold the engine just in the right place and align it perfectly with the BMW E39 M5 six-speed gearbox that was fitted at the same time. Oh and get this, the engine and transmission sit on four hockey pucks used on each of the mounts. You can't get more Finnish than that I suppose!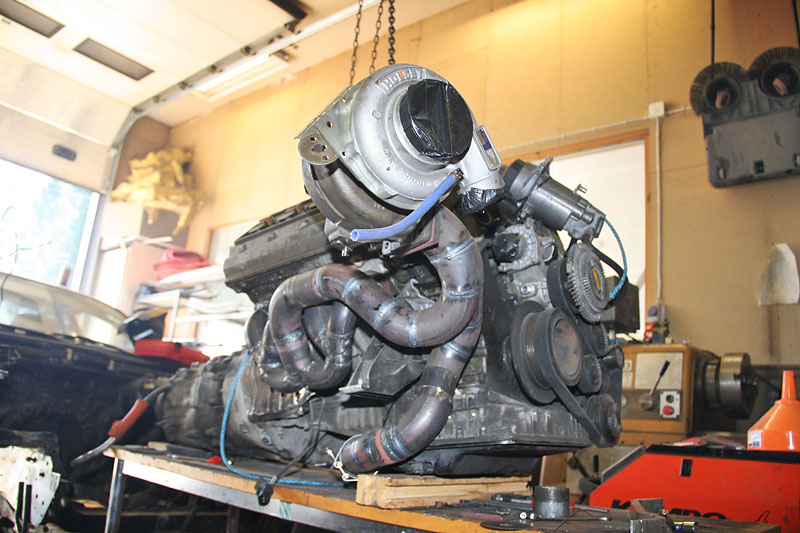 Above you can see the custom unequal length manifold that was created in order to collect exhaust gasses from each bank and feed them into the big single turbocharger. This also give an offset beat to the engine almost similar to an old Subaru flat-4 motor! On the chassis dyno the S14 made 601hp to the wheels and a towering 980 Nm (686 lb/ft) or torque; just the sorts of numbers Robin was shooting for. A hybrid Sachs clutch takes care of the abuse all that torque unleashes on the driveline while a Kaaz LSD has the job of apportioning drive to the rear wheels.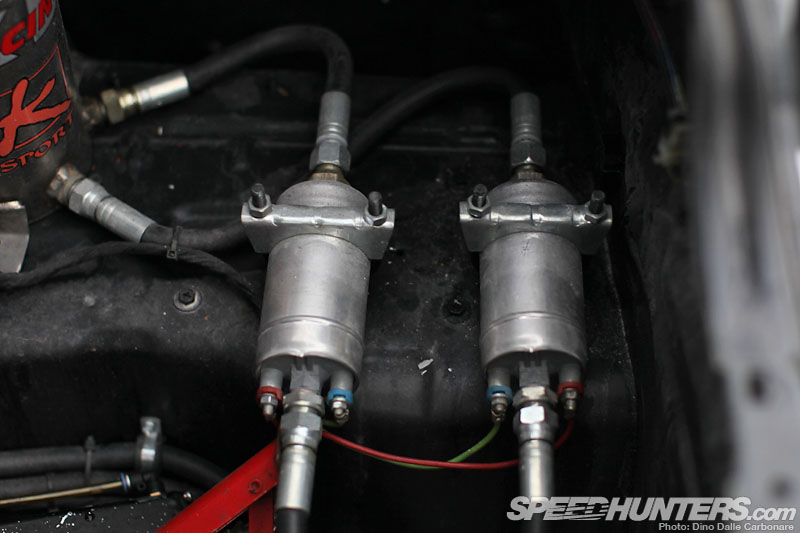 There are three pumps supplying fuel to the eight 875 cc/min injectors, an in-tank Walbro and a pair of Bosch 044's. The engine is managed by an MS3x ECU and boost is controlled by a combination of a Gizzmo boost controller and the external no-brand wastegate. One thing to note here is that much like many other cars at Gatebil, these projects are all put together with contained budgets with the majority of work having been done during those cold and long Scandinavian winter months!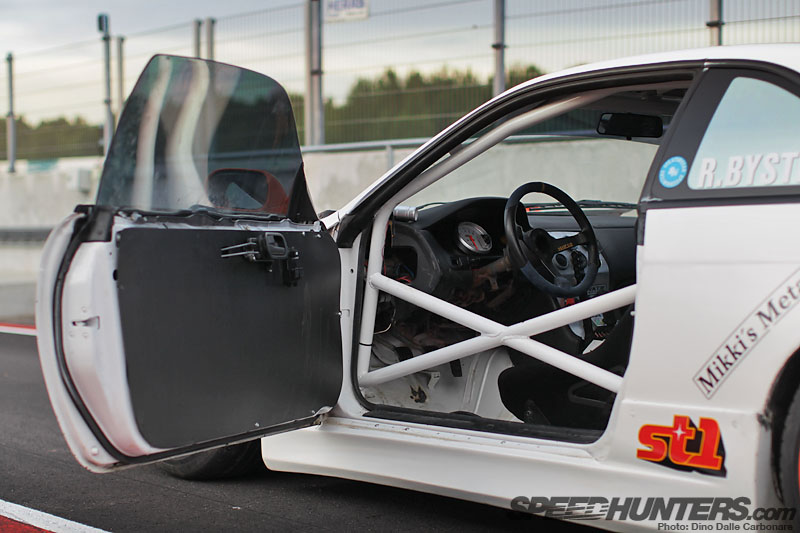 This is as good as grassroots gets; at least the Viking way!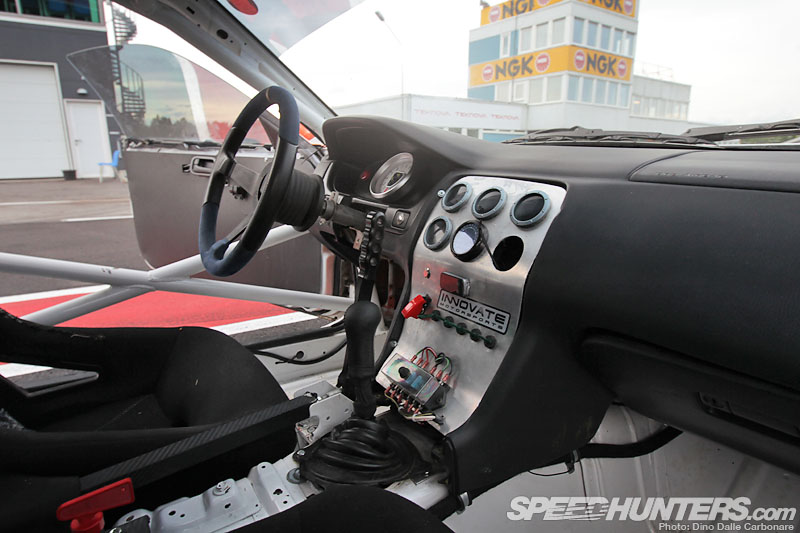 Like the rest of the car the inside is all business: a beefy roll-cage has been fabricated prior to paint and the stripped interior added when completed. Mind you, aside from the stock dash there isn't much in the way of an interior! The center console is dotted with KI Racing gauges and an Innovative wide band lambda sensor.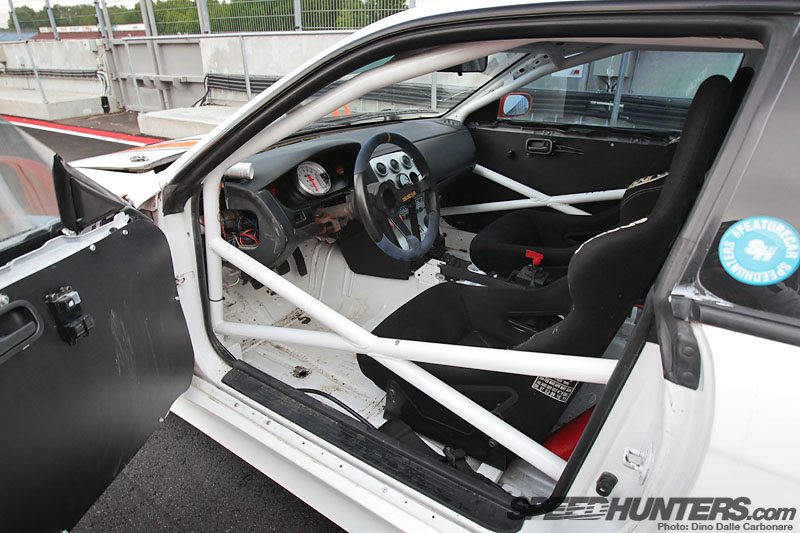 The stock dash instrumentation has been replaced by a single gauge…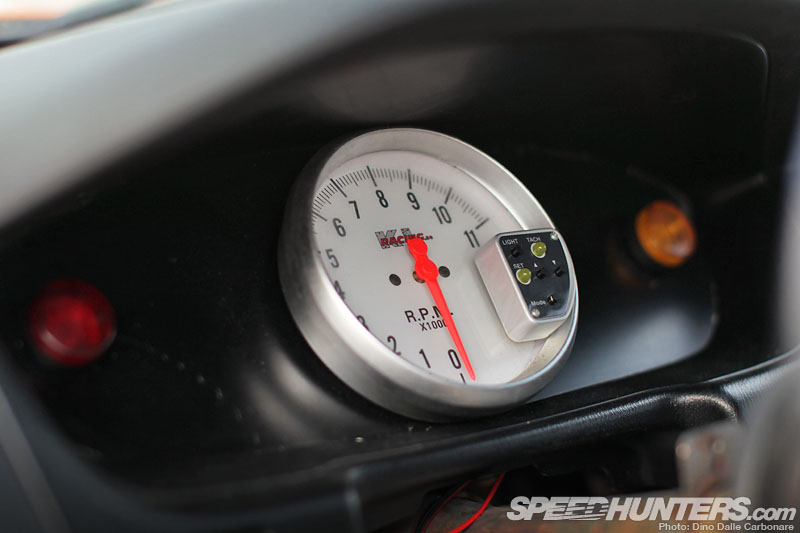 … a large diameter KI Racing tachometer: the only thing Robin needs to keep his eyes on as he throws the car sideways through the turns of tracks like Mantorp.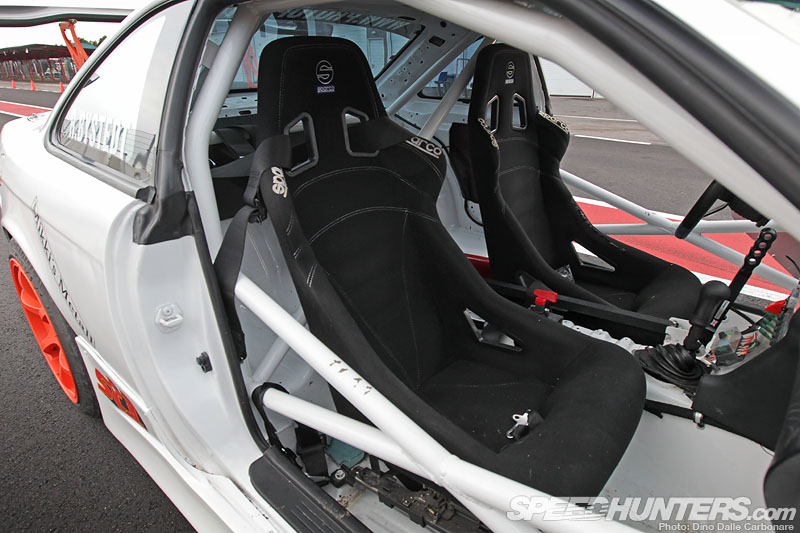 Robin has gone with Sparco for both the steering wheel…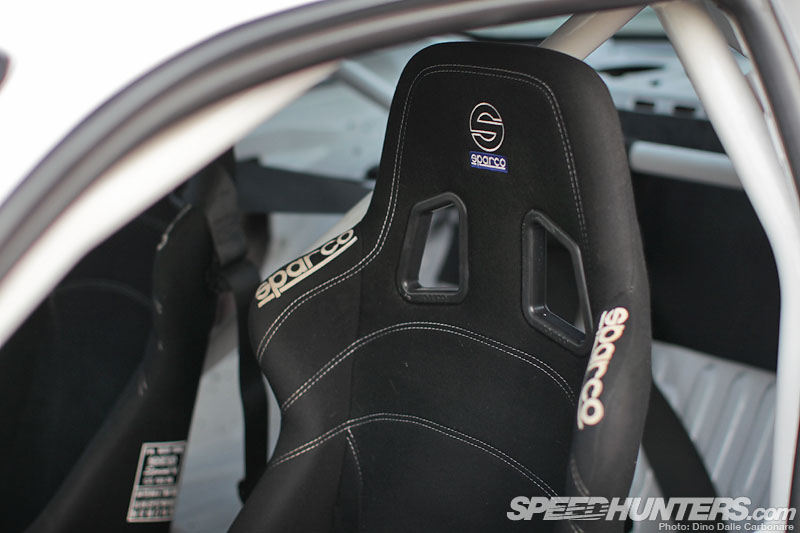 … and the two bucket seats, fitting them with Schroth Racing harnesses.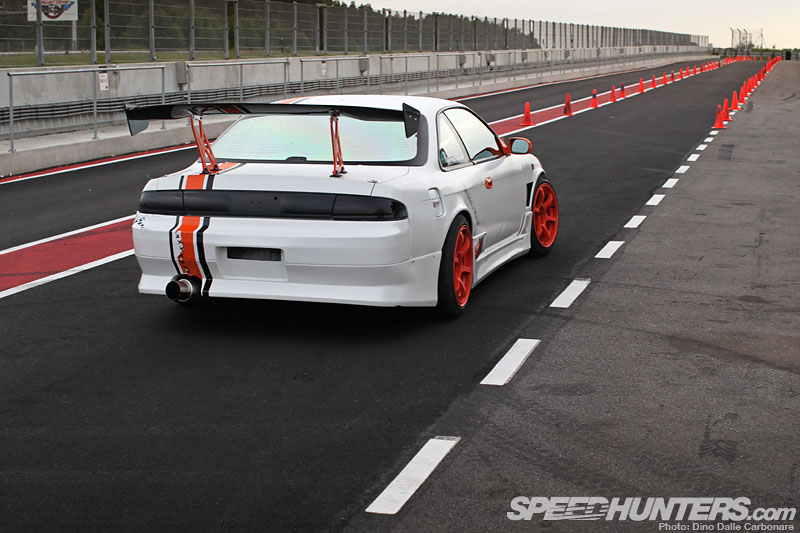 The fluro-orange, at least to me coming from the land of the JDM, seemed yet another fresh take and it was nicely executed throughout the Origin Labs-kitted exterior, extending to nice details like…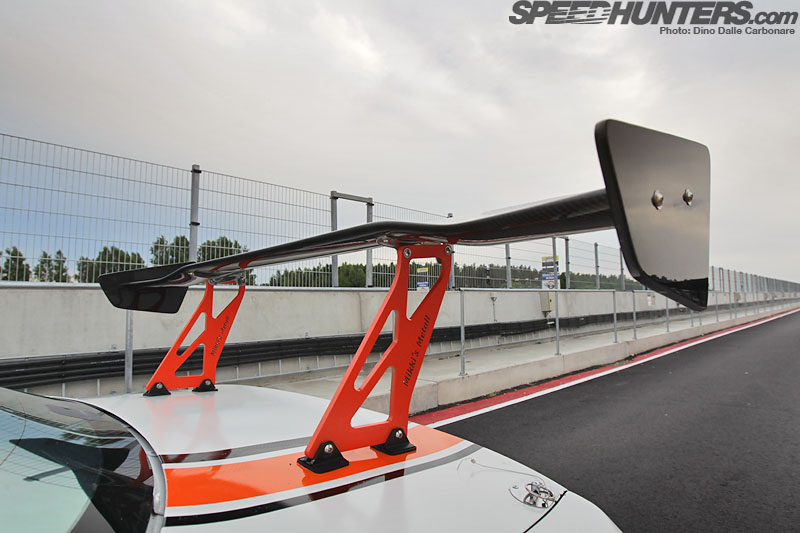 … the billet wing stays with water-jetted Mikki's Metall logos…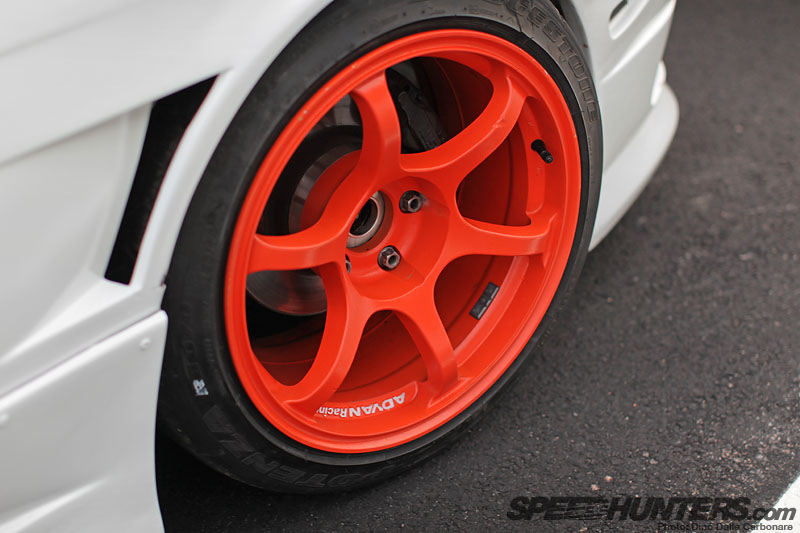 … and of course the Advan RG-II wheels. Robin runs 10Jx17″ all round but the fronts are usually wrapped in sticky rubber like the 225/45R17 Potenza RE070 he had thrown on for Gatebil. The rears usually run cheap non-brand rubber, something the 930 Nm of torque pretty much vaporizes in a matter of a few laps.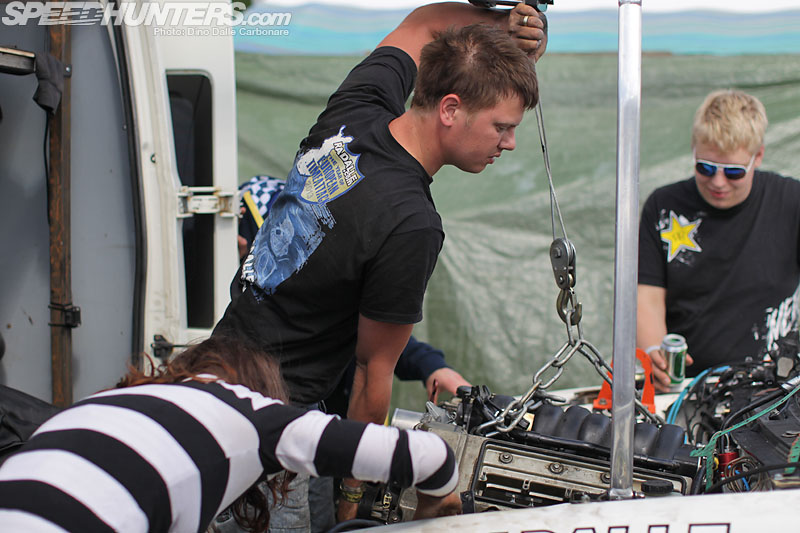 Unfortunately the car's outing at Mantorp didn't end up going quite as planned. After a day of driving on Friday the boost controller ended up failing, feeding 2 bar of boost to the engine. With an 11:1 static compression ratio the BMW 4.4L V8 didn't like that much and threw a conrod through the block. Robin and his team phoned around for a new engine and luckily found an older 4.0L version of the same V8 and spent most of the day on Saturday swapping it over. The car went back out but kept having oil surge problems so they decided to call it a day and retire. Robin is back in Finland now and planning to rebuild the engine with forged internals; a few weeks and the car will be back in tip-top condition. If this isn't the perfect example of Gatebil spirit, then I don't know what is!
Dino Dalle Carbonare
Instagram: speedhunters_dino
Robin Bystedt's Nissan S14
Numbers
Max power 601whp, Max torque 930Nm
Engine
BMW m62b44 740i V8 swap, copper ring head gaskets, ARP head bolts, custom made unequal length exhaust manifold, Holset HX50 turbocharger, external wastegate, custom exhaust system, Griffin Intercooler, custom intercooler piping with ASH silicone hoses, Walbro 255 L/h in tank fuel pump, custom fuel collector tank, 2x Bosh Motorsport 044 fuel pumps, Aeromotive fuel pressure regulator, 875 cc/min injectors, C4 Audi S6 oil cooler x2, MS3x ECU
Driveline
BMW E39 M5 five-speed gearbox, Bling Factory billet flywheel, 4-puck Sinther & Sachs 765 pressure plate, Kaaz LSD
Suspension/Brakes
HSD adjustable coilovers, HSD front strut brace, Mikki's Metal custom steering knuckles, Mikki's Metall custom modified control arms, Driftworks links, Nissan 300ZX brakes
Wheels/Tires
Yokohama ADVAN Racing RGII 10Jx17″ (front & rear), Bridgestone Potenza RE070 225/45R17 (front), no-brand tires at the back for Gatebil fun!
Exterior
Origin Labs front bumper, aero front and rear fenders, side skirts, Mikki Metall rear wing billet stays, Driftworks rear wing, blacked out rear lights
Interior
Stripped out interior, custom roll cage, Sparco steering wheel, Sparco Sprint buckets, Schroth harnesses, KI Racing tachometer, KI Racing meters, Compbrake brake lever, Gizzmo boost controller, Innovative wideband lambda sensor