Hello fellow Speedhunters! I am Steven Phillips and like many of you I am an amateur photographer looking to break onto the automotive photojournalism scene.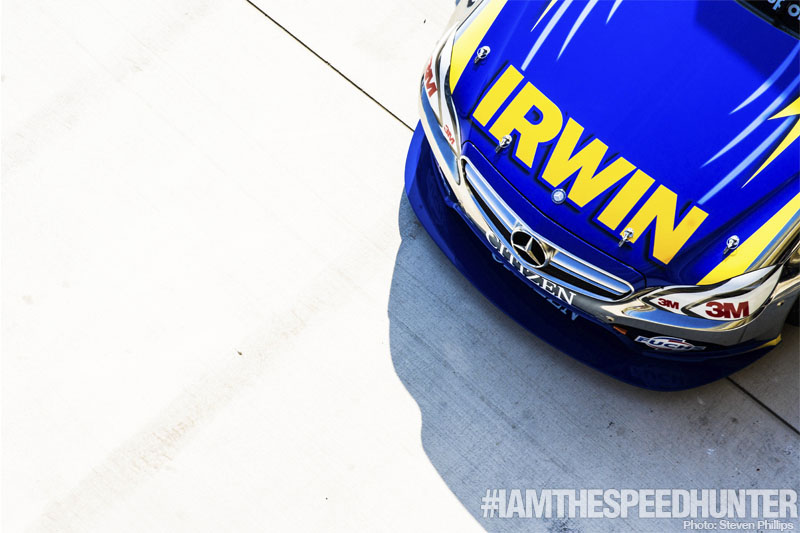 Recently I had the opportunity to attend the very first Australian V8 Supercars event on American soil at Circuit of the Americas in Austin, Texas!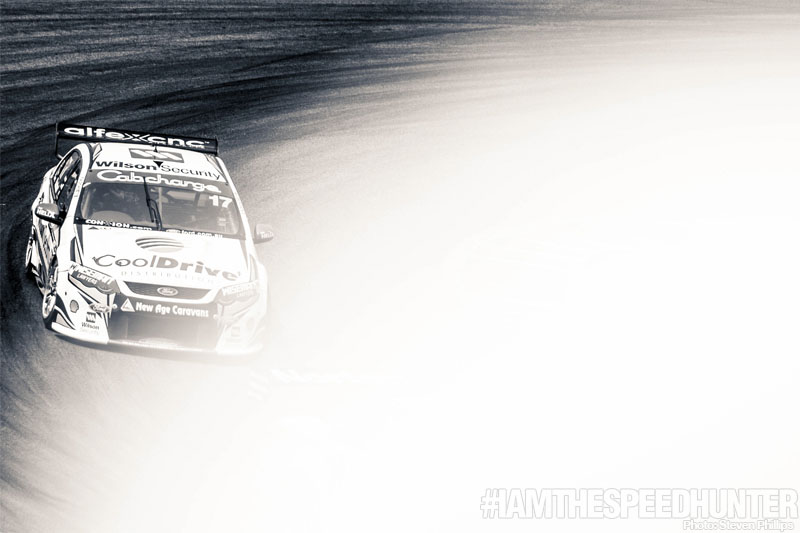 Known colloquially as COTA, the Circuit offers up arguably the best spectator track in the country. Because of dramatic elevation changes and clever course design from Hermann Tilke – the man responsible for the Hungaroring, Sepang, and Yas Marina, among others – spectators are offered spectacular views from any part of the track.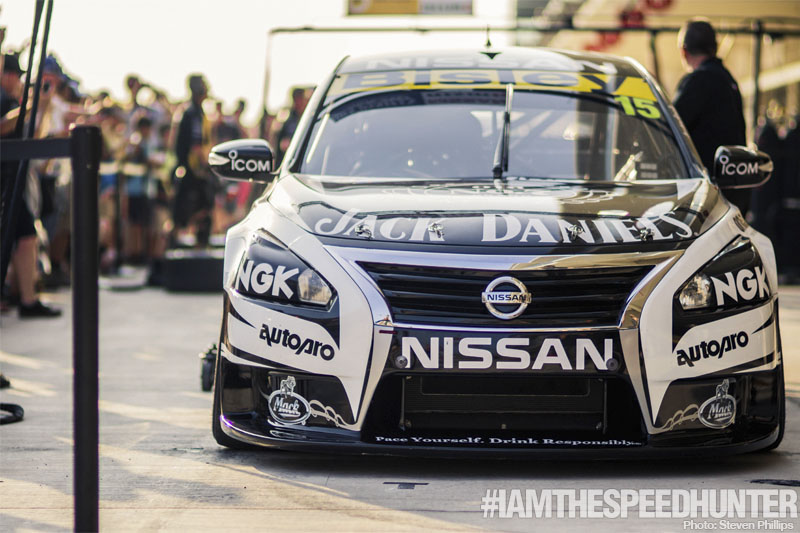 The 'Greatest Show on Wheels' rolled into Austin looking to show off Australia's premier touring car series that is oft compared to our own NASCAR.  And the Aussies (and a handful of Kiwis) put on a spectacular door-to-door show!
The series' cars have for a long time been based on Australian production model saloon cars: the Holden Commodore (Pontiac GTO/G8 here in the states); and the Ford Falcon. But new for this year are V8-powered Nissan Altimas; and E63 AMG Mercedes. Also new – and  much like NASCAR – for this season and beyond, the chassis are all uniform and feature bigger brakes, tires, independent rear suspension, and a transaxle sequential gearbox.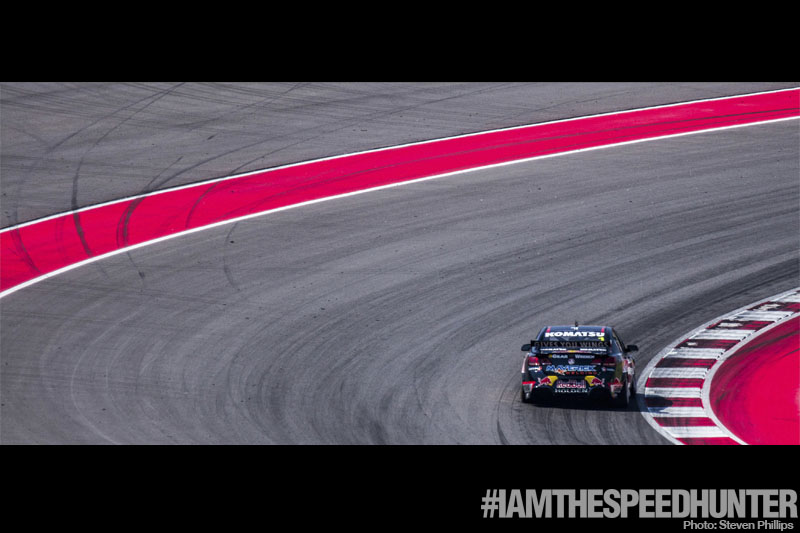 Red Bull Racing Australia's Jamie Whincup (#1) dominated the event winning three out of the four races over the weekend. Perhaps a bit unconventional for many American viewers, the series runs various race formats throughout the season ranging from knock-down drag-out sprints to full on endurance races requiring driver pairs, LeMans style.  This weekend's format consisted of two 100km-long races on both Saturday and Sunday. Two qualifying sessions are held on race days, back to back, that set the grids for the respective races that follow.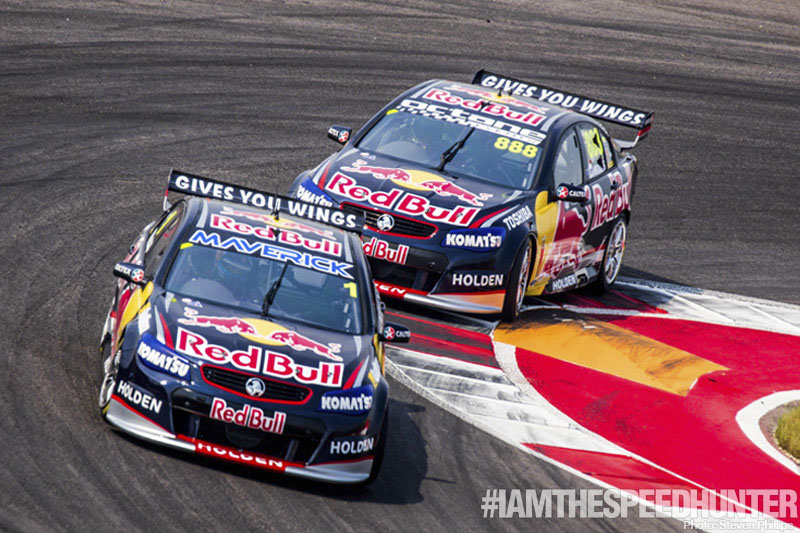 American fan reactions were overwhelmingly positive to the thunderous touring car action. For many of the fans seated near me, it was their first ever experience at any kind of racing event, and they loved it! I can't attest to Sunday's crowds as I had to rush home for my school graduation, but Saturday's were excellent. Grandstands were full, and the general admission hillside views were dotted with spectators. The Aussie contingents were out in full force as well and there was a fascinating mix of accents and mutual adoration for motorsport that brought Aussies and Americans together. Australian's also happen to be some of the most hospitable people I have ever met. After chatting with a family for about an hour waiting for Saturday's main event, my father and I were invited to attend an event at Bathurst in February, with a team, in their pit!  They are also the happiest people to share their sport with others. During the pit walk session, pit crews practiced stops on full display for fans, many stopping to chat with new friends, or hamming it up with the kiddos!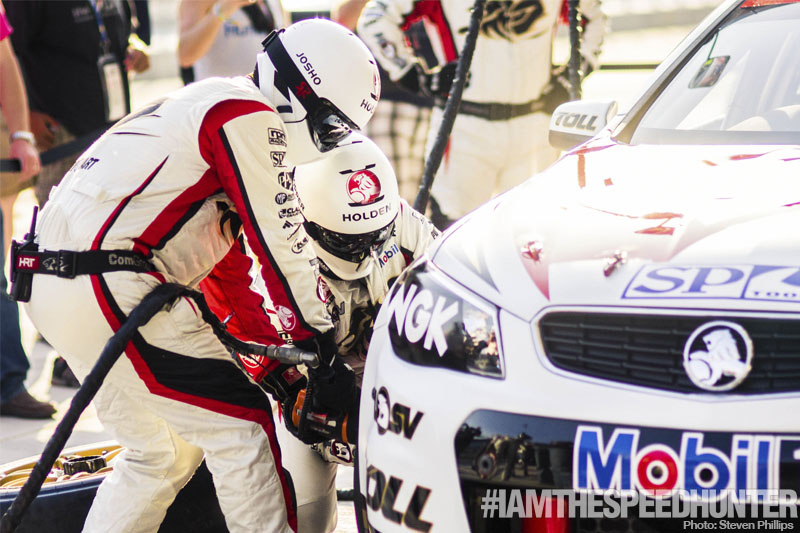 While the pits were open for walking, I climbed up above to watch several teams send out demo hot-lap rides. Hearing these cars reverberate between the main straight grand stands and the pit building was a truly thunderous experience!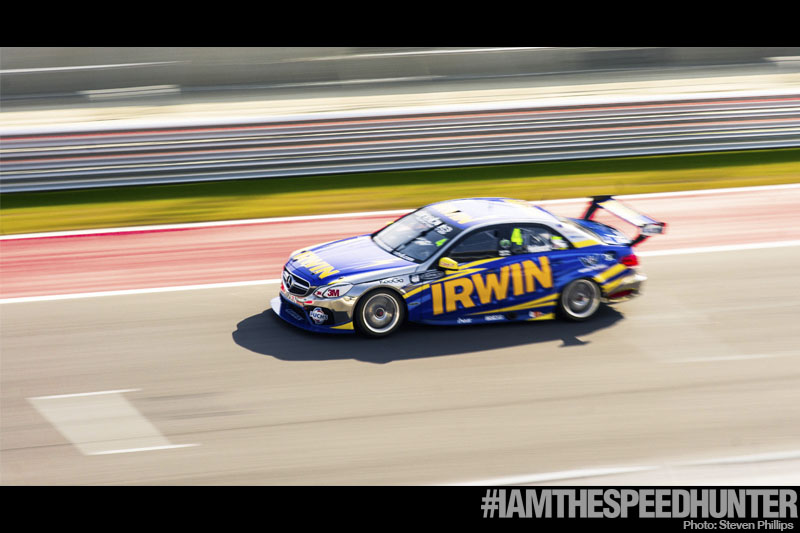 The Erebus Motorsport AMG Mercedes cars were at it with a banshee like howl.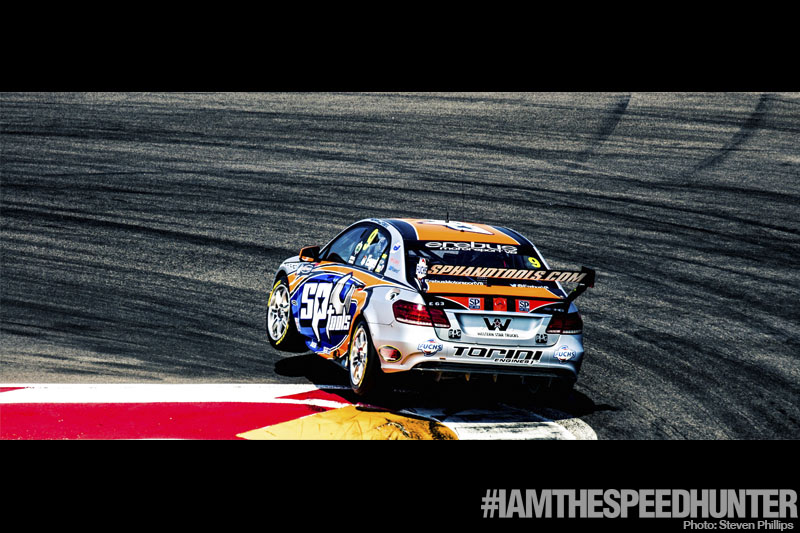 One thing that's always astounded me about this series is how hard drivers attack curbing. If there's away around a corner on two wheels, they'll find it.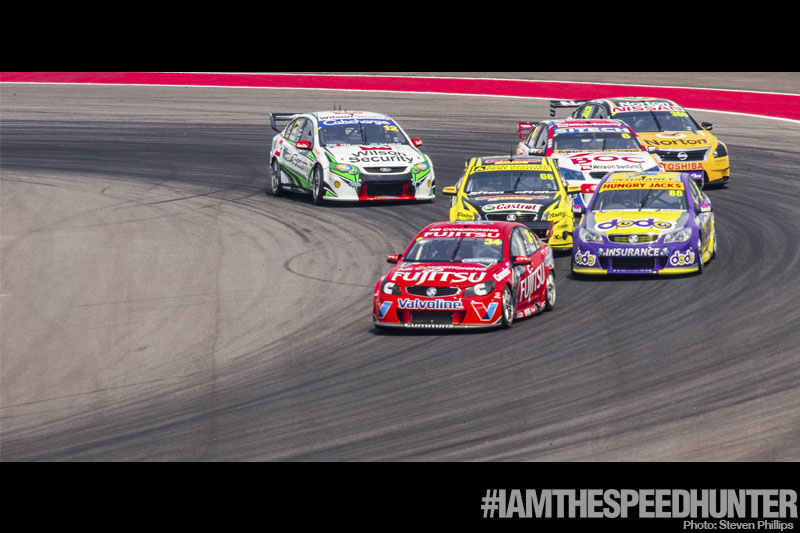 Fans and drivers alike enjoyed the intense battling between Turns 12 and 16. Between these corners are three hard braking zones ripe for overtaking maneuvers, and if you're slow out of T15, it's a drag race down a short shoot into the track's triple-apex high-speed sweeper.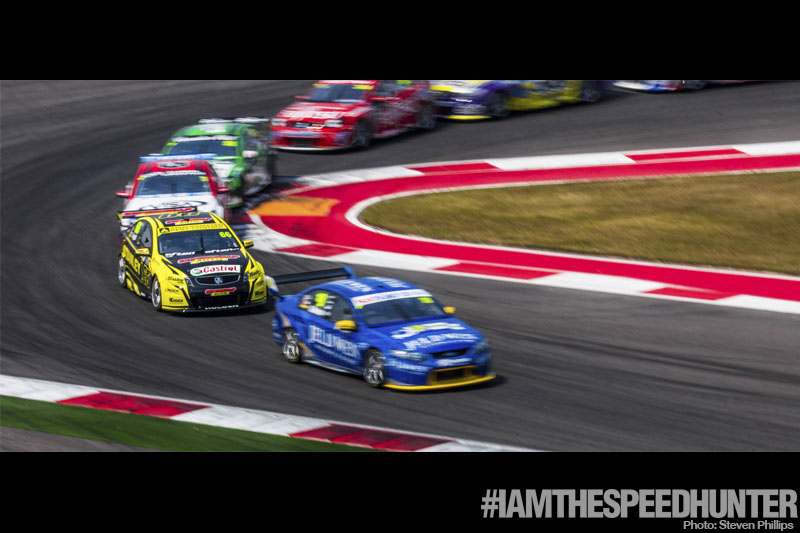 Here, former champion Russell Ingall (#66) chases down Alex Davison (#18) leaving T15 and into the sweeper.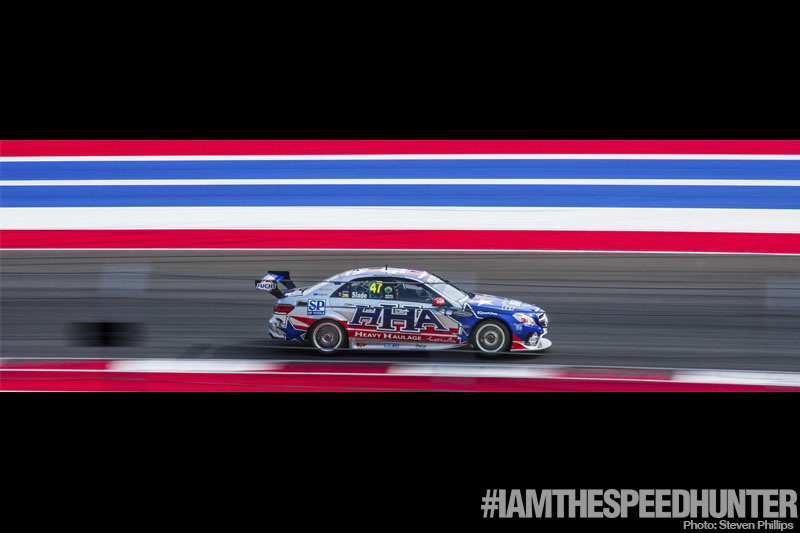 Not only is the racing fantastic to watch, the track itself is a thing of beauty to behold.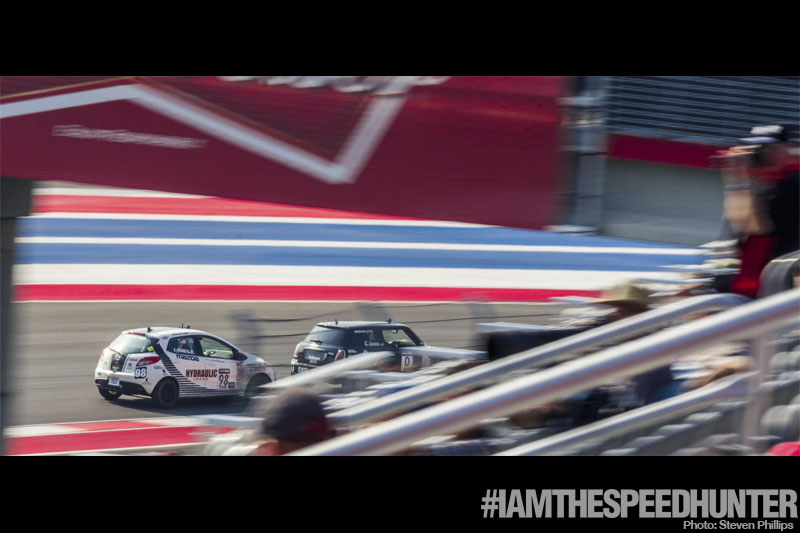 Support series included several classes of Pirelli World Challenge touring and GT cars. Youngster Ernie Francis Jr. (#98), just 15, took both B-Spec class wins on Saturday, hounding more experienced gentleman drivers all day long.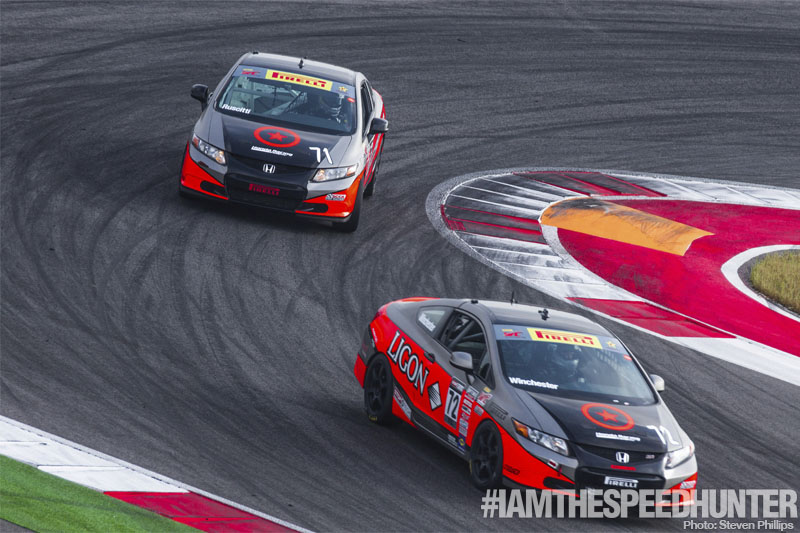 These Civics run by Compass 360 were an unstoppable force in their class on race day.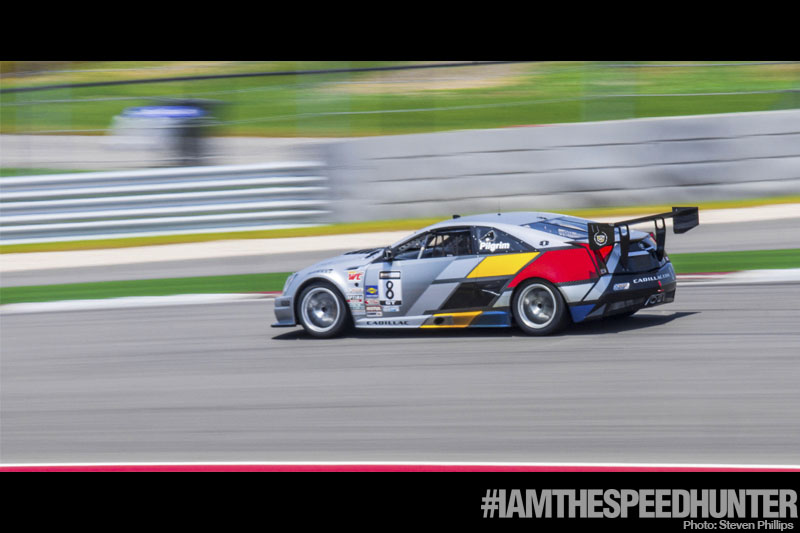 Andy Pilgrim and teammate Johnny O'Connell showed impressive results for Cadillac Racing in the GT class, holding off Randy Pobst in the K-Pax Volvo S60.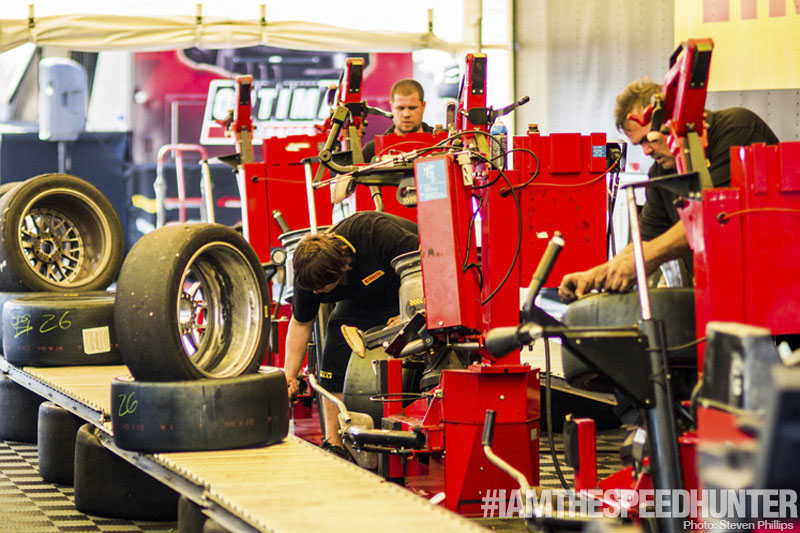 When the on track action stopped, it moved to the paddock area. The Pirelli tent was a flurry of activity getting tires mounted and supplied to the World Challenge and Porsche GT3 Cup cars.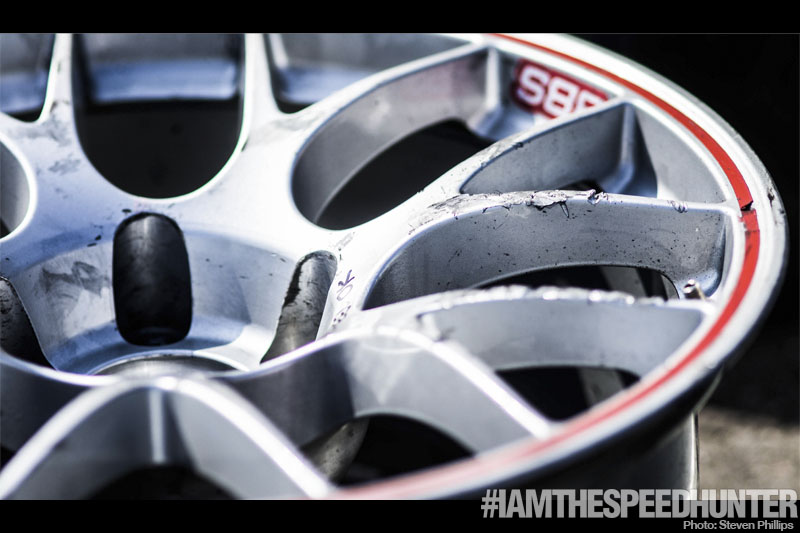 At the end of the weekend many cars had taken a tremendous beating, and it showed. Scuffed and damaged wheels were scattered around the Pirelli tent…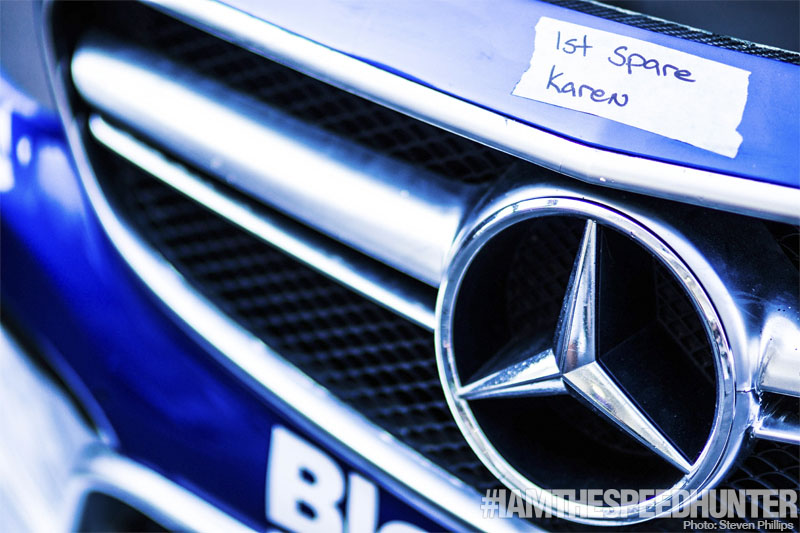 … and V8 Supercar teams were conducting carbon fiber repairs on their bodywork. 'Karen' was waiting patiently to be checked by her crew and fitted to one of the Erebus AMG vehicles.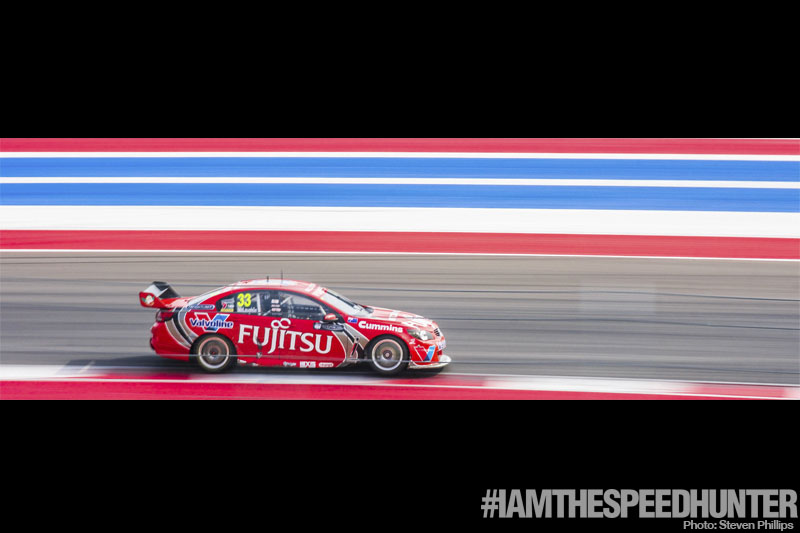 This will wrap up my coverage of the Austin 400. It was a truly exciting and successful event, and looks like it might stick around in Texas for seasons to come!  For any new fans, for a small fee you can purchase a pass to stream live races and full race replays from the V8 Supercars official website. Happy Speedhunting!
Steven Phillips
About #IAMTHESPEEDHUNTER
We created #IAMTHESPEEDHUNTER to allow you the opportunity to share your skills and car culture experiences from around the globe with the rest of the Speedhunters audience.
How do you get involved? It's simple…
Flickr - Join our #IAMTHESPEEDHUNTER Flickr Group and share your favourite photos with us and others.
Instagram – Follow us on Instagram at @TheSpeedhunters and tag your own car culture images with #IAMTHESPEEDHUNTER
Twitter – Follow us on Twitter at @SPEEDHUNTERS and share your tweets with the #IAMTHESPEEDHUNTER hashtag.
Tumblr – Visit our Tumblr page to view the latest #IAMTHESPEEDHUNTER tagged images.
E-Mail – If you've been to a cool event and captured some amazing images, be sure to e-mail them to us on iamthespeedhunter@speedhunters.com and tell us a little bit about the event. The images need to be a minimum of 800×533 pixels.
Have you submitted already but yet been featured? Here are some tips to help you…
DO – Tell us your name!
DO – Submit your best work, regardless of when it was taken
DO – Take your time shooting and consider each detail
DO – Try to submit each image no larger than 1000PX wide
DON'T – Put a huge watermark on it. We'll make sure you're credited
DON'T – Send us huge image files that kill our e-mail system
DON'T – Send us scary ZIP or RAR files
日本のSpeedhunters読者にお知らせです。
Speedhuntersでは、週一回#IAMTHESPEEDHUNTERにて、読者の皆さんから寄せられたカーシーンの投稿写真を紹介しています。
投稿写真は、カーレース、カーショー、イベント等、車に関するものならなんでもOKです。
Speedhuntersで皆さんの撮ったカーシーンショットを世界中のファンに紹介して、あなたもSpeedhunters記者の仲間入りしましょう!
#IAMTHESPEEDHUNTERには、ツイッターかインスタグラムにて簡単に写真を投稿していただけます。
上記方法で写真を投稿する際は、写真に#IAMTHESPEEDHUNTERのハッシュタグを付けてください。
また、メールアドレスiamthespeedhunter@speedhunters.comでも投稿受付しています。
写真は、800×533 ピクセル以上のJPGのフォーマットでお願いします。
上記サイズより小さい写真ですと、すばらしい写真でもサイトの写真サイズの関係上掲載できないことがありますのでお気をつけください。
投稿された写真は世界中のSpeedhunters読者とシェアされますので、あなたのベストショット写真を投稿してくださいね!
また、写真に併せてどういった写真なのか、どこで撮られた写真なのかの説明と投稿者様のお名前を明記の上投稿お願いします。
皆さんからの投稿お待ちしています!