Hi everyone! My name is Nathan Leach-Proffer and I am a 27-year-old freelance photographer who often shoots under the alias Speed-Photos. After picking up my first camera in the early 2000s, and shooting freelance on the side for eight years, my photography journey really just began two months ago when I resigned from my advertising career to pursue photography full-time.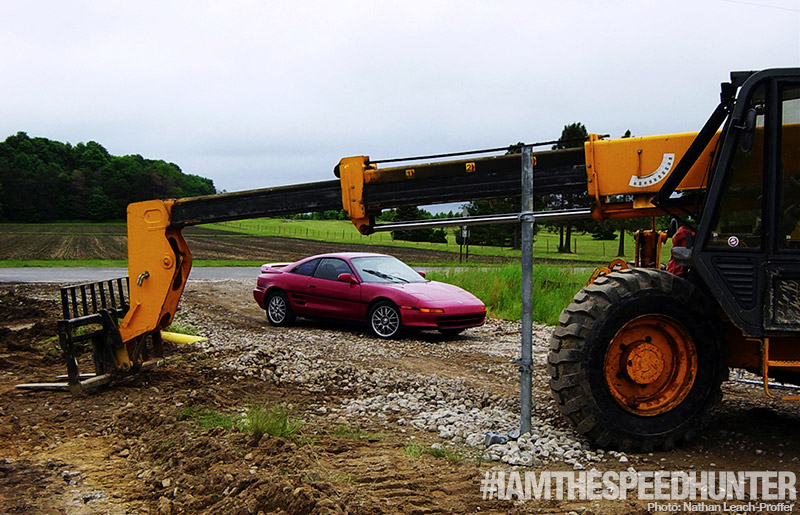 Born and raised in Michigan, cars have always played an important role in my life. I first picked up a camera to simply document shows and take photos of my ride, and this one of my old MR2 circa 2003, is one of the older digital images I have from my first digital camera – a Sony Cybershot.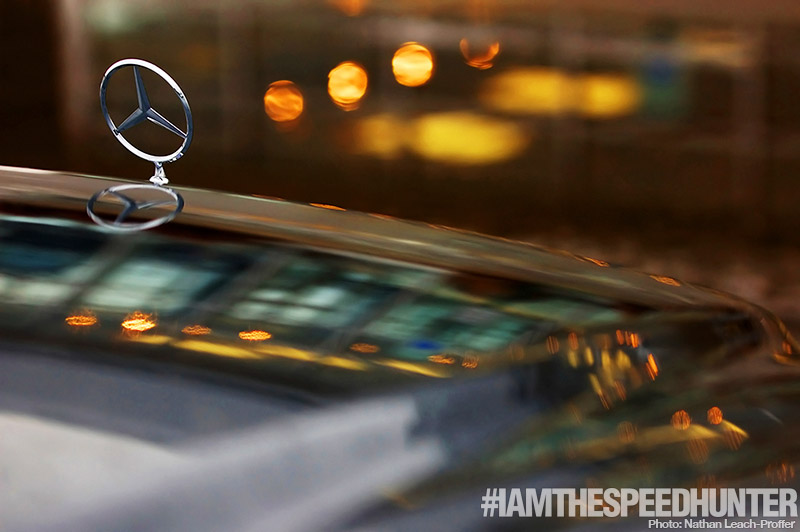 Once I started shooting I quickly fell in love with the art and felt a drive to keep creating. At first I think the local Porsche/BMW/Mercedes-Benz dealer thought I was crazy but they got used to me because I would stop by at least once a week to take photos during my senior year of high school. It was like a test to see what creative thing I could come up with. The Mercedes photo was taken at the same dealership but years later.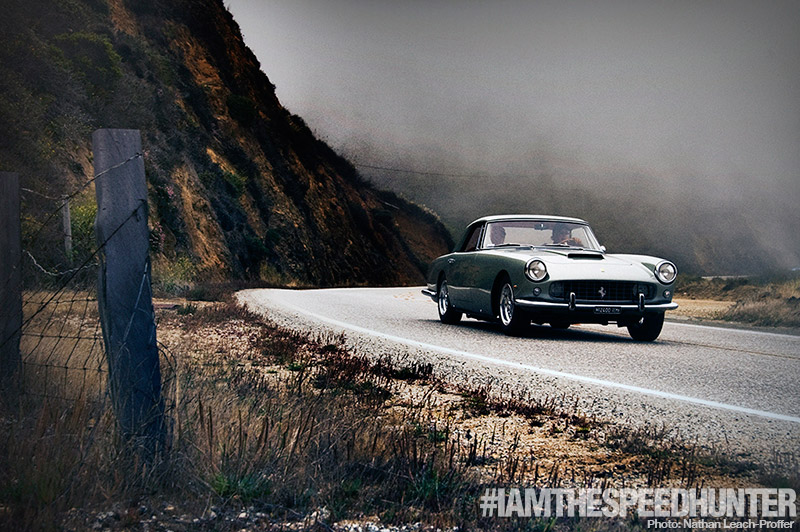 While in college I earned a minor in photography shooting film on my dad's Nikon FG but kept shooting digital for automotive work. I was lucky to have the opportunity to shoot some great events like the ones in Monterey.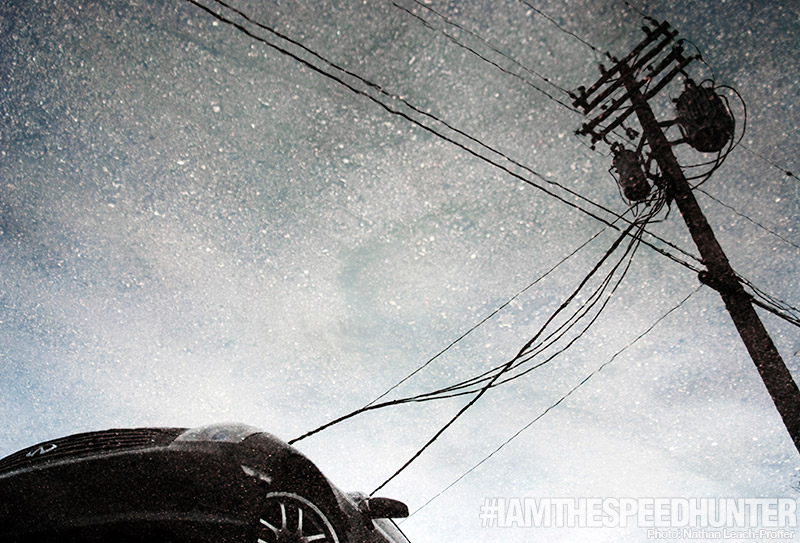 After school I got a job working in automotive advertising, which allowed me to pick up my next car and in-turn a new photo subject. This image is the reflection from a small puddle after rain.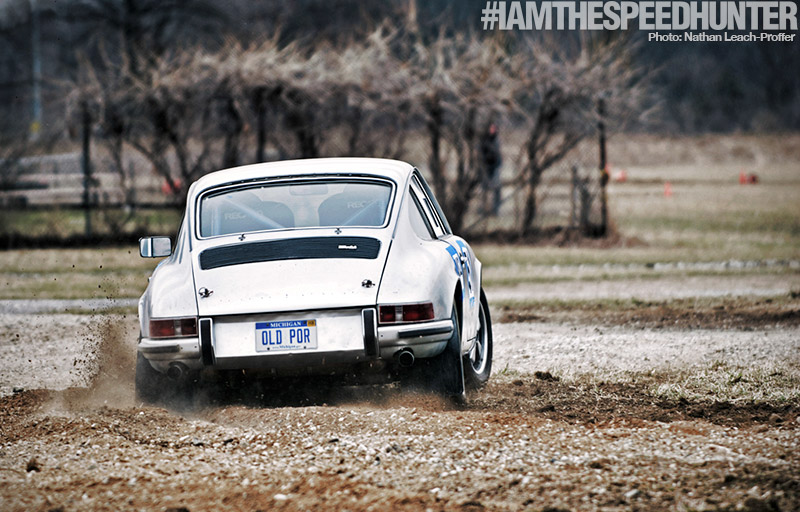 This photo was from my first time shooting Rally X or any type of off-road motorsport. Who doesn't love a Porsche playing in the dirt?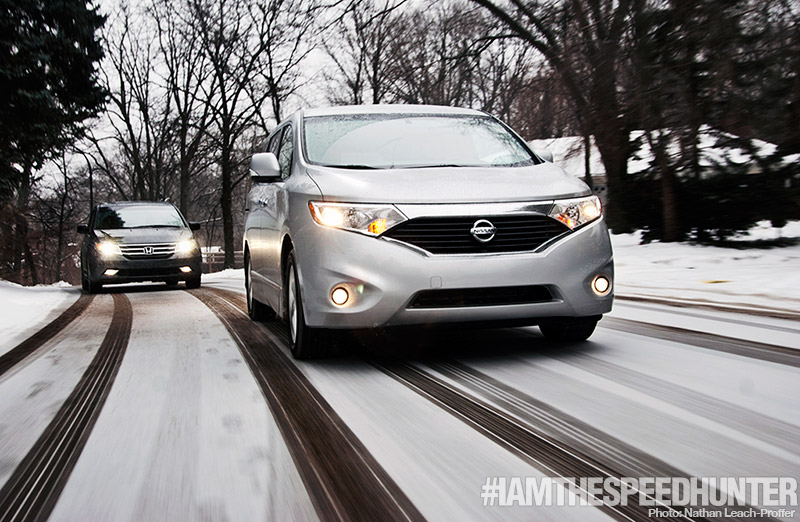 Michigan weather is always on your side…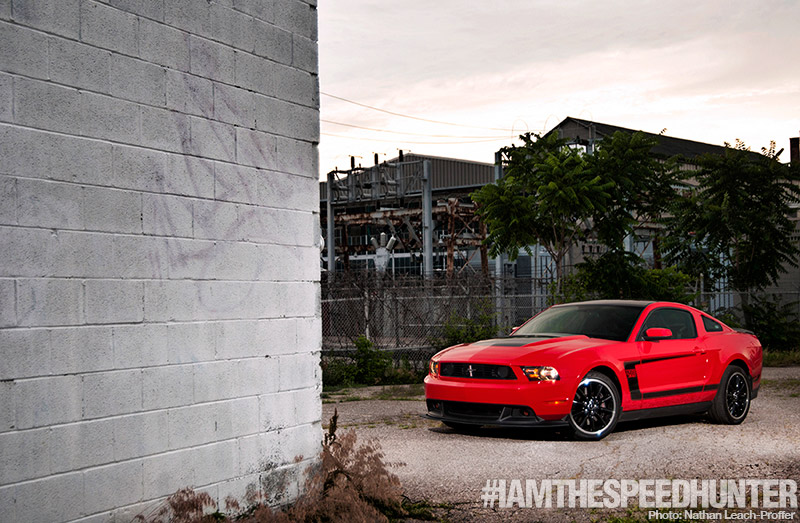 This was one of my first shoots to test out strobes.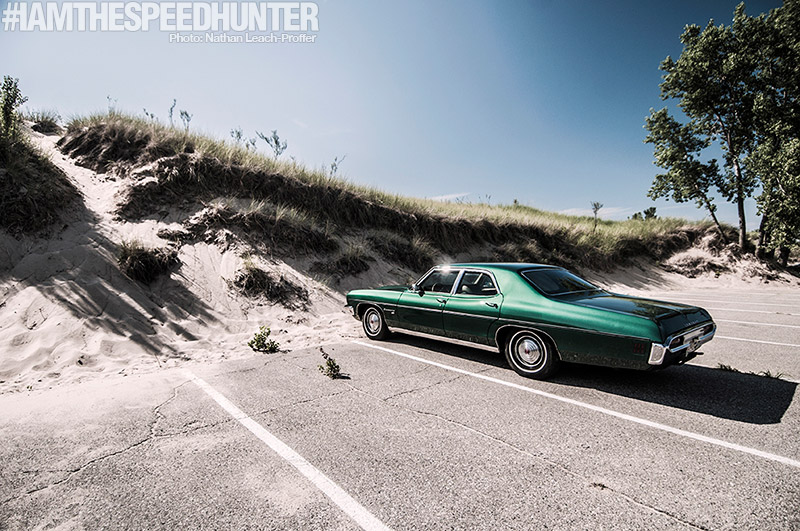 My camera is almost always on me and seeing this Pontiac at the beach was an opportunity I could not pass up.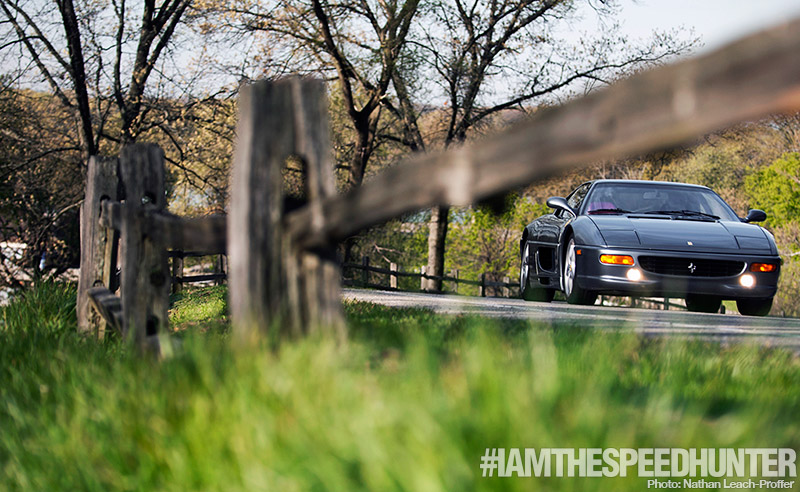 I love to shoot with foreground objects when possible.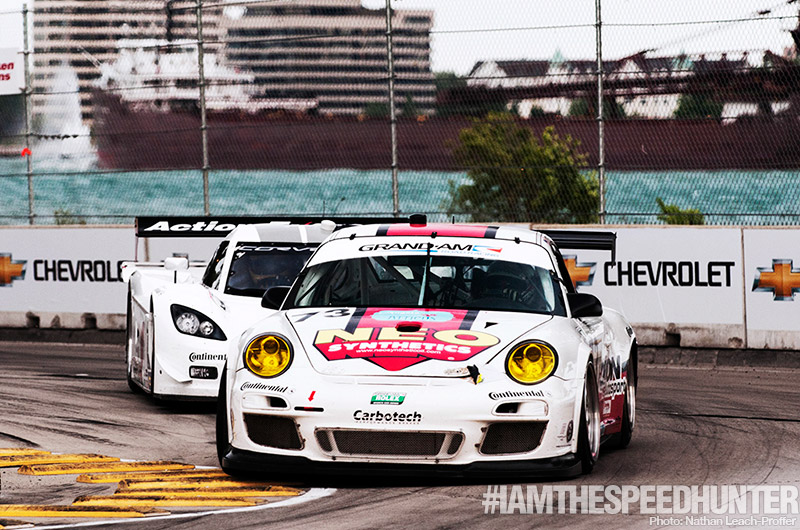 I was very happy to see the return of the Detroit GP –  this corner offered a great background with a barge and Canada in the background.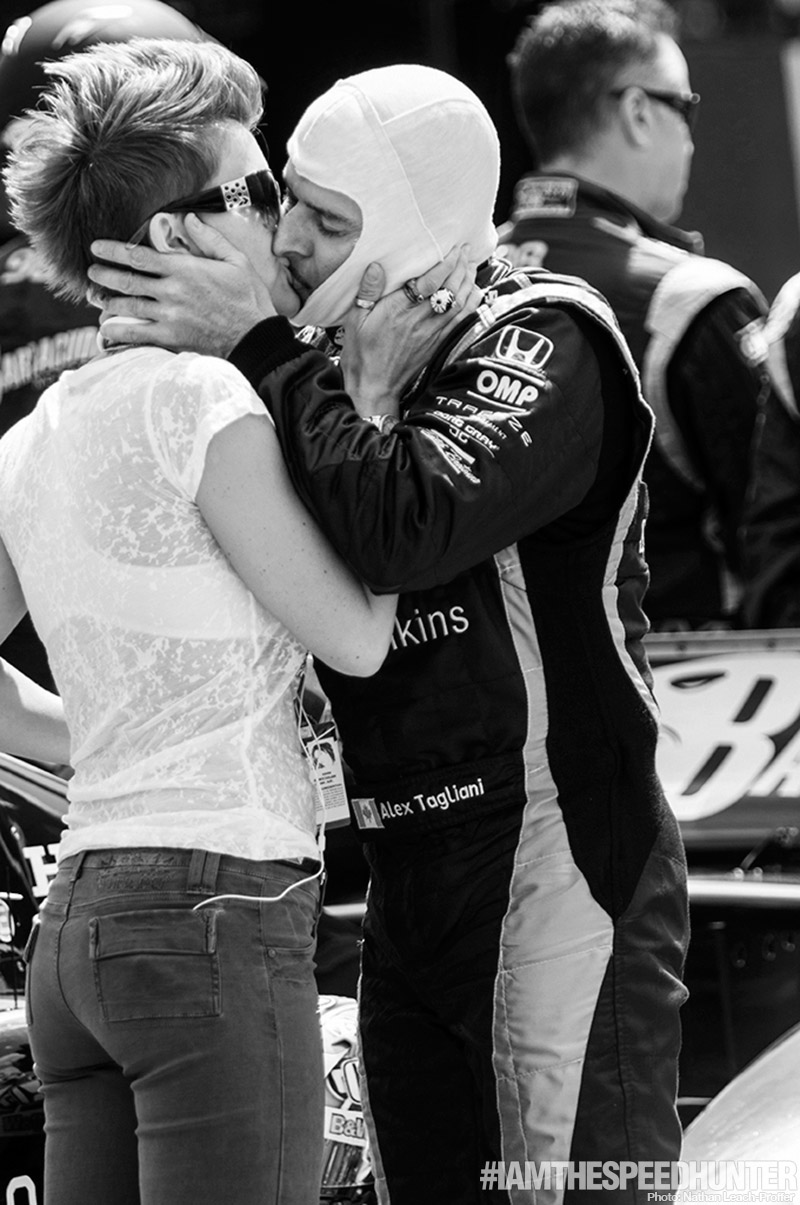 Because of the emotion, this image of Alex Tagliani kissing his wife before climbing into his car for the race is one of my favorites from the Detroit GP weekend.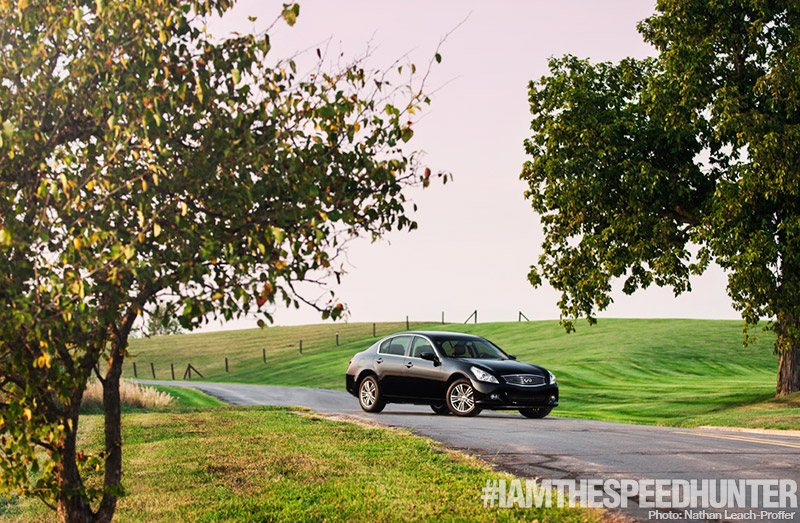 I had to capture some photos of a loaner car before returning it, and took this one as the sun was setting.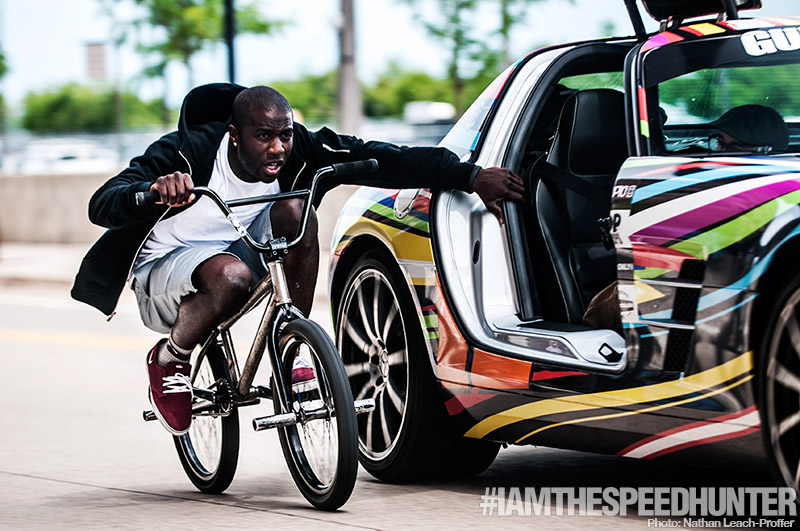 Nigel Sylvester getting up to speed with the help of a SLS during the Gumball 3000
This was not the first time I shot five cars together, but location scouting is a lot different since a group like this takes up much more space than just one or two cars.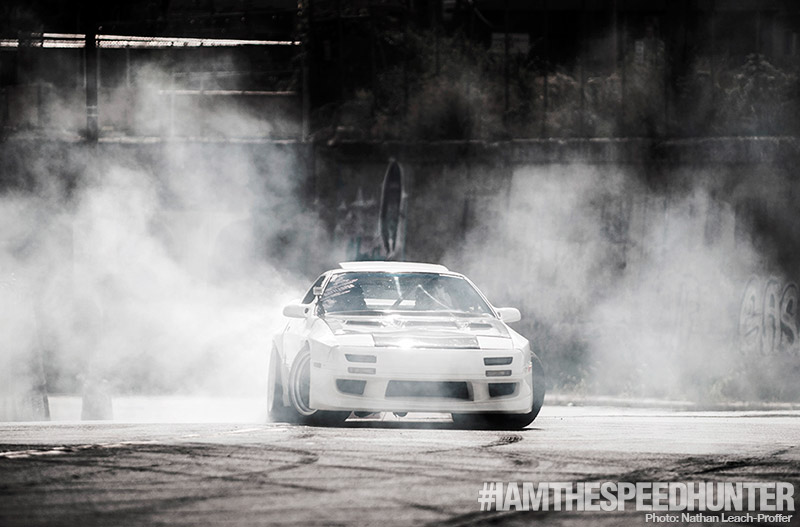 Burnout and drift competition in front of the old Detroit train station. The event got shut down for a little while in the afternoon because of people complaining about all the smoke, but picked back up later. It was cool to see on public streets (legally closed off, of course) in front of such an iconic building.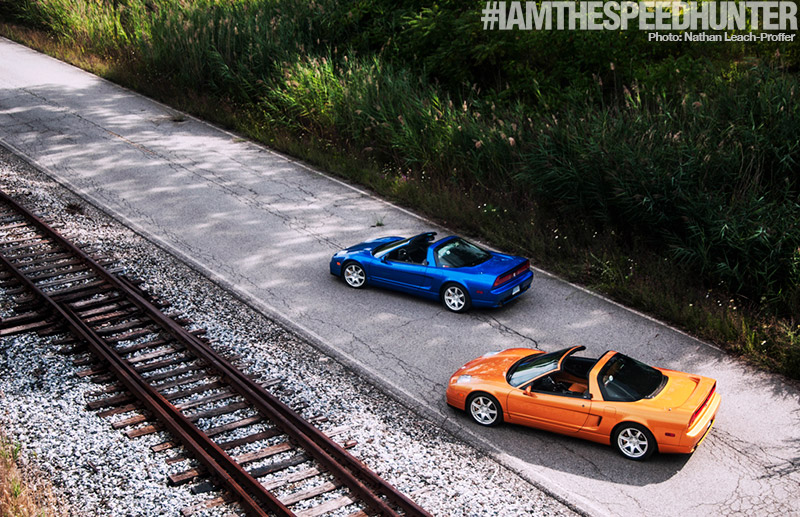 Shot this 'his and hers' pair before a car show, but we ended up having too much fun and missing the show altogether.
Simple panning shot.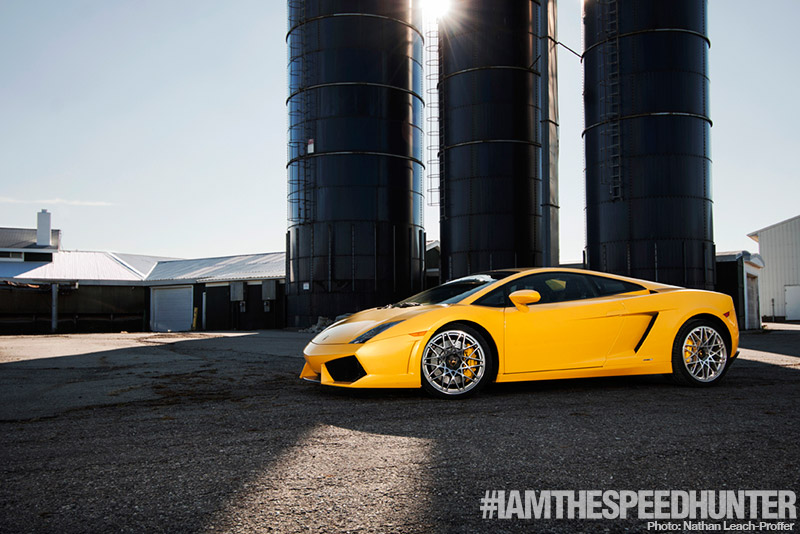 Over my time shooting cars I have been very fortunate to experience things I never thought I would, as well as working with a lot of awesome people. Without the support of more people then I deserve, I never would be where I am today, or have had the confidence to take the leap and follow my dream. To all of those people, thank you. With the transition to full-time and a move to Denver I am really looking to find my style and keep growing as a photographer.
Thank you to Paddy and Speedhunters for the opportunity to share my work.
Nathan Leach-Proffer
www.Speed-Photos.net
www.facebook.com/speedphotos
About #IAMTHESPEEDHUNTER
We created #IAMTHESPEEDHUNTER to allow you the opportunity to share your skills and car culture experiences from around the globe with the rest of the Speedhunters audience.
How do you get involved? It's simple…
Flickr - Join our #IAMTHESPEEDHUNTER Flickr Group and share your favourite photos with us and others.
Instagram – Follow us on Instagram at @TheSpeedhunters and tag your own car culture images with #IAMTHESPEEDHUNTER
Twitter – Follow us on Twitter at @SPEEDHUNTERS and share your tweets with the #IAMTHESPEEDHUNTER hashtag.
Tumblr – Visit our Tumblr page to view the latest #IAMTHESPEEDHUNTER tagged images.
E-Mail – If you've been to a cool event and captured some amazing images, be sure to e-mail them to us on iamthespeedhunter@speedhunters.com and tell us a little bit about the event. The images need to be a minimum of 800×533 pixels.
Have you submitted already but yet been featured? Here are some tips to help you…
DO – Tell us your name!
DO – Submit your best work, regardless of when it was taken
DO – Take your time shooting and consider each detail
DO – Try to submit each image no larger than 1000PX wide
DON'T – Put a huge watermark on it. We'll make sure you're credited
DON'T – Send us huge image files that kill our e-mail system
DON'T – Send us scary ZIP or RAR files
日本のSpeedhunters読者にお知らせです。
Speedhuntersでは、週一回#IAMTHESPEEDHUNTERにて、読者の皆さんから寄せられたカーシーンの投稿写真を紹介しています。
投稿写真は、カーレース、カーショー、イベント等、車に関するものならなんでもOKです。
Speedhuntersで皆さんの撮ったカーシーンショットを世界中のファンに紹介して、あなたもSpeedhunters記者の仲間入りしましょう!
#IAMTHESPEEDHUNTERには、ツイッターかインスタグラムにて簡単に写真を投稿していただけます。
上記方法で写真を投稿する際は、写真に#IAMTHESPEEDHUNTERのハッシュタグを付けてください。
また、メールアドレスiamthespeedhunter@speedhunters.comでも投稿受付しています。
写真は、800×533 ピクセル以上のJPGのフォーマットでお願いします。
上記サイズより小さい写真ですと、すばらしい写真でもサイトの写真サイズの関係上掲載できないことがありますのでお気をつけください。
投稿された写真は世界中のSpeedhunters読者とシェアされますので、あなたのベストショット写真を投稿してくださいね!
また、写真に併せてどういった写真なのか、どこで撮られた写真なのかの説明と投稿者様のお名前を明記の上投稿お願いします。
皆さんからの投稿お待ちしています!