You know you're living in the golden age of automotive alteration when you can take your mom's old station wagon and turn it into something as cool as this: Holley's '74 Chevelle station wagon.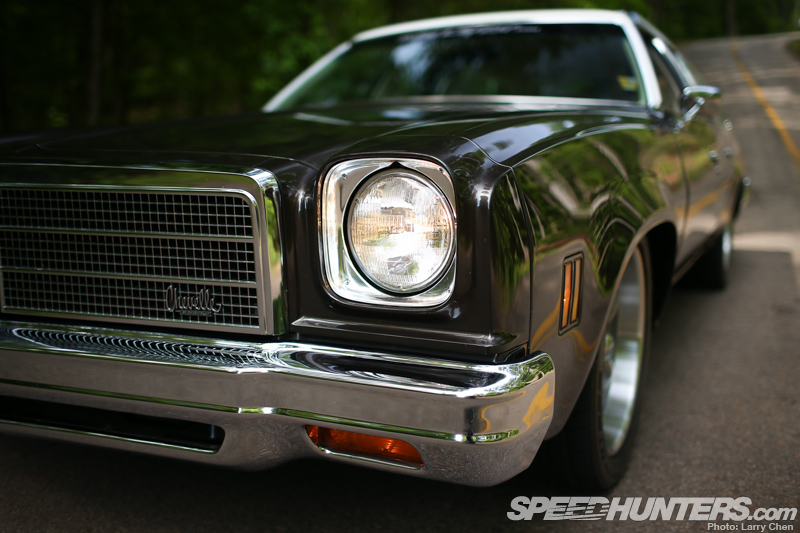 This phenomena of taking a less desirable body and building it to such a high level is a more recent one, spurred by the availability of good aftermarket parts. I don't think anyone imagined building a Chevelle wagon like this back when they were new, but these days we can do anything we want!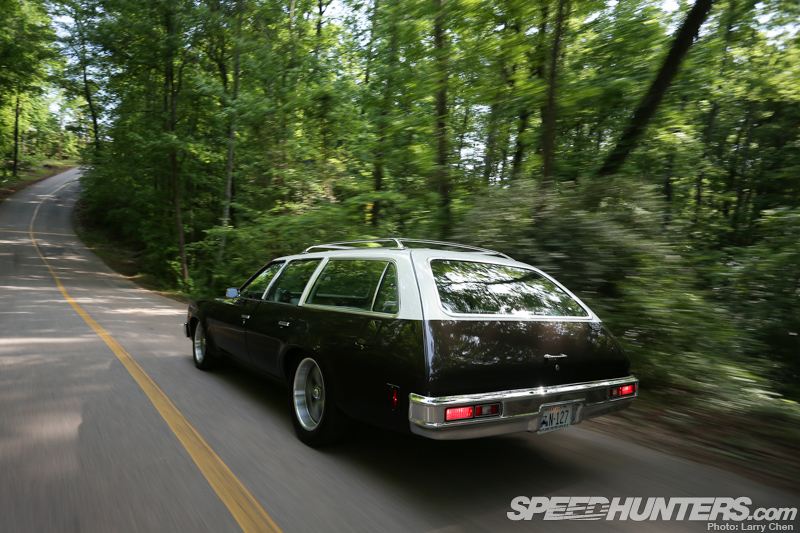 Surely when an aftermarket manufacturer builds a vehicle for itself it's just to be a rolling advert though, right? Not so fast…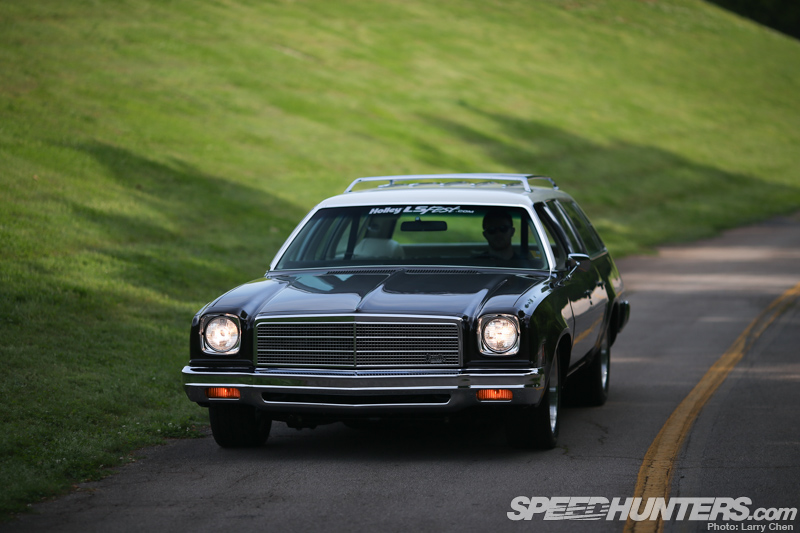 This is actually Holley's LS Test Vehicle, and if you look at the specs you'll realize this car was built as any enthusiast would in their own garage – with accessible parts, including a junkyard truck engine!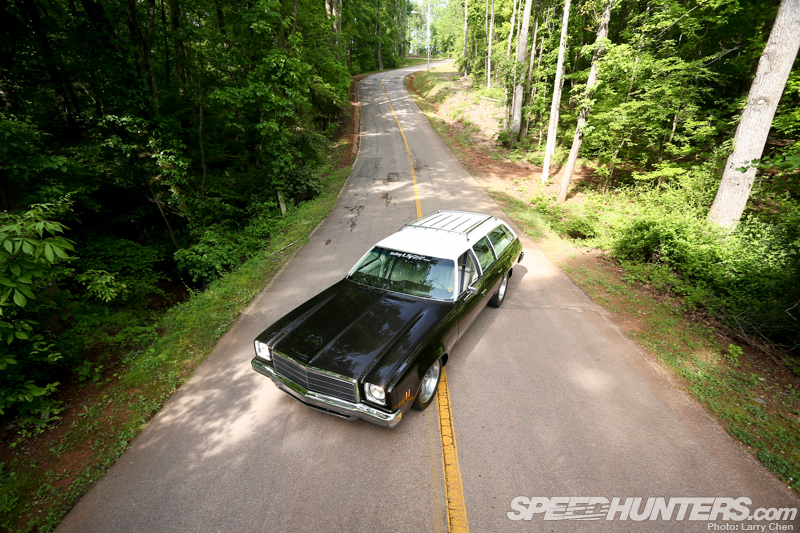 But that didn't keep this from being a very well thought-out and executed build either; I just like that they didn't flex their muscle and build a car that's unobtainable by the masses. Besides, that would have been too easy for a big company like Holley with access to any part they desire.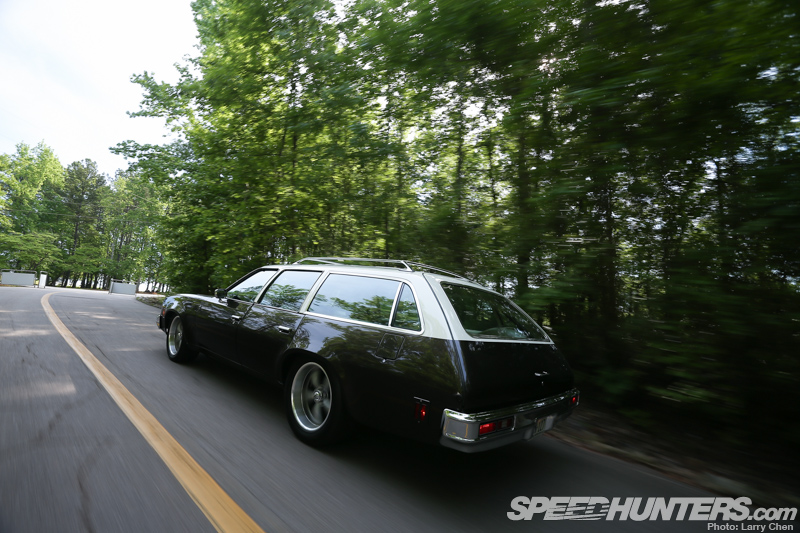 The choice to start with a station wagon from 1974 was an interesting one. Consider the dichotomy: on one hand it's the family car that we used to take to Disneyland, yet on the other it's a full-framed, rear wheel drive, American V8-powered automobile – a good foundation if you want to make a muscle-anything.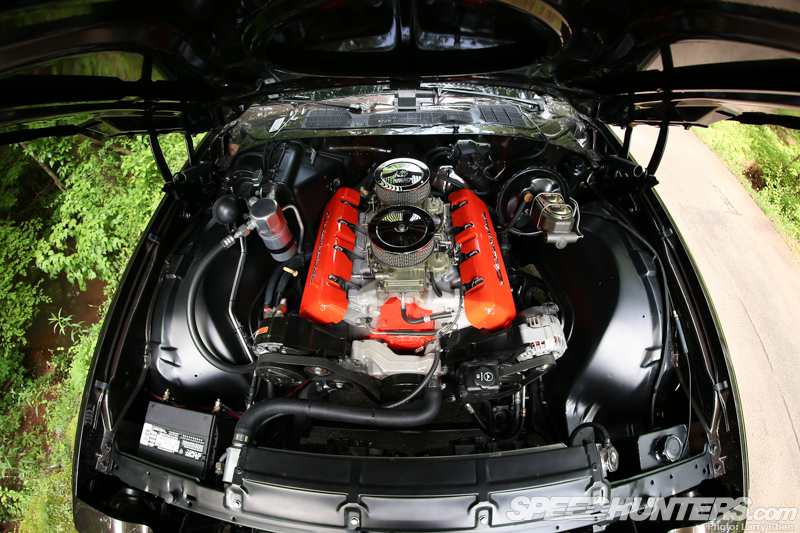 I was really pretty pleased when I read that this is a used truck motor; an LQ9 6.0 liter, iron block LS at that. Holley did it the same way I would have in my own garage, and with good reason.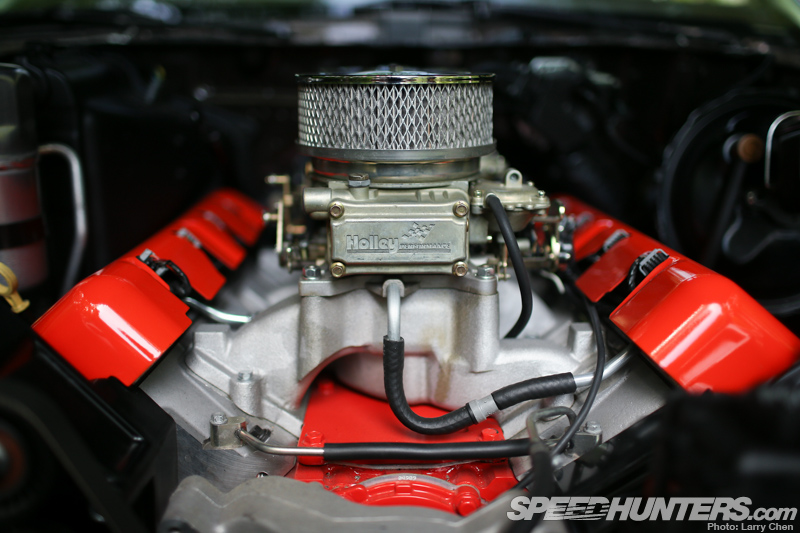 It would give them a chance to test some of the many parts they manufacture for this engine platform.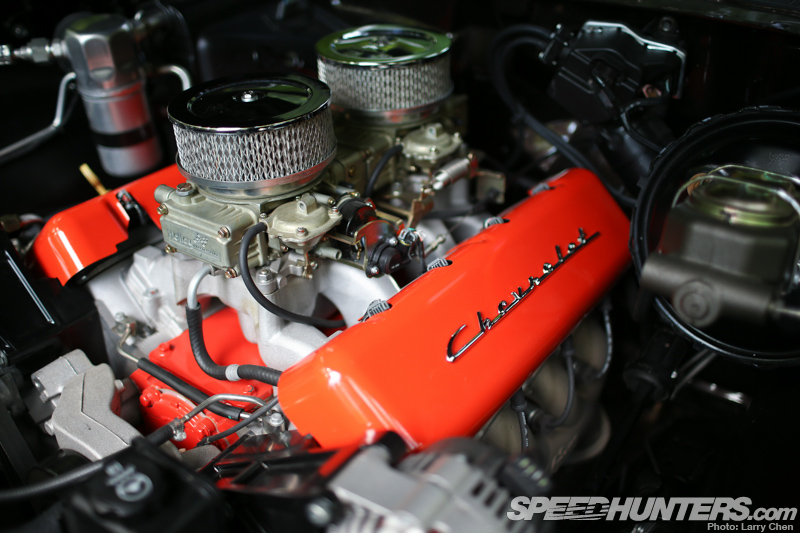 Of course the name Holley is synonymous with carburetors, and this motor wears two of their 390 CFM Street units mounted to a mid-rise dual plane manifold. Believe it or not, this combo can run 13.80s and still get over 20 mpg on the highway.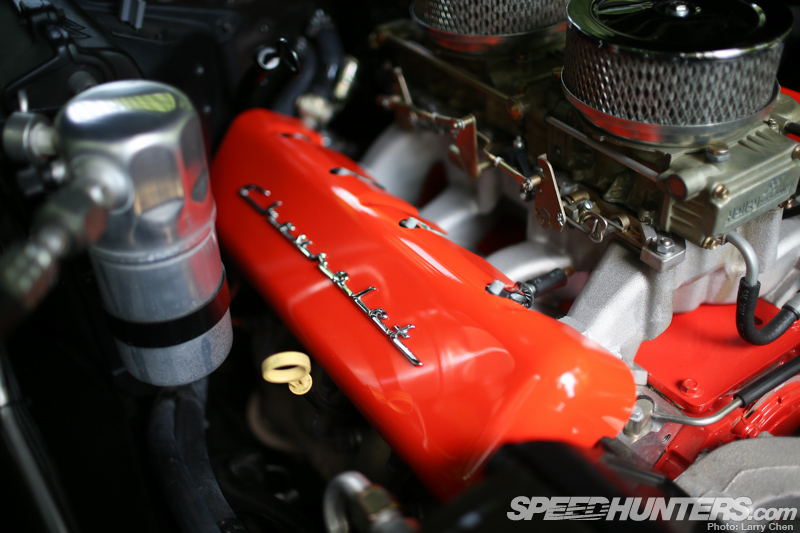 Oh you noticed the bright red coil covers? This is actually a pretty slick way to hide the LS engine's unsightly coil packs. I've used them on a fire-breathing supercharged LSX myself, so I can speak to their quality. Props to Holley for dropping the coin to injection-mold these, because they look and feel like an OEM-quality part.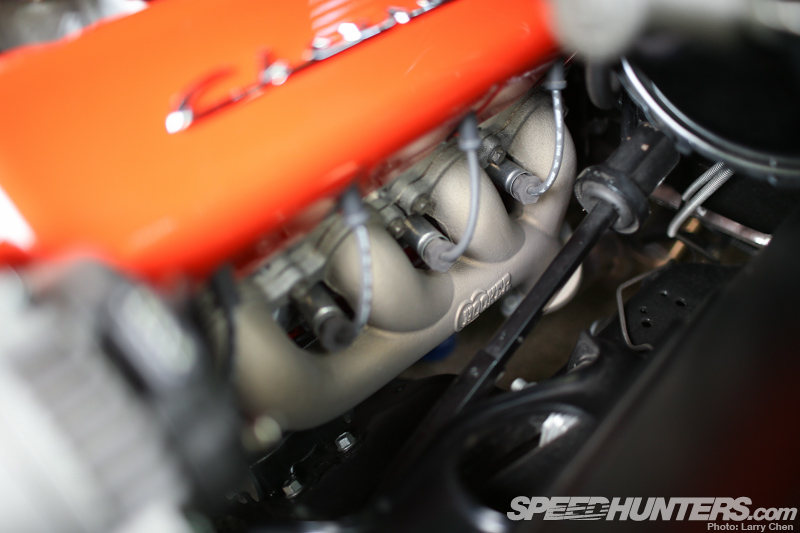 This is my favorite part though: the cast-iron exhaust manifolds. They check all the boxes for me – great flow, a tight fit, good plug clearance and a nice finish. I have a feeling these Hooker manifolds are going to help a lot of builders when it comes time to swap an LS engine into a tight space.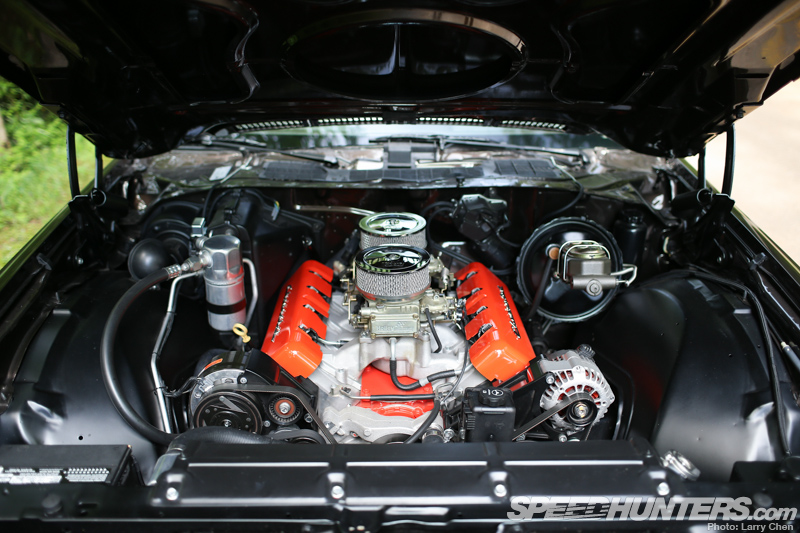 The builders at Holley blacked out most of the engine compartment to draw attention to the engine itself, but as I looked around I started to notice all the accessories that make this car a nice driver.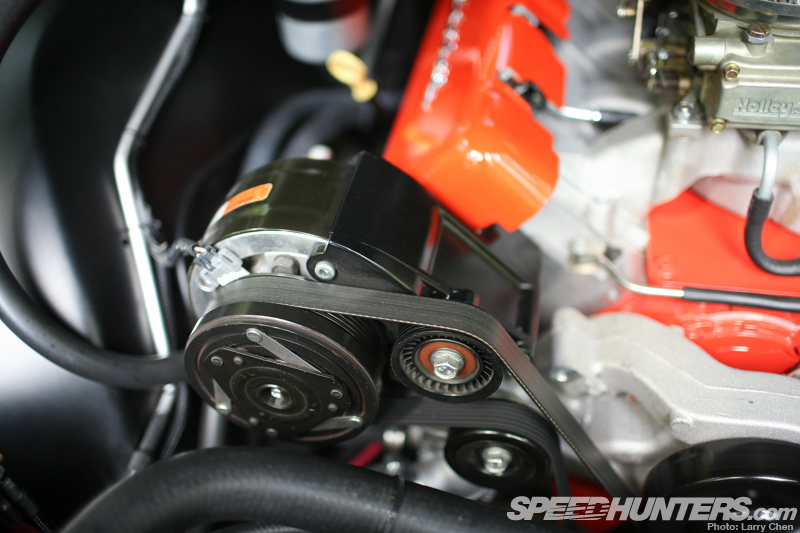 To start, there's the air conditioning compressor hung off Holley's factory-appearing LS Swap bracket…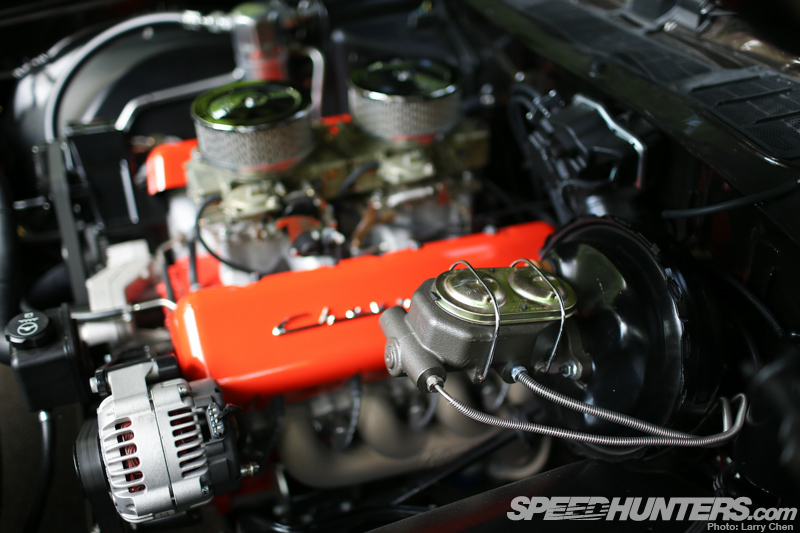 … power brakes…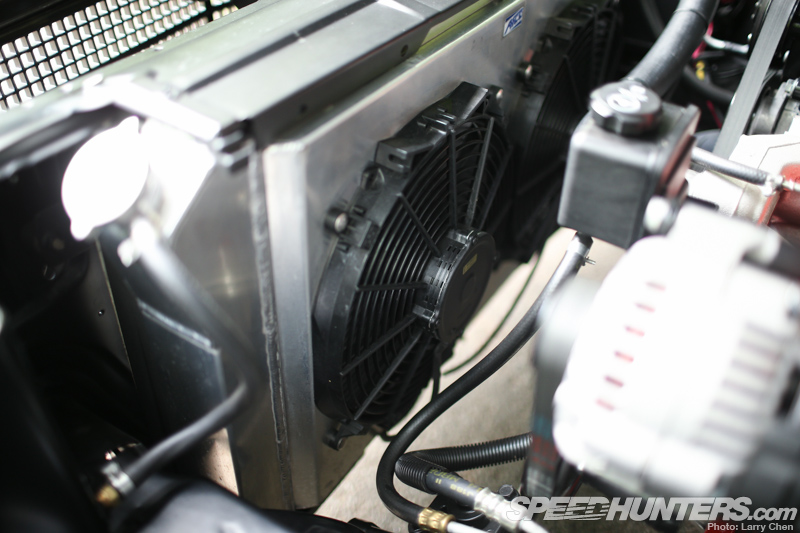 … a very large aluminum radiator with dual electric fans…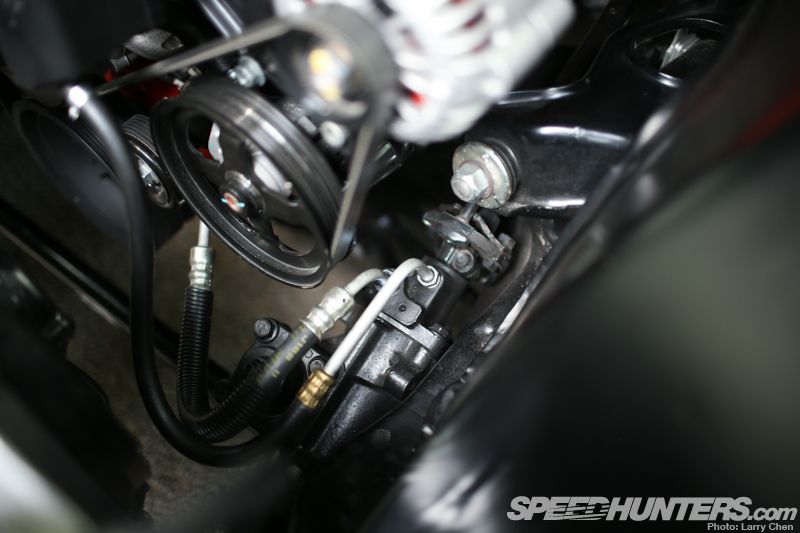 … and power steering. Notice how everything looks like it came straight from the General? The accessory brackets are actually cast parts from Holley and were designed for just this type of engine swap. I'm honestly impressed that an aftermarket manufacturer kept things so factory-spec. It looks much nicer than a bunch of over the top billet stuff.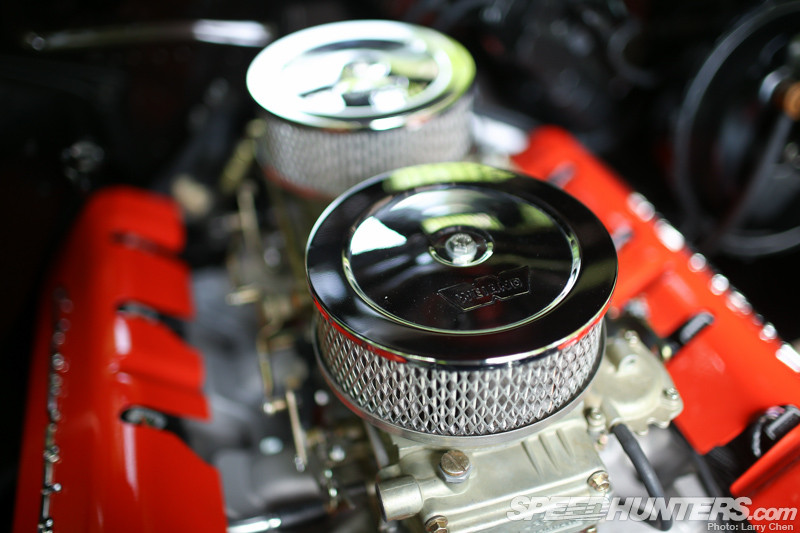 There are a couple of noteworthy items that you can't see because they're underneath. There's a 4l60E automatic transmission which is controlled by a Dominator ECU, plus the required Holley LS engine swap oil pan; another great example of the aftermarket support that makes a build like this possible.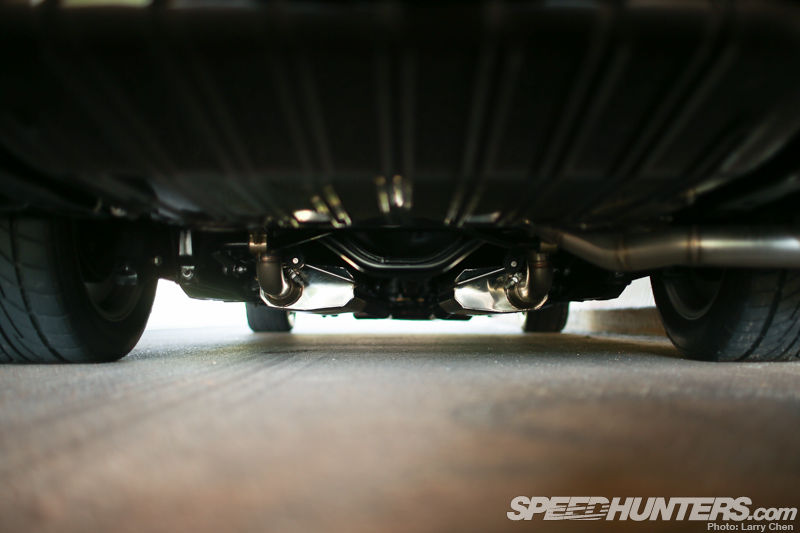 We could see under the back though, where the guys at Holley installed a Moser 9″ axle and twin Hooker Aero-Chamber mufflers which route over to the passenger side. As you can see, everything's been blown apart and powdercoated too.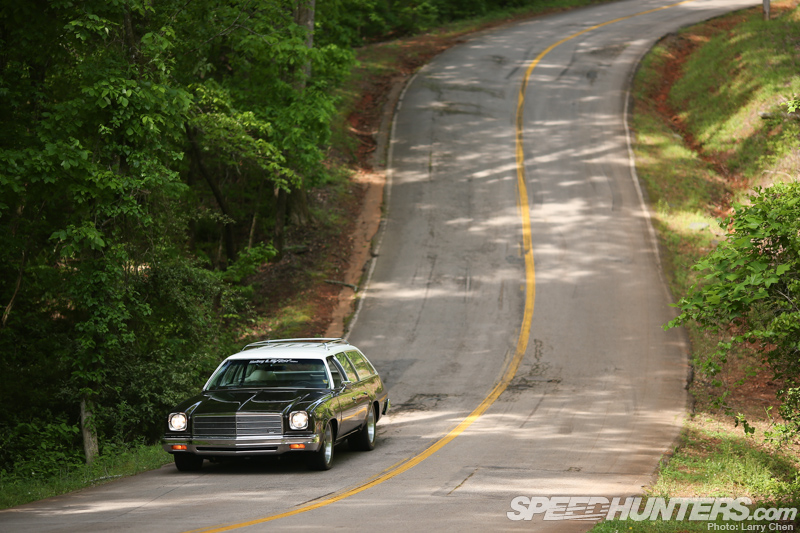 The beauty of this build is that it was made to drive: LS Fest, HOT ROD Power Tour, Somernights Cruise, NHRA Hot Rod Reunion and even a Formula D event. You name it and this car has probably been there in the past couple of years.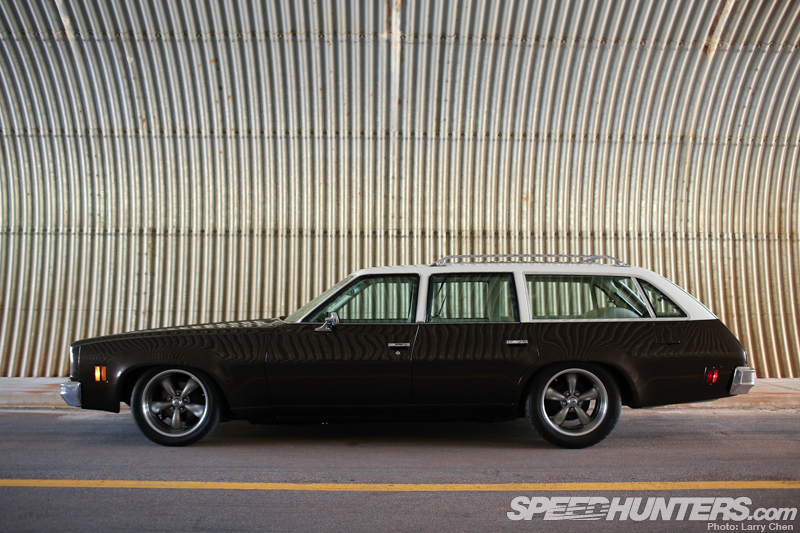 Let's have a look at the stance now, shall we? It tucks all around and has a nice muscle-car rake, yet still has enough ground clearance to drive anywhere.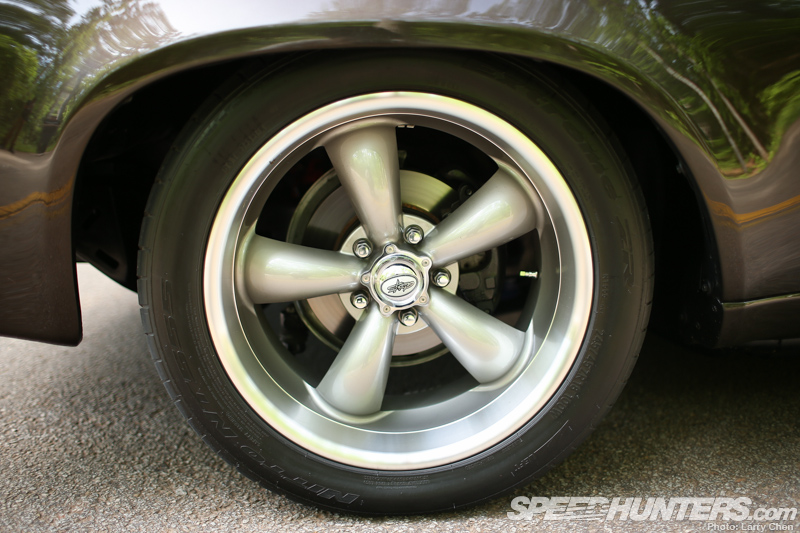 Those are Coys C-5 wheels in 18×8 and 18×9.5, with the standard issue Chevy disc brake in the background.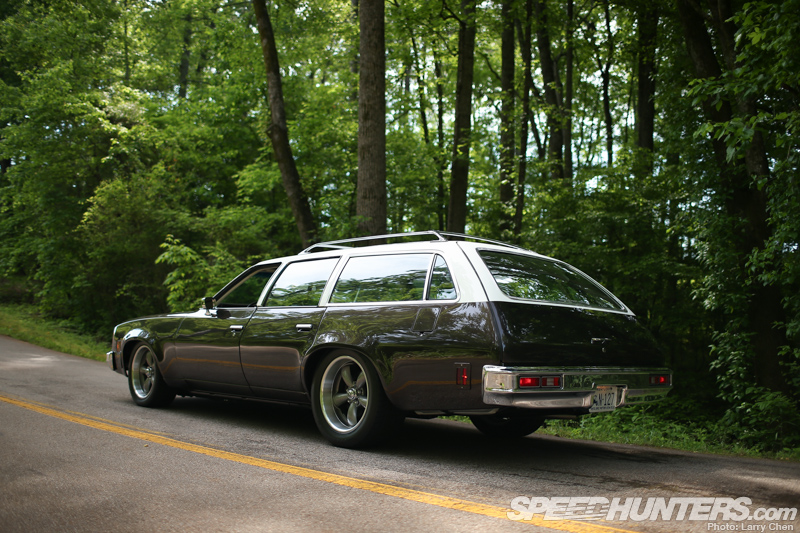 The rubber rake is spot on: the meatier tires in the back pop it up just a little bit extra. You don't want to go too low-pro on a big car like this, you need a little more sidewall than normal for it to look right.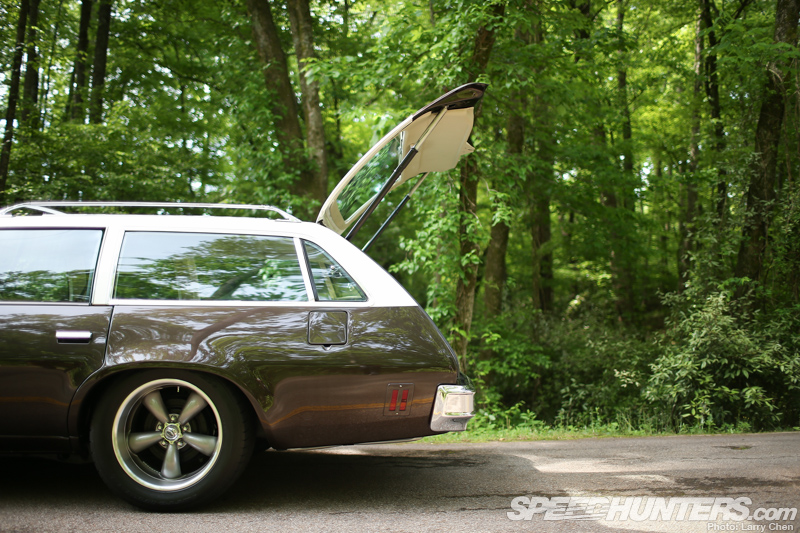 I'm sure the 295/45 Nitto NT-555's hook up well with all that weight out back too.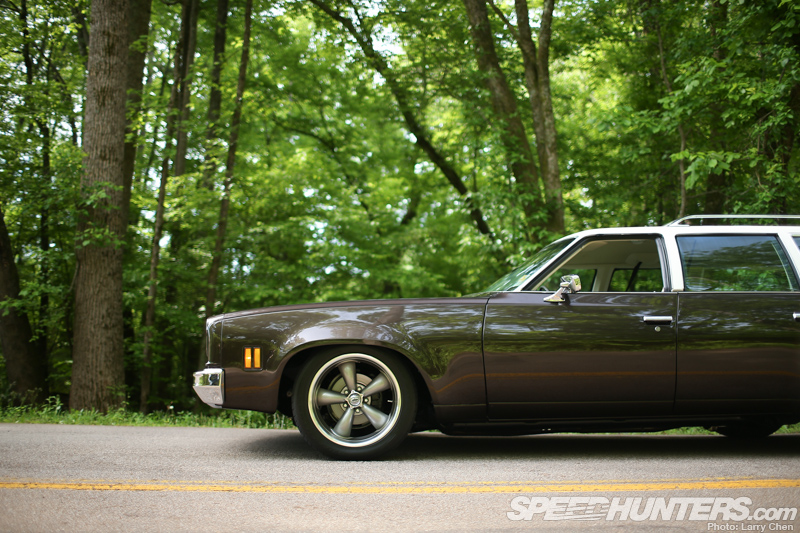 The body was intentionally left mostly stock, including all the chrome bits these old cars came with as standard…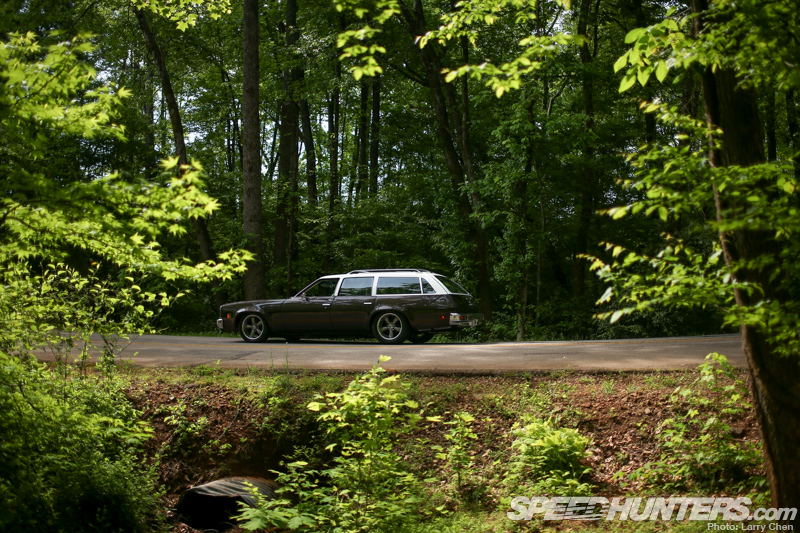 … although it was treated to a clean two-tone paint job in retro '70s hues. The color-break visually lowers and lengthens the body even more.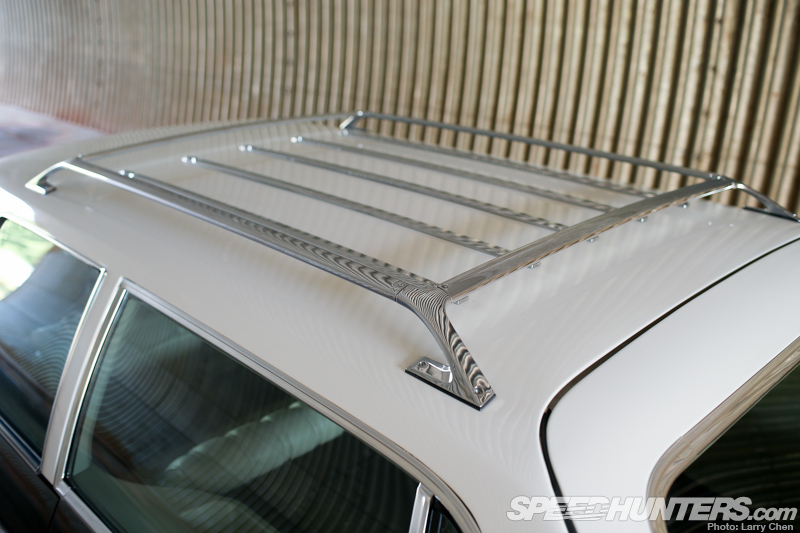 I think you'll agree it was mandatory to leave the chrome luggage rack.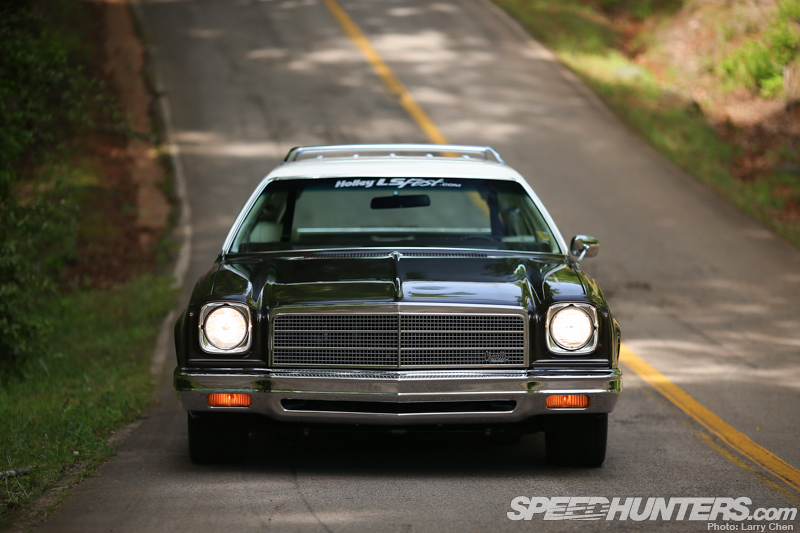 While the sheetmetal was left pretty well stock, the bumpers were another story. The changes aren't obvious unless you're a Chevelle aficionado, but they really are clever. The bumpers were shortened and tucked, shaved of mounting hardware…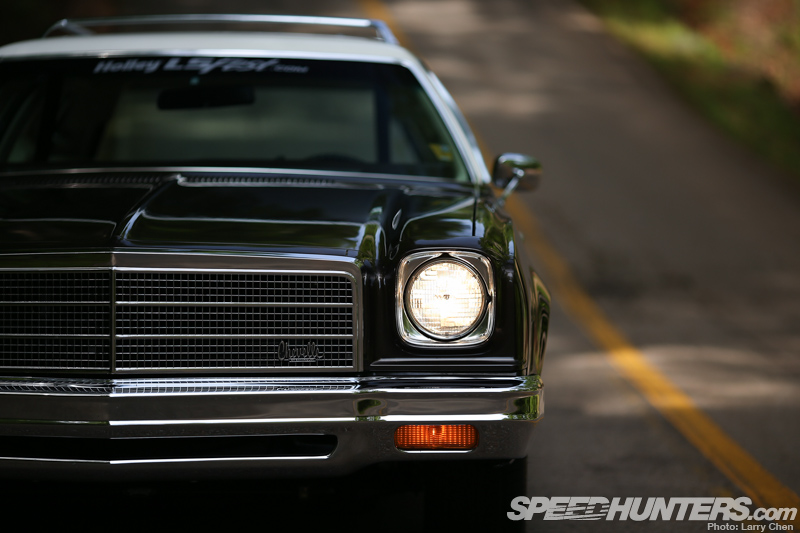 … and then that wide slot was added, which looks completely factory but much improved from the stock unit. You didn't even notice did you? That's the best kind of mod.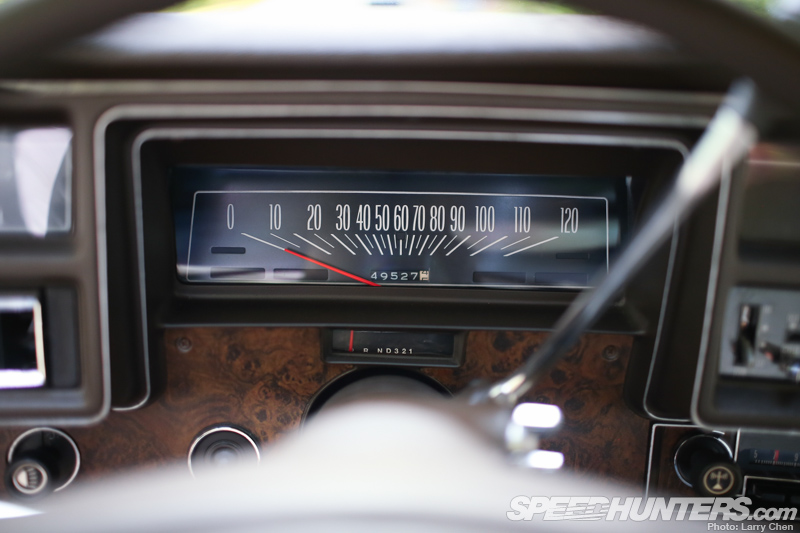 The wagon only had 43,000 original miles on it when they started this project, and as we can see it's already racked up another 6,500 – pretty good for any vintage car project.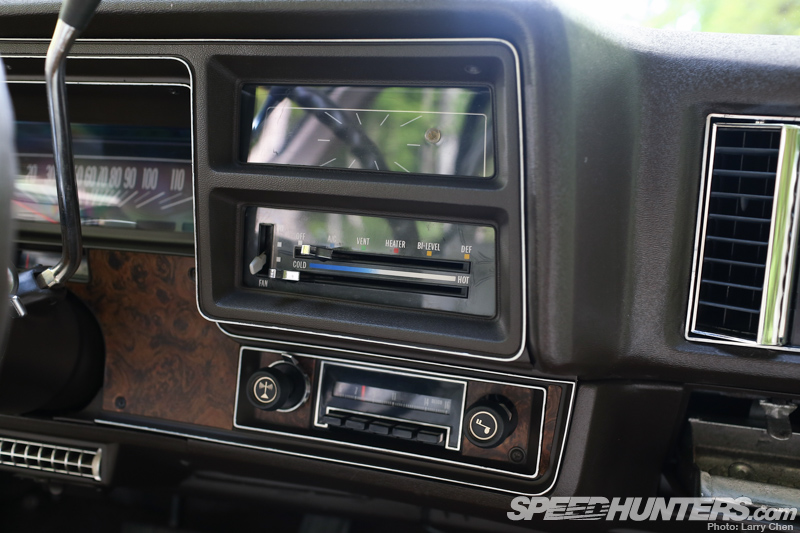 The thing about those old mechanical odometers is that there are only five digits before the decimal. When a cluster reads 43,000 miles it could have 143,000 or even 243,000 miles!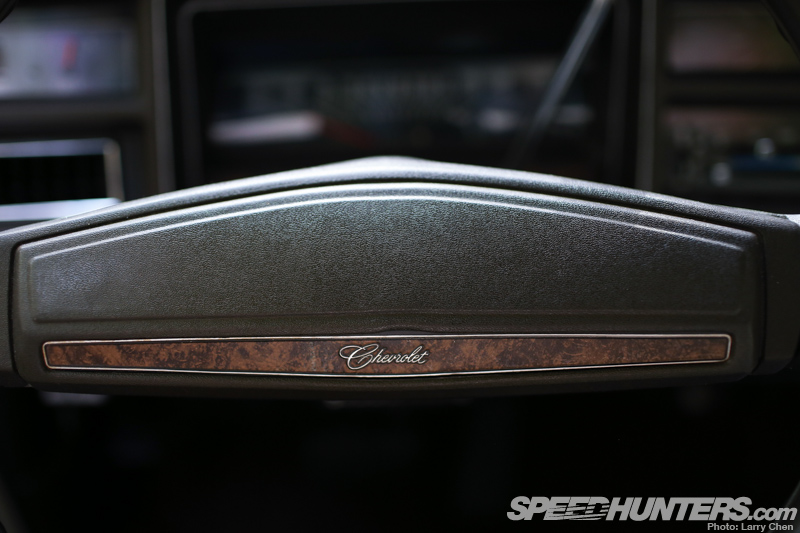 But if you know where to look, you can tell when a car really is a low-mileage score like this one.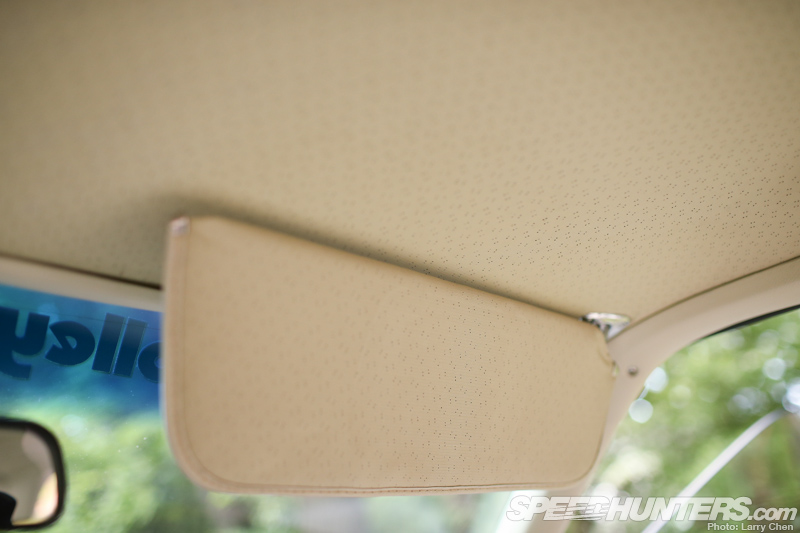 The mint headliner is a dead giveaway.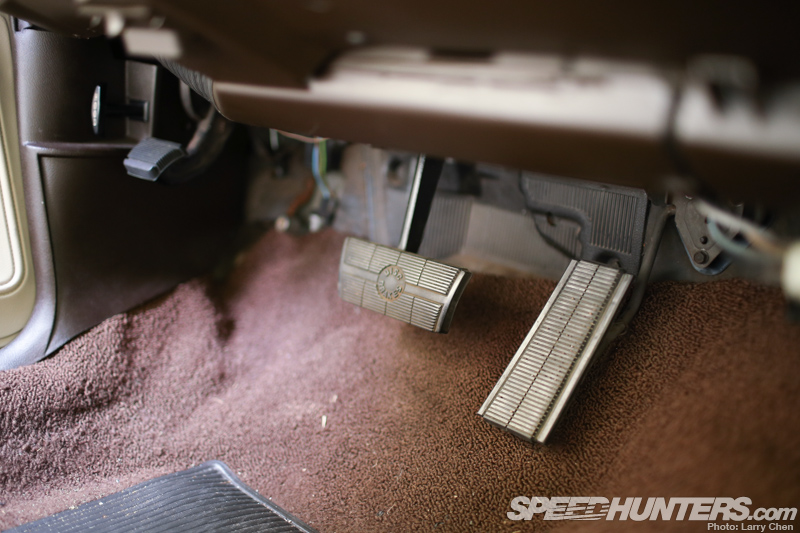 The pedals are a good place to look too – these clearly don't have an extra 100,000 on them. Remember when they used to advertise features and options right on the car part itself?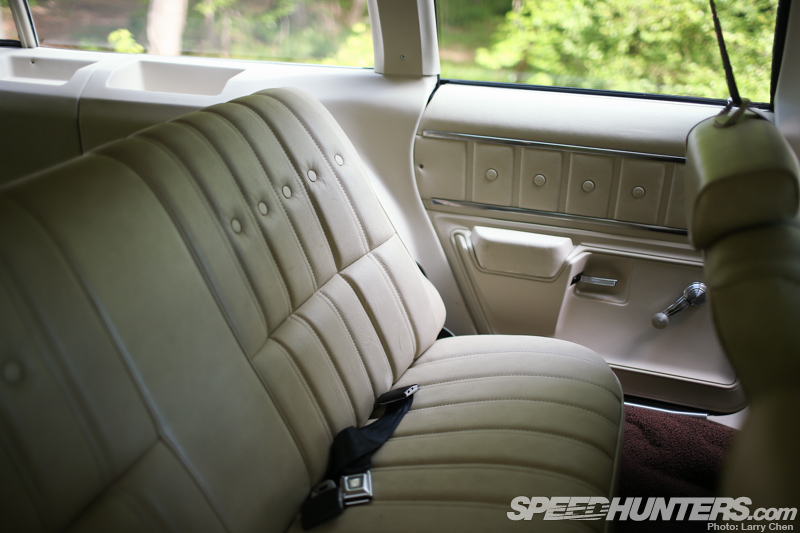 Looking around the inside of Holley's Chevelle surprisingly took me back to my own childhood, riding around in my own family's Chevy station wagon.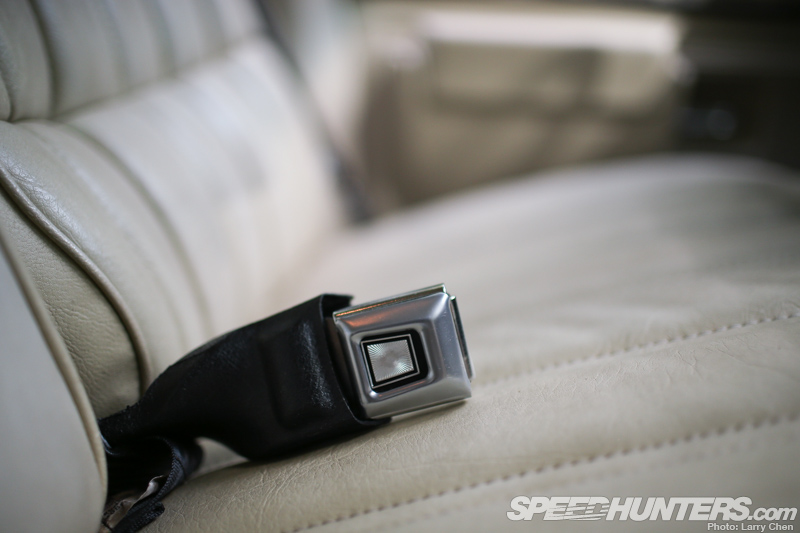 How many of us have burned our little fingers trying to get in and out of those metal GM seatbelts? I learned at an early age to use my T-shirt as a protective barrier.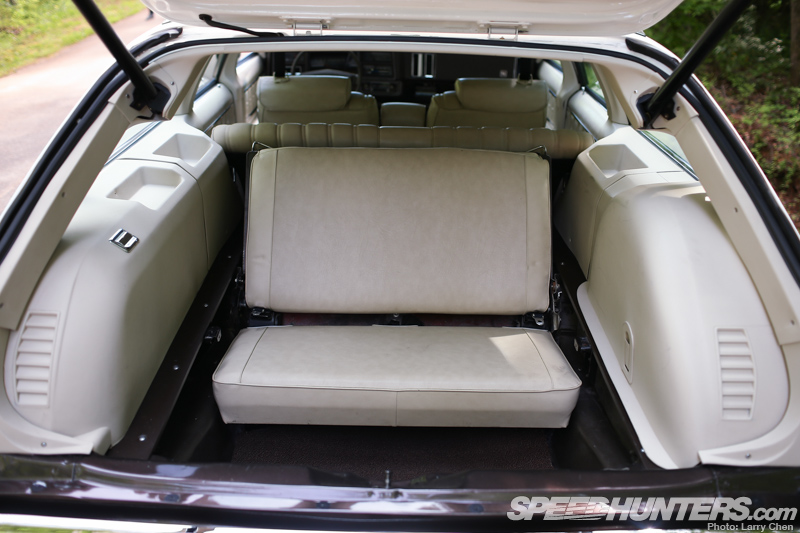 Like the roof rack, it was mandatory to keep the third row jump seat.  These are the trademarks of an American family wagon, the things that people look at and remember when.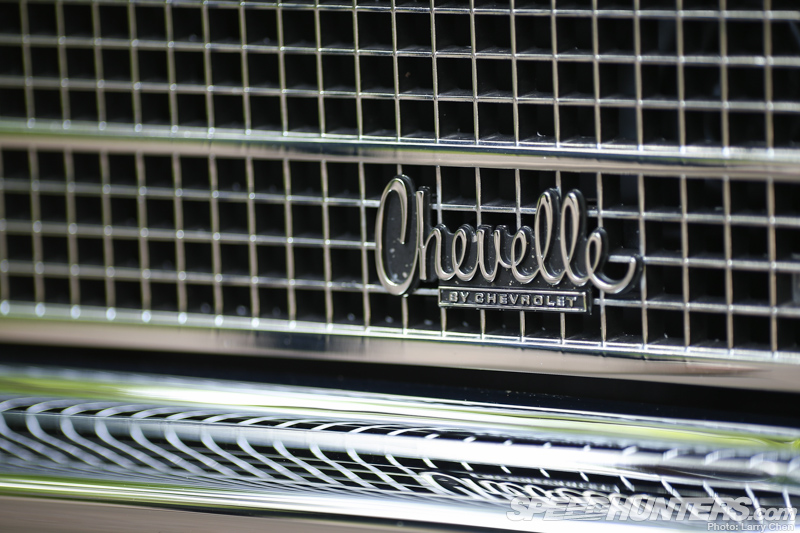 The Chevelle wagon was never meant to haul ass, just your family and some groceries…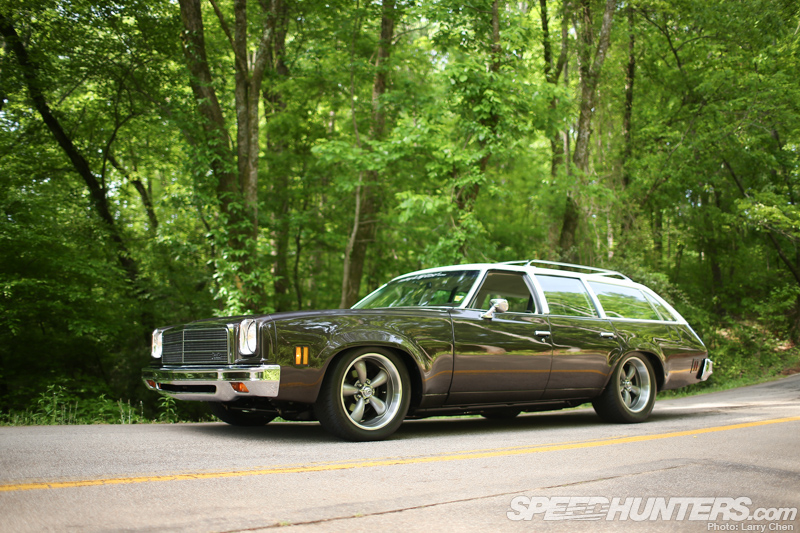 … but with a modern V8, big inch wheels and sticky rubber, dropped springs and stiff swaybars…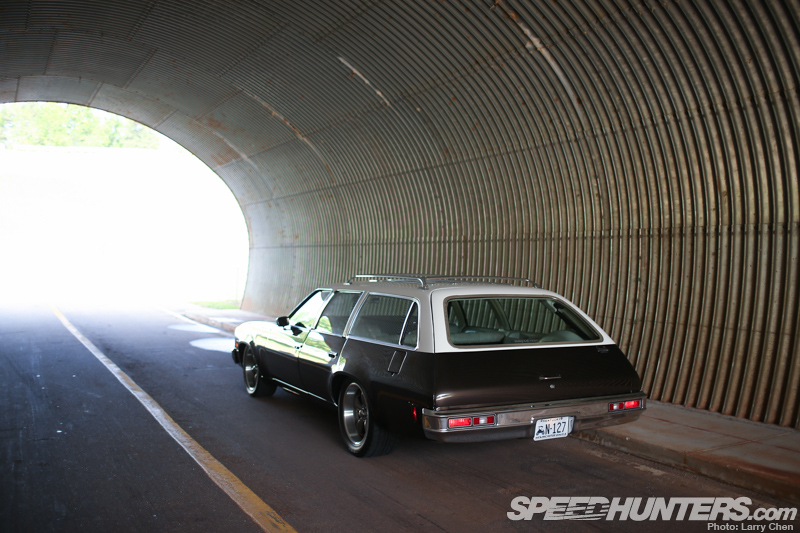 … this Chevelle wagon has been transformed into a legitimate muscle car that a skilled enthusiast could build…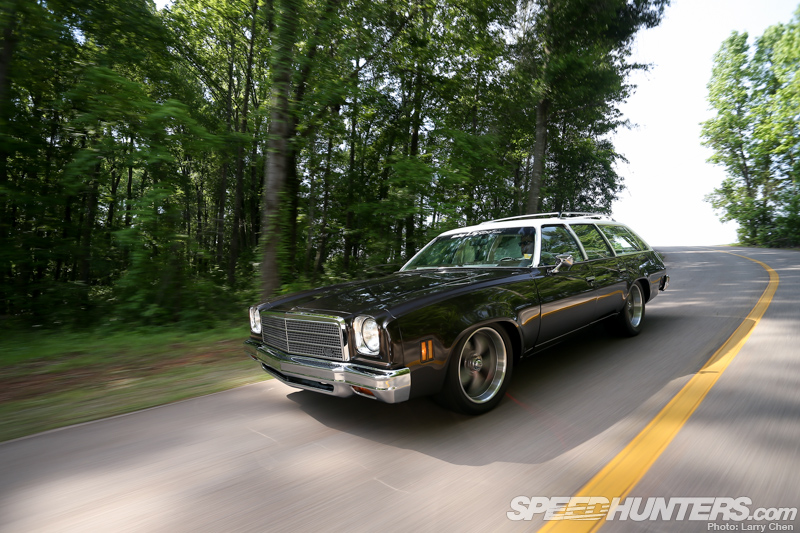 … and a pretty trick Holley test mule at that. It's not just a nod to the past, it's confirmation that even the slightly offbeat choices can earn the right to the title of old-school cool too.
Words by Keith Charvonia
Instagram: SpeedhuntersKeith
keith@speedhunters.com
Photos by Larry Chen
Instagram: larry_chen_foto
larry@speedhunters.com
Holley's 1974 Chevrolet Chevelle Station Wagon
Engine
LQ9 6.0L iron block V8, two Holley 390 CFM carburetors, mid-rise dual plane intake manifold, Weiand chrome air cleaners, Hooker LS Swap exhaust manifolds, Hooker LS Swap Engine Mounts, Holley Coil Covers, Holley LS Swap Accessory Brackets, Holley in-line fuel pump, Hooker Aero-Chamber mufflers with custom dual exhaust
Driveline
4L60E automatic transmission, Dominator ECU to control electronic transmission, Moser 9″ rear axle
Suspension/Brakes
All OEM parts removed and powdercoated black, 3″ lowered coil springs, Detroit Speed sway bars
Wheels/Tires
Coy's C-5 wheels – 18×8 (front) and 18 x 9.5 (rear), Nitto NT-555 tires – 245/45ZR18 (front) and 295/45ZR18 (rear)
Exterior
Custom two-tone paint, custom front and rear bumpers
Interior
Restored to original condition
The '70s Theme on Speedhunters
More Chevrolet stories on Speedhunters