Every month I look forward to putting together a Dream Drive post – it's my chance to get out of the office and get some proper driving done in something new and exciting. I still can't believe that a few weeks ago I had the opportunity to take the RWB Rauh Passion out for a few hours of unforgettable fun, and funnily enough it was another Porsche that I had at my disposal a few days ago. Following my deep appreciation of the open top Boxster earlier in the year, I have been patiently waiting for the coupé version of this chassis, the all-new Cayman. If I was so impressed and utterly satisfied with what the Boxster offered, then I could only assume that the more rigid chassis of the Cayman would definitely make the package all the more enjoyable. So, not put-off by the worst torrential downpour during this year's Japanese rainy season…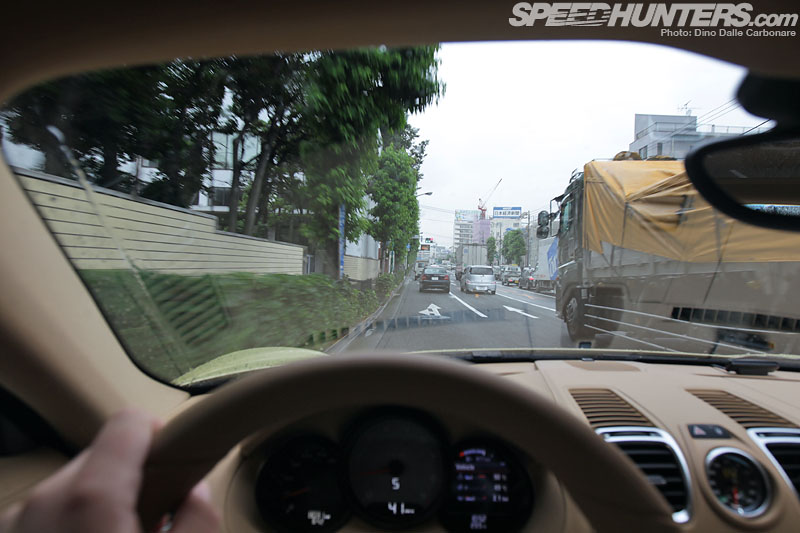 … I climbed onboard the Lime Gold Metallic Cayman and jumped on Kanpachi Dori, where after dealing with the usual weekday morning traffic…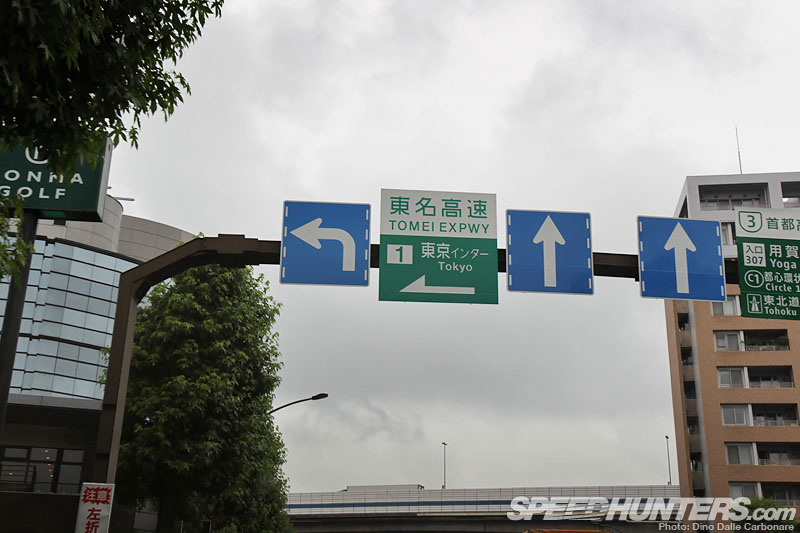 … I reached the Yoga entrance of the Tomei Expressway.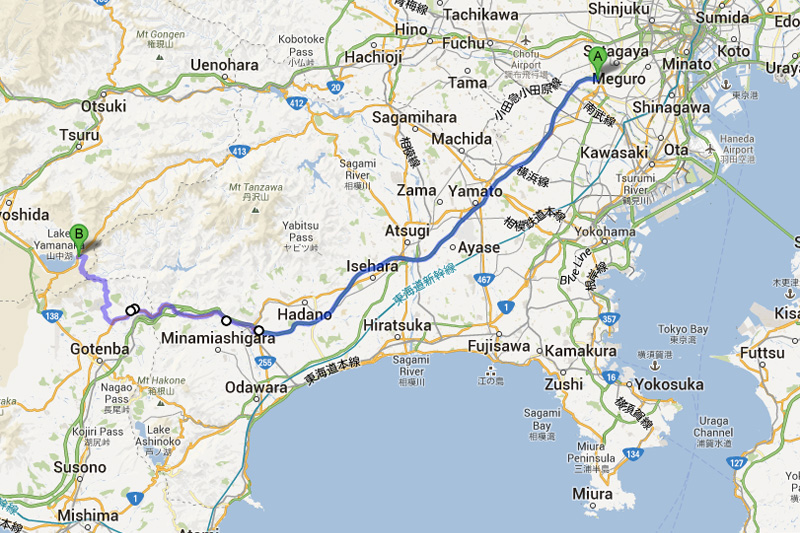 The original plan was to take the car on the Ashinoko Skyline – another road that dots the Hakone mountain range opposite Mt. Fuji. However as I drove onto the Tomei I realized the rain had no intention of stopping. In fact, it was getting worse by the hour. Up in the mountains that would most definitely equate to fog, and since the main point of heading all the way there are the actual views I decided to save that particular drive for a sunny day. So it was the little mountain pass that takes you up and over to Yamanakako (where the 'ko' stands for lake) that I decided to head to – an insanely steep touge that would definitely put the little Porsche through its paces.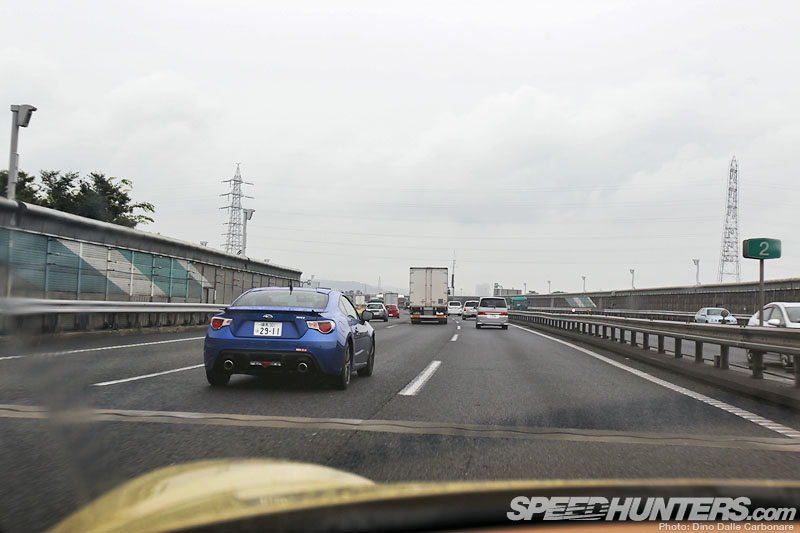 As soon as I reached cruising speed and moved onto the overtaking lane (although this doesn't actually exist on Japanese highways – all traffic, including trucks and buses, stays where it wants) I passed this brand new Subaru BRZ. I half expected its owner to want to play…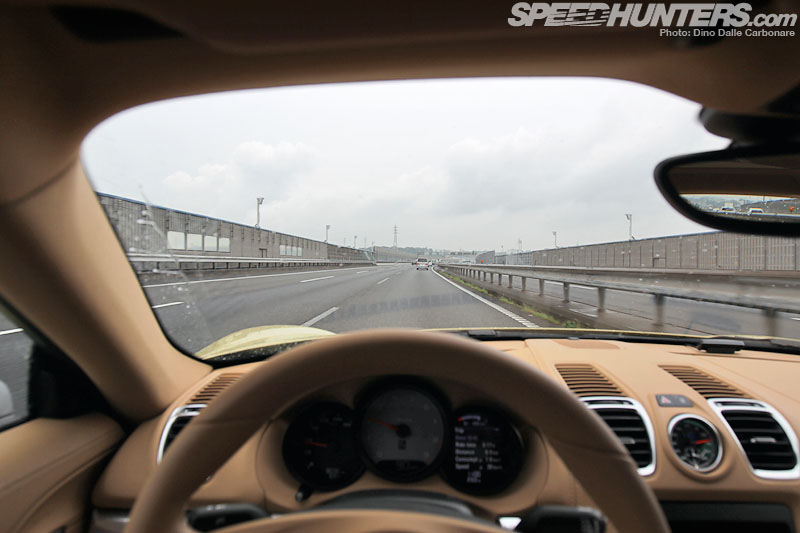 … but that never happened, so I let the car do its thing in normal driving mode with the engine burbling away in sixth gear as I attempted not to fall asleep keeping to the Japanese 80km/h (50mph) speed limit when bad weather hits.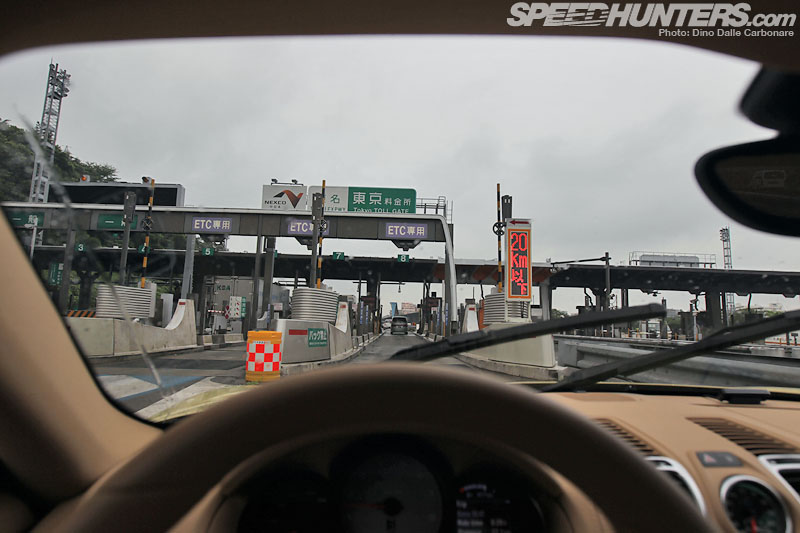 It's a few kilometers to the toll gate, where you have to slow to 20km/h when you pass through the ETC (Electronic Toll Collection) lane. The barriers used to be proper solid plastic items up until last year, but since they were continuously getting smashed to bits by speeding drivers they are now soft air-inflated contraptions.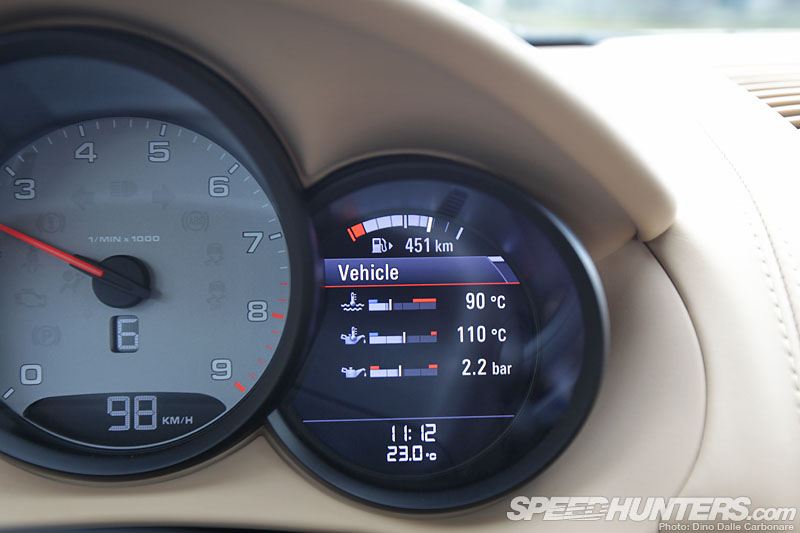 Every time I drive German cars I always notice how much hotter they run compared to Japanese cars. At a steady pace the Cayman S sits between 110-115 deg celsius where at the same speed my BNR34 sits at 88-92.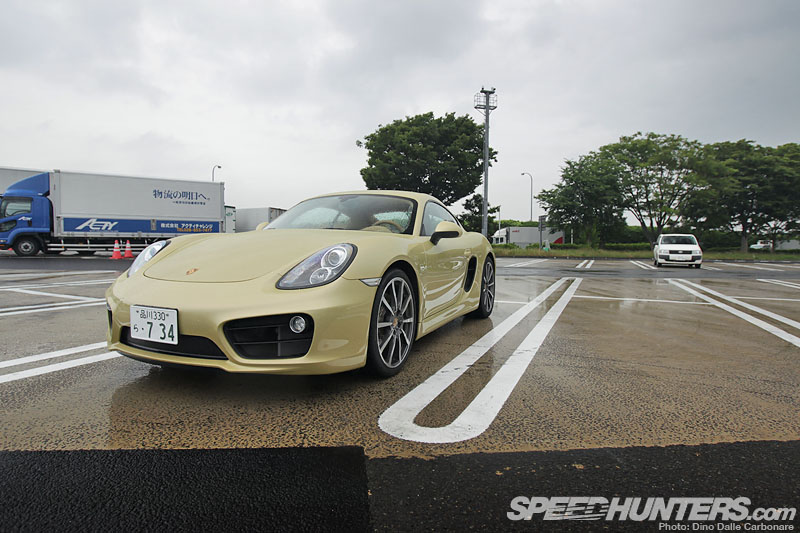 After about 45 minutes since leaving homee I hit Ebina PA – a large and popular rest area where early in the morning it's almost mandatory to pick up a coffee.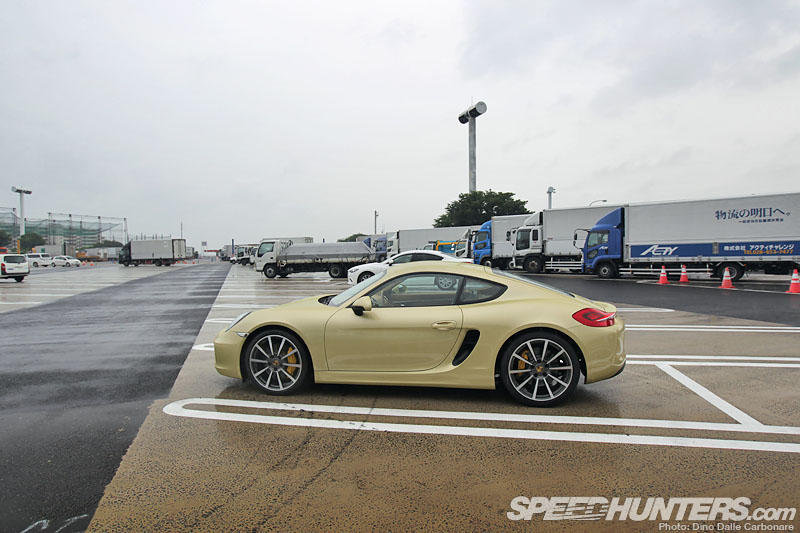 I took the opportunity to grab some shots of the pleasantly designed Cayman, which to me is leaps and bounds better than the model it replaces. It's such a flowing design with the right sort of curves in just the right sort of places. After a few days with the car I baptized it the mini Carrera GT, as from a few different angles it reminds me of that masterpiece.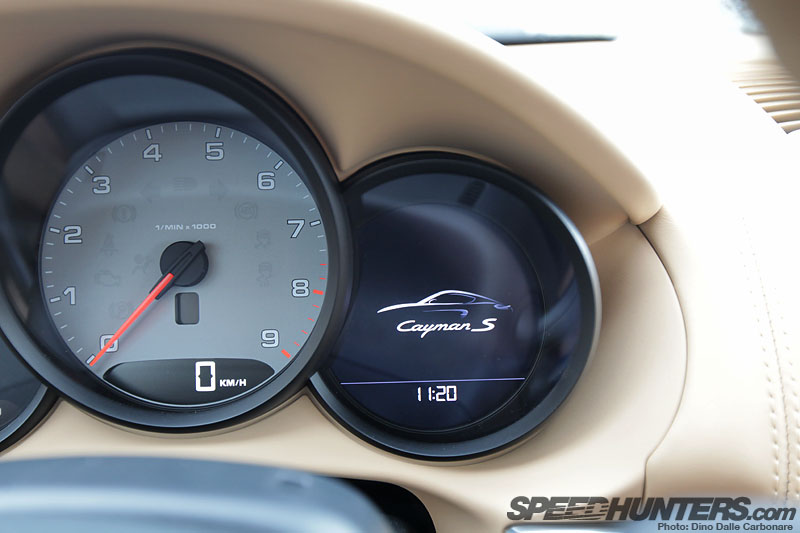 Even the welcome logo on the dash's digital display features the exterior silhouette.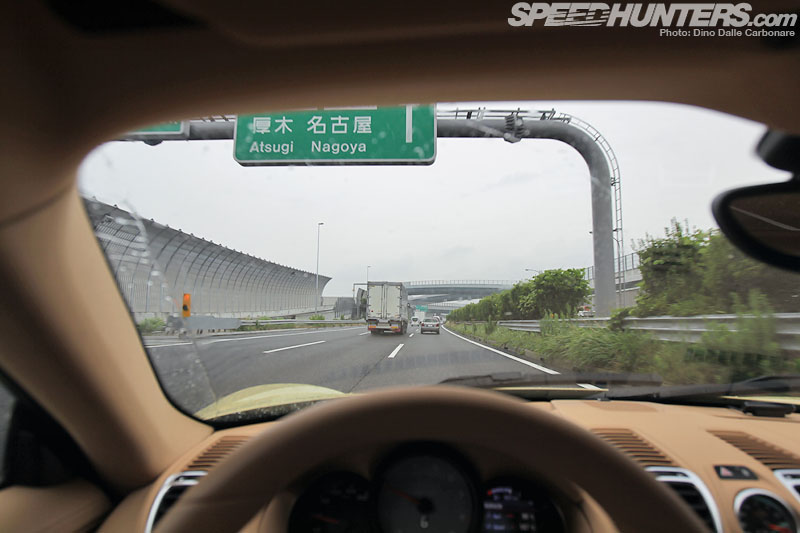 The drive down towards the Fuji area continued, passing Atsugi and the entrance to the Atsugi-Odawara toll road which I usually take when going to the Hakone Turnpike.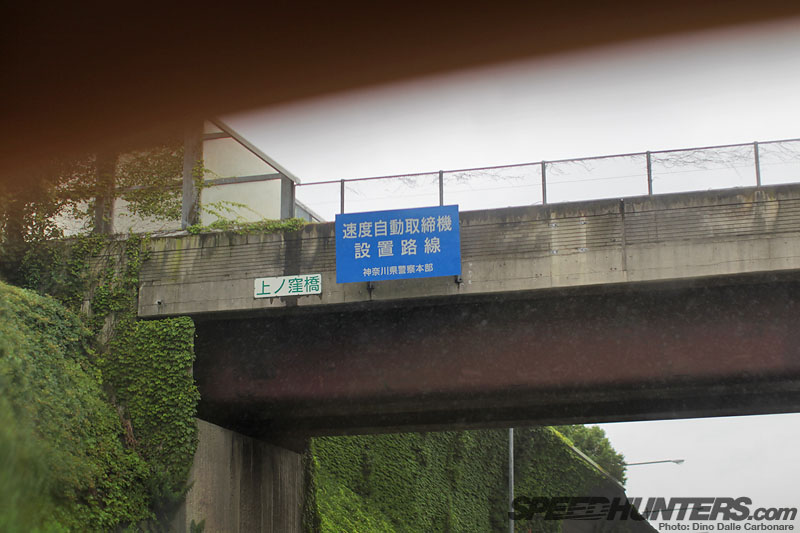 Here is something civil about Japan. By law, speed cameras have to be announced at least twice by these rather easy to spot blue signs.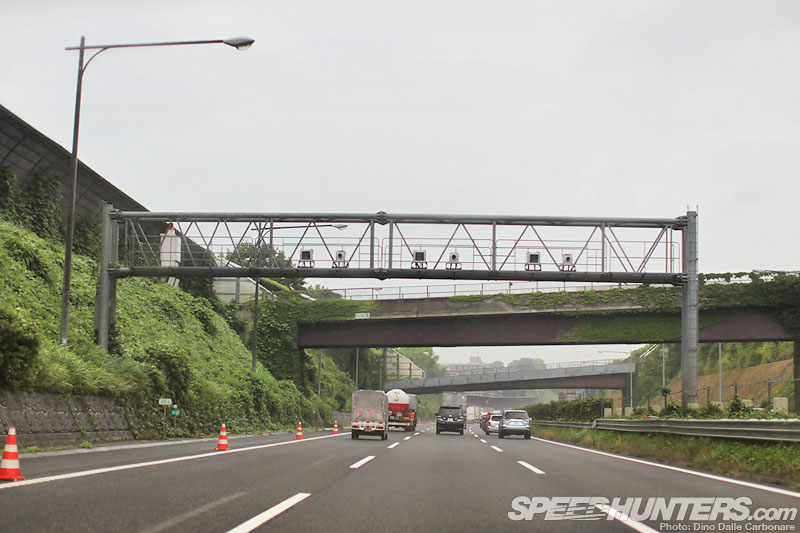 If you don't have a speed camera radar like most drivers, then you can usually prepare yourself before hand and slow down in time. Of course I was driving like a very law-abiding citizen so I had nothing to worry about.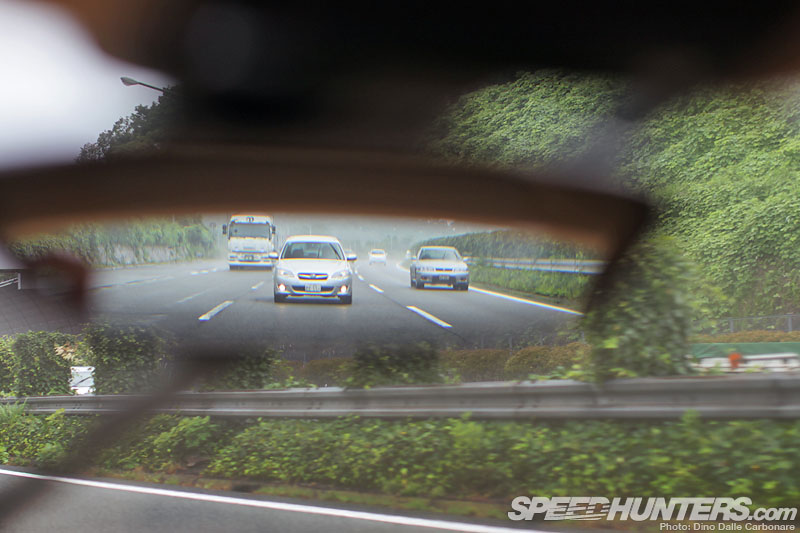 To counteract the boredom of driving in a straight line at a constant speed I'm always on the lookout for interesting cars. There wasn't anything too exciting out that day, but all of a sudden I noticed a very familiar shape in the rear-view mirror.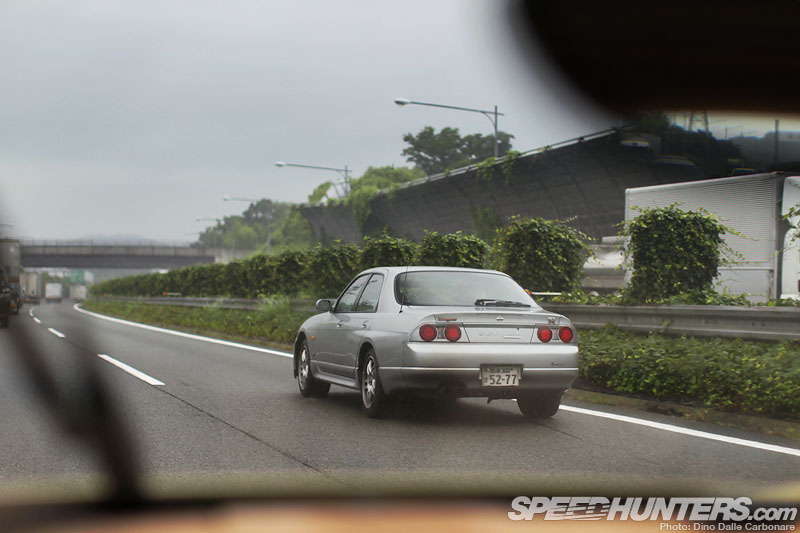 How cool – a 40th Anniversary special 4-door BCNR33 GT-R! Not very many of these cars were built by Autech, so it's always neat to see one on the road. It looked pretty much completely stock, which is just how you would want to keep a limited edition car like this in my opinion.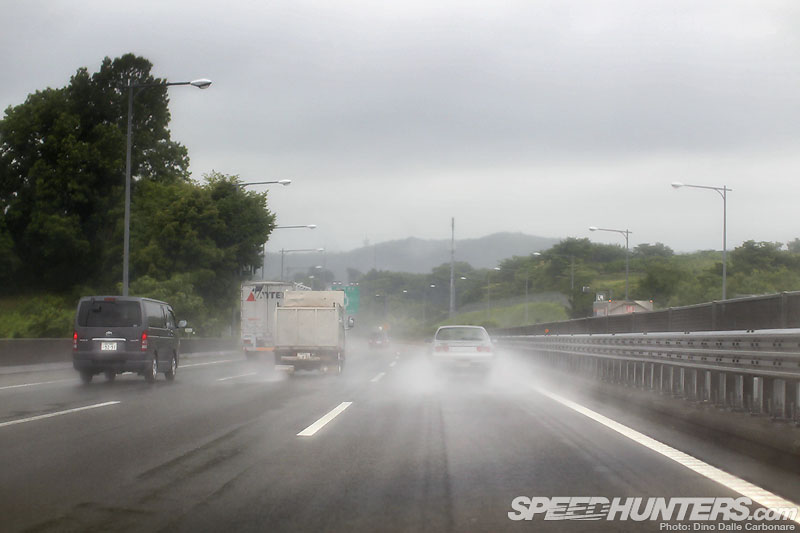 I tried to follow it to get more shots but the anti-spray asphalt ended and, well, the spray began…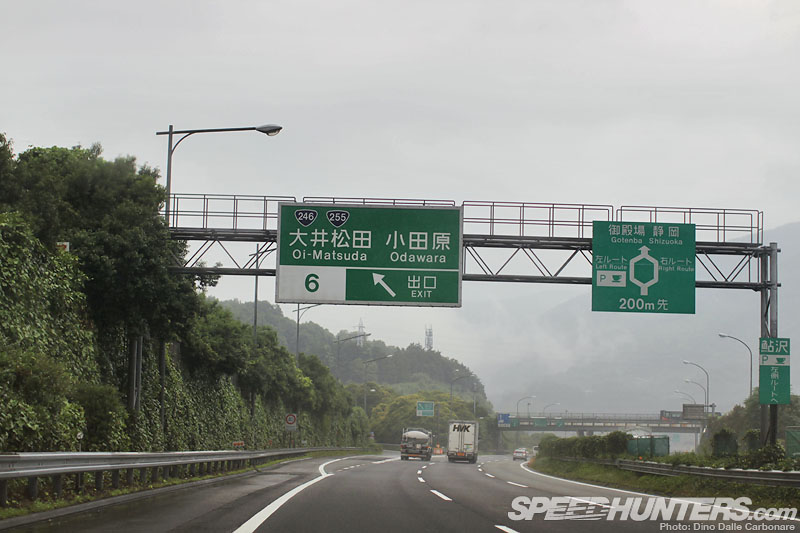 But that was okay as I had arrived at my Oi-Matsuda exit.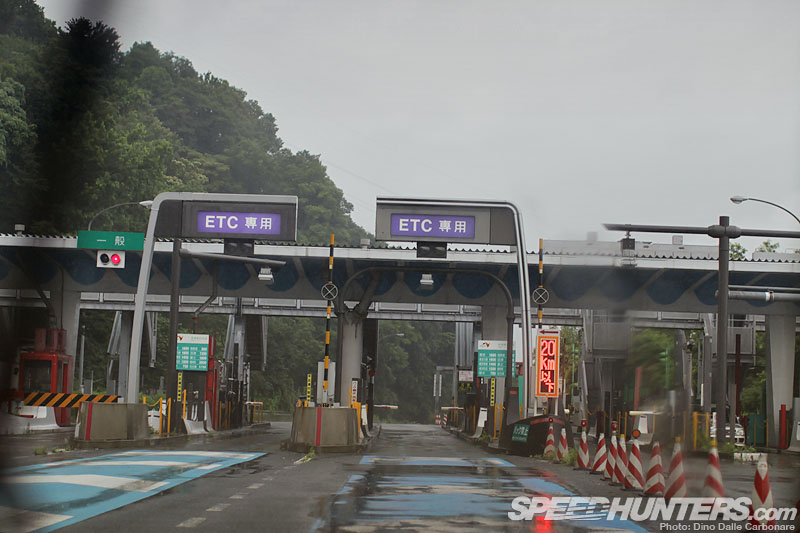 Here…
… after paying up the ¥1,600 for the pleasure of using the Tomei for about 50 or so kilometers, I joined Route 246 which would take me towards my destination and a fun little stretch of steep mountain road.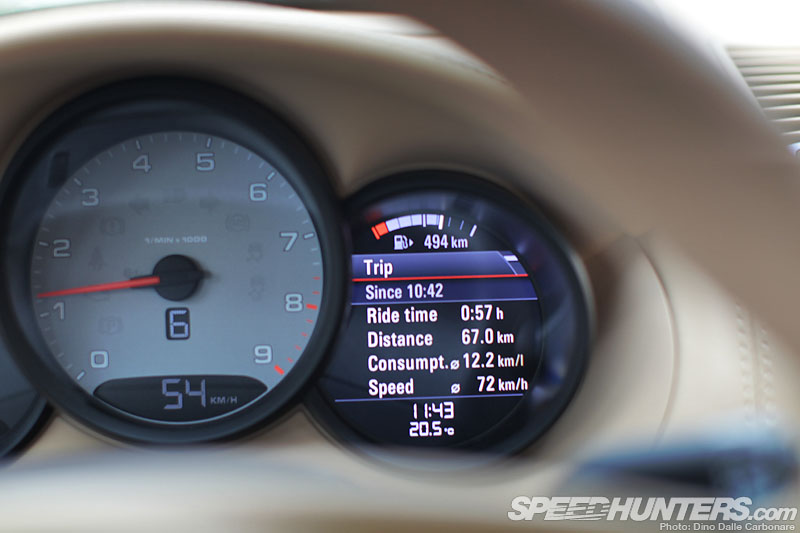 The car had managed 12.2 km/L (about 27 mpg) over the total 67km since the last reset, which is not bad all things considered.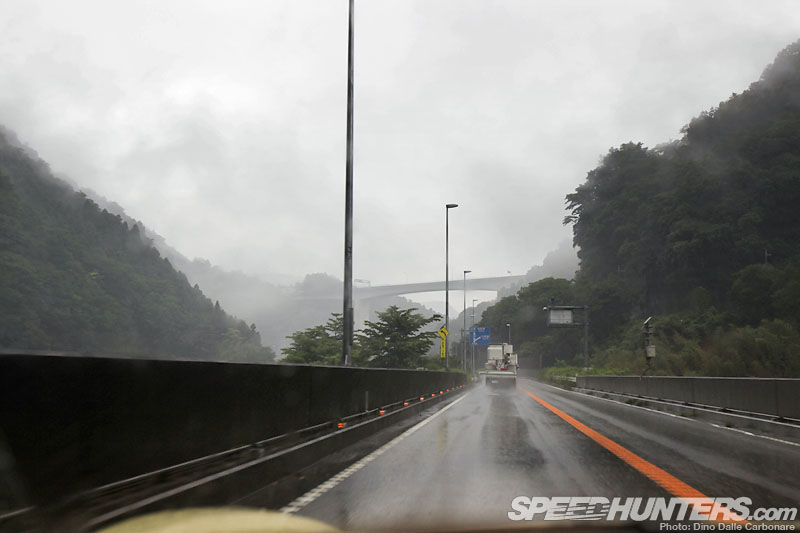 There was still about 20 minutes to go before I'd reach my destination, but since they were spent travelling at 40km/h behind trucks, it's probably better that I spare you the visual agony and move straight on…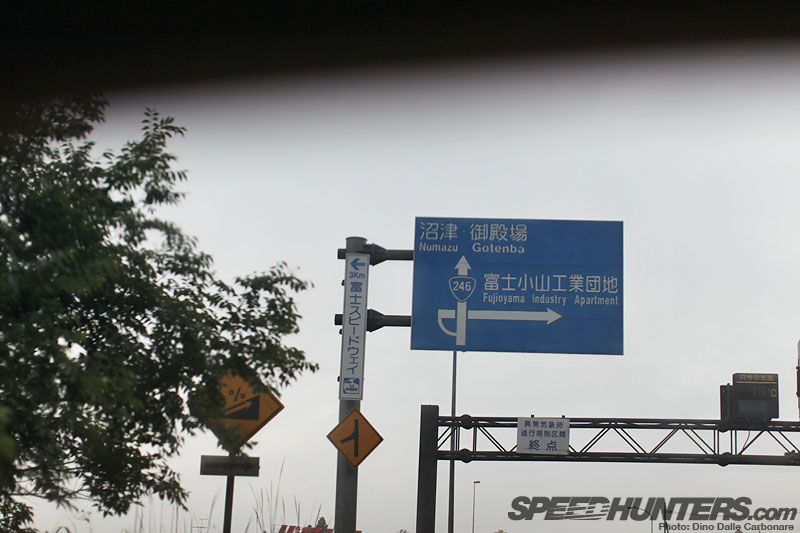 … to the turn off I was driving towards. When I see the sign for Fuji Speedway I normally take a breath of relief…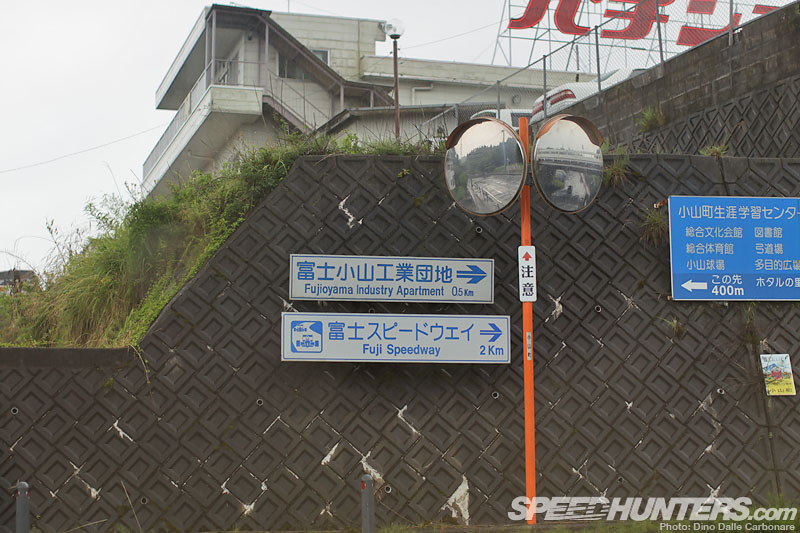 … as it's usually a cool event or a cool car I'm there to shoot.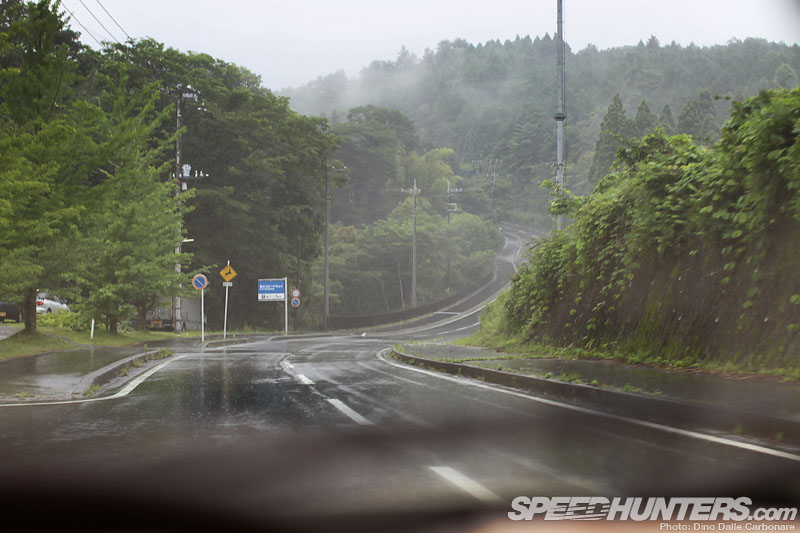 This particular road up to the circuit has only recently been reopened. Following a pretty strong typhoon back in September 2010…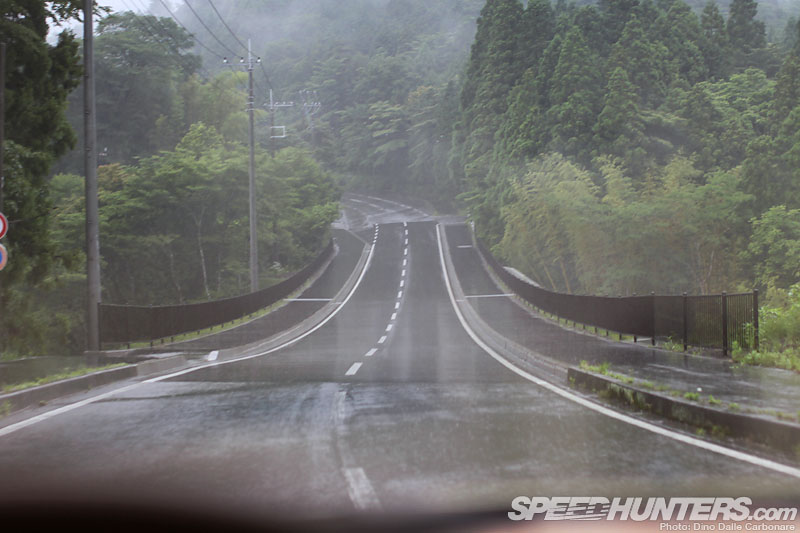 … this bridge section was washed away in a landslide and it's taken just under three years to rebuild. Now that it's all completed…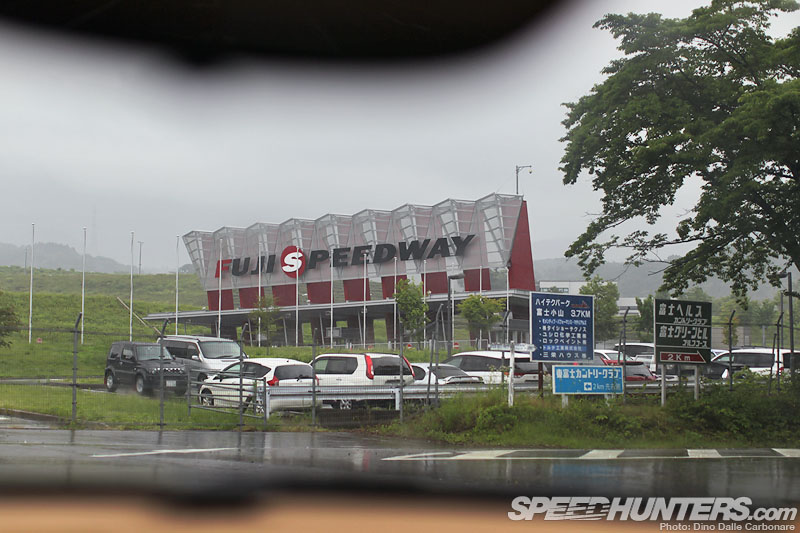 … it only takes a couple of minutes to hit the East gate of the track. I was actually supposed to turn right at this intersection, but I thought what the hell…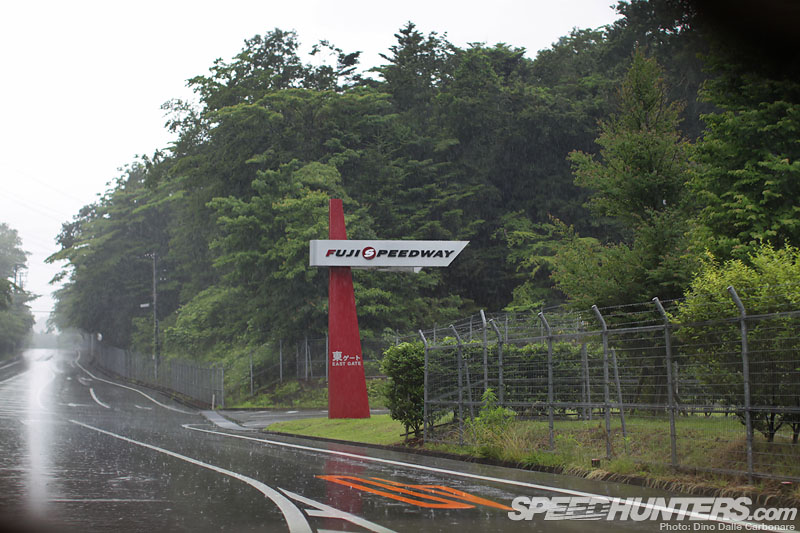 … since I'm here I might as well head inside for a quick look to see if anything was happening.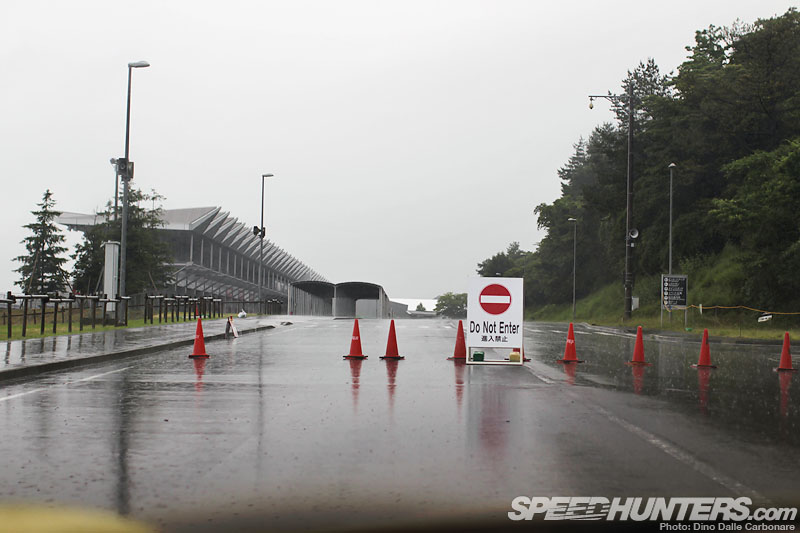 Unfortunately the whole facility looked completely deserted and road blocks had been put up in most places and especially the main paddock where some private testing was being undertaken by Toyota. Since I didn't happen to have a 1000mm lens or a stack of 2x extenders I decided to turn the car around…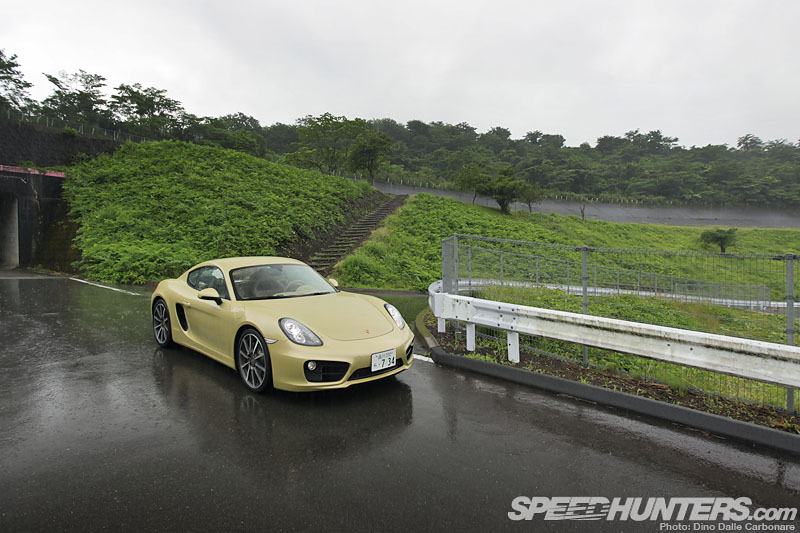 … and head to the Fuji Short Course. I wanted to at least get one shot of the Cayman in front of the old banked corner…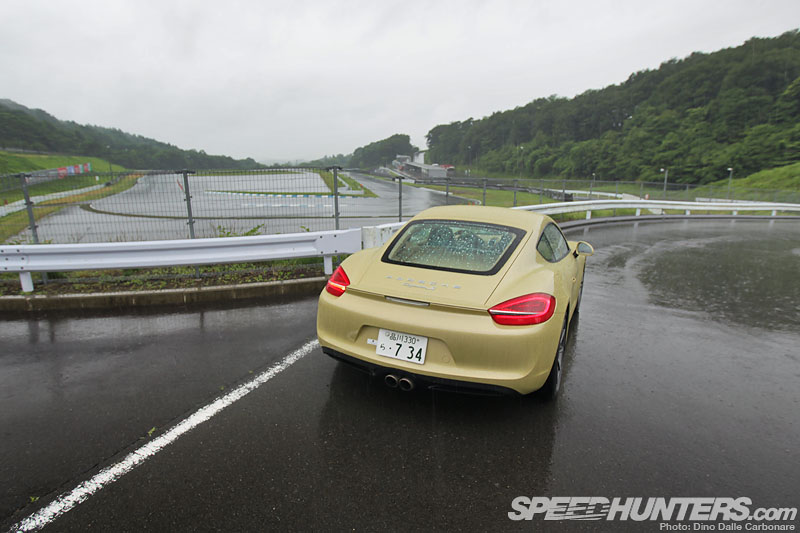 … and the little track itself. If only it was open, I could have had a drift fest just for myself!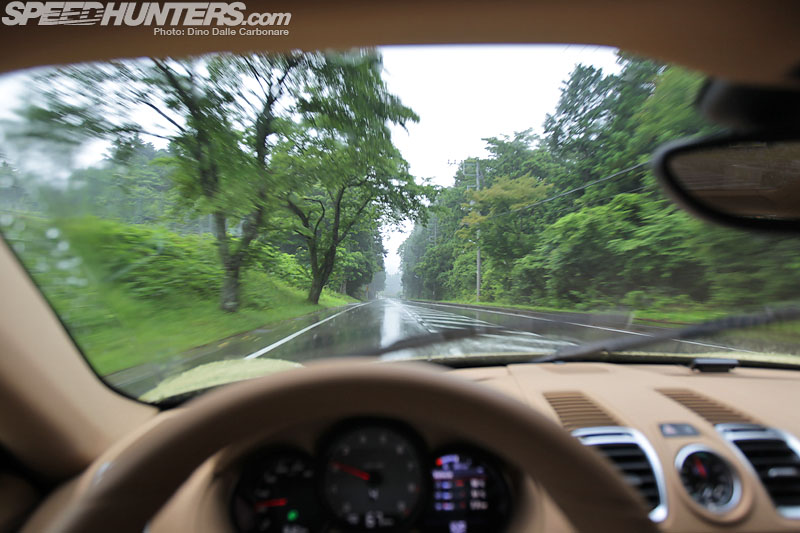 Anyway, with a Dream Drive still to actually start I quickly left FSW and headed back on the little country road that runs by the track.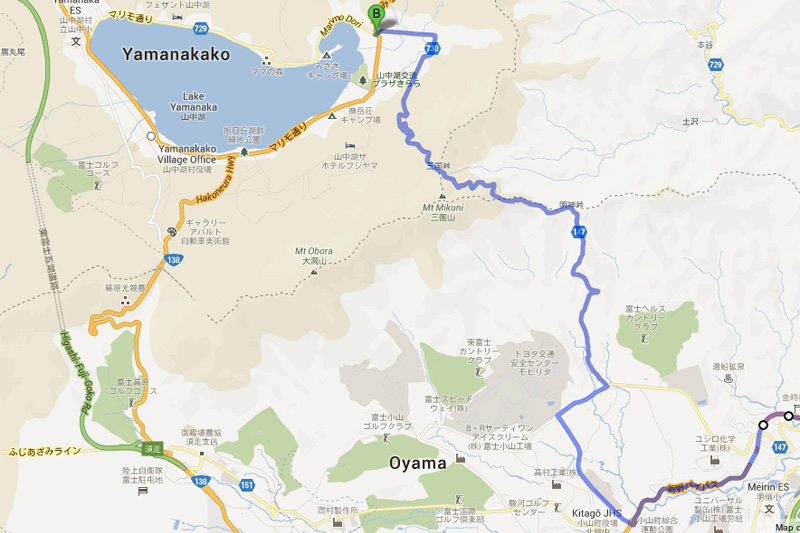 Here I would go further up for about a kilometer…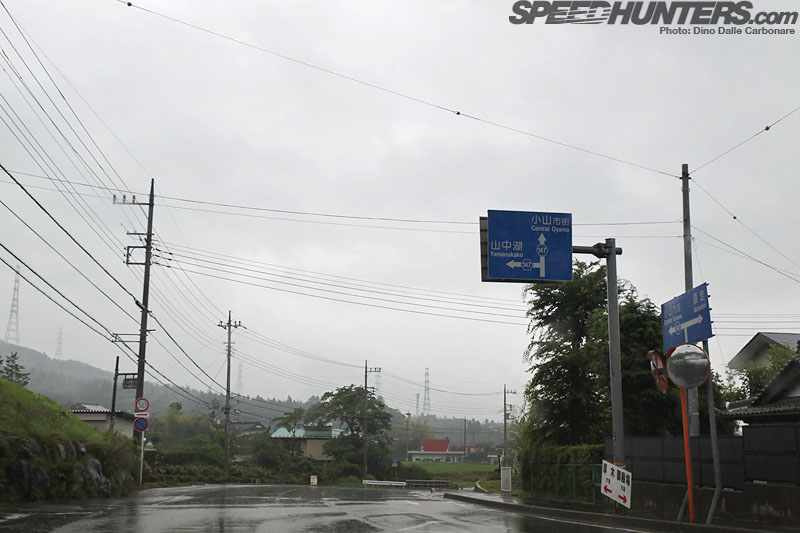 … before turning left on 147 and heading up to the pass.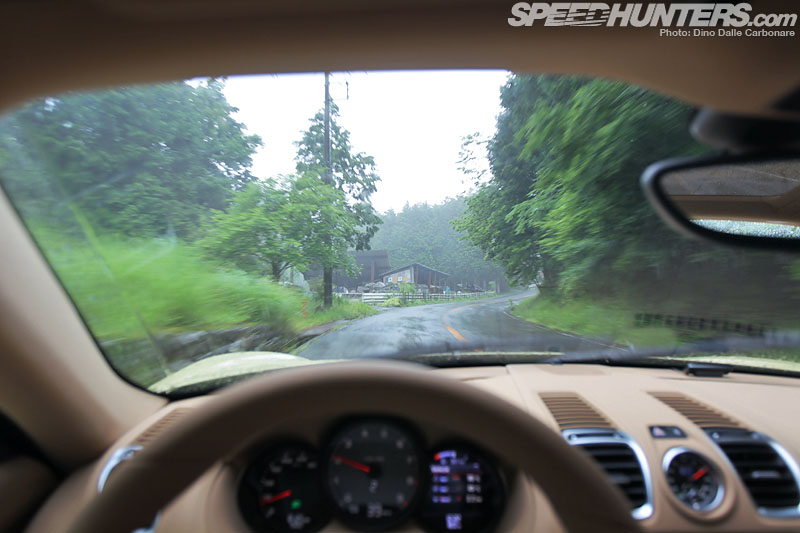 I really love this little stretch of road; it throws a mix of surfaces at you, from rough and choppy black top…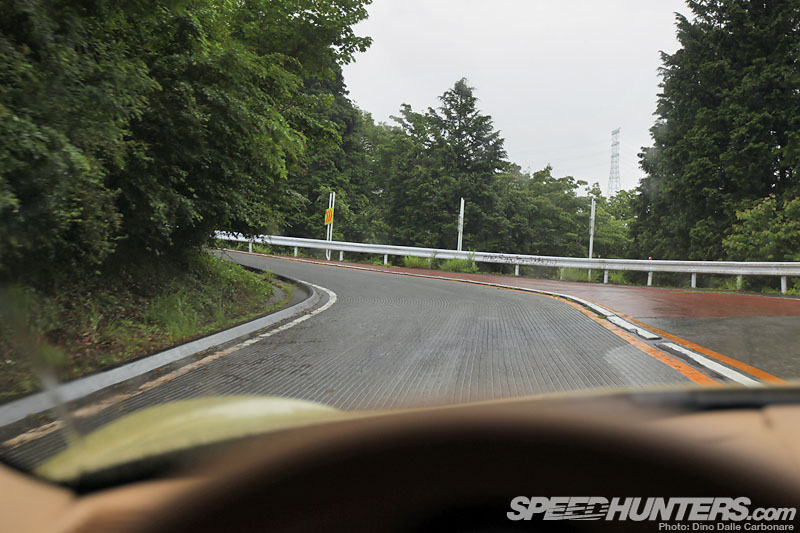 … to winter-grip-enhancing, machined tarmac…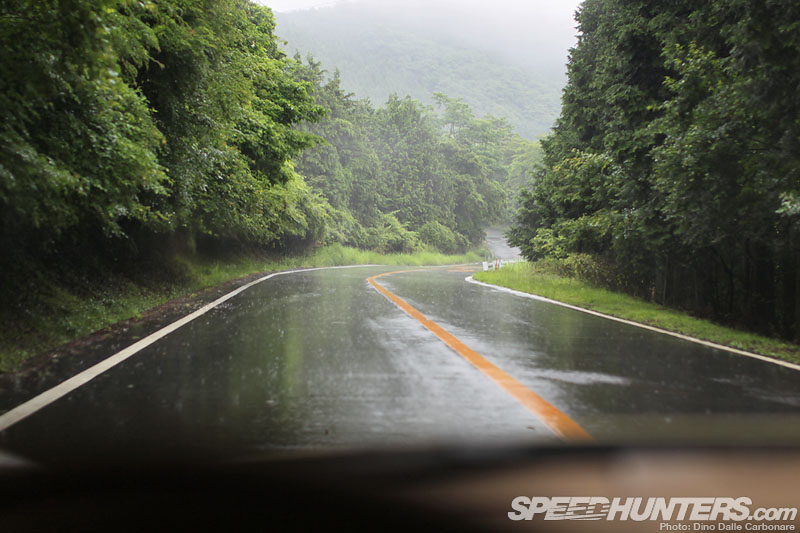 … all the way to billiard-smooth newer sections where you can push a bit harder. In these conditions the Cayman instantly showed its inherent capabilities instantly; phenomenal balance shining through as the slippery conditions put the handling and grip to the test. In these conditions the PTV (Porsche Torque Vectoring) came into its own, keeping that rear planted while setting up for a corner under braking as well as when powering out. This mixes the qualities of a mechanical locking LSD with the advantages of individual wheel control via braking, so that rear end is pinned down to boost stability and give an even sharper and more confident turn in. In Sport Plus mode and with the stability turned off the car really comes alive in your hands; the engine is responsive and gets into its sweet pot at 5,000rpm and above. That 325hp flat-six sings away beautifully as you hand-select the cogs through what has to be one of the best manual transmissions I've ever had the pleasure of stirring. A little further up, as the incline goes from 14 percent to 18 percent…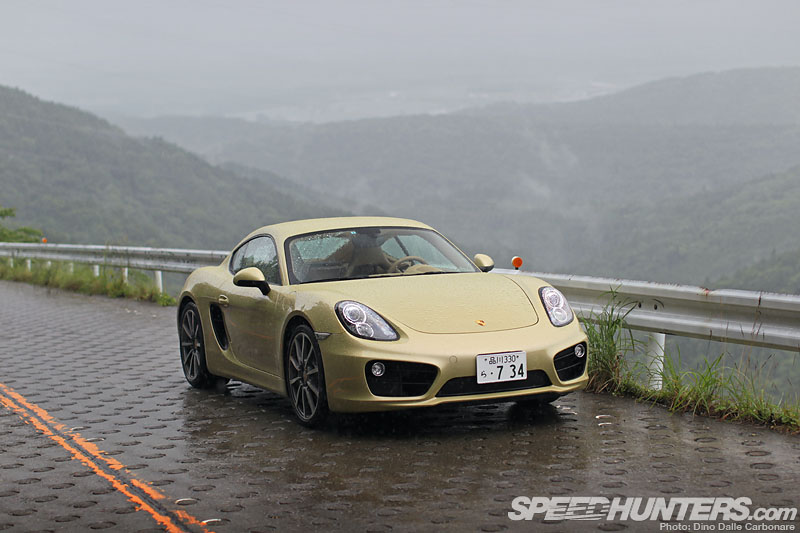 … the surface turns to uniquely-Japanese circle-stamped concrete. While this must be helpful in winter with snow and ice, in summer and in the wet it's pretty much like a skid pad. So after dialing in almost a full turn of opposite lock coming out of a hair pin bend, I decided it was the right time to stop, have a breather, and grab some shots of the Cayman in all its beauty. You can usually get a great view of Fuji Speedway from this point, but the hazy sky almost masked the track completely.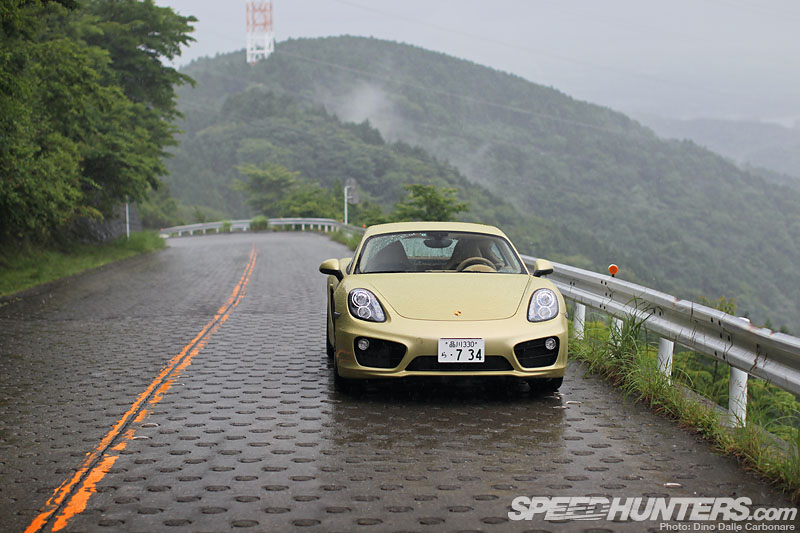 It's a pity the pictures don't show just how steep this stretch of road actually is. With that sort of incline…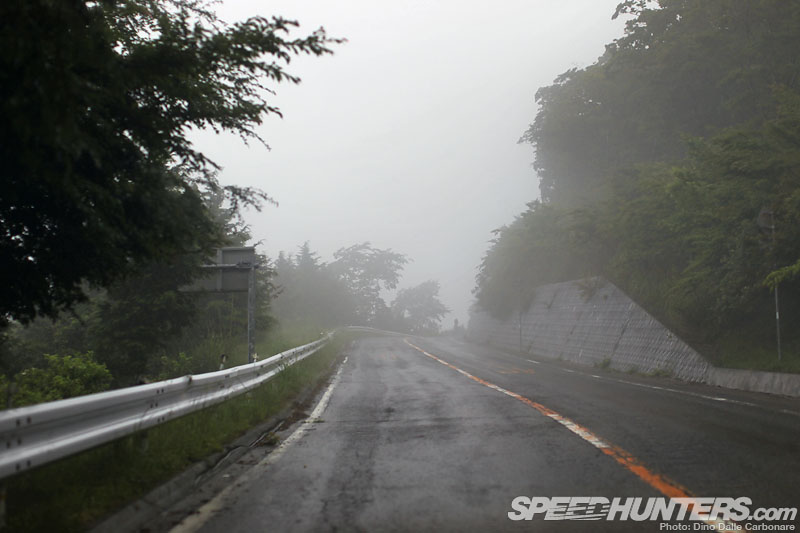 … it doesn't take much to climb up to the top where I was met with even thicker fog. The Cayman, now with stability control switched back on, continued to impress. It's hard to say if it feels any better than its open top counterpart, but all the good qualities are there. The mid-engine balance is phenomenal; you can thrown the car into corner so confidently and even if there is some yawing it's so tucked into the wheelbase it almost becomes second nature to input little corrections as you fine-tune your line through a turn.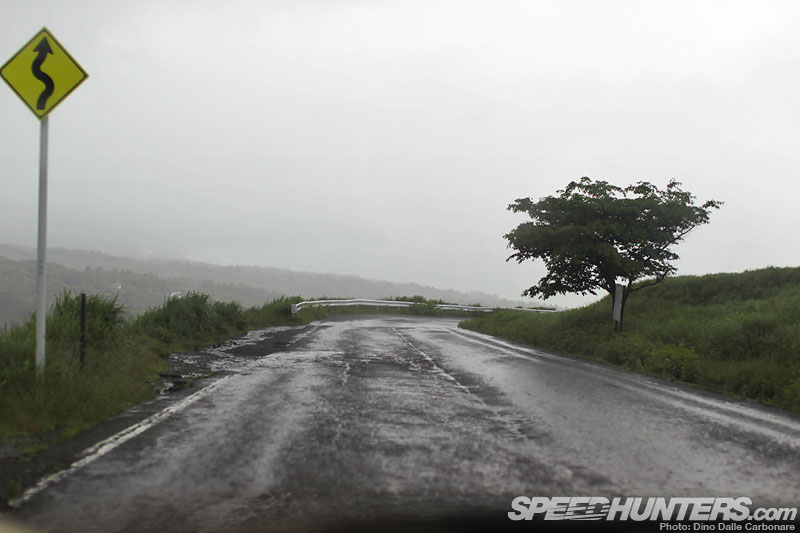 It's always surprising how the vegetation and landscape changes once you pop over through on the other side of the mountains; thick trees replaced by a low grassy covering. On the downhill section the PCCD – Porsche's lingo for ceramic brakes – offered incredible speed-shedding capabilities, but I found them to be overly sensitive and lacking in progression. Actually scratch that – the progression is there, but it's over a very small amount of pedal travel which makes heel and towing very jerky business out on normal roads. That's probably why Porsche has added a Nissan 370Z-like automatic blipping feature on downshifts when you are in Sport Pro mode. If I had to spec-up a Cayman S…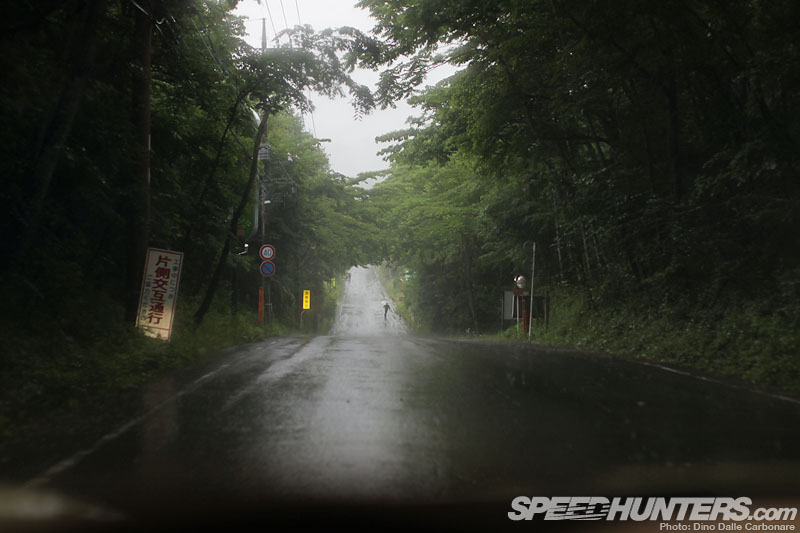 … I'd probably do without the ceramic stoppers so I could attempt to nail rev-matched downshifts on my own. I probably wouldn't get them right every time, but when I would, it would be pure child-like satisfaction!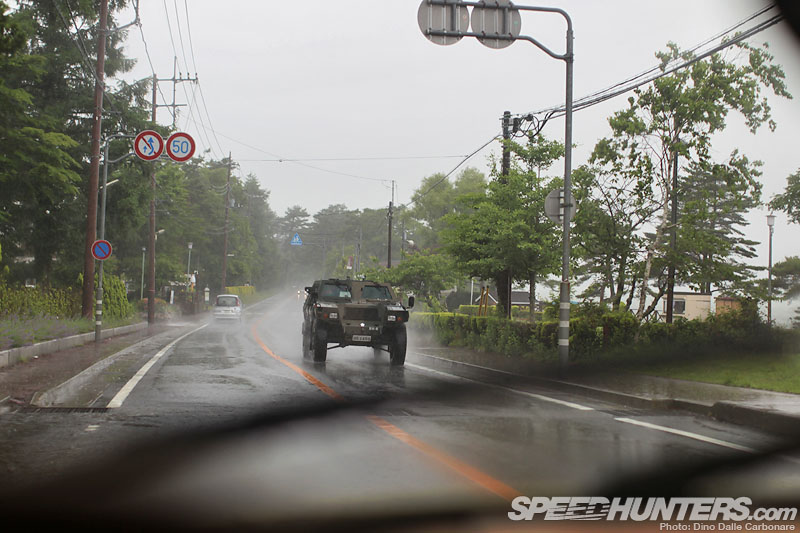 In no time I was on Marimo-dori, the road the circles the small Yamanakako lake, and the rain just didn't want to stop. There is quite a large Jieitai (Japanese Army) base around the Five Lakes, so it's not uncommon to come across cool JDM military vehicles like this armored 4×4.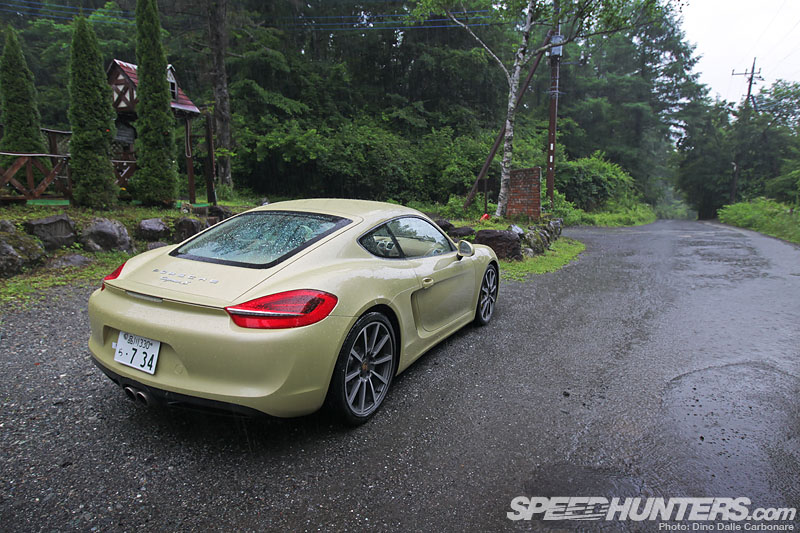 With a need to shoot the Cayman in more detail, I took a side turn up into the surrounding woods and ended up at the Santa Claus Museum. Yes, you read right – a museum dedicated to Santa Claus, in the middle of a forest on some non-descript side road. Having lived so long in Japan I no longer question such things…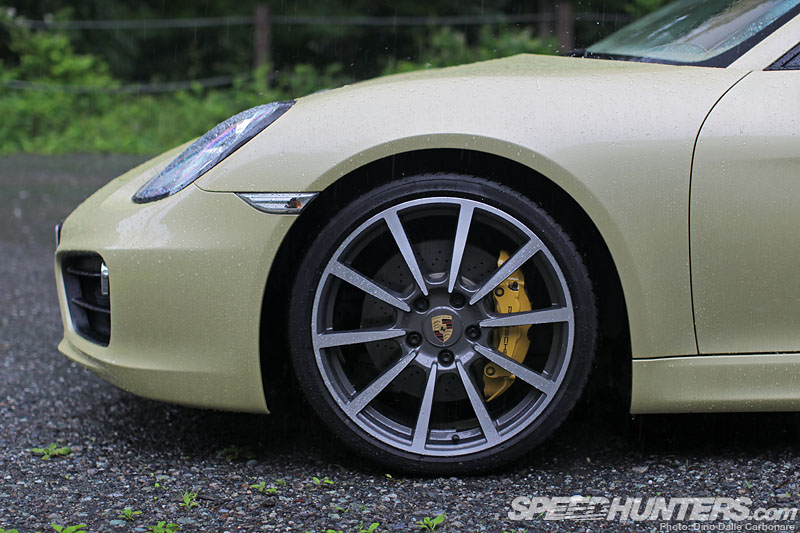 I still think the 20-inch wheels are probably too big for the compact Cayman and Boxster. But to my surprise, again, they don't seem to have that much of a negative impact on the ride thanks to Porsche's active suspension (PASM) which takes the bumps out of road imperfections.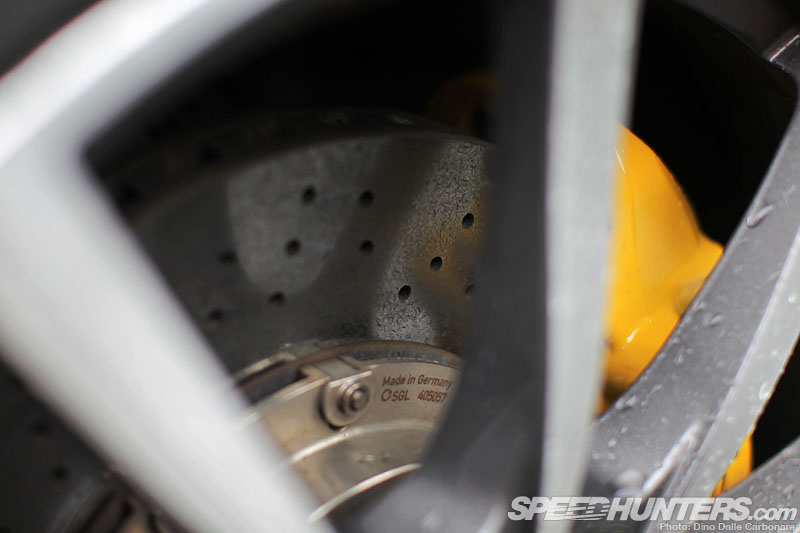 If you plan to hit a lot of track days with your Cayman then you would definitely get the most out of the $13,000 ceramic brake option (PCCB). On a lighter car like the Cayman I found them too snappy for road use, but that said they had none of the other disadvantages I usually associate with these sort of set ups, like noisy operation and more importantly the lack of stopping force when cold.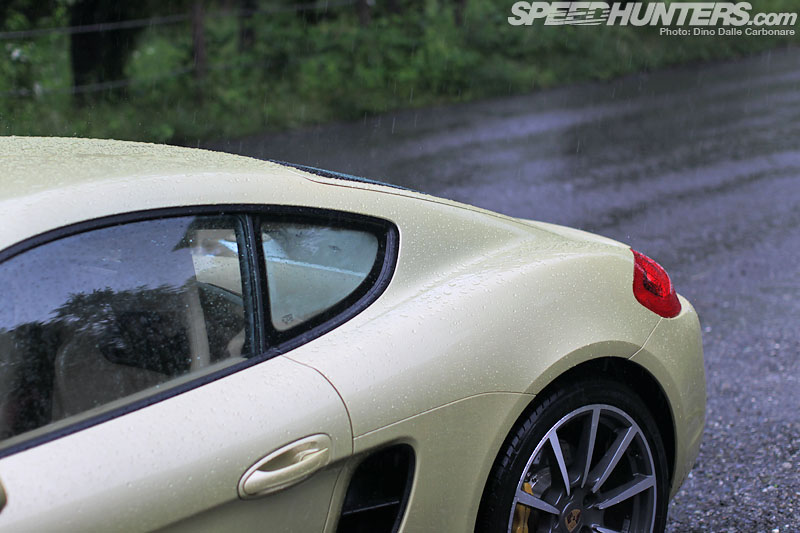 Porsche has really hit the nail on the head with the styling, especially with this series of curves where roofline comes down onto the hatch and flows into the high hip-line. From this angle the car almost reminds me of a Maserati Gran Turismo.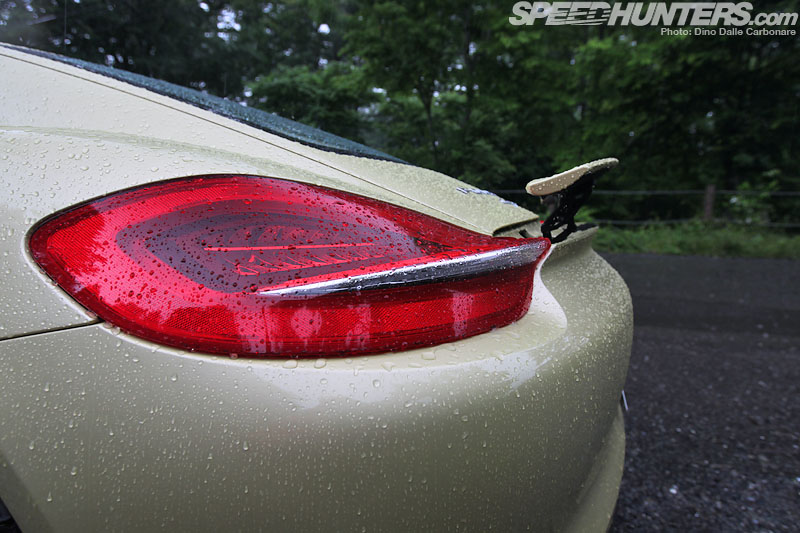 I'm such a fan of the taillights on the Cayman and Boxster. Light housings that double as the ends of the integrated, and liftable, lip spoiler – genius!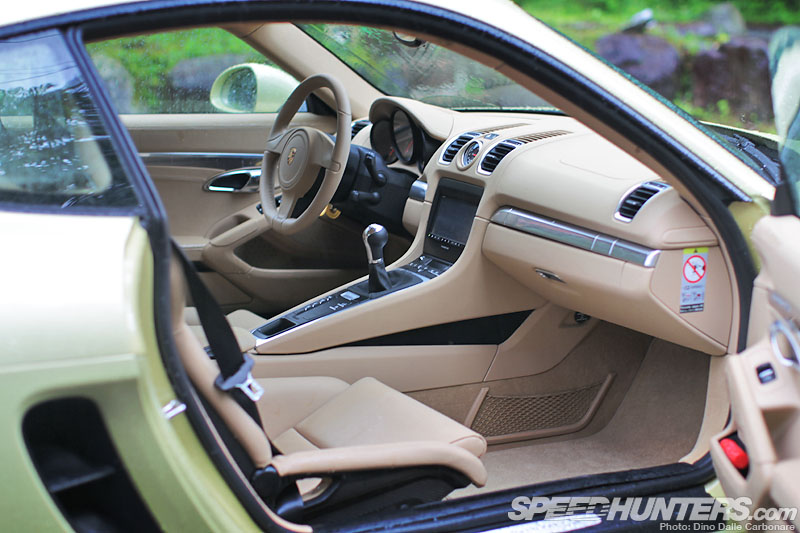 And then there is the cabin. It's all pure modern-day Porsche in here and while the light colored hide that covers the entire interior is very nice I did notice the dash reflected badly onto the windscreeen at times. When you are doing a Dream Drive post and you need to shoot from the driver's seat out onto the road, this is not nice. Thank goodness for polarizers!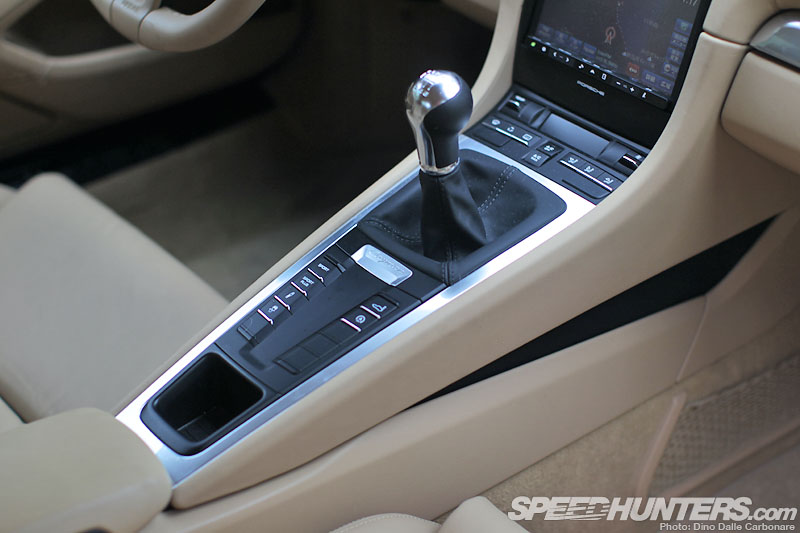 It's all so intuitive and well laid out that the only real thing I can complain about – and I'm really nitpicking here – is the digital display on the A/C unit. I think an actual temperature readout would be far better than the bar graph display.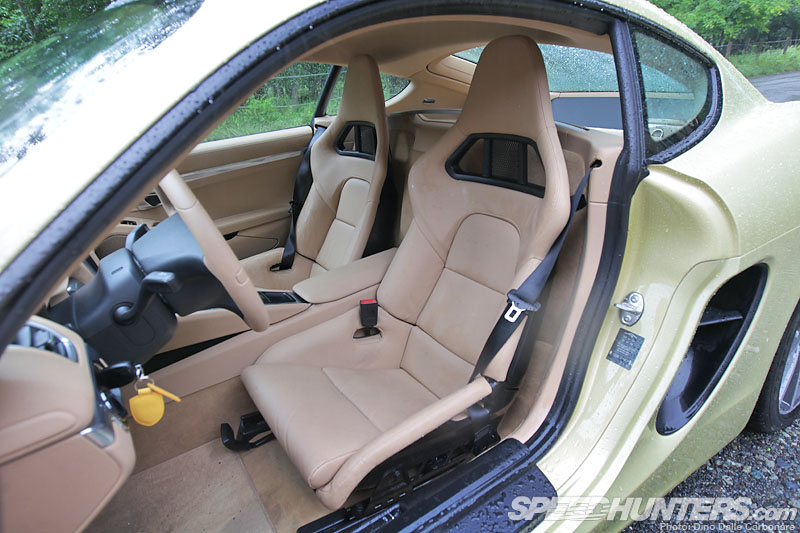 While I could easily do away with the ceramic brakes and the 20-inch wheels, the carbon bucket seat option is one that I enjoyed a lot. Even for a big guy like myself these were awesomely supportive on twisty roads, yet soft and supple enough when driving the car on a daily basis, or on long highway stints.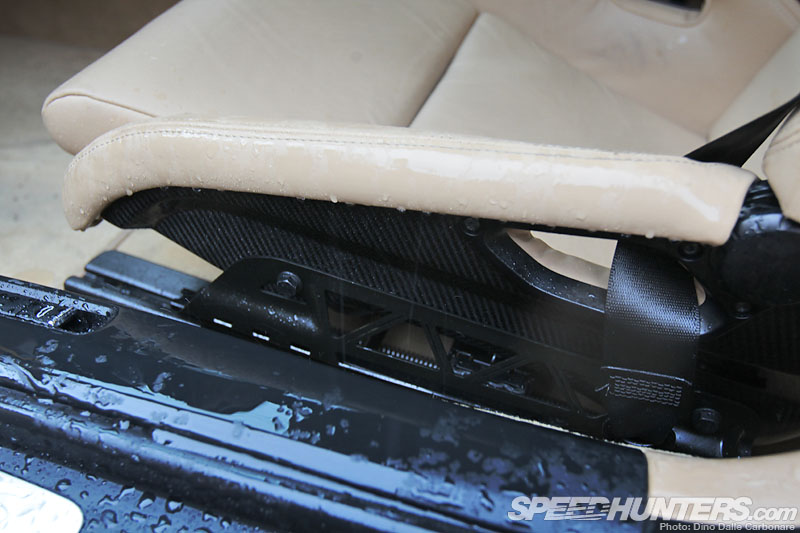 Plus they look damn good. Nothing like seeing shiny carbon when you open the driver's door!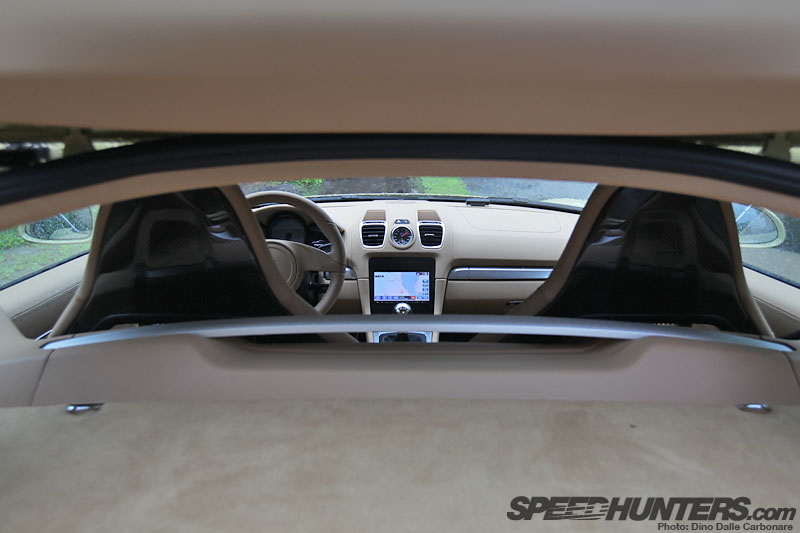 Of course, the Cayman offers slightly more space behind the seats than the Boxster…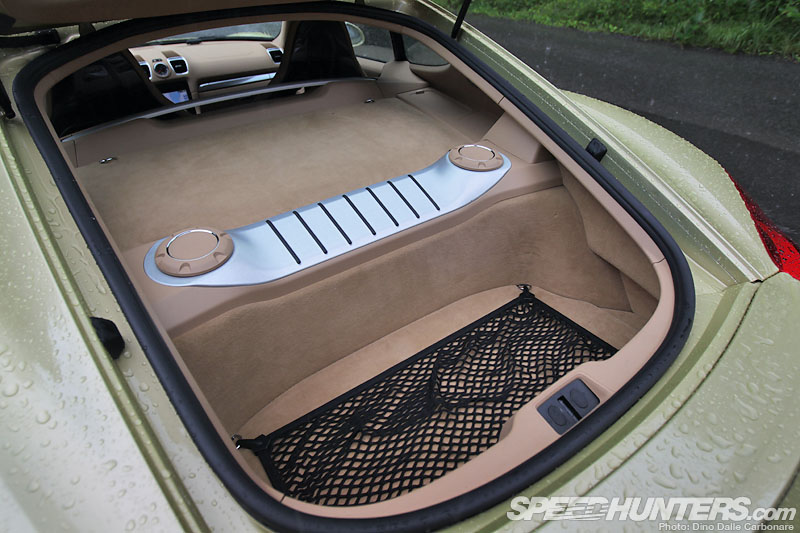 … mating that trunk with a little extra volume over the engine cover. Oh and look at the nice brushed aluminum detail over across the suspension turrets.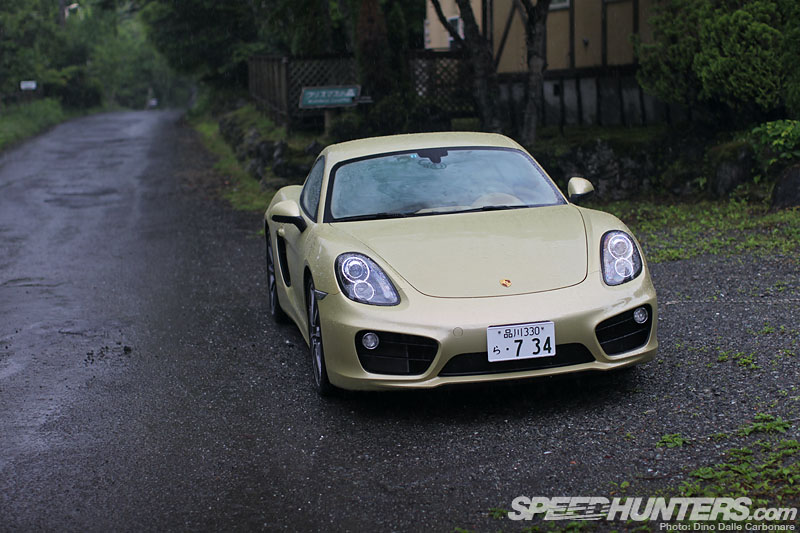 This could very well be the best car that Porsche is making at the moment, and it knows it. The only reason this car 'only' has 325hp is because it's marketed below the 911 and that's where it has to remain; but I can't help but wonder how amazing it would be if the chassis was given an engine with more power output. I'm sure I'm not the only one who thinks that, either. I guess this is the sort of response you can expect to get from people when you make great cars!
Dino Dalle Carbonare
Instagram: speedhunters_dino