Out of the seven stops of the Formula Drift Pro Championship series there's no track that has more of a distinctive look than Wall Speedway.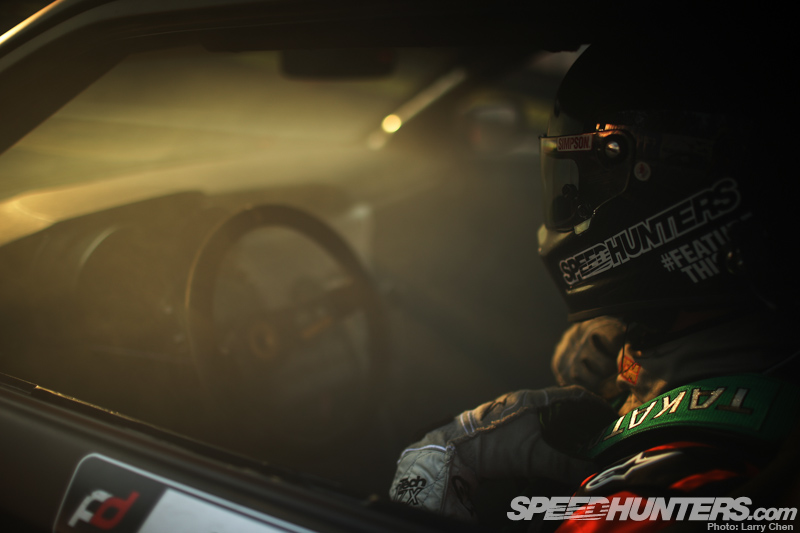 There's just something about this place that makes it magical. Maybe it's the soft sideways light breaking through the tree line? Or maybe it's just the awesome drifting?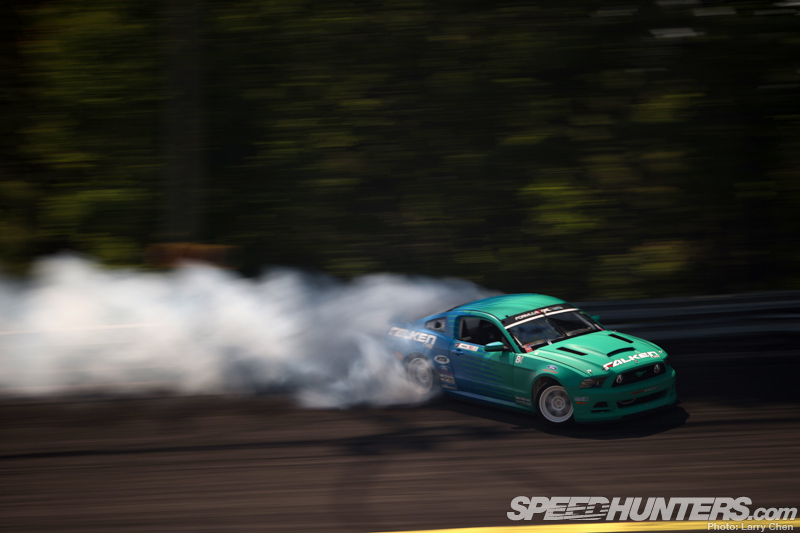 Once again Justin Pawlak took top honors in Friday's qualifying. He got knocked out early in competition in Palm Beach, but I have a feeling he will come back fighting this round.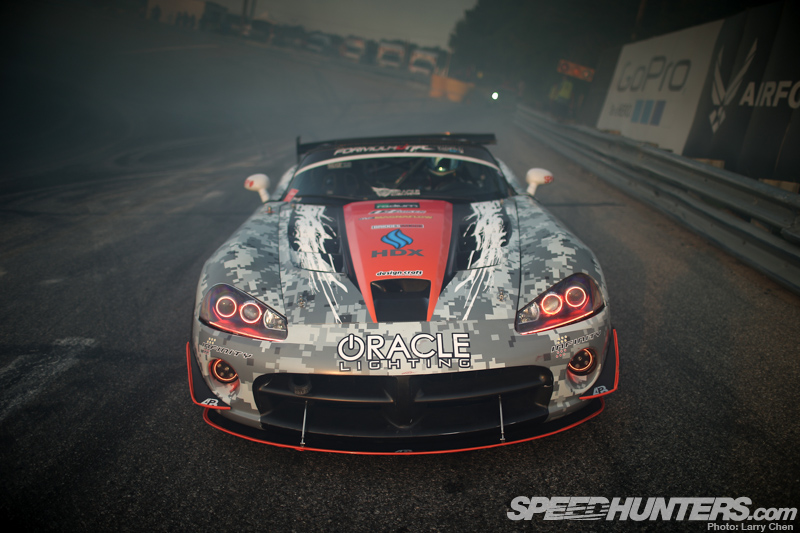 It seems like many drivers have used this track to serve up a comeback special. Dean Kearney from Ireland has been struggling with his Dodge SRT this entire season.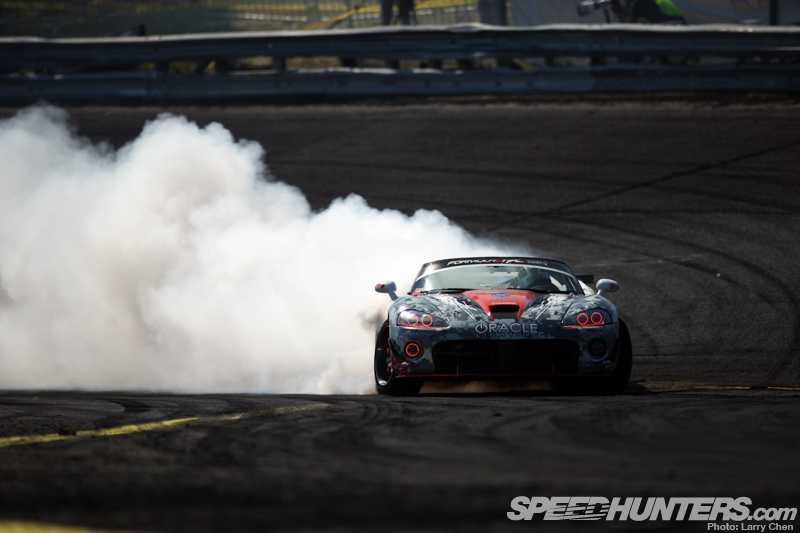 The hits kept on coming as they ran into transmission issues during Thursday's practice. They did fix it though and Dean qualified in 15th.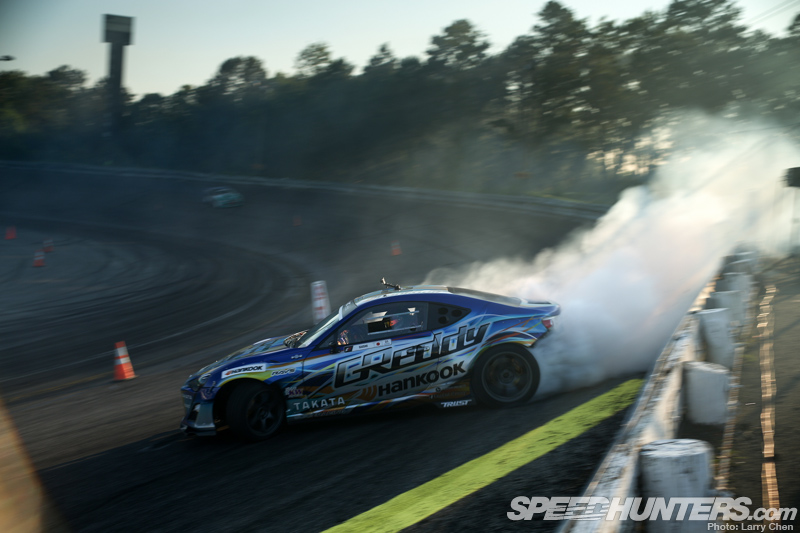 Ken Gushi has been absent from competition for two rounds in a row due to engine failure.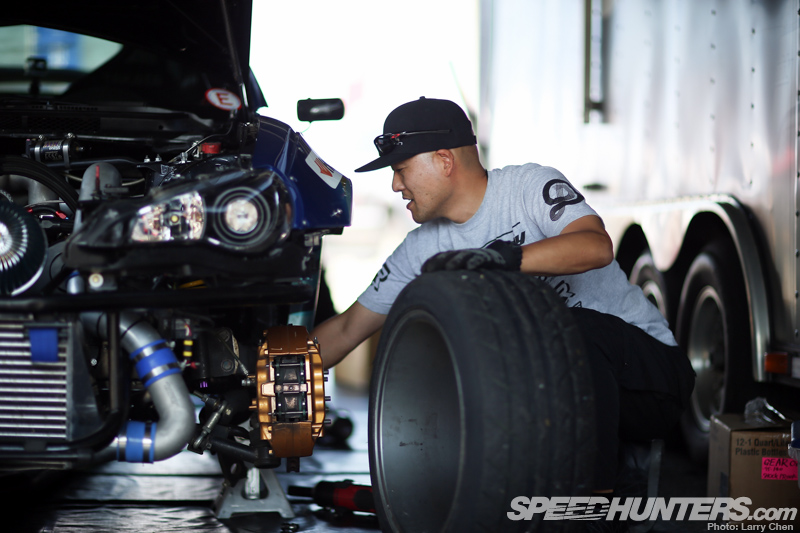 Kenji and the rest of the GReddy USA team has been working very hard to get Ken a reliable car to drift. This round, their hard work seemed to have paid off as Ken qualified in 22nd. Not an ideal position to be in, but he made it to the main show.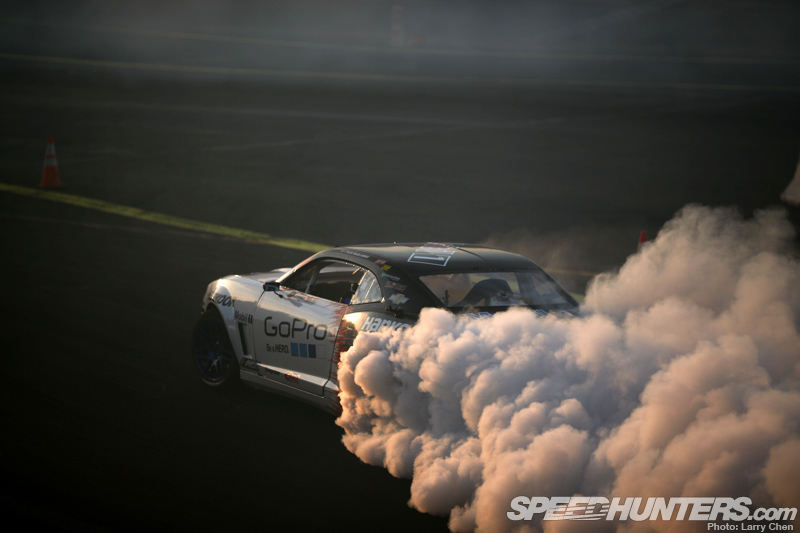 In terms of getting the short end of the stick when it comes to car problems though, Tyler McQuarrie has seen it all.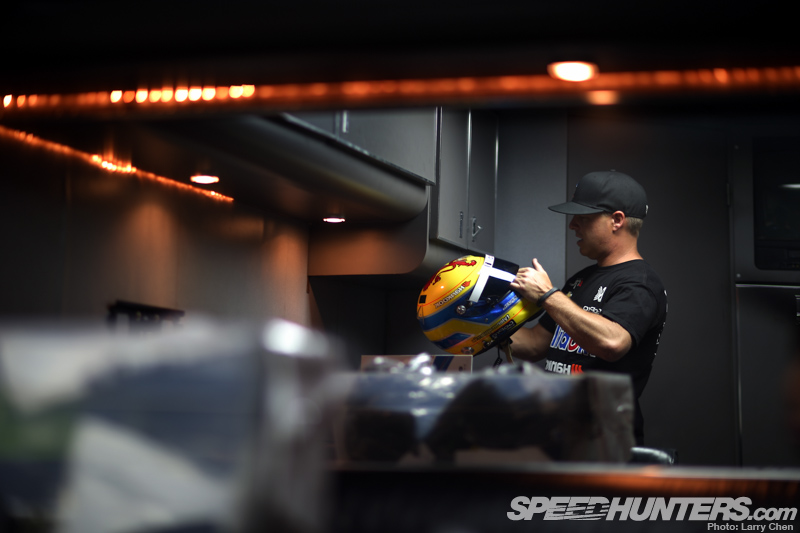 Four events in and the team has finally figured things out with the car, as Tyler qualified in fifth position.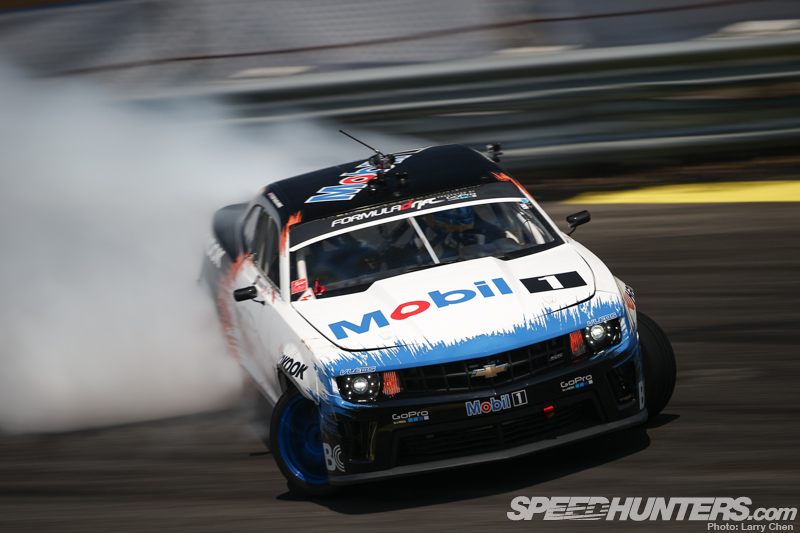 He's in a great position to go far this event as he's historically done well at this track.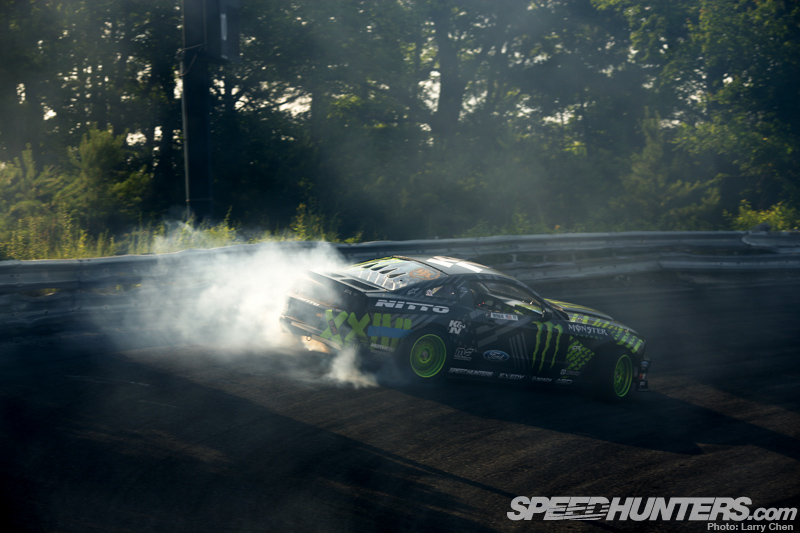 Everyone's favorite bulldozer drifter seems to have figured out a good rhythm for qualifying, as with the new layout it almost seems like it's better to play it safe versus going all out and potentially getting a bad score for your first run.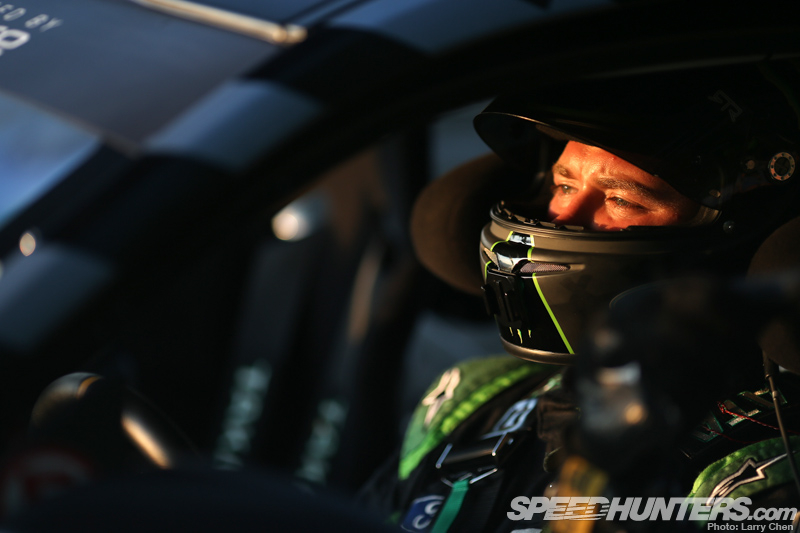 He qualified in 11th position, which puts him against Ken Gushi.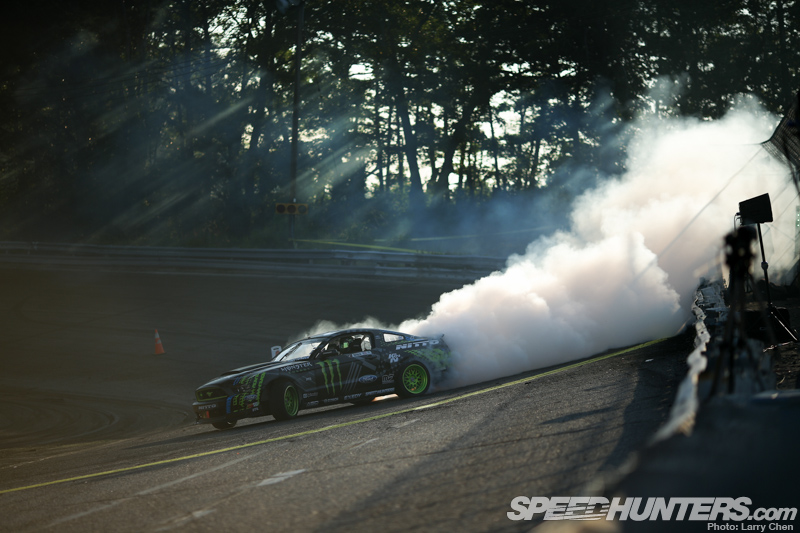 It will be a great battle for sure and the epitome of JDM vs. USDM.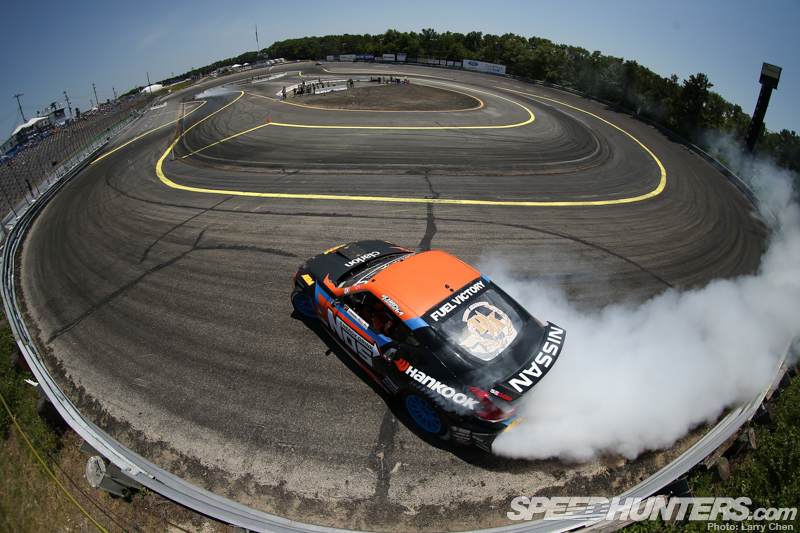 Former FD champion, Chris Forsberg, was very adamant about sticking to running a Nissan engine in his 370z, and currently Nissan's third in the manufacturer championship points.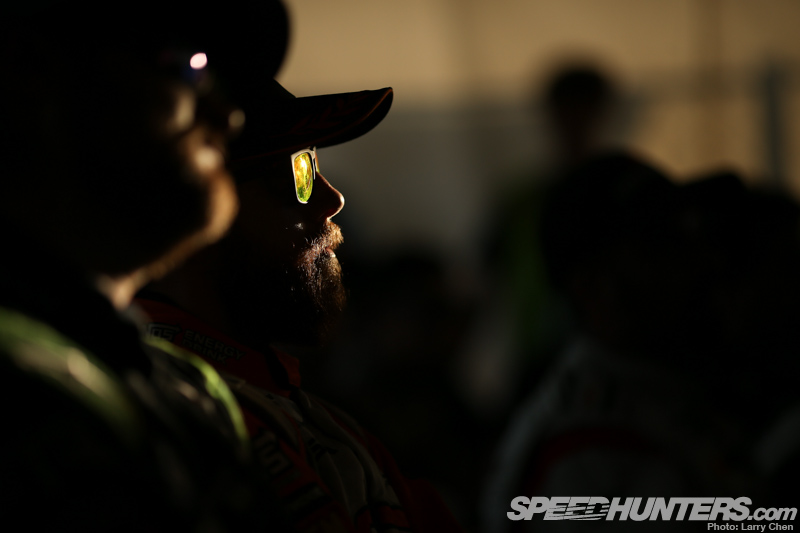 He's currently sitting in fourth for the overall championship, but with just around 50 points separating him and the leader there's a very good chance he could catch up. Especially as he's in a great position to do well in Jersey as he qualified fourth.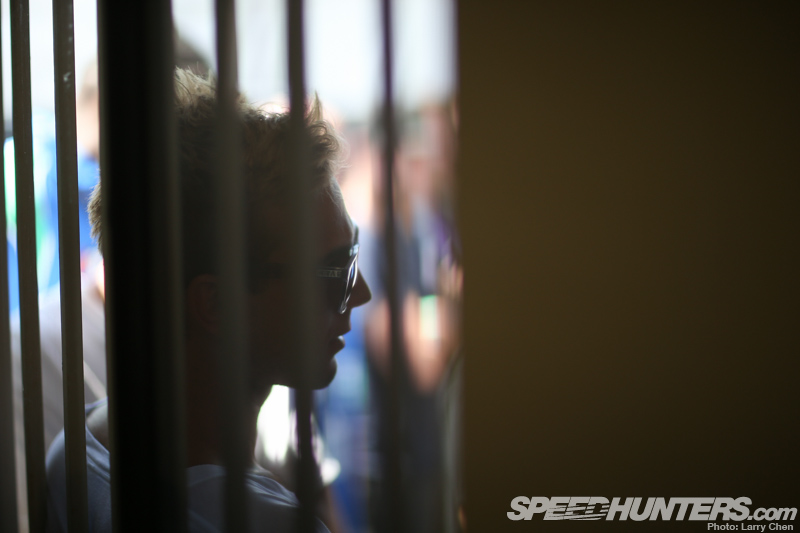 For the first time ever Matt Powers did not qualify for the top 32 in Palm Beach. On his first qualifying run his transmission popped out of gear, so he got a zero. He ended up qualifying in 24th this time, but he was just happy to make the show.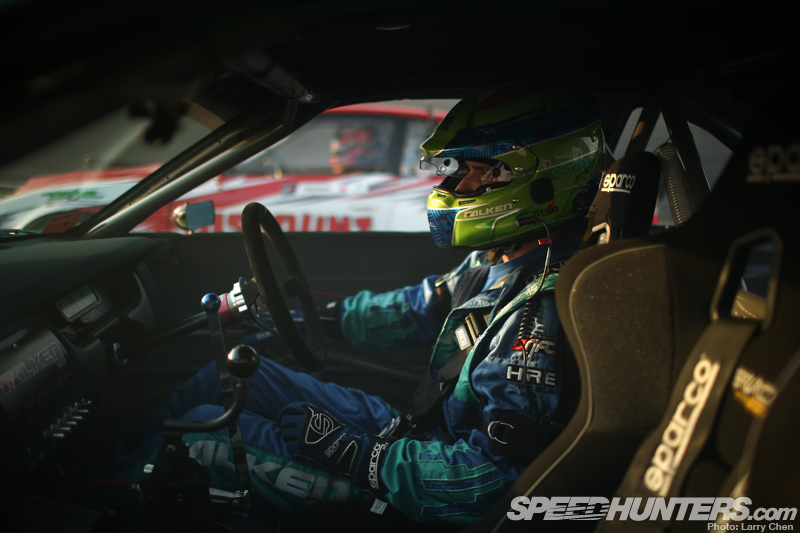 D-Mac had a terrible season last year after writing off the Saturn Sky in Long Beach.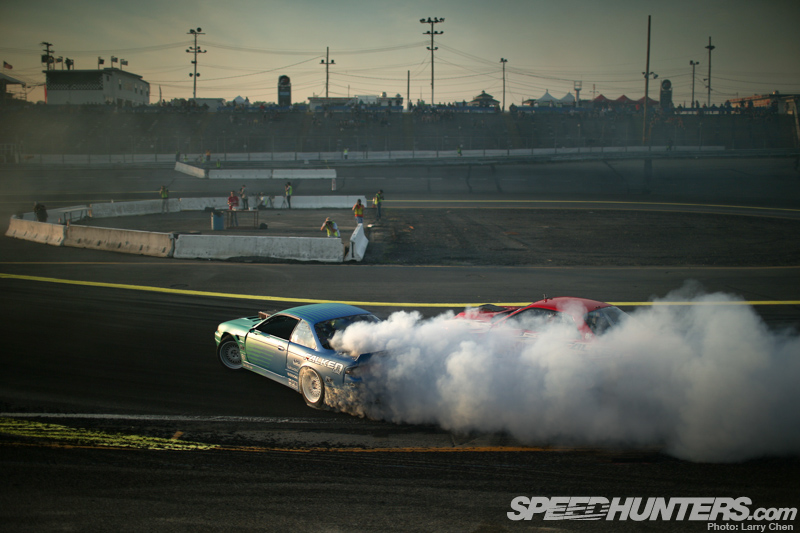 It seems he's finally gotten the monkey off his back as he already had a podium this year and he qualified in second place in Jersey.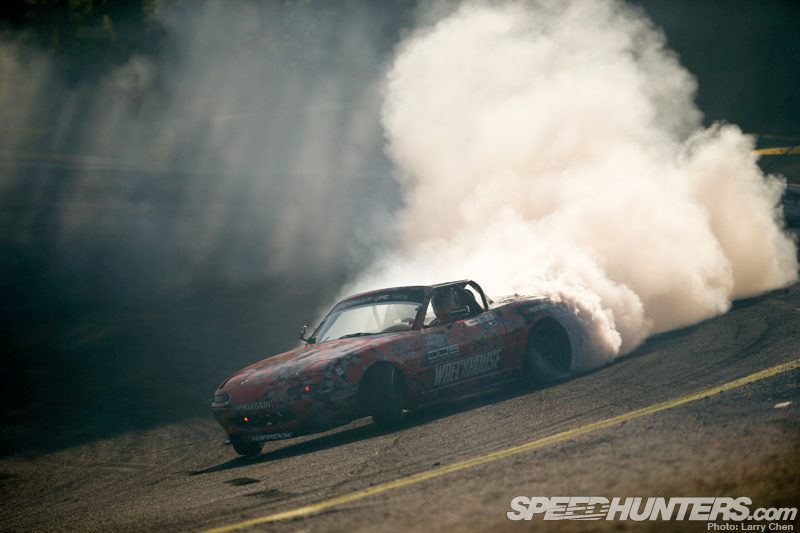 There's no way I can talk about Formula Drift without mentioning 'the people's champ'.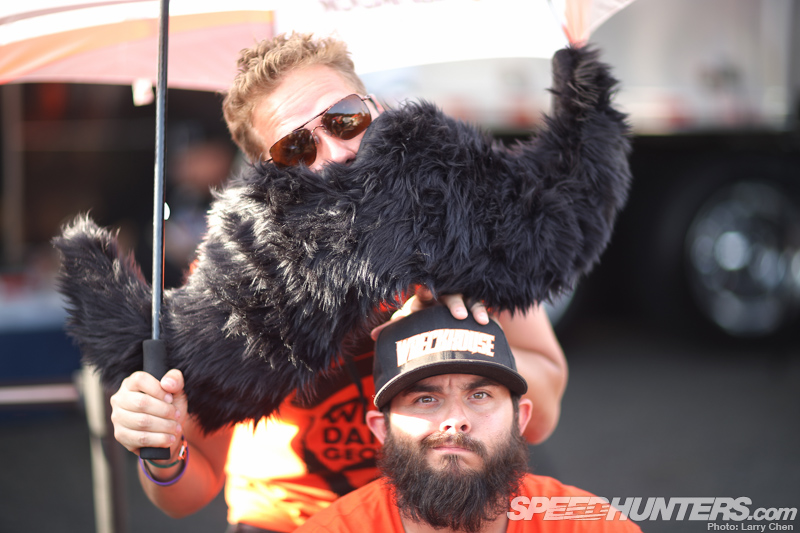 Danny George is in a great position this round to make his very first top 16 appearance as he qualified in 16th place, which puts him against Ryan Kado, who's a great driver, but it seems this year their program has been plagued with mechanical issues.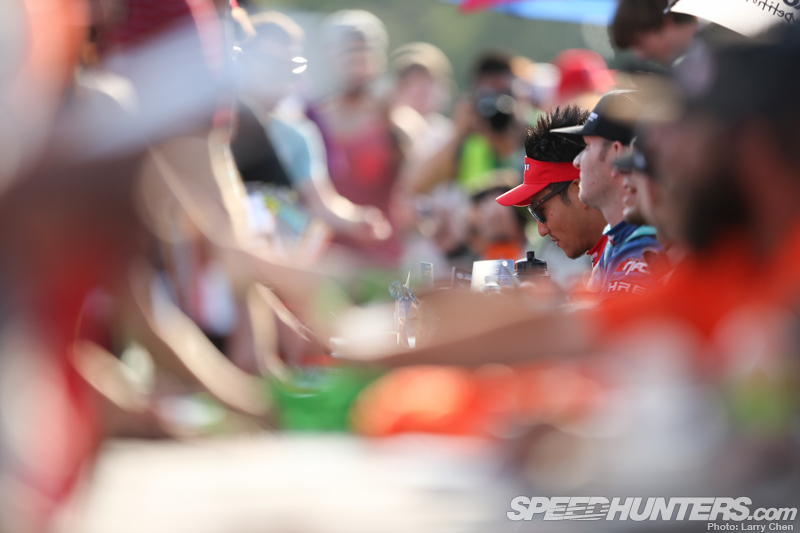 The 1/3 banked oval took a toll on a few drivers as well, including Daijiro Yoshihara, who qualified in 30th. Something must be occupying his mind as he's just not driving like he normally does.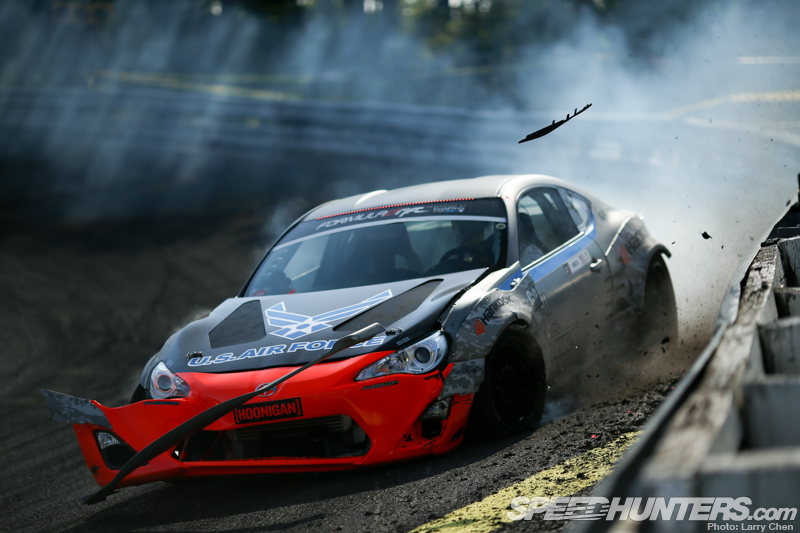 Wall Speedway 's a very unforgiving track and if you make one tiny mistake, the guardrails will suck you in.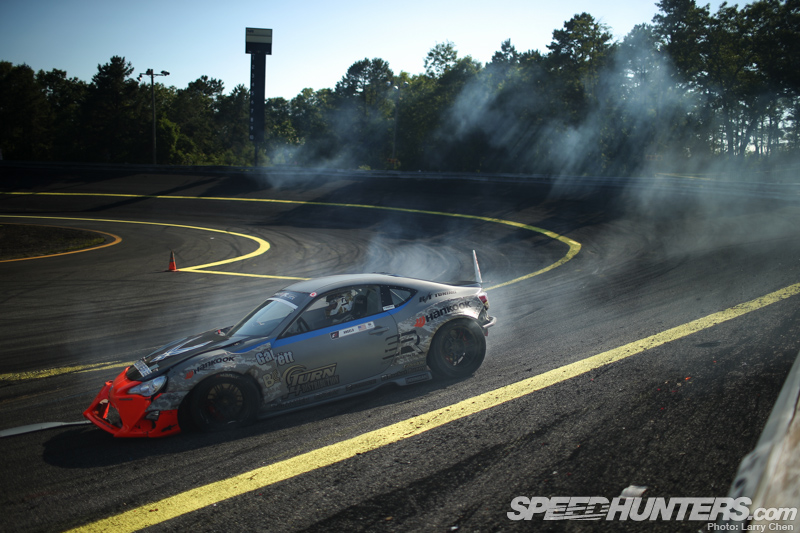 Tony Angelo experienced this first-hand during qualifying and it's really a shame as he did so well in Palm Beach.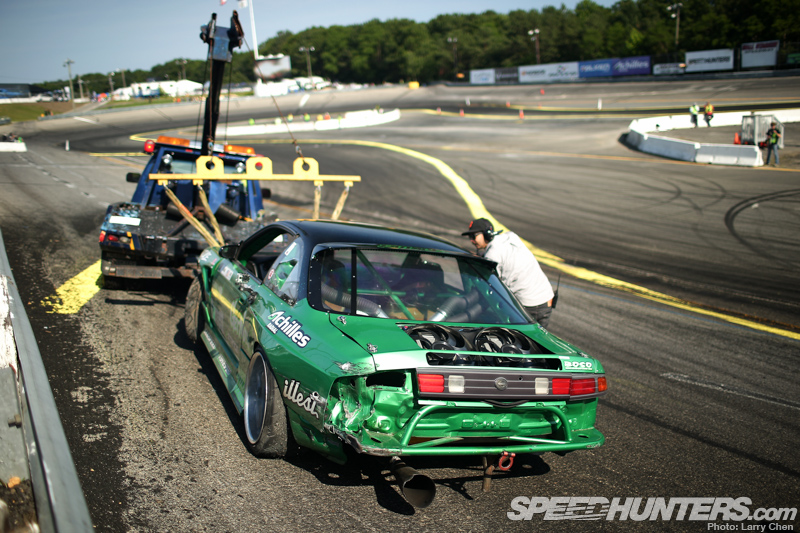 Also kissing the wall was one of our favorite drivers, Forrest Wang.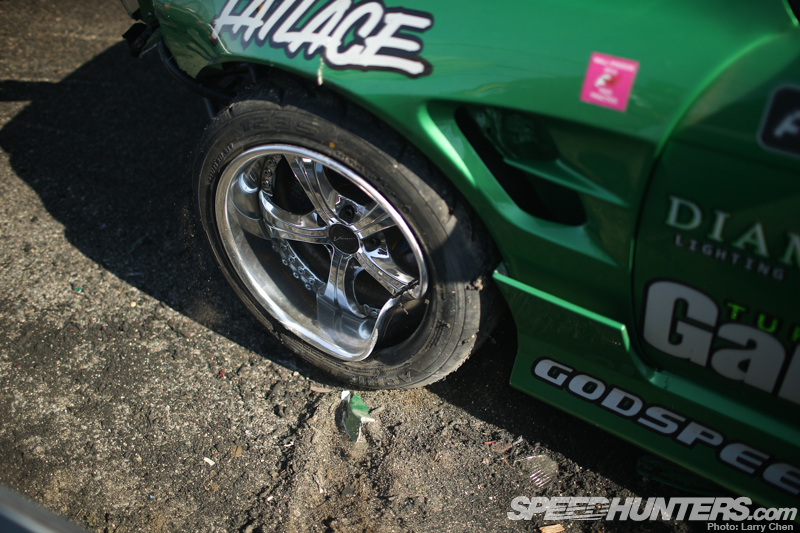 We recently featured his car in pristine condition, but during qualifying he went just a little too hard. He didn't make top 32.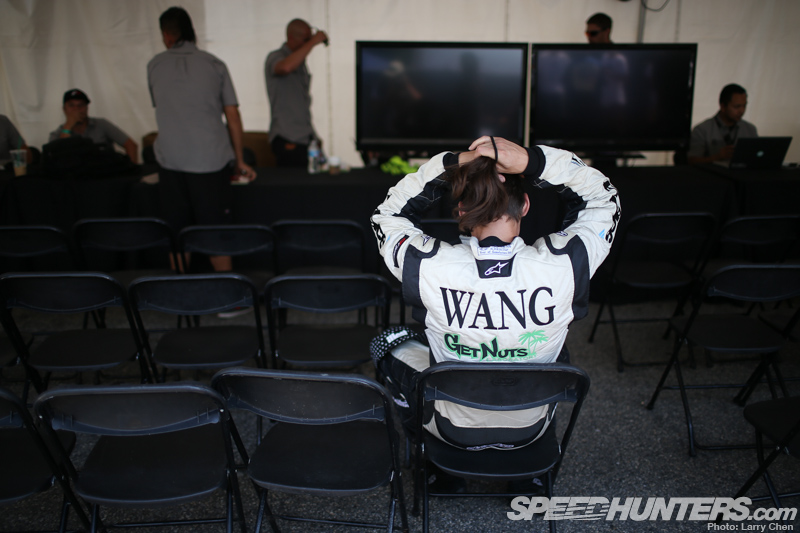 Forrest has been very consistent this year with making great results, especially considering he's funding his entire program by himself.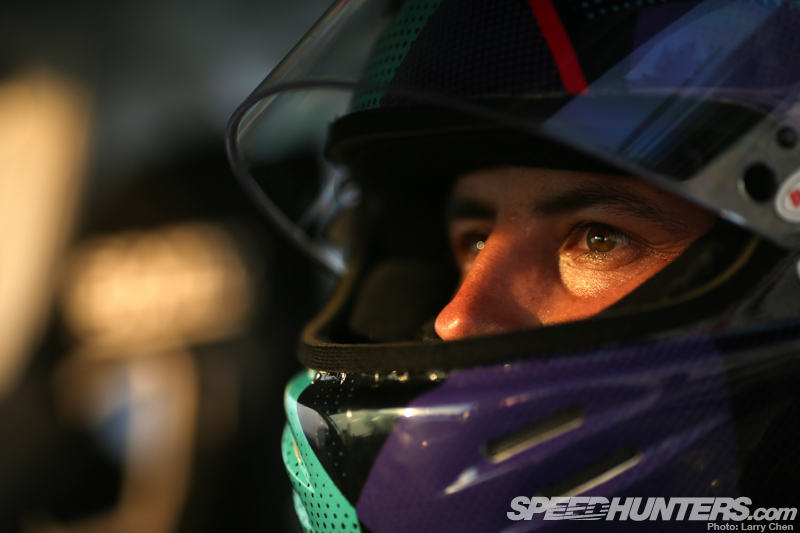 The rookie of the year race has not really picked up just yet, as most of the rookies have not qualified so far, and the ones that have qualified once are the front runners.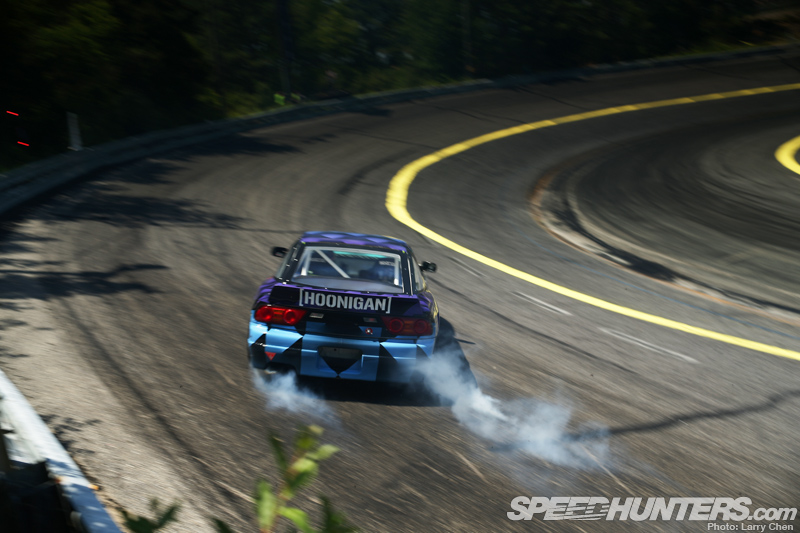 As of this event Nate Hamilton is leading the race for that coveted title as he just barely sneaked into the top 32 in last place.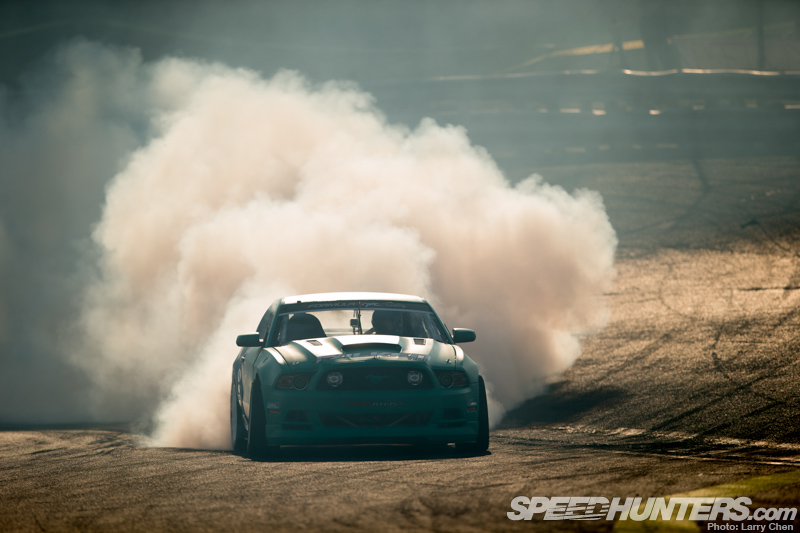 He'll be going against Justin Pawlak in the top 32. There's no better way to earn experience than battling the best drivers in the series.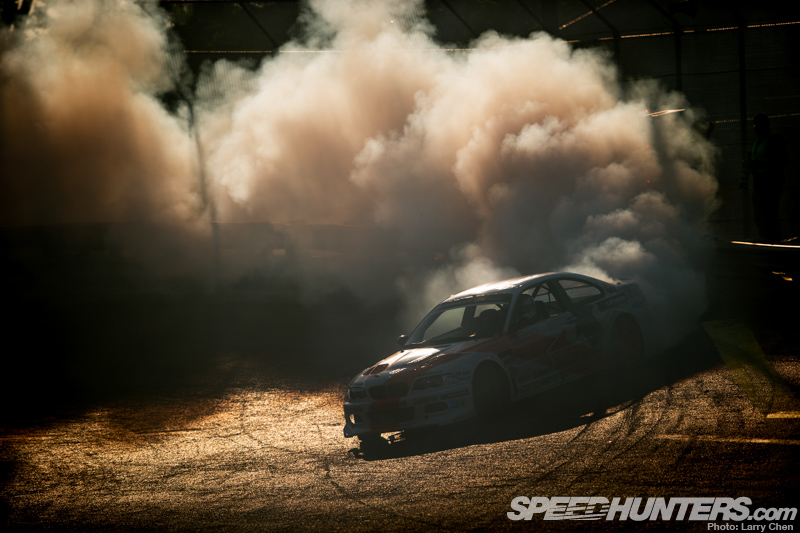 Mike Essa is coming off his very first win, which put him in the running for the championship. If he continues doing well, we may just see a BMW win a championship!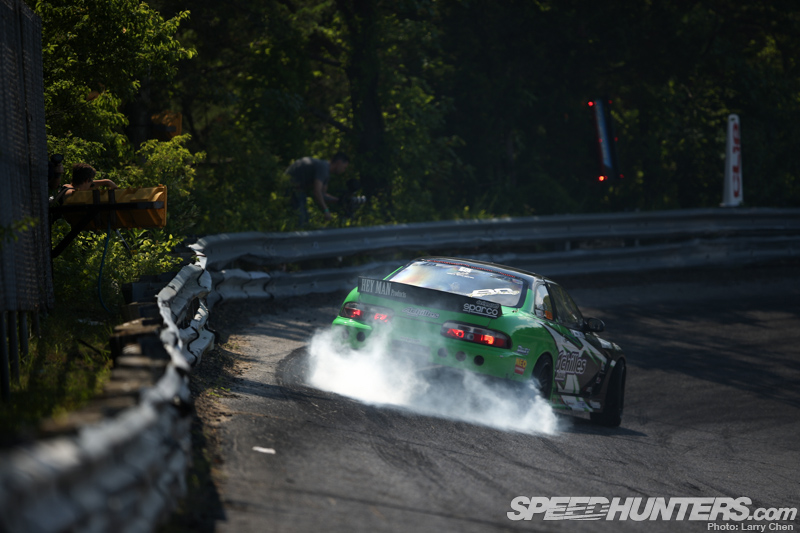 Also coming off a podium is Robbie Nishida in his SC300. I think Robbie is one of the most understated drivers on the grid. As soon as he has a reliable car in his hands he can do wonders.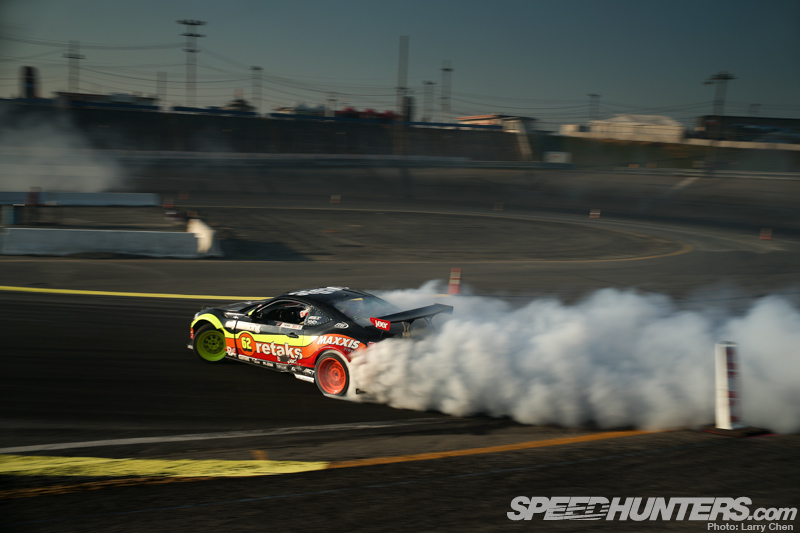 Palm Beach hit many of the top drivers pretty hard including Ryan Tuerck as for the first time ever he did not make top 16 due to an axle failure. He ran into a similar problem for his first qualifying run so he earned a zero. For his second run he put down a crazy run which put him into the 18th qualifying spot.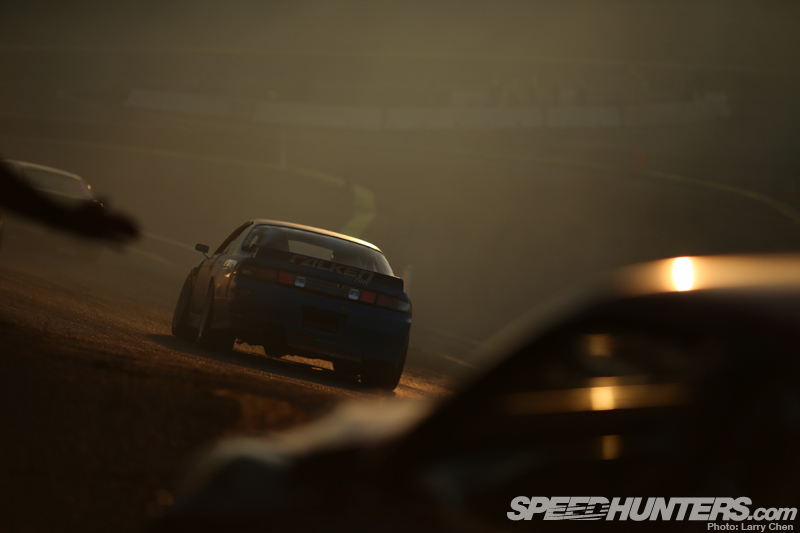 It seems that this new qualifying format has really mixed things up as many of the front runners are qualifying poorly compared to what they're used to. It's making for some really interesting battles.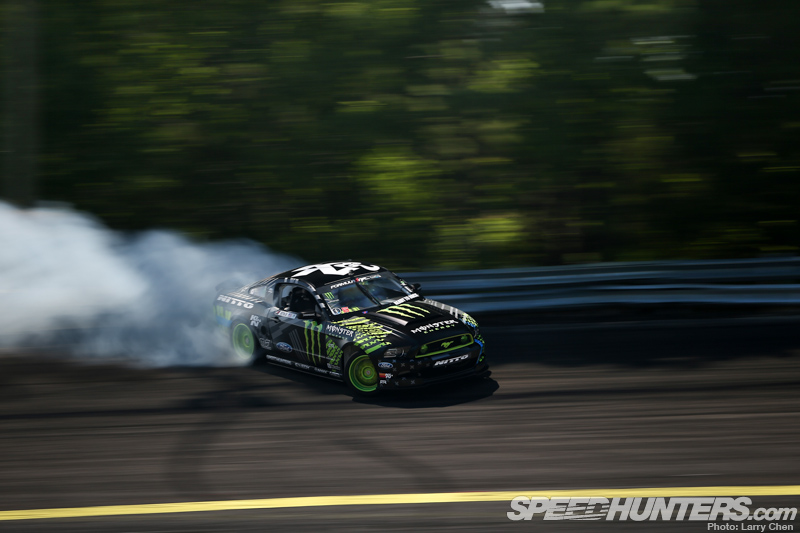 Now we're seeing battles that we used to only see in the top four. Vaughn is currently in second place for the points championship and he has a history of doing well in Jersey, so there's a good chance that he will take back the lead.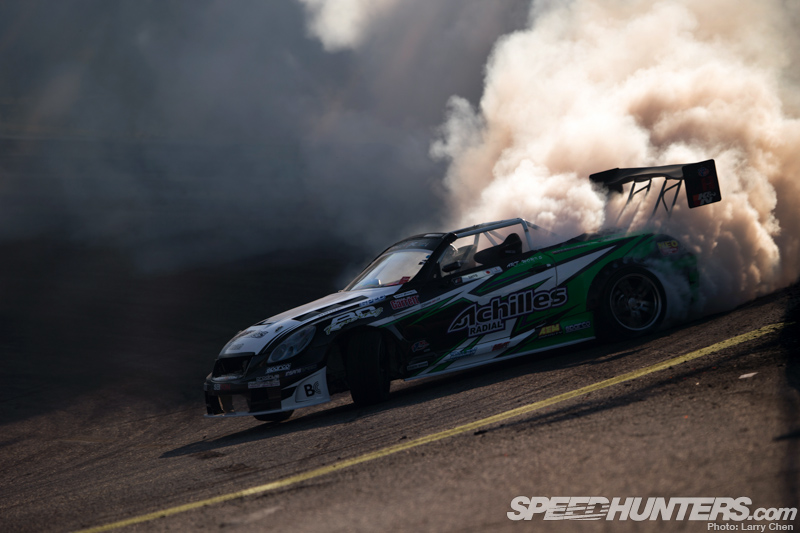 Daigo has not qualified in first yet, but as we all know he's the tandem monster. He's only driven the track once and he got eliminated fairly early last year for going off course. With the strict off-track rules now I am curious to see how he will do on this banked track.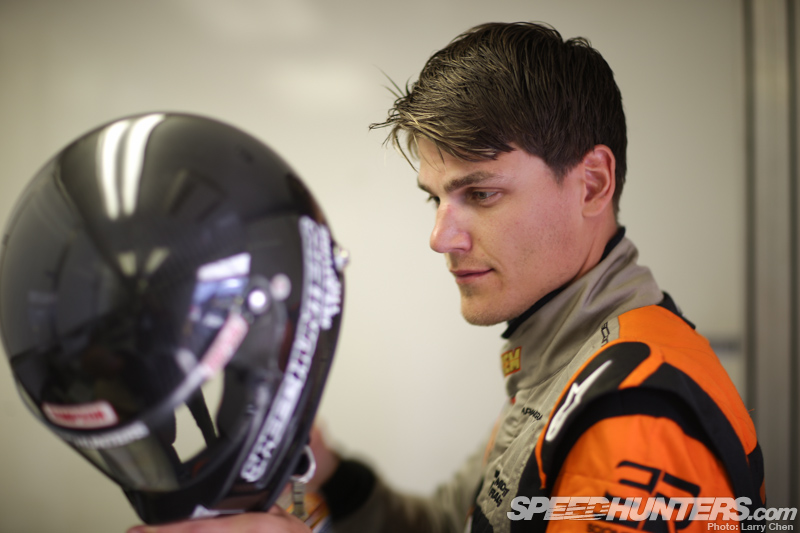 In terms of stacked battles in the top 32, the best one has got to be Fredric Aasbø versus Daijiro Yoshihara.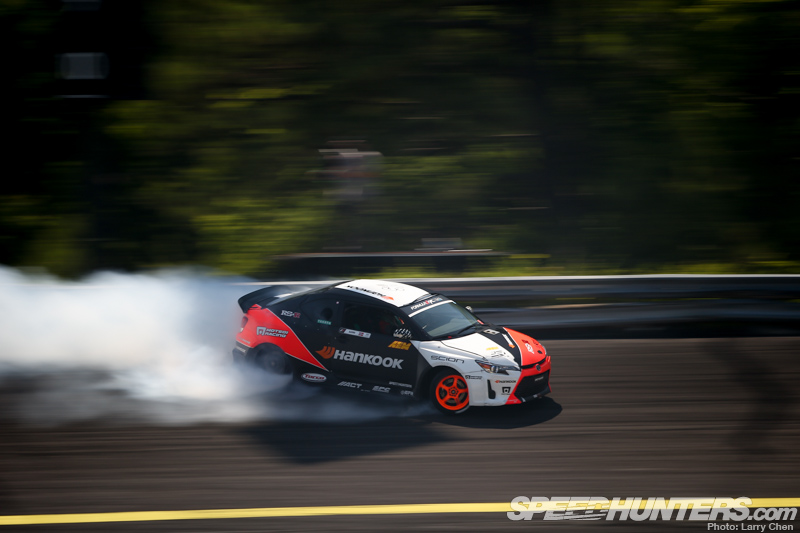 At any other event that battle could very well be a finals match-up. It's going to be very hard for Daijiro to catch up if Fredric knocks him out of the top 32.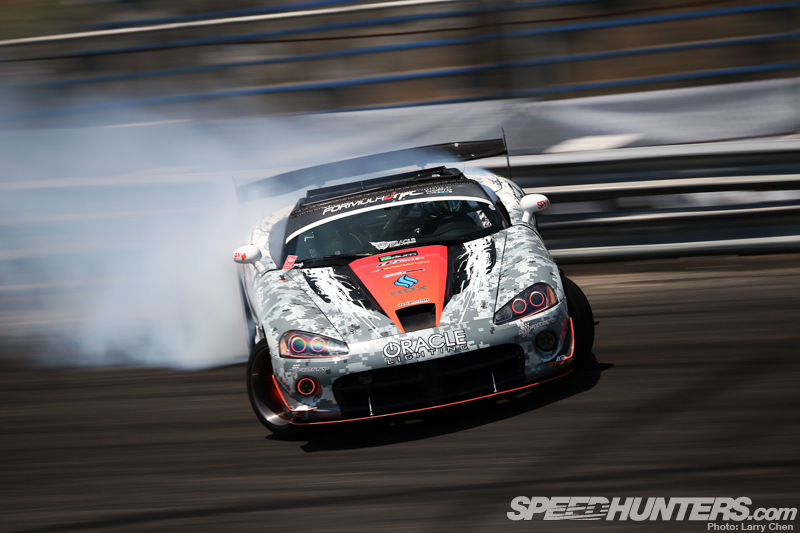 With the way the match-ups are in the top 32 I would not be surprised if we see another new driver on the podium this round.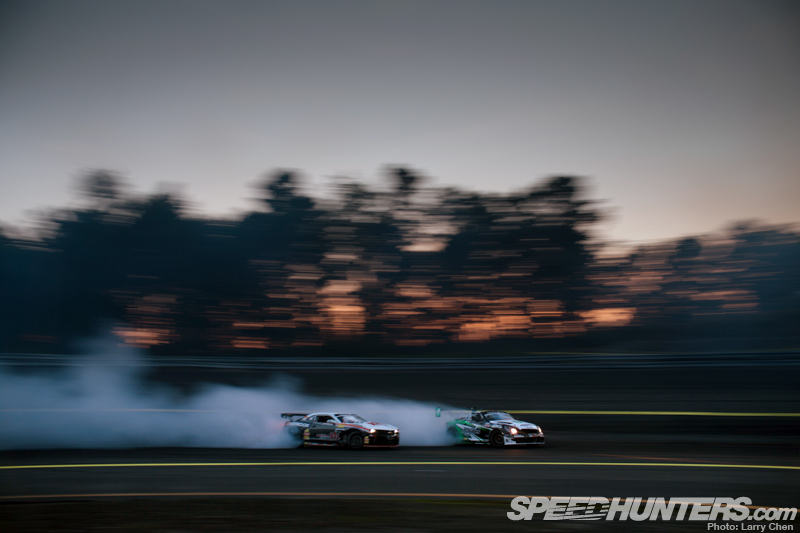 Who knows, maybe some drivers will be able to settle friendly rivalries.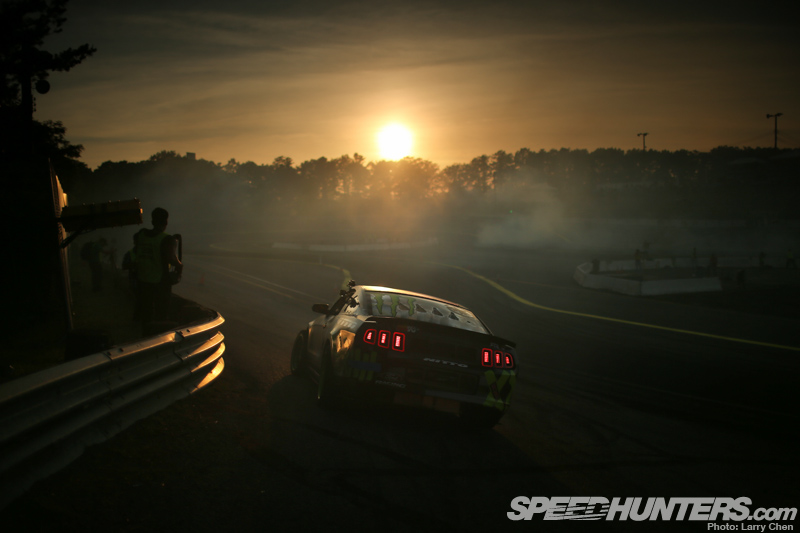 Either way, make sure you stay tuned for more coverage and enjoy the desktops!
Larry Chen
Instagram: Larry_Chen_Foto