At the risk of offending half of the people I've met in the last week, I have to admit that prior to our recent visit, I'd not been used to mentioning Volvo in the same sentence as performance or car shows. Nope, my previous experience of the Swedish car marque was that my friend's dad owned several whilst we were at school, they were renowned for their safety, and that they were great for carrying dogs in the back. But this last week has pretty much turned my views on their head.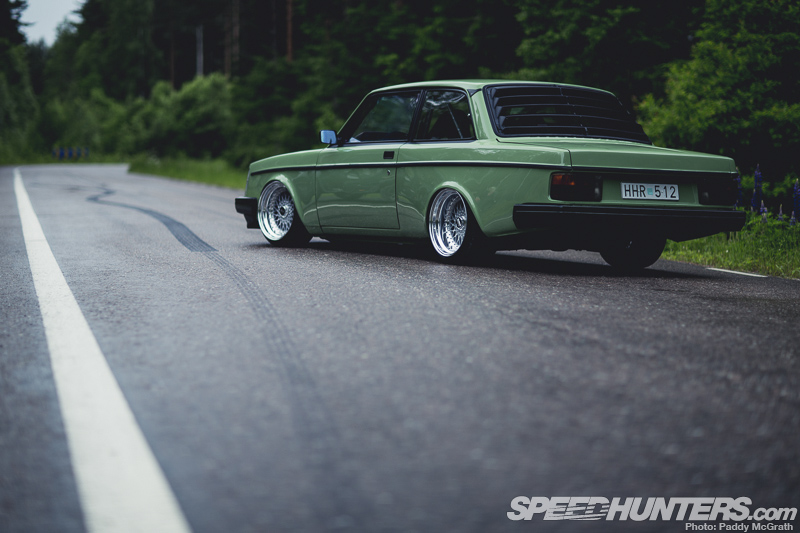 Besides the paddock of Mantorp Park displaying at least one example of pretty much every car going with a Volvo transplant, we started off our trip with a visit to Eskilstuna MotorSport Arena, at which we'd arranged photoshoots with a number of cars. The first car Paddy and myself were assigned to was this rather awesome Volvo 242 belonging to Patrik Lindgren. It was the perfect Swedish introduction!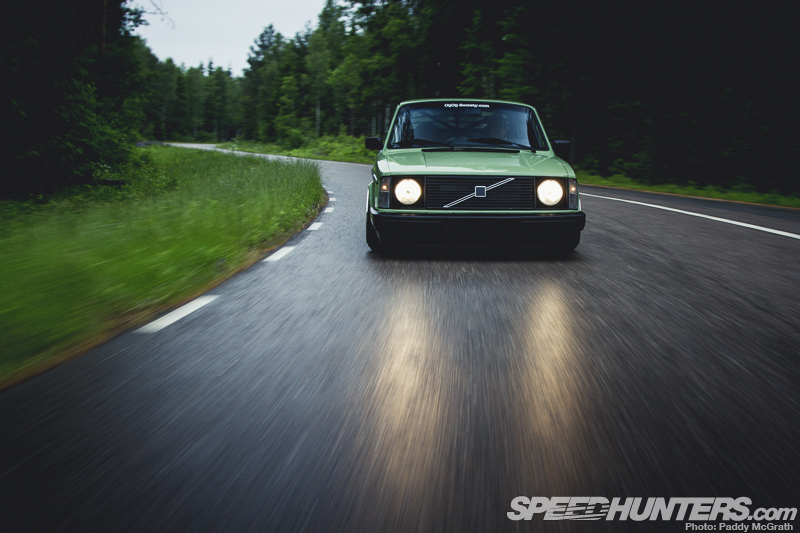 Patrik purchased the car back in September 2009. A rather run-down, black and blue (literally!) 1975 model – picked because of the easier success in passing Swedish inspections – with some rust, it looked a fair bit different to what it does now.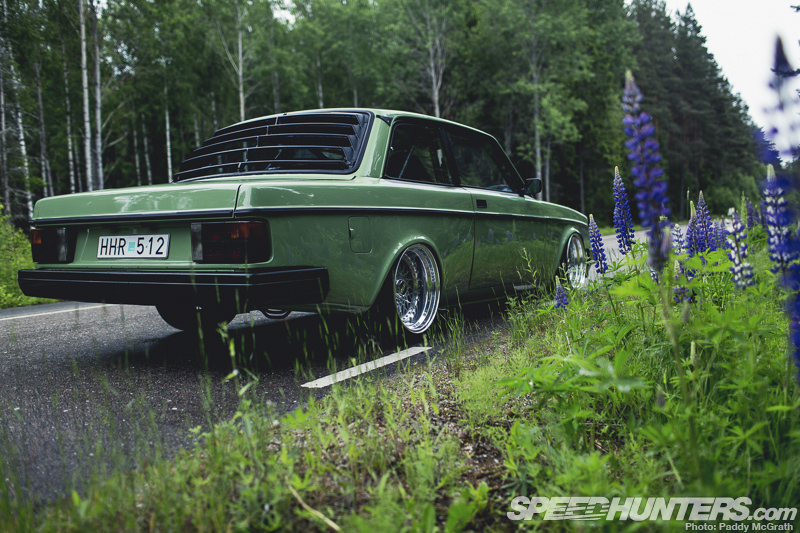 Although the more astute of you may have noticed that the rear end is not from a '75 at all, but from a '79. Not that you'd be able to tell – the finish looks like it's come straight from the factory. Indeed that seems to be a theme that continues throughout the car…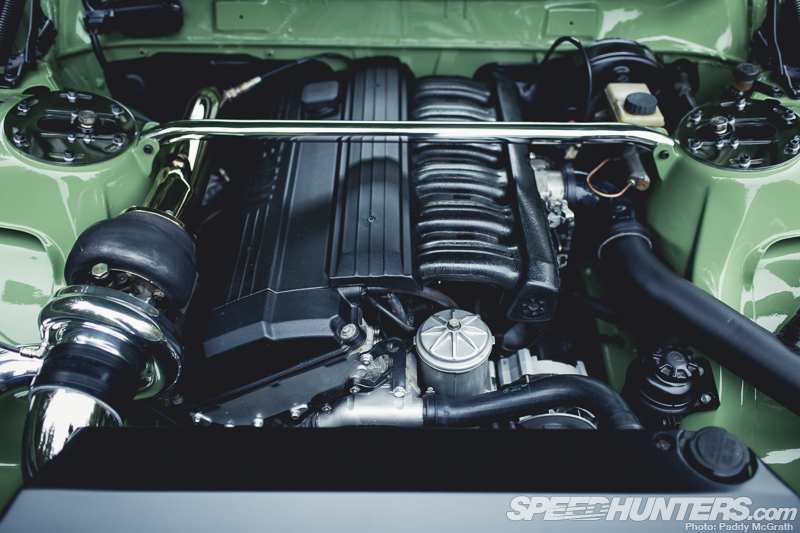 … manifesting itself in this quite frankly gorgeous engine bay. Although the fit is perfect, what is clearly not stock is the engine. Replacing the original, worn-out powerplant was Patrick's first task and he soon replaced the Volvo's beating heart with an M50B25 lump, mated to a ZF gearbox. The straight-six DOHC engine, originally from a '92 BMW 5 series adds a bit more poke…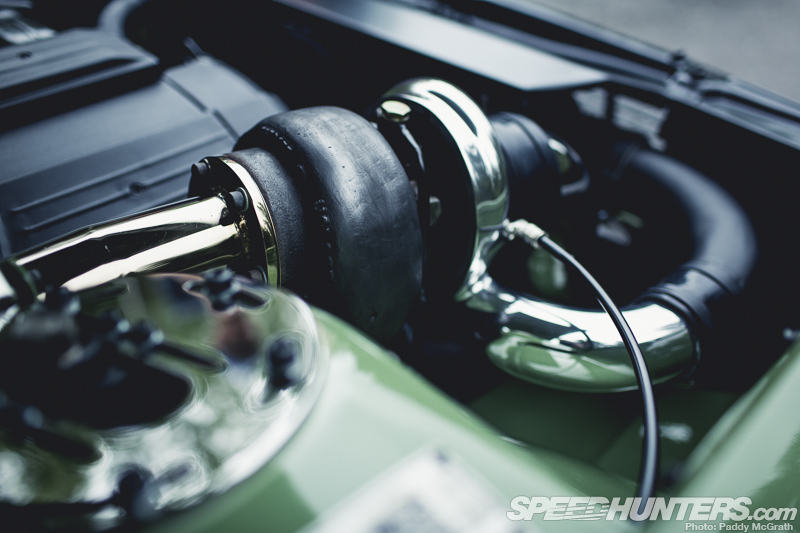 … that's more recently been added to thanks to a Holset HX40 turbo, working alongside a custom split pulse exhaust manifold. Based on other similar conversions, Patrik is expecting around 400hp at the wheels at 1.3 bar; a very respectable figure for an untouched engine I'm sure you'll agree.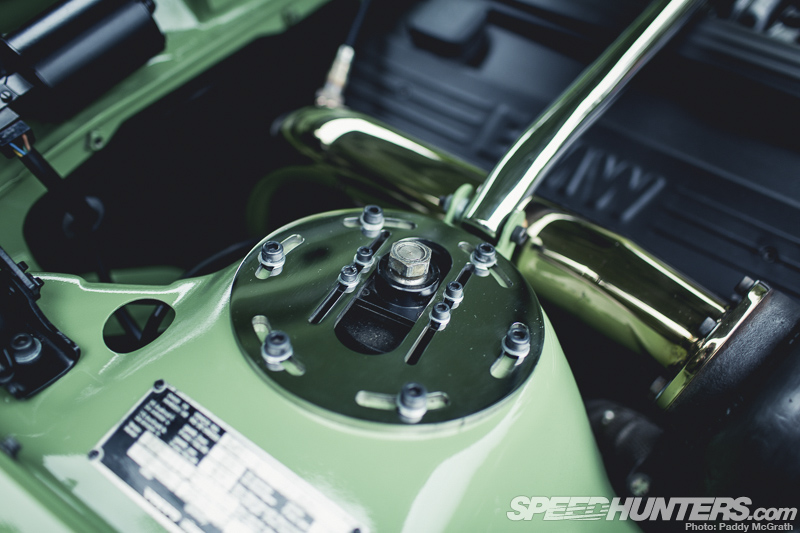 I love these adjustable camber plates – they're handmade by one of Patrik's friends and coupled with the strut brace, their finish sets the engine bay off perfectly.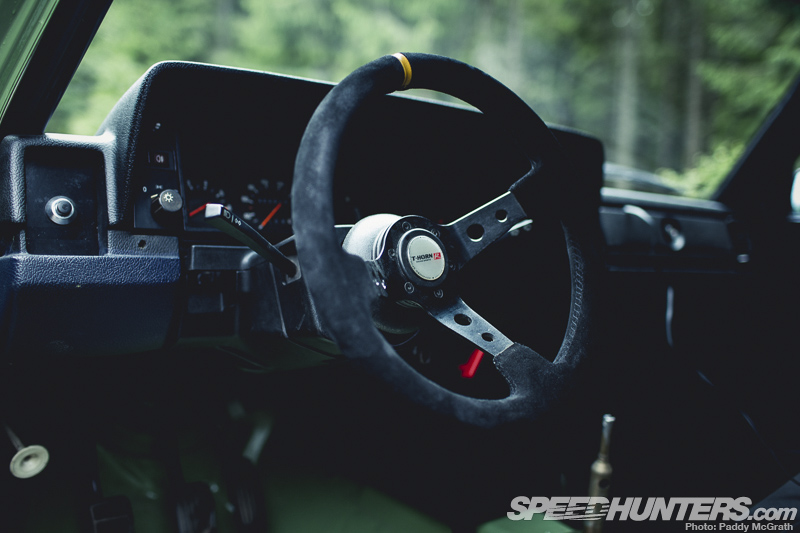 The interior's a modest affair, being quite literally stripped down to essentials, from the aftermarket steering wheel…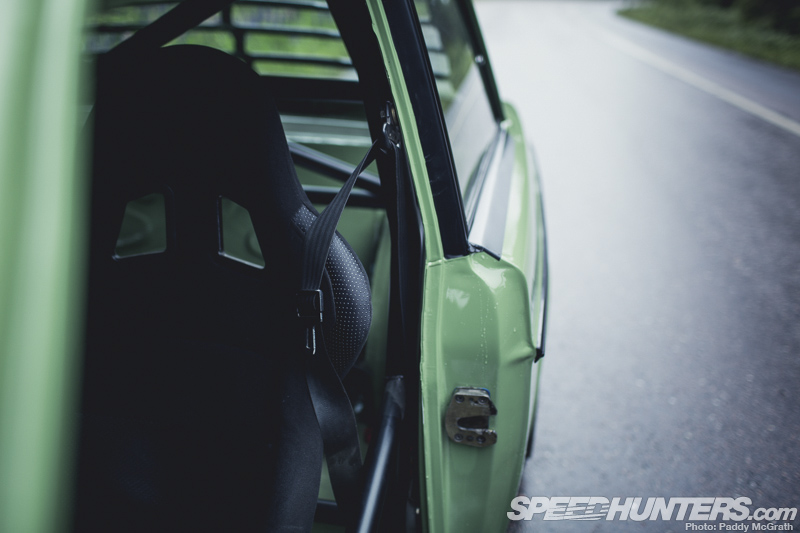 … through the seats and roll cage…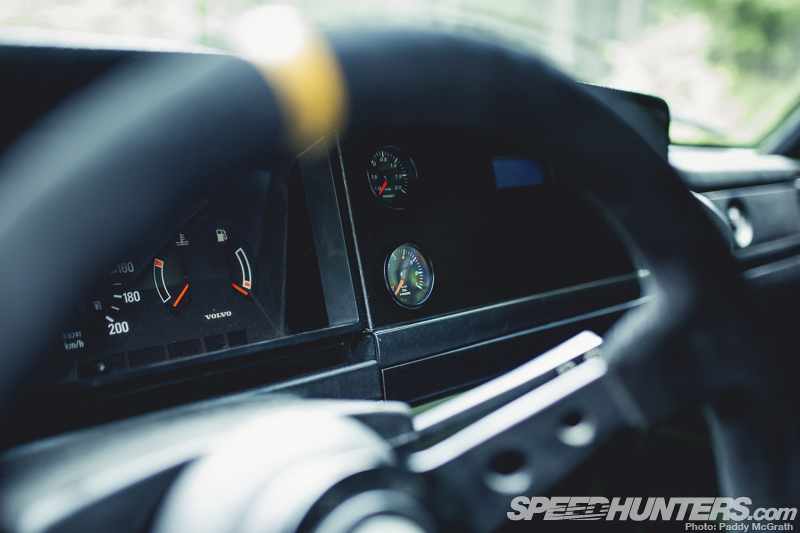 … to the dash-mounted engine management display, giving feedback on coolant temperature, throttle position, exhaust temperature and more.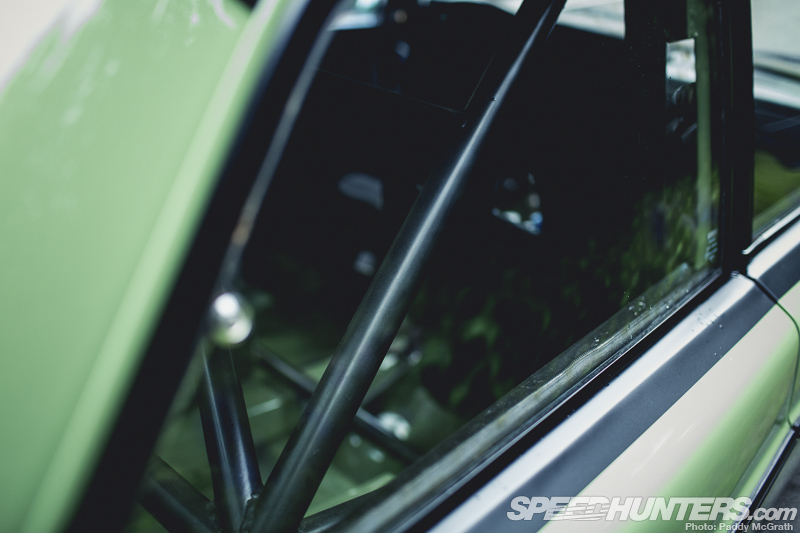 If you peer into the back, you'll get a glimpse of some of the fabrication that Patrik's conducted: underneath the roll cage lies a custom-built transmission tunnel, rear axle mounting and tubbed rear arches so that the car can be lowered enough to meet Patrik's needs.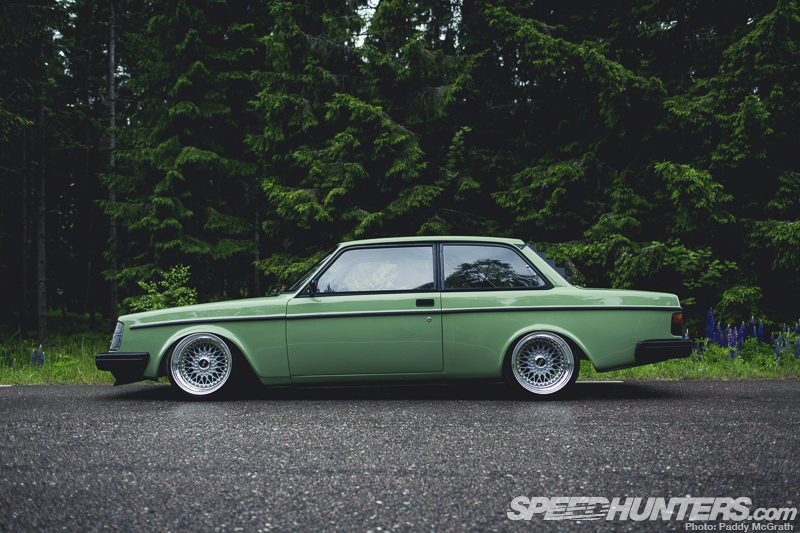 Needs that I'm sure you'll agree are perfectly justified by the purposeful stance. By now, you might have started noticing a theme with some of the modifications. Although at first glance you might not notice them, the Volvo's been modified in a few, gloriously subtle ways that you can't help but admire. And it's all finished to factory spec. For example, the sills have been pulled out to flow smoothly down from the door and rear three-quarter panel, instead of featuring the normal 'step' you can still see on the front wing.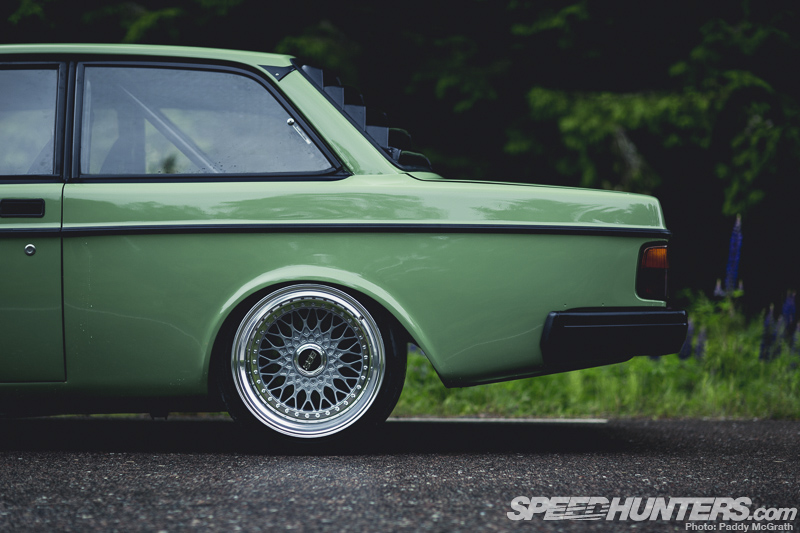 The rear axle has been moved forward an inch so that the wheels fit better into the curve of the wheel arch, enabling the car to be dropped to the perfect height and those BBS wheels to fill the arches beautifully. But more on those in a second…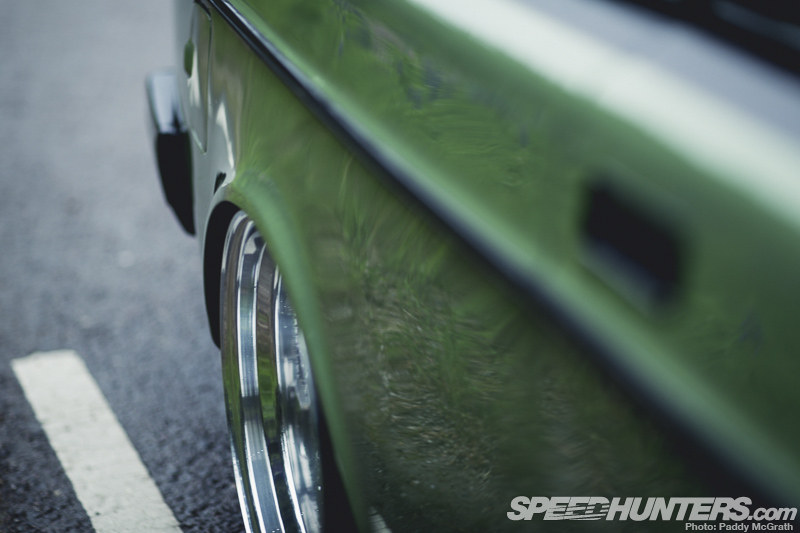 The rear arches have also been pulled out so that instead of tapering in, they lie flat when you look along the side of the car. It's another beautifully subtle, yet practical touch.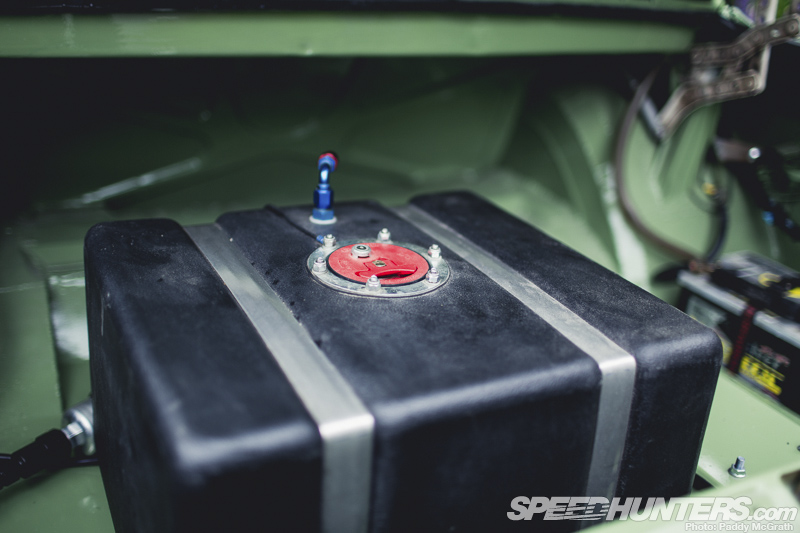 The boot houses a fuel cell, replacing the fuel tank that would previously have proved an obstacle to dropping the Volvo so low. The floor of the boot has even been raised to make the rear silencer sit higher so that you won't see it from behind.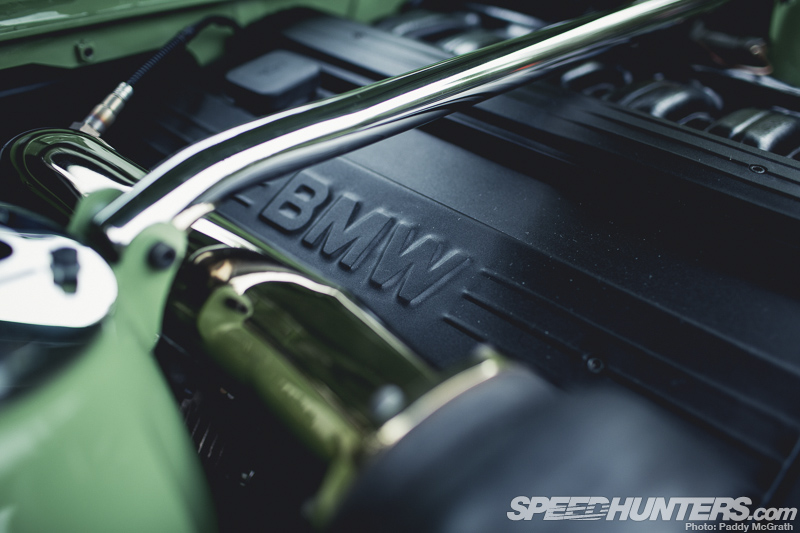 I presume you noticed those engine covers? All made by Patrik himself in sheet metal, with hand-formed BMW logos. You'll also have noticed how pristine the rest of the engine bay is – Patrik spent the last winter tidying that all up, tucking all of the wires still needed inside the arches.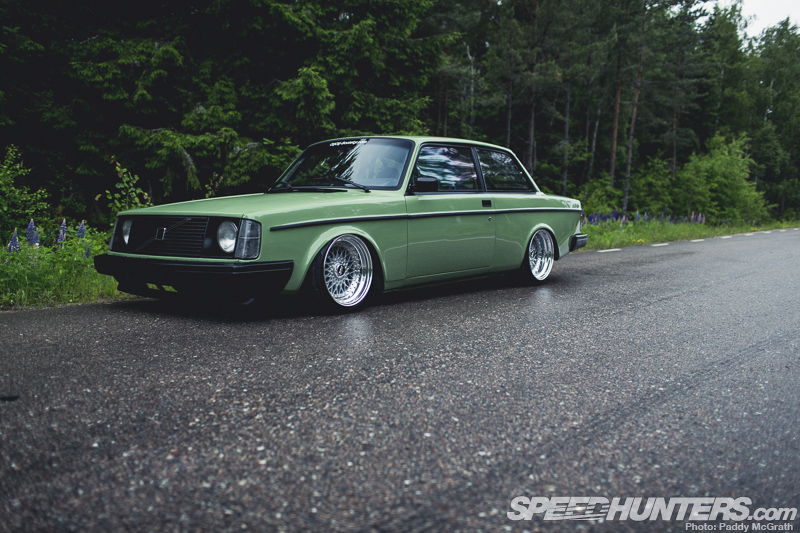 The end result is a car that looks, to the untrained eye, practically stock. Immaculately clean and lowered yes, but not massively modified in any way. And that's a huge part of the appeal of this car – the modifications are well-executed and subtle, always aiming to add to the overall feel, but without screaming for attention. There's a definite parallel between this car and some of the attention to detail often seen in the VW scene.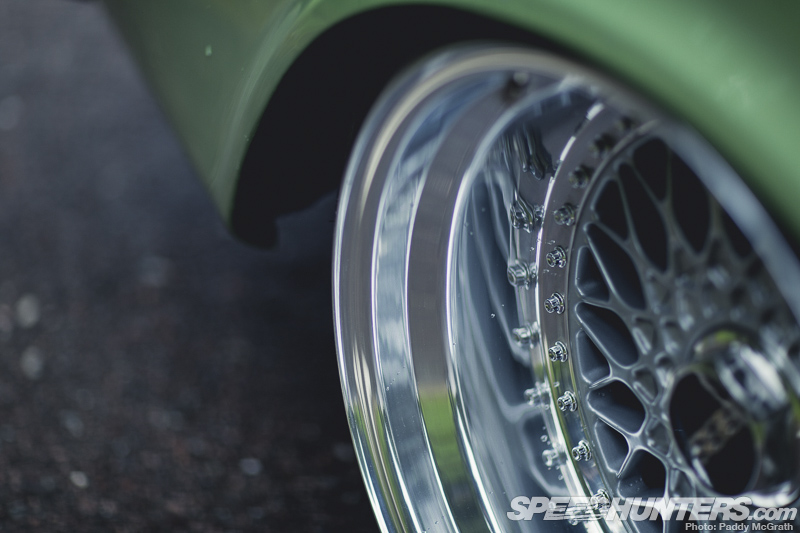 Of course, a build would be nothing without the perfect set of wheels and this classic set of BBS RS wheels tuck perfectly under the rear arches and sit just millimetres away from the fronts. A set of coilovers on the front have provided the drop, with shortened springs in the rear. After all, there's not many companies offering kits for this car!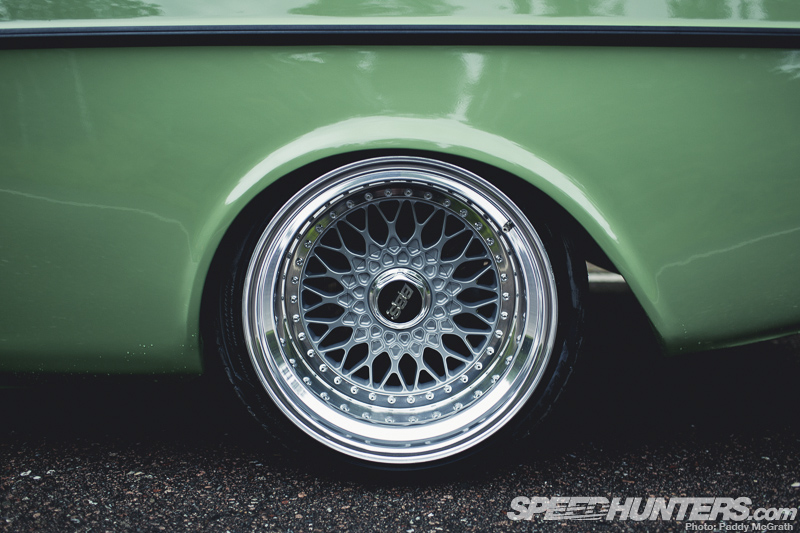 The custom work at the back means that the rear arches are currently filled by 11-inch-wide wheels; this should certainly be a Volvo that doesn't have any problems with losing traction. After all the work that's been done, the arches are actually capable of taking 13-inch-wide wheels now, the problem being that Patrik is struggling to find the tyres for it!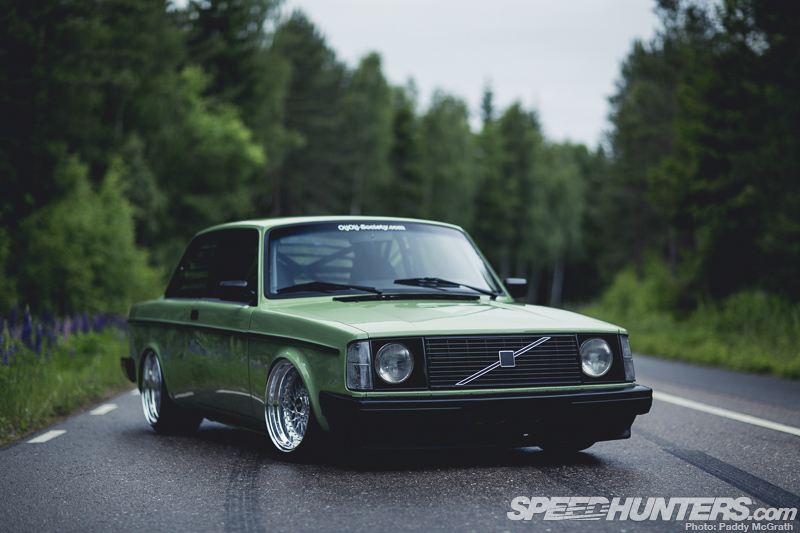 It's all set off perfectly by the immaculate paintjob. A standard Volvo colour that's affectionately known as 'puke green' in some circles, it compliments the build and the gorgeously clean bodywork perfectly. It's not a colour I would ever have picked personally, but seeing it here now, I cannot think of another colour the car would be better suited to – it's a perfect match and looks amazing.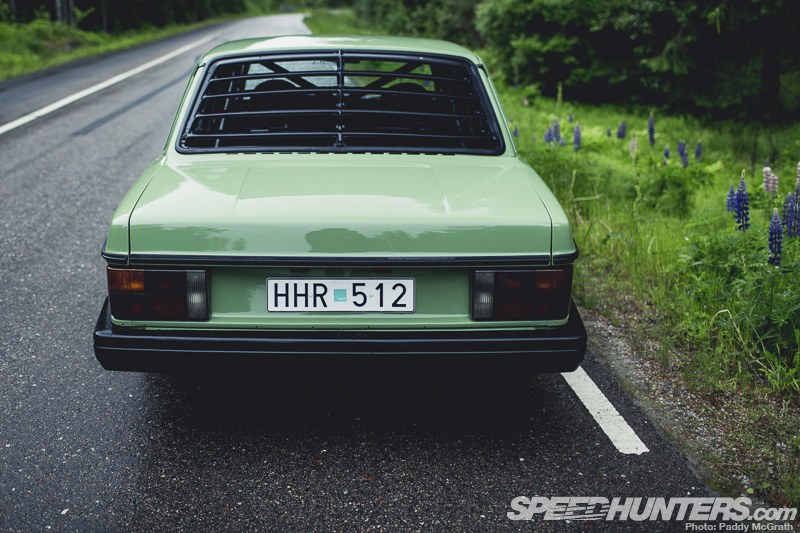 Later plastic bumpers have been fitted all round, with any exterior chrome being painted black and the back end is finished off with a standard rear window louvre to match. It's a real testament to Patrik's skill and taste just how good this car looks. He's resisted the urge to go over the top with anything, instead preferring to enhance and improve what was already there, honing the original flavour to perfection through a multitude of carefully picked modifications.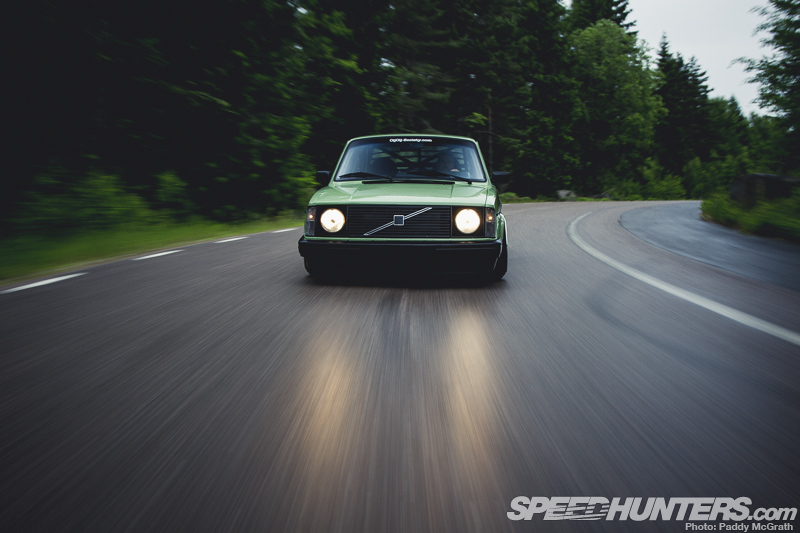 Given my previous experience, it's funny that Patrik picked the Volvo because his mum and dad had one. As he explained, you see plenty of beat-up versions on the road, but he wanted to make a version you could be proud of. Something that if people were to say they liked it, he would know they really meant it. Well, you know what Patrik? We really like it!
Words by Suzy Wallace
Instagram: speedhunters_suzy
suzy@speedhunters.com
Photos by Paddy McGrath
Twitter: @PaddyMcGrathSH
Instagram: speedhunters_paddy
paddy@speedhunters.com
Patrick Lindgren's 1975 Volvo 242

Engine
M50B25 engine from a BMW 525 '92, Holset HX40 turbocharger, custom split pulse exhaust manifold, 50mm wastegate, 3″ stainless downpipe, 3″ intercooler, 45mm Simon Marmander blow off valve, 550cc Lucas injectors, VAG COP ignition coils, Bosch 044 fuelpump, electric fan from Volvo V70, 4″ K&N air filter behind the grille, VEMS engine management system
Driveline
ZF gearbox from a BMW 525 '92, M20 flywheel, Sachs 618 clutch, 4 puck sinter
Suspension/Brakes
Coilovers in the front, cut springs in the back, front strut brace, fully adjustable camberplates
Wheels/Tyres
BBS RS 17×9.5-inch -15 with Falken 205/40R17 (front), 17×11-inch -6 with Falken 245/35R17 (rear)
Exterior
Rearend from a '79, widened rear arches, no spare tyre barrel, newer plastic bumpers, front bumper has drilled holes for fresh air, all exterior chrome painted black, raised boot floor, shaved boot and passenger door locks
Interior
Full rollcage, custom rear axle mounting, transmission tunnel and tubbed rear arches, rear axle moved one inch forward, stripped interior, alumiumium doorpanels
Bilsport Elmia Show
Gatebil Sweden '13 coverage on Speedhunters