Vintage USA tin and the Mooneyes Street Car Nationals might go hand-in-hand, but you won't find one single American-made machine in this first Spotlight-O-Rama from the annual Tokyo event. I'm doing this to emphasize just how diversified Mooneyes events are in Japan, and – where you will at times – come across the most curious of creations. So to get the ball rolling this K11 March (Micra in the rest of the world) is something that instantly stood out. Nissan's little city car has always been popular with those that want to race on a budget and for years the car has had its one single-make race series in Japan so…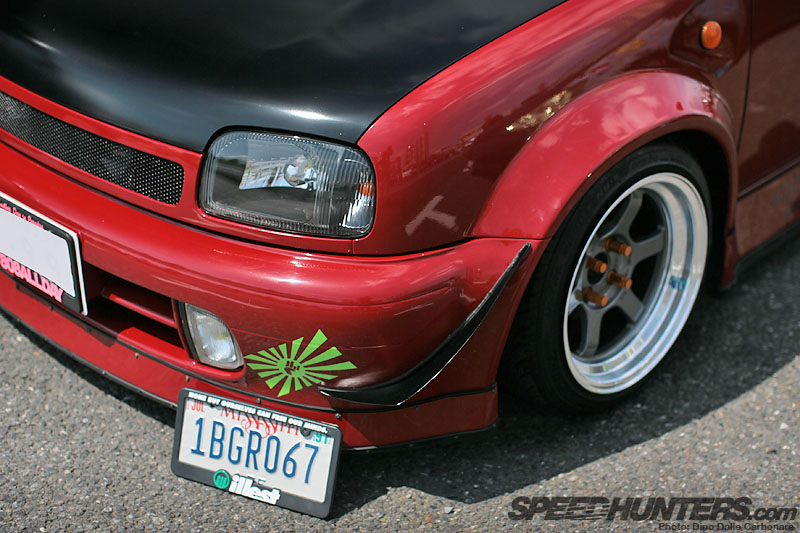 … to actually see one tapping in to its racing pedigree wasn't a big surprise; except this particular car took things to the next level. Check out those massive rally-car-inspired blistered fenders…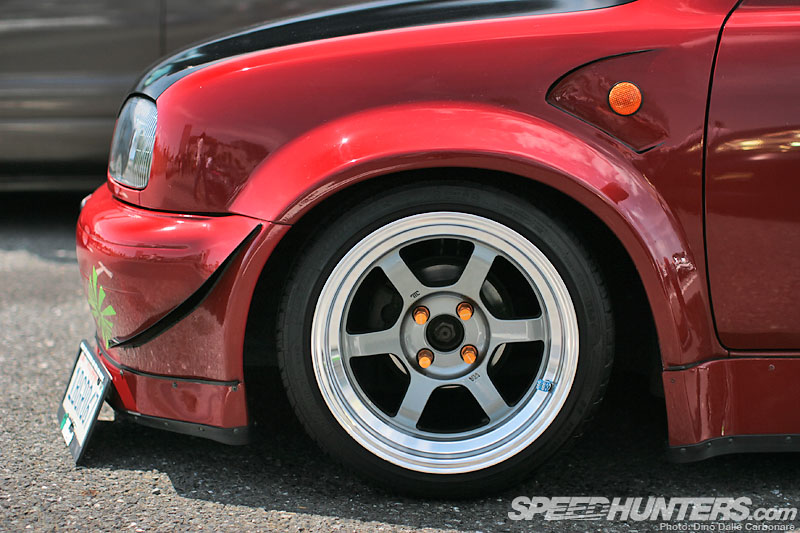 … that wrap around RAYS Engineering Volk Racing TE37Vs. If you think the overall look of the car looks a little familiar it's because…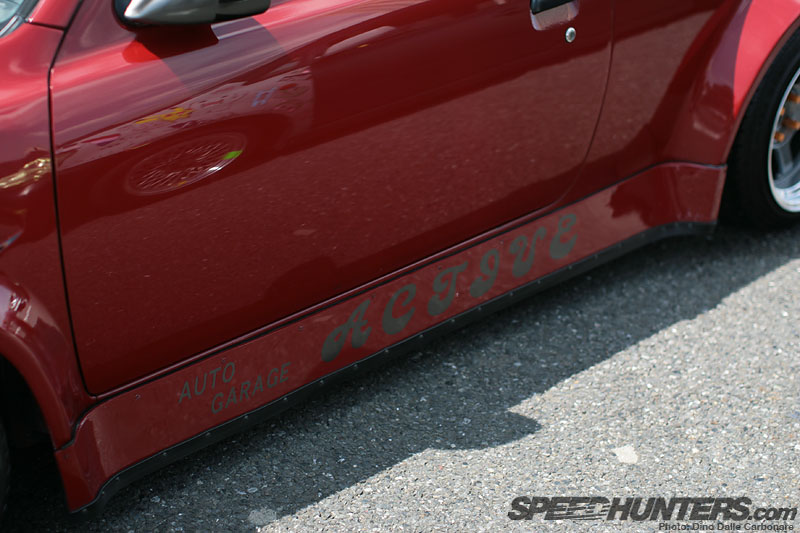 … the builders, Auto Garage Active, took a little inspiration from Nakai's RWB Porsches – something that becomes more obvious when you take in the front rubber lip spoiler and the chunky side skirts.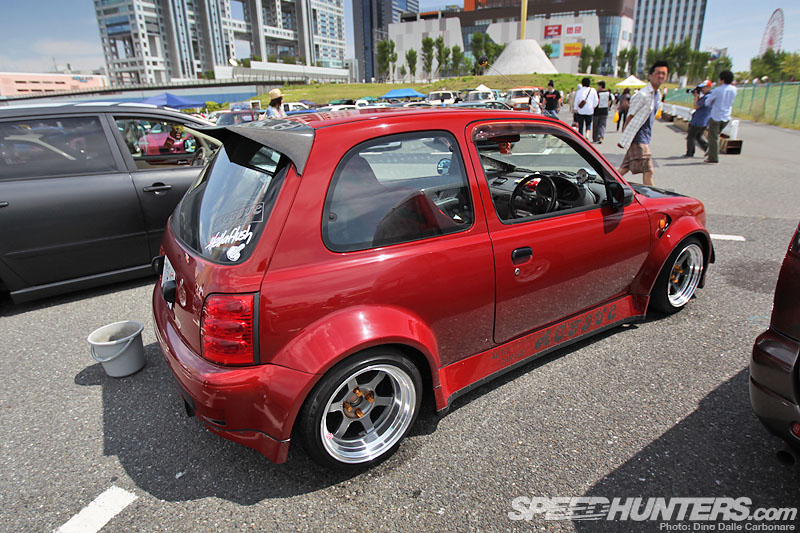 Actually, after a quick look through the company's website I'm even more impressed at seeing just how many of these wild K11s it has built. Active is to the Nissan March what RWB is to Porsche 911s and I think that pretty much warrants a little visit. What do you guys think?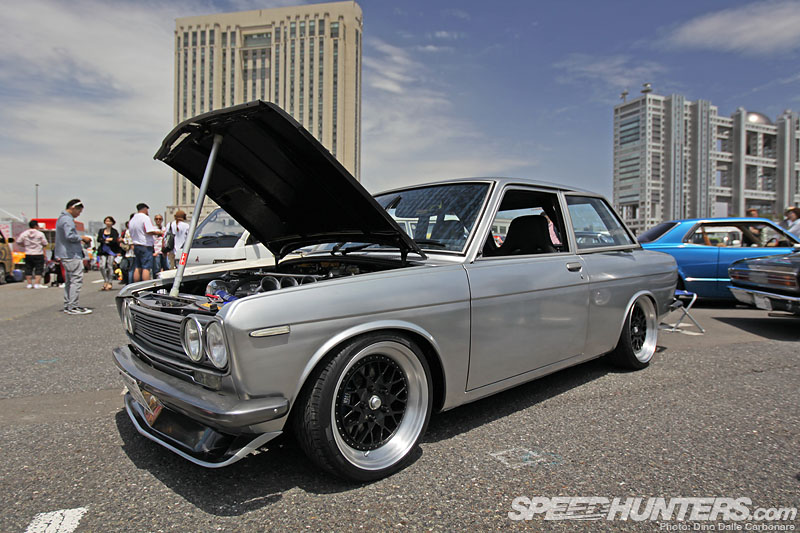 I'm staying within the Nissan family for this second car – a beautifully executed 510 Bluebird Coupe that impressed me on so many levels.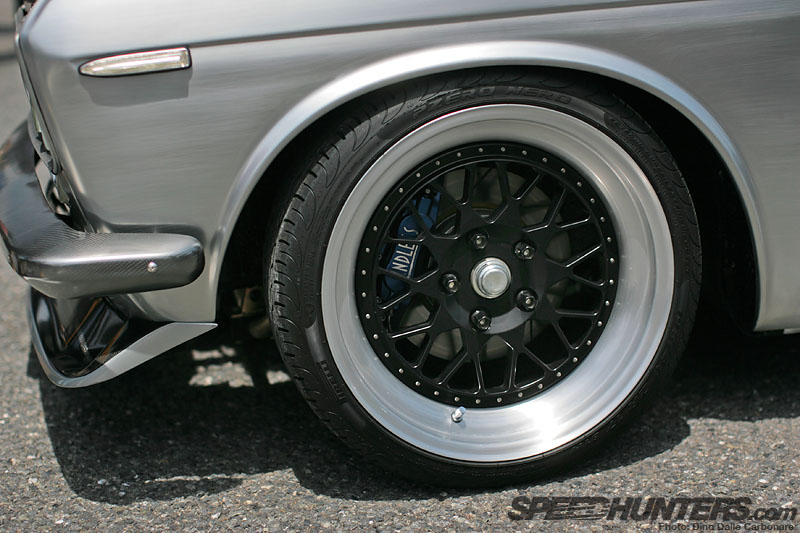 Everywhere you looked it was top level work and parts, starting with Endless calipers hidden behind the front wheels…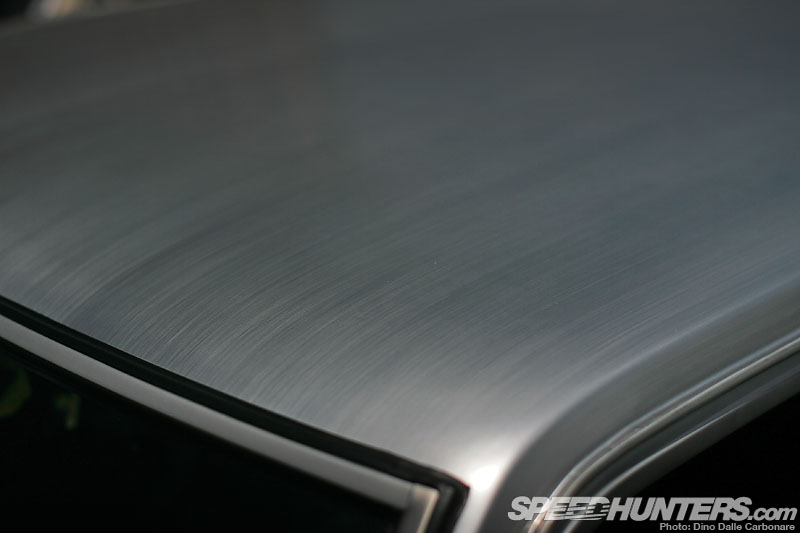 … moving on to the brushed finish of the paint – no vinyl wraps here…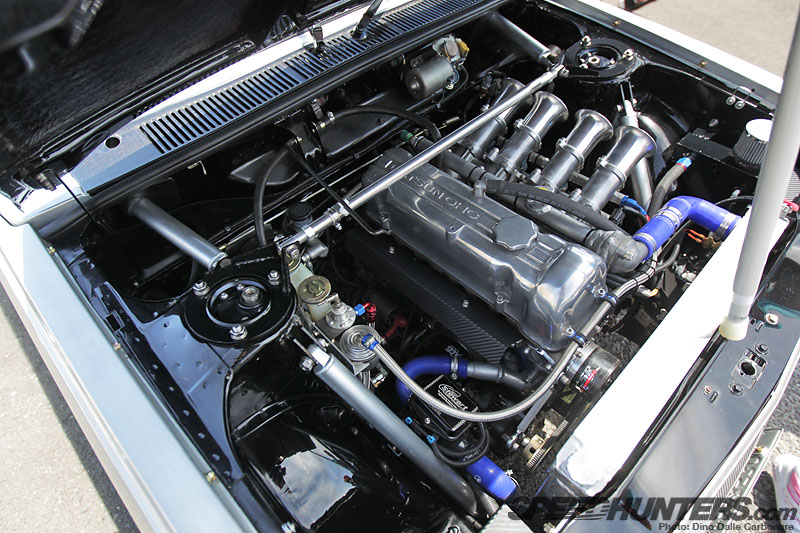 … and the spotless engine bay with its fully-tuned and beautifully presented L-series.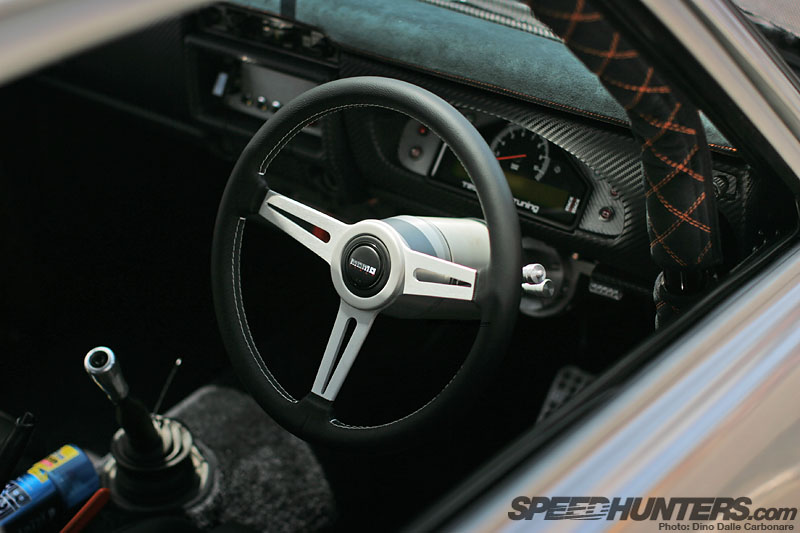 The interior too was extremely well finished, with a suede-clad dashboard and trim, leather-wrapped and quilted roll cage padding and a Stack dash unit replacing the stock instrumentation. Full feature needed on this car I hear you say? I very much think so!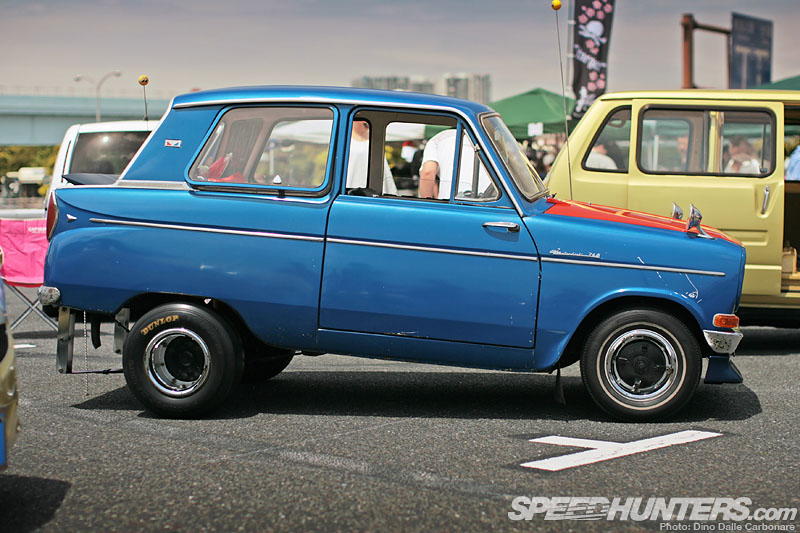 What the hell? Yes, that's precisely what I muttered when I saw this miniature drag car.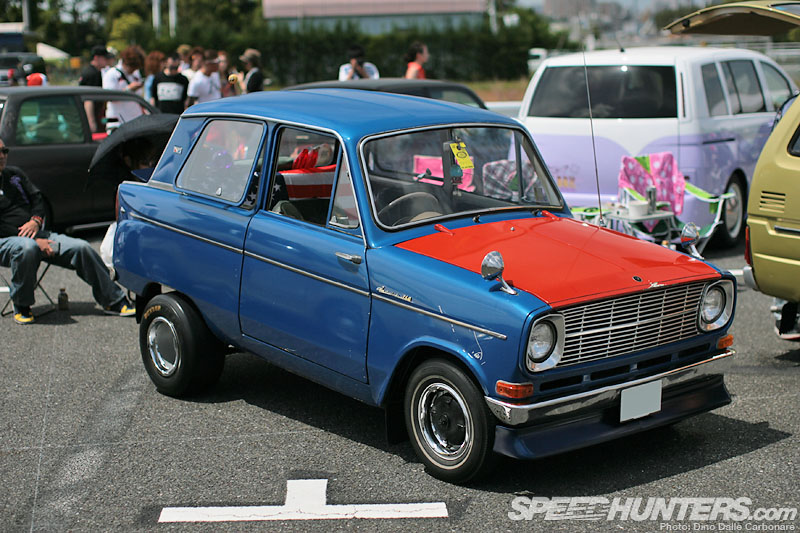 It seemed the owner of this 1962 Mitsubishi Minica wanted to have a little bit of fun with his vintage city car…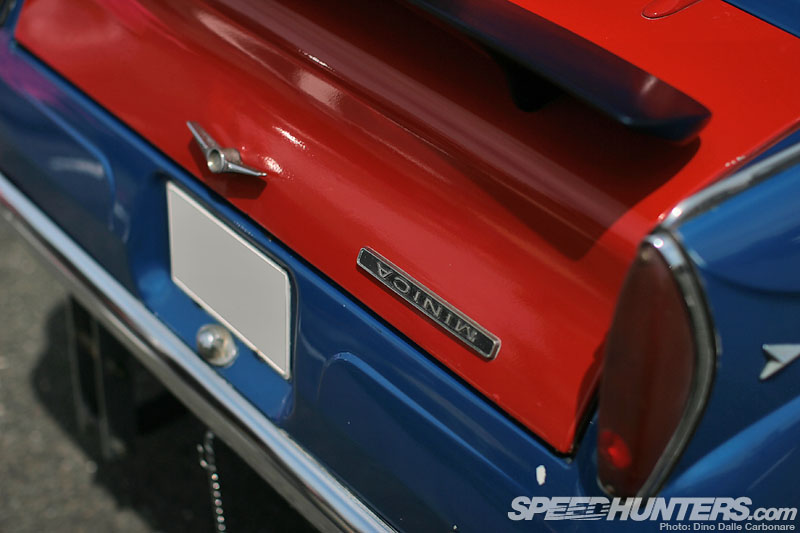 … transforming its sedate appearance into something a little different.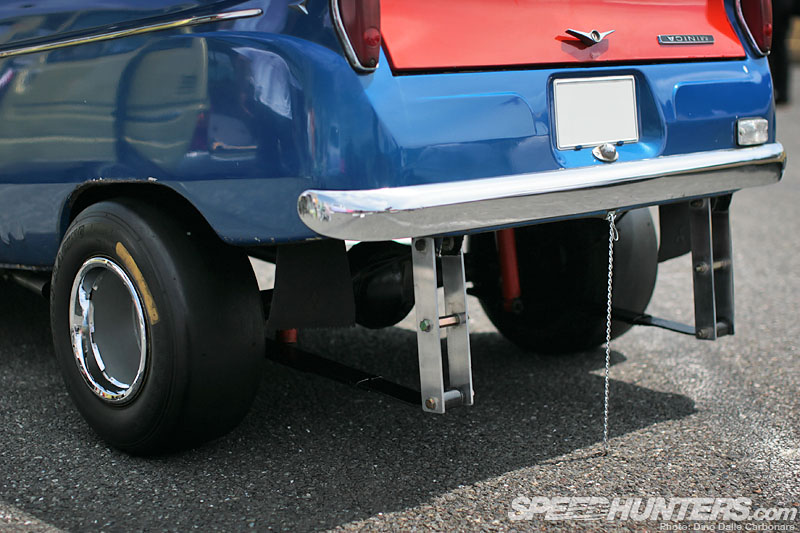 The rear leaf springs have been fixed onto some custom extended mounts – possibly to help the car squat down when attacking the quarter mile dash and getting the best out of the slicks tires its riding on – but more likely to just give it a drag-style stance.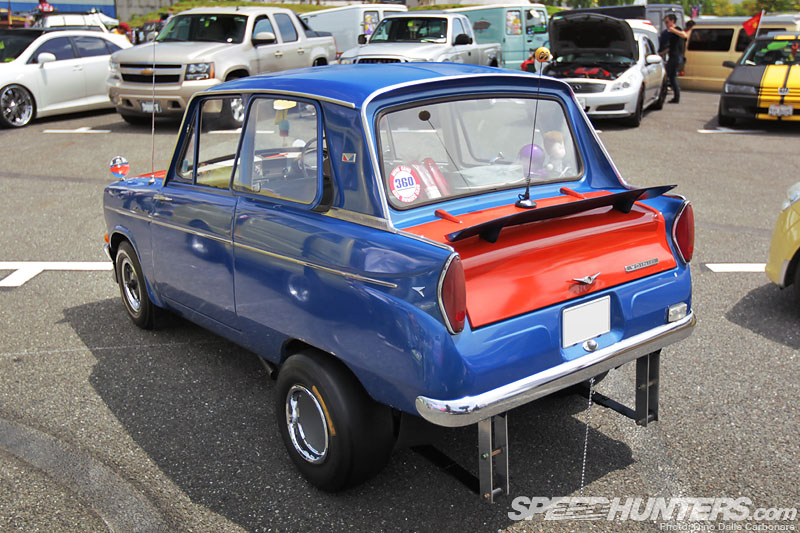 One thing I was unable to find out was if the air-cooled, twin-stroke 360 cc motor had been modified or not! Maybe it's running a 4G63?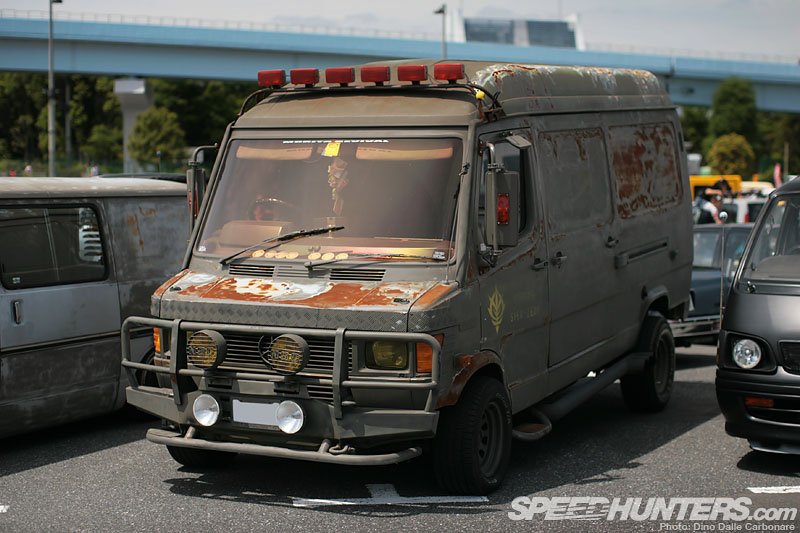 We have been coming across quite a few military-themed vehicles at shows over the last year but this big Mercedes-Benz van that came down from Ibaraki probably best fits the "zombie" category.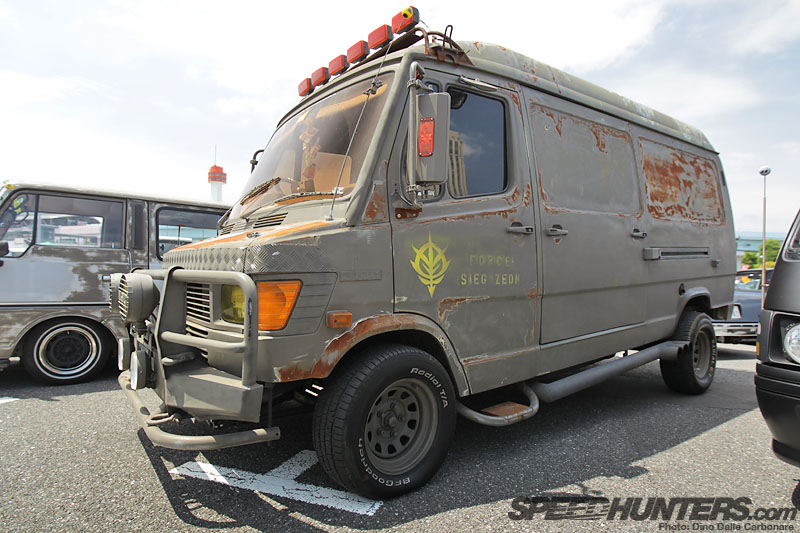 If the owner was looking to instill fear in people he has definitely succeeded as this beast has quite the presence. The semi-rusted-out flat military green exterior is spiced up by plenty of details like big bull bars, steel plating around the front end and the addition of Sieg Zeon stenciled on the doors – a reference to the Principality of Zeon in the Gundam anime series.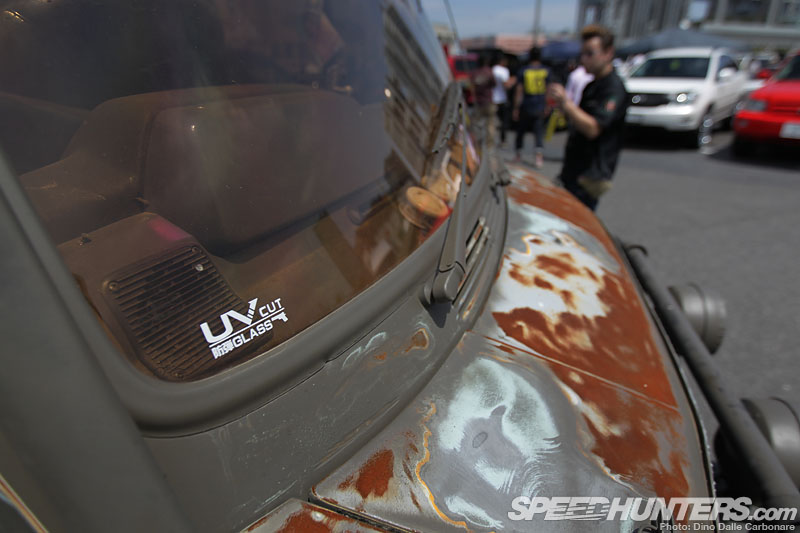 All the glass was tinted yellow and according to the 'UV Cut' stickers is also bullet-proof!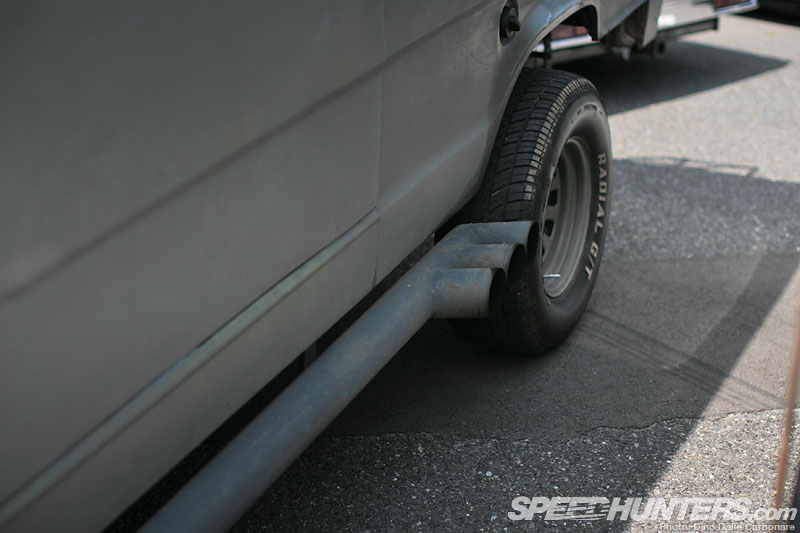 How about this for an in your face side exit exhaust!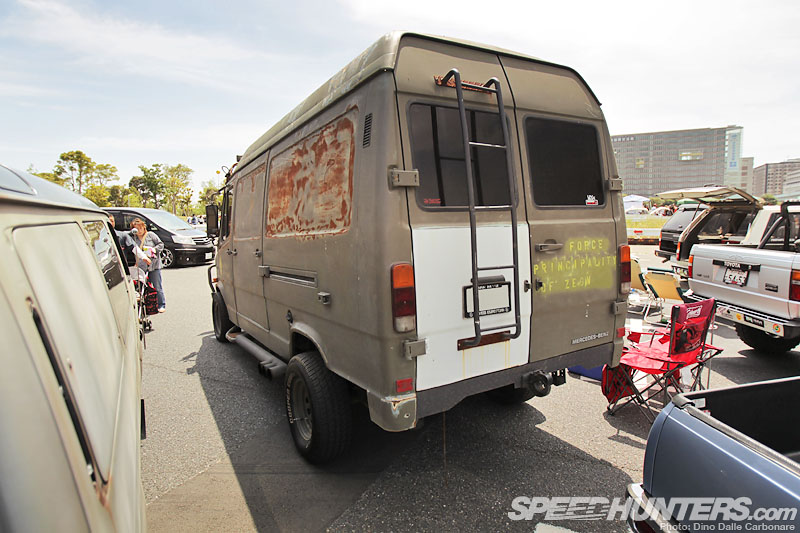 The rear end was kept quite simple with yet one more reference to Gundam.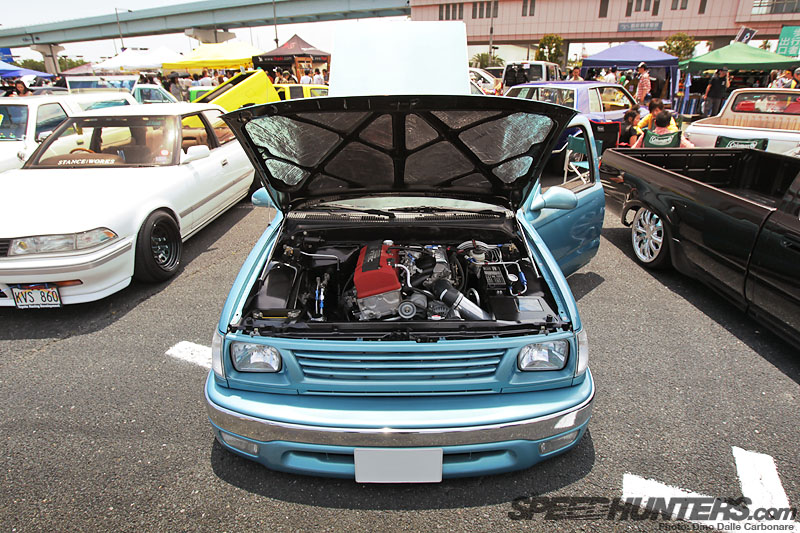 There are always plenty of interesting engine swaps to see at Mooneyes events, but this slammed Toyota Hilux truck was sporting a pretty unusual motor…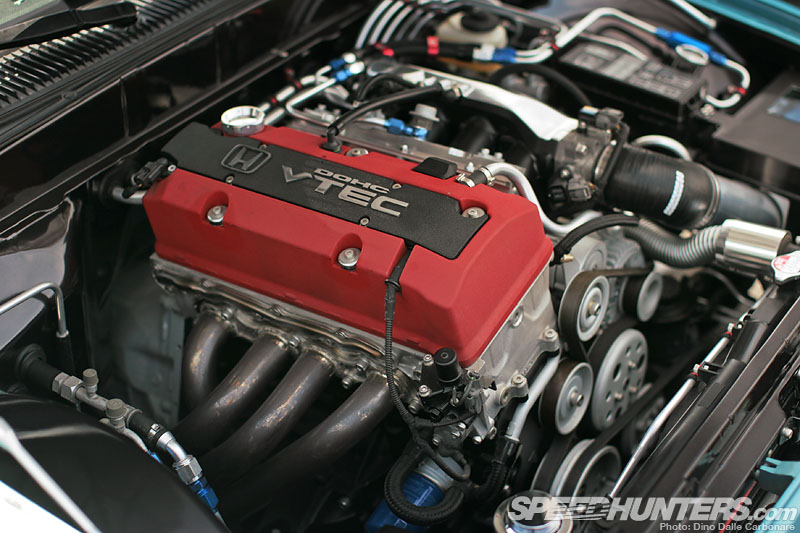 … an F20C from a Honda S2000. This was, of course, quite the crowd puller as people recognized the red head cover from a distance. The high-revving four-cylinder was fitted along with the S2000's short-throw six-speed transmission.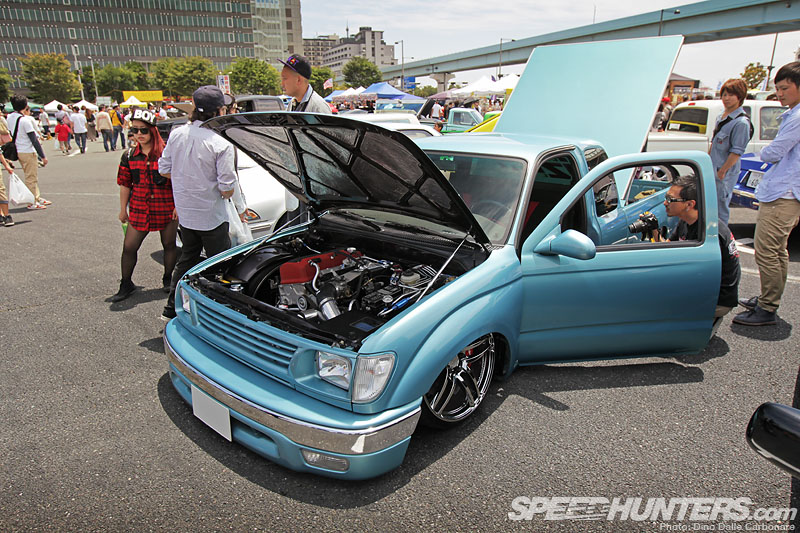 Despite that sporty heart this was very much a show-oriented build with the must-have chassis-on-the-ground look…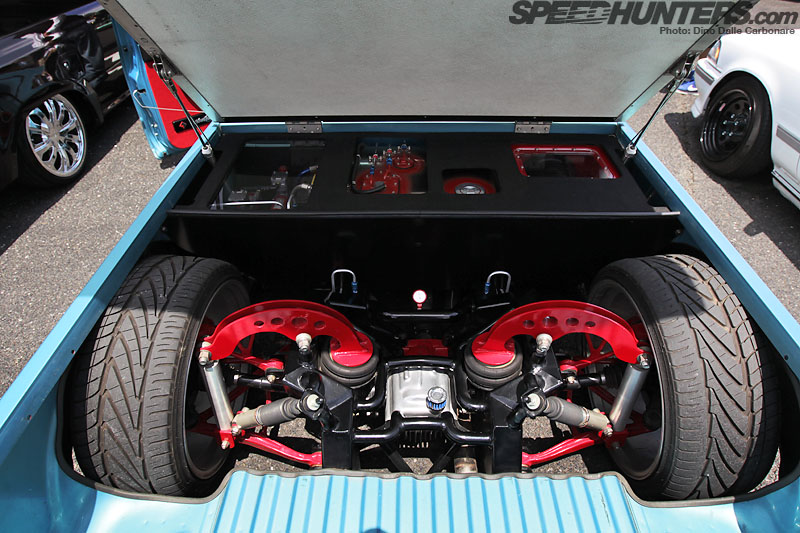 … thanks to a very intricate custom air suspension set-up front and back.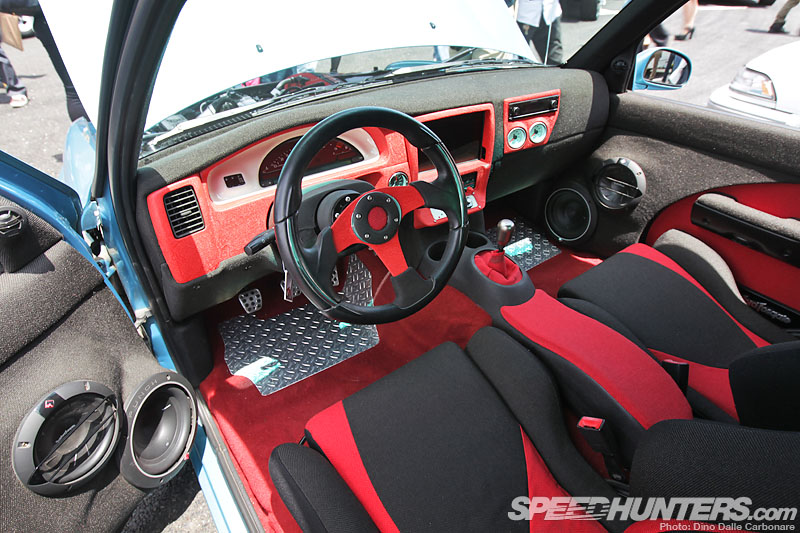 Anyone with a keen eye will instantly spot the S2000's digital dash that was transferred over along with the rest of the hardware. Everything you see and touch is custom, from the red on black upholstery to all the audio bits & pieces.
Like what you see? Stay tuned for another Spotlight-O-Rama from the Mooneyes Street Car Nationals 2013!
Dino Dalle Carbonare
Instagram: speedhunters_dino
Mooneyes Street Car Nationals 2013 coverage on Speedhunters
Mooneyes Coverage on Speedhunters
Mooneyes