Welcome back to my garage. I'm happy to report that over the past month a whole lot has happened and progress with Project Z is on a roll. You might be looking at this photo and thinking I've gone mad, but don't worry – the G-nose will be back soon enough. While the car has no motor in it we've decided to take the opportunity to give the engine bay a proper tidy up.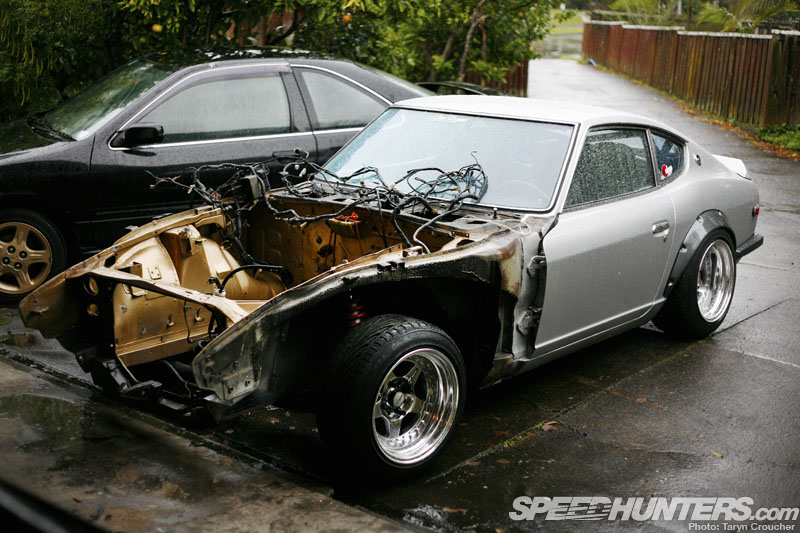 First the front body panels had to be removed so that we could start prepping the engine bay to be cleaned up, repainted and then eventually rewired. It felt weird seeing the freshly painted G-nose and fenders coming off, and even weirder seeing the Z in this half zombified-looking state.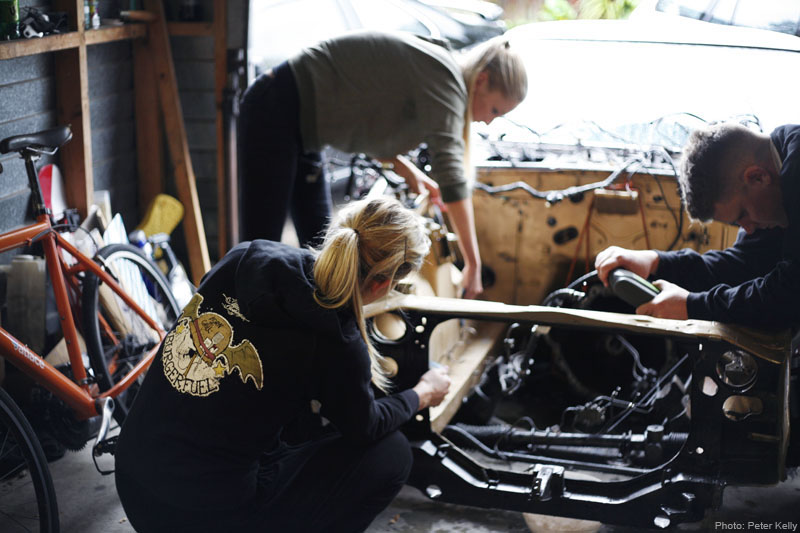 I've been lucky enough to have the help of some awesome friends who have been helping me on the weekends and even on weeknights too. I can't begin to thank them enough for their help.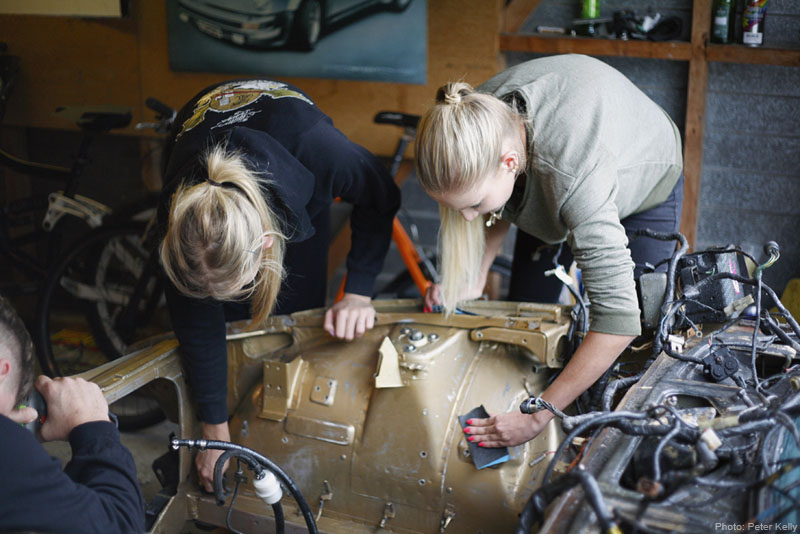 I'm not a mechanic and I didn't grown up around cars at all, but over the last few years I've really tried my best to throw myself into modifying my own projects so that I can really understand everything from a hands-on point of view. It's been stressful at times and I've learnt that patience is key, but I absolutely love it. I can't say that I particularly love sanding that much though!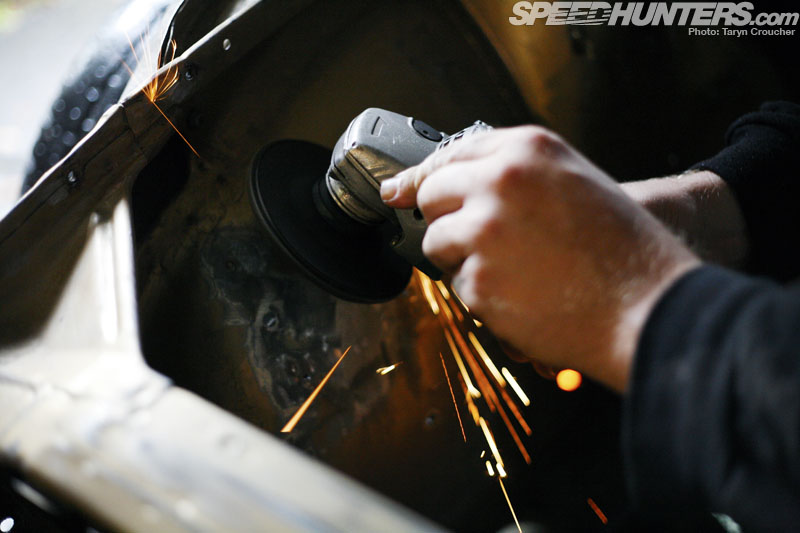 After my friend Michelle and I prepped the bay for its eventual first coat of primer, it was time to remove a whole lot of ugly bits protruding from the engine bay…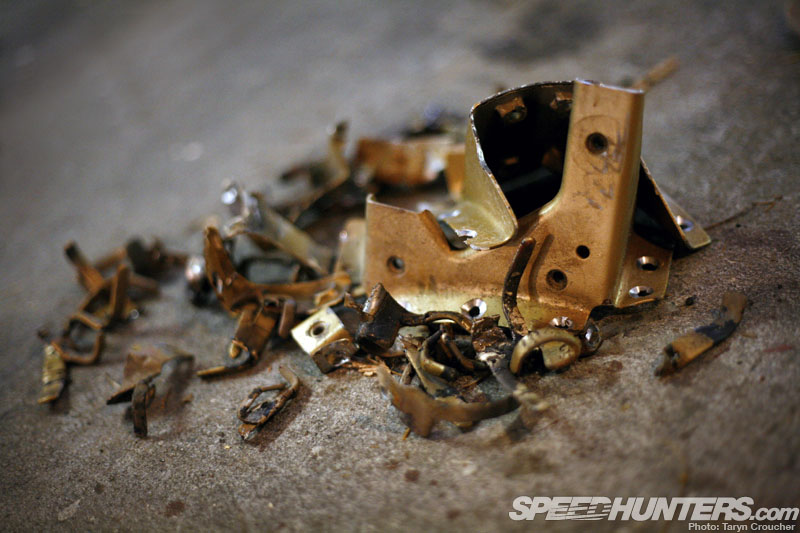 … of which there turned out to be quite a few! Since we had previously removed the fuel injection system, there were a lot of unused brackets as well as what I can only describe as industrial strength twistie-ties to hold the now mostly-useless looms in place.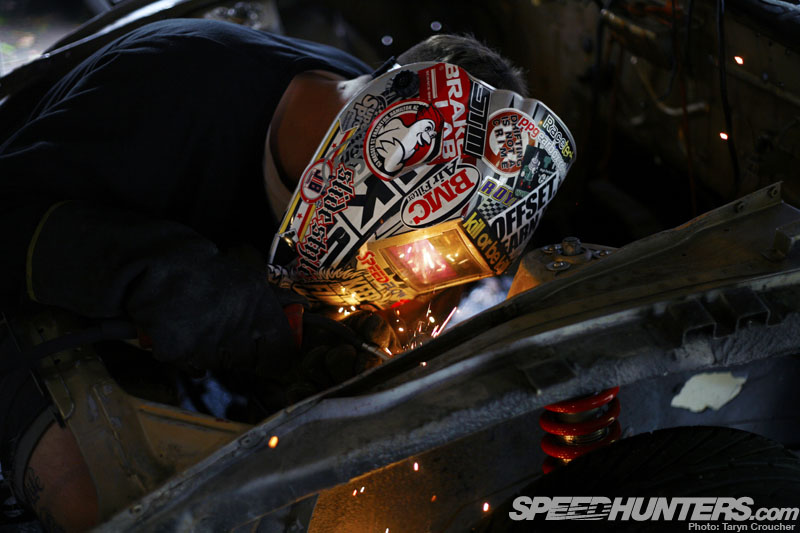 There were now a lot of redundant holes throughout the engine bay so these were closed up thanks to my friend Marcus, who conveniently happens to know his way around a welder pretty well.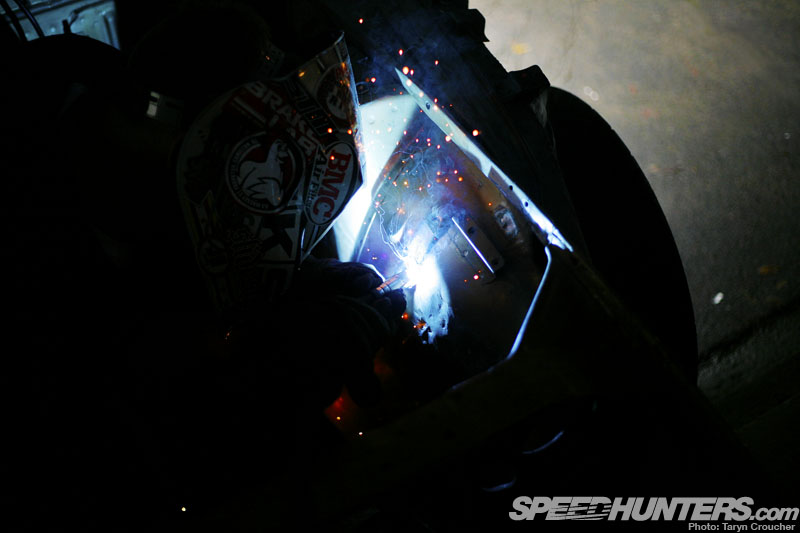 This process is so fun to take photos of, but I struggle not to look at the light! It's like when someone yells: "Look, boobs!" You just can't not look, am I wrong?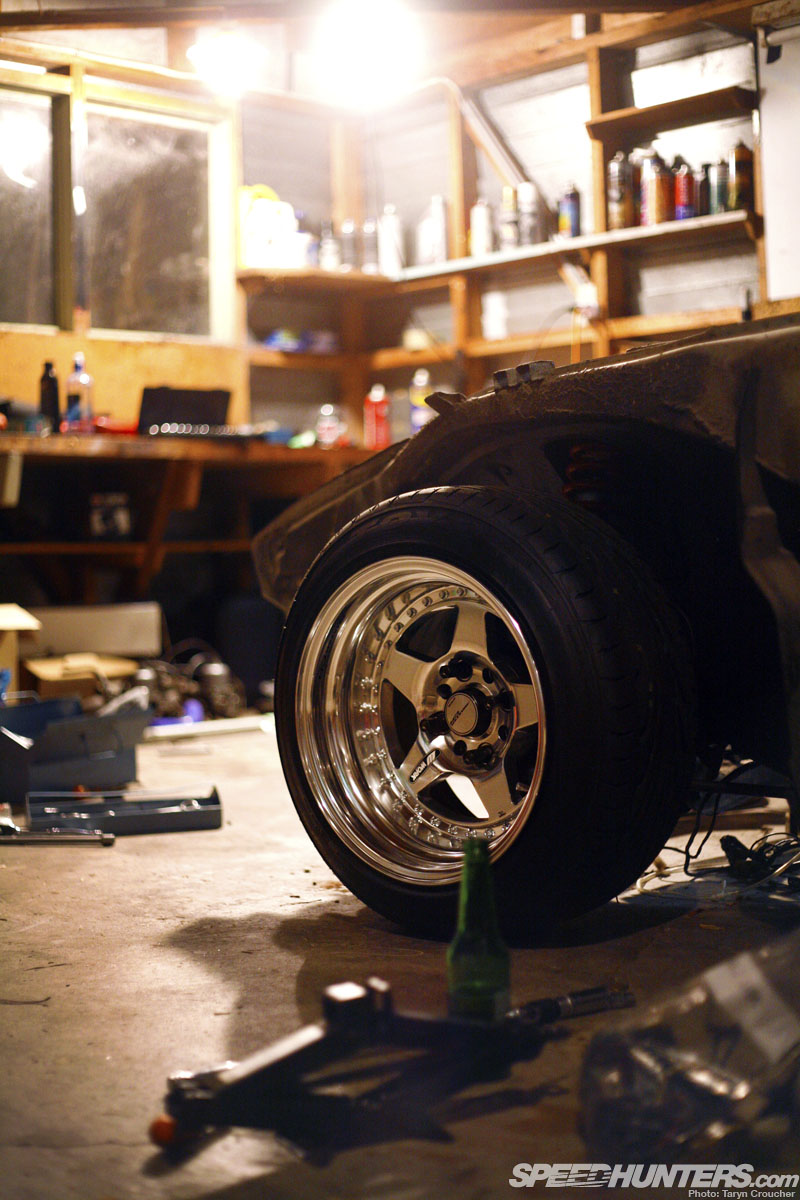 It's still far from completion but the engine bay is going to look amazing once it's done, and it'll be such a huge improvement in comparison to before which I'm really excited about. But the burning question here is – what's going to be sitting in it? I left you all with a bit of a cliff-hanger recently with what was going to happen the original L28 motor and whether or not it would be worth rebuilding.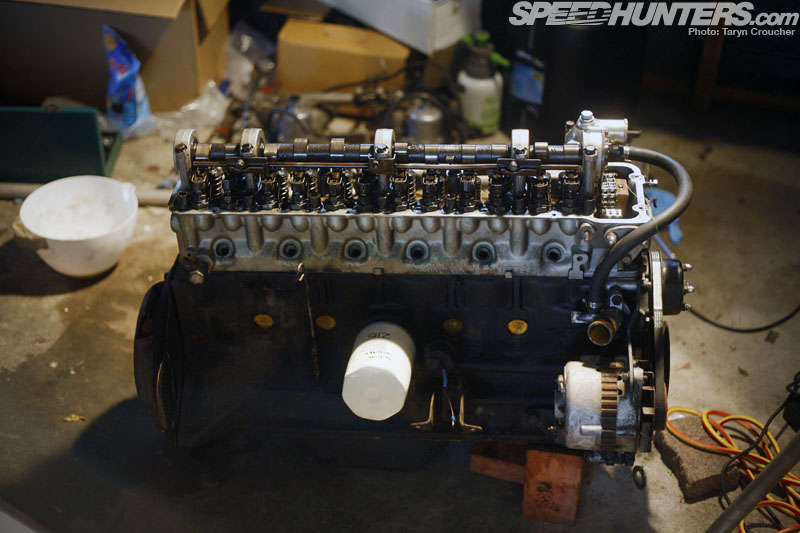 Even I wasn't sure what was going to happen at that stage, and I had some interesting suggestions from people about possible options for different engine swaps that I actually did consider.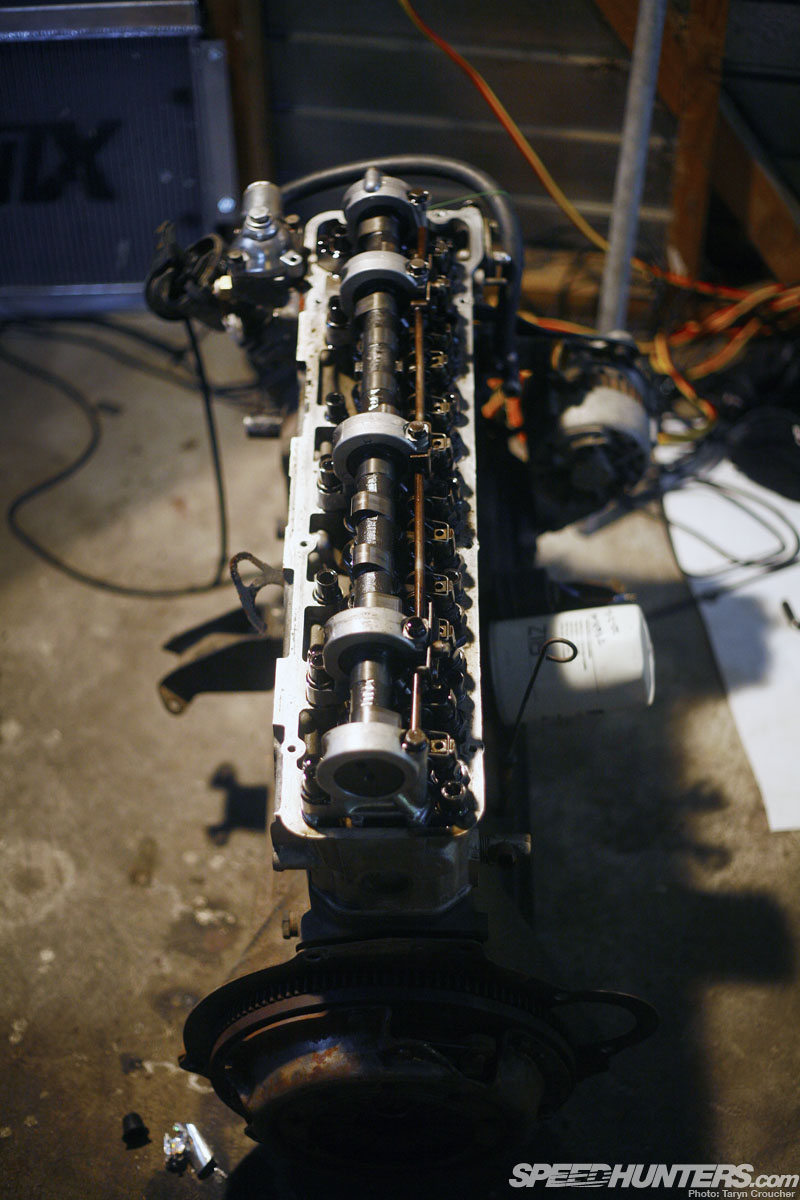 But I really had my heart set on retaining the SOHC L28 straight-six motor. I wanted to keep the engine set up period-correct as well as being nice to drive on the street but still capable on the track.  Plus, to be honest, it's hard to beat the sound of a worked L-series motor sucking down air through triple sidedrafts. The motor will be staying 2.8-litre, but will be a much angrier beast once it's all back together. So last month we pulled it out to see if we could figure out why one of the cylinders was so low on compression.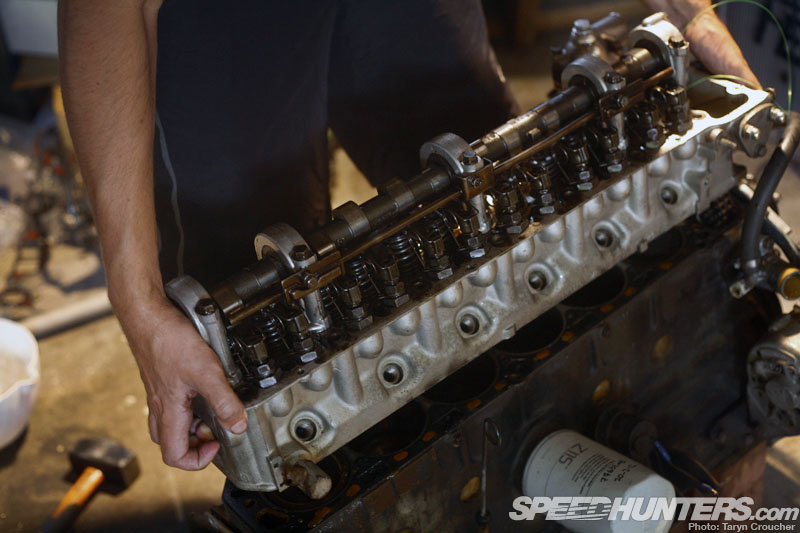 From what we could see there were no problems with the valve clearances, which could have been the cause. So then we removed the head to take a closer look.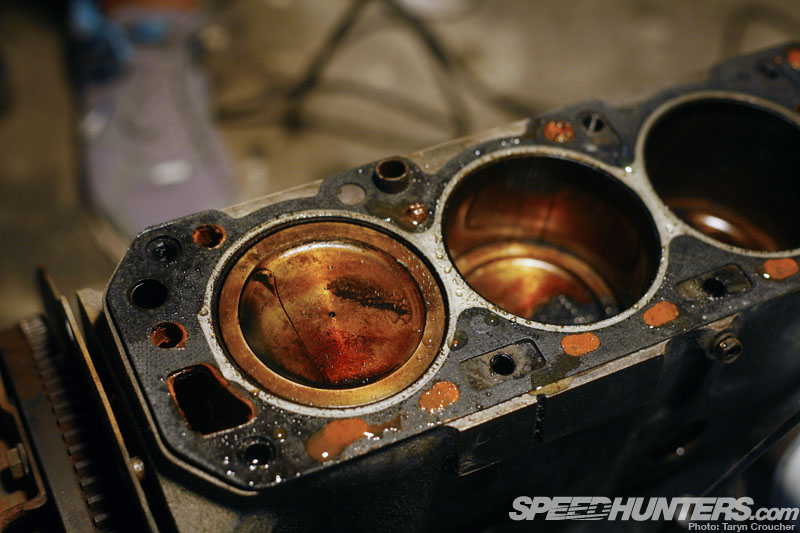 The previous owner had been told when he bought the car that it was running flat-top pistons, though he was suspicious that this was not the case. We discovered his suspicions were true when we removed the head and saw the dished pistons in there. Though this obviously had no bearing on the dropped compression of one cylinder, it did suggest that the motor's compression ratio was going to be super low.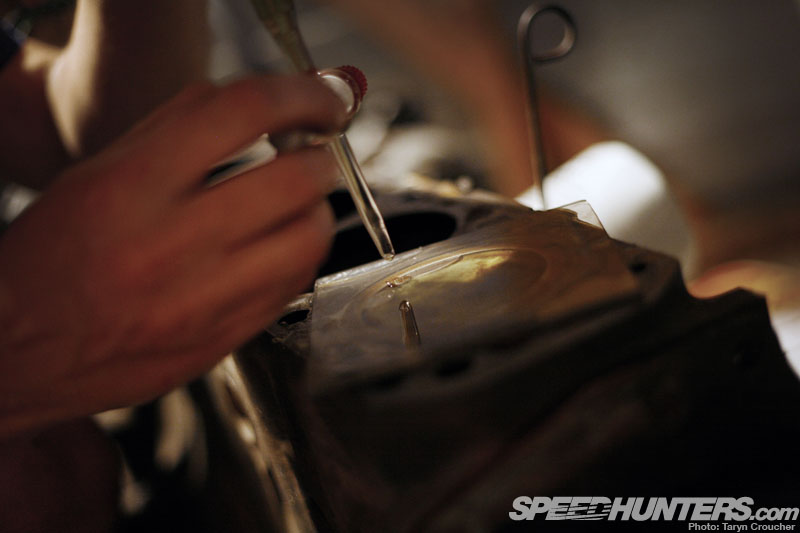 A quick CC test confirmed that the L28 was currently running a very low compression ratio of 8.2:1. Looks like a set of new flat-top pistons will be on the cards!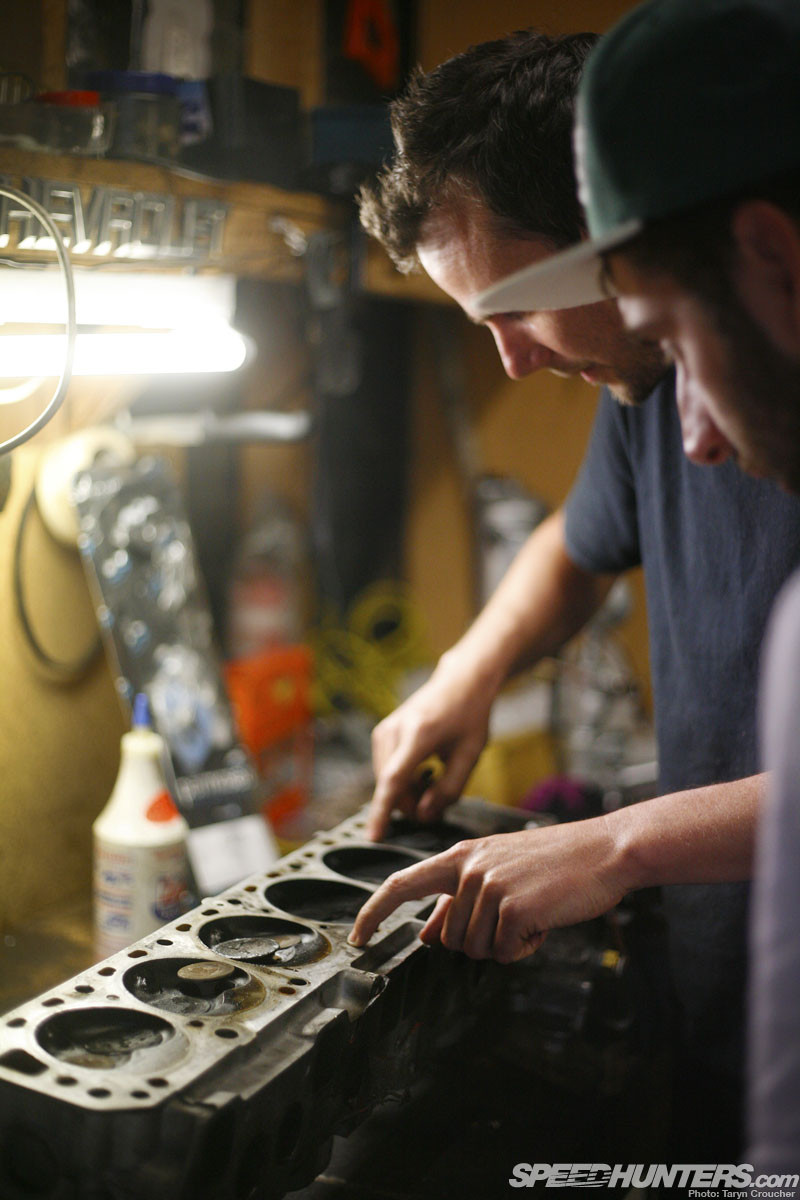 Next we took the head over to Jason at Cylinder Head Supplies so that he could take a better look and see if he could diagnose the problem.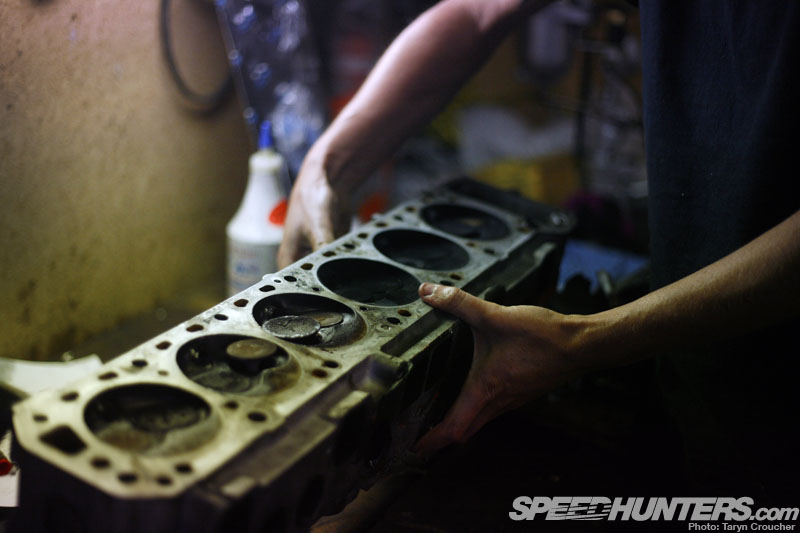 It didn't look too pretty, but again there was nothing wrong enough with the valves themselves to cause such a dramatic drop in compression.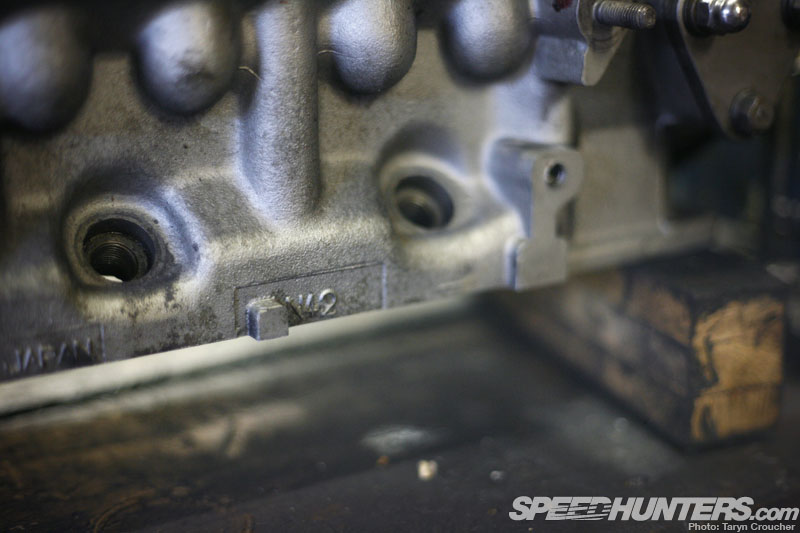 Further inspection showed that the N42 cylinder head hadn't been cooked either, so it was still dead straight…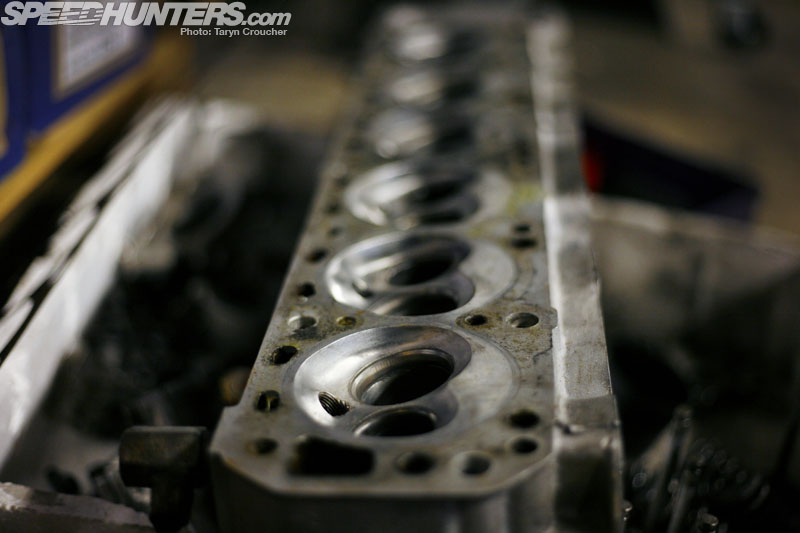 … and after removing the valves we discovered that at some stage it had been nicely ported and polished. This was something we were planning on doing anyway, so at least this was a good find.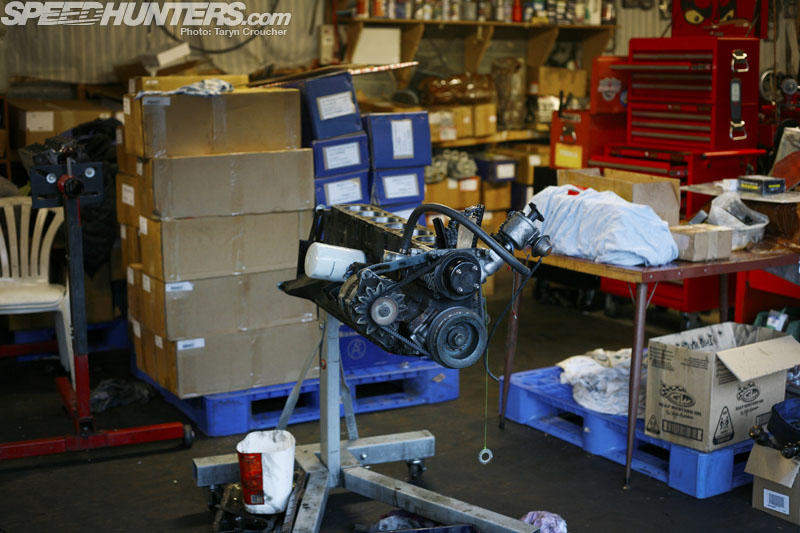 But after fully examining the head and finding no abnormalities, we still hadn't solved the mystery of why the fifth cylinder was down on compression.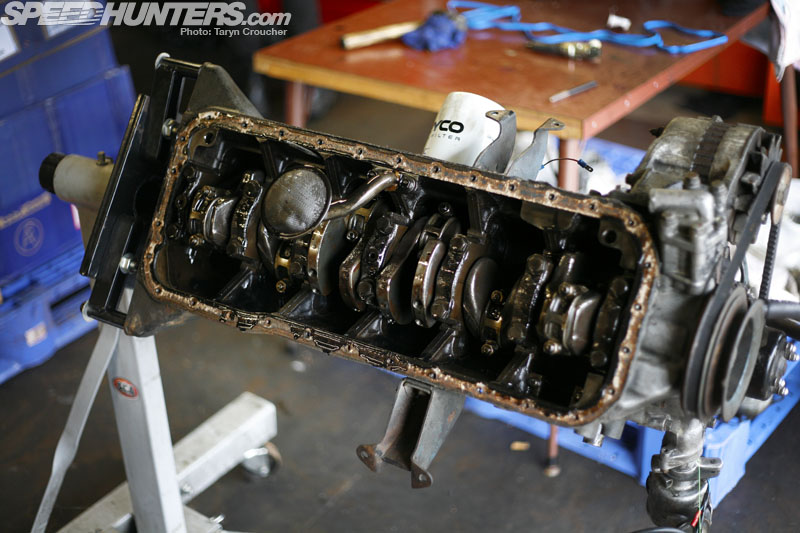 With the motor on a stand we removed the sump and began to drop the pistons, as our next thought was that the issue might lie with the piston rings.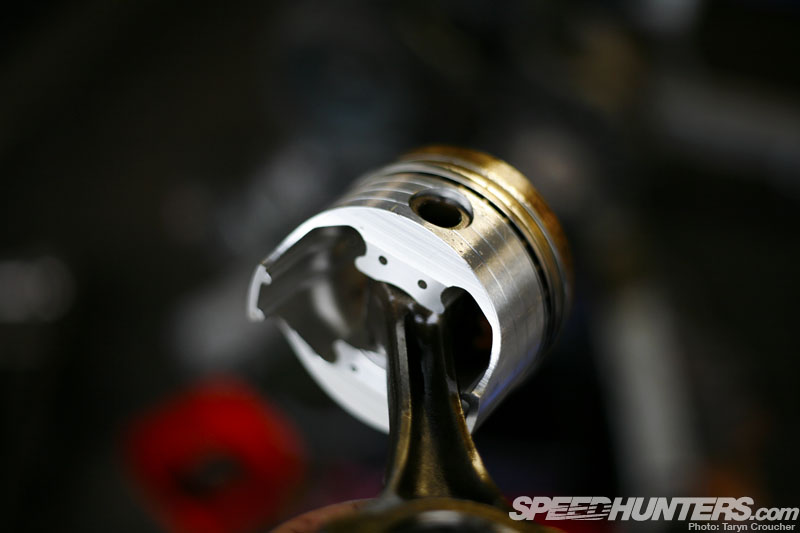 The pistons, although no good for a high compression rebuild, looked really nice.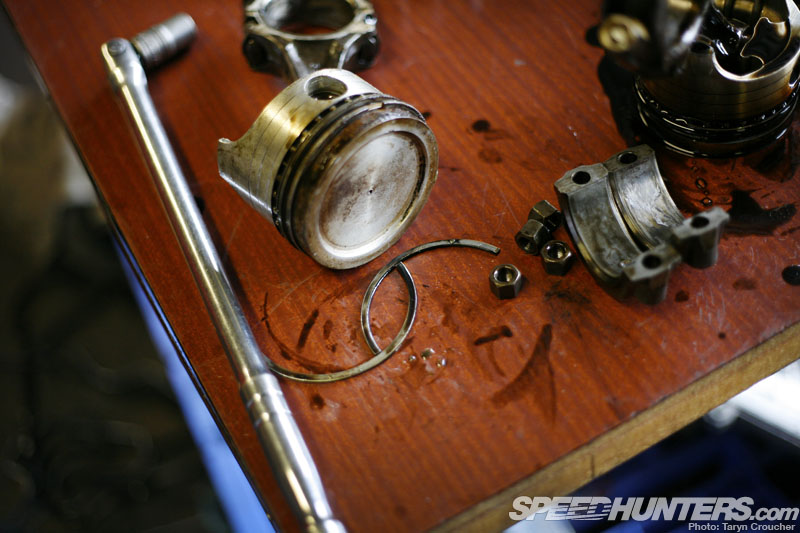 Sure enough, when piston number five was pulled out, the ring came out in two pieces.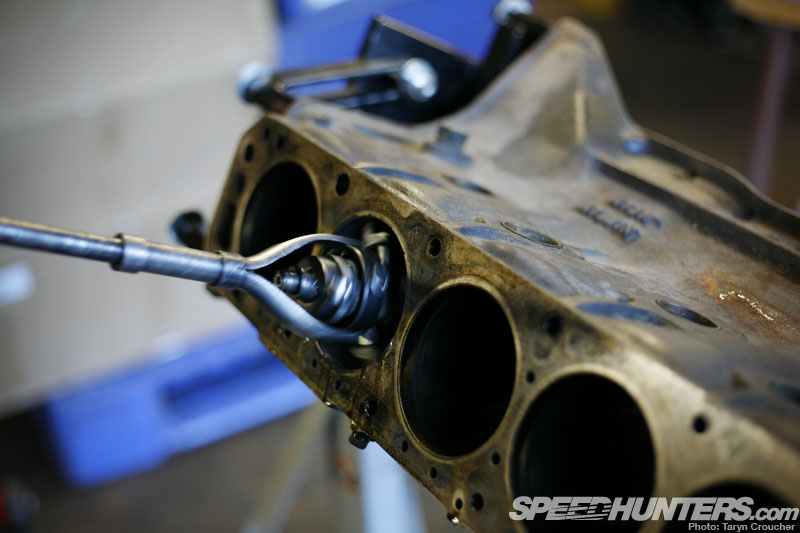 Jason then gave the bores a hone to try and clean them up…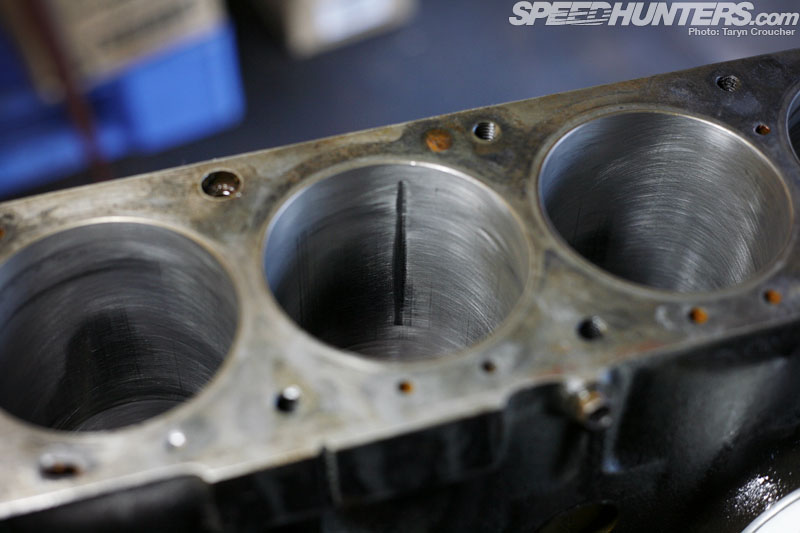 … this however, revealed a score in the cylinder wall from the broken ring – too deep for a hone to fix. It will need a full rebore, which considering the old pistons will be ditched anyway, wasn't the end of the world. This should see the compression ratio raised to around 9.8:1.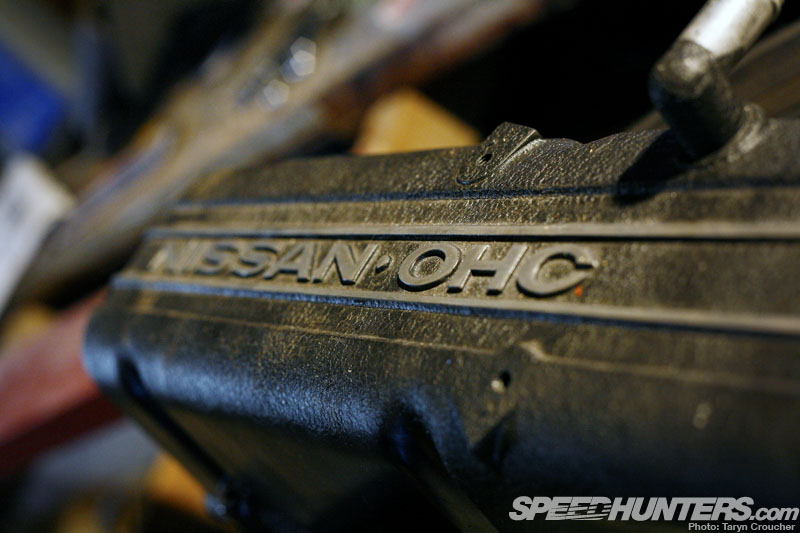 Although having the cylinders rebored will cost a bit of extra cash, I think it'll be worth it to be able to give the original motor a new and improved lease on life. I've become attached to the idea of keeping Project Z true to its heritage, and after much consideration I've come to the conclusion that building a motor that's comfortable for the street and the track is what appeals to me the most. Although the outcome won't see any extreme power figures, the rebuilt L28 should make the car quite quick extremely fun to drive, and I really want to enjoy driving the Z around town, on road trips throughout New Zealand, and to the track and back. Staying with the classic period correct theme and keeping the soul of Project Z intact definitely feels right, and with a set of new 1mm oversized flat-top pistons on their way from the States as I write this, hopefully by next month the motor should be back together!
Taryn Croucher
Twitter: @taryncroucher
Instagram: @taryncroucher
More Project Car stories on Speedhunters