Although it's something that I'd love to be able to do, there is literally no way you could shoot every single car at the Mooneyes Street Car Nationals before the event closes at 3pm. So this year – like every year – it was all about being selective and concentrating on the cars that exhibited flair and really stood out from the crowd. Cars like this Mitsubishi Debonair for example, which was finished up with numerous of one-off touches.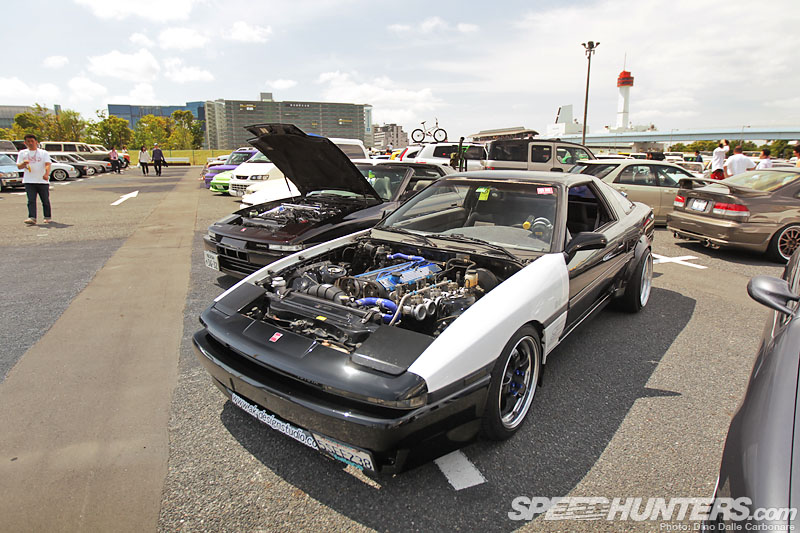 Or how about this US-spec JZA70 Supra – probably still a work in progress in the looks department…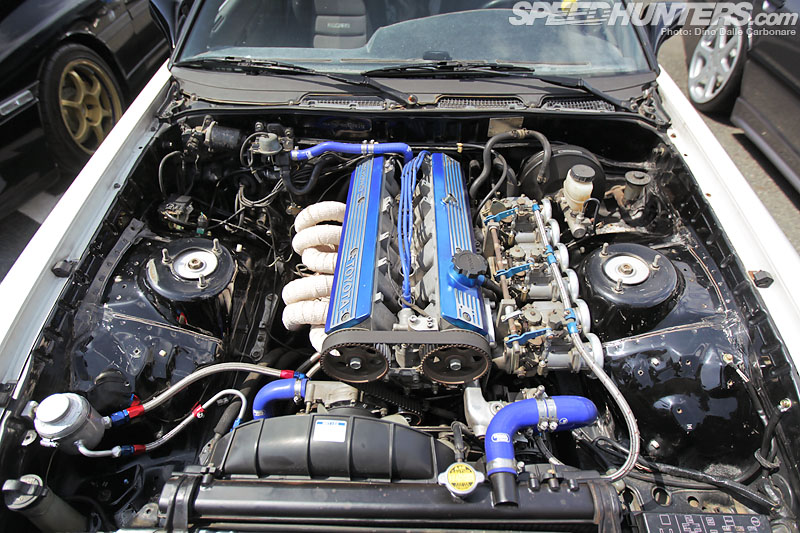 … but not so much when it comes to the mechanicals. This 5M-GE has been stripped of its Bosch fuel injection system and replaced with carbs. It probably sounds as good as it looks, and the response from the right pedal must be electric.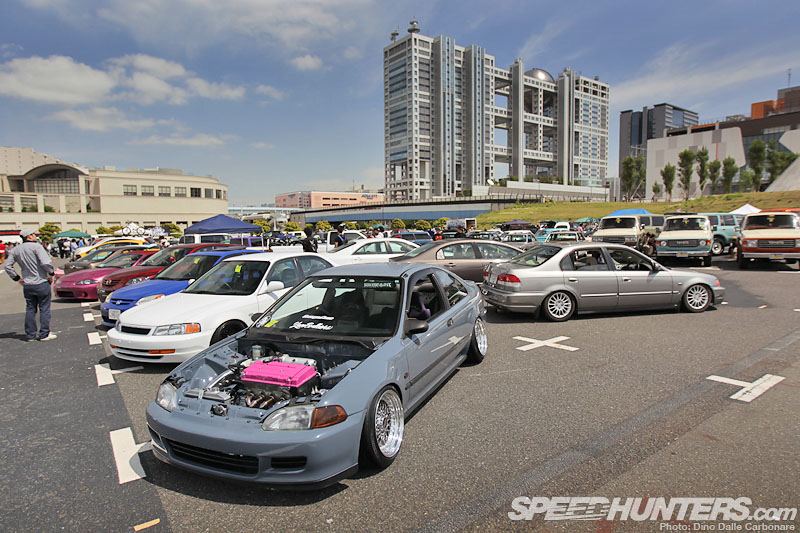 In the last year there has been a very noticeable influx of USDM-style cars entered in the event, and that's evidenced by this huge group of Hondas that were on show.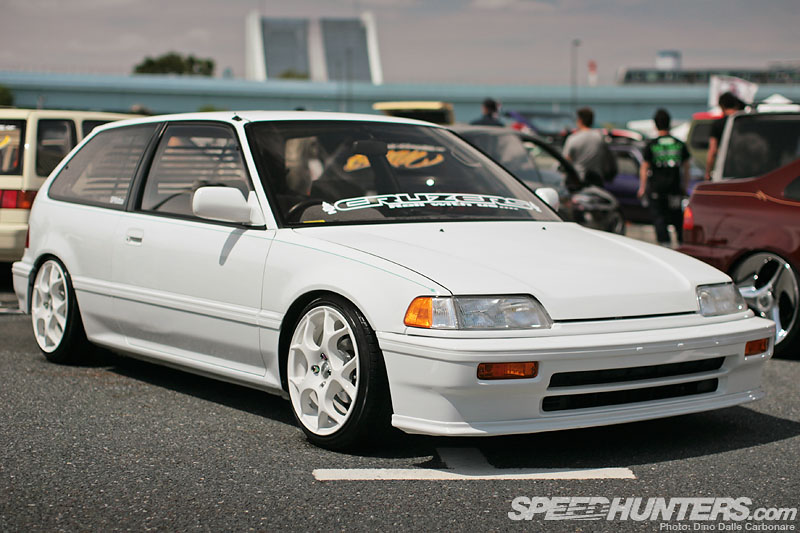 While these Hondas may be built to showcase a variety of styles, the stance element is never overlooked.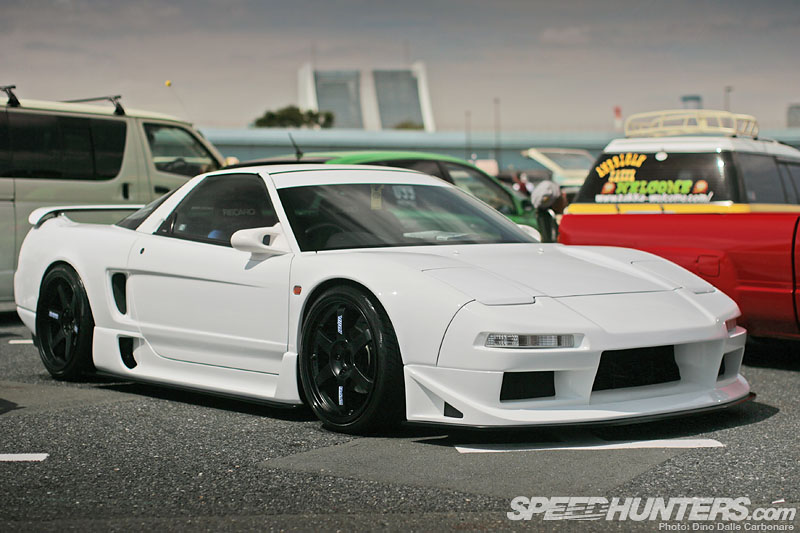 Of all the Hondas however, it was this NSX outfitted with a Margaret Hills aero kit that took the cake for me. Aside form the fact that the NSX is not really a car you would expect to see at a Mooneyes event, it's the perfect example of how things are changing. The staggered Volk Racing TE37s (18-inch front, 19-inch rear) really completed the car well.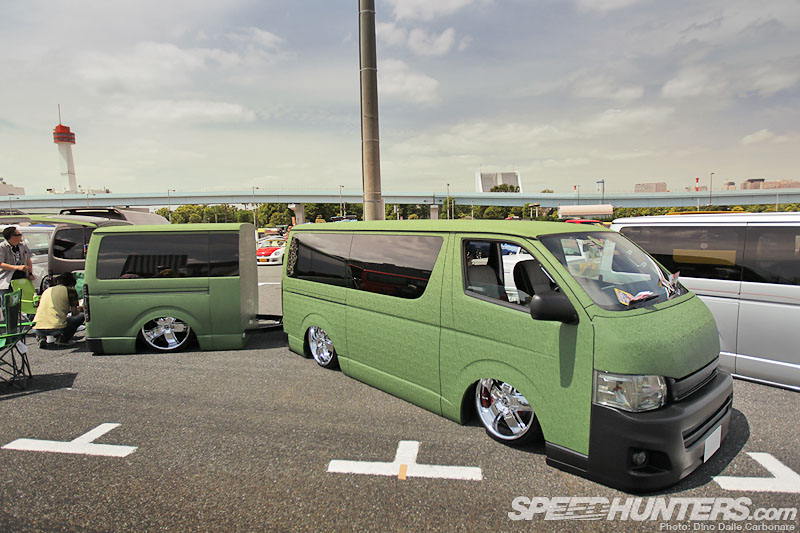 And while we are talking about domestic cars, you really can't get more Japanese than a customized and slammed Hiace. This one was even pulling a trailer made from the rear half of another Hiace.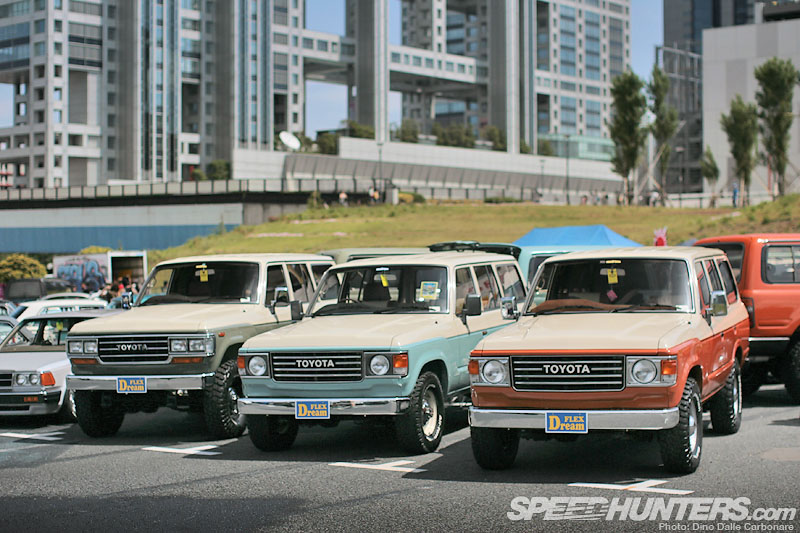 Not into vans? Well how about some 'modern classic' Land Cruisers courtesy of Flex Dream – a shop from the Chofu area of Tokyo that specializes in sourcing and restoring these '80s trucks. I drive by this dealer often and the amount of stock it has is quite incredible.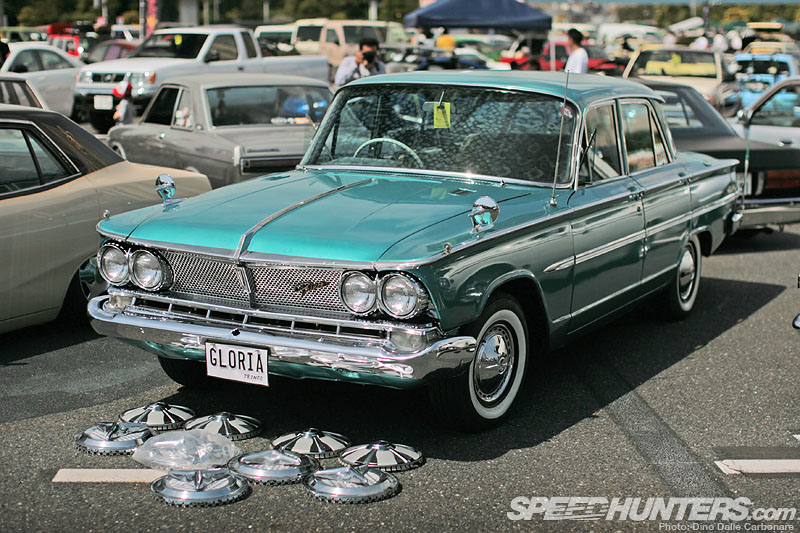 The Street Car Nationals is a place where you can learn a lot about rare historical models too, as there are always some classic gems on display among all the customs – much like this Prince Gloria…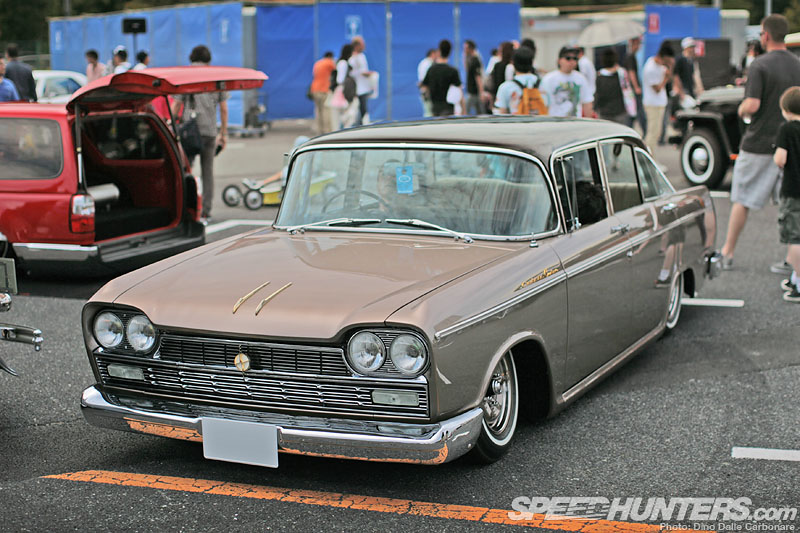 … and this very rare Cedric Custom – 'Custom' being the operative word.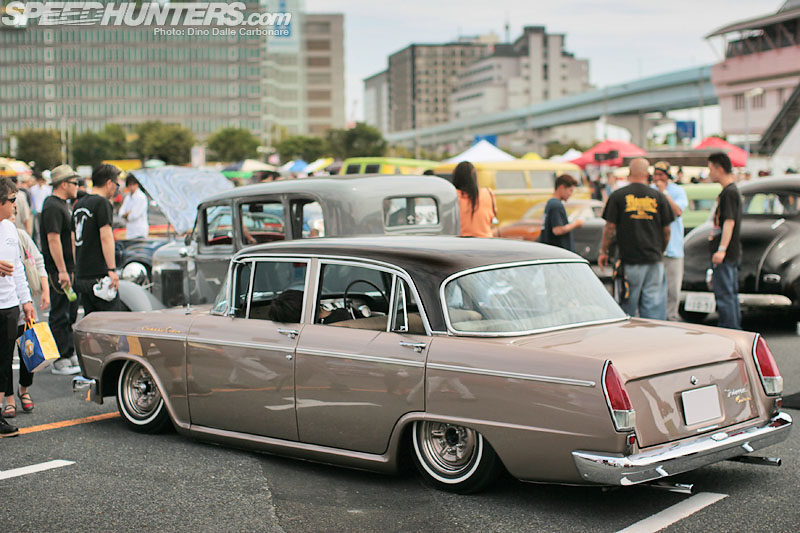 It always surprises me just how good these older cars can be made to look with a simple lowering and a fitting-choice of wheels.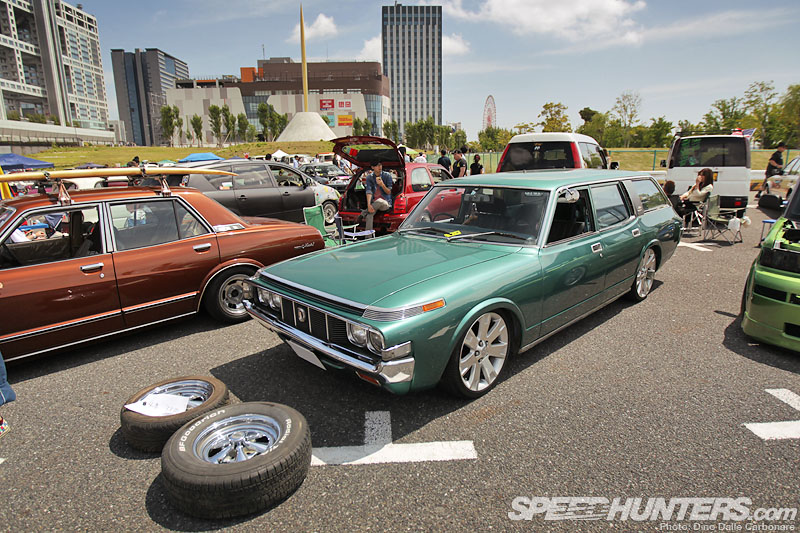 Crown Wagons are just so cool, no matter what generation!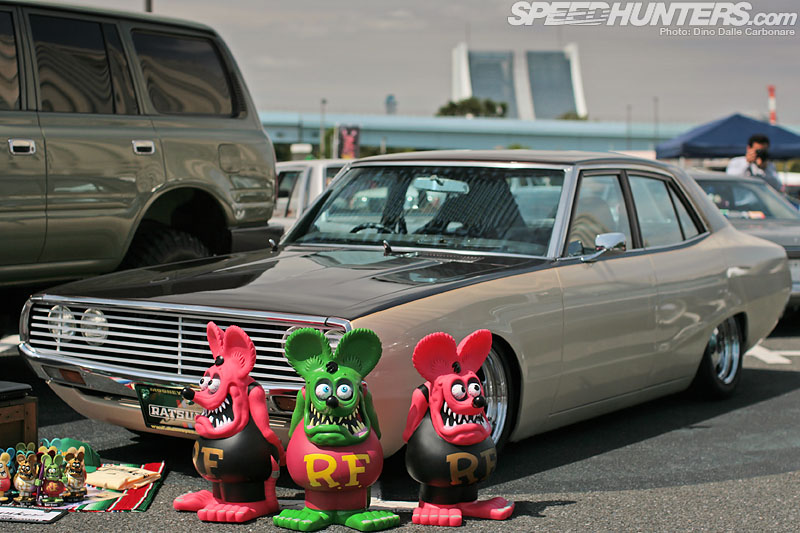 You may remember this 'Ratsun" C110 Skyline sedan from last year, it's a pretty wild and very smoothly executed car and still grabs plenty of attention.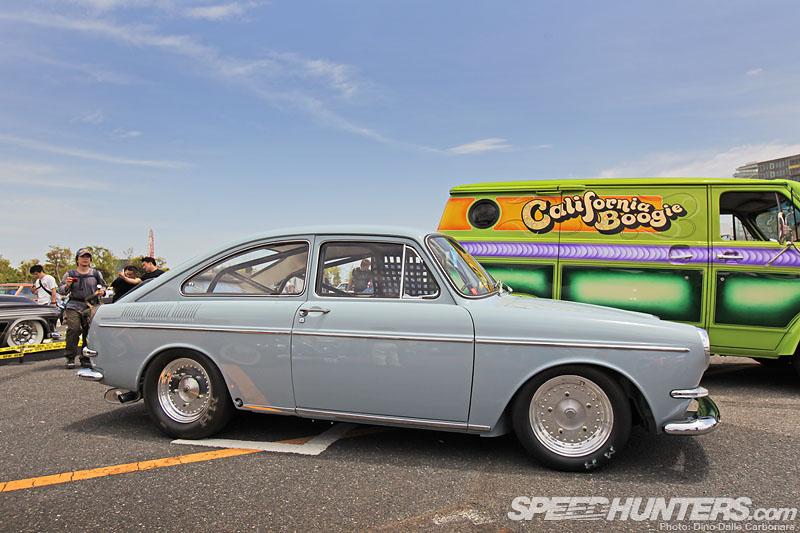 VW needs some love too, but on top of the usual selection of air-cooled Beetles and this awesome drag-prepped Type 3 coupe…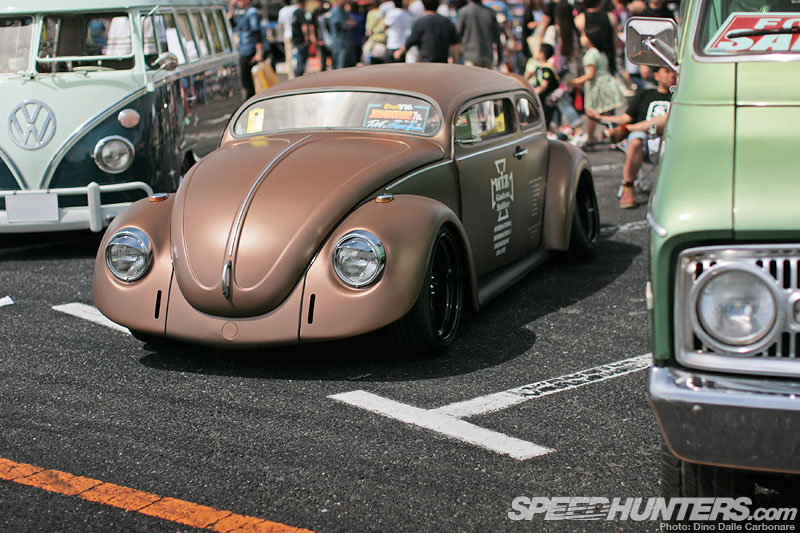 … there was one roof-chopped bug, which was hiding a few surprises under its matte copper bodywork.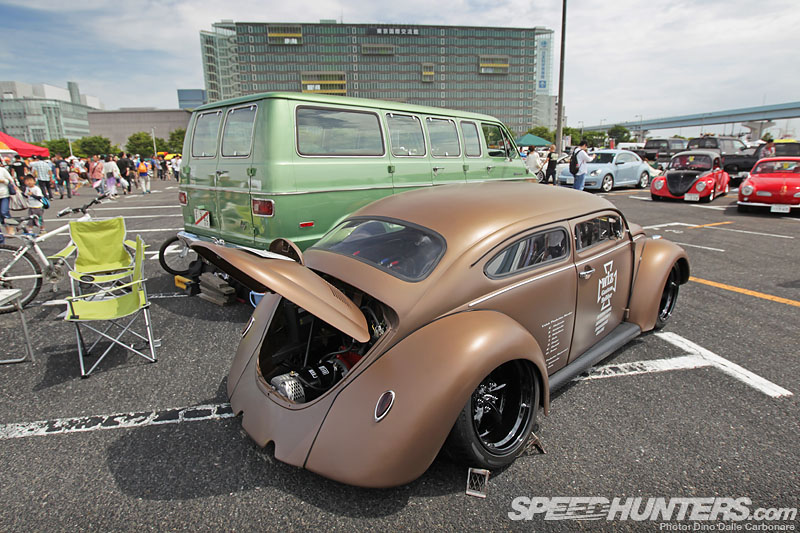 We originally saw the Wiz Beetle back in January at the Tokyo Auto Salon, and despite drooling over that aggressive stance and 'devil camber' on the rear wheels…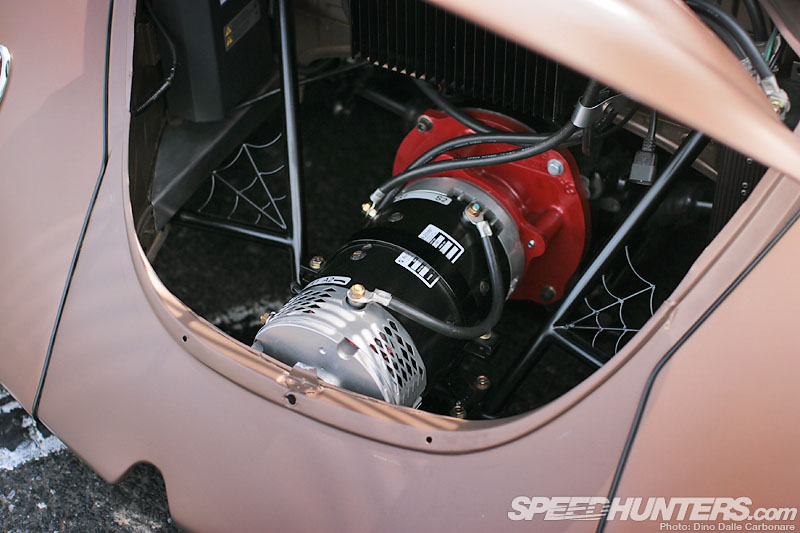 … we were quite surprised by the fact that it's powered by an electric motor! It was great to see it out under natural light – a place where it was far easier to appreciate all the work that went into creating this unique, environmentally-conscious EV-Rod.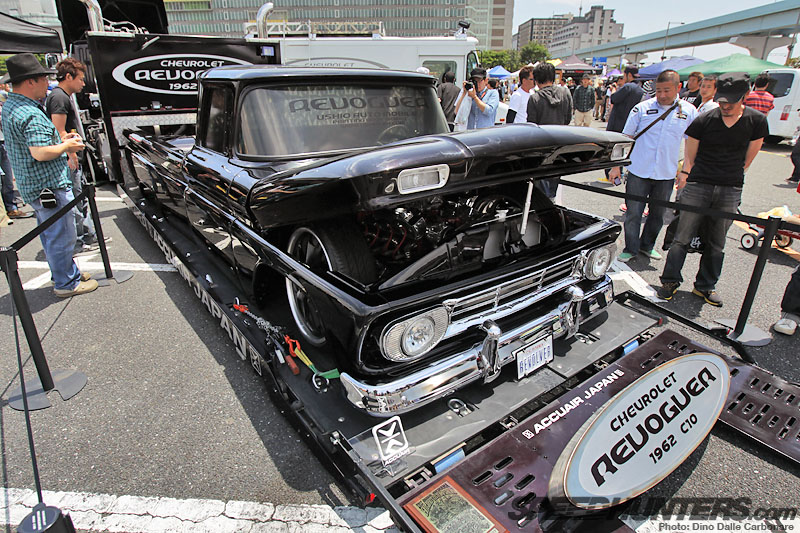 And while talking about wild projects, nothing can beat the 'Revolver.' This Chevy C10 has been a few years in the making and with the body and chassis…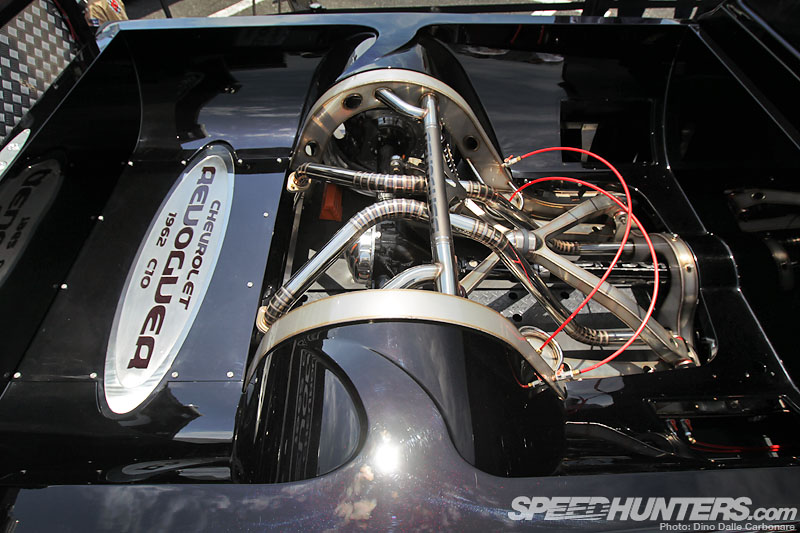 … as well as the driveline and suspension finished, it's only the interior now that still needs to be addressed. The guys at Ushio Auto Mobile in Osaka, who have built this truck from the ground up, have promised to let me shoot it once it's done, but that won't be happening for another year at least.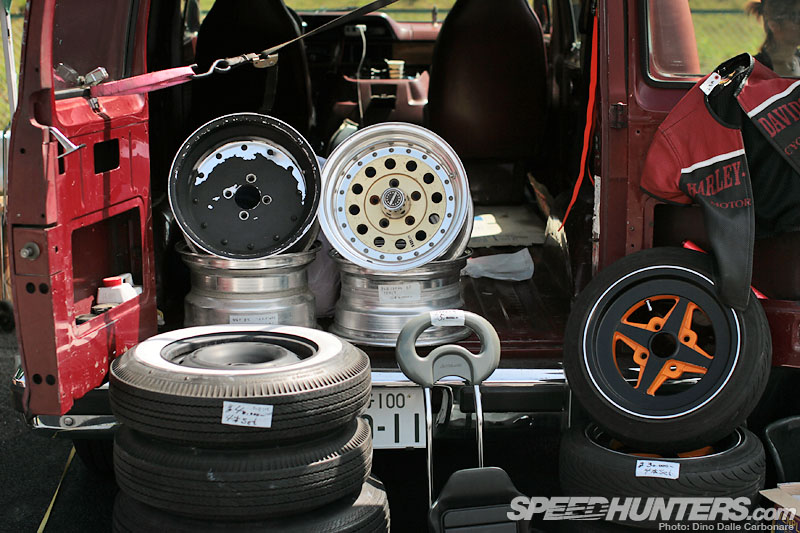 The Street Car Nats are always the a great place to do some part hunting too…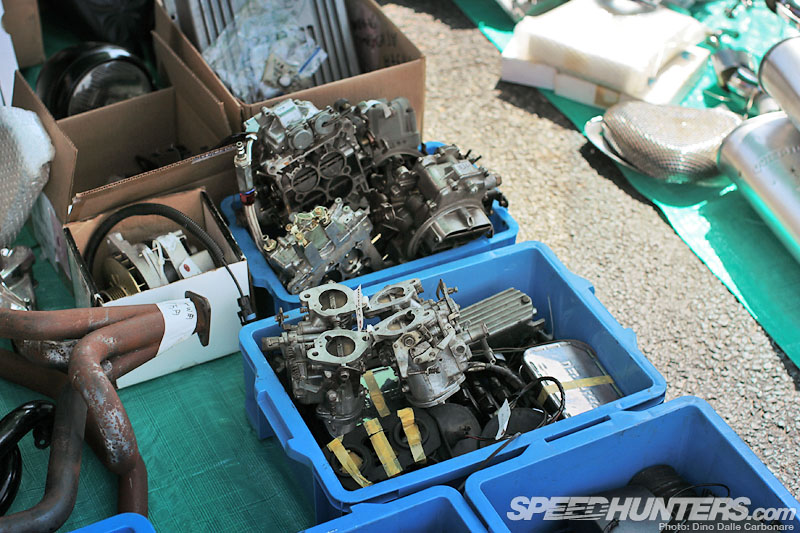 … and like every year…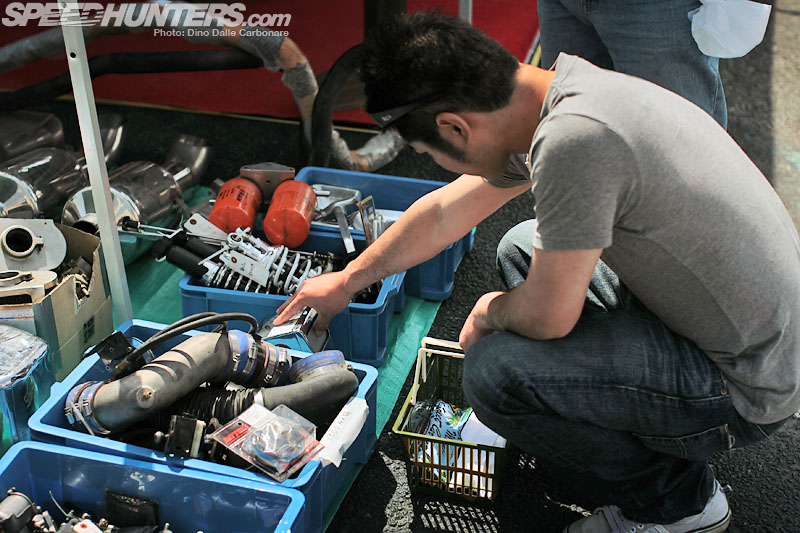 … there was plenty of stuff to rummage through!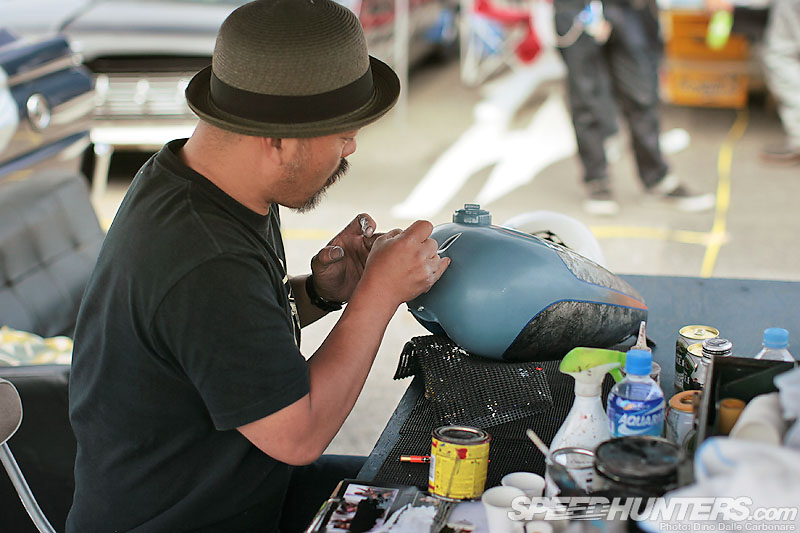 I always like to grab a few minutes and check out the amazing skills that pinstripers have. It still boggles my mind at how accurate and symmetrical each brush stroke they make is; it's an art form that's for sure.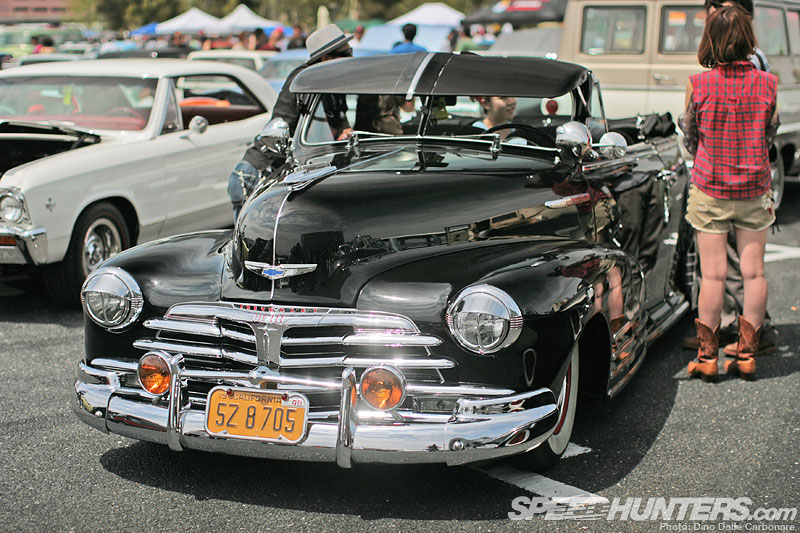 I did say that I was on a special mission to dig out unique cars, and parked next to this '48 Chevy…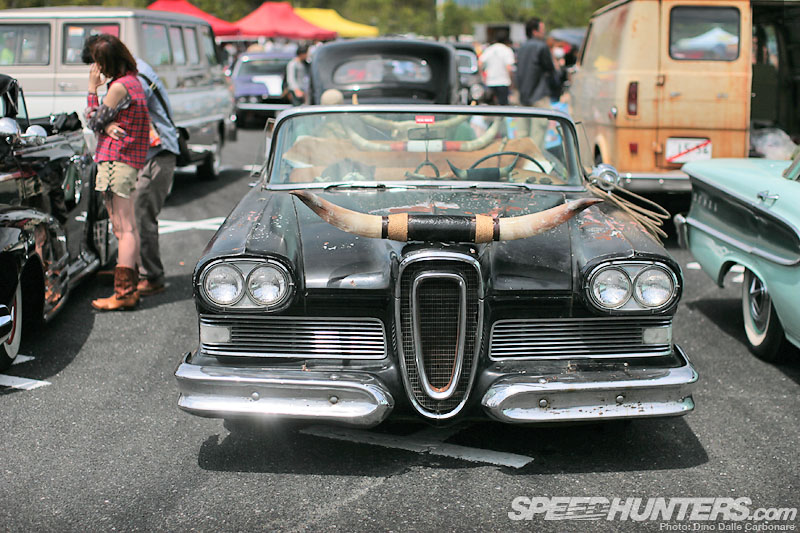 … I came across a pair of Edsel Pacers, the rougher 'cowboy style' car with bullhorns the one that put the most smiles on people's faces.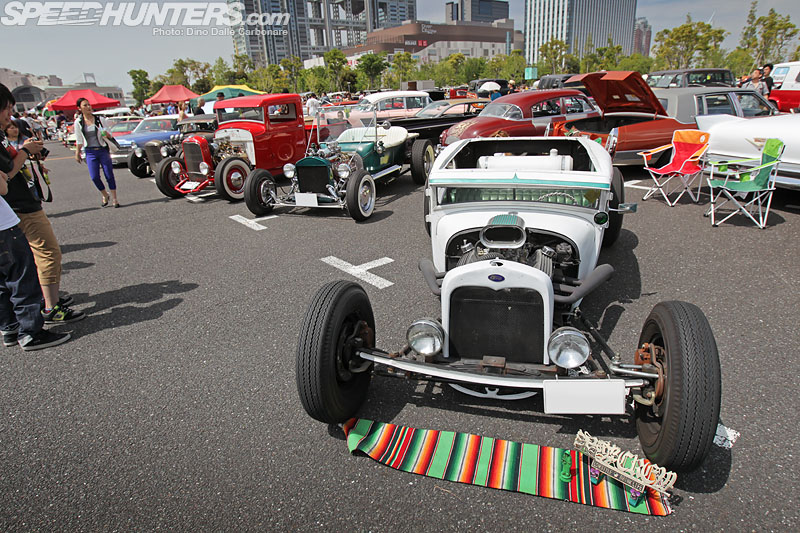 Along with the usual selection of Japanese-built hot rods…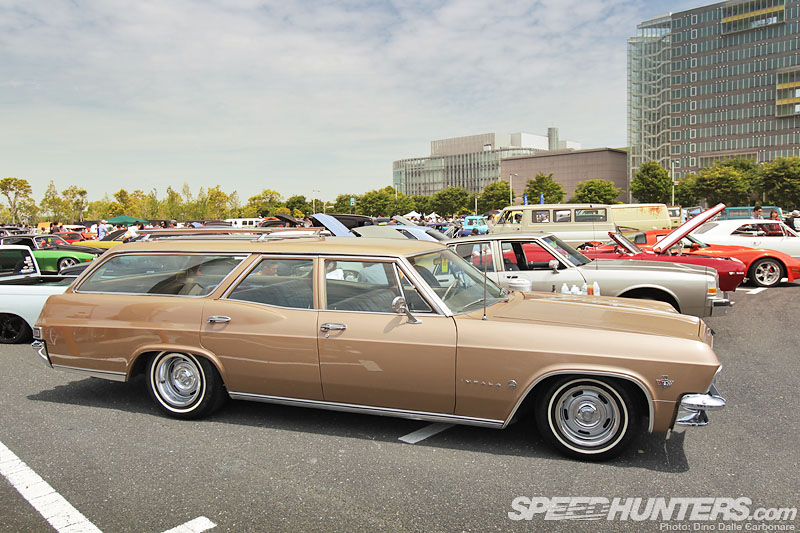 … there was plenty of other stuff to see, from colossal wagons like this Impala…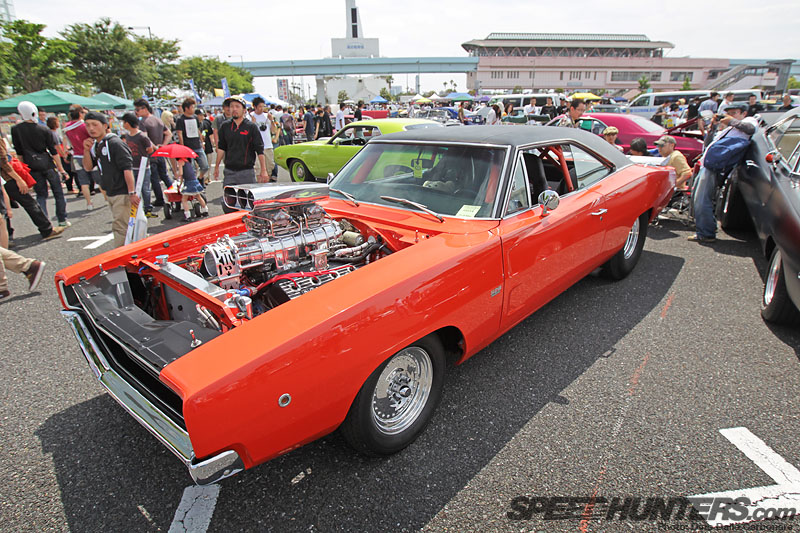 … to fully built and extremely powerful drag cars like the Pro Street Dodge Charger we saw last December at the Hot Rod & Custom Show in Yokohama. It was cool getting a better look at the massive blown 528 Hemi that powers it. Which reminds me – I still want to shoot this brute!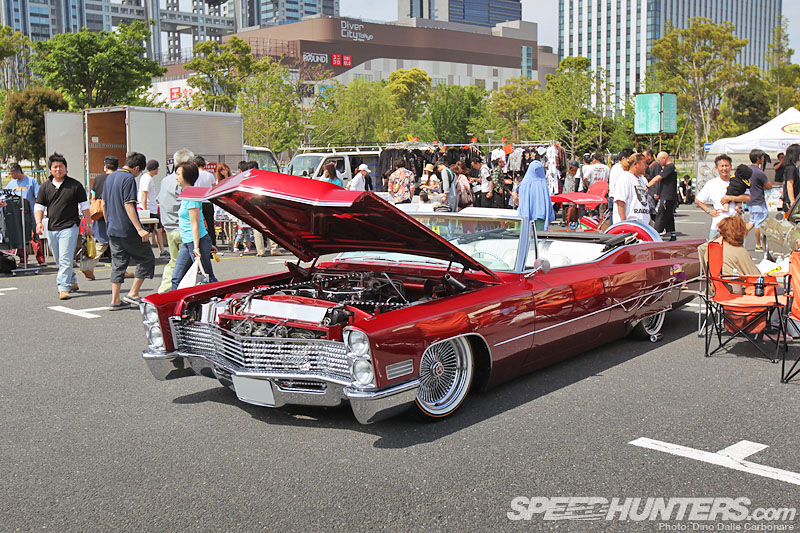 There sure are a lot of different styles out there!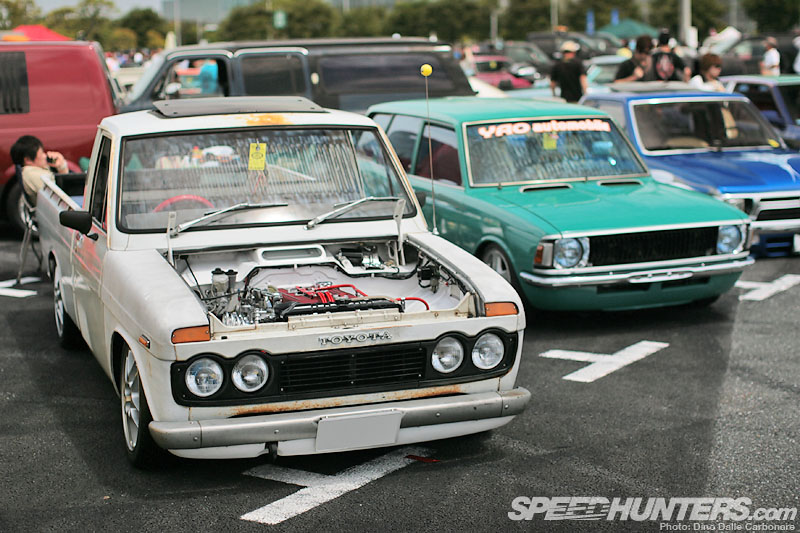 We do see a lot of Datsun Sunny trucks at gatherings here in Japan, so it was quite nice to see something from the Toyota camp, this ratty N10 Hilux…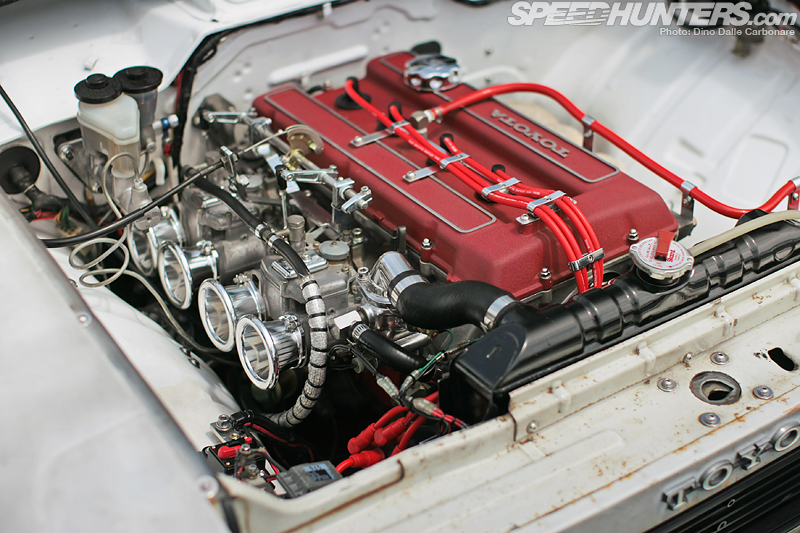 … hiding a few surprises in the engine bay.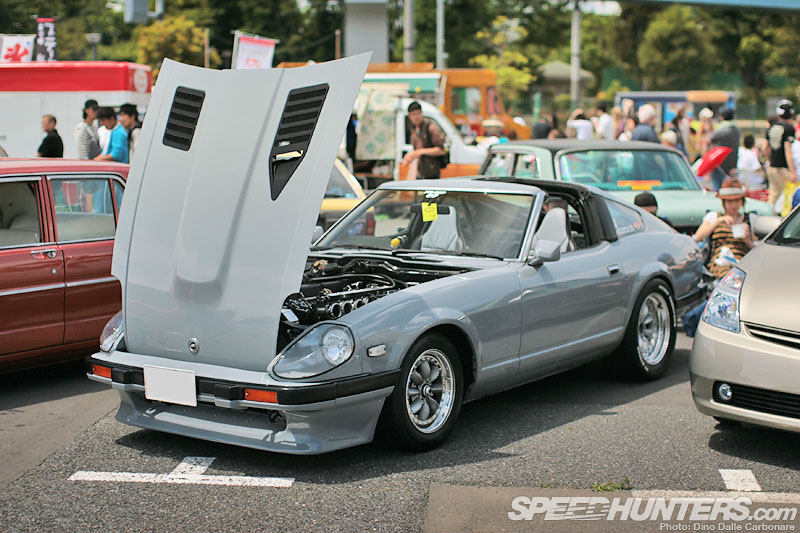 I didn't spot many Fairladys at this year's event, but this S130 really did make me stop and have a closer look…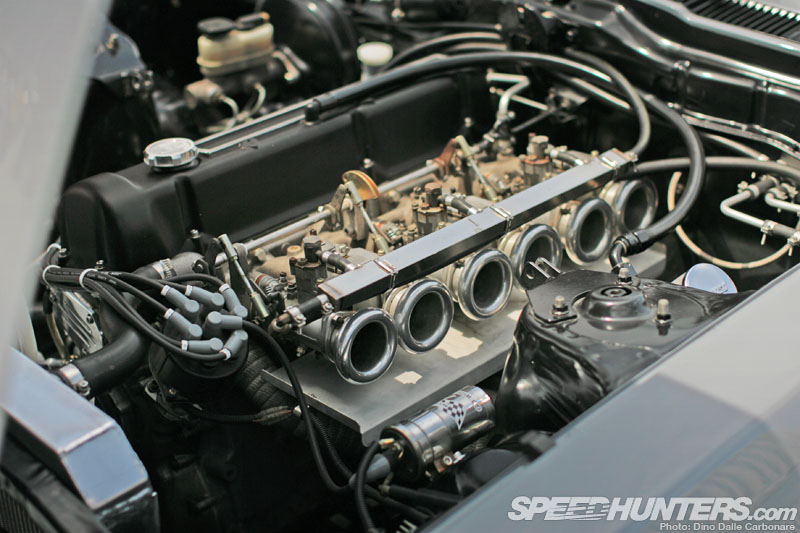 … once I spotted those shiny velocity stacks lined up along the L28 in the engine bay.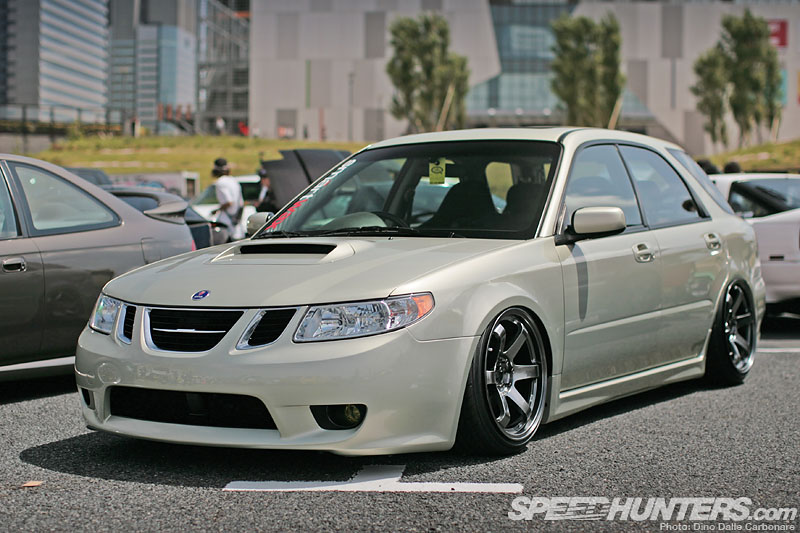 A Saabaru 9-2 has never looked so good! Nothing like a bit of adequate fitment to make a car look its best.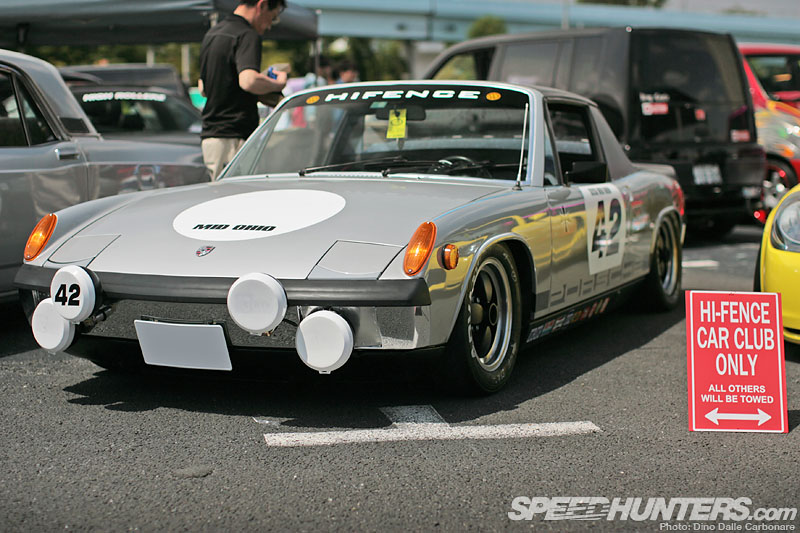 I'll leave you with this last image of the Hi-Fence Porsche 914 from my first post, which some of you wanted to see more of. Next up in my final installment from the 2013 event is a quick walk through the parking lots – aka the Street Car Nationals' second display area.
Dino Dalle Carbonare
Instagram: speedhunters_dino
Mooneyes Street Car Nationals coverage on Speedhunters
Mooneyes Coverage on Speedhunters