I'll be honest: when I was a kid, I had absolutely no clue where life would take me. I did have dreams, however, and as I've mentioned before I can still remember the first time I watched Days of Thunder back in the '90s.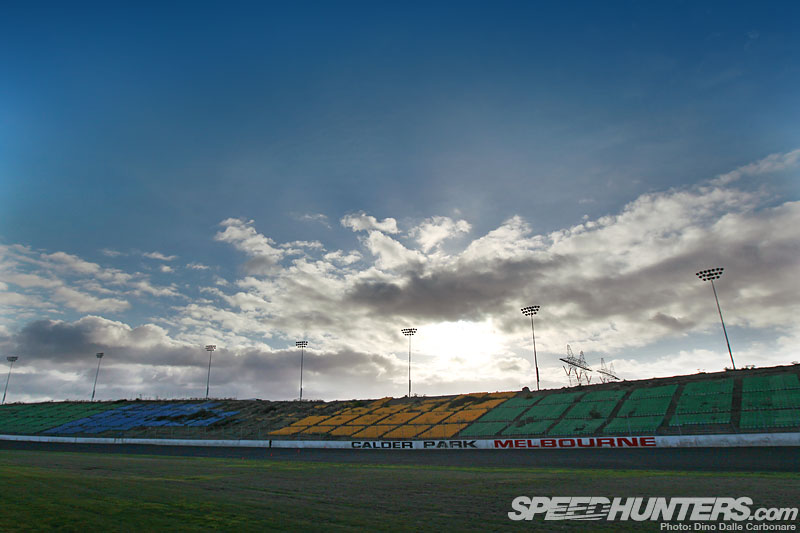 Fifteen years later, I am driving for multiple and very iconic teams across the world. Our latest project was to bring our loudest creation yet to a post-apocalyptic circle track named Thunderdome in Melbourne, Australia – a place as far away from my childhood home in Norway as I could possibly get. It definitely feels very surreal. I will do my best to let you in on my Formula Drift Australia roller coaster ride in this little story from last weekend's 'Thunder Down Under' (it's not like Las Vegas' version, haha). Here we go!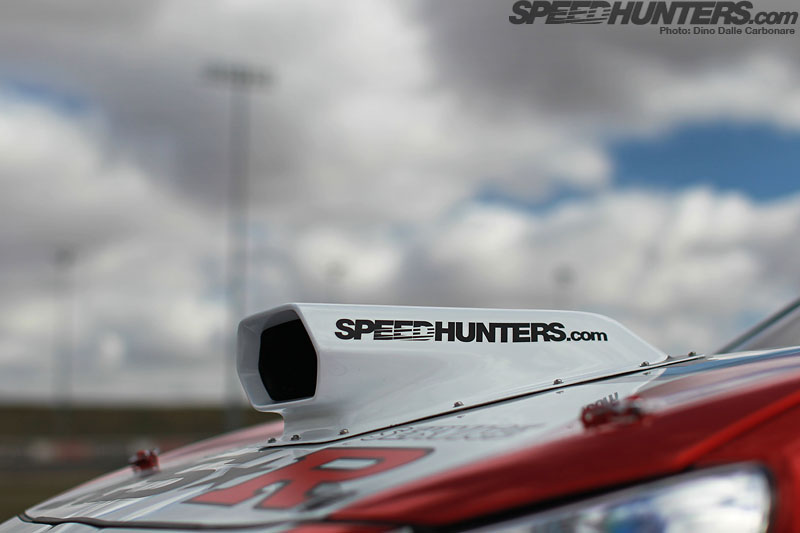 Formula Drift's first visit to Australia was a clash of everything: many different cultures, cars, scenes and people, all coming together to set off the 2013 Formula Drift Asia Series with a bang.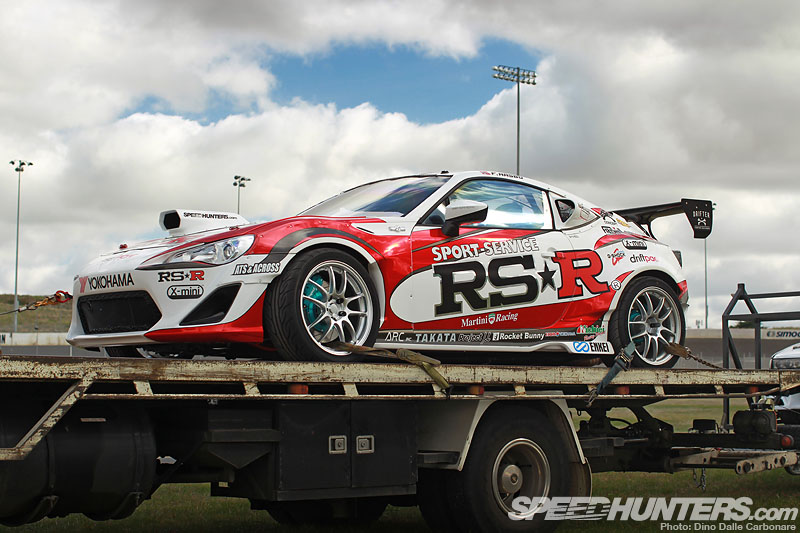 The entire event was, quite literally, a fusion of American, Japanese and Australian drifting.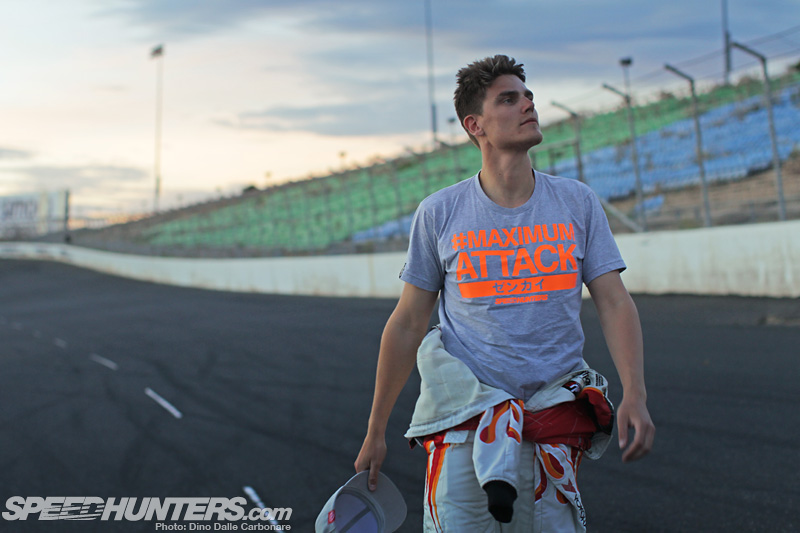 Let me give you a little bit of background. Drifting has had a strong past in Australia, and I've been following the scene (from across the world) since 2005. At that time, Drift Australia was prospering with a ton of talent and sponsors that enjoyed a strong national TV package. But sometime around 2006 or 2007, the plug was pulled and the financial backing fell away.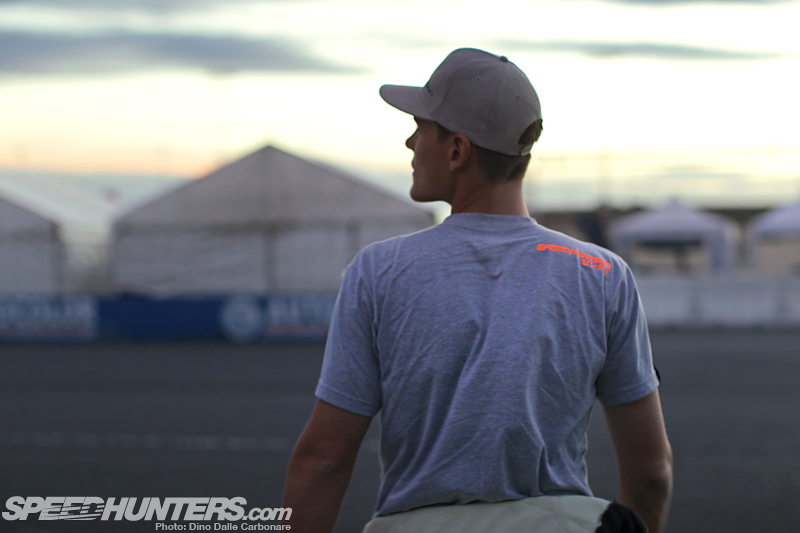 But the Australian drifting talent, as in drivers, teams and organizers, went nowhere. Slowly building the scene back up, the Australian Drifting Grand Prix, ADGP, is currently heading the reigns. They have done a great job, and now Australian drifting seems to be back in full force.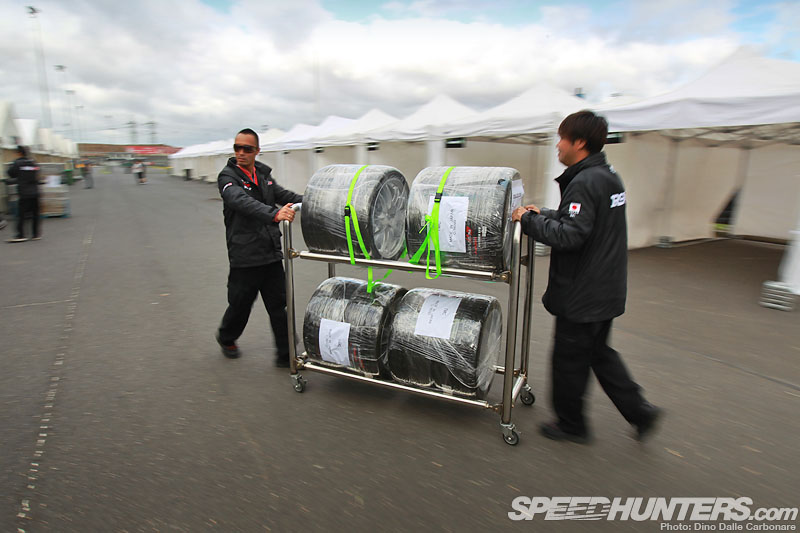 Not too long ago, someone got a call from someone and ADGP and Formula Drift joined forces for the first Formula Drift event down under.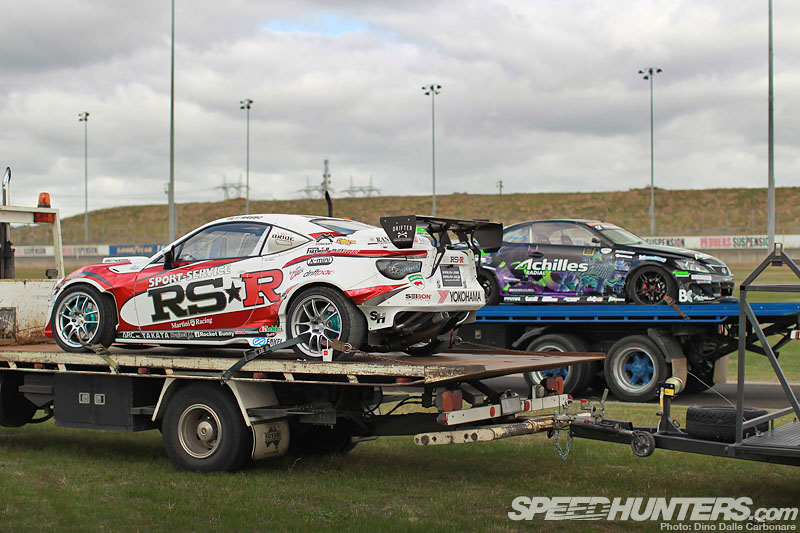 And with that came a lot of cool stuff.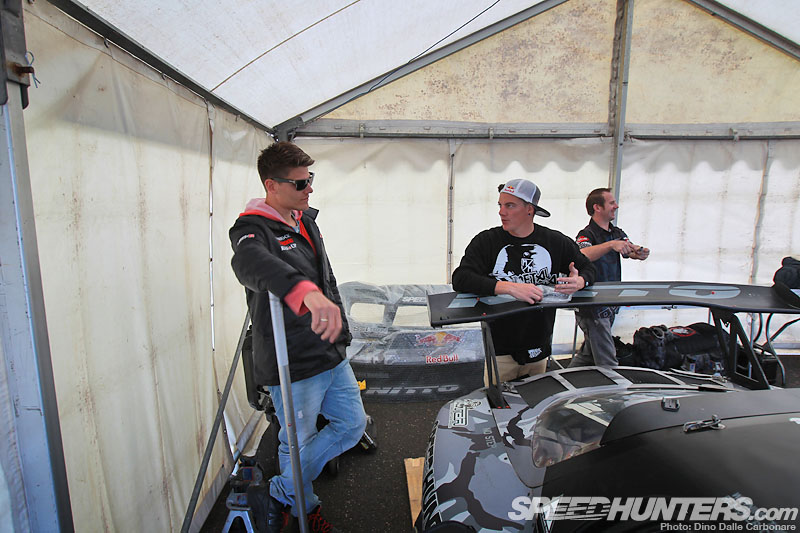 First, and foremost, The Formula Drift Asia Series is broadcast live to 200 million (yes, 200,000,000) Asian household recipients via the FOX Star Sports network, which should give you an idea of the behind-the-scenes professionalism needed to pull it all off.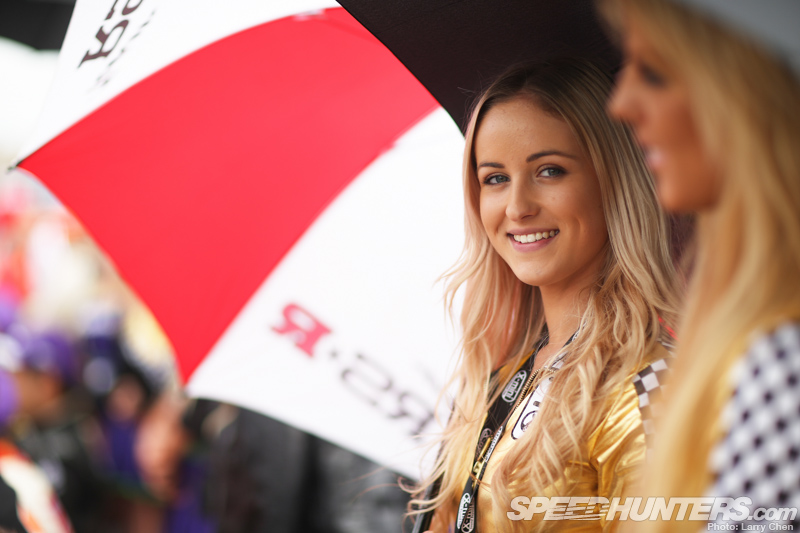 In came international teams and drivers, sponsors, banners, flags and a bunch of crew and umbrella girls. Out came one of the most fierce drifting showdowns I've seen outside of the US.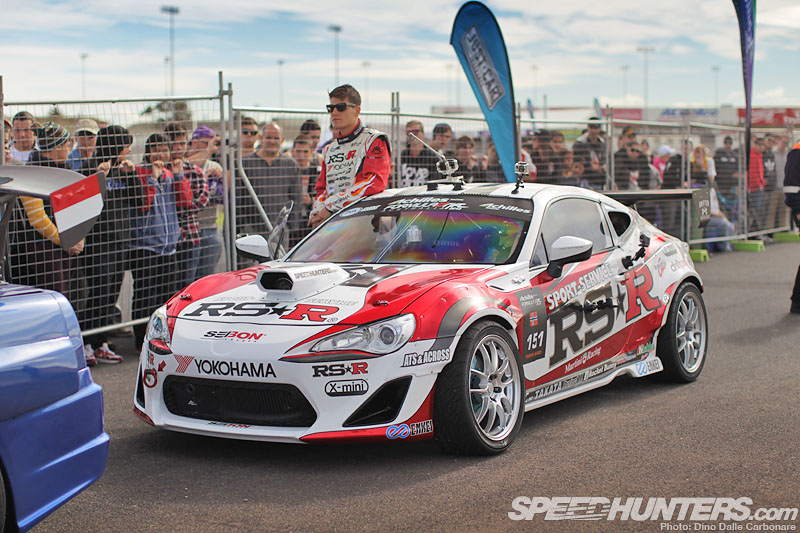 Was there a lot at stake?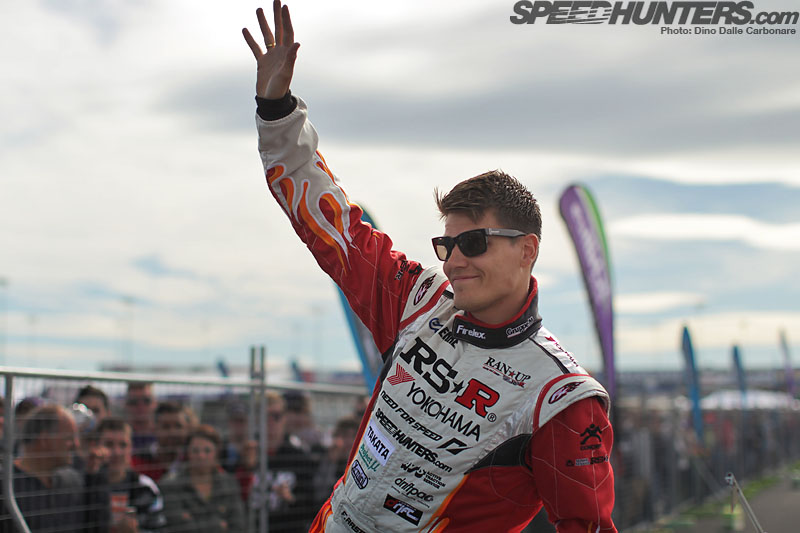 Oh, absolutely!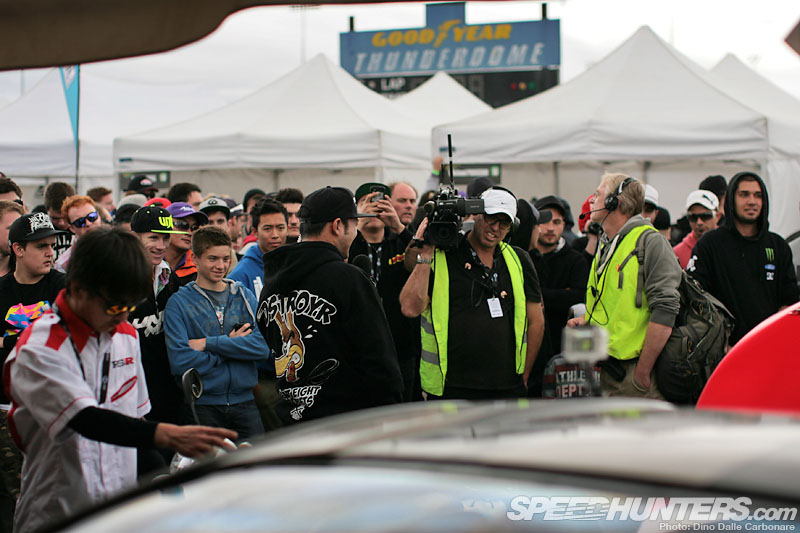 On our end, this was the first event and the public debut of the RS-R V8 Toyota 86. After half a year in the works the car had come out of RS-R's partner shop in Japan, Flatwell, as arguably one of the most unique ZN6 creations in the world.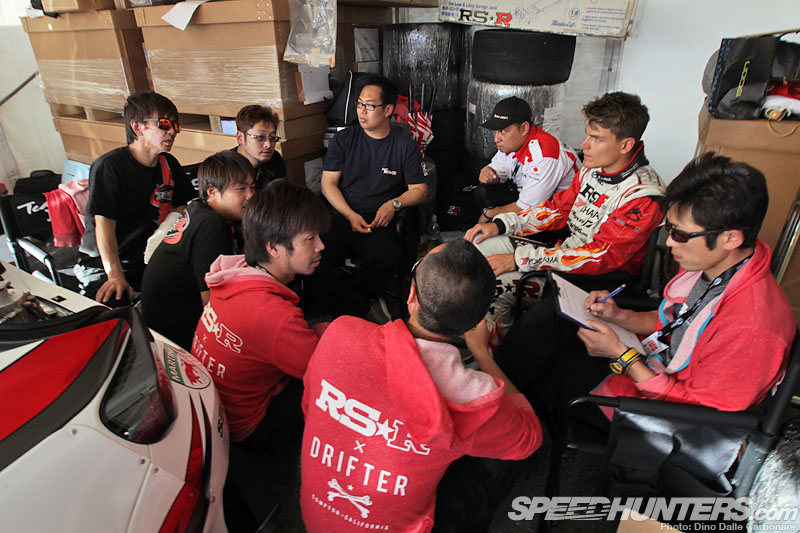 As with any brand new build there is a mixture of expectations and anxiety, and rightfully so. I have yet to see a brand new car be well-dialed for its first event. But that is no excuse, and this is definitely an ambitious project.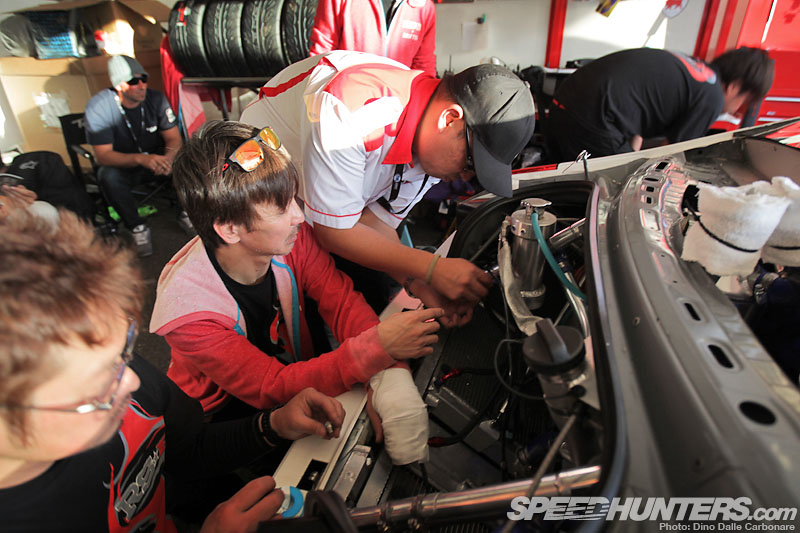 Tremendous effort had been put in to make sure all the different systems and parts in the car would play together.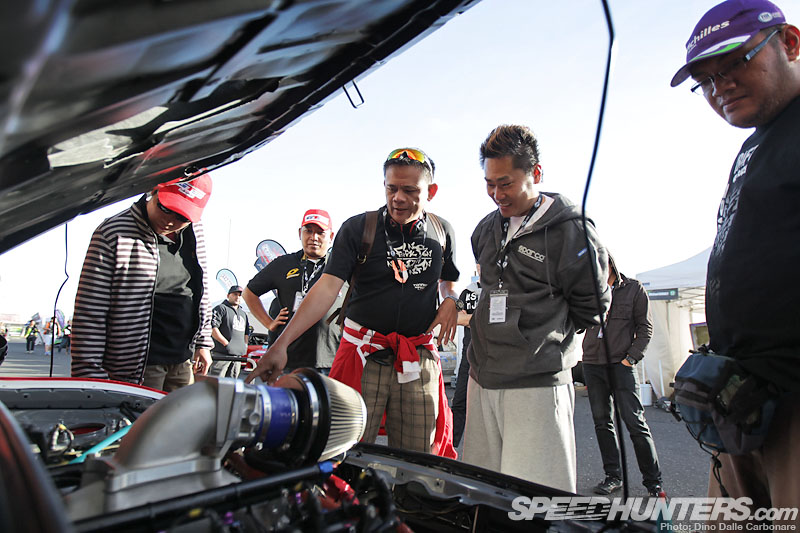 It's a very exotic build indeed: a red-blooded American, Costa Mesa-built Phase 9 Toyota TRD NASCAR Truck Series 5.8L (358ci) V8 is coupled to an all Australian Holinger six-speed sequential.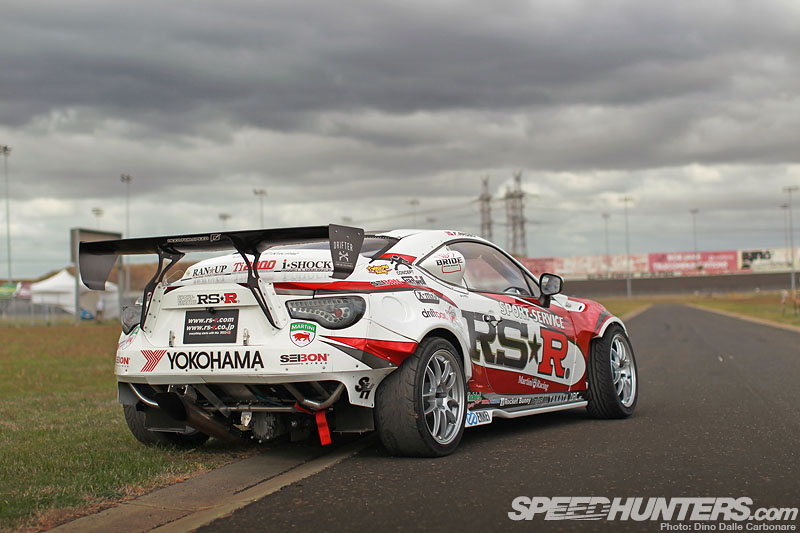 The rear-end is another US special: an East Coast-built Winters quick-change IRS housing with a Japanese ATS limited slip differential.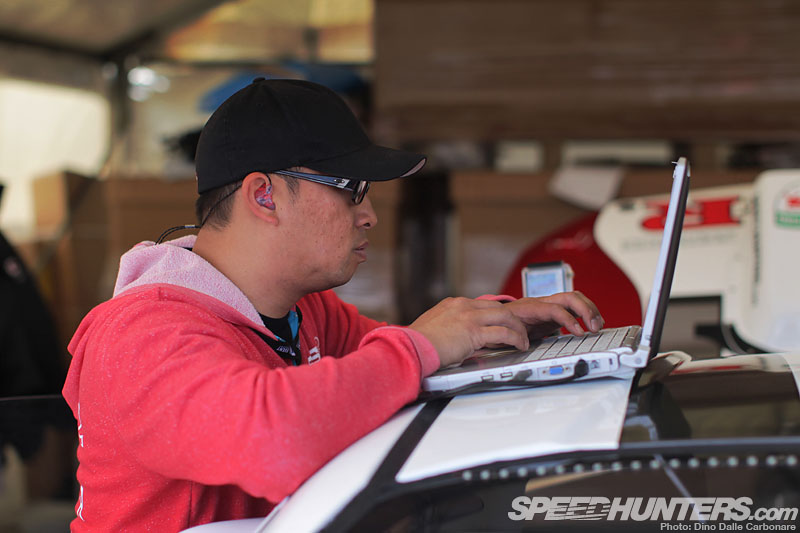 The fabrication work was carried out in Osaka, Japan, whereas the complete ECU system and wiring harness is set up by American engine management mastermind Nate Tasukon.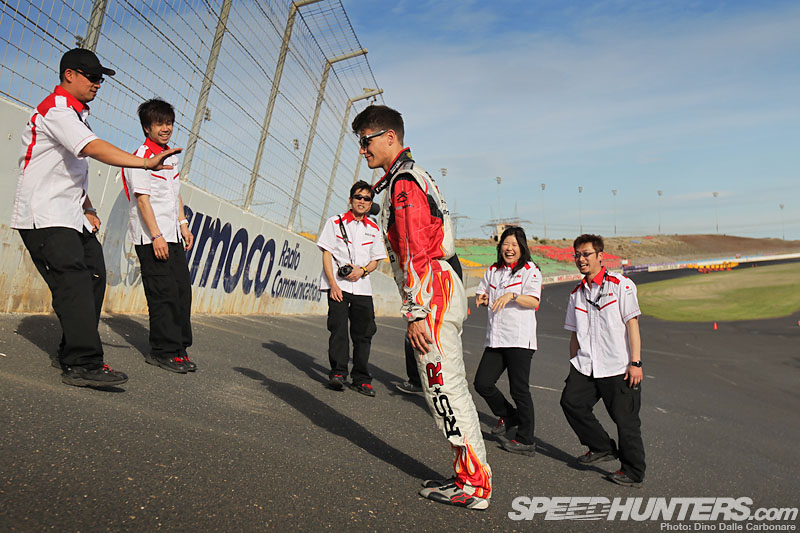 If we were cooks, we would definitely be running a fusion kitchen. RS-R firmly placed an American heart in a JDM body, then chucked in some Australian parts, put a Norwegian clown behind the wheel and had it all portrayed by an Italian (whose home is in Tokyo).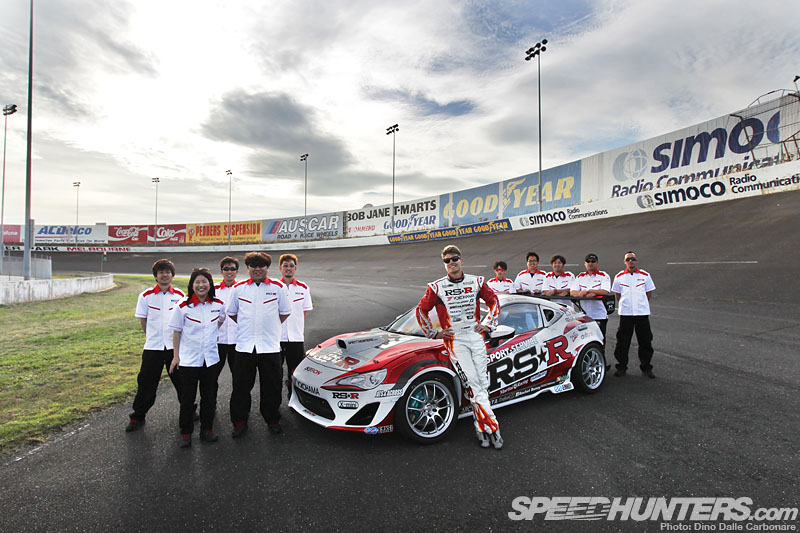 Add a 100 percent dedicated Japanese x South-East Asian x American team to the mix, and you're there. Could it get any more international?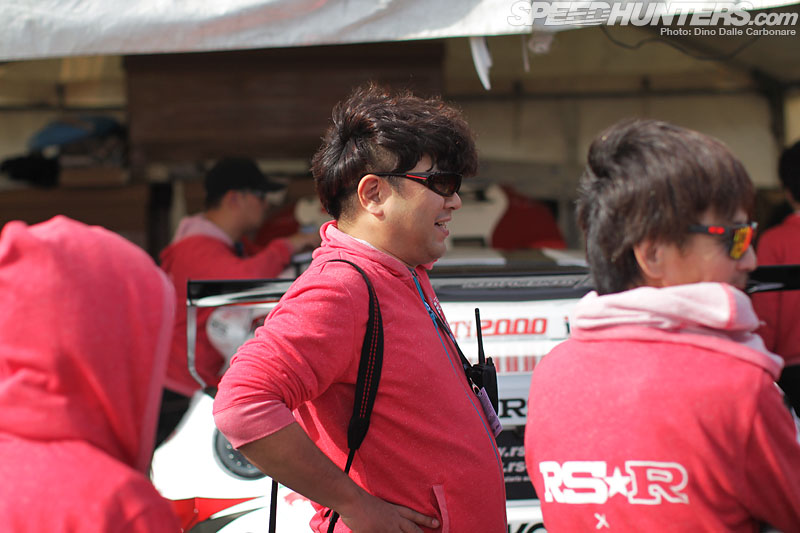 Mr. Kengo Terai is the head honcho of RS-R Sport Service, and he is one of the most charismatic persons I know. Full of wit and laughs, Terai-san enjoys the drift scene to the fullest.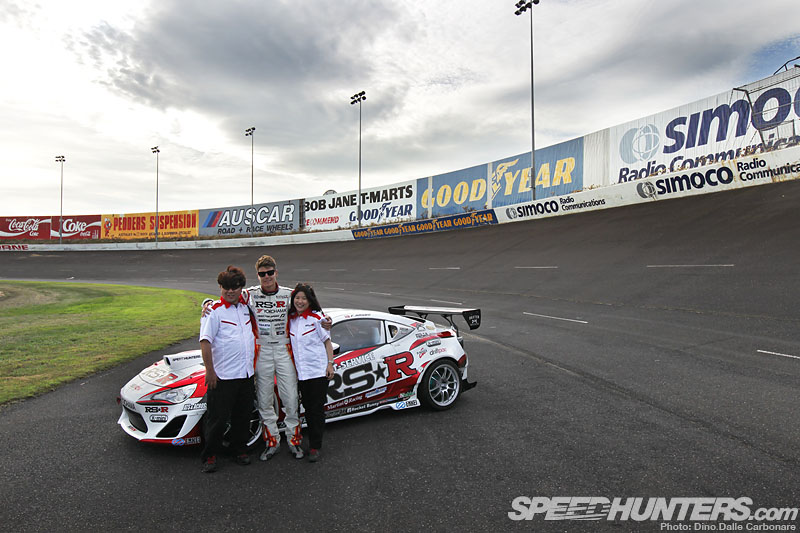 Kumiko is Terai's wife. After her father founded RS-R many years ago, she and her husband have turned the company into one of the biggest name-brand aftermarket coil-over manufacturers in Japan.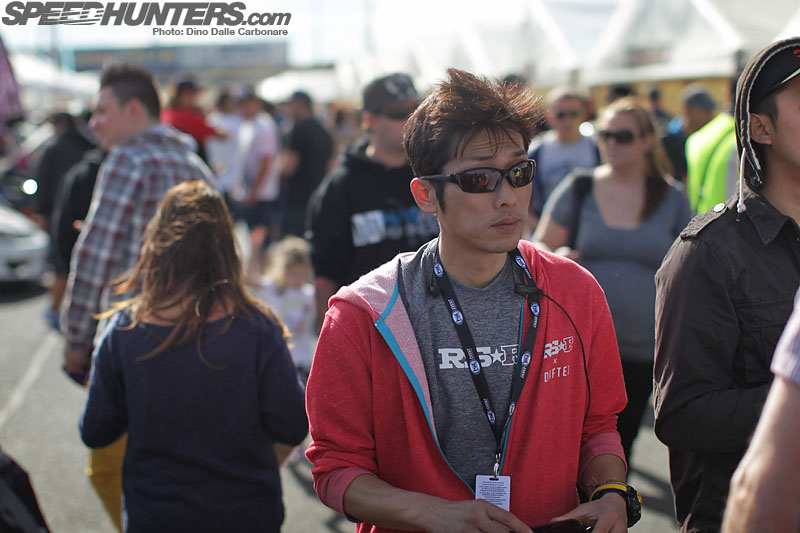 Sugahara-san is the Crew Chief of the team, having been Orido-san's wingman for many, many years. Sugahara is a championship winning driver as well, and he goes about his work fully dedicated and with a very meticulous, Japanese-like attention to detail.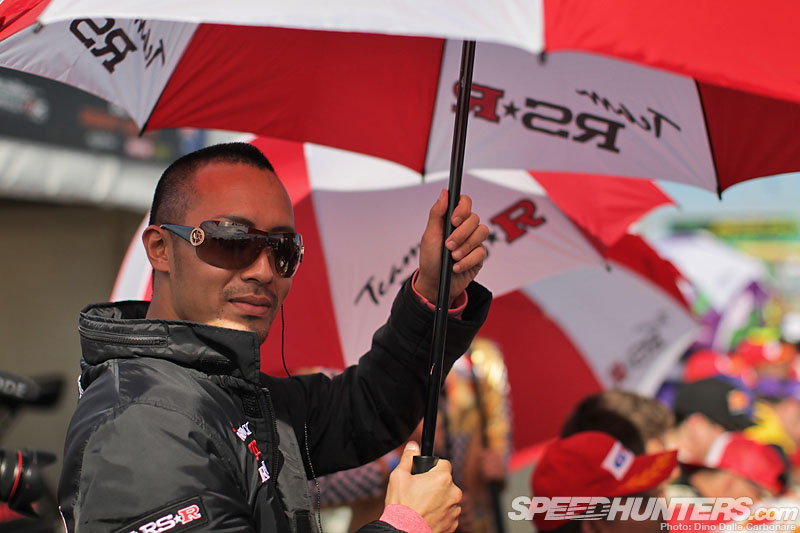 And this gentleman, Go Yamamoto, is my translator.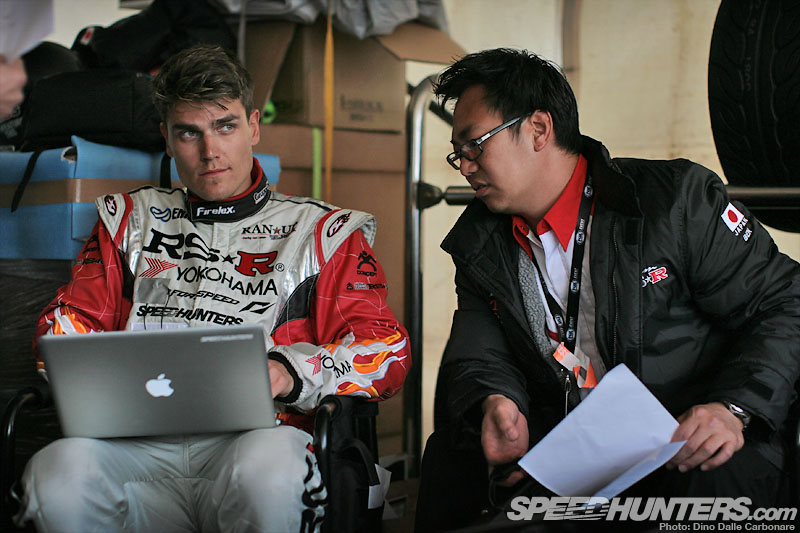 Ben Chong is the long-time American RS-R Head of Marketing, and my point of contact and competition spotter. All in all, it's been an amazing experience working with the RS-R team so far. I am very grateful of getting to learn the inner workings of Japanese culture and Japanese racing, all in one, and I'm proud of getting to represent RS-R on the world stage.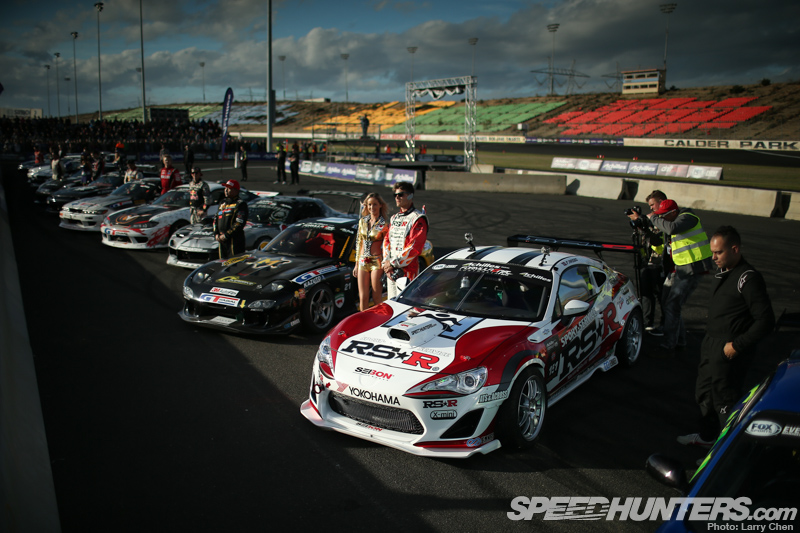 It was time to put the RS-R 86 to test, and take it to the ring to battle for the first time.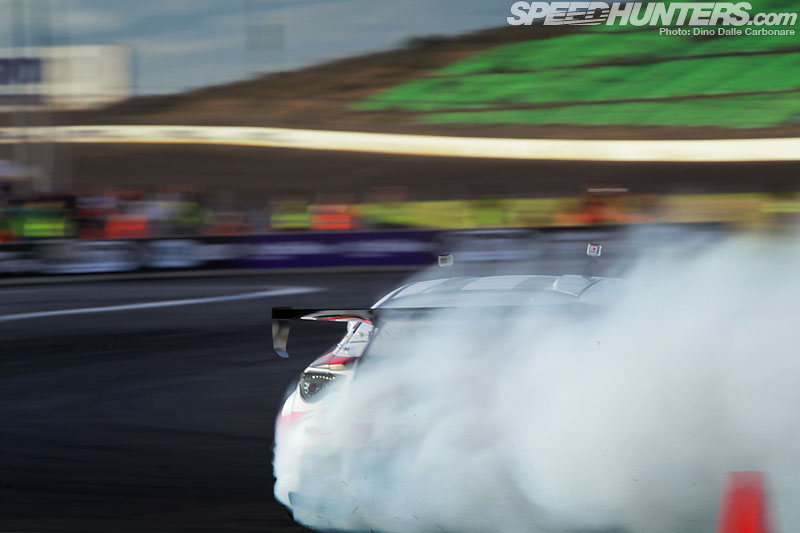 After our first test runs it was very evident that we had a fair bunch of issues. The diff was hitting the ground on a pretty harsh bump mid-course as the car dropped down off the banking and we had cooling as well as an electrical gremlin related to the power steering that we had to work around. This came in addition to trying to get used to the instant response of the raspy V8.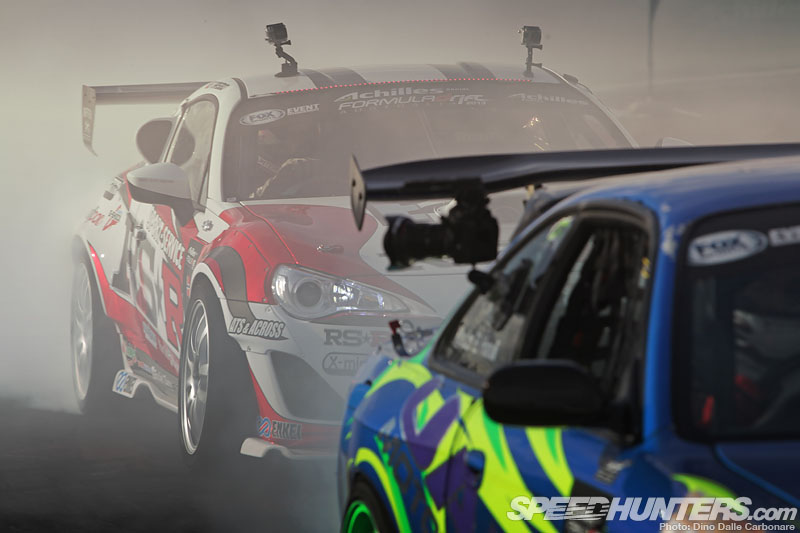 Ninety five percent of the car was working flawlessly, and we were all working hard to keep our composure and not let the remaining five percent fail us. It was a good time!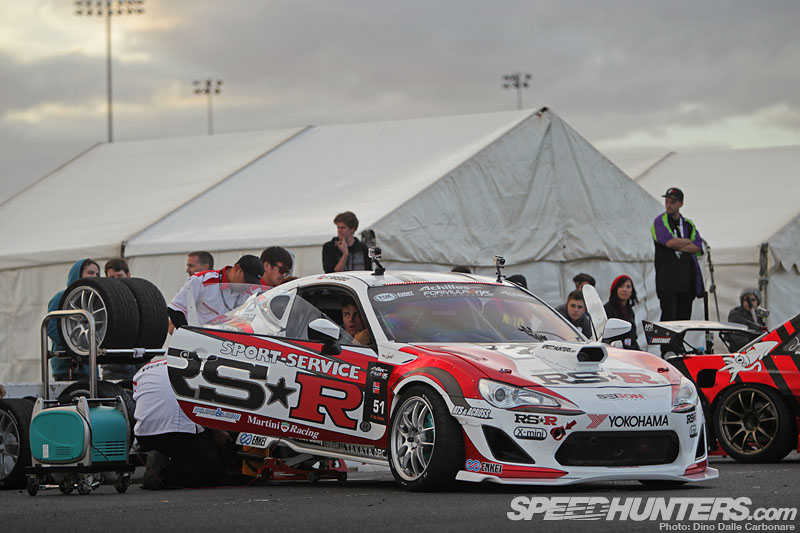 You see, I think there is a compelling story here. Deep inside, we all knew that our first event going completely out of our comfort zone and doing something brand new, exciting and different, would not be a walk in the park.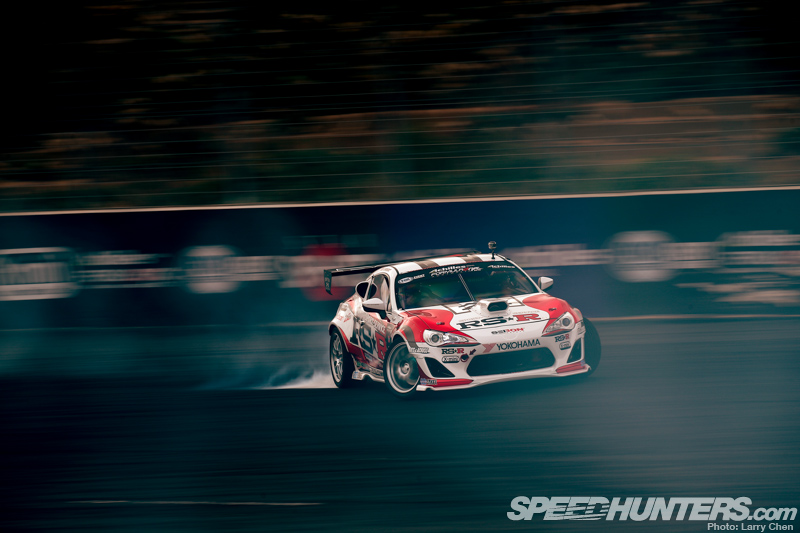 But we are visionary people – guys that like to be on that steep learning curve.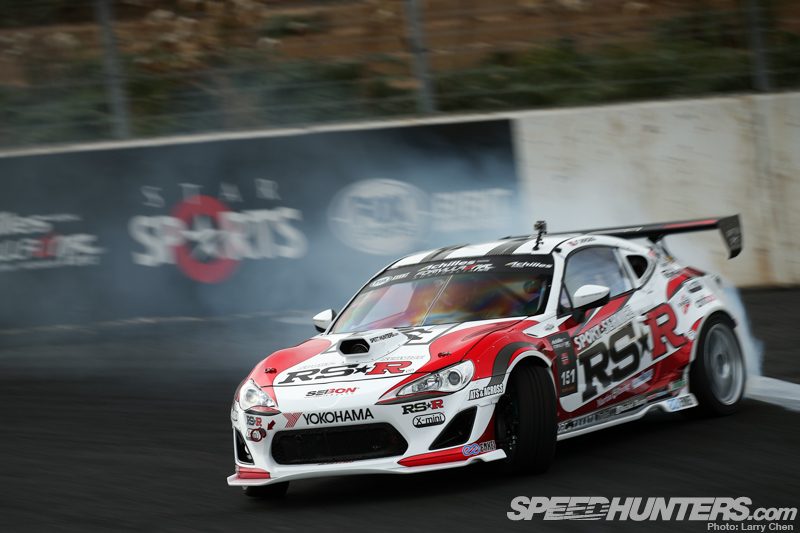 If we wanted to do something safe we wouldn't have started from scratch, cooked up a team of people from around the world, or flown across the world to fling our new barely ready baby up against the unknown. It's all about the experience! Gosh, this drifting is a real drug, isn't it?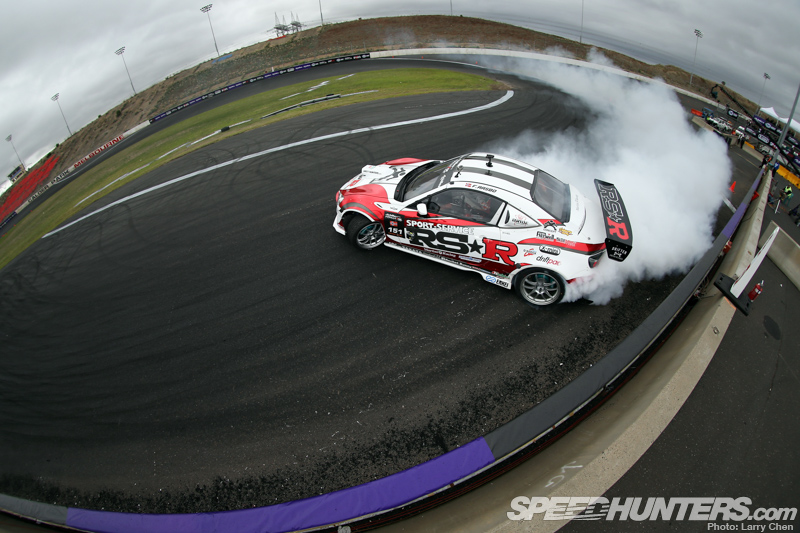 We qualified fourth out of the 20-something field. We had low-speed partly due to a very mild suspension setup, but ran a decent line which gave us some bonus.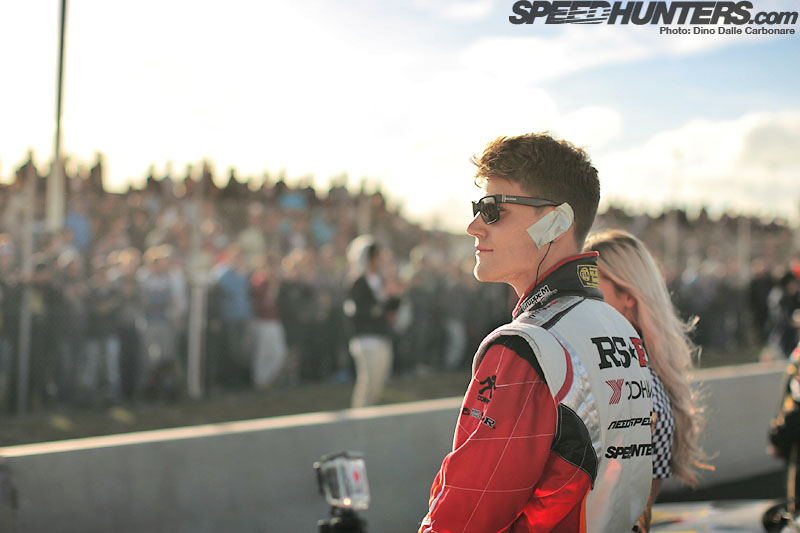 Getting ready for our battles, I knew that consistency would be key as I would not be able to pull off very spectacular runs on the day.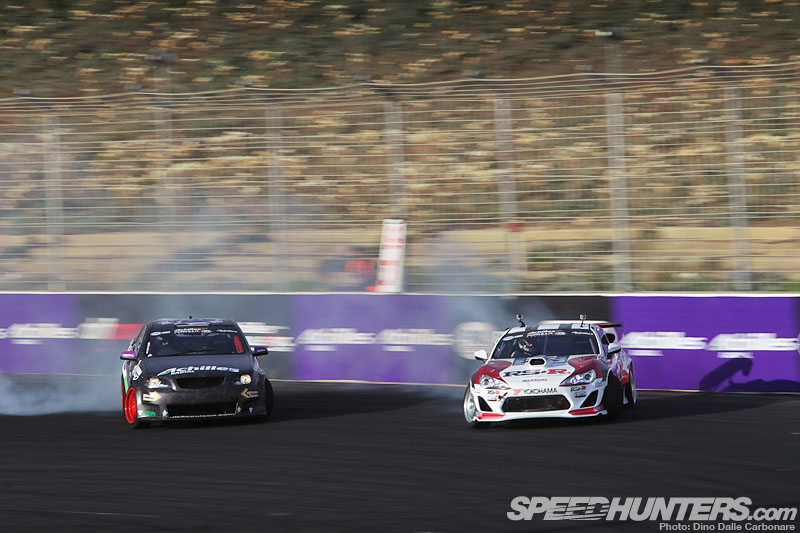 In a battle that could definitely have gone the other way, we faced off Saturday's ADGP winner Nick Coulson in Top 16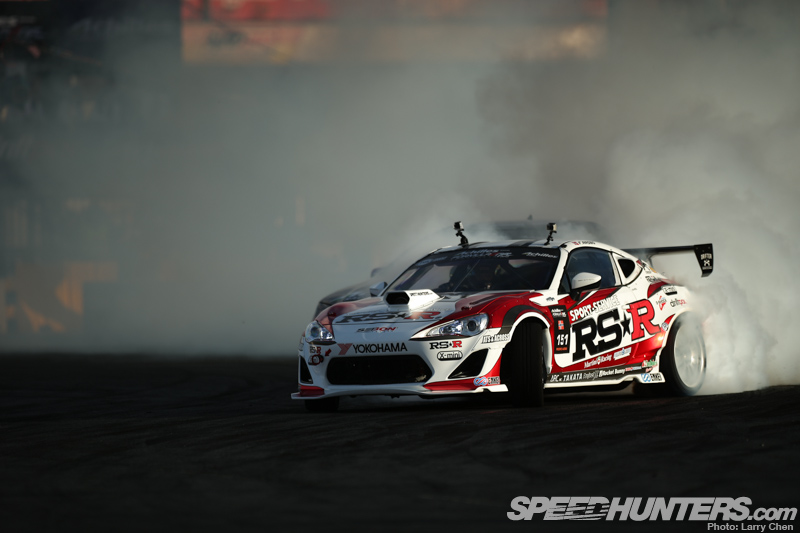 I think the deal breaker was that we were slightly wider on the clipping points, but Nick had a great chase run.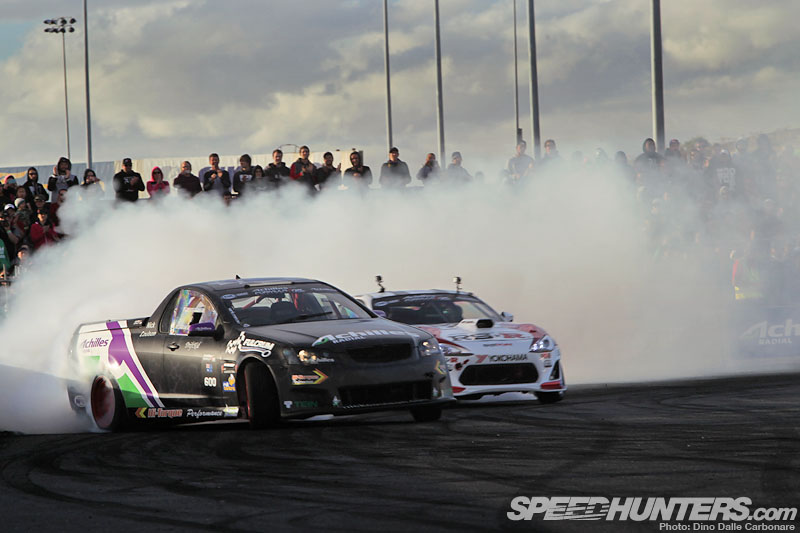 Nick is definitely one for the future – we got very lucky with this one.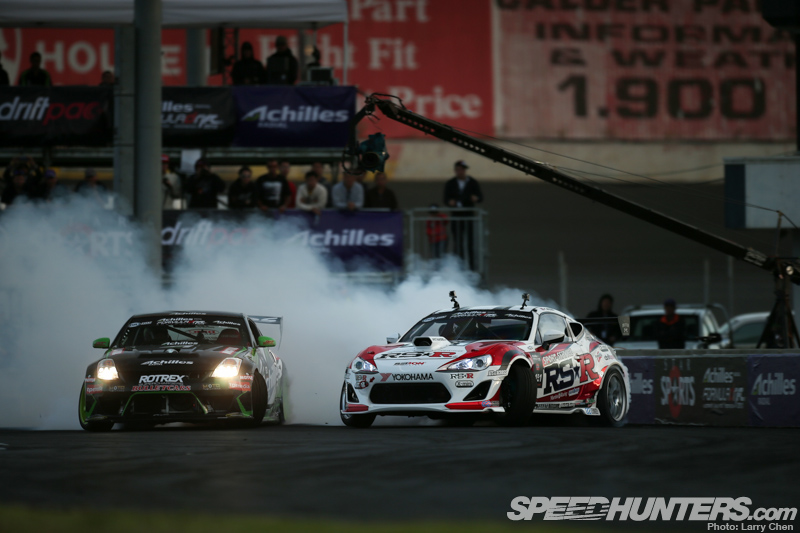 Next up was Rob Whyte, last year's ADGP champion. The talent just kept on coming…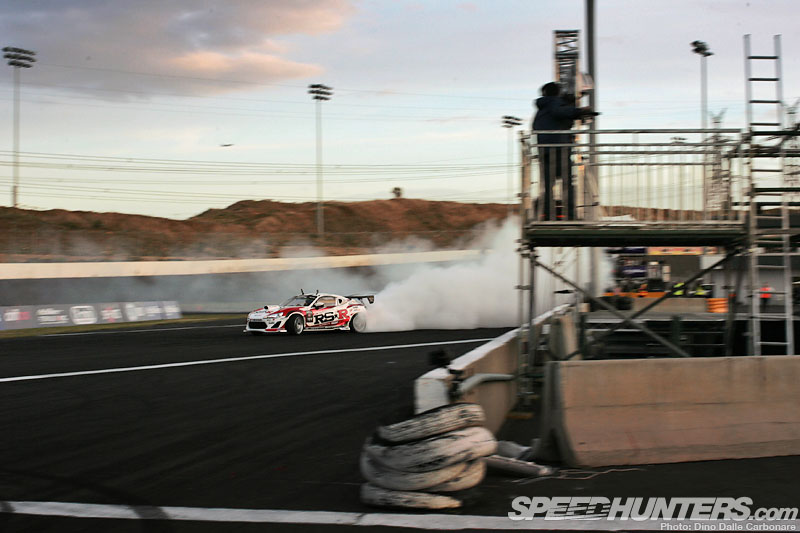 Rob did a great job in the chase position.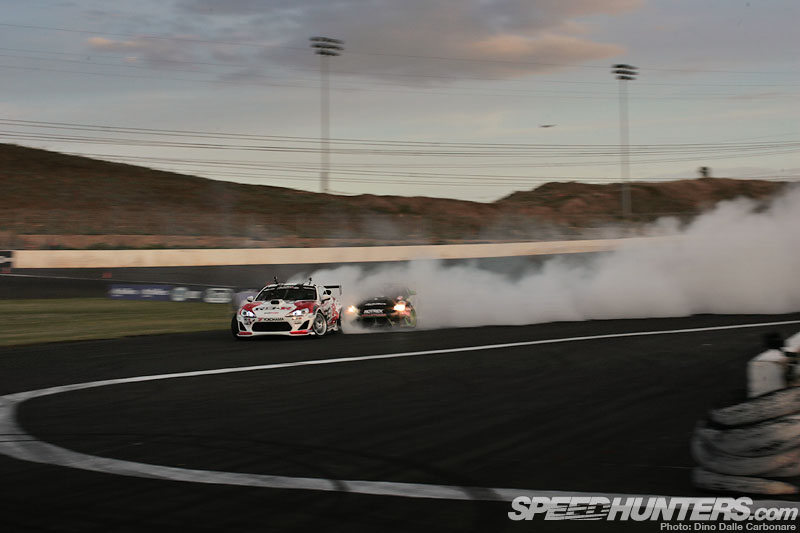 Perhaps to good, because unfortunately he got caught up and had a spin behind me. Tough break for a very nice guy, but Rob will be back hungrier than ever.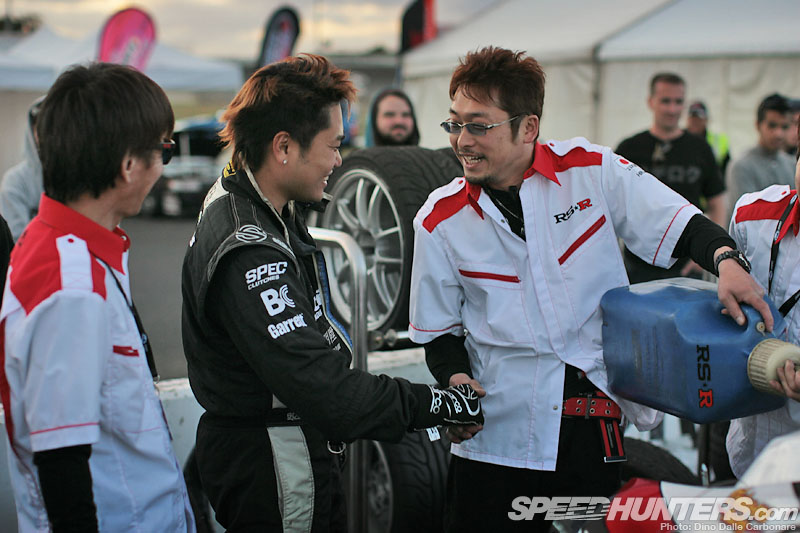 And then, we went up against a good friend…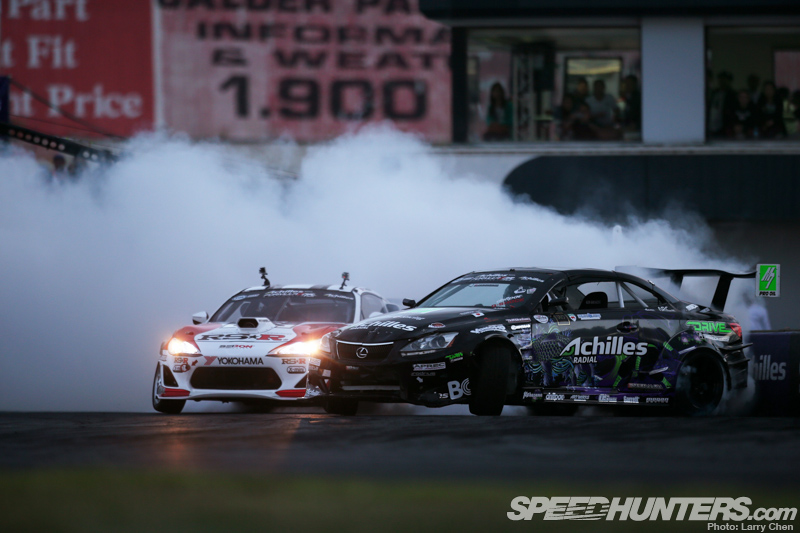 Daigo is simply incredibly dialed and skilled, and we were not the ones to stop him this time.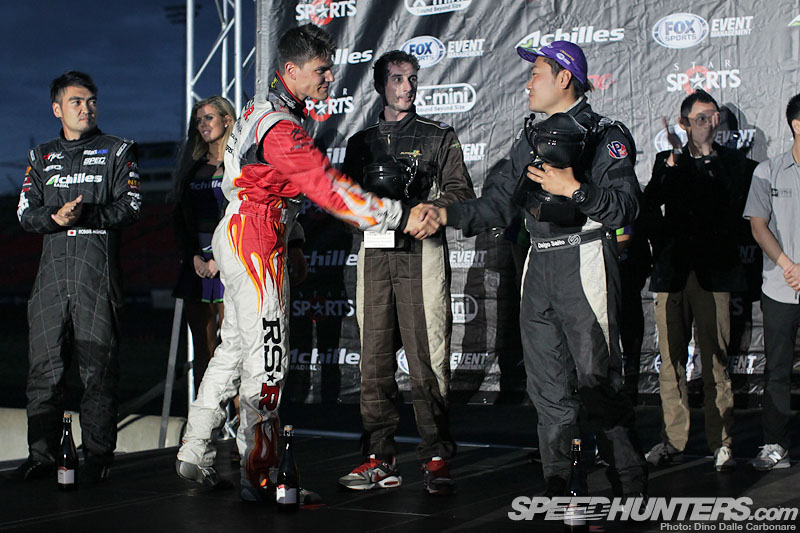 You could say that it was his turn, after we got the win in our battle in Long Beach two weekends before. It was all in the script, haha!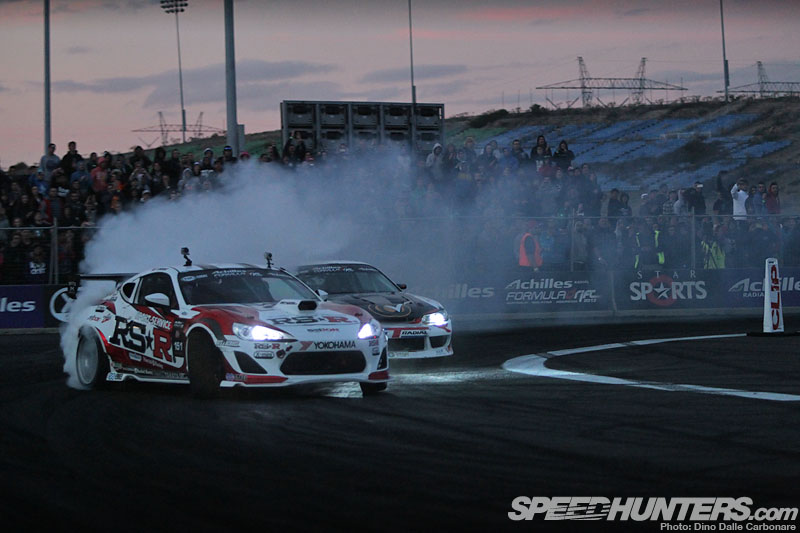 In the end, Josh Boettcher also got his revenge on us following last year's Indonesian final, and we ended up in fourth place, just shy of the podium.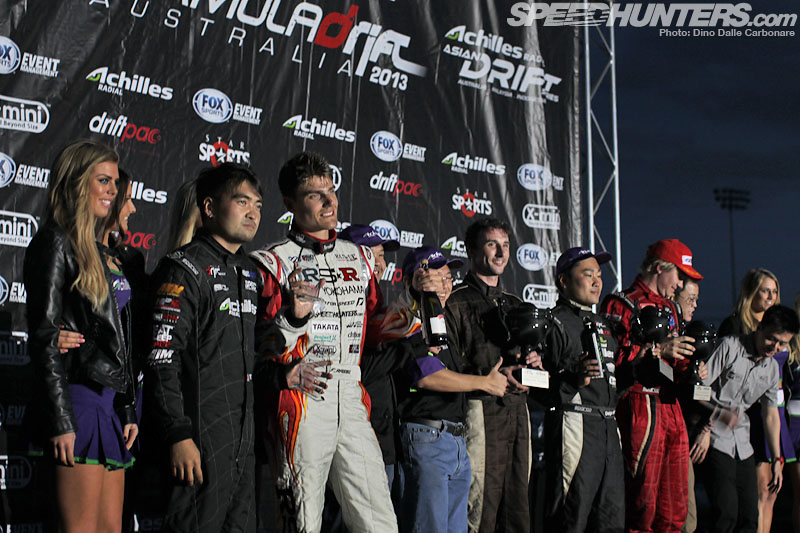 However, Robbie Nishida and I did win the X-mini Team Drift Competition: a two-car tandem display that includes up two three passes throughout the course. A great highlight during an overall crazy weekend!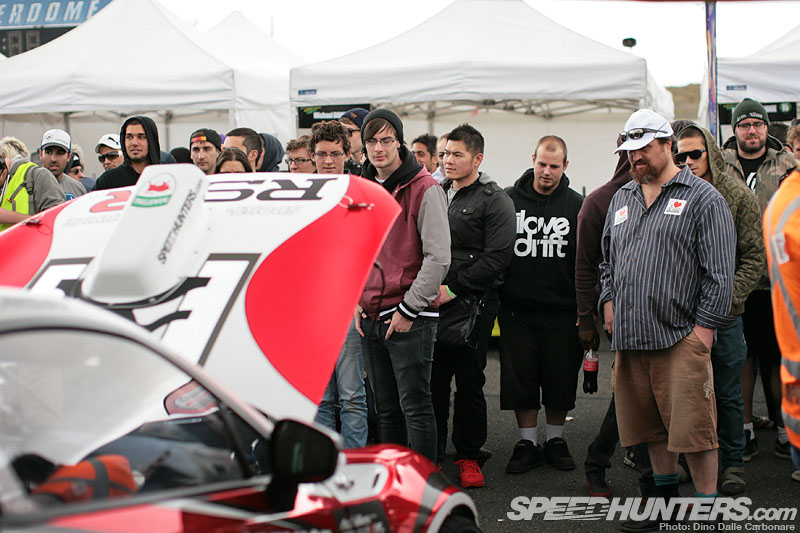 The biggest experience, however, was meeting all of the drift fans down under.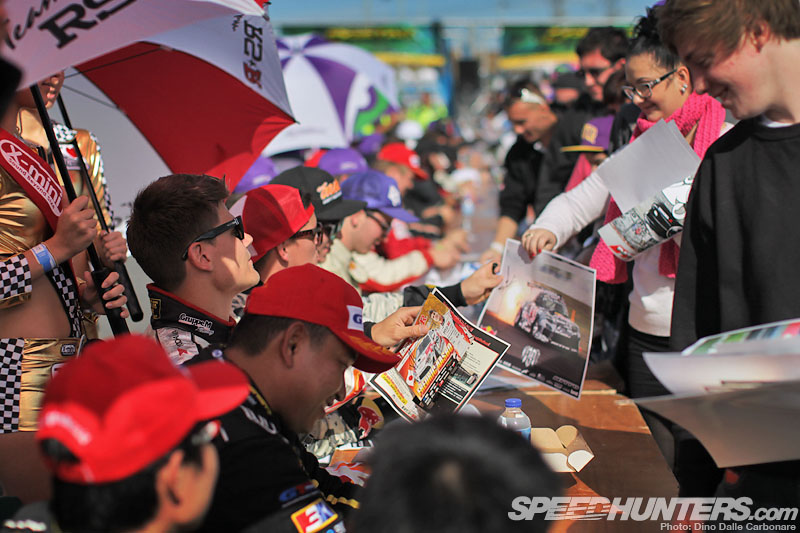 A very welcoming bunch, it proved to be true that Australians are pretty laid-back, yet full on racing aficionados. Thanks for making this an unforgettable weekend!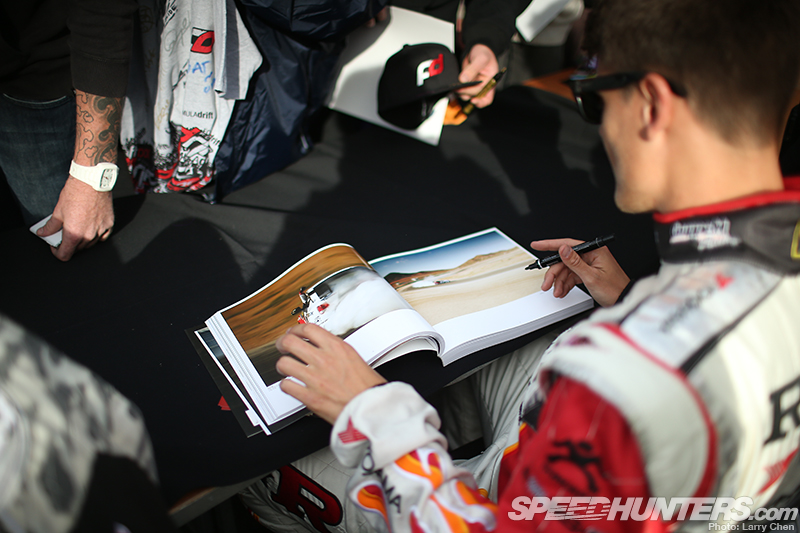 Aside of Team RS-R, Speedhunters and the Formula Drift crew, I'd like to extend a special thanks to the Unique Automotive guys and Martini Racing, who helped us pull through our debut weekend.
And for those of you that haven't heard the RS-R 86 on full chat yet, check out this little freestyle video of Daigo and I smoking them up during Saturday's media shakedown for an audio taste:
I'm back in Atlanta, USA, getting ready for Formula Drift Round 2. Last year, we had one of our best events here, qualifying in the Top 3 and finishing second. And what's our goal this year? I have a new mantra, and it has nothing to do with results. I am looking to make it our best experience yet. Because that's what it's all about!
Fredric
http://www.facebook.com/OfficialFredricAasbo
Instagram & Twitter: @FredricAasbo
Formula Drift Australia 2013 on Speedhunters
The RS-R V8 86 on Speedhunters