There are many ways that a father and son can bond, car culture being one of the more common and long lasting outlets of recent generations.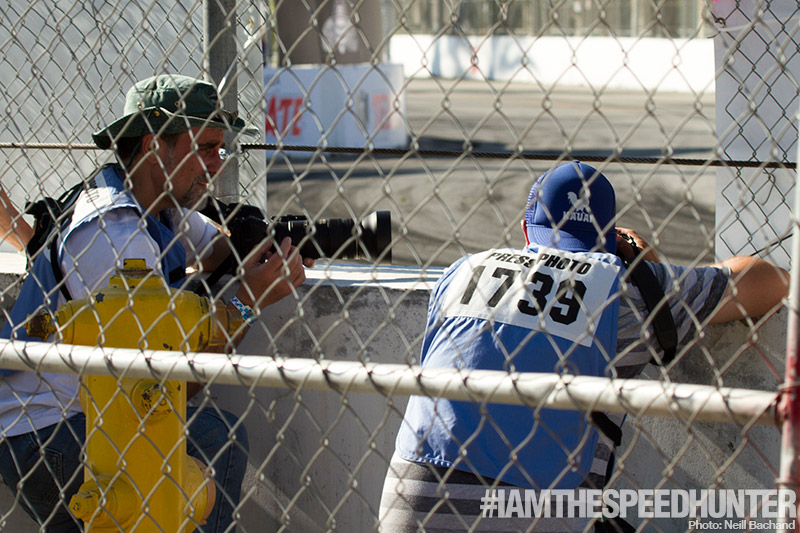 As a young photographer who grew up in a family of artists, I have always enjoyed shooting with my dad, Tom Hassler, who is my biggest influence and mentor.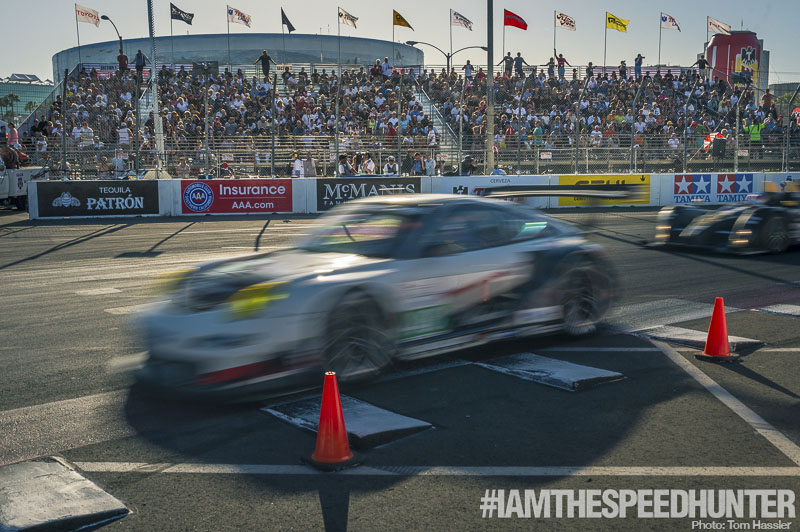 Recently we were able to pull off something pretty cool and unique that not too many father-son duos can claim: shooting trackside together at the American Le Mans Series race at the Long Beach Grand Prix Circuit.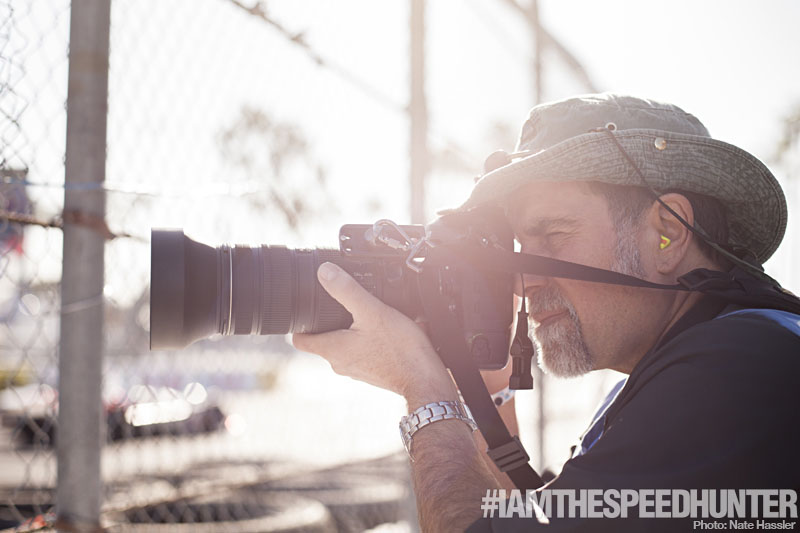 Since the story would be one-sided were I to tell it on my own, I'm going to let Tom chime in to give a bit of his own back story first. He is the old timer after all!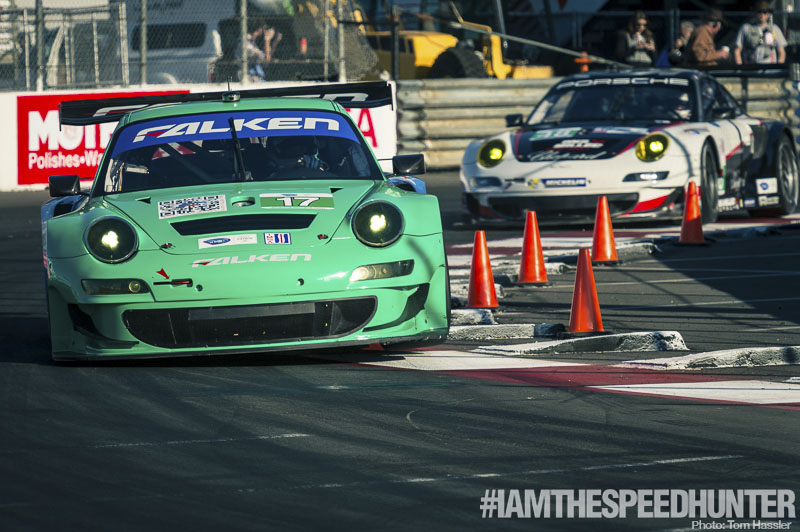 Tom Hassler: I'm a car guy, always have been. Growing up in Southern California in the 1960s, I've got gas and oil running through my veins.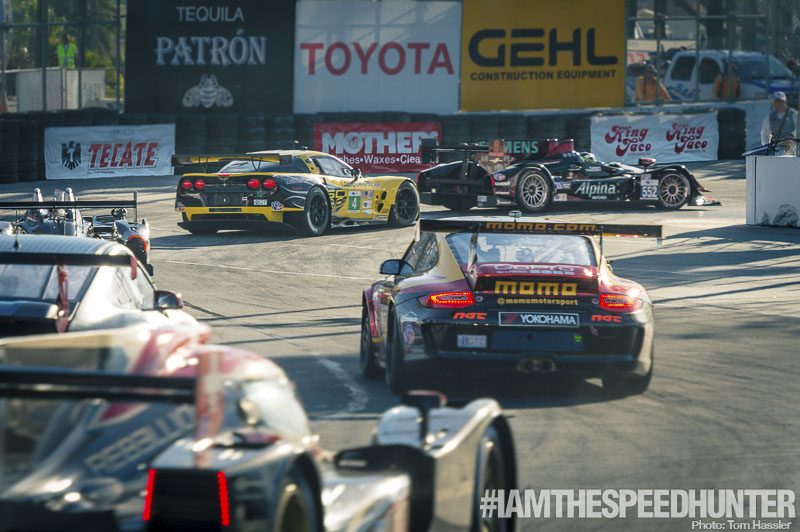 T: I'm also a lifelong photographer. I started shooting seriously in high school (again, in the 1960s) and have never stopped. So maybe there's a little D-76 running in those veins too (if you don't know what "D-76" is, look it up!).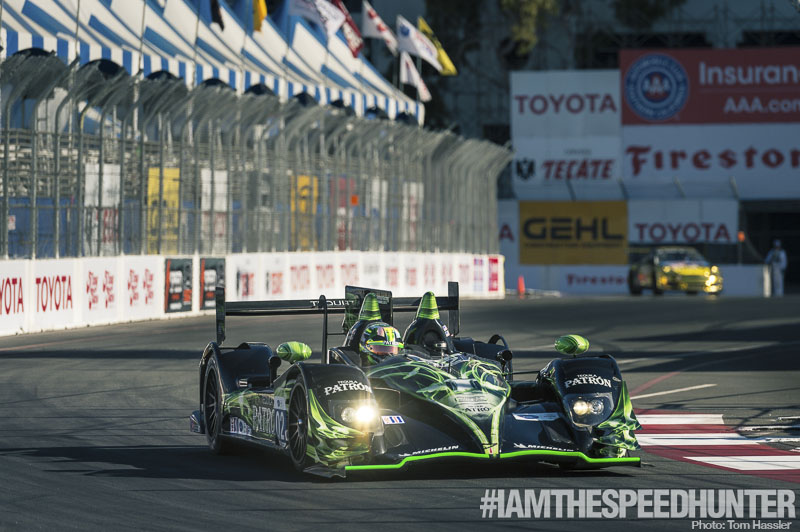 T: About the time I got my first car (an original Austin Mini Cooper,) I began to combine my passions. At first, it was motorcycle racing, both in the dirt and on the track. I'd ridden motocross competitively, and knew a lot of other riders.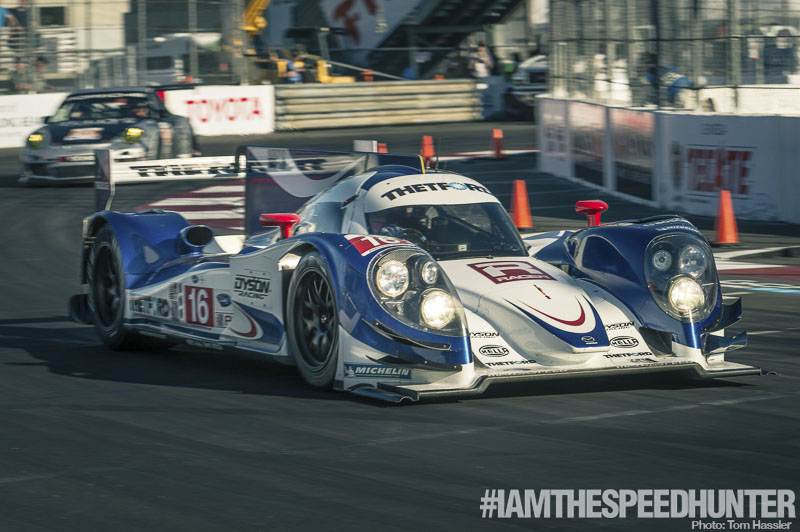 T: Over time, I became more interested in shooting the races than riding in them.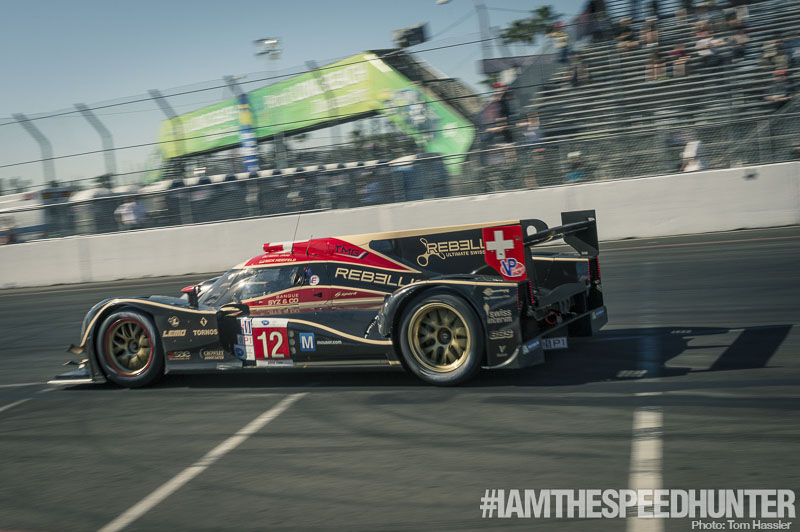 T: My cousin (also a photographer and fellow motor-head) knew some of the guys at the then new Sears Point Raceway (now known as Infineon.)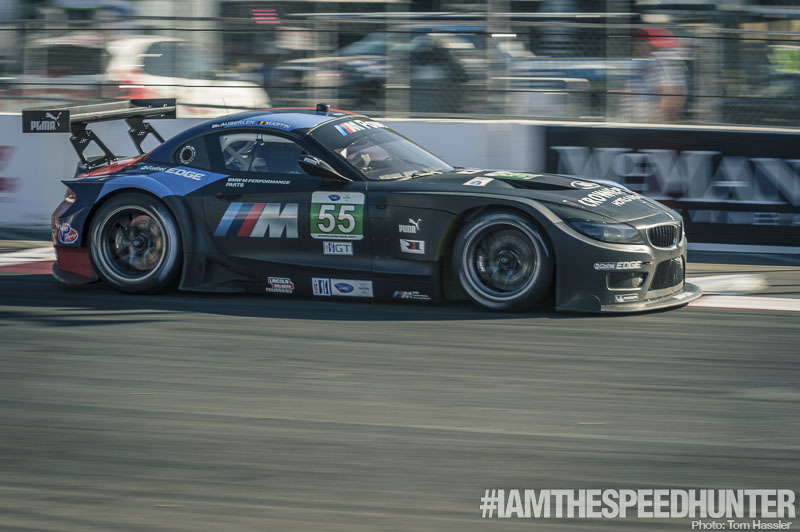 T: When the AMA Road Race Nationals came there, we got photo passes. It was an amazing, exhausting weekend, and from that point on I was hooked.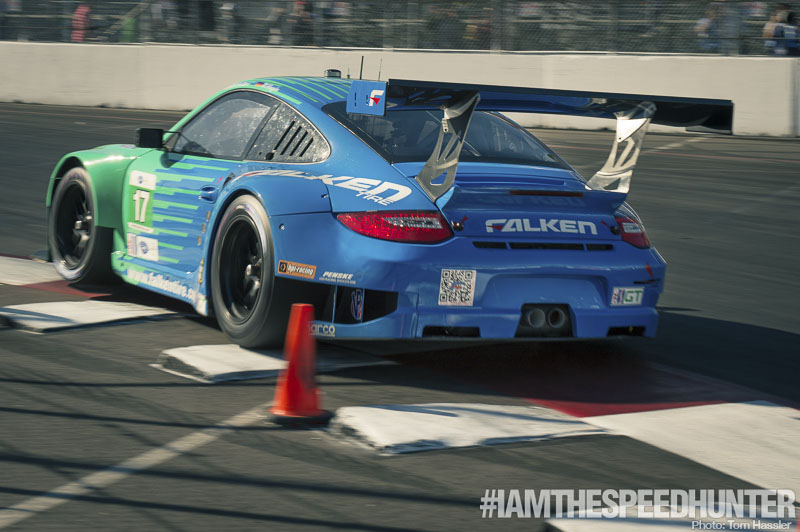 T: I was fortunate to get a few of those images published, which led to some connections with local SCCA members.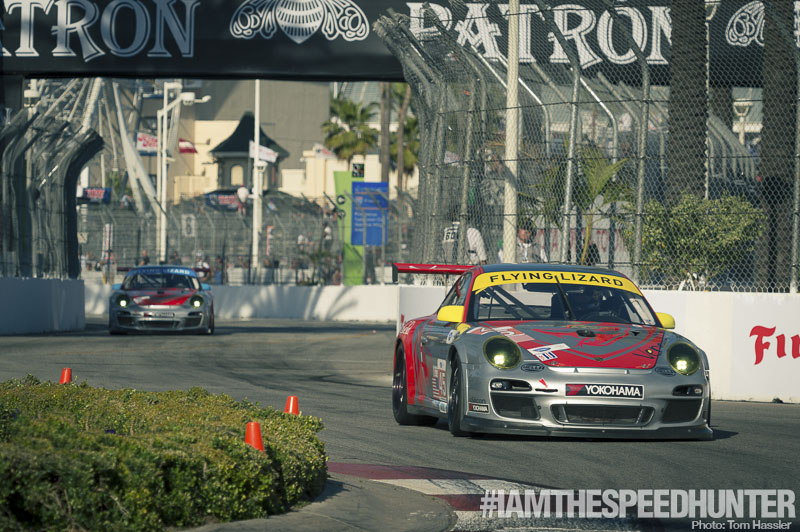 T: That summer I shot several automotive events at Sears Point, before moving to Phoenix.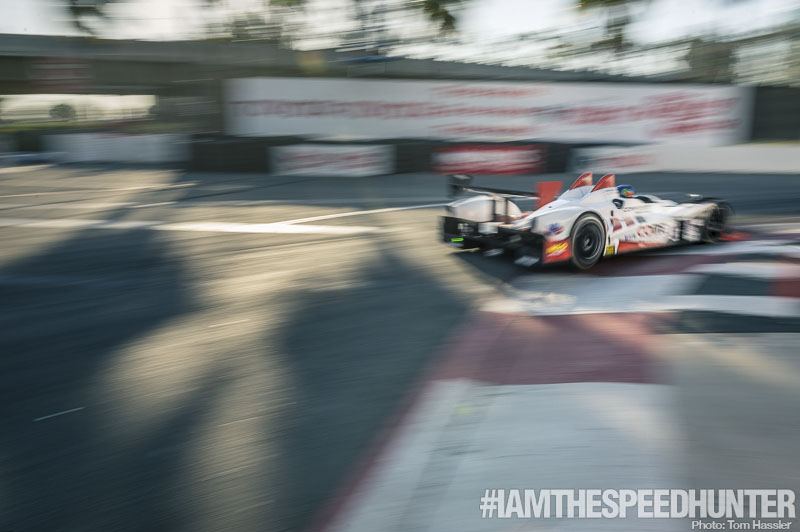 T: While living in the desert I had the opportunity to shoot the now-defunct Phoenix Grand Prix, and several smaller races for local magazines. I even covered unlimited hydroplane racing on Lake Mead.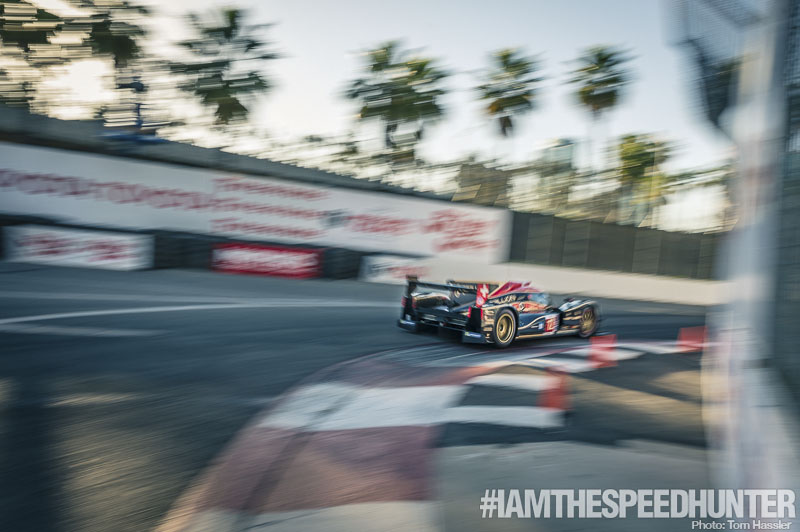 T: Time marches on, and so did my career. I became more involved in advertising and corporate photography as my bread and butter, but would visit the tracks when I could.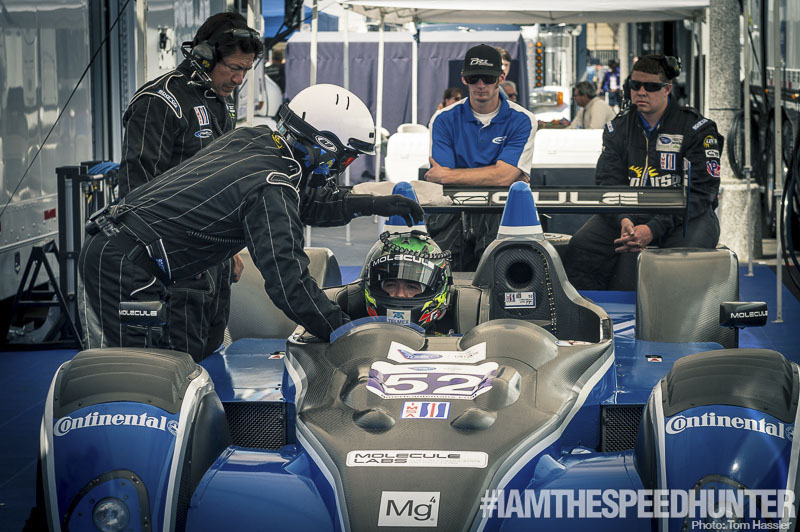 T: While working out of my New York City studio in the 1980s, I occasionally shot races at Lime Rock and Watkins Glen.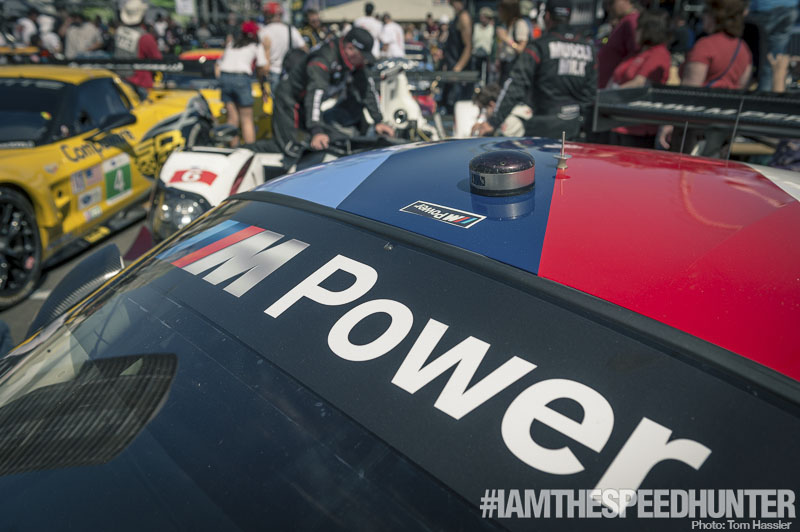 T: In 1990, I re-located my studio back to the west coast, to Portland, Oregon.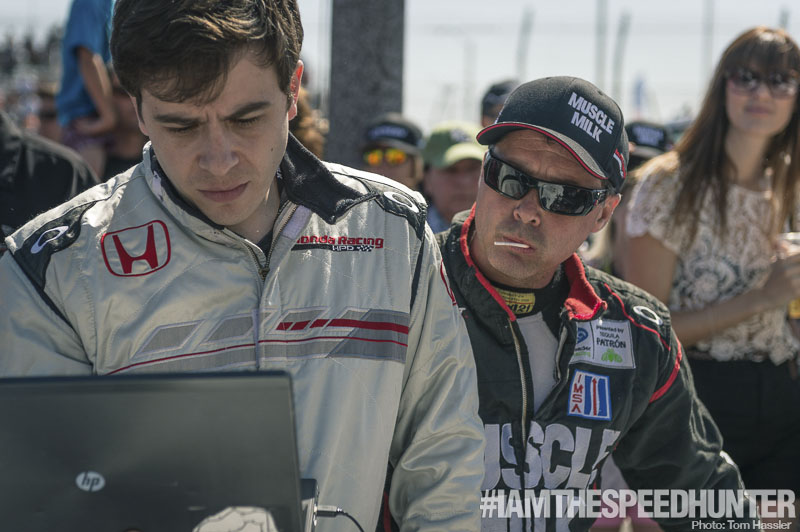 T: Through local contacts, I have been able to get trackside for both car and motorcycle events at Portland International Raceway over the years.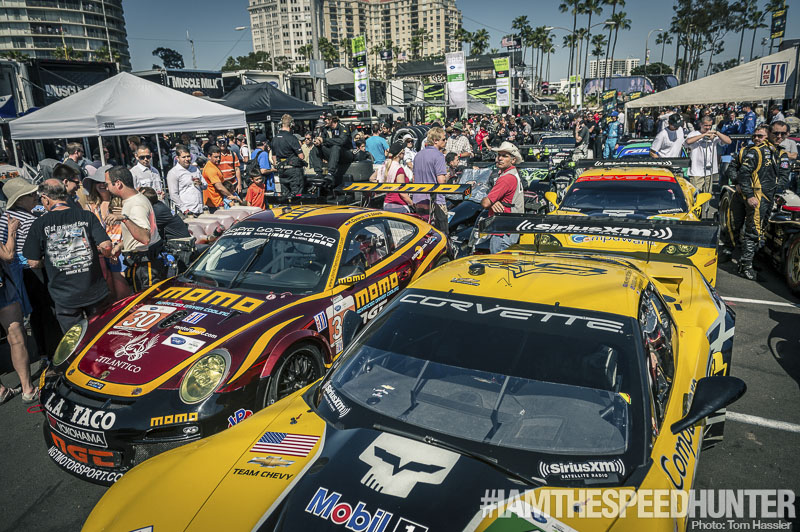 T: Wherever I've gone I've found there is always a local community of racing enthusiasts.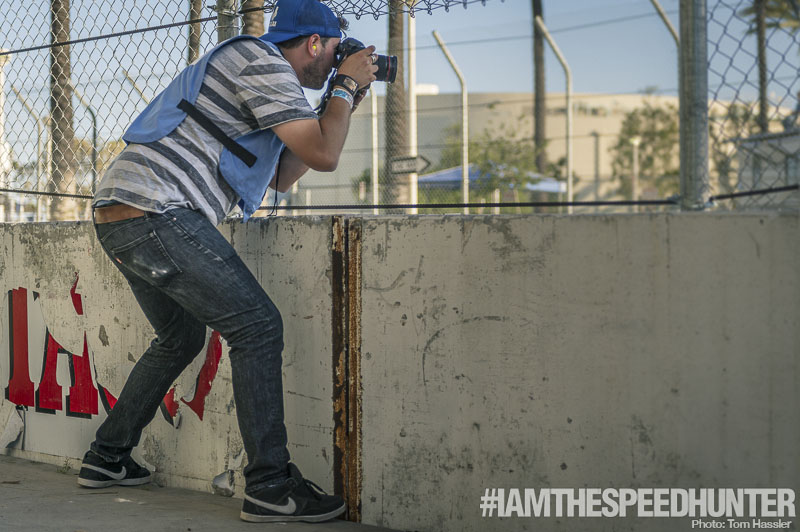 T: Now that my son, Nate, is an accomplished automotive photographer himself, we enjoy attending and covering motorsports together whenever we can.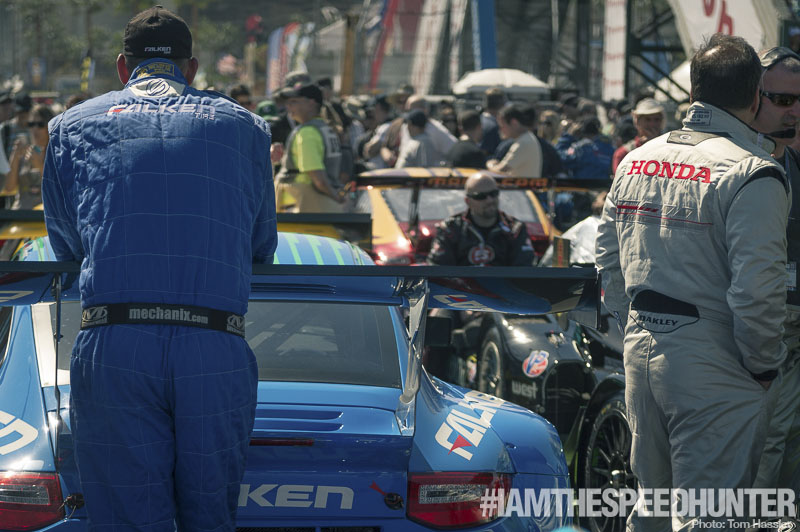 T: A few recent highlights: an incredible ALMS event in 2011 at Laguna Seca, an energetic Formula Drift competition in the Seattle area and most recently, the Long Beach Grand Prix in April.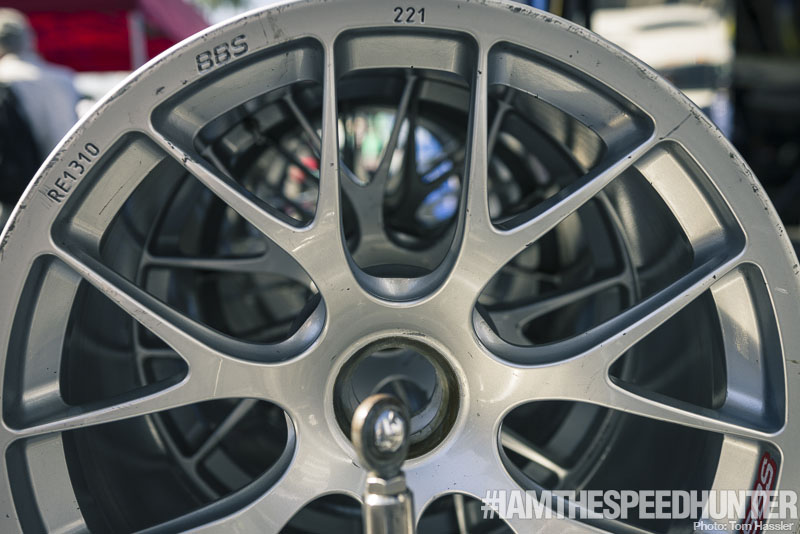 T: It's been a satisfying, long run for me, doing what I love as my livelihood.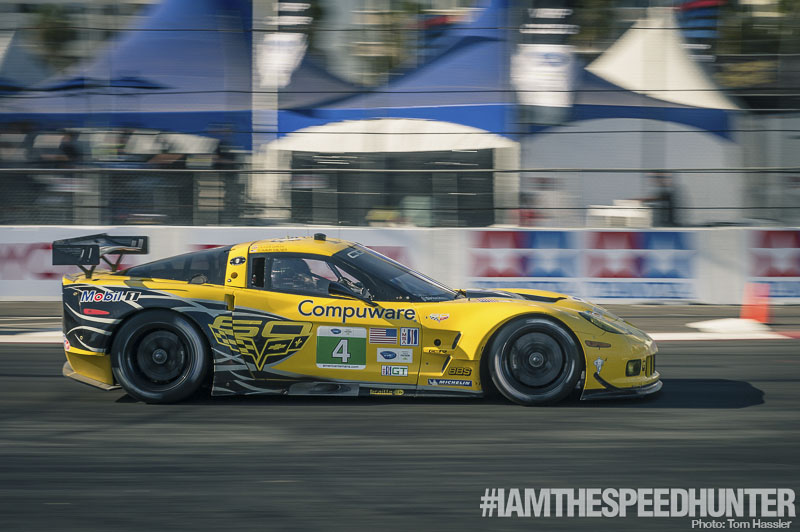 T: I pursued my passions, and wouldn't have changed a thing.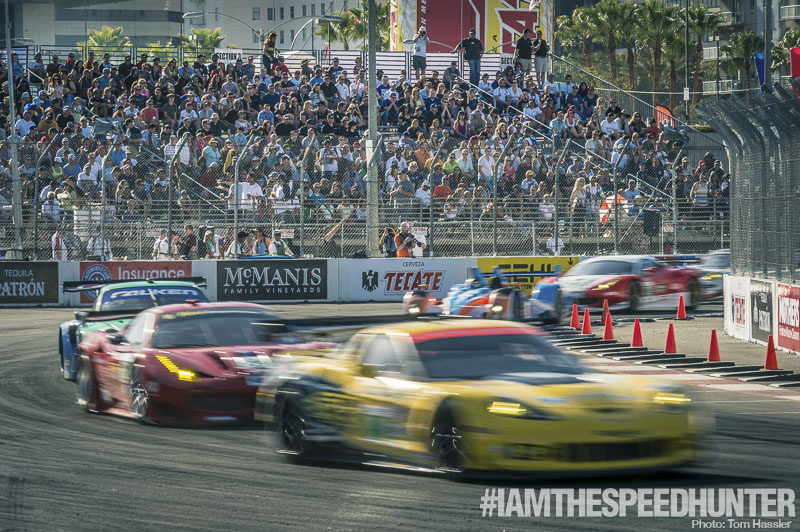 T: And through it all, the roar of engines, the smell of tire smoke and the heat of competition still gets my blood going.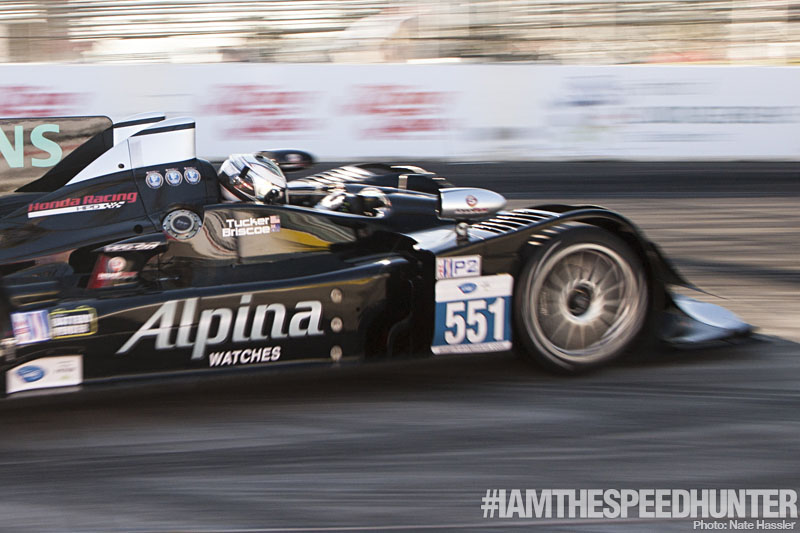 Nate Hassler: As the 'young blood' in the family, I have always looked up to my dad for many reasons. The way that he managed his career in a lucrative (but volatile) field is something that many try, but few succeed at.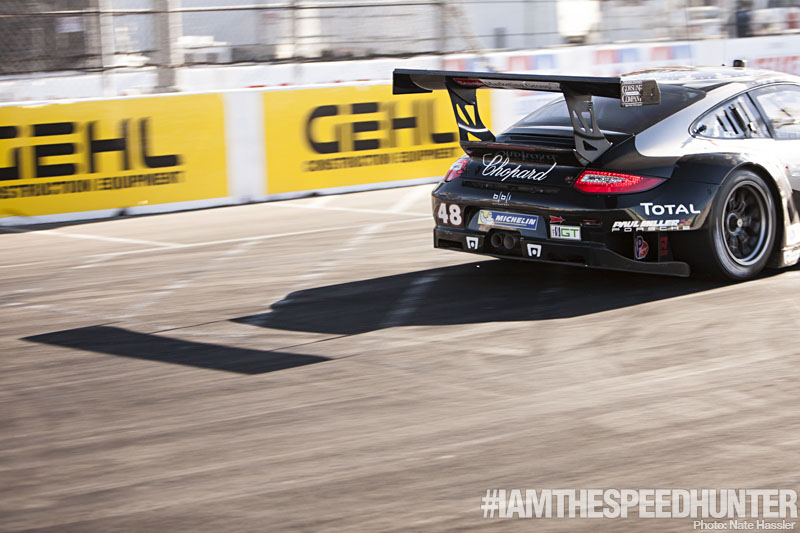 N: I first gained an interest in photography when I was in middle school; I used to go downtown over the summers to work at my dad's studio in Northwest Portland.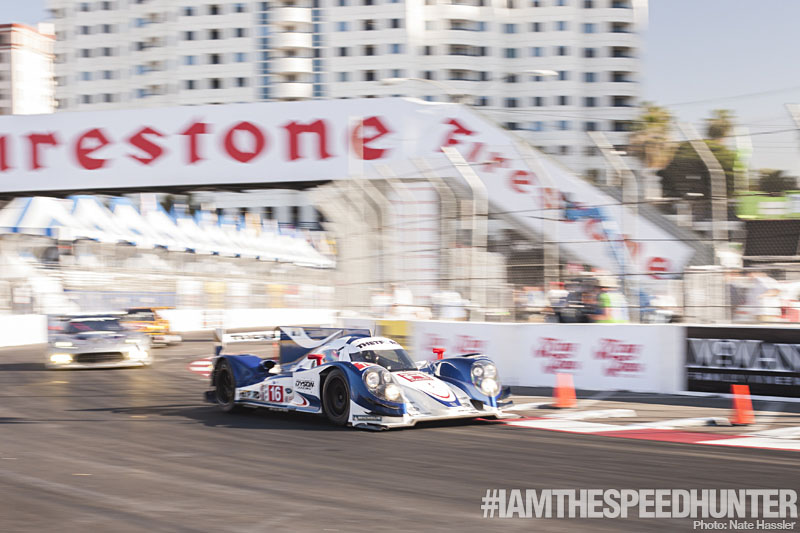 N: As a real youngster, I couldn't really do much aside from simple tasks and coffee runs (mind you, a very important part of a successful photography studio), but I enjoyed the vibe and I knew that creating imagery of some sort was the type of thing I would like to do myself someday.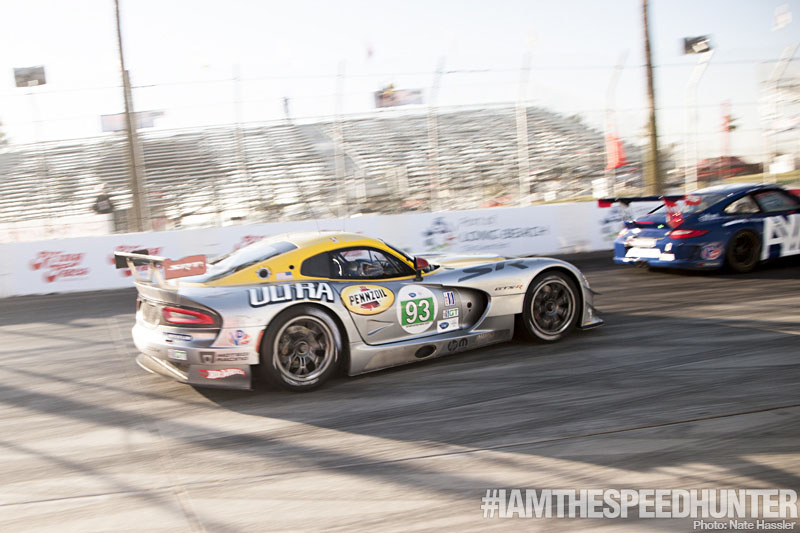 N: When I got into high school, I signed up for Photography 101 and produced a lot of very terrible photos. They were so, so bad. I loved it anyway though, and stuck with it.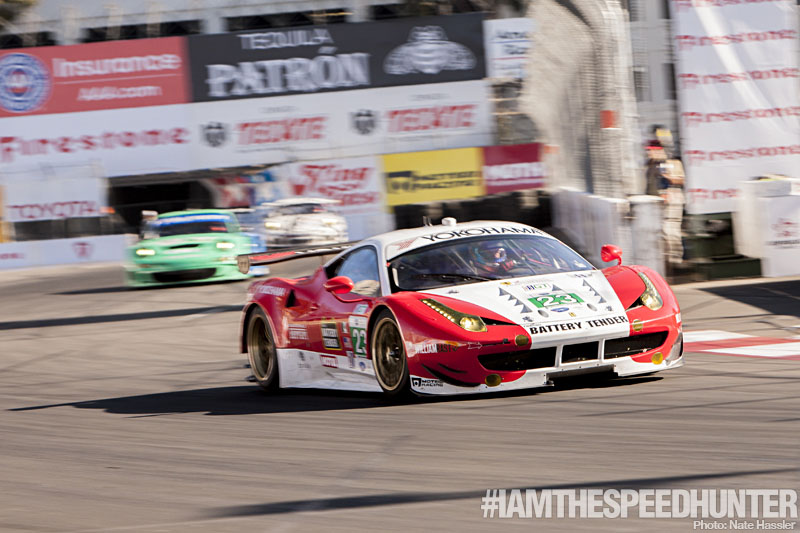 N: So much in fact that I figured out a way to take photo class for not only my entire freshman year, but every term of all four years of high school.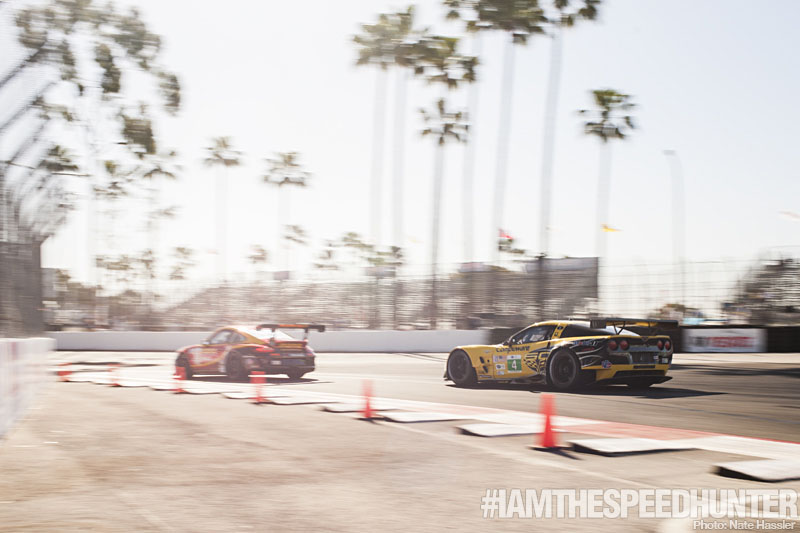 N: "Independent study" was how they worded it I think; I still am kind of shocked that I got away with that but hey, I'm not complaining.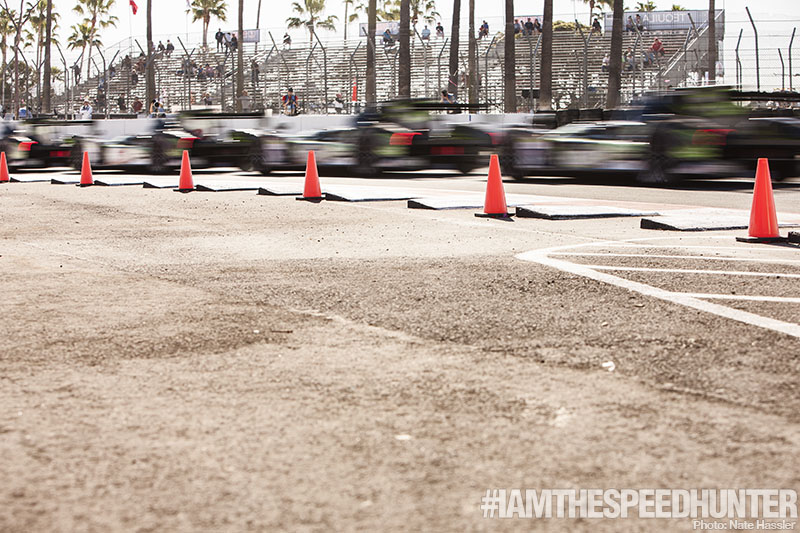 N: After high school, I attended The Brooks Institute of Photography for one year, studying Motion Picture.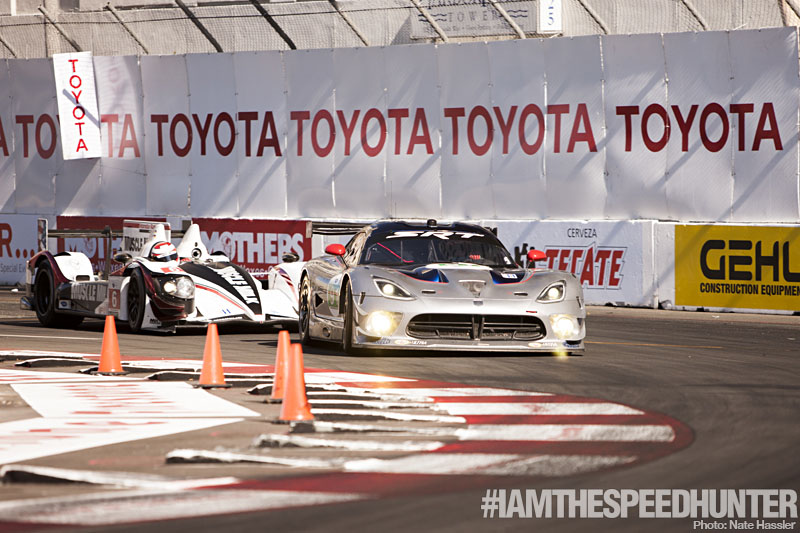 N: The school was in a very awkward transitional phase, as was I myself, so I decided to leave and pursue other options for a while.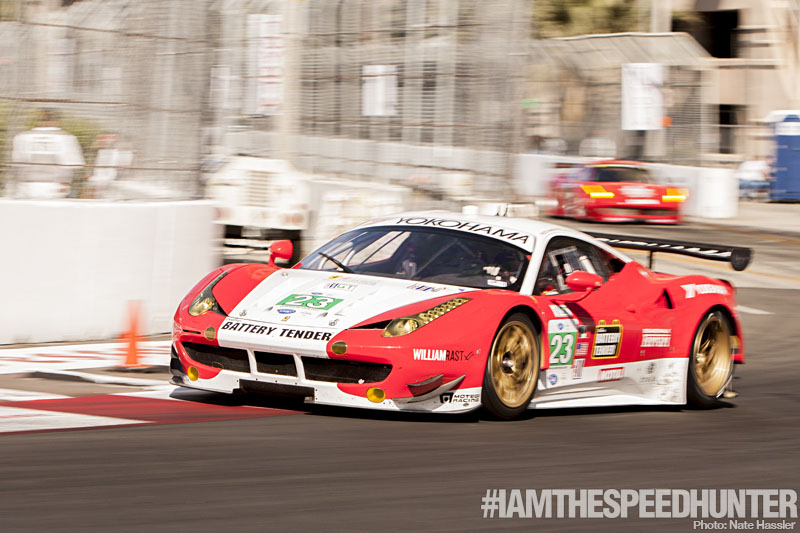 N: I eventually found myself back in Portland and began to work with my dad once again.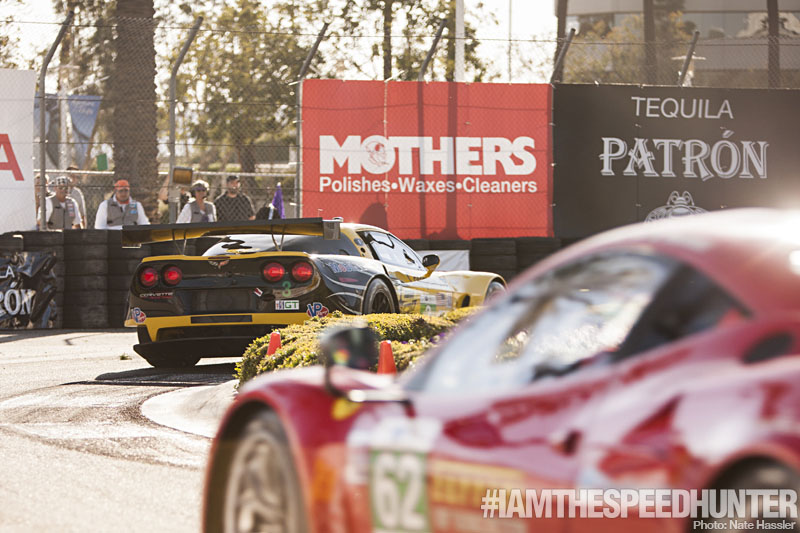 N: I had had enough of a break from photography to regain an interest, and at the age of 21 I began to really think seriously about how I could make a living for myself in the field.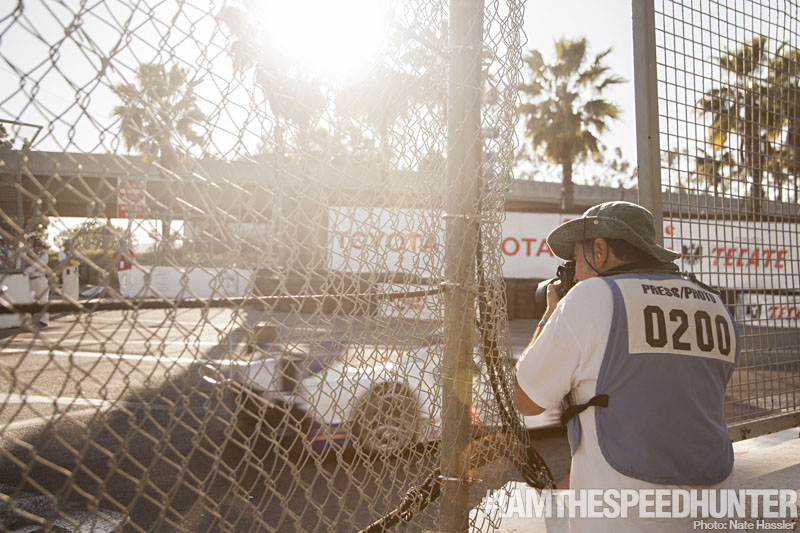 N: I'm not going to say that I have always been interested in cars, because as crazy as it seems to me now, I never really had much interest in them until my late teenage years.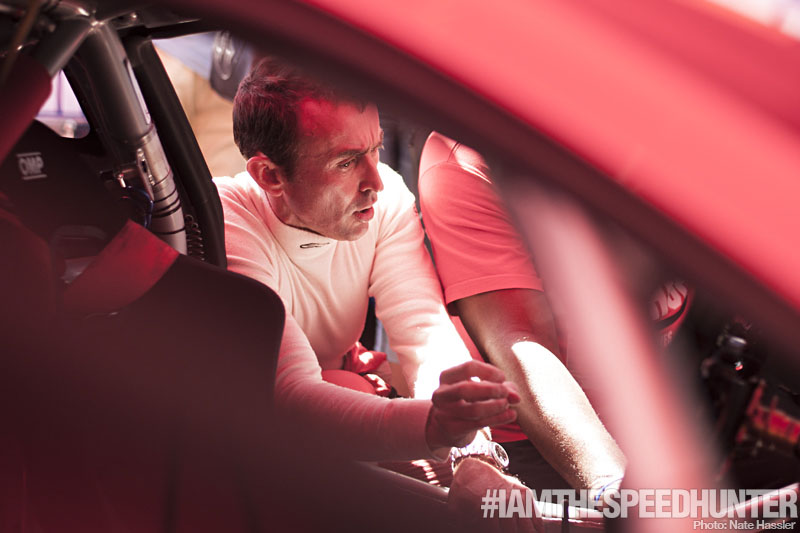 N: I managed to pick up a 2000 Honda Civic Si in my senior year of high school and I wanted to seriously pimp that thing out.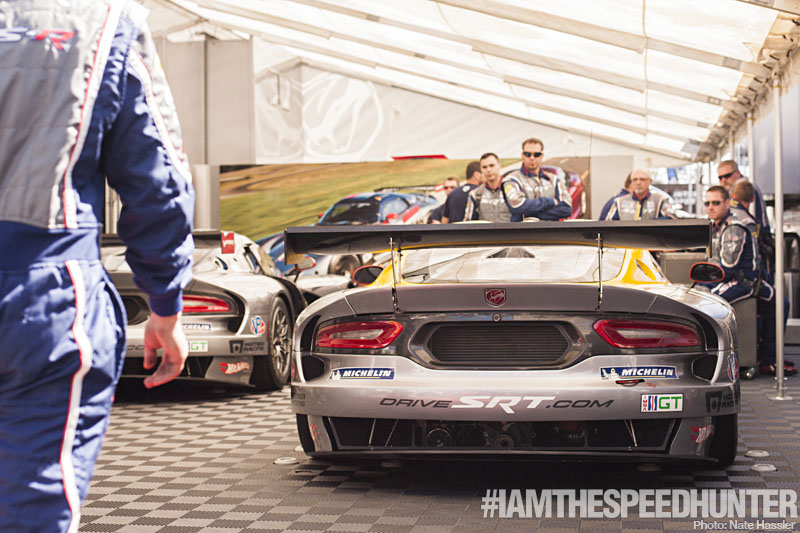 N: Thankfully I discovered the joy of simplistic JDM styling before I purchased any Altezzas or 19-inch chrome wheels from Les Schwab.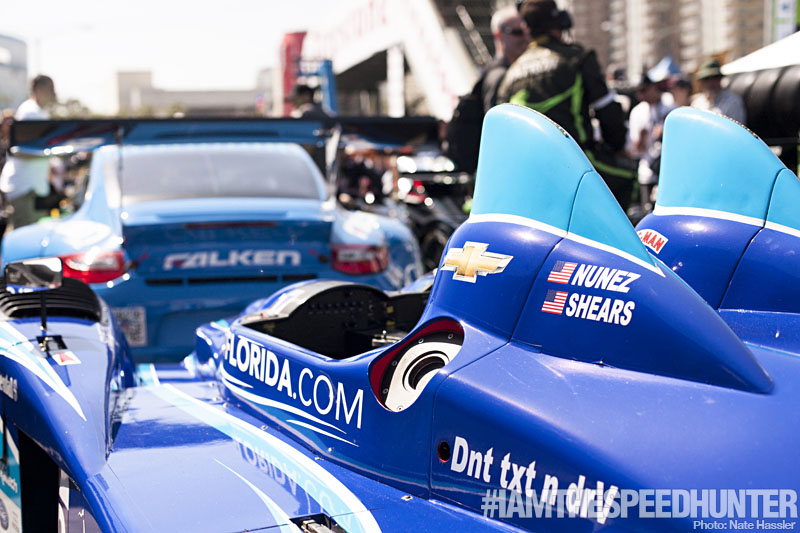 N: Once I had this car, I thought, "Hey, maybe I should shoot pictures of this thing" because I wanted people on Honda-Tech to know how cool I was.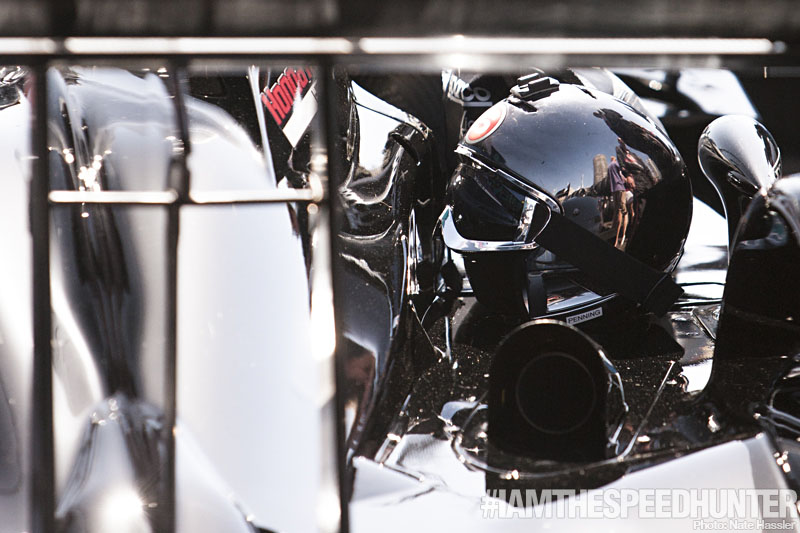 N: The response was less than enthusiastic; my photos looked TERRIBLE in comparison to some of the guys who were getting a lot of attention in that realm at that time.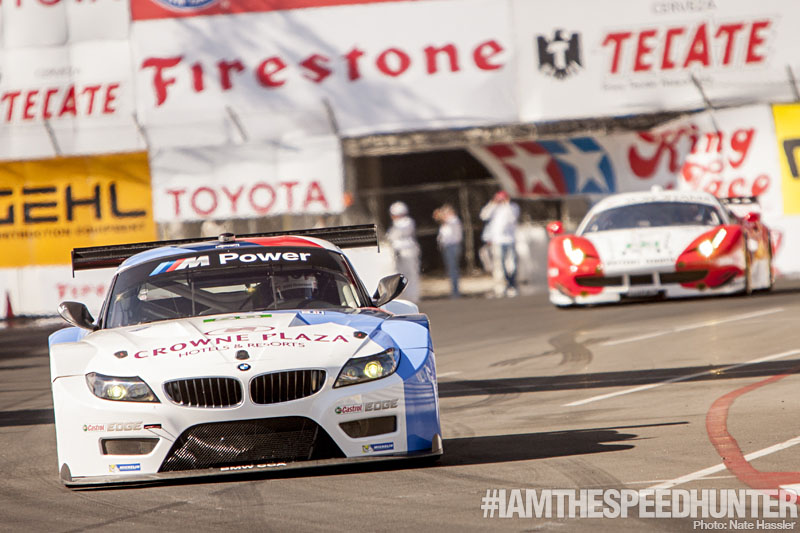 N: Guys like Kyle Johnson in Seattle, Steve Demmitt in California, and Speedhunters' very own Sean Klingelhoefer from Arizona were the guys who I wanted to shoot like.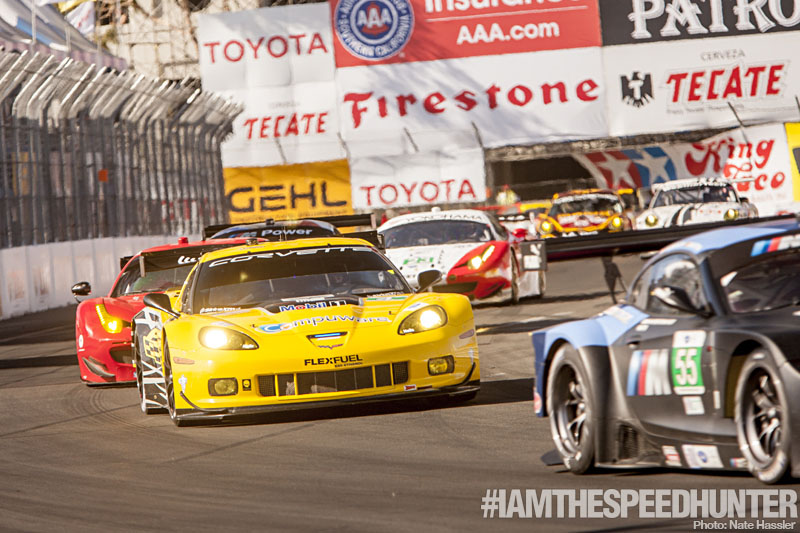 N: So I practised a lot, began to improve, and eventually got to the point where I was actually happy with some of the images I was producing.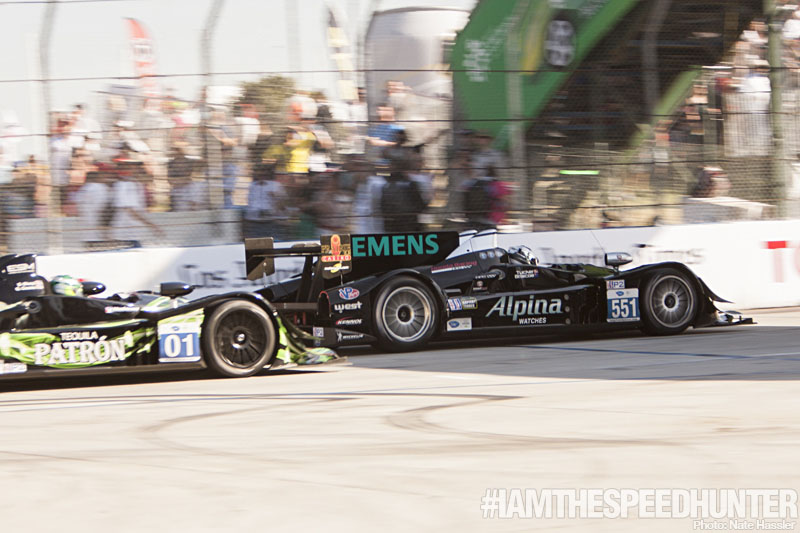 N: About this time (2009) the economy started to struggle as we all know, and the city of Portland was hit particularly hard.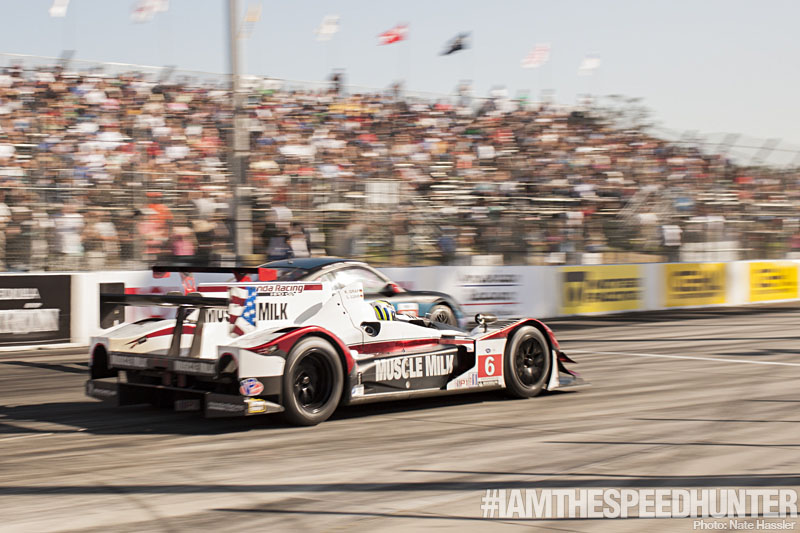 N: I felt like I was at a dead end trying to shoot cars in Portland, and I knew I had to take a leap and move someplace that had a stronger car culture. I toyed with the idea and over the course of really only a month or so, enough things fell into place that I decided the time to make the jump had presented itself.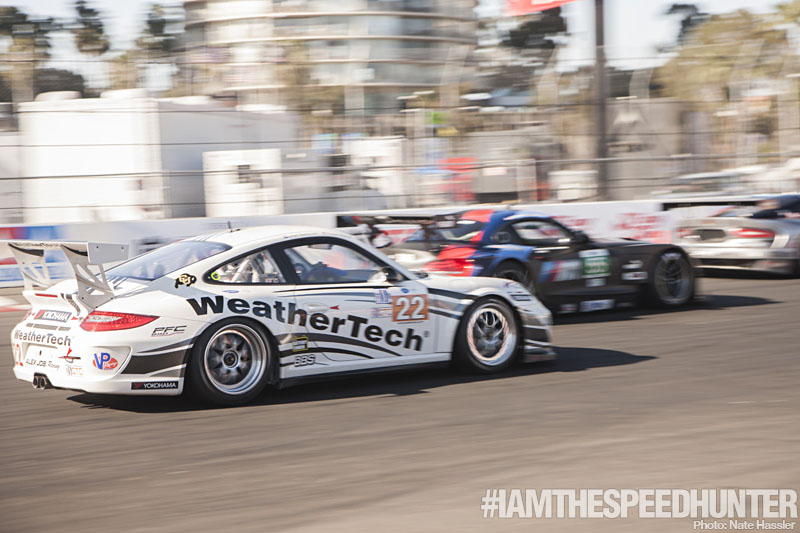 N: Los Angeles was the obvious choice for photography and car culture on the West Coast, so I packed up my things, convinced Klingelhoefer to babysit my two cats for a few months while I got my feet on the ground, and moved into my aunt's basement in Manhattan Beach. I managed to land a job working on staff with Modified Magazine, a job I held for a few years before a brief stint at Super Street Magazine.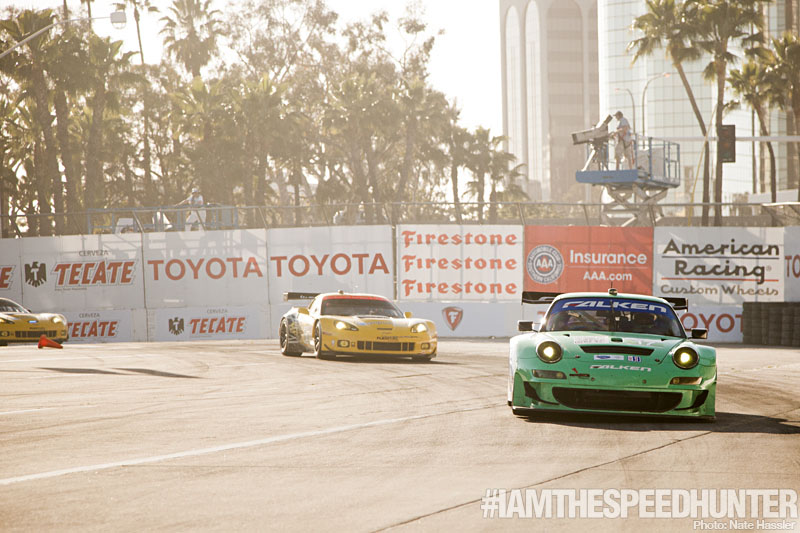 N: All in all, I worked as a staff editor for the mags for just about three and a half years; a time that I wouldn't trade for anything. I learned so much about myself, met a ton of great people, and had the opportunity to shoot countless amazing cars and races. Through it all, I always particularly enjoyed shooting motorsport.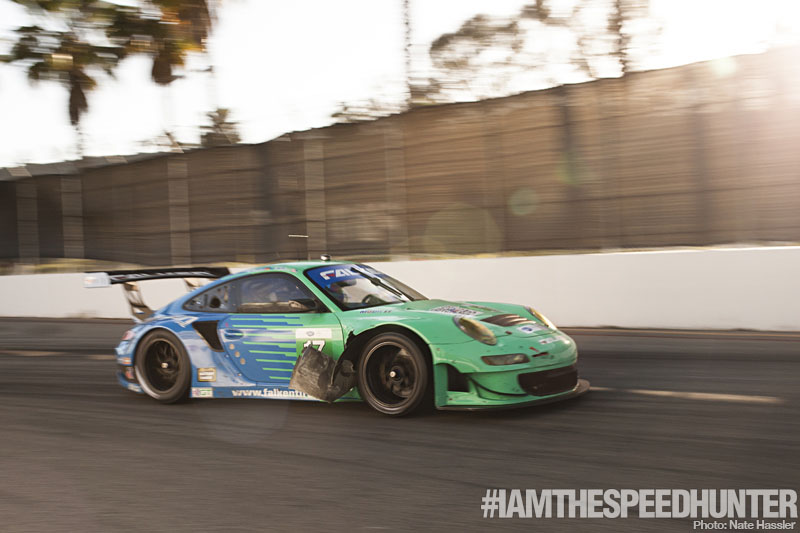 N: As much as I love to set up lights and make a whole production out of things (and believe me, I do love that) there is just something about shooting action that you don't have any control over, that gets me pumped up. The feeling of capturing that one moment where everything lines up is something you just have to feel to believe, and few events rival those of the American Le Mans Series as far as exciting action and beautiful machinery.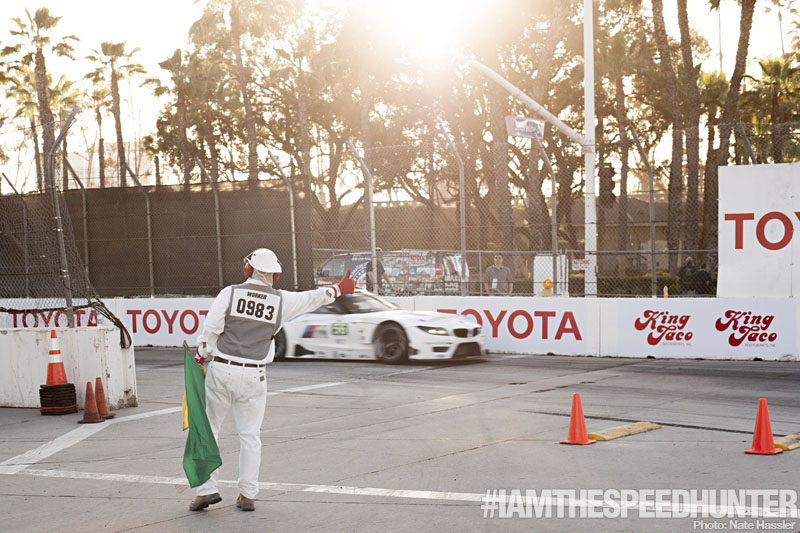 N: Getting to share that with my dad just makes it that much sweeter!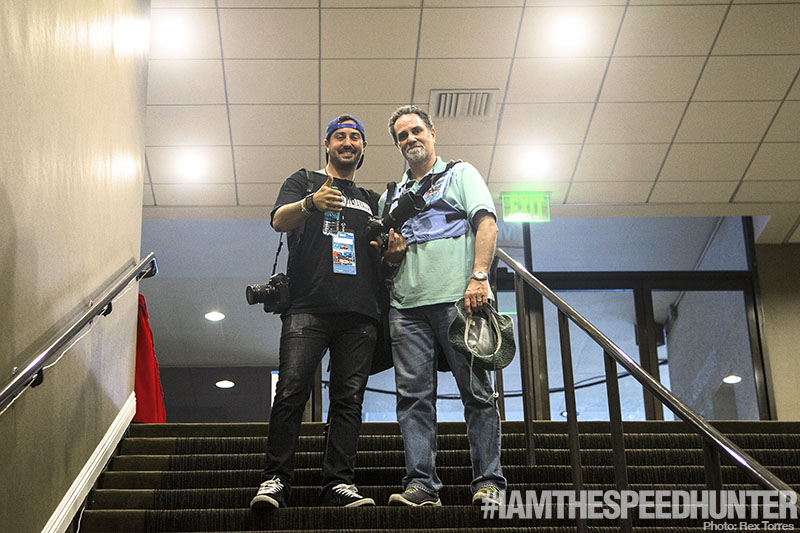 N: I look forward to the next time my dad and I get to shoot together again; it really is a great way to share our passion of photography and racing at the same time!
Tom & Nate Hassler
Additional Photos by Neill Bachand & Rex Torres
www.tomhasslerphoto.com
www.natehasslerphoto.com
About #IAMTHESPEEDHUNTER
We created #IAMTHESPEEDHUNTER to allow you the opportunity to share your skills and car culture experiences from around the globe with the rest of the Speedhunters audience.
How do you get involved? It's simple…
Flickr - Join our #IAMTHESPEEDHUNTER Flickr Group and share your favourite photos with us and others.
Instagram – Follow us on Instagram at @TheSpeedhunters and tag your own car culture images with #IAMTHESPEEDHUNTER
Twitter – Follow us on Twitter at @SPEEDHUNTERS and share your tweets with the #IAMTHESPEEDHUNTER hashtag.
Tumblr – Visit our Tumblr page to view the latest #IAMTHESPEEDHUNTER tagged images.
E-Mail – If you've been to a cool event and captured some amazing images, be sure to e-mail them to us on iamthespeedhunter@dev.speedhunters.com and tell us a little bit about the event. The images need to be a minimum of 800×533 pixels.
Have you submitted already but yet been featured? Here are some tips to help you…
DO – Tell us your name!
DO – Submit your best work, regardless of when it was taken
DO – Take your time shooting and consider each detail
DO – Try to submit each image no larger than 1000PX wide
DON'T – Put a huge watermark on it. We'll make sure you're credited
DON'T – Send us huge image files that kill our e-mail system
DON'T – Send us scary ZIP or RAR files
日本のSpeedhunters読者にお知らせです。
Speedhuntersでは、週一回#IAMTHESPEEDHUNTERにて、読者の皆さんから寄せられたカーシーンの投稿写真を紹介しています。
投稿写真は、カーレース、カーショー、イベント等、車に関するものならなんでもOKです。
Speedhuntersで皆さんの撮ったカーシーンショットを世界中のファンに紹介して、あなたもSpeedhunters記者の仲間入りしましょう!
#IAMTHESPEEDHUNTERには、ツイッターかインスタグラムにて簡単に写真を投稿していただけます。
上記方法で写真を投稿する際は、写真に#IAMTHESPEEDHUNTERのハッシュタグを付けてください。
また、メールアドレスiamthespeedhunter@dev.speedhunters.comでも投稿受付しています。
写真は、800×533 ピクセル以上のJPGのフォーマットでお願いします。
上記サイズより小さい写真ですと、すばらしい写真でもサイトの写真サイズの関係上掲載できないことがありますのでお気をつけください。
投稿された写真は世界中のSpeedhunters読者とシェアされますので、あなたのベストショット写真を投稿してくださいね!
また、写真に併せてどういった写真なのか、どこで撮られた写真なのかの説明と投稿者様のお名前を明記の上投稿お願いします。
皆さんからの投稿お待ちしています!