I'm going to tell you something that you might find hard to swallow. This isn't actually a car. It may have all the characteristics of an automobile: headlights, four wheels, doors and stuff, but this is not a car. What is it? It's a WMD. A Weapon of Mass Destruction.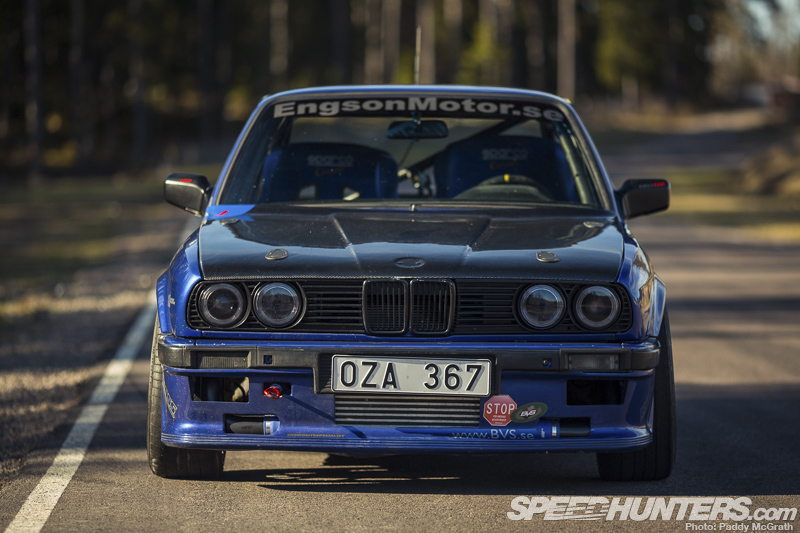 You may think that the words you have just read are pure unadulterated sensationalism, but they're not. I can assure you that I type the truth.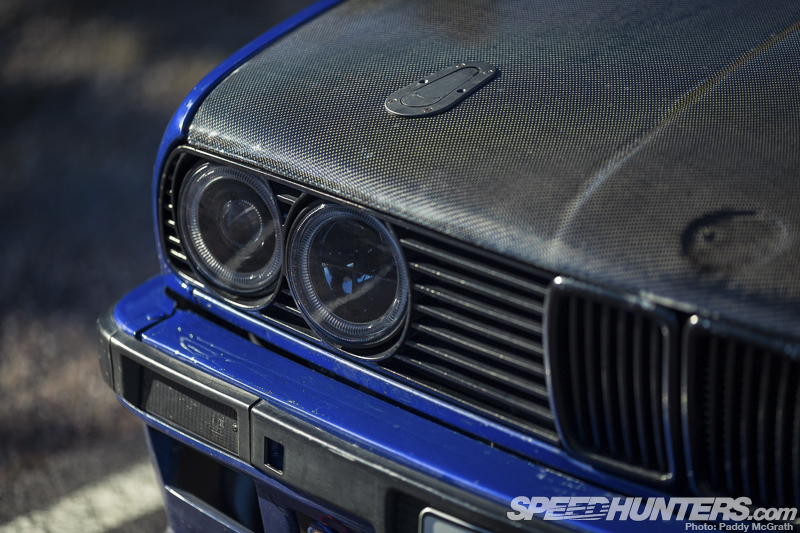 Look into its multiple eyes and you will find yourself staring into the soul of an attempted murderer. Karel Silha, owner and builder of this Bavarian monster, was its first victim. Fortunately, he lived to tell the tale. But things didn't end there, though. Oh no. After this, the BMW went on to commit slaughterous acts of the mechanical kind.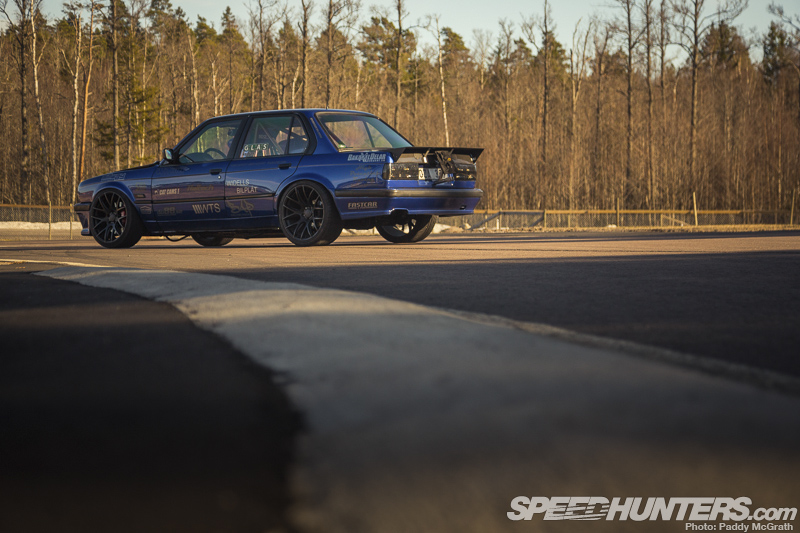 To be specific it's not actually the body that's the killer – it's the BMW's heart that needs to be carefully watched. You see, the 6-cylinder M20 motor is dangerously violent. But, like a compassionate father, Karel has forgiven this powerful beast, looked past its sins, and continued to develop it. Has he created a monster? Yes, I think it's pretty fair to say that he has.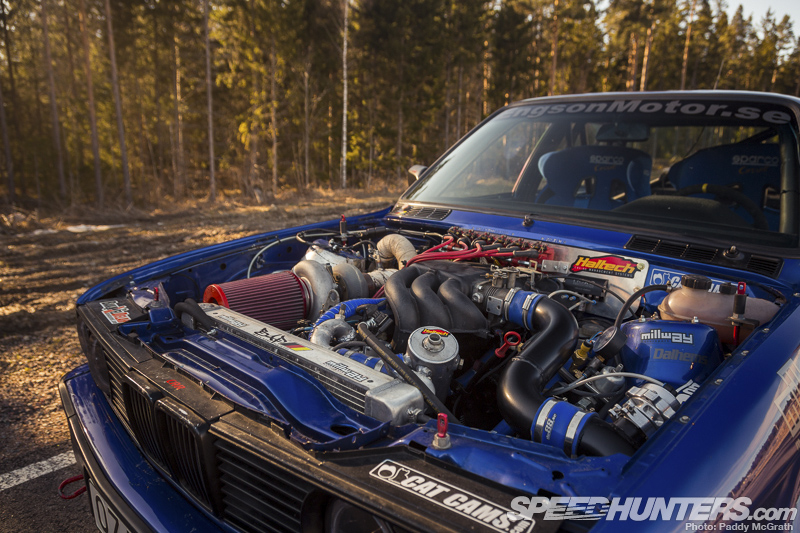 Venturing closer it's clear that this BMW is not normal – it's wild and it definitely requires respect. Actually, this BMW doesn't require respect, it demands it. Don't let the four-door guise put you at ease. The hideously powerful 931bhp engine has already claimed the life of one E30 body shell. That was a two-door version and it was the first taste of slaughter for the then M20/M21 hybrid lump.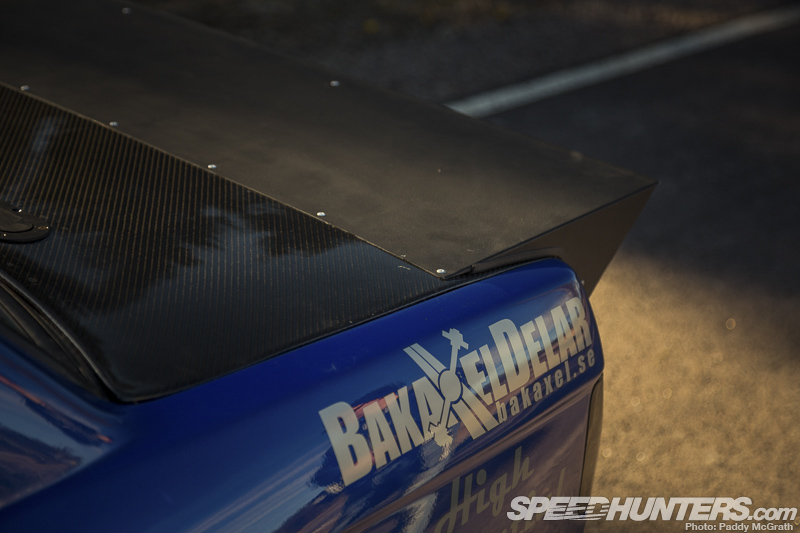 Before we explore this lunatic power plant, which delivers nine-second performance on the drag strip, I'd like to talk about the body. Or the second body that this motor now lives inside. Eagle-eyed BMW aficionados may have already spotted the widened rear end.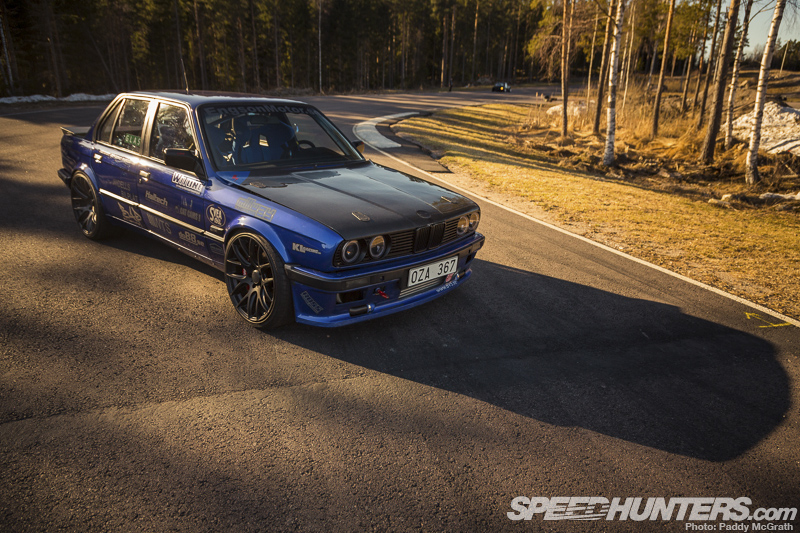 Whether you called the manipulation of arches and rear doors already or not, I can tell you that this 'boot-cut' set-up is most definitely purposeful and extremely raw. So why all this talk of killing and destruction? Well, quite simply, this second body shell is the result of the motor's throttle body sticking open and destroying the two-door shell. Things didn't stop there, though. The crazed M20 tried to take Karel to the grave along with the original shell. The WMD E30 motor was almost responsible for the death of its owner! It definitely means business and not a lot else.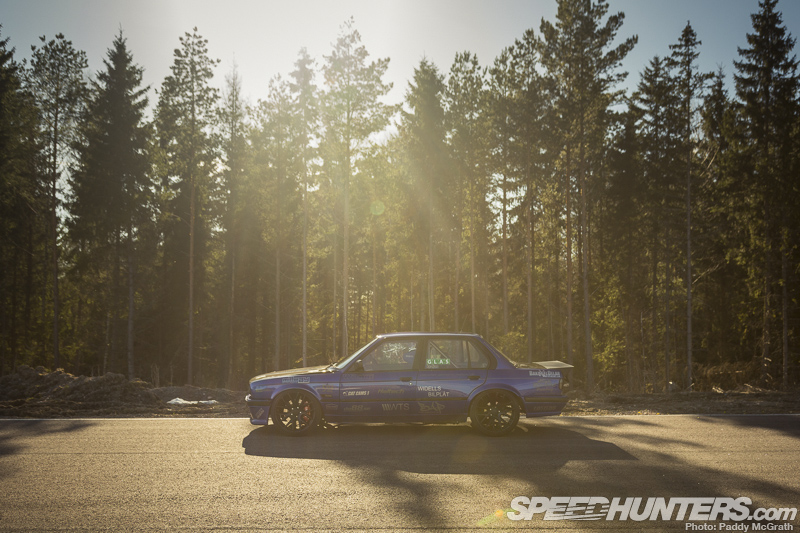 This build is a perfect example of things starting simple and quickly getting out of control. Take a look at this photograph. The light in Sweden at this time of year is really quite unique. 'Golden hour' doesn't seem to exist, it's more a kind of 'golden evening' where this beautiful light lasts for hours. It perseveres. This is an altogether lovely happening. And what I'm beginning to realise is that the Swedish approach to automotive building is much like this long-lasting golden light. There's no fast sundown and no throwing in the towel after one box has been ticked. The Swedish builds I have seen so far are steadfast.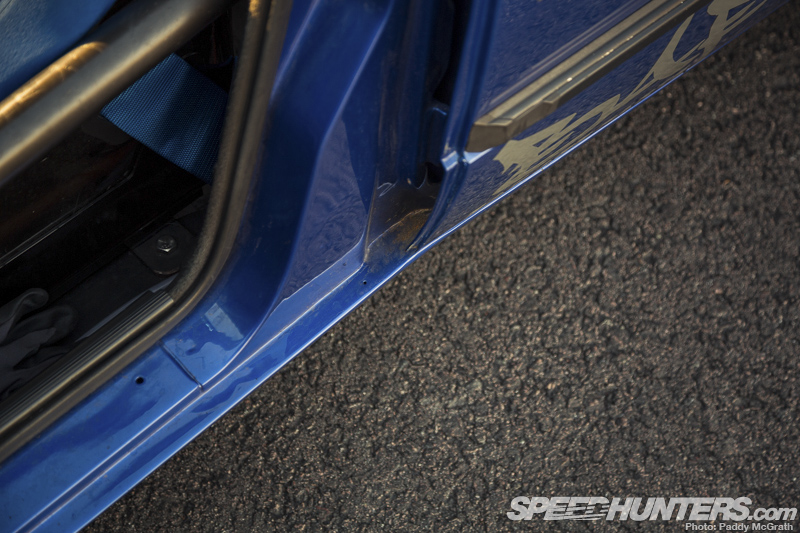 Karel is not really sure why he chose an E30 to work with. Although, in his mind, the E30 M3 is the most beautiful car BMW has ever made, so perhaps that swayed his decision. Despite this love for the M3, though, Karel was very determined not to build a replica. The objective was to widen the body to make the build personal to him. But at the same time it needed to be subtle. He's also of the thinking that if it's not an M3 model, it's best to avoid M3 parts if possible. The goal was to be able to fit 10-inch or even 11-inch wide wheels clad in drag slicks at the rear, while keeping as much of the original E30 shape as possible. I think Karel and his friend Tobias, who played a big hand in the bodywork, have done a really cool job. The build is very unique and honest.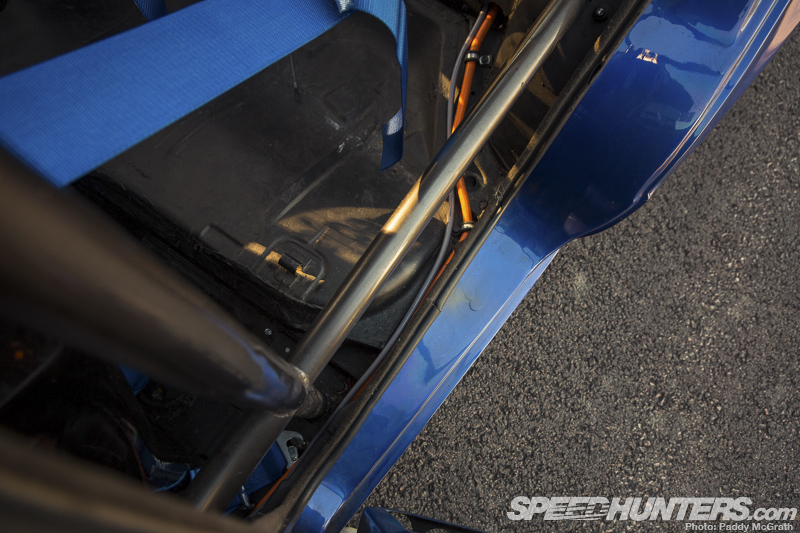 The wider arches, or fenders as Karel calls them, is quite the norm in Sweden. Instead of using M3 fenders Karel and Tobias cut around and underneath the wheel housing to pull the arches out. Then sheet metal is used to bridge the gap and create this subtle, but very purposeful, wide body E30. The cool thing is the OEM look is pretty much retained. I was underneath the car checking everything out when Karel explained that although the rear is commonly widened, the front is often ignored. Tobias insisted that they give the front arches some more girth too. The result is a rear that's over 60mm wider, whilst up-front things are approximately 30mm more accommodating. I really love the fact that not that many people will notice this arch work until it's pointed out to them. It's these cool modifications, that draw you in without really knowing why, that make me smile.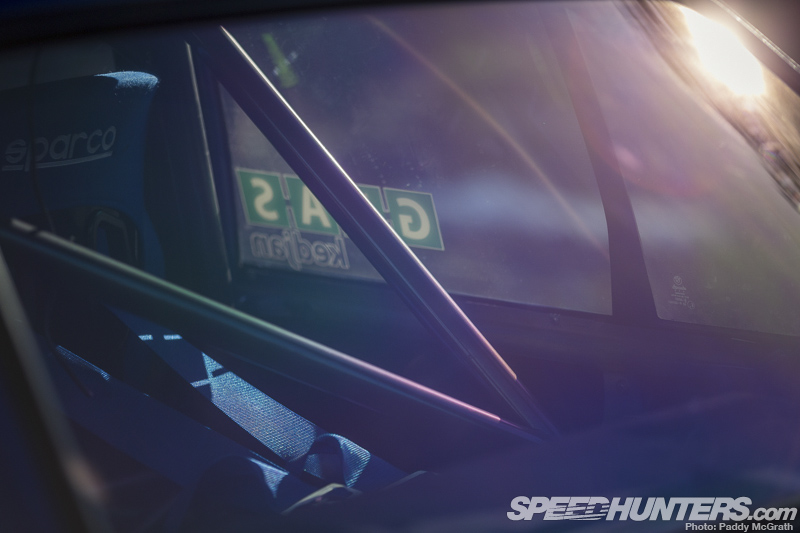 Karel has showed diligence and tenacity to get his project to its current place and there's no sign of relent.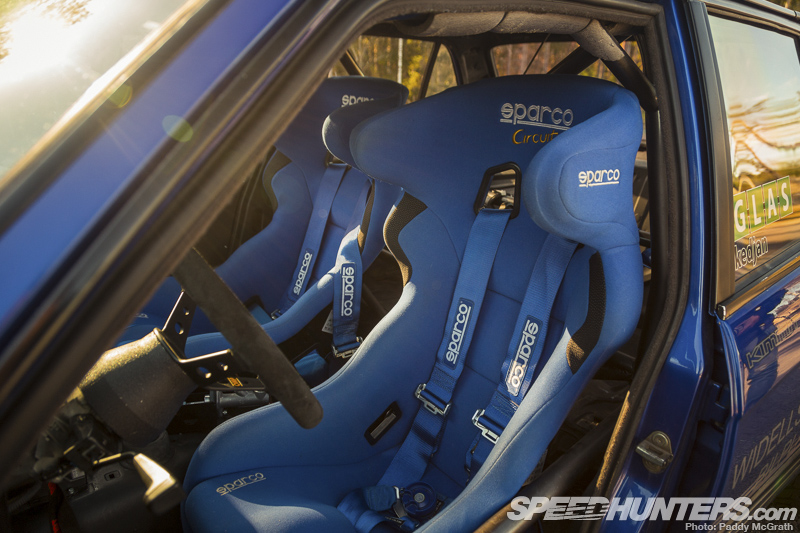 I love the truly hands-on approach that seems rife in Scandinavia. People just love to get stuck in and work on their cars. Maybe it's the long winters? Of course car building is prevalent the world over, but when you ask a Swedish guy who built their car they kind of give you this questionable look as if to say, 'well, me and my friends, of course… Who else?' Before they politely answer and say, "me and my friends!"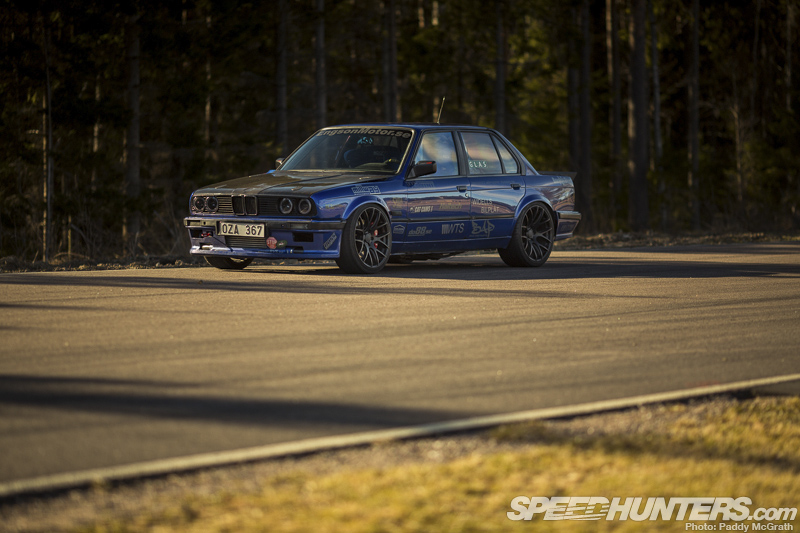 It's almost as if getting anyone else to build a car for them is a bit crazy. If you want it done, then borrow some tools, get some friends together, and make it happen seems to be the way for the people I have met so far in Sweden.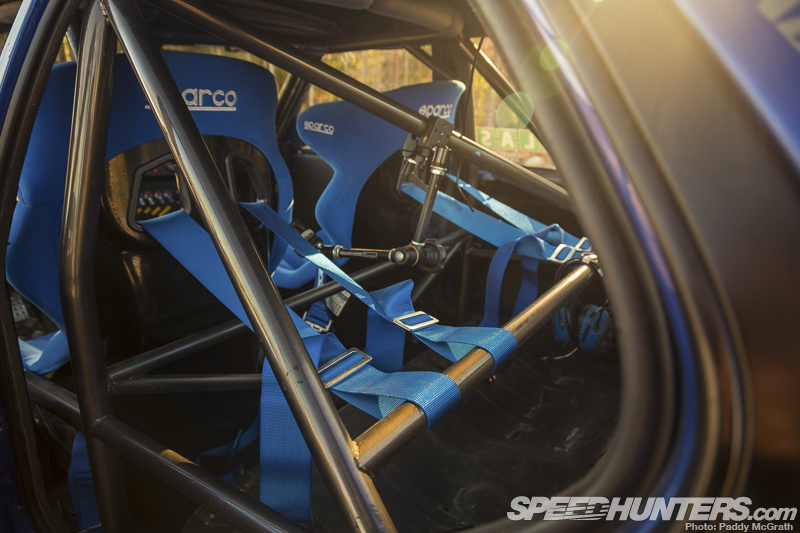 Karel was quick to thank his friend Johnny for the custom fabrication. The use of the workshop that belongs to Johnny's father was invaluable.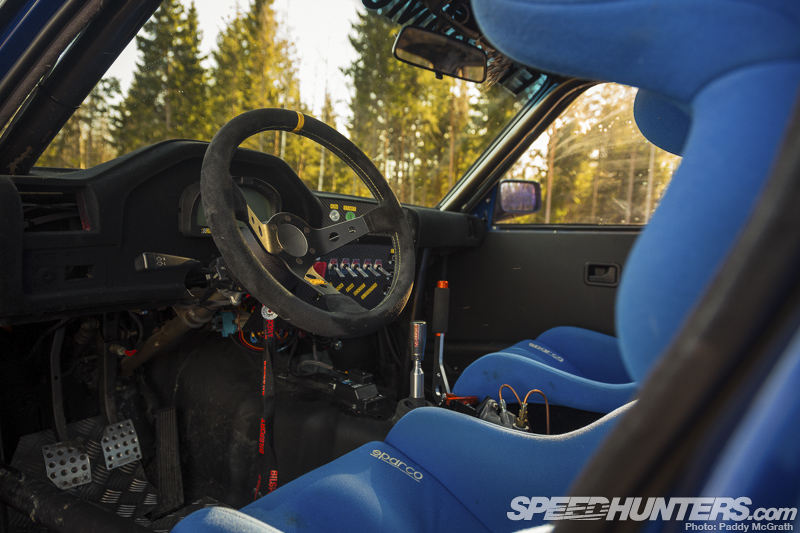 The third guy that helped out was his friend Douglas or 'Dogge' as he's know. He's also Karel's garage mate who has helped with pretty much everything on the car – the wiring, gearbox modifications, engine build and lots more. The main man when it comes to motor work is Stefan who carried out the machine work to the engine parts. Pretty much all of the building has been done by Karel and Dogge.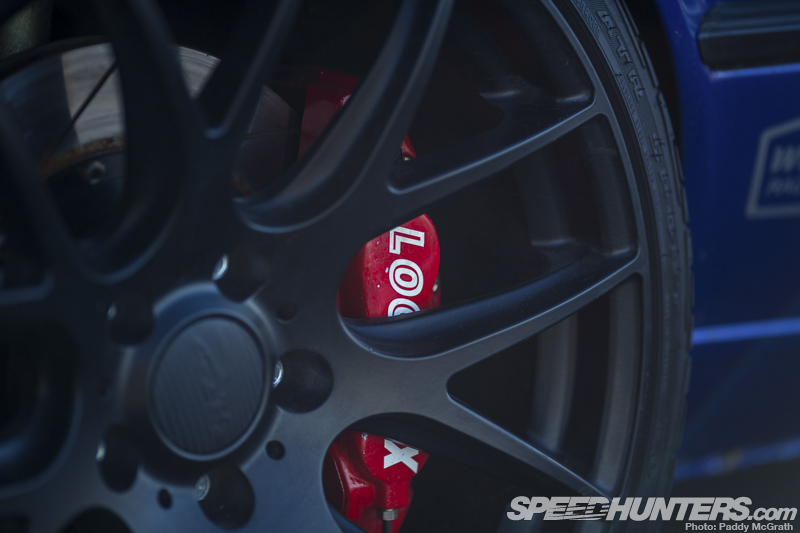 It's at this point that I guess you're going to start questioning the wheels. "Nine-second passes", you say. "On those wheels?" Keep calm, because this is also built for the street. It's a sort of hybrid machine. Not in an environmentally-friendly kind of Toyota Prius-type of way, but I think that's pretty clear.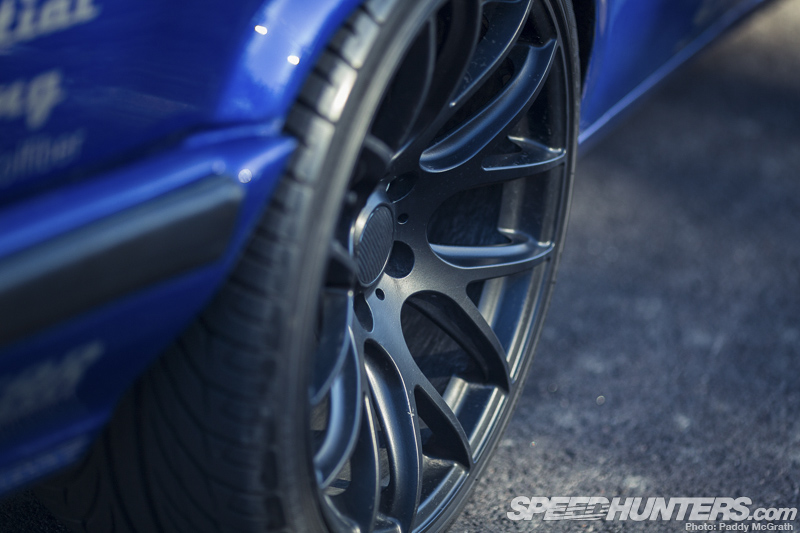 Karel has built this to be a drag weapon and a road-legal track machine that's fully useable on the road. Most importantly the E30 has been built with fun in mind. But when proper times need to be put down, this E30 wears Hoosier drag slick and 15-inch wheels.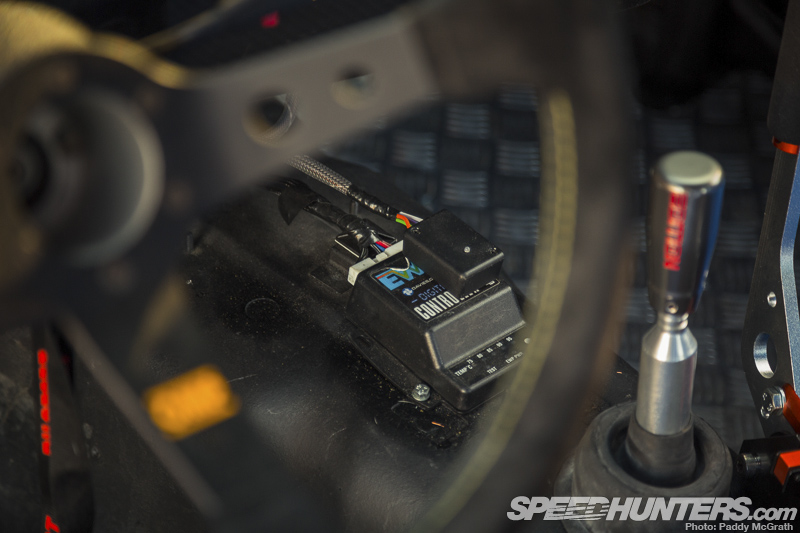 Everything about the BMW for me says raw and ready for action…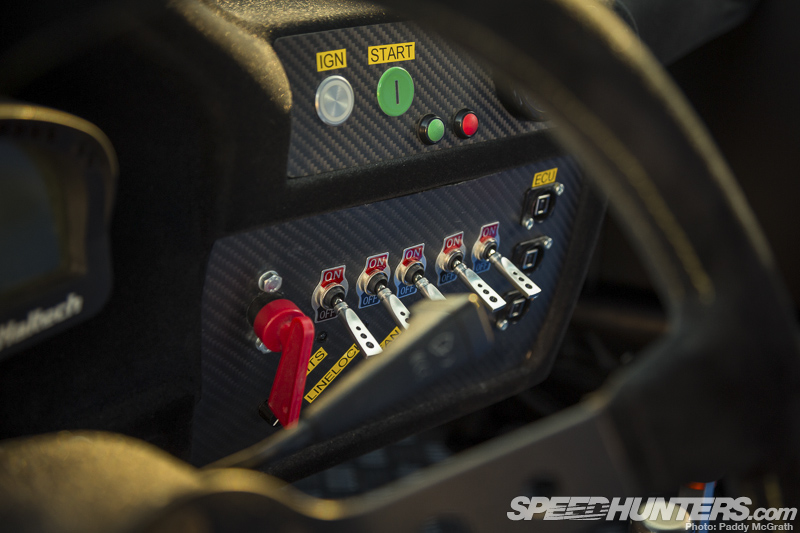 … the switchgear has been replaced with on/off toggles that say cool stuff like 'linelock' and there's a button labeled for ignition. Anything that requires its engine to be started using a button is 100 percent good, right?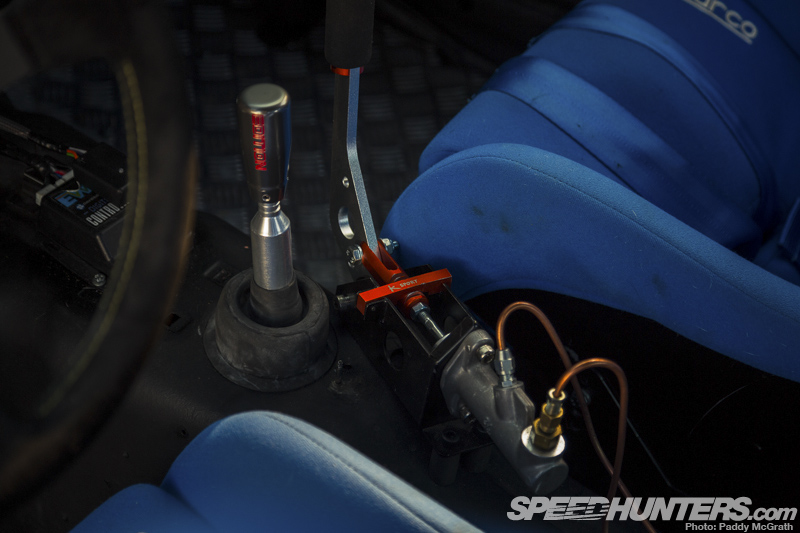 Aggression. Aggression seems to be a keen theme with the Swedish builds that I have encountered so far. These guys love a hydraulic handbrake! This car has been built to slide as well as go in a straight line and I love this jack-of-all-trades approach.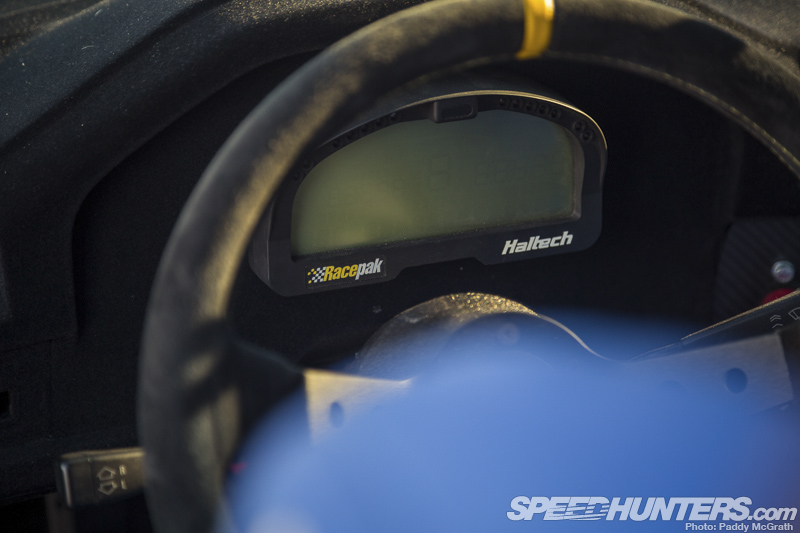 Another thing I absolutely love is digital dash displays. I remember getting a lift with my dad's friend in his Mk1 Vauxhall Astra GTE and it had a digital dash. I felt like I was suddenly in an episode of Knight Rider. I guess in a childish way I will pretty much always celebrate a car that has a digital dash. Anyway, when this car gets unleashed at Gatebil it sure would be cool to be in the passenger seat watching that Haltech display go mental!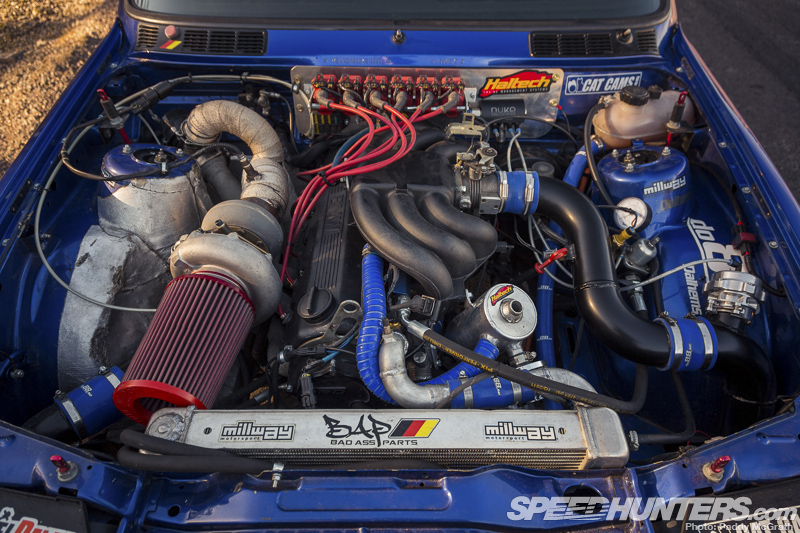 And so to the motor. On the face of it, this is an '80s engine, but the innards are a hybrid of BMW parts which work together to create a demonic behemoth! It all started back in 2006 when Karel got the idea to build a fun racer to go sideways with. The first year things were kept simple with stock pistons and rods and a huge turbo from a truck. This lasted during the summer of 2007, but soon the gasket blew and the plan was to just replace it.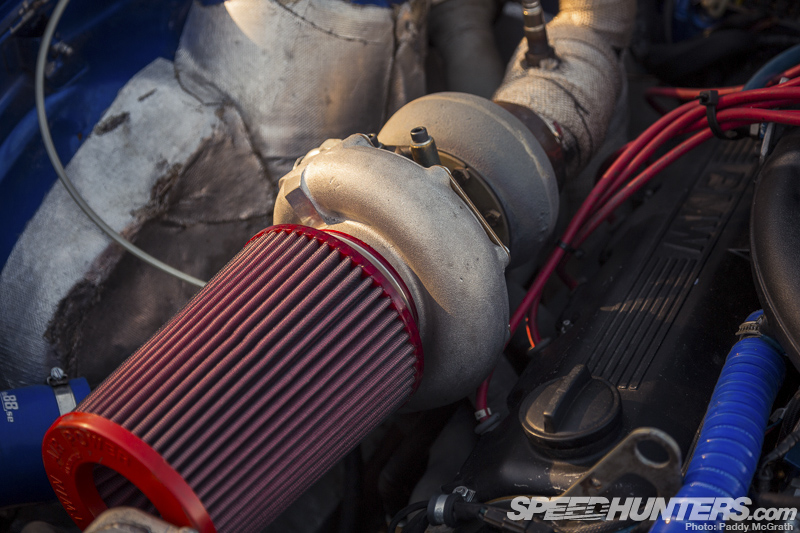 But that didn't happen. During that time Karel was sharing a garage with his friend Ivars (who himself brought a 1.000hp+ M5 along to the shoot). At that time Ivars bought a E30 Touring and things became competitive. Soon both Karel and Ivars we buying all sorts of performance parts. Pistons, rods, brakes, cam, valves, Haltech ECU and a stroker crank from an M21 diesel engine were all gathered. Karel's car got a fresh paint job in NATO Military Green and it started to look quite special. The turbo remained the same as the original build, but with the right parts now installed and the motor out to 2.7 litres, the result was 734bhp and an incredible 690lb/ft of torque at the crank. This was now serious.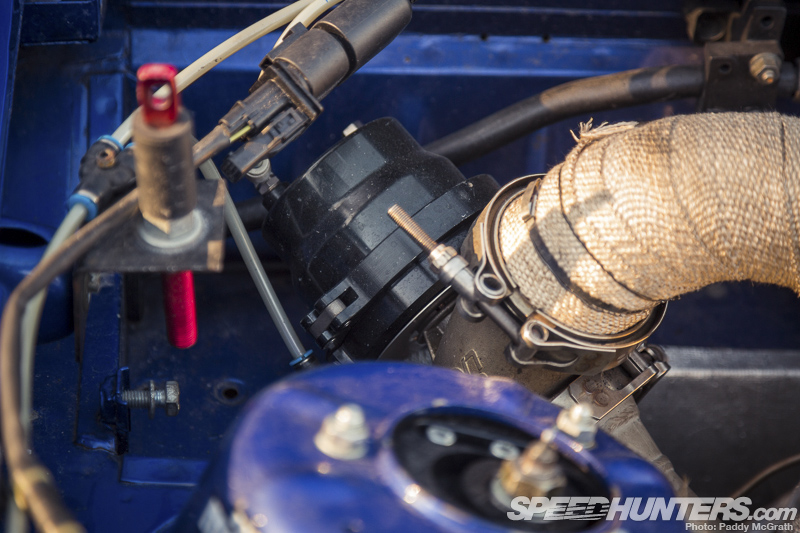 This set-up remained until 2011 and during this time the BMW laid down a 9.6-second ET on the 1/4-mile time after just three attempts. Lots of fun was had at Gatebil events, too. The E30 was used and enjoyed to its full potential by Karel.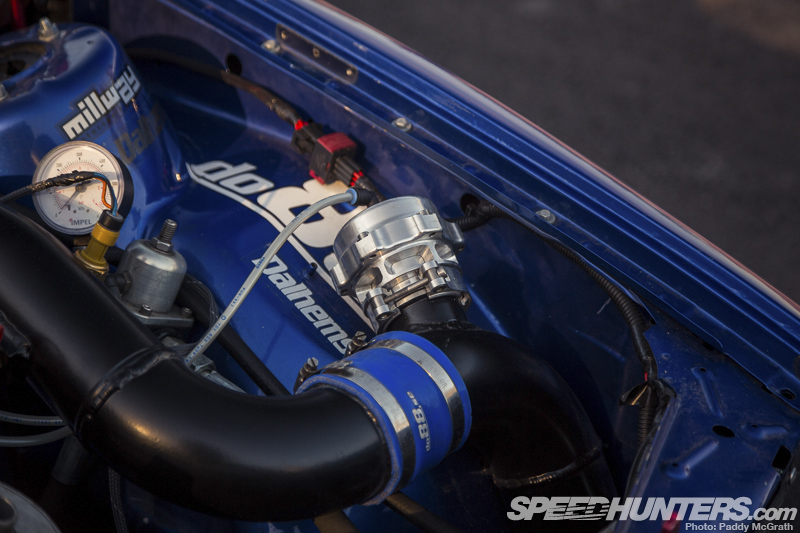 During 2011 the car was put back on the dyno again and the engine was redeveloped with a new turbo, bigger injectors and better fuel system. The motor was also further stroked to 2.85-litres with a compression ratio of around 9.0:1 which is maybe a little higher than the norm.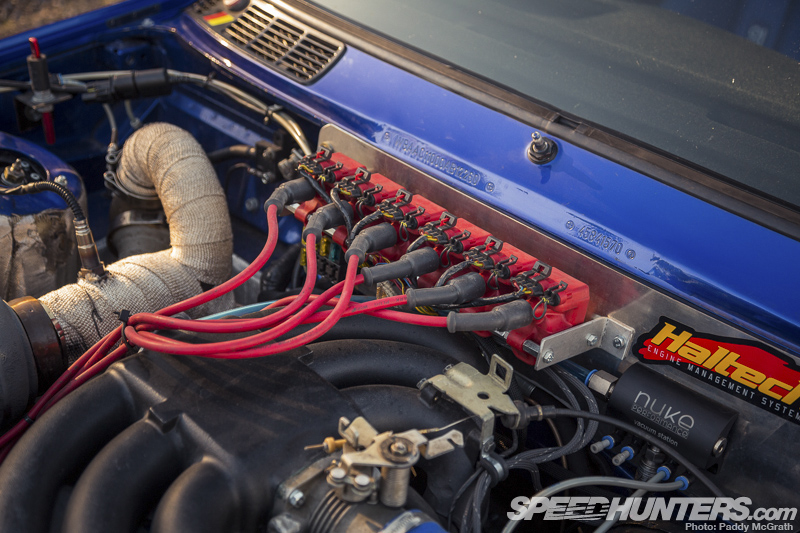 It was during the first run with this mega engine spec, that the aforementioned throttle body 'incident' took place. The two-door E30 left the road and was never recovered. Karel did recover, fortunately, and went back to the drawing board. For him, quitting was never an option. The new shell you see here was sourced, the innovative arch work and door manipulation executed, and the body painted in a Lamborghini hue. The motor got some more attention, too. Finally, after many troubles with cracked heads and worn rocker challenges, the engine saw some proper dyno tuning. The result? 931bhp and 825lb/ft of torque.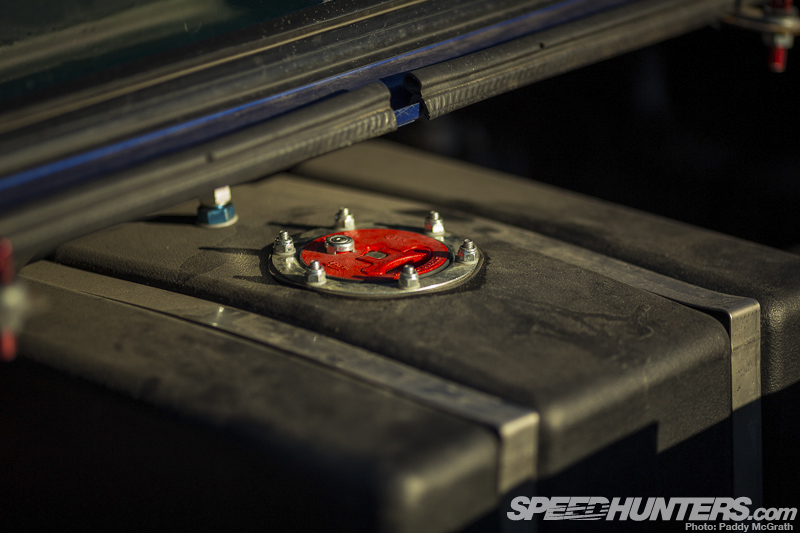 These figures were achieved on E85 fuel. Pretty impressive, right? Well surprisingly not for Karel. In fact he was really disappointed as the goal was to make 1050bhp. I think this is the first time I have ever met someone who is disappointed with their 931bhp BMW E30! Sticking to his 'quitting is not an option' philosophy, Karel is going to spend some more time at the dyno later this year, determined to achieve his 1000-plus horsepower dream!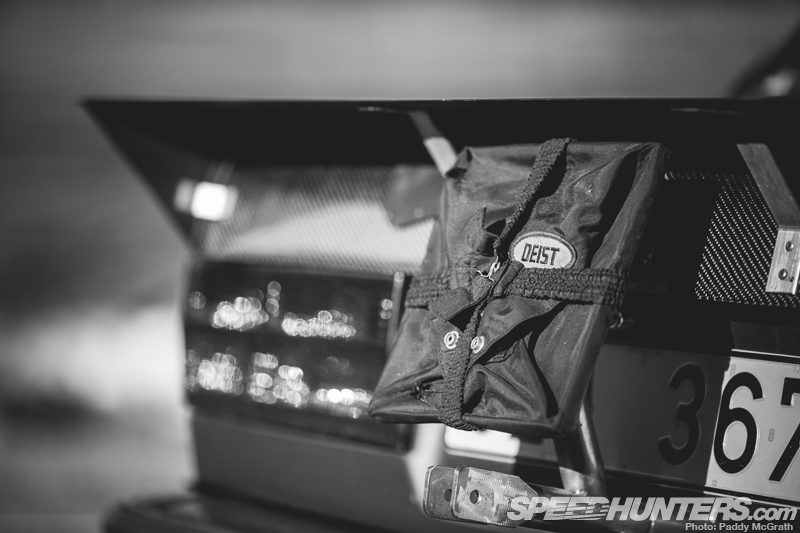 With that kind of power a parachute is most definitely wise for the drag strip! Karel is on an epic journey with this WMD Bavarian power plant and he's not done yet. The plan is to keep developing the blown M20 until eight-second passes are achieved and an insane 1050bhp figure has been met. This 12-valve, single camshaft, turbocharged motor has been a seven-year love affair and it's pretty exciting to see such dedication to an engine that's clearly crazed.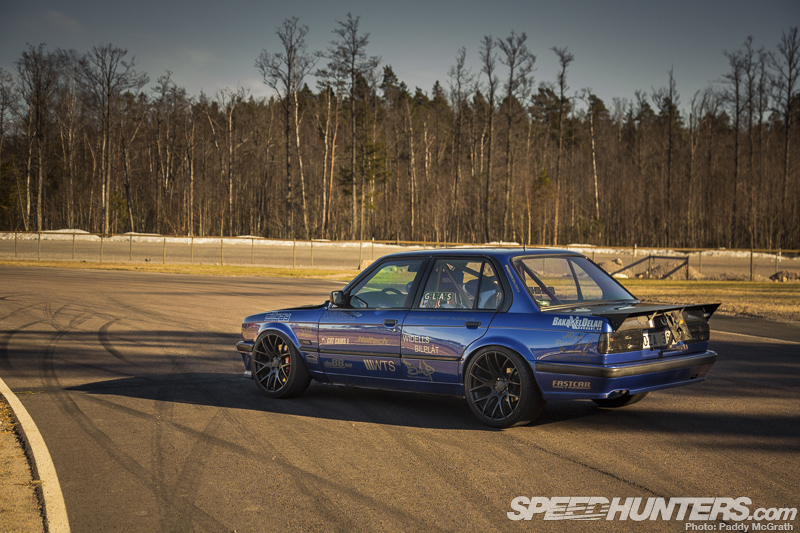 When you consider the pure carnage the motor nestling in the four-door E30 shell could have unleashed, then 'dedication' is certainly not a word that's used lightly on this occasion. This BMW might have failed in murdering its owner, but who says you have to die to be in heaven?
Words by Ben Chandler
Twitter: @Ben_SceneMedia
Instagram: @ben_scenemedia
Photos by Paddy McGrath
Twitter: @PaddyMcGrathSH
Instagram: speedhunters_paddy
paddy@dev.speedhunters.com
Karel Silha's E30 BMW Wide Body Turbo
Numbers
Max power: 931bhp, max torque: 825lb/ft, best ET: 9.6 seconds
Engine
BMW M20b25 engine block stroked to 2.85L, custom Ross pistons with 9:0 compression ratio, aftermarket rods, 1680cc injectors running at 4-bar  base pressure, Haltech PS200 ECU, Precision turbo 71mm, custom made exhaust manifold by Robbz, PPF stage 3 valve springs, PPF 1mm oversize valves, Catcams Custom CAM, KSR.NO rockers, custom made thread and locking function for the original gasket (running 3.2 bar of boost), front mount intercooler, removed original water pump and replaced with an electric one,  Weldon 2345 fuel pump, Weldon a2047 regulator, Weldon an12 filters, Weldon 14000 pump controller, MSD 8245 coils, custom made sequential ignition system, TiAL 50mm blow-off valve, Precision 66mm wastegate
Driveline
BMW gearbox, custom propeller shaft by Sveabil, M535 driveshaft knots, custom driveshafts, Alpina B7 Turbo rear diff, Sachs 765 pressure plate, sinted clutch, M535 flywheel.
Suspension/Brakes
FK coil-overs (front), AVO coil-overs (rear), Locobrx with six-pistons calipers from Bakaxeldelar
Wheels
Zito XLS 19×8.5-inch (front), 19×9.5-inch (rear)
Exterior
M-tech front and rear skirts, 6-7cm wider fenders at the back, 3cm wider at the front, carbon hood & trunk, custom made drag race wing
Interior
Sparco circuit race seats, Sparco six-point harnesses, modified full roll cage
Feature Cars on Speedhunters
More BMW Stories on Speedhunters