By definition, a Speedhunter should pursue his "hunt" in a variety of different ways, which means that when we cover events we don't simply just concentrate on what is served up for us on the show floor, or in the paddock at race tracks. Our curiosity pushes us to wonder around, to head out of our way to explore as much as we possibly can, because we simply don't know what we will come across. This is especially true in Japan, and in particular at big events like the Nagoya Exciting Car Showdown.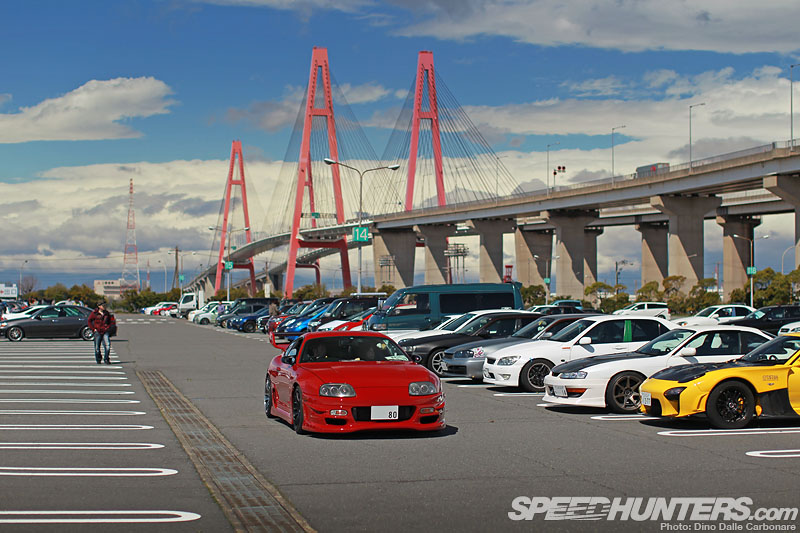 Come NEC time the Port Messe exhibition center's parking lot gets inundated with an incredible array of different cars, and like previous years, what showed up didn't disappoint. I spent most of Sunday's morning hanging out among all those parked cars, snapping away at anything that stood out.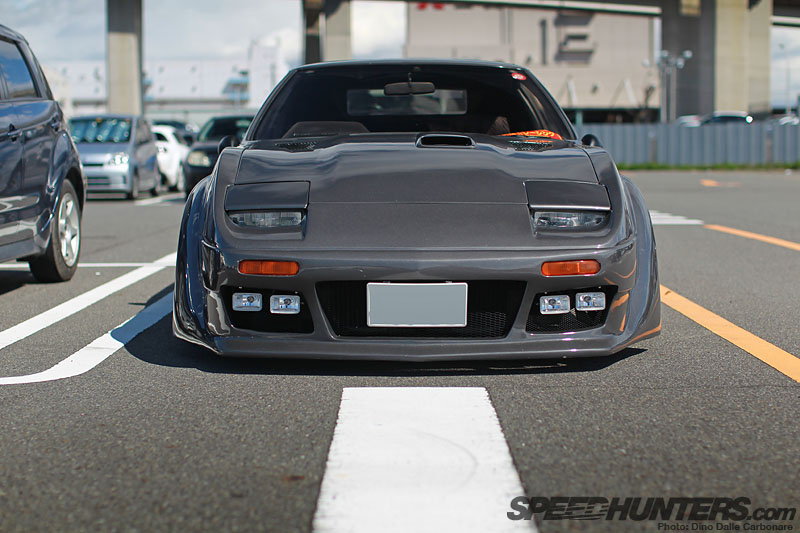 I'll start off with what has to be the most memorable car I came across…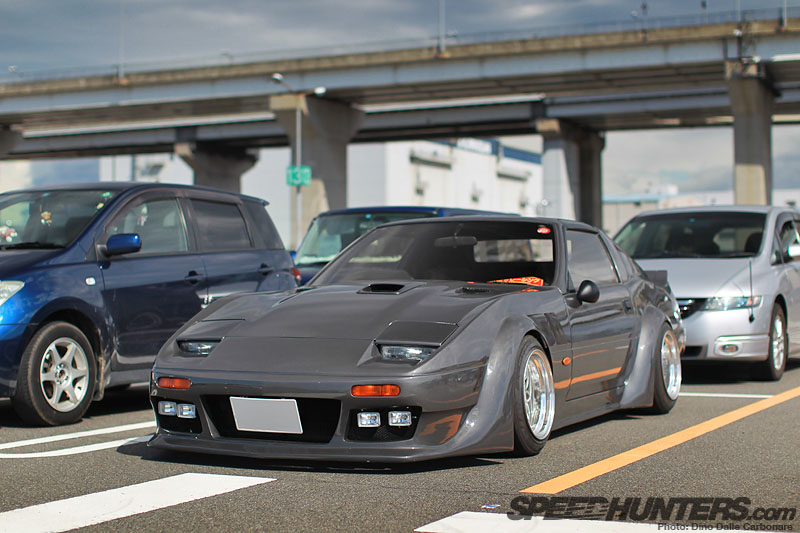 …this Z31 Fairlady Z with a heavily modified exterior that boasted a ton of custom work.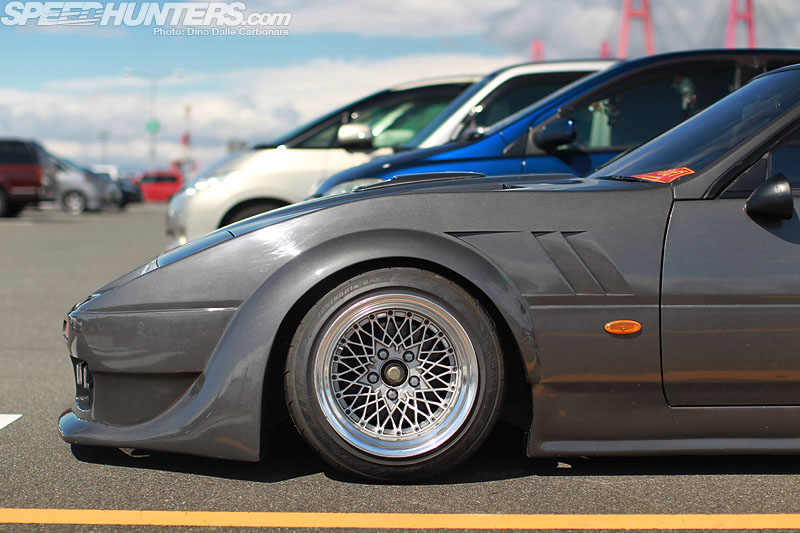 That included a blistered and moulded front…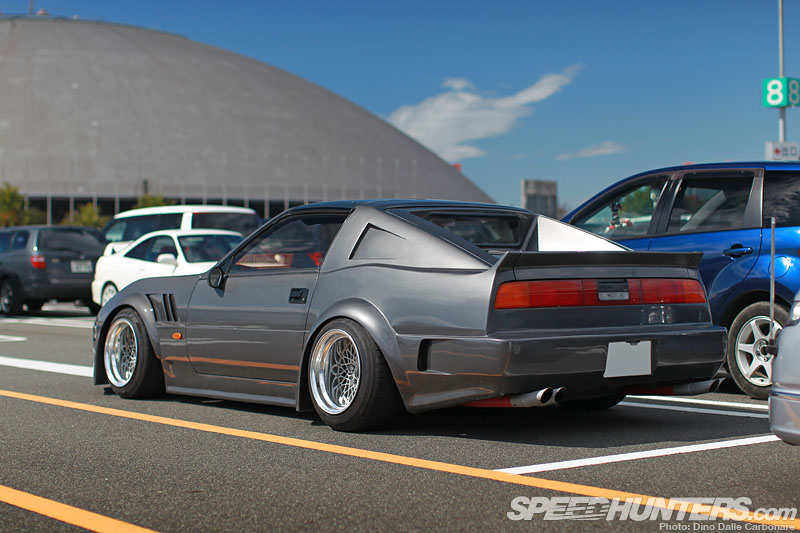 …and rear fenders, as well as a custom hatch with vertical glass. There were lots of other neat details like the addition of vents all around the bodywork and of course the awesome SSR mesh wheels. The Z31 is not a car you often see around, let alone this modified.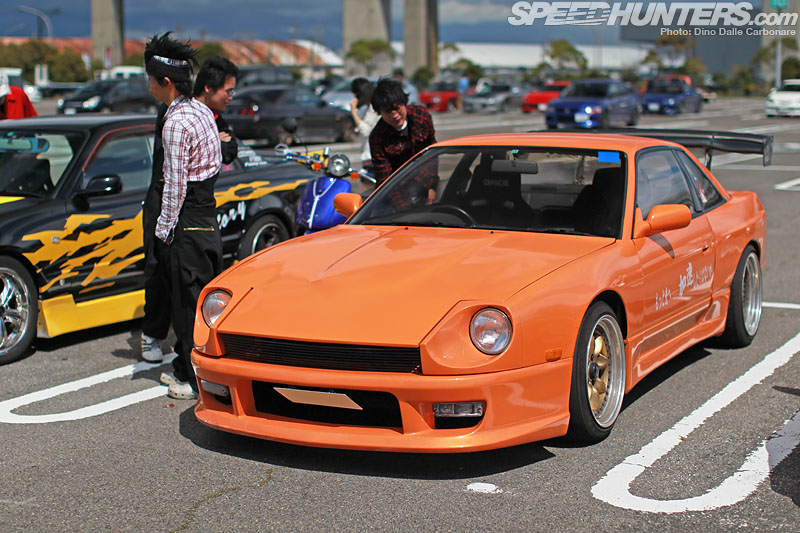 Sticking with the Z theme, here is another one I noticed. Except it isn't actually a Fairlady.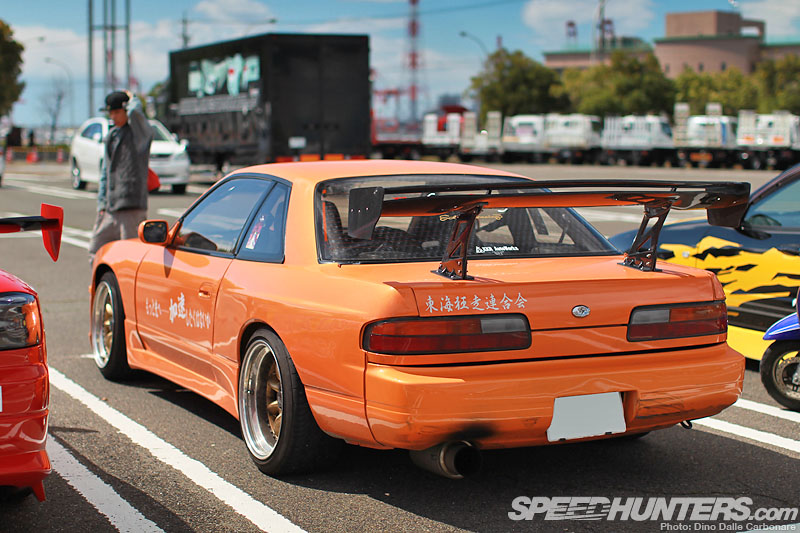 One look at the roofline and glasshouse shape is all that's need to realize this is actually an S13 Silvia with a bizarre front-end conversion.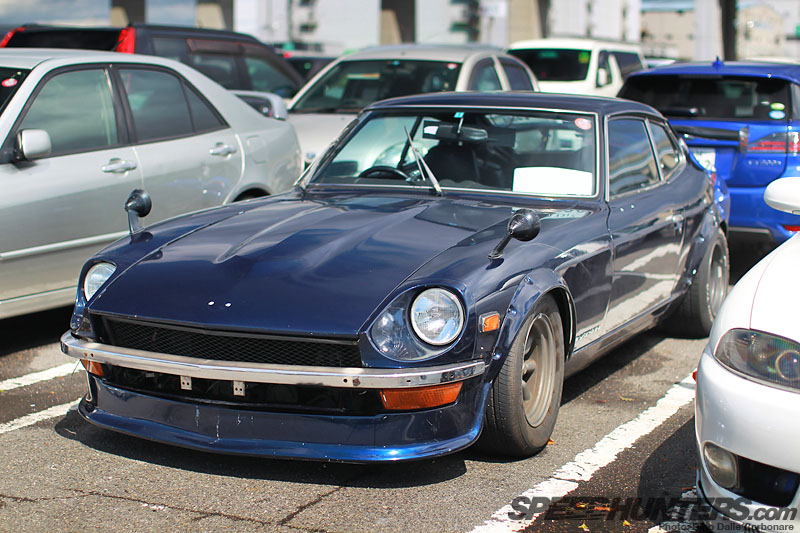 An S30 front end still looks best on an S30 however!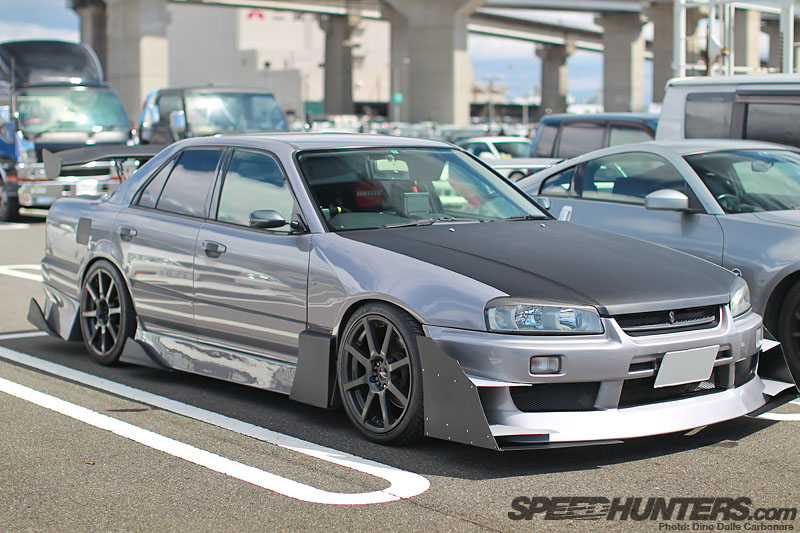 This R34 Skyline four-door reminded me of Nomuken's old Blitz D1 car, except it probably beat it in the canard department!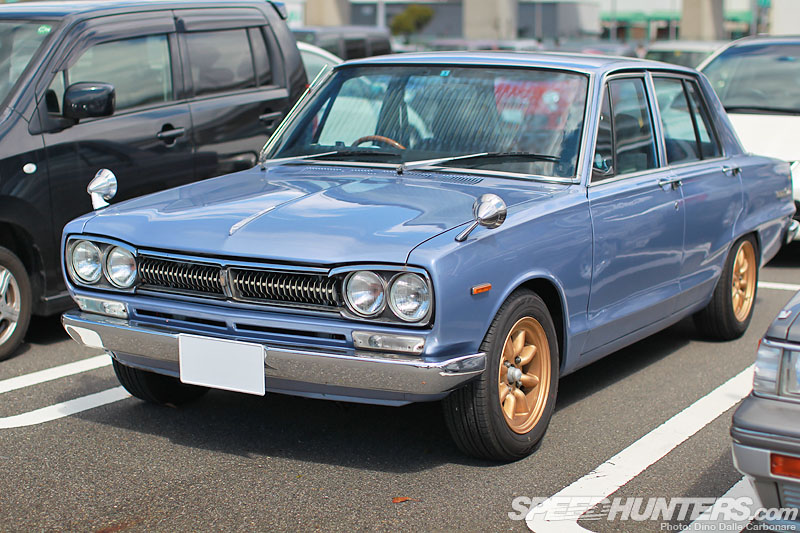 More Skyline goodness in the form of this old Hakosuka sedan sitting on gold Watanabes. Seeing these cars are usually silver or metallic green it was unusual to find one in a light blue hue.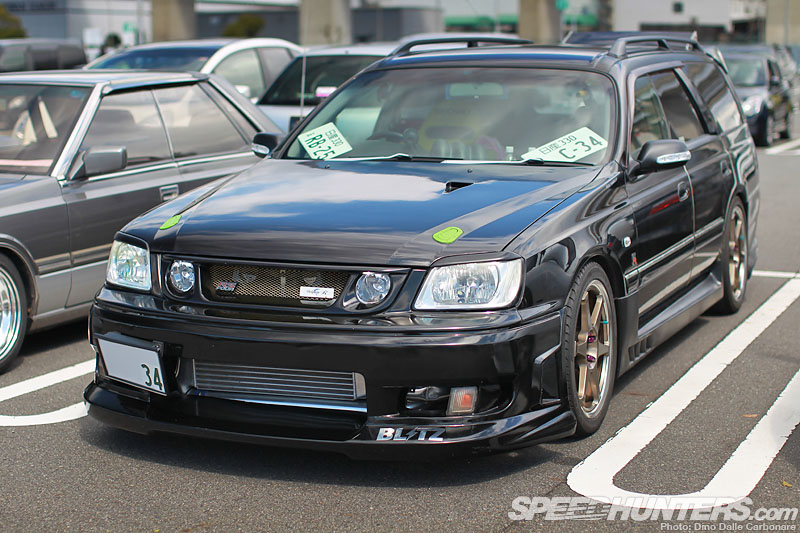 The Stagea RS Four remains one of the coolest wagons to come out of Japan. It's obvious that its RB25DET has been played around with given the aftermarket front mounted intercooler.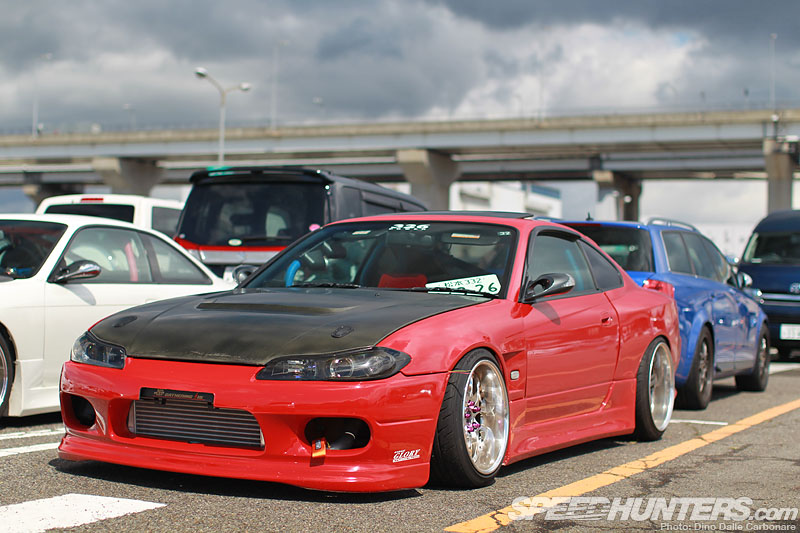 Not too far away, towards the very center of the lot, I found this nice drift-spec S15…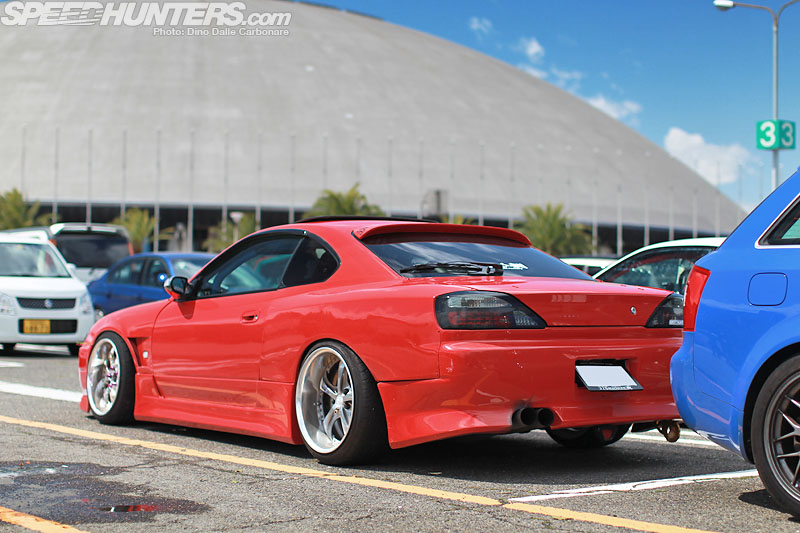 …running what looks like T&E aero and very aggressive wheel fitment.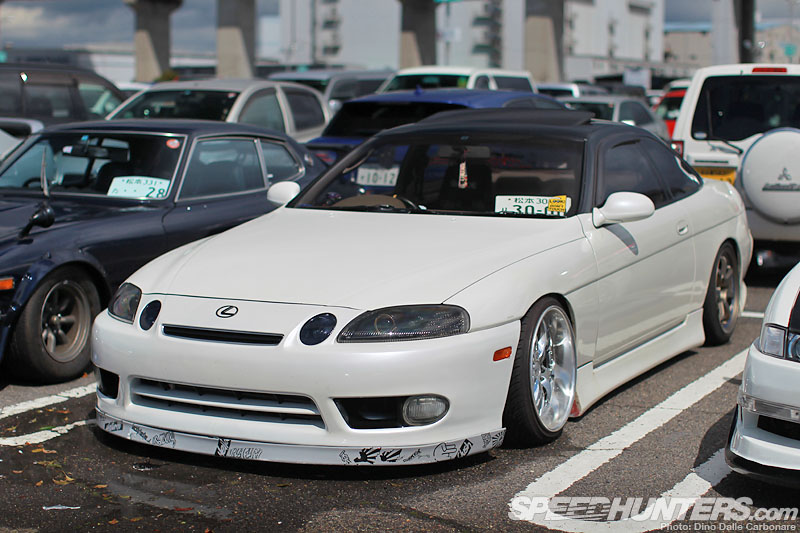 How about this Soarer – drift or stance? Hard to tell, but probably a bit of both I think.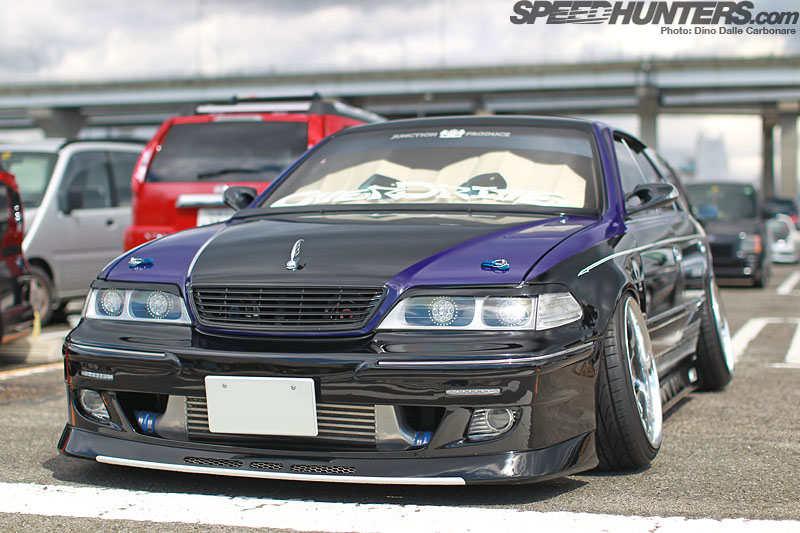 There is no doubting what this crazy JXZ100 from Junction Produce was trying to achieve, though. The VIP-look on a chassis more popular with the drifting crowd seems to have worked out pretty well, don't you think?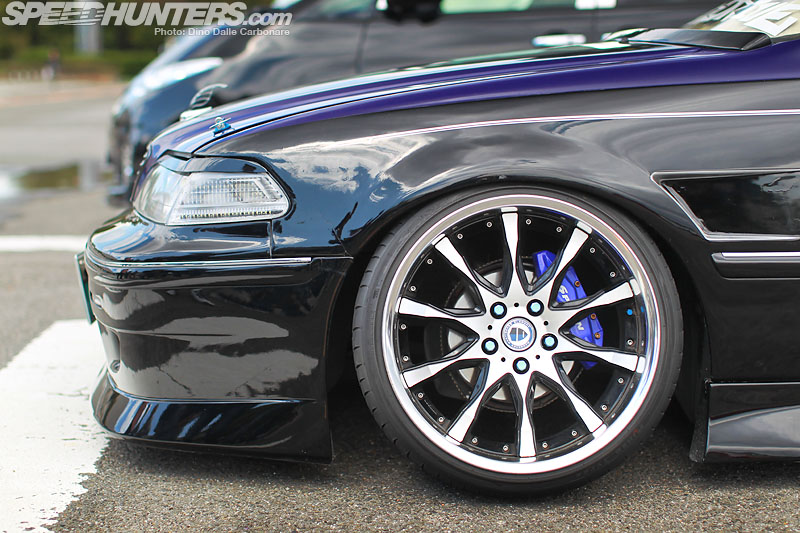 Work Schwert SC2s are the wheels of choice and if you look closely you will also spot some Spoon brake calipers behind those shiny spokes – quite a strange addition.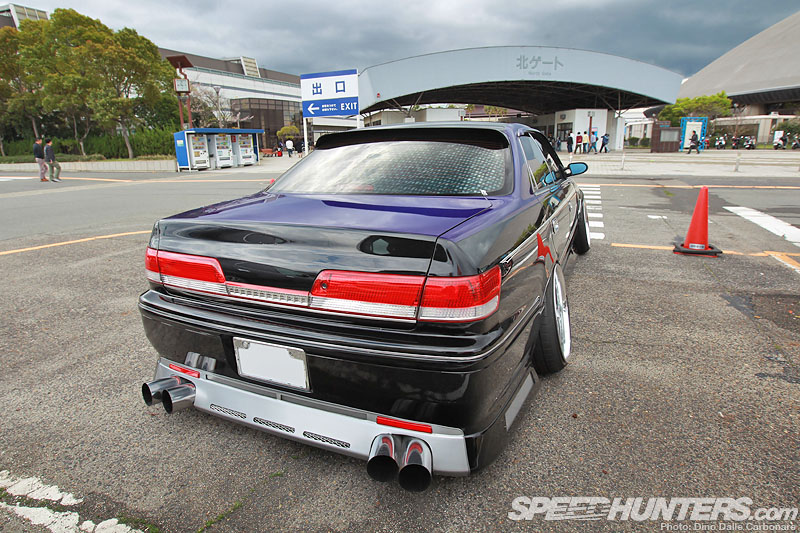 It was the four massively angled tailpipes that did it for me however!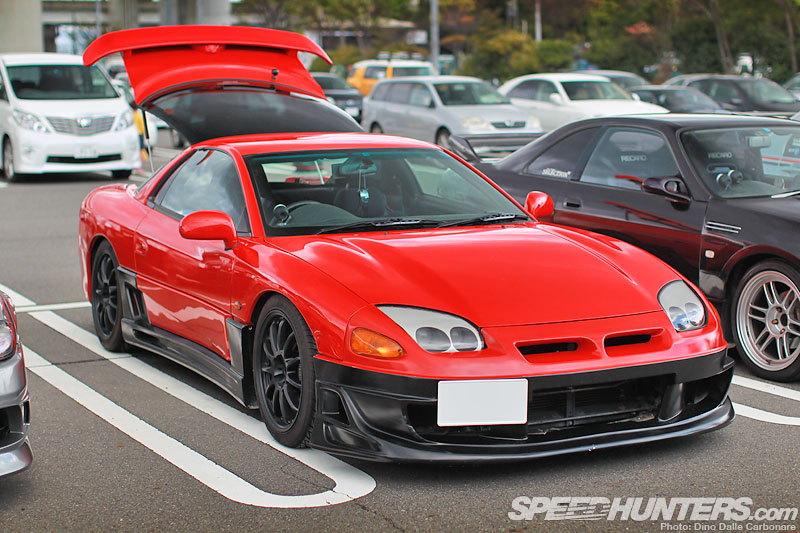 Mitsubishi GTO? Now here is a rarity!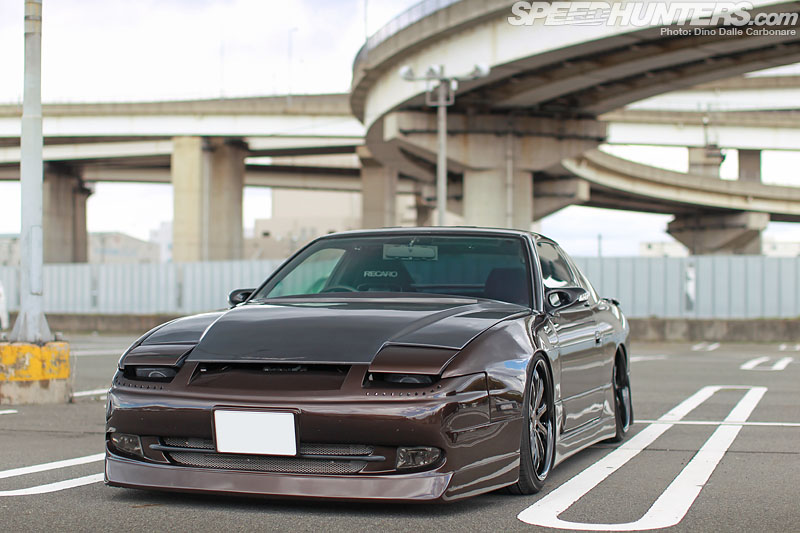 I spotted this RPS13 180SX at the Excite King VIP meeting last month, but the owner must have driven the car down from Yokohama to get a chance to display it in the parking lot. It sits low thanks to air suspension and has some cool unique touches…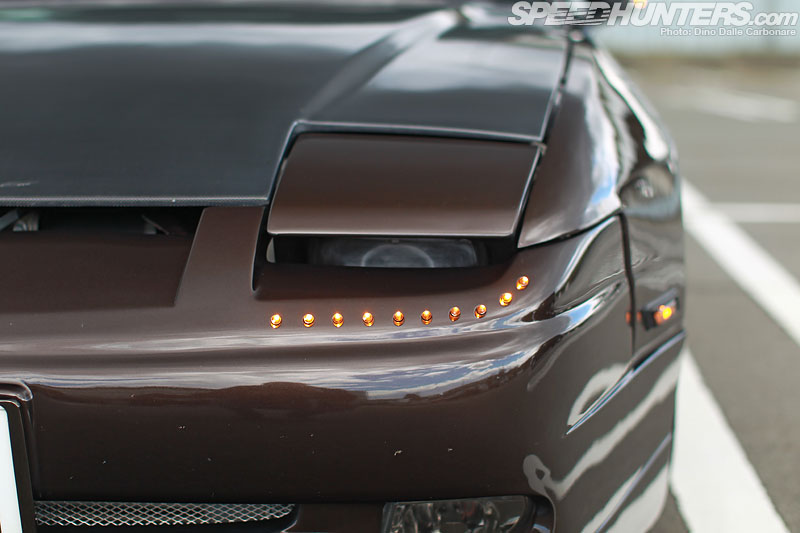 …like the integrated LED indicators just under the main headlights.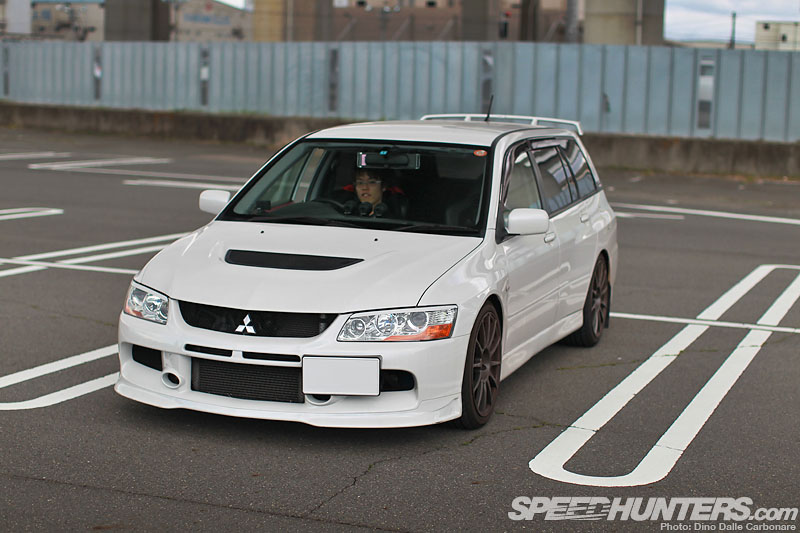 The Lancer Evolution IX Wagon was a tough act to follow, which is why Mitsubishi never did.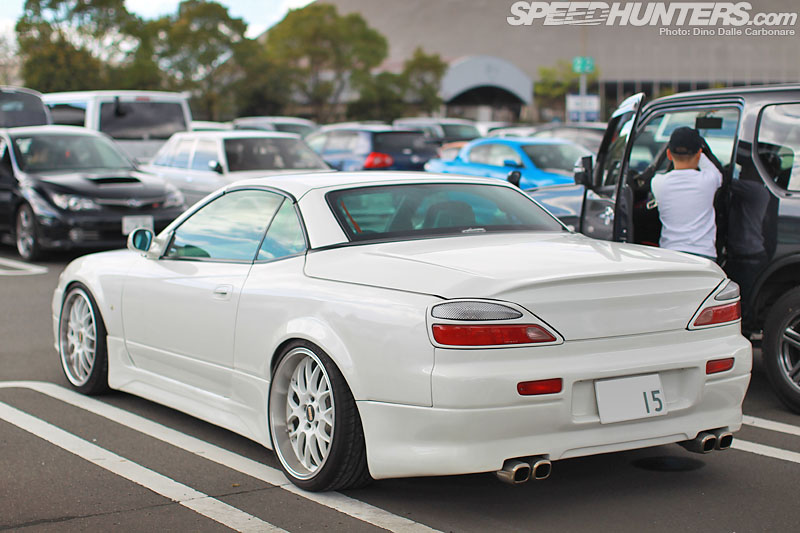 It's so strange; when the S15 Varietta came out it was a rare, limited edition model that didn't really gain much interested from the tuning industry. That's changed now and shops like Yashio Factory and Garage Mak both have one on their demo car fleet.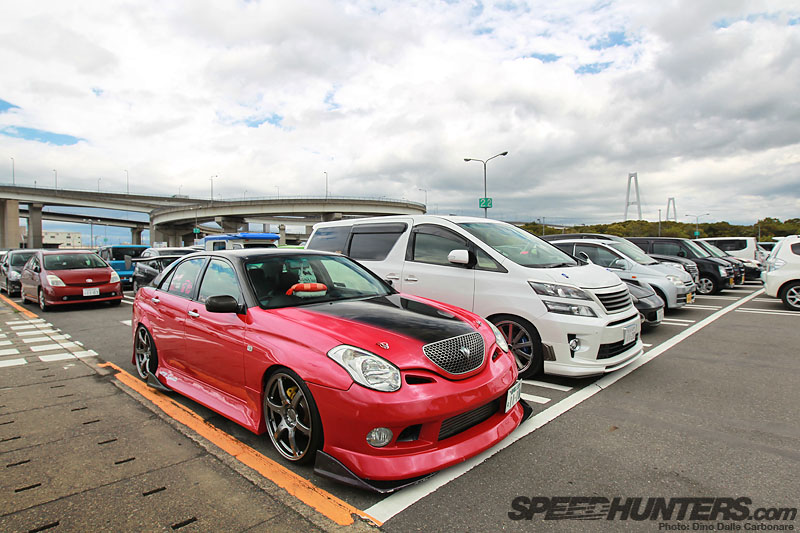 The Verossa has always been an acquired taste. I'm pretty sure I saw the exact same car sitting in the very same spot last year!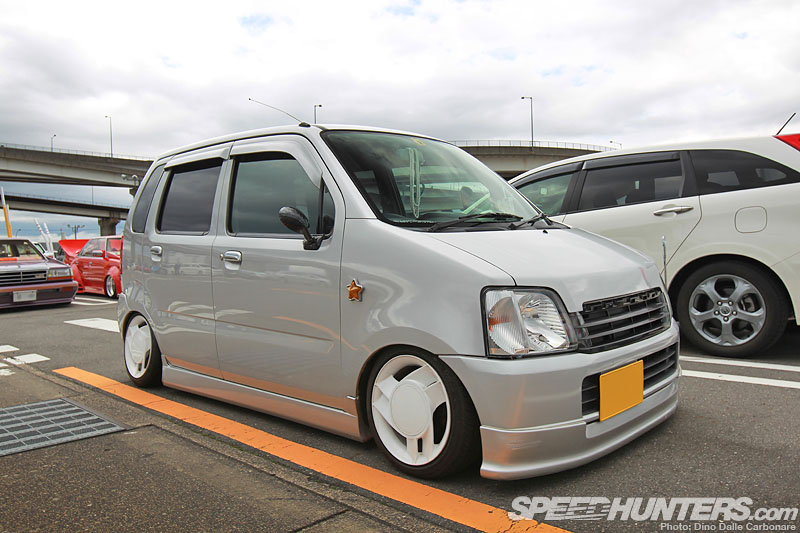 Slammed Kei van?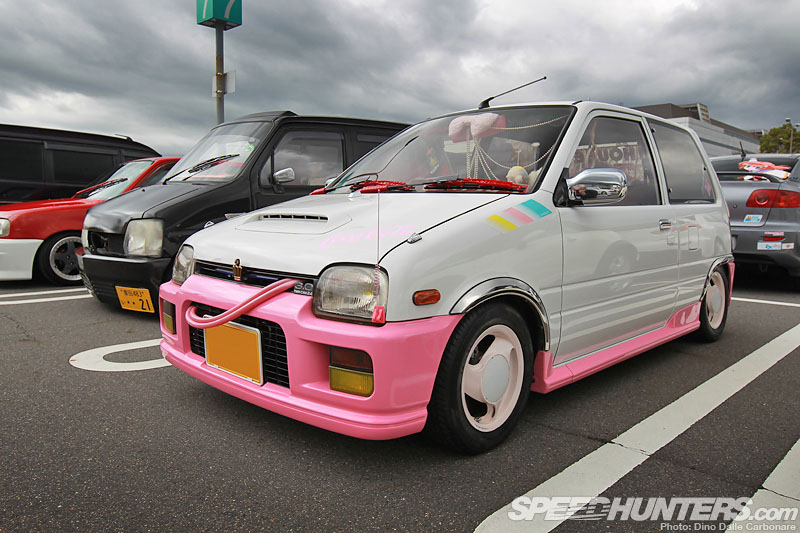 Or Kei car with touches of Kaido Racer? Curiously both on tri-spoke rims!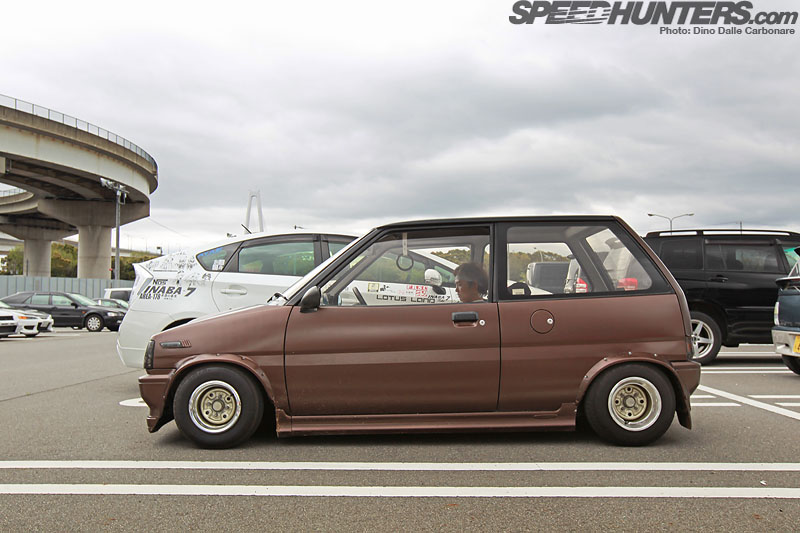 But my prize for best little car went to this MMC Kei car…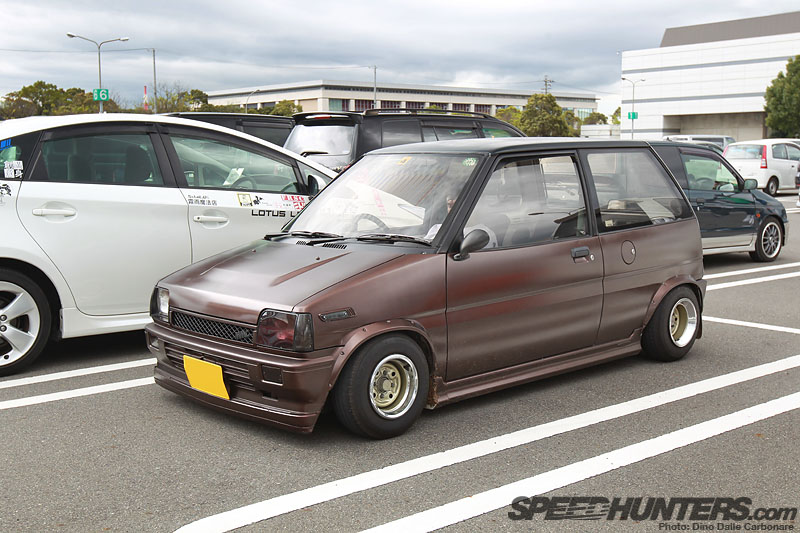 …running all sorts of 'right' things like riveted-on overfenders, tiny – but massively-widened steel wheels – and chunky rubber.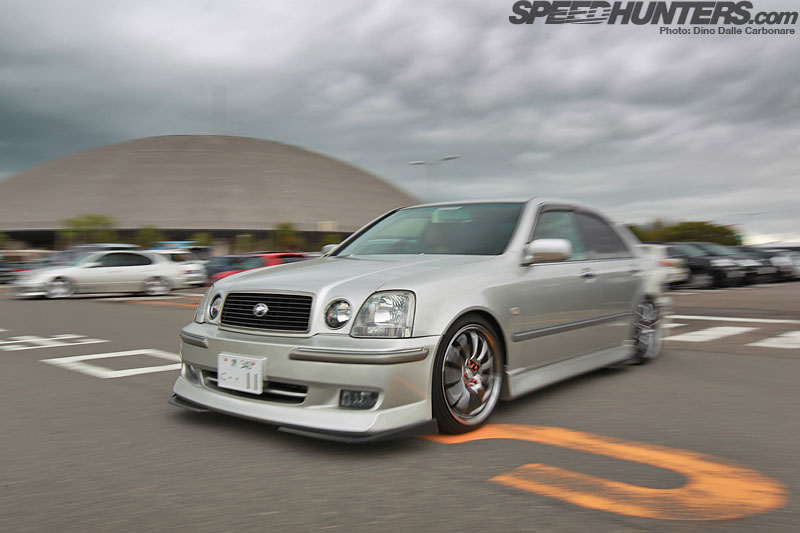 The Toyota-built Progress NC300 is another oyaji-spec (read: old man-spec) sedan that has become a bit of a hit with drifters. The "300" in its name hints at the 2JZ-GE 3.0L motor that powers it.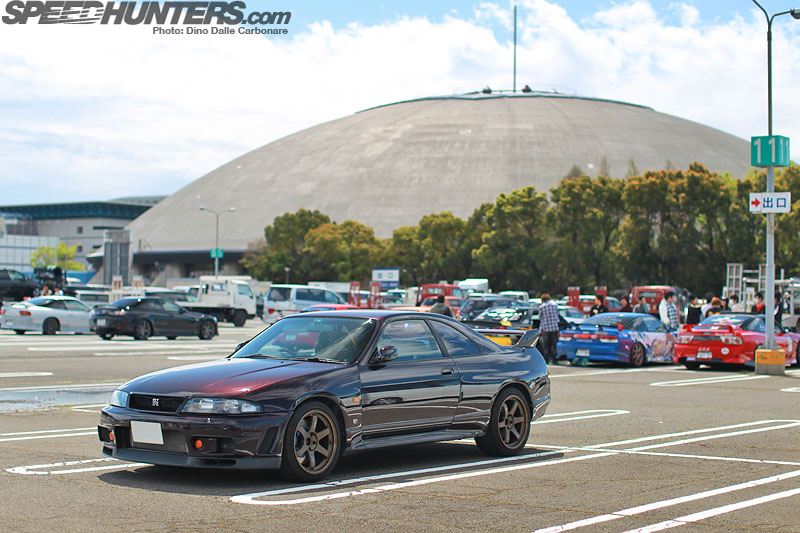 A lonely GT-R!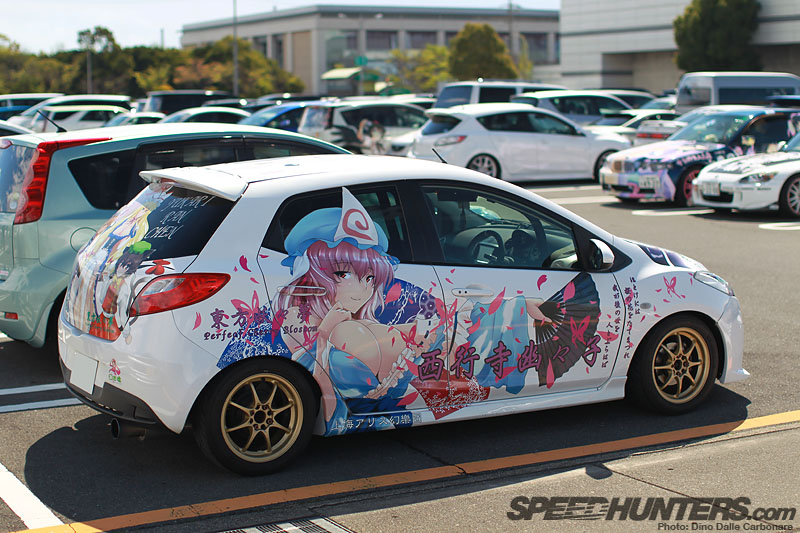 I've read in some of the comments that you guys leave at the bottom of our posts that we don't show enough Itasha.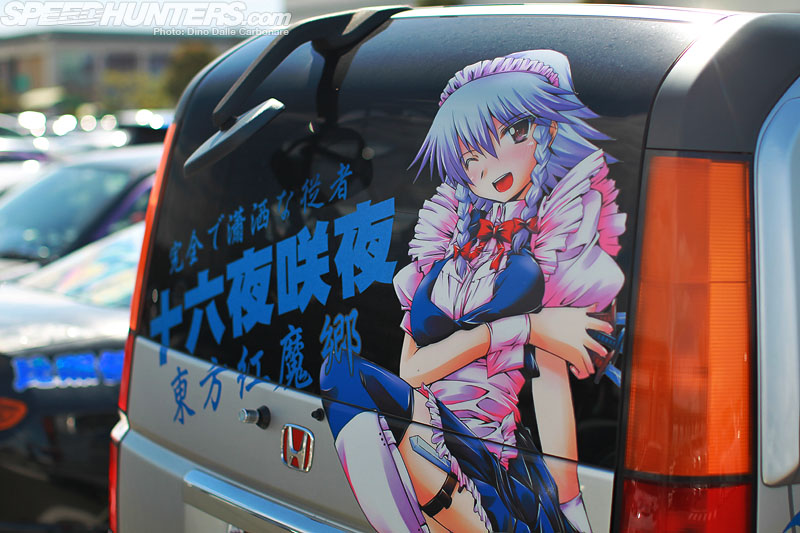 Well apologies for that, and here you are!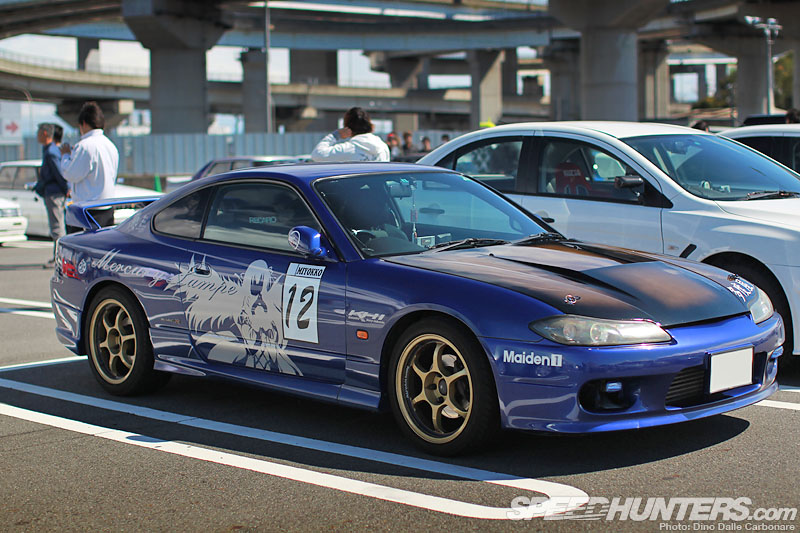 It's quite impressive to see that this style continues to exist and grow in popularity, albeit ever so slightly.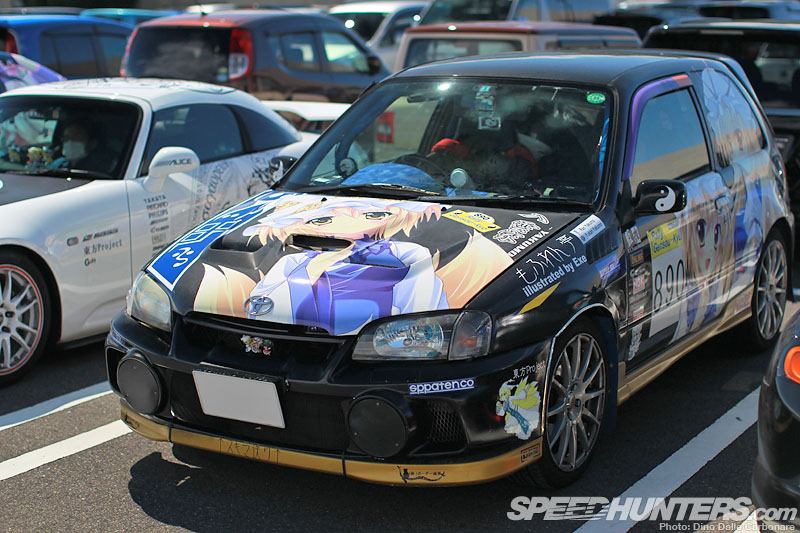 It's hard to judge…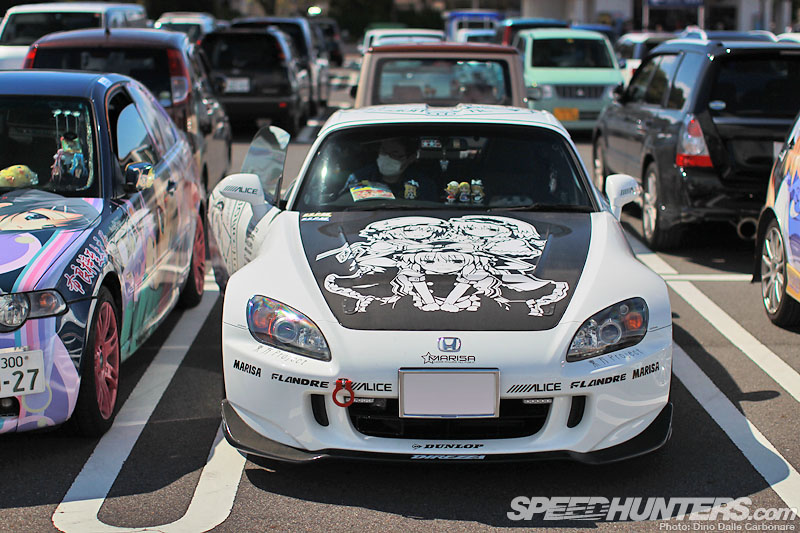 …or let alone comprehend, but it's as much apart of Japanese car culture as any other style we touch on.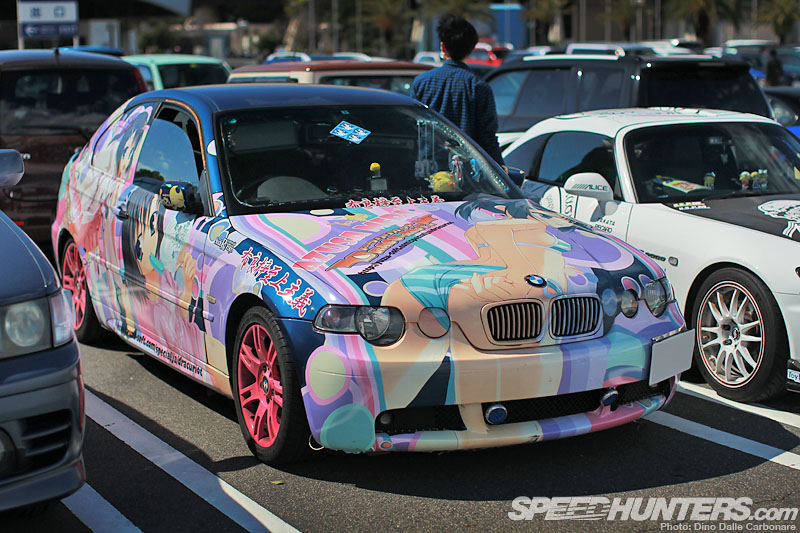 In some cases it can even improve the base car it's applied to!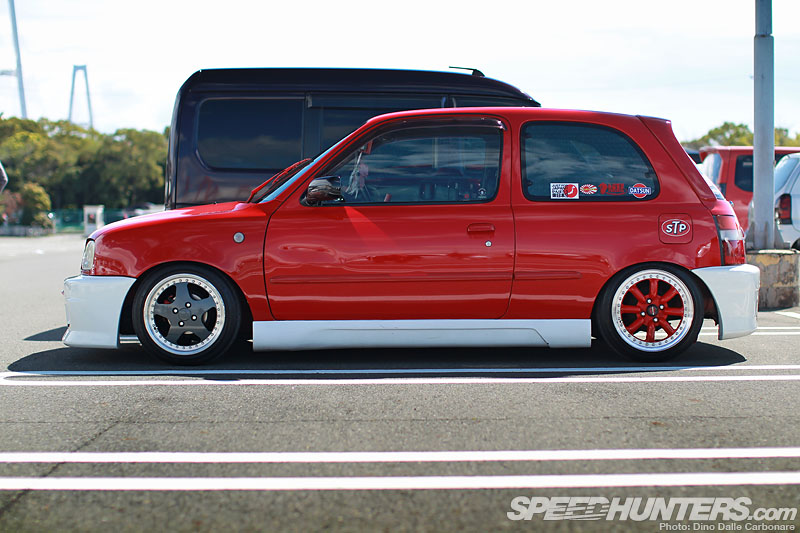 Which is cooler – this ready-to-race March?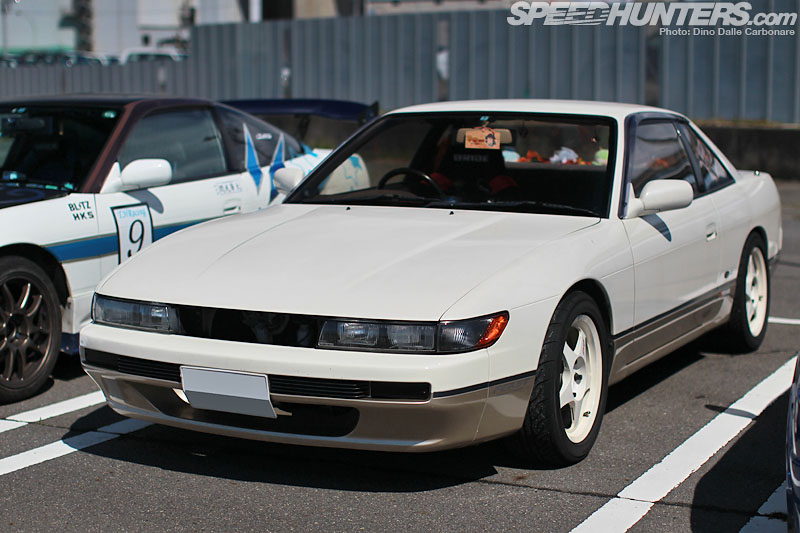 …or this pristine 2-tone S13 Silvia?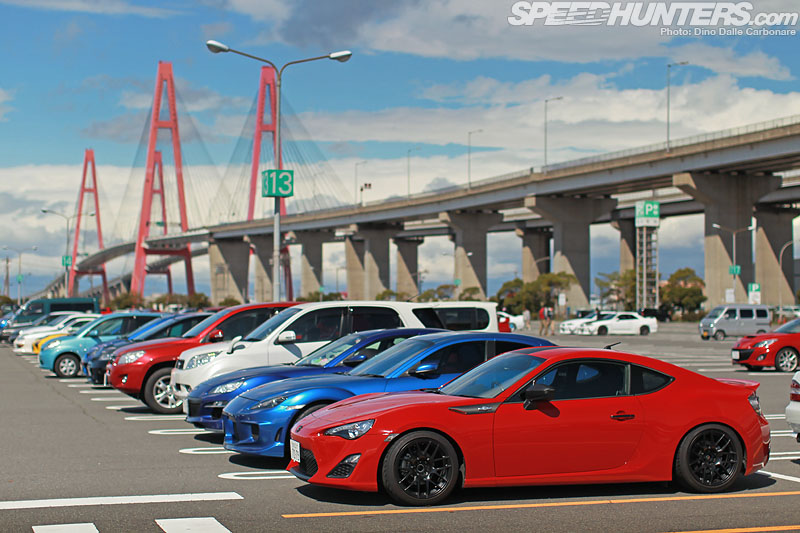 When we covered the show last year the 86 and BRZ had just been released so the only ones we came across were tuner cars inside the show itself.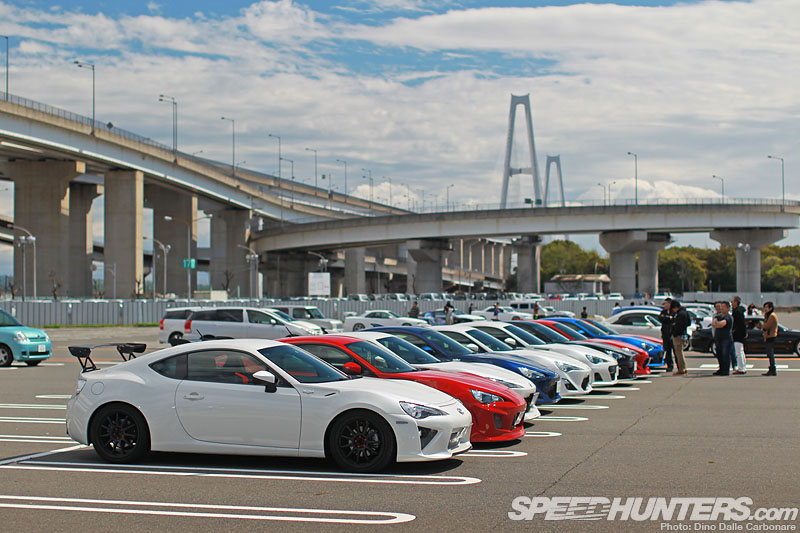 That of course wasn't the case this year! There was quite a selection and every single car in this line-up had been altered or modified in some way.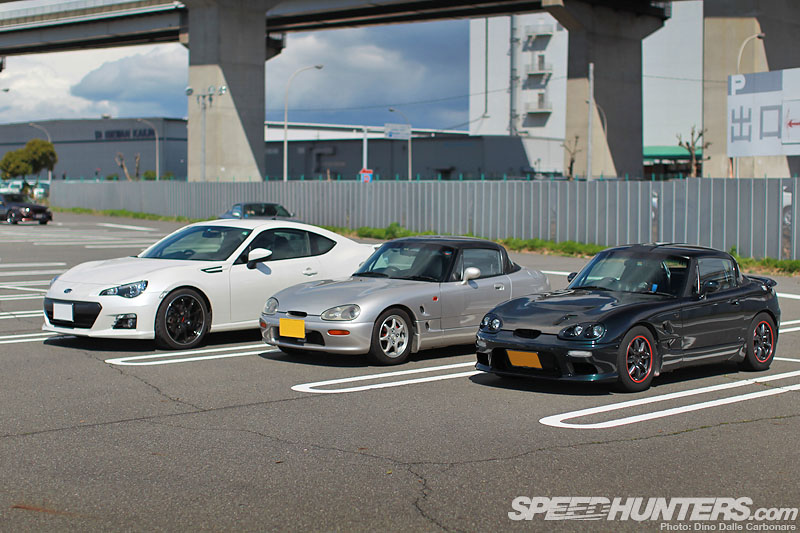 Thought the 86/BRZ was a light and compact car? Think again – at least when compared to a pair of tiny Cappuccinos!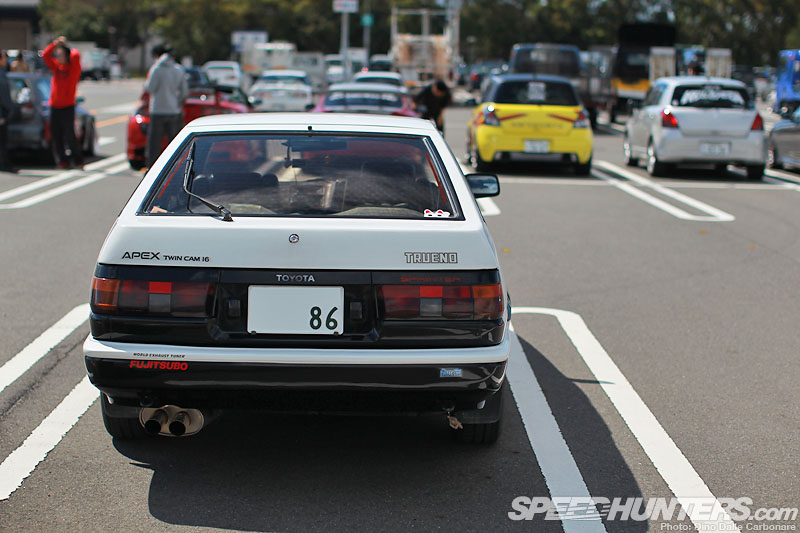 And from the new to the old!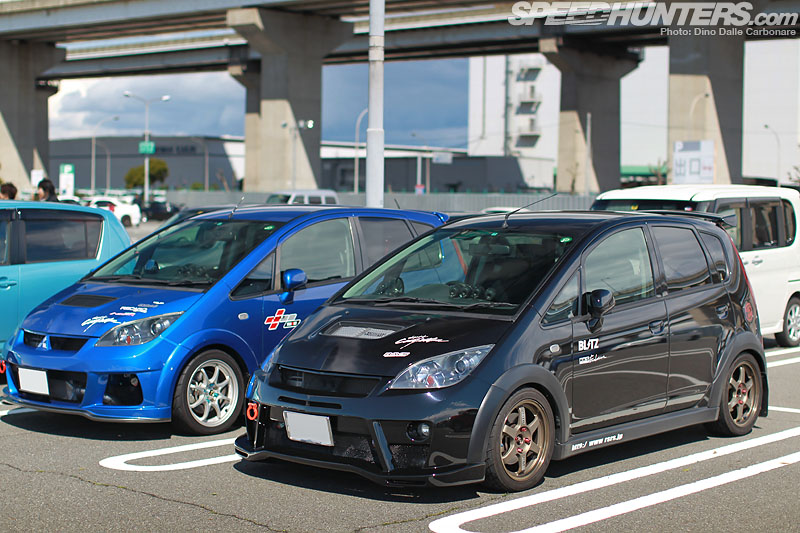 Small cars continue to be favorites too, rides like the Mitsubishi Colt Ralliart…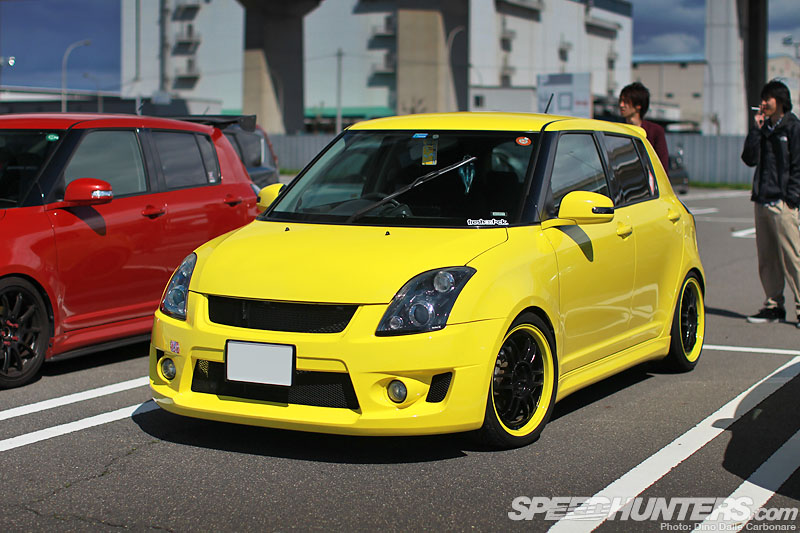 …and Suzuki Swift Sport.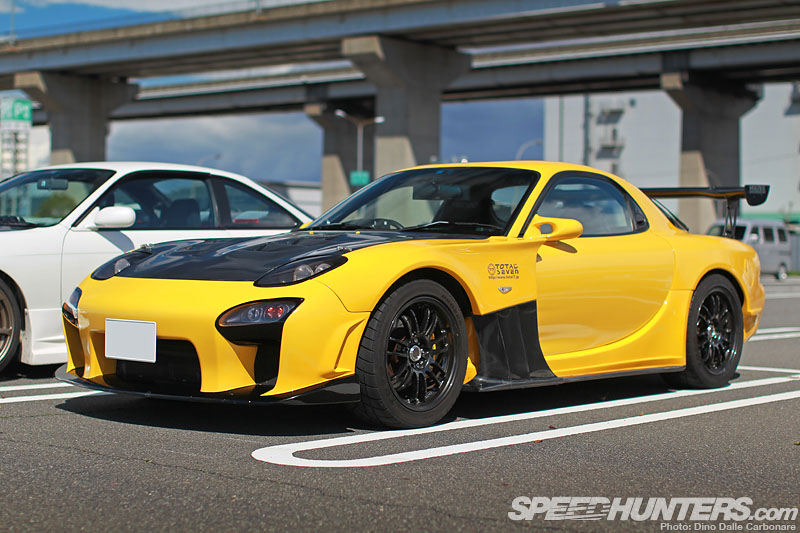 I spotted this Total Seven FD3S a mile back – the yellow body attracting me to it like a bee towards a delicious nectar-filled flower.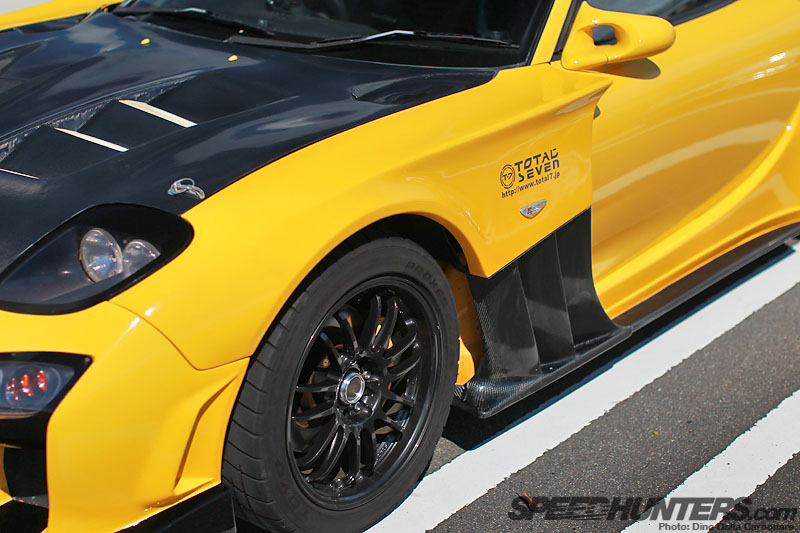 It's great to see that companies continue to create fresh new conversions for this final generation of the RX-7…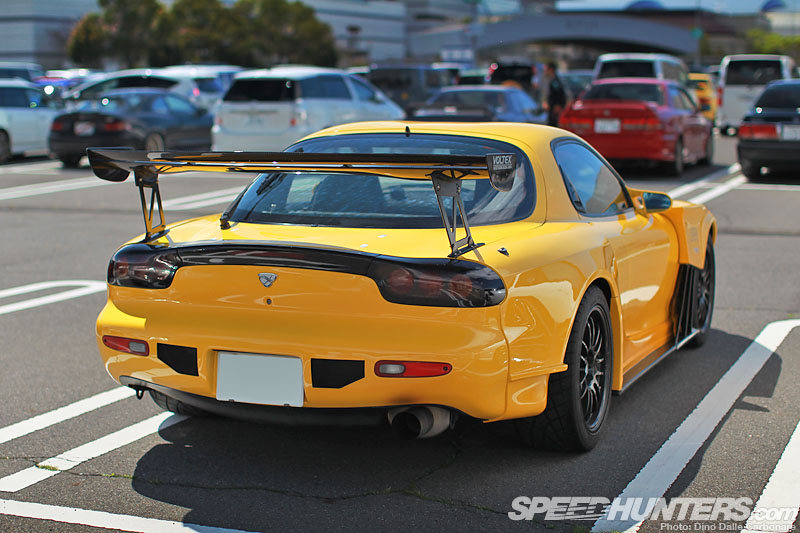 …a car that lends itself rather well to these sort of transformations. The rear end however, aside for some bumper cut-outs, was all stock.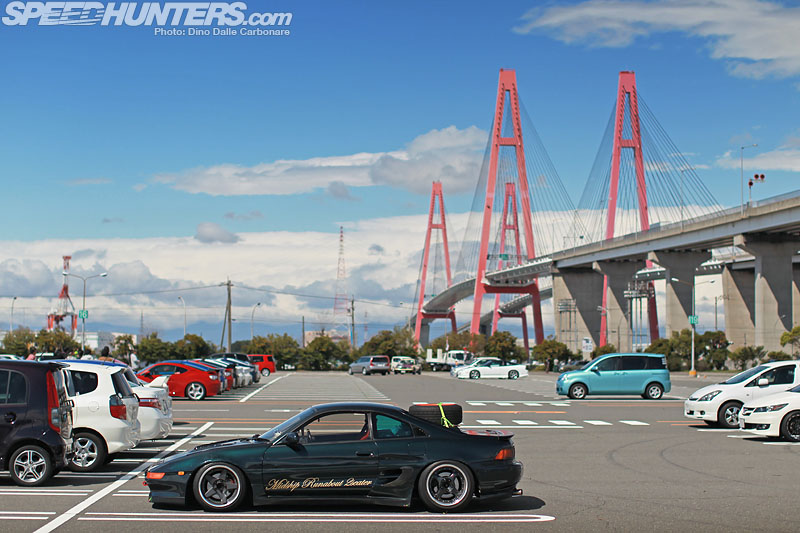 Here is one for you SW20 MR2 lovers out there!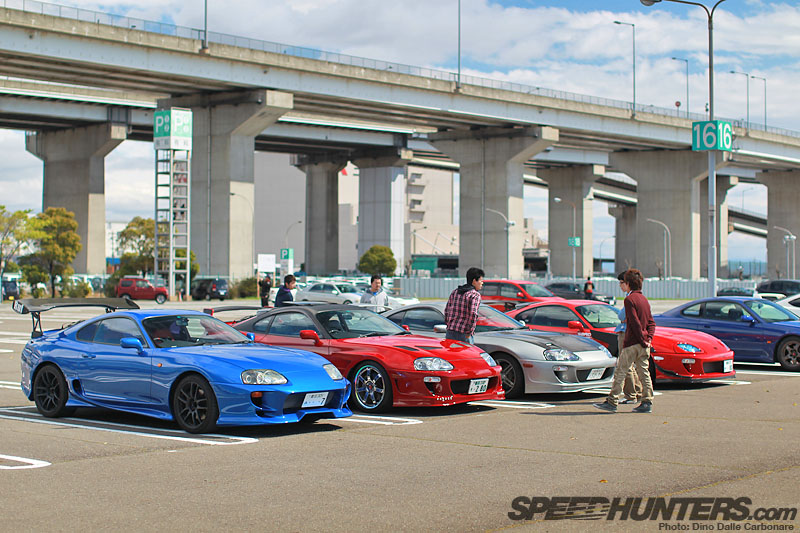 Every year there is always a big Supra turn out…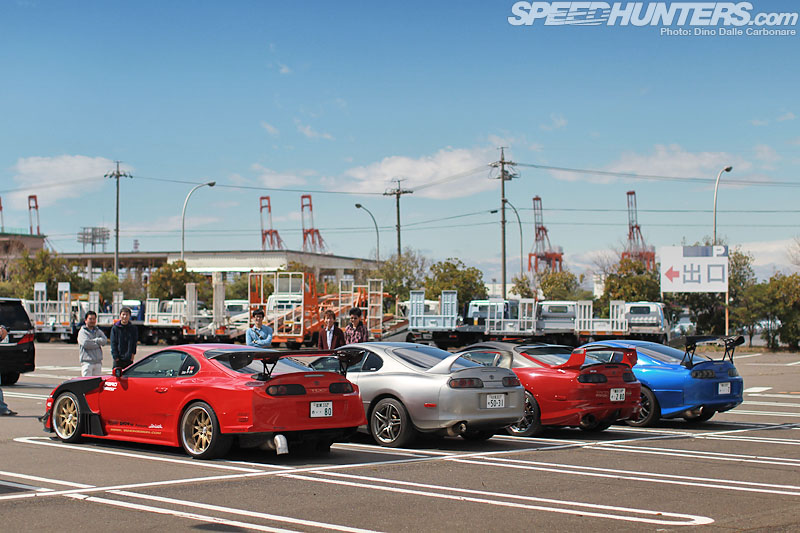 …but for 2013 the usual group was a little smaller. Mind you, more cars probably arrived once I had returned back inside the show.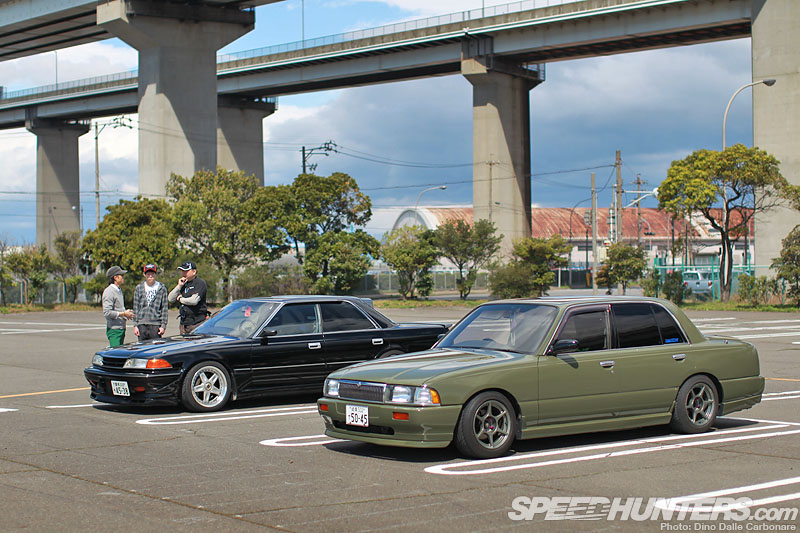 The Nissan Crew is what taxi companies like to purchase, so it's pretty rare to see one done up like this one – but not something entirely new. In fact, we have seen some pretty powerful 2JZ -powered drift-spec examples in the past.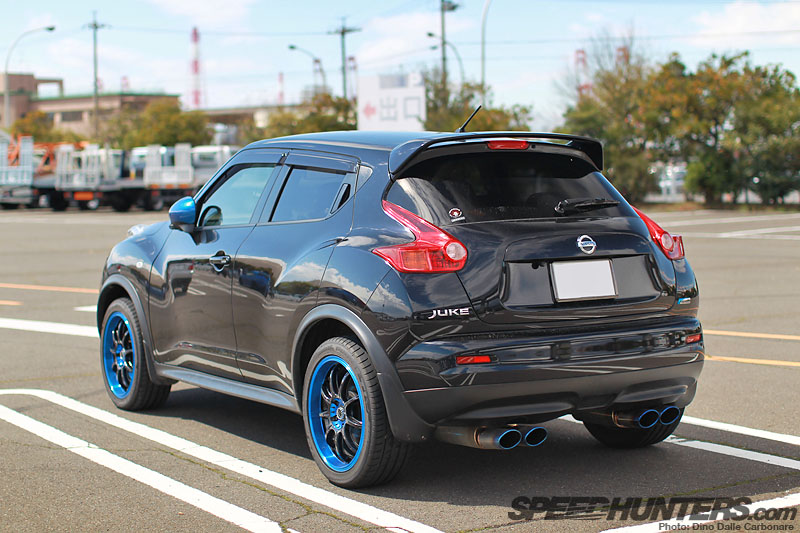 Nissan have really taken a gamble with the Juke, but it seems to have paid off as there are a lot of them on the roads in Japan. Those exhausts look like they belong on the back of a Lexus LS VIP car!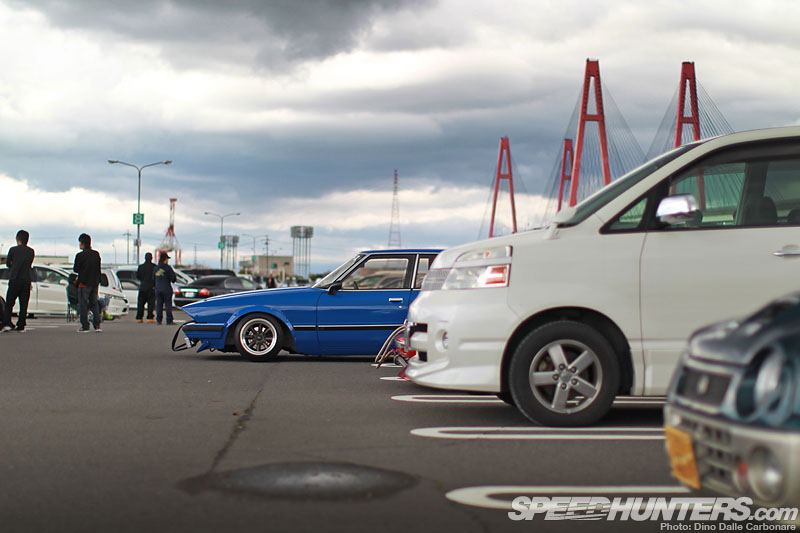 I'll stop here for now. What I have next will concentrate purely on another little group of cars…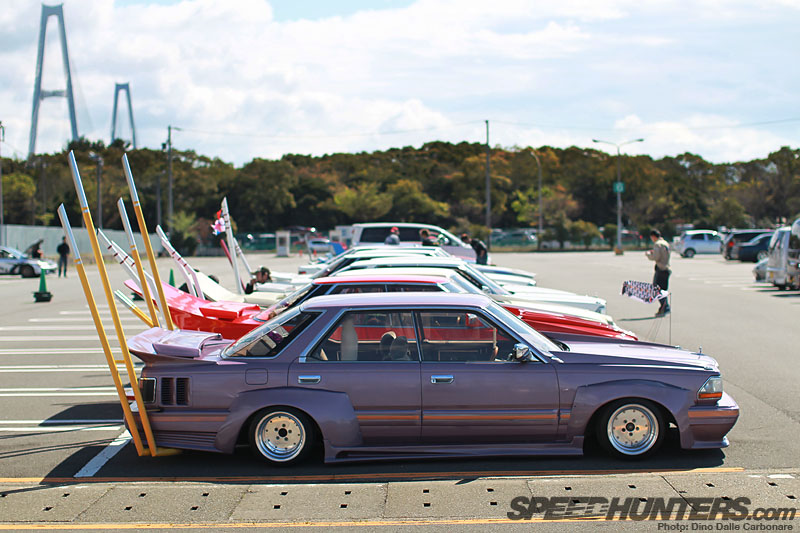 …that almost every year seem to gather at NEC. To find out more, make sure you check back tomorrow!
Dino Dalle Carbonare
Instagram: speedhunters_dino
Nagoya Exciting Car Showdown 2013 coverage on Speedhunters
---
---
---
---