After what's felt like an age, the professional drift season in North America has officially kicked off with round one of Formula Drift in Long Beach. I've come to miss the smell of tire smoke and picking bits and pieces of drift car out of my hair, but I sure got my fill of it during qualifying day.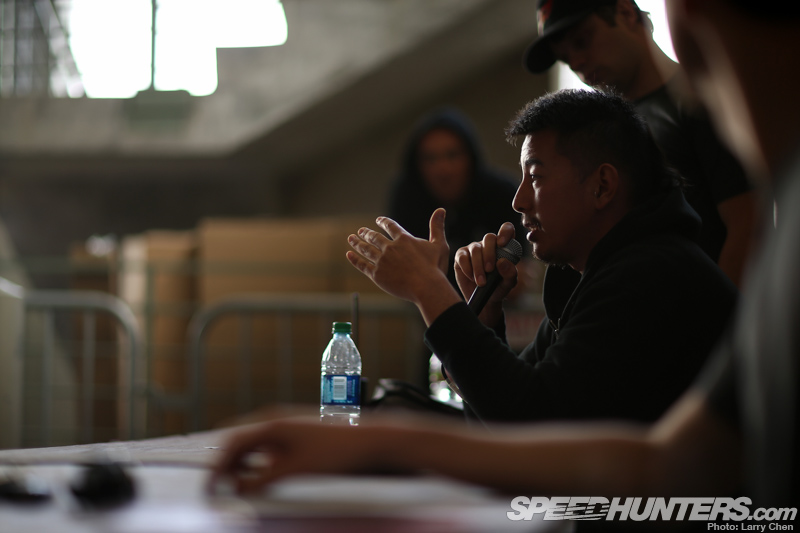 Just to stir it up a bit, the judges implemented new knockout-style rules this year for qualifying to force the drivers to go maximum attack on their very first qualifying run.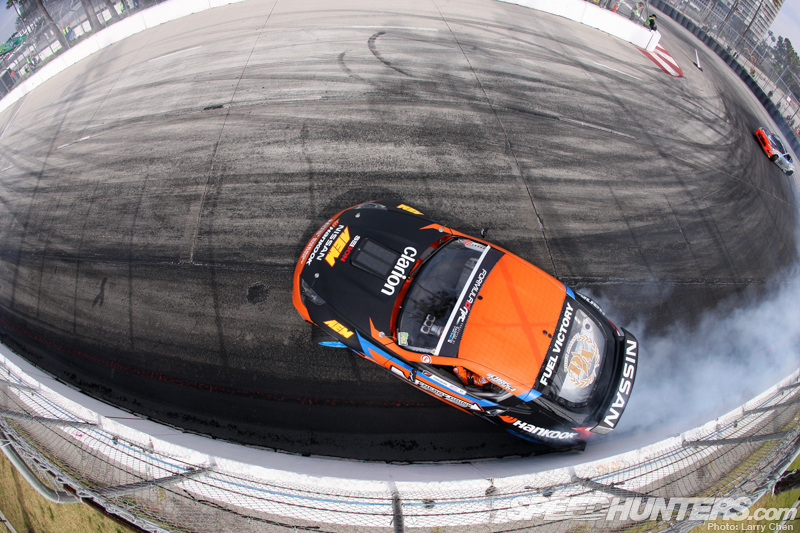 After all drivers have completed their first qualifying run, the scores are tallied up and the top 16 drivers get to park their cars and relax. With 32 spots in total, this leaves 16 spots for the rest of the field. The remaining cars get another run, with their best score of the two deciding who gets to advance.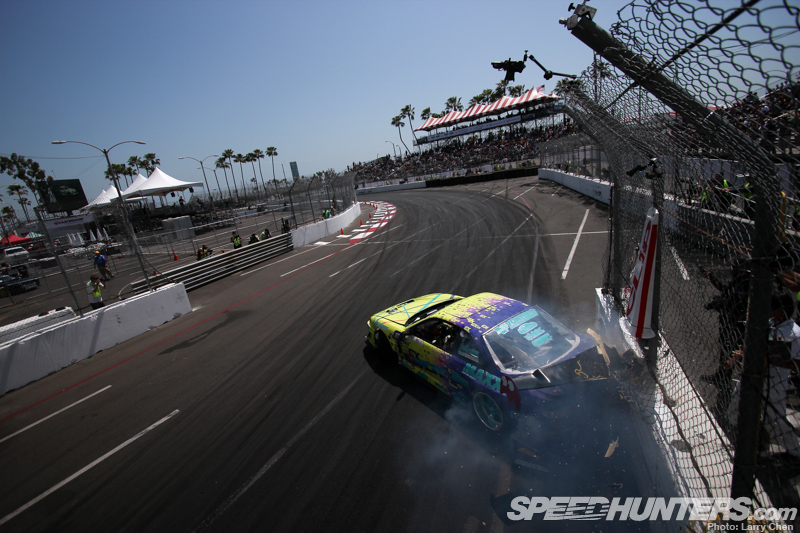 The 60 drivers present at Long Beach meant that after the top 16 had secured their places, 44 drivers remained to contend for a spot. Drivers like Matt Field and Justin Pawlak pushed a little too hard right out of the gate, and needed to battle it out in the second qualifying session for one of the 16 remaining places.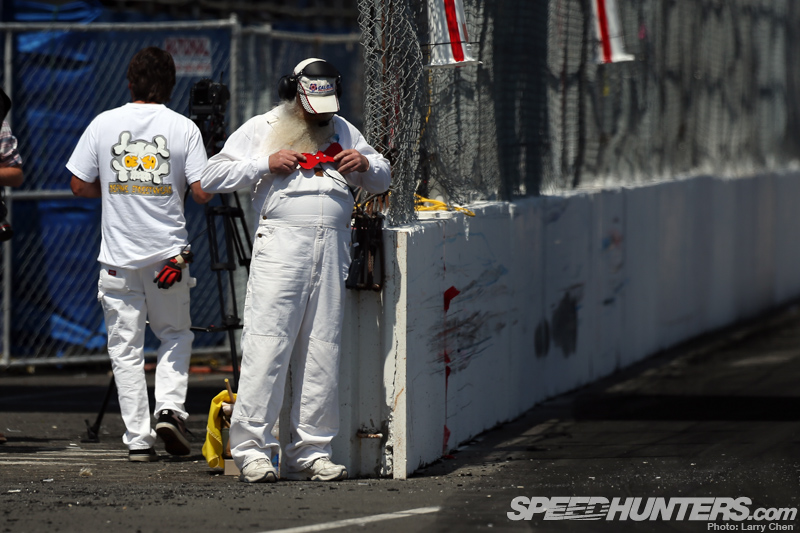 At least corner worker Bil Baldwin got a new bow tie to wear whilst carrying out his flagging duties.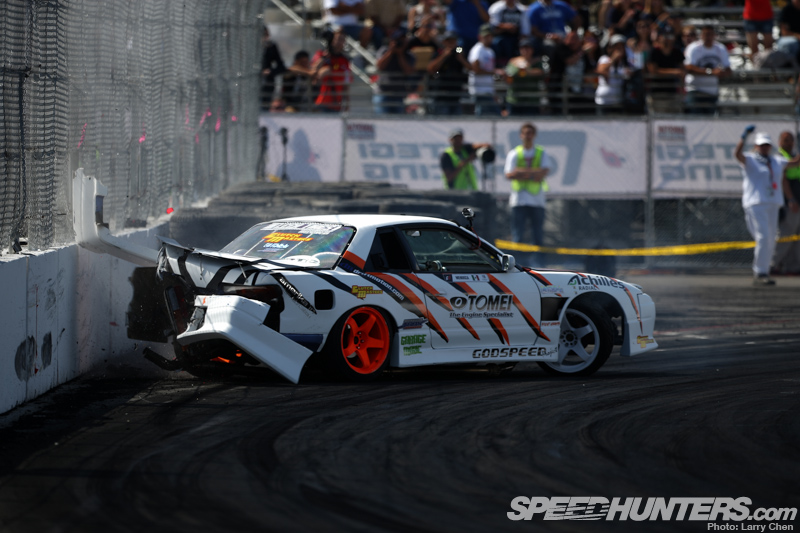 I'm really digging the new emphasis on qualifying, as it makes it just that bit more dramatic. It also provides a great show for the fans.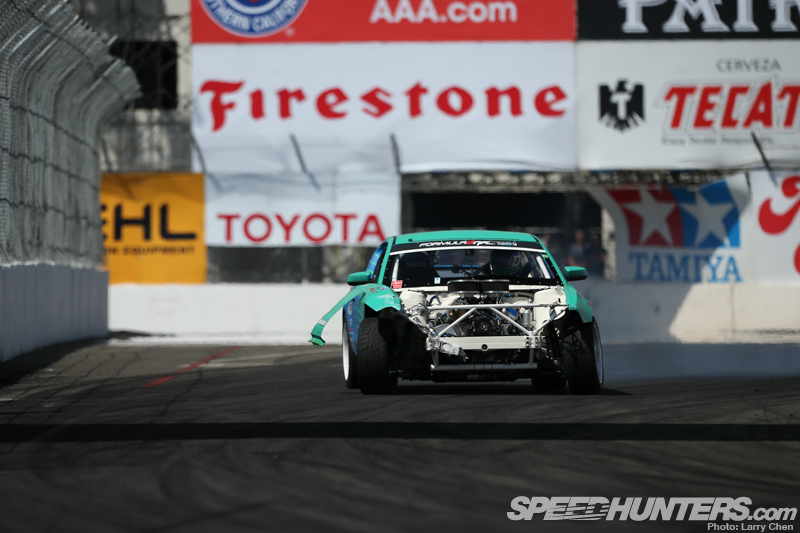 Justin Pawlak had a little more damage than Matt Field, but luckily the team was still able to fix the car in time – mechanically at least – for the second run.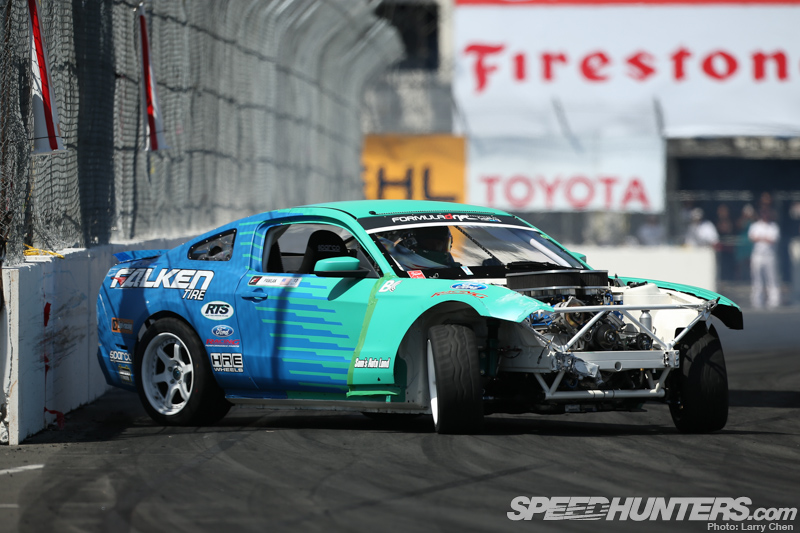 Justin ended up qualifying in 23rd place and he will battle someone that he has driven against before, a long time ago…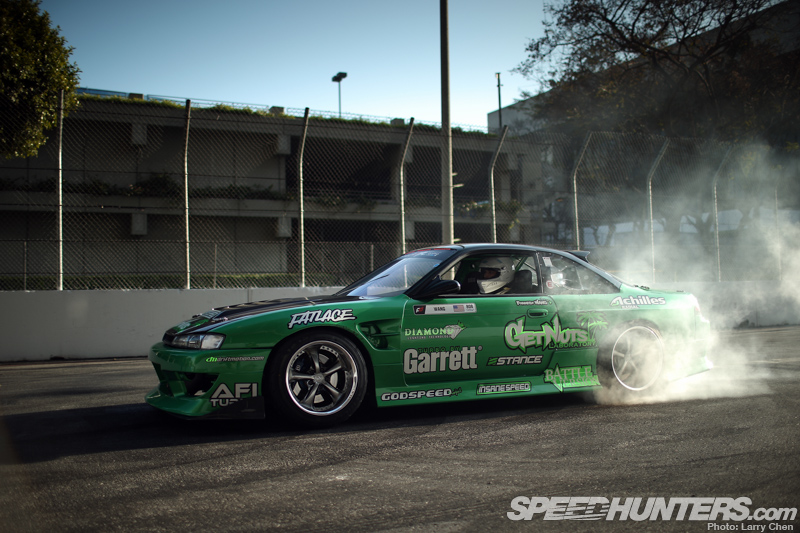 … Forest Wang. Both of these guys used to battle it out over eight years ago at the local Top Drift events run by Just Drift and they both earned their Formula Drift License around the same time.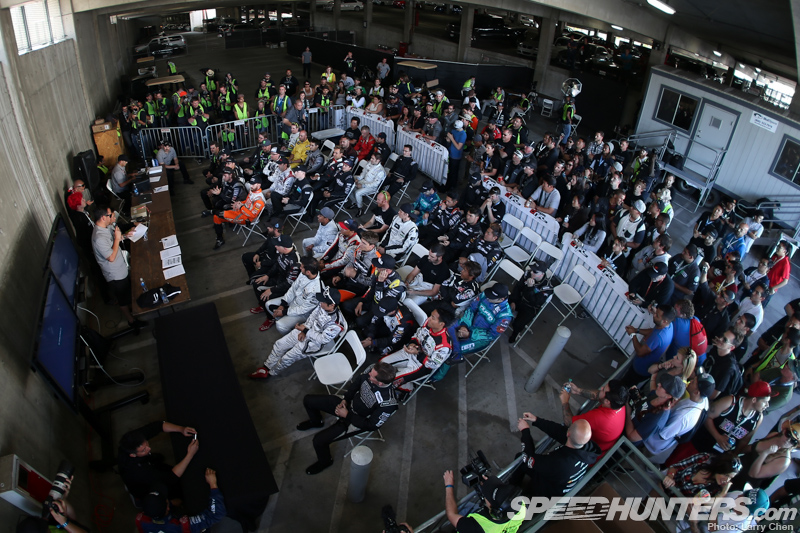 I don't think there has ever been a more packed grid. There is just no sign of slowing down with this series.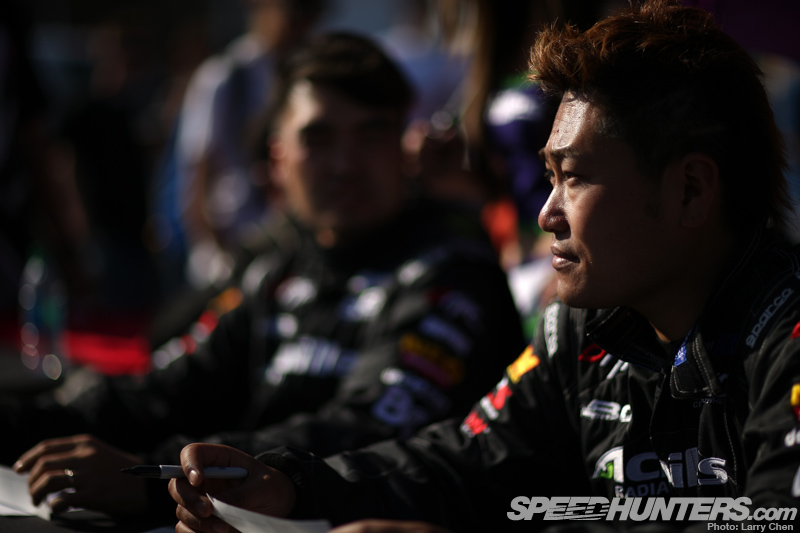 The current champion, Daigo Saito, has been having some troubles with his car leading up to the event. They just dynoed it a few nights earlier and the team seemed to have some problems with power delivery.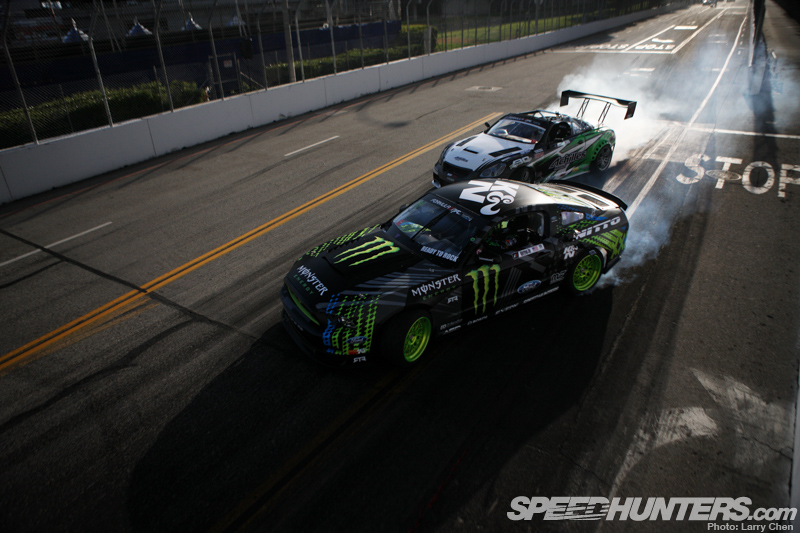 It seems they sorted it out for qualifying though as he will be going up against the people's champ, Danny George, who drives the little Miata 'that could'.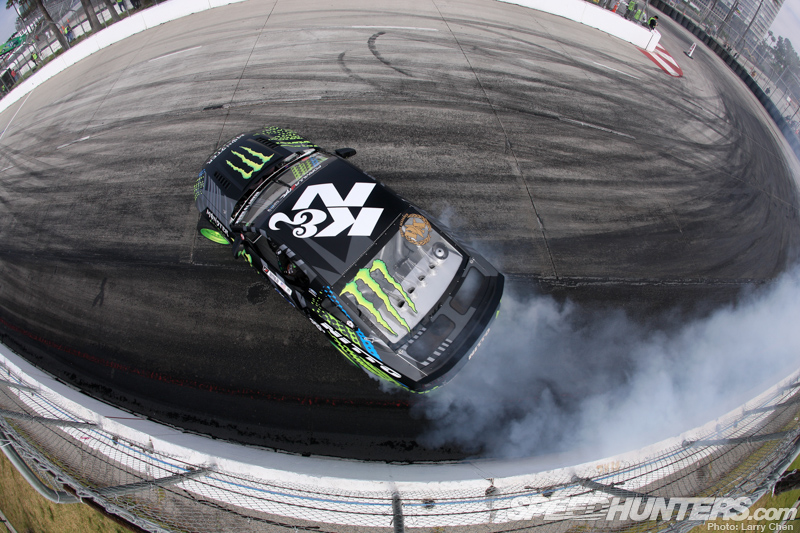 Partnering up with Speedhunters this year is none other than Vaughn Gittin Jr. If you happen to be at Formula Drift Long Beach, make sure you stop by at his booth to get some cool swag.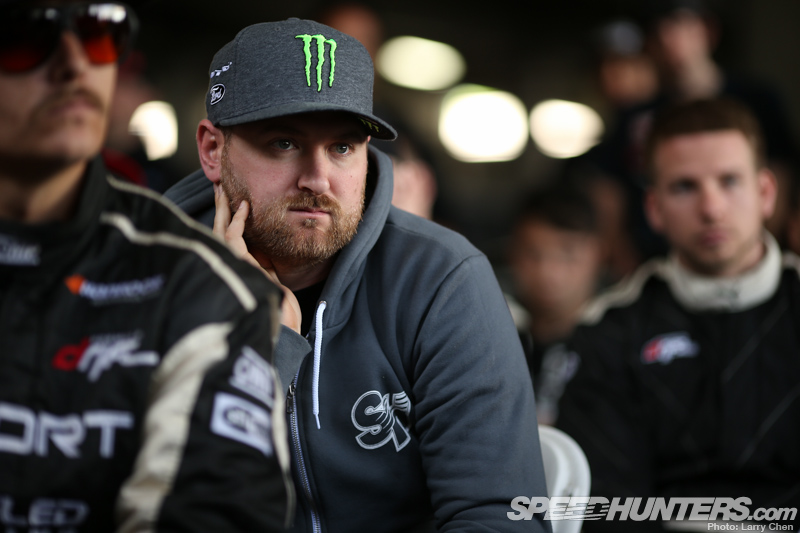 Vaughn's last two years at Long Beach have been pretty cursed. In 2011 he didn't make the top 32 in qualifying, and in 2012 he knocked himself out of the top 32.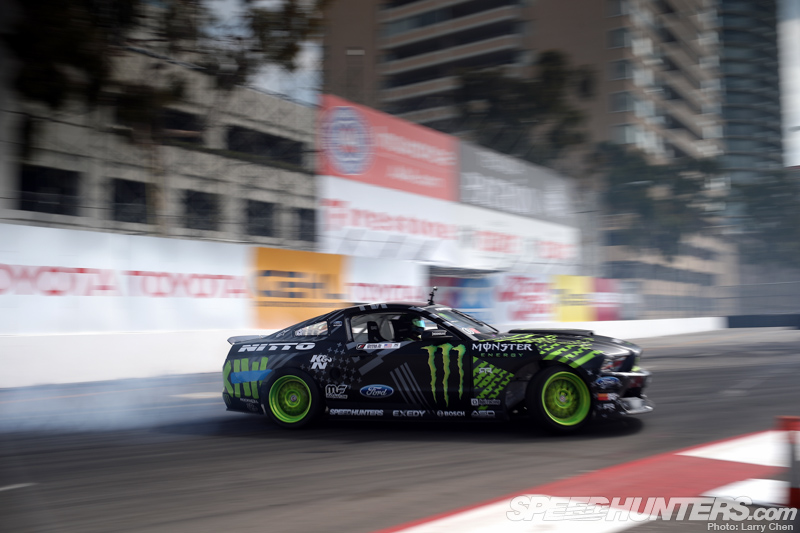 Hopefully he will be able to get that monkey off his back and by the look of it, things seem promising so far.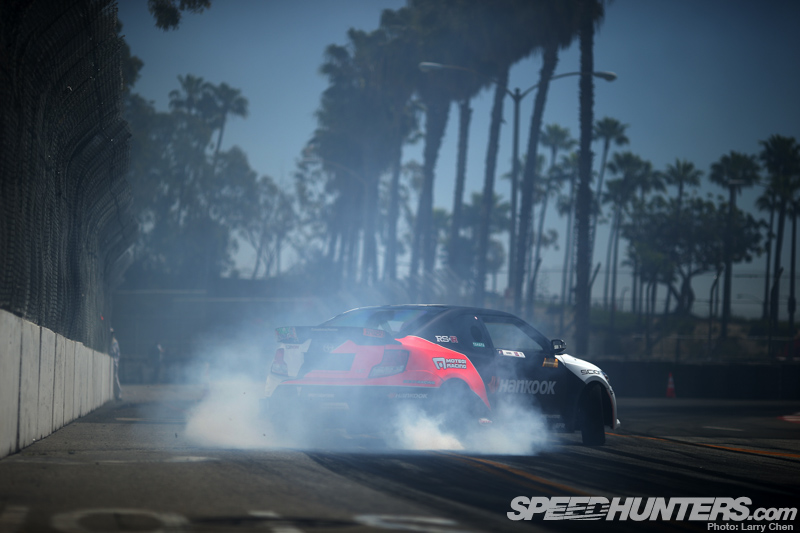 Our very own Fredric Aasbo also debuted a refreshed car with a bang. He stuffed it into the tire barriers during media day, but it was pretty minor as the team fixed everything for the very next day.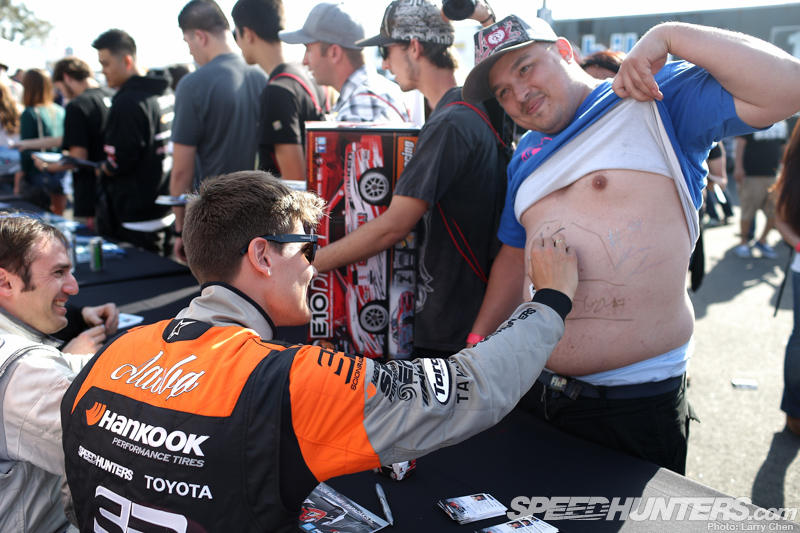 Fredric is so nice to his fans. He can never turn down someone asking for an autograph, even when the medium is a little different to normal.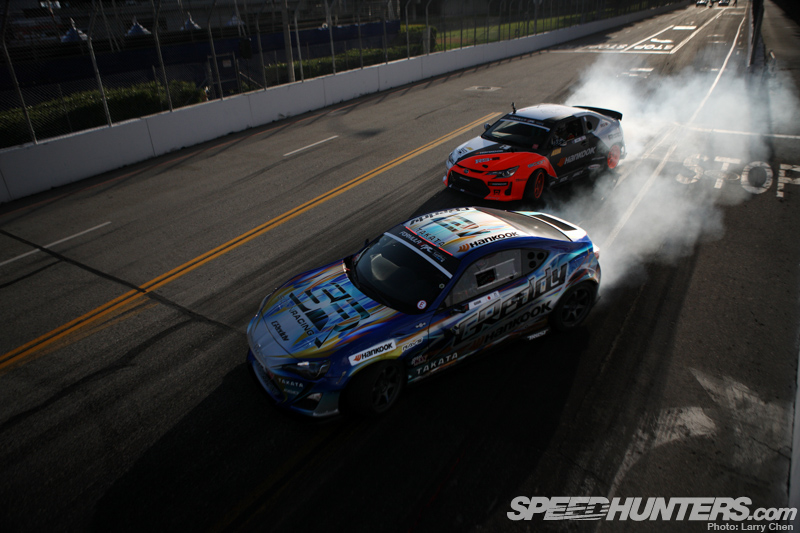 He will be competing with his fellow teammate Ken Gushi. Make sure you check out the recent feature we did on the Greddy Scion FR-S.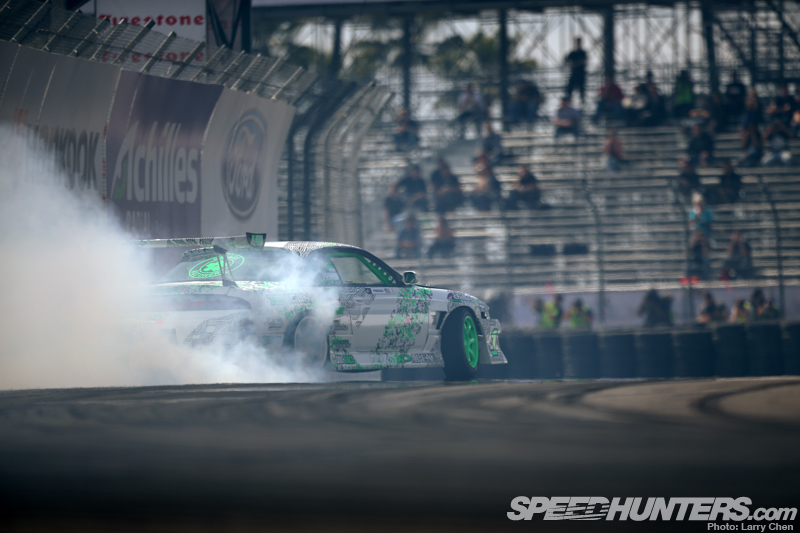 There were quite a few rookies this year. And what better way to welcome these guys than letting them roam free on one of the hardest courses on the Formula Drift circuit.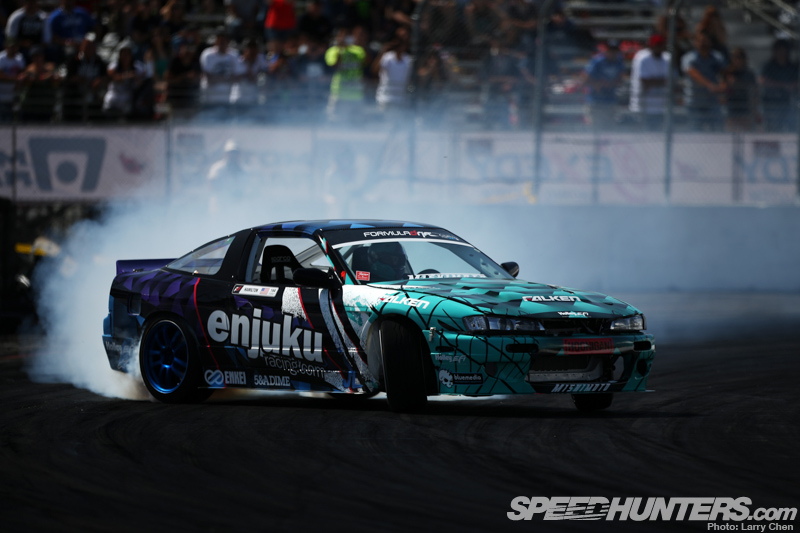 Many of the favorites did not get into the main show, including Nate Hamilton. His car was plagued with mechanical problems pretty much throughout the day.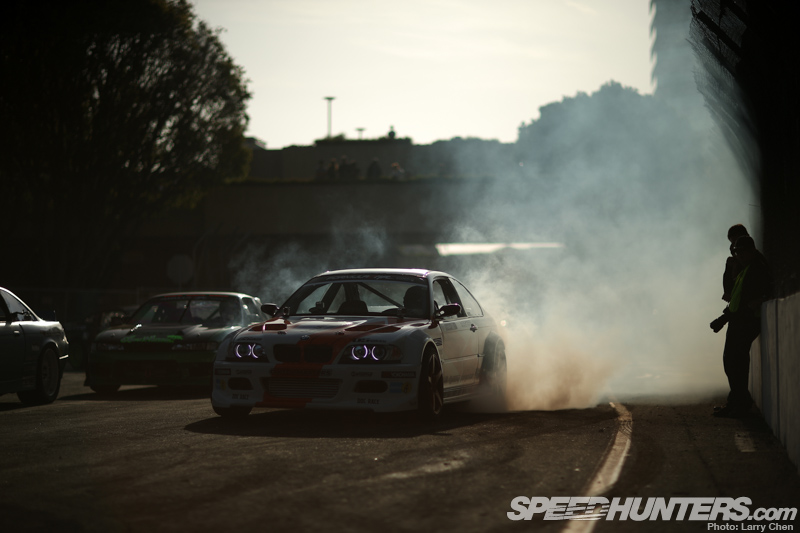 2013 seems to be the year of new cars though. Teams are really stepping it up to bring different cars to the grid, like Mike Essa, who just finished this BMW E46 drift car a few days before the event. He ended up qualifying in a whopping third place right off the bat.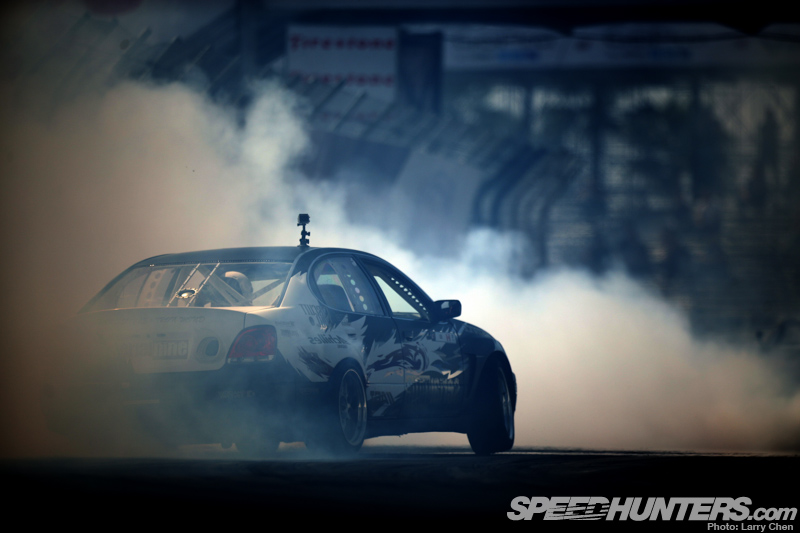 Just check out this Lexus GS that Alex Lee built. I just love the way four door cars look when they are converted into a drift car.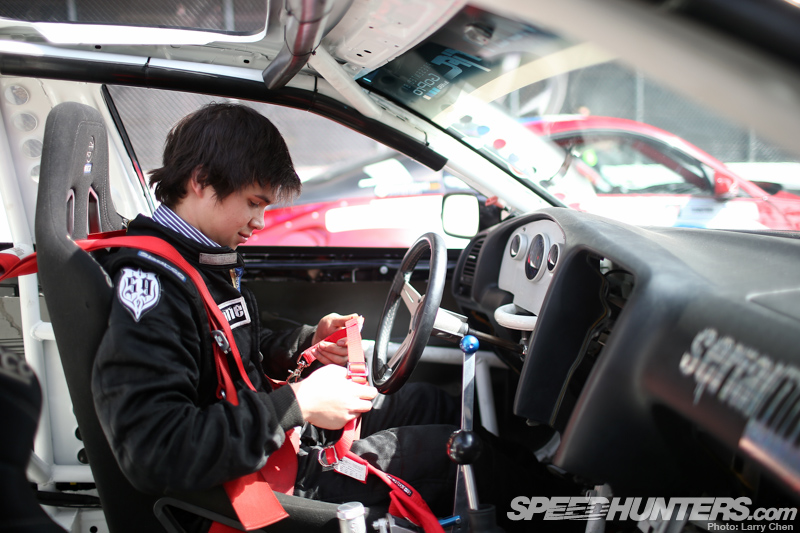 I could not think of a better car to replace his Toyota Cressida.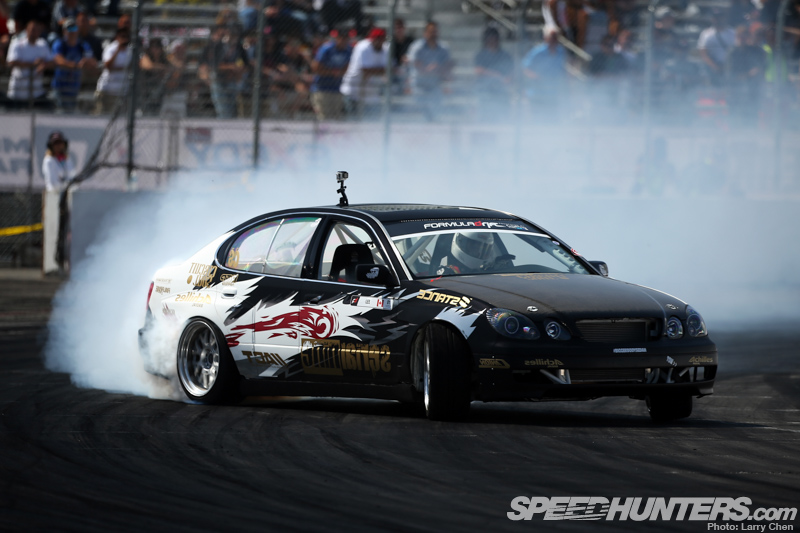 Unfortunately, Alex did not make it into the big show either; he seemed to have some sort of braking issue.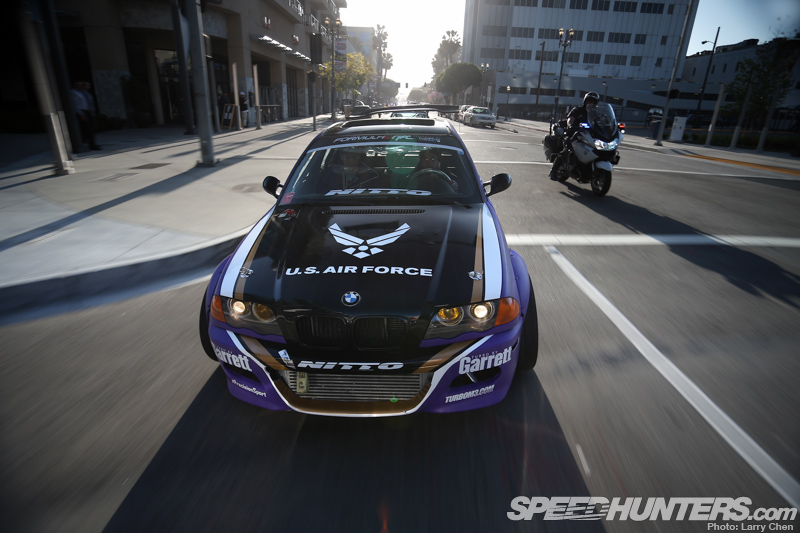 Chelsea Denofa also had a new ride for this season. He built this car last year in case he needed a backup.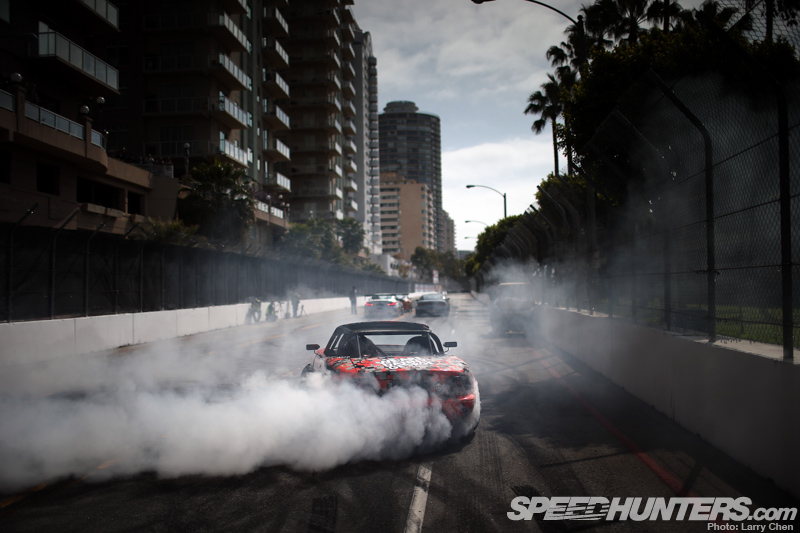 Also with a new car and a new motor this year is the people's champ, Danny George. He's in love with the top-down lifestyle and I never really understood it until he took me for a ride in one.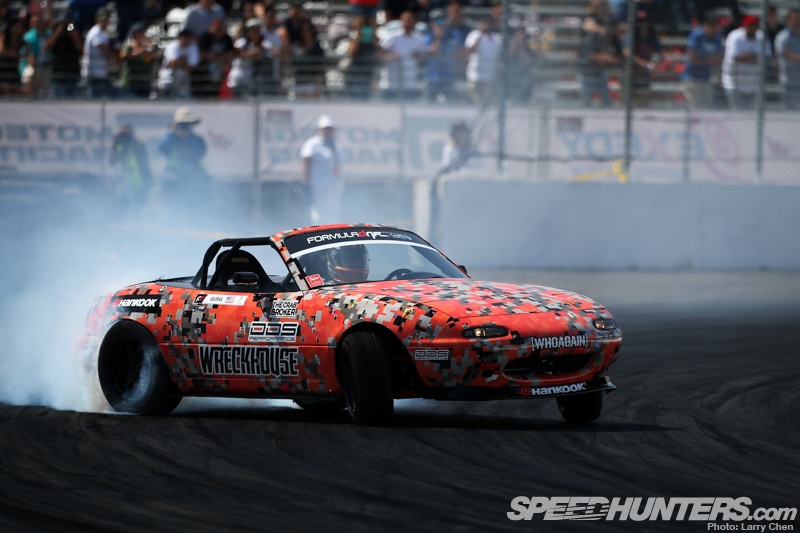 Danny managed to fund his season this year by running a sponsorship campaign that enlisted the help of hundreds of people all over the world.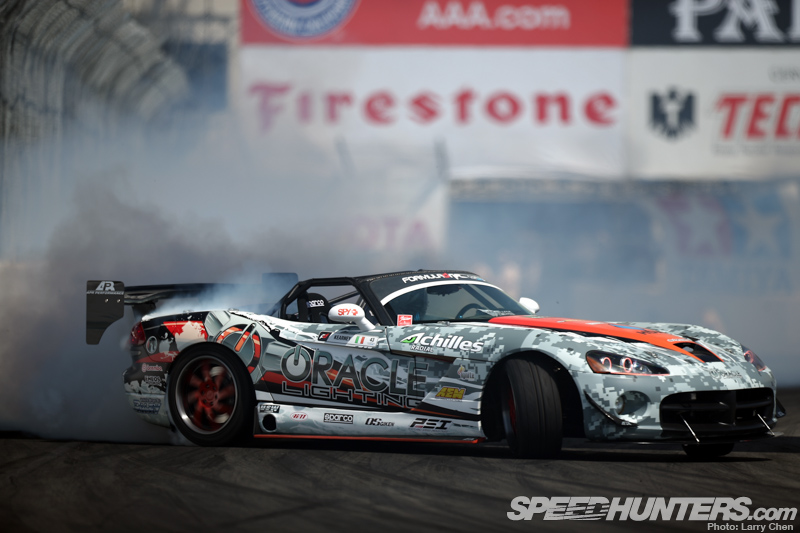 It also seems like this is the year for drivers who have taken a break from Formula Drift to return. For example Dean Kearney from Ireland took a break for a few years, but he is back with a super mean-looking SRT Viper.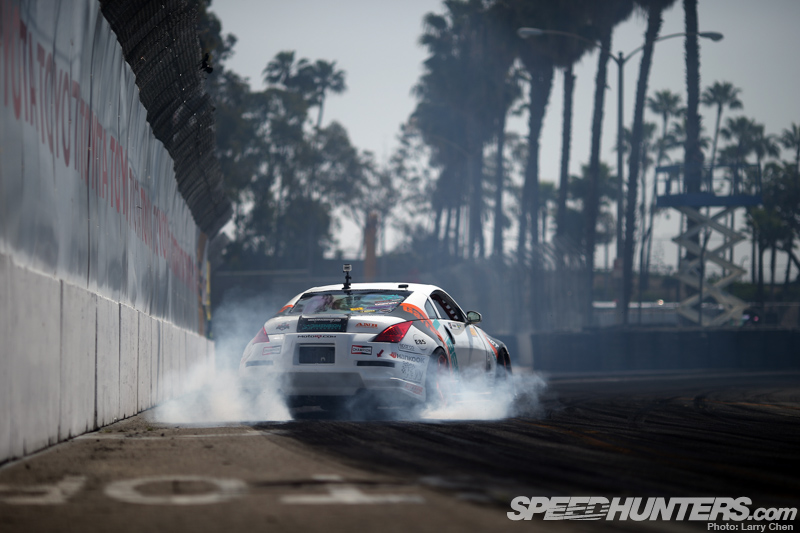 Another guy making a comeback special is Carl Rydquist. The last time he drove in Formula Drift competition was 2009. He can pretty much make anything on four wheels go fast, but we'll see what he has under his sleeve once he enters the top 32.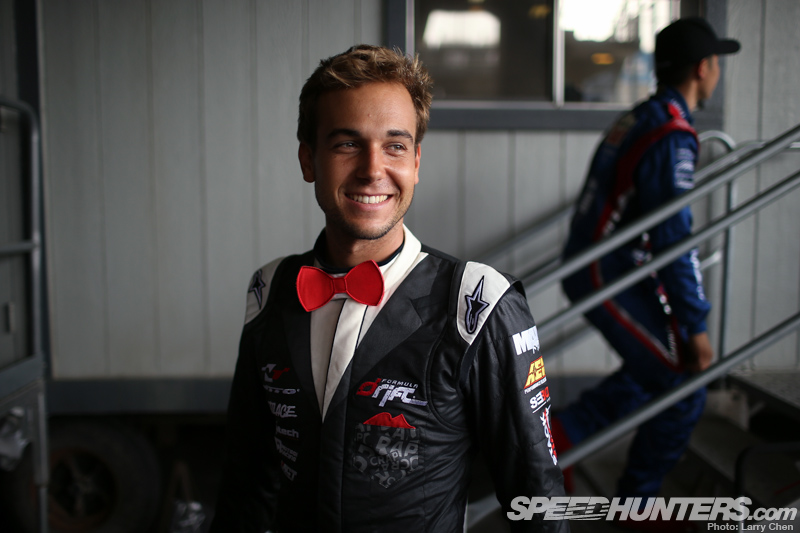 The sharpest-looking guy on the grid, Matt Powers, got a new driver's suit for 2013. The bow is detachable and can be left at home when he thinks it's going to get into trouble.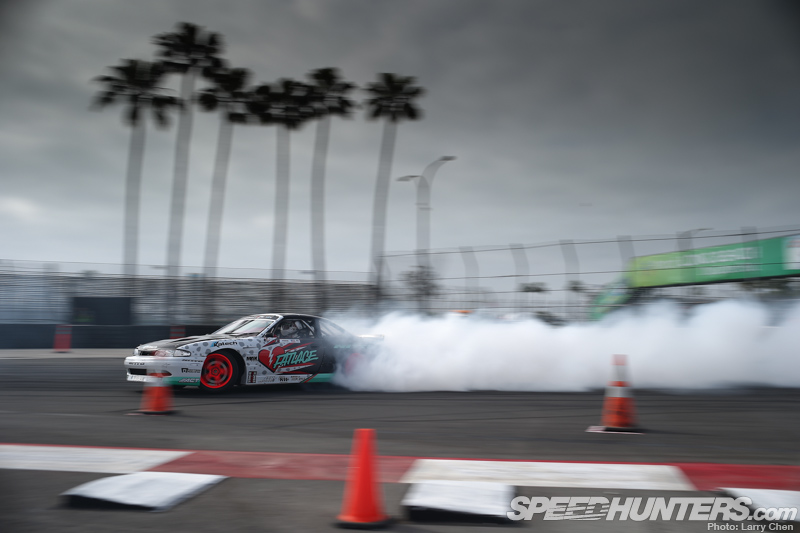 I'm loving the new livery on his car. It also seems that he's fixed many of the suspension problems that he had last year.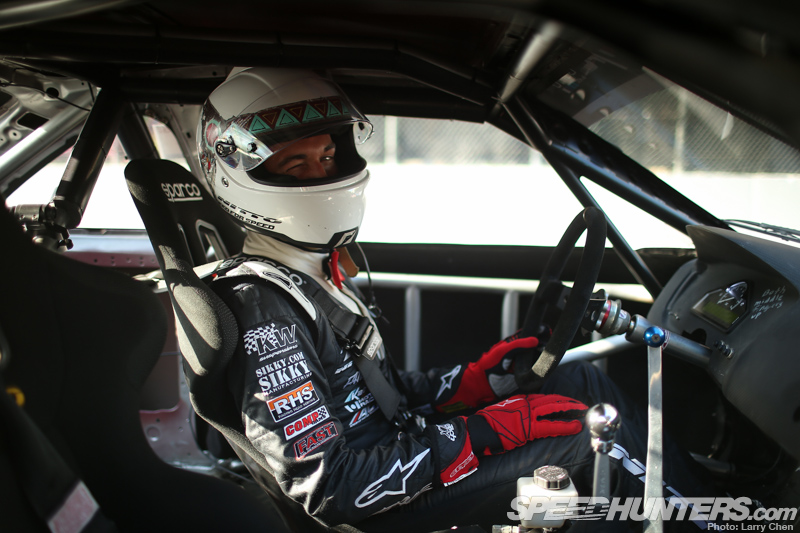 He's definitely one to keep an eye on this year as he has more power than he has ever run with: about 700hp to the wheels in his LS-powered S14.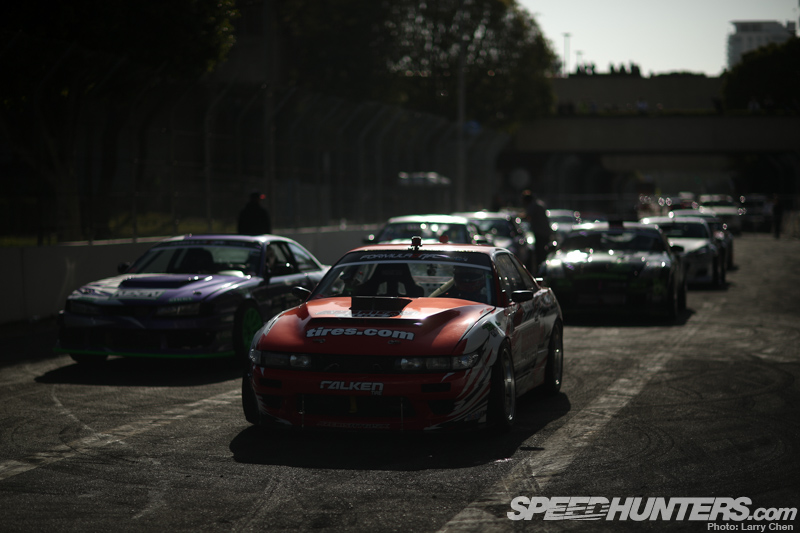 It's been a great start to the year for Daijiro Yoshihara as he qualified in first place with an amazing run where he was just inches away from the walls of the street course. That said, it won't be straight forward for him to get into the top 16, as he is paired-up with former teammate Tyler McQuarrie.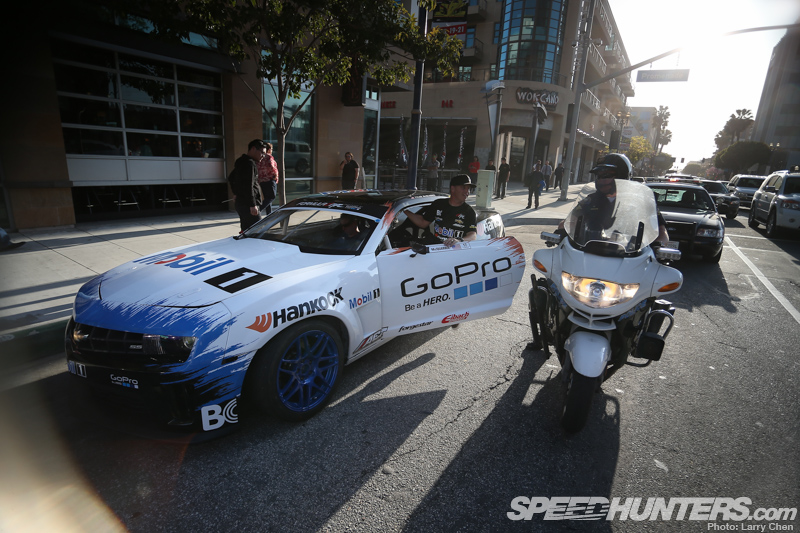 Tyler had been looking really strong, but due to a power steering pump failure he had to skip morning practice. He barely made it into the top 32 in last place.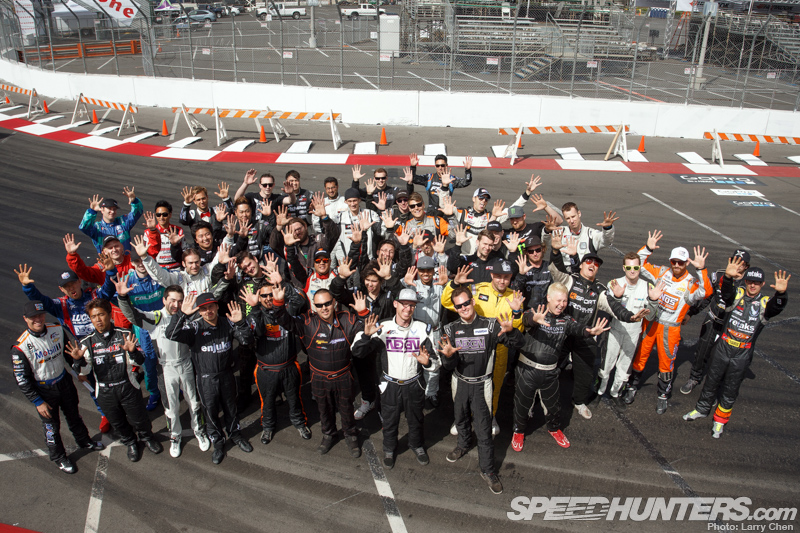 This has already been a great start to the tenth season of Formula Drift. Stay tuned for more coverage from Long Beach. In the meantime, feel free to download some desktops. Enjoy!
larry@dev.speedhunters.com
Instagram: larry_chen_foto