I'm going to wager a guess that Ken Block and Hoonigan Racing Division are names that need no introduction to this, or virtually any audience these days. Despite having never won a WRC stage, let alone a championship, it seems to boggle a lot of minds as to how Ken has become such a popular driver. Hell, even I didn't really get it until I spent a weekend with him and his team in Mexico.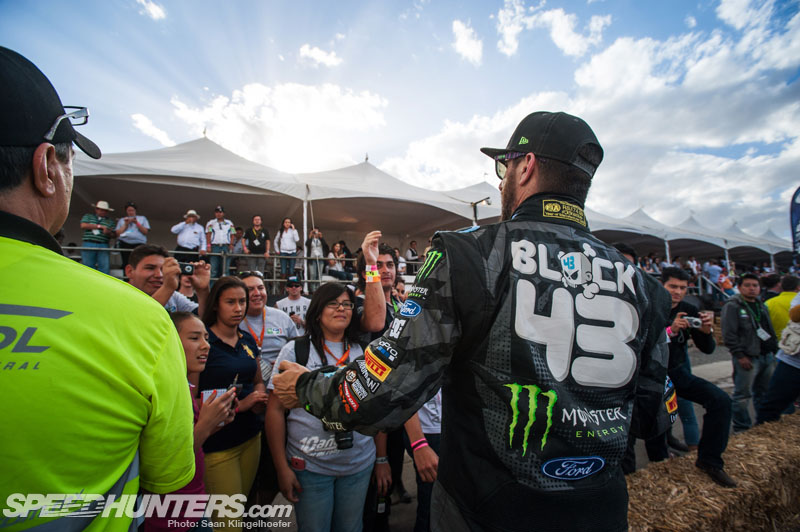 Full disclosure: the guys from Hoonigan Racing Division extended an offer to invite me down to Mexico to see what WRC was all about and bring it back to the Speedhunters readers. What they didn't do was at any time ask me to write anything about Hoonigan or post any photos of Ken or the car. They just wanted me to see how radical WRC is; I'm simply writing this story because it's something I feel needs to be said.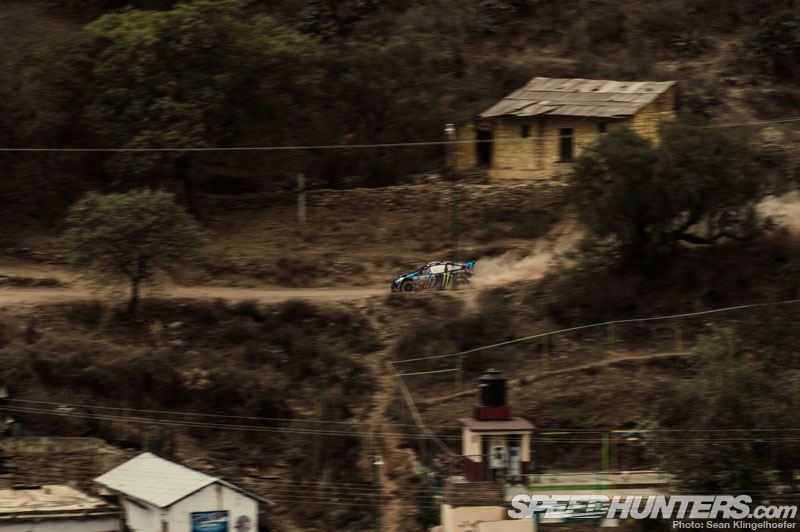 There's a lot of bad information floating around on the Internet and these days it's really hard to get a good idea of what's legit and what is just make-believe hearsay. After seeing how Ken and his team operate I felt inspired to share what I saw going on both behind closed doors and in front of the public eye.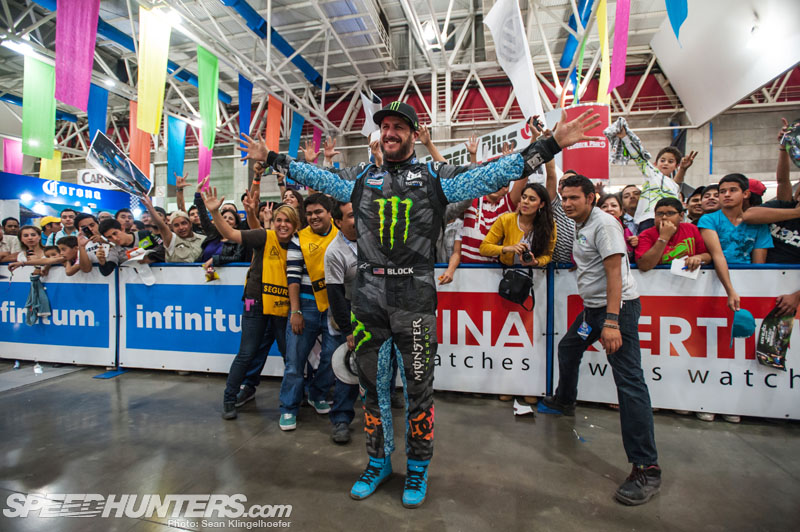 Sure, Block isn't the fastest driver and he's certainly under no illusion that he is… but I think he is having the most fun. Over the course of five days I don't think I ever saw this guy without a massive grin on his face, he really loves what he does.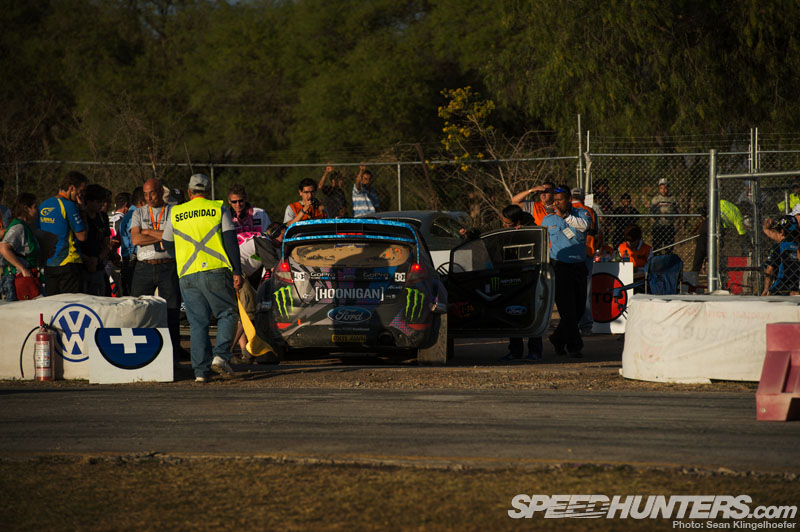 I also rarely saw him without at least ten cameras shoved in his face, including my own which I'm sure was of no help! But he manages to take everything with stride and still enjoys every minute of the event, whether it's driving the stages, the post-run interviews…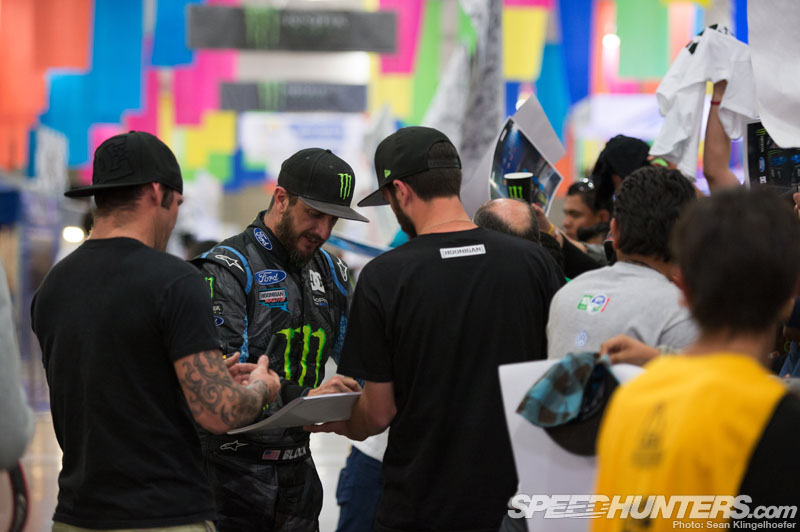 Or the mental autograph sessions. In my opinion if there's one person who deserves to have his seat based on effort and excitement, it's Ken. I also happen to believe that he's a great ambassador for the sport and, whether or not you like it, he's helping to pump more money back into rally and create new younger fans that will grow with the series.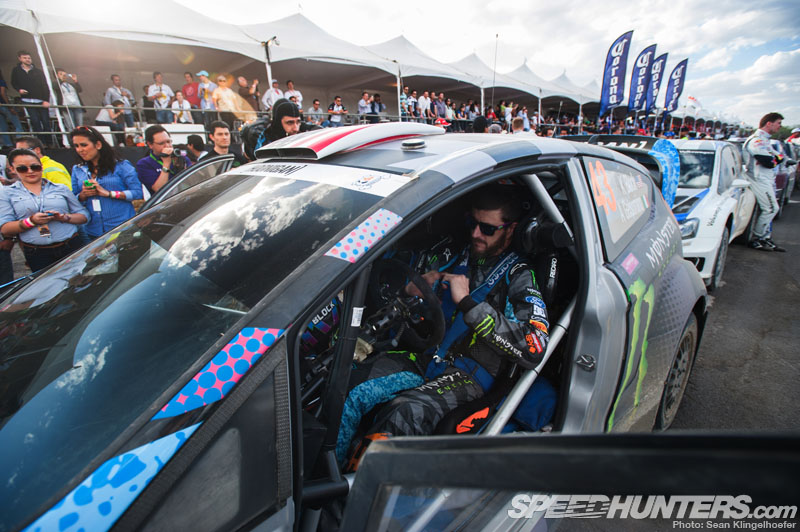 I've said before that Ken is like the Happy Gilmore of rally, but all kidding aside, there are a lot of parallels there. While he might not be rallying to buy back his grandmother's home, he is certainly the new "bad boy" on the block (no pun intended) and a lot of people wish he wasn't competing. But, also like Happy, he has managed to draw a massive fan base to the sport that probably wouldn't give a rat's ass about rally otherwise.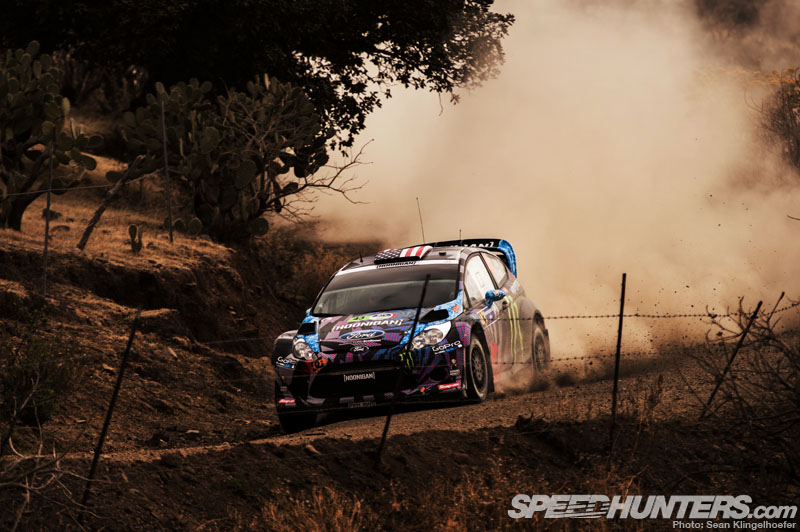 But I know that still isn't enough for some naysayers, so let's ponder a few facts and figures for a minute. Ken has only been rallying for about seven years. I don't mean he's "only been in seven WRC seasons", I mean that prior to that, he had never even driven a rally car.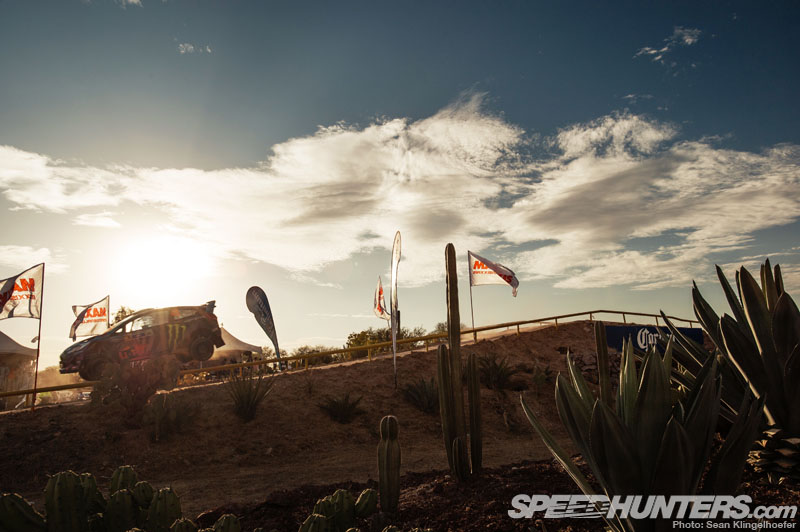 For him to come into a top-level WRC event and not finish dead last by an hour is a pretty amazing feat. Secondly, keep in mind that Ken is forty-five years old which makes him the oldest driver currently contesting WRC by a ways…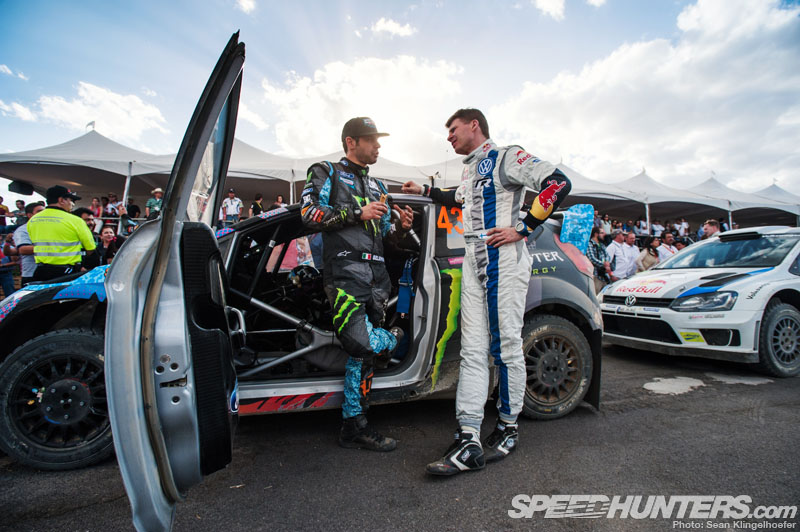 When you add the ages of Ken and his co-driver Alex Gelsomino, they're probably good for a combined 15 years-plus on the next oldest driver pairing. In fact, they might even be one of the oldest teams to ever score points in WRC history. Wrap your mind around that for a minute.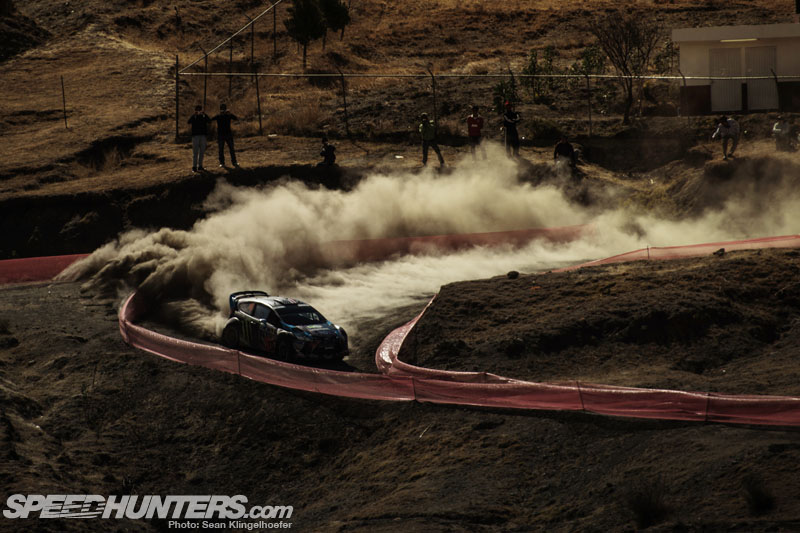 In Mexico the two put down a very good showing and finished 7th overall, their best finish to date. Not bad for a couple of "old men", the driver having only been wheeling for just over a half-decade. One can only imagine what Ken could have been capable of if he had started driving on ice and snow at the age of ten like so many Scandinavian champions did.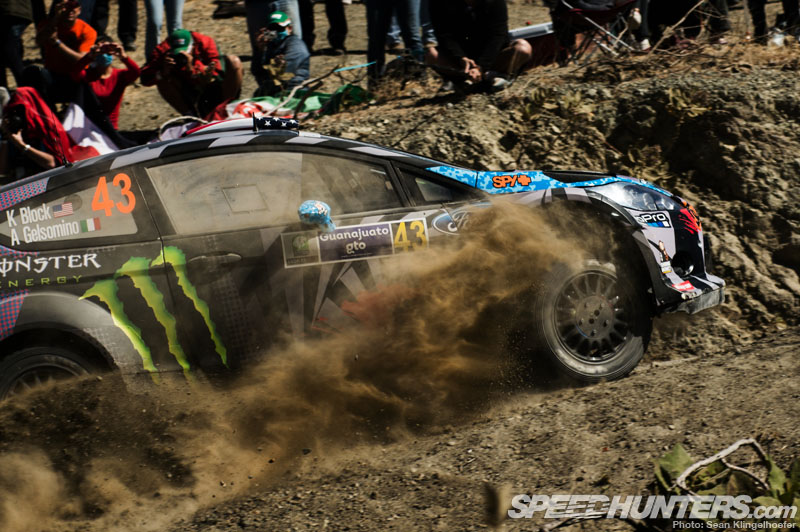 But I don't think Ken really minds. I'm not suggesting that he wouldn't like to be faster, but the impression that I get is that every day he wakes up and gets to go rallying is a dream come true to him. On top of that, he is extremely grateful to have this opportunity and is beyond stoked that he gets to do this stuff. It's pretty inspiring honestly.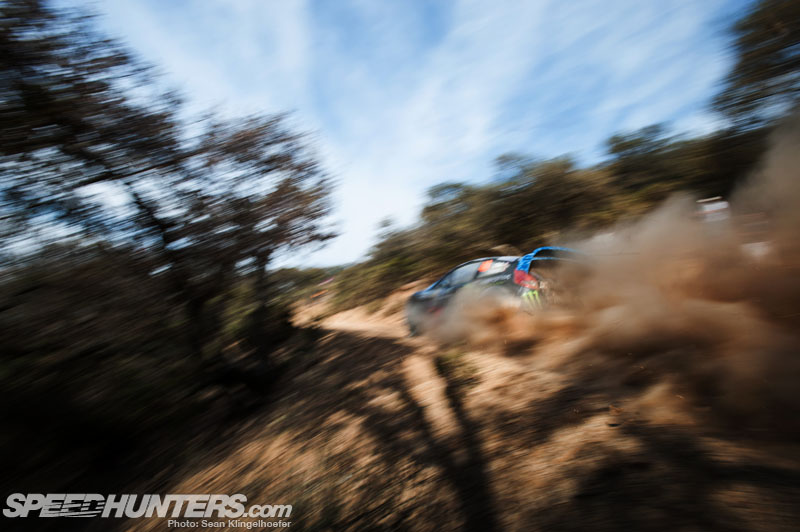 So how does one get to go racing like this some of you might ask, while others are thinking "oh come-on, I could do that too if DC Shoes and Monster Energy would open their checkbooks for me!" I've heard rumors so bizarre that I just had to laugh, and you'd be amazed at how many people are convinced that Ken owns Monster, which he doesn't.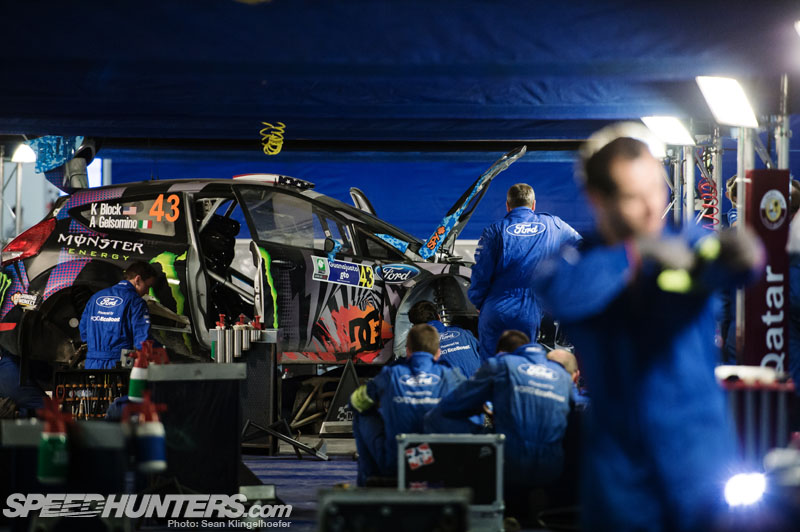 Another thing that I hear a lot is that Ken doesn't really care about rally and he's just doing this to sell more shoes. That just flat out pisses me off. If there's one person on this planet that is doing this for the sheer love and enjoyment of the sport, it's Block. And since he's long ago sold off his share of the company he co-founded, I wouldn't imagine that selling shoes is much of a priority these days.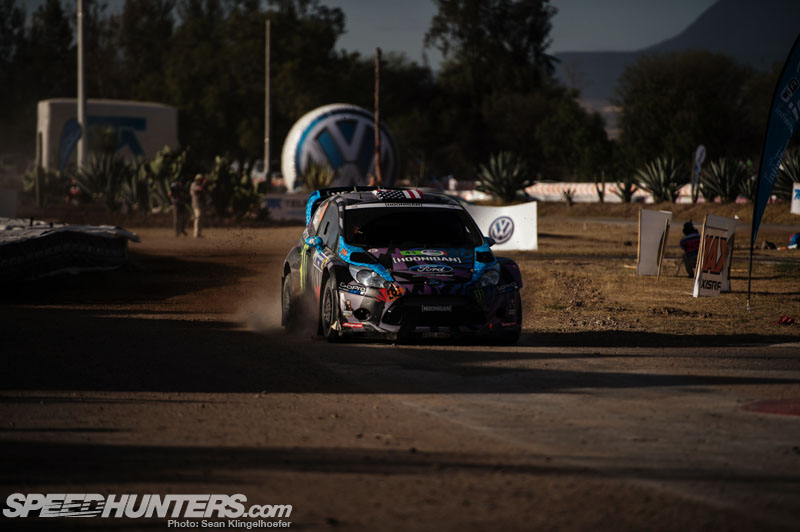 What seems to be at the front of Ken's mind is having a blast in a car and spending time with his family. In reality, the team runs on a shoestring budget compared to the likes of a factory works effort, which is part of the reason they don't contest an entire season. Once again, the fact that they can take a customer racing car which hasn't been driven in nearly a year and score points is beyond me.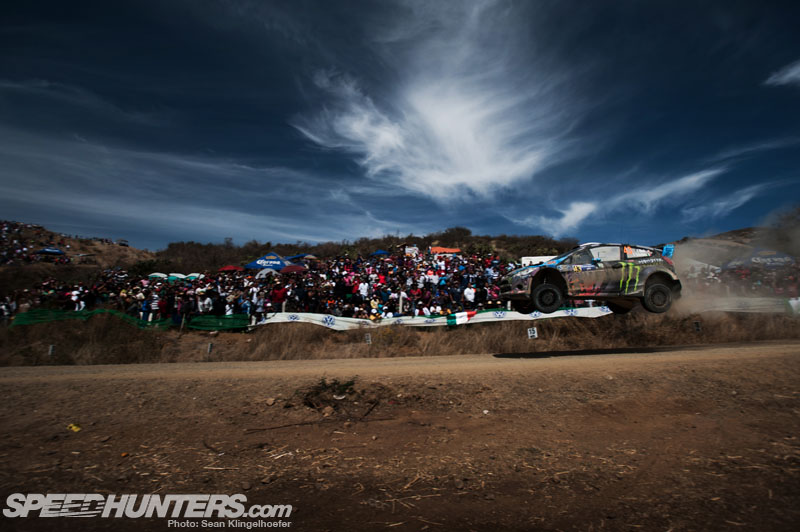 The amount of testing and tuning that Hoonigan Racing Division actually do is a fraction of what the guys running at the front are putting in. The team is fully aware that in order to finish better they'll need a lot more money, man power and R&D which they haven't got. But rather than just throw in the towel, they do it to have a good time and do it with smiles on their faces.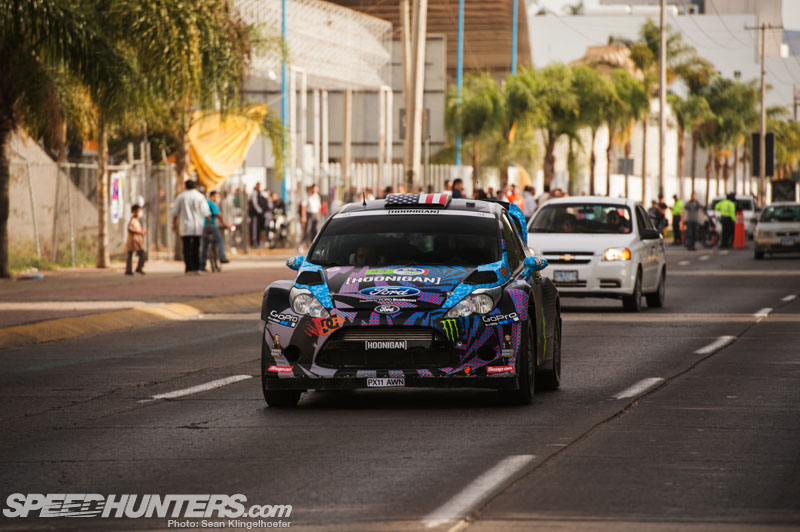 Now if I seem to be going on and on beating a dead horse I do apologize, it's just that I too at one point believed some of this misinformation to be true. After seeing how the team respects each other, the rally and the fans, my mind has been completely changed.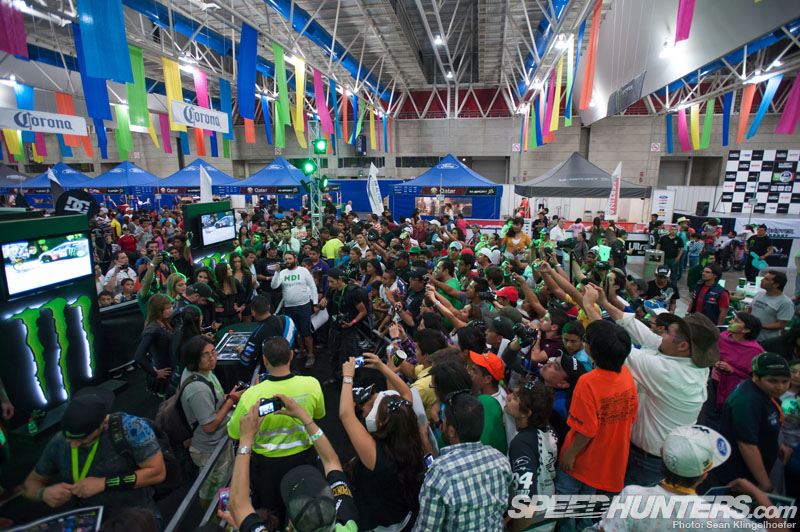 Seeing Ken interacting with his fans is something else, and I have absolutely no idea how he does it. He seems to be a man that posses an unlimited supply of patience, something I most certainly lack.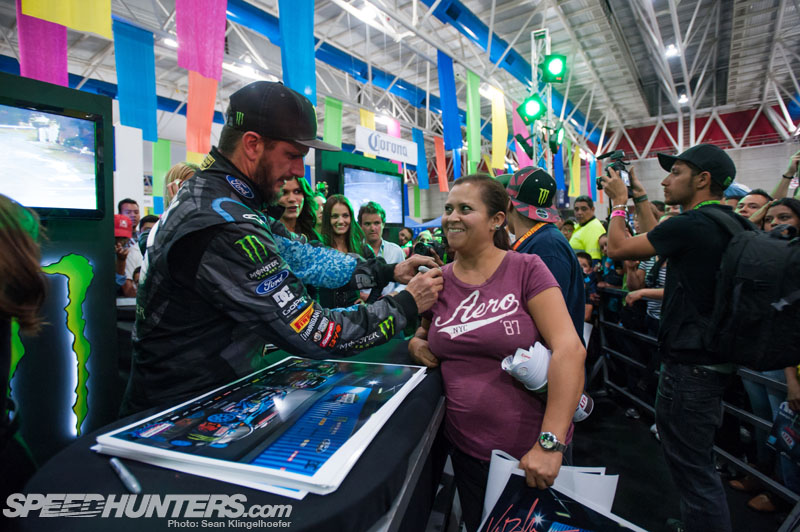 It was a rare occurrence to see him not offer a fan an autograph, even outside of the official sessions. And when he did his signing at the Monster booth he ended up going over by more than half an hour, yet even still not everyone was able to get a signature.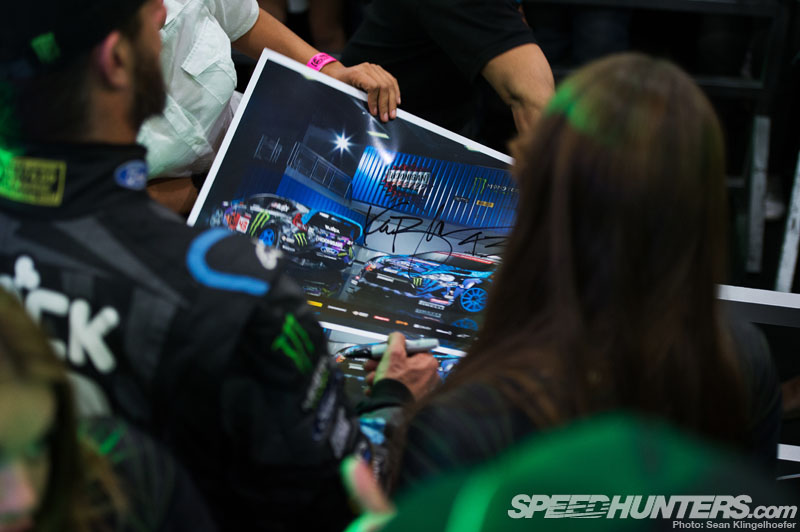 I could tell it bummed him out to have to send away people empty handed. I know if it were possible he would wait and sign every last shirt, hat and body part if he could, but there are only so many hours in the day.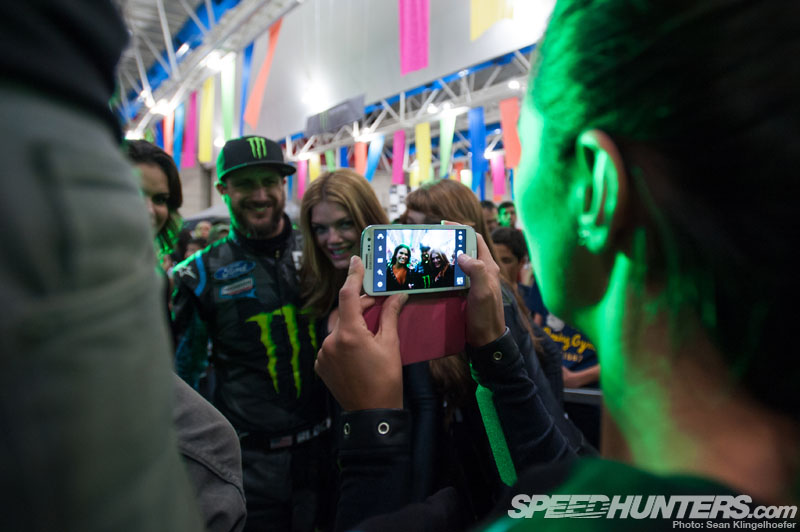 Even when he thought it was safe, his very own Monster co-workers were trying to sneak in pics and autographs. After a long day of sitting in a gnarly rally car and being physically drained, this is about the last thing I'd have the energy for… but Ken not only obliges, but does so with a smile.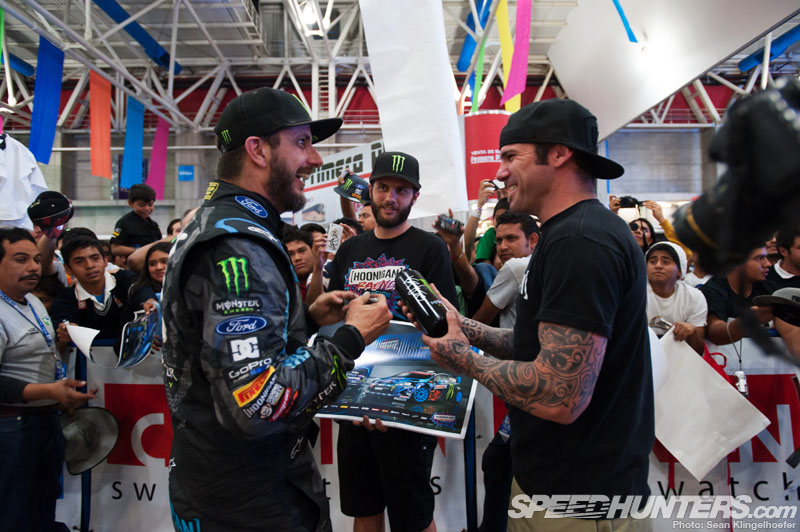 If that isn't the face of someone who absolutely loves what they do, I don't know what is. I believe Ken genuinely loves his fans, and not in a conceited way. Having spent many years managing athletes at DC Shoes he's learned the importance of appearances and treating your fans well. Nobody else in WRC has nearly the presence of this dude.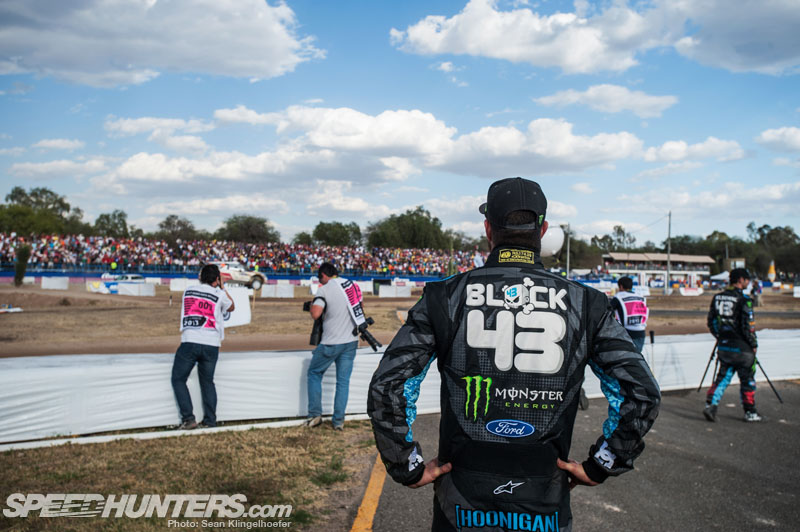 But he seems to be pretty much non-stop stoked no matter where he is during the rally. I think it was at this very moment that I realized how excited Ken was about WRC as he stood and just watched the runs at the Super Special like a spectator. It was then that I began to draw a few parallels between us.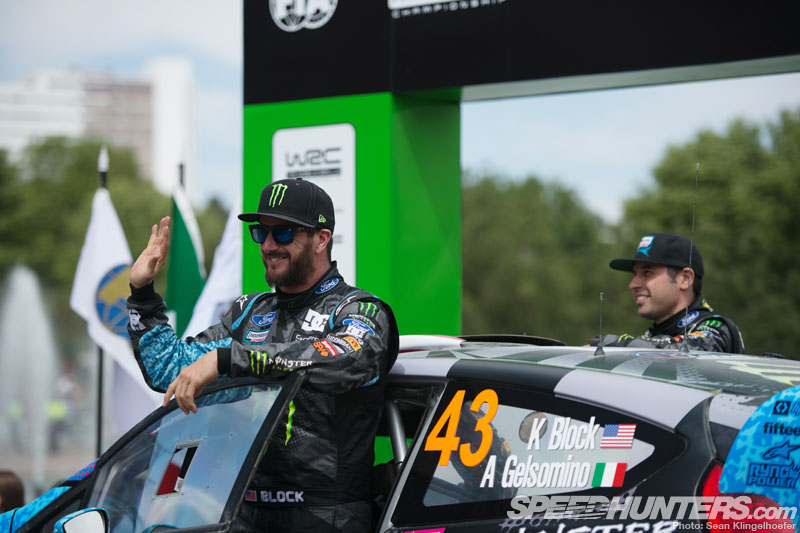 I'm not saying that I think I could ever be a world class rally driver, but simply that I cannot believe how fortunate I've been to have my life throw me the amazing curveballs it has. At some point in our past we both did something that gave us the opportunity to stand on common ground in Mexico and I think I speak for us both when I say there was a resounding "pinch me I'm dreaming" feeling that weekend.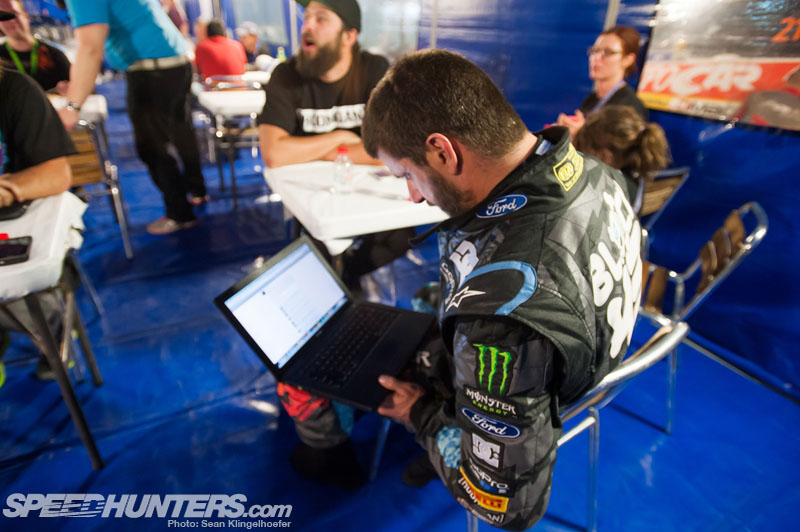 Don't assume for a minute that just because he's always having a killer time that Ken isn't busy working hard though. He definitely takes his job very seriously and every one of the few remaining waking minutes that he isn't driving, signing or unwinding with his family are spent reviewing data, checking feeds and managing Hoonigan Racing Division.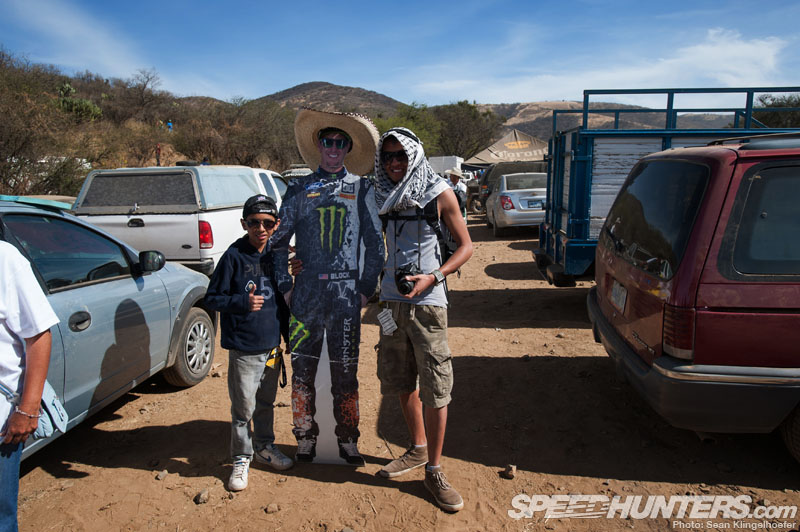 I knew going into the event that Ken was a pretty busy and extremely popular guy and the last thing I wanted to do was hinder his race weekend in any way. I had virtually made up my mind before I got off the plane that I would leave him be do to his job, surely the last thing that he needed was another journalist trying to get all buddy-buddy with him.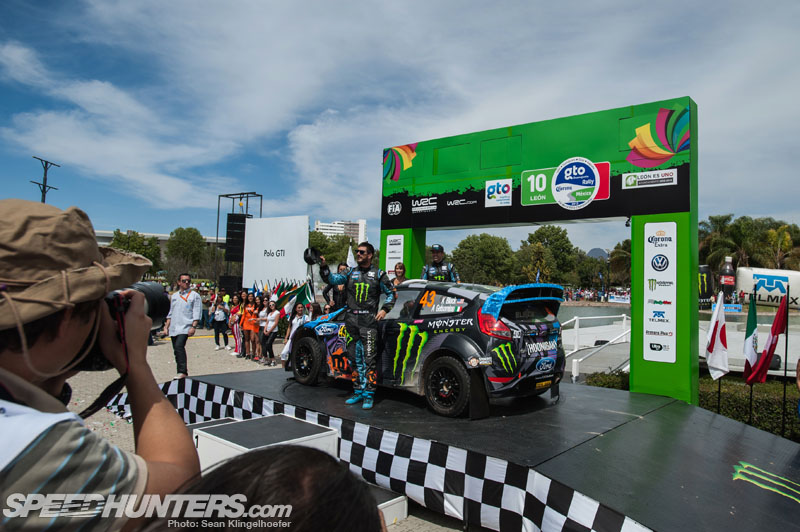 Then the most mental thing happened, time after time he came up completely unprompted and just started talking to me. At times it was almost like he seemed more interested in making sure I was having a good time and left with a good impression of WRC than he was in the race. It became very clear to me that this is something he holds very closely to his heart.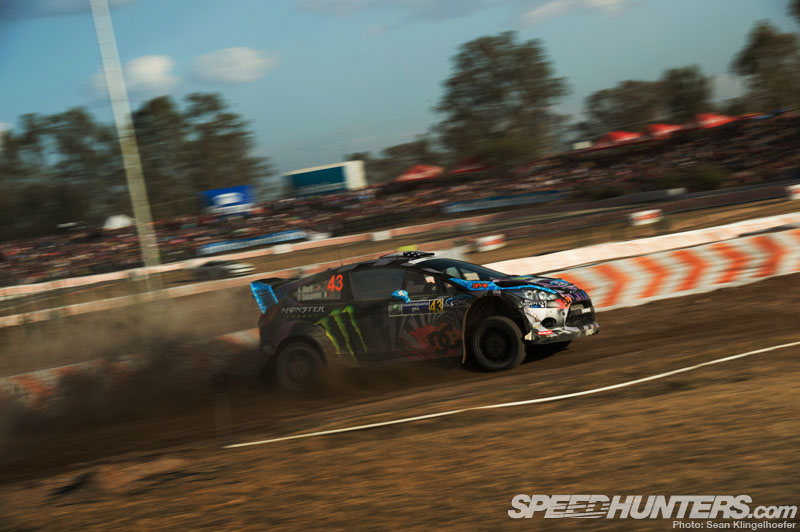 As I frantically and excitedly told him about my day's adventures I could tell he saw the joy in my eyes. It was at that very moment that I realized why Ken does what he does. He's not in it for the fortune or the fame, or to sell shoes or energy drinks; he's doing this because he loves rally and he wants to share that passion with others. I believe his mission is to create more fans of the sport he loves so much, and if that was his goal then I have to admit that weekend in Mexico he converted one more – me.
Thank you Ken.
WRC Leon coverage on Speedhunters
More Rally coverage on Speedhunters
More stories by Sean Klingelhoefer on Speedhunters
-Sean
---
---
---