I'll get this spotlight post from the Excite King VIP meet started with a car that well, isn't really VIP. With the whole bippu movement finding obvious roots in the bosozoku and kaido racer styles of the seventies and eighties, there is always one of these gems sitting among the more modern cars present.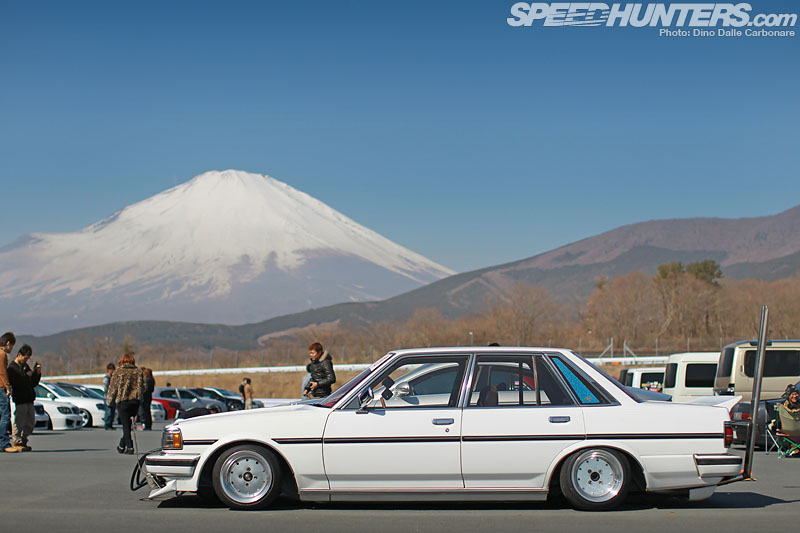 This big GX71 MarkII sedan sat nice and low on a set of SSR Mk1s and boasted the usual in your face vertical tail pipe extensions…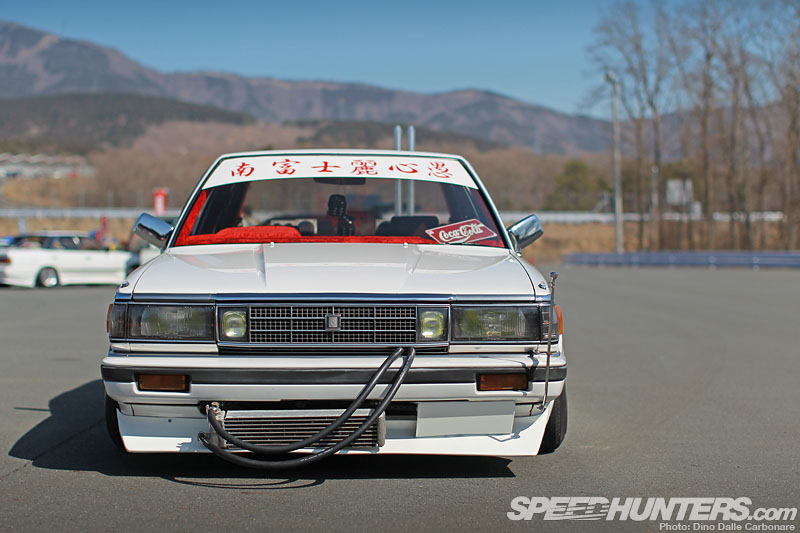 …and the externally mounted oil cooler, the latter a throwback detail to the old race cars of the seventies that participated at the various endurance races held in Fuji Speedway.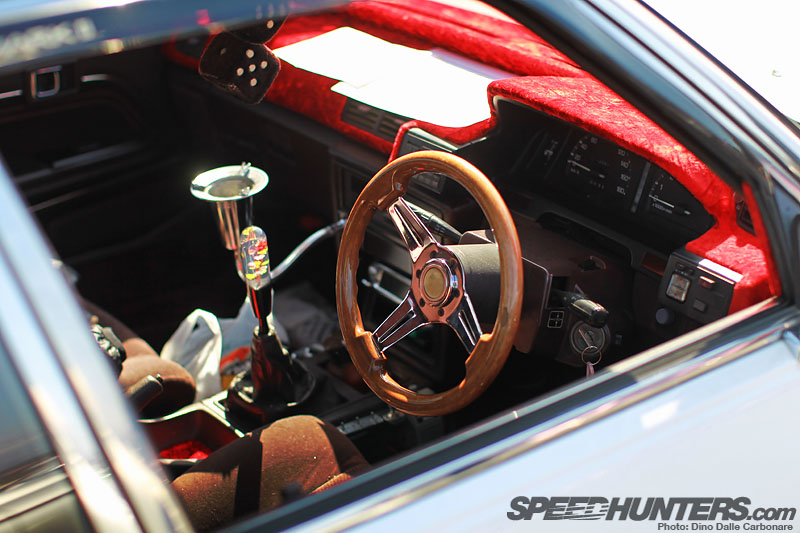 Whenever I see these sort of cars I always take a peek inside to check out what bizarre accessories are dotted around the cabin. While the wood rimmed steering is normal sight, the dash-mounted ashtray was quite interesting. Very lounge-like!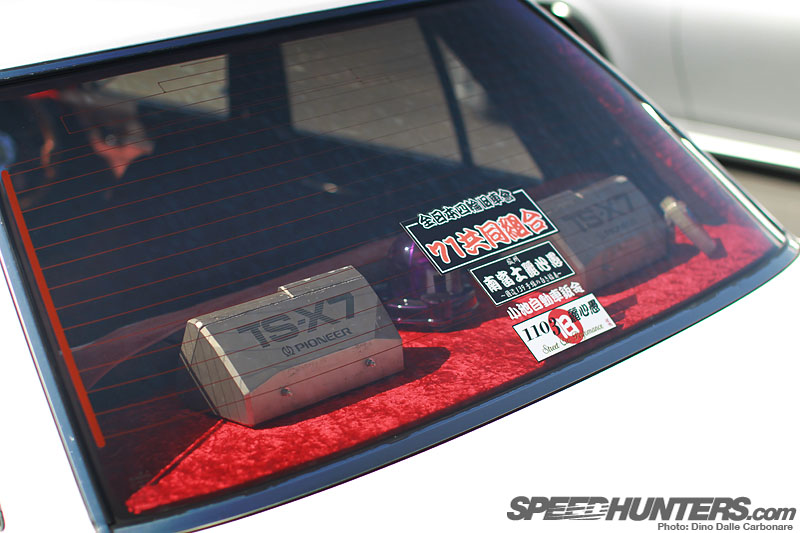 Of course the obligatory vintage Pioneer TS-X7 parcel-shelf speakers were present, as was classy upholstery.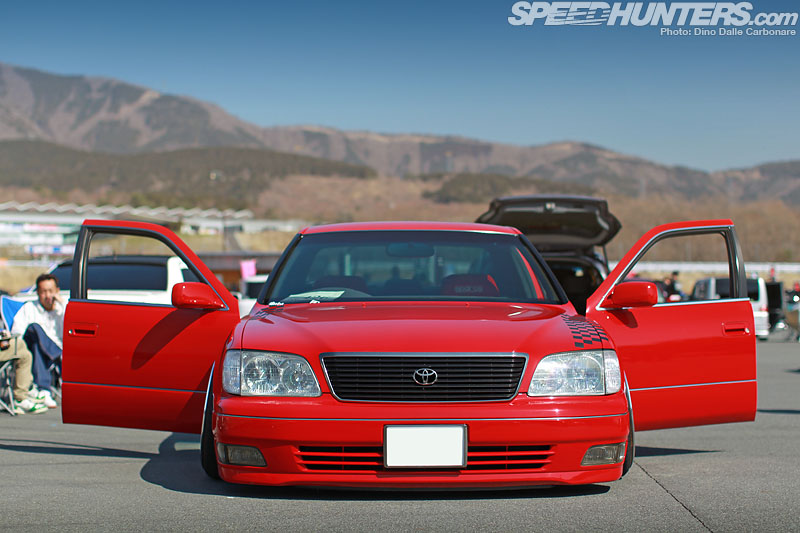 I really like when people in the VIP scene take hints from more performance oriented rides. The Celsior for example, is the last car you would consider sporty…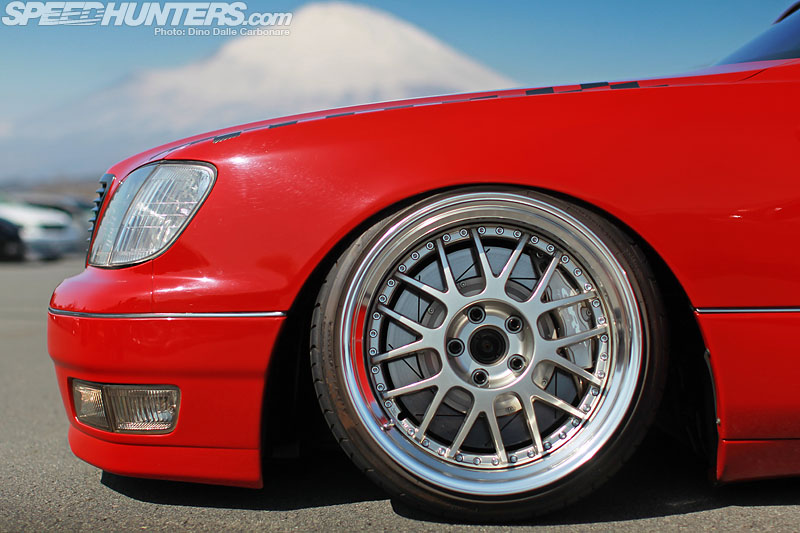 …yet slammed on a set of SSR Professor MS1 18-inch rims and painted bright red like this particular example, it does definitely stand out. Check out the size of the ORC brake kit up front.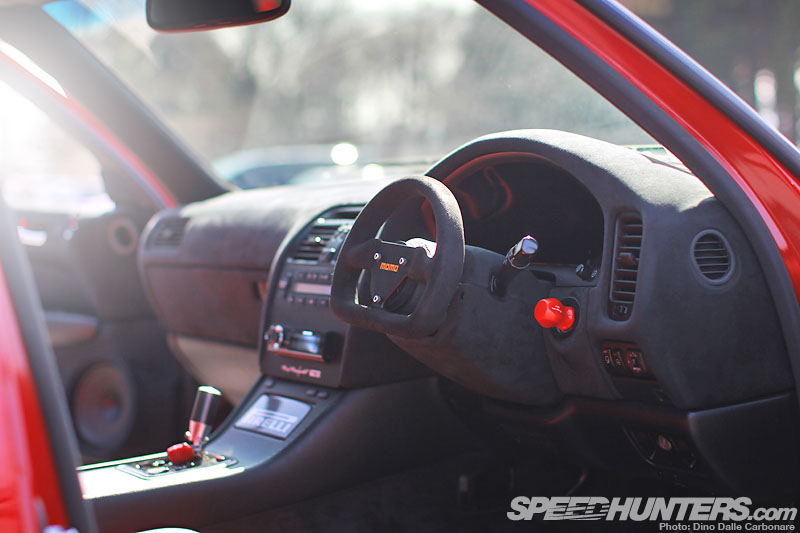 The interior was probably the most surprising aspect of the build with acres of alcantara covering the dashboard and trim but check out the full on single seater Momo racing steering wheel!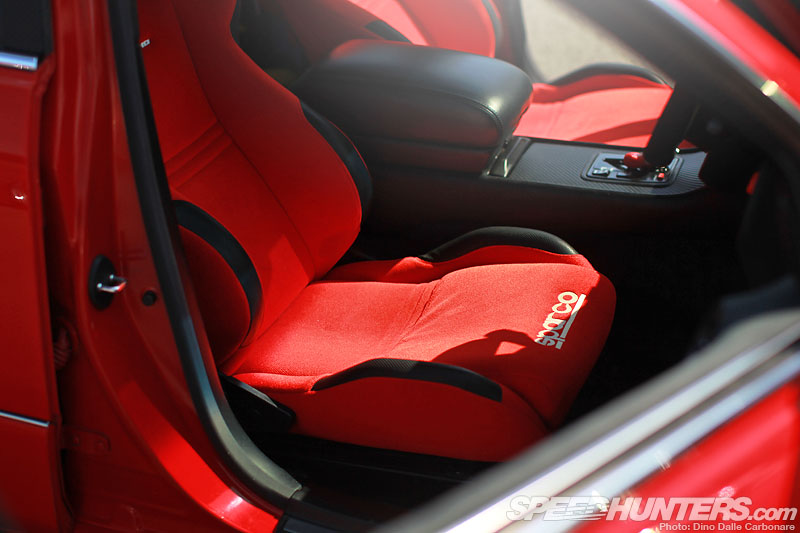 The leather seats have given way to reclinable Sparco sports seats and from this angle you can also see the carbon fiber trim that covers the transmission tunnel as well as the center console.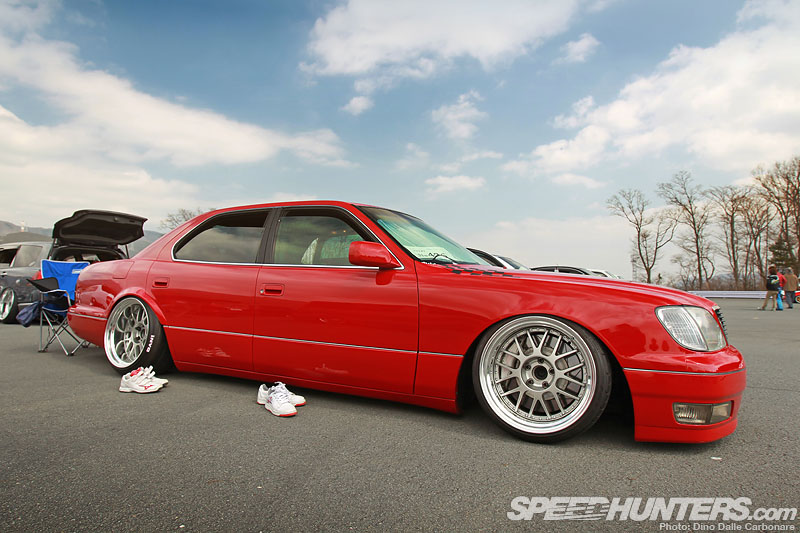 Add fender flares, a touch of negative camber for the rear wheels and you have yourself a pseudo-performance-oriented VIP sedan. Awesome!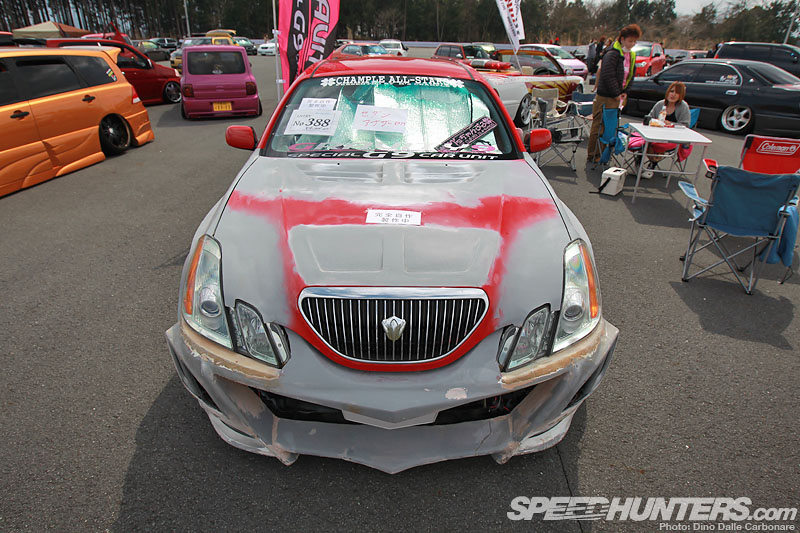 Talk about standing out! This curious "work-in-progress" Verossa was attracting its fair share of looks as people attempted to make sense of all the complex design. The headlights that have always made the Verossa the most awkward of JXZ110 based sedans…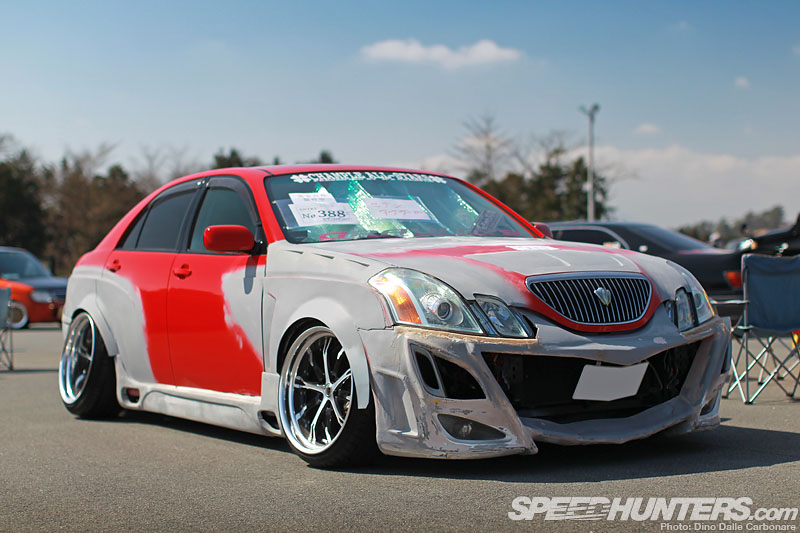 …have given way to a set borrowed from another JDM-only Toyota model. And if you think the front is a bit out there…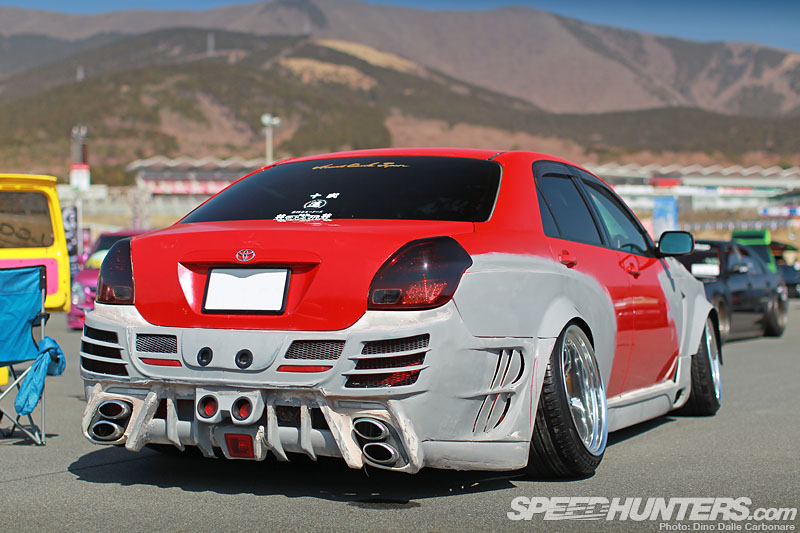 …wait till you see what has been done to the rear. As Imamura-san of Bee Dragon once told me a lot of people in the scene are obsessed with Gundam and take a lot of inspiration from it. Maybe that explains it?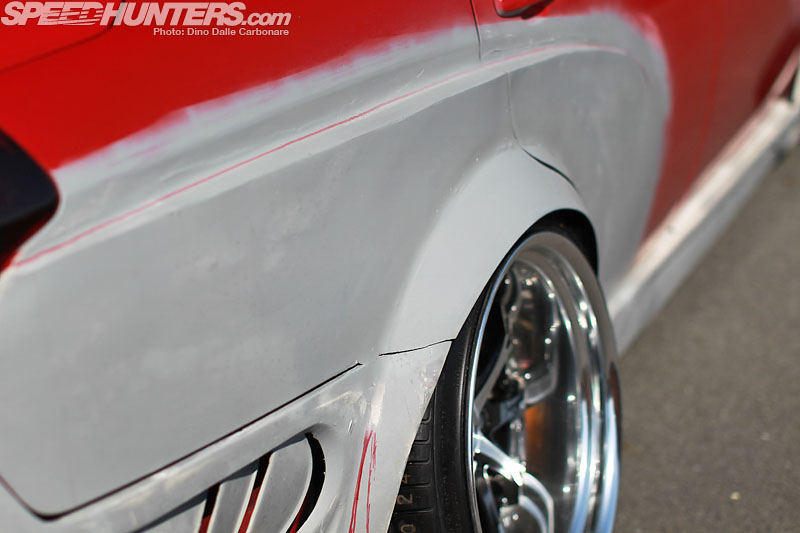 The rear fenders also received some work with both flaring and blistering.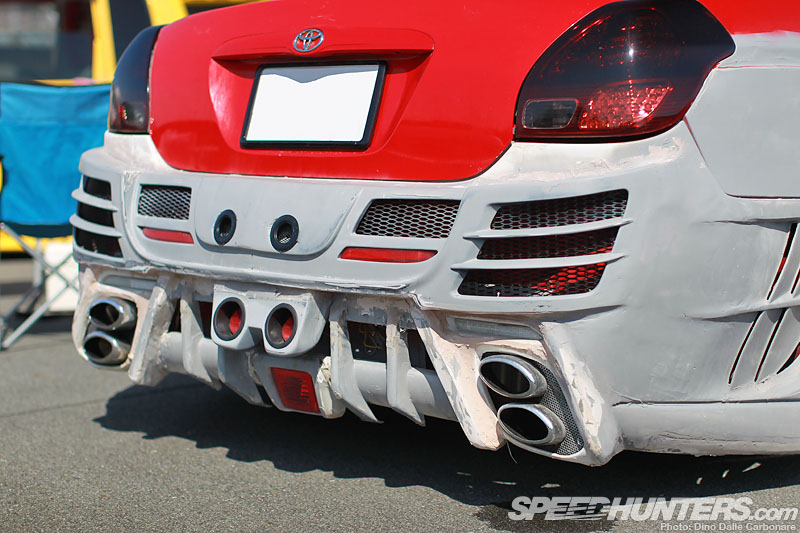 Let's take another look at that rear end shall we!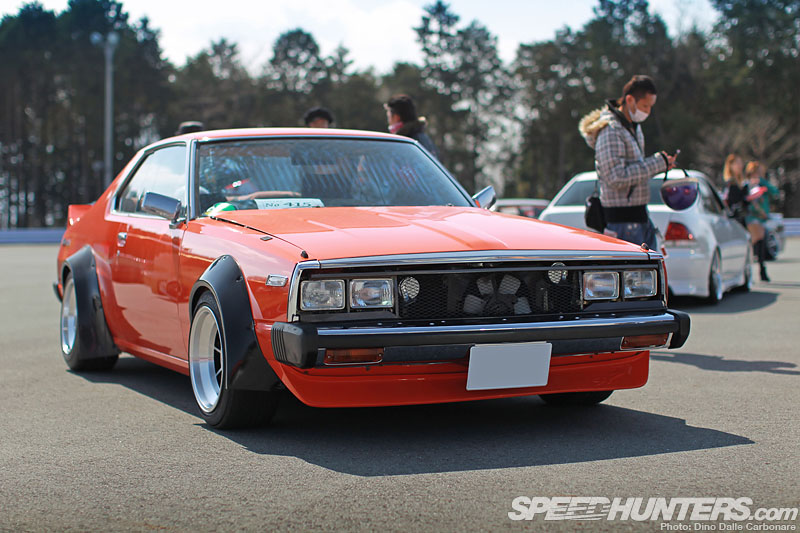 This C210 Skyline might not be VIP but like I said there are always a few gems that stand out at these sort of events.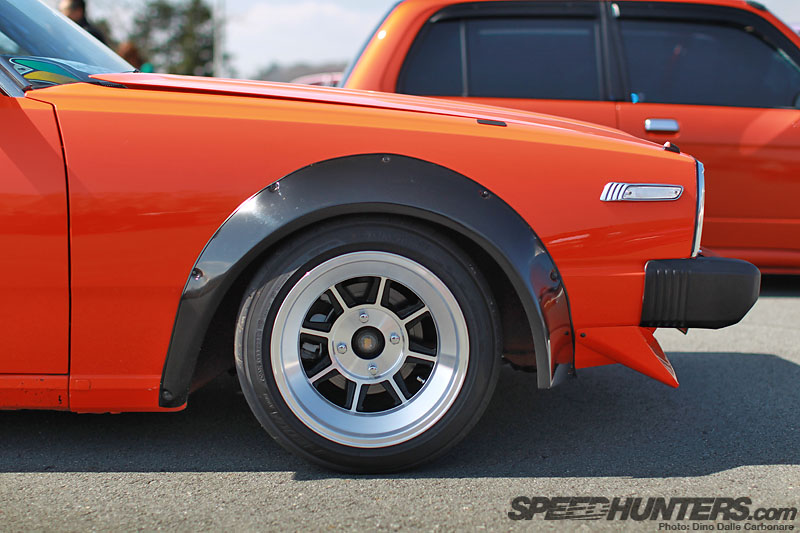 The Hayashi Racing wheels are always a nice choice for any vintage car, adding a great contrast to the orange body and black overfenders..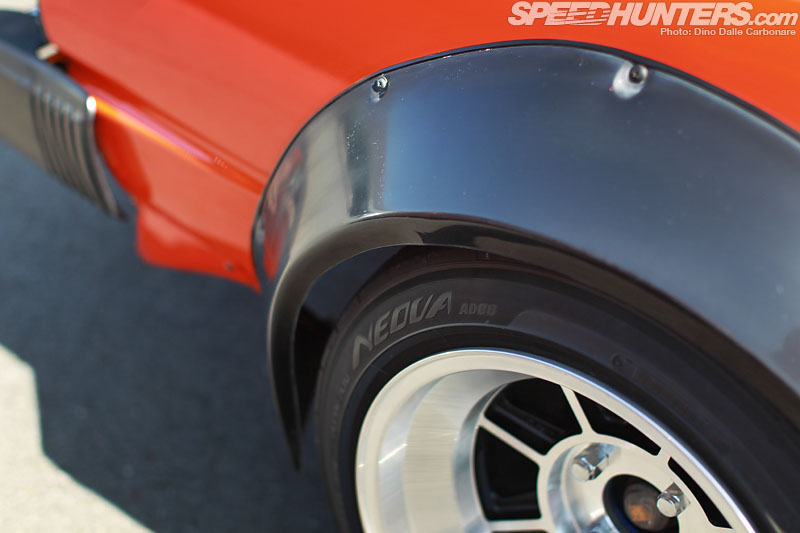 Yokohama Advan Neova AD08 make sure that modern levels of grip are generated at each corner.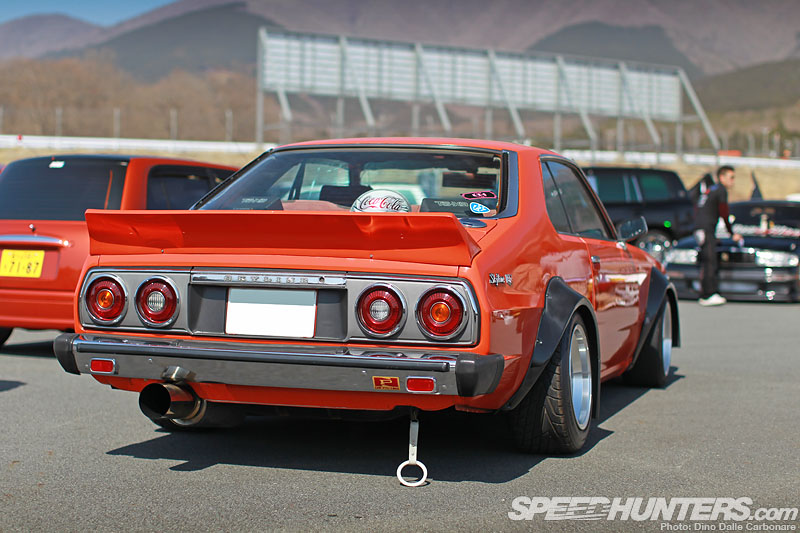 A few bozo touches like the trunk spoiler and the rebellious "train handle" attached to the tow hook…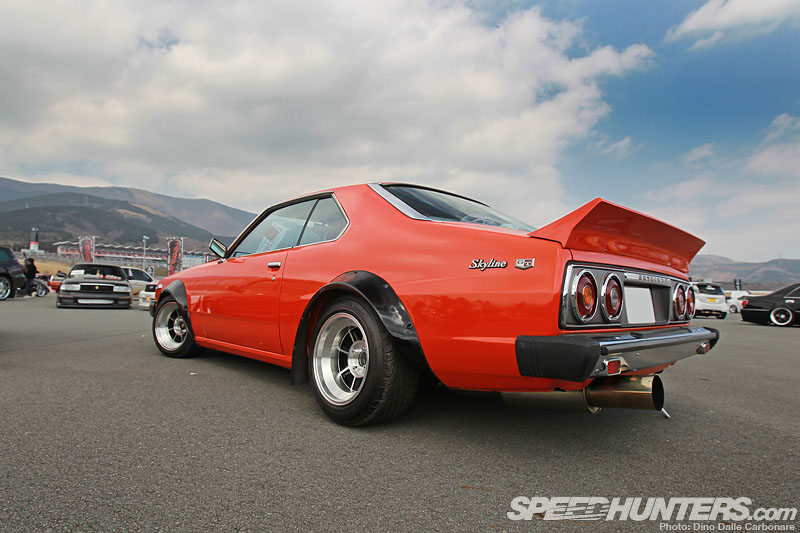 …finish off the car rather well.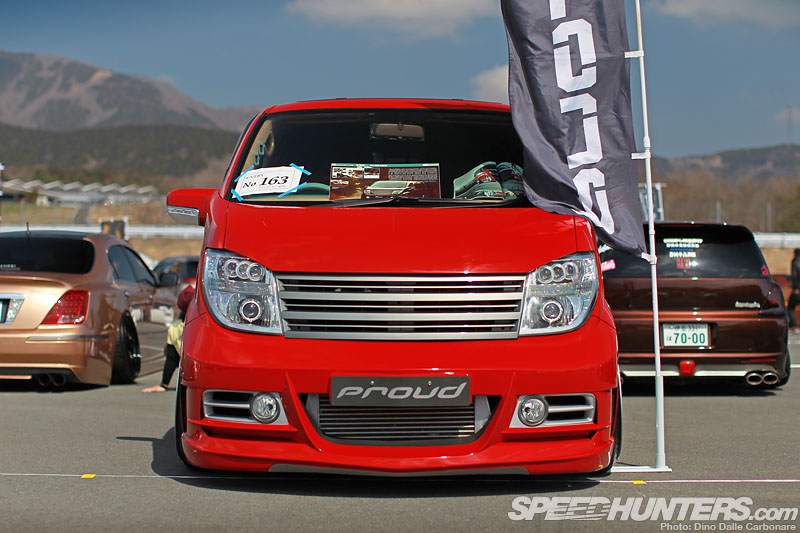 Vans make up an ever increasing part of the modern VIP scene. All sorts of models were on display at this year's Excite King, from small kei-vans to the biggest available on the domestic market like the Toyota Alphard and Vellfire and of course the Nissan Elgrand. And it's this E51 Elgrand that would have easily took the best van of show award if I were judging it.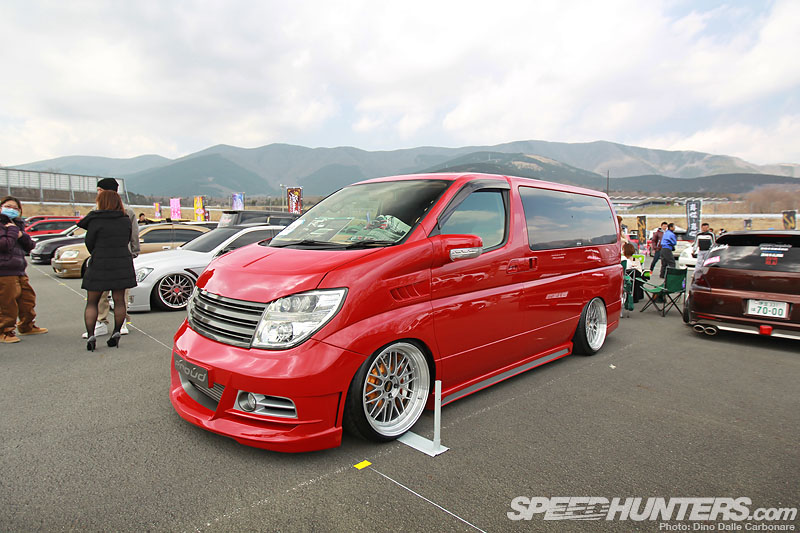 I don't think I've ever come across a van that made me go back a couple of times to take a few more looks. Proud, the creators of the custom aero, did an excellent job of transforming the "toaster on wheels look" with an aggressive set of bumpers, front fenders…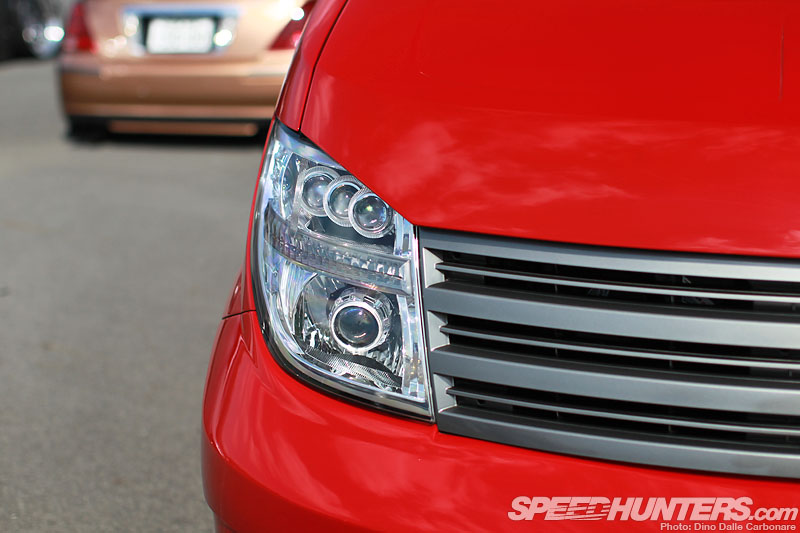 …and a slightly extended hood that gives an evil look as it partially covers the very top of the custom headlights.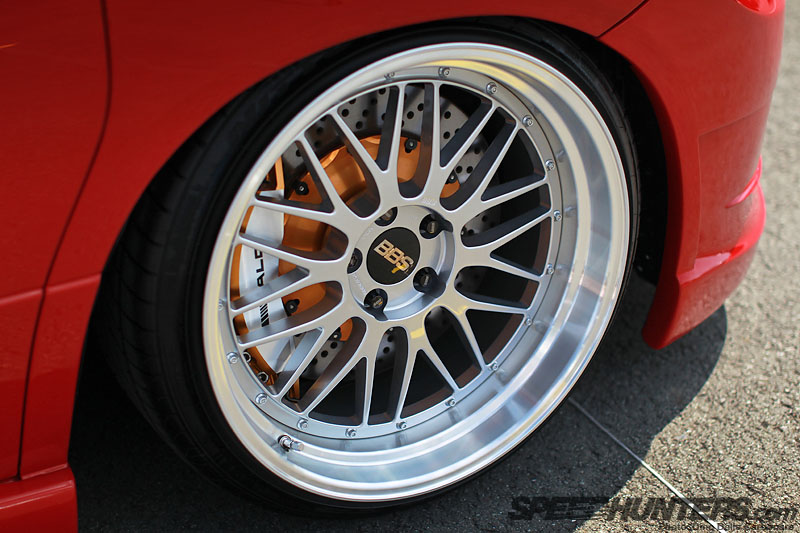 This big Elgrand rolls on a set of 20-inch BBS LM's 10.5J +20 front and rear shod in Nitto NT555 tires. Big Wald brakes and a custom set of lowered dampers…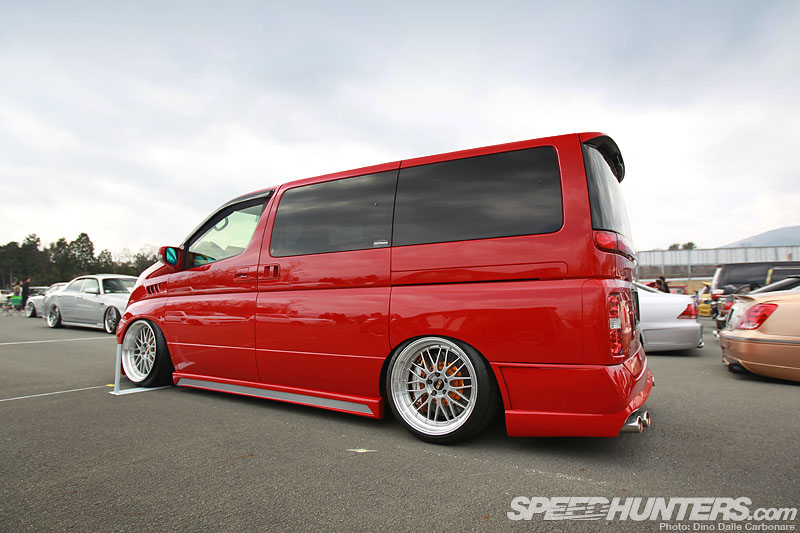 …complete off the look perfectly. That's it for this set of spotlights, but I think I might have to dig through all the pictures I took at Excite King and post another Spotlight-o-rama. What do you say, want to see more of these VIP cars in detail?
Excite King 2013 coverage on Speedhunters
-Dino Dalle Carbonare
---
---
---
Awwww what a cute little steering wheel
Yes more please. Onegaishimasu!
Damn! I have dreamed building a lexus ls400 with stripped interior, fixed back recaros and te37's
Thanks for the ELGRAND Dino! I completely agree with you. It's perfect VIP van and the BBS are just top notch...
Yes please Dino, more spotlights would be awesome. I'd love to see more of the copper Majesta too.
The Verossa may not be pretty, but it's definitely interesting to look at.
Hey Dino! What's the story behind the purple rotating light in the GX71? I've seen them on some other rides in Japan, usually on the speaker shelf at the back of the cars. I know Datsun/Nissan had them as an emergency breakdown warning light but is there more to it in the grand shakotan scheme of things?
I want that Elgrand SO bad!
Well you sort of won me back over with the Celsior :)
GX71 MarkII on SSR Mk1s is something that could NEVER get old however...
The red Celsior is freakin awsome!!! The Verrosa? I can live without taking another look. Its kitsch in avery deep sense....
lol @ the Celsior's steering wheel
I would love to see more of thes cars. Maybe the verossa is a bit ugly, but you have to admire the time/money he must've put into that thing. It's so intricate
That Toyota is possibly the ugliest thing I've ever seen. Whoever owns that should be ashamed. And no, I don't care if he enjoys it. His car his awful and he should feel awful.
More on the copper colored Majesta behind the Elgrand!
whats with the screwdriver in the ignition of that red celsior, also surely there must have been way more spotlight worthy cars at the event than that verossa that thing is so ugly and janky looking.
that Verossa is hideous!!! the C210 is beautiful though!!!! put in a bore and stroked L28 with triple mikunis and it will fly like a mother fucka!