While I will allow my fellow Speedhunters to show us the wonders of the world wide Hot Rod and Customs scene during our "USA" theme this week, my approach will purely concentrate on the Japanese take of it all. Ever since joining Speedhunters back in 2009 I have began nurturing quite the love for this particular style, something that up until then I had never really had the opportunity to devote any time to. I quickly fell for the sheer attention to detail these bespoke creations boast, be it from meticulously restored muscle cars all the way to minimalistic hot rods. The variety alone continues to impress and – like a lot of other car-related things – the Japanese seem to have developed a unique take on it all, fusing that must-have authenticity with touches and ideas that only the JDM could have sprouted. So to find out a bit more about how the scene over here came to be…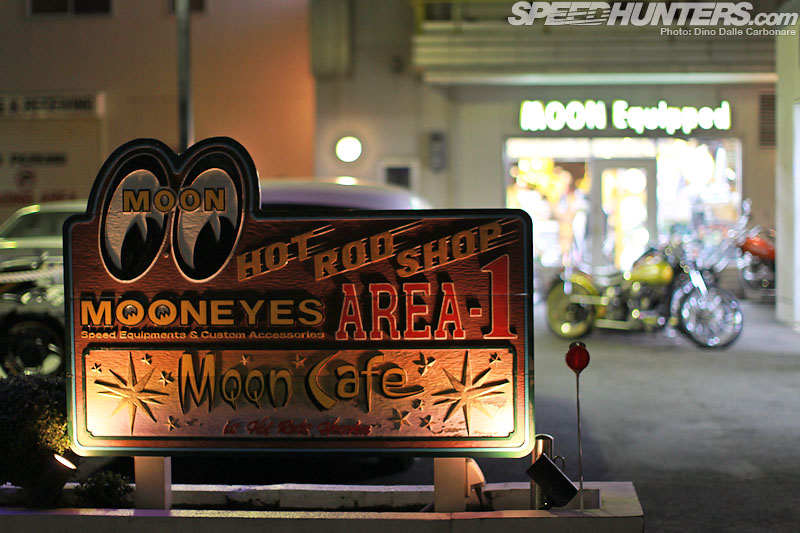 …I headed down to the Mooneyes Japan HQ, Area-1. There I was to meet with Shige Suganuma, the owner of Mooneyes and the guy responsible for taking that initial interest the Japanese had in the US custom scene and help turn it into what it is today.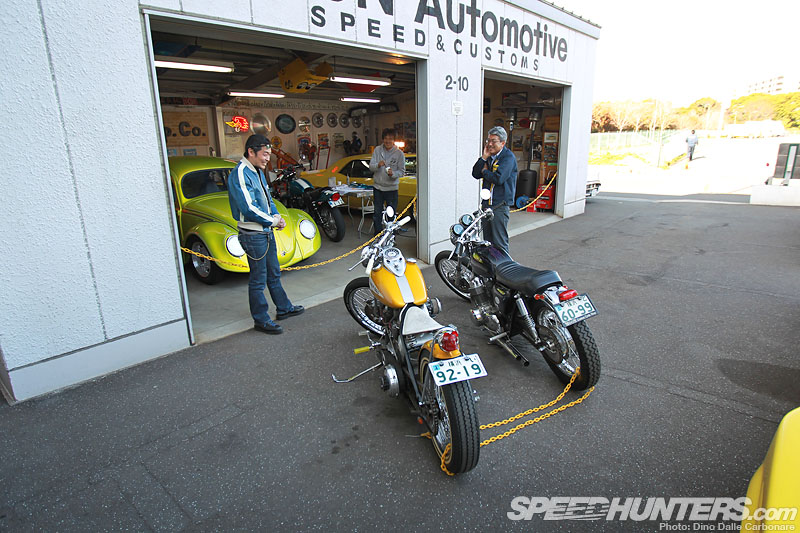 I had prepared some questions to ask Shige-san, but as it turns out it was far more natural to work them into a casual chat with him rather than a staged sit down with awkward pictures being snapped off here and there.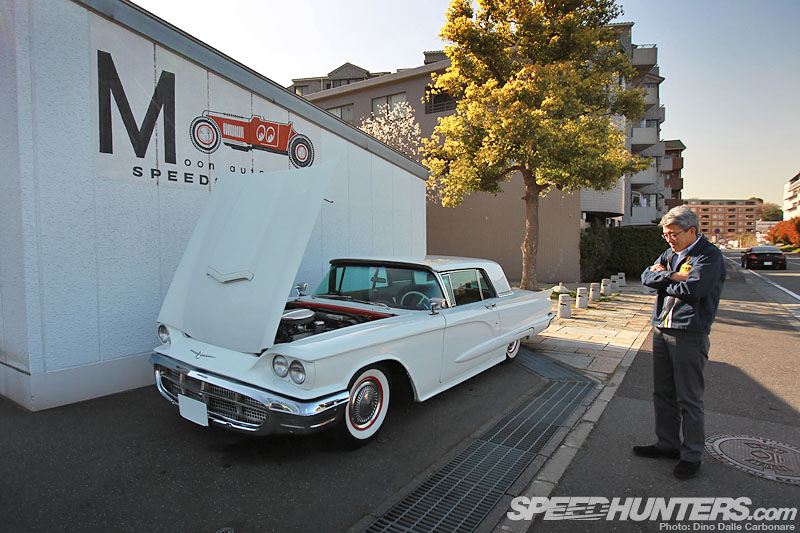 I have met Shige many times before at the Hot Rod and Custom show and Street Car Nationals event in Odaiba that he organizes every year, but I had never had a chance to properly talk to him since he was always busy making things run smoothly. So having a relaxed talk with such a figure in the world of Customs was quite a lot of fun and as it turns out very educational. We began talking about the early days…
SH: Shige-san, a quick question to get us started, how did you personally find out about Hot Rodding and get into it?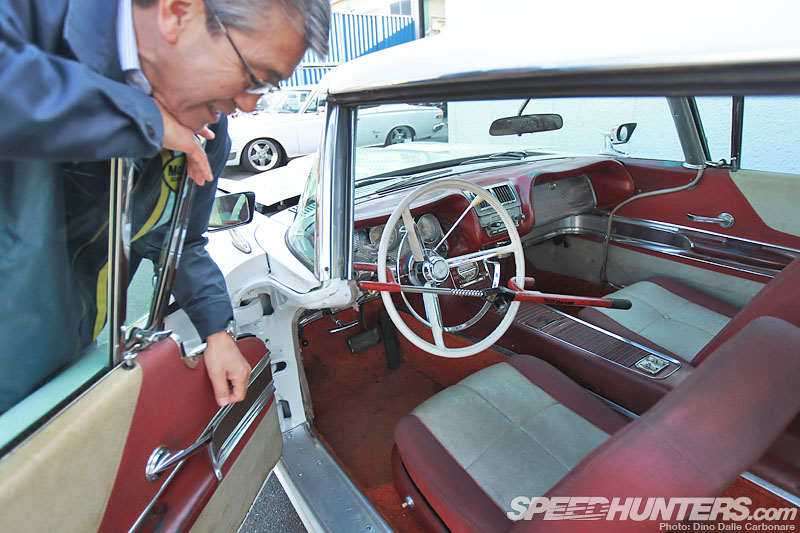 Shige: Well it was probably by my late teens that I had developed a true passion for American cars. This '60 Thunderbird here was actually the first car I ever purchased, I bought it used and fixed it up on a very limited budget, as most kids at that age, I didn't have any money. I painted it and drove it and enjoyed it for a few years before selling it on to a collector. Turns out some years ago that collector wanted to sell it, and he told me it was available so seeing what the car meant to me I bought it back. He never really even touched it so it still has that patina of a well-kept car as you can see.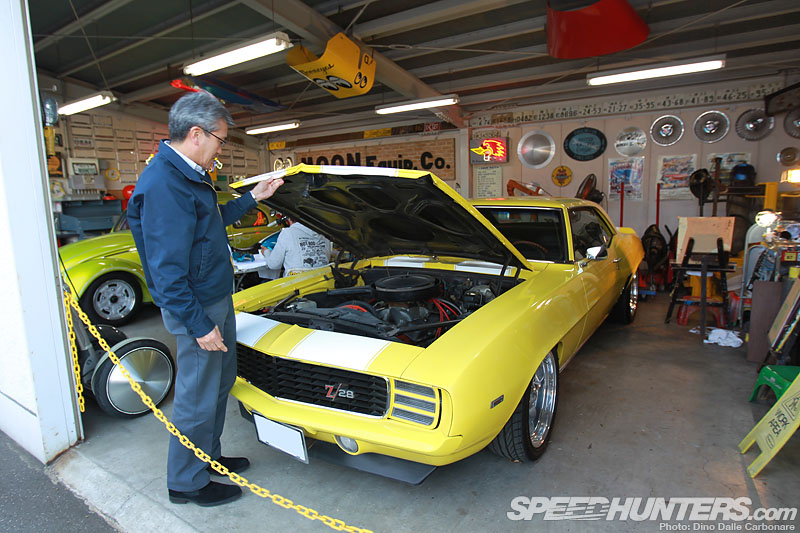 But it was actually the Camaro that got me really interested in the scene, these cars are my favorites.
SH: So this is your car right?
Shige: Yes this is my '69 Z28 and a car that I drive often.
SH: Can we have a look under the hood?
Shige: Sure…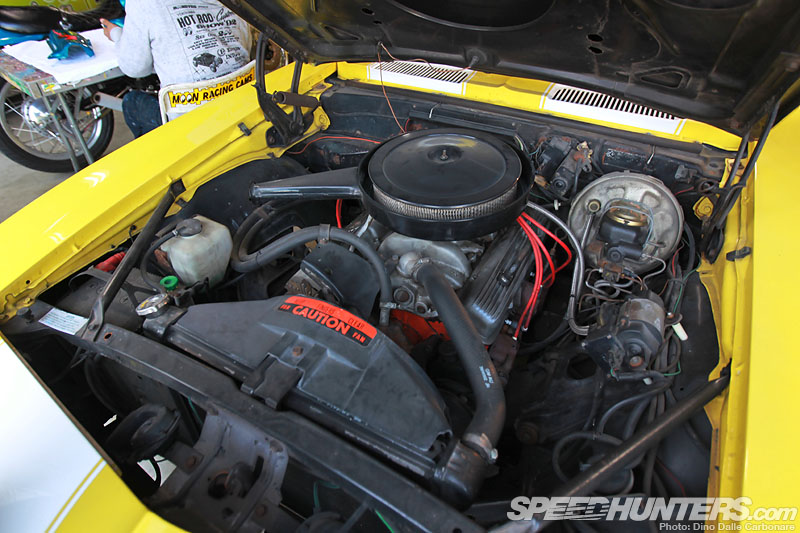 …let me open it up for you. It's not clean, not in a show car type of way. I use the car and like to keep it looking functional.
SH: A very nice car, I'm pretty sure I've seen it at a few Mooneyes shows. Let's talk about the Japanese Hot Rodding, do you think there is a distinct style of building cars or does everyone look to America for influence? How would you describe it?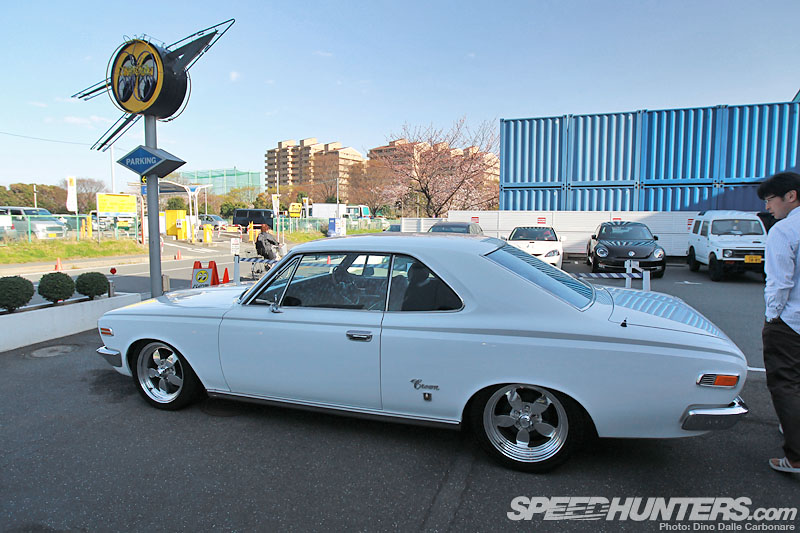 Shige: Well we have a bit of everything in Japan, it's hard to generalize, but while maybe at the start of it all America was definitely the main source of inspiration over the last decades it has also come from within Japan. It's interesting because in the sixties and seventies Japanese manufacturers looked towards the US for inspiration and created cars with lots of US-type details that made some angles of the cars look like American rides. Sort of what Korean manufacturers were doing when they got started, a mishmash of styles and inspired details from other manufacturers, while now it looks like they have began to find their own design language. I've always like the Crown and a few years ago I even imported a bunch of them from Australia…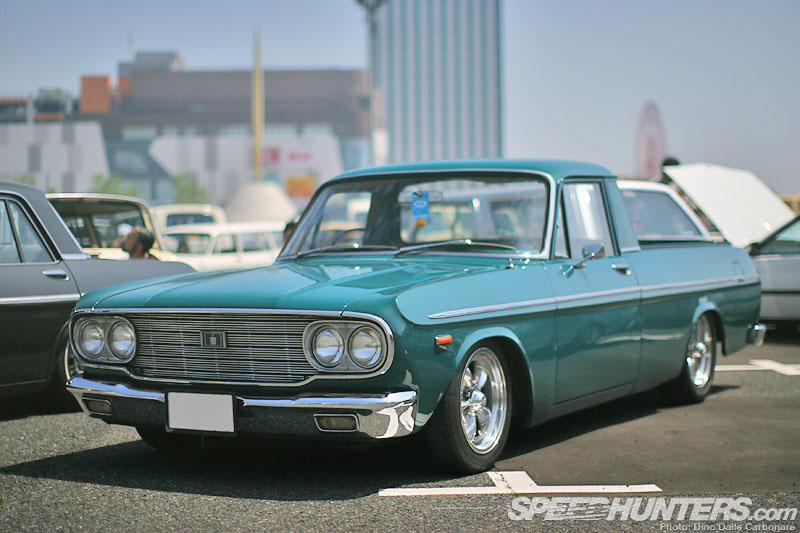 …and built them up, dropping a V8 engine in one of them too. A new style was started…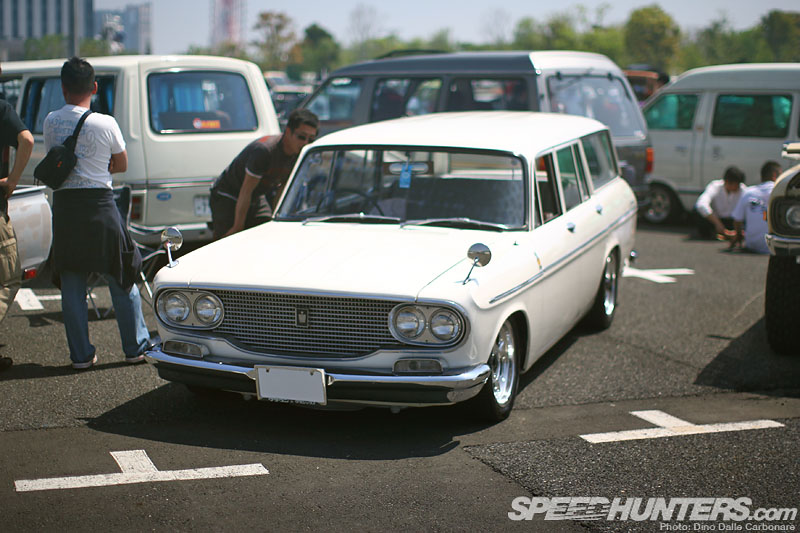 …which has been getting more and more popular.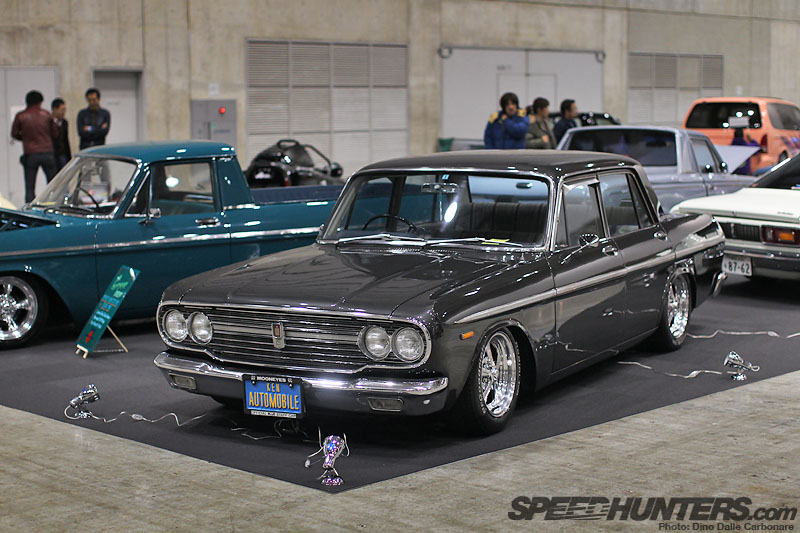 SH: Yes I have definitely noticed this at various Mooneyes shows, it's great to see what people are doing with these cars now.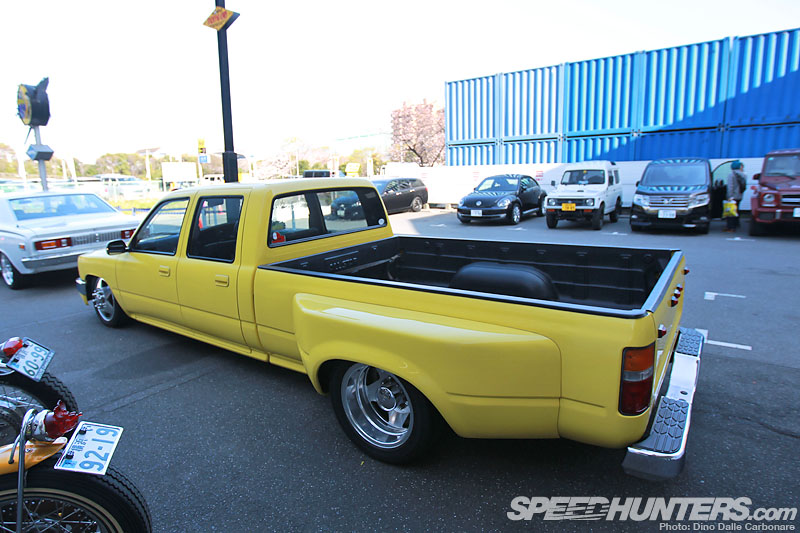 SH: So Mooneyes does have some interesting projects going at times, is this truck another of your creations?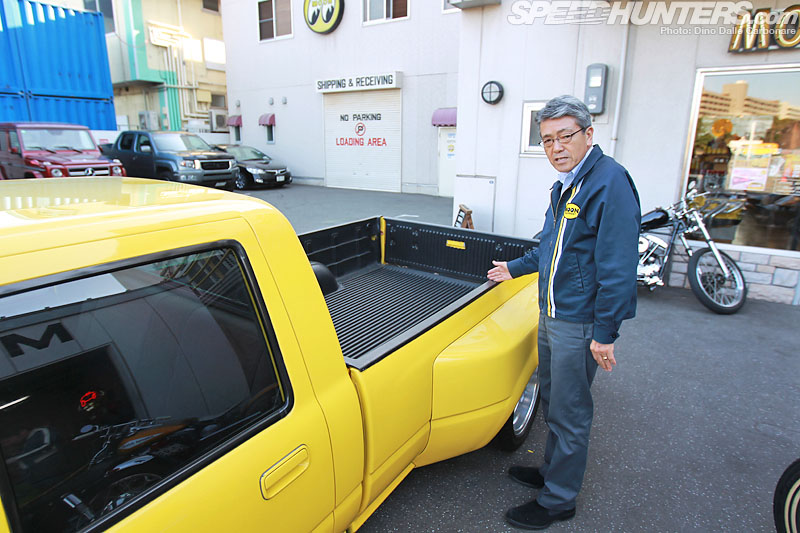 Shige: Yes this is one we made some years ago, based on a '96 JDM Toyota Hi Lux W-cab, we added a longer bed and went for a dually American Style look with a set of widened Mooneyes FRP custom fenders. Our staff uses it to go to and from events, it's handy you can load lots of stuff in the back and it sits six people.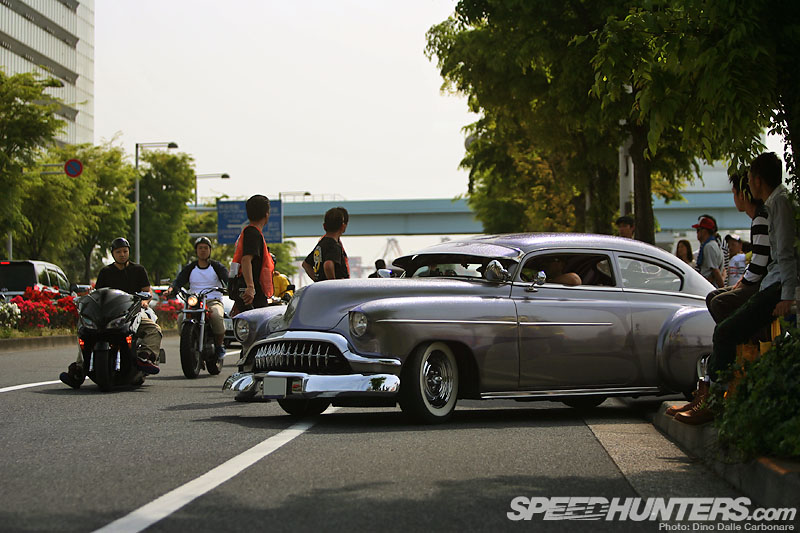 SH: Let's talk a bit about the shows that Mooneyes Japan organizes every year, the two main ones being the Street Car Nationals in Spring and the Hot Rod and Custom Show in the fall. These are by far the best representation of the Japanese Hot Rodding scene…
…where traditional sort of stuff meets with a variety of other styles. Also when will the show be held this year?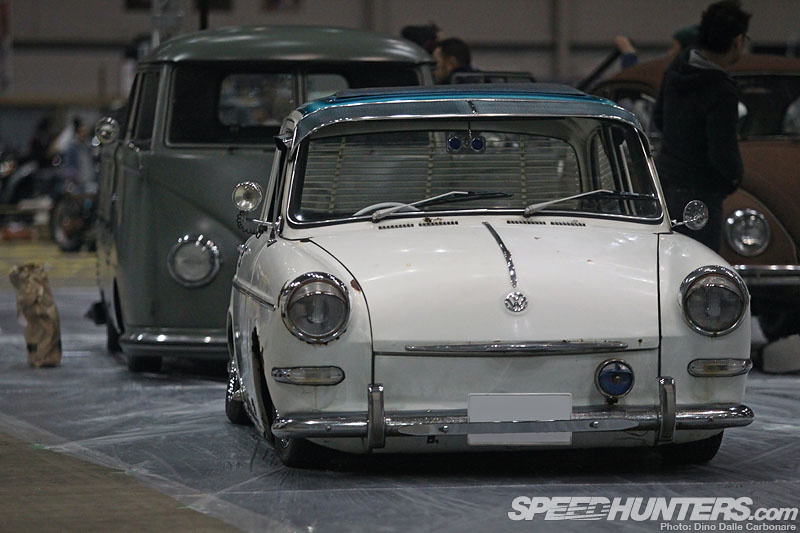 Shige: There is definitely a wide selection of cars that's for sure…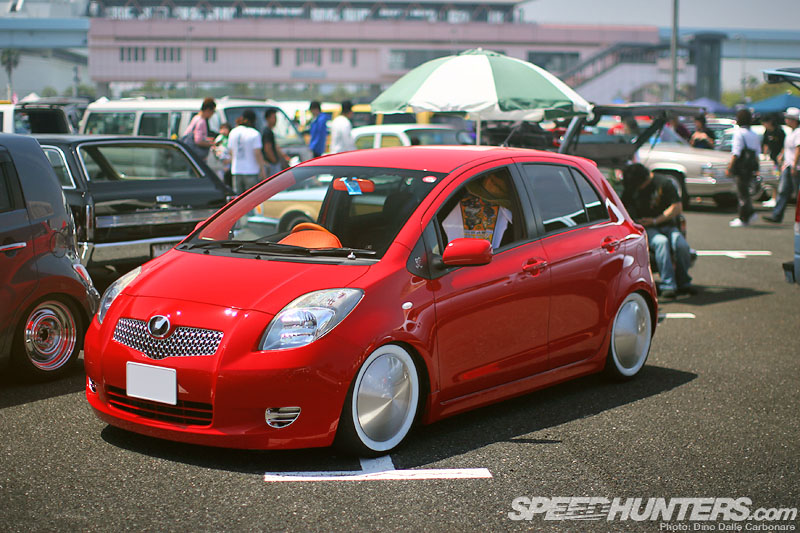 …with a lot of younger kids applying the culture the most unusual type of cars. We moved the Street Car Nationals to the 19th of May this year and the Hot Rod and Custom Show will be held as ever on the first Sunday of December, December 1st to be precise.
SH: So how did the whole Mooneyes Japan thing originally start?
Shige: Well it all started as a small side business back in 1983. At the time I was working for Disney here in Japan and after having met Dean Moon in the US I began to think that opening up my own shop in Yokohama would be an interesting venture. So that's what I did. My wife looked after the shop initially, and then after I took the leap and quit my job I took over. That was then, now we have been in our new premises here in the Honmoku neighborhood for about 17 years now. Why don't we go inside and take a look…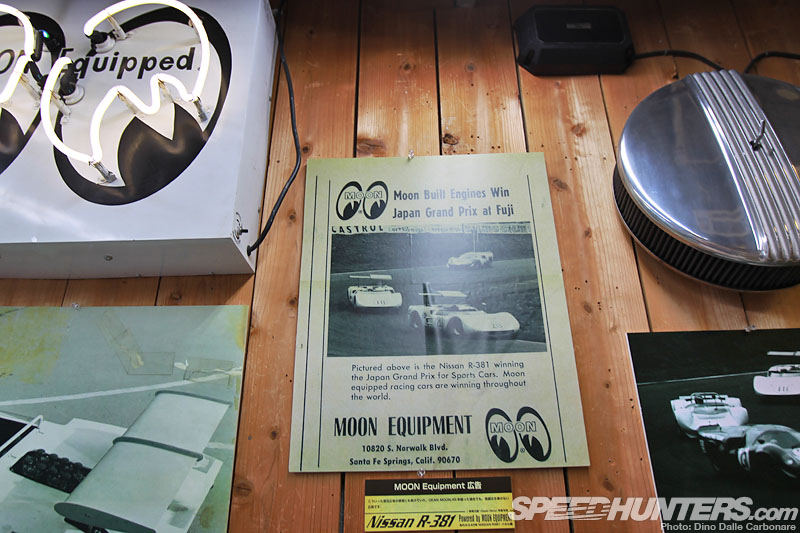 SH: Absolutely.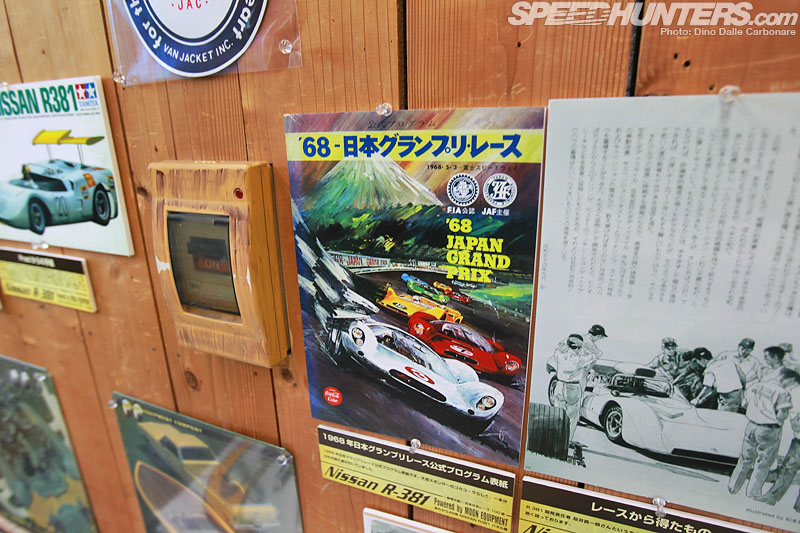 Shige: It's the 45th year anniversary of the of the Nissan/Prince R-381 win at the Japan Gran Pix in Fuji. That was the first and only time that Nissan used an outsourced engine in racing.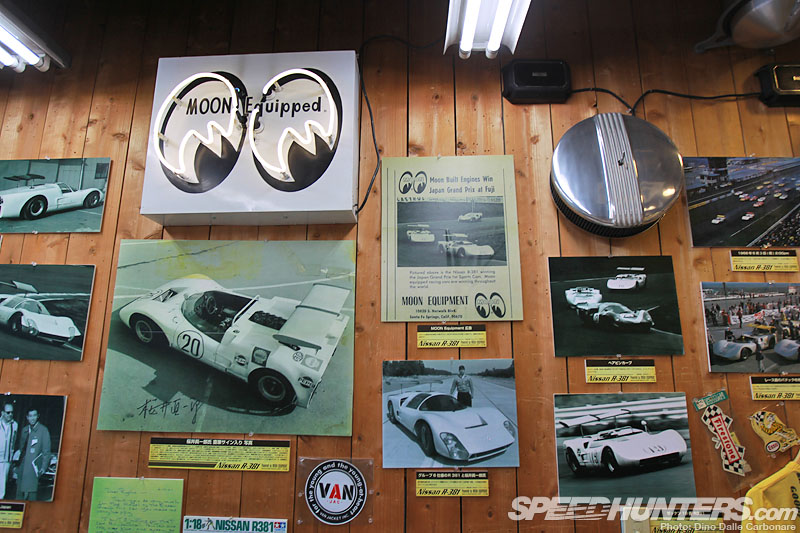 It was supposed to be powered by a V12 but due to timing Nissan engineers didn't have time to complete the development of the new engine they were designing…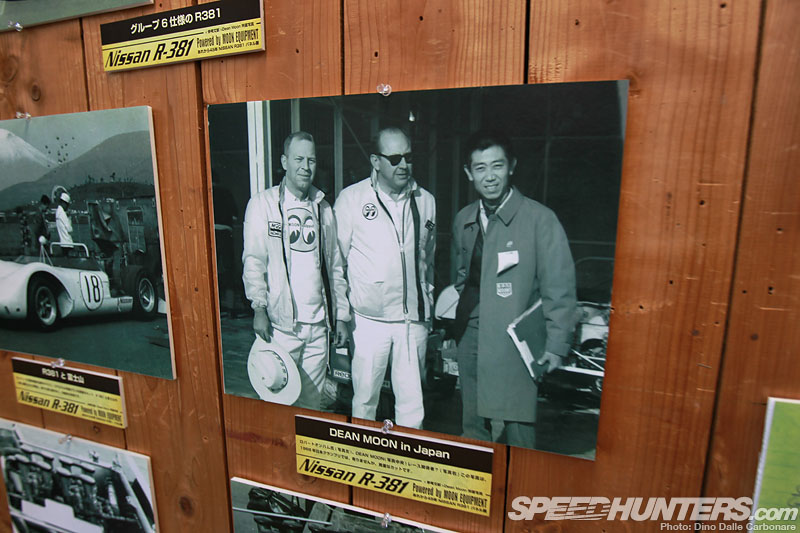 …so they contacted Dean Moon who supplied three highly modified 450HP Chevy V8s to them.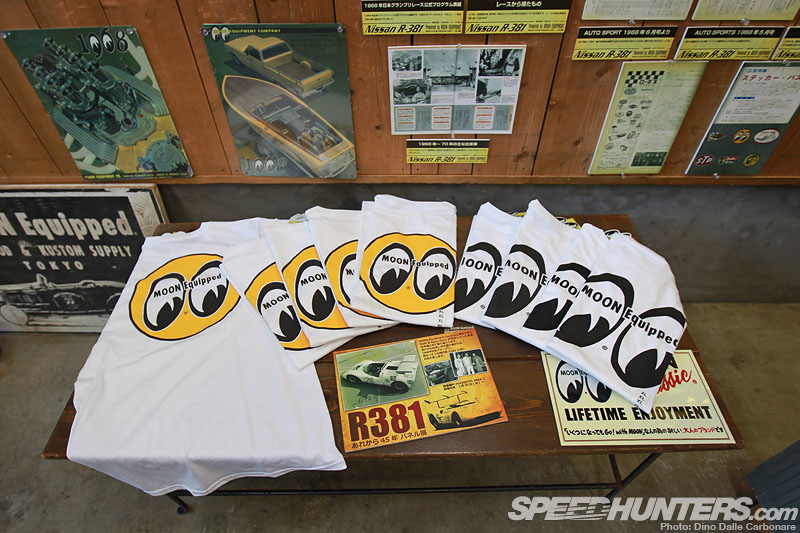 They went ahead and won the race beating Porsche and Toyota. So we thought we celebrate it with this little collection of photographs.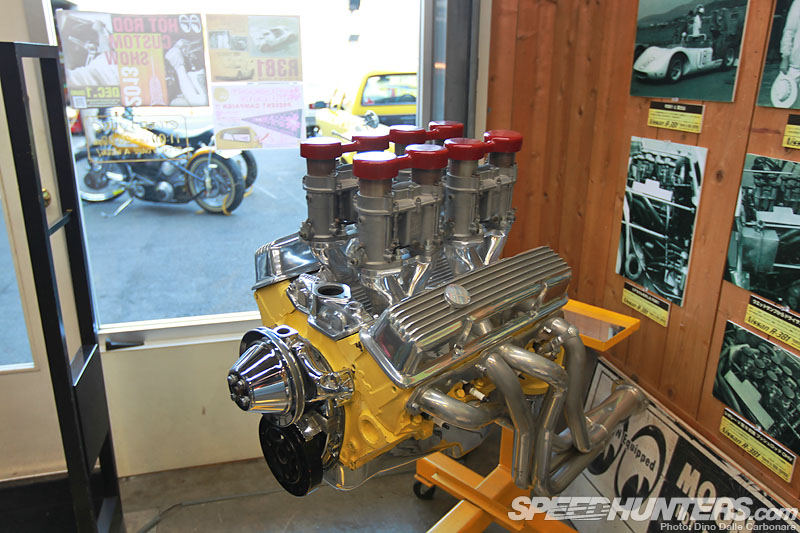 The engine was actually a similar base as this one here.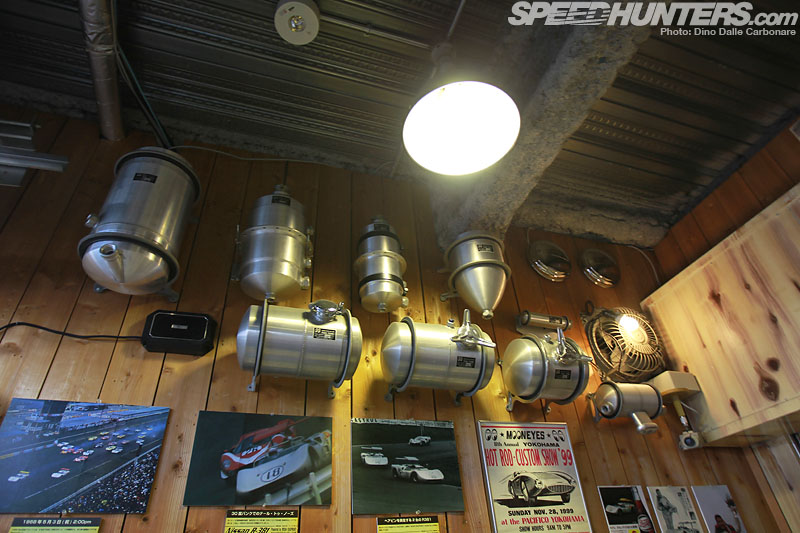 SH: I see a nice selection of Mooneyes aluminum fuel tanks up there on display.
Shige: Yes we do carry a lot of these in stock and they are all made at our Mooneyes USA shop in California. You should drop by for a visit next time you are in the States!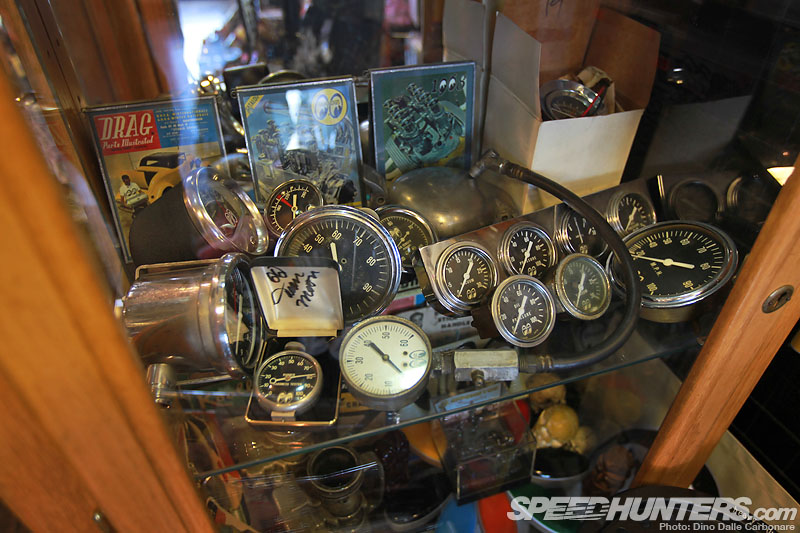 We also have a little display of original Mooneyes gauges from back in the day, all from the Dean Moon era. But let's go upstairs…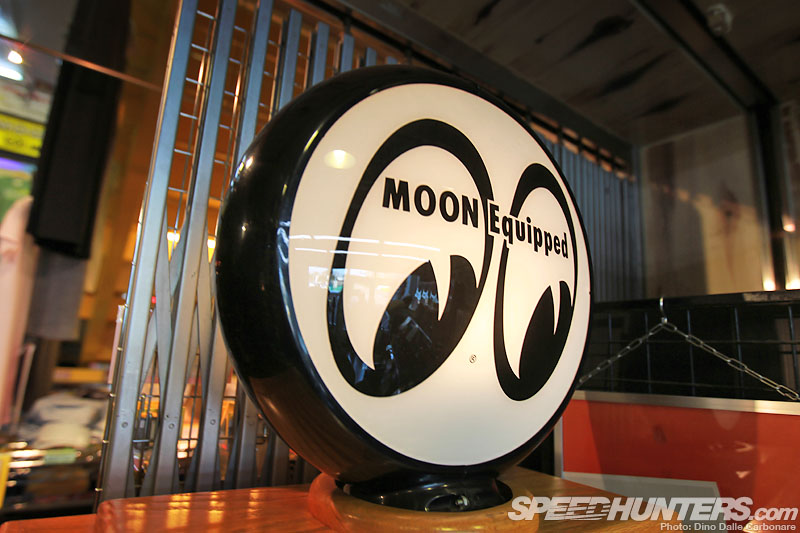 …so we can see more of the main shop area as downstairs is mainly accessories, t-shirts and so on.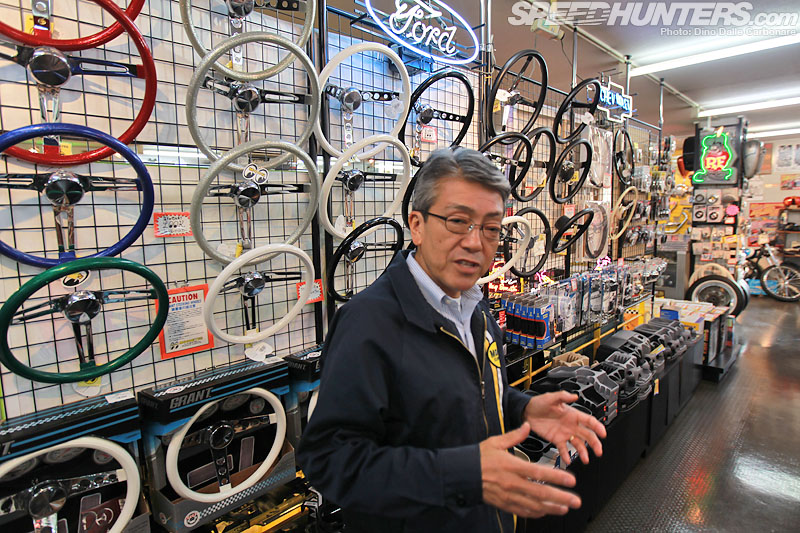 Dropping by the Mooneyes shop is also about the experience, getting a taste of the scene while checking out some of the stuff we keep in stock.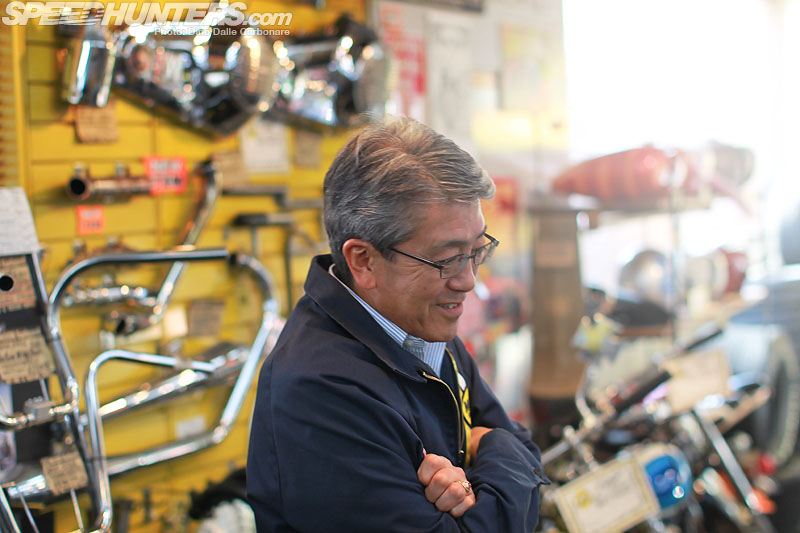 SH: As a final question, what do you think is the future of Hot Rodding? Do you think it will always be rearward facing: looking to the past or are there new influences which are relevant to the future of the scene?
Shige: Well by its nature there will always be a connection to the past, it's what defines it. One thing I'm concerned about is the quality of it all, I don't want to see it cheapened by the use of sub par products. Take the Chevy V8 we saw downstairs; a nice detail about that motor are the billet heads. Now some companies are making cast and polished items that while looking similar lack that initial quality and feel. You know what I mean? So as long as attention to detail and pride in the selection of parts are observed the future will be good. Come follow me, I'll take you up to the third floor…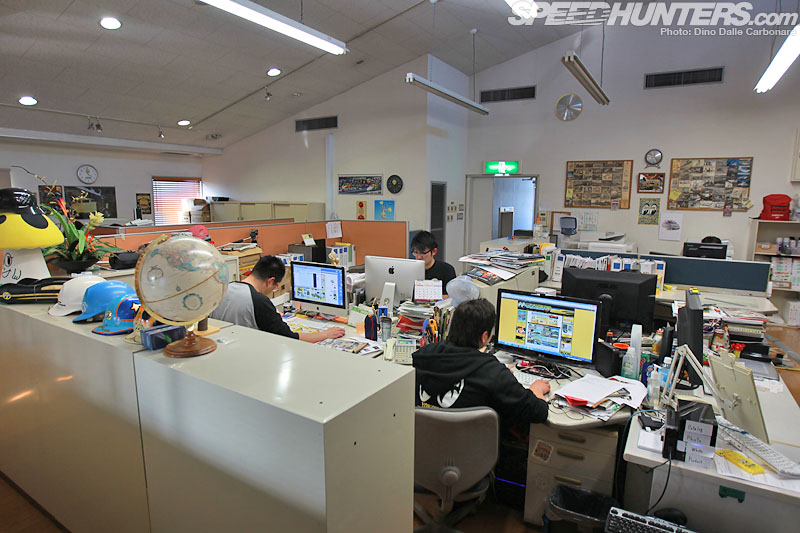 This is where our office is, you can see our staff busy at work looking after our website and so on. Over here is my office…
SH: Wow that is one big collection of memorabilia you have. Not much space to work though!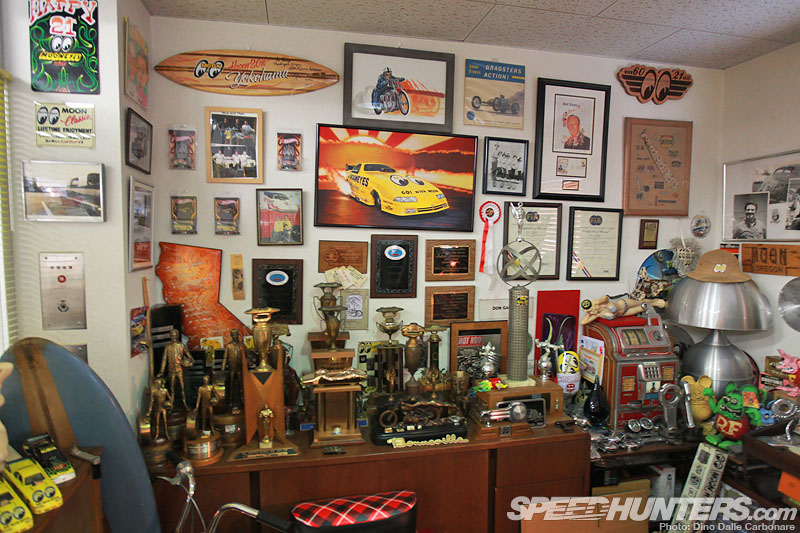 Shige: It has all accumulated over the years…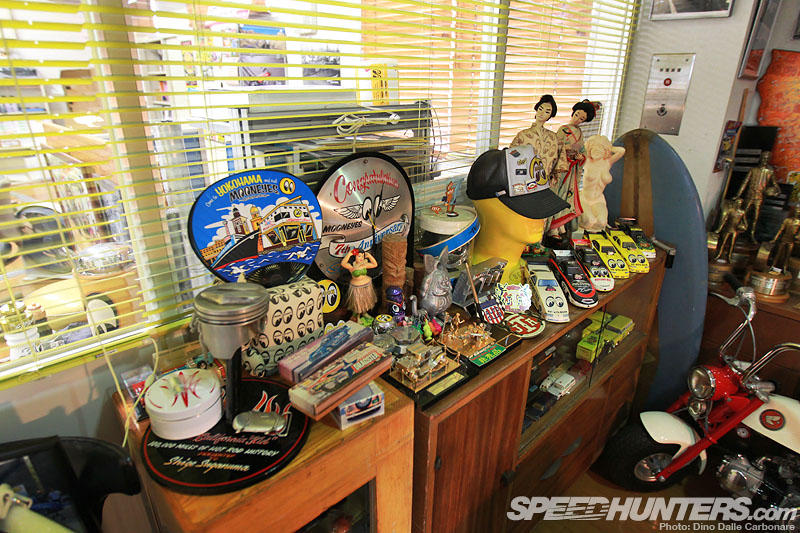 …so I've had to set up a second desk outside in the main office space along with the staff.
SH: Well thank you so much for taking some time to talk to us today, it was very interesting finding out more about the Japanese Rodding scene. I guess, we'll be seeing you at the Street Car Nationals…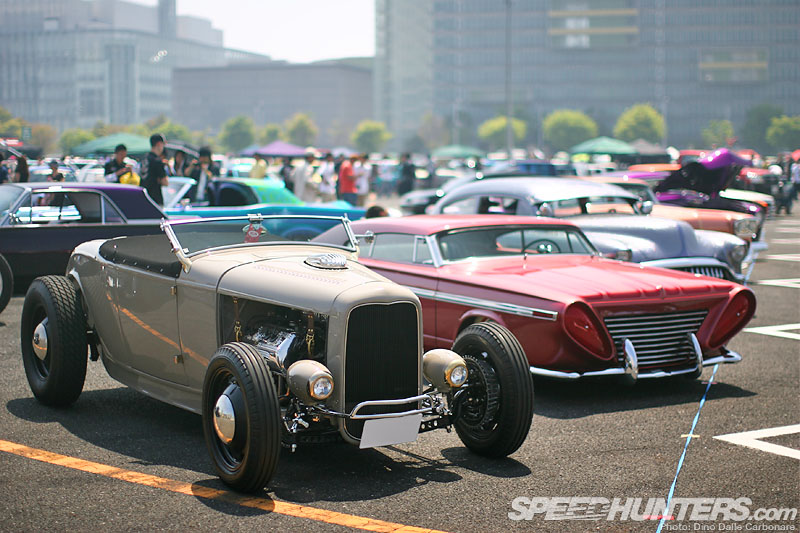 …in May!
Shige: No problem, thanks for coming over and I look forward to looking at the story on Speedhunters!
Many thanks to Shige-san for taking the time to have a quick chat with us and showing the cool custom car heaven he has created for enthusiasts in Japan and around the word. 
-Dino Dalle Carbonare