The Audi TT-RS racecar which tackled the Thunderhill 25 Hours at the end of last year in the hands of Calfornia-based 034Motorsport looked standard enough, mighty wings aside. There have been TT racers before, after all. But wasn't it missing a badge? One beginning with Q? Ending in O? 'Uattr' in the middle? I hope you're sitting down with your hands away from the keyboard. It's because 034's TT-RS was front-wheel drive. Could this be heresy? Nope. It was just about being fast. And not just a little bit fast, but brain-recalibrating fast.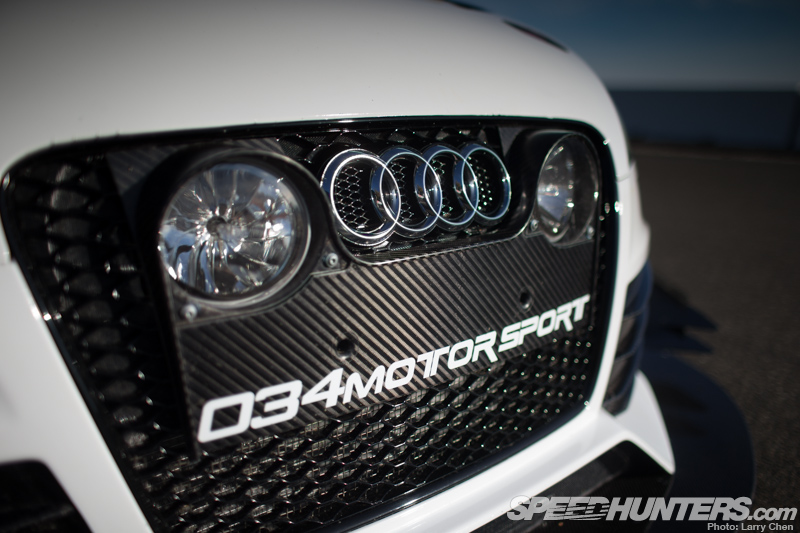 For 034Motorsport, running the TT-RS was a natural fit: it was all about the engine and the heritage that inferred. The team's test driver and motorsport manager, Christian Miller, explained that it was all the fault of the fire-breathing IMSA 90 GTO and S1s of the '80s, with their inline five-cylinder units: he and the other 034 guys had grown up with those cars and were die-hard fans of the Four Rings and VWs. Christian has his own 500HP widebody RS4 conversion and drives 034Motorsport's 1,000hp GTI-RS Time Attack Car.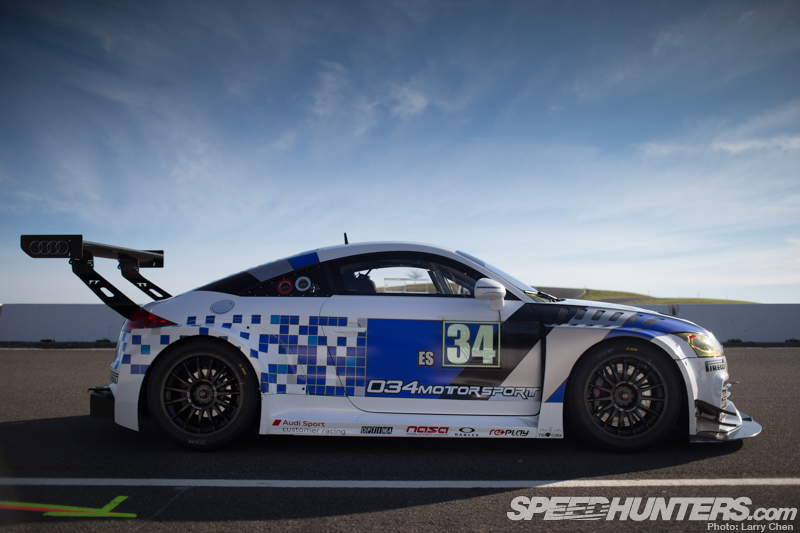 Christian: "We started the company back in 2004: we were enthusiasts; five-cylinder generation guys. We do a mix of our own product development for Audis as well as customer racing support, and we'd taken care of the TT-RS's owner for a couple of years. Working on this car is a taste of things to come."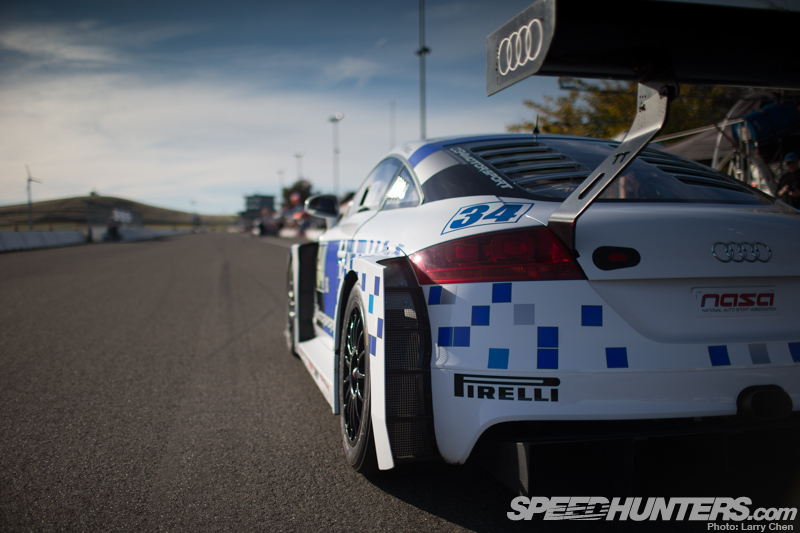 So why do this to a TT? The background to the car lay across the pond, back in Germany. Well known German racing team Raeder had run some OEM-bodied cars, but approached Audi to work on a project to bring a factory-supported TT-RS to the VLN series based at the Nürburgring. Audi took the development of the car in-house, and decided that the car's performance would be improved not just by removing the heavy four-wheel drive system but also by switching to the FF configuration normally used on the less powerful road cars in the range. The one that people don't buy. Well, didn't: this car should change attitudes.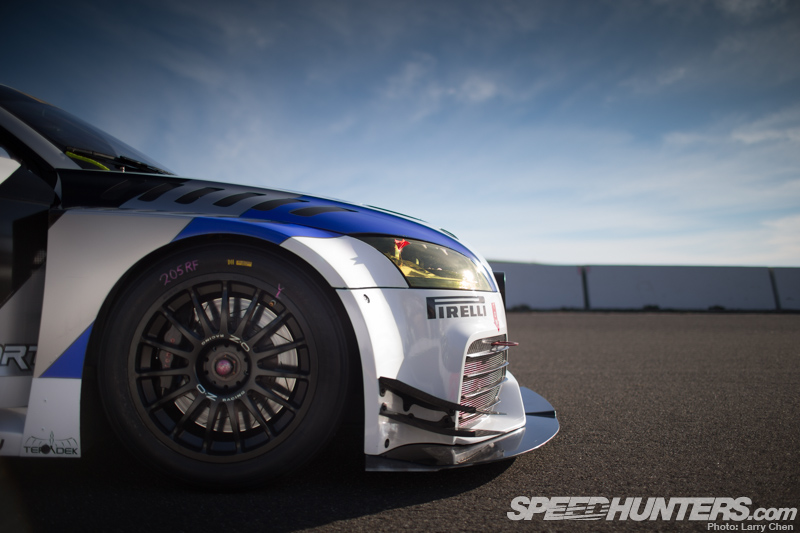 There's precedent to go for a two-wheel drive racer version of an AWD car of course, such as with the Nissan GT-R (although rules dictate ditching AWD as much as weight considerations), but it was the decision to follow the road-car's stock FWD option that was surprising. It runs in the SP4T class of the VLN against all sorts rear-drive opposition – and regularly creams them. Seven cars have been built for customers, with Raeder taking the first two and Audi retaining one as a test mule. The car is now like any other Audi racecar: available to buy as a regular factory-supported racecar.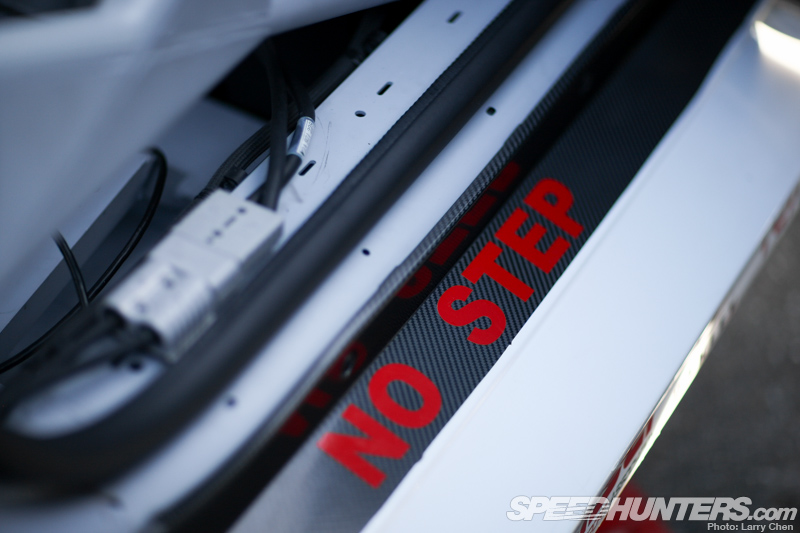 Underneath the carbon, the TT-RS is a lot more stock than you would imagine from looking at the out-there bodykit. The steel/aluminium tub is the original piece form the road-car, and all the subframes bolt on to the factory locations. The firewall, A-pillars and roof are all OEM metal, and the rear bumper is the original plastic panel.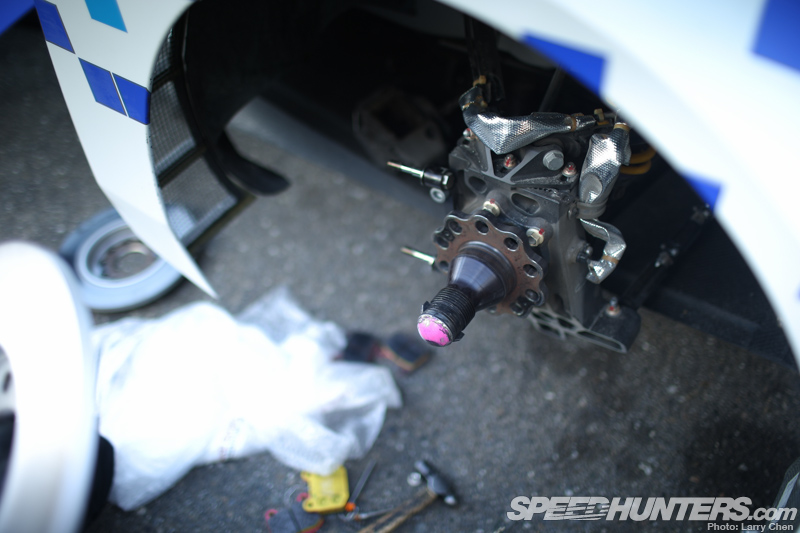 The front suspension is still McPherson strut, with KW coils and dampers all round.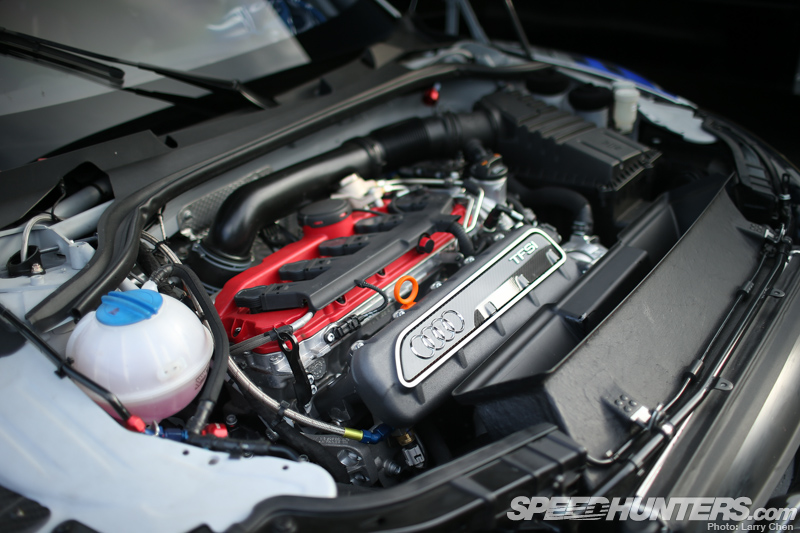 The 2.5-litre TFSI engine has been tuned up, with a 2.8-bar turbocharger adding the grunt, but the base components are stock: rods, pistons and valve train. This gives the engine proven reliability even in the face of the additional speed now available, and makes it cheaper to run for customers: long service intervals make it far cheaper than a GT3 car, yet it only a couple of seconds slower. It now makes 372hp though, which is where the fun comes from.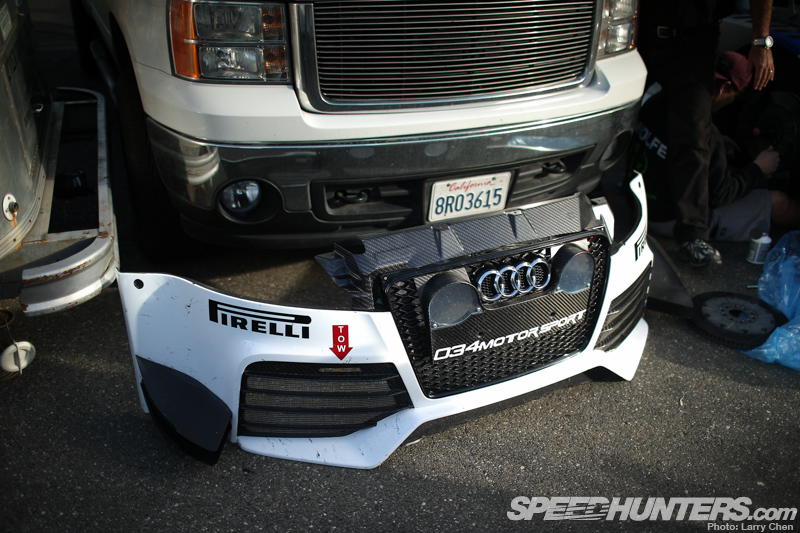 The other part is that extreme aero. There's a lot of carbon going on, and as you'd expect from a factory car the quality is absolutely second to none. There's obviously been serious investment in getting the production of the TT-RS to this level of quality, and it's no parts-bin special.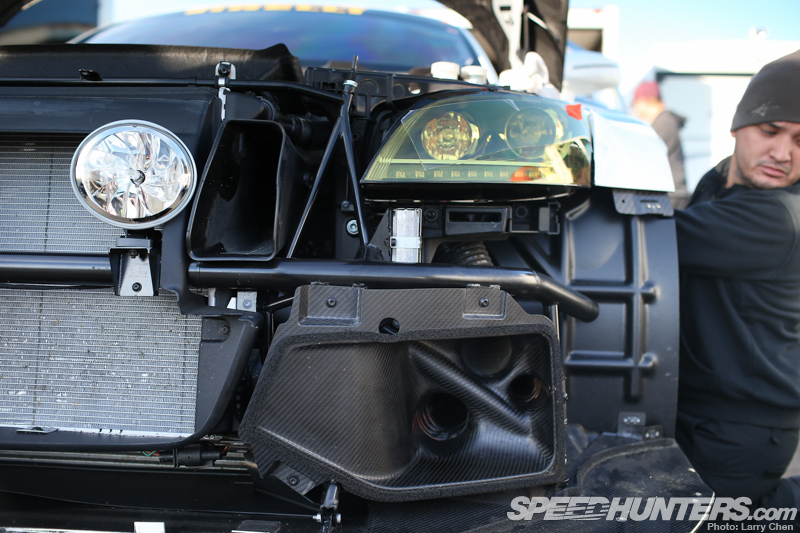 The front wings, front bumper, rear extensions, rocker panels and wings are all bolted on to the stock car that nestles underneath.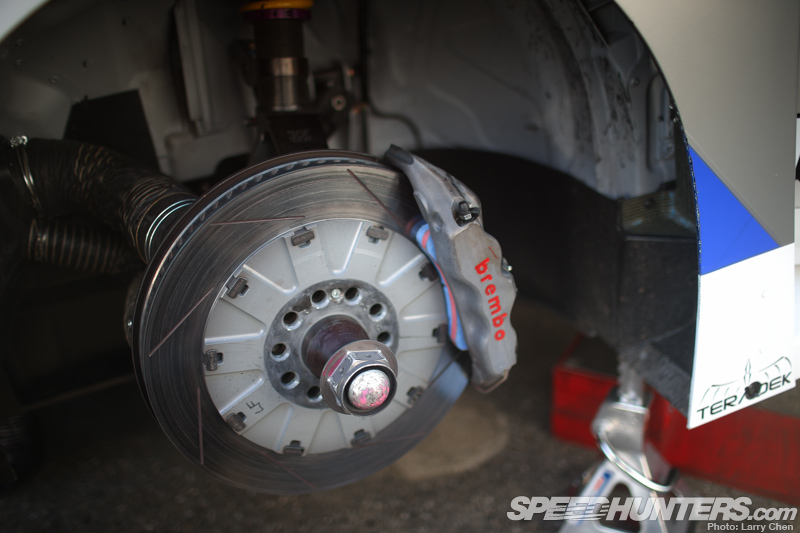 Braking power comes from big 355mm full-floating brake disks with six-piston Brembo callipers at the front and two-piston units at the rear. Bosch ABS provides stability under deceleration.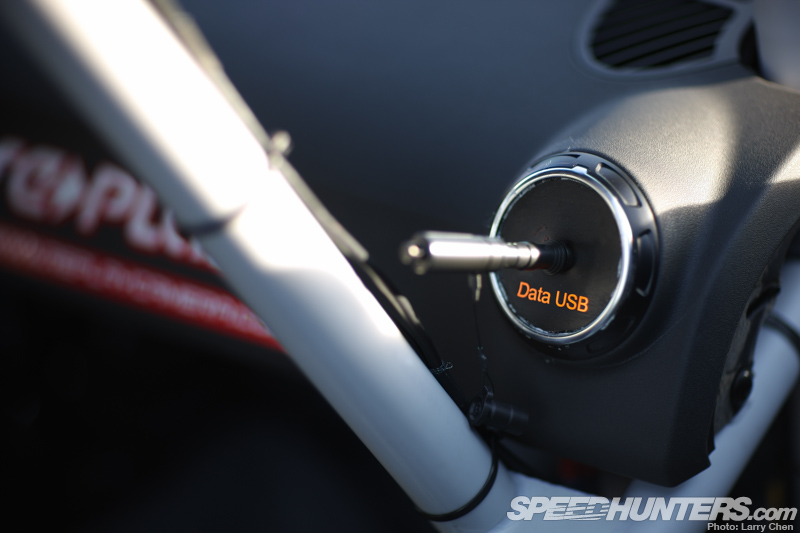 Inside the cockpit, cooling ducts have been re-used for ancillaries: a data port on the passenger side…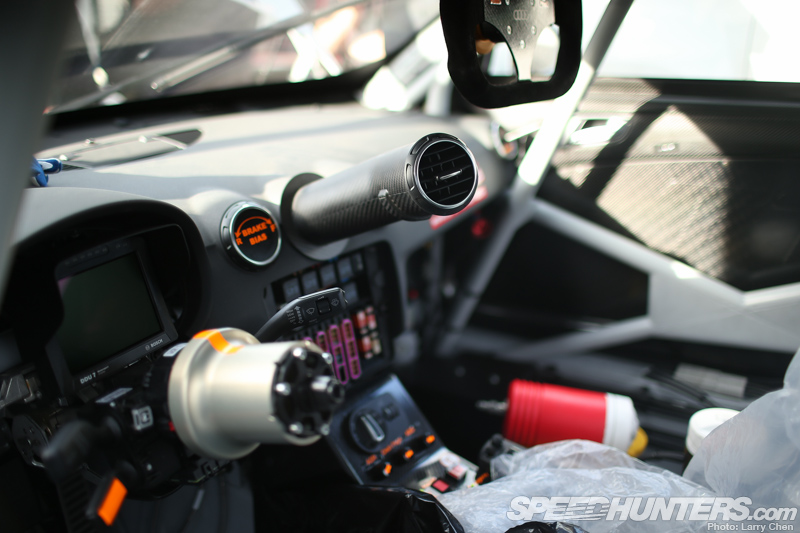 …and then a sticker reminding drivers about the direction of the brake bias dial and a cooling tube extension in the centre console.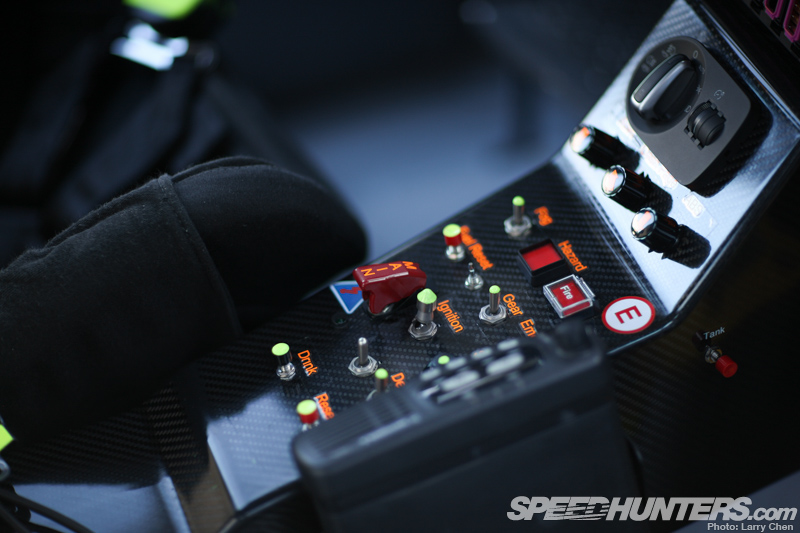 Odd stock parts do turn up in other places, such as the dial switch for the lights, which has been moved down to the centre panel.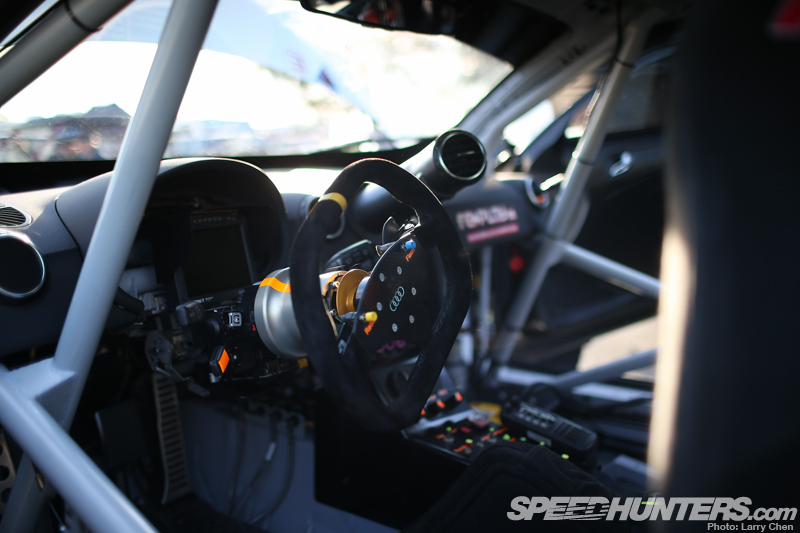 Shifting is via a pneumatically-controlled six-speed sequential, and multistage ASR traction control helps to keep the TT-RS pointing in the right direction.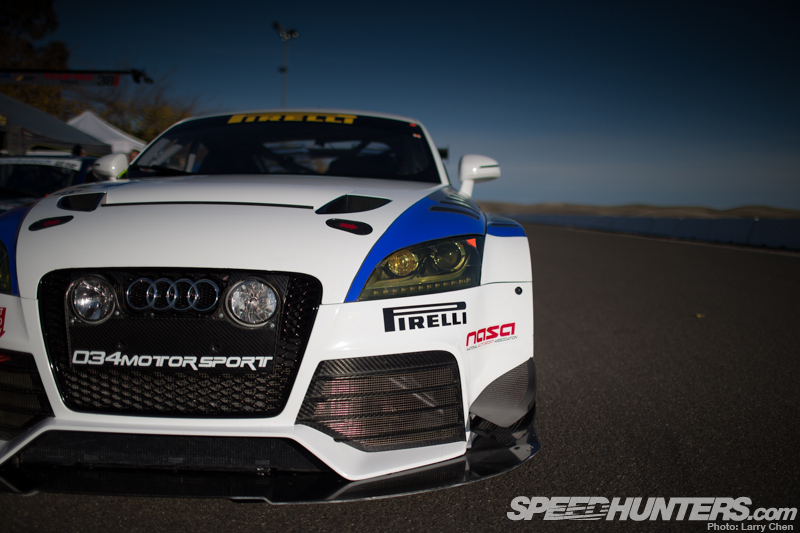 The car was brought over for a one-off outing in the US, overseen by 034. The plan was to get the drivers use to the car ahead of a programme back in Europe: the Audi will be competing in several VLN races in 2013, to get US drivers licensed to enter the Nürburgring 24 Hours in the near future.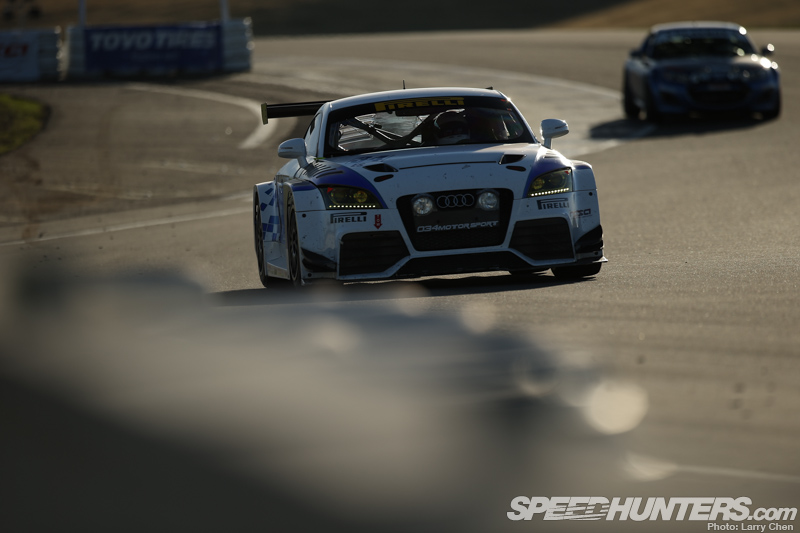 The Thunderhill 25 Hours was a low-key opportunity to try out the car, and it seems like everyone got something out of the experience: the drivers, 034 and even Audi, who had sent an engineer over with the car to monitor the TT's performance at its first race outside the 'Ring.

Christian: "It's a great place to race. The 25 always attracts a bunch of weird cars: everything from factory-supported BMW diesels to Daytona Prototypes and a whole load of spec Miatas."
"When we arrived with the TT-RS we were looking at lap times from Thunderhill, and we were only a couple of seconds off the time of an R8 Ultra that had run there. It's only six seconds off an R8 Ultra around the Nordschliefe! We were going through our heads trying to think of anyone with a faster front-wheel drive racecar. There's Chris Rado's Scion of course, and then World Touring and British Touring Car Championship cars, but I saw the WTCC lap times from when they raced in the States and I think this is easily faster."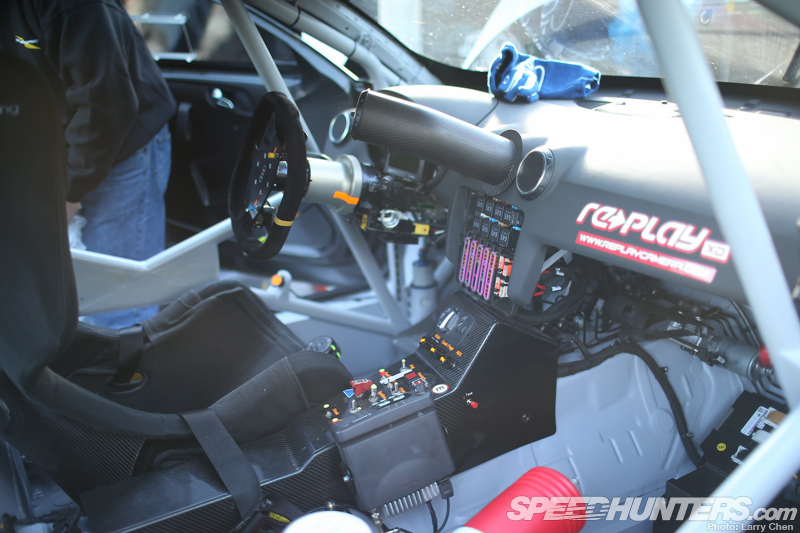 Christian was part of the drive line-up in the TT-RS at the Thunderhill 25, along with car owner Robb Holland, Alex Welch, Gary Sheehan and Roland Pritzker.
Christian: "It's a lot of fun to drive. It's a club-level track, but it's one of the best in the country. I have a background in FWD from both Grand Am and World Challenge, and I've driven cars of different levels of preparation: GA is more stock, whereas WC has more aero. But this car was easier to drive than almost anything I'd driven before, despite being much faster."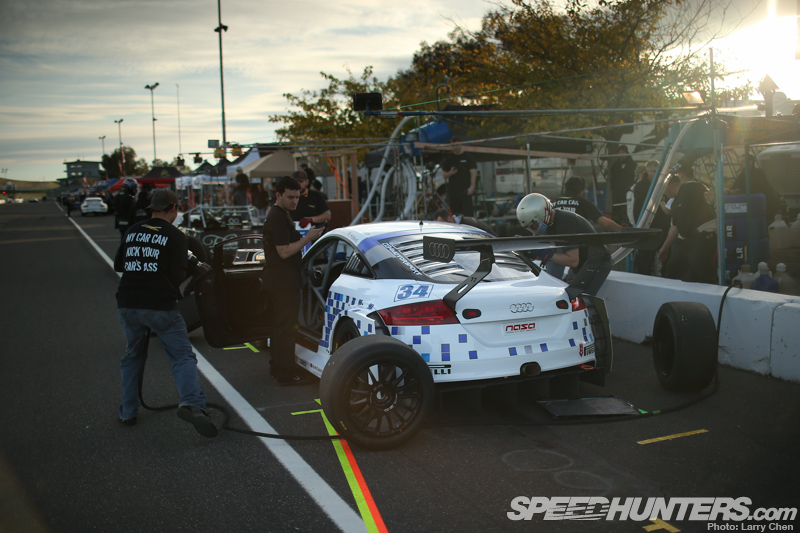 "What you could do with the car was very wide: it didn't have a narrow operating window and it was very forgiving. We had some set-up sheets from Audi, but they were all for the Nürburgring of course. There are some differences in philosophy in set-up between the US and Europe: tracks here demand different damping and turn-in characteristics. A bit of spring tuning."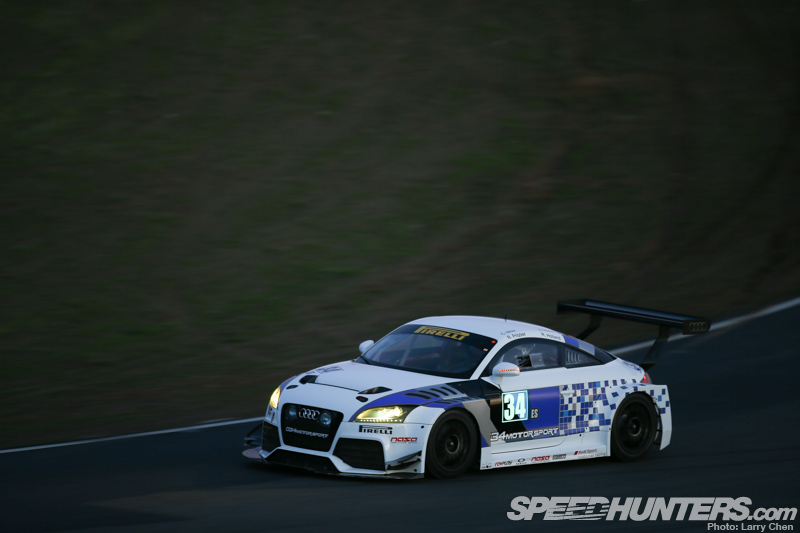 "Tracks in the US tend to be bumpier: we had to raise the car just to keep it off the ground. One of the really cool things is that because it's designed to be an endurance car there are half-inch steel plates all over the bottom of the car, so that it can grind itself into the ground and not destroy itself."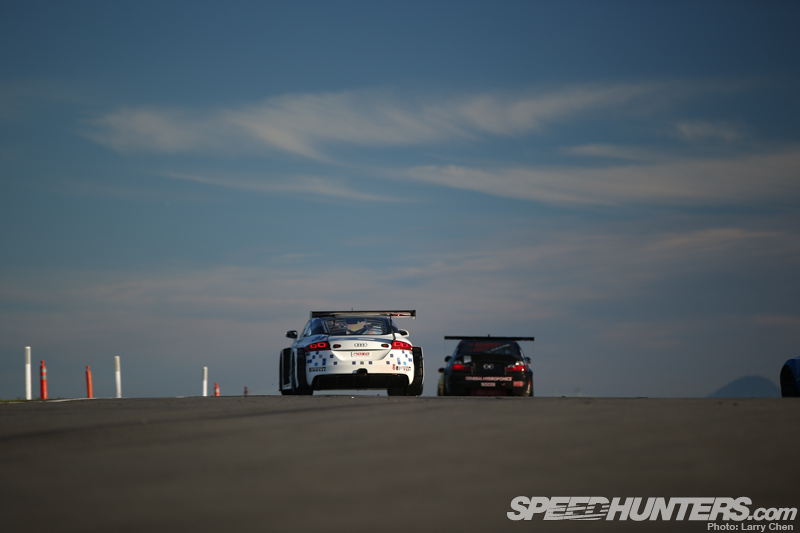 "Audi's set-ups can be a bit conservative, which they're well aware of. But it's responsible to do that: some of their customers won't be comfortable with going sideways in a FWD car at 100mph!"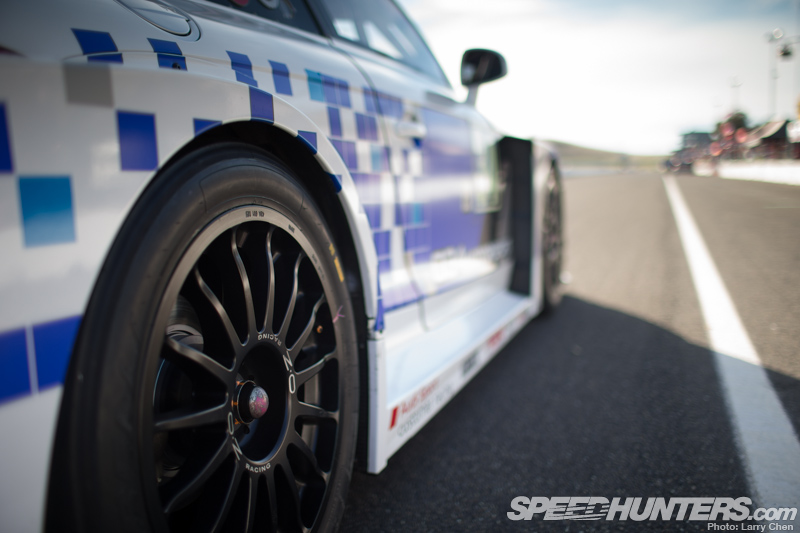 "We ran on Pirellis, as the Michelins it uses in Europe were hard to source, so that mandated a few changes. But the car was still very easy to drive. It didn't demand attention all the time – except the fact that we were going twice as fast as normal."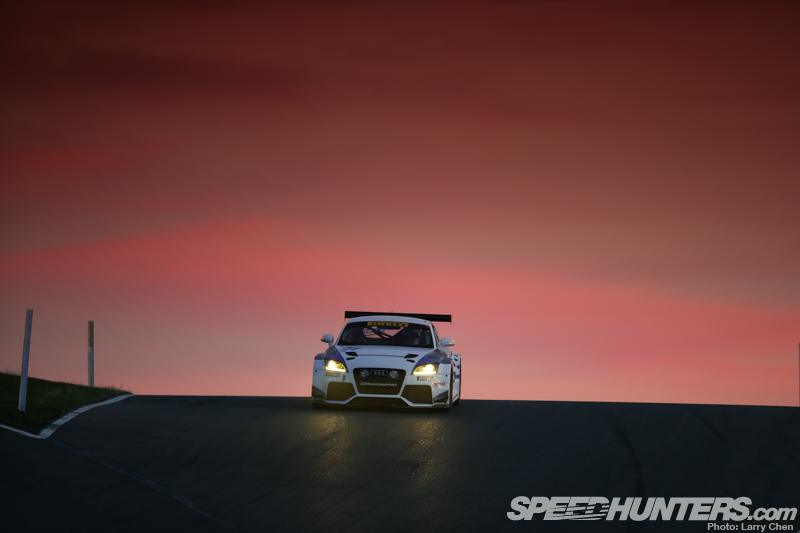 "So the recalibration to go that fast in a front-wheel drive car was a big step. Turn 2 at Thunderhill is a big sweeper in fourth gear. The G-sensor in the car maxes out at 1.8, and we were flatlining the sensor: 80-90mph and pulling 1.8-2g. In a regular car it's just not something you'd experience, so it definitely demanded a new approach. The kink at the bottom of the hill, the one before Turn 9, is the scariest corner because in this car it's almost flat at 125mph. It's either a left foot brake or 50 percent lift – however you want to do it. It doesn't make sense!"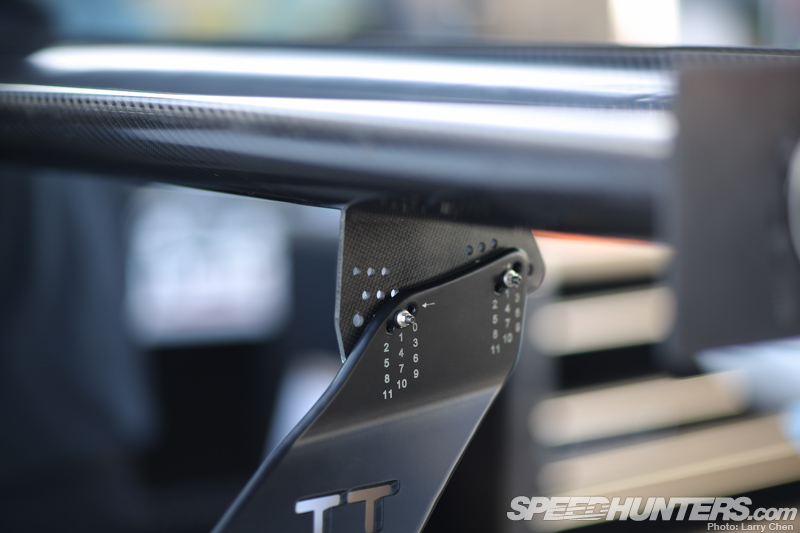 "There's a lot of aero: it's the most aero-sensitive car I've driven, but it's a proper endurance sportscar. You make discrete changes and you get discrete results: change the wing two degrees and you feel the difference. A lot of US racing involves cars that roll around a lot and use more mechanical grip, so this is quite different."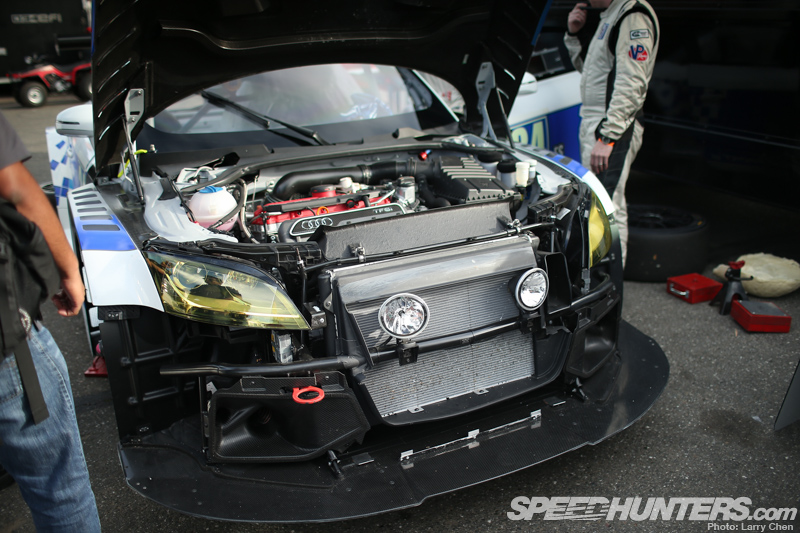 "A lot of time was invested in developing the front downforce, as you'd expect with an FWD car. There's some stuff underneath that is really nice. We have a guy who's driven Formula Atlantic and he said it's the closest thing he's driven to a Formula car with a roof on."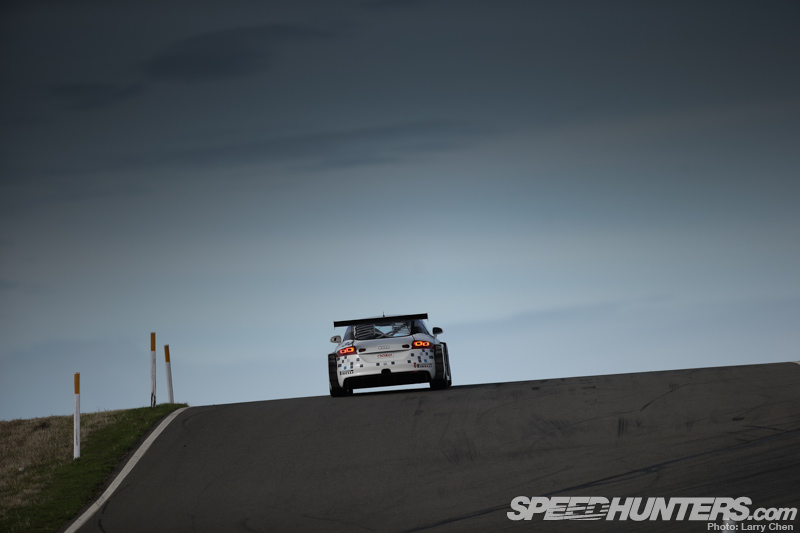 "Robb had driven a WTCC Cruze at Sonoma, and said that the WTCC car was so much harder to get right: it's one or two degrees of rotation either way and the car is slow. In this car you can kind of go out and do whatever you want for two hours and the thing just responds. We did a lot of testing and at no point did the car become diabolical or want to do different things from what we expected."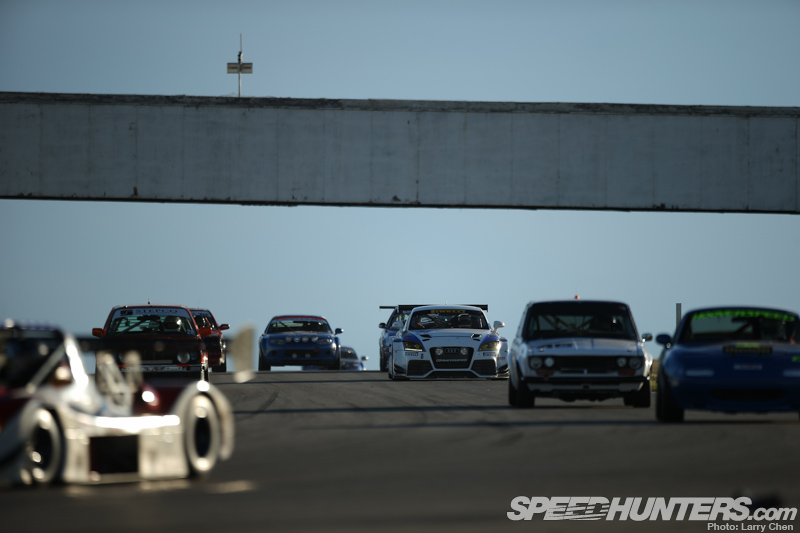 Originally Audi had been reluctant to let the car leave Germany, where they provide a complete customer programme: they were used to providing a support infrastructure for customers at races, rocking up with a complete spares truck that meant teams didn't have to buy a whole load of spares.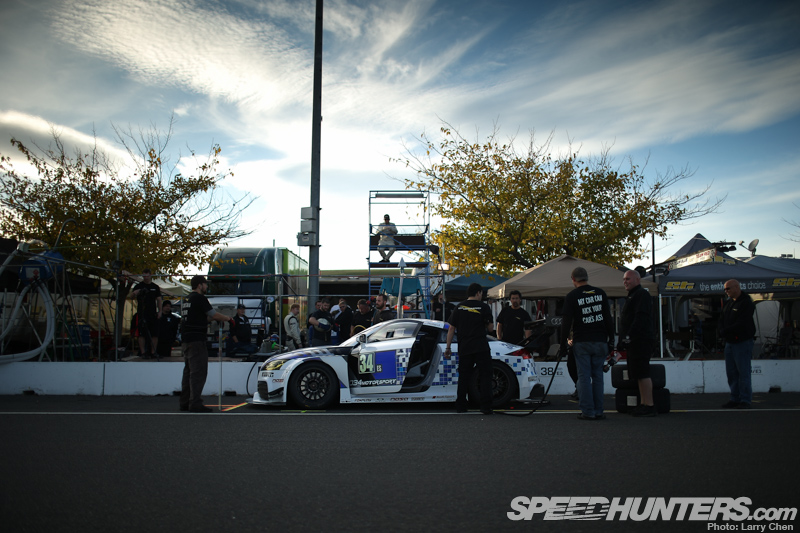 Christian: "That's the level Audi want these programmes to be on. They are amazing. For us it was a planned run and Audi had loaned us a container's worth of parts, but we were racing on the moon as far as spares were concerned. If something went wrong with a major part we were always going to be in trouble, and unfortunately it did…"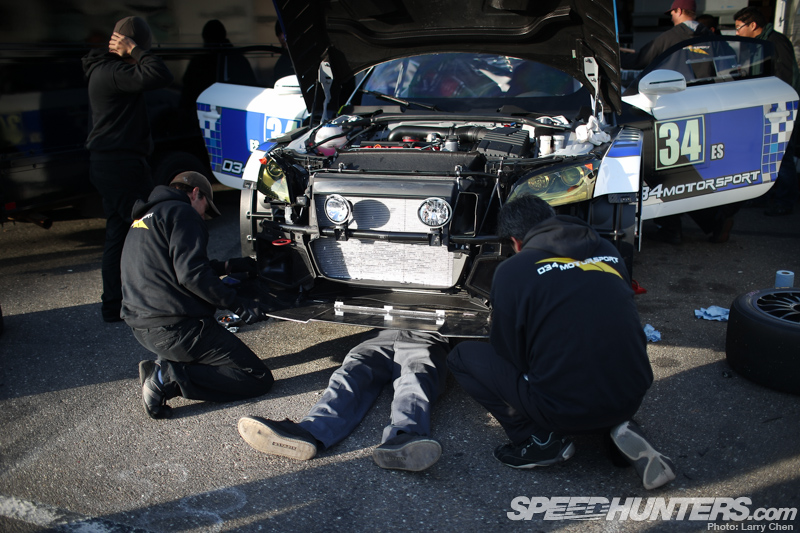 A screw backed itself out in the gearbox in the race, preselecting reverse with predictable results. It wasn't a failure that the team or Audi had experienced before, but could have been down to the pounding the car got from the rough track surface.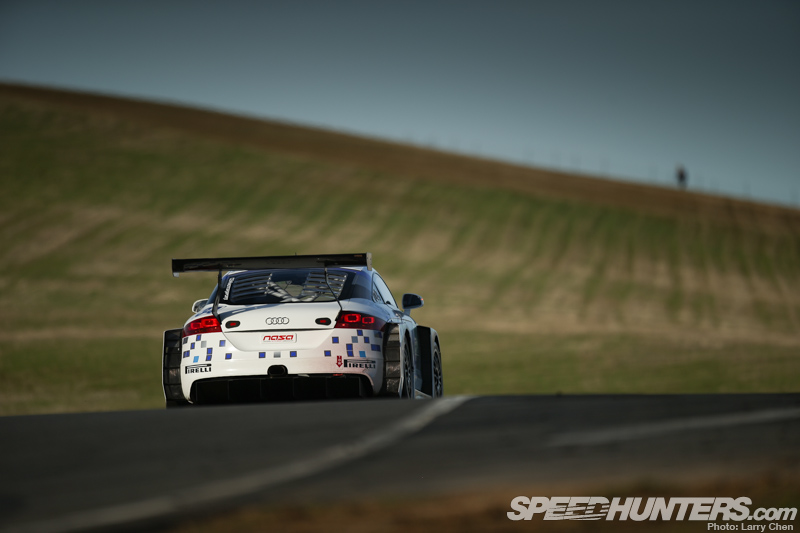 It was a real shame after a very strong start to the weekend for 034: the TT-RS had been leading, and was going longer between fuel stops than the main Porsche opposition when they suffered the failure after 126 laps.
Christian: "I had followed the Porsche that ended up winning the race, nose to tail for 20 minutes. I had a great go at it, but it wasn't to be this year."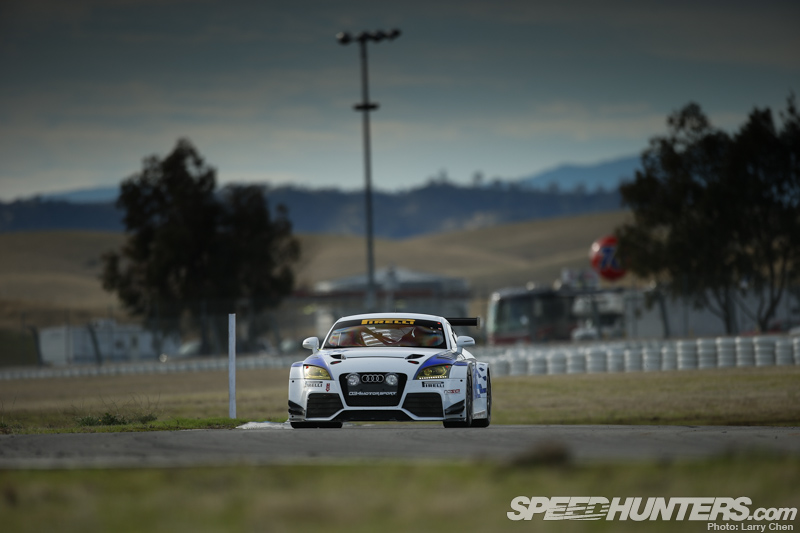 It was also a a toe in the water for Audi's expanding customer programme in the States. A bruising experience with R8s at last year's Daytona 24 Hours proved that the factory needed to step up the support to compete in the US, and the extra level put in this year was demonstrated by R8s taking two of the three class podiums this year.
Christian: "Audi have sold around 250 R8 Ultras: it's a lot bigger programme than people think. Had the race been shorter they would have swept the podium this year. A couple of private teams have bought R8s for World Challenge, and our involvement with this TT-RS should help us support them. We'd love to work on a similar car: there will be some exciting stuff going on here in the next couple of years."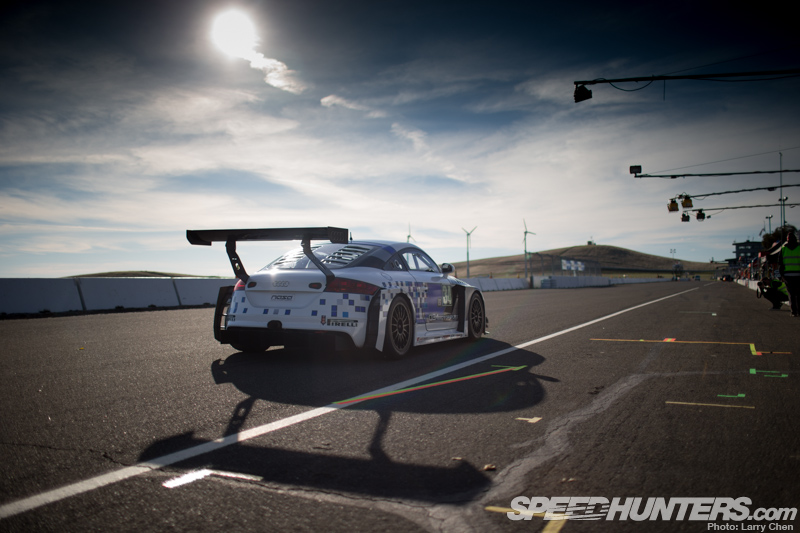 The Thunderhill 25 was the TT-RS's only outing in the States after an attempt to get it into the GX class at the 2013 Daytona 24 Hours ran out of time: it will be shipped back to Germany in the Spring to start its new campaign, bringing the Stars & Stripes to the fearsome Nordschliefe. But don't be surprised if the TT-RS makes an appearance Stateside again: and be prepared to change your ideas about just what front-wheel drive racers can do.
Words: Jonathan Moore
Pictures: Larry Chen