When I last left off with my '69 Toyota Crown Wagon project, I had gotten the car titled, got it rolling, washed, and had begun to ready it for the next stages of the build. Today I'd like to share a couple more small updates on the project and also touch on some of the Crown-related inspiration (and souvenirs) I found during my recent time in Japan.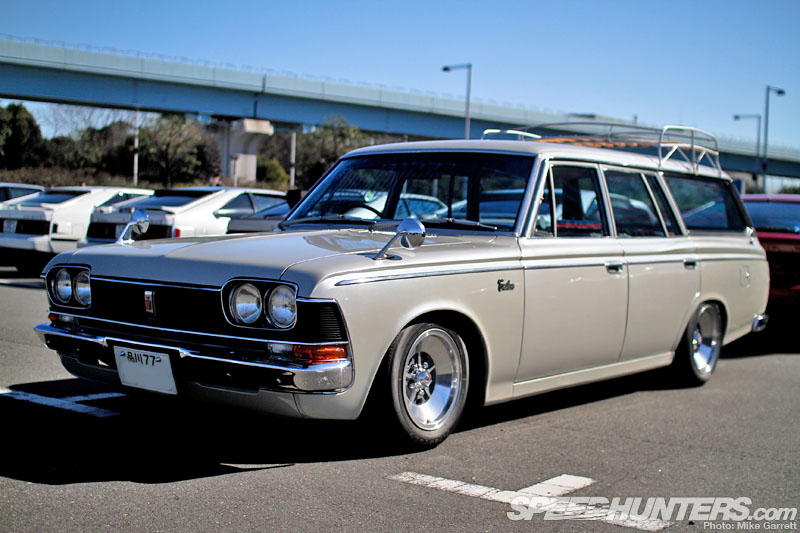 Let's begin by traveling back to January for the JCCA New Year Meeting. Among the large sea of amazing cars I saw that day was this Tokyo-based 50-series Crown Custom Wagon not unlike my own. Interestingly, I couldn't recall ever seeing this particular car before – either in person or in a magazine. That was surprising, given how nicely done this thing was.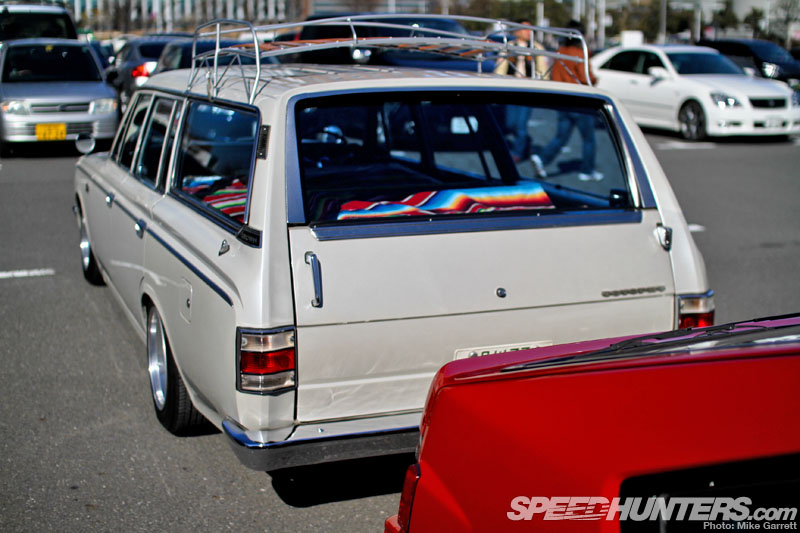 While I was ecstatic to come across such a nicely done wagon, it was a slightly bittersweet to see a car that was about 10,000 times nicer than mine. This was like the car that people will put in their classified ad to show "what it COULD look like" rather than a picture of the rusty heap they are actually selling.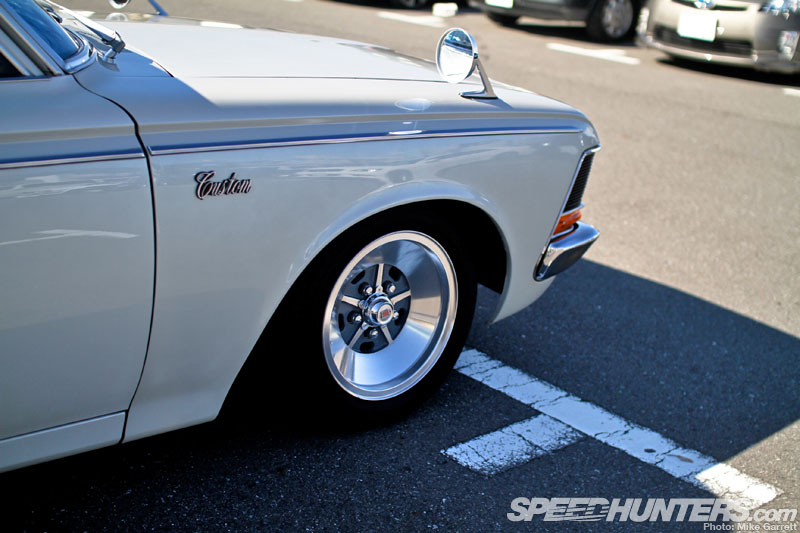 Not only was the car in beautiful shape, but it also had been modified in very good taste. The ride height was turned down nice and low and the wheel selection was perfect.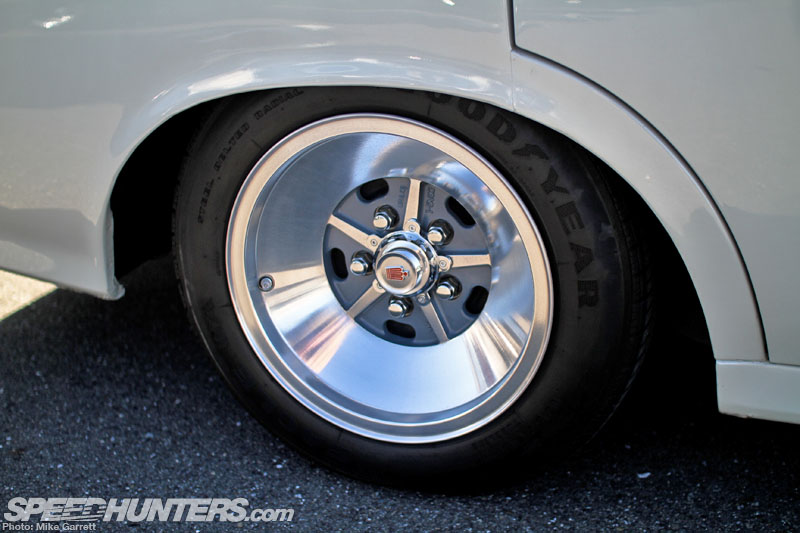 Those are 14″ Fortran Drag-Is – an extremely rare vintage wheel – especially in a five lug pattern. With five spokes it almost looks like a Magnum 500 rallye wheel, but with a giant lip and small center. Also, check out the center caps with the Crown logo. Nice details all around.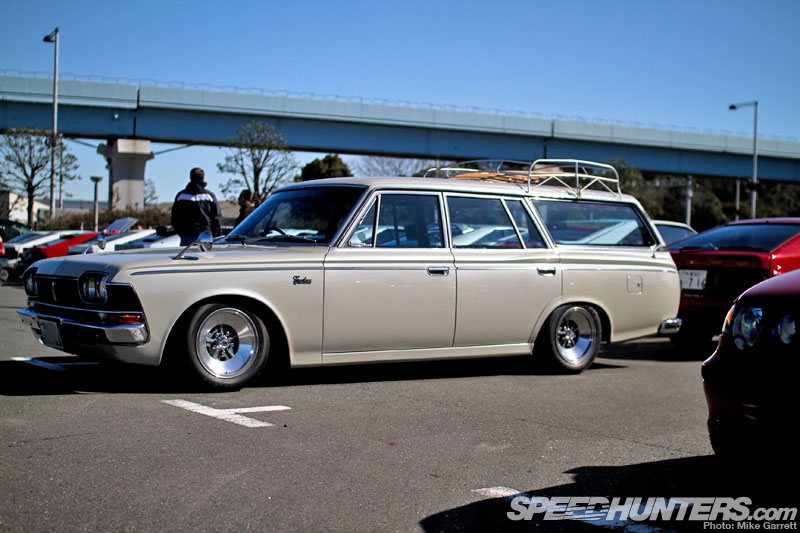 Unfortunately I wasn't able to find the owner to learn more about the car and see the engine bay, but I came away very inspired regardless. While I doubt my car will ever be this nice, the vibe was spot-on.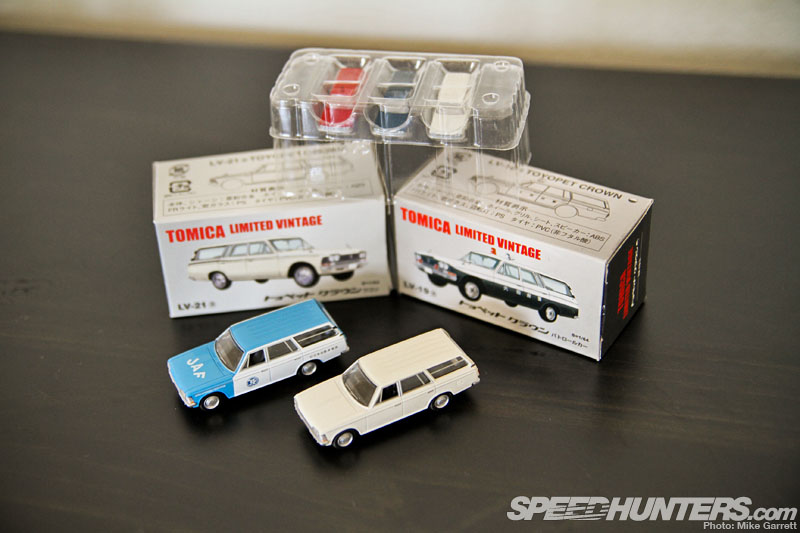 While I was in Japan, I also had the chance to do some browsing around for Crown-related collectables to add to add my collection. I thought it would be fun to share my findings with you guys.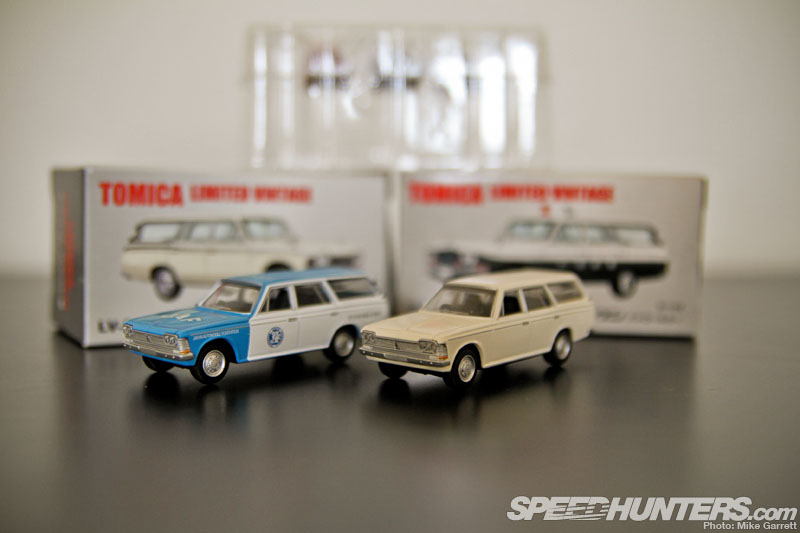 After all, isn't tracking down miniature versions of your real car one of the funnest parts of automobile ownership? My collection is full of scale versions of cars I've owned in the past. Yep, the real cars might be long gone, but the replicas remain…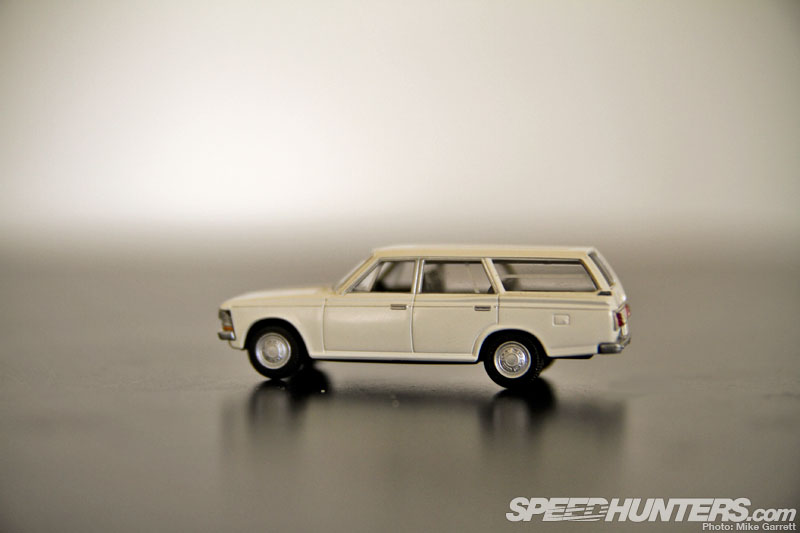 Of course it's much easier to find miniature versions of certain cars than others.  A Crown Wagon isn't quite a Toyota 2000GT or Hakosuka GT-R when it comes to icon status, but I was actually able to dig up several different scale versions of the old wagon.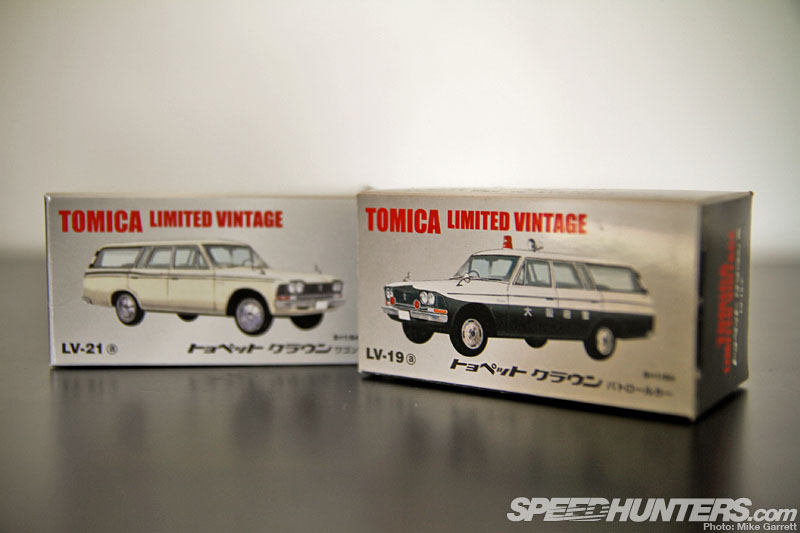 Let's begin with this pair of Tomica Limited Vintage diecasts I brought home. The Limited Vintage series is made up of highly detailed 1:64 scale replicas of a variety of classic Japanese automobiles, along with a handful of imports. There are dozens and dozens of vehicles in this series, so finding a specific model can be tough. I knew the Toyopet Crown Wagon was part of the series, but actually finding it proved to be quite a challenge.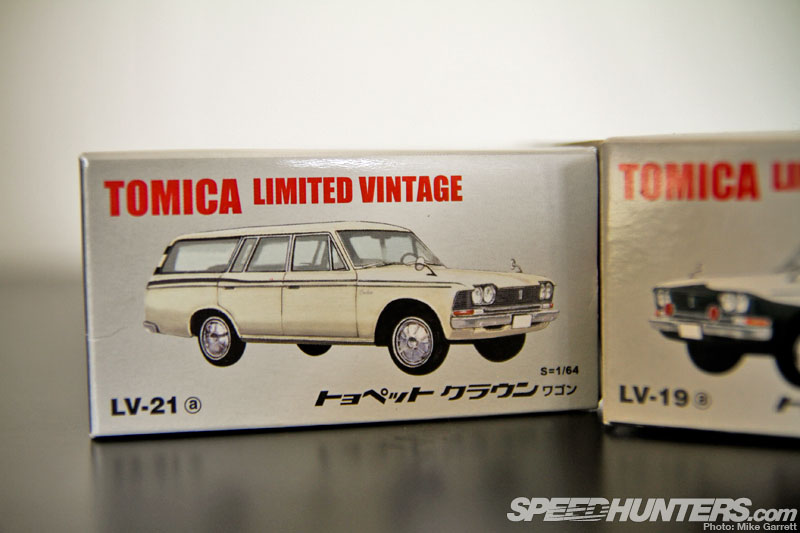 After coming up empty at several different hobby and diecast shops (more on this in future posts), I finally found someone selling the Limited Vintage Crown Wagon at the JCCA swap meet. At 2,500 yen it was pricey for a 1:64 scale diecast, but I wasn't sure I'd be able to find it again. I didn't see another example anywhere else for the rest of my trip.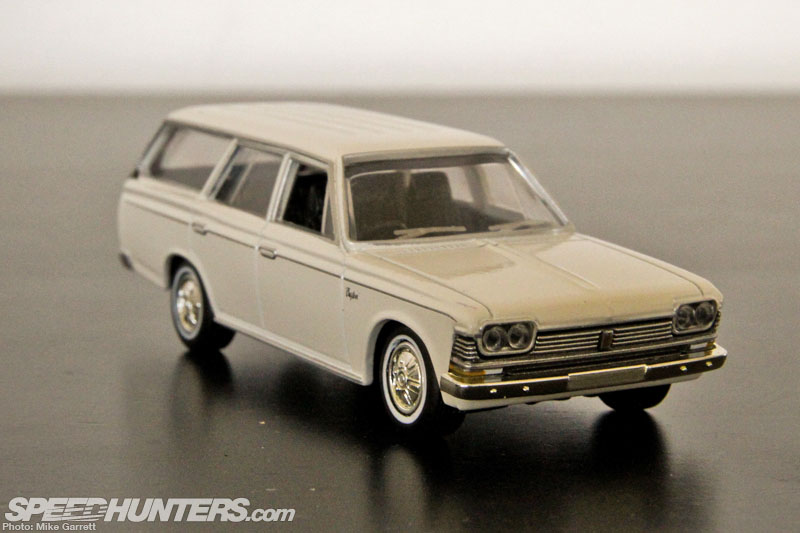 It turns out this particular car was a 2005 release, making it rather hard to find today. Once I opened it up and got a good look at it, I was amazed at the detail. Rubber white wall tires, working suspension, a fully-detailed interior, etc.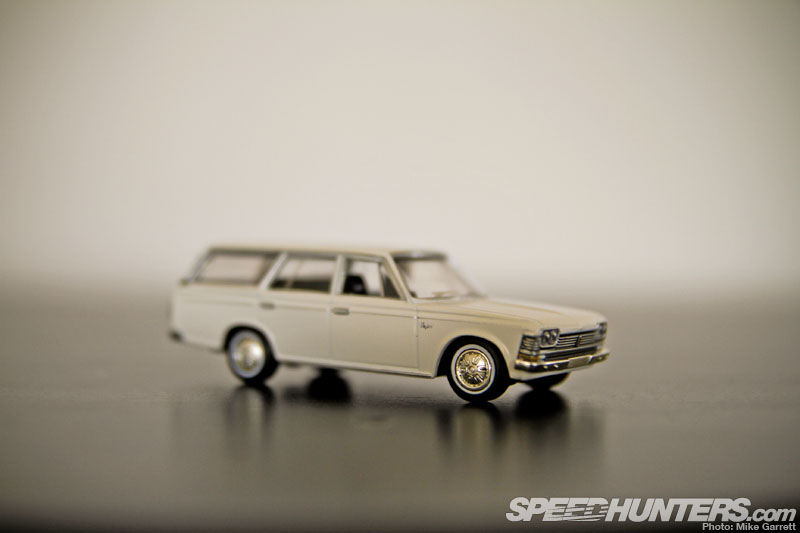 Once I found out how detailed and rare it was, I didn't feel so about the 2,500 yen. It's even the same color as my real Crown! Or at least the same color mine was when sold back in 1969…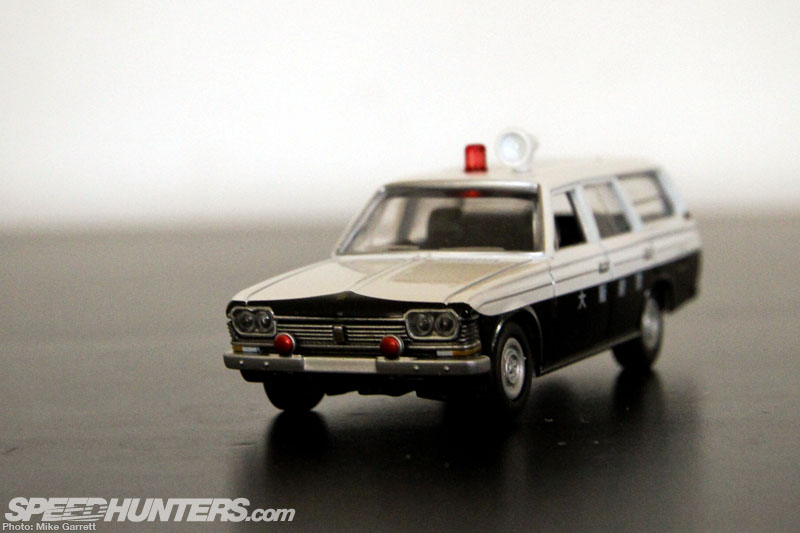 In addition to the normal Vintage Limited Crown Wagon, I also found a version done as a replica of a patrol car from the Osaka Police Department.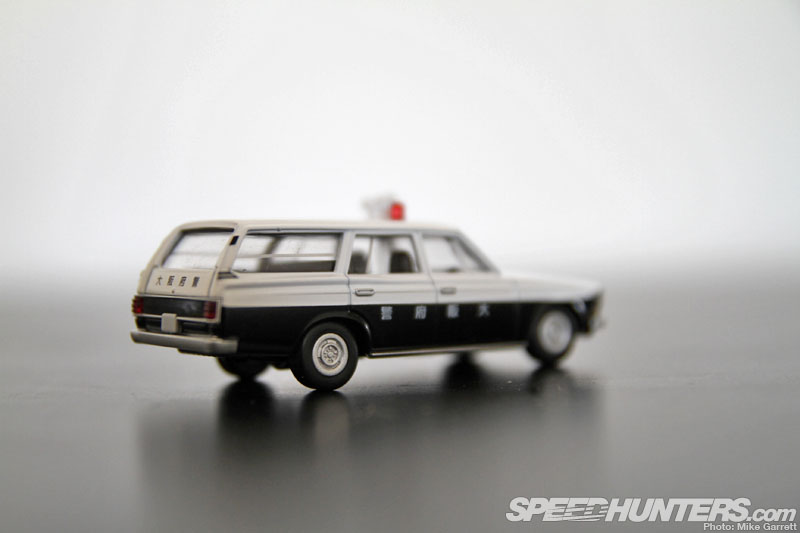 It has all the same details as the civilian version, with the addition of red lights and a megaphone on the roof.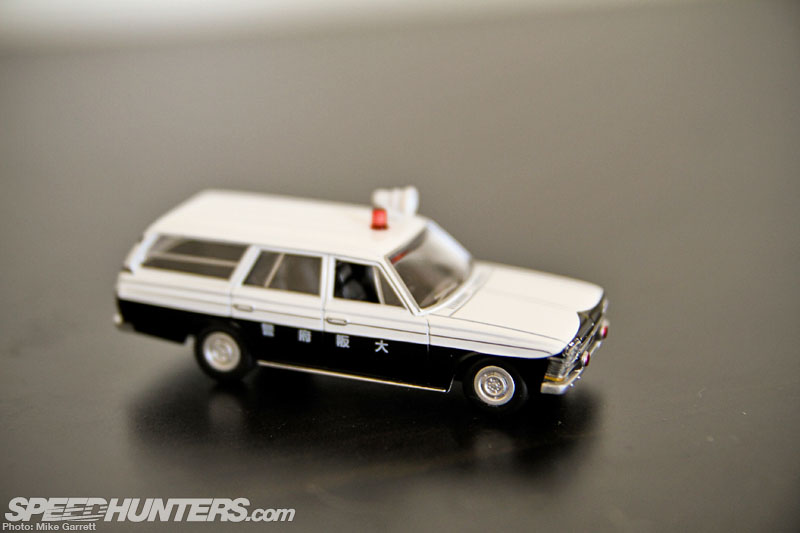 It even has steel wheels and black walls while the other version has white walls and shiny hubcaps. I'd certainly be lying if I said this didn't make me at least consider the idea of painting my car up like a Japanese police cruiser…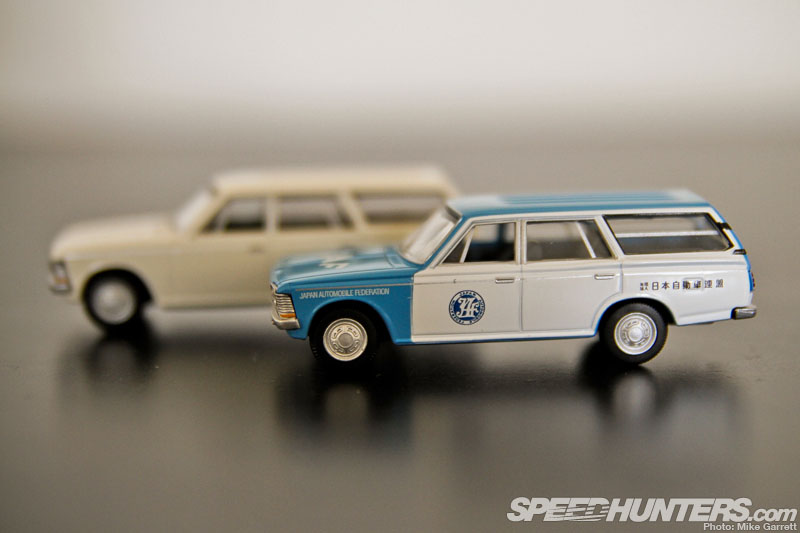 After I bought the Limited Vintage Cars, I also found a few more miniature Crown Wagons – including these 1:80 scale replicas from Tomytec's "80 Car Collection". These are actually designed for use on scale dioramas or model train layouts, but they also make great standalone models.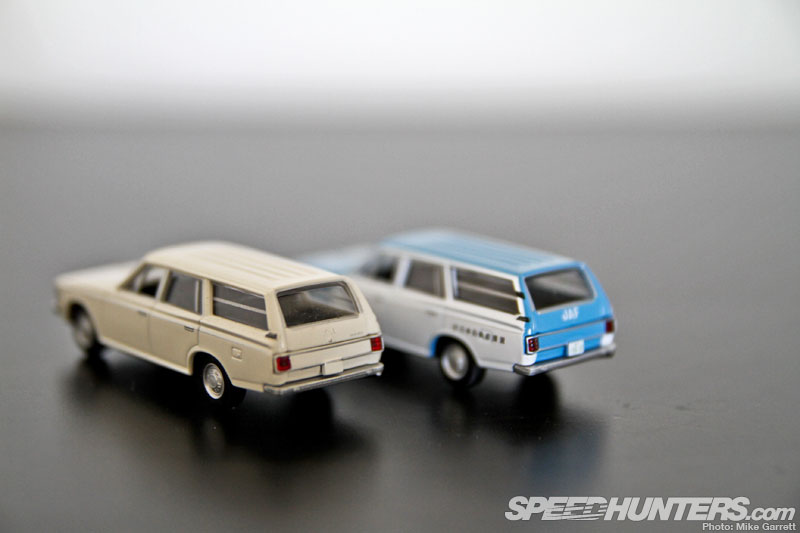 I found the white and blue JAF service car (think Japanese AAA) in a hobby shop for about 600 yen, while the white one was found in a used diecast shop for a ridiculously cheap 100 yen.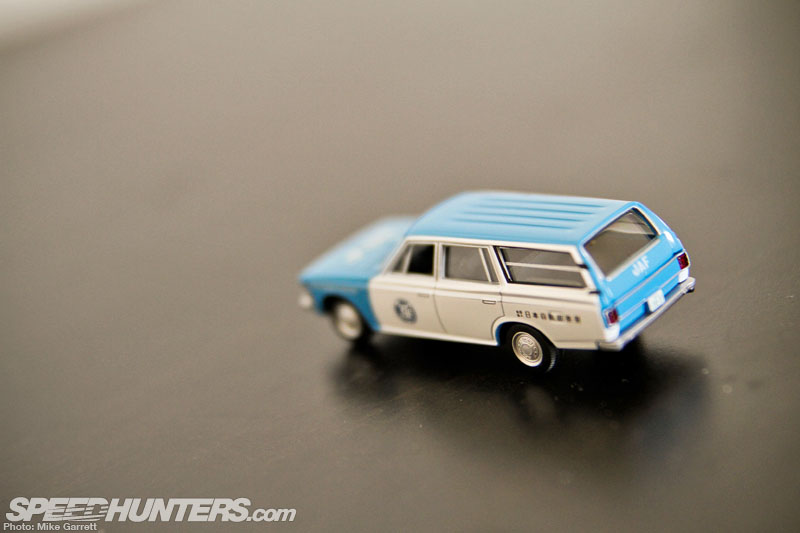 While they are a bit smaller than the Limited Vintage models, the detail is still very impressive.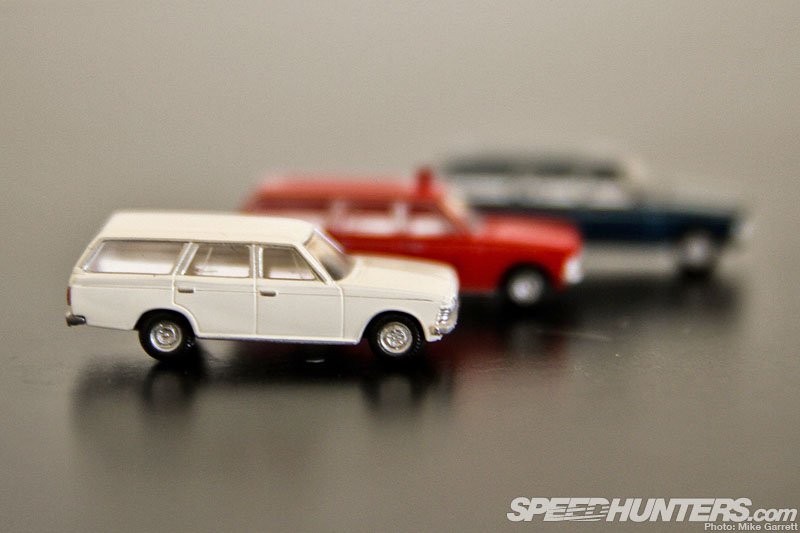 But gets even smaller! In the same used diecast shop, I also found this set of three Tomytec 1:150 scale (N gauge in model railroad terms) Crown Wagons.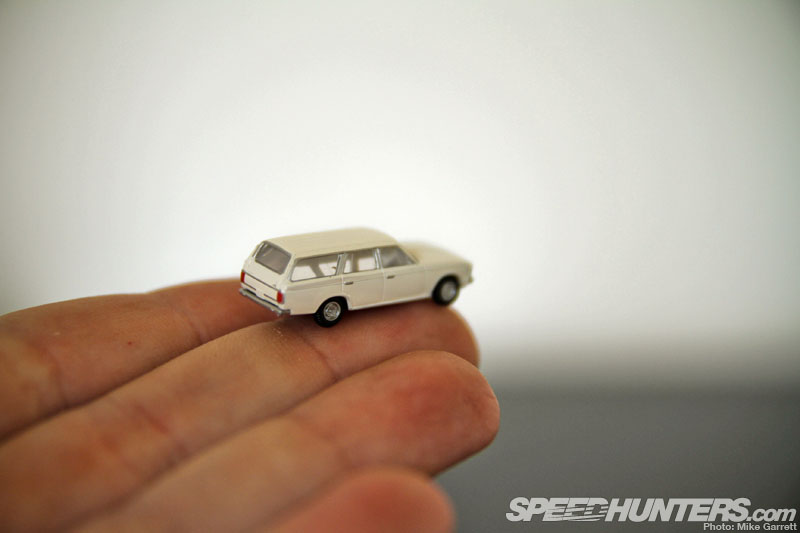 Here's one sitting on my finger tip, just so you can see how small these things are…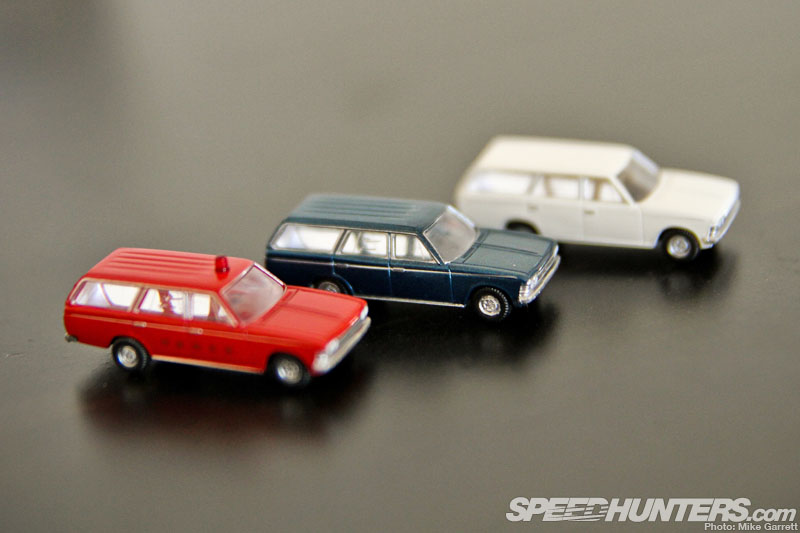 But even given their microscopic size, all of the key details are there. Along with two normal models, this particular set also included a fire department car complete with a light on the roof and correct lettering.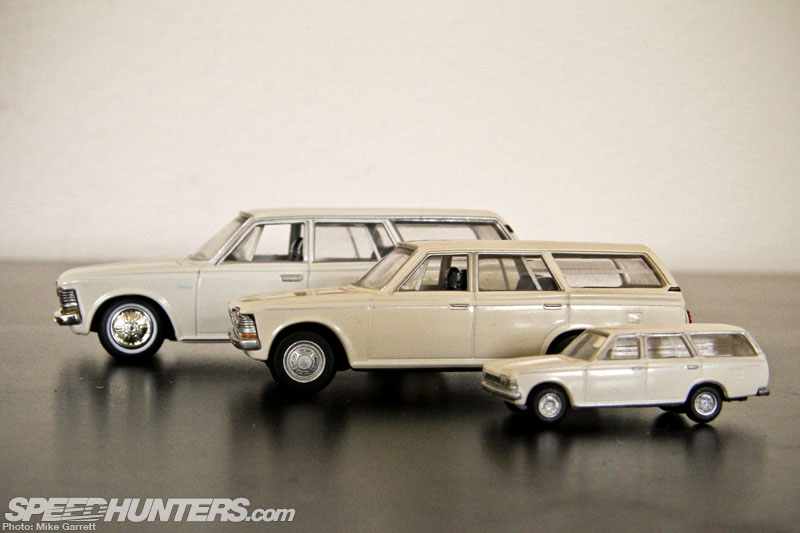 Finally, a view of all three scales together. From left to right, 1:64, 1:80, and 1:150.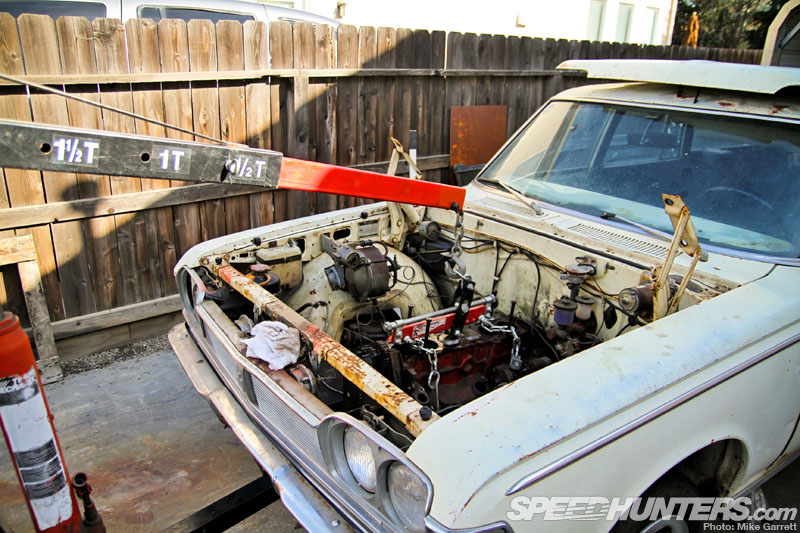 Ok then, back to my 1:1 scale Crown Wagon for a moment. While I haven't made a whole lot of progress since the last update, I was able to get the original 2M engine and automatic transmission out of the car the other day.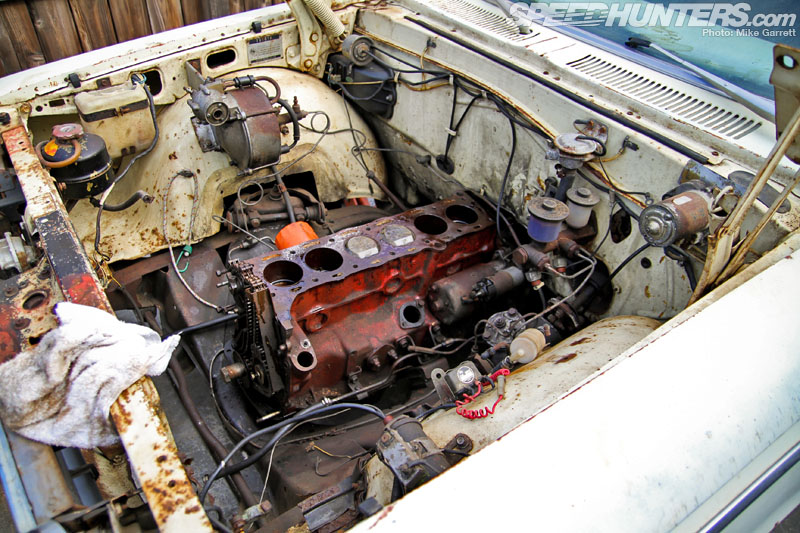 Since the motor was was already partially disassembled when I got the car, removing it was rather easy. Disconnect the driveshaft, speedo cable, transmission mounts, engine mounts and she was ready to be pulled.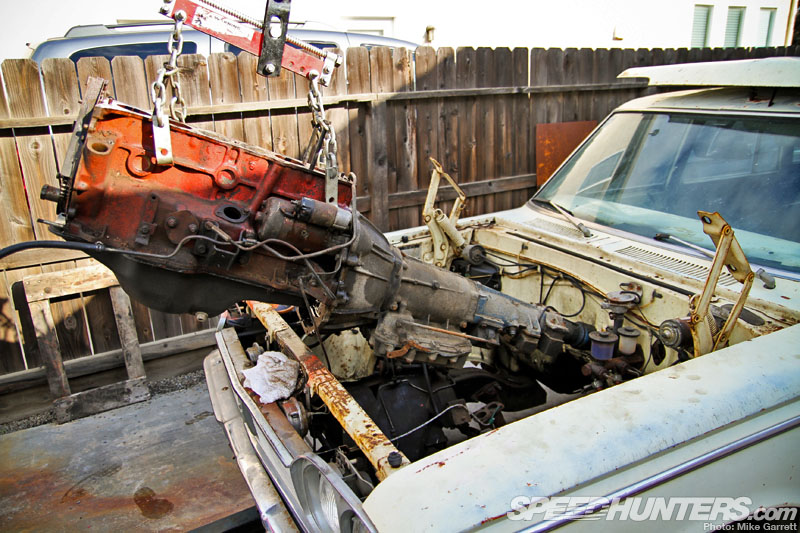 And out it comes! I guess one good part about working with a ratty old car is not having to sweat about scratching the paint when doing this sort of thing…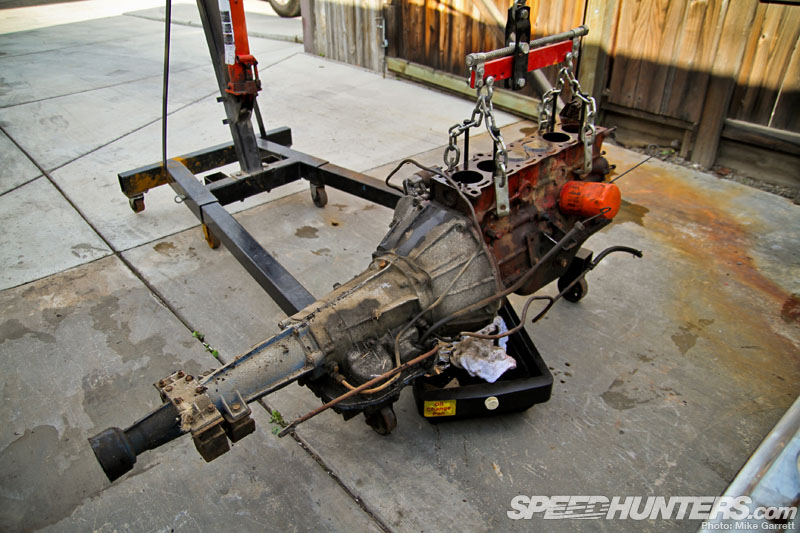 Now it's off to storage for you. The car came with all of the original engine parts, so at some point in the future I might get this motor reassembled and running for the sake of originality. At the moment though, I still need to figure out what exactly will go in its place…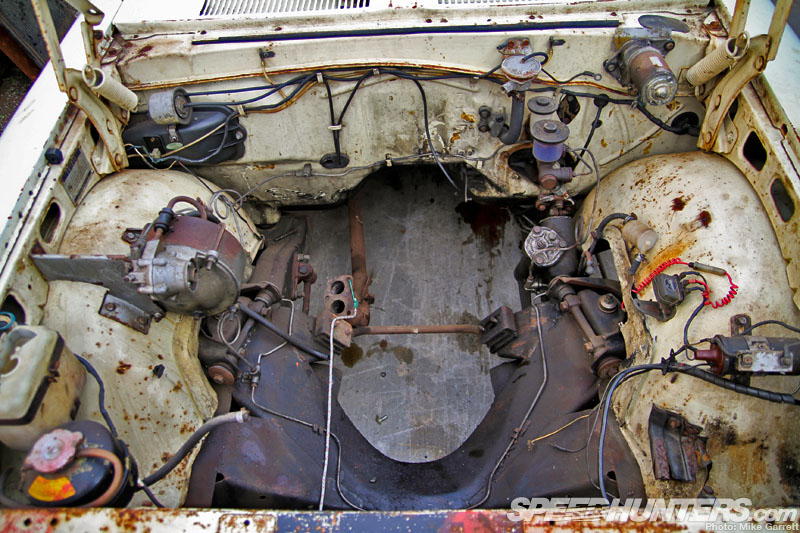 Just look at all the room! So many possibilities…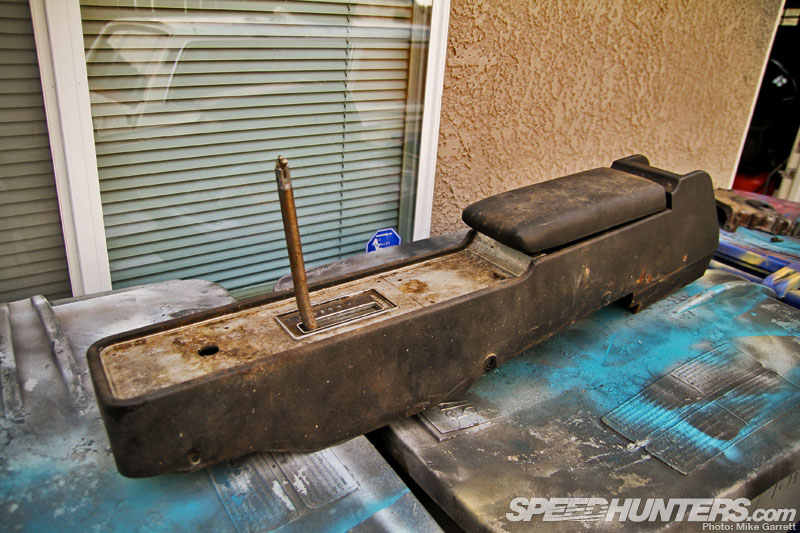 While I wait to figure out exactly what's going in terms of powerplant, I thought I'd try to clean out and straighten up everything that I can. I began by pulling out the factory center console for a good cleaning.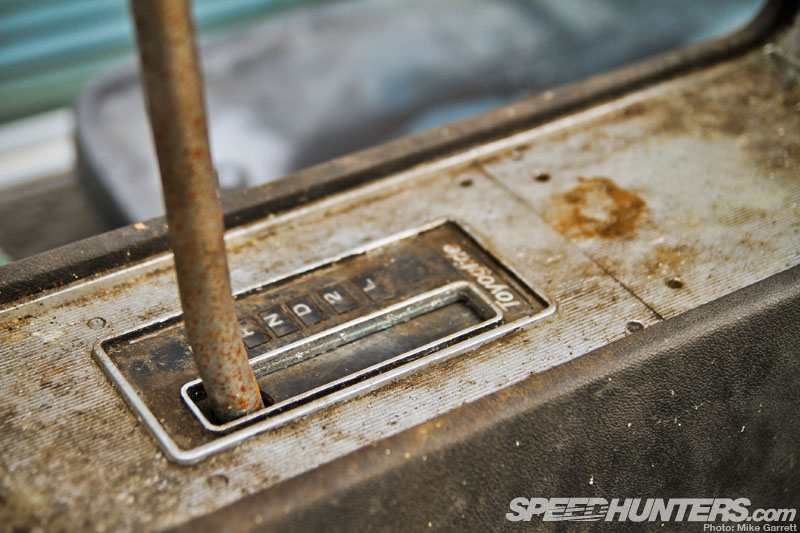 After sitting for so many years, the console was looking pretty gross. I know it will never be perfect, but I figured I'd take it apart, break out the Brillo Pads and try to get as clean as possible.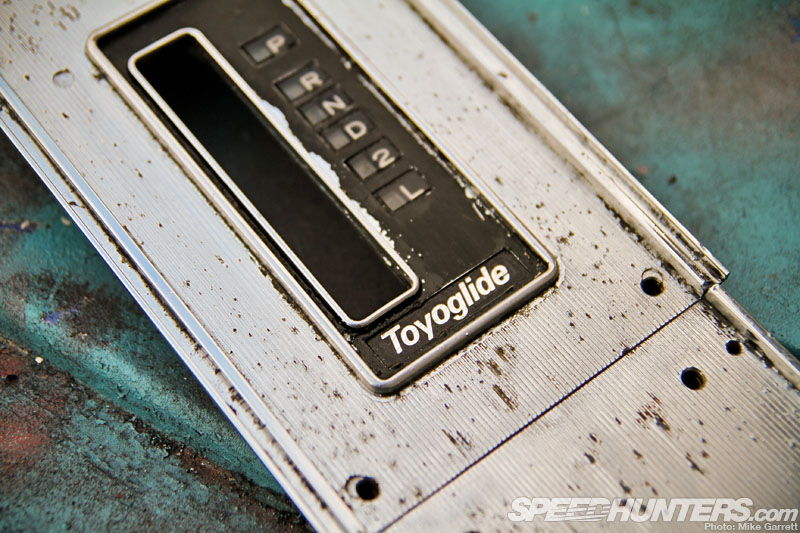 The metal still has plenty of pitting, but I was able to get  a lot more presentable for the time being. Small steps, but any progress is good progress, right?
That will do it for this project update. Now to "Toyoglide" to the next stage…
-Mike