I'm so glad I decided to go to the Hobby Garage in Kuki the other day. Had I not, I don't think I would have ever understood what "custom" really means to RC car enthusiasts in Japan. If you thought what you saw in yesterday's post was impressive, well all I can say is scroll down and be further surprised…I sure was once I had the chance to go through every car entered in the contest!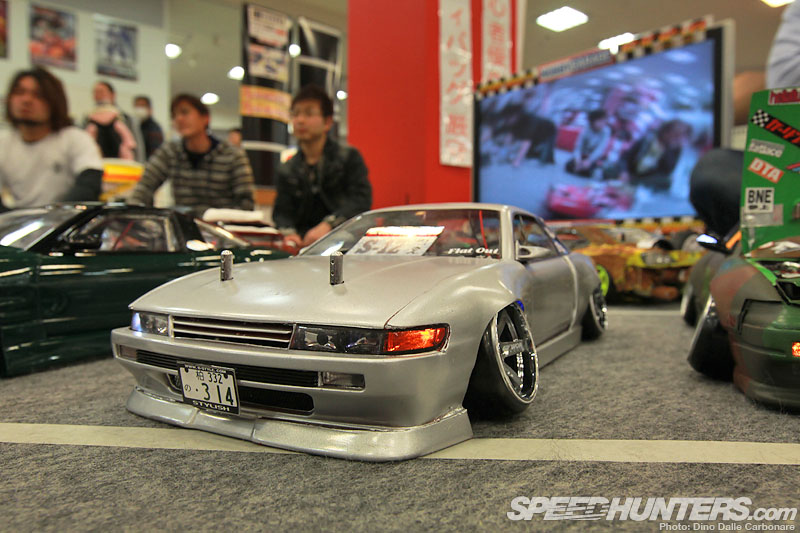 Check out this S13 body. So many cool details like the ground-scarping front lip spoiler, plenty of negative camber and the model-car equivalent of rolled fenders. It's all about the tuck!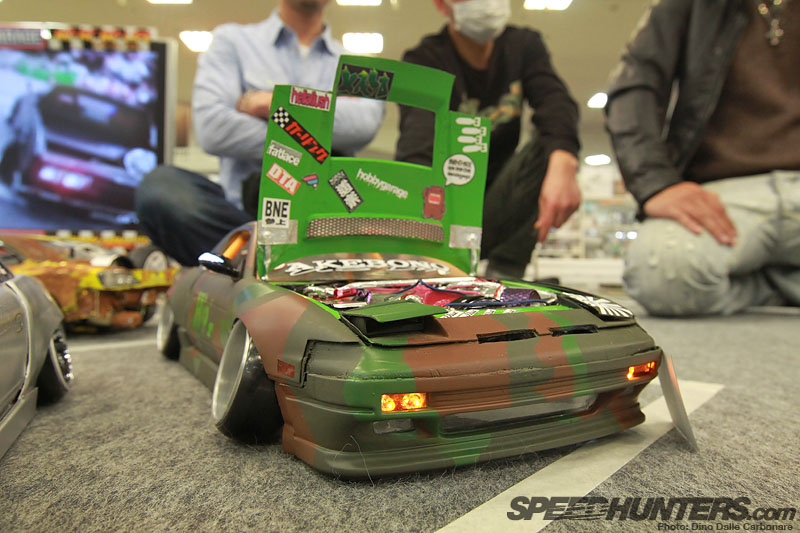 Next to it was this camo Onevia running even more camber, "bolted on" overfenders…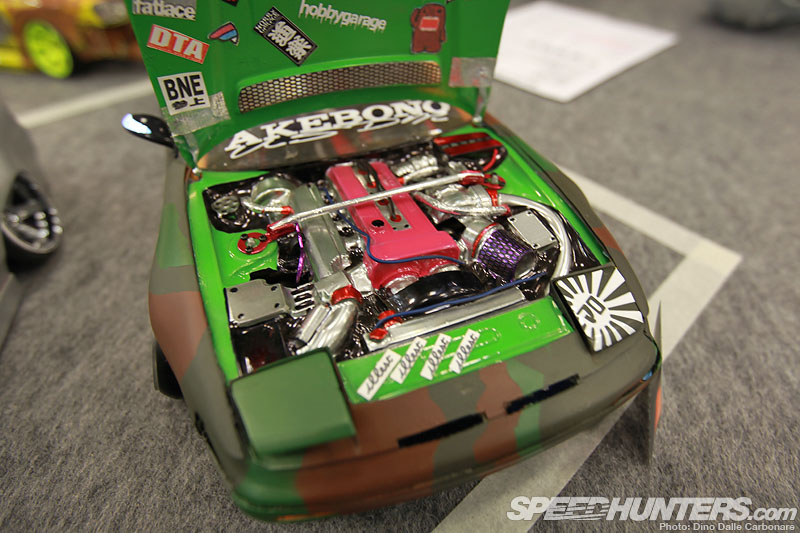 …and a pink engine. Despite only having 4-ignition leads and four intake runners on the plenum it did look more like an RB than an SR!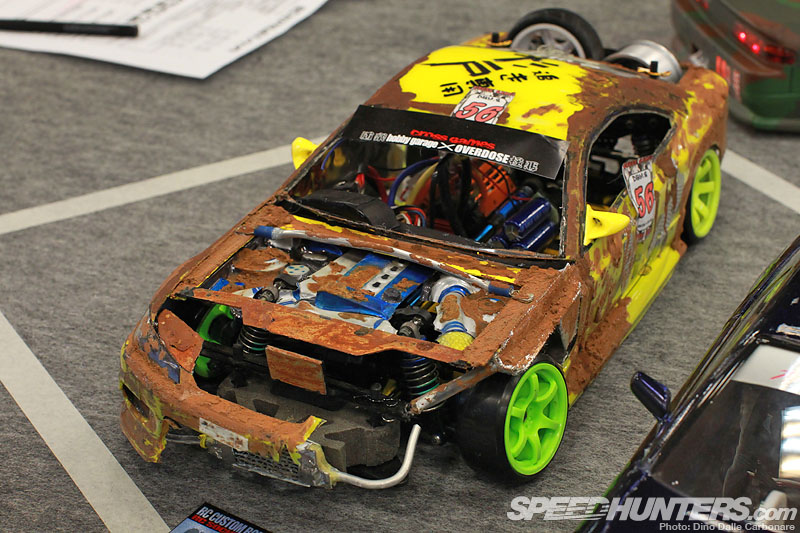 I guess if you want to place high at these sort of competitions, you really have to push your imagination and think outside the box. This beaten up S15 reminded me of what some of those crazy drifters end up doing to their cars at events like the Drift Matsuri in Ebisu Circuit.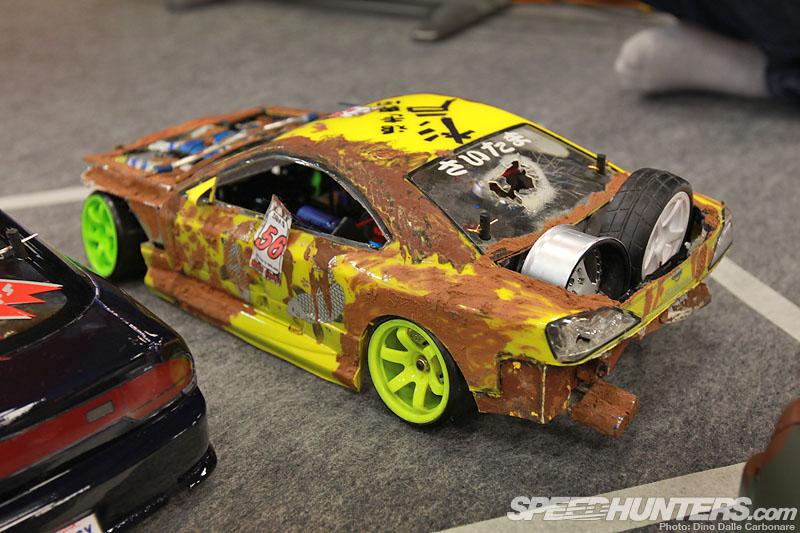 Looks like it took some pretty big hits and a few excursions into the mud, but at least it's still straight enough to drift!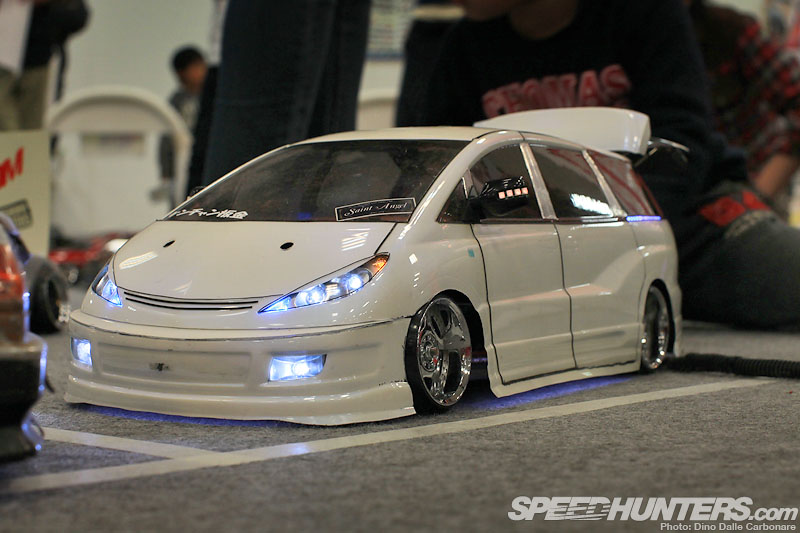 We saw a little teaser image of this Toyota Estima minivan yesterday. Aside from the fact that it's already quite cool that you can get these sort of bodies for 1/10th scale chassis…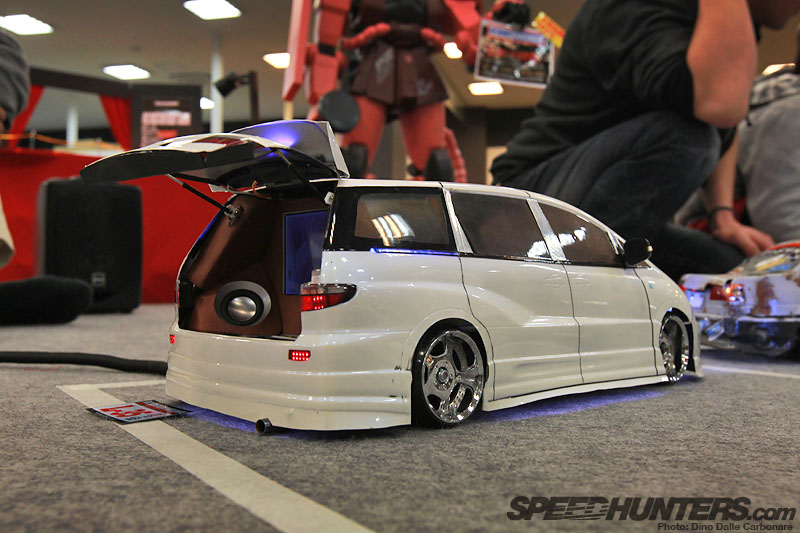 …it obviously doesn't stop owners taking them to the next level. This is probably inspired by those vans that show up at Daikoku PA on a Saturday night and blast out ridiculously loud music.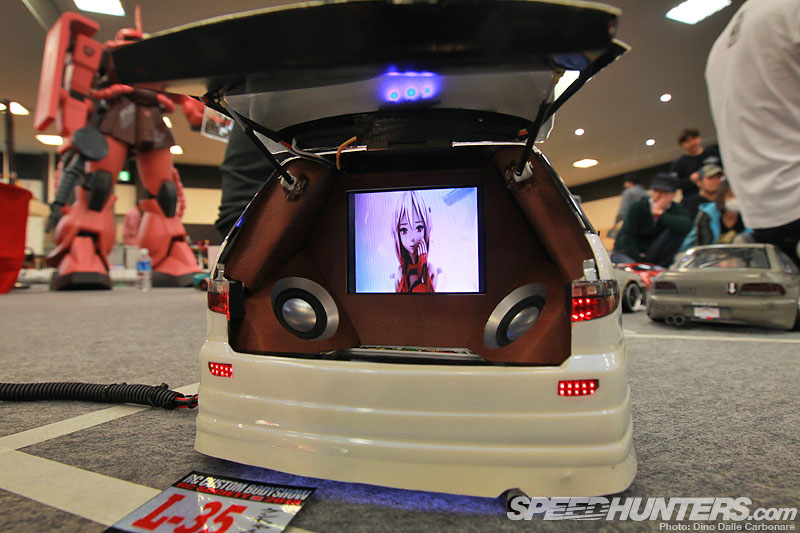 It even had a fully decked out trunk with big subwoofers and a functioning LCD screen. There were two smaller additional screens on either side of the van too. A constant power supply kept the mini-screens functioning and the music playing.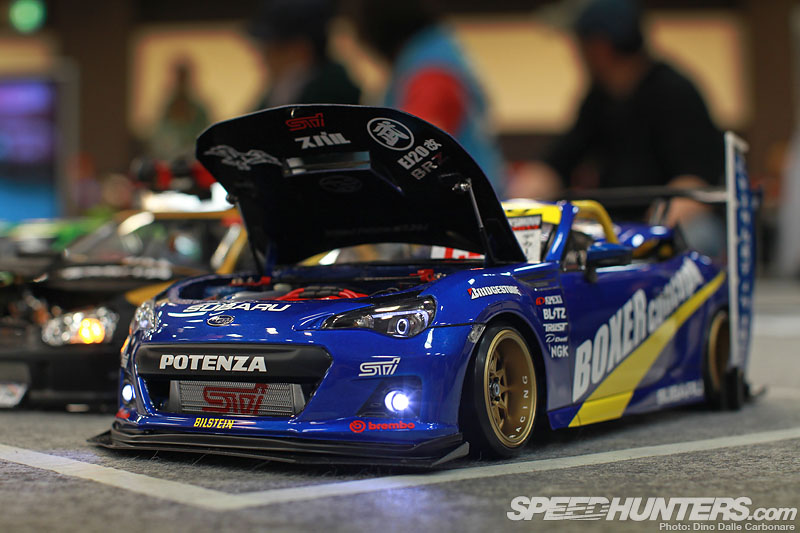 And if you think that's wild take a look at this Subaru BRZ. This fully functional drift car was equipped with all sorts of cool touches…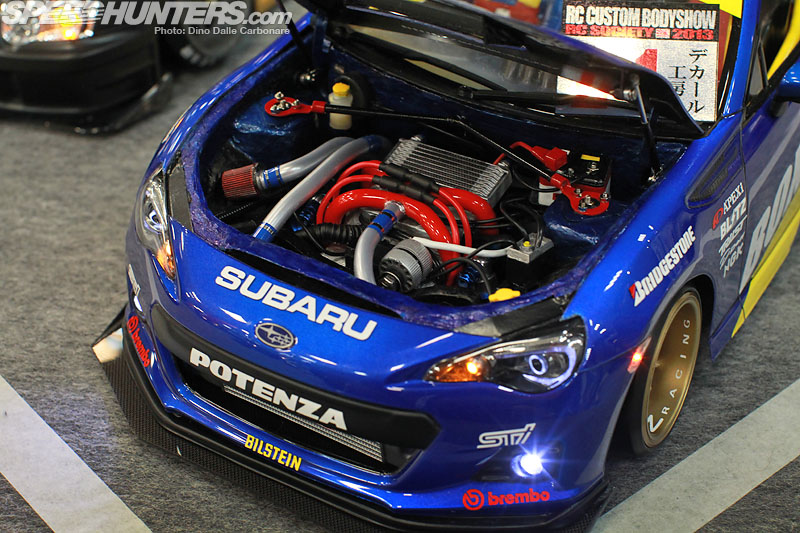 …like the custom turbo boxer engine, angel eyes in the headlights….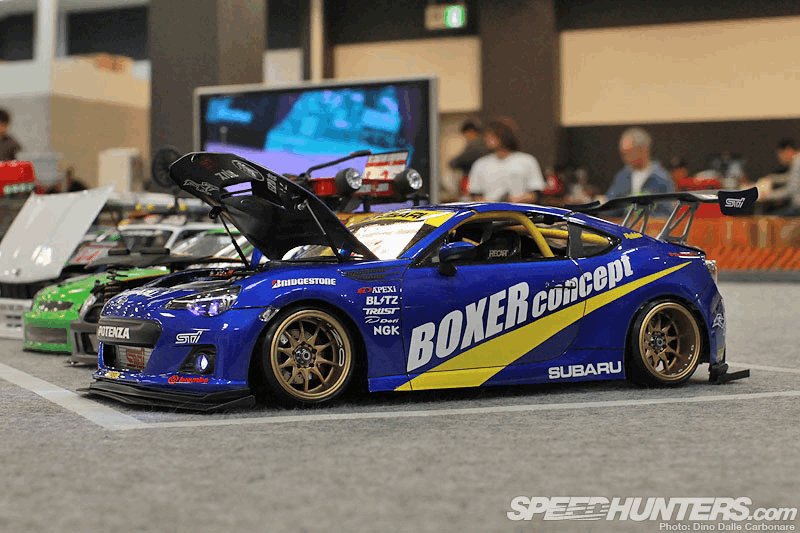 …but most incredible of all was the custom drop top conversion. It took the owner eight months of hard work to design and build the mechanical servo-actuated roof and trunk! A second remote control is needed to actuate the opening and closing of the roof, trunk and hood.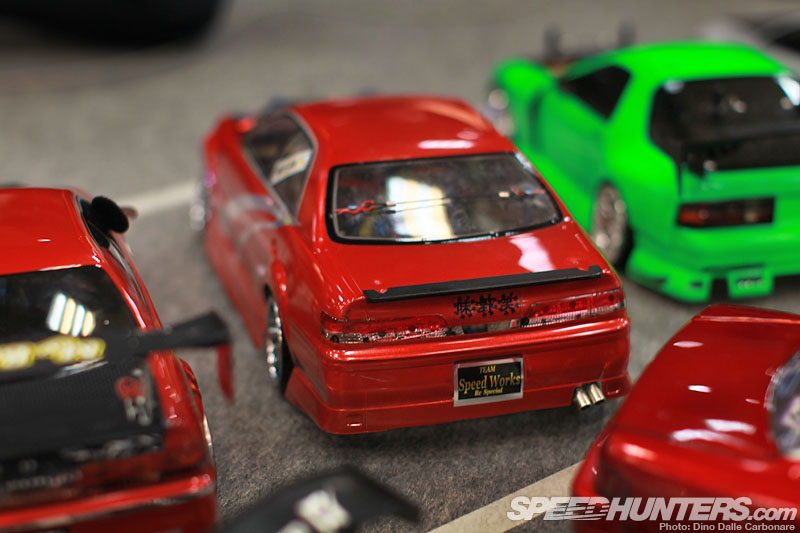 But no matter how simple or complex the cars may be, each have their own appeal.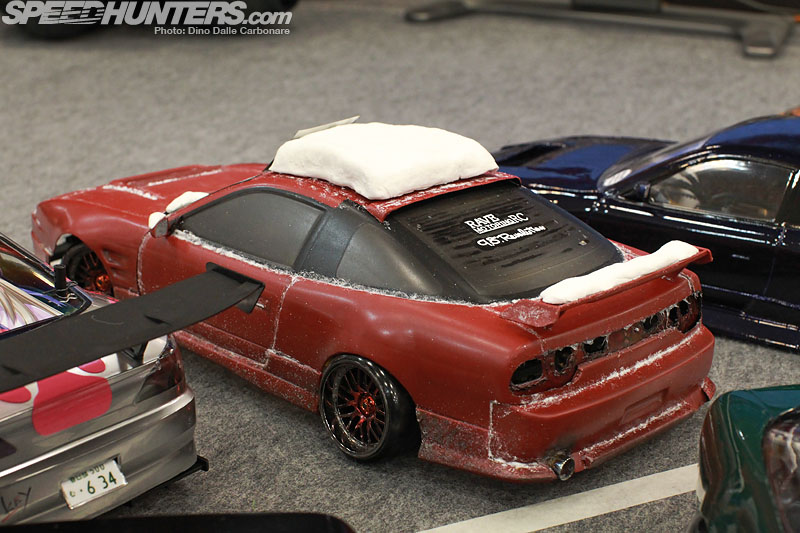 This "Arctic version" 180SX is one I really liked. The idea alone was so bizarre but so cool at the same time it was probably the one that made me smile the most.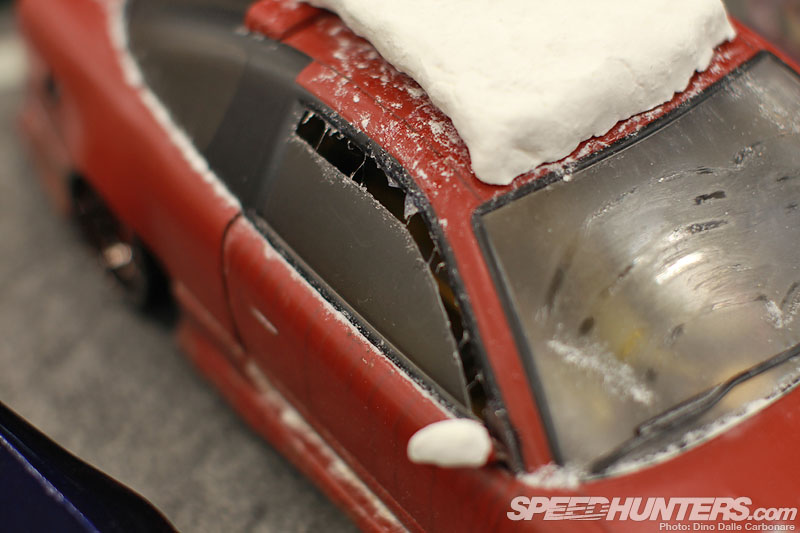 And of course the details are painstakingly realistic!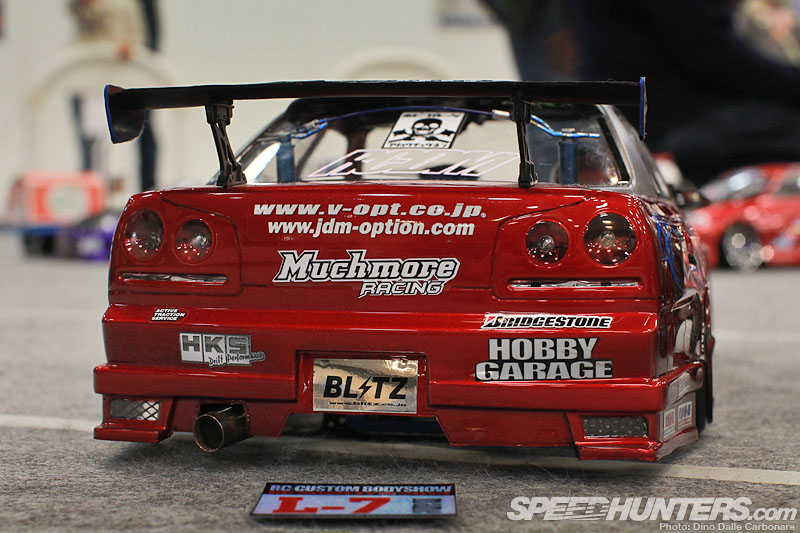 Nomuken in the house! Well not really as he's driving an 86 nowadays, but you know what I mean…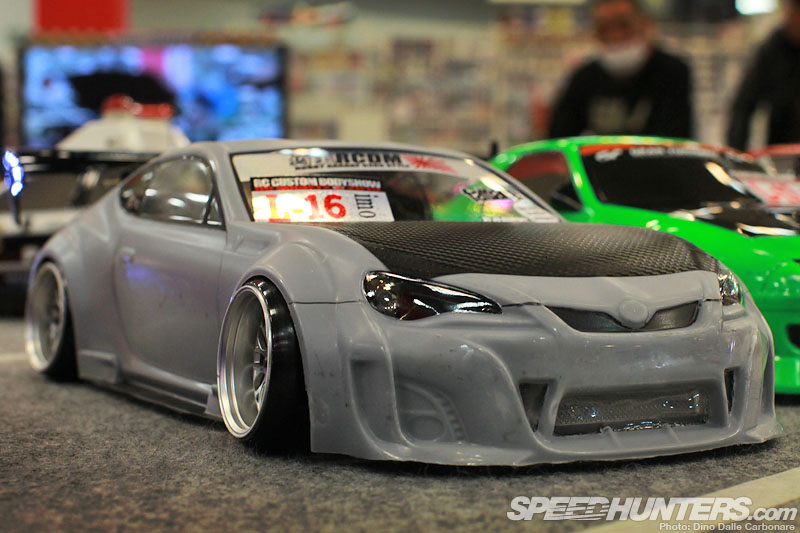 Not sure what the inspiration for this 86 was, it certainly does share some similarities with Orido's D1 car but is seriously beefed up in the fender department.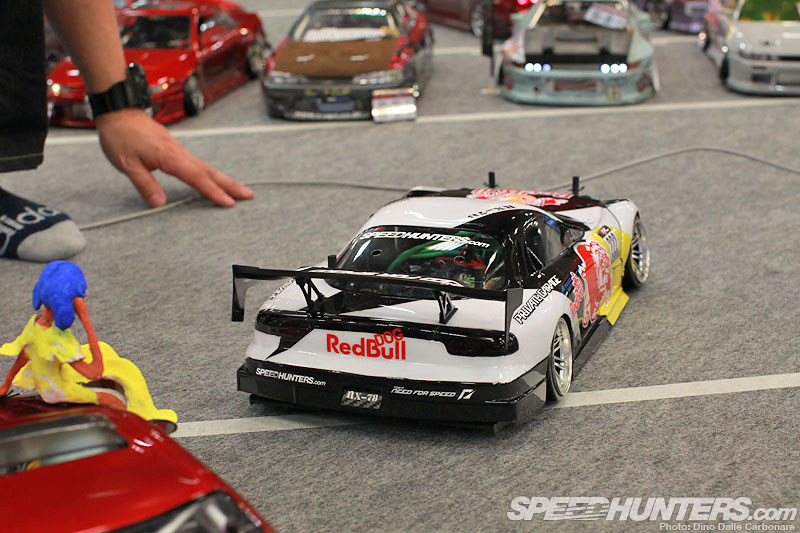 Our very own Mad Mike should be very happy to see this particular FD!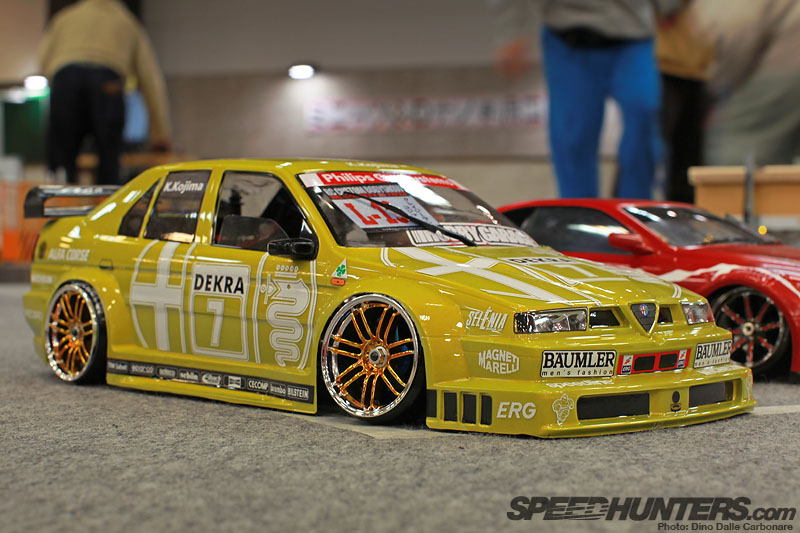 Any DTM fans out there? Then this Alfa Romeo 155 V6 Ti inspired build…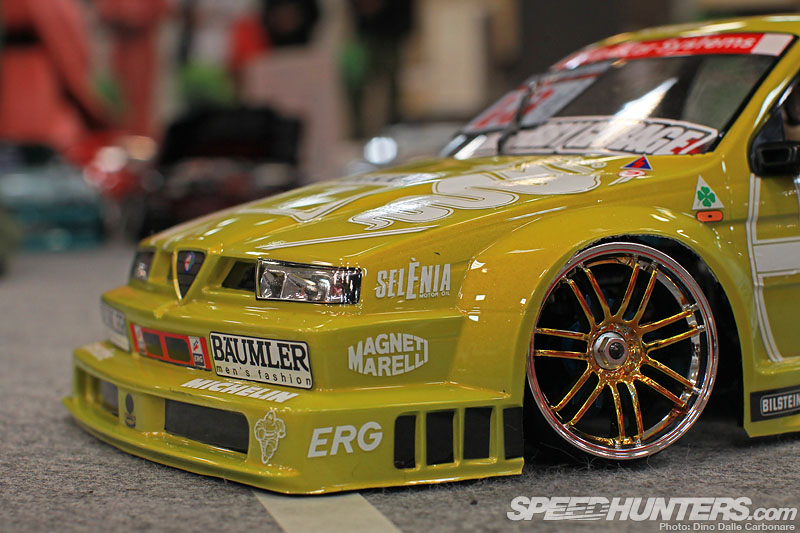 …will be right down your street.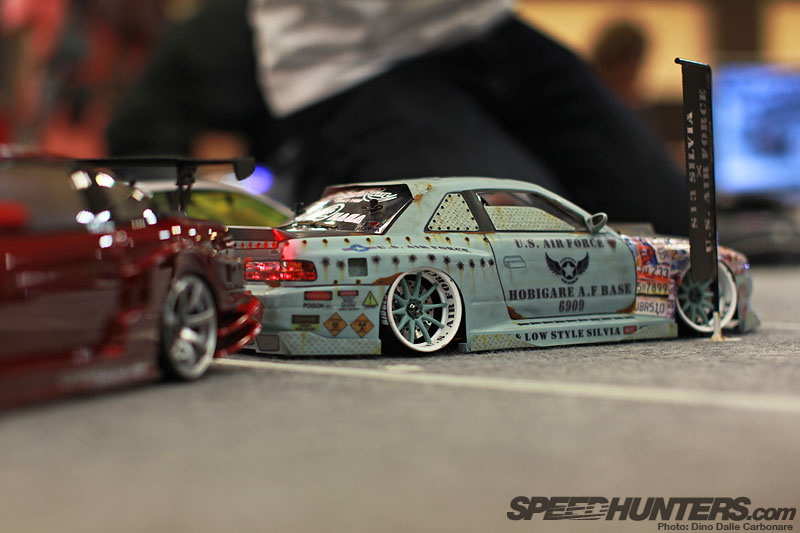 The Volklinger S14 we saw last year at Hellaflush Kansai and Slammed Society events had inspired lots of other military-themed cars, including scaled ones too of course.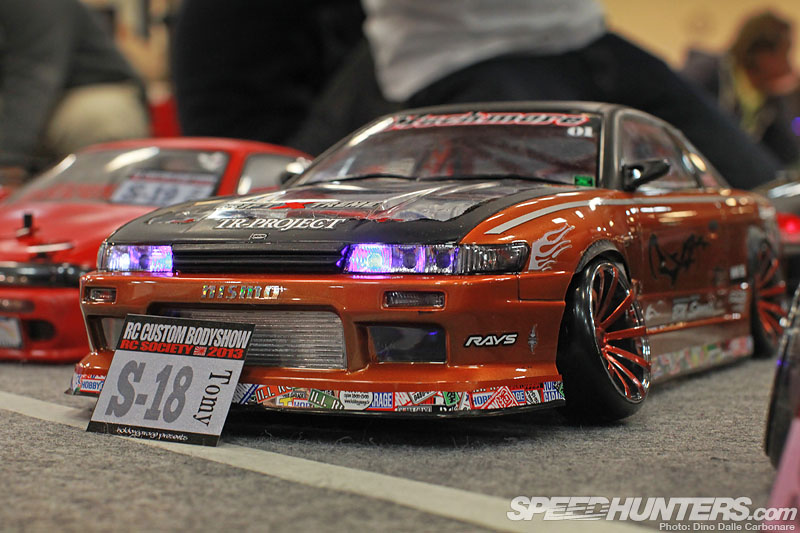 There were a good couple of hours for us all to take closer look of the cars present and submit our votes.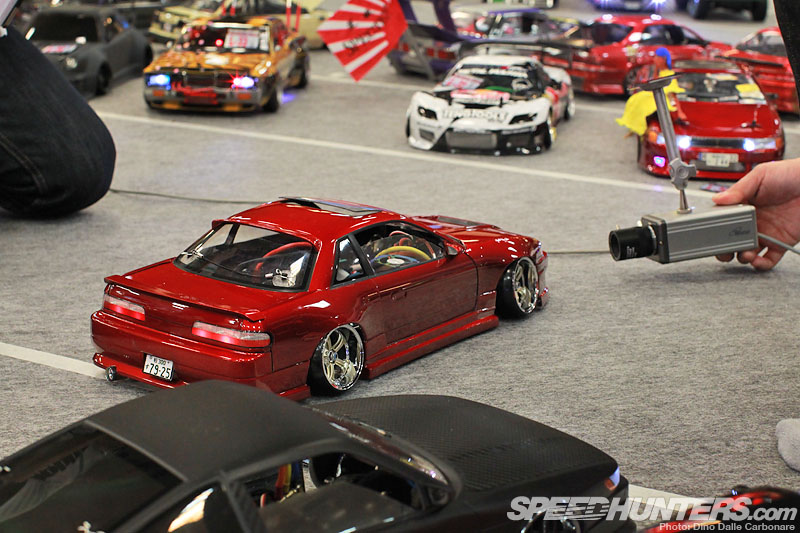 Towards the end of the video presentation of the cars there was one last-minute addition…from me!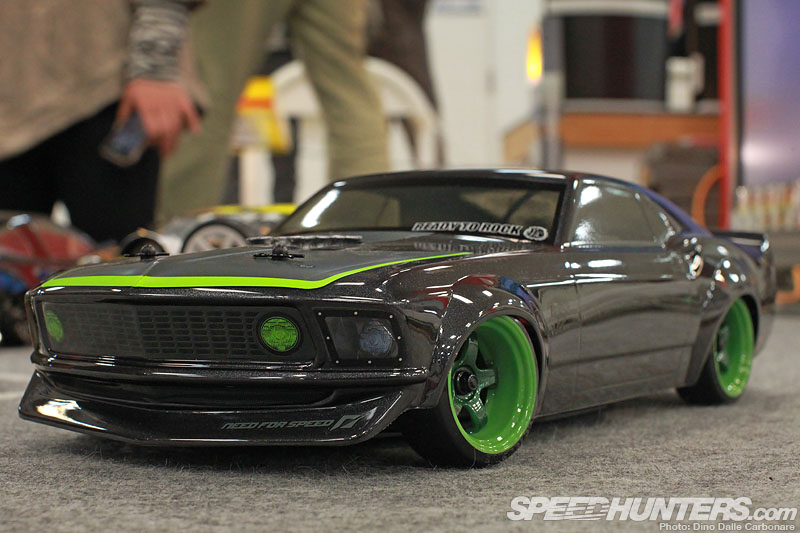 In the hope that I would get some time after the event to drift, I brought my brand new RTR-X Mustang from HPI that arrived the other day from the US. I thought it would be a great chance to break her in at a pro Japanese track and once the organizers heard I had a car of my own they let me add it to the line up.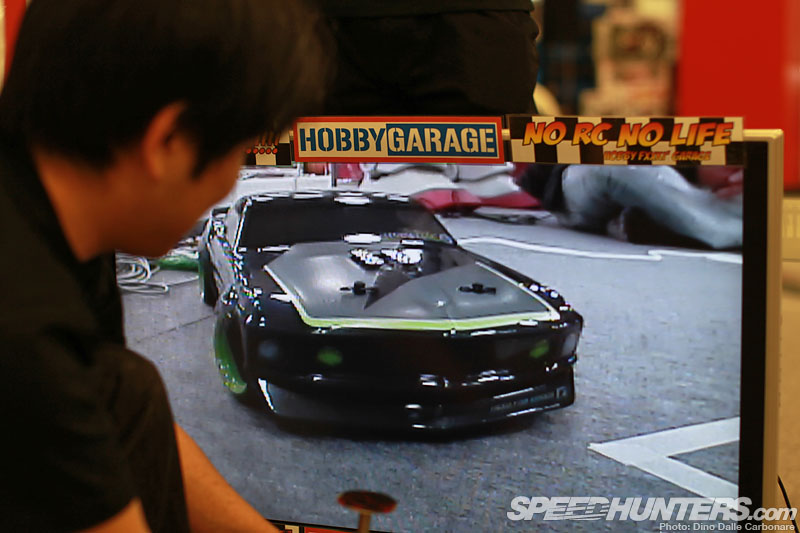 So it got its own video presentation! Some of the guys there seemed to like the eight velocity stacks sticking out of the hood as well as the color matched wheels. It was a great moment; I almost felt accepted, like I was one of them. Unfortunately they all knew it was  completely stock and I hadn't even turned a screw on it so I dropped the act and continued taking pictures.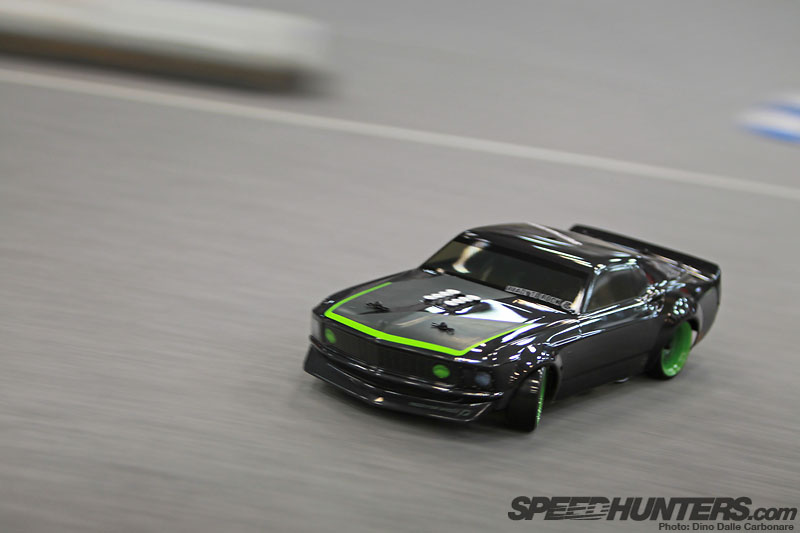 Not before I had time to waste one battery though…we all need breaks right!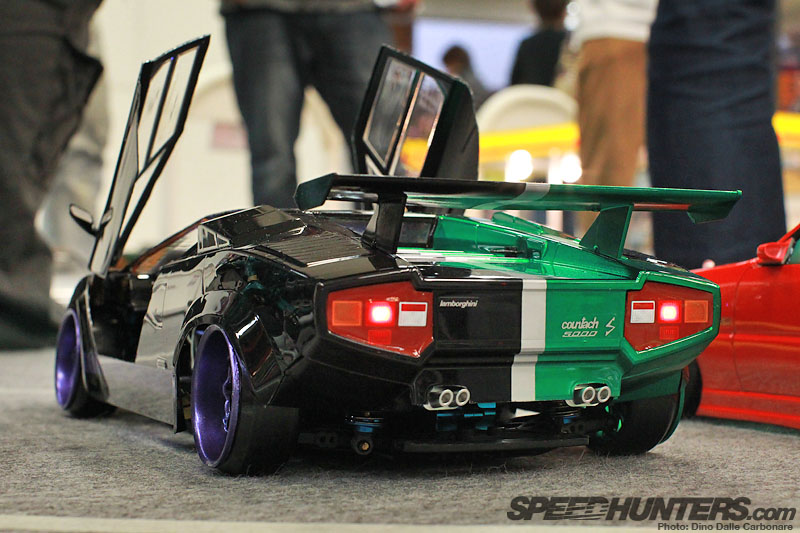 The owner of this Countach probably thought it would be a sacrilege to have a Lambo and not have the scissor doors open. So he fixed that, and you can now open and close them at the flick of a switch. He was even drifting it with the doors up…letting all the haters hate. That's right!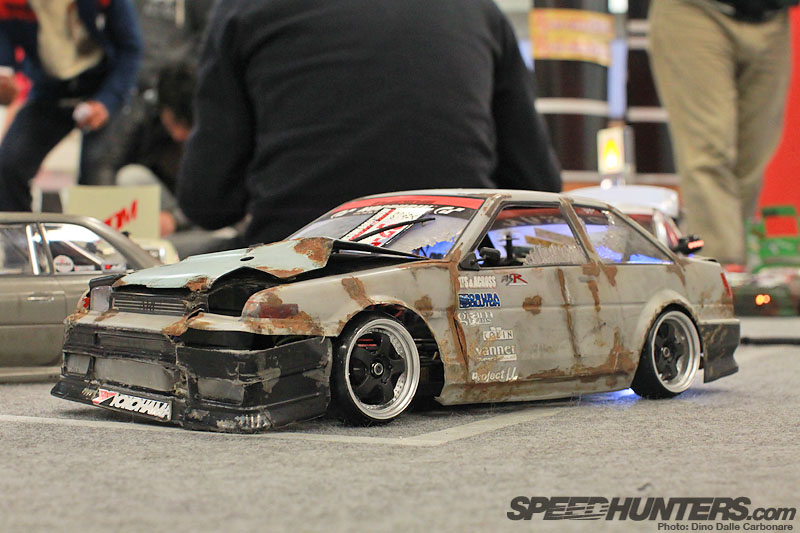 Here is another Drift Matsuri missile special. It takes some real skills to make this sort of carnage look realistic…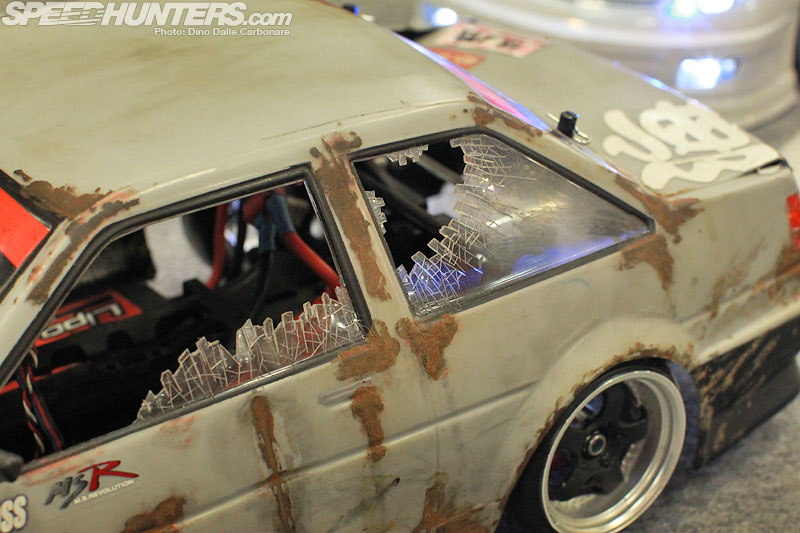 …all the way down to the rust sport and the shattered glass.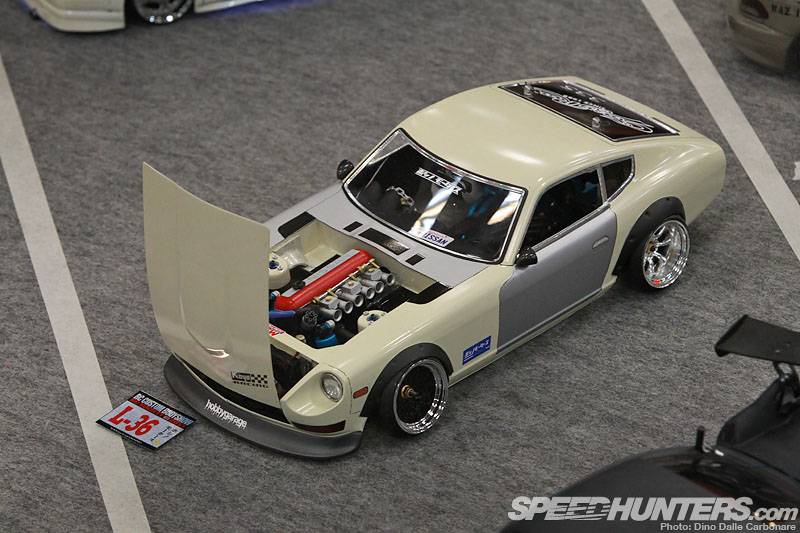 You kyusha fans out there will love this S30 Fairlady Z. As the owner showed me on his phone, Linhbergh's feature on "that 240Z" was the inspiration.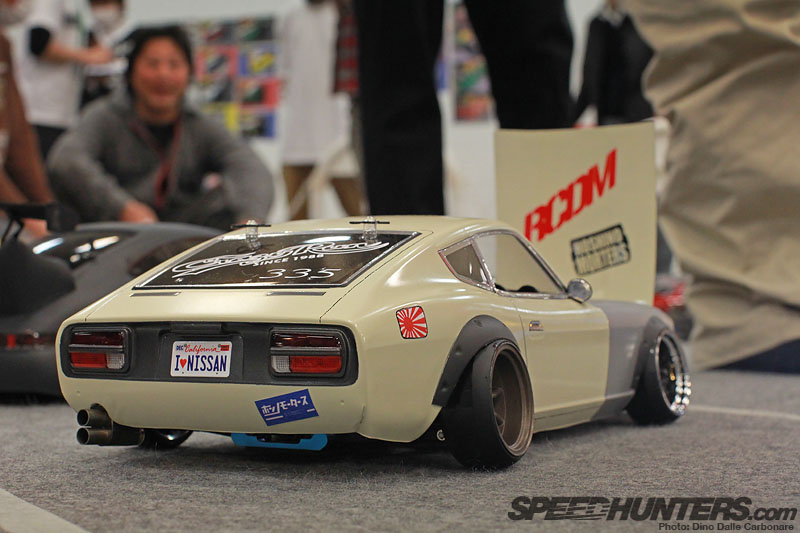 Pretty damn cool right?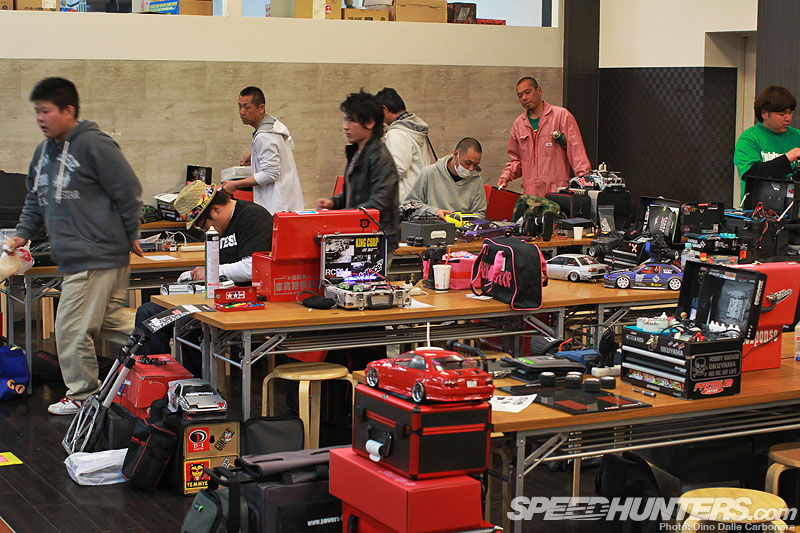 After having shot each entrant's car in detail I took a wonder over to the track side of the Hobby Garage, where things were very busy with lots of drifting, charging, fine tuning.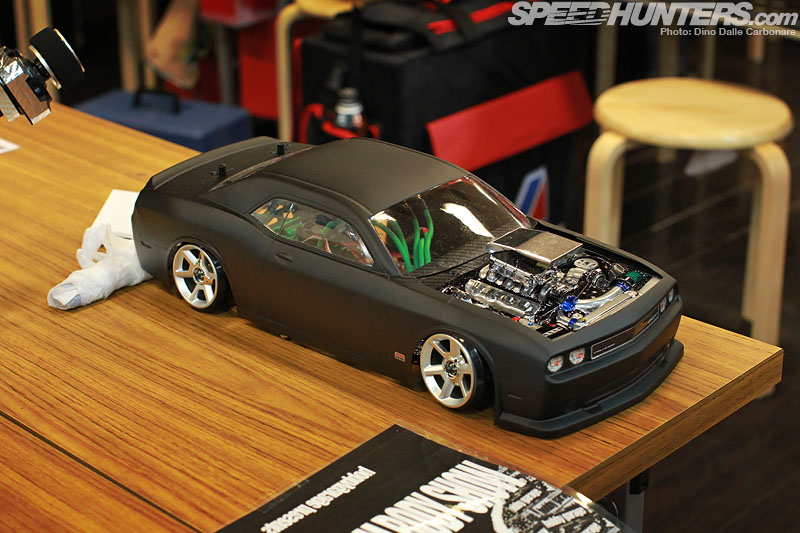 It's there that I spotted even more cool builds, and it seems that most of the guys that were part of the Custom Body Contest had also brought…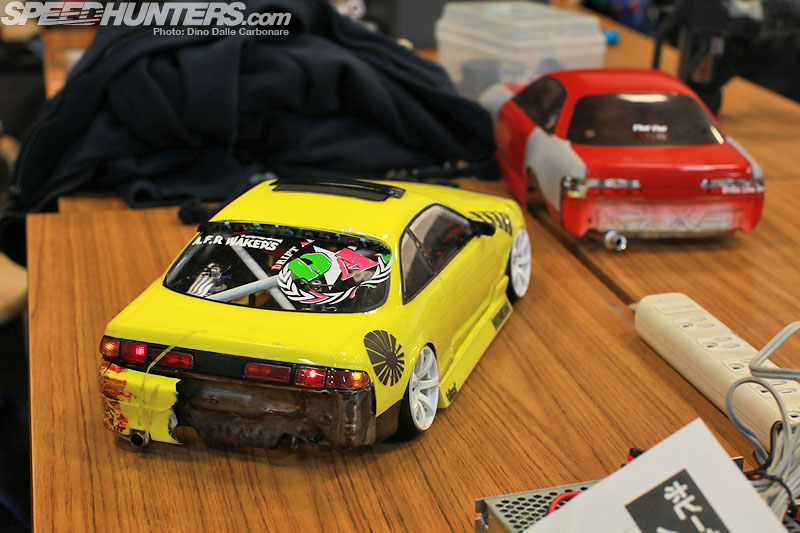 …one or is some cases two or more other chassis and bodies to play with.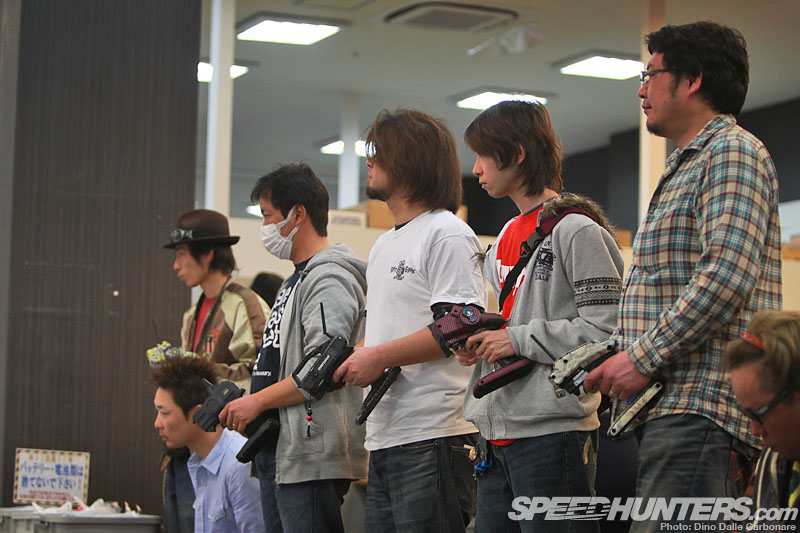 It's almost unheard of to see anyone use a stock controller to drift cars at the track. Everyone sports the latest and most expensive commanders, usually just as accessorized as the cars and chassis themselves with carbon-look wraps and replacement steering "wheels."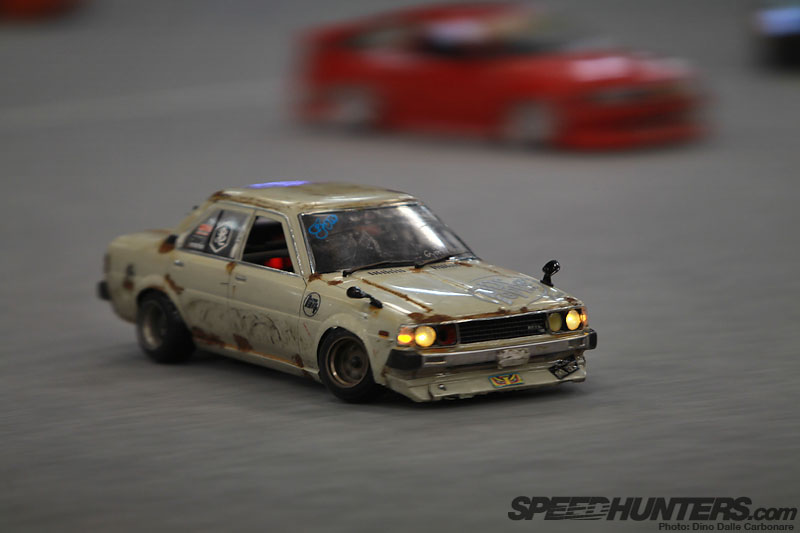 Some other cool cars I spotted on track were this pair of Toyotas, this MotorFIX-inspired Corolla…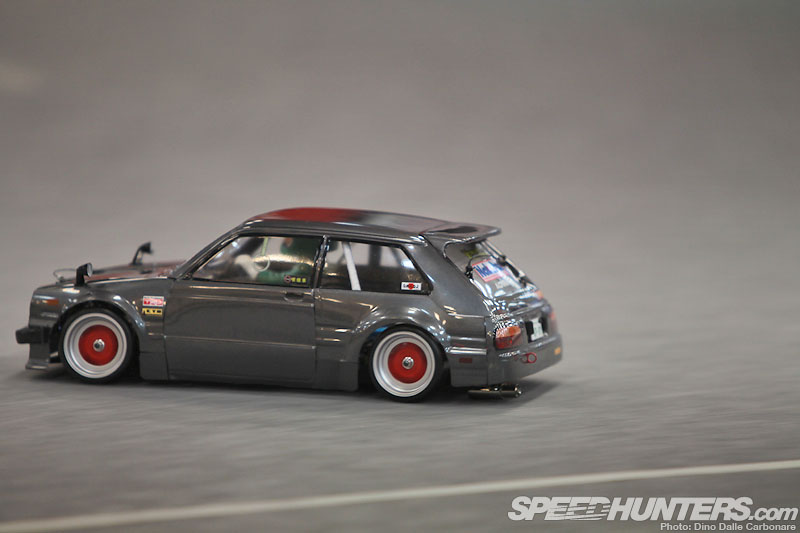 …and this widebody slammed KP61 Starlet.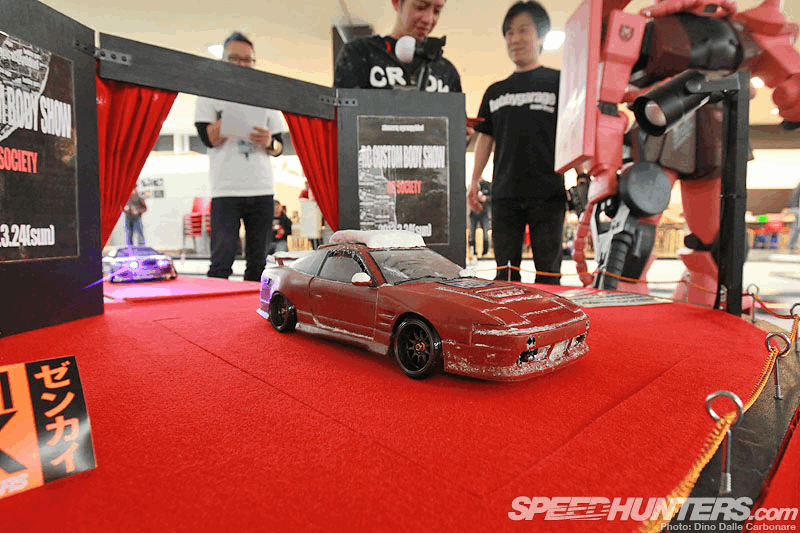 Later on in the afternoon it was time for the prizes to be handed out. The organizers of the event at the Hobby Garage had come up with a novel way of eliminating the finalists that didn't make it to the top spot in the three different categories. If not unanimously voted the best, it was simply flushed down and dropped through a remote-operated trap door! (don't worry there were a couple of pillows to cushion the fall)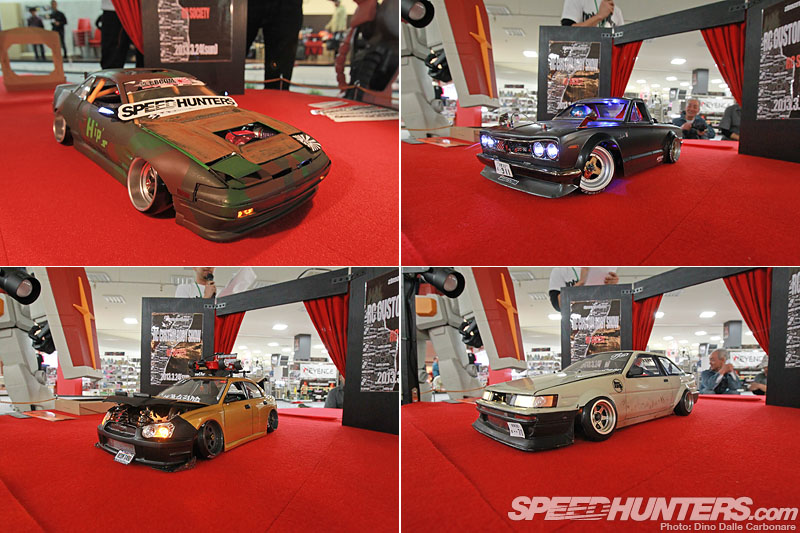 The camo Onevia took the win in the S-chassis group…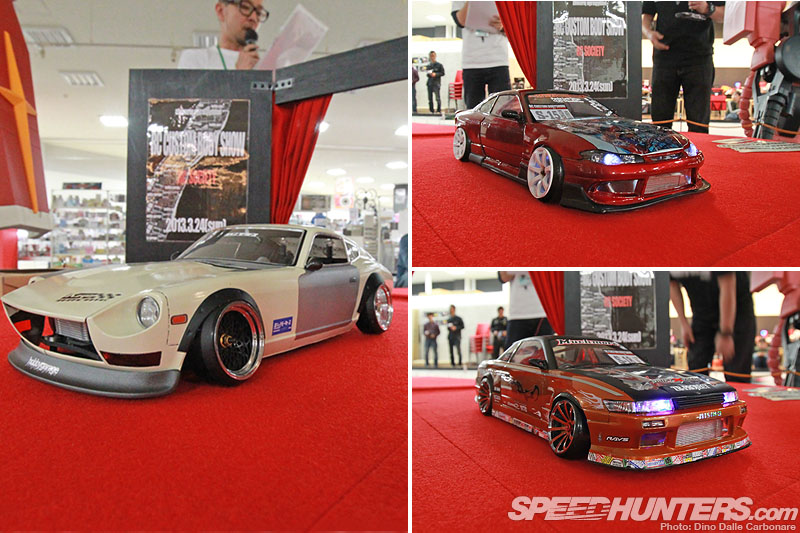 …while the shakotan Z grabbed the top spot in the miscellaneous category.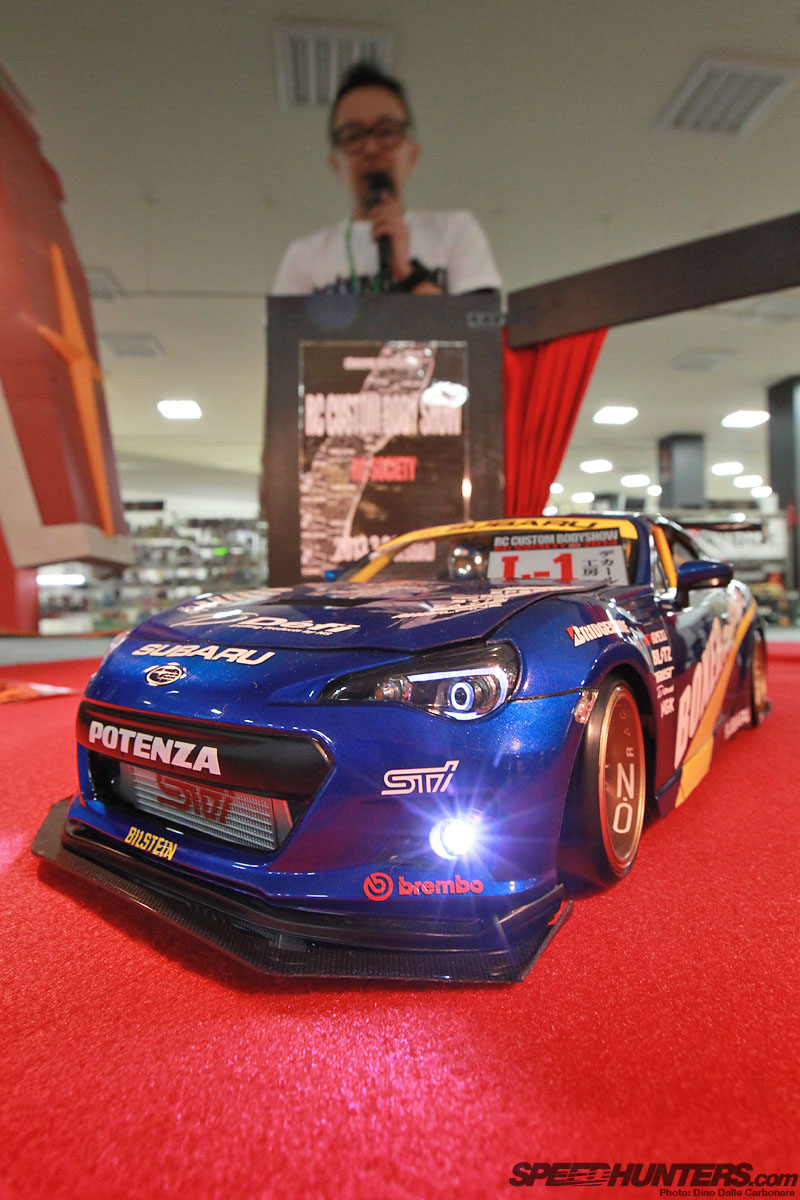 Long and hard work obviously paid off as the top prize in the custom category went to the drop-top BRZ.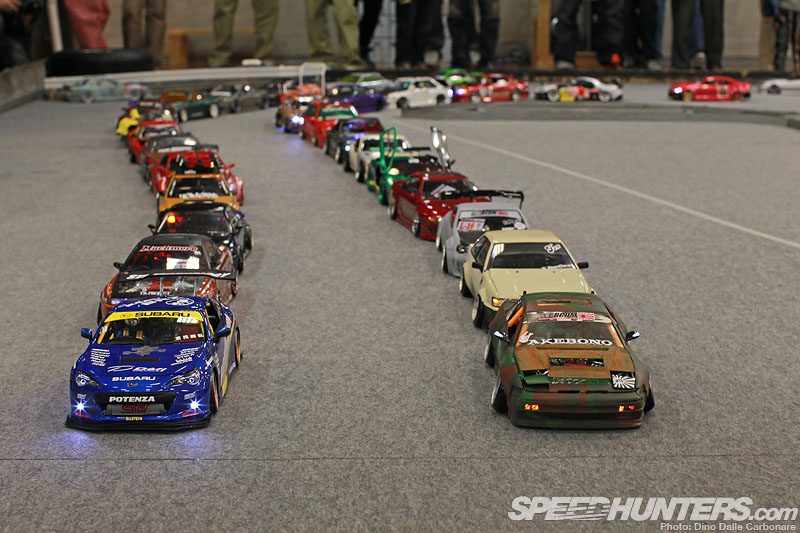 After the award ceremony everyone was invited to the main track…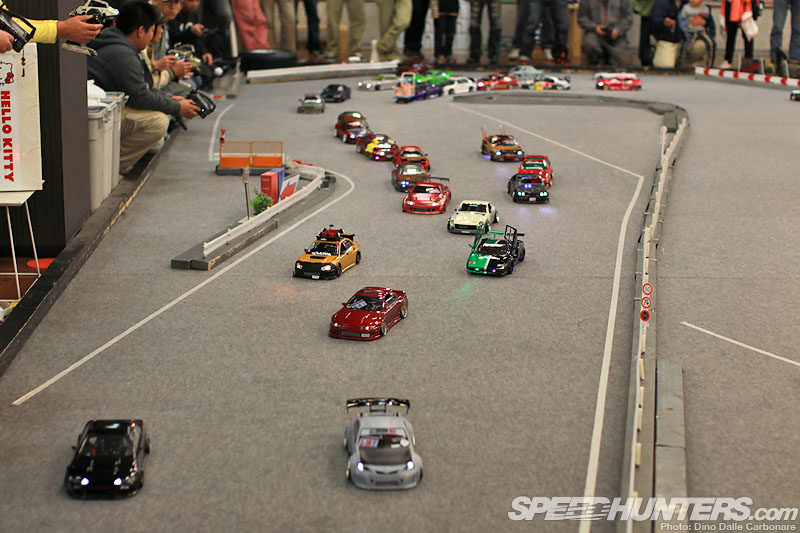 …to join in a few slow parade laps…which quickly turned into a bit of hard drift session!
What a great Sunday out this turned out to be. It was the perfect example of how many different ways enthusiasts, or otakus in this case (!), can enjoy their passion for cars.
-Dino Dalle Carbonare
---
---
---