This all happened by accident really. What was meant to be a relaxing weekend away, abruptly turned into a fevered hunt for speed. I wouldn't mind, but I specifically chose the French capital to purposely get away from any sort of car culture for a few days. One of the largest population centres in all of Europe surely couldn't lend itself to being a hospitable host to an auto-enthusiast, could it?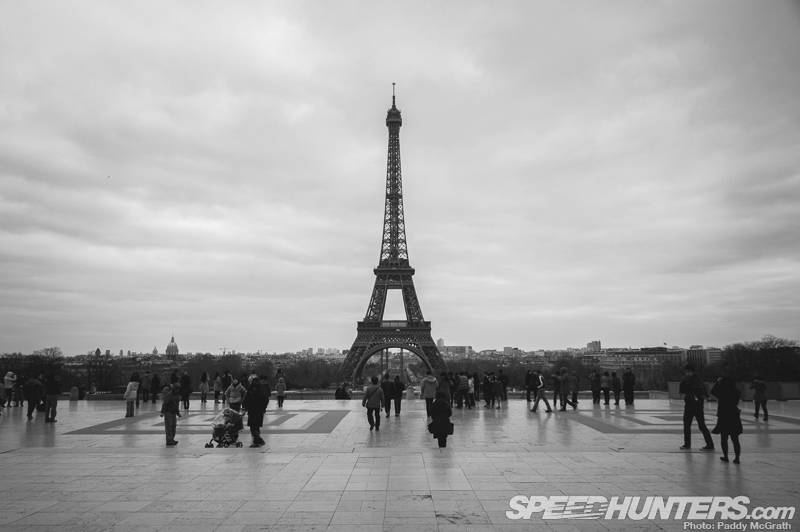 Working for Speedhunters is probably the best job in the world. Of course this doesn't equate to being the easiest job, so every now and then we need some downtime to recharge, which in turn allows us to return to #maximumattack mode.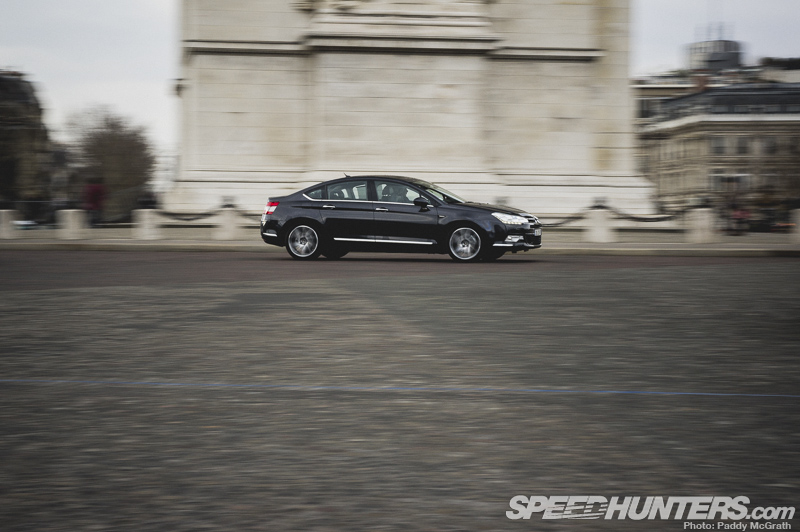 There is a problem however. Being a Speedhunter isn't something we can switch off. No matter where we go, what we do or when we do it, there's always this constant thirst to seek a fix of automotive goodness. For example, when you spend twenty minutes trying to pan an isolated shot of a mundane French saloon on a busy roadway…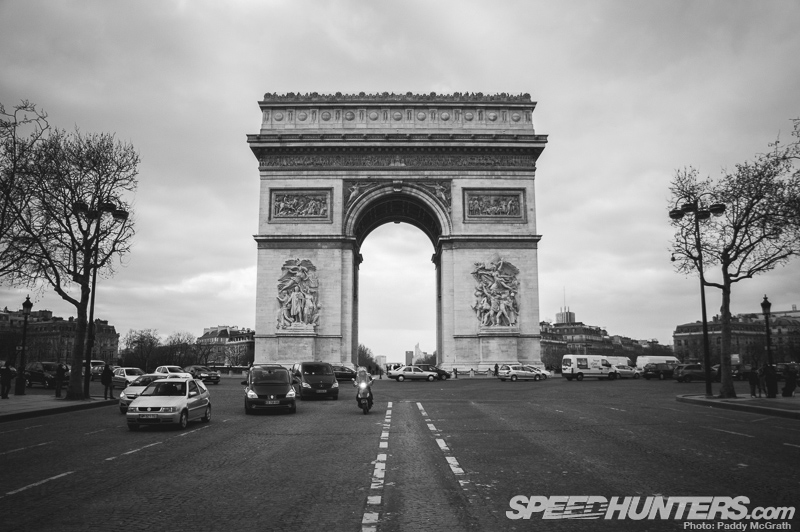 …before you realise that you're stood in front of the Arc de Triomphe. It's a sickness really, but the good sort.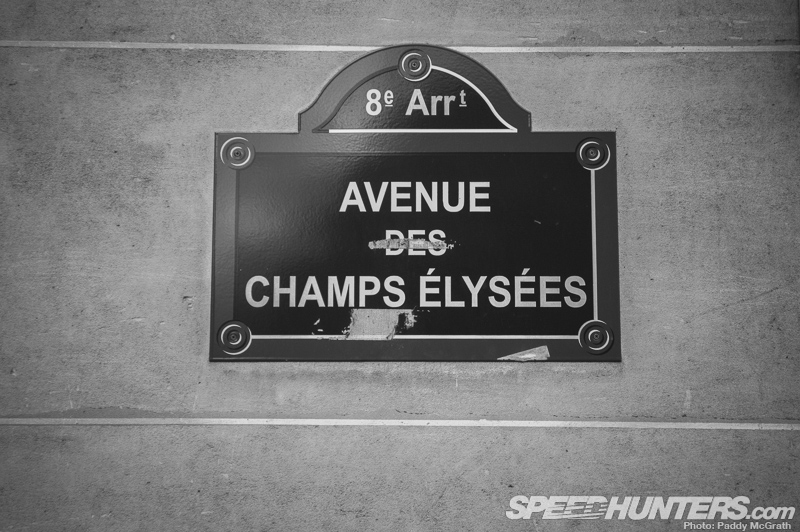 The Arc de Triomphe stands tall at the western end of the Champs-Élysées, one of the most famous streets in the world. The predominantly Baroque styled Champs-Élysées, ten lanes wide in places, has been the site of many famous and infamous marches and celebrations. Today it's recognised as one of the top shopping districts, and it's sort of on that subject where I'd like to begin.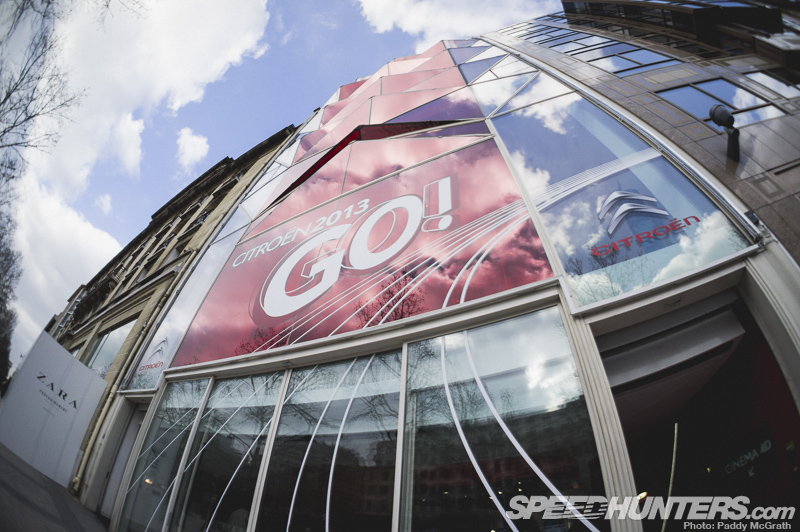 I don't know about you, but where I live, car showrooms are generally on the outskirts of town with plenty of lot space to advertise cars both new and used on the premises. I've seen some small boutique showrooms before, in Milan and Amsterdam, but nothing on the scale of what I stumbled upon in Paris.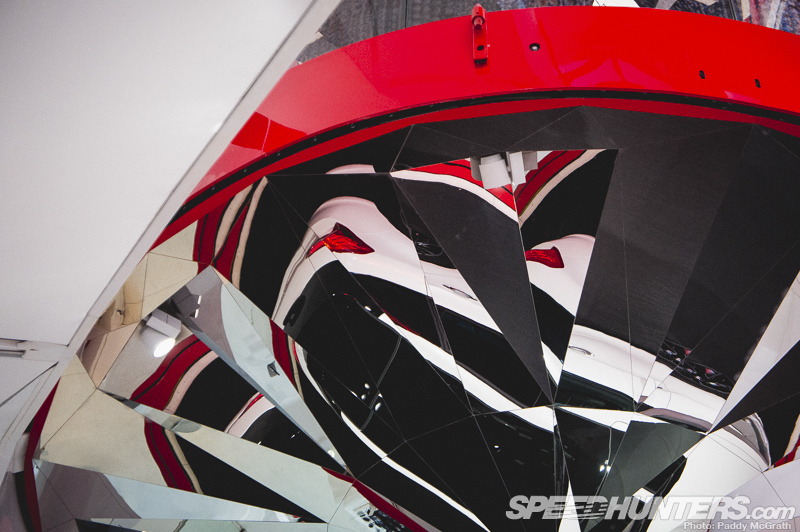 To call this (and some of the others I'll discuss in a bit) just a showroom would be an injustice of the highest order. These places are a celebration of the manufacturer and car culture as a whole.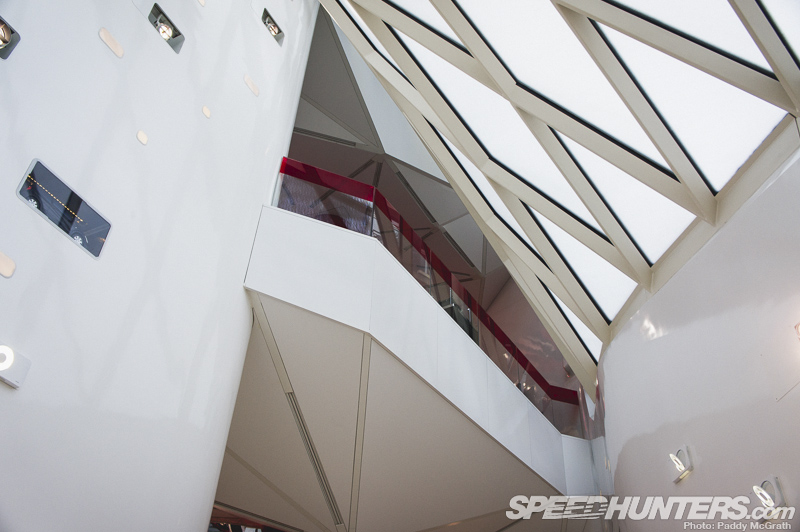 When it comes to standing out, Citroën have gone all out with their C42 venue (C for Citroën and 42 for the street number). The French manufacturer has owned the premises since the 1920s, and used it as a flagship showroom for many years. In 2007, it was completely rebuilt to best reflect the contemporary Citroën.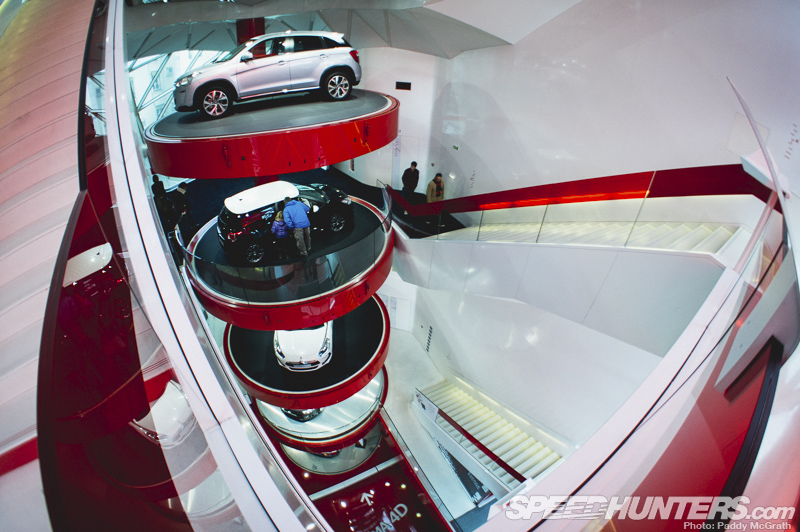 Designed by architect Manuelle Gautrand, C42's show piece is undeniably its eight level carousel which showcases a selection of vehicles from the manufacturer. Rising from the basement right to the top of the building, the cars on show are part of an exhibition which is refreshed every season. The exhibitions range from new cars, racing heritage and key Citroën values.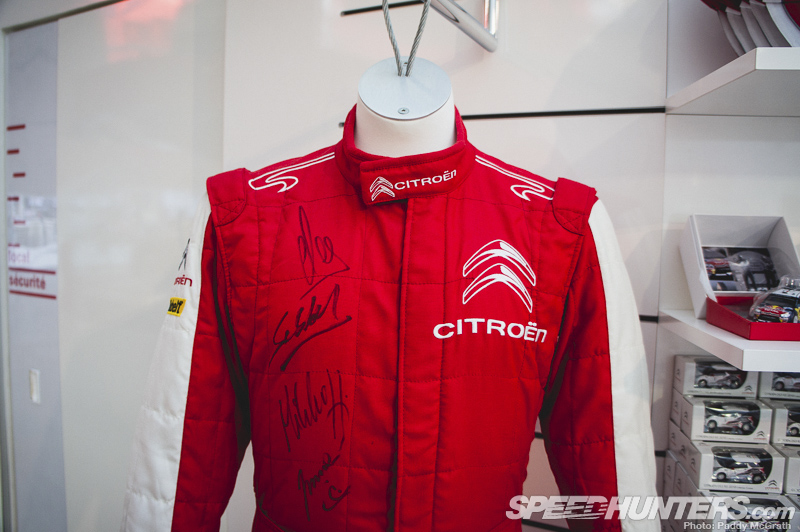 On the subject of racing heritage, you simply cannot speak about Citroën without mentioning one monsieur Loeb.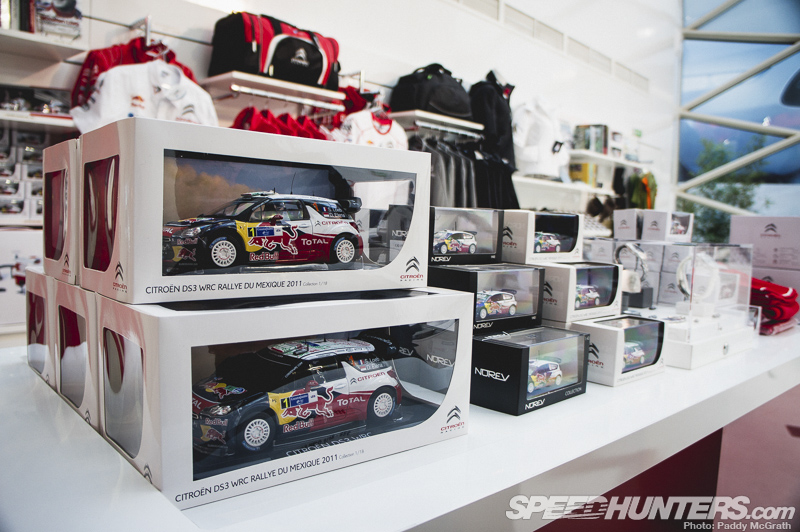 It's fair to say that he's a bit of a national hero in France, and it's something Citroën are proud to shout about.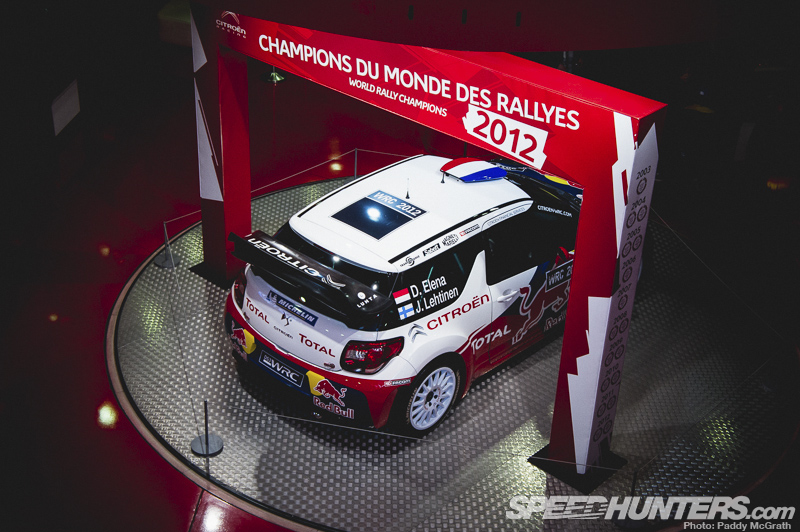 The exploits of the nine times back-to-back World Champion forms a permanent part of the exhibition at C42.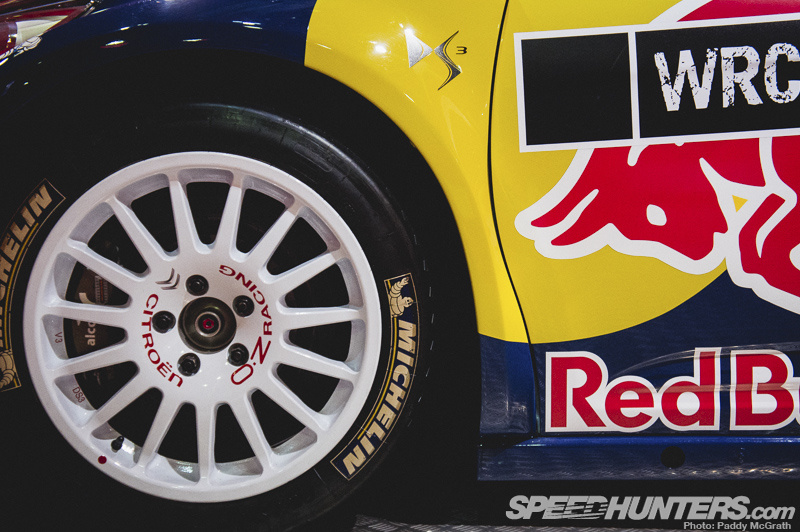 Located on the lowest level of the building, is the centre piece, the 2012 WRC winning DS3 World Rally Car.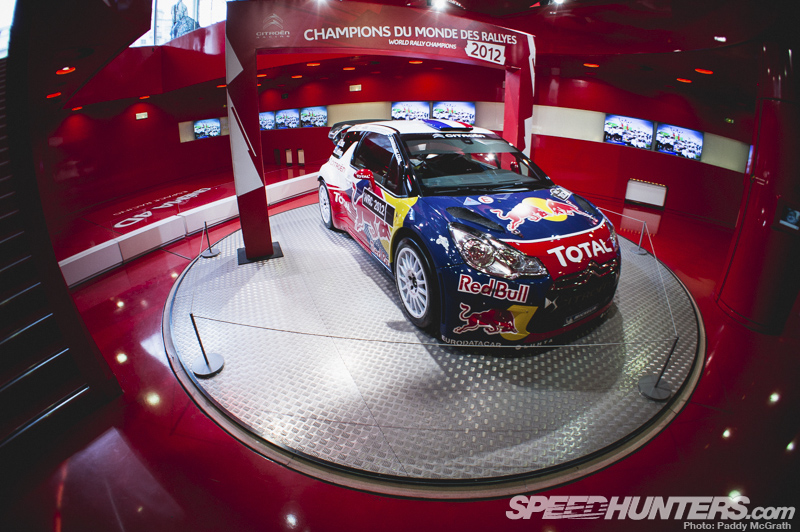 Unlike certain manufacturers who display replicas of their racing cars, this was an actual WRC spec car, although I'm not sure which events it competed in. The DS3 was introduced in 2011 and already has 21 WRC event victories to its name, including 10 in 2012 alone. Racing royalty.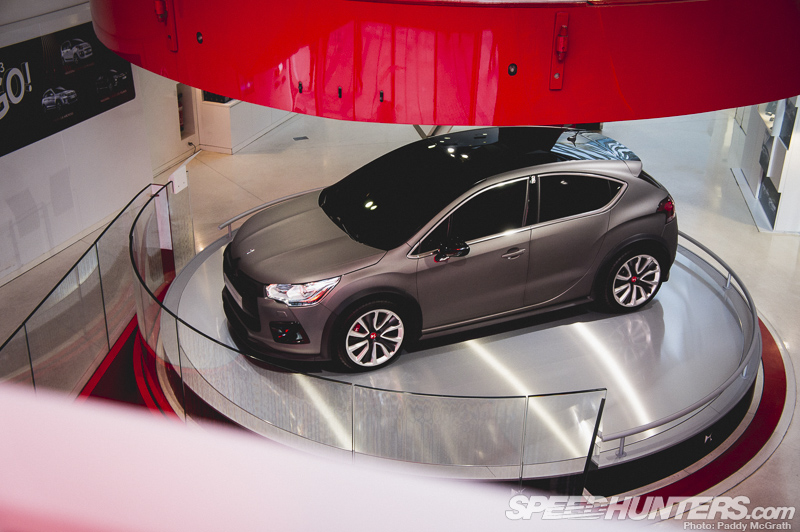 The rest of the exhibition revolved around Citroën's current crop of production cars but also included this DS4 Racing Concept.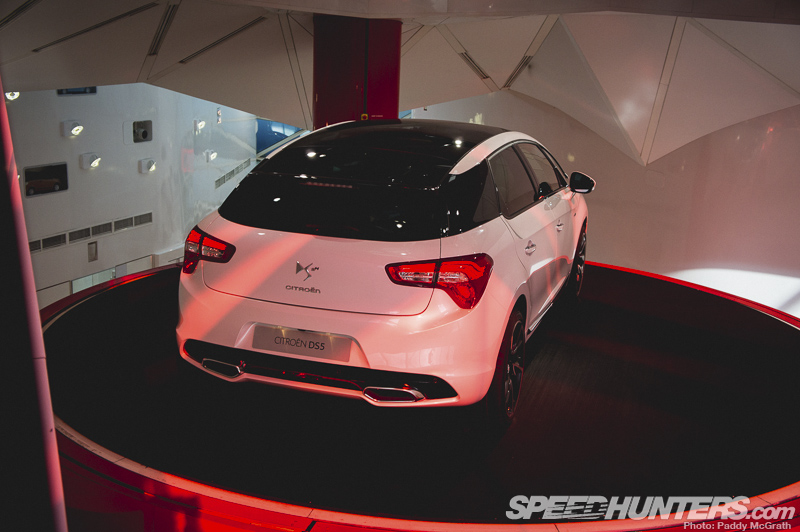 As you climb the seemingly never-ending staircase, you can view each of the cars as they turn on the carousel. Every second car was on a public level and could usually be accessed and viewed in much more detail. I still have no idea how they get the cars in and out.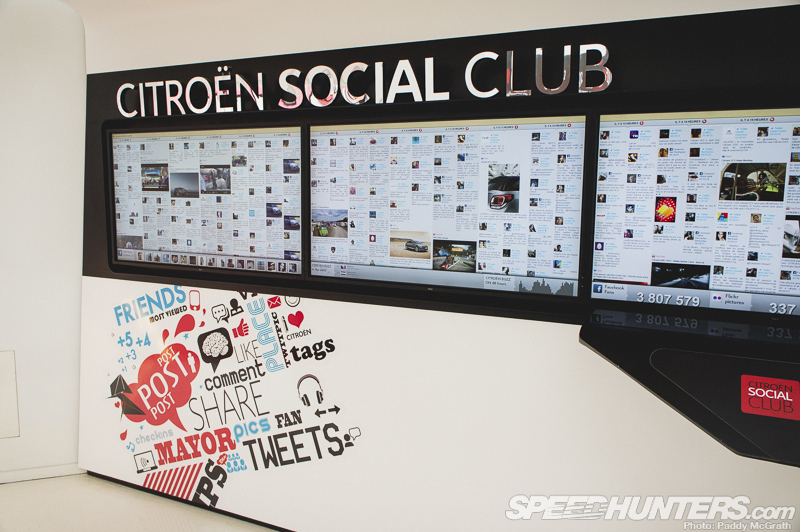 I found this live feed of everything Citroën tagged, mentioned or related to the brand on social media absolutely fascinating. The speed at which it was updating was quite frankly, a little bit terrifying.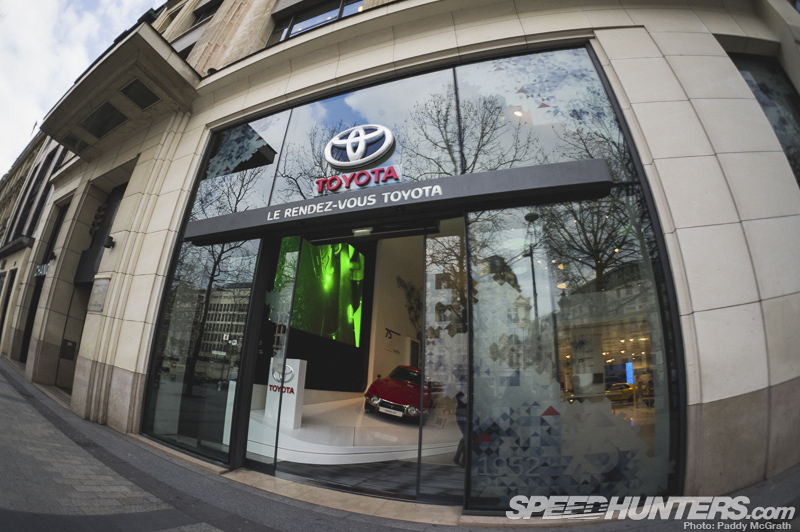 Citroën don't have it all to themselves however on the Champs-Élysées, and fight with several other manufacturers for the public's attention. One in particular, which was a little bit far from home, was Toyota.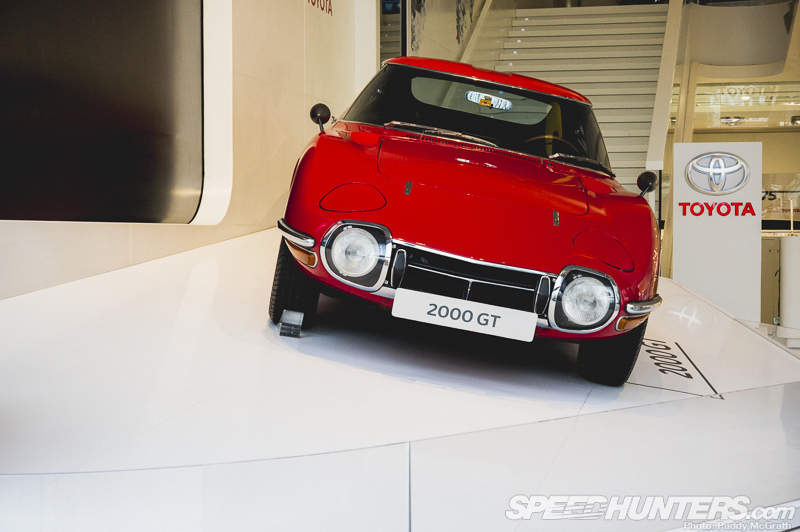 When I visited last month, Toyota were celebrating 75 years of their history…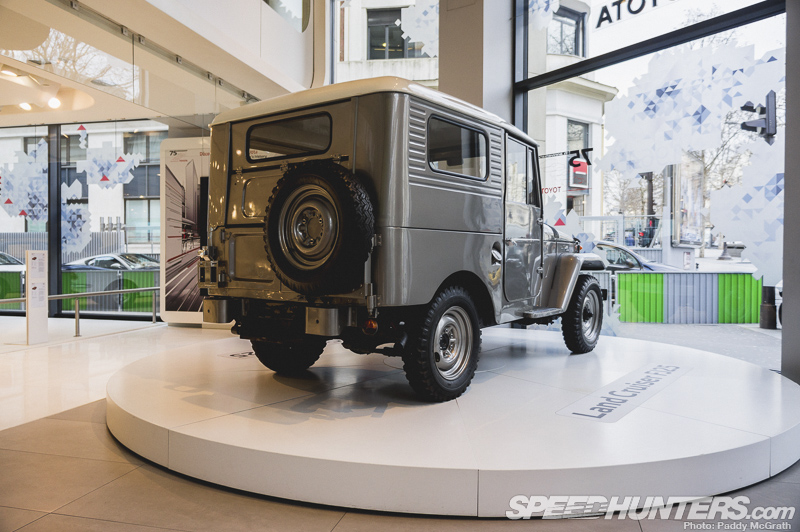 … and had dedicated the ground floor to a fleet of pristine classic Toyotas.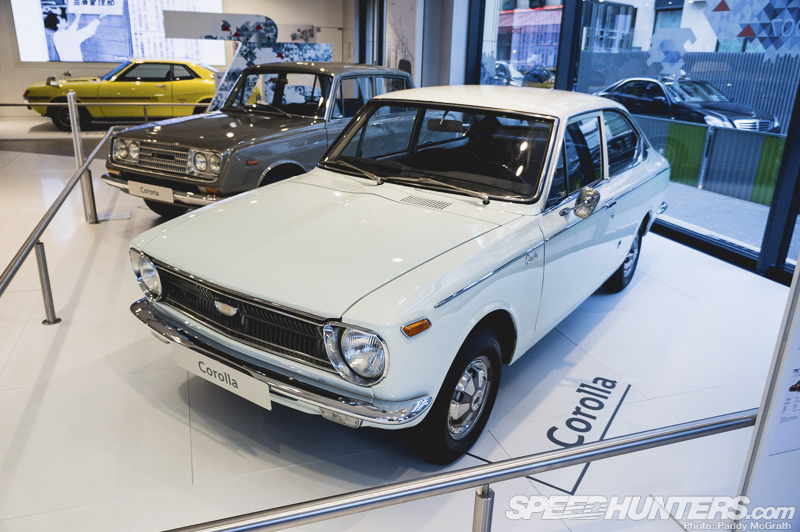 When was the last time you seen a '69 Sprinter in literally showroom condition?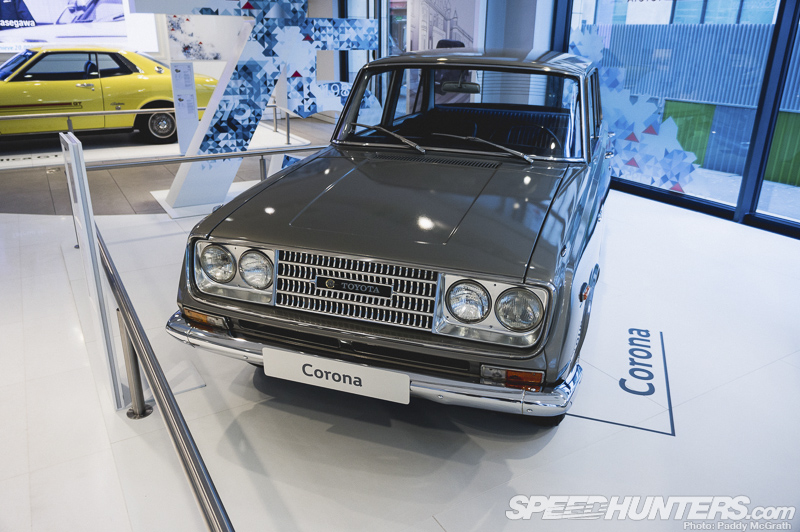 Or a '65 Corona that looked like it had just rolled off the assembly line?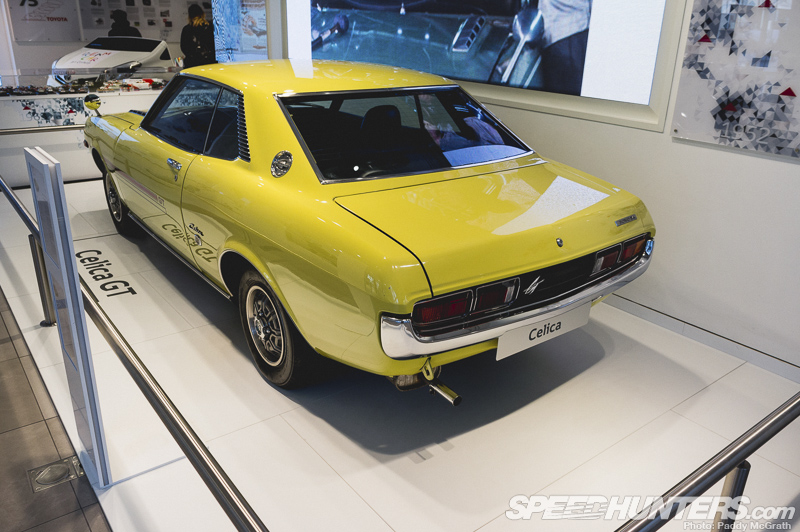 It's all too easy to forget just how good looking some of these cars still are. This 1975 Celica GT was sublime.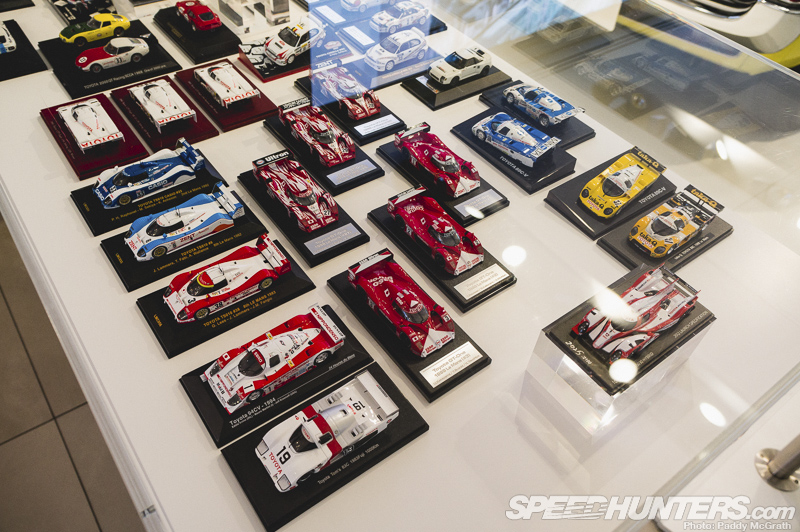 I did however get distracted by the huge selection of diecasts on display.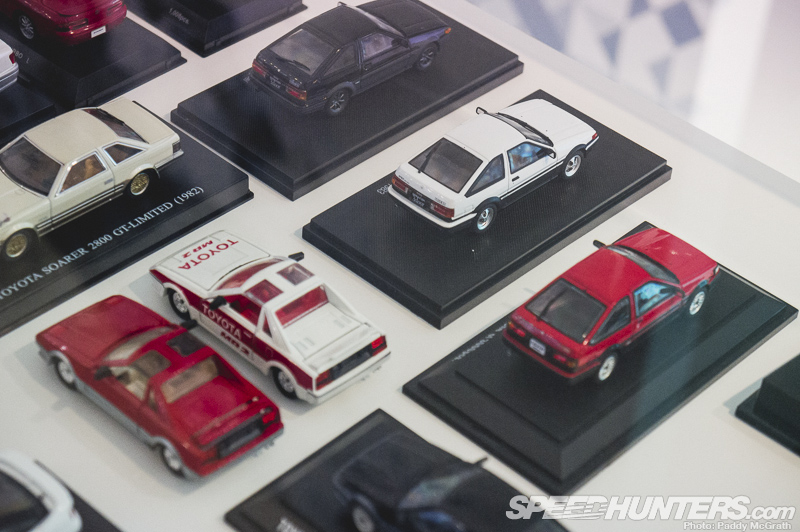 Unfortunately they weren't for sale but I think nearly every Toyota ever was represented.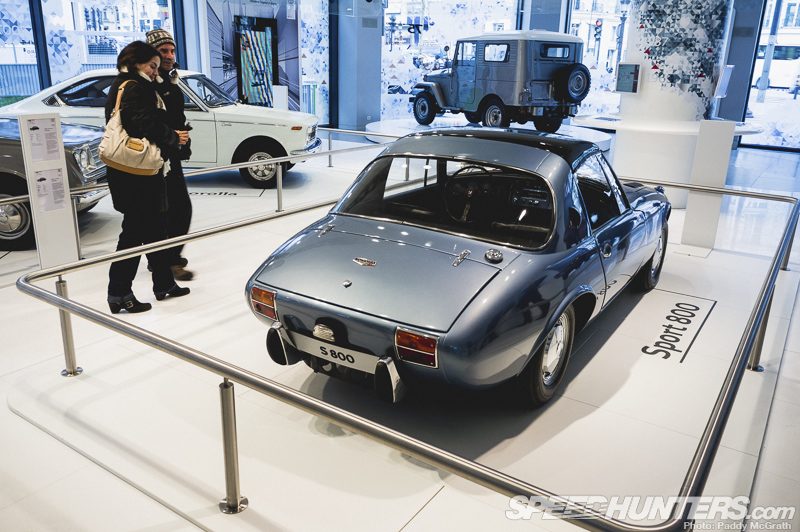 I've never seen a Sports 800 before in the metal. I guess when you consider that only around 3,000 were ever built and it's estimated that there are only around 300 left, most of which are still in Japan, it's no surprise that this a rare sighting in Europe. Just to add to that, only 300 were built in left hand drive. Interestingly, the car is powered by a 790cc two cylinder boxer engine. Maybe this will allay the worries of the Toyota purists who cried foul at the flat four in the GT86…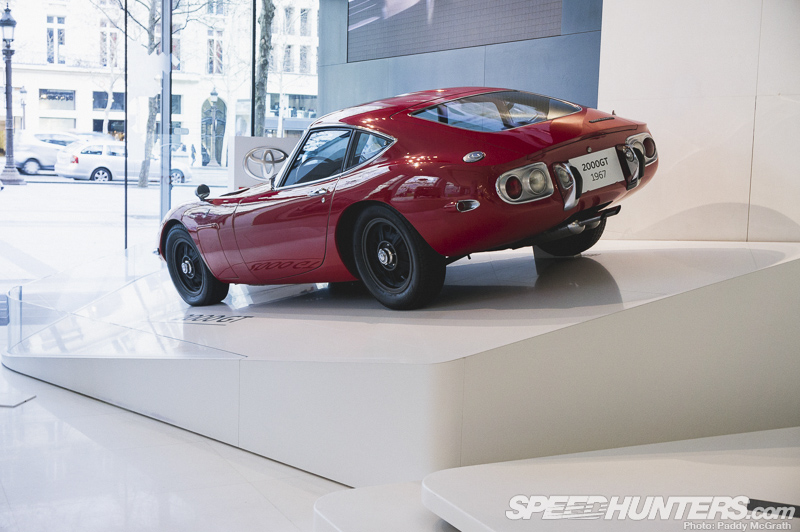 In comparison however, the 2000GT makes the S800 look common as a little over 300 were ever built. I know there are often comparisons between the 2000GT and the E-Type Jaguar, but it's still a fine looking motor vehicle.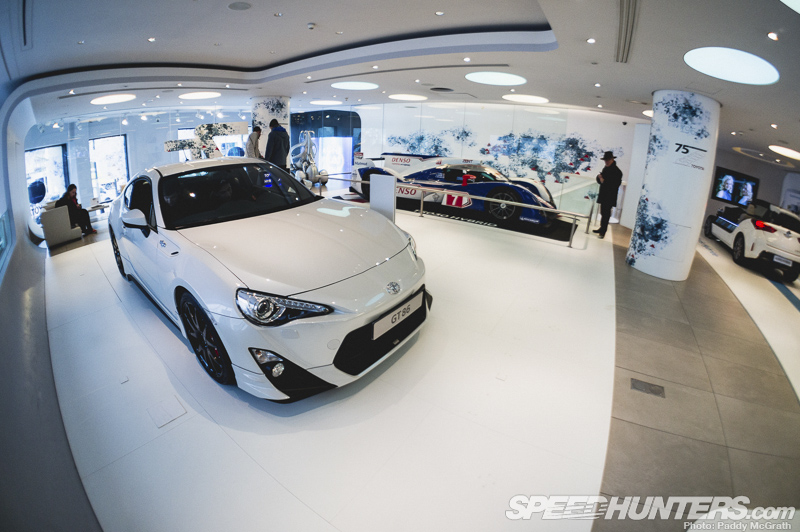 Upstairs at Le Rendez-Vous Toyota was reserved for a more contemporary display.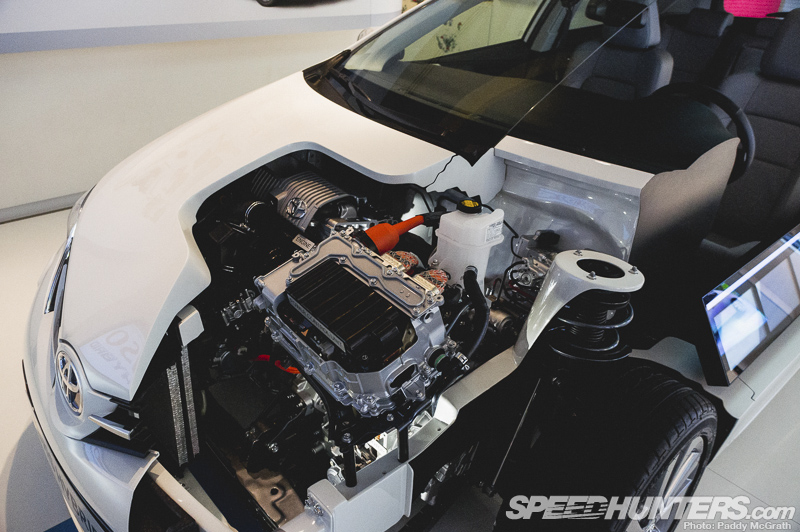 A cut-away hybrid Auris was presented to educate those unfamiliar with hybrid technology.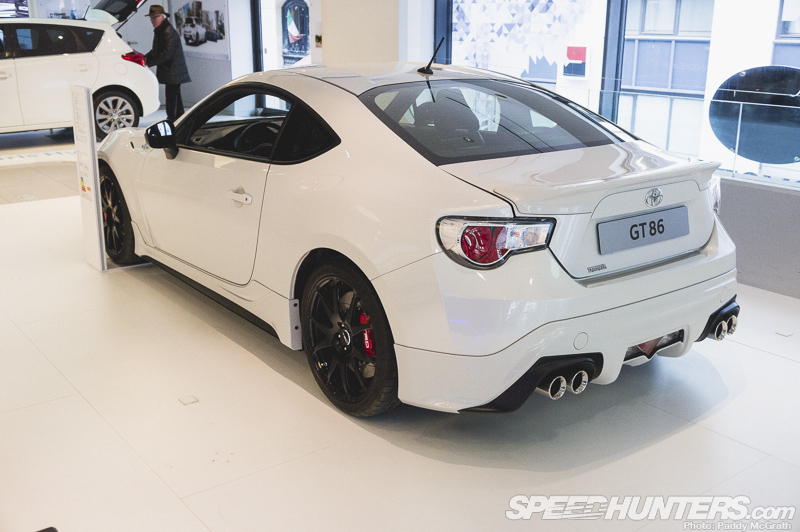 Something more inline with the Speedhunters train of thought was this TRD equipped GT86.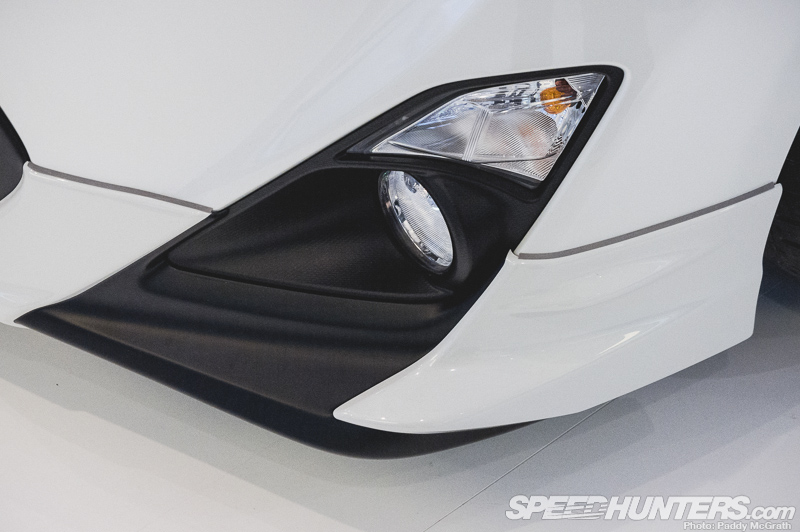 The visual changes were aplenty including a new front splitter, side skirts, forged 18″ wheels, rear diffuser and rear spoiler.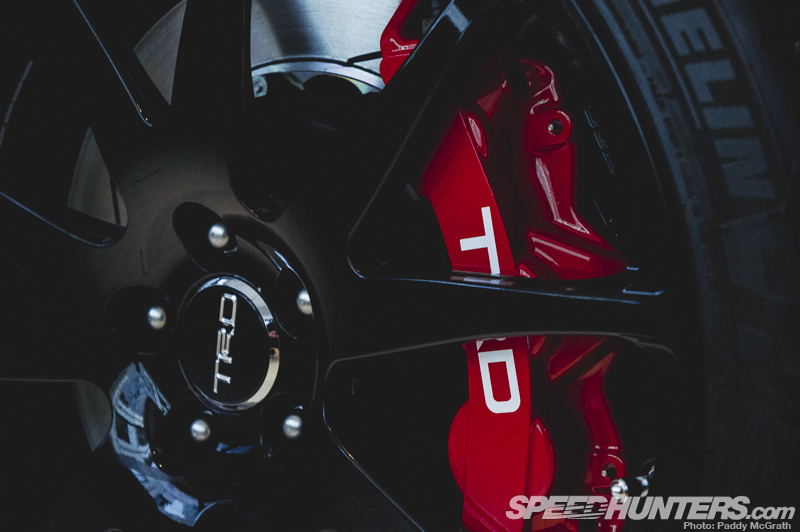 Although less obvious, the mechanical changes present included a TRD BBK with six piston front callipers and 355mm discs, fully adjustable TRD suspension, exhaust system and a carbon front strut brace.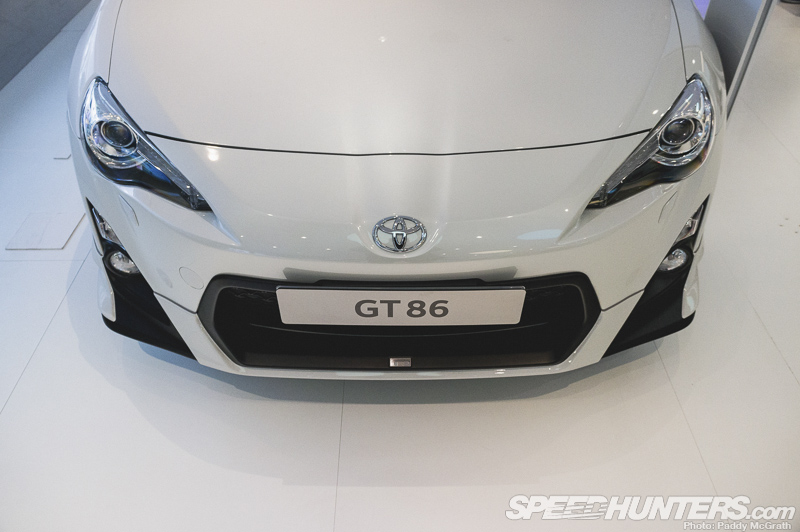 What made this particularly upsetting for me was that this TRD model was nearly €10,000 ($13,000) cheaper than a stock GT86 in Ireland. Le sigh.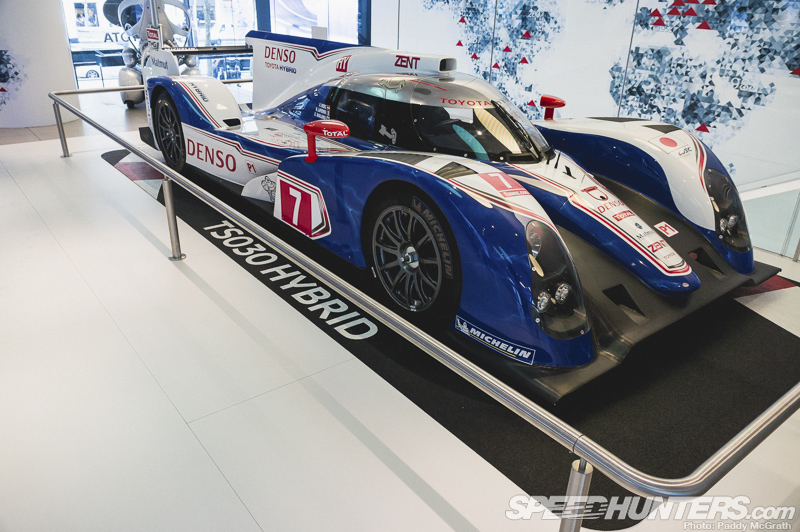 Keeping the GT86 company was a replica of Toyota's 2012 Le Mans car, the TS030. I say replica because all the carbon fibre was actually vinyl wrap, unless it was the actual chassis without the original bodywork? Regardless, it's still cool to appreciate the size and details of one in the almost metal.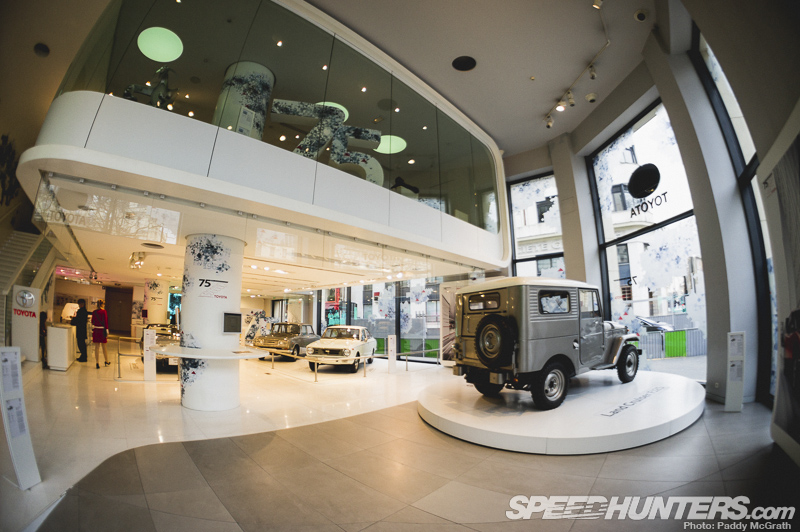 Although modest in size compared to C42, Toyota's presentation could not be faulted.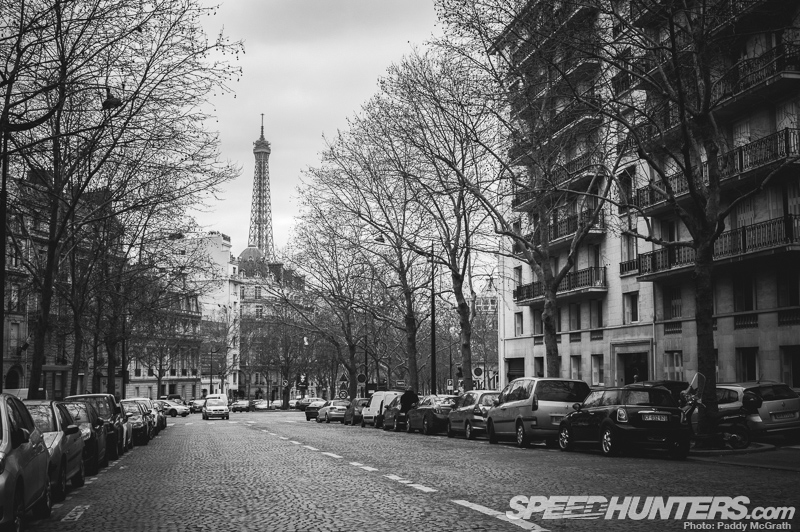 It wasn't just on the Champs-Élysées that you could get your fix either. The many side streets offered plenty for those who were willing to seek it out.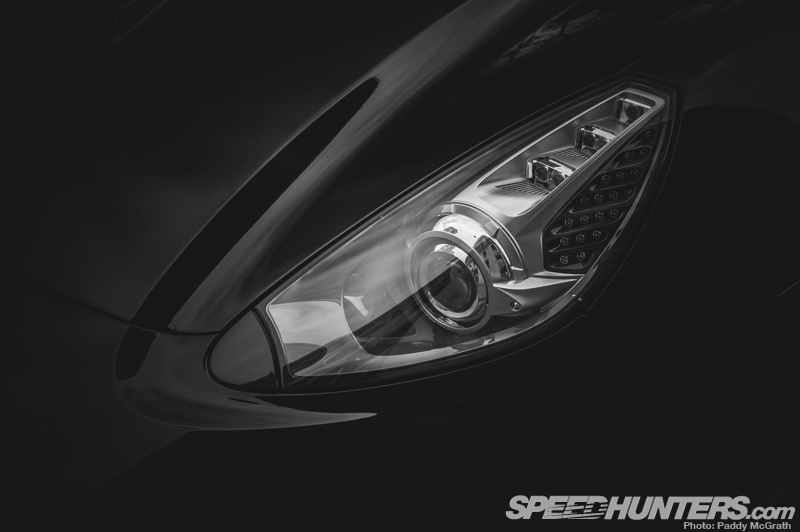 From Ferraris…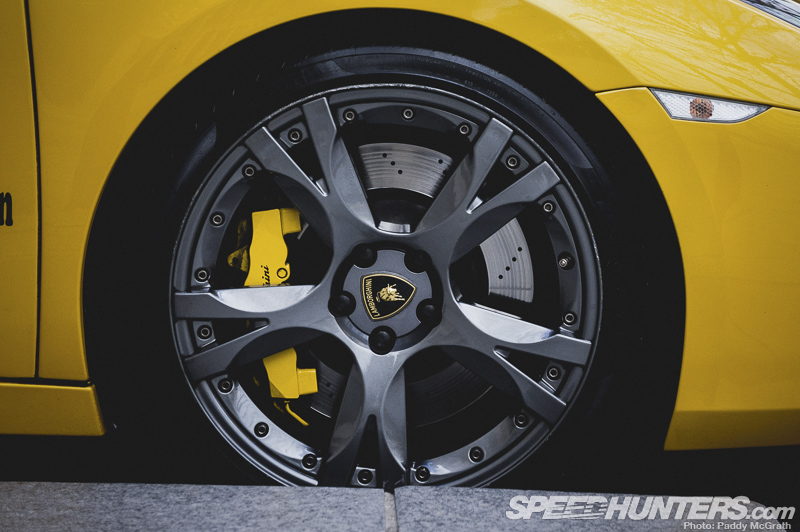 …to Lamborghinis…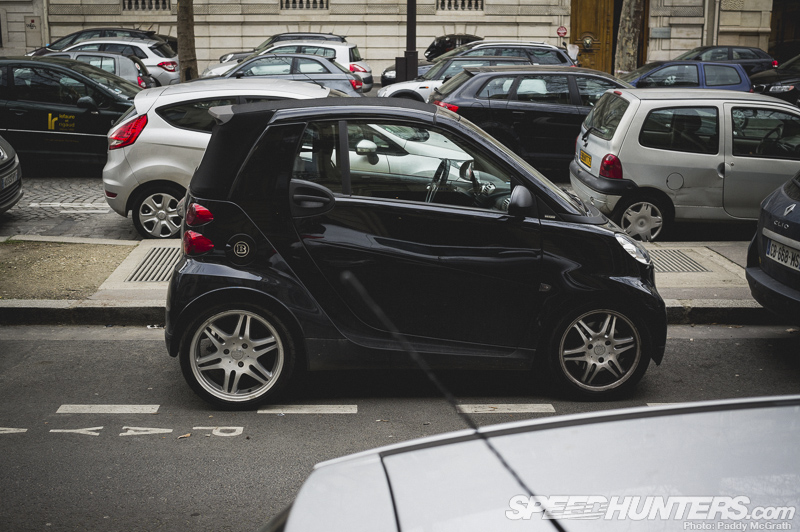 …and plenty of interesting things in between. I actually spotted a couple of these Brabus prepared Smarts, the perfect car for parking in and around Paris.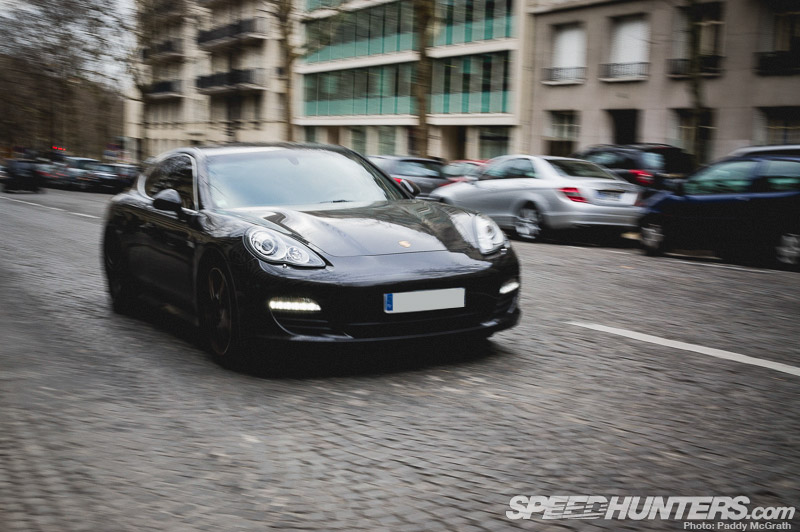 It's not exactly a city that I'd like to spend time driving around if I'm honest. My reasons for this are two fold. First of all, the Parisians are nuts behind the wheel. Secondly, they like to touch park.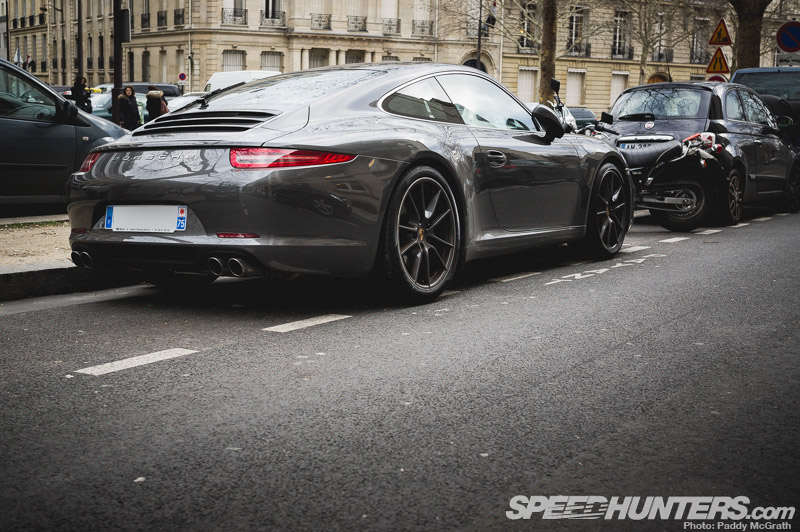 I don't think I'd ever get a moment's sleep if my 991 was parked out on the street.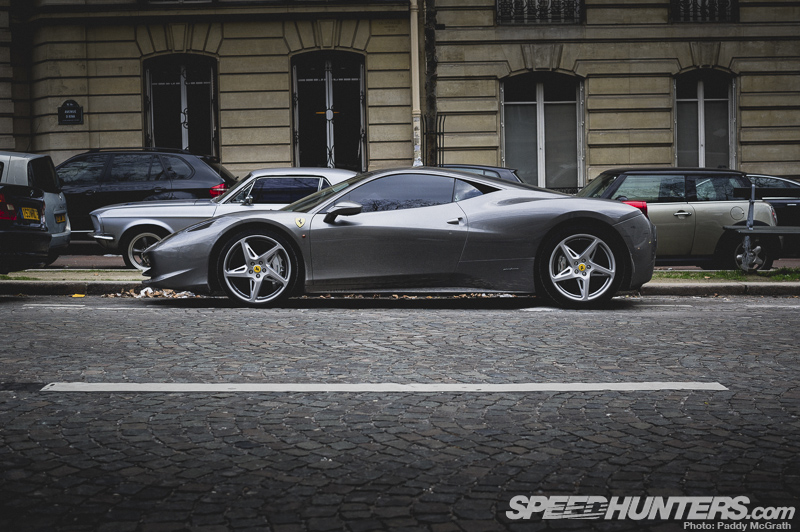 I think I'd need to hire an armed guard. Unrelated, but how good does silver look on the 458?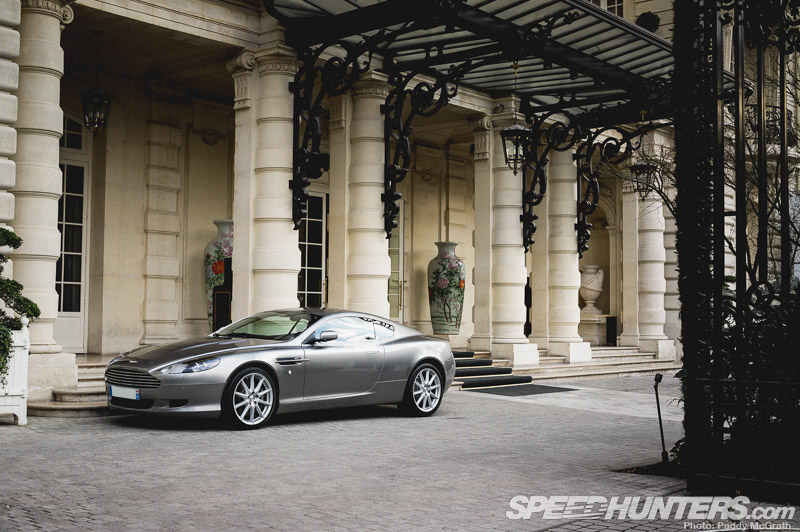 Everywhere you look, there would be something of interest.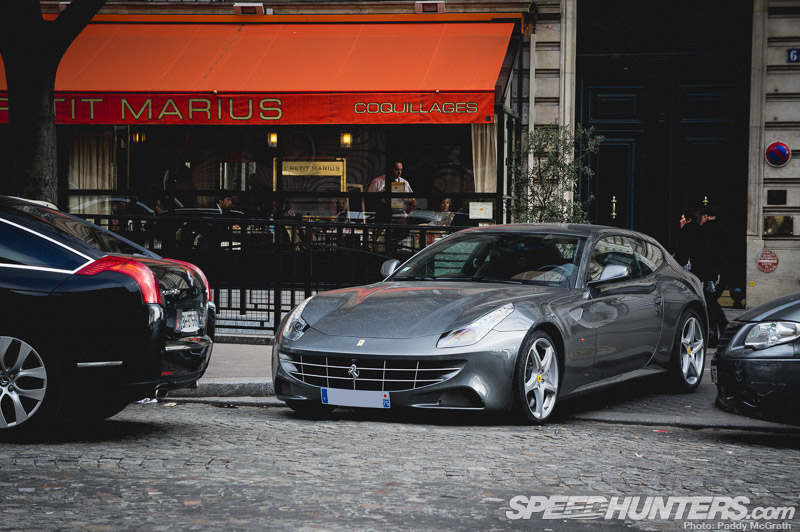 Oh, if you leave any sort of gap in Paris, expect someone to fill it.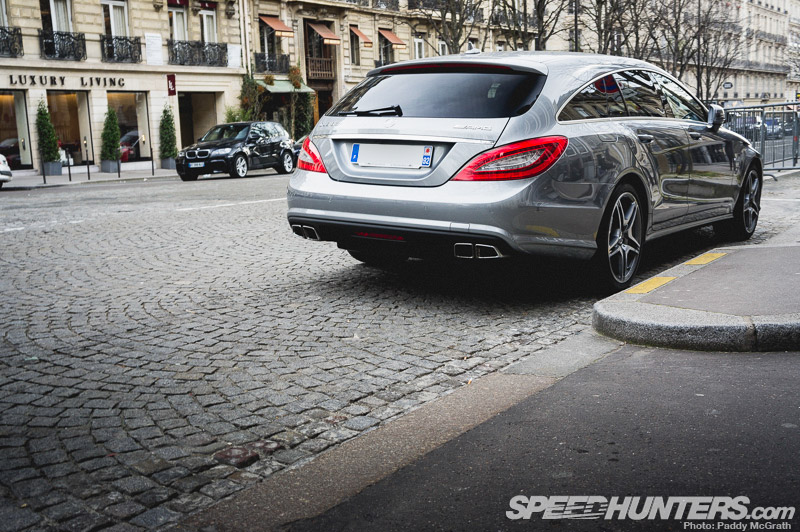 One thing I noticed, was the rather muted choice of colour for most cars.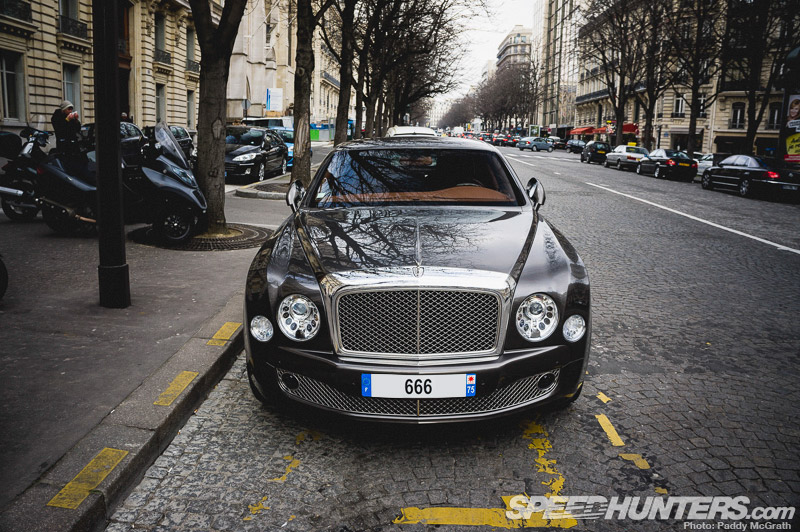 Nearly everything was a muted or reserved tone, which is quite keeping in check with the general feel of the city. Awesome, but understated.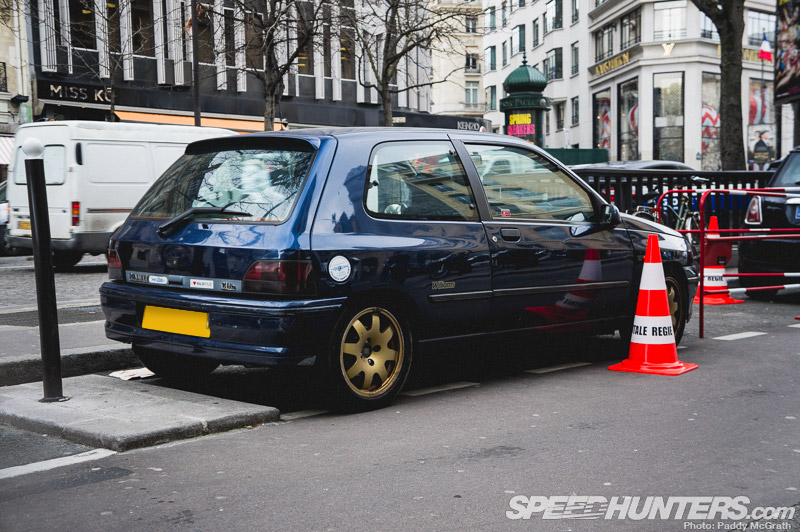 The interesting vehicles were not just exotics either, there were plenty of cool domestics about provided you kept your eyes open.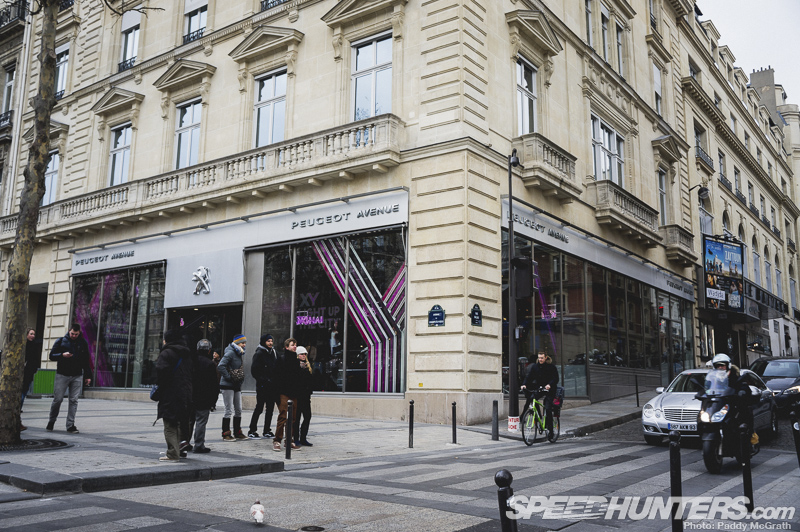 Back on the Champs-Élyésses, was another manufacturer vying for your attention.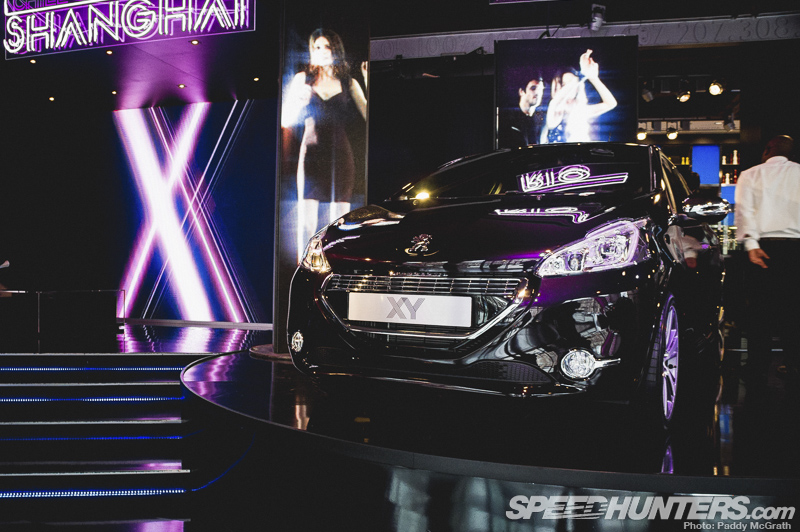 The self titled Peugeot Avenue was to be honest a little disappointing in comparison with the other marques.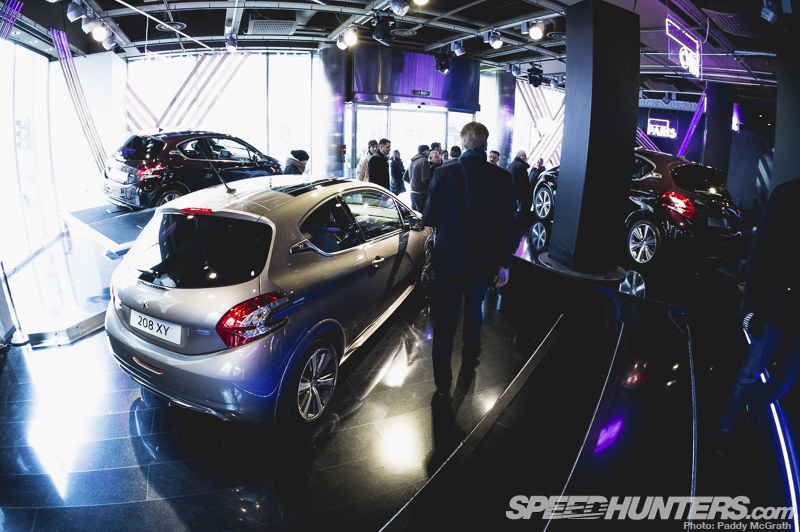 With just three production cars on display, I think Peugeot have missed a trick here considering some of their racing heritage (Le Mans, Group B, Paris-Dakar etc.)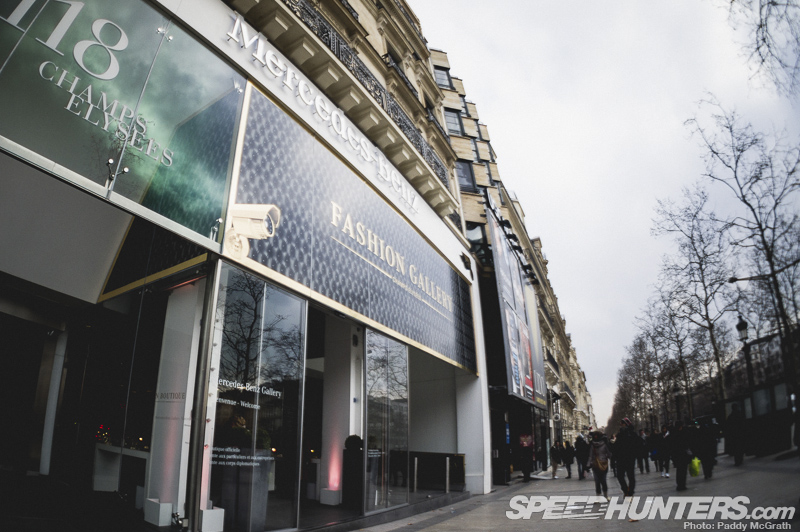 Not far from Peugeot, Mercedes was gearing up for Fashion Week.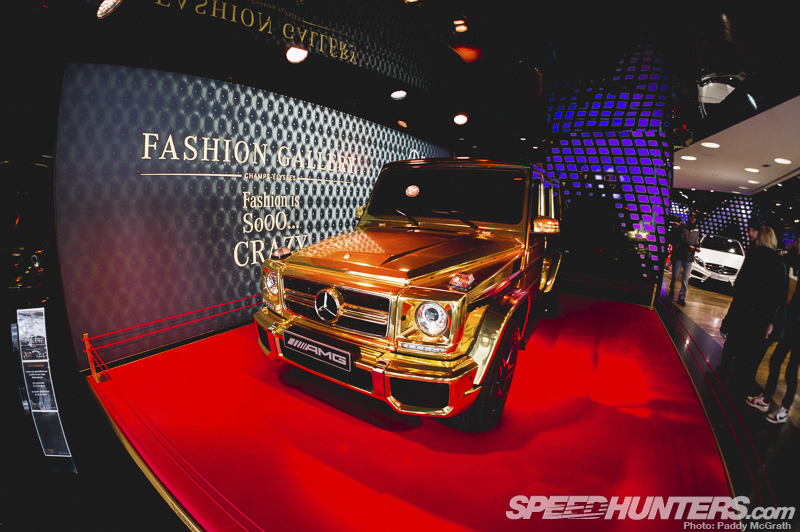 Which resulted in some, um, extravagant colour schemes.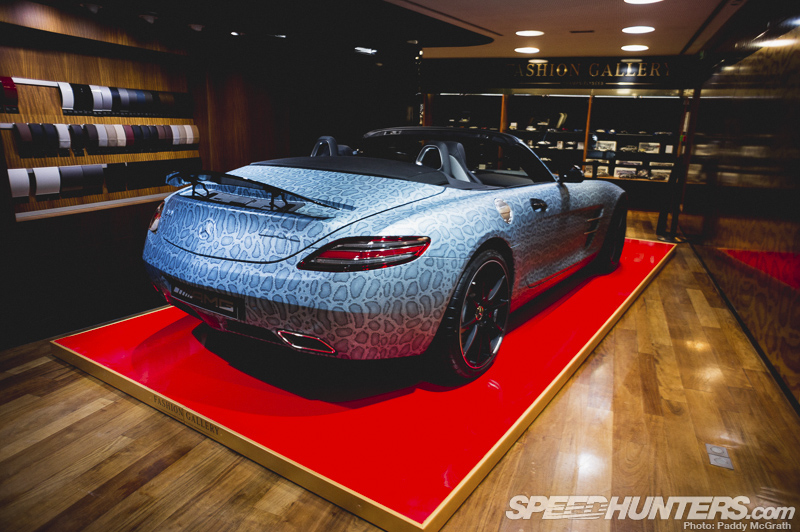 Well, it is different it has to be said.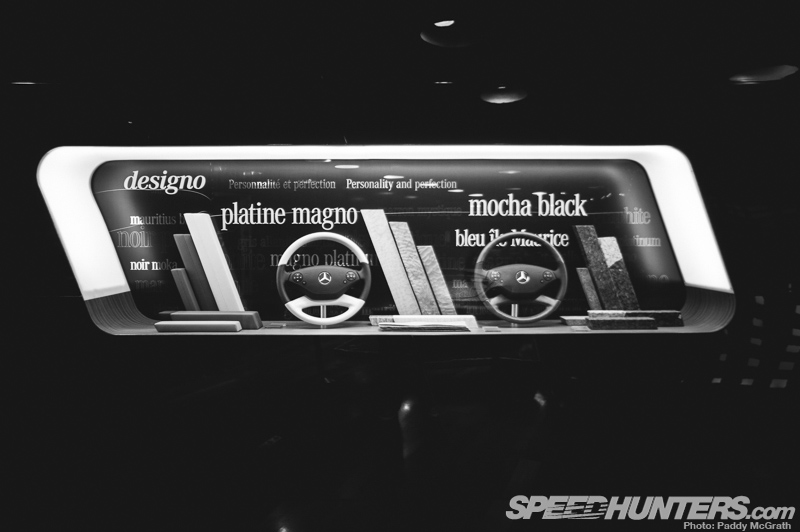 Situated on a single floor, you couldn't fault the premium feel of the venue.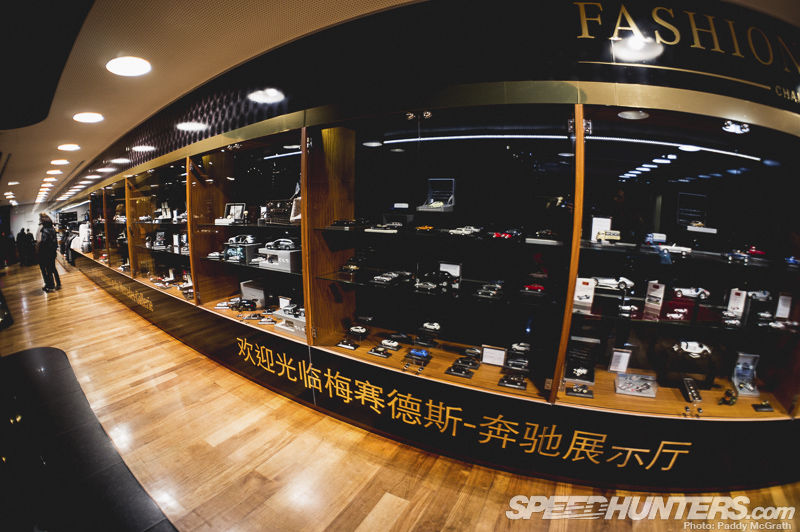 It was the sort of place that makes you instantly feel rather poor.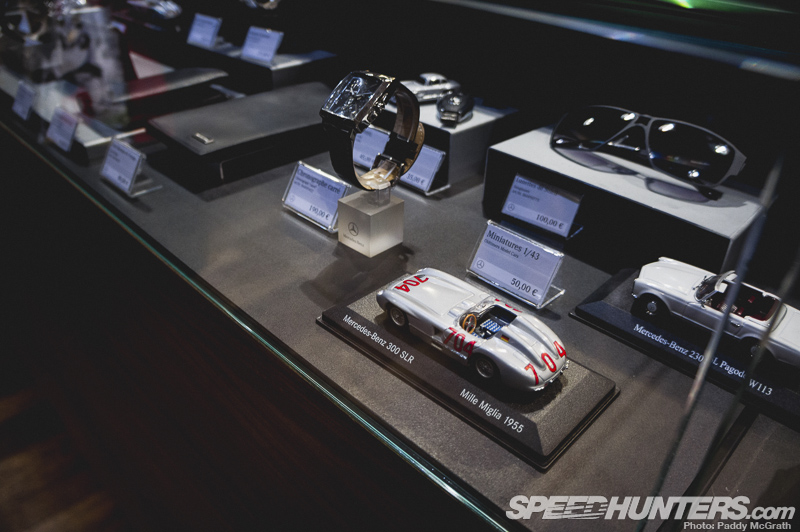 Like Citroën, Mercedes used the venue to push some of their wares onto the public.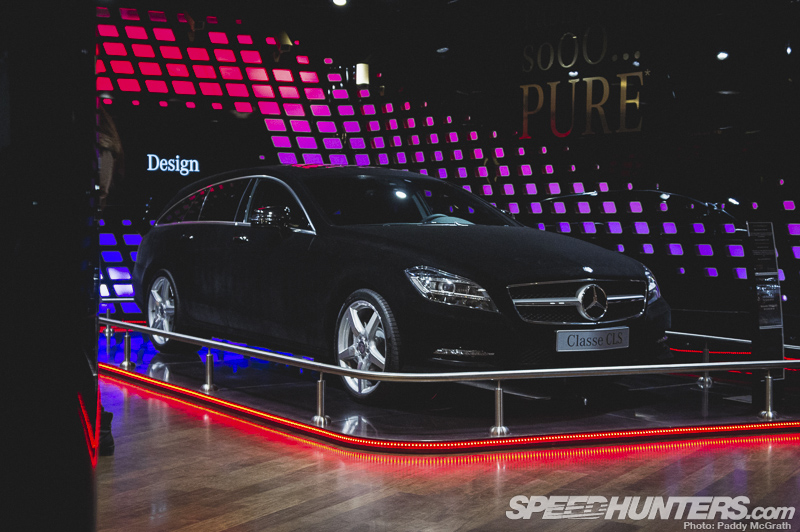 This felt wrapped CLS was actually cool in the sort of way you could never admit to.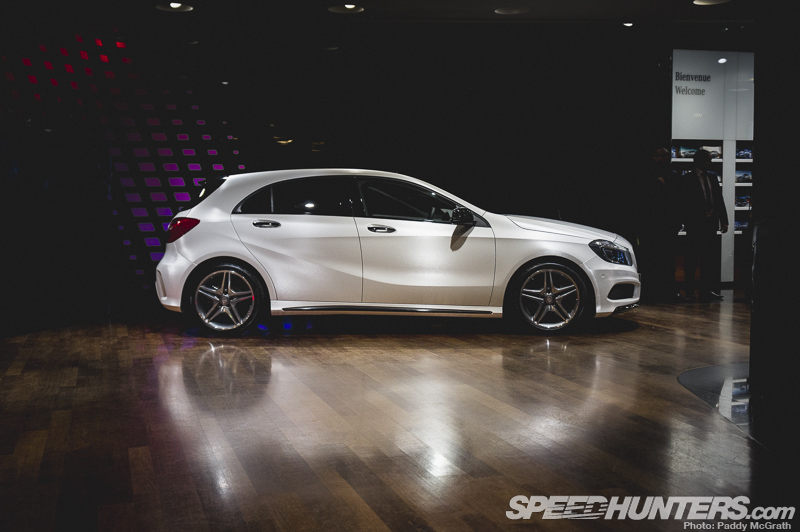 This matte white AMG A-Class was however cool in the sort of way you definitely would admit to…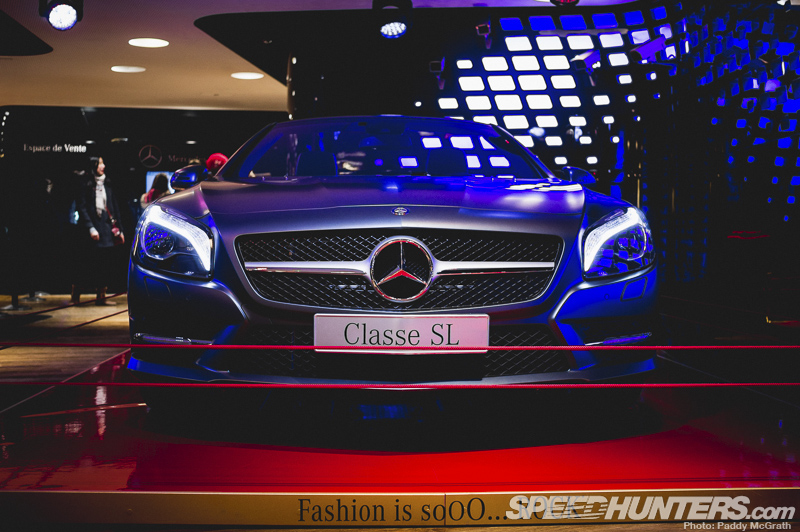 …as was this matte black SL. As far as I'm aware, the wraps are only temporary but I would definitely be interested in re-visiting after Fashion Week.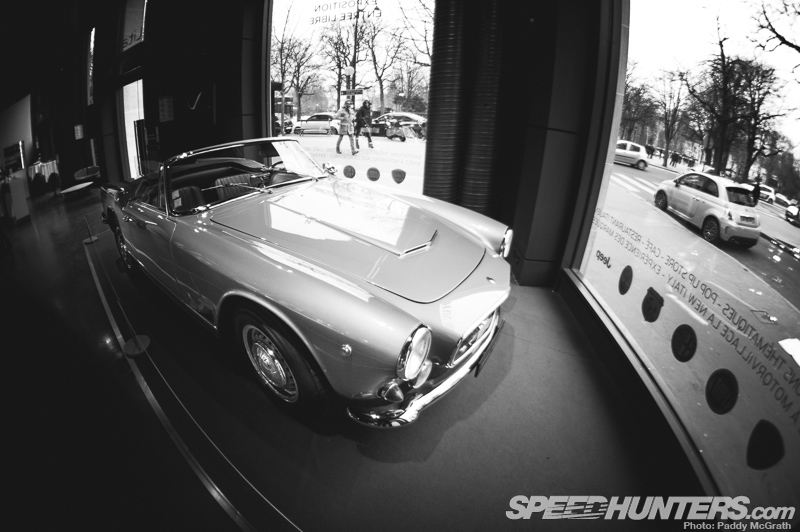 About half-way down the Champs-Élyésses, was this almost blink-and-you-will-miss-it presence from Maserati. From what I've been able to find out afterwards, this pop-up exhibition only opened in January of this year.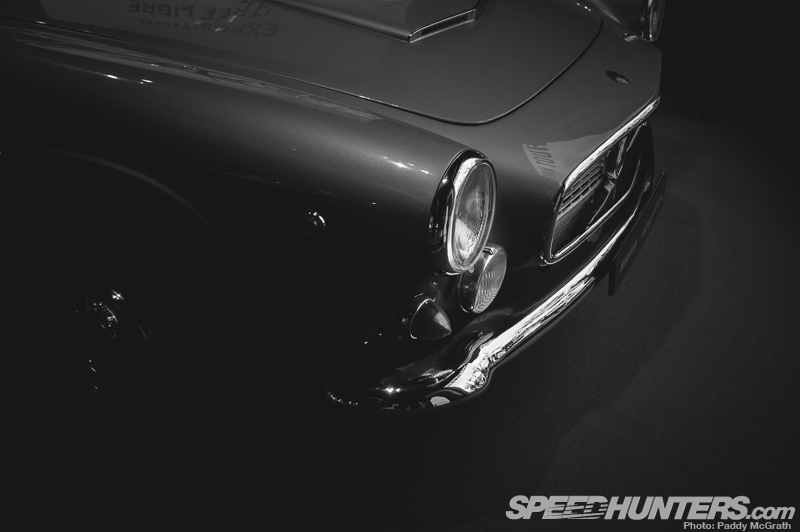 Never the less, the quality of cars on display was outstanding. Being Maserati, I guess this was to be expected.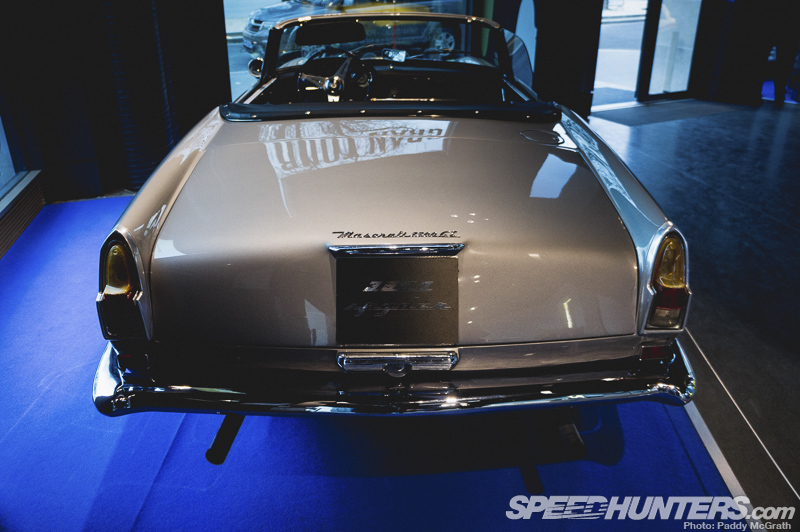 Sat inside the front door was this achingly beautiful 3500 Spyder. There was also a coupe version built, but the Spyder was designed by Giovanni Michelotti and went into production in the early 1960s in limited numbers. It's powered by a 3.5 litre straight six with triple Weber carbs.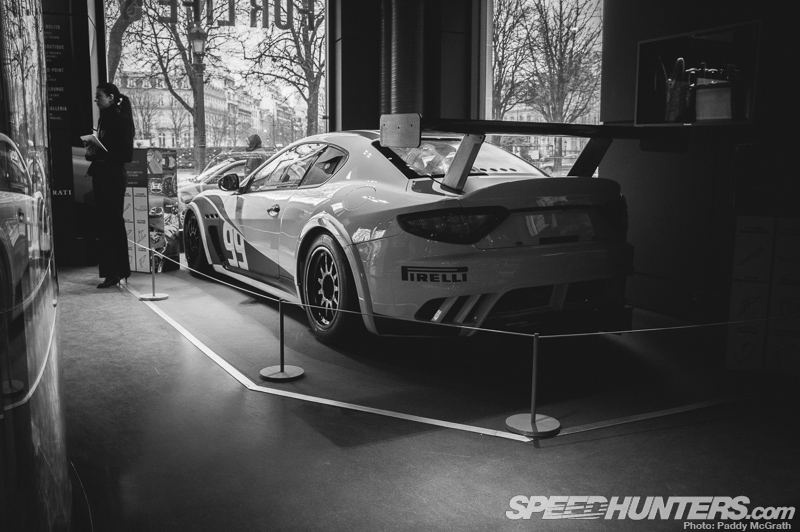 To its side sat this Gran Turismo race car, which competes in an Italian series, although I'm not quite sure of the details.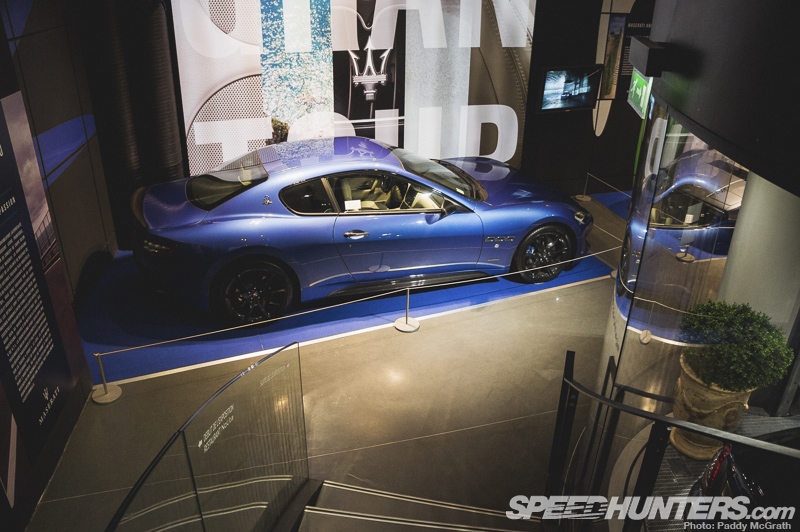 It was down below where the magic was happening. This Gran Turismo Sport, complete with carbon fibre trimmings made me want to cry it looked so good. I've always had a soft spot for the GT but the Sport was just on another level.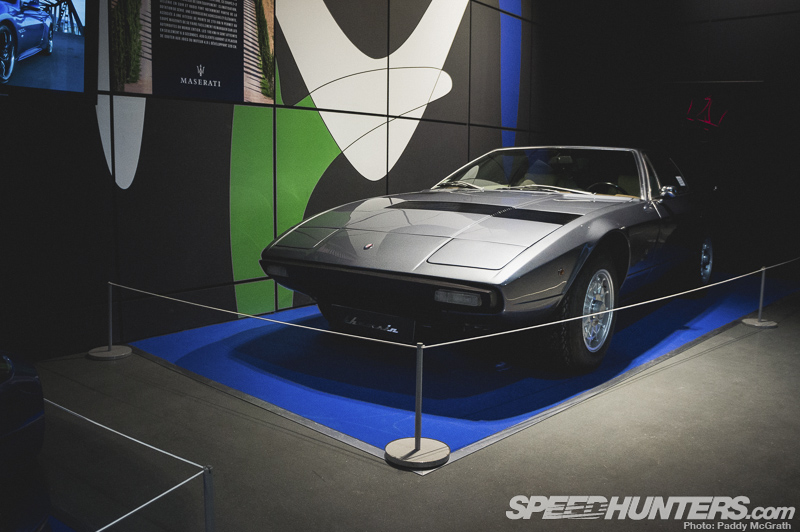 I'll be honest in that I can't remember reading much about the Khamsin before but reading about it now, shows it was quite a cutting edge car at the time. Fitted with a 4.9 litre V8 up front, the Khamsin has some unusual design features including a glass panel between the rear tail lights to allow better visibility whilst reversing. It also featured power assisted return steering, an adjustable steering column and hydraulic seats all of which were quite novel in the 1970s.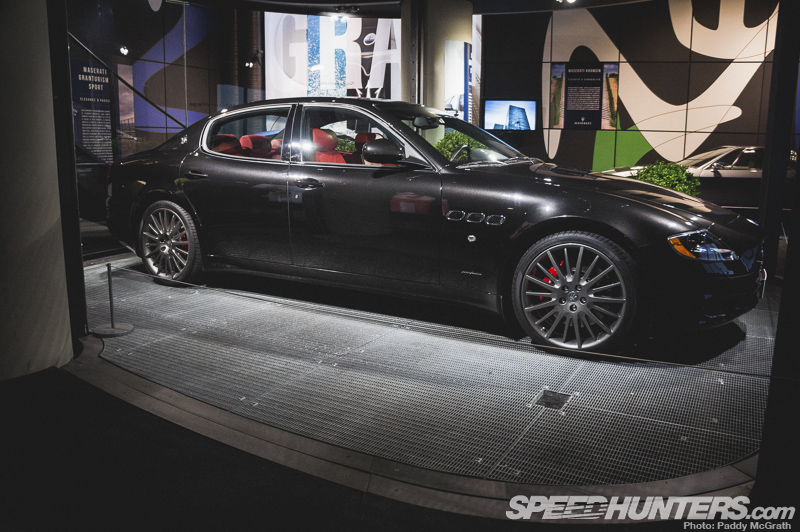 I was too early for the reveal of the new 2013 Quattroporte, so the now previous model had to suffice. I still think it's a ridiculous name for a car (Quattro meaning four, and Porte meaning door) although it does allow me to refer to my own car as a BMW Viertürig.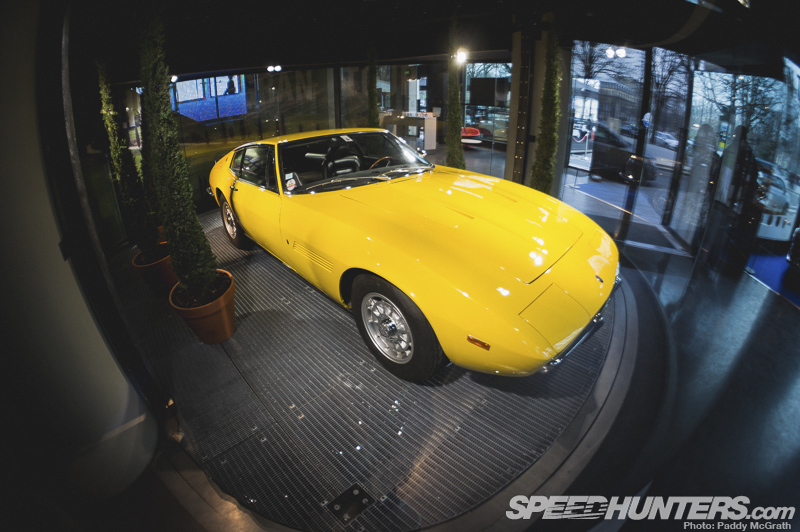 The Ghibli was actually the predecessor to the Khamsin. The Giugiaro designed GT car actually outsold its contemporaries at the time, those being the Lamborghini Miura and the Ferrari Daytona. A feat indeed. The car was so heavy on fuel that it required two 50 litre fuel tanks, which could be filled from either side of the car.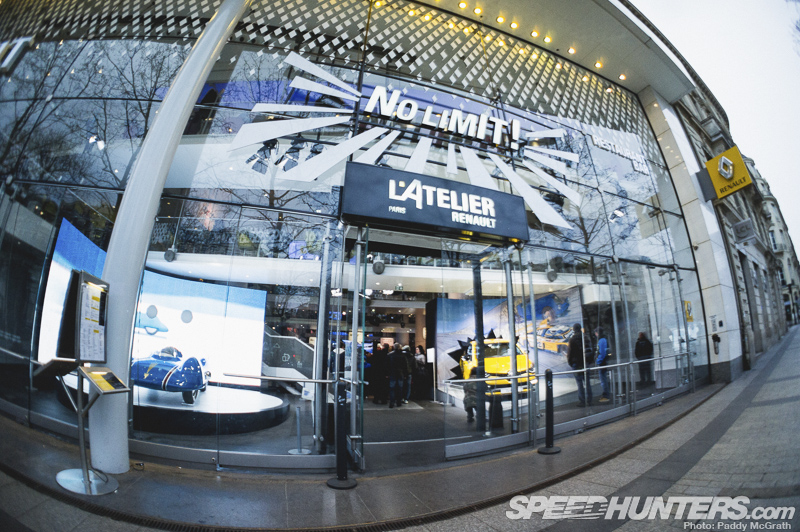 Before I need another holiday, I'm going to wrap things up with possibly the most visually exciting exhibition by Renault.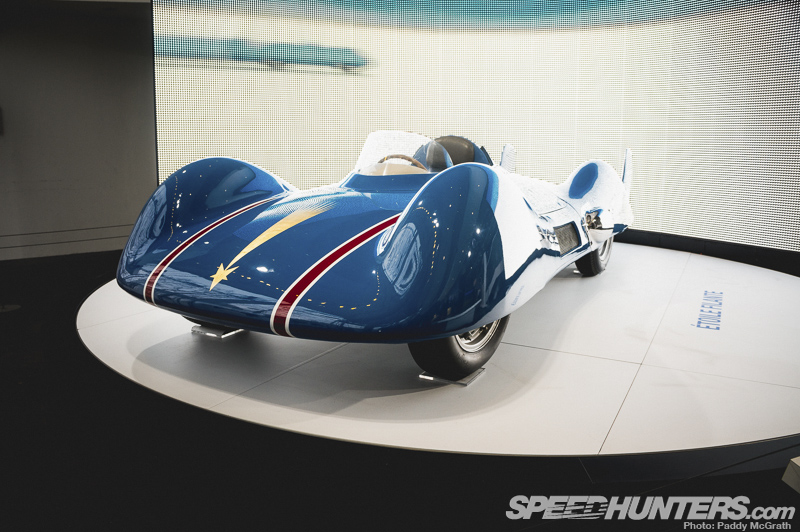 Immediately inside the front door, you're greeted with two contrasting cars. The first being the Bonneville record holding Renault Shooting Star. Powered by a 270BHP (at 28,000RPM) gas turbine engine, the Étoile Filante managed to crack just 307KM/H in a kilometre and 309KM/H over the full five kilometres. Vitesse.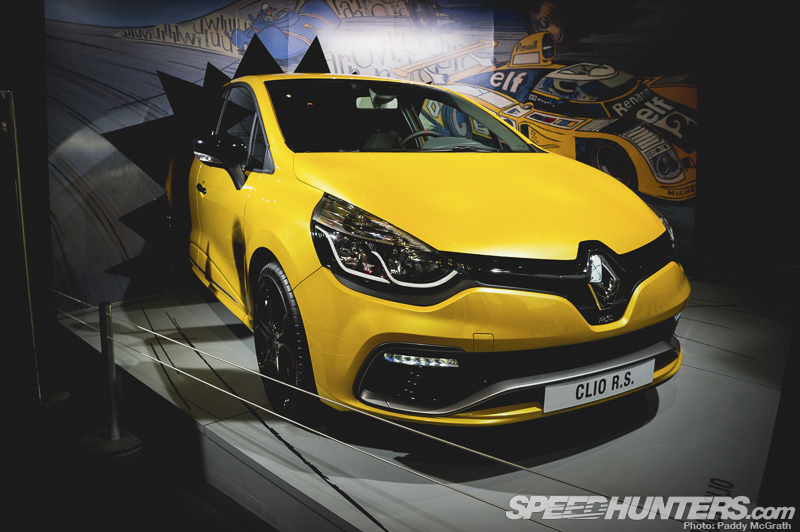 Accompanying it, was the rather tame in comparison but still excellent and highly regarded Clio RS.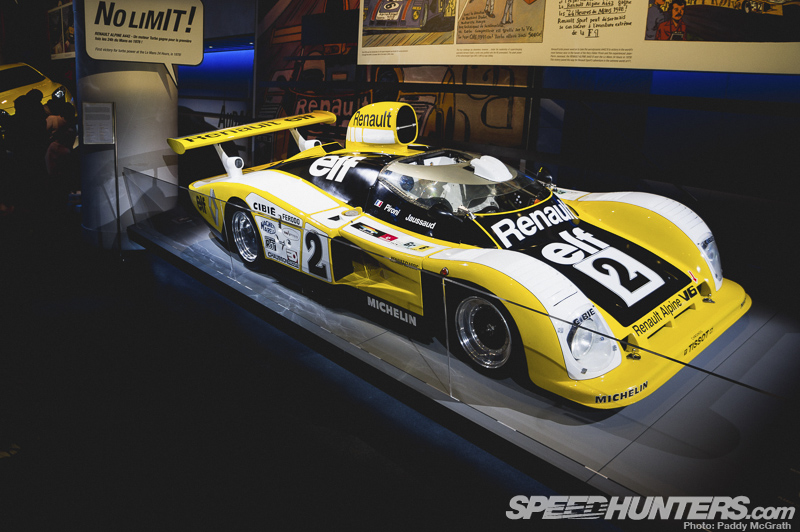 Renault weren't shy about their racing heritage, in particular this 1978 Alpine Type A 442B, which won the prestigious Le Mans 24HRs. Ironically, Renault announced on the eve of the race that it was cancelling its Le Mans effort to focus on F1.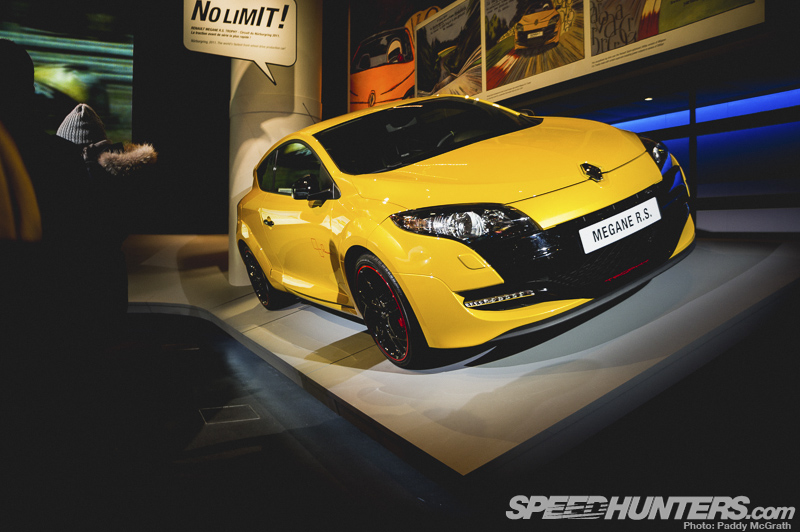 Today, Renault is mostly associated with its awesome hot hatches and they don't come much better than the Megane RS.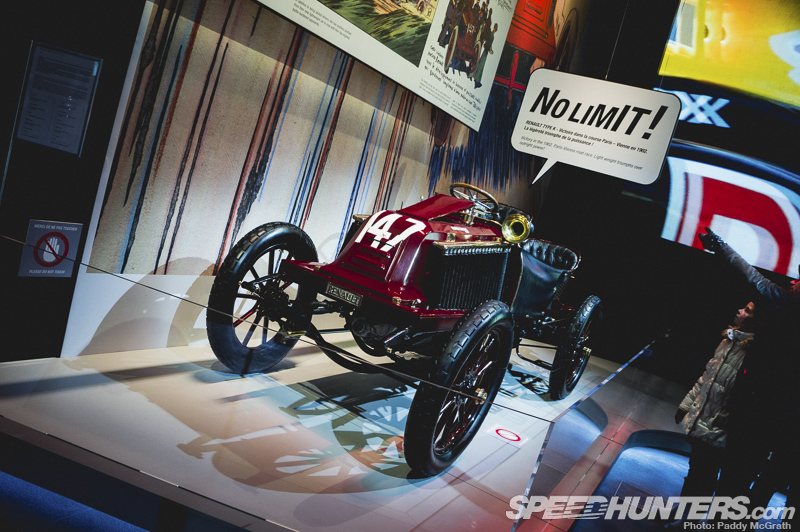 The 1902 Type K won the Paris-Vienna road race thanks to its light weight approach, rather than going for all out power.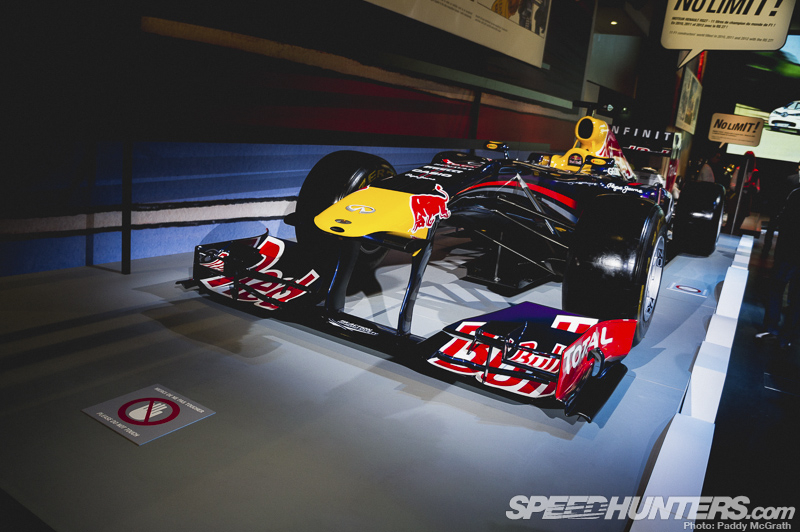 Although badged as an Infiniti, the current crop of Red Bull F1 cars are all obviously Renault powered and have proved their worth time and time again. Although this was the 2011 RB7 model, it had already been re-painted in the 2013 livery. A feat considering the 2013 car had only been revealed two weeks earlier.
I hope you've enjoyed my little tour around Paris, I think it's time to book another holiday…
–
Paddy McGrath
paddy@dev.speedhunters.com