If you caught my first post on the Hampton Downs round of the 2012/2013 Cody's D1NZ National Drifting Championship that played out last weekend, you'll know that one of our own – Mad Mike Whiddett – fought off some tough competition to finish up on the top step of the podium.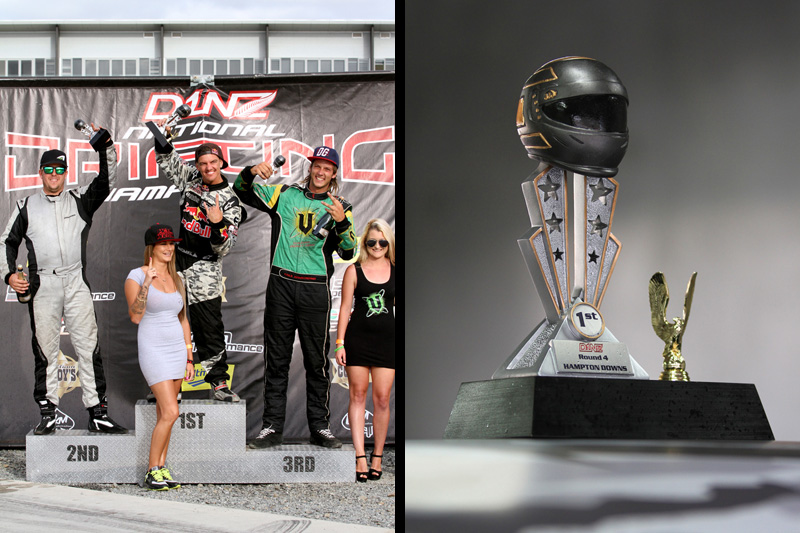 Not only that, but the points haul that came with the win (and a solid third place qualifying effort to boot) has put him back up to third spot in the championship.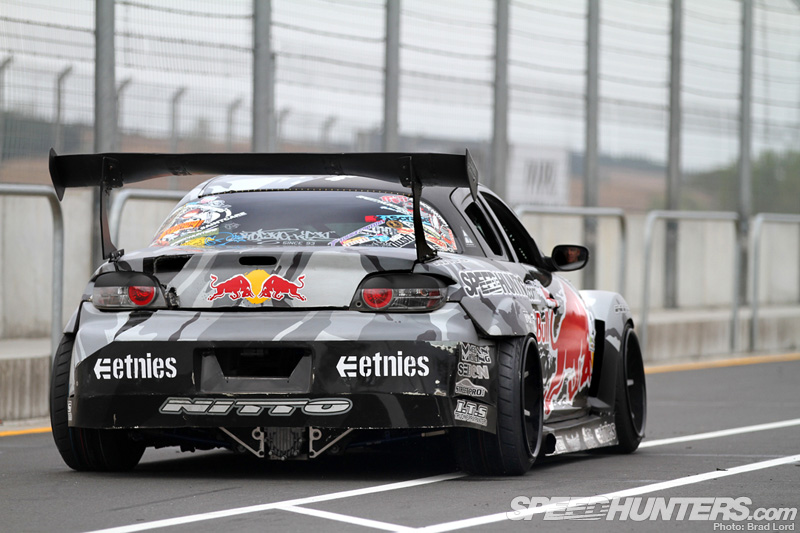 Even though Mike has enjoyed his fair share of success both here in New Zealand and around the world, the D1NZ title has always eluded him. Because of overseas driving commitments the 2011/2012 championship was actually the first full season Mike competed in, and although he came very close winning in the very last round, he had to settle for second.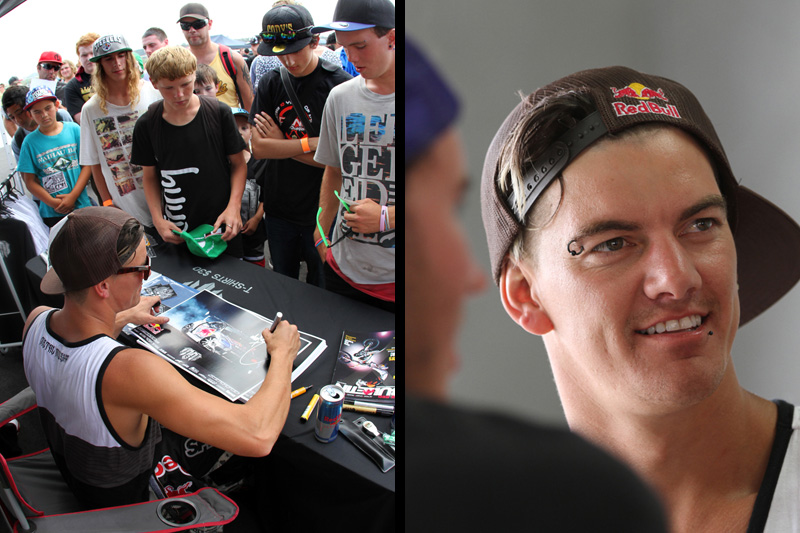 So with two rounds left to play out before a new D1NZ 'Drift King' is crowned it seemed like the perfect time to sit down with Mike and get his take on the season ahead.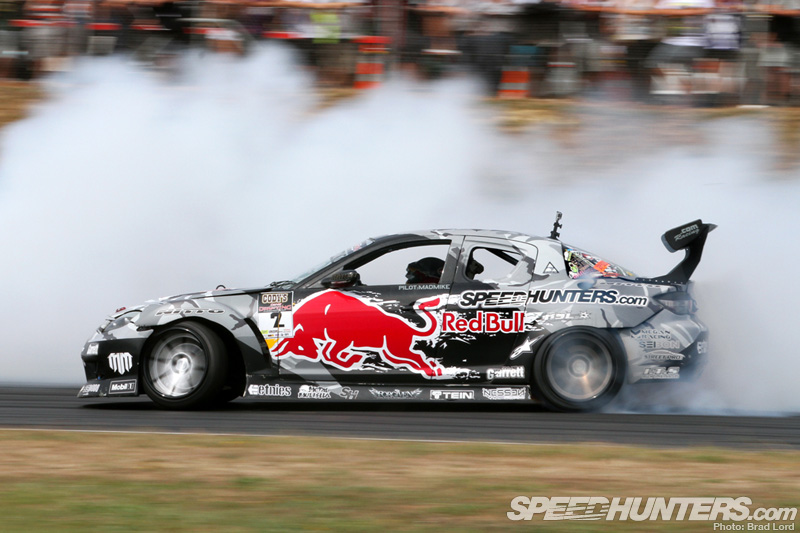 BL: First off Mike, I gotta say, you seemed totally focussed and on your game at Round 4, so talk us through it.
MM: For the first time at any event I decided I needed to play it safe and just concentrate on winning battles. Before, even if I was on 10-0 advantage I'd go out and try to put a show on, but I've learnt the hard way that not a good strategy when you're trying to get as many points as possible. We've had a lot of bad luck this season and at the end of Round 2 we had a blown gearbox and were sitting at 12th in the championship. Now we're up to third and still in with a chance with two rounds still left to go. Fanga [Daniel Woolhouse] still has a pretty big lead, but this is drifting and anything can happen. We're pretty much in the exact same position now as we were in the 2011/2012 championship, and we only just missed out on the win then, so our chances are good.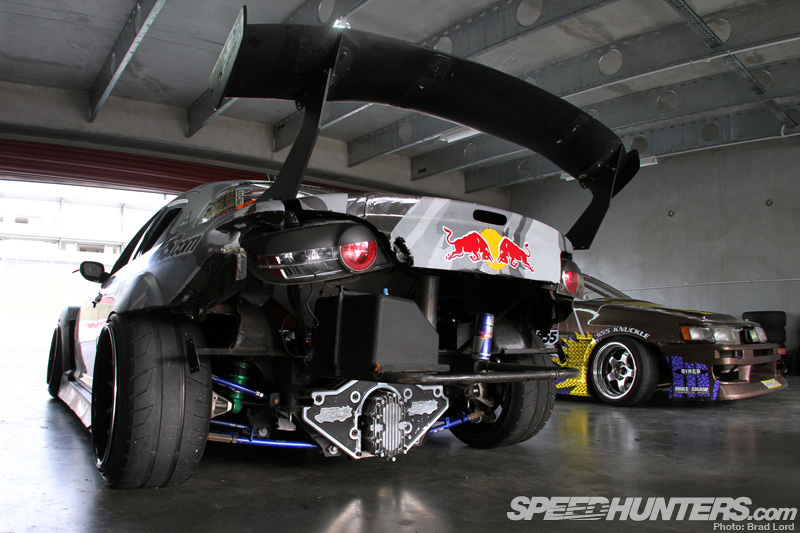 BL: Did you make any changes to the car going into the round?
MM: PPRE [Pulse Performance Race Engineering] did the 20B rebuild straight after the World Time Attack Challenge in Sydney last year but since then the engine itself hasn't been touched. What has changed though is the turbo set-up, and we're now running a GTX4508R from Garrett's brand new GTX-R series.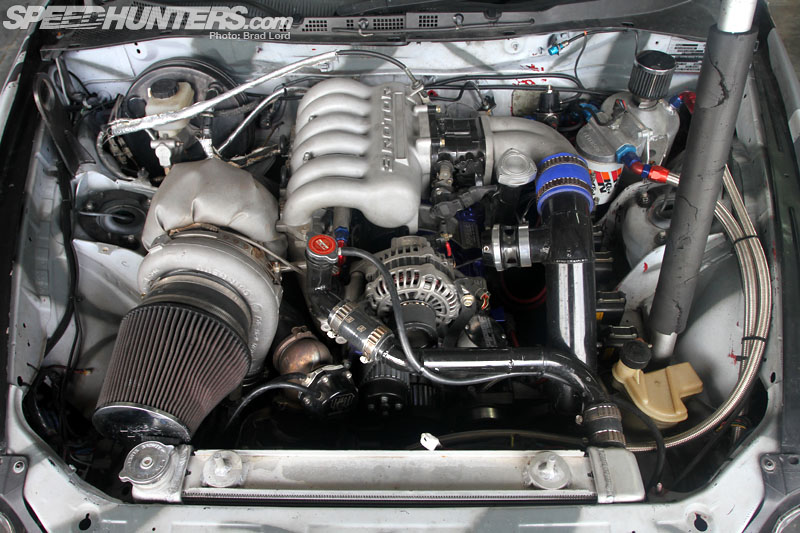 BL: How does that compare to the HKS T51R that's been on the engine ever since you first built it?
MM: A lot of people said that we'd have too much lag switching to the Garrett, but I couldn't be happier with how everything has turned out. The T51R was awesome and super responsive, but the boost flattened-out too early on in the rev range. Between Garrett, PPRE and Haltech, everyone decided that the GTX45 was the best option for the set-up, and the dyno plot backed it up. Before we had around 660-odd horsepower at the wheels, but now we're up to 812 horsepower at the wheels. With the amount of boost we're running we're not even pushing the engine either, and that's what I wanted so we could keep it reliable.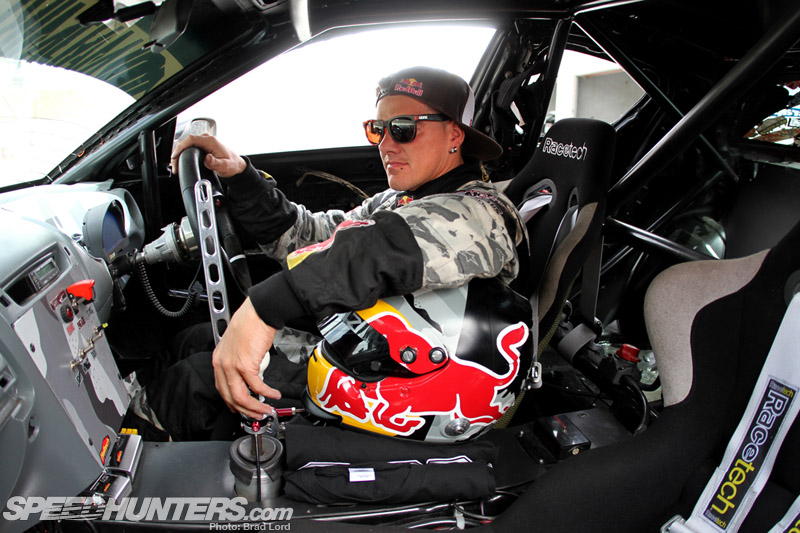 BL: So how different is to drive? 
MM: Because of the extra power and torque it's definitely much easier to drive now. I'm finding that I'm not having to be any where near as hard on the gearbox either. We used to break dog gears all the time, but now I feel like there's a much lighter load on it. There is a gearbox upgrade on the way though and we'll soon be shifting to a G-Force four-speed dog box.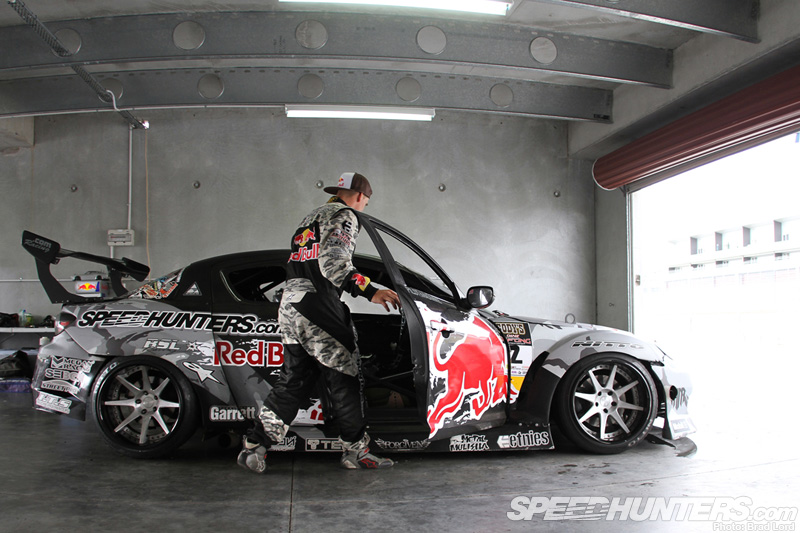 BL: That's not the only change coming is it?
MM: No, ever since we got the car back to New Zealand from the US last year we've been making changes to make it a much more competitive package. When we competed in Formula D the car was probably 80% form and 20% function. It had the big VIP-style wheels on it, steel doors with all the factory electrics, and it all the factory suspension arms. It was a real basic set-up, but for what it was I did work really well. Now we've lost a lot of weight out of the car and built a much stronger driveline, should it effectively be a lot faster than it is. As it is it's still a competitive platform, but I know there's still a lot more potential in the chassis, and that we'll hopefully find that with suspension mods we're about to do.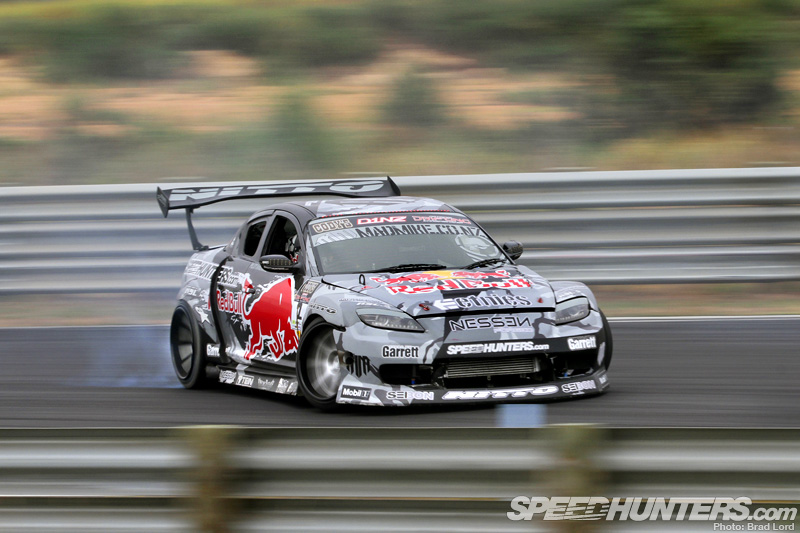 BL: So what sort of stuff are we talking here?
MM: Since we did the Winters quick-change rear end and steering modifications, we've run the car without any sway [stabilizer] bars, and not because I haven't wanted to run them, but because there's been no room to fit them back. Since then I've actually begun to like the way the car feels without them as there's a lot of side-bite on the initial throw-in as well as reverse entries. But it feels like the car is staying rolled over and it needs the effect of the sway bars to pull the inside wheels back down. It kind of feels like it's got all the weight on the outside tire, but no drive on the inside, so we're losing traction. So we've begun working with a guy named Kaz from Townsend Brotherz Industries to develop some new mounts and speedway-style sway bars which he's very experienced with.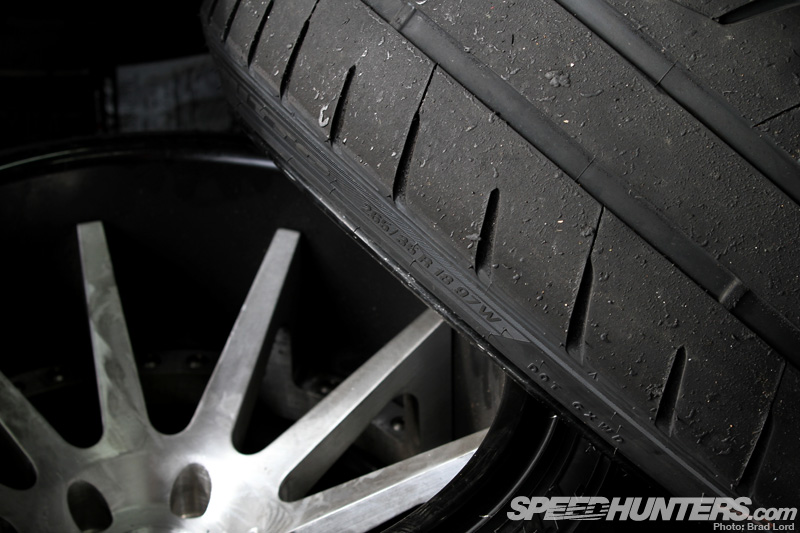 BL: Just the sway bars then?
MM: We're planning on gathering a lot of data, so we'll be experimenting and doing a lot of back-to-back testing with various tube sizes [for the sway bars] as well as different damper settings and spring rates. Data-logging the suspension is something we've never done before, but we know how important it is.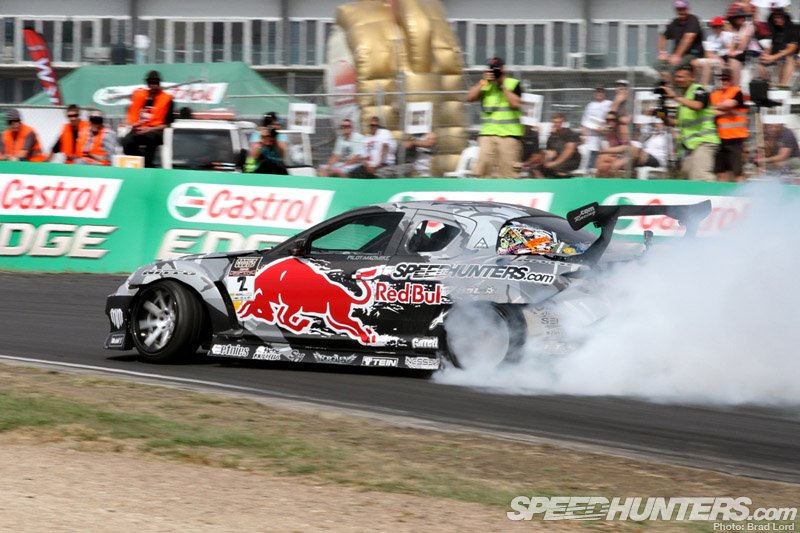 BL:  As the car is now, how different is it to drive than your RX-7 – BADBUL?
MM: The difference between the RX-7 and the RX-8 is black and white. The RX-7 is just so violent, which makes it much harder to drive. You have to be switched on 110% at all times, and not just because of the chassis set-up, but because of the way the power is delivered in its short power-band. I think if we took the engine out of the RX-8 as it's set-up now with the Garrett, and put it into the RX-7, we'd have a crazy package.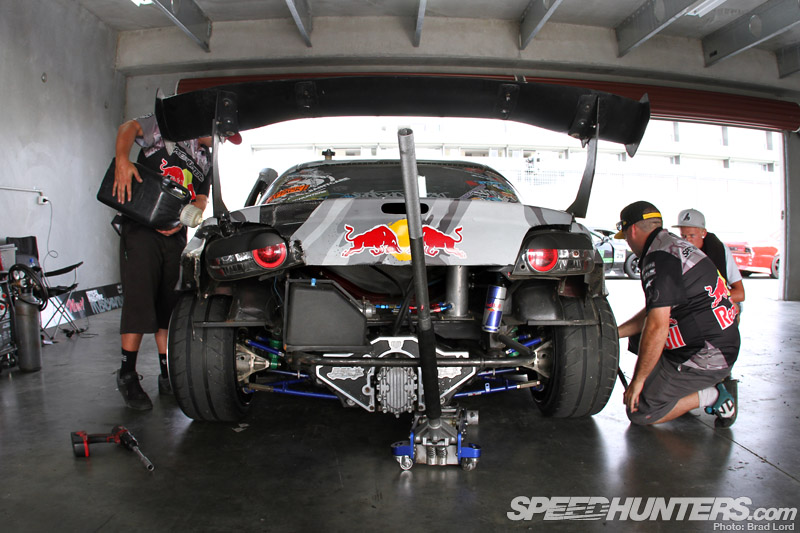 BL: That's not to say that it's a better car than the RX-8 though, is it?
MM: We know the RX-8 is fast – much faster than the RX-7 in fact. To me it even felt fast a couple of years ago when I used it in Formula D, and it was heavy-as then. But in some ways I feel like we've been at a disadvantage with the RX-8 because there's nothing really available off the shelf for it, as there are with other more popular drift platforms. Most of the parts in the car now have either been adapted for it, or custom made. Stuff like steering, the tie-rods and knuckles have all be developed in-house over the years by trial and error, but I feel like we'll really be getting somewhere with it once the suspension is all sorted.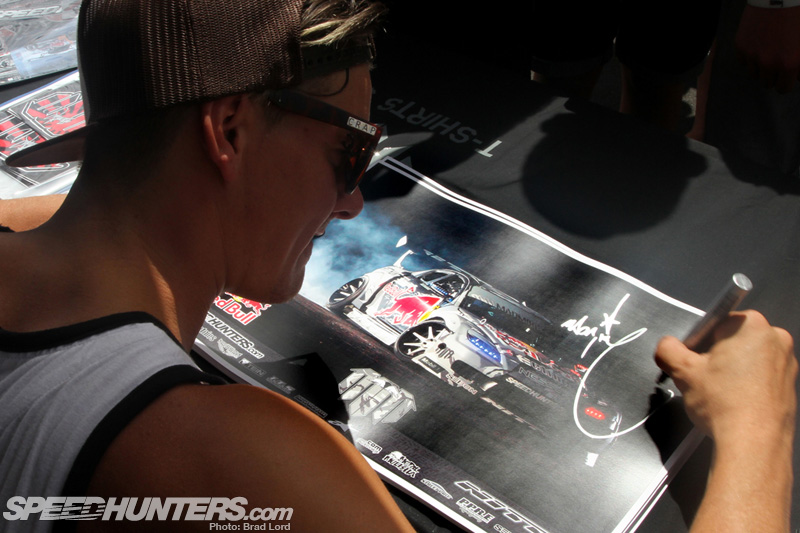 BL: Let's talk about the D1NZ scene quickly – what's your take on it in 2013?
MM: The scene here in New Zealand has definitely improved. Everyone is starting to develop cars with much stronger drivelines for reliability and better chassis and steering set-ups. Like in Formula D, Chevy LS V8 engine conversions are also becoming pretty popular, and most of the top guys here are now running on semi-slick tire compounds.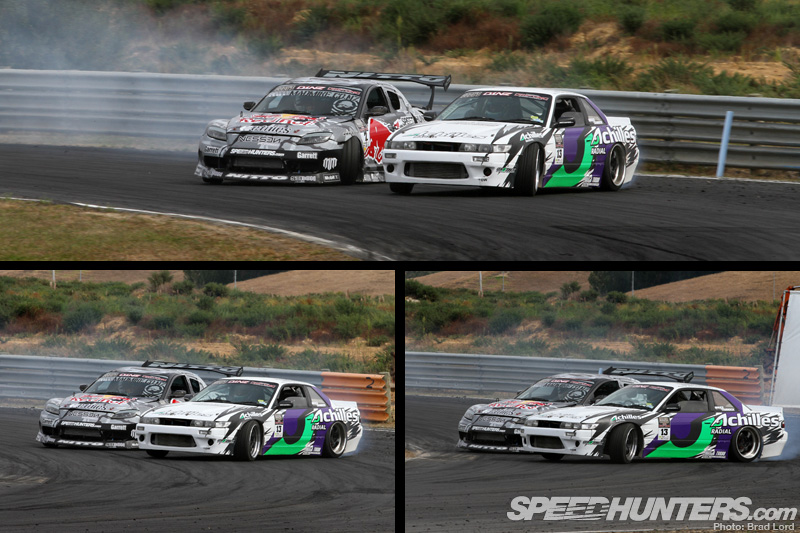 BL: And the quality of drifting itself? 
MM: Everyone's been stepping up their game, and I think you can really see that when you look at all the battles from the Top 8 up.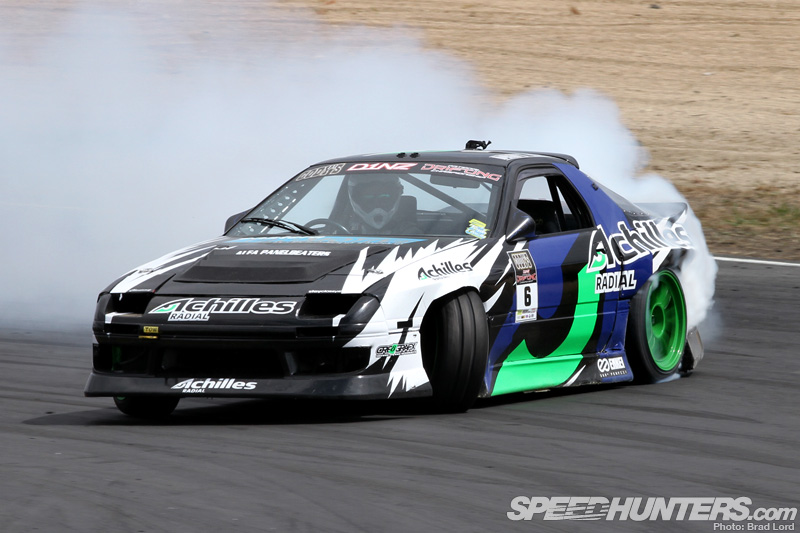 BL: This might be a bit of tough question for you, but if you could name three drivers who you think are showing the most promise in the D1NZ ranks, who would those guys be?
MM: Definitely Andrew Redward. Of all the guys in D1NZ I would say that his style is probably the closest to mine.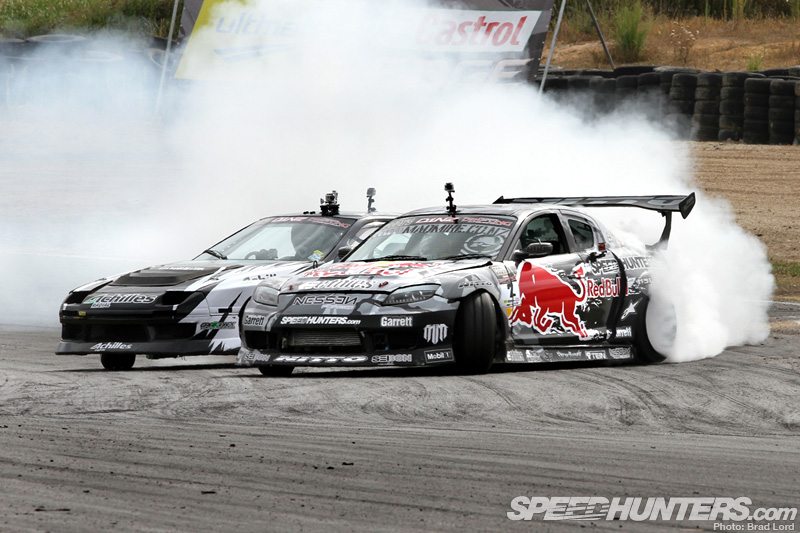 BL: He definitely looked good at Hampton, and really deserved his place on the podium.
MM: Yeah, of all the battles I had at the round, the one I had with him in the final was probably the easiest. And by that I don't mean the easiest to win – because it definitely wasn't – but he was the easiest to battle with as we ran a similar line, speed and deep angle. He's also one of the guys that's built a good car in Formula D-style with an LS conversion.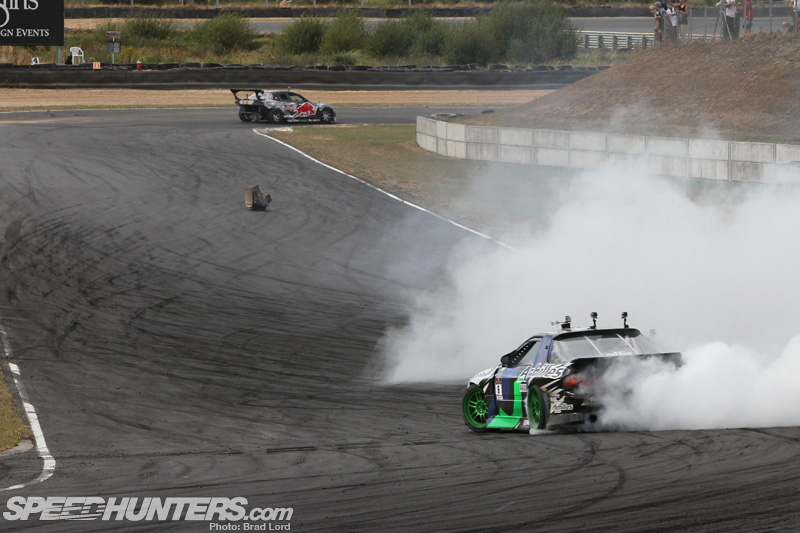 BL: I guess it was unlucky for him – but at the same time lucky for you – that he ended up spinning behind you on the first pass of the final. What happened?
MM: From what I can tell from the replays, it looked like he tried to close the gap going up over the hill, but because of all of the smoke he ended up running into the back of me, which smashed off my bumper and made him spin.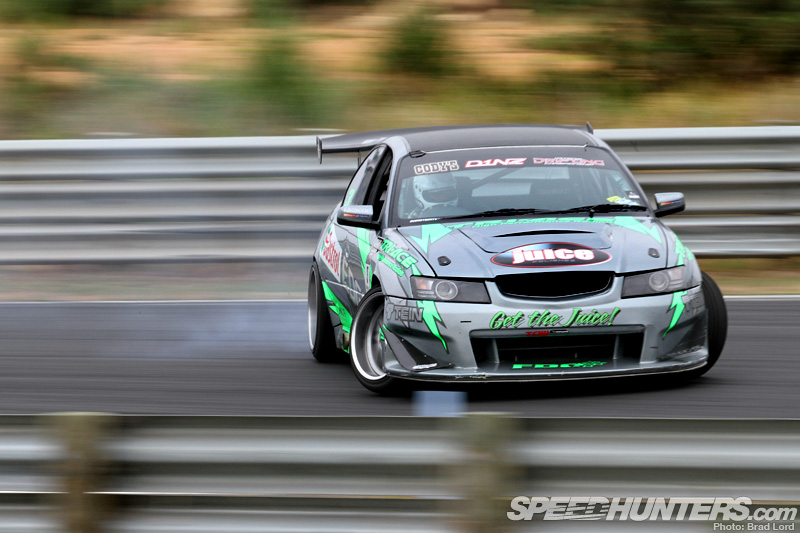 BL: Who's next on the list?
MM: He's definitely not new to the game, but Fanga Dan [Daniel Woolhouse] is a guy I've always rated because he's super-consistent and always drives balls to the wall! I know his style and where he'll put the car on the track, so it's always awesome battling with him.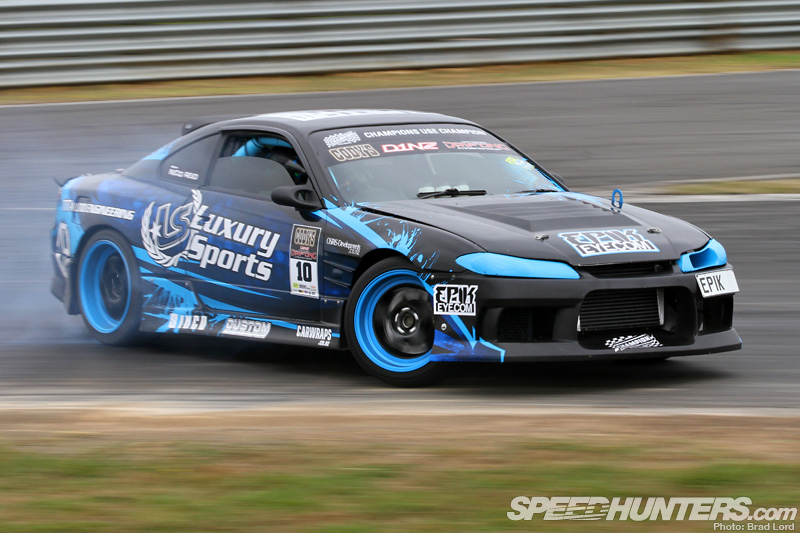 BL: And the last one?
MM: I'll go with Nico Reid, who I think I might have just bumped out of third place in the championship. He's still up there in the points anyway. He's young but he's got as much talent as the top guys. I definitely think he's got what it takes to win a D1NZ series, and he's really stepped up the game in terms of professionalism this year.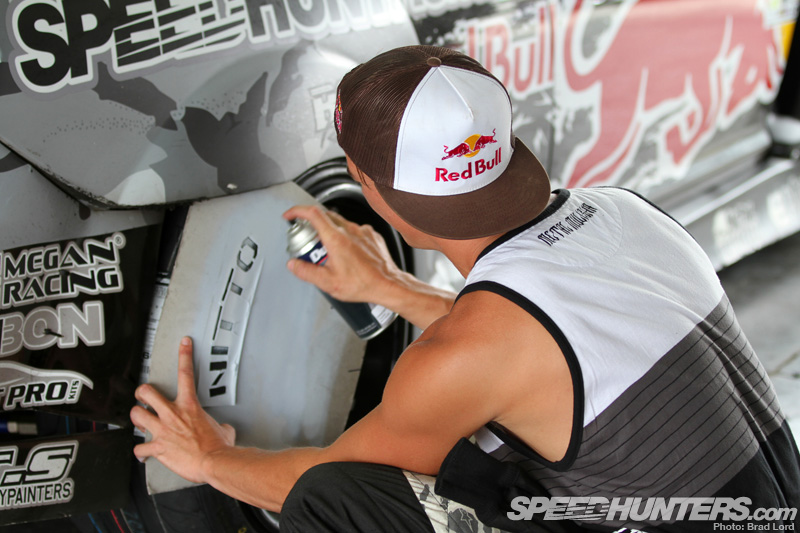 BL: So what's next for BADBUL?
BL: After the RX-8's suspension modifications are sorted and new gearbox is in, I think it'll be a complete and really competitive package that we can continue to fine-tune and learn from.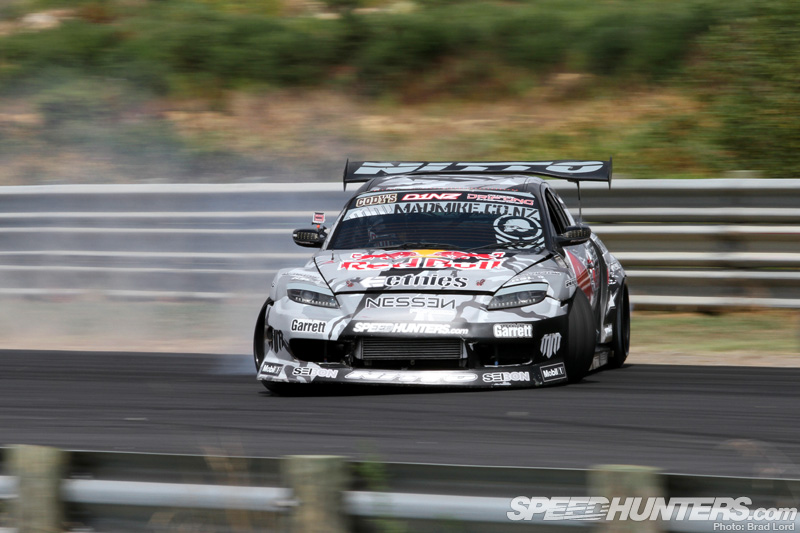 BL: And drift-wise?
MM: We've got D1NZ Round 5 coming up in a few weeks down in Christchurch, and I really love the track there. We'll be taking both cars down, so I haven't fully decided on which one I'll use yet. Chances are it'll be the RX-7 – MADBUL – though, as I think that's the one that'll give me the best chance of standing on top of the podium at that particular event. And that's what I want to be doing!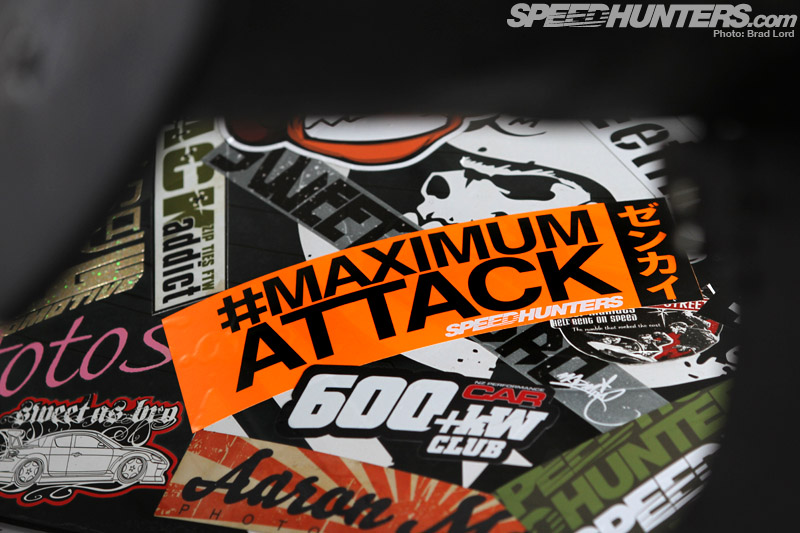 One thing's for certain: Mike will be bringing it #maximumattack style!
Brad.
Mike would like to thank his team, his official partners and supporters, and D1NZ for making his championship challenge possible.
DESKTOPS