Back when the cliche "Win on Sunday, Sell on Monday" still held true, there existed OE-backed drag cars like this one – Bob Ream's 1964 A/FX Ford Falcon.  The FX stood for Factory Experimental, a class which allowed manufacturers to fit the largest engine available and alter (sometimes drastically) the body of a production vehicle.  The letter A simply refers to the engine size; there were also B/FX and C/FX classes.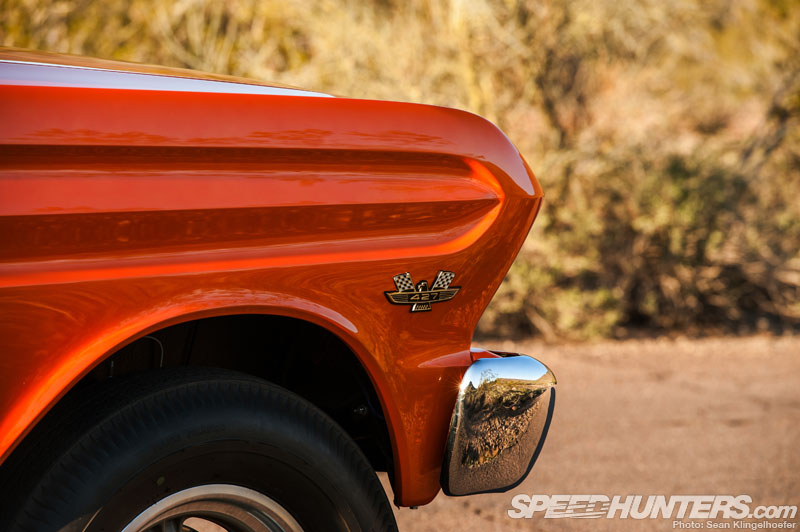 What we have before us is an example of a brief yet influential slice of American drag race history.  I say brief because this format was really only used in serious competition for a few years, and influential because these were the pre-cursors to Funny Cars.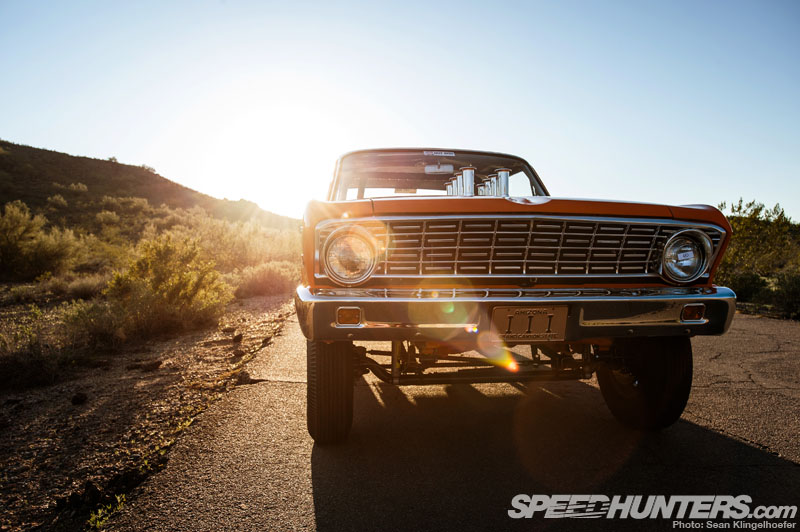 Lucky for us, when Bob Ream was a boy he witnessed FX cars tearing up the track at Beeline Dragstrip and it left enough of an impression on him to build one of his own years later.  The way Bob explains it, tire technology had not come very far by the mid '60's, so racers got creative in their pursuit of traction.  First they lifted up the fronts of their cars, usually with a solid axle and parallel leaf springs, in an attempt to pre-load weight transfer for launch.  The next step is where things really got interesting…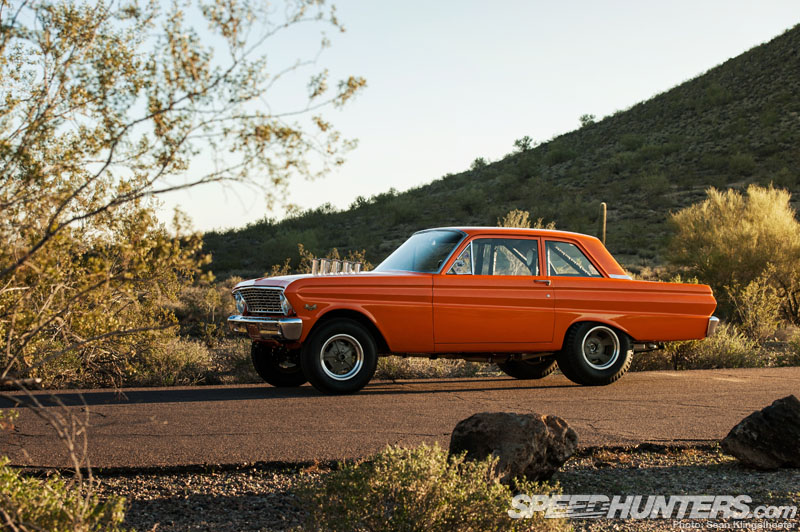 …because it was the next modification that put the "Funny" in Funny Car.  Mr. Ream's Falcon has had the rear axle relocated 11″ forward while the front axle has been shoved another 5.5″ towards the grille.  The goal of all this work was to achieve a 45/55 weight distribution, placing as much mass as possible over those spin-happy rear tires.  Funny looking, isn't it?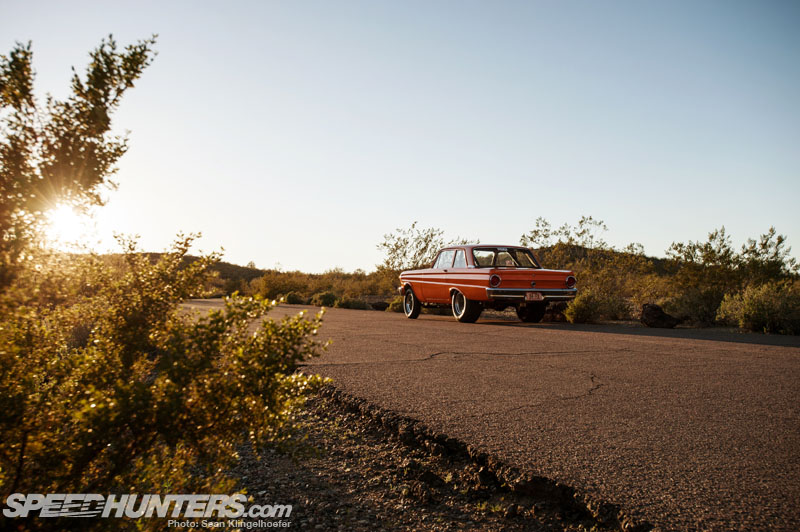 To be honest I didn't start to appreciate Altered Wheelbase (AWB) and Gasser builds until more recently:  I always thought everything looked better slammed.  But spending time around these beasts really makes you start to fall in love.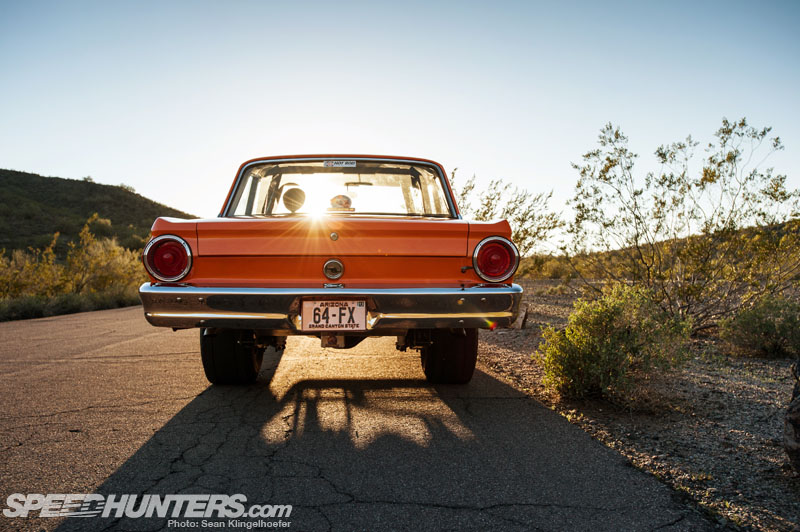 I walked past Bob's Falcon every day for a week at SEMA, and each time I caught myself checking it out.  It just has this menacing aura that you can't get from a slammed cruiser.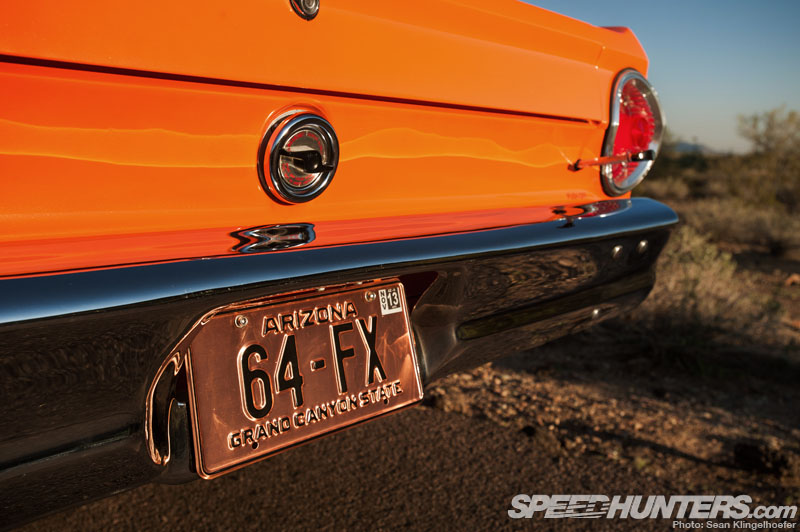 The level of craftsmanship doesn't hurt either.  This thing is a full-blown show car disguised as a match racer.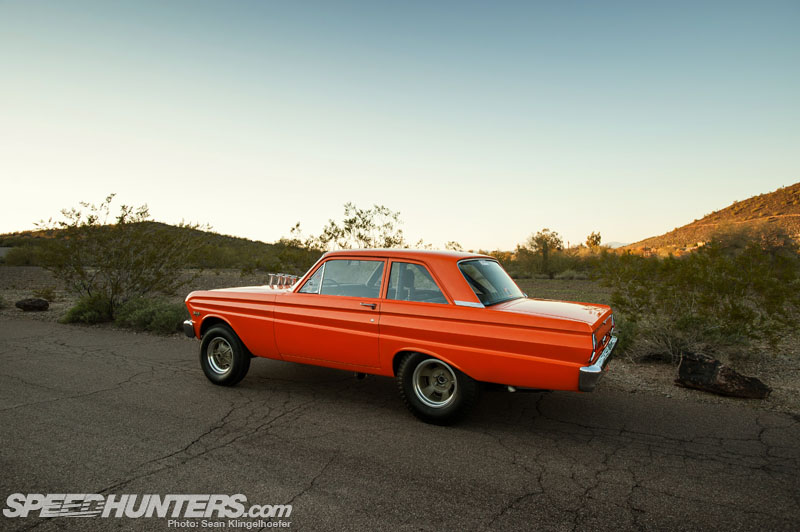 Light and shadow reveal the stunning bodywork that took place at SS and AFX in New River, Arizona.  To get a car this straight is no easy feat after grafting all four wheelwells into new locations.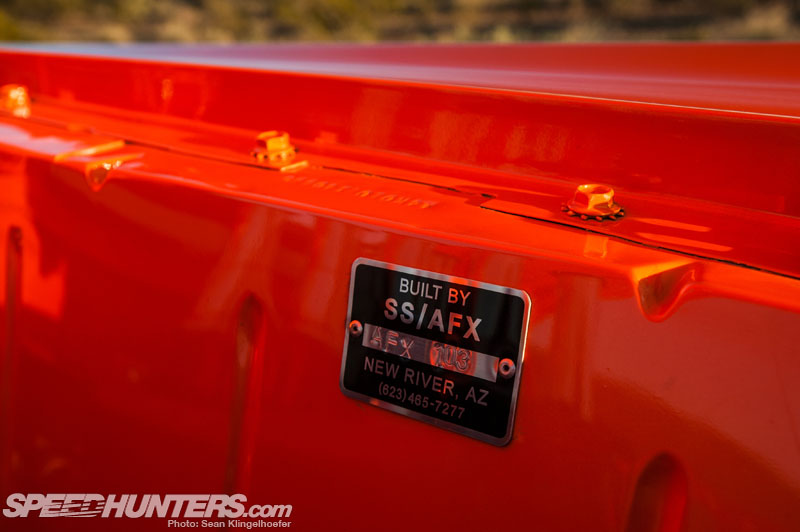 That's right, there's a shop that specializes in building cars specifically of the FX genre.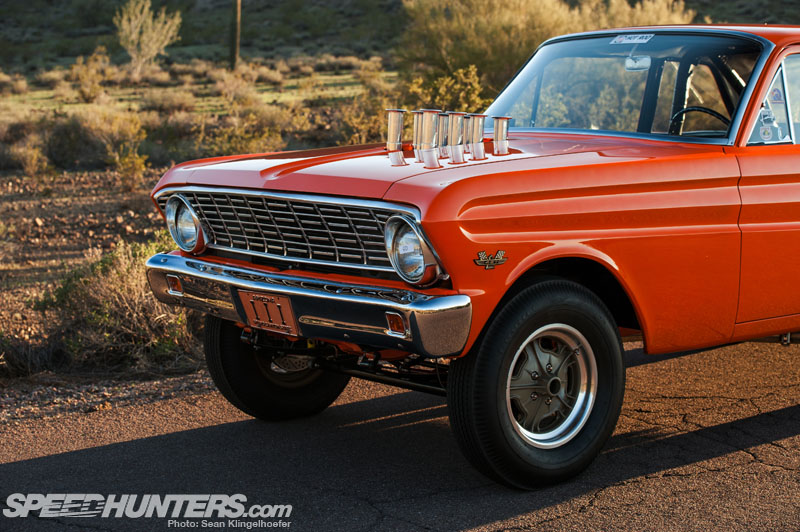 Of course it's not just the layout of the car that makes it an A/FX, it must have the cubic inches and horsepower to necessitate these mods in the first place.  That's where Bob comes in.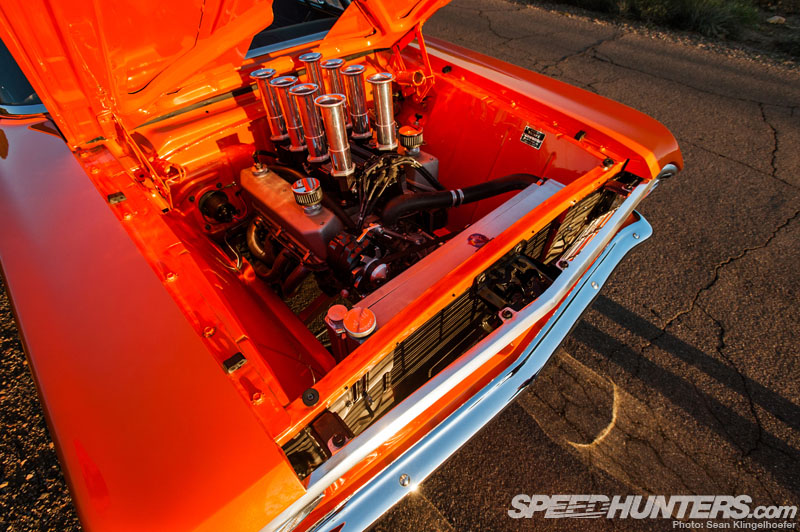 Mr. Ream runs a company called Imagine Injection, and those are his stacks feeding the healthy 427.  Starting with a Dart aluminum block, he stuffed in all kinds of serious moving parts to create this 99% aftermarket engine.  The only Ford parts left are the distributor clamp, water pump and timing cover.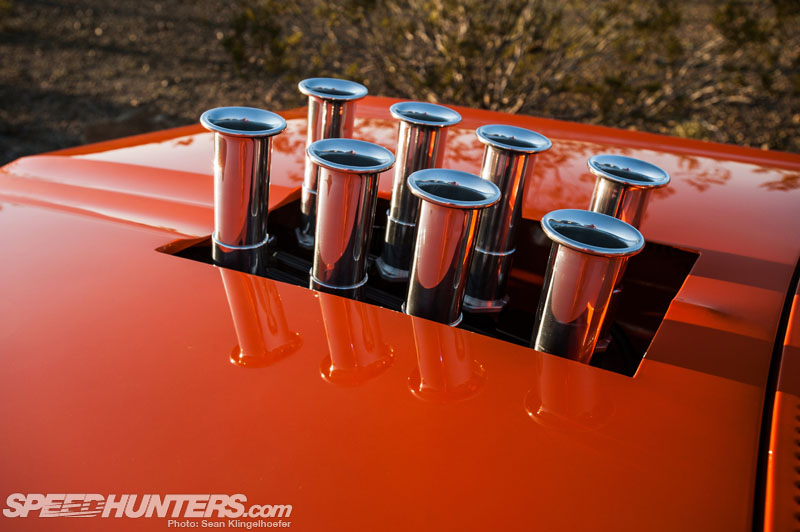 These stacks are made exclusively for his kits and they are flawless.  No draw marks or shrinkage, just a perfectly formed bell for air to rush through.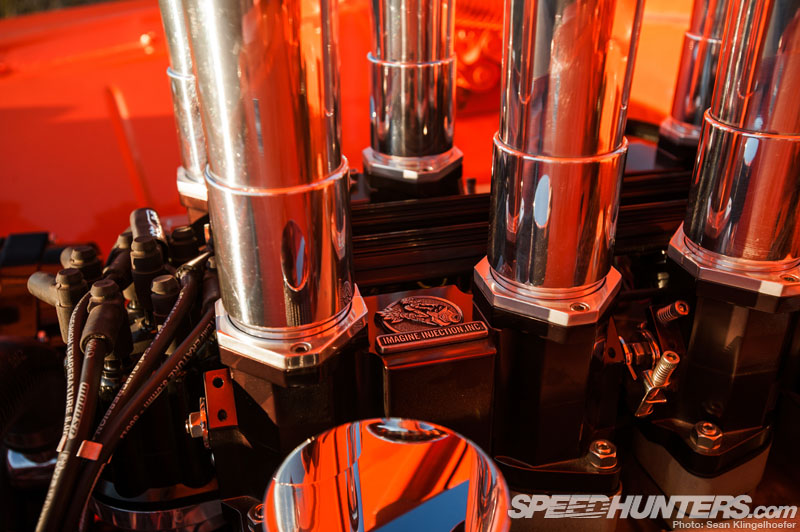 He also has his own air valves machined and even had an extrusion tool made to produce Imagine Injection's proprietary fuel rail.  These parts are anodized black on the Falcon so they blend in nicely.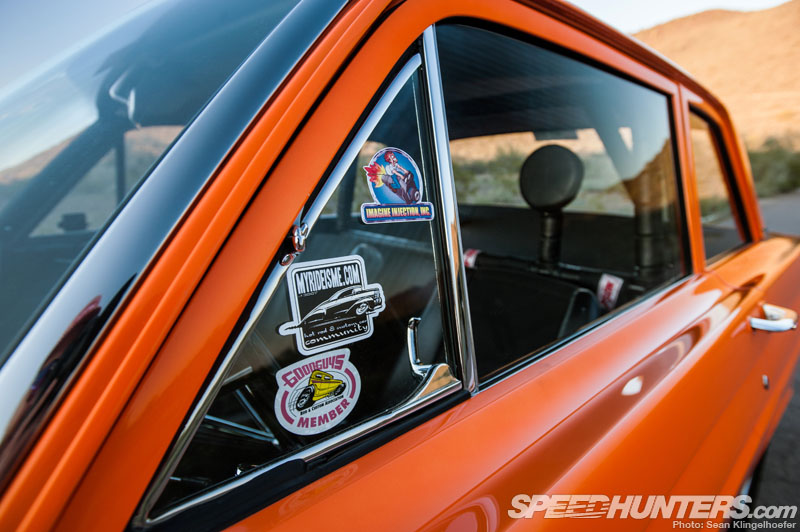 Peeking inside we see a fusion of stock interior with race-specific mods.  The stock seats are there, but there's a small pad built into the cage that serves as a helmet-stopper for hard launches.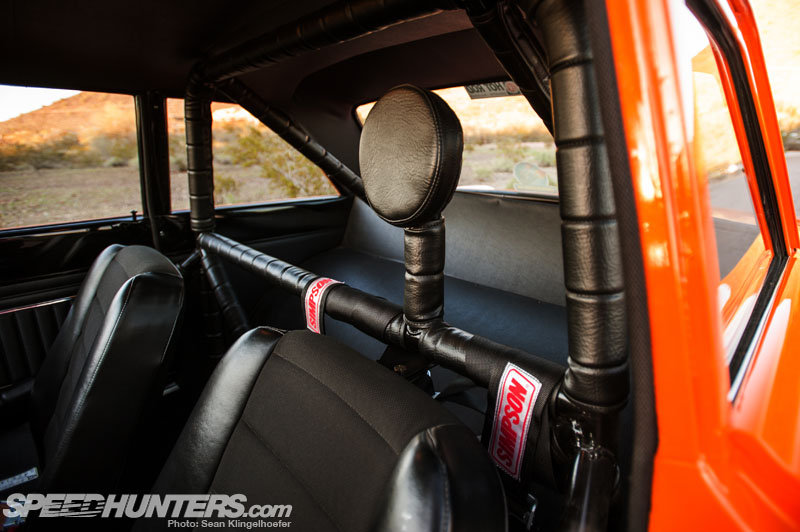 The rear seat has been deleted to make room for the rear axle and tires.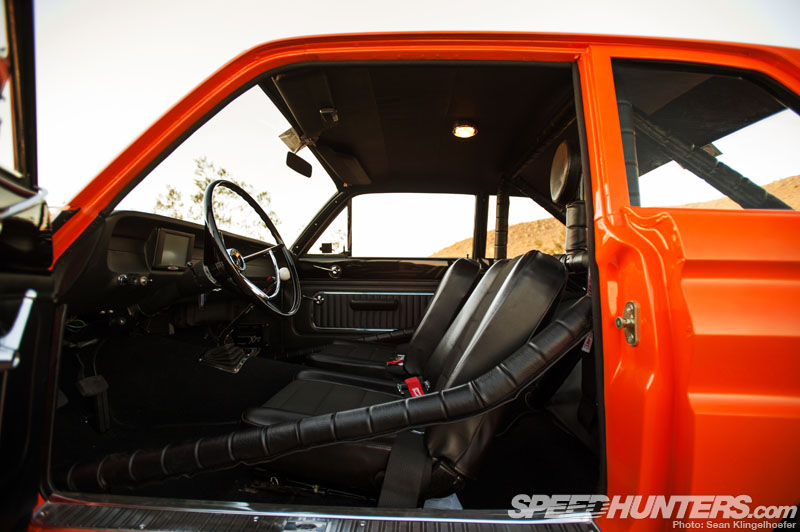 From here you can see that most of the stock interior was retained, and items like the Simpson harnesses were ordered in black so they fit in.  The largest concession Bob made was in instrumentation, but if you asked him he would tell you it wasn't a concession at all.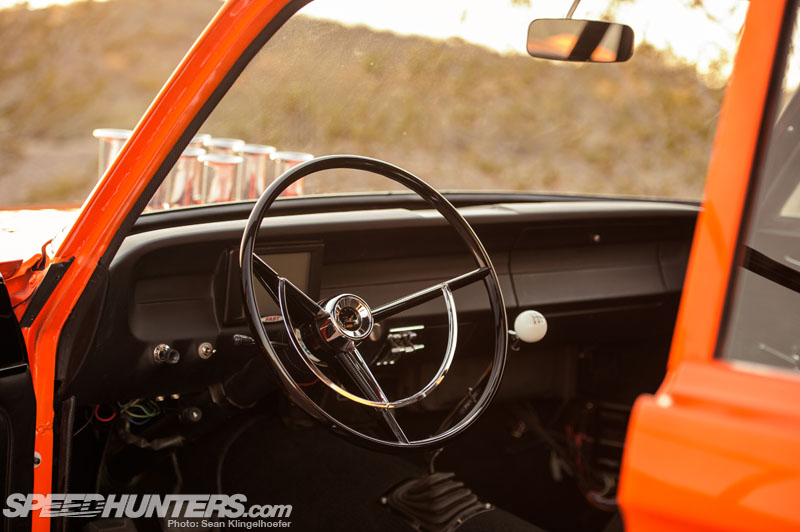 A Fast XFI touch screen offers all the data you could desire, and Bob cheerily scrolled through all the menus showing me everything he could monitor.  I suppose when you design your own fuel injection system you care a lot more about all the signals coming from the Fast XFI 2.0 ECU too.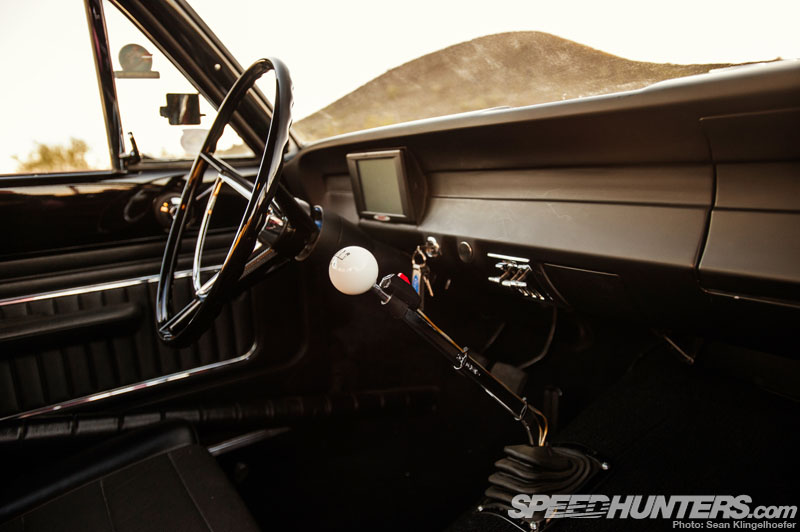 The classic Hurst shifter (with line-lock riding piggyback) controls a not-so-classic T56 six-speed manual transmission.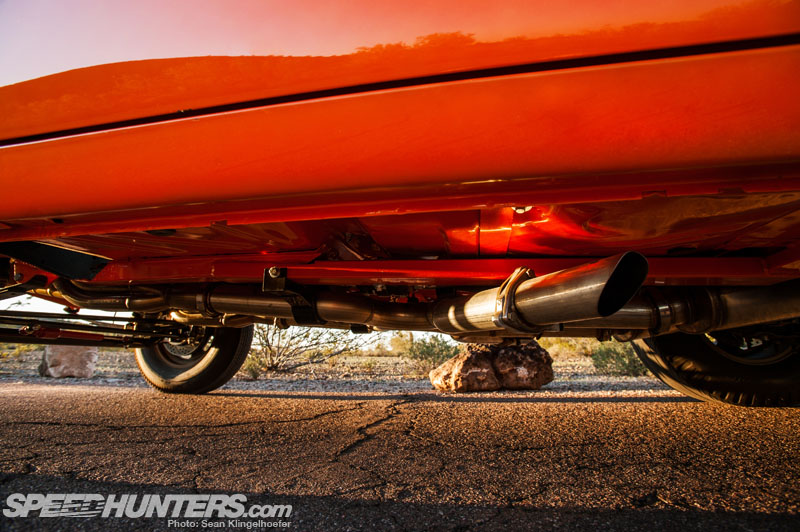 Before we lay on our backs and look underneath take a minute to admire the bodywork from this angle.  The door to rocker panel gap is perfect, and if you inspected most show cars from here the rockers would never come up this clean.  This is a difficult area of the car to prep and paint, yet even the pinch welds are perfect. Anyway, now we can look underneath and notice that Bob has the option to either utilize the full Arrow Lane stainless exhaust or trigger the electric cutouts and cause a ruckus.  SS and AFX also welded in subframe connectors to keep the unibody from twisting up.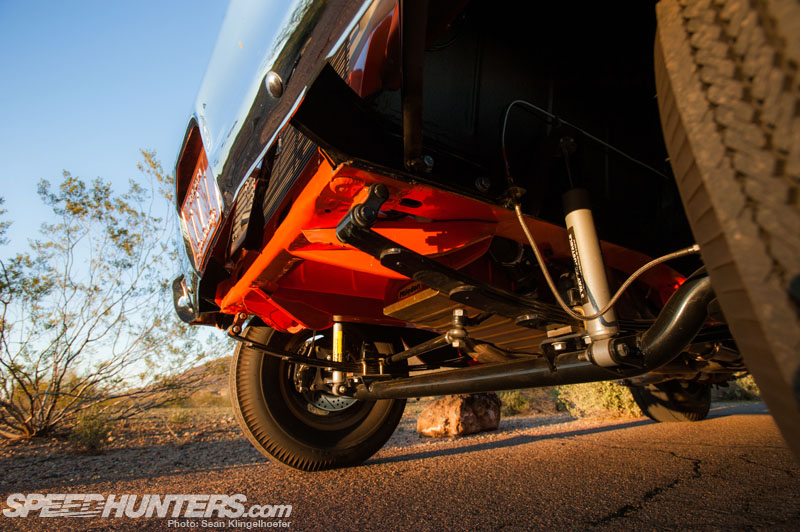 Moving to the front we find a classic drag race setup.  A dropped tube axle is suspended by leaf springs, with shims to dial in the desired 5 degrees of caster.  But notice the crossdrilled Baer brakes juxtaposed with the super-narrow 4.5″ wheels and traditional Firestone bias plys.  The mixture of new and old tech is quite well done.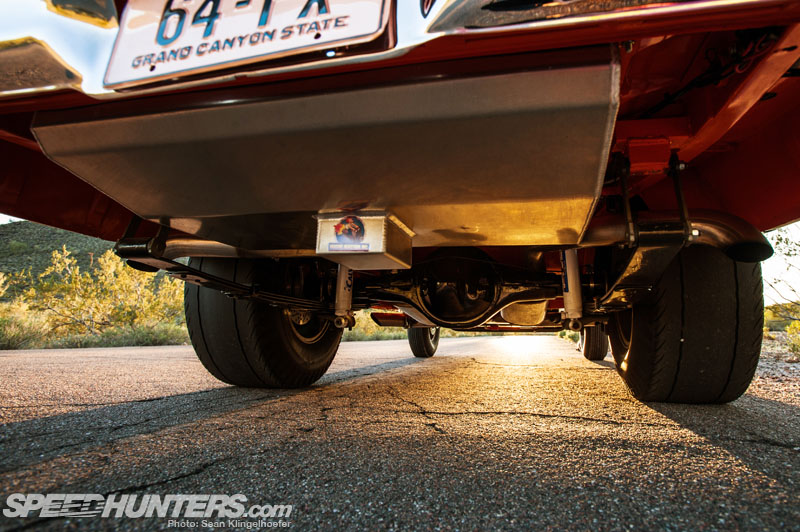 The Ford 9″ rear axle has a 15×10″ wheel with a Firestone pie-crust slick stuck on either end.  Bob could have gone with a modern tire that would hook better, but why?  Clearly he knew where he could tastefully make improvements and where to leave the traditional spec equipment as it should be.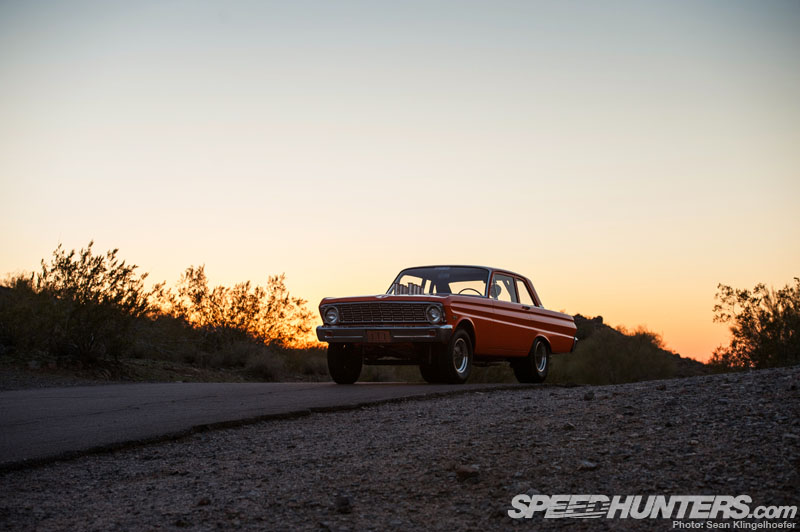 After a few short years of tracking FX cars, drag racers moved on to the next craze – the flopper-bodied funny car.  If you think about this mid-'60s time period you also realize that this was just before pony cars started to hit the scene, relegating FX cars to history in short order.  The guys that still had AWB cars started using them as wheelstanders for demonstration runs after that, shifting their usefulness from race cars to show cars.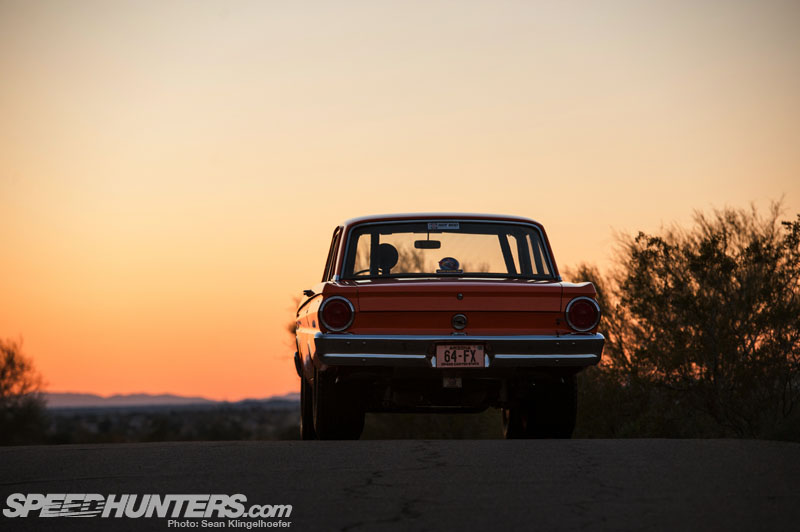 Considering what came of FX cars I find it fitting that Bob Ream built this car the way he did.  He can't tell you dyno numbers or a 1/4 mile time because those things aren't really as important to him as having a bitchin' car that's really well built.  It's a faithful tribute to the cars that revved him up as a kid, but he wasn't afraid to stray from the traditionalist's rulebook  for the sake of better performance.  This is the mark of someone who truly knows what he is going after when building a car, and Bob pulled it off.
Bob Ream's 1964 A/FX Ford Falcon
Engine: Ford 427, Dart aluminum block, 10.2:1 compression, machining and porting performed by the owner, Comp Cams camshaft, cam gears, lifters and push rods, Racing Head Services valves, valve springs and retainers,  ARP headstuds, Icon 4.125 dished pistons, Total Seal rings, Lunati 6.2″ rods, Lunati 4.0″ stroke crankshaft, March pulleys, Aeromotive Fuel pump, Fuelab fuel pressure regulator and filter, Standard Motor Products injectors, custom threaded by Imagine Injection, Milodon oil pan, Moroso spark plug wires, Accel coil, MSD 6A ignition, Optima battery
Intake: Imagine Injection 50.8mm billet air valves, stacks and fuel rails, Blue Thunder Auto intake manifold match ported
Exhaust: Arrow Lane exhaust and headers, all stainless
Engine Management: FAST XFI 2.0 with Touch Screen display and data-logger
Driveline: Tremec Magnum T-56 six speed, Ford 9″ rear axle, 4.10 ratio, Strange axles, Modern Driveline clutch, flywheel and shifter
Chassis: SS and AFX roll cage and subframe connectors, front straight axle relocated 54.5″ forward, rear axle relocated 11″ forward, Competition Engineering front shocks, Calvert rear shocks, Speedway Motors front leaf springs, Mopar Super Stock rear leaf springs,
Brakes: Baer disk, Wilwood master cylinder
Wheels and Tires: Real Rodding 15″ x 4.5″ and 15″ x 10″, Firestone 6.70 x 15 and Firestone Dragster 10 x 15
Exterior: Pearl orange paint, relocated wheel wells
Interior: Simpson harnesses, Hurst shifter, FAST touch screen instrument panel
Vehicle Weight: 2800 lbs, 45/55 split
Owner thanks: Greg Fernald at SS and AFX, Ryan Linden at Arrow Lane, Bruce at Modern Driveline
-Keith
Words by Keith Charvonia
Photos by  Sean Klingelhoefer
More March 2013 USA themed stories on Speedhunters
---
---
---