It's time to head full tilt into our USA theme now here on Speedhunters: three days of Americana from around the world. I'll kick off proceedings with a recent visit to a hot rod garage, something that perhaps epitomises the American automotive way. It had all looked perfectly normal – as I walked into the garage I'd passed a vintage '32 Ford roadster before being confronted with a typical collection of Americana: Chevys, Buicks and, of course, more '32 Fords. Rocket From The Crypt blasted from the stereo. Beer was sitting chilling in the fridge. Soft, gentle sunlight filtered through the entrance. A regular SoCal hot rod garage, surely, nestling in some downtown area of Los Angeles? No, despite the visual cues and perfect ambience, this underground workshop was actually in… Switzerland.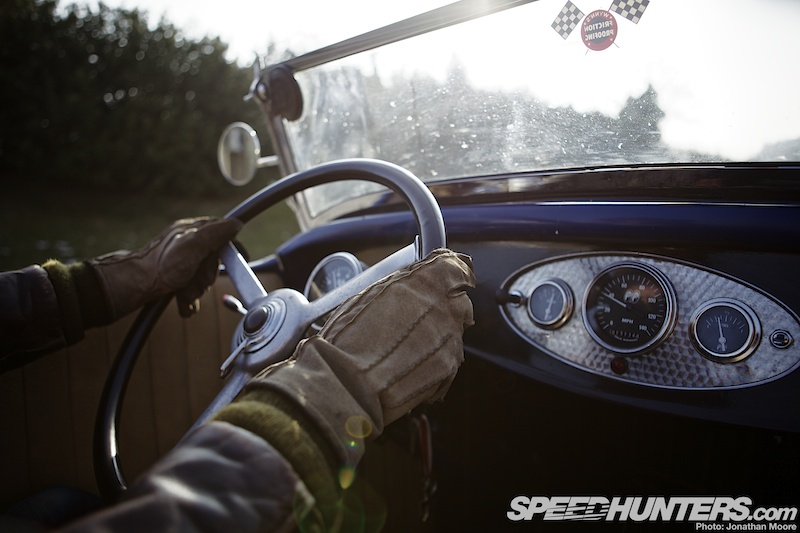 It was a pure celebration of Americana in Europe, ever mindful of tradition, and a place where the crew live by a true old school hot rod ethos. Build it, build it well, and build it with a big V8. Then drive it.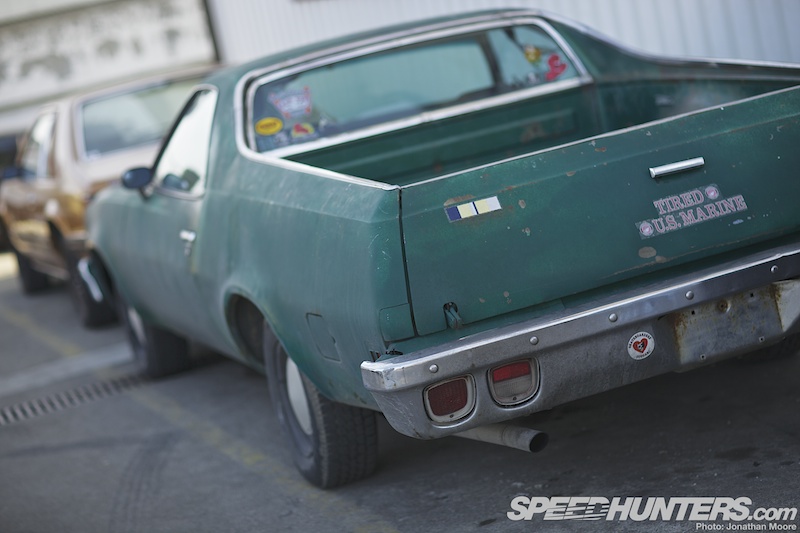 Hidden away on a small industrial estate, the workshop was tucked away underneath a local carrosserie body shop, one of many small firms on the estate taking care of more modern fare. But on the ramp down to the underground lair, time turned back and the line of parked contemporary Euro saloons gave way to vintage US metal that provided a fine introduction to what was in store down below.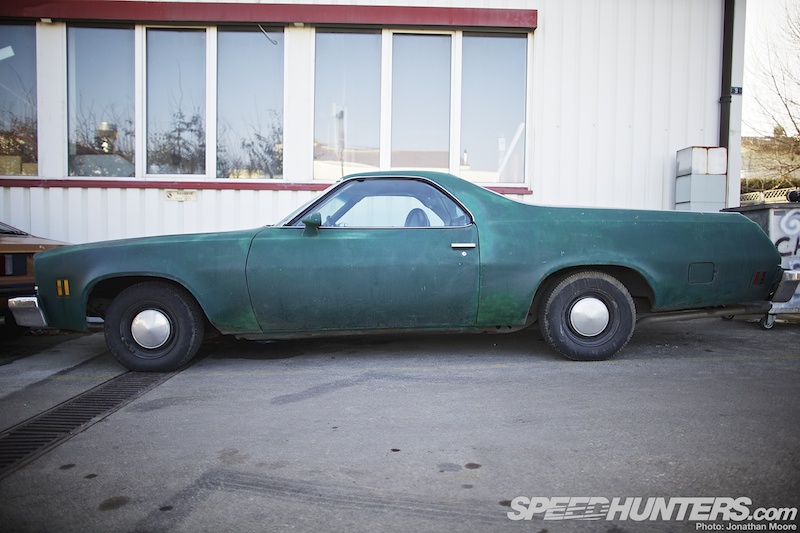 I'd been pointed to the workshop by a friend of mine, who takes his classic Mustang there: it's a collective run by Xavier Grand, based on the northern, Swiss shore of Lake Geneva – a non-commercial meeting place for like-minded fans of hot rods and Americana. This is his El Camino: proudly battered and well-worn, it's Xav's daily driver to his regular job.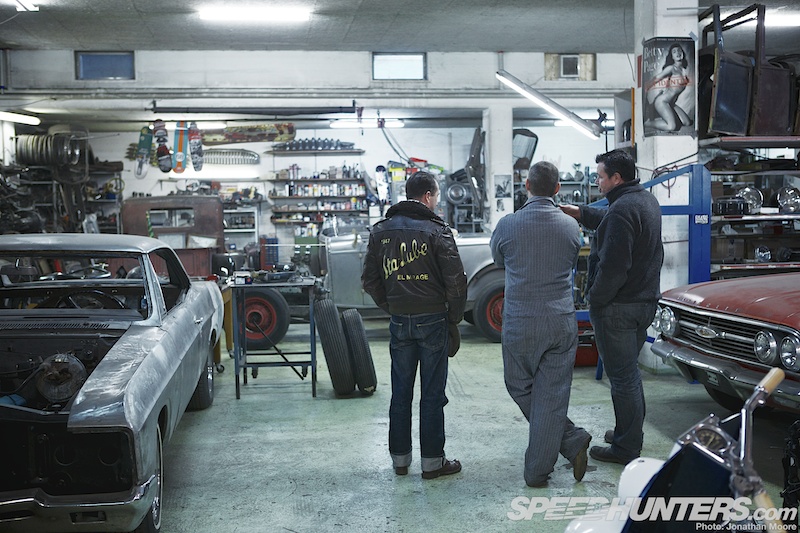 All the hours he's not at work tend to be spent here at the Cheaters workshop, along with his group of friends and anyone else who fancies dropping by to turn a wrench, wield a welding torch or just kick back and discuss hot rods and customs. Artisans all, everyone pitches in with their skills: be they chopping and channelling, paintwork and pinstriping or engine tuning and electrics.
Xav: "We all work a lot and spend as much time as we can in the garage, but build the cars to enjoy them out on the road and take them to different countries. Each person has two or three projects on the go at a time – sometimes more!"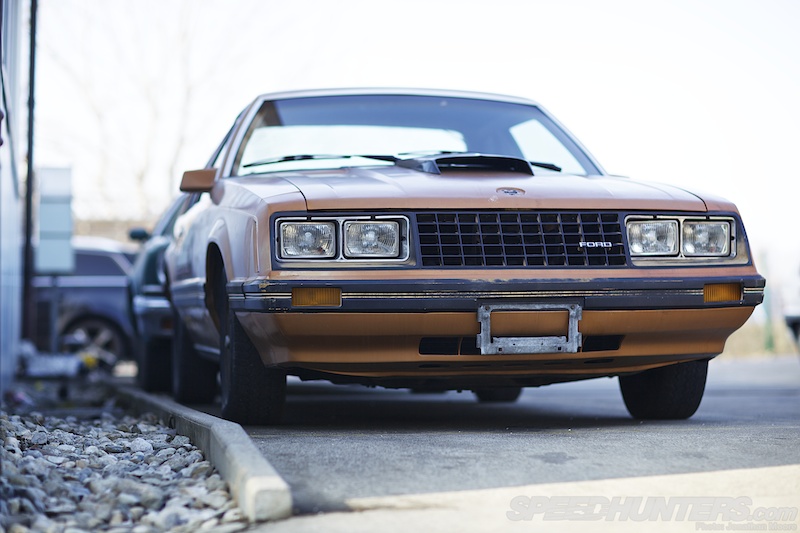 The Fox-body Mustang parked up top might well be the newest car in Xav's collection in terms of age, but it was a good introduction as to how he discovered his love of American cars. It's a recent purchase awaiting restoration that shows his muscle car love is still there despite his passion for hot rods.
Xav: "I love snowboarding, and in the Californian movies there are always Chargers and other muscle cars – that's where I first got a passion for American cars. The size of the cars went with the size of the country. From there I bought a Chevy Impala and quickly got into customs, each time getting more extreme. But I still love muscle cars, with their total mechanical freedom. They're crazy and exuberant."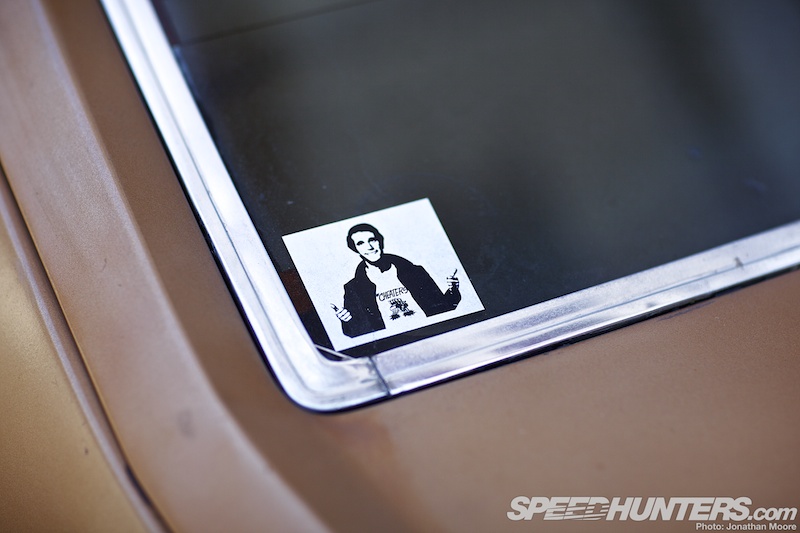 "We formed the Cheaters club well over 10 years ago. We've got a blog and website – we even had a coffee table book published on us a while back. But it's very informal: it's about a group of friends getting together to drink a beer and talk about hot rods."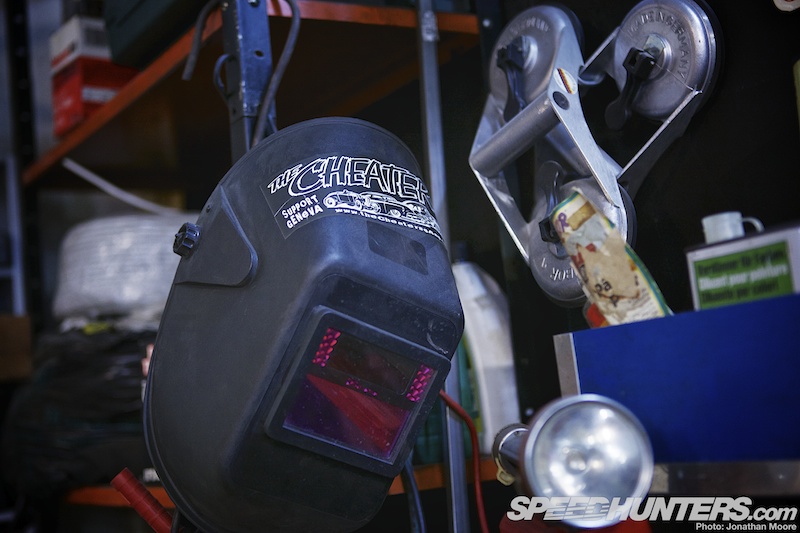 It might seem strange that there's such a love affair with American cars in northern Europe, but looking back there's a strong heritage to lean on.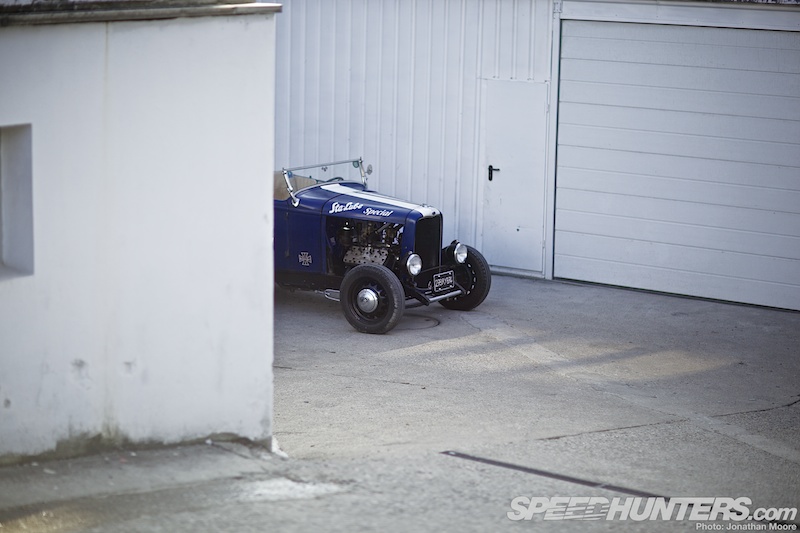 For a start there's the attraction of the aesthetic: of course US automobiles in the post-War period were a lot more attractive and flamboyant than their more staid and economically restrained European counterparts, but there's another factor: the number of US Army bases that used to be scattered across Europe.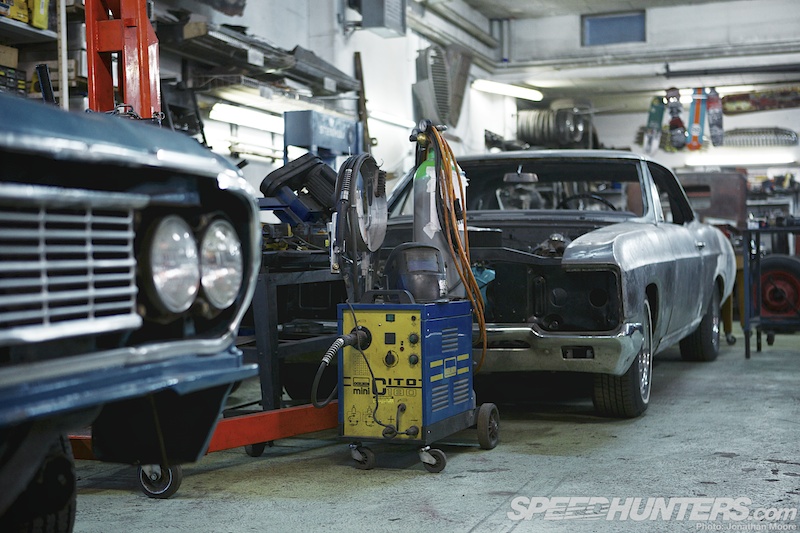 From Norfolk in the UK to numerous towns in Germany, it's still a common sight to come across a big pack of supertanker-size US cruisers, both left over from the exodus of the US military back across the Pond and subsequent imports. But Switzerland?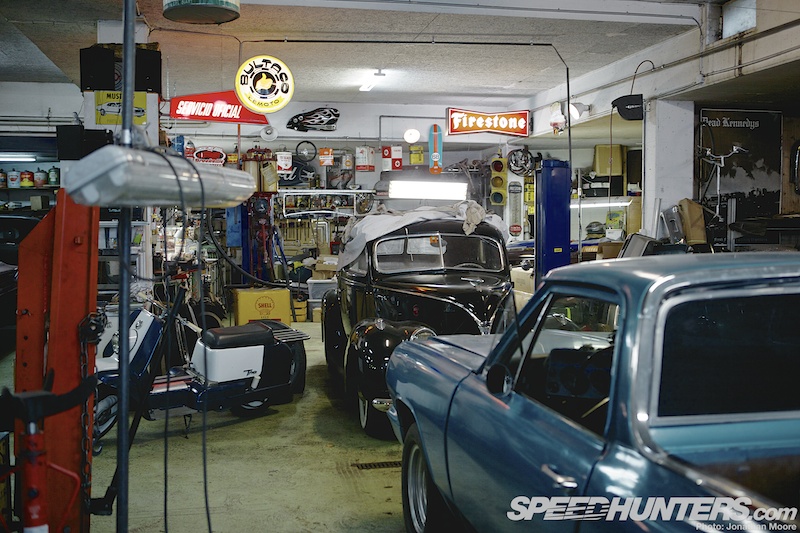 In fact Switzerland has an even more obvious level of integration: in the '50s, General Motors used to manufacturer US-model Chevys in the town of Bienne which were exported all around Europe, creating a national heritage association with US automobiles – and don't forget that Louis Chevrolet himself was Swiss-born. So the Swiss affinity for American cars isn't so surprising…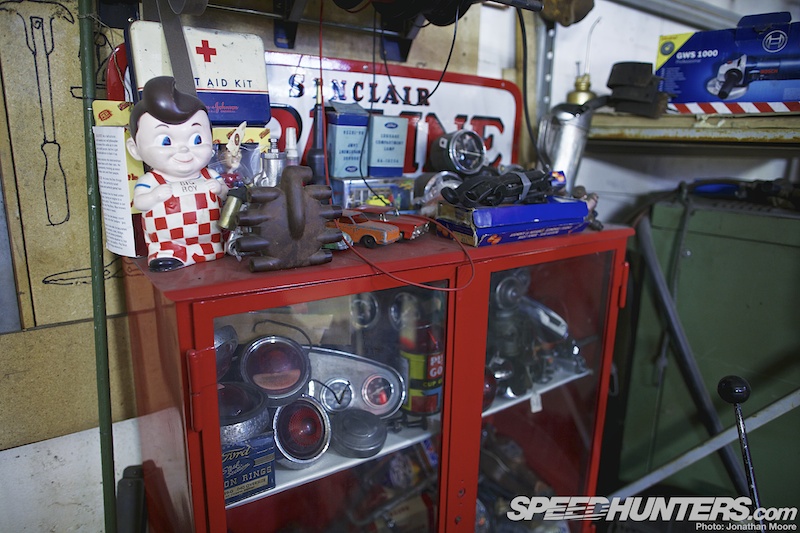 The workshop itself was split into five bays, each crammed with the owner's individual projects, spares and memorabilia and displaying a slightly different preference in taste. What was the same was that every shelf sagged under the weight of carbs, frames, engine parts and so on, and display cases seemed barely able to contain their contents.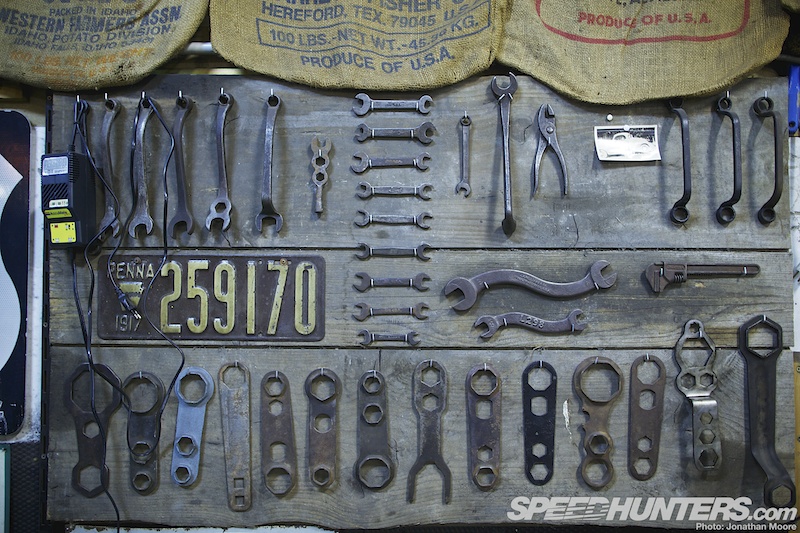 Concessions to modern practices sometimes need to be balanced with nods to classic aesthetic, though at the same time there is a sensible, practical reason to have period tools to work on period machinery. But hell, whatever the reason toolsets like this just look great.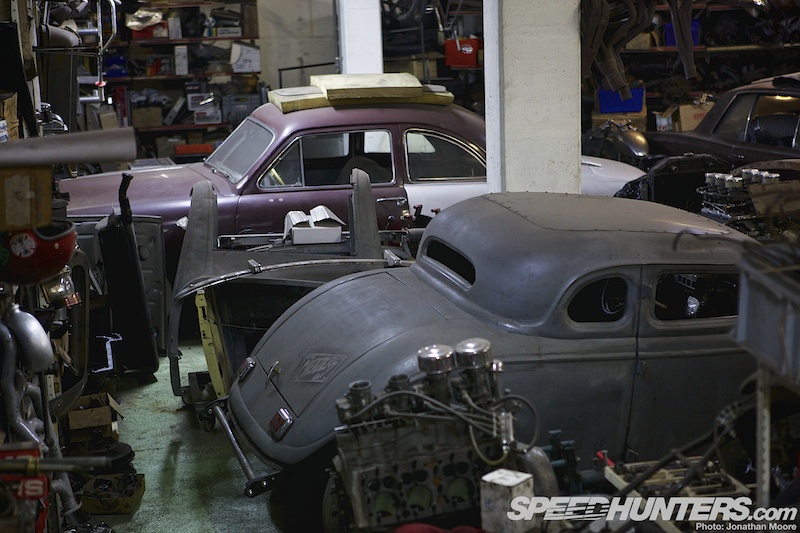 Xavier's corner of the workshop contained a frankly rude number of projects on the go. He was almost apologetic when describing each build, pointing out that most aren't finished to his satisfaction and are works in progress – as though he needed to make an excuse. Definitely not necessary. A common thread throughout the workshop is the constant search for new cars to bring in and work on.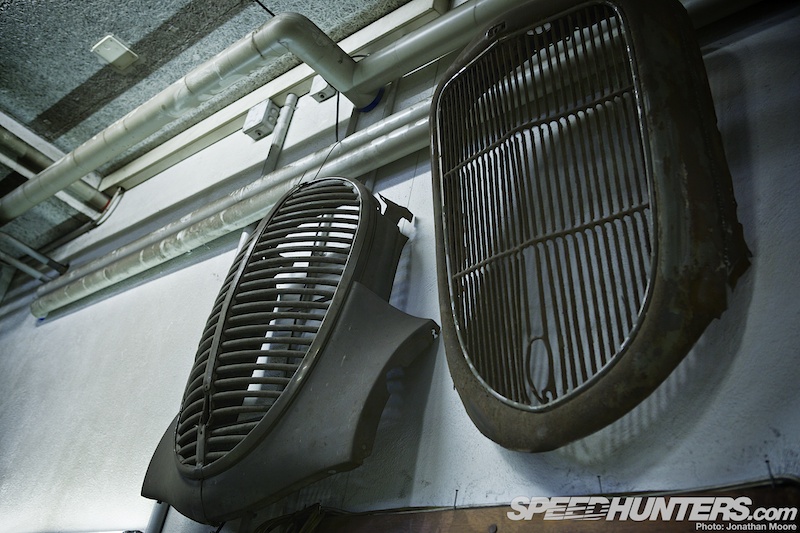 That's helped by an insatiable appetite for squirrelling away parts whenever possible. Every bit of wall was taken up with spares, from a whole line of axles, I-beams and panels to these fencing-mask style grilles (and some skateboards and snowboards for good measure).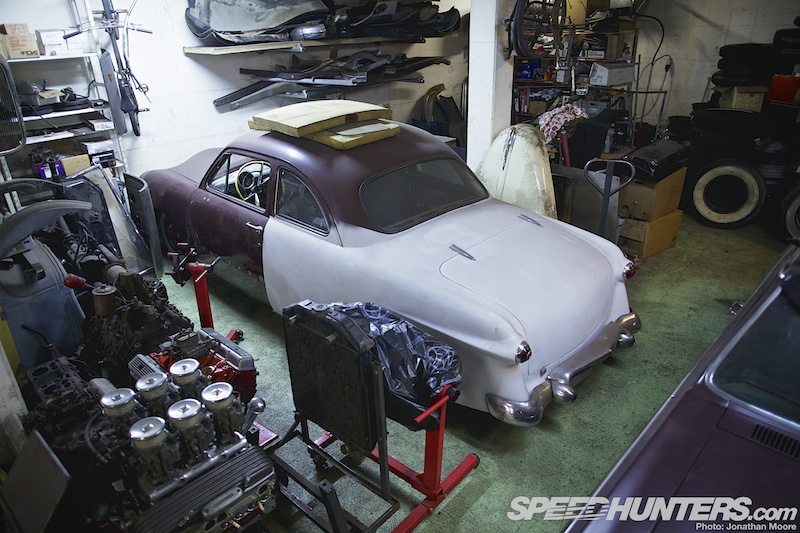 This is the best thing about the workshop. With no customers to worry about and a pure bond of friendship and collective automotive love drawing them together for all the hours they can spare, the joy for me was in seeing all these eclectic cars being worked on.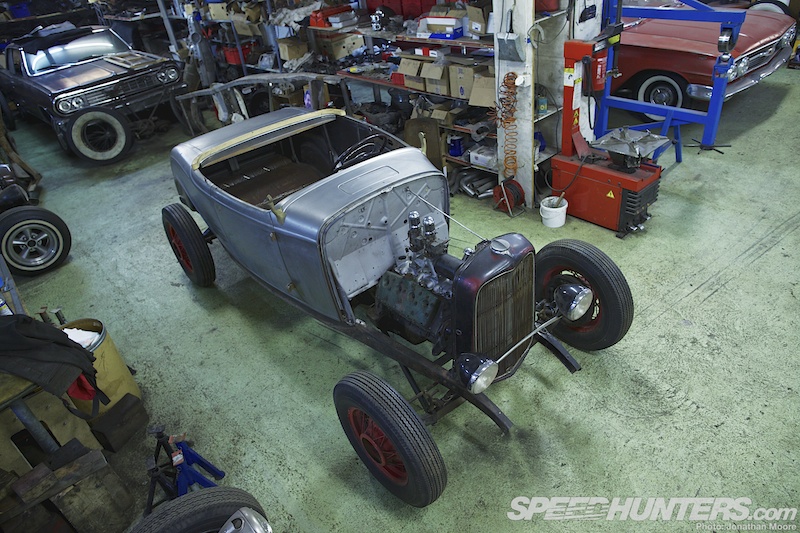 Xav: "There are several approaches to building hot rods. It's good to use imagination to produce an image of what a hot rod could be, but we're more about the classic style. There's a lot of specialist knowledge required to get it right: how you put things together and the correct approach, what was used in period and the year of manufacturer. Which piece should be used in a build: something from '45 and not '55 for instance, or whether to use telescopic shocks in place of friction dampers. I do a lot of research to make it period accurate: I'm about reproducing '50s-era hot rods based on '30s frames."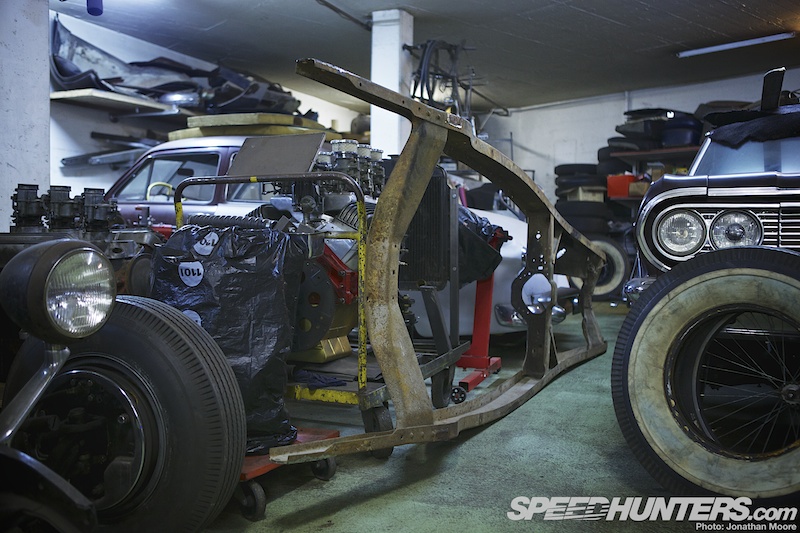 The crew aren't working in isolation though. Predictably, the international community of hot rodders is just that, and people help each other out with parts and advice.
Xav: "The frames here are mostly original. I've got a friend who works over at Hollywood Hot Rod – they're very good – and we source a lot of parts from them. It's difficult to find original '32 chassis in Europe, but I arranged a deal where they sent four chassis to us. Now I've even got some spares, which is great!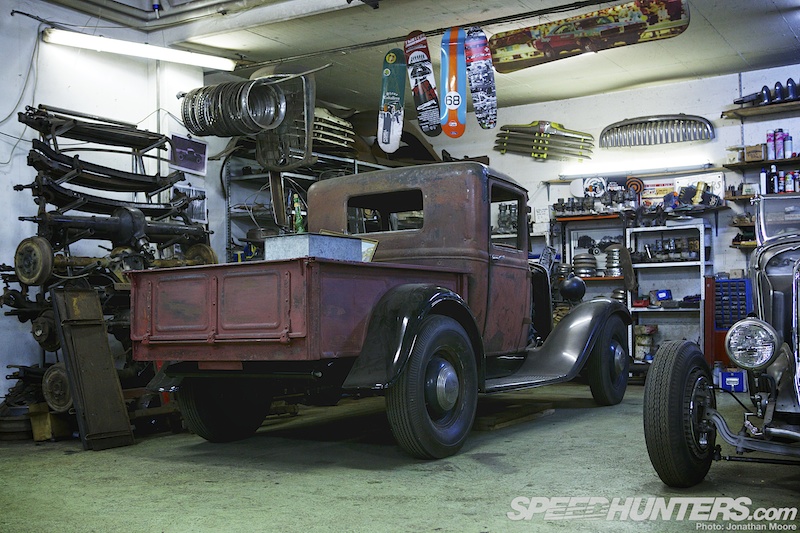 His current focus (or at least, that afternoon perhaps, before one of the roadsters caught his eye again) was this '31 pick-up, a project that showed that although at his core he wants his hot rods authentic, he's not averse to going a little off piste on certain special projects.
Xav: "I've owned roadsters, a pick-up which I chopped and lowered, and many more besides, but now I've gone back to things which are more fun, like this one."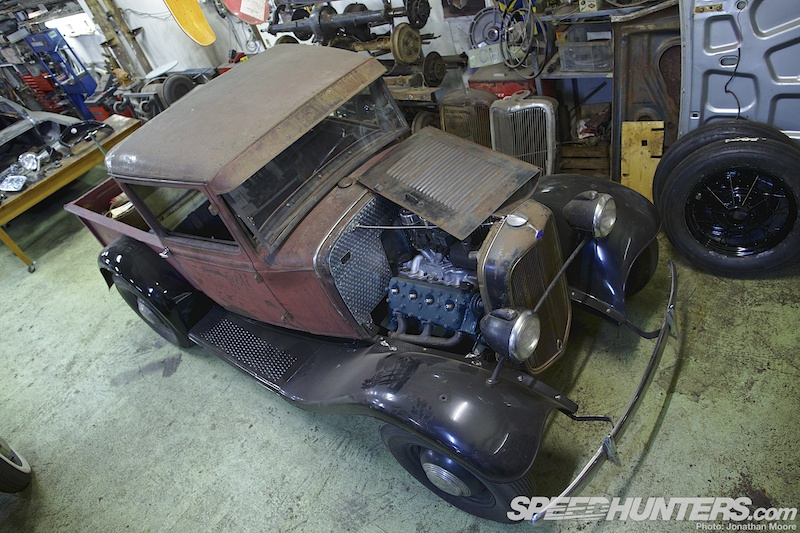 The base is a '31 cabin-body Ford, and Xav chose to build the car up as a mix of customisation styles rather than as a straight restoration. On the surface it might look like it'd be at home on a farm, but underneath it has serious sleeper credentials.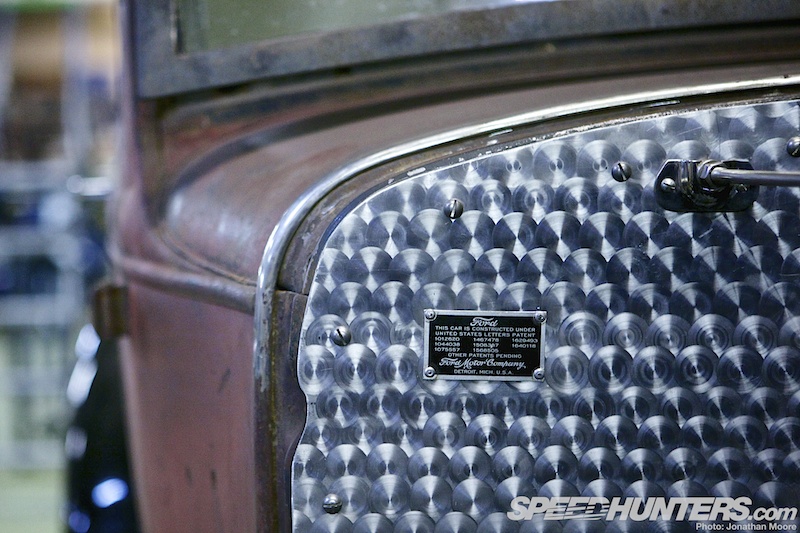 The V8 has been set down low in the hood and will see even more tuning before its done; the frame is partially reproduction, though the cross-members are original. Mainly this is because Xav didn't have access to original parts when he started a couple of years back, which is also why he's allowed himself more leeway. Although the bodywork looks like a natural fit, the pieces have been sourced from all over the Europe, and even the engine has been on a European jaunt since its US birth many decades ago, before finally ending up here in Switzerland.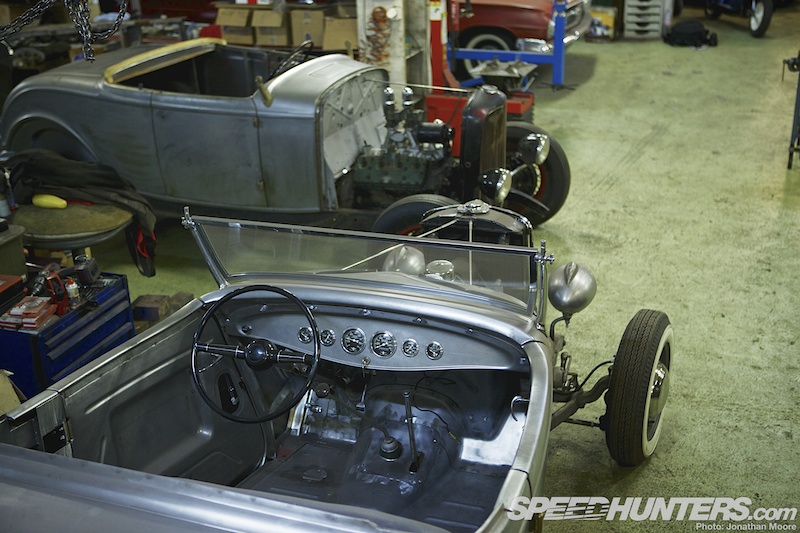 The two Fords (a '32 and a '33) both featured original chassis, and looked fantastic even in their unpainted state.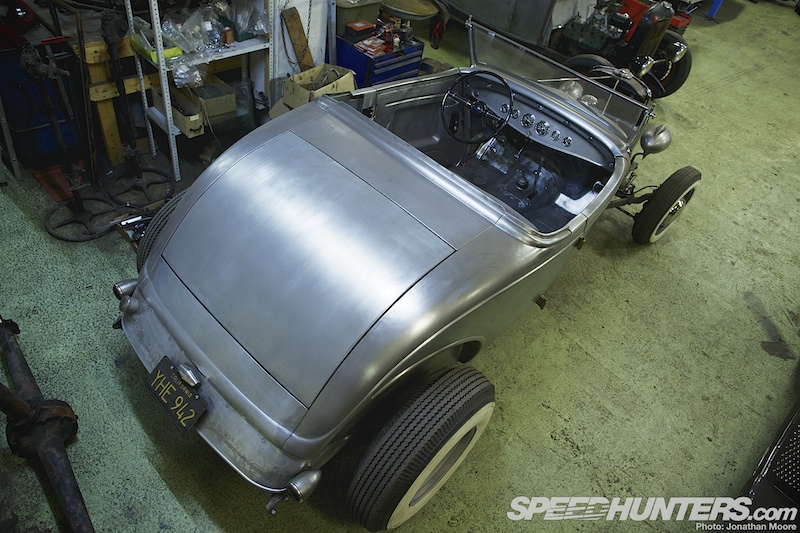 The bodies are repros, but the approach is the usual: it's not about winning awards at shows, it's about making a hot rod to drive.
Xav: "We all share the same passion for hot rods and customs. We use original materials and new old-stock – we like the patina and the history of the old cars. It's about reproducing something that was used, not the idea of a car that sits in a museum not moving."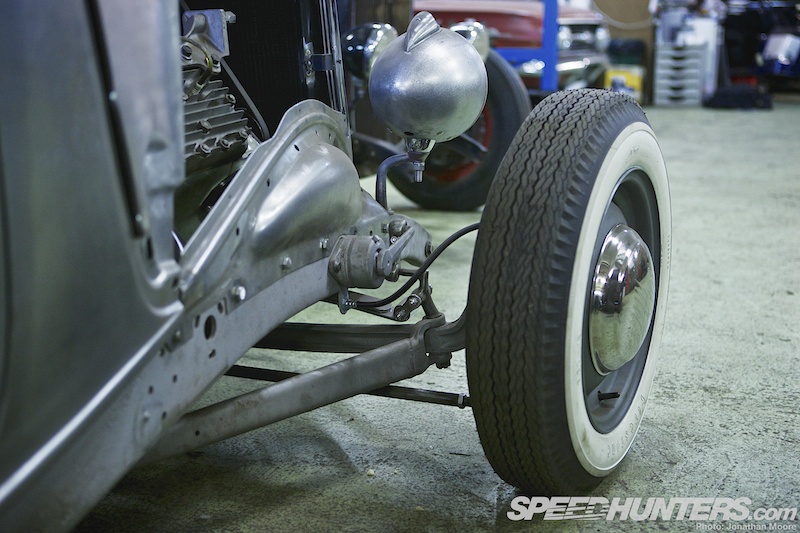 The hot rod ethos was to carry out modifications as and when you could, steadily improving as you went. Xav and the Cheaters team definitely adhere to that original approach.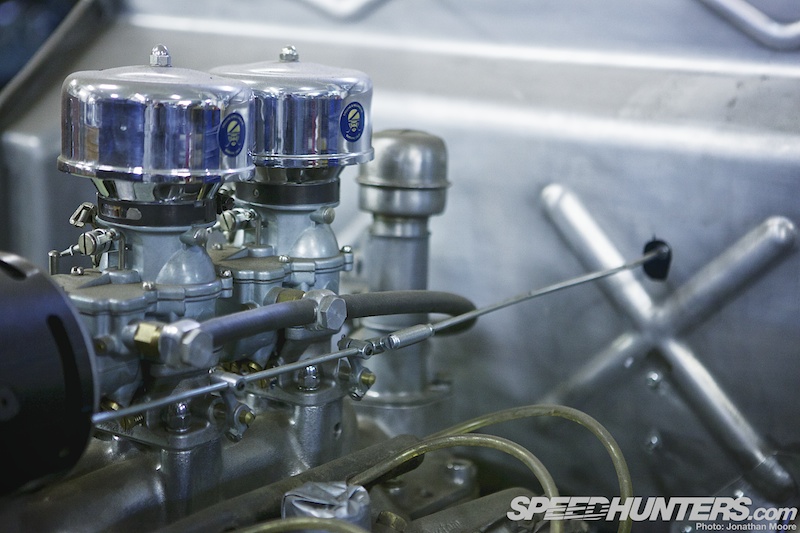 There's a disarming simplicity about hot rods that always captivates me. That doesn't mean that they can't be mechanically complex or that the work isn't top notch, but it's the positive aspect of everything being clearly visible and accessible. Connected. This kind of build resonates more with me because it's doesn't shout at you. It's not shiny and brash. There's an honesty which runs through every one.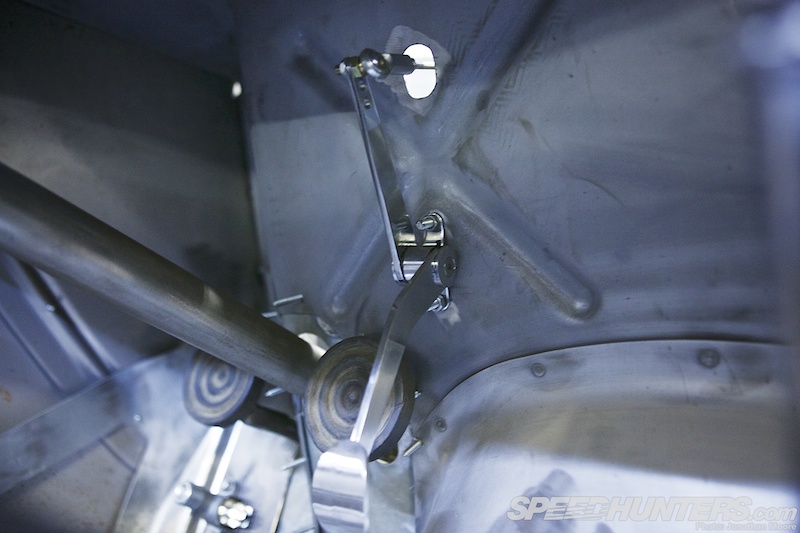 It's silly things like the short-throw throttle cable that means you're that much more integrated into the beating heart mechanicals of a hot rod: you press your foot on the gas and you might as well be opening the valve with your fingers, you're that close.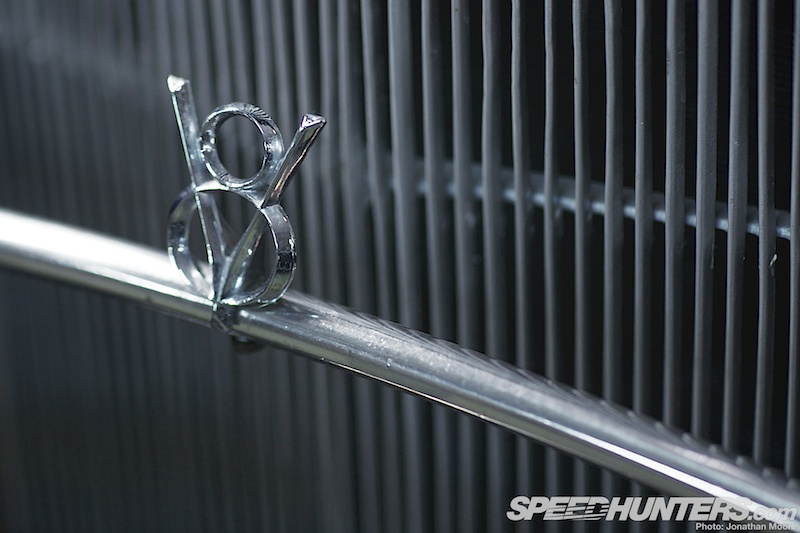 Is there anyone with a heart who doesn't love the sound of a V8? Forget efficiency, forget packaging or actual power, those two characters are possibly the most perfect summation of everything that's great about the combustion engine.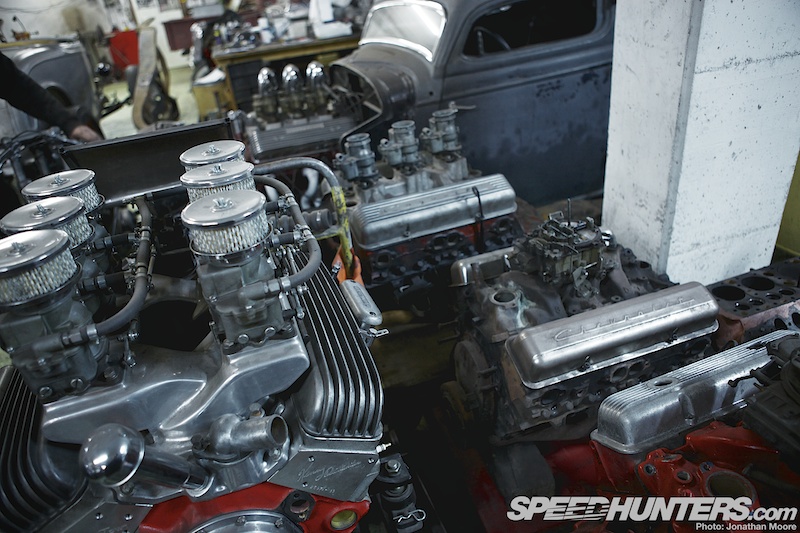 Xav had a collection of V8s like some people have model cars…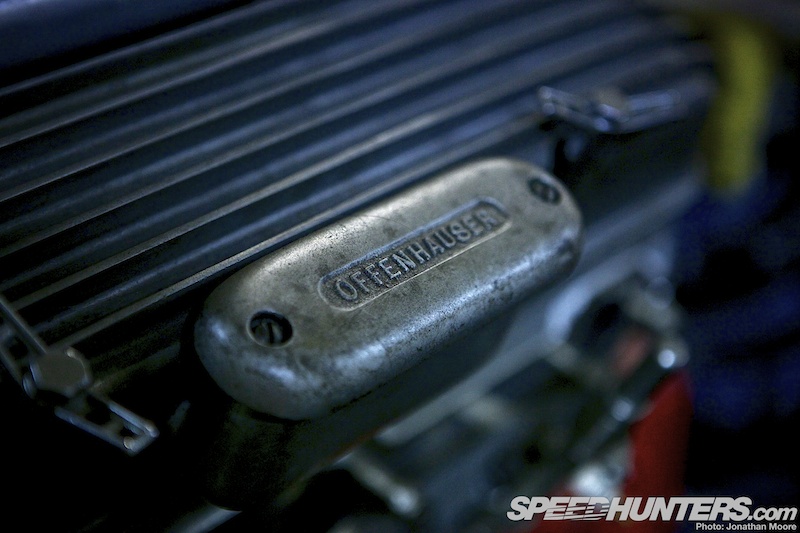 Hot rod V8s are all about options, and there was no shortage here. Classic Fords next to Offenhausers…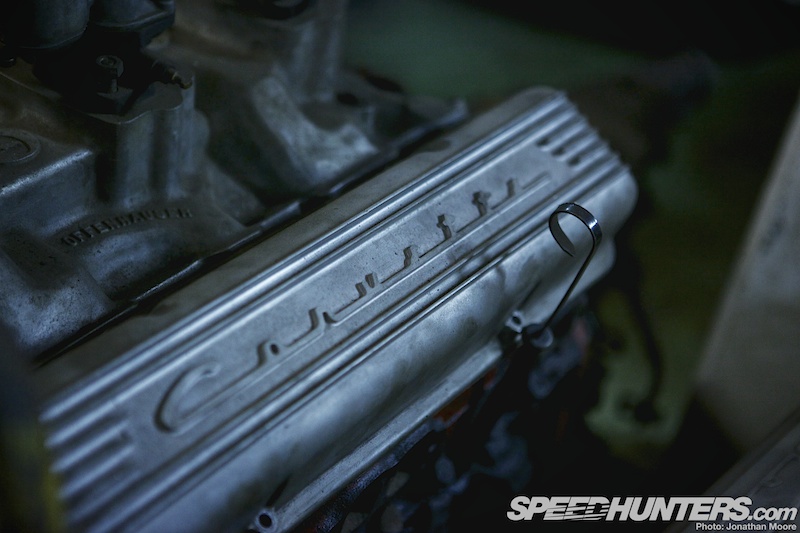 …with various valve covers on show.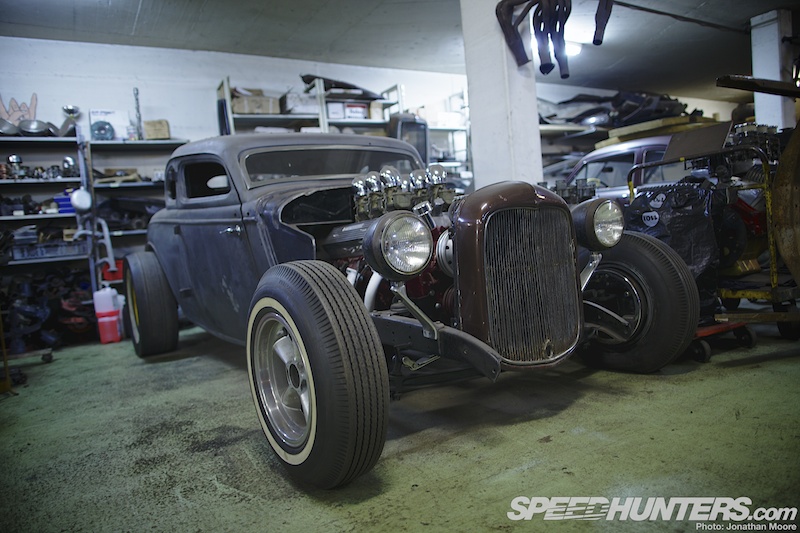 This chopped four-door sedan was a left-field evolution of a plan to make an authentic spec car that would pass Switzerland's notoriously strict Contrôle Technique regs: the biggest obstacle to creating customs in the country, and obstinate enough to thwart all but the most rigorous of builds.
Xav: "It had a flathead Ford V8, and I was originally aiming to make it as original as possible. Then two years ago I got frustrated by the CT, changed my mind and went for some heavy modification."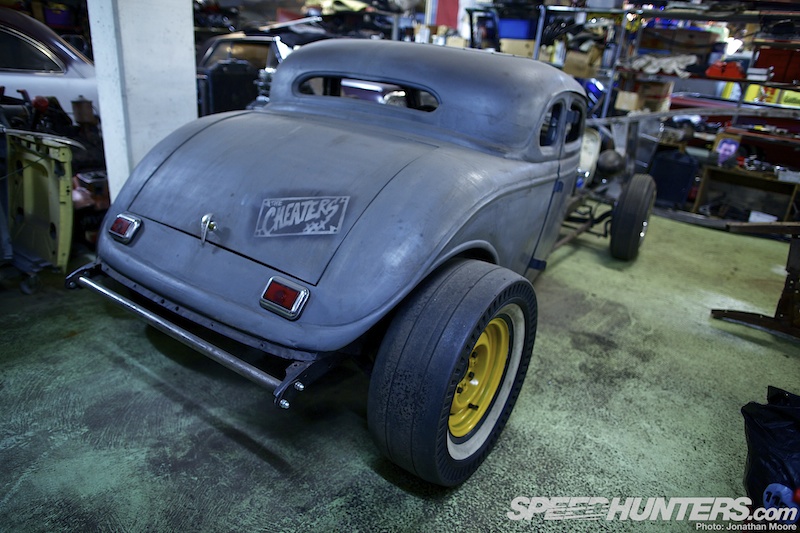 "I completely changed the approach, cut it down and rebuilt the body, and put in a '57 Oldsmobile Rocket engine with 290hp. The approach is now much more of a late '50s street racer. I had a clear vision of what I wanted, but this means I can forget the CT! It's purely for tracks now, hence the tyres. When I move to California I'll take this with me."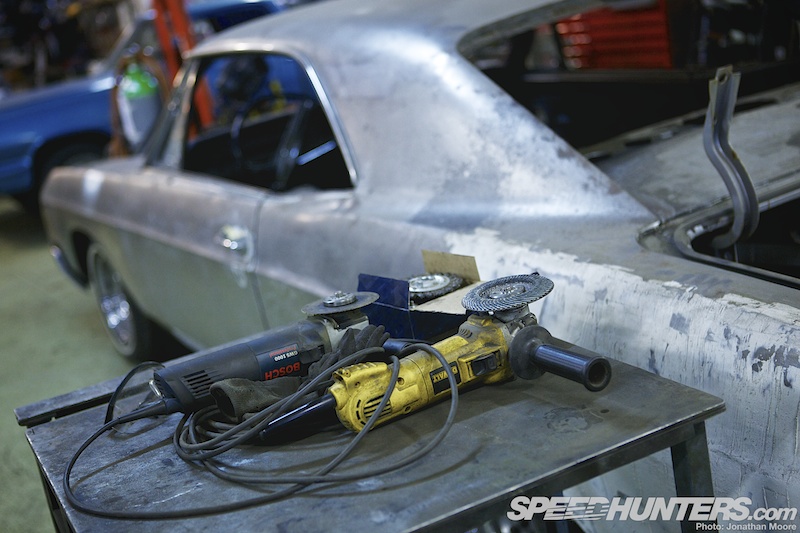 In the main aisle, a '66 Buick Skylark was midway through yet another restoration, its fourth, it turned out! The result of a less than careful owner who somehow still has remained a friend…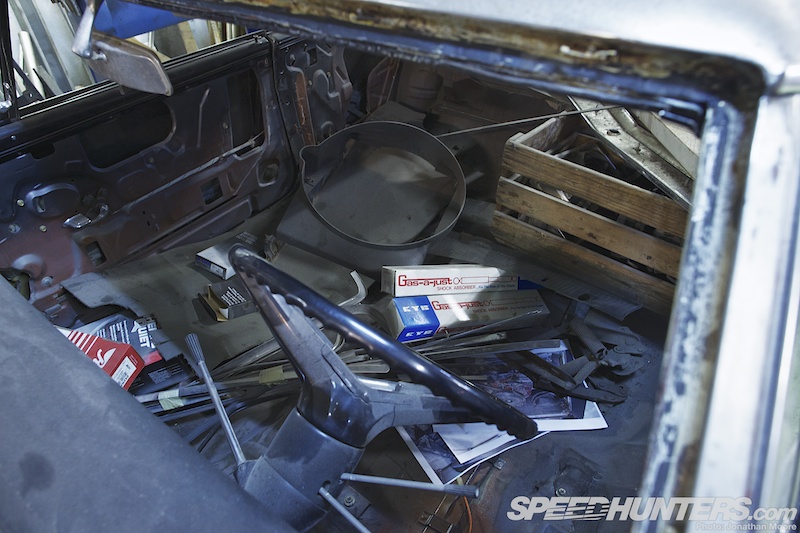 Inside, detritus of the on-going work…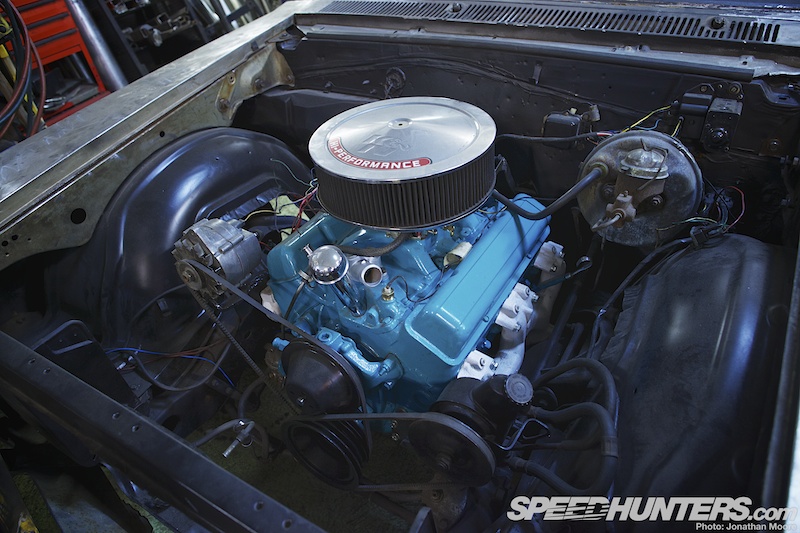 …and in that cavernous engine bay perhaps the reason why the car keeps getting in trouble. It's a sign of how big the car is that the V8 is looks almost diminutive in the space available.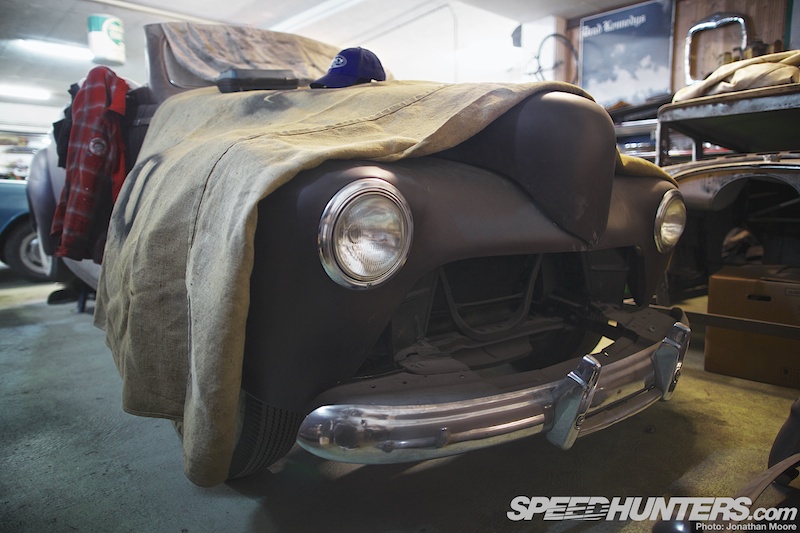 Moving around into the workspaces of Xav's compatriots, you still couldn't get away from his projects. This '46 cabriolet used to be one of his before being passed along to his friend Fred for work to continue – although in any case everyone helps out on other people's projects.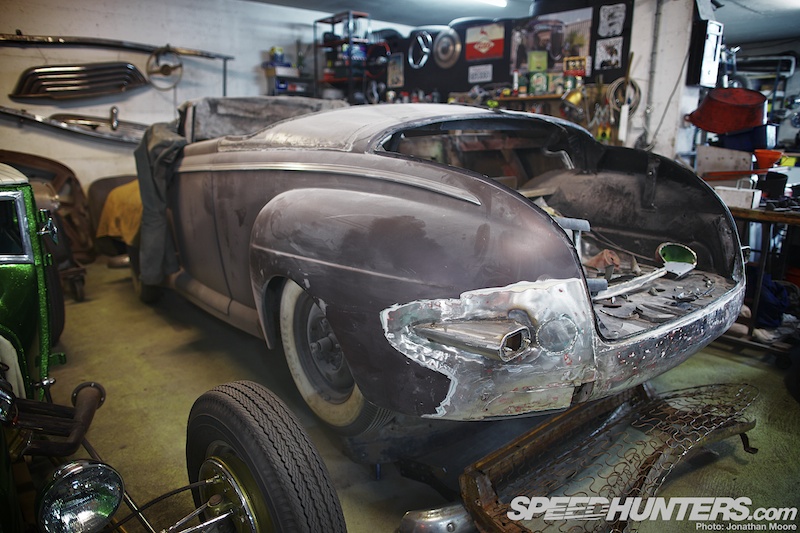 Bodywork was the main concentration…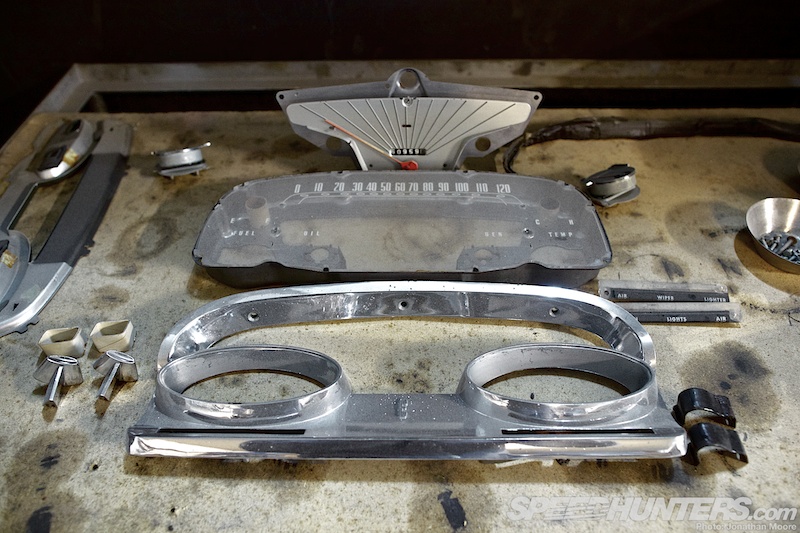 …with the instrumentation laid out on the bench awaiting cleaning and reassembly.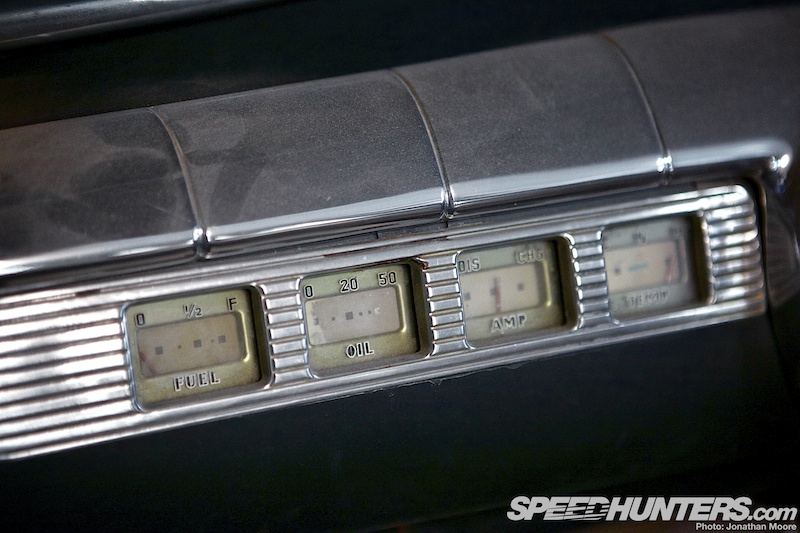 There's an Art Deco flamboyance that you still see in these later cars, something that morphed into even more extreme forms in the '50s with the integration of yet more chrome and the design influence of the early space programmes – viz the El Camino cockpit further down.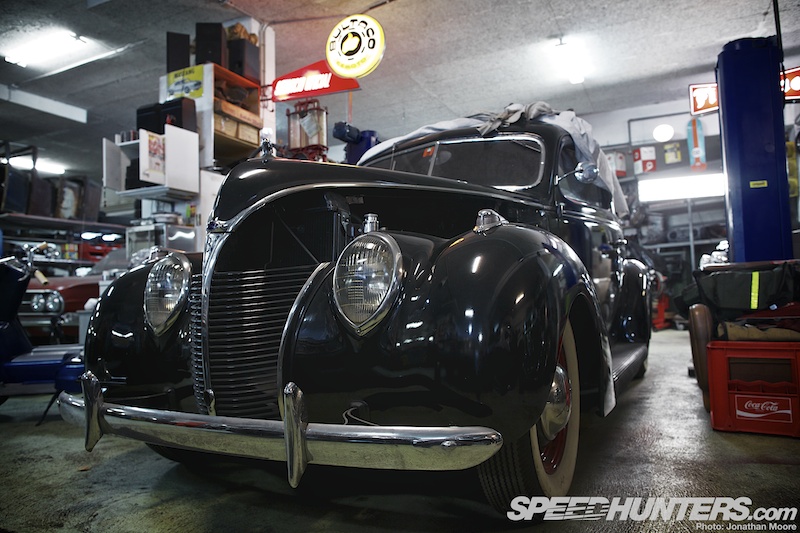 Pascal's bay crammed in three cars, starting with this pristine '39 Ford V8 Coupé.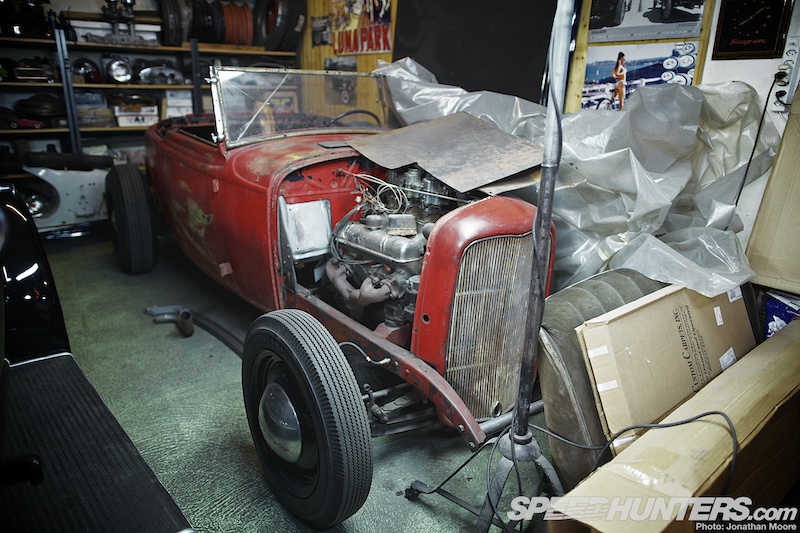 As with so many enthusiasts, sometimes it's impossible to shake off your first love. This was Pascal's first hot rod, found sitting in a collection in Geneva: it's been lowered and its Ford flathead V8 tuned up with performance parts, but will utilise NOS and follow period guidelines in its latest incarnation.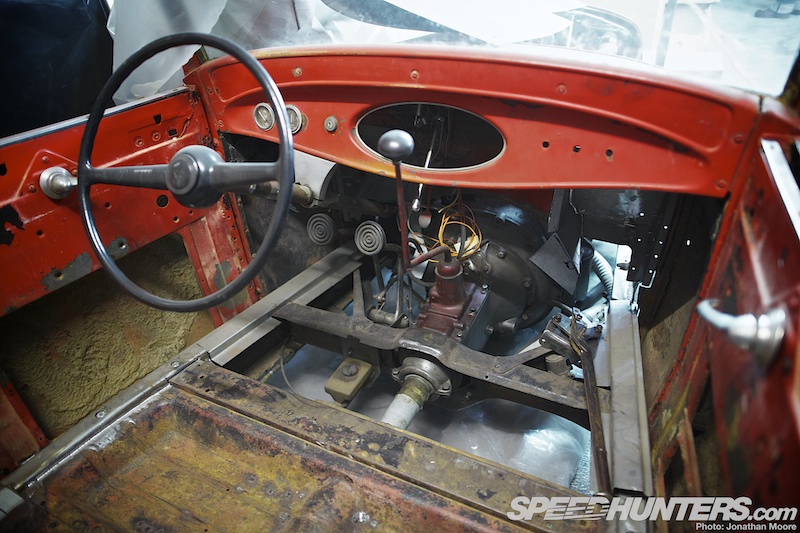 With the front bulkhead waiting to go back in, you get a clear sense of the positioning of the big frame rails, gearbox and engine mounting.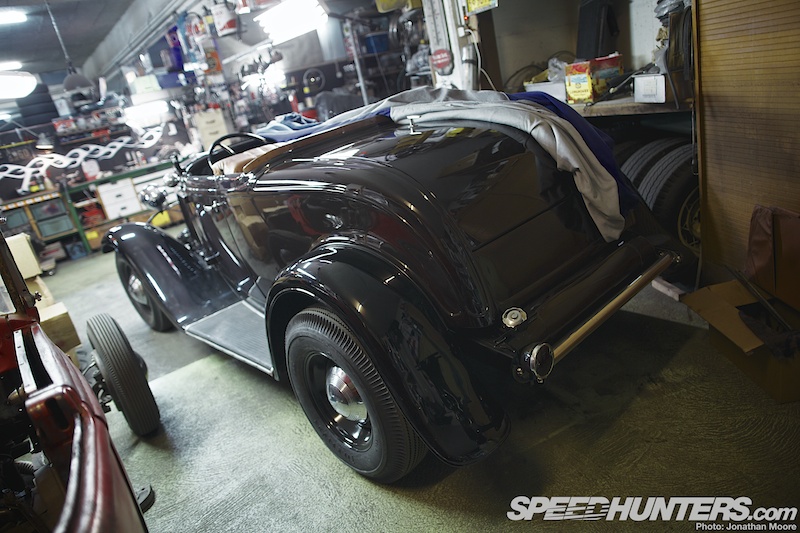 A rather more concours condition car was Pascal's pristine '32 roadster.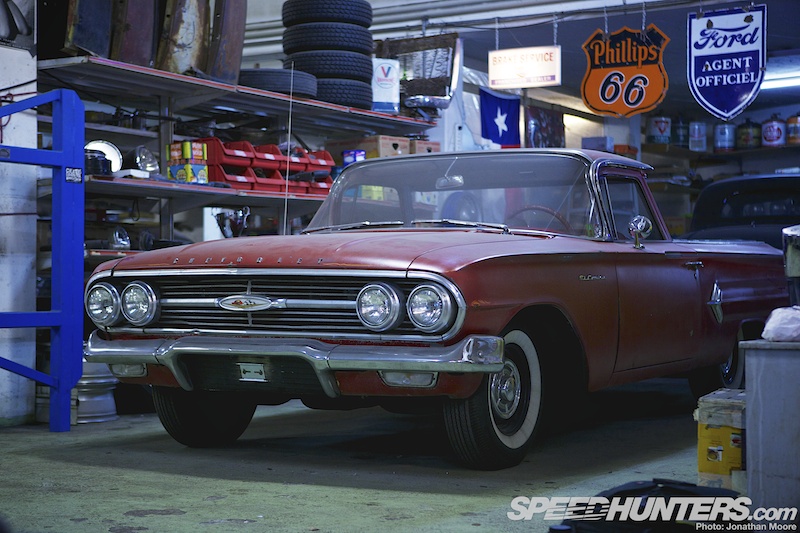 Next up, Denis' bay housed his two current cars and a whole lot of memorabilia: according to Xav he tends to have a quicker turn-around of projects than the rest. The '60s El Camino still sported the remains of stripes and a logo from its previous life Stateside when it belonged to a Californian bodyshop.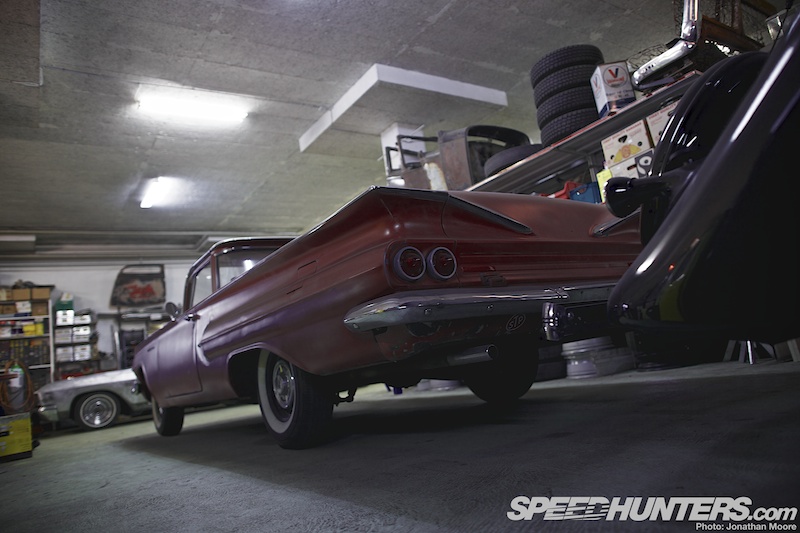 Stabilising the paint was the priority on this one.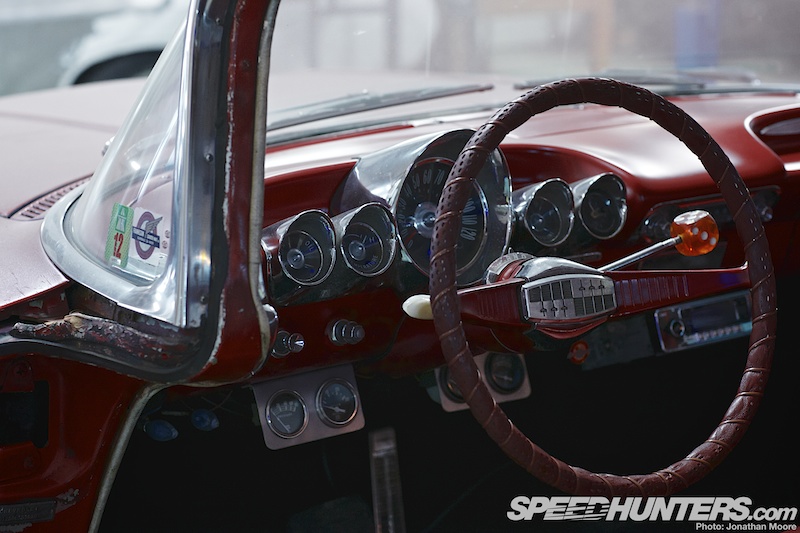 Inside was the outrageous range of dials and gauges so prevalent at the time. Did Pagani use this as inspiration for the Huayra's over-the-top cockpit?!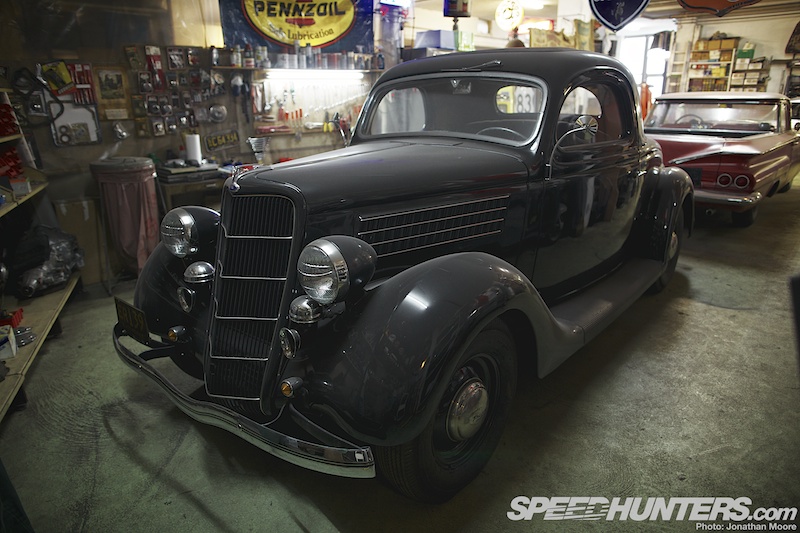 Behind the Chevy was this upright three-window '35 Ford coupé in fully original condition: no chopping, channelling or sectioning here.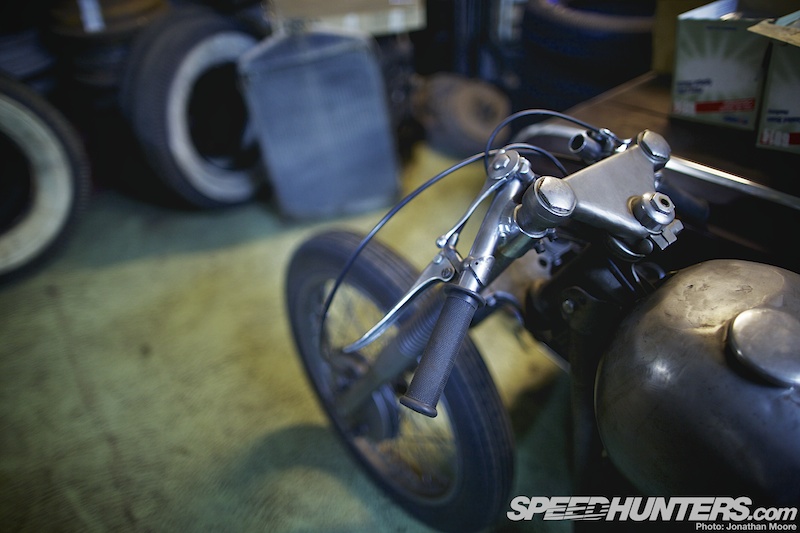 Xav's collective is no exclusive club for a specific genre: the focus is primarily on their passion for classic Americana, but the odd European two-wheel interloper finds it way in. One of the team rides vintage motocross bikes for fun, and Xav has stores this BSA café racer in the garage.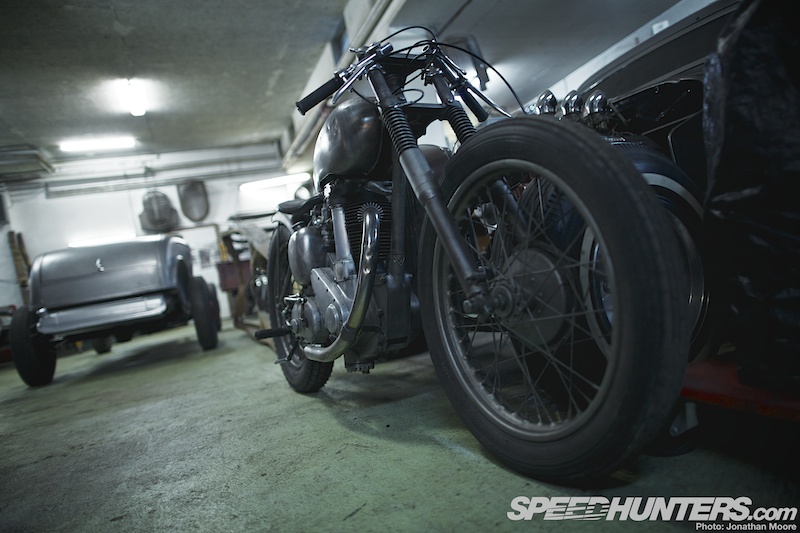 Built by two of his friends, the British bike now sports an industrial custom look: flat metal all over, and with those raked forks and heavily rearward sloping handlebars anyone would look like a custom king riding it. One-handed, of course.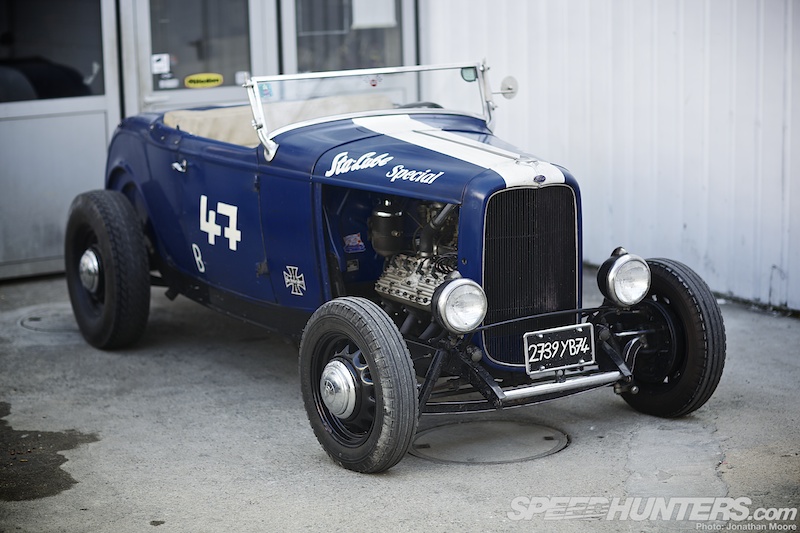 A workshop like this is one of those places where your imagination can run wild, just thinking of this whole collection out on the road at once: the half-tempo low thuds of the V8 hot rods and deep-bass mechanical heartbeat of a bike like the BSA. And Lake Geneva on the doorstep!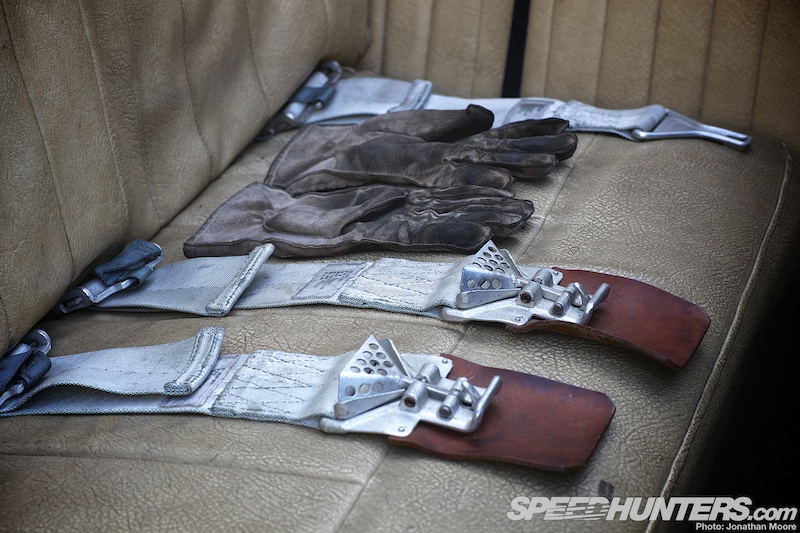 So what's the best way to enjoy a hot rod? Well, looking at one is all very well, but you've got to ride in one to truly appreciate what it's all about. I didn't need to be asked twice to jump into Laurent's '32 for a brief blast around the lakeside roads.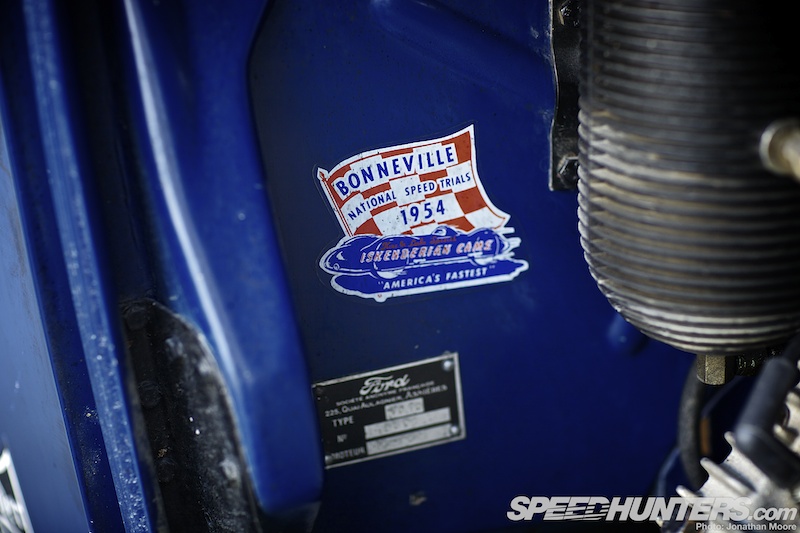 His '32 was finished last year, and sports plenty of evidence of its previous life, both in stickers…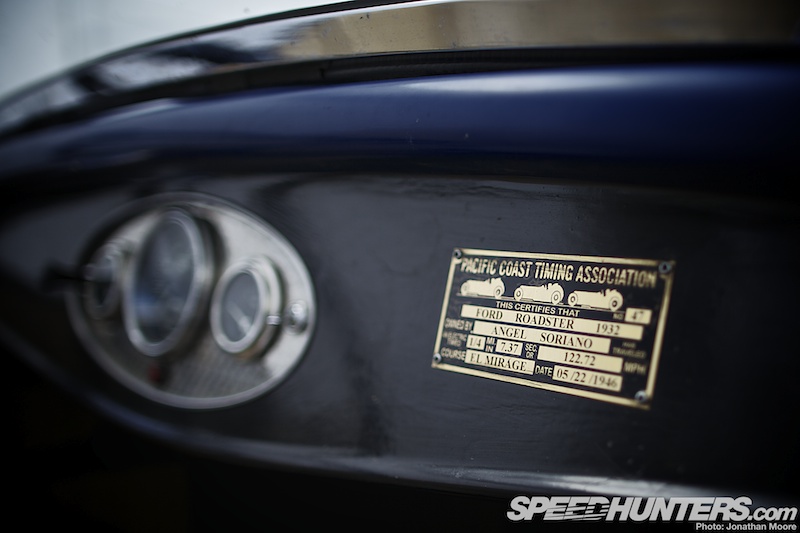 …and the timing plaque on the dash.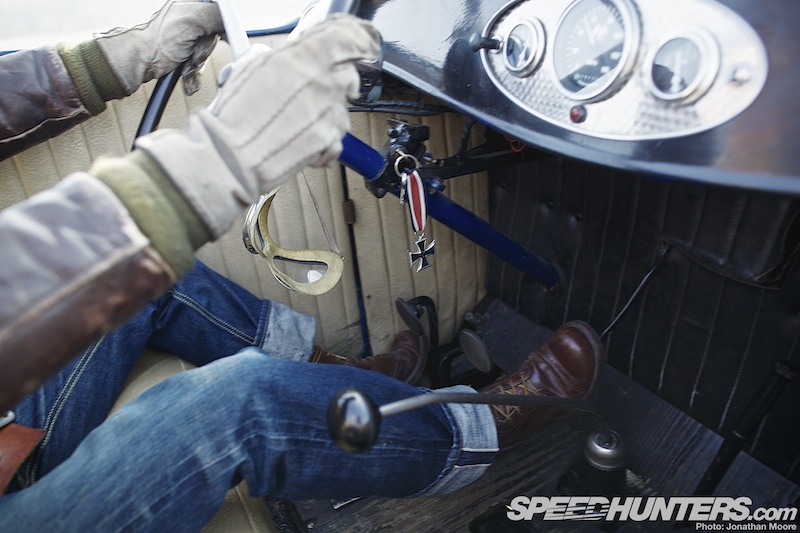 As we took off from the workshop and thudded down the local roads, I spent almost as much time watching the amount of activity required to drive the thing as I did soaking up the beautiful Swiss backdrop. Driving a hot rod is an immersive experience, with their upright and wide-set pedals, high gear lever and direct steering. Does a driving experience get any more pure and visceral?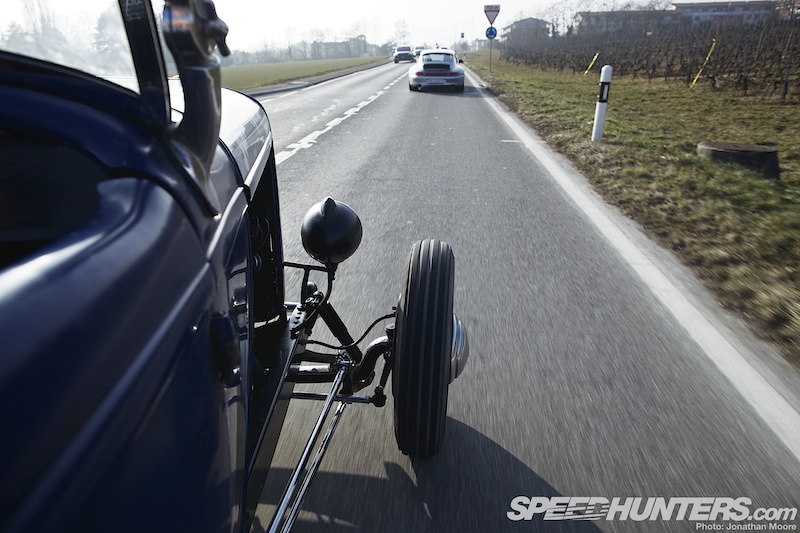 Homing in on a 911 ahead with the V8 beating away up front, I was betting that even the owner of the Porsche was looking in his rear-view mirror with some jealousy…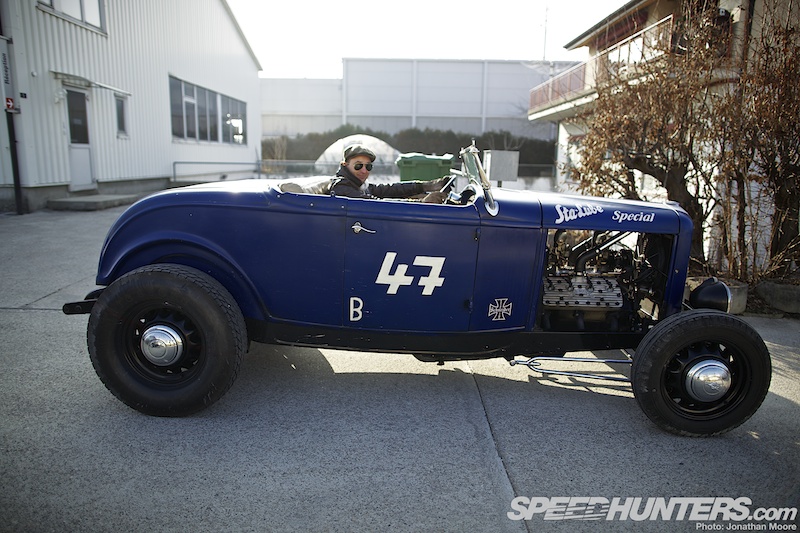 It was my first ride in a hot rod, and I was immediately smitten. American hot rods? In Switzerland? Well, wherever there are car fans, they'll be hot rods. If there's one thing in life that makes sense, then that's definitely it. More hot rods in your life is a direct route to happiness, it would appear.
Jonathan Moore
Speedhunters American theme 2013
---
---
---