What is it that makes car swap meets so great? Is it the chance to find old and rare parts? The chance to discover a new project car? The old fashioned bargaining? Maybe it's just the simple fact that everything you thing is for sale?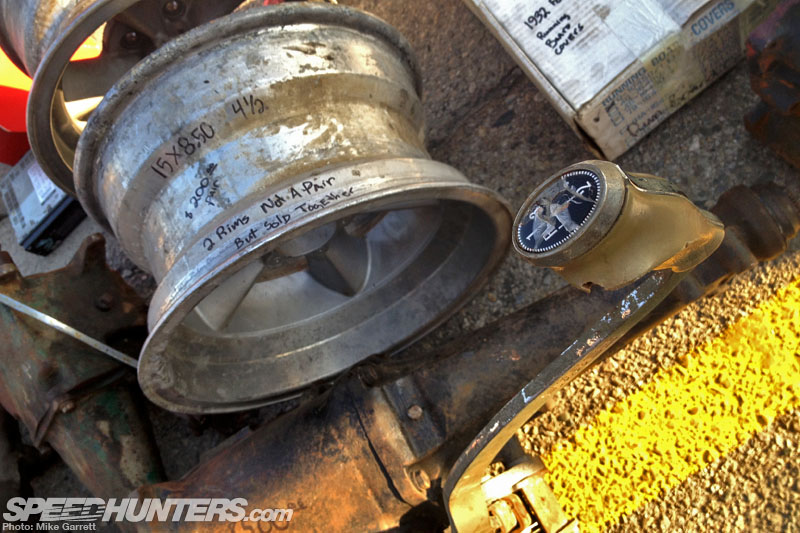 Whatever the case, I absolutely love getting the chance to wander through rows of old cars and old parts for sale. Even if you're not looking for something specific, there's an almost calming nature to swap meets. It's not unlike the feeling I get when browsing through a junkyard, as I've written about here a couple times.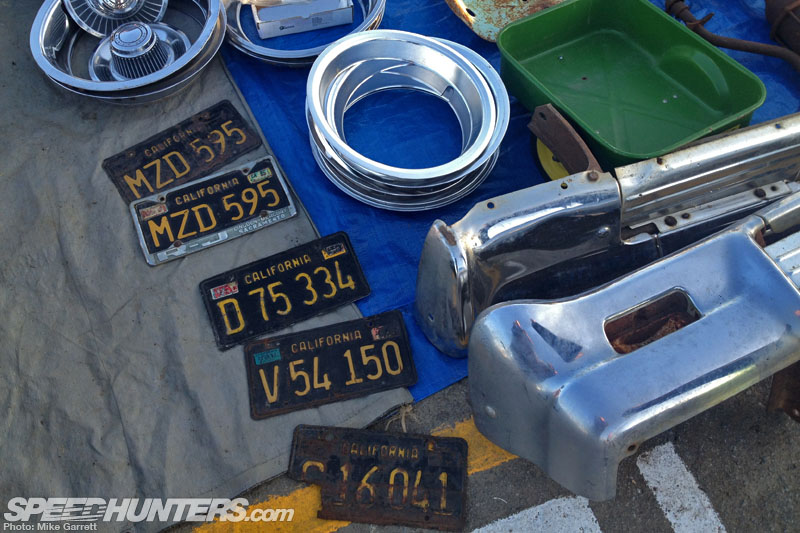 This past Saturday morning I headed out with my dad to a classic car swap meet held in the beautiful and exotic Central California town of Selma. While it wasn't anywhere near as big as the swap meets you find in Pomona or Long Beach, it was the perfect size for a relaxed morning of parts hunting.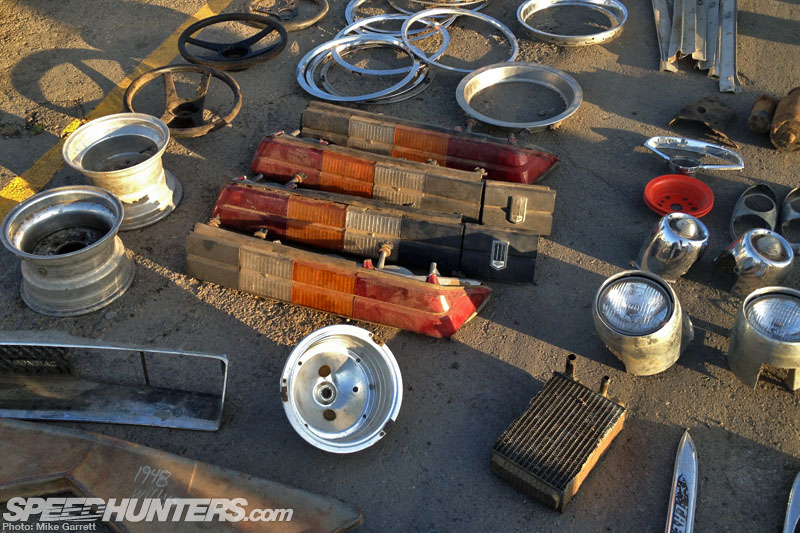 Usually I come to this sort of thing without looking for any specific part, but today I actually was. I was hunting for a set of cheap five-lug wheels and tires to roll my Toyota Crown around while I'm working on it. Luckily I was able to find exactly what I was looking for, and I'll cover that in my project car update coming this week.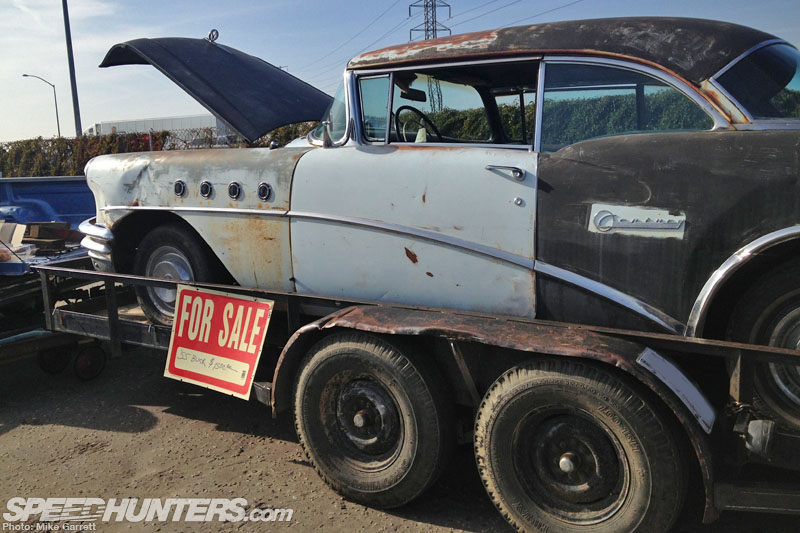 In the meantime though, I thought I'd share some photos of other interesting stuff I stumbled across as we made our way around the swap meet. Not so surprisingly, I ended up finding something that would tempt at every budget, large or small.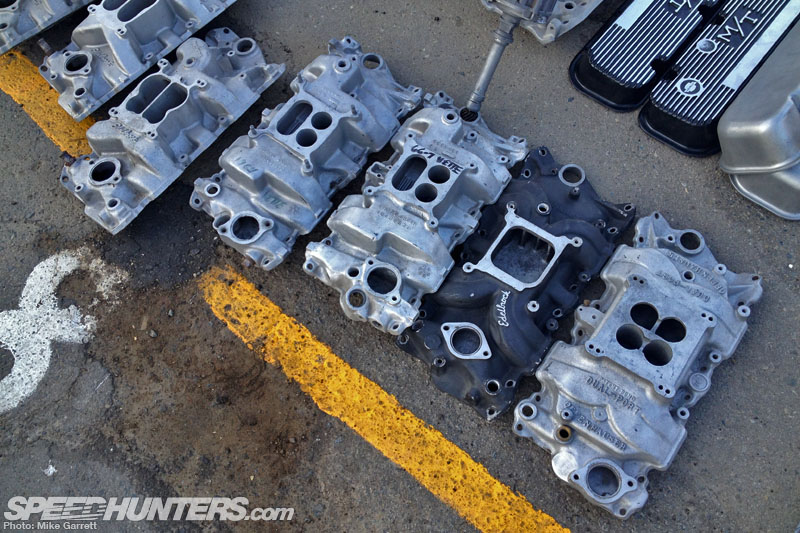 If you are unfamiliar with the vintage American car scene, you might be blown away (and more than a little jealous) at how cheap and easy to find most of these parts are. Used speed equipment in particular is VERY plentiful at swap meets like this.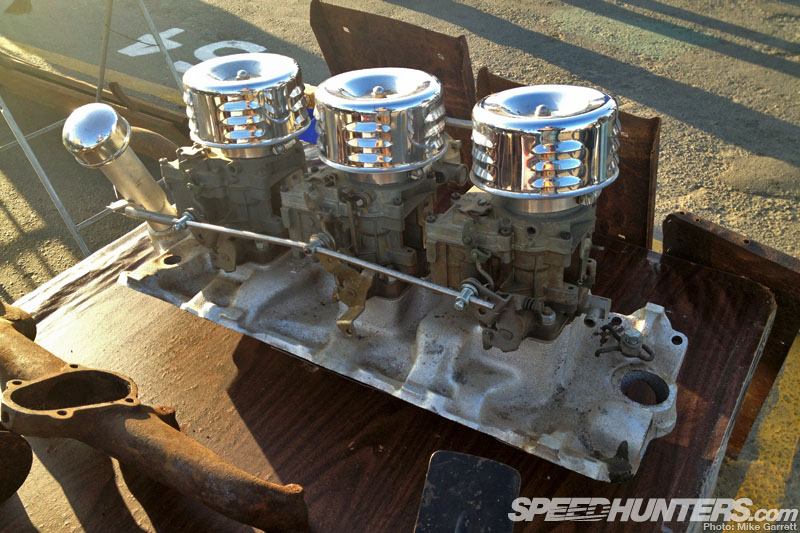 Looking for a complete triple carb set up? You're covered.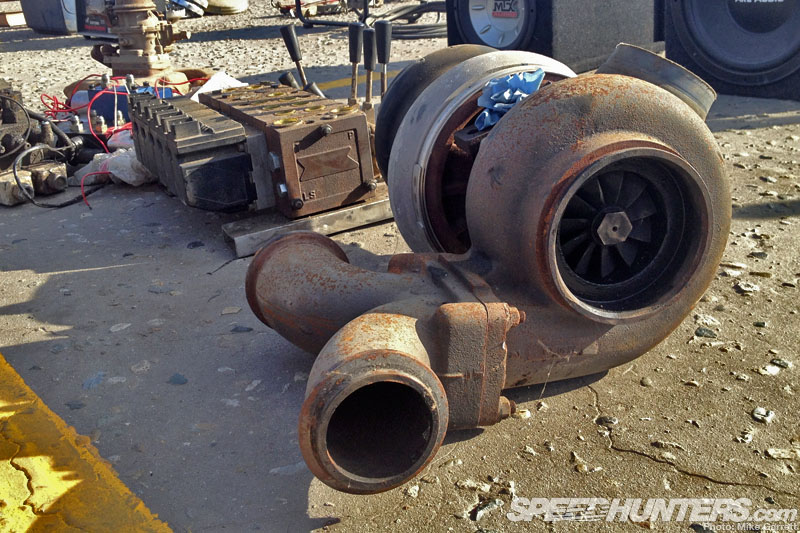 I'm not entirely sure what vehicle this snail came off of, but at the very least I think it'd make for a nice garage ornament. That was the case for a lot of the parts I found. The prices were so cheap you'd almost want to buy them just to make your garage look cool.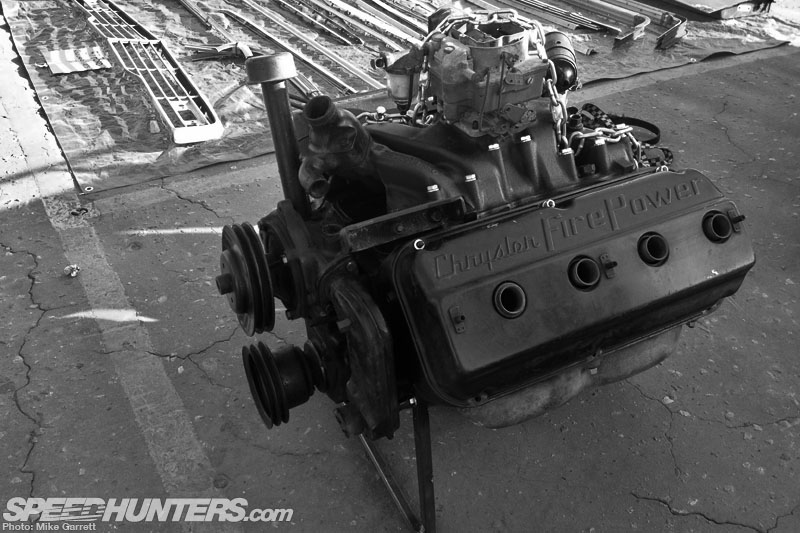 Complete engines could also be found in many of these swap spaces. I could think of plenty of ways to put this old Chrysler Hemi to use, for example. Isn't dreaming up strange project cars a big part of swap meet runs?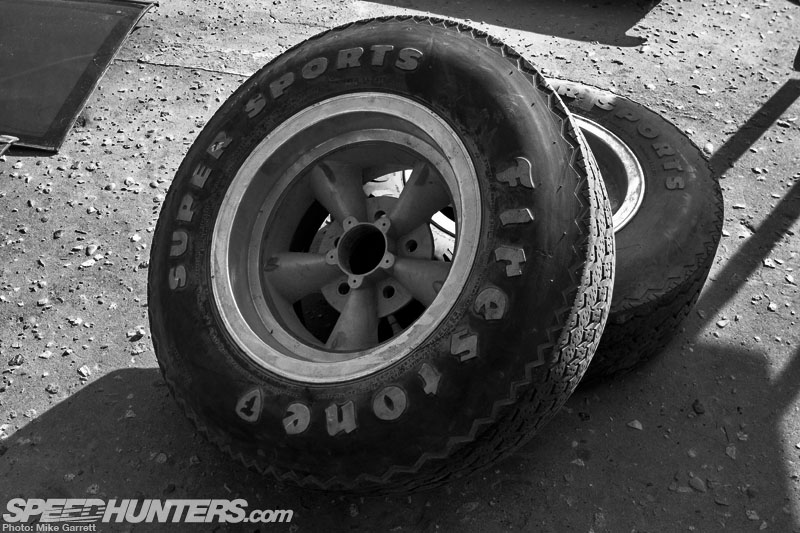 Ah yes, the wheels. Without a doubt one of the most common items at old car swap meets and also one of the funnest to look at. Torq Thrusts, Cragars, Supremes, slot mags, rallyes, steelies – the list goes on and on. In many cases the wheels for come wrapped in equally old tires with brand names that have long vanished from the market. Free of charge even!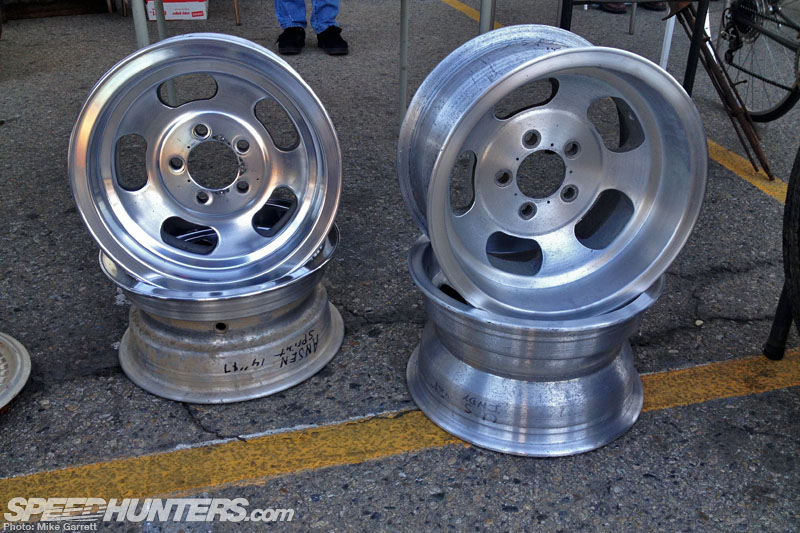 If you come from a Japanese or European car background, you'll probably be surprised at how cheap these wheels go for. Even the coolest and most desirable pieces rarely go for more than $400 or $500 a set on the used market. More often, you can score a complete set for a couple hundred or less.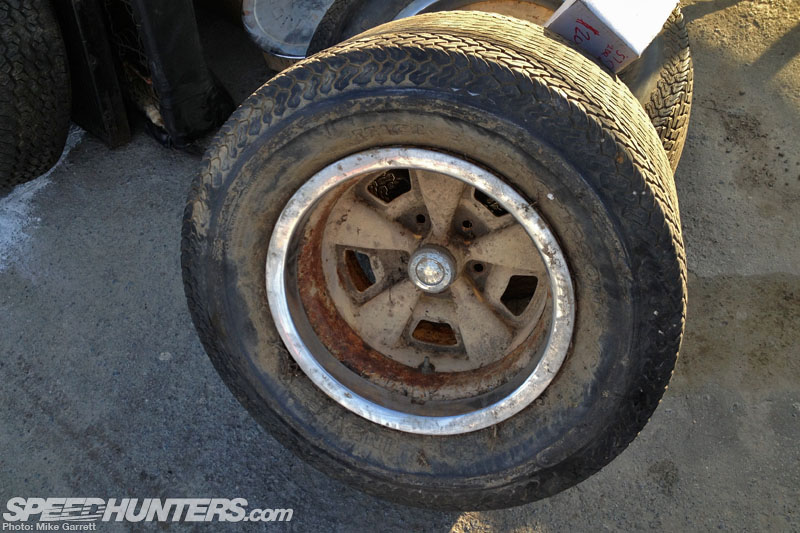 Here's a set of late '70s Camaro Z28 rallye wheels that have been custom widened into some pretty gnarly sizes. Cool.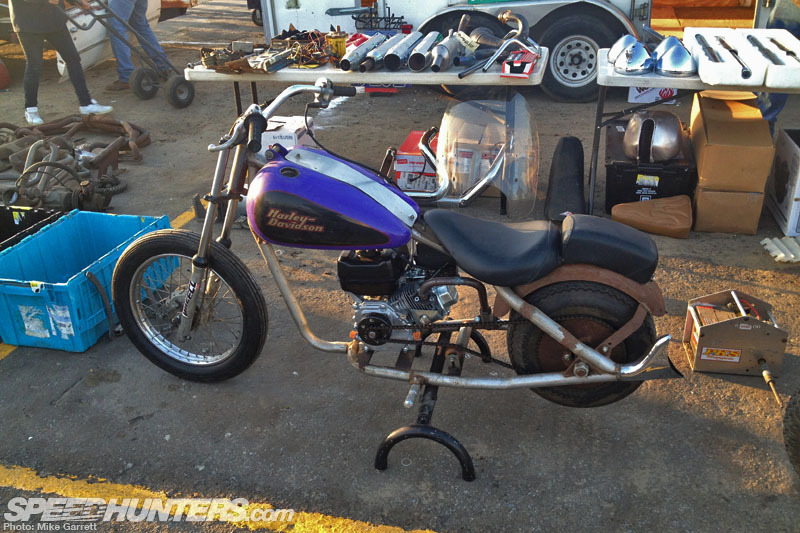 While the vast majority of the goodies available at these swap meets are related to the automotive world, it's not uncommon to see two-wheeled creations as well.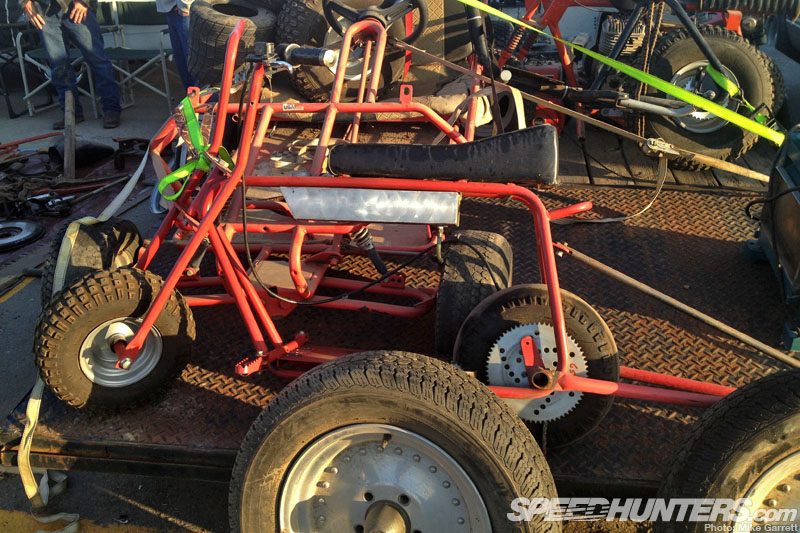 Mini-bikes in particular are favorites. I'm not ashamed to admit that I'm rather frightened of "real" bikes, but do think it'd be very cool to have something like this to put around on at events.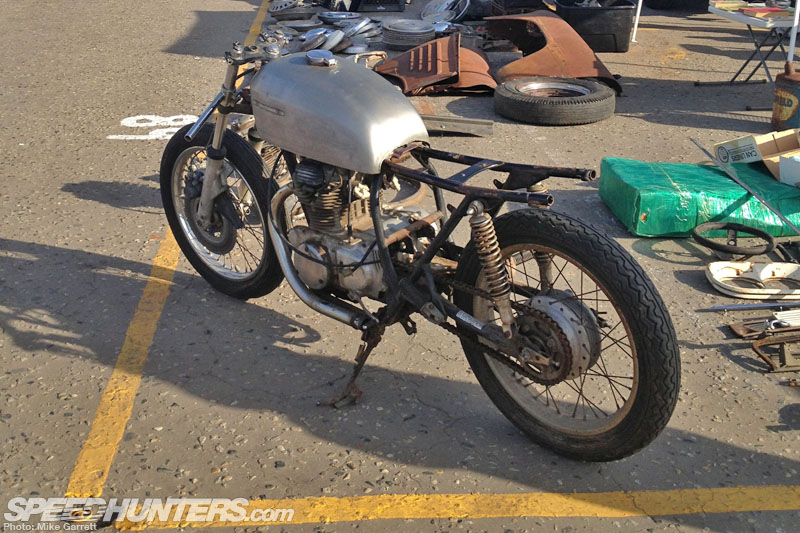 One guy was selling a partially completed cafe racer bike. Unexpected, but neat nonetheless.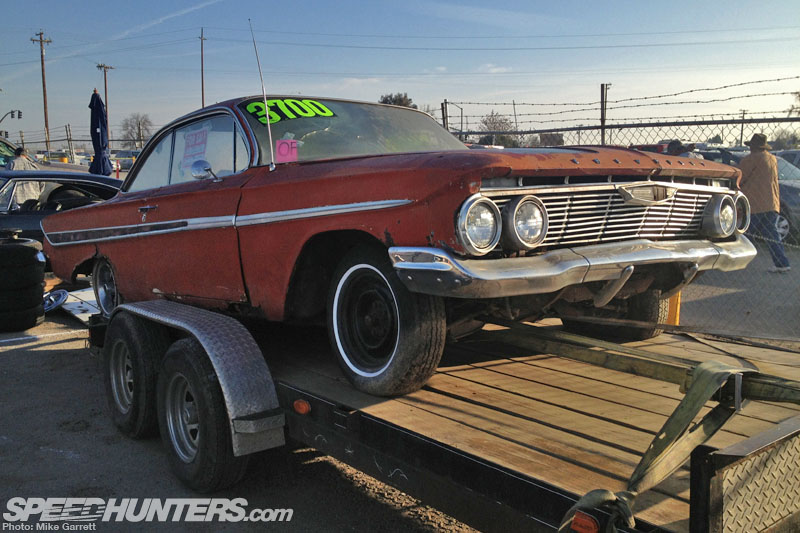 While a lot of people come to swap meets to find parts for their projects, others come out to find the project cars themselves. This '61 Chevy was quite rusty, but it's hard to deny the appeal of an early '60s GM bubble top.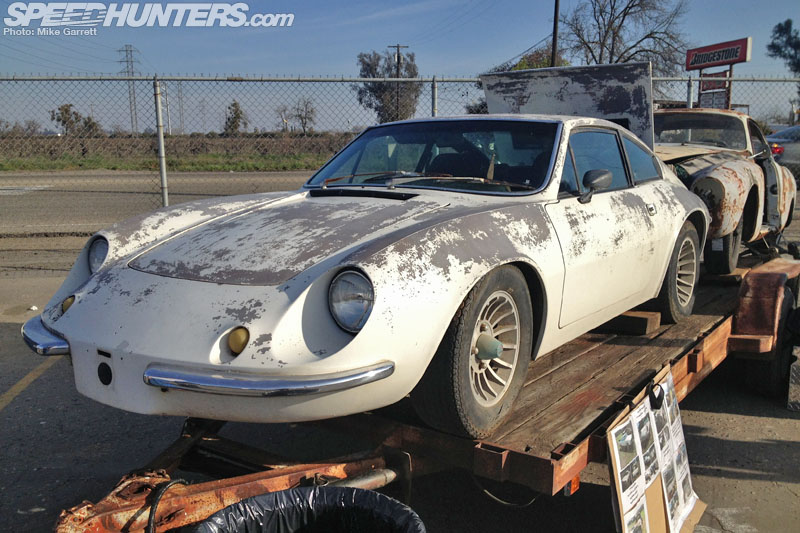 Lots of the available projects were your typical Mustangs, Camaros, and pickup trucks, but others were much more unusual. Here's a 1970s Brazilian-built Puma that rides on a Volkswagen chassis. You can definitley see a lot of Ferrari Dino in that nose…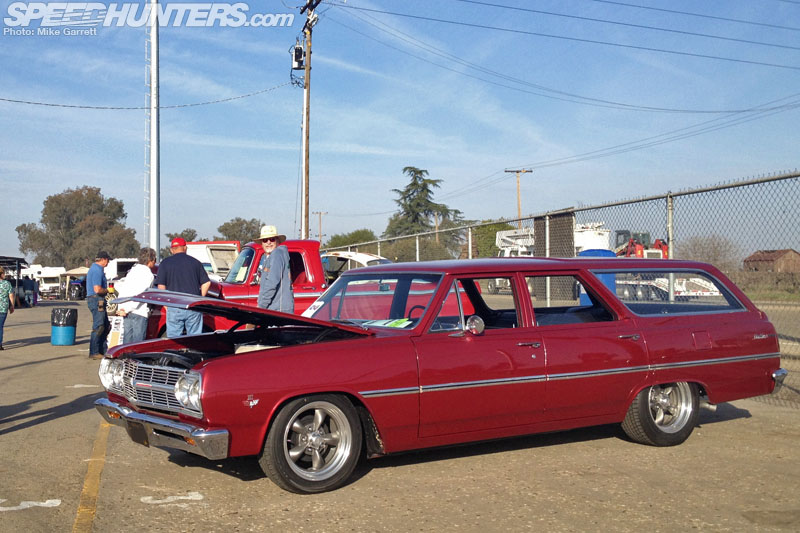 Other offerings are not really project cars at all. This Chevelle wagon was totally mint and complete.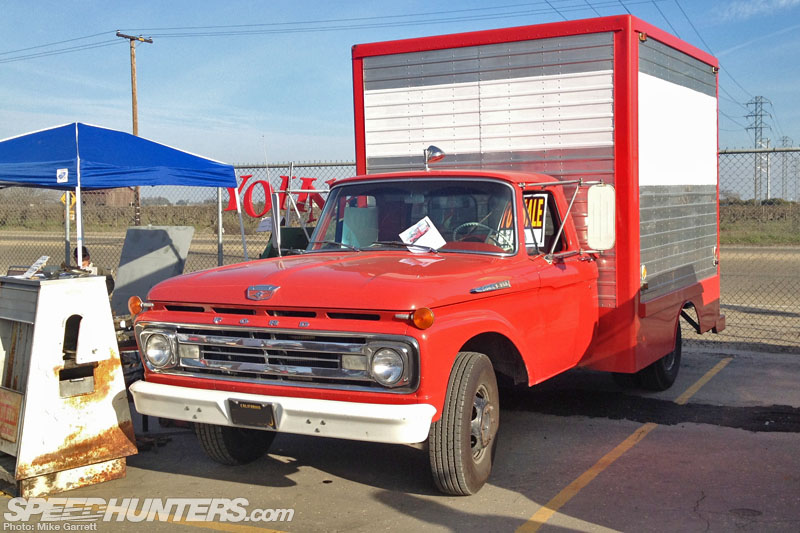 Here's something that"s just plain cool – a '63 Ford box van being offered up by the original owner. Under that big hood you'll find a swapped small block chevy mated to a four-speed.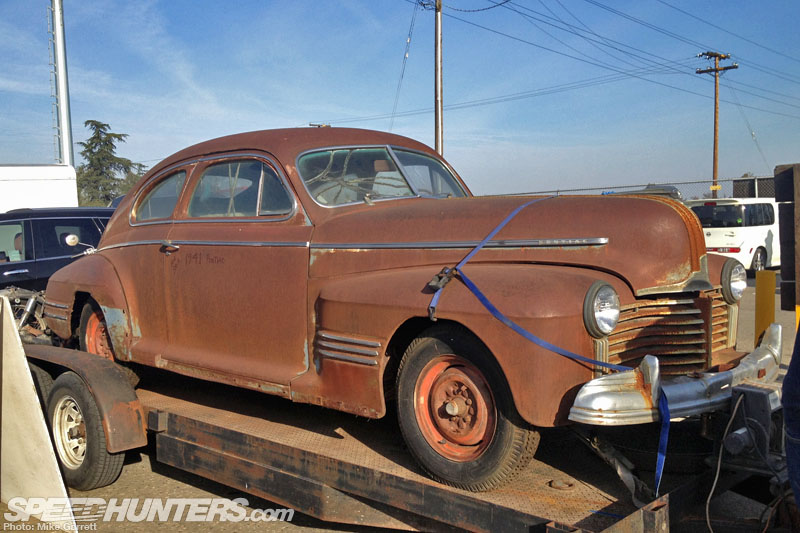 A bit of surface rust yes, but this 1941 Pontiac fastback coupe otherwise looked straight and very complete. Just think of the possibilities you could have with a build like this!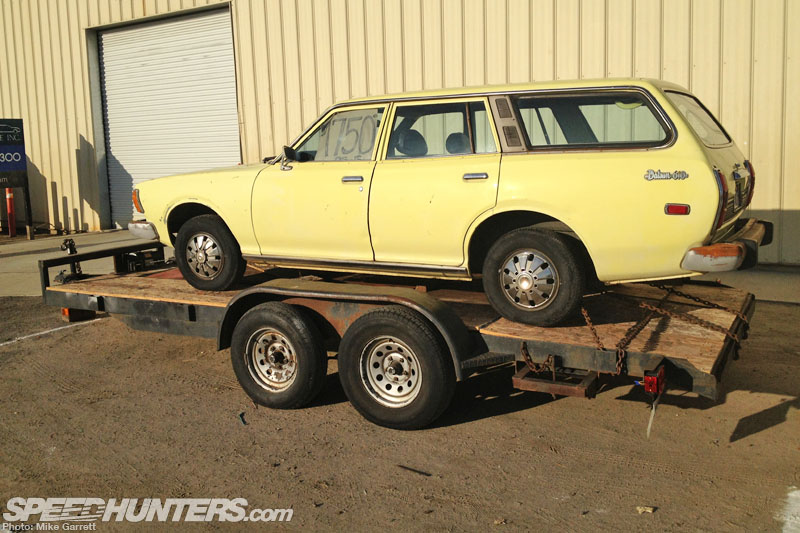 Here's a rare find – a '75 Datsun 610 station wagon. It doesn't run, but the it looked like very solid project car base. It was priced at $1750, but I have a feeling you could talk the seller down if you were serious.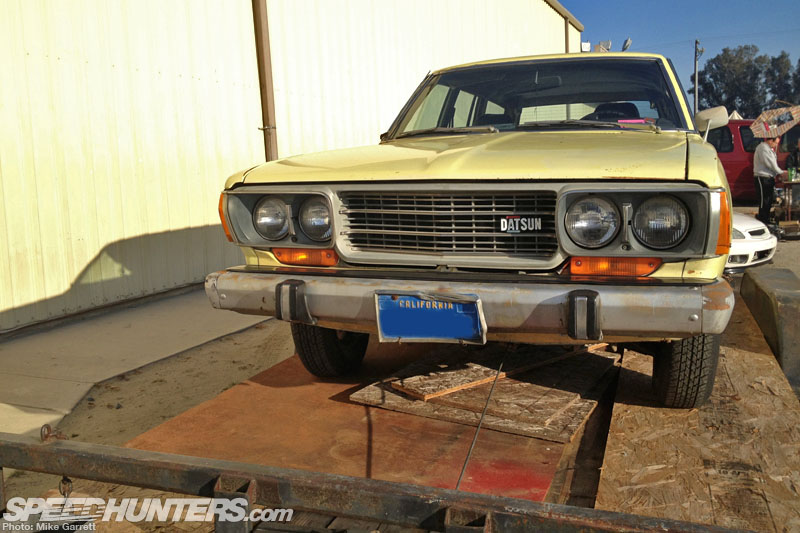 Lots of potential yes, but I had to remind myself that I already have an old Japanese wagon at home that needs a lot of attention. Someone scoop this thing up!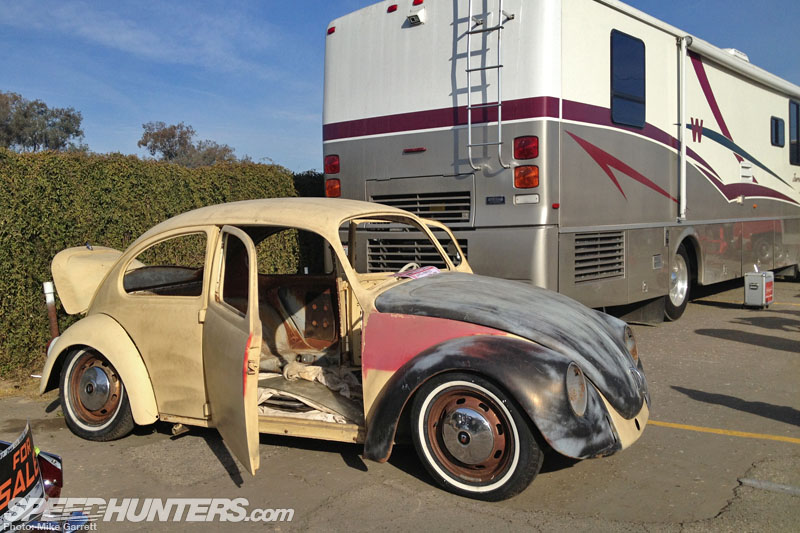 As you saw with the aforementioned Datsun, the project cars and parts are not limited only to American brands. Here's a '68 Volkswagen chassis that was being sold for simply "best offer".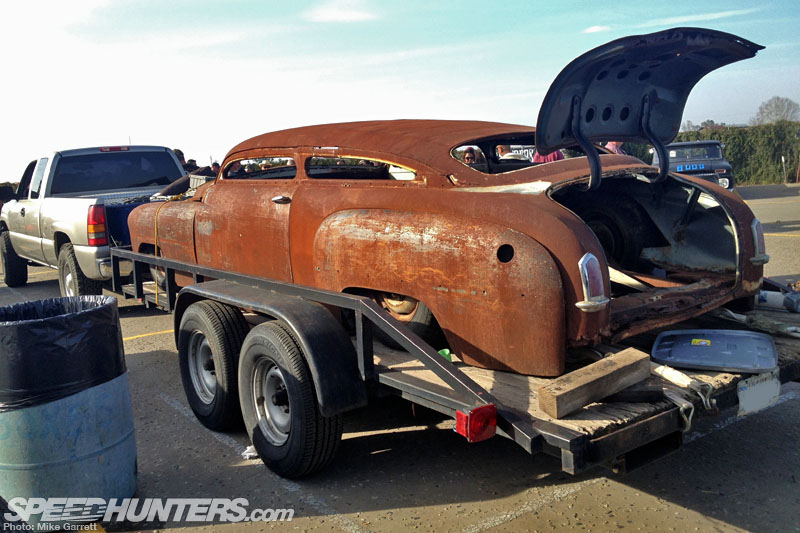 While it may not carry quite the same satisfaction as building a car from the ground-up, taking on someone's un-finished project has always been one of the more affordable ways to enjoy the hobby. It doesn't really matter what kind of car or genre you're into. There were plenty of these half-complete machines available on Saturday.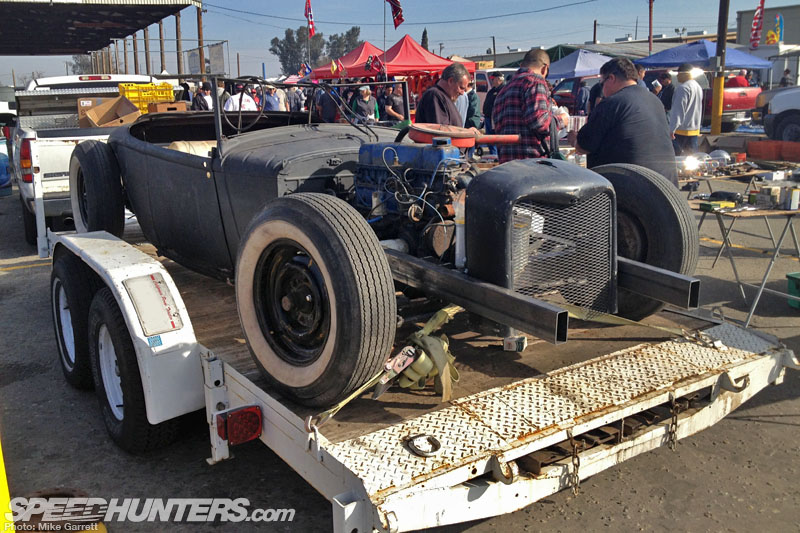 On that theme, we have this Dodge Roadster project that apparently "runs great". Price? $3,500. I was thinking I'd buy it and give it to my wife as a daily driver…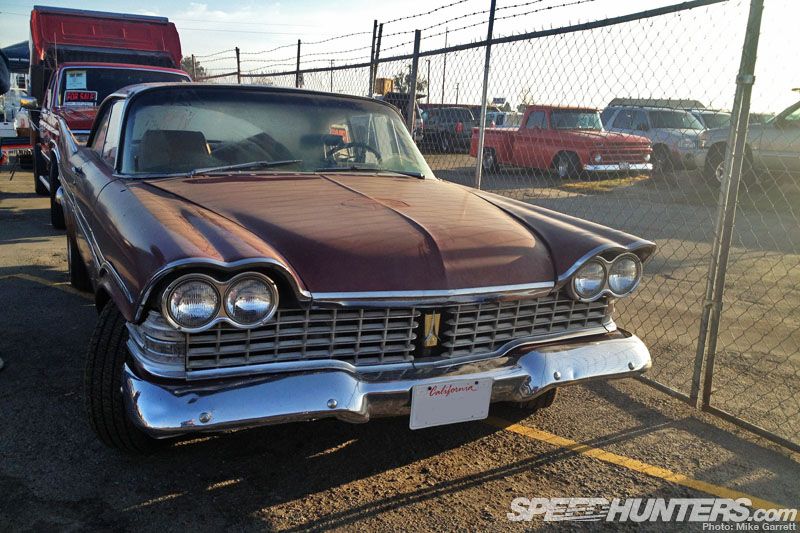 Of all the cars for sale though, the one that piqued my interest the most was this '59 Plymouth Fury two-door hardtop, priced at the reasonable sum of $4,800. I've always loved big-finned Mopars and this thing is completely awesome.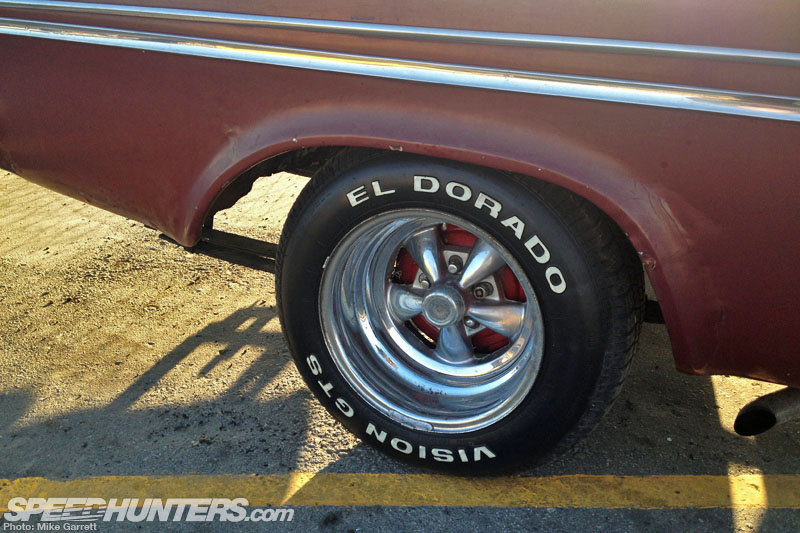 The flared out fenders rust spots will probably scare most restorers away, but they do give the car some retro character. I'm guessing the body work was done in the '70s at the same time the wide mags and "El Dorado" tires were installed. Don't forget the sidpipes as well…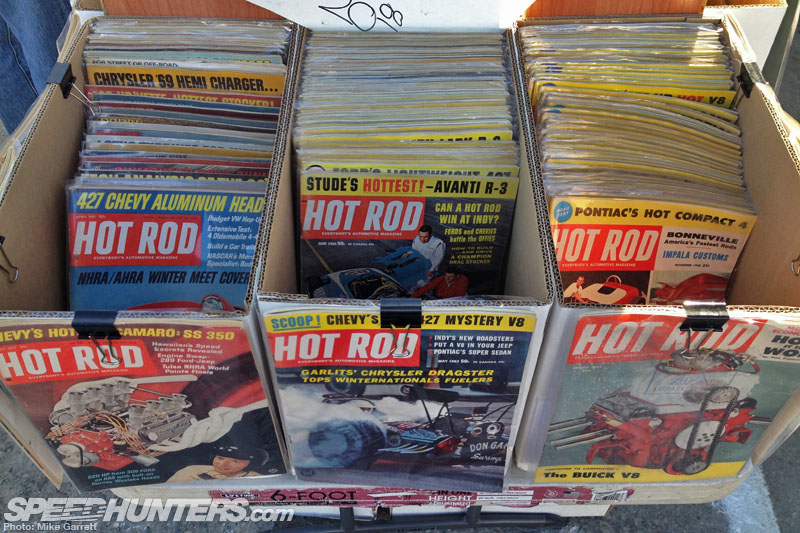 Even if you aren't in the market for vehicles or parts, lets not forget all the other goodies being offered up. Vintage magazines? Check.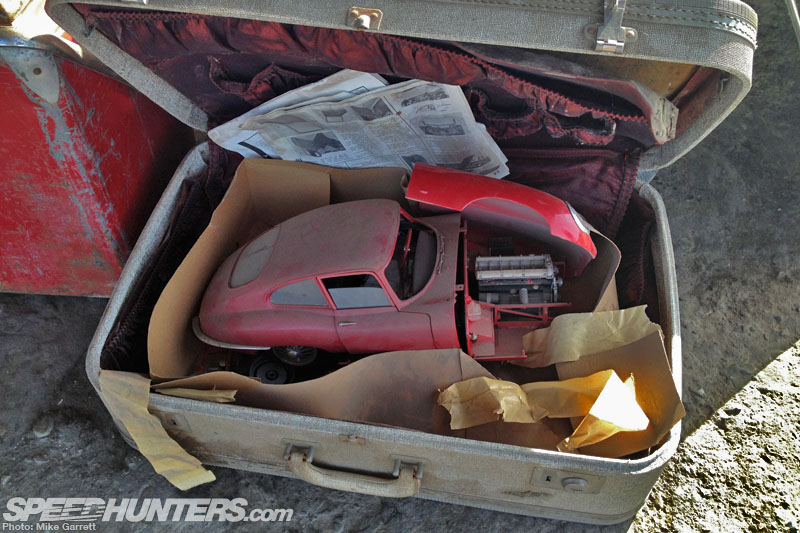 There's also tons of new and used diecast cars, model kits, and the like. This large scale Jaguar E-Type kit looked particularity interesting…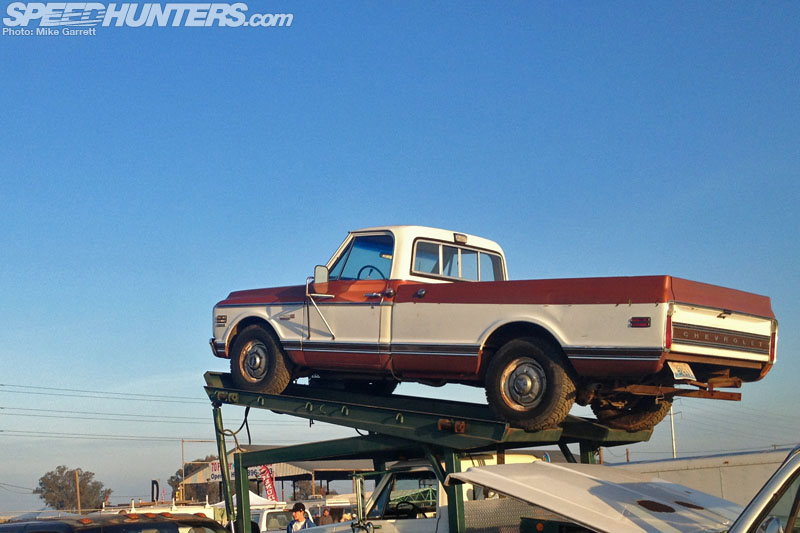 All that is just a little slice of the wonder you find at your local old car swap meet. It doesn't matter what sort of car you drive – if you ever have the chance, wake up early and visit one yourself.
Even if you come away empty-handed, I don't think you'll regret the experience.
-Mike