On my recent trip to Hawaii I got a SPAM overdose, and I also got married. The officiant for the wedding was a good friend of mine, Jarod DeAnda, who you may know as the voice of Formula Drift. It just so happens that Wekfest was also in town, so before we came home to the mainland we decided to check it out. I thought it would be fun for Jarod and I to chime in a bit on our experiences at the show.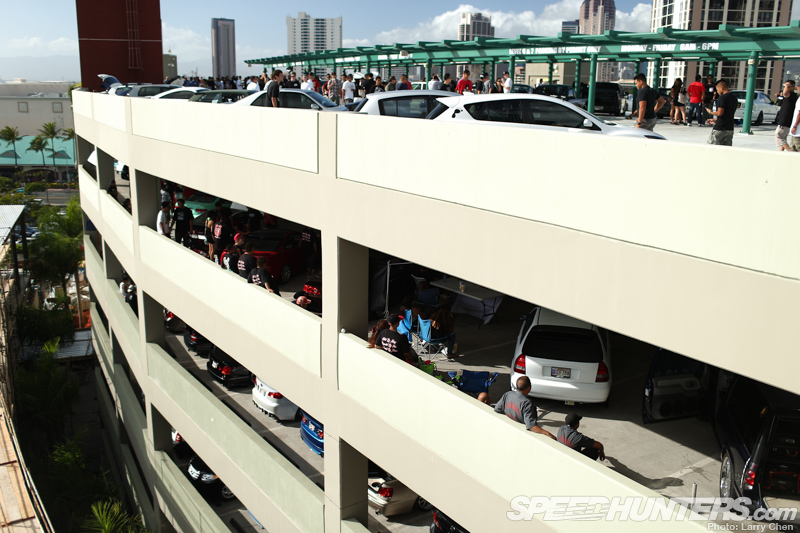 Jarod: First, lets clarify: One, SPAM you mean the canned meat not the computer based "junk emails". Two, it's "Reverend Rod" and it was my honor and pleasure. Three, thanks for letting me put in my two cents, Mahalo!
Larry: Since Oahu does not have a vast parking lot to hold a car show, Wekfest was held inside a seven level parking garage. The top three levels were packed to the brim with flushed out cars.
Jarod: At some point we were both thinking we were on the set of Fast & Furious and a drift battle would ensue at any moment. Also, if you live on island you build up, instead of out.  It just makes sense. levels 4-7 were taken up with show cars, but that also included vendors and DJs blaring their music selection, hence the F&F vibe.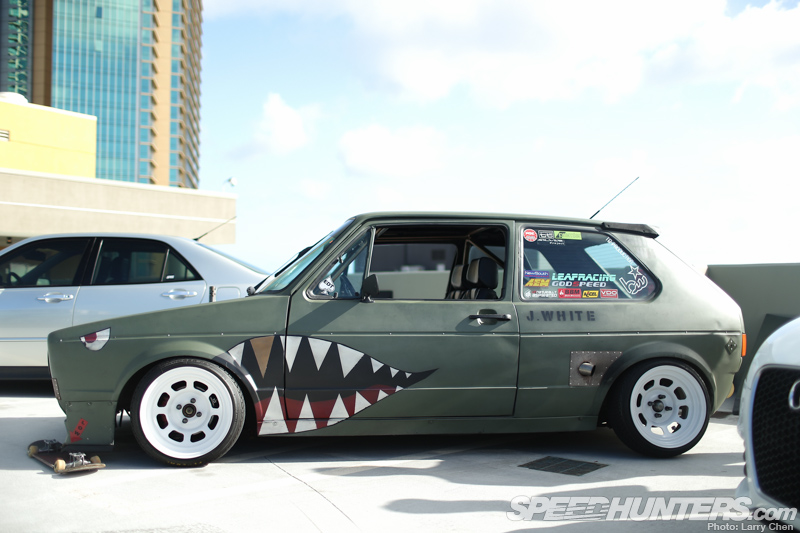 Larry: I wanted to start off with the car that really made the most impact at the show.
Jarod: It was Instagram impactful as well, as this car on my Instagram feed garnished the most "likes" of any of my pictures!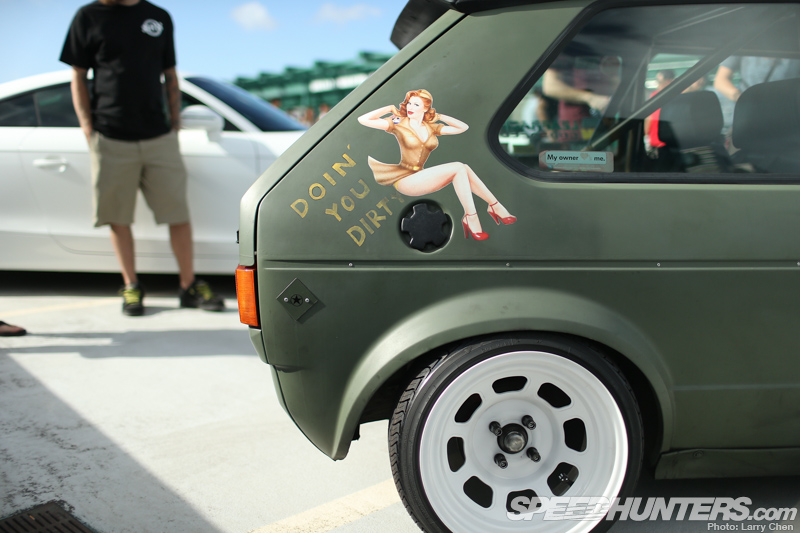 Jarod: Obviously the 1940's "Tiger Shark" military them garnishes a lot of attention, but the military "grimy" theme continues throughout the car.
Larry: I love the wheel choice as well. It is very hard to pull of white wheels properly.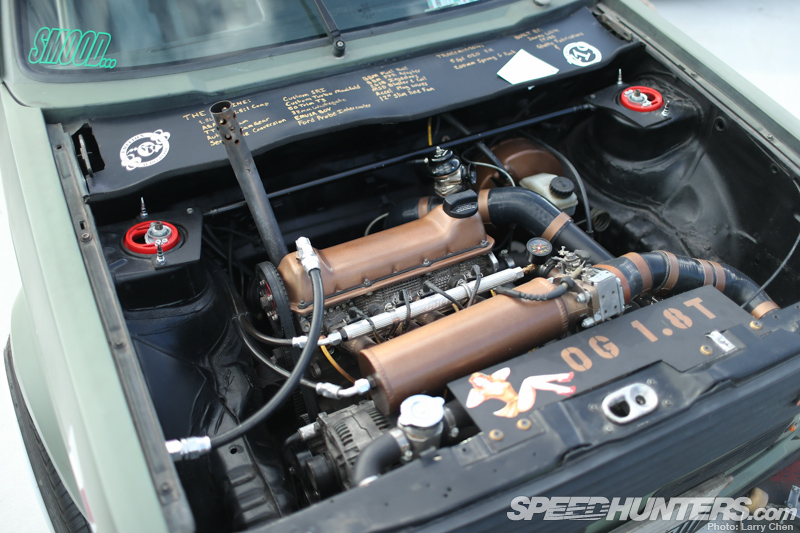 Larry: The fact that this was a 1.8 liter turbo motor just makes it that much cooler.
Jarod: We met the owner and we really saw his own style flow into the car. Like we discussed Larry, NOT EVERYBODY can build a car like this – cool, grimey, raw and exuding a personal hand-built style. The owner himself with the nose ring and beard had his own personal style.  Hand written specs on the shroud. I mean c'mon! How cool is that?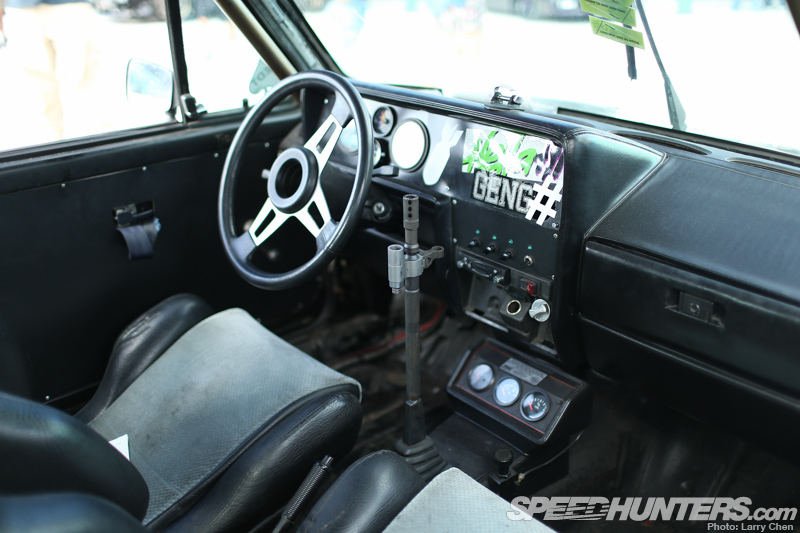 Jarod: Shift to kill! Ironically James & his wife relocated to Hawaii from Colorado because she's in the military.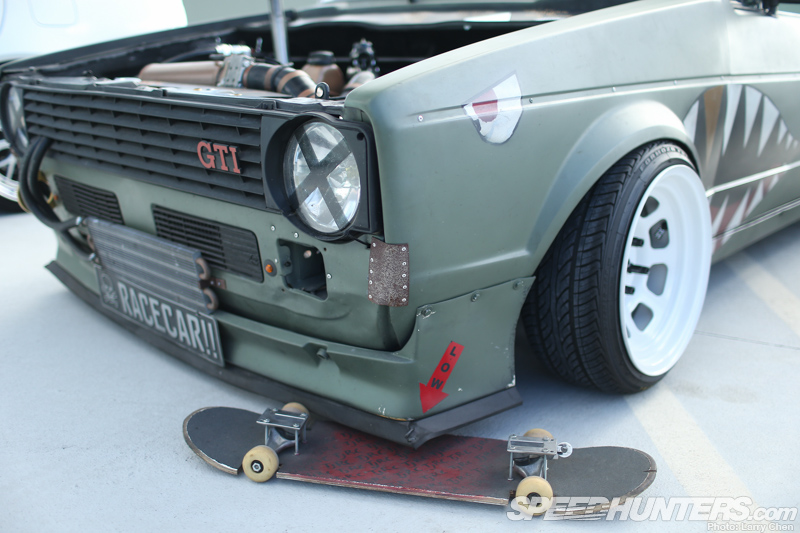 Jarod: Thank goodness the license plate says it, because I couldn't tell.
Larry: I am not one for props at a car show, but that skateboard is pretty cool.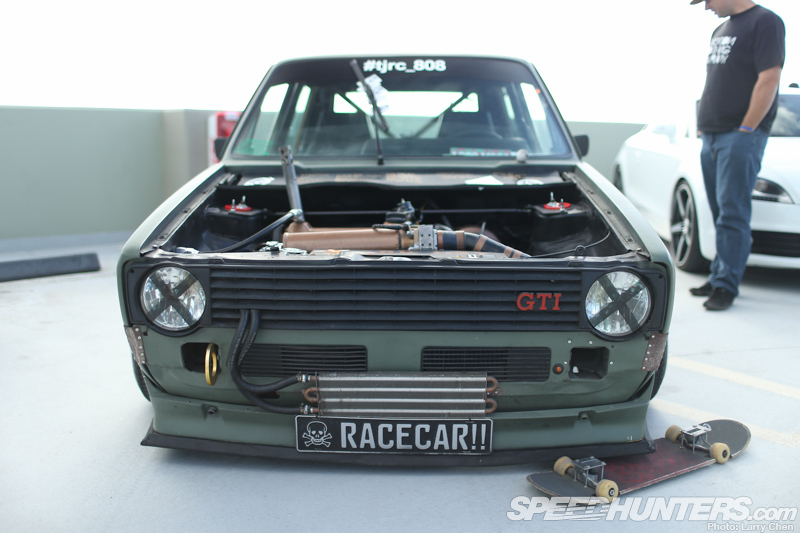 Larry: It's great when form and function come together. It seems this guy has incorporated so many different styles including a little nod to the bosozoku guys.
Jarod: It seems like an 808 trend to include Instagram & Twitter handles on cars.  Follow the builder, James & his Tiger Shark VW @TJRC_808 on Instagram. He's about to throw some more HP at it, with a goal of 500hp all in this 1,800 lb land shark!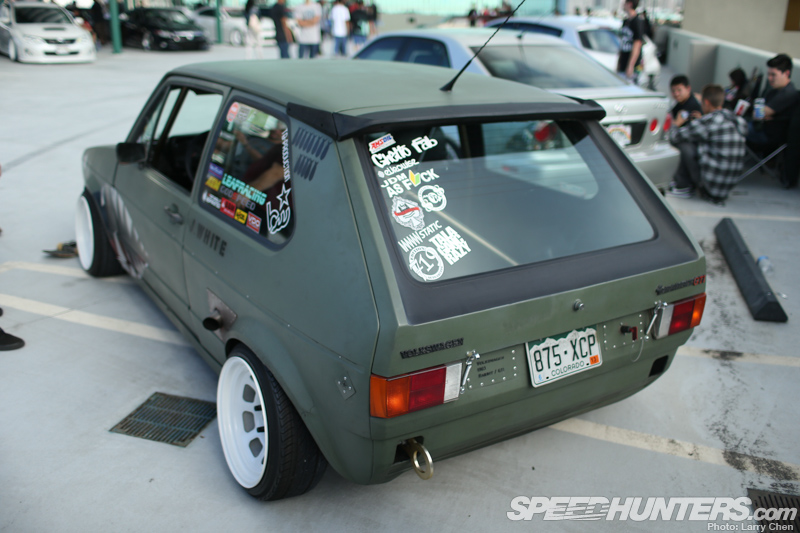 Larry: I just love that this guy is building this crazy fast machine on a tiny little island with no race track. He also started a VW club in Oahu called 'Edition 808.'
Jarod: Oh well, maybe he has the Field of Dreams concept, "build it and they will come".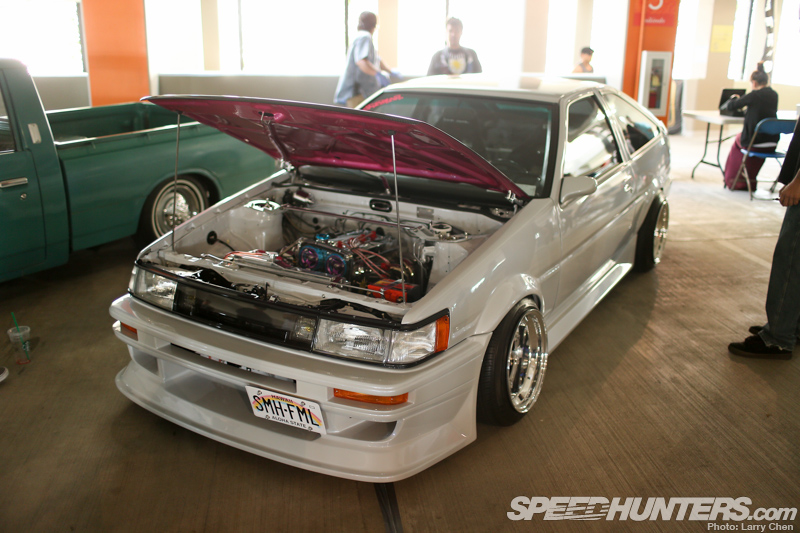 Larry: As soon as we walked in, this super clean AE86 greeted us. What I noticed is every one of these cars were registered and driven on the street. No trailer queens at Wekfest Hawaii.
Jarod: This was a super clean ride, pearled up and yep driven!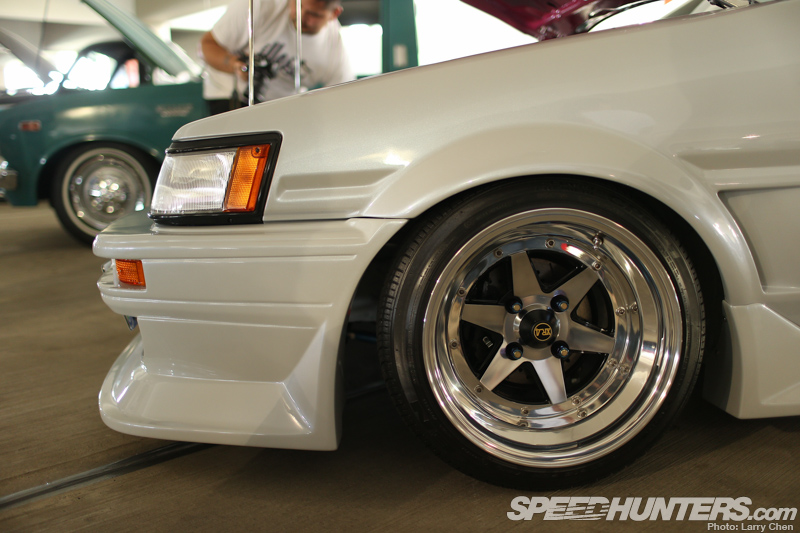 Larry: I've always liked the SSR Long Champs. They work so well with old school Japanese cars.
Jarod: The Japanese influence is seen all over Hawaii from the people obviously, architecture, culture, awesome food and the cars.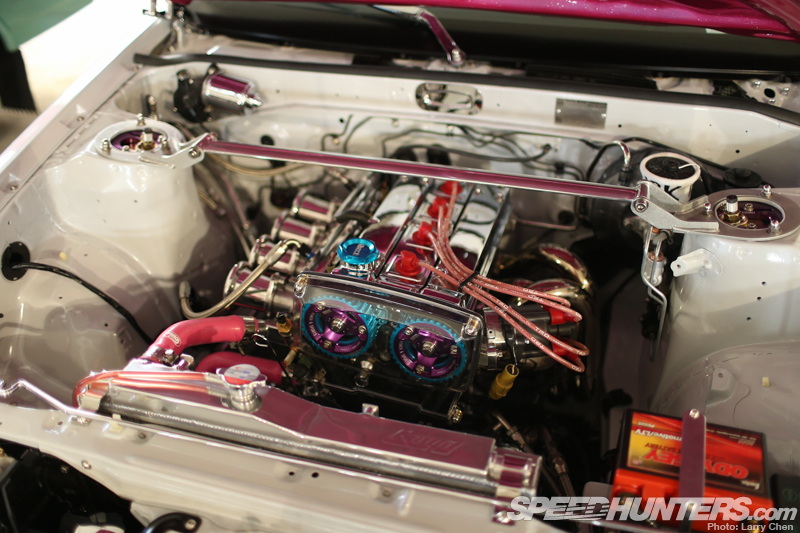 Jarod: Nice details and the pink glitter under hood made the bits shine even more.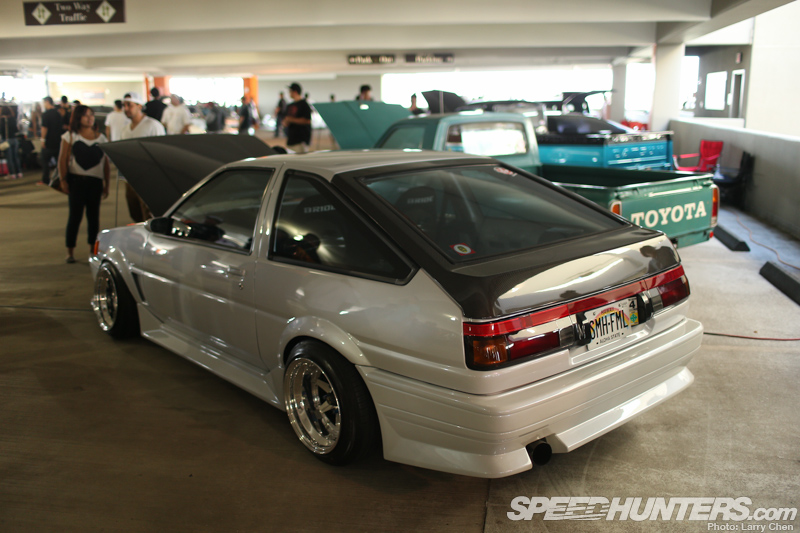 Jarod: Hawaiians in general have a deep respect for family, culture & tradition. Much of that transfers into their car choice.
Larry: I also noticed that besides some of the VIP cars, most of these cars were 20 plus years old. Each and every one had a very unique Hawaiian flare to it.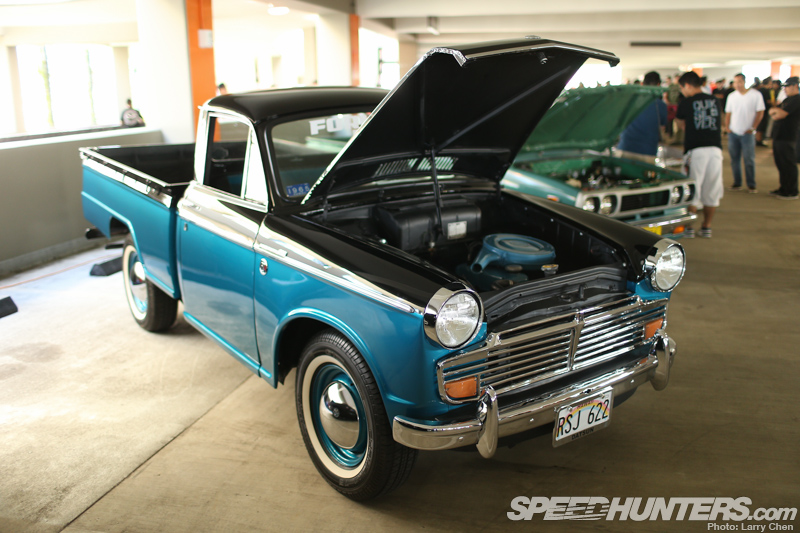 Larry: Out of all the show vehicles there, I think this Datsun 1200 pickup was my favorite.
Jarod: Your fav huh? It's definitely rad because it's just a very unique truck. It's not even lowered or super customized, but more restored than anything. It's definitely worthy.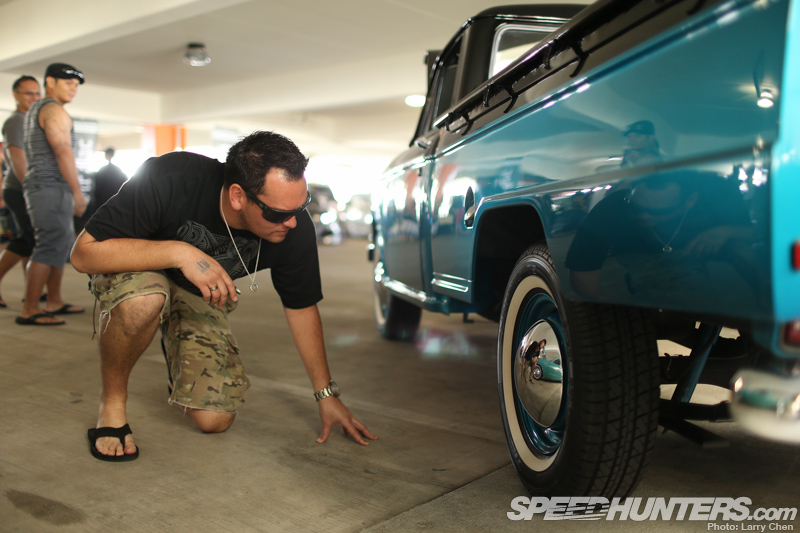 Jarod: I really liked the classic two tone tires, finished off with the paint-matched wheels and hubcaps, aka fish eye lenses.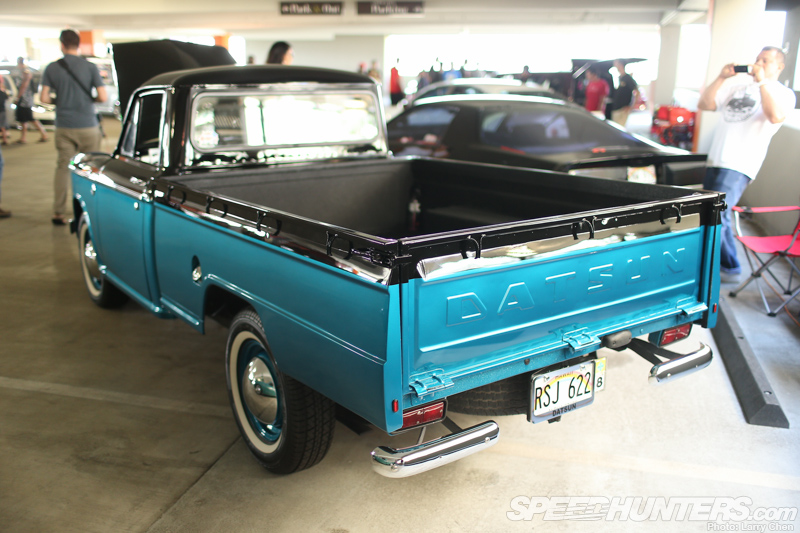 Larry: I think this would be perfect for cruising around Oahu.
Jarod: Throw some boards in the back go hit the beach and get shaved ice on the way home.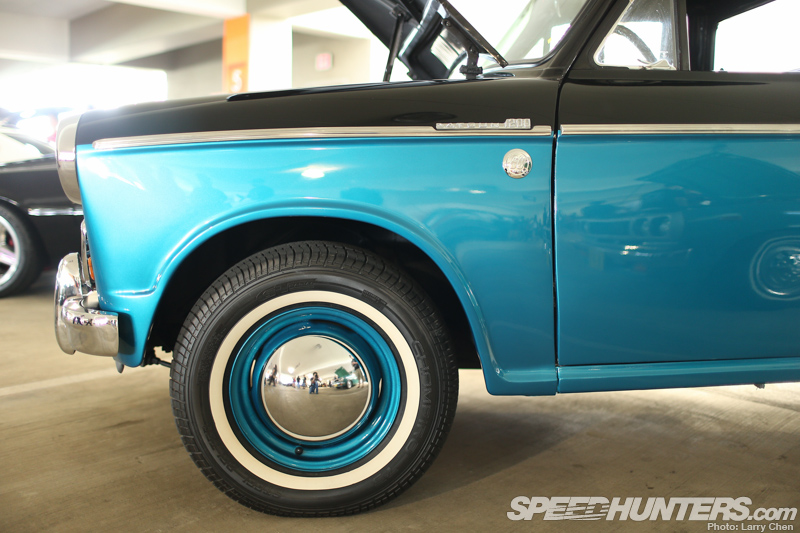 Larry: I actually don't recall ever seeing one this clean.
Jarod: Me neither. just tight and right.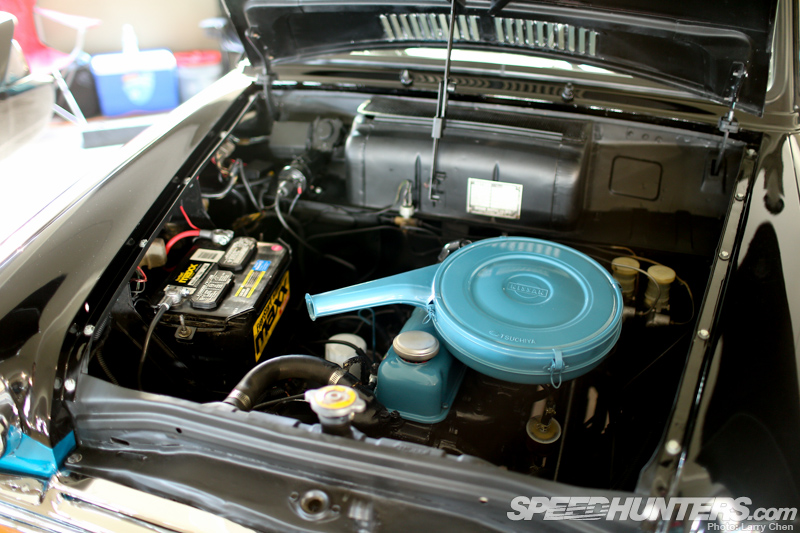 Larry: It was interesting that Nissan proudly displayed that it had 60 horsepower on the fender of the car. There were millions of A12 engines produced in the early '70s.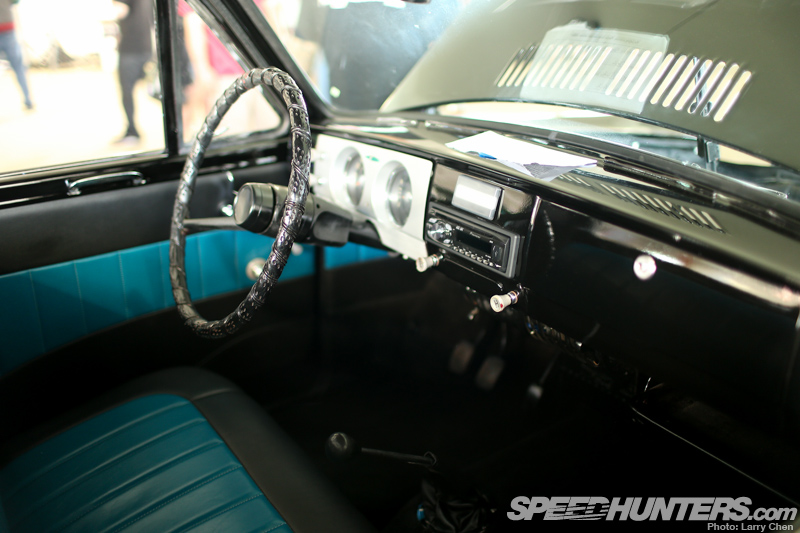 Larry: The interior was just as nice. Check out the matching upholstery and that period correct steering wheel cover.
Jarod: Details can ruin a car. I'm all for "of era".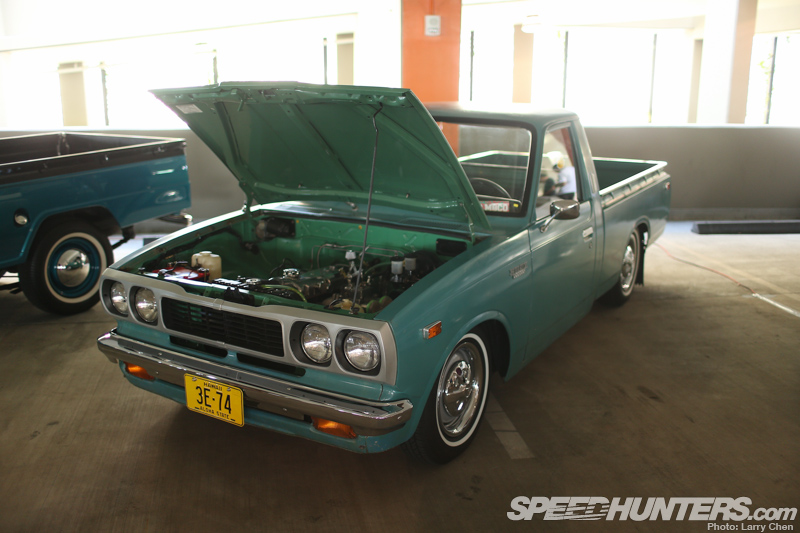 Larry: Right next to the Datsun pickup was this Toyota Hilux.
Jarod: I almost like this truck more, because I wouldn't feel bad hammering on it as he left the rust, slammed it and it's begging to be driven around Honolulu. Notice the "of era" license plate.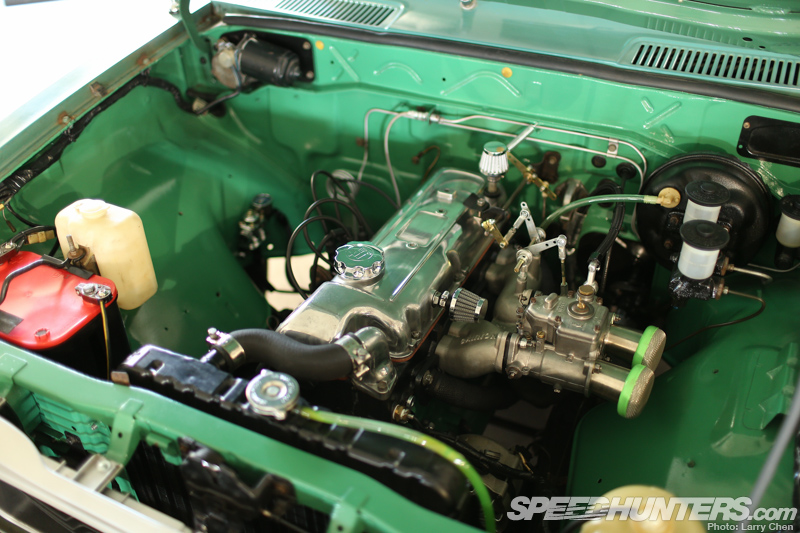 Jarod: Keep it simple, no 1J or anything nuts!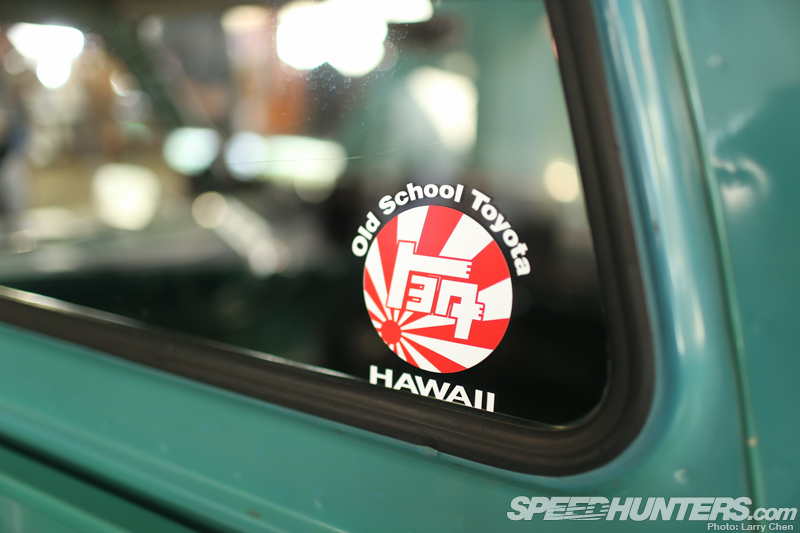 Larry: I noticed a few cars at the show had this decal. I wonder how many people they have in their group?
Jarod: It's like a badge of honor.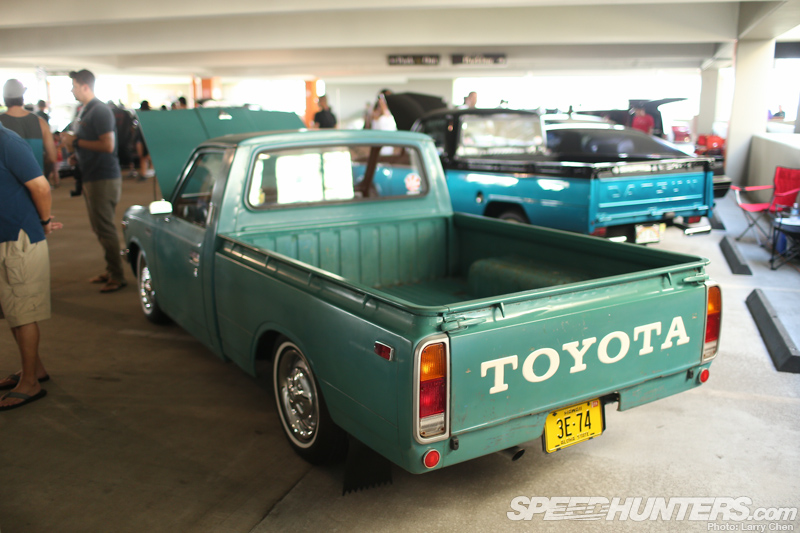 Jarod: Notice the mud flaps. It's the little details that set this truck off.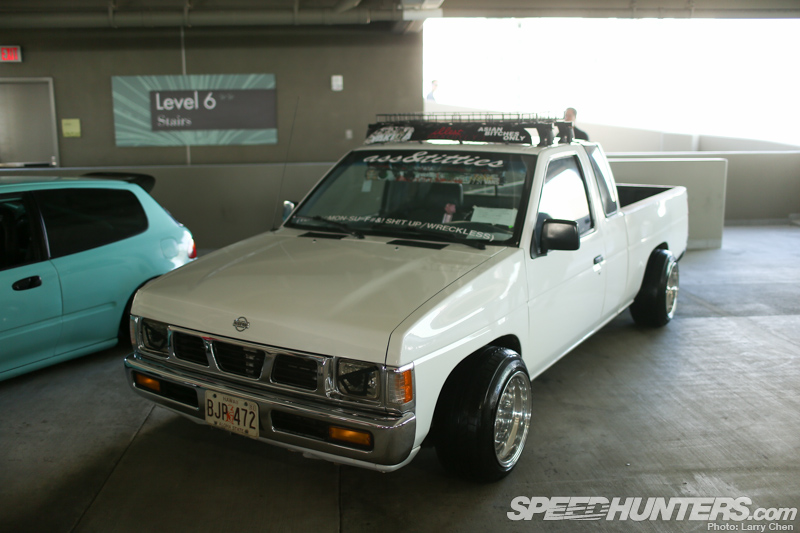 Larry: To continue with the trucks of the show, this 90's Nissan pickup had quite the interesting stance.
Jarod: It also had a not safe for work windshield banner…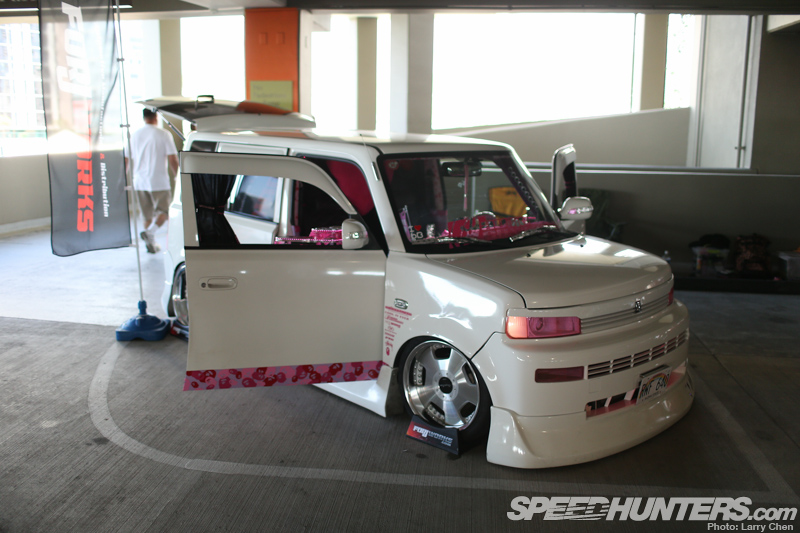 Larry: You can't go to WekFest without seeing a tricked out Scion xB.
Jarod: I'm assuming a guy drives this…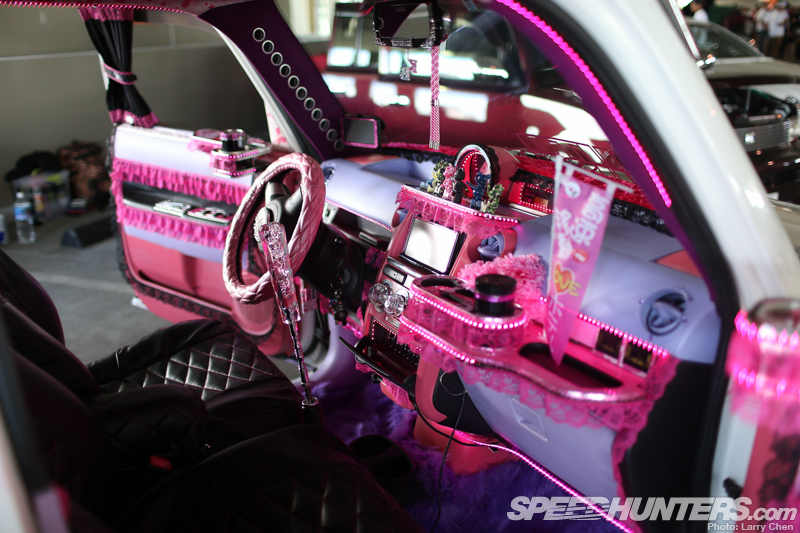 Jarod: Not my style particularly, but this rolling canvas has so much going on, right on…
Larry: How festive.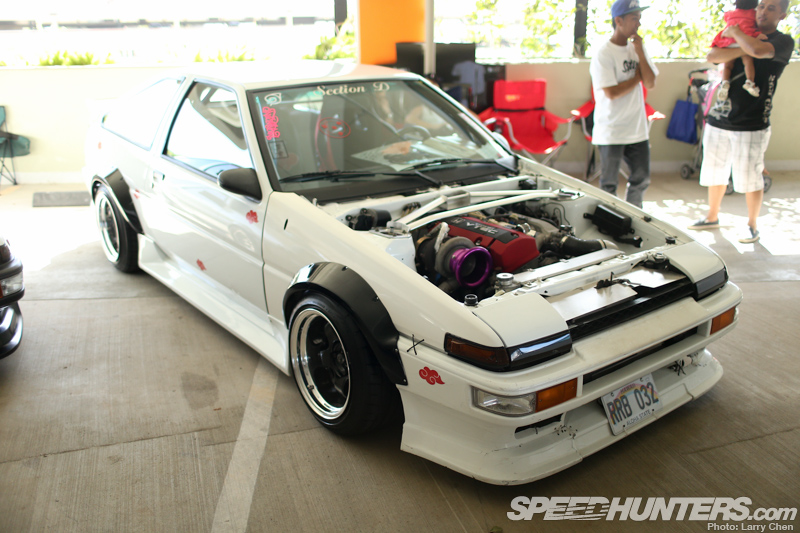 Jarod: Love cars that are just begging to be driven… HARD! The zipties tell you it does.
Larry: This is what a modern AE86 should be like.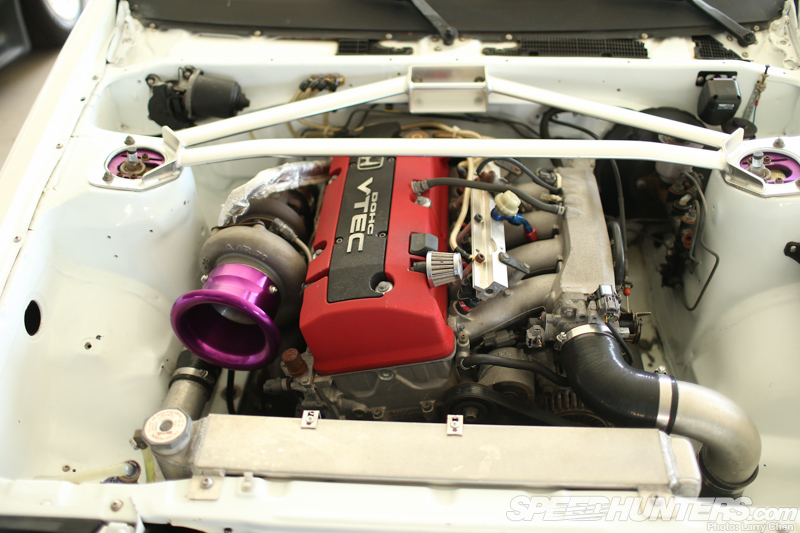 Jarod: You can barely see it, but the beer bottle radiator overflow is awesome. The turbo S2K powerplant is cool too!
Larry: Caution to low flying birds…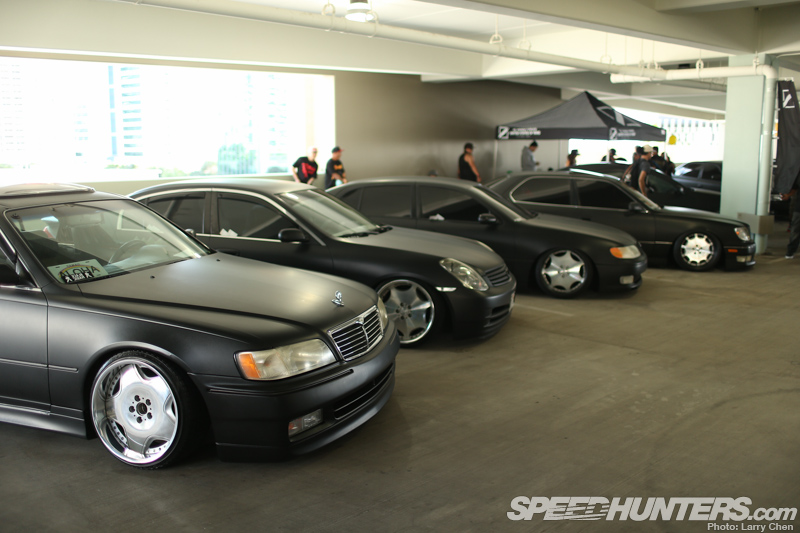 Larry: This ten-car crew all had matte black paint jobs and all were just oozing with some serious VIP style.
Jarod: BLACK MAGIC is the name and it looked fresh…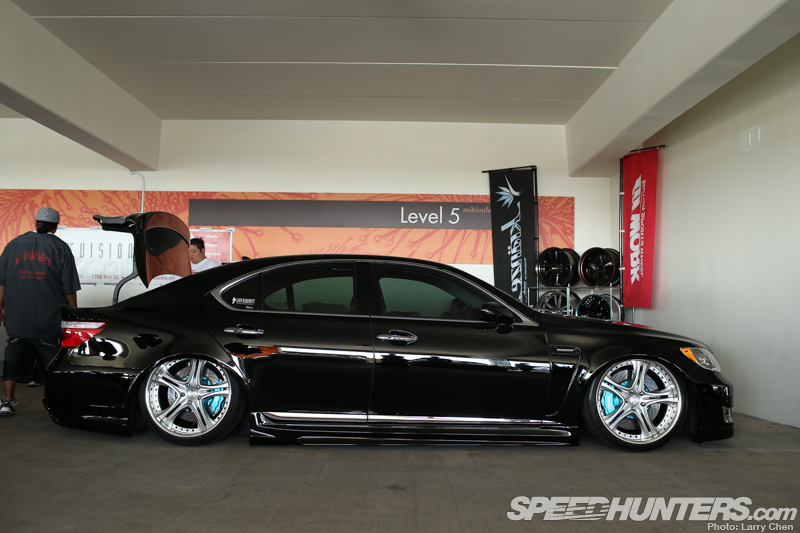 Larry: This was one of the few newer cars at the show. I really dug how the brakes looked on this Lexus.
Jarod: It looked like a toy car with the rotors and calipers just filling it up.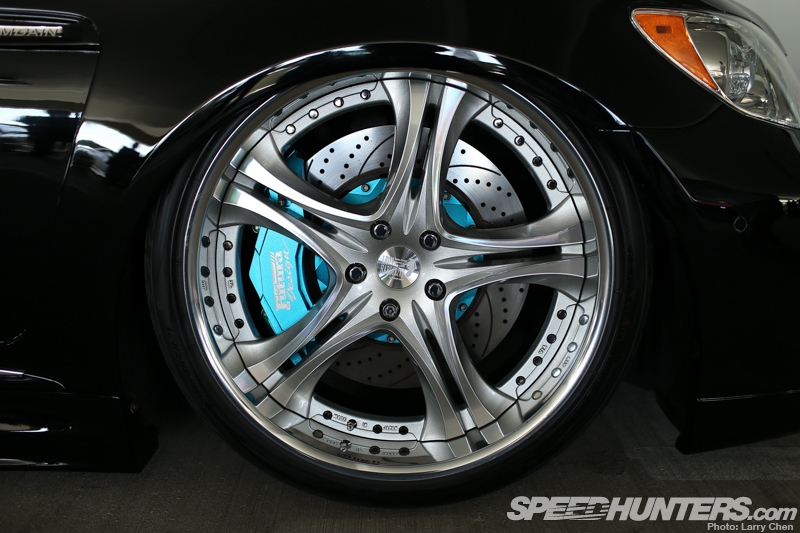 Jarod: You could eat a Hawaiian moco-loco plate off that lip.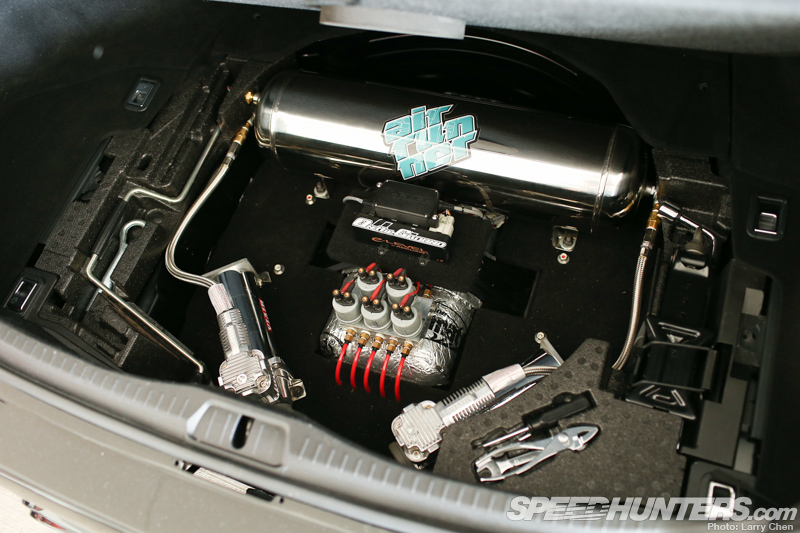 Larry: Look how clean the air ride setup was. It looks stock.
Jarod: Didn't know air ride was an OEM option now. Standard, sport or ON THE GROUND!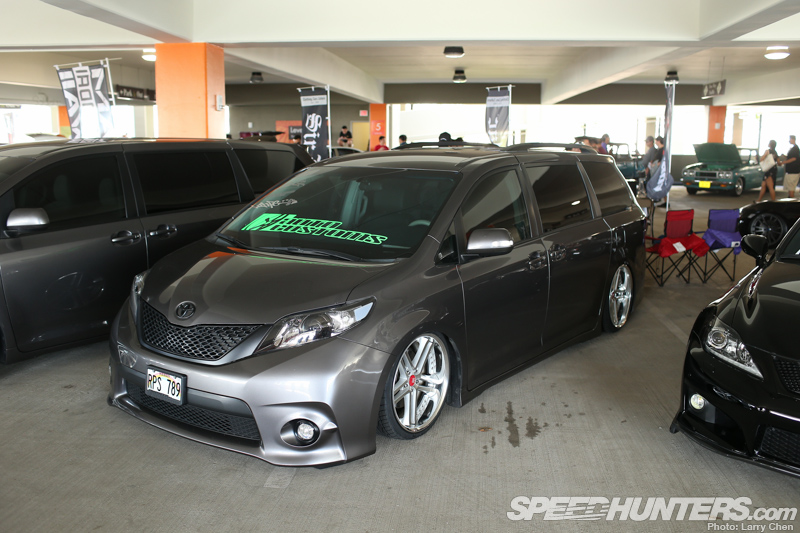 Larry: I've owned a mini van before, but nothing like this.
Jarod: I love vans. I've seen ones like the Streams, Odysseys and so many others. We would have more custom vans in the states but we don't get the unique vans we see internationally.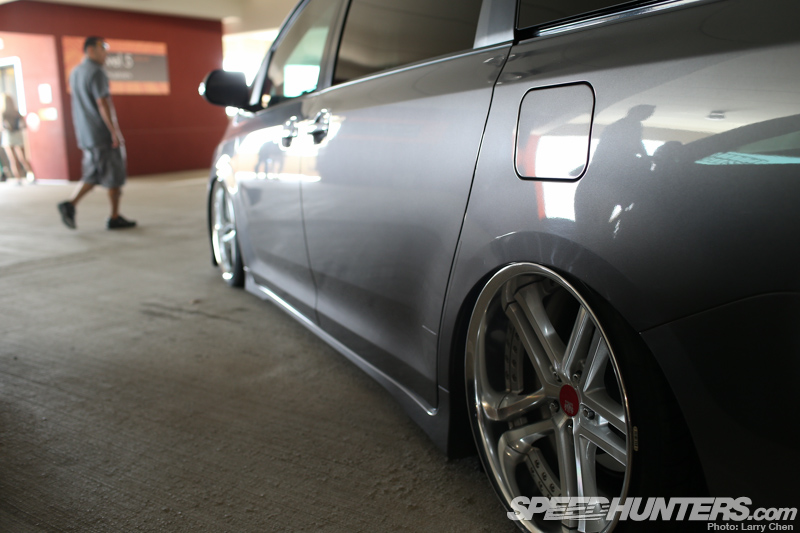 Jarod: There were a few of these vans lined up next to each other, but this one was the freshest
Larry: There was literally no gap between the wheel and the quarter panel.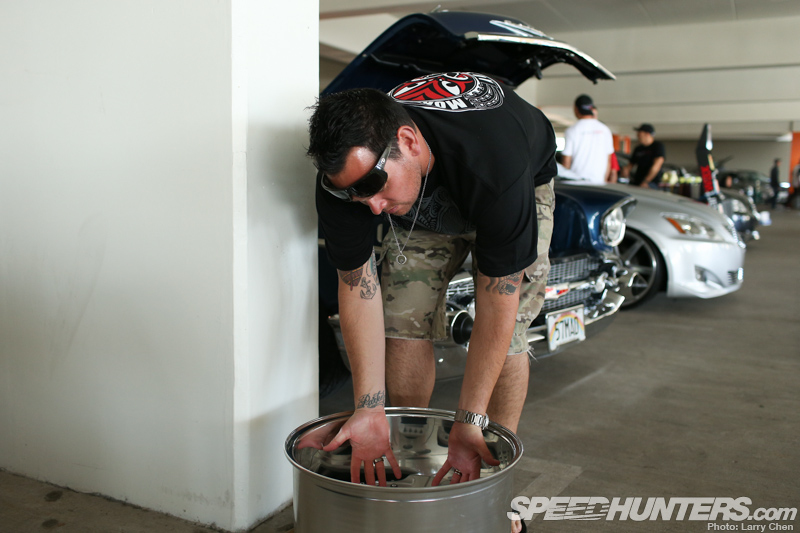 Larry: That wheel was deep enough for you to take a foot bath in huh?
Jarod: Catch a pedicure at Wekfest…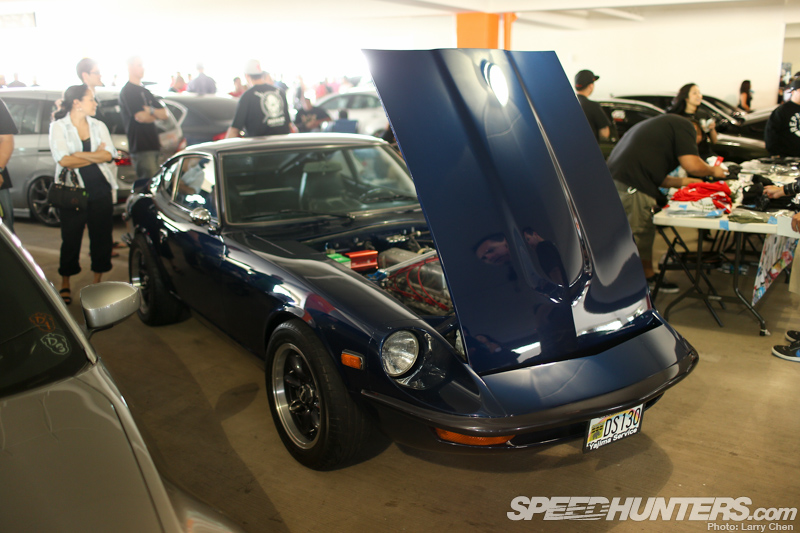 Larry: I just loved this G-nose 240z. The color is great too, I have a feeling it was was inspired by a manga.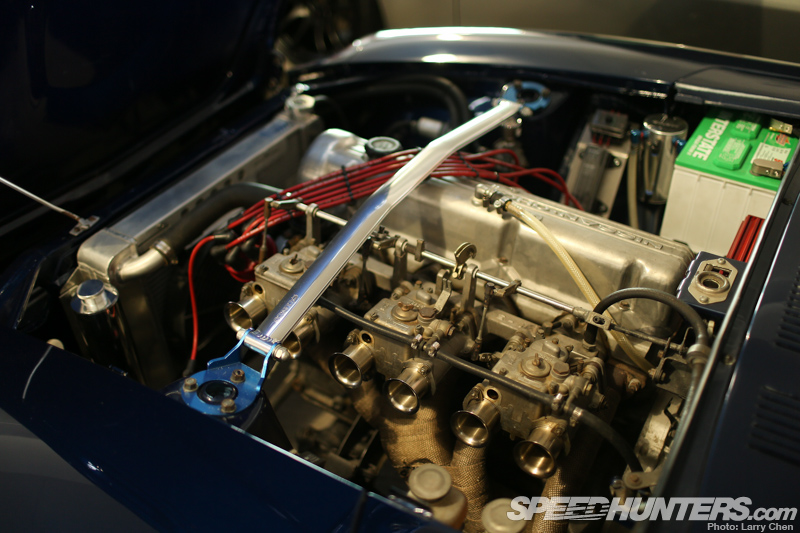 Larry: The sound from an L28 with triple carbs is so unique.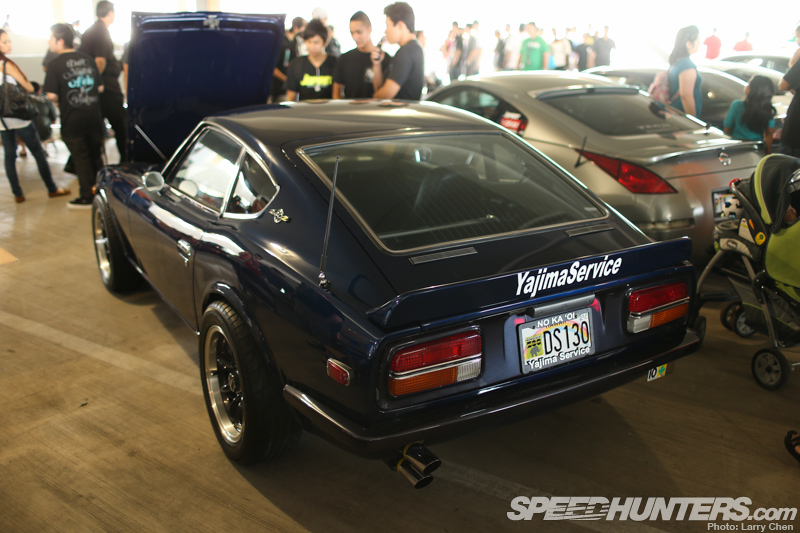 Larry: Seeing this car made me miss mine.
Jarod: *single tear* huh Larry?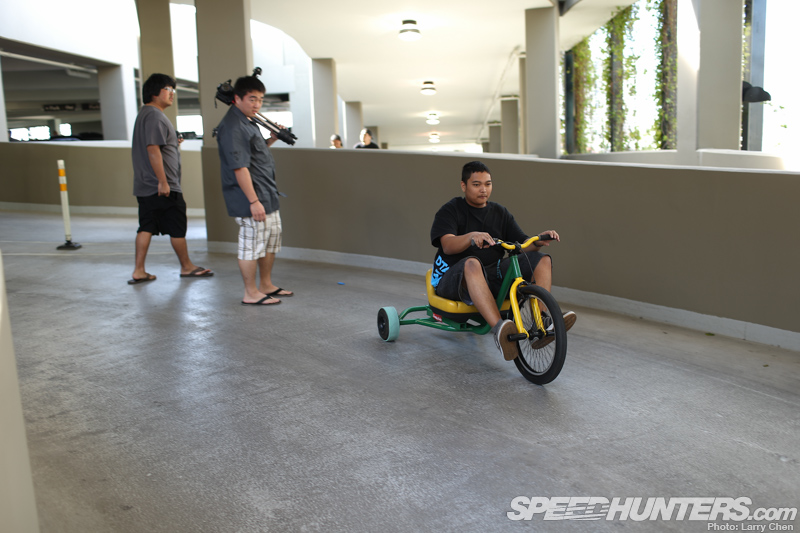 Larry: This parking structure was great for drifting.
Jarod: Homeboy threw down real quick. That's the fastest & most furious anybody got in the structure…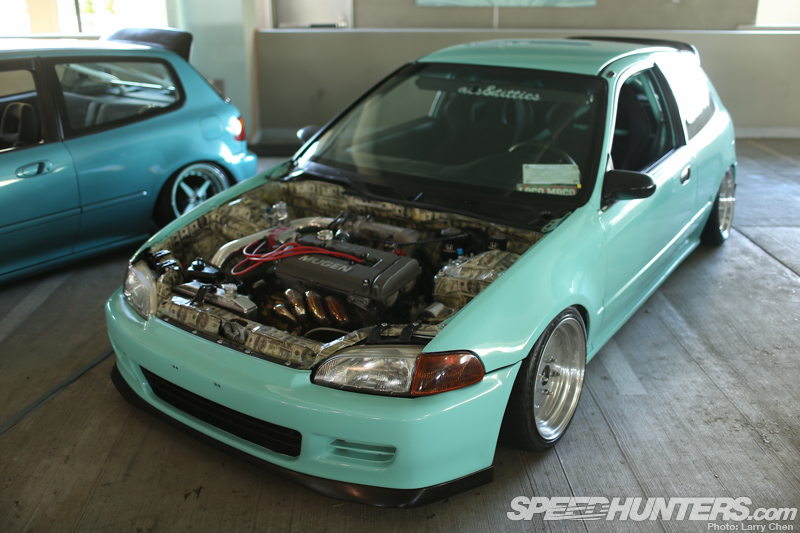 Jarod: Melting pot of styles and personality here. More NSFW stickers, money all up under the hood and I'm not talking about the Mugen valve cover…
Larry: I'm not exactly sure what to think. The mint color seems to really be making the rounds right now.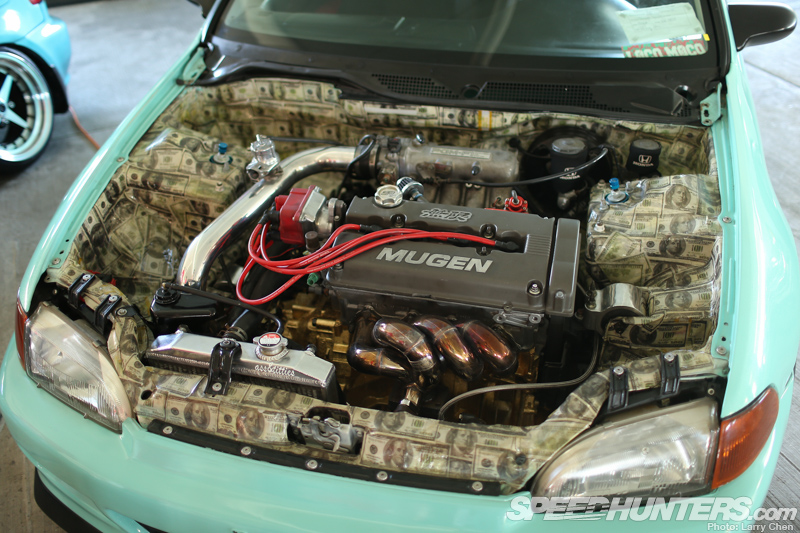 Larry: How much money do you think he put into that engine bay?
Jarod: LITERALLY money!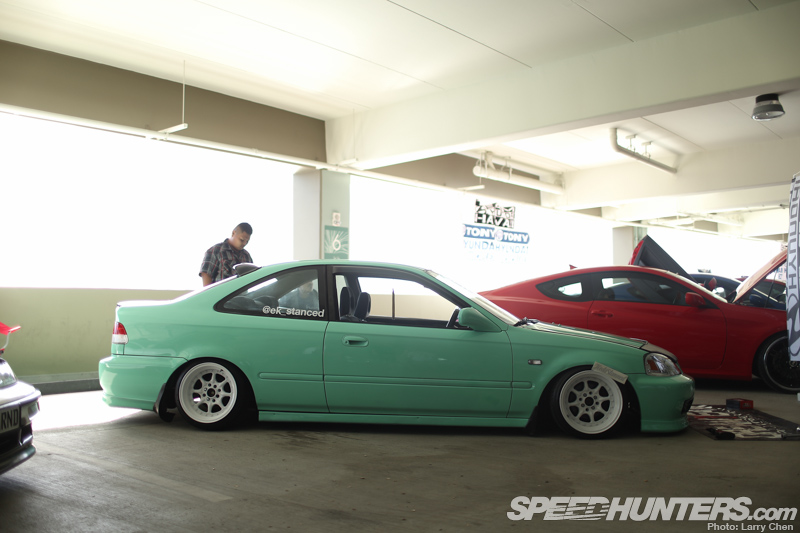 Jarod: The Honda scene is alive & well in Hawaii. I remember back in the day my homie's shop Hyper Len Higa. His bro & the Odas were getting down coming over to the states in the late '90s with their EG & EF drag civics.
Larry: I think every car guy who grew up in Southern California wanted one of these cars at one point or another. My wife was in a Civic EK club a few years back.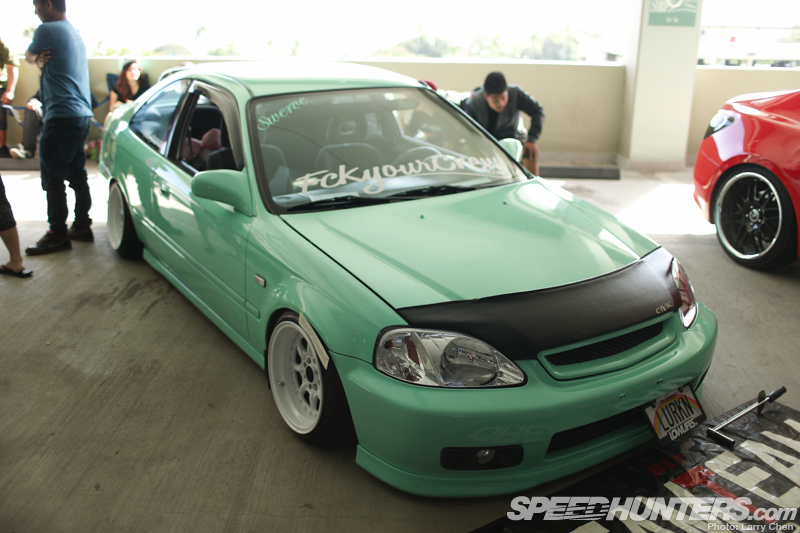 Larry: My favorite Civic Si was the blue one. You just can't find those anymore.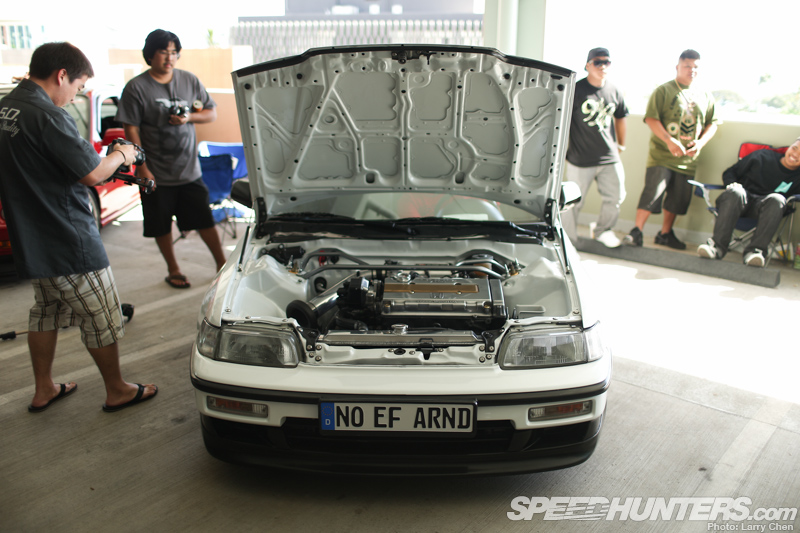 Jarod: I used to have an EK hatch back in the day when they first came out, but always LOVED EFs as well. I'm kind of a Honda nerd.
Larry: I just remember that these were the cars to beat when I was competing in autocross. I never was faster than those Street Touring guys.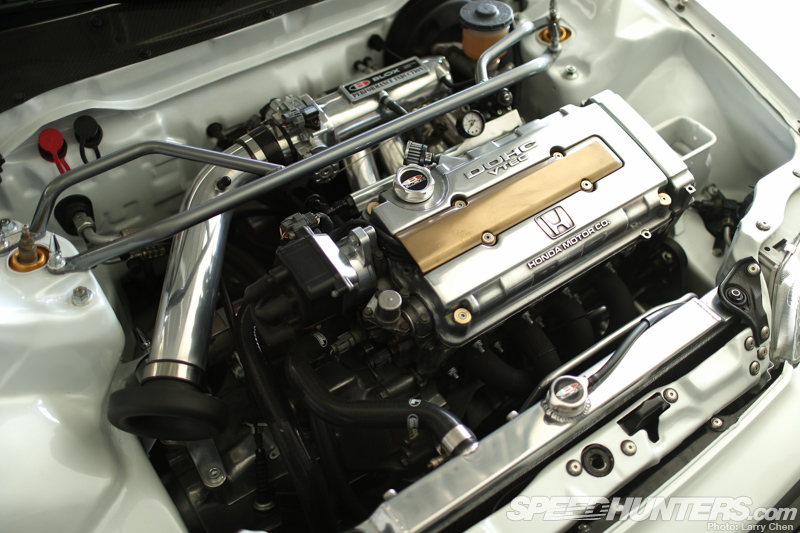 Jarod: Notice the battery terminals for the track.
Larry: Super clean with a nice wire tuck job.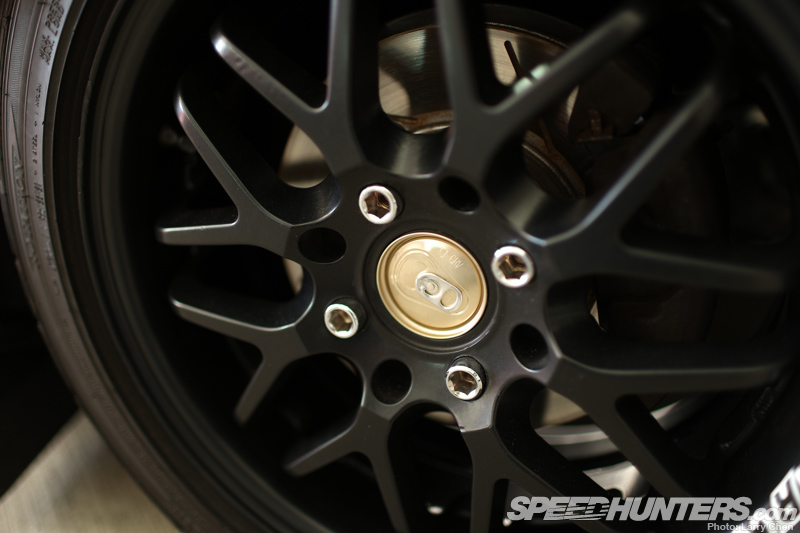 Jarod: Old school Racing Sparco wheels & beer can center caps or could be POG cans. Regardless, it's awesome.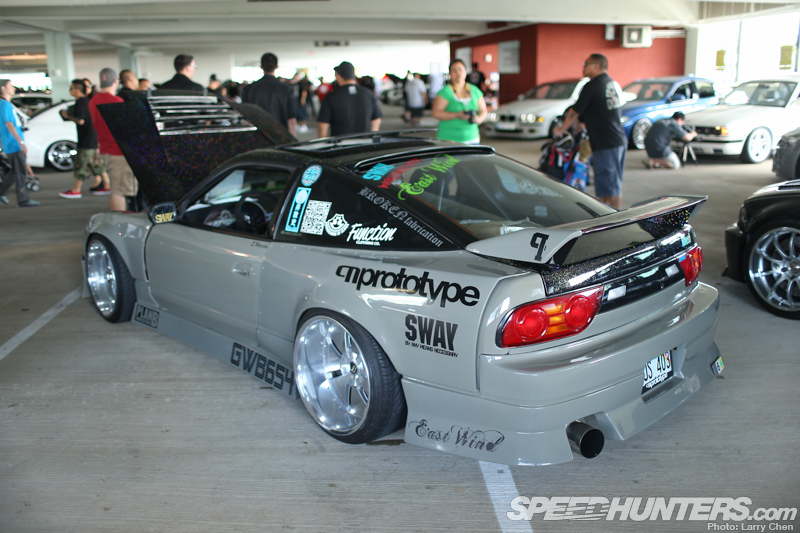 Larry: Would you drive something like this on the street?
Jarod: Of course! Street prepared, fun and another car that's begging to be ripped!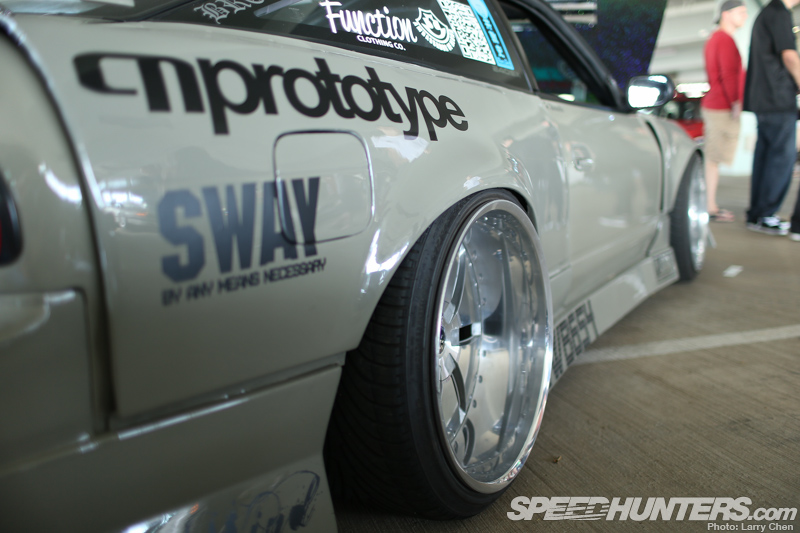 Larry: I am digging the pistachio color.
Jarod: A color that has become common place on the drift track.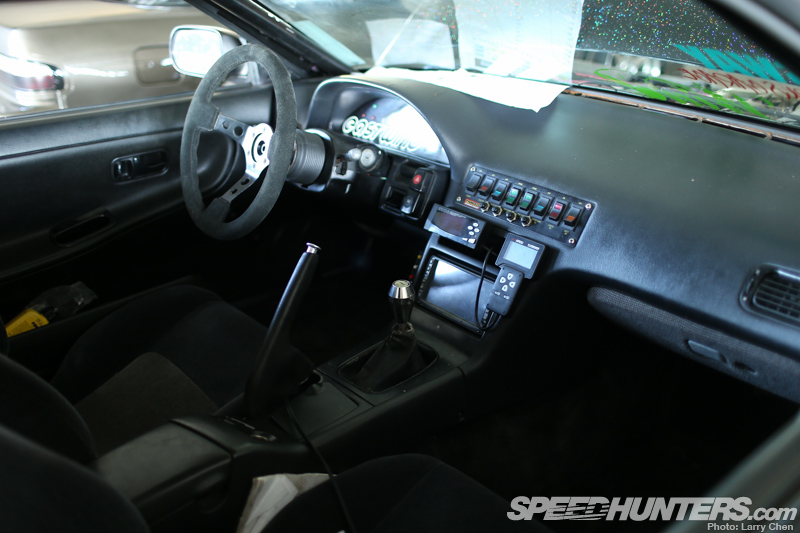 Larry: Inside was all business. Just how a drift car should look.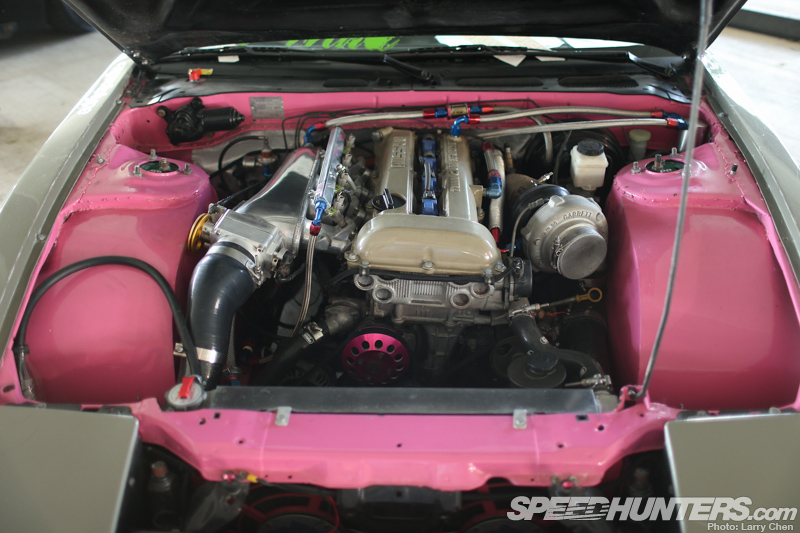 Larry: Just like the interior, the engine bay was all function.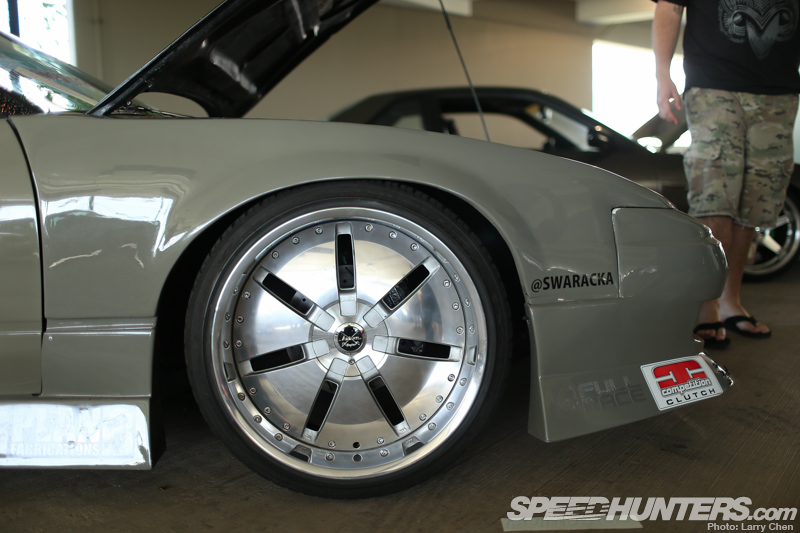 Jarod: Another handle for the interwebs @Swaracka. Hit him up, the dude lives and breathes drifting….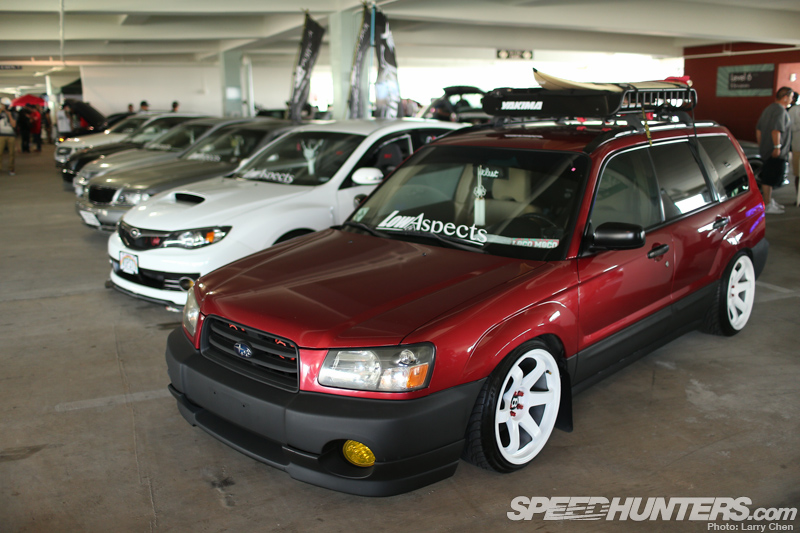 Larry: Instead of fixed gear bicycles it seems the guys in the 808 use the racks for surf boards. I checked and that one had lots of wax on it, so it was not just for show.
Jarod: I always loved the Forester ever since this body style was customized by Syms back in the day!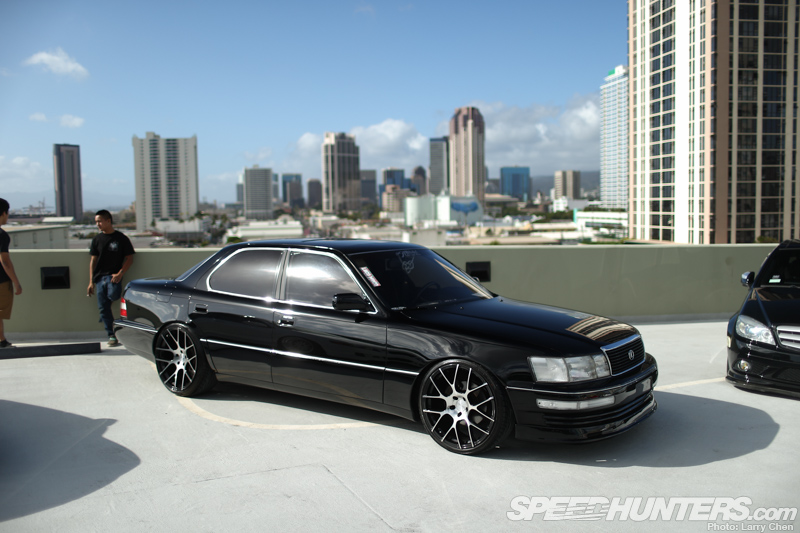 Larry: The view from the top of the structure was great. You could clearly see downtown Honolulu.
Jarod: Rad setting for sure and the beach was just a couple blocks away even. It would have been great if all the best cars were on the top floor. I think Larry and I both agree on that. Just our two cents.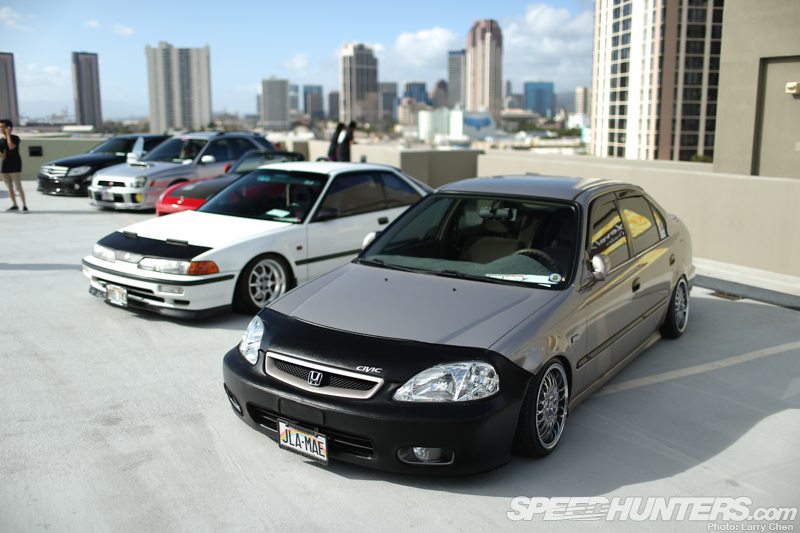 Jarod: The Honda scene is so big in Hawaii. I am loving the wheels on this Civic.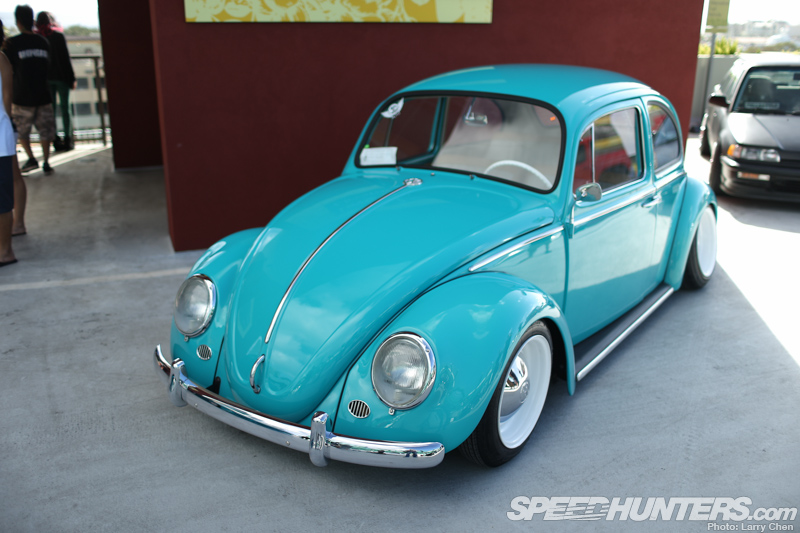 Larry: This car floored me. My friend actually has one in California that is similar in color, but the Cal Look is way different than what's on this Bug.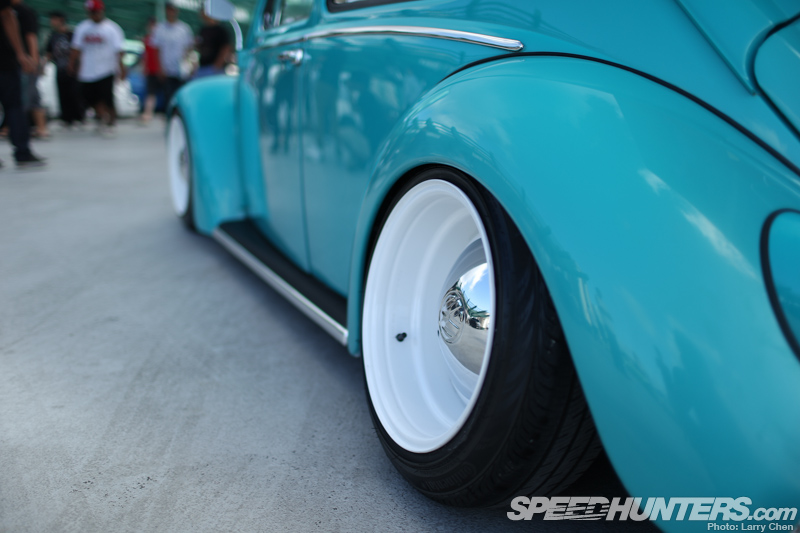 Larry: Just check out that rear camber.
Jarod: Tire slayer. Not so much from burnouts but from JUST DRIVING!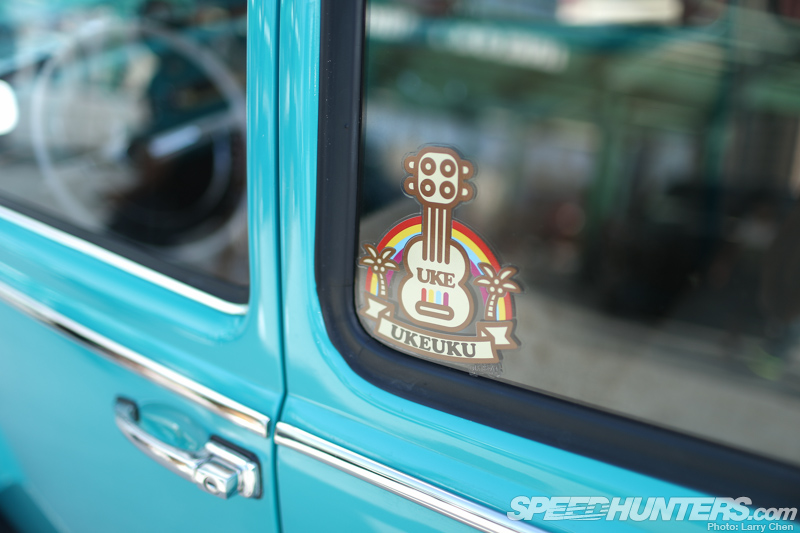 Larry: I love the little things the builders choose to put on their cars to make them personal.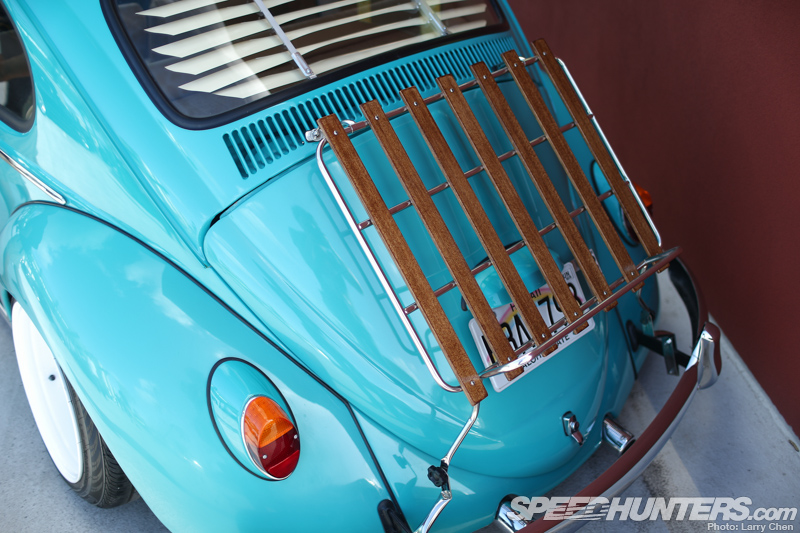 Jarod: Shutters and wood. We building a car or a house?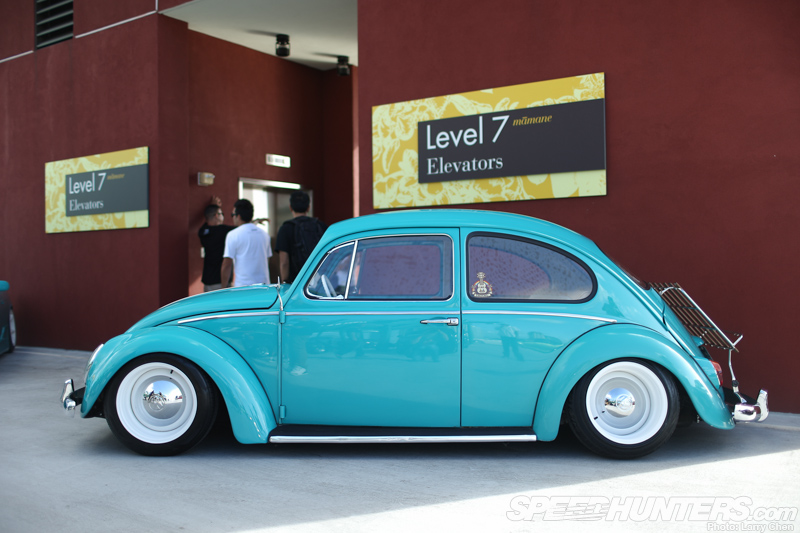 Larry: These things can be so fast. I've driven one with 180whp that only weighed 1600 lbs.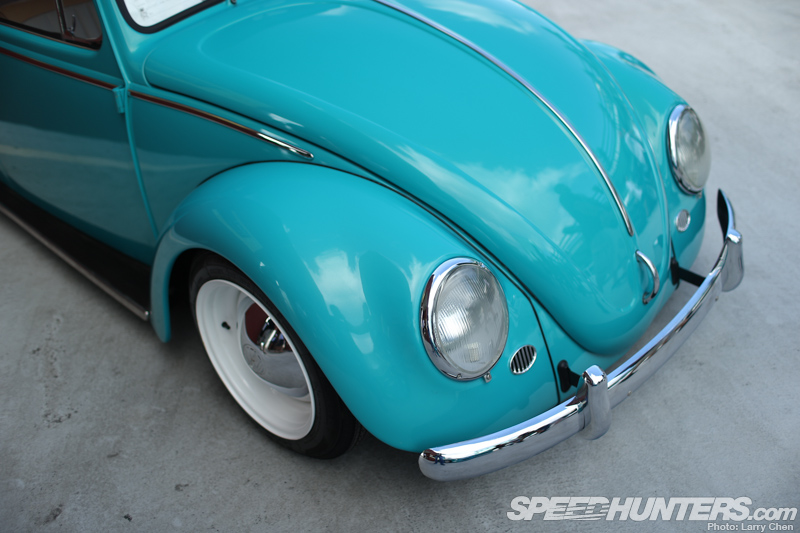 Larry: I really liked checking out the local car culture scene in the 808.
Jarod: The Hawaii scene has it's own vibe all together. The culture, history, people, THE KILLER FOOD (Pioneer Saloon in Honolulu was our favorite.) and of course the cars. Thanks to Wekfest for a great show.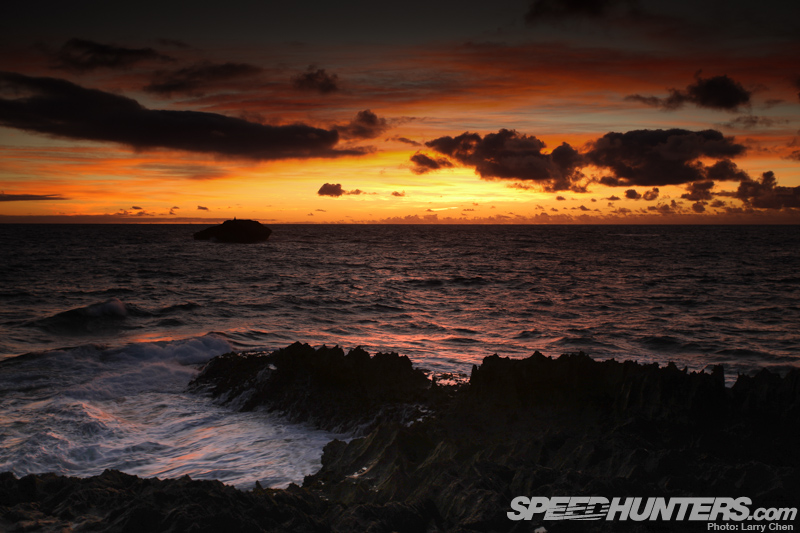 Larry: I think it is awesome that this tiny little island has such a niche car culture. As soon as I landed in Los Angeles, I wanted to go back to Hawaii.
Jarod: It is a tiny island, but at the same time it is full of so much. The people there have a simpler, easier mellow mood. I respect the Hawaiian culture, people and preservation of the roots. Keep it Aloha and Mahalo to you Larry, Speedhunters and the people of Hawaii for having us. SEND IT!
Larry and Jarod
Jarod's Instagram: jaroddeanda
More Wekfest coverage on Speedhunters