There are a few cars in the world that completely transcend the automotive genre – cars that absolutely anyone can recognise, whether or not they are car geeks. Ignore supercars, as they're a false-positive when it comes to judging true popularity. I'm talking about cars that the average person on any given global street would recognise: someone whose only interest in a car is about getting from A to B and perhaps the increasing price of petrol. The VW Beetle would be one such automobile (and perhaps the 911, which is surely just a grown-up Beetle…). The other is the famous Mini. Small, front-wheel-drive, fast – and most importantly fun.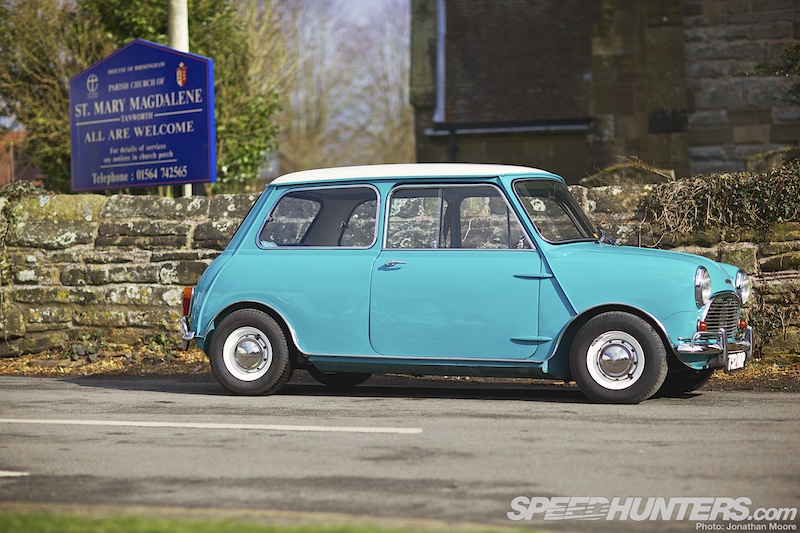 The Mini seemed like a strange concept on paper compared to most of the cars of the time. Too small. Too underpowered. Too British. Micro cars had been tried before, with designs like the quirky Messerschmitt Kabinenroller and diminutive Fiat 500 Topolino, and the latter had even sold well during its 20 year period of production starting back in 1936. But they weren't cool cars. The Mini got it right, and at the perfect social period.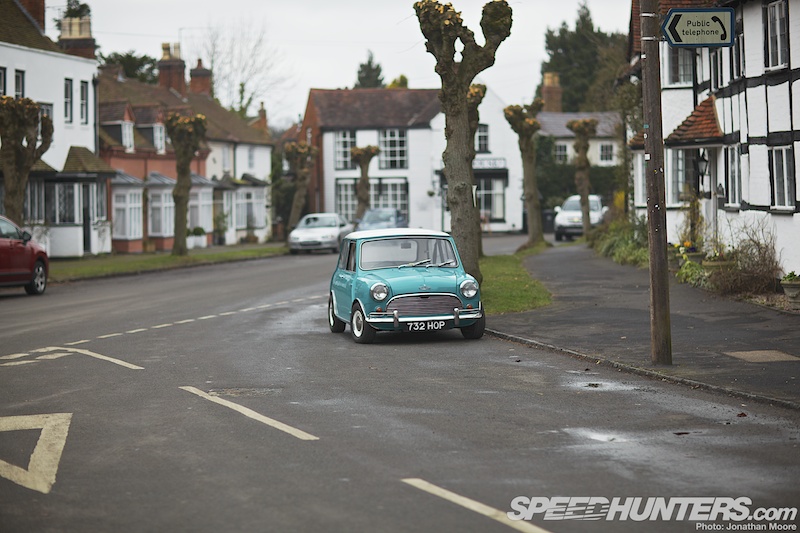 As the 1950s had rolled on, the launch of the Fiat Nuova 500 of 1957 had shown that a market was there for a compact car, which was especially relevant in the wake of the oil crises in the post-war period. But the 500 was hardly about performance. The British Motor Corporation had already pioneered the hatchback design with the A40 Farina (which was also one of many British cars of the time to utilise Italian coachbuilding talent – Pininfarina in this case), and Sir Alec Issigonis was tasked with designing and developing a cutting-edge compact town car.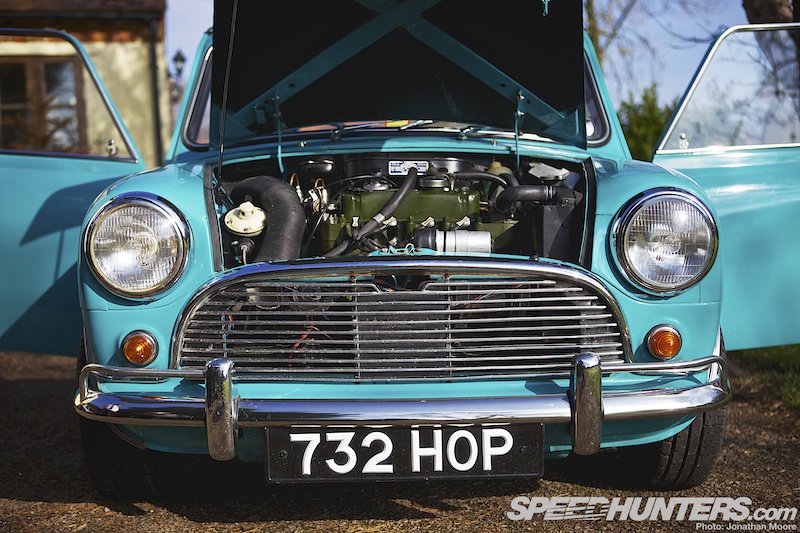 A completely different approach was taken from Fiat. Whereas the 500 utilised a rear-engined, rear-wheel drive layout, BMC opted for to put everything up front.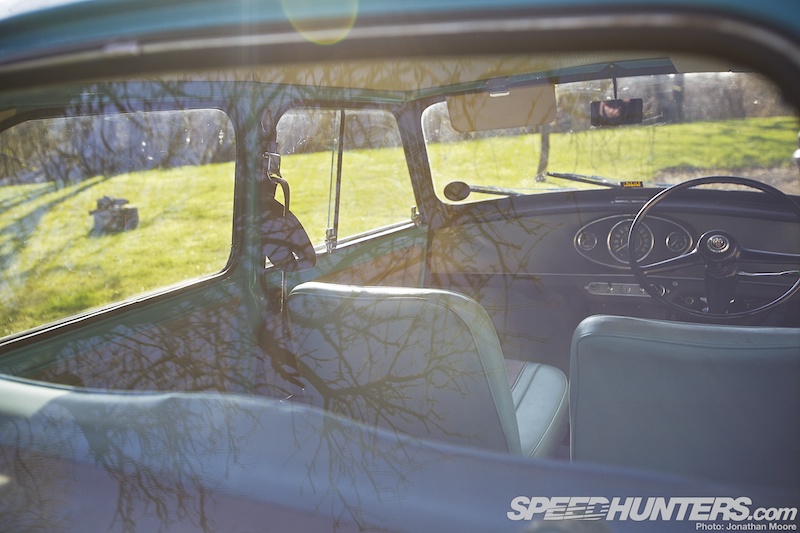 There was a very practical reason: it allowed the majority of the floor to be used for the passenger compartment, which was important when space was so limited, and the transverse engine used minimum space up front. This layout also had a benefit in an unexpected direction…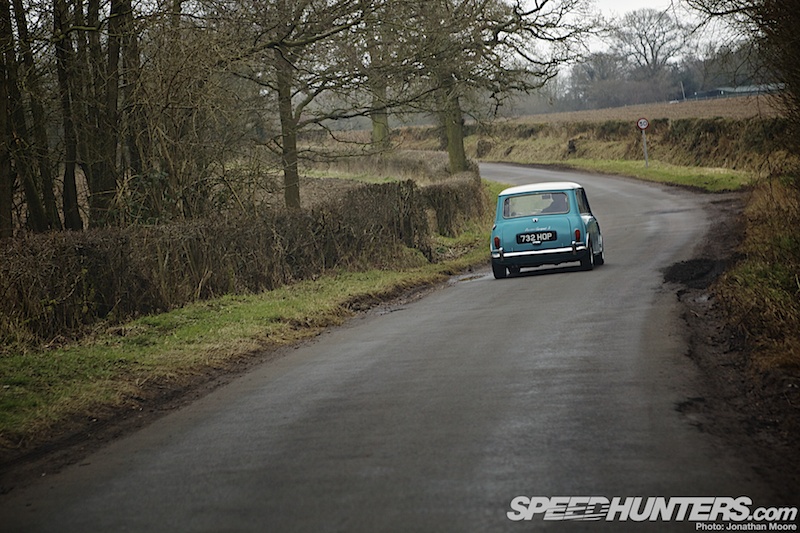 The Mini's performance was a complete revelation: the insanely light weight, low centre of gravity and kart-like handling was quickly picked up as having motorsport potential by both the BMC competition department and privateers. The original 850cc-engined Mini from 1959 tackled a number of rallies and the success of Minis run by Downton Engineering and F1 team Cooper Cars led to the launch of the first officially tuned Mini, the Cooper, in 1961.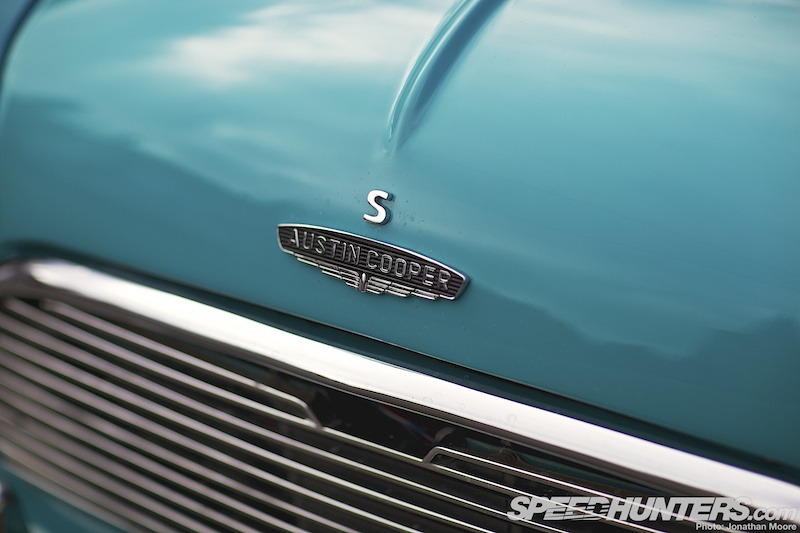 It was an improvement, but it was more of a marketing exercise compared to what was to follow. 1963 saw the launch of the properly hot Cooper S, an example of one of the first ever homologation specials. 2,500 road-going models were required to satisfy period racing regulations and allow BMC to unleash the Cooper S on the unsuspecting opposition. Never had owners of expensive sportscars been more frustrated by their minnow competition.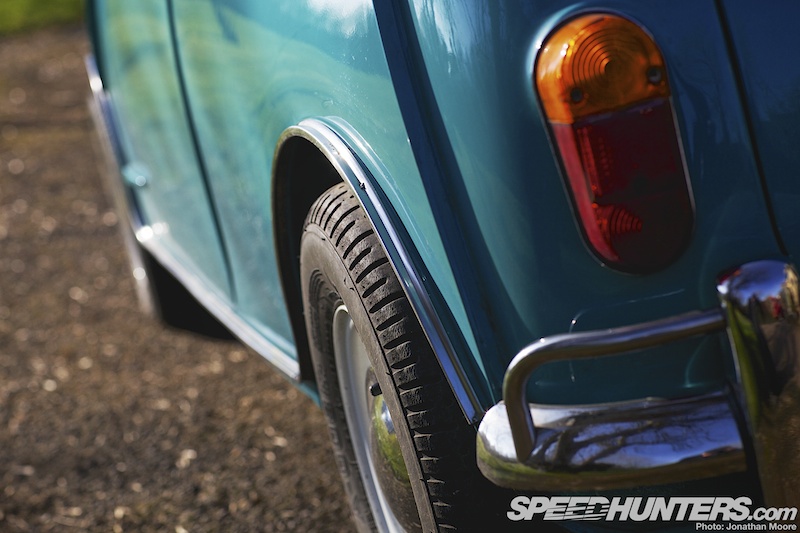 This time the changes weren't just cosmetic (although it did feature things like this metal detailing along the edges): proper engineering went into making the S a serious proposition on the road.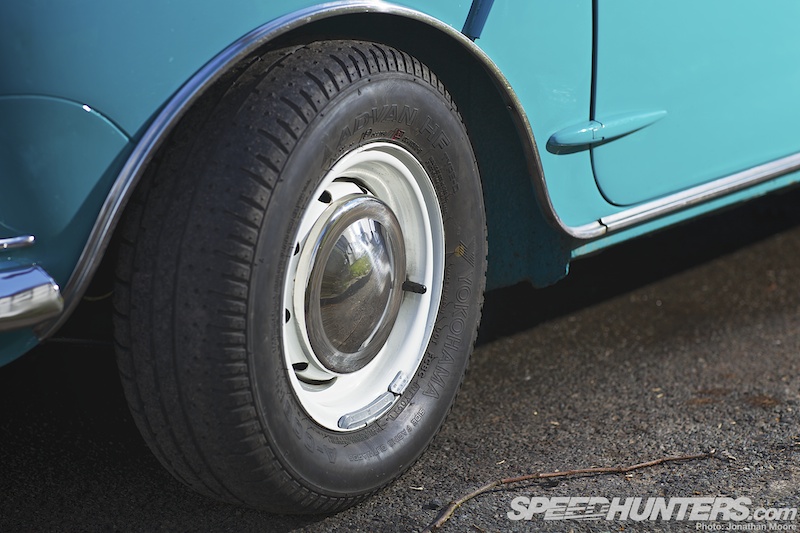 Bigger servo-assisted disk brakes were added, as were stiffer wheels and improved suspension – though it still used rubber-sprung independent suspension. The rubber cones compressed at a variable rate depending on the load, and took up far less space than conventional springs. The system delivered sharp, precise handling, at the expense of comfort.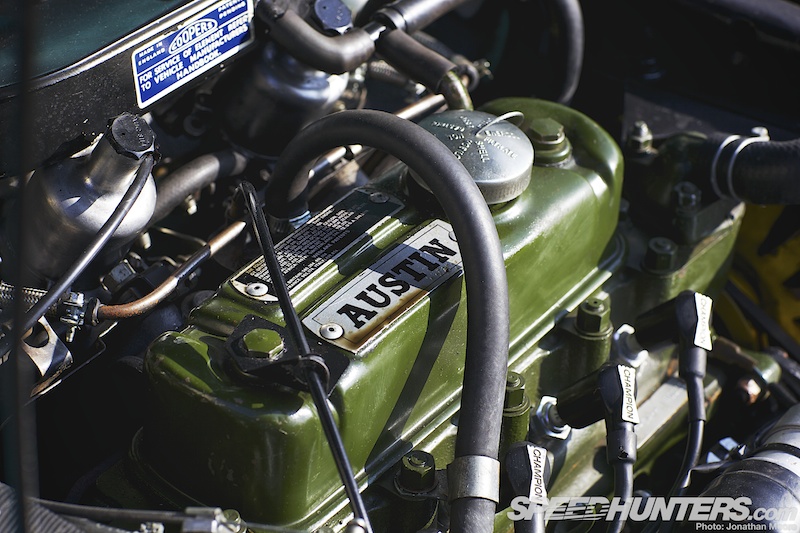 The iron inline four-cylinder engine gained various 'S' upgrade parts, like a high tensile steel crankshaft, a larger bore, stronger valve springs and forged rockers, and the block itself was enlarged to 1,071cc – likely the most they could get out of the original unit. It revved to unbelievable levels: a real screamer, only exceeded by the subsequent introduction of the 970S to get the Mini into the under one-litre racing class.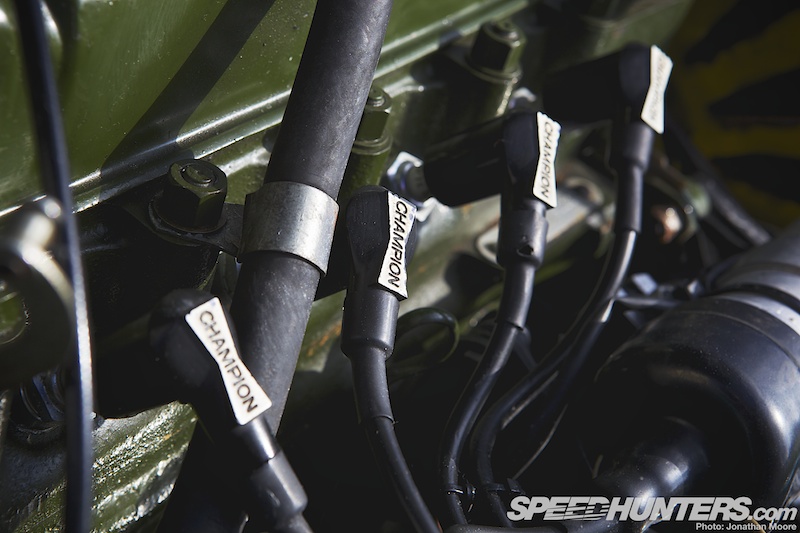 The power went up as well: 70bhp and that magic 90mph top speed (near 100mph was achievable), which was incredible for such a small, relatively cheap car.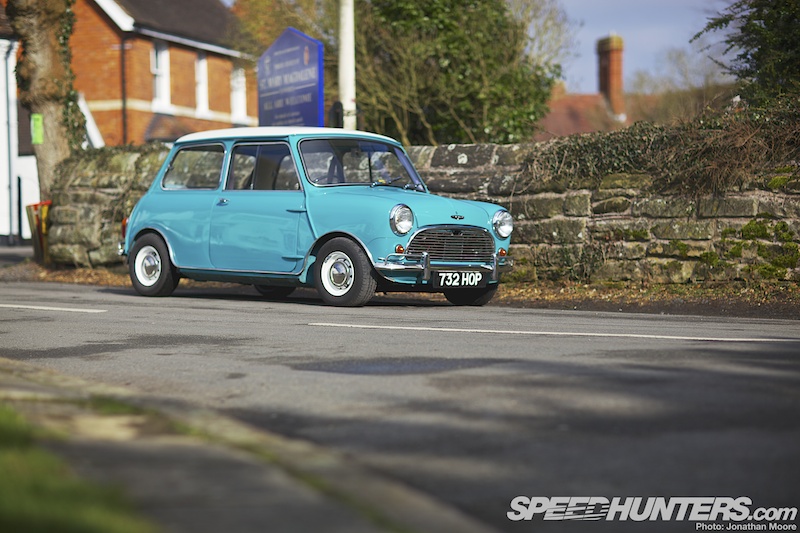 Just over 4,000 Cooper S models were built, and it wasn't just a success on track. Selling new for £695 on the street, it made almost 50 percent more profit than a standard Mini, seriously aiding BMC's bottom line. This was not a typical situation for compact cars: several other companies were brought to their knees trying to produce a competitor (such as Hillman) and even the mighty Ford decided that they couldn't make the concept work financially.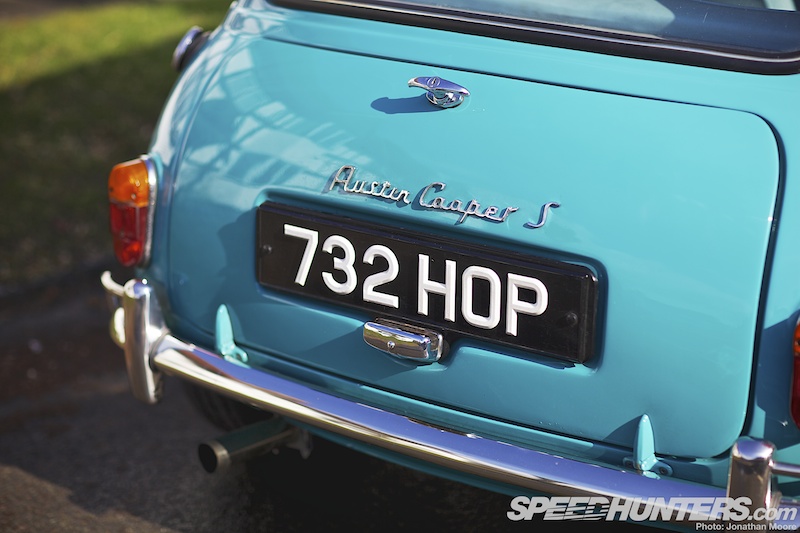 So there's the history lesson. What about this particular car? Well, 732 HOP isn't just any old S: it's the second Cooper S to roll off the Austin production line in Birmingham – and the oldest survivor, as 731 HOP is long gone.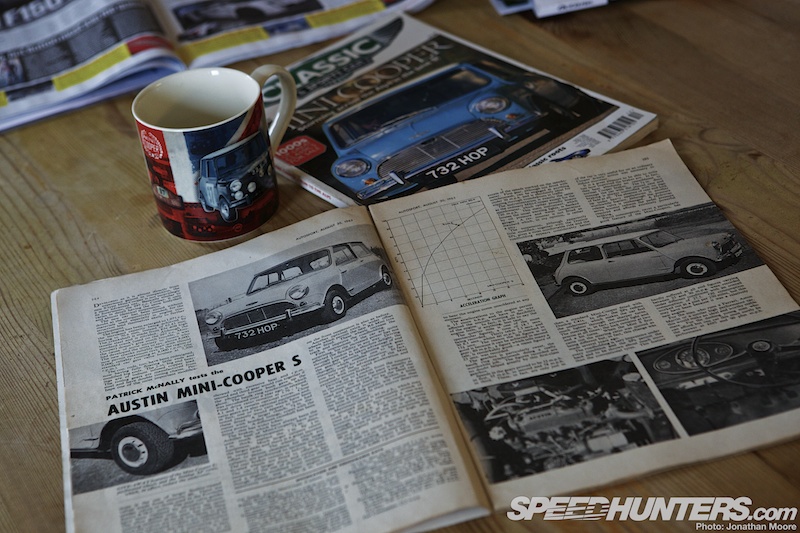 It was originally part of BMC's press demonstrator fleet, and even features in an article in the August 1963 edition of Autosport magazine, where the closing paragraph read thus: 'For the man who runs a Ferrari, Aston Martin or similar high performance car, this would make an ideal and worthy stable mate. For the dashing young man who can afford but one car, this must surely be the answer at £695 and 90mph-plus performance'. The tuned Mini had truly arrived.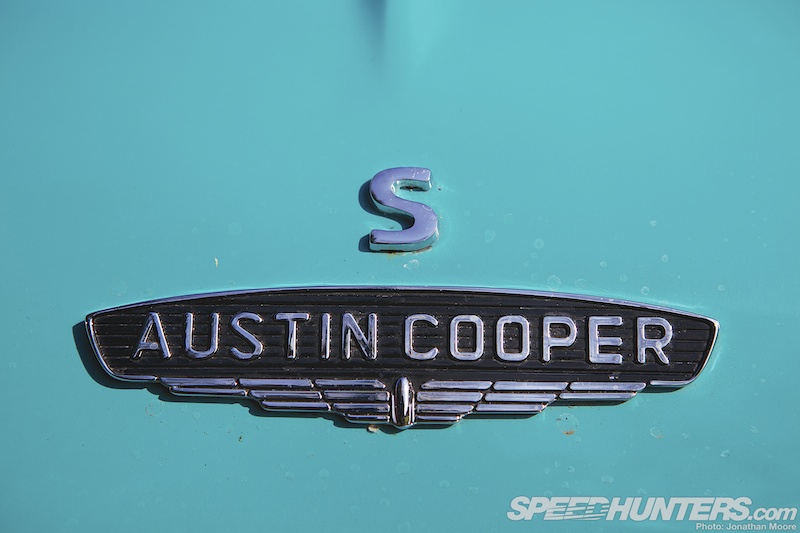 This Cooper S is an Austin: the Austin and Morris motor companies had joined up to form BMC, with Minis produced in the Longbridge, Birmingham, plant badged as Austins and those from Cowley in Oxford (now producing modern BMW Minis) with a Morris badge. It's a similar situation as today with the GT86 and BRZ: underneath it was exactly the same car.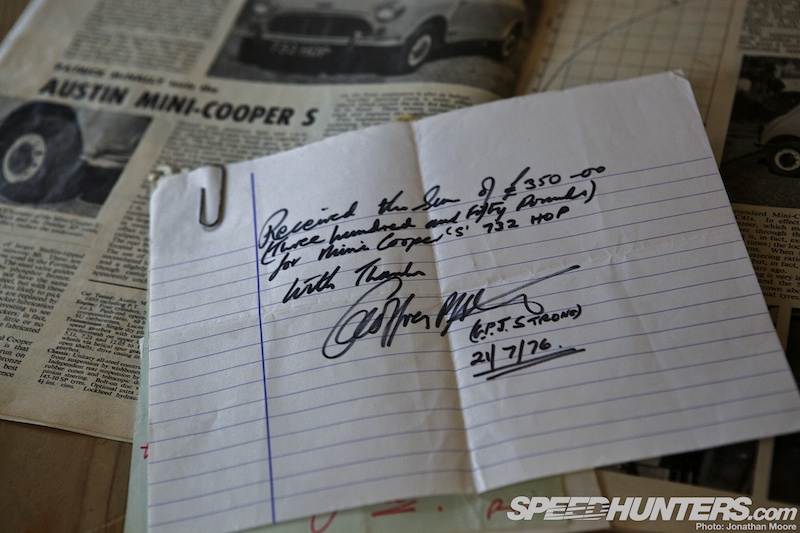 John Pick of Arden Automotive is the proud owner of this S, and he's no Cooper-come-lately: the car has been in his family since 1976, when his sister purchased the car to use in rallying. Still at school, John acted as navigator in the then-red Cooper, which had been stage-prepared with Perspex windows and fibreglass panels and bought without knowledge of its illustrious history. It seems like it had seen some serious use during its first 10 years, converted to rally spec by an unknown previous owner and painted first yellow and then red.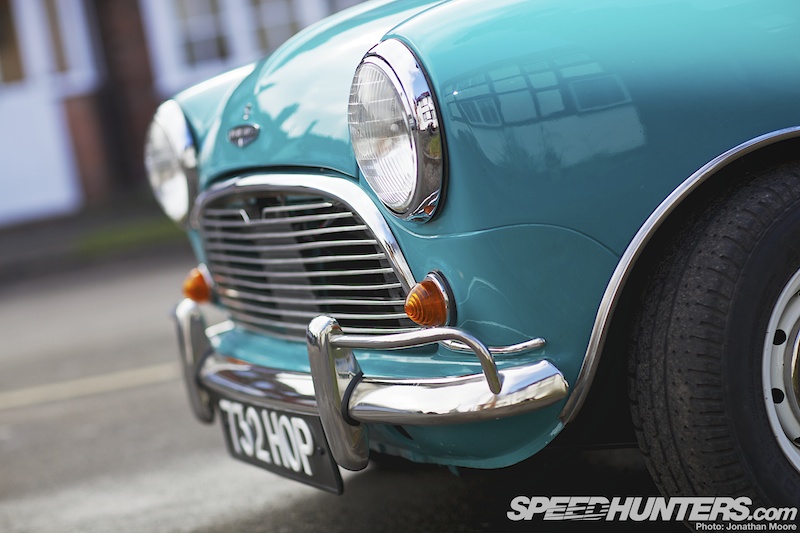 Unreliability meant that the Mini was passed to John to see if he could fix things up: problems were traced to the fitting of incorrect valve springs and a poorly-chosen Jaguar fuel pump, and John competed in 732 HOP for some years before an accident bent the front-left of the shell. At the time it was actually cheaper to buy a new MkIII shell complete with mod-cons like wind-up windows, so John stripped the competition parts off and reassembled them onto a new shell.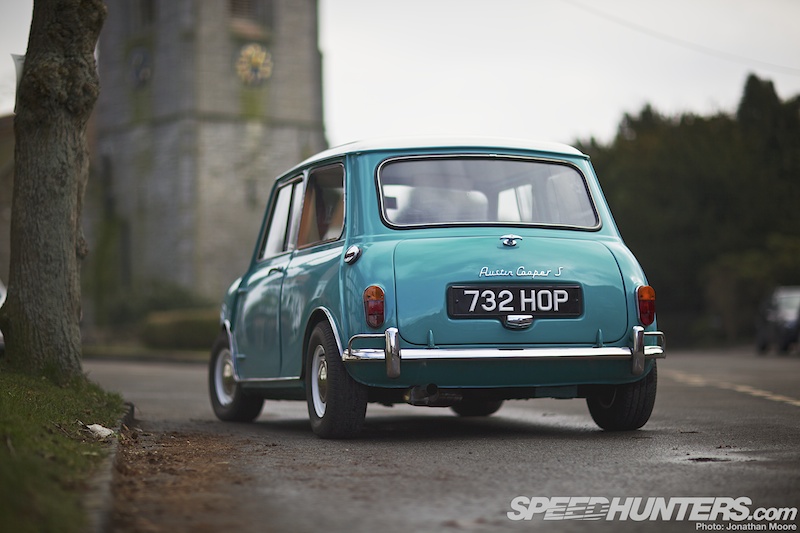 The original shell was consigned to the barn in 1983, but then in the mid-'90s a friend recognised the number plate as something special. A call to BMC's spiritual successor, British Motor Heritage, confirmed the background of the Mini, leading to John realising he needed to perhaps stop abusing the car so much! The car was a bit of a basket case at that stage: most of the bits were in the wrong places and weren't original, and there was no trim or any interior fittings. Some work would be required to make it look like this picture…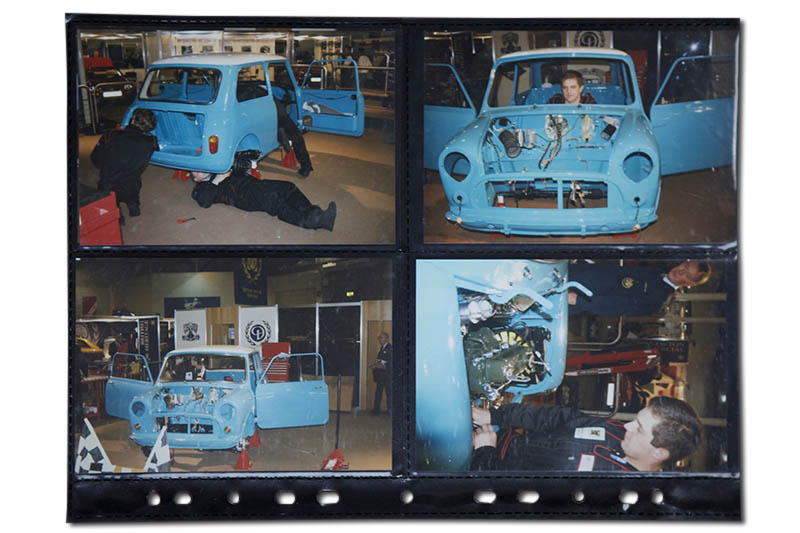 The managing director of BMH subsequently got in touch and proposed a joint project: they wanted to start building continuation MkI shells, and to launch the programme suggested rebuilding 732 HOP. With an incredibly short lead time – and the decision made to stage a live rebuild over three days at the 1997 Techno Classica show in Essen – the shell was repaired and repainted in double-quick time, and a bill of parts and assembly sequence put together.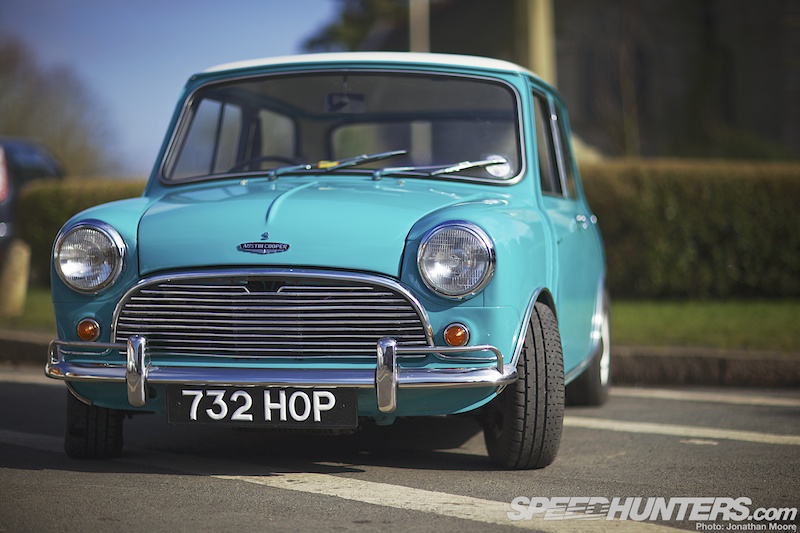 The project was a success, and 732 HOP drove away from Techno Classica looking as it had done when it had rolled off the Longbridge production line 34 years earlier.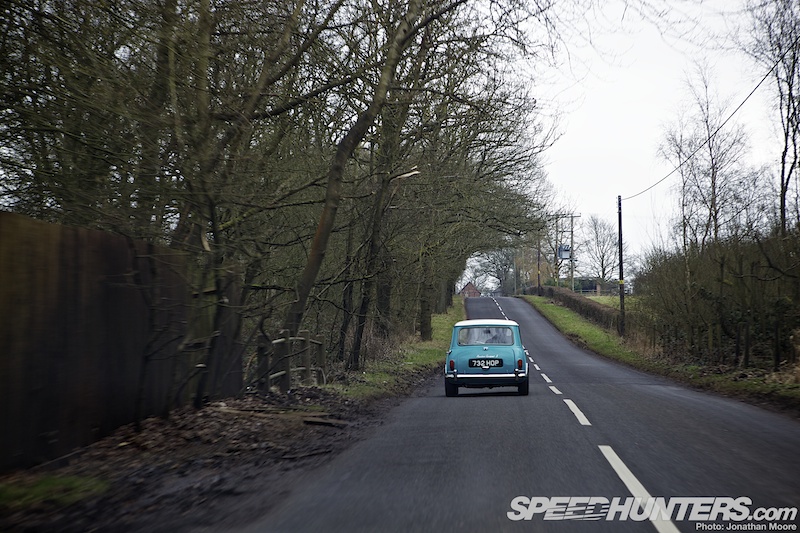 But John wasn't going to be stashing the Cooper away in a garage: he was straight back out on stages and hill-climbs, competing in the Midlands Hill Climb Challenge and a regular visitor to the famous Prescott and Shelsley Walsh hills. The reason? Once you drive a Mini Cooper S, you never want to stop.
John: "It's just great fun to drive. You can do things you could never do in single seaters. You can't afford to back off though, you're leaning heavily on the tyres and bouncing all over the place. You feel everything: with every Mini you feel in contact with the road – you feel connected. The drawback is that you do feel every rut and hole. Speed bumps are horrific!"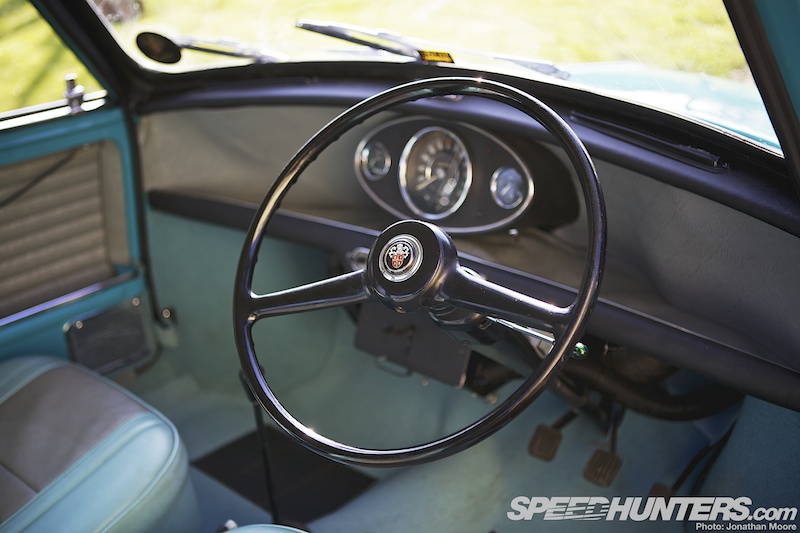 "It's not what you'd expect from such a small car. You're in no doubt about what the car is doing. You turn the steering wheel a bit and it just corners like a go-kart. Even with a little 1,071cc engine it still has a phenomenal amount of torque: it just pulls. You'd maybe expect it to flat-line at 5-6000rpm, but it keeps pulling well past 7,000. Though you never know exactly what it's revving to, as there's no rev counter."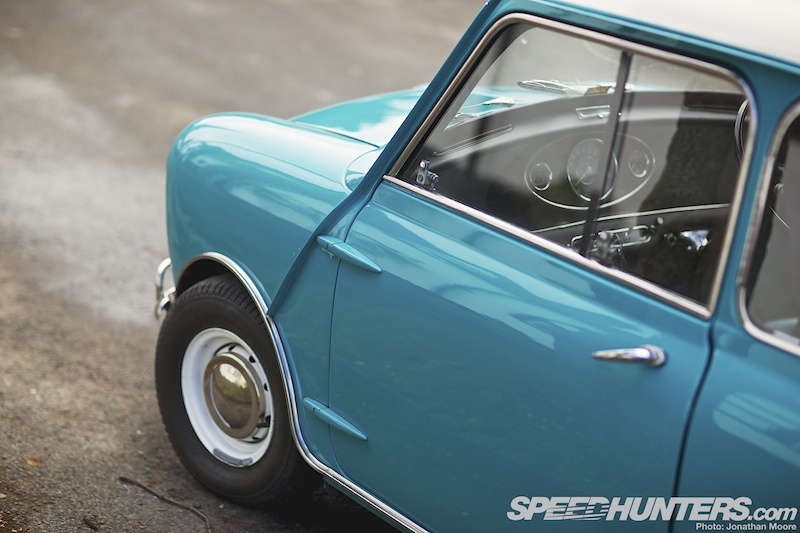 "It's surprisingly fast, and it's actually better if you can go above 70 – it's quieter. Though never quiet! You choose a cruising noise, not a cruising speed."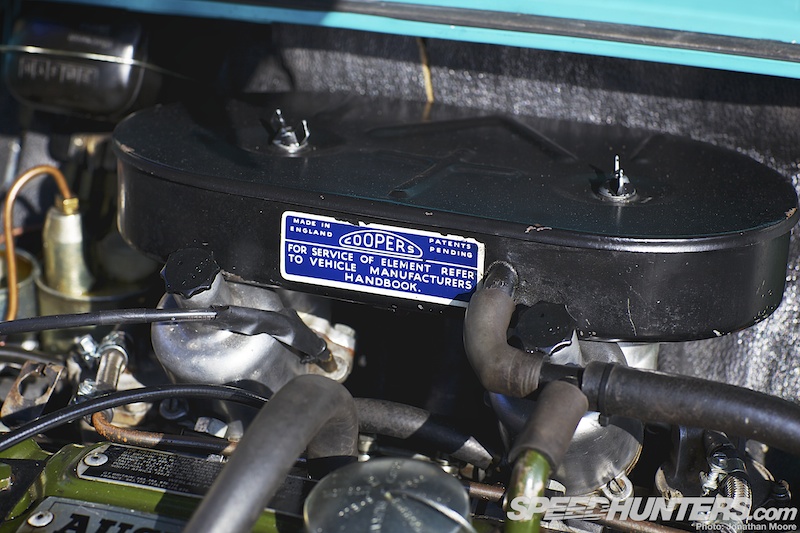 The engine, with its twin 1.25-inch SU carbs up top, was actually turned around 180 degrees during the design process, and the engine compartment is a busy place. That turn-around put the distributor and other electrical items up front and made them prone to water damage, which has led to a constant search by Mini aficionados for solutions to the problem.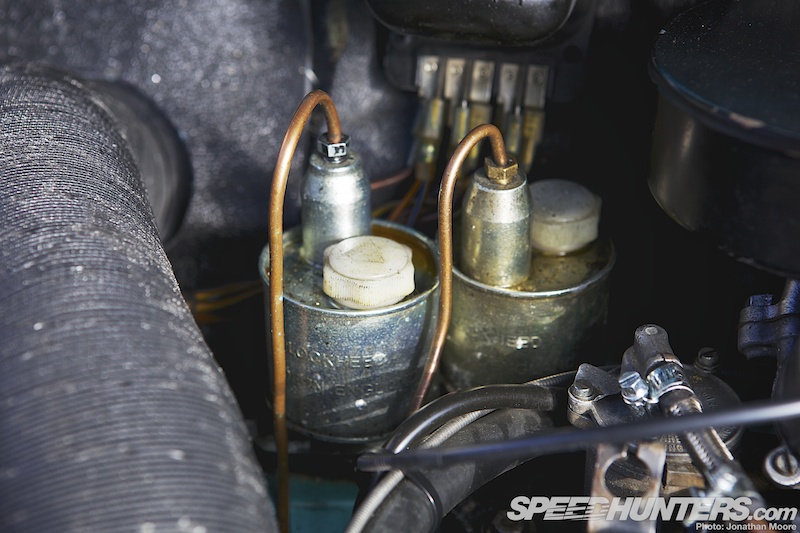 The clutch is a 7.25-inch single dry plate unit, controlled by a Lockheed master cylinder, mated to a four-speed gearbox. There's no synchromesh on first gear, which can make taking off just that little bit more tricky.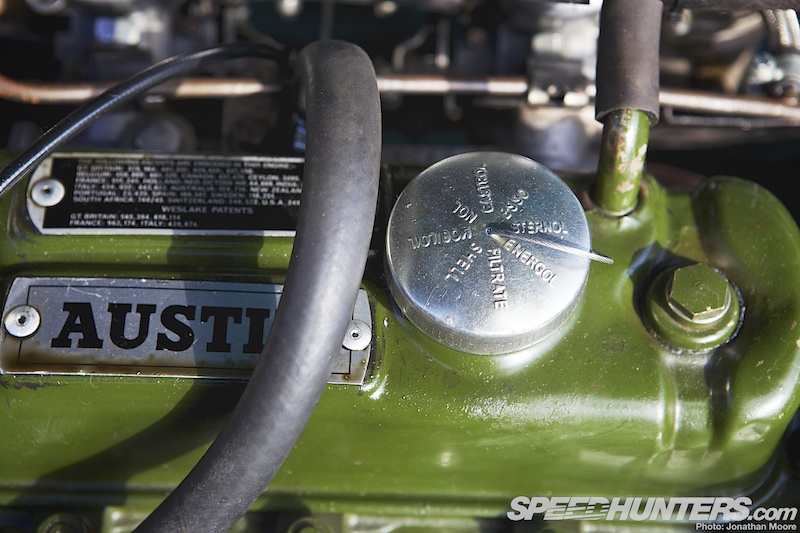 There are nice aesthetic touches, such as colour of the block and the list of oil suppliers on the metal cap, and the old nameplates look great.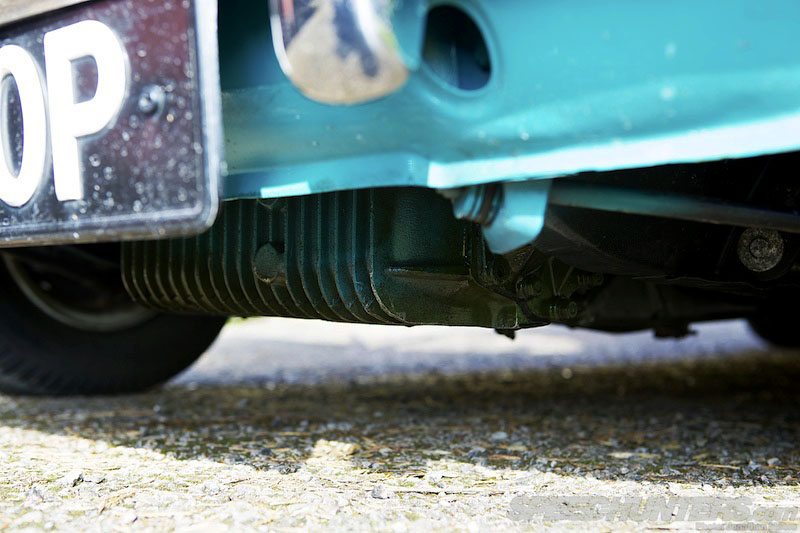 The inline-four pushes the ancillaries down low, and the oil sump can take a bit of a battering on roads – it's those dreaded speed bumps again.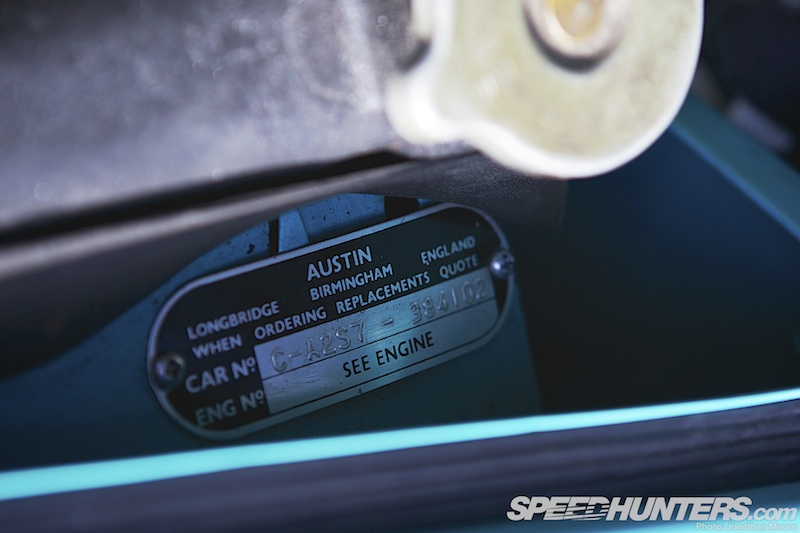 One funny thing is that when John came to having a replacement registration plate made, he found out that several other 732 HOPs had already been registered. Luckily he has the proof to show that his is the real deal.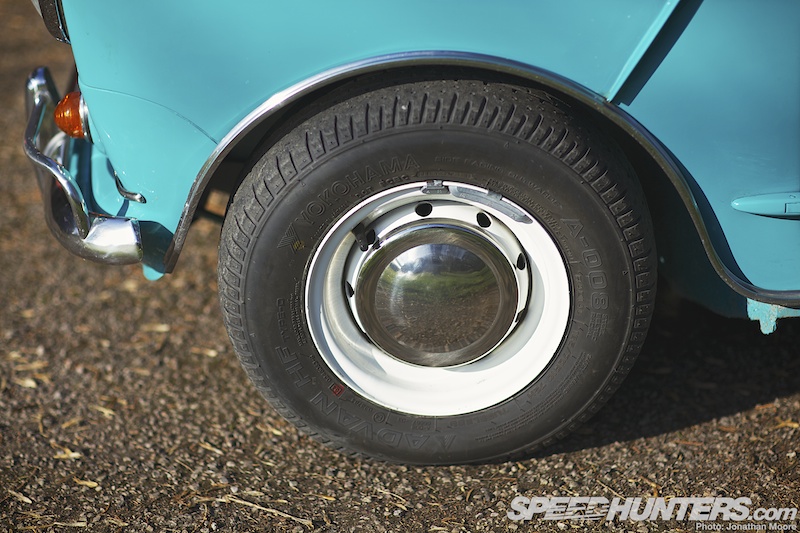 The four and a half inch wheels have vent holes, and the originals require a little weighting to balance things up. The wheels are now back in manufacturer however, and the new rims can be purchased.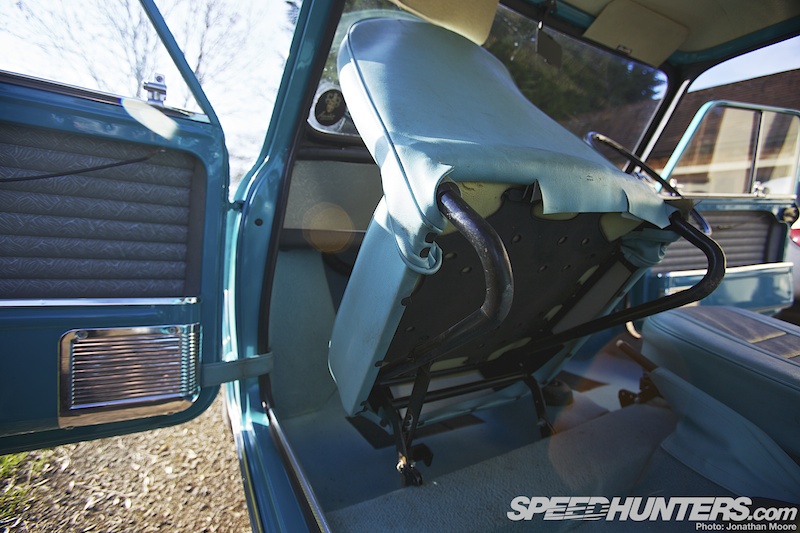 As is typical of the time, safety considerations were minimal. Seat belts were optional, and the front seats were not secured to the floor. To get into the back you tip the seat forward – there's no catch. You just have to think about that for a second. So, yes, in the event of a crash you're basically in an ejector seat… John has sensibly welded the driver's seat into position for competition.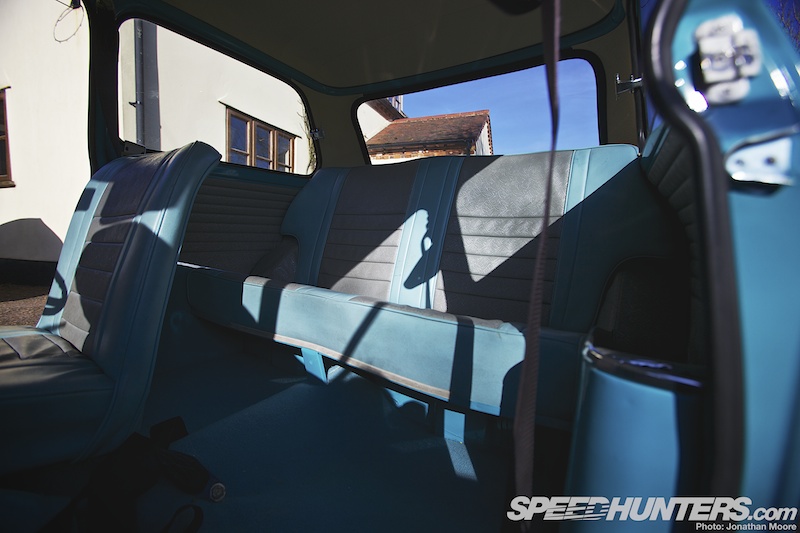 The rear is surprisingly spacious – more so than many modern compact cars, with that maximum use of the car's interior dimensions. It's certainly not bad for a car that is only 10 feet long, four feet seven inches wide and just a fraction less tall than it is wide.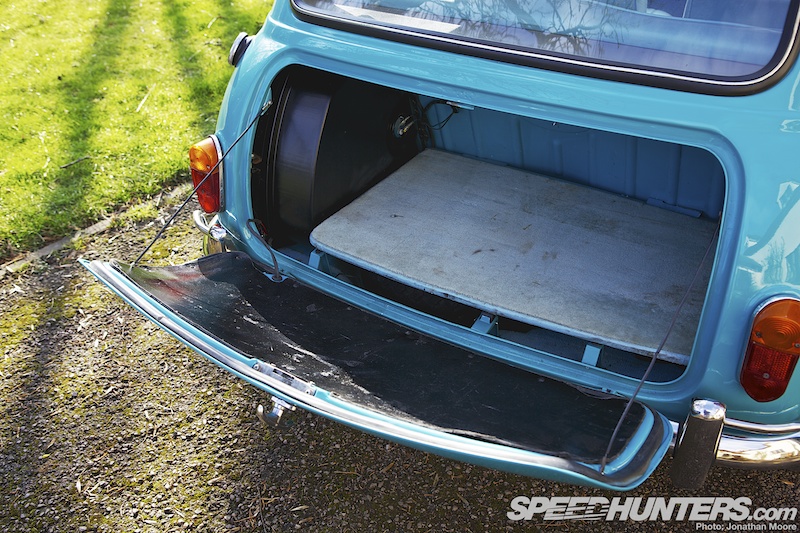 The boot is also a decent size: certainly big enough for a couple of small suitcases, with the only intrusion the small fuel tank.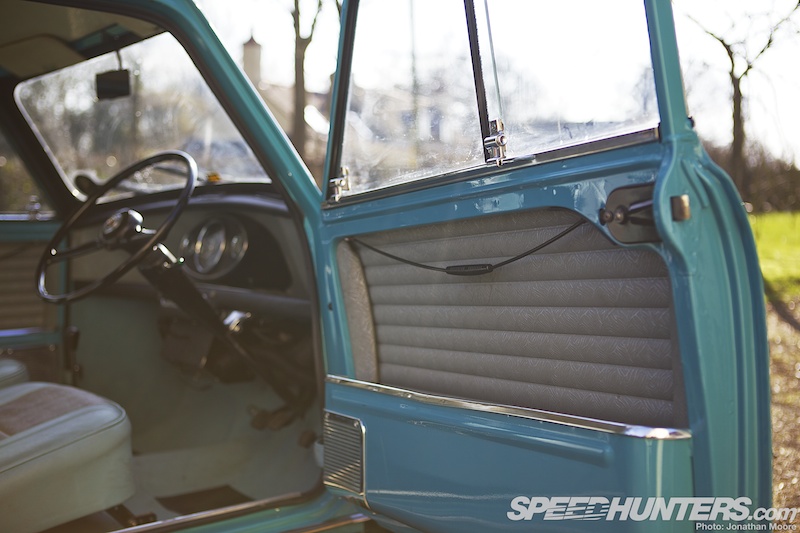 Opening the doors is achieved by pulling on the cord: it wasn't uncommon for the plastic to rub against the sharp bodywork at the handle end and sheer, leaving the driver stranded inside!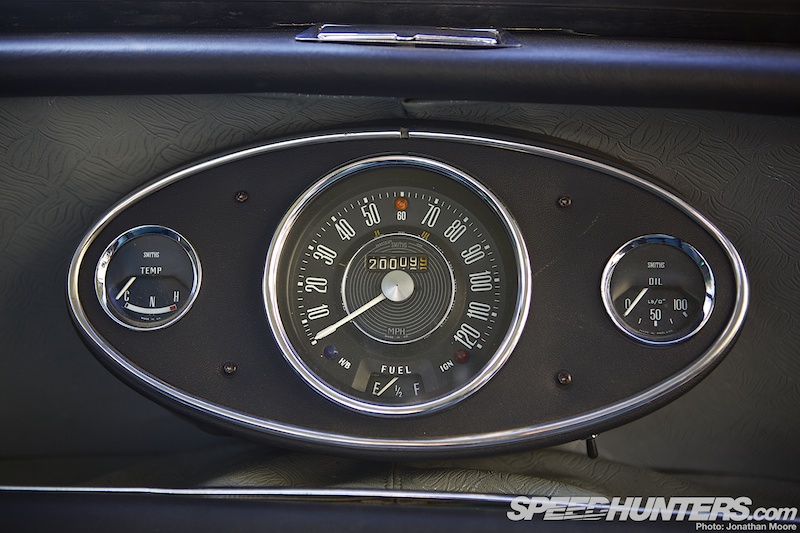 The Mini wasn't a car that particularly needed a manual. The dash was basic, with just oil, speed (going to an optimistic 120mph), temperature gauges and a small switch for dash illumination…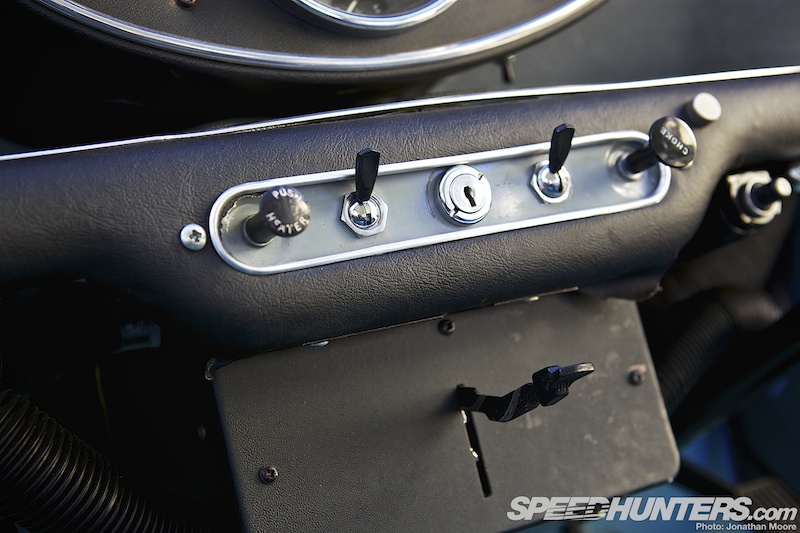 …and the main console below is hardly bursting with options. A push-button for heater (with the flow control handle below), wipers, lights and manual choke.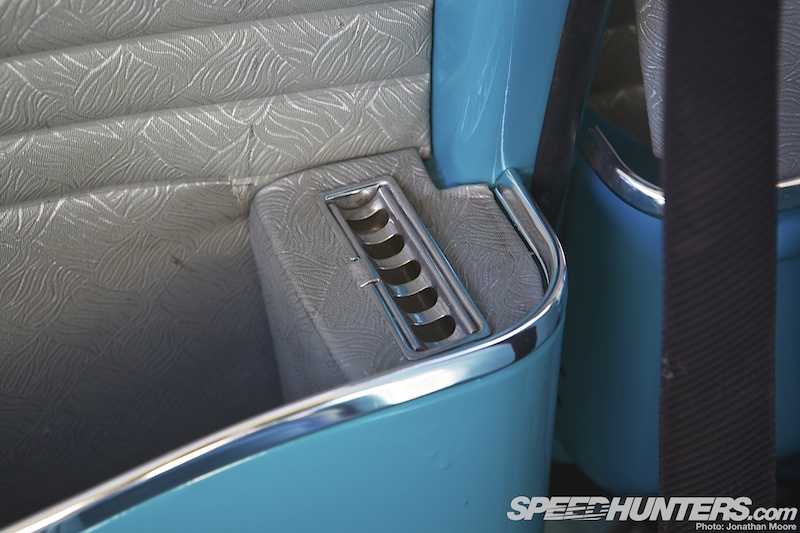 One clear sign of the times is the fact that it has not one, not two but three ashtrays! One up front on top of the dash, and then these luxurious units in the side pockets of the rear seat. The fabric would originally have been a more golden colour, but John decided that the silver inlay looked better – a good decision I think.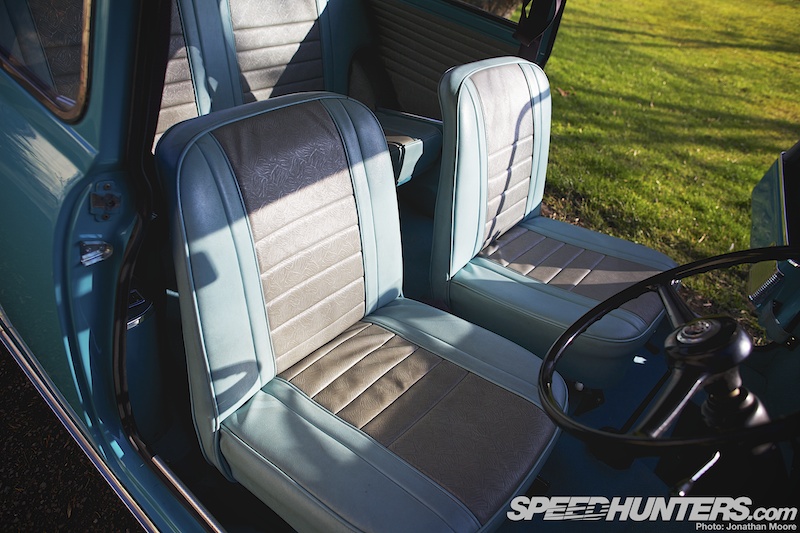 The interior now does look very attractive, with its colour-coded seats and ornate inlay fabric, but the Mini is about the driving experience rather than comfort and luxuries.
John: "When you're coming up to a corner and you're braking and the car goes loose, if the back end is going the wrong way, you say, okay, I'll just let it go and do the Scandinavian flick – and it goes perfectly around the corner. The original Ka is the closest modern equivalent I think, but it's got suspension travel. If you had a Mini with suspension travel it would be great improvement, but that would fundamentally change the dynamics of it. It just wouldn't be the same. There is a company that make a coil-spring conversion which fits where the rubber springs go: I've not driven one, but I can imagine that if you get it right it would be good fun."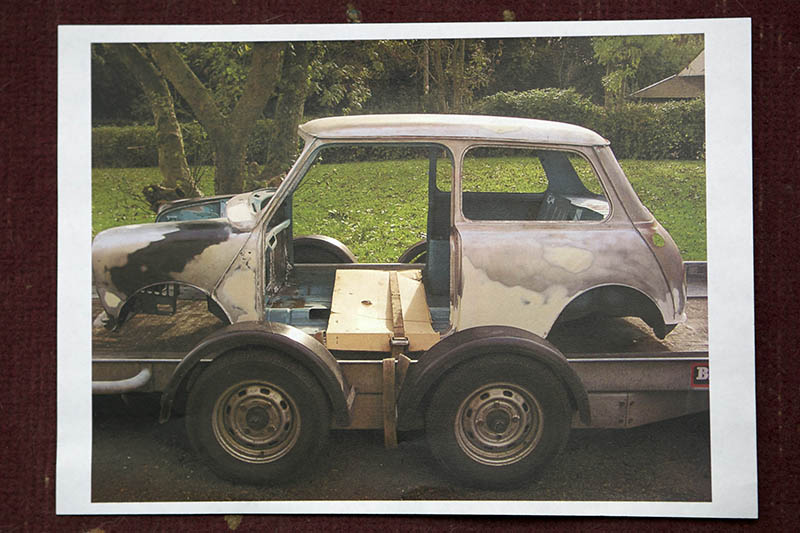 The only recent problem has been related to the preparation of the repaired shell back in '97: damp must have got in during the process, and micro-blistering started appearing. John finally decided to park up the Mini to prevent further damage, but was recently spurred on to undertake a second restoration. Again the car was stripped back, but this time it was E-coated before reassembly. The plating/painting process involved polarising the body, which attracts the paint into all the seams and crevices and should prevent a recurrence of the blistering.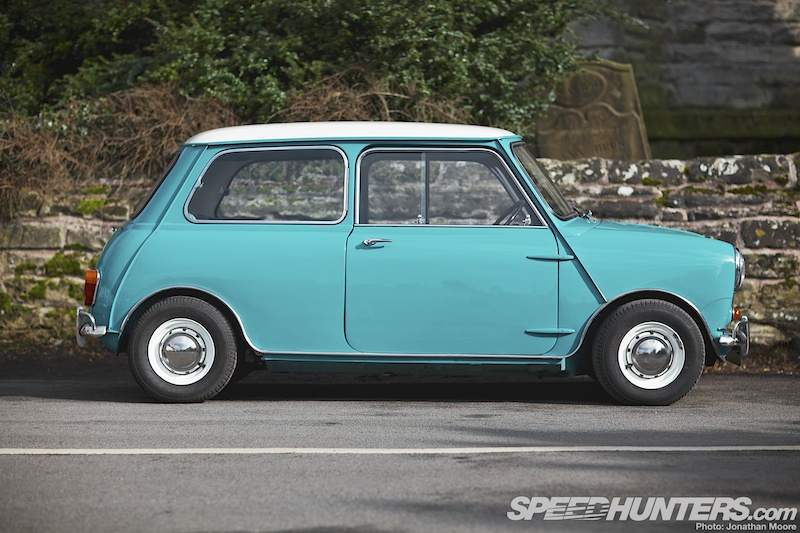 So 732 HOP lives again: its fourth life, and hopefully in a condition that will sustain it on for many years to come. BMH still haven't been able to kickstart MkI bodyshell production as yet, as the investment in replacement tooling hadn't been forthcoming as yet, which makes this historic Cooper S even more special.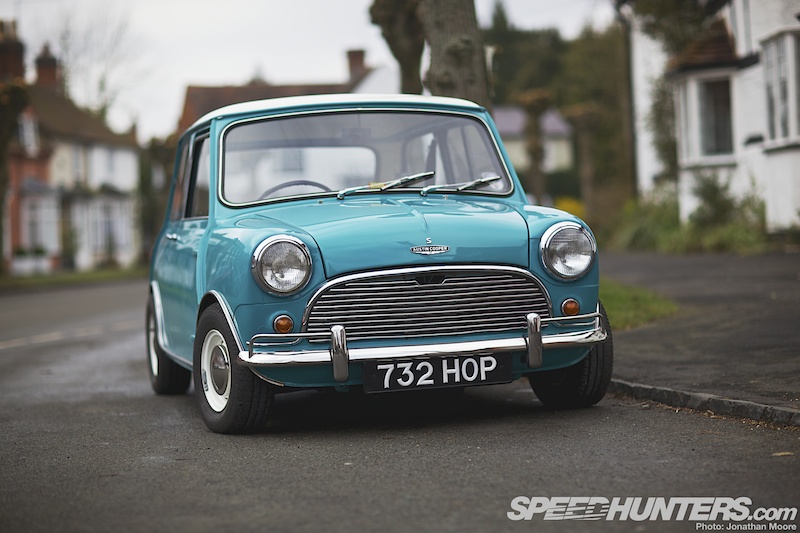 Shooting this Cooper S in a sleep English village, so many people came over to say hello, ask questions and take pictures. The majority had stories about their own Minis – it's a car that has touched an enormous number of people. Not only does everyone recognise a Mini, but it's a car that puts a smile on their faces, even 50 years later.
Jonathan Moore
Many thanks to John Pick at Arden Automotive!