The most grueling one day race in the world is the King Of The Hammers at Means Dry Lake in Johnson Valley, California. Out of 129 teams that took the green flag at the beginning of the day, a mere 27 of them finished the race. Almost 80 percent of the field failed to finish.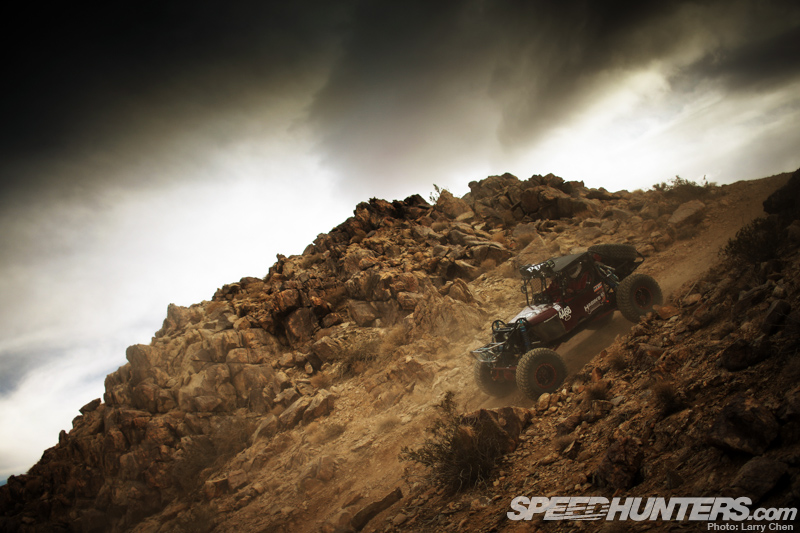 In addition to the giant boulders and obstacles the drivers have to conquer, there are very steep descents and inclines.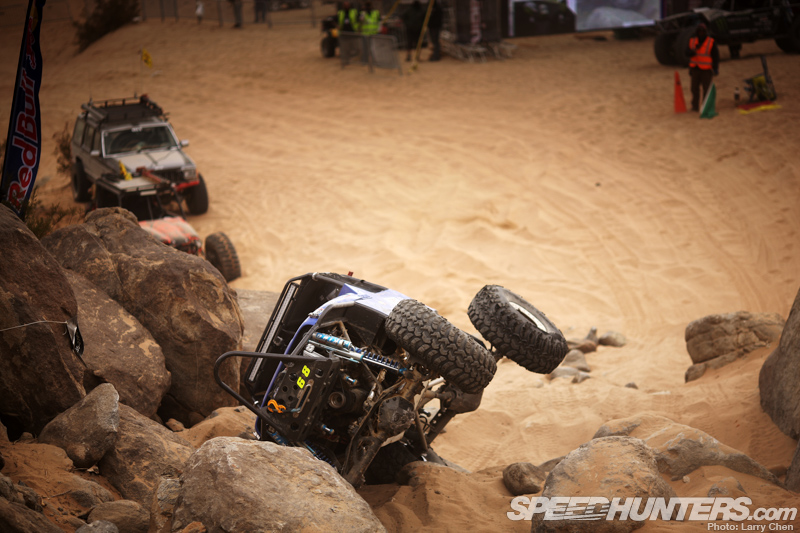 They also have to battle it out with other teams, and in some cases they have to drive over other competitors if they are in the way.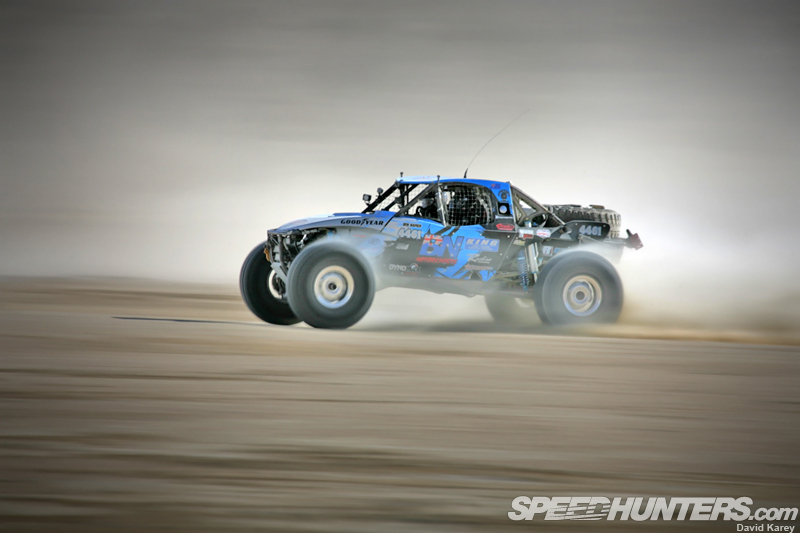 There were also many high-speed sections on vast dry lake beds. The race was 165 miles long, and the teams were given an allotted amount of time to finish the course.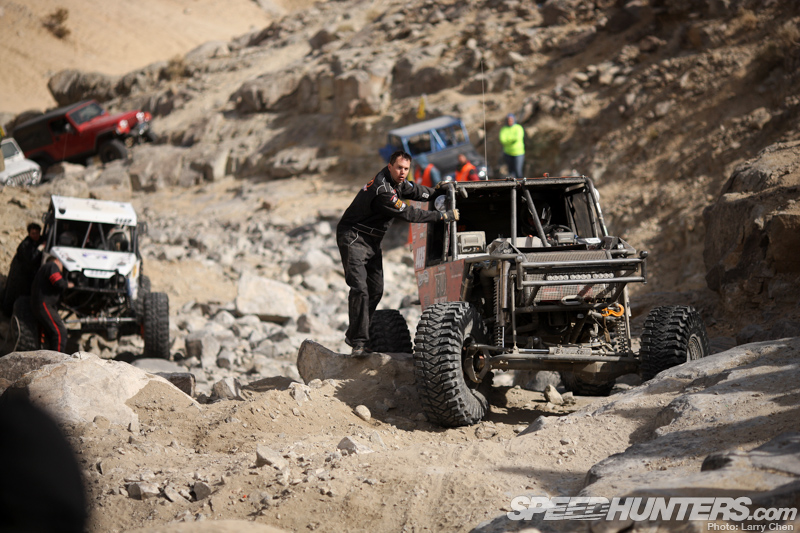 Support trucks were not allowed to follow the rigs, so only the driver and co-driver could make repairs while on course. If you could make it back into the pits, your team could assist with repairs.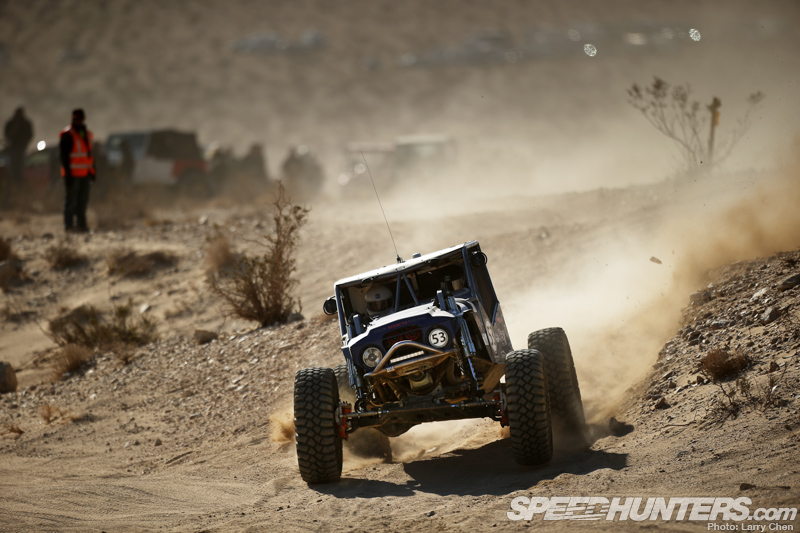 The name of the event comes from the names of many of the popular rock-crawling routes in the area. They were named after hammers such as Sledge Hammer, Jack Hammer, Claw Hammer and so on.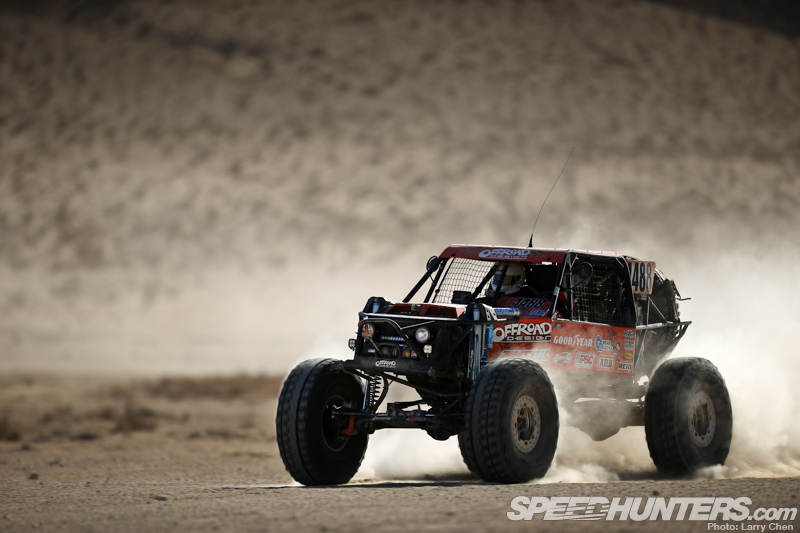 Teams would qualify by driving a short course, with their times determining their starting order. Each team was then sent out at 30 second intervals. There is a big advantage to being sent out early, because you wouldn't run into race traffic until much later on.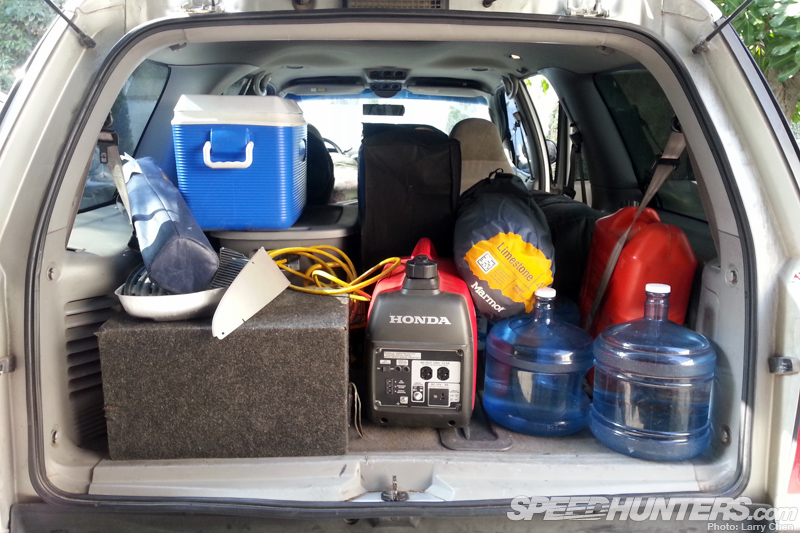 I teamed up with David Karey of AmDrift.com as this was his third year covering King Of The Hammers. We packed his 1999 Ford Expedition to the brim, as we would be out there for three days with no chance to resupply.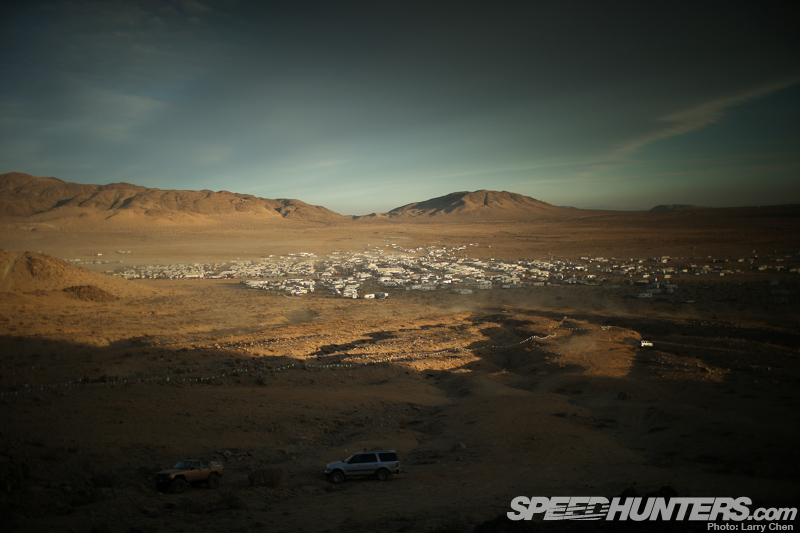 I already posted a photo of 'Hammer Town' at night, but you can really see the size of it in the daytime. The start and finish line ran through the middle of this tiny town.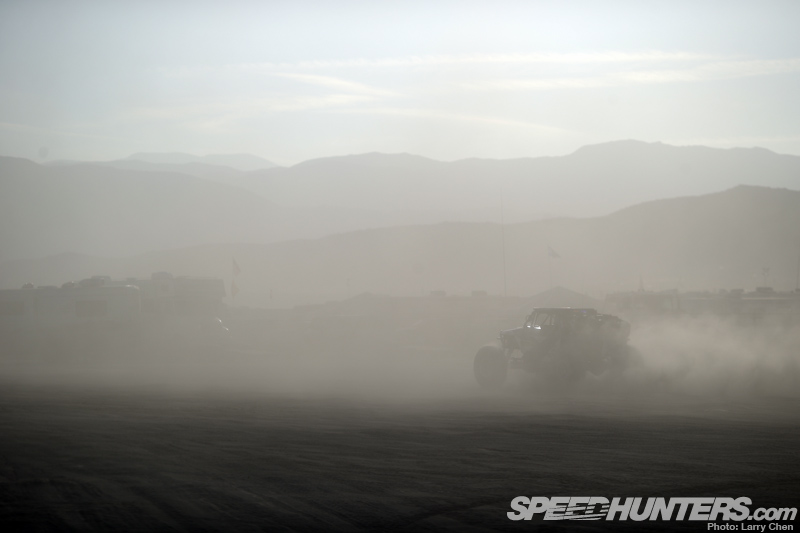 This is what it looked like inside Hammer Town. You had to wear a painter's mask, because inhaling this dust all day isn't fun. There were trucks running around spraying water on the roads, but it didn't really help much since the water evaporated in a matter of minutes.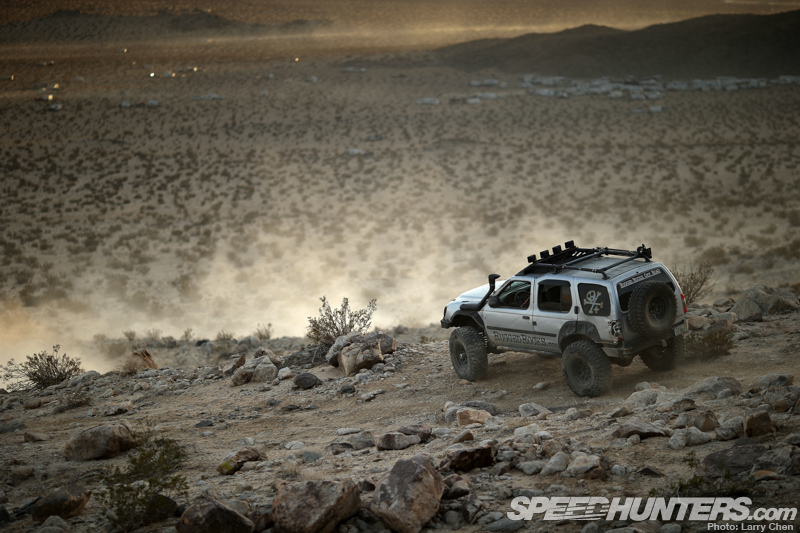 The days before the main race were quite relaxing, as all that was going on were the support races. It gave everyone time to explore and do a little bit of four wheeling. Of course, if you had the right rig, you could tackle The Hammers at night.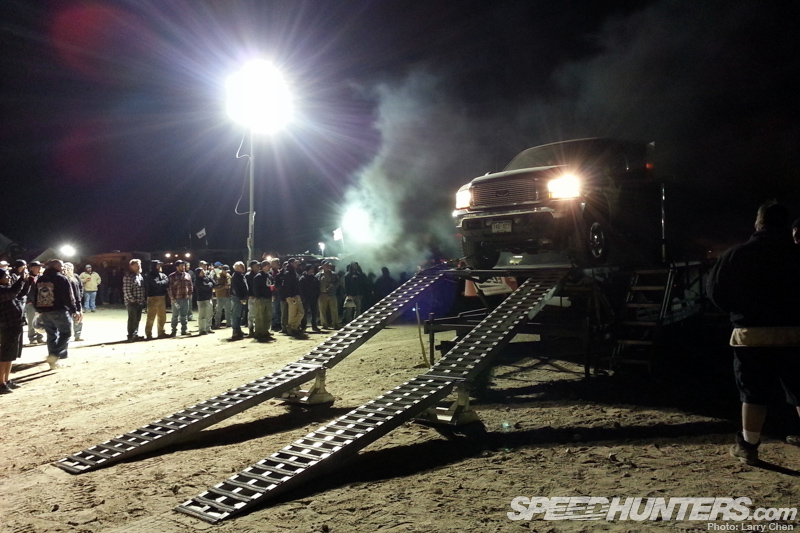 There were all sorts of fun things to do outside of four wheeling. In the middle of Hammer Town was a portable dyno. For 50 dollars you could find out how much power your rig made.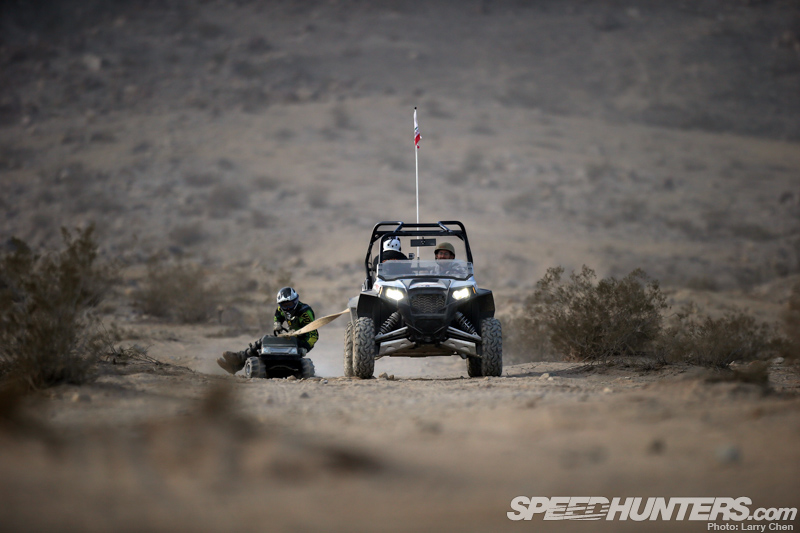 Some of the guys that we camped with brought out Power Wheels. I have always wanted one of those since I was a kid, but some how the novelty has worn off a bit.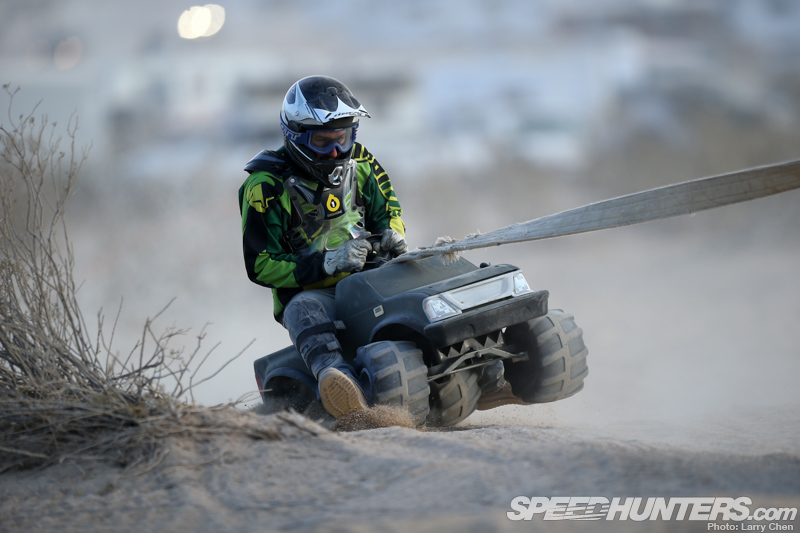 These guys brought new life to an old toy by towing it behind a dirt quad. One of the guys got up to 34 miles per hour without falling off. It's all about the technique.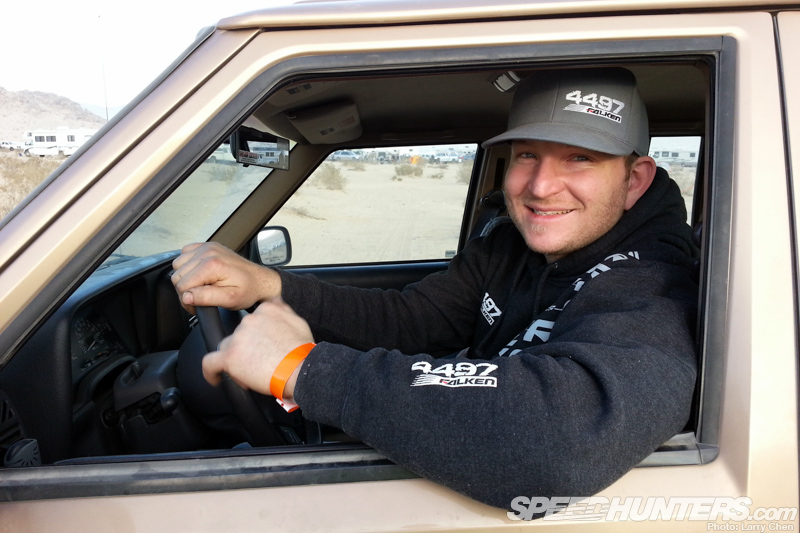 I heard Formula Drift driver Justin Pawlak was going to be out there supporting the Falken team. He is fairly new to the off-road scene, but he really wants to get into it.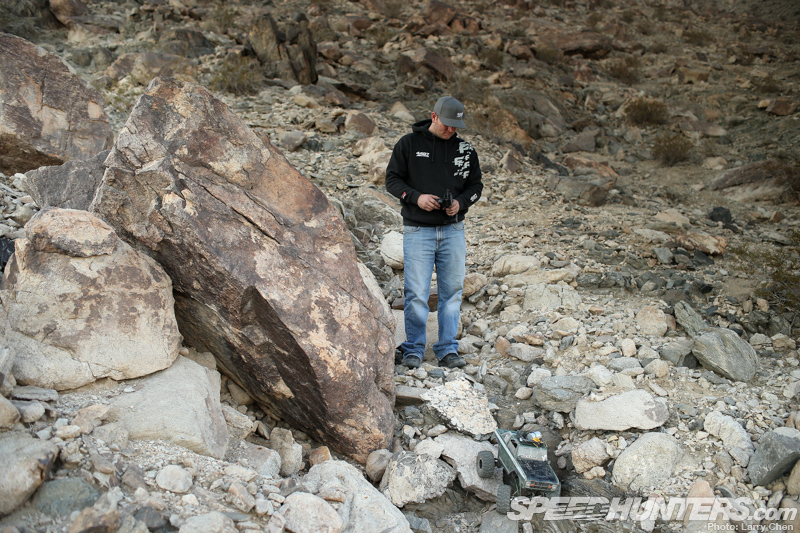 To pass the time, he brought out his remote control rock crawler. You guys laugh, but we both played with remote control cars when we were growing up.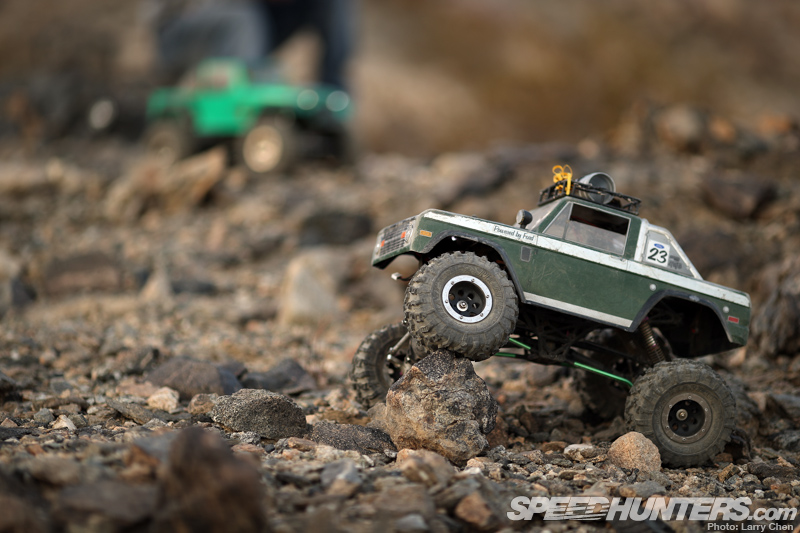 This little crawler made by HPI is pretty cool, and Justin said it actually helps him look for the correct line as he plans to venture into off-road racing and rock crawling.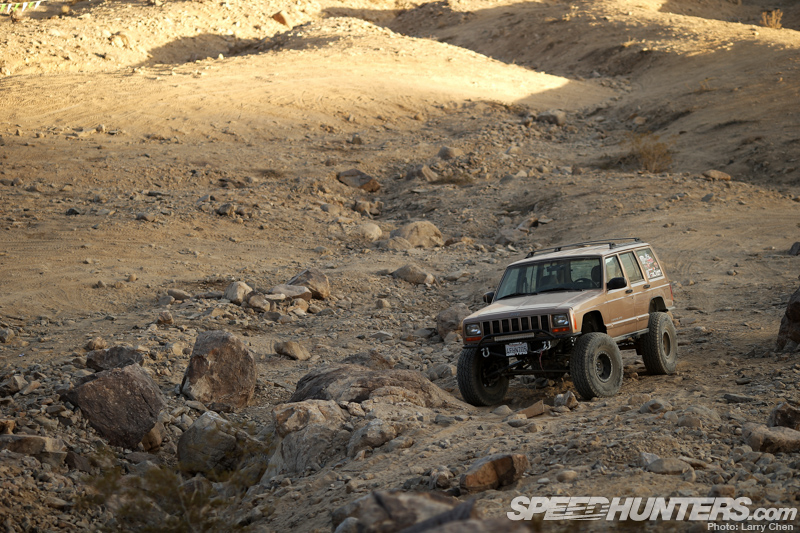 For now, he will start off in his Jeep that he put together in just three weeks. Who knows? Maybe one day we will see him driving King Of The Hammers?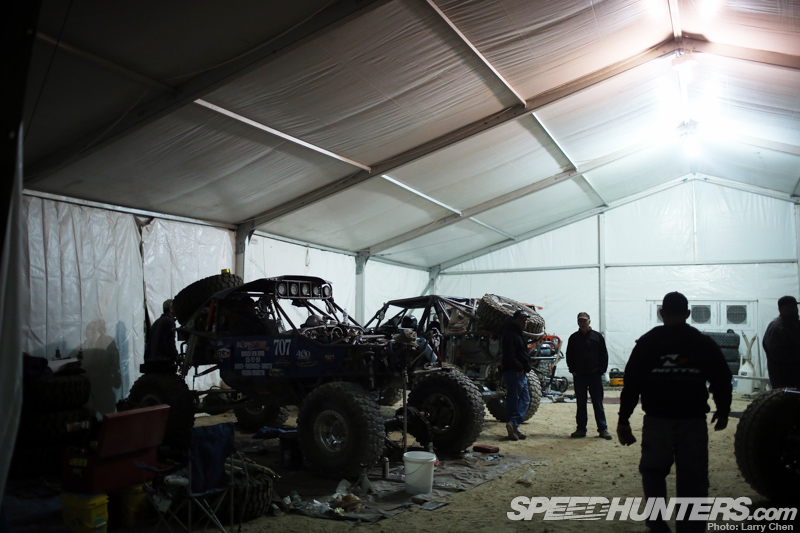 We decided to check out the pits the night before the big race, as everyone was preparing their rigs for the day of abuse ahead.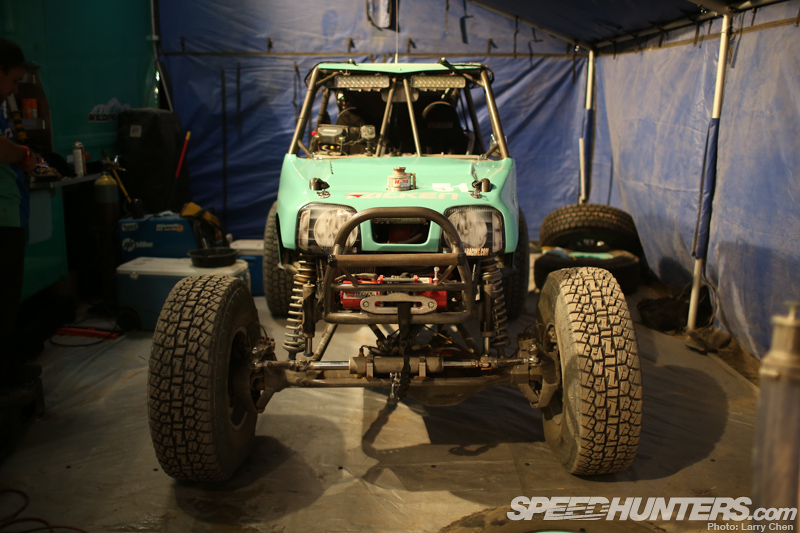 It was interesting to see the different shapes and sizes of the rigs, including this team from Japan. This was one of the more narrow rigs.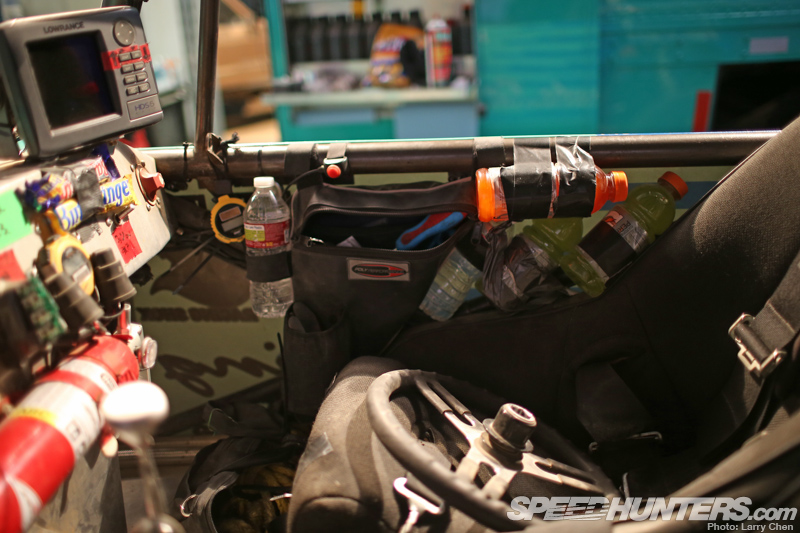 I guess these rigs were not equipped with cup holders from the factory.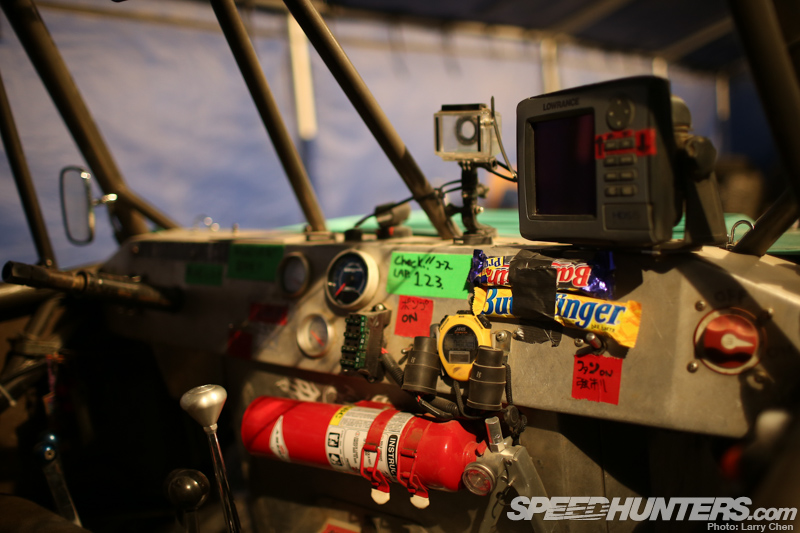 Not to mention the lack of candy bar holders. I can only imagine how exhausted these guys get after driving for over 15 hours. There is nothing better than a sugar rush while driving at the limit.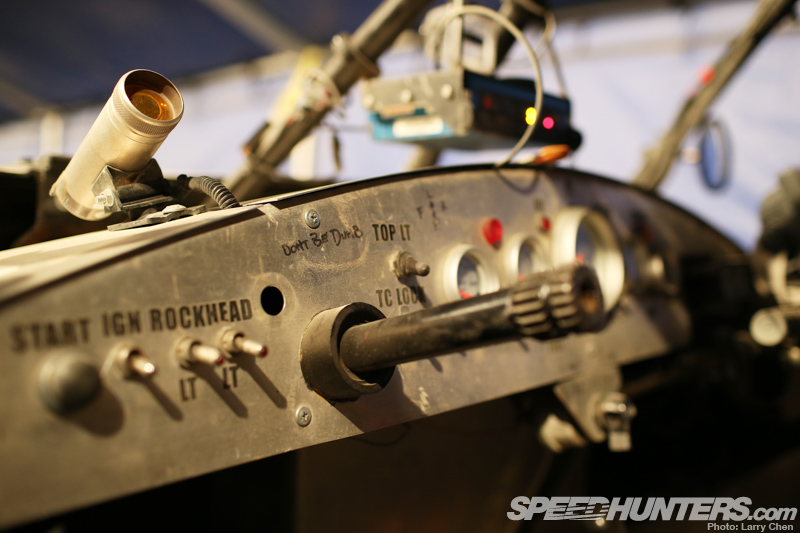 Finishing the race was a feat in itself, so the name of the game would be preserving your rig. It also helps to not be dumb.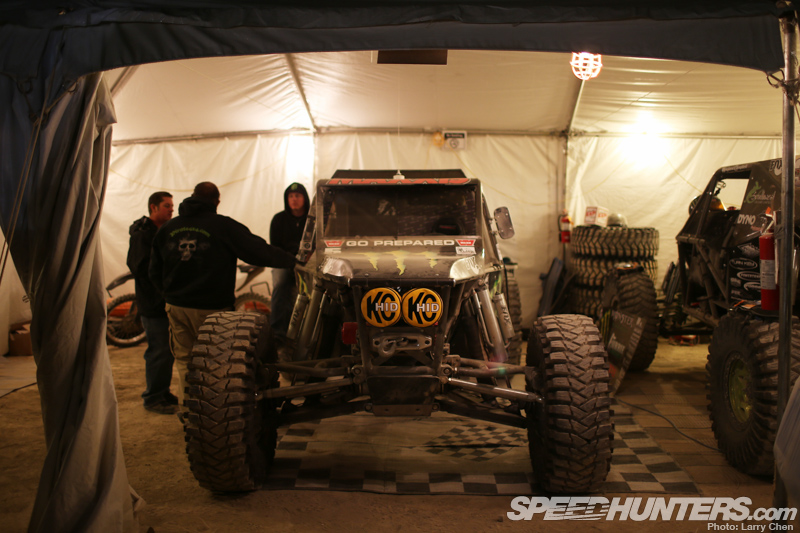 This was the seventh running of King Of The Hammers and there's only one driver, Shannon Campbell, who has two first place finishes. He is also one of the few guys that runs a rig with independent front suspension. I made sure to keep a close eye on him during race day, as he qualified second overall.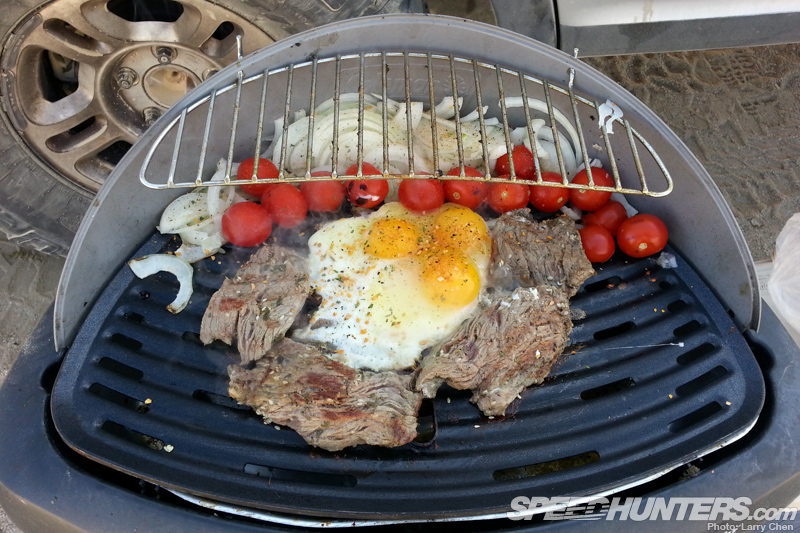 The next morning I was on breakfast duty. To be honest, cooking while camping is probably one of my favorite things about staying in the great outdoors. I normally never eat breakfast, but I knew it was going to be a 20-hour day.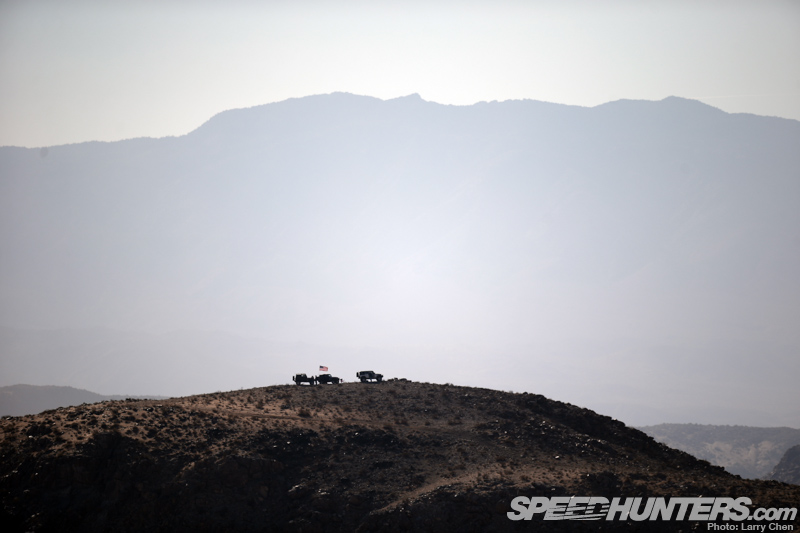 Spectators and the media found good vantage points, as the race was about to begin.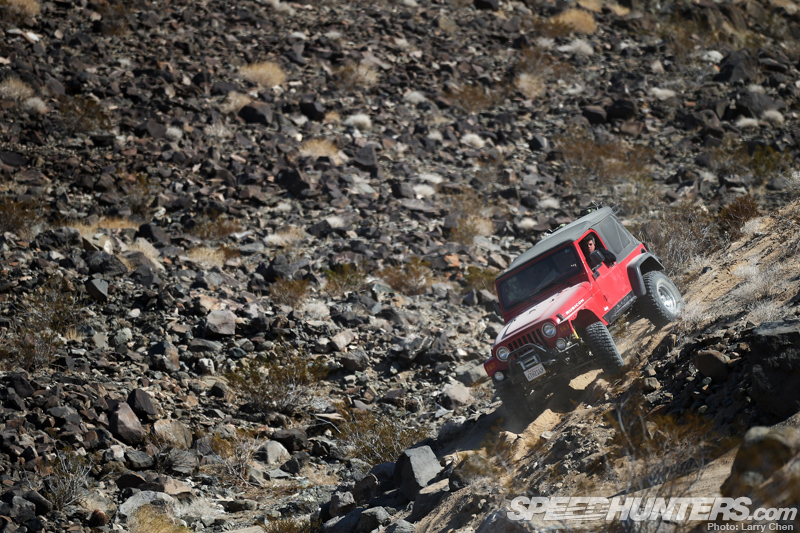 I was feeling a bit inadequate and a little worried, as I noticed the sort of vehicles everyone else was using to get around the valley…
…while we were in a 100% stock Ford Expedition with some bald tires.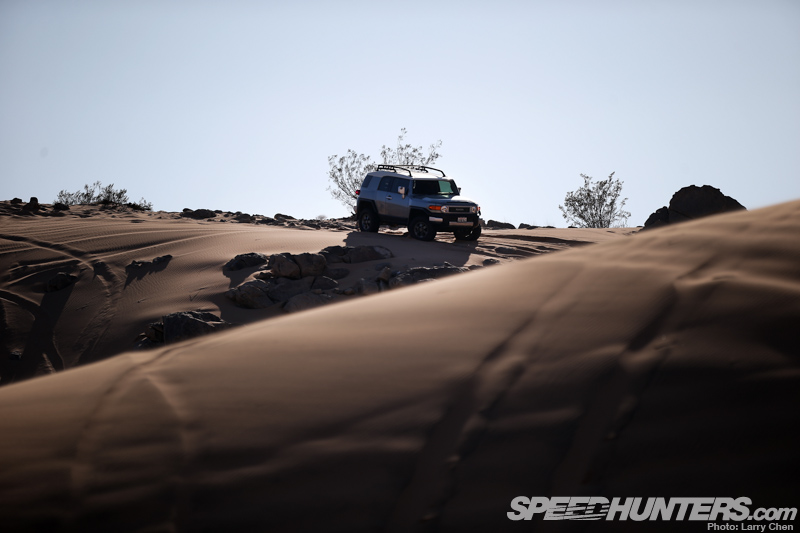 There were so many cool photo spots and endless vantage points, but we would have to get to them first.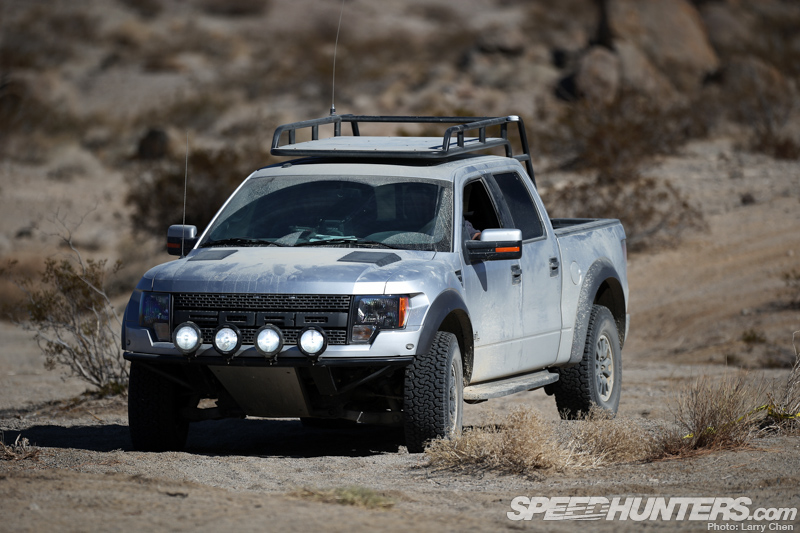 It would have been really nice to have something like a Ford Raptor, but my friend David said not to worry.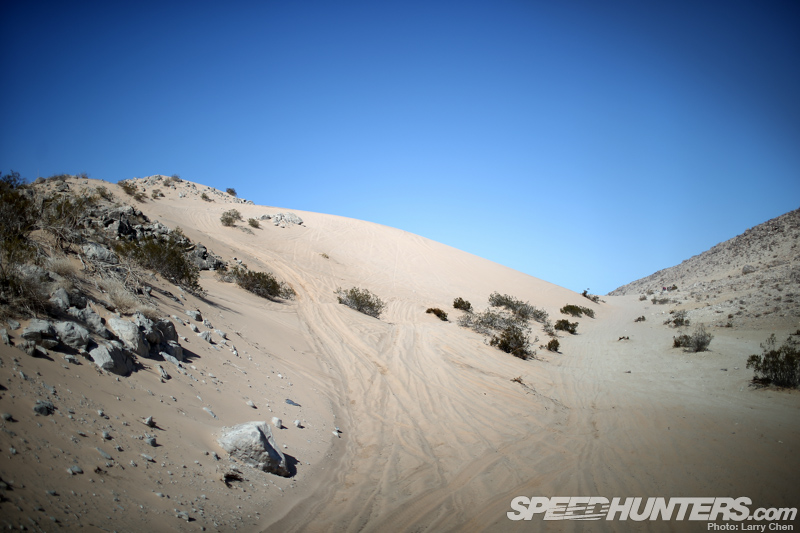 My rear end puckered up very tight every time we entered a sandy dune, as the truck would begin to sink and eventually slow to a crawl. My worst nightmare would be to get stuck, as there would be no one around to save us. We could easily miss the entire race.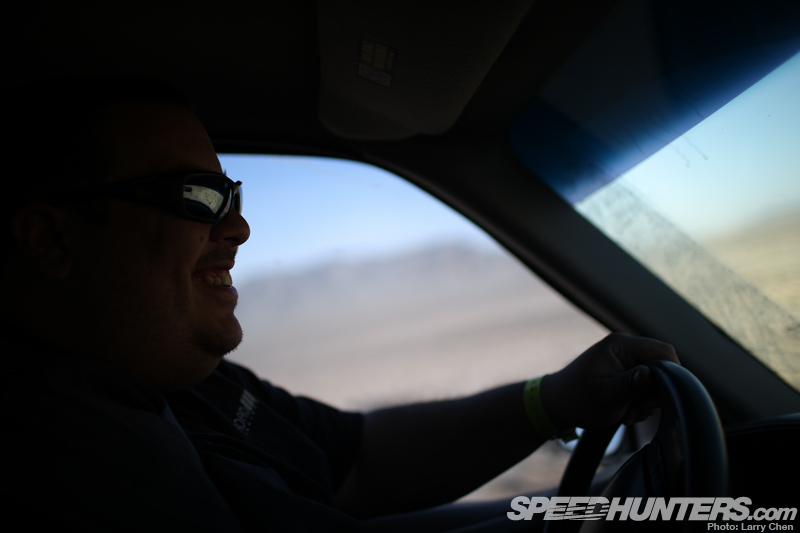 David just laughed at me and kept on truckin'. Surprisingly we never got stuck once.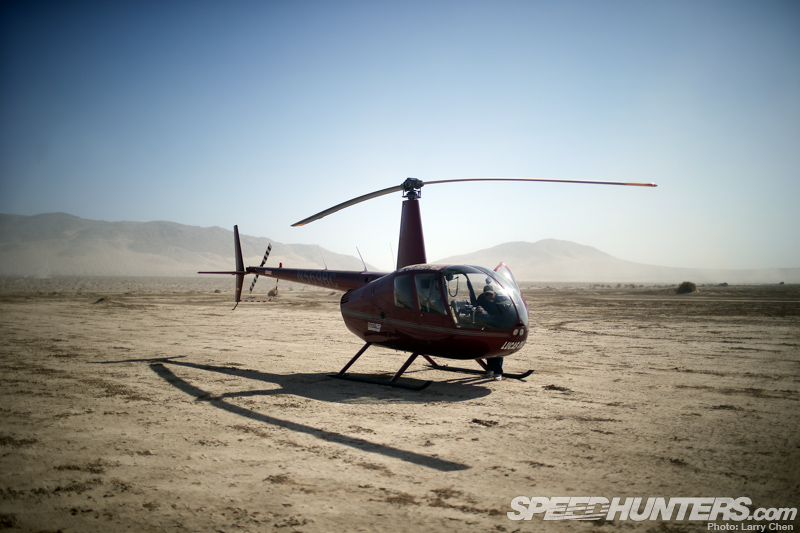 It was easy to spot were the action was, as we just had to follow where the helicopters were hovering around. If we did not see any flying around, we would just tune into the FM broadcast and listen in on the positions of where the race rigs were.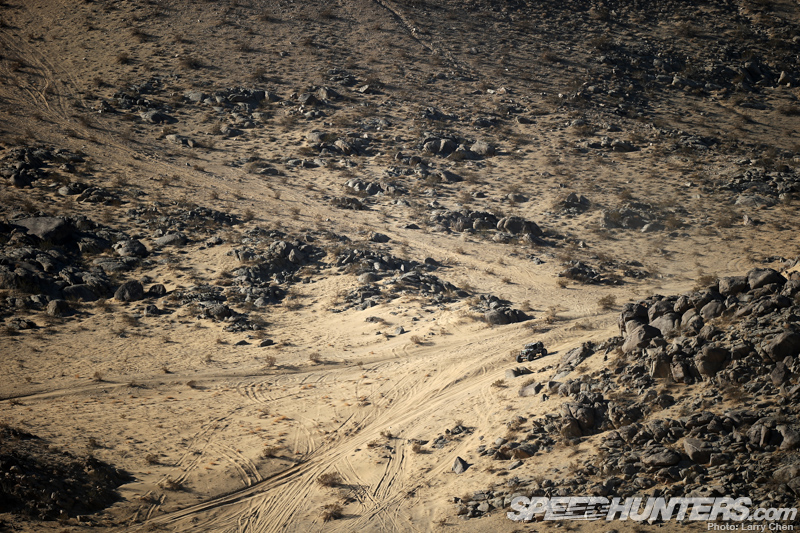 The area was so large that it was very easy to get lost. It did not help that all the rocks looked the same. Often at times, the rigs where always camouflaged nicely in the background.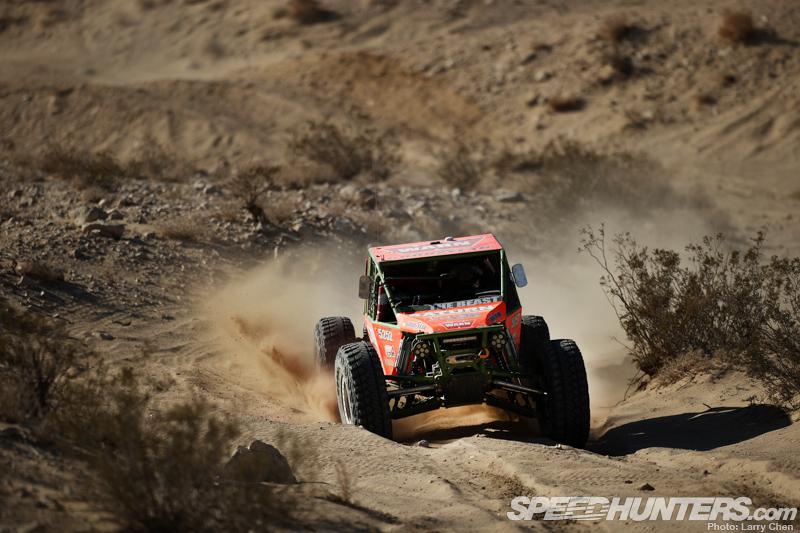 Robbie Gordon was fresh from the Dakar Rally, but he loves King Of The Hammers. He brought out The Beast and qualified fourth overall, so he was a favorite to take the crown for the first time.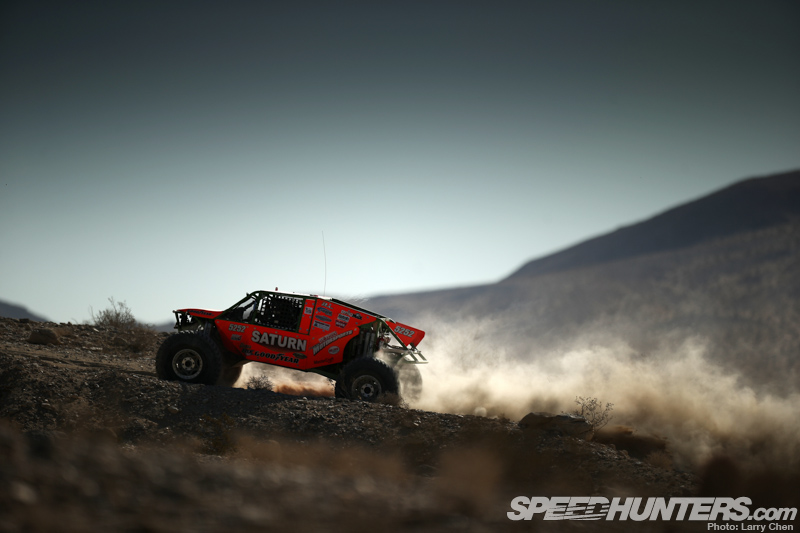 Unfortunately, his motor gave out halfway into the race and he didn't finish.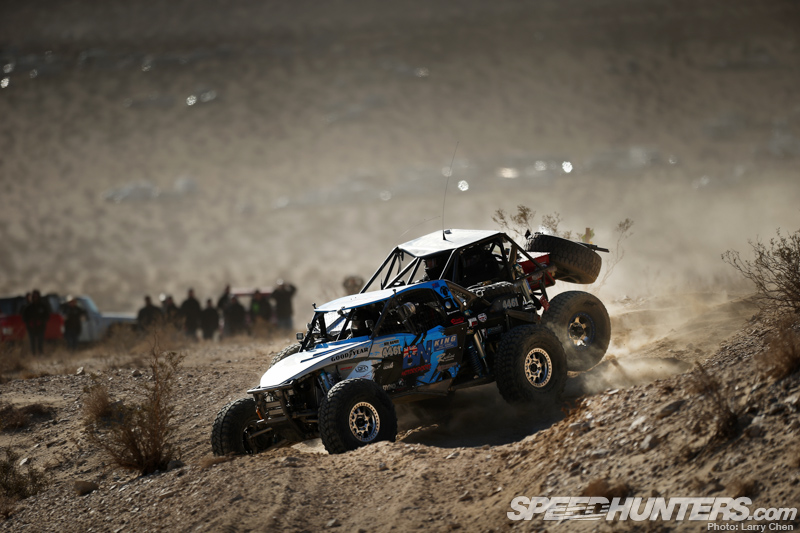 Over the span of the race we went to seven different locations. Our first stop was a crossing where the drivers were making their way back from the open desert into the rock crawling stages. There were already some intense position changes, and they were happening right in front of our eyes.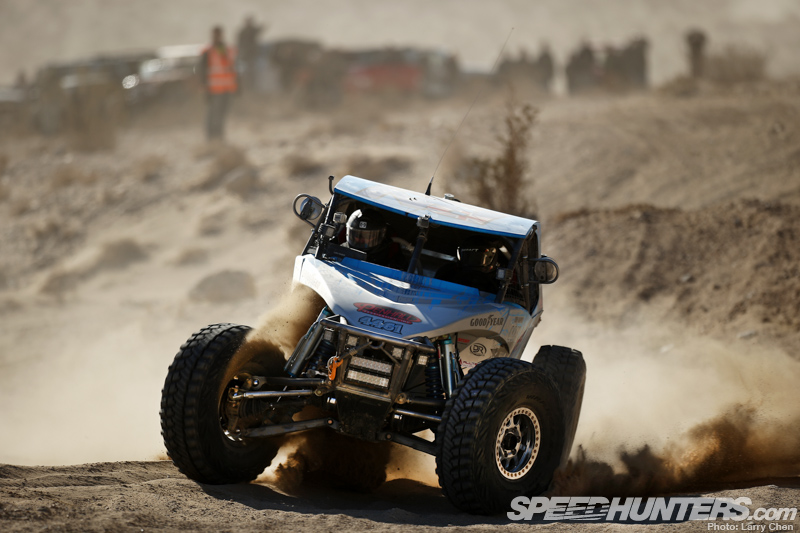 The race consists of three non identical laps. Each lap you pass through the start/finish line. There, you can stop in the pits if you need fuel or repairs.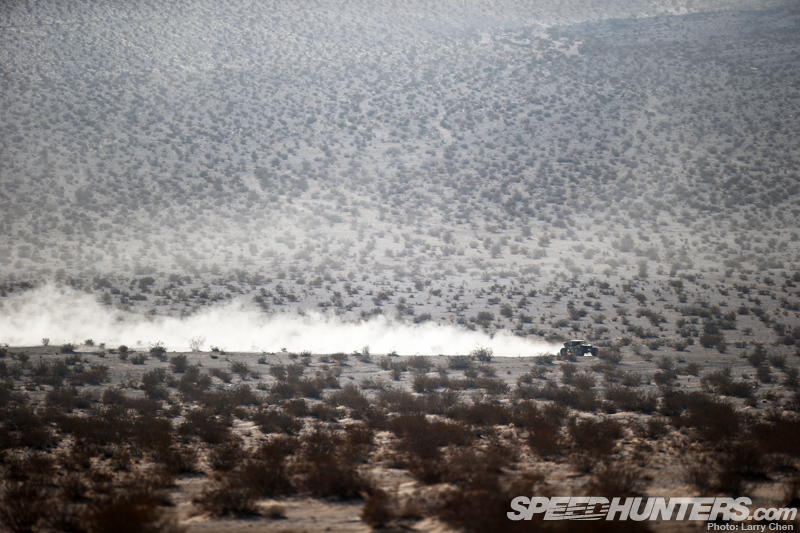 There were some parts where you had to drive over again, but there were also route changes depending on which lap you were on. It was very confusing to me at first, and I am guessing that is why many of the teams had co-drivers to assist with the navigation.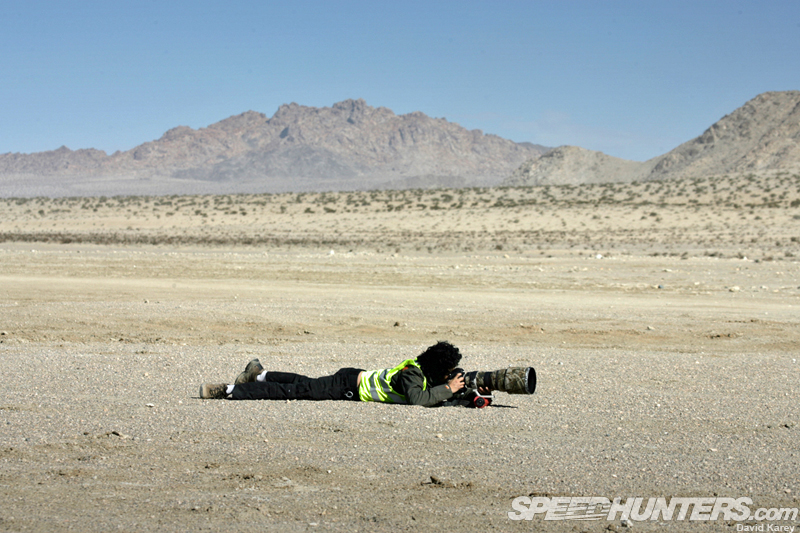 Our second stop would be Mellville dry lake bed. This was where some of the rigs could reach over 100mph in top gear. I assumed the ready position.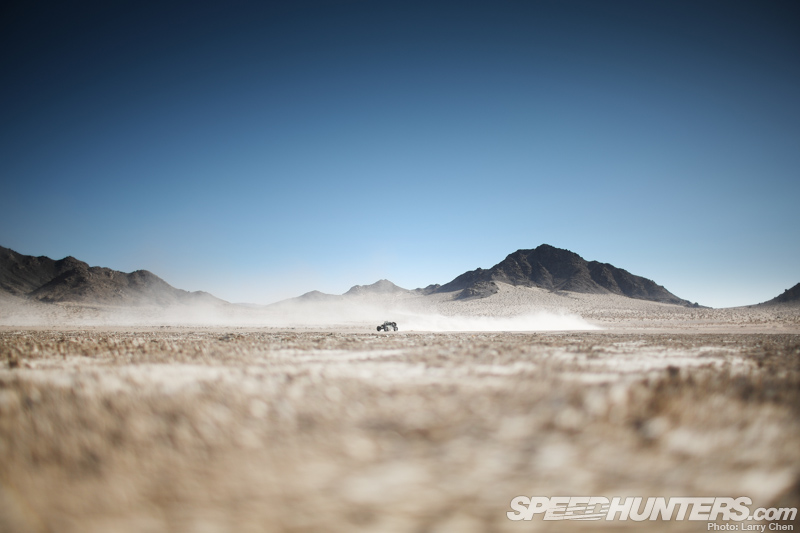 It did not take long for the first target to arrive in my crosshairs.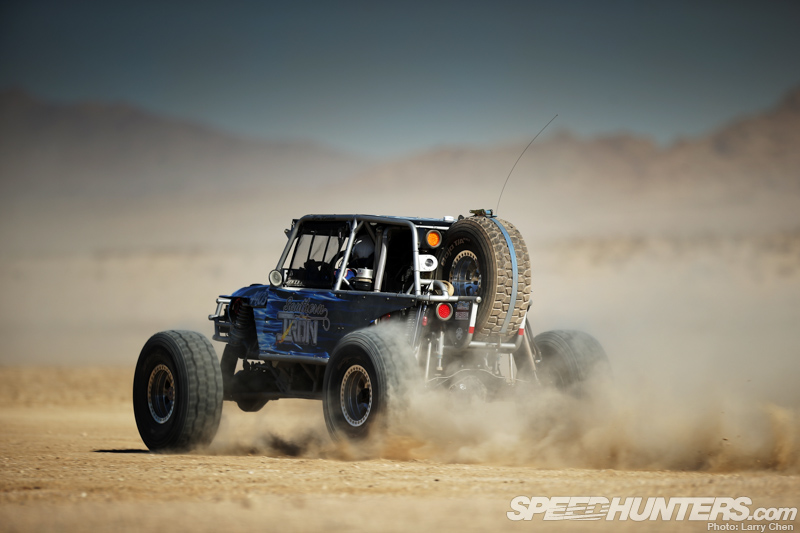 At the speed these guys were going, they were kicking up a serious rooster tail of dust that could be seen from across the lake.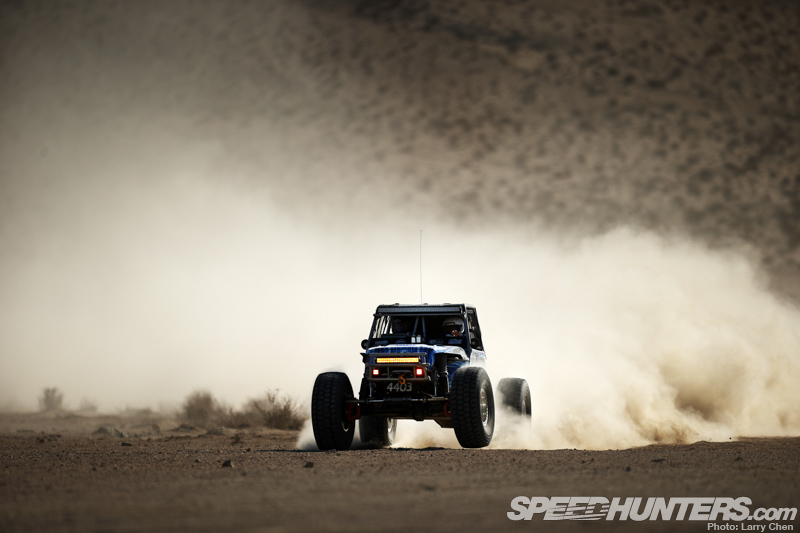 Also because the lake bed was not perfectly flat, the rigs would bounce up and down. It was rare for all four wheels to be firmly planted on the ground.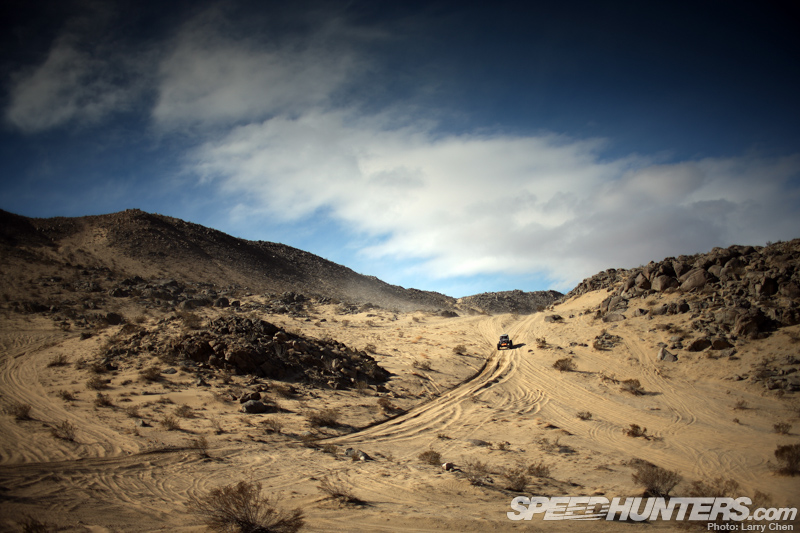 Just a few miles north of the lake bed was an area where the rigs were crossing a mountain pass.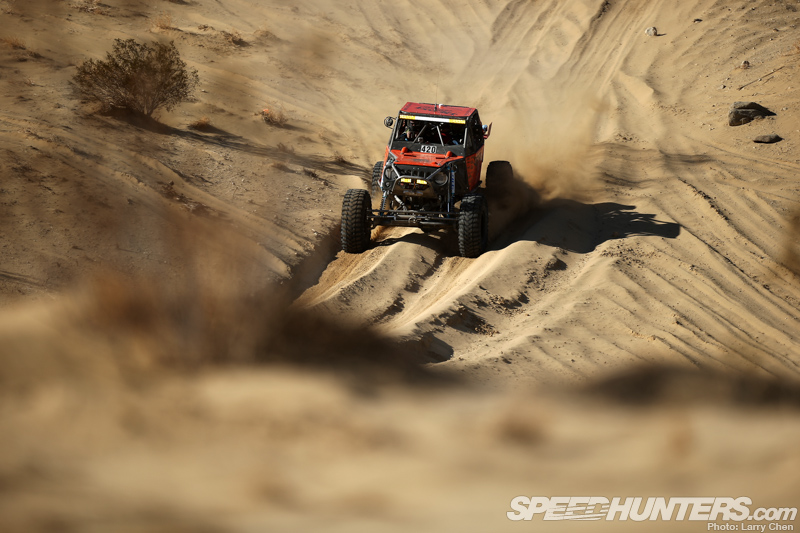 The course was becoming more and more evident, as there were deep grooves carved into the racing line.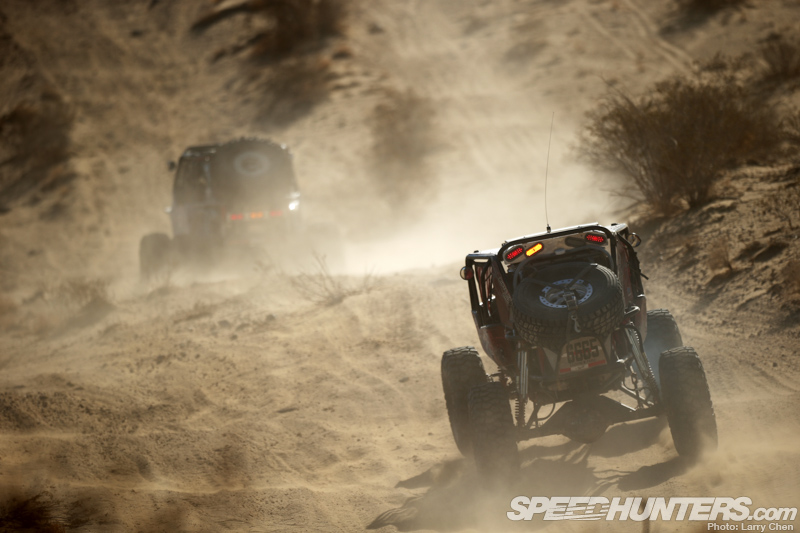 It was the ultimate access, as I am always used to being restricted to certain photo locations while on race tracks.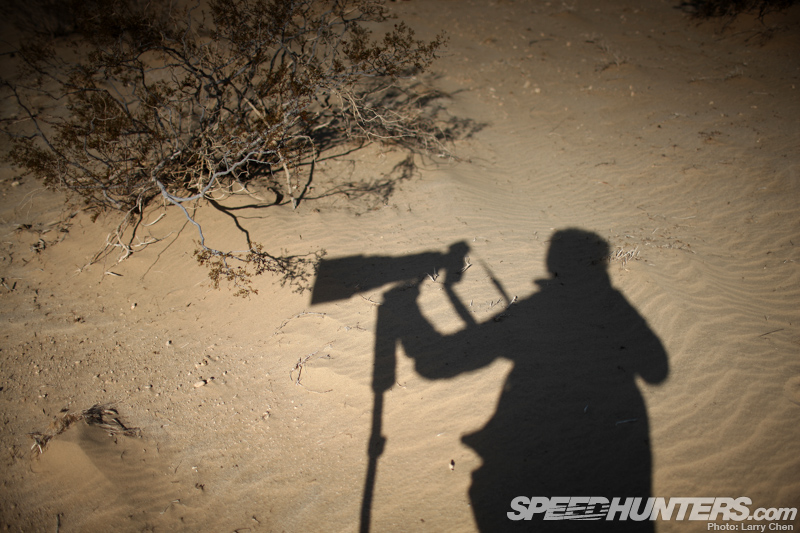 Conditions were very harsh: it was as cold as Pikes Peak, but at least I could breathe normally because it was only around 2,500 feet in elevation. The biggest problem was battling with the dust. My camera gear was completely covered in a fine coating of sand.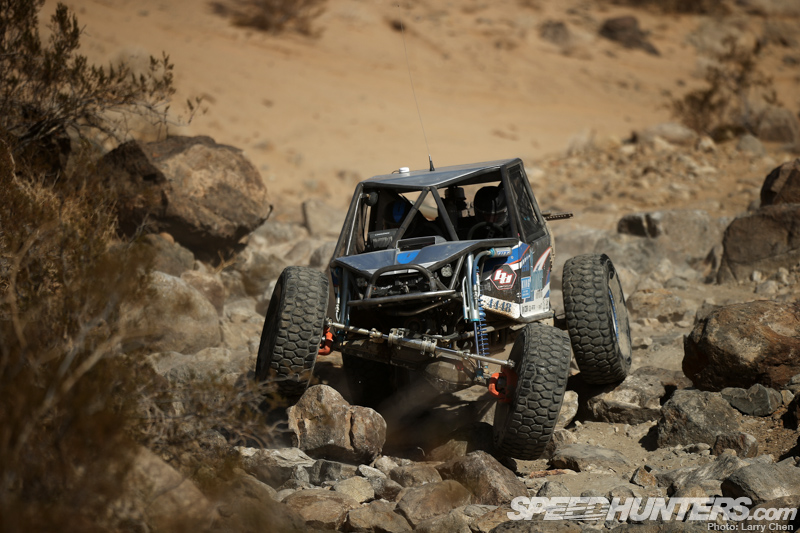 The next obstacle we visited was appropriately named Jack Hammer, because I'm sure that is what it felt like your rig was getting hit with when going over those sharp rocks at speed.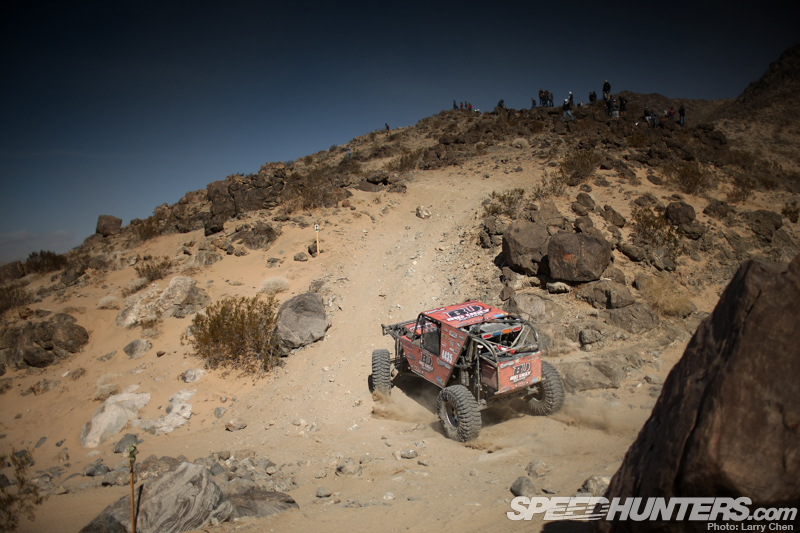 After Jack Hammer was a very sharp right turn that many of the rigs missed. They had to do some Austin Powers style three point turns to make the hairpin.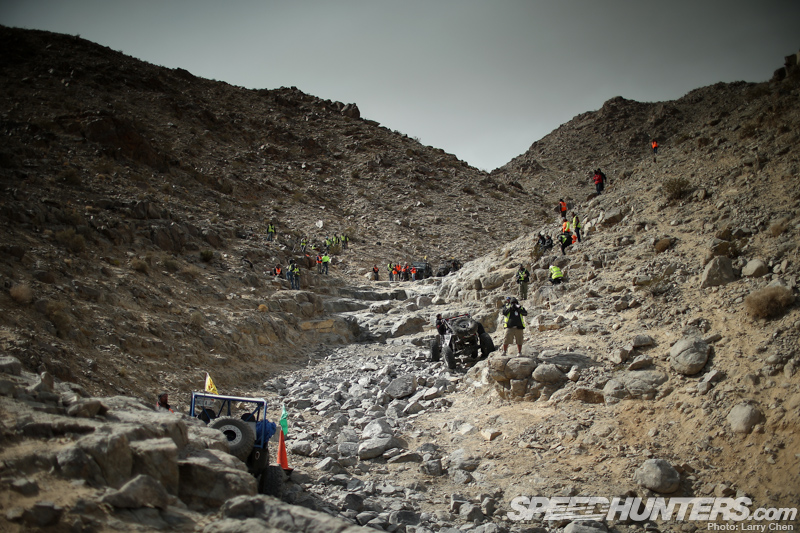 The race course was designed in a way where we could catch up to the same group of racers with very easy short cuts. Our next stop would be the hardest obstacle of them all, known as Back Door.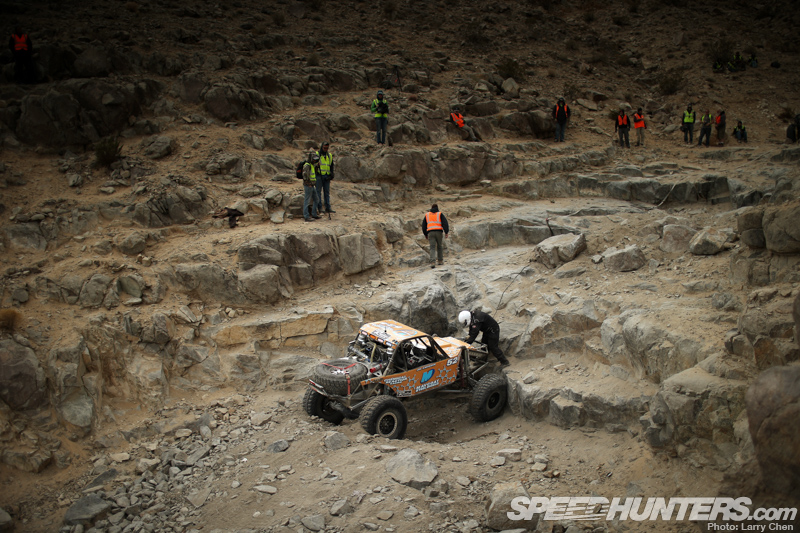 Back Door is a dried up waterfall. Ive already shown you guys what it looks like at night, but after hundreds of rigs crawling up the steep rocks, the obstacle becomes much larger.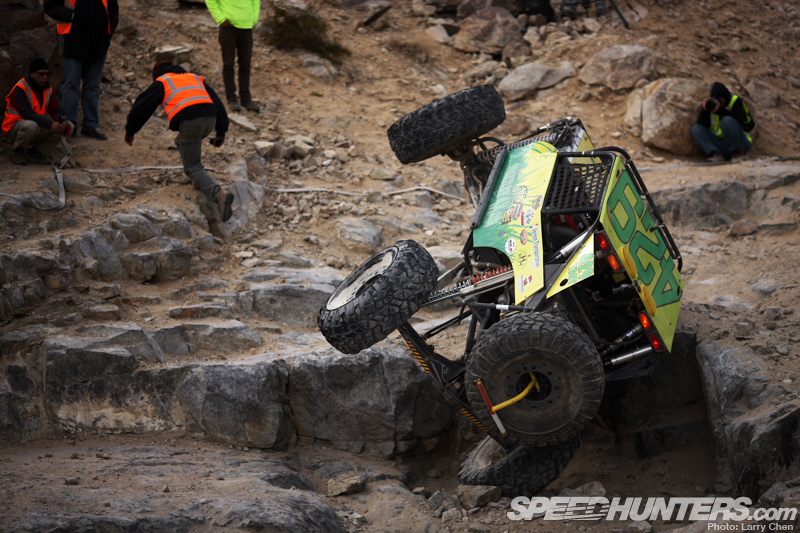 All of those rigs doing four-wheel burnouts had dug a very deep hole at the approach, which made it nearly impossible to climb.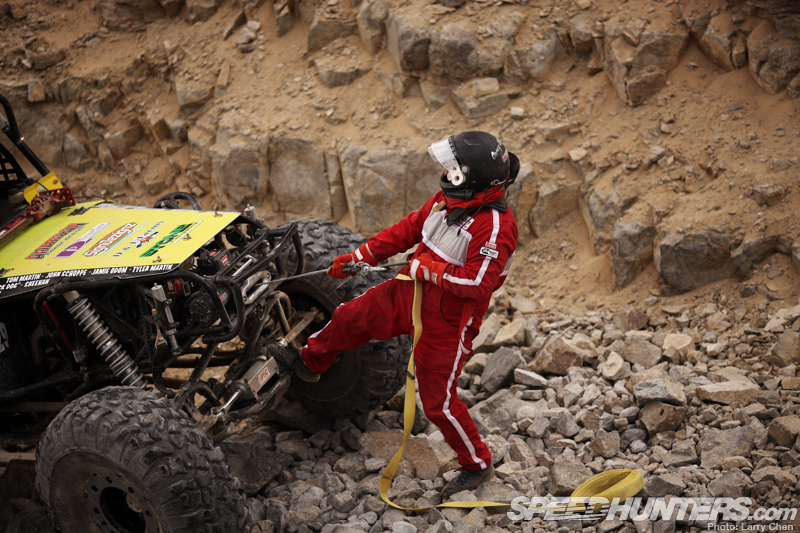 We heard on the radio that the race leader Shannon Campbell was only 10 minutes away from Back Door. The problem was there were many racers already lined up to winch their way up the huge incline. News spread quickly of the race leader coming behind them, so in a very sportsman like fashion everyone moved their rigs to the side as they were about to get lapped!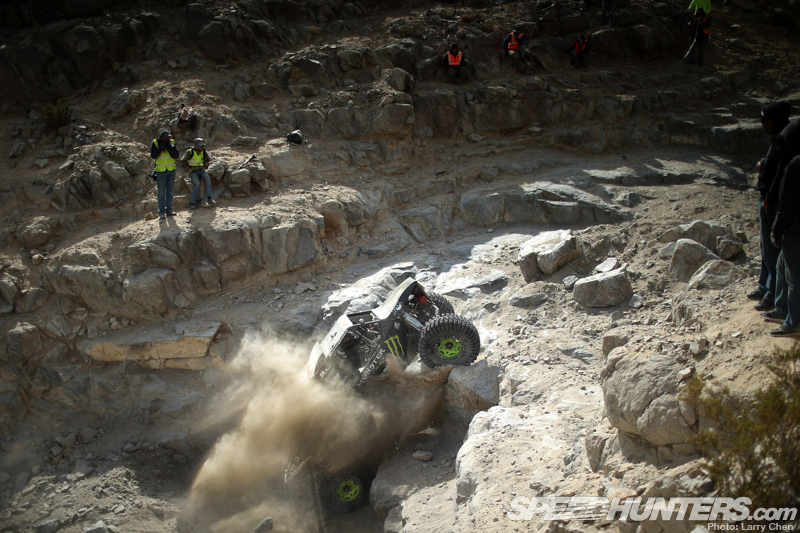 Like a raging bull, Shannon literally crashed into the rock wall, but he could not climb it.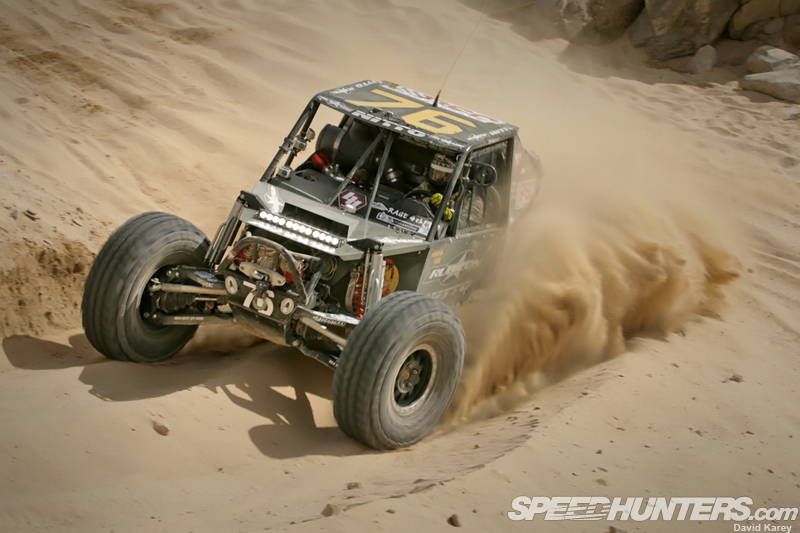 Since Back Door is the hardest obstacle to climb, you only have to go up one time out of the three laps. The other two laps you can take a sand dune short cut. The problem is because Shannon waited till his last lap, the gap in front of the rock face got even larger from all the desperate racers trying to save time by not winching their way up.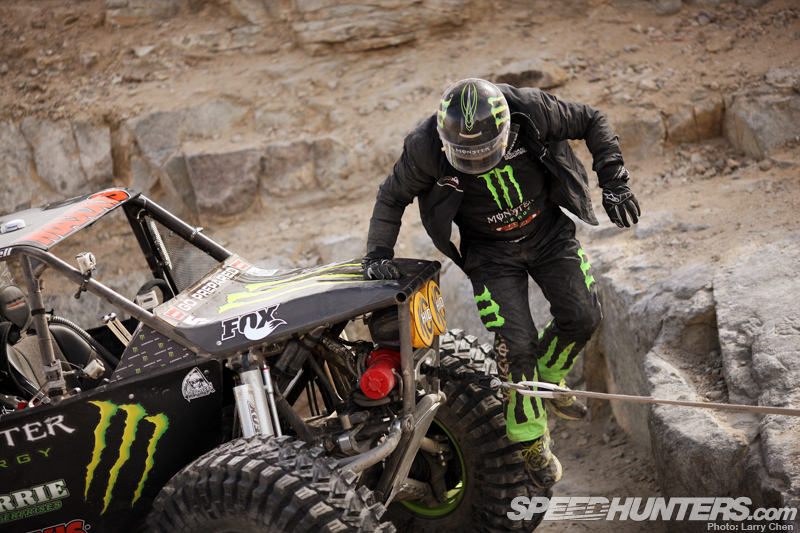 Almost ten minutes went by… so Shannon climbed out of the cabin to get his winch out, because that was the only way he would make it up Back Door without seriously hurting his rig. On top of that, he did not have a co-driver to help him because he was riding solo.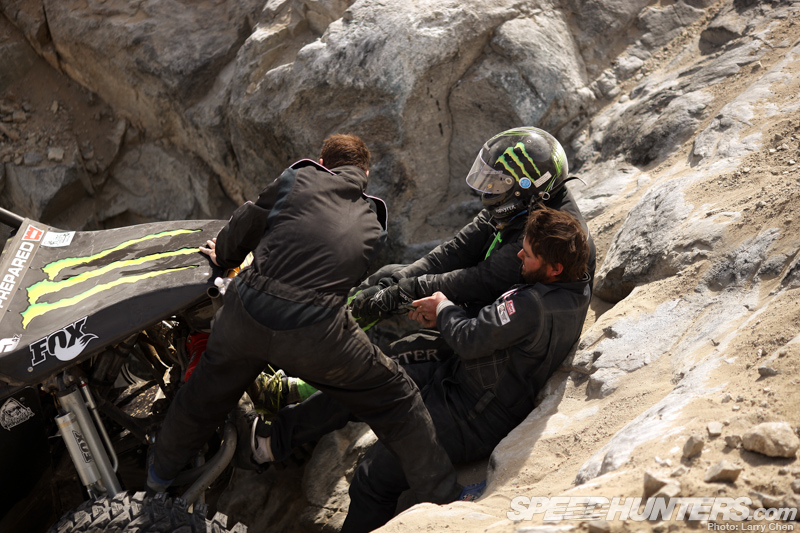 I have never seen anything like this before. A driver and co-driver from another team climbed out of their own rigs to help Shannon winch his up.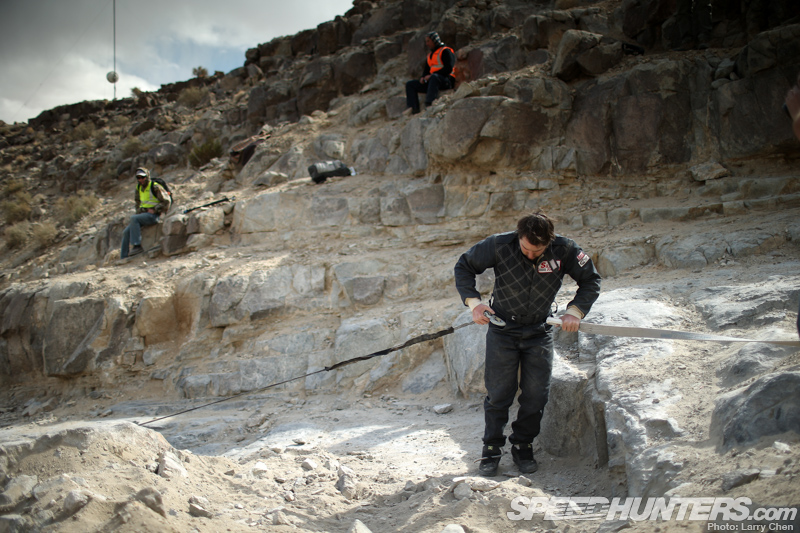 Time was running out as the lead he had built up was quickly shrinking. With the help of the other team, they finally got the rig up Back Door.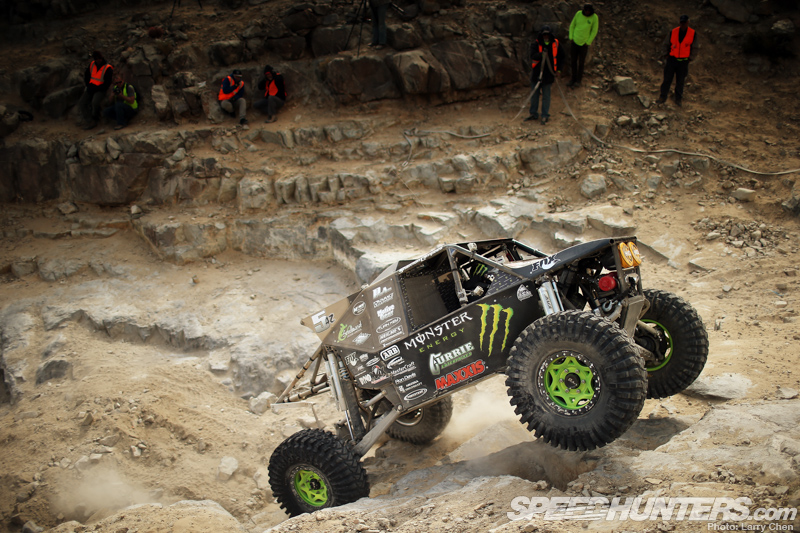 Like a bat out of hell, Shannon floored it up the rest of the dried waterfall, dancing on the rock as he went along.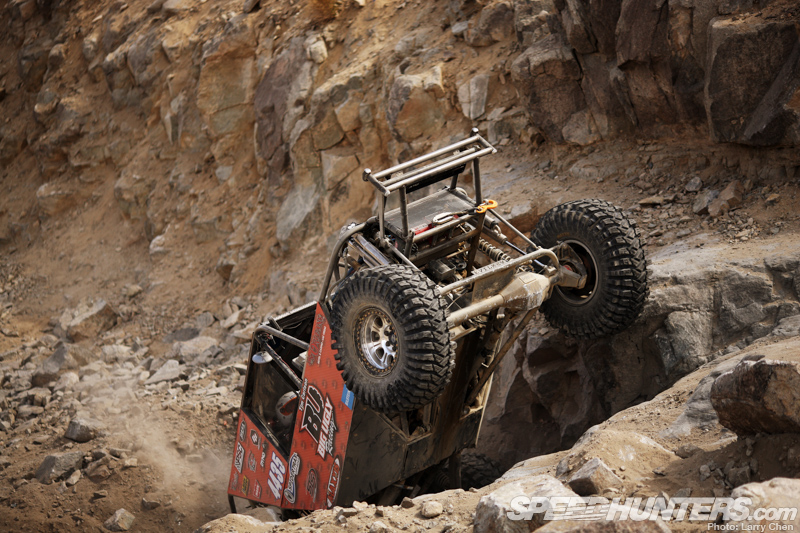 Right behind him was Scott Ward, who was in second place. Since Shannon was stuck for over 10 minutes, Scott was now in the lead. He started around five minutes after Shannon. Scott ran into the same problem, but he did not waste any time.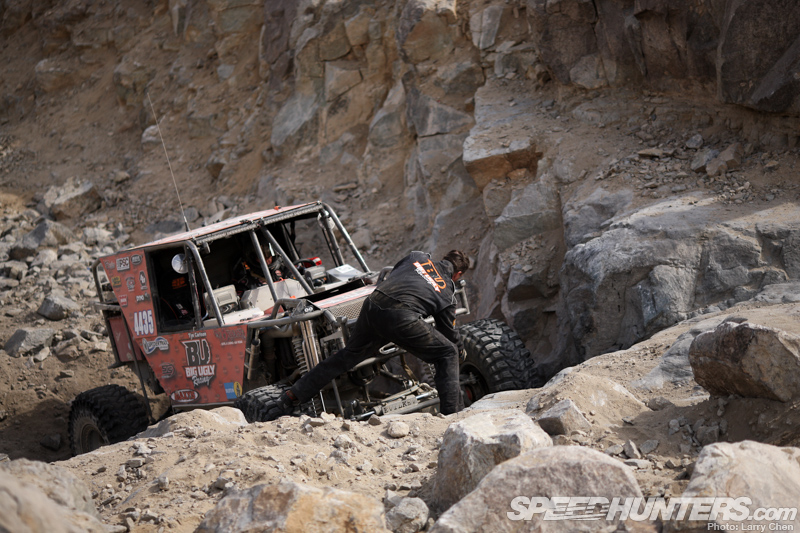 His co-driver got out right away to hook up the winch. Just when I thought things could not get more exiting, Randy Slawson came from behind and took the lead from both of these guys.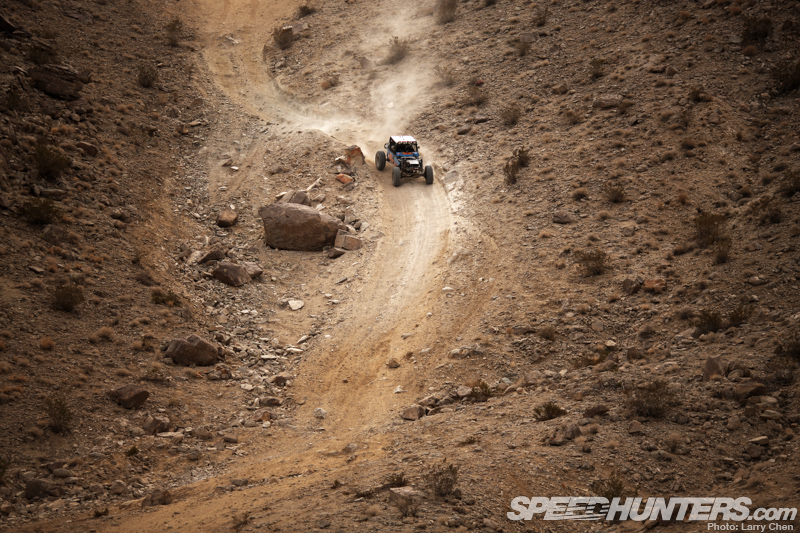 Randy already went up Back Door in a previous lap, so he just had to take the short cut on his third lap, creating a significant gap between him and second place. (Randy's rig isn't pictured as I did not have a clear vantage point of him making the pass, but this was part of the route).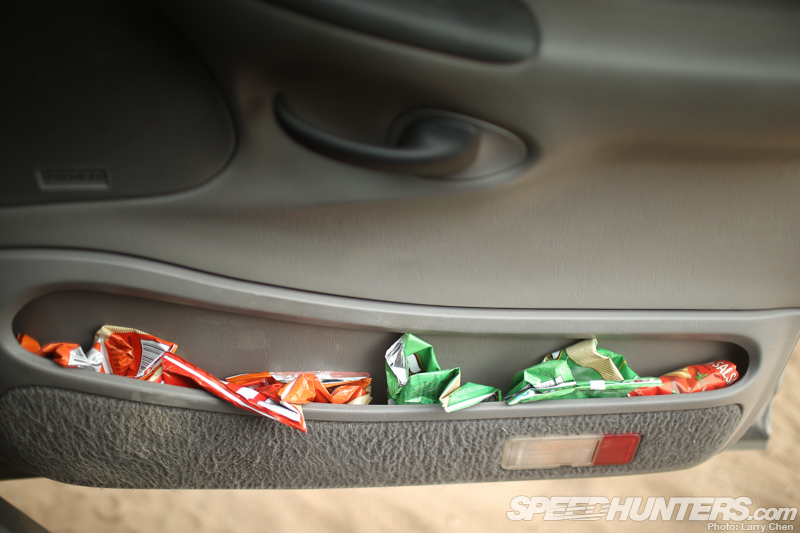 At this point, I was getting tired and I was running out of tasty snacks to munch on. There was only half a lap left for the race leaders, but we still had time to make two more stops to catch them going through.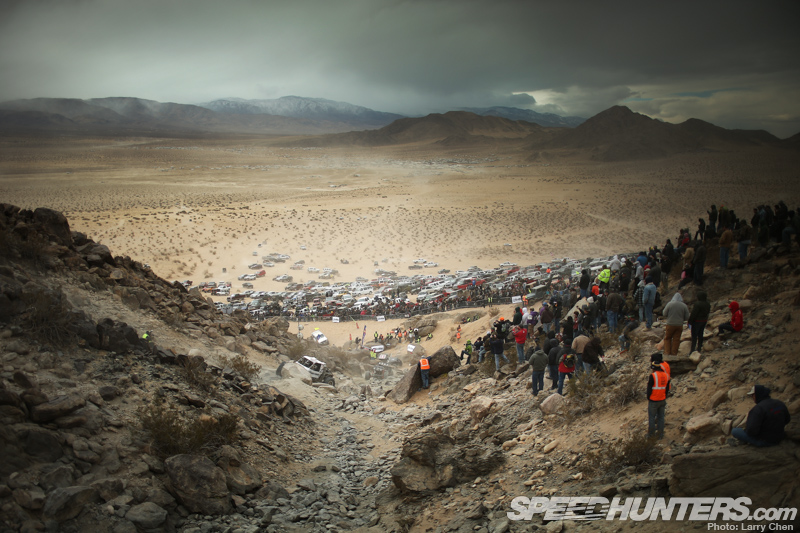 Our next stop was Chocolate Thunder, the busiest stage of them all. This was a lot bigger than Back Door and much faster moving, but it was still very hard as many rigs ended up on their roof trying to make it all the way up.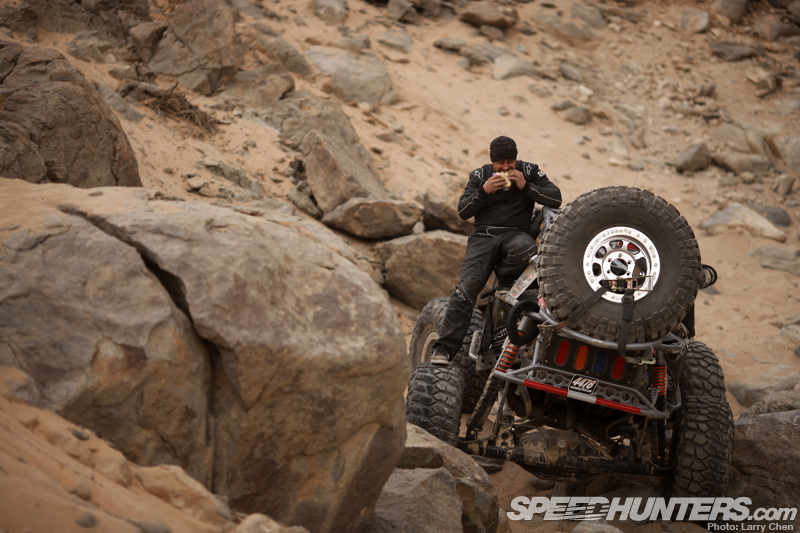 The entire area was littered with rigs that were out of commission for the race waiting for help to arrive.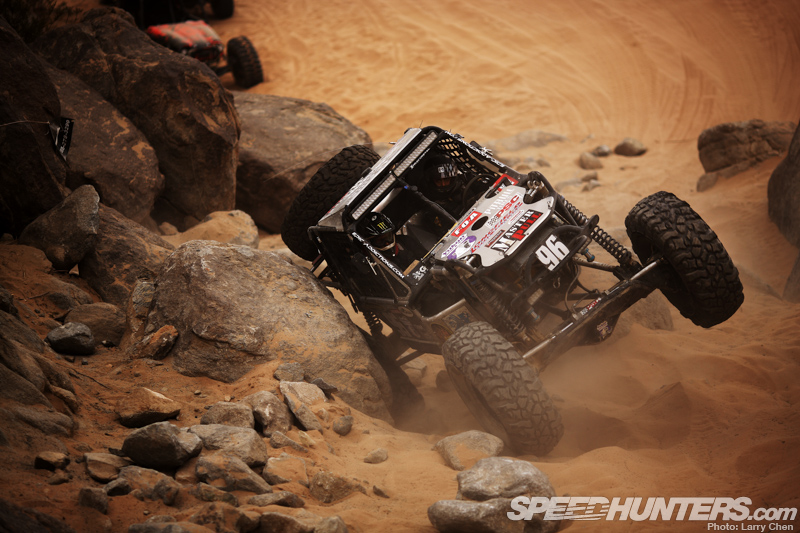 Once again, we arrived just a mere 10 minutes ahead of the race leaders. The good thing about this area was the multiple routes that were available at any given moment.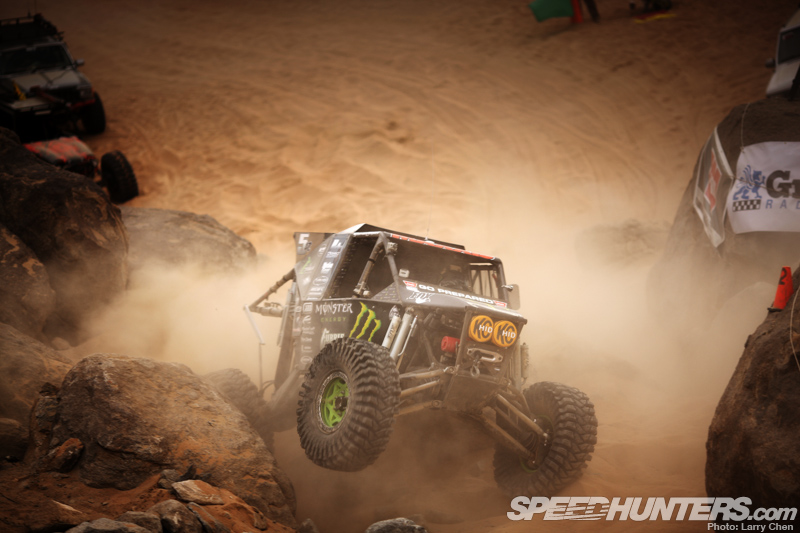 Fighting to catch up to first place, Shannon charged the very first obstacle at speed, launching his rig in the air. I do have to admit, I enjoyed watching him drive the most as he always went balls to the wall.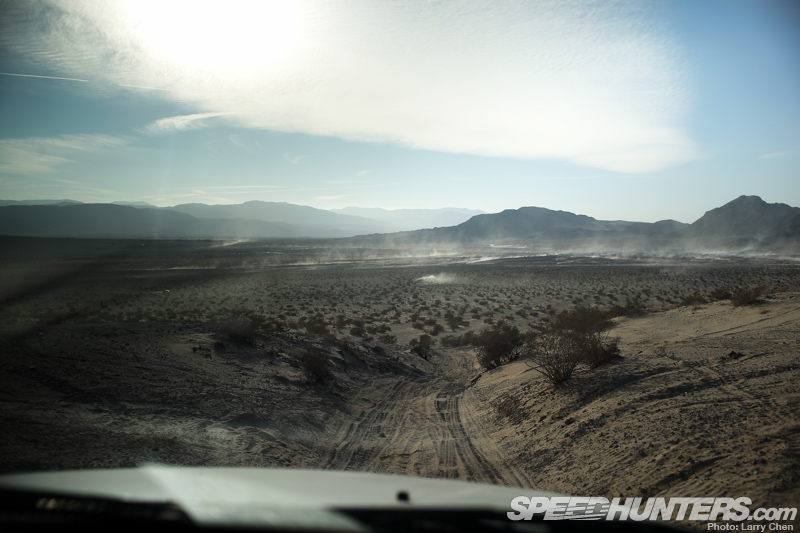 We jumped in our trusty Ford and putt-putted our way to one of the last obstacles of the race.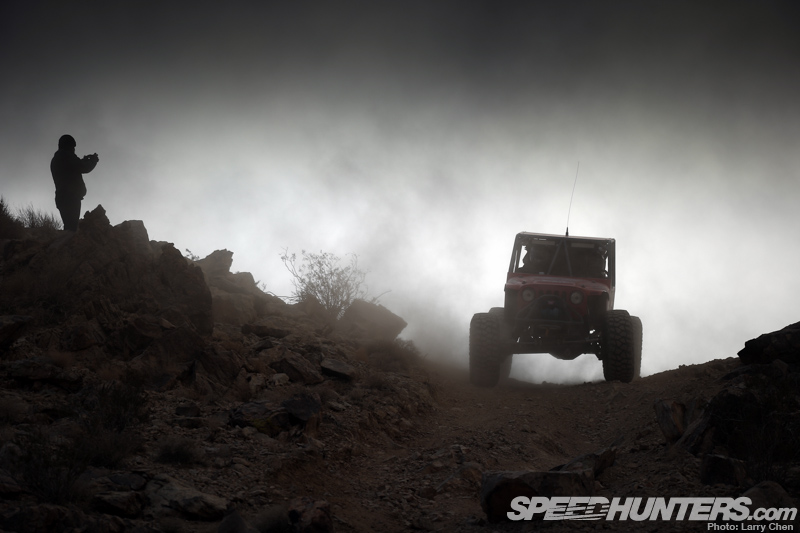 The forecast for that day was heavy snow, and dark clouds had started to roll in. I was kicking myself for not bringing gloves, as I could barely feel my fingers.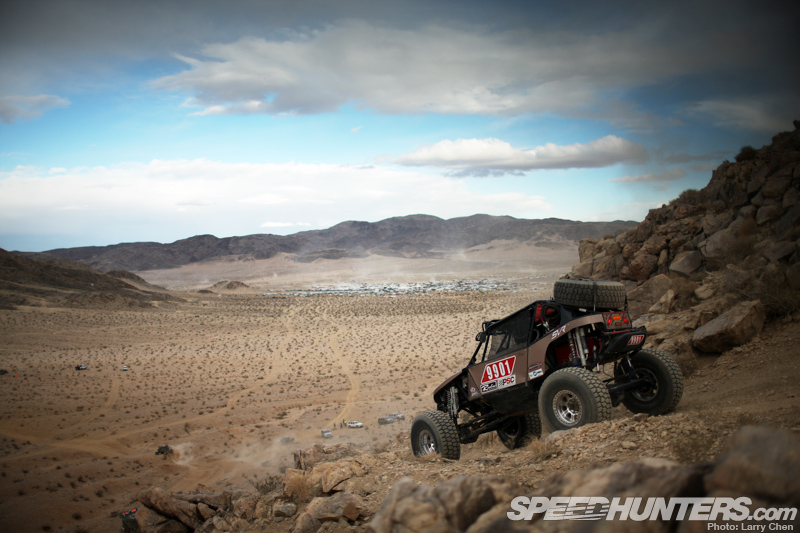 But, it was all worth it. Just look at that view! It must have been comforting for the guys to crest over the mountain as they could literally see the finish line.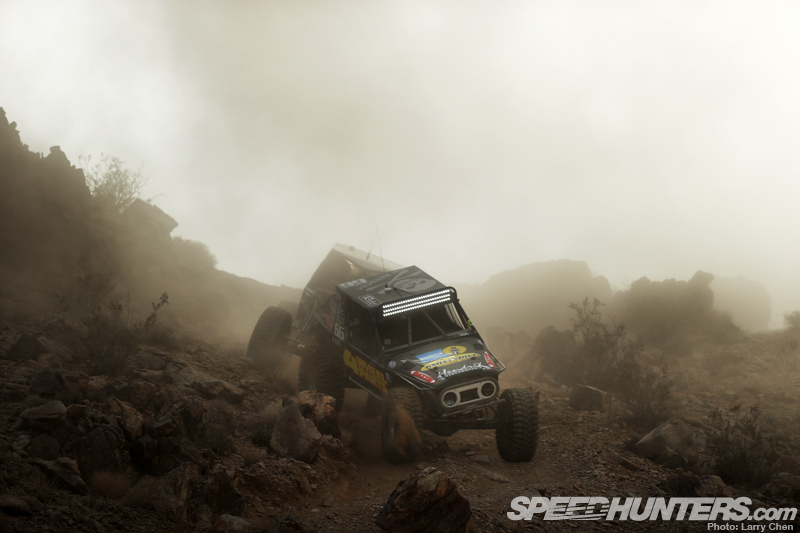 Soon enough the race leader appeared, but in front of him was a slower rig. With horns blaring he gave the guy a little love tap to tell him to get out of the way.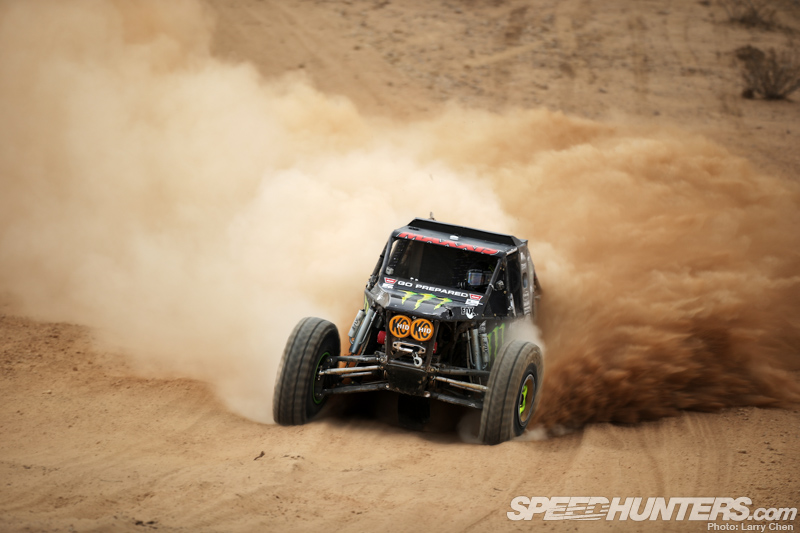 Just a few short minutes afterwards, Shannon Campbell appeared guns blazing as he climbed the mountain full throttle, but it would not be enough to catch up with first place.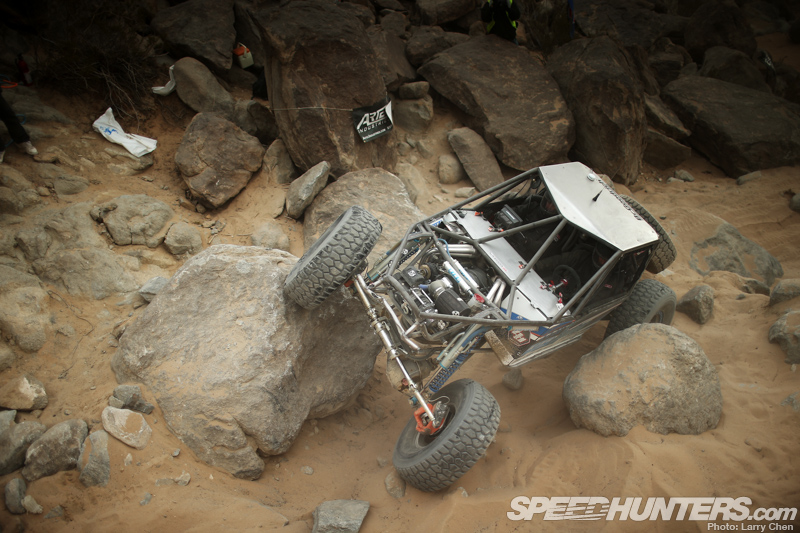 Randy Slawson was crowned King Of The Hammers for the very first time, with a time of seven hours and 28 minutes.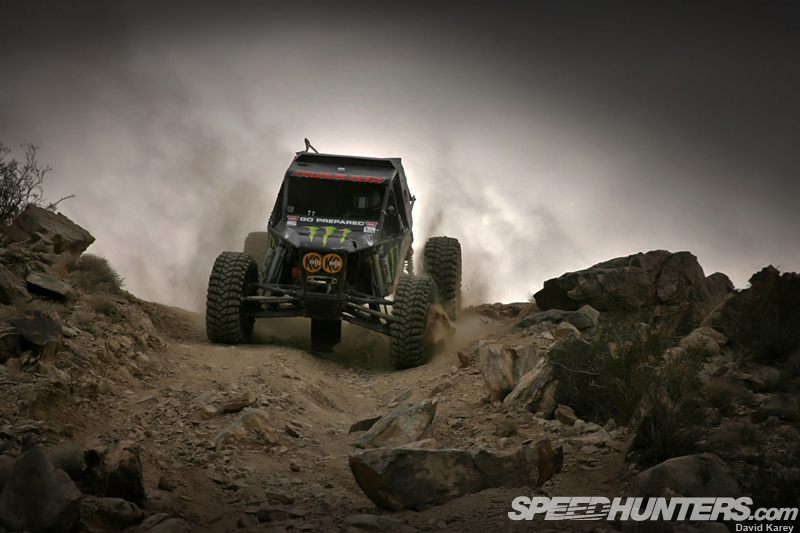 Shannon would finish a close second just 18 minutes behind first place. Third place would go to Chicky Barton, who finished 40 minutes after Shannon.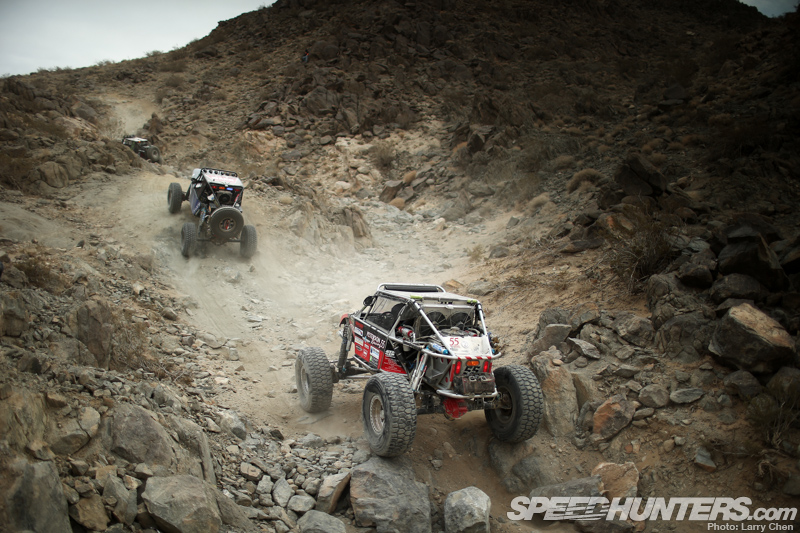 The real winner of the race was the very last guy to cross the finish line. Eddie Peterson in the number 55 rig finished the race in 13 hours and 54 minutes. He saved the Back Door obstacle for his last lap, but it would prove to be a big mistake as a solenoid in his winch broke, which meant he had to get up the wall of rock under the race rig's own power. Eddie has cancer, and his goal was just to finish the King Of The Hammers. I don't think there was a dry eye in Johnson Valley when the radio broadcaster yelled out that Eddie had made it up Back Door in his rig with no winch. It was pitch dark when he finally crossed the finish line.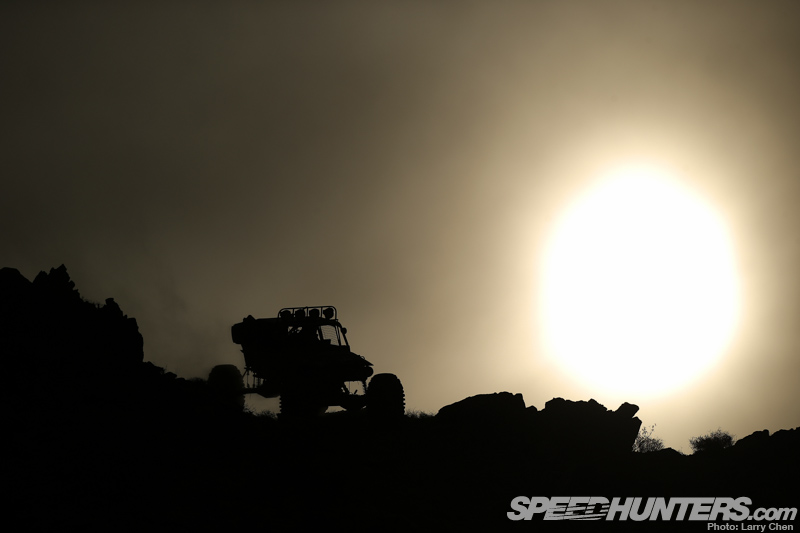 I was exposed to a whole new world of motorsports and racing this past weekend, and I absolutely loved it. If you guys like car culture in general, and don't mind roughing it for a few days, then this is the race for you. You Speedhunters out there will have the ultimate access that you have always dreamed about, you can go practically anywhere and shoot to your heart's content. There is a problem though, as I mentioned in my previous article this area of Johnson Valley is in trouble. They may lose it forever as the neighboring Marine base wants to take it over. If you want to read more about it, check it out here. Enjoy the desktops!
Larry Chen
larry@dev.speedhunters.com
Full race results from King of the Hammers
More stories from King of the Hammers on Speedhunters
More stories from Larry Chen on Speedhunters
Additional photos provided by David Karey
---
---
---
---