As a Speedhunter it's quite literally our job to go around and stare at mind blowing cars day after day, a very tough job no doubt. I won't bore you with tales of becoming increasingly unsatisfied with cars, but I will say that when I visited TYPE ONE last month I was expecting to see the same kind of stuff that I usually encounter (nevertheless incredible in its own right), but this year I was taken aback to see an EK hatchback on the rack!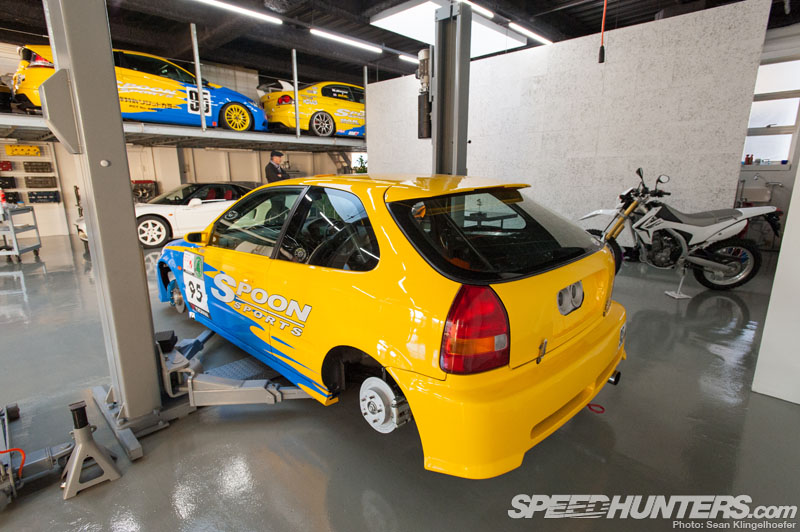 While Spoon has certainly become a very serious force to be reckoned with in the tuning industry, it's the iconic '90s hatchbacks of yesteryear that I and many others treasure dearly that boosted them into super stardom. In recent times it has seemed like Spoon had completely lost interest in the Civic and Integra chassis from Honda's golden era.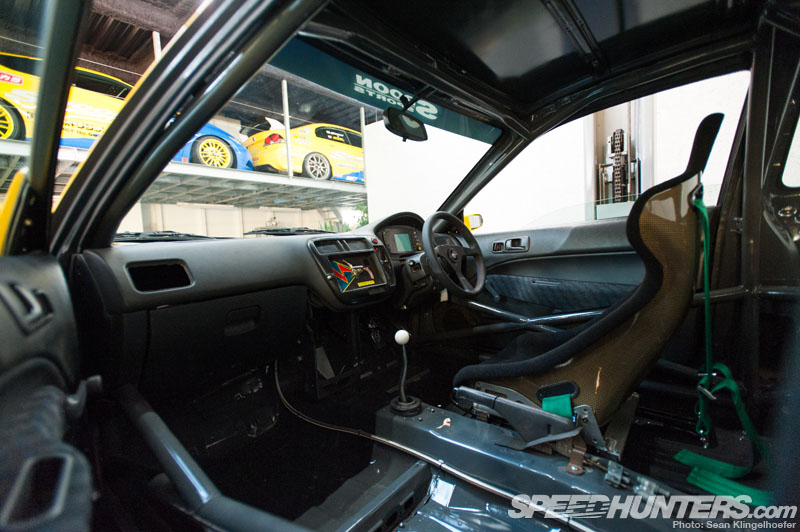 Hell there were even times when it seemed uncertain that Spoon was even going to stay dedicated to Honda when they began their campaign of Rigid Collars available for cars like Dino's R34. So when I walked into TYPE ONE and saw this beautifully prepped example it was truly heart warming.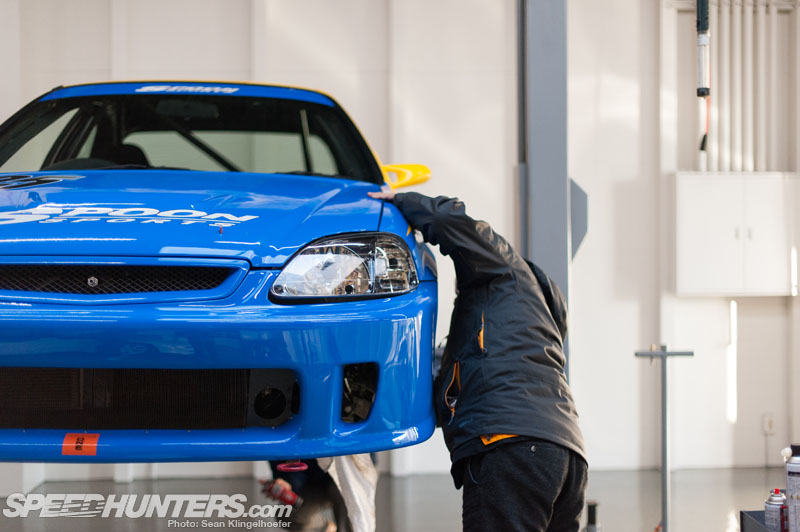 Seeing how passionate Ichishima-san was about the project also had a real impact on me about the brand and my previous premonitions about their seeming shift in focus. It's become clear to me now that Spoon is just as excited by the older chassis as its fanatics around the world are.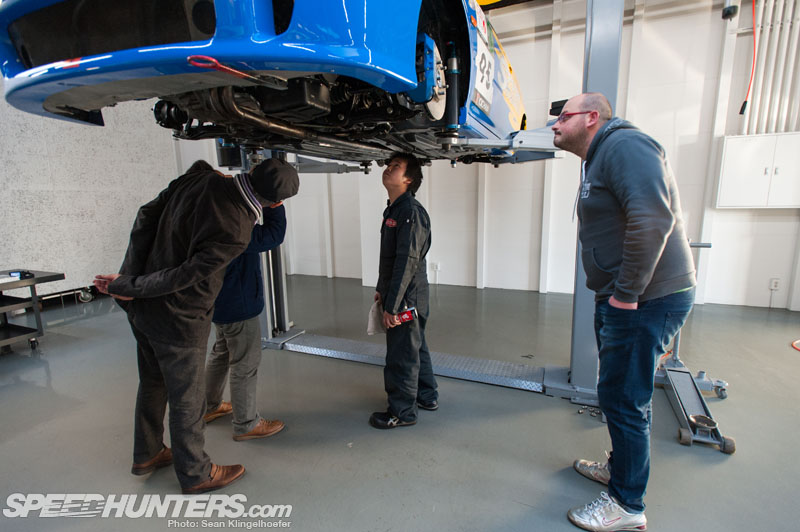 Here we see Ichi getting a good look at the progress of the build and giving future work orders to two of his employees while Dino looks on. Even though it's not a monster GT-R, I'm pretty sure that Dino likes what he sees…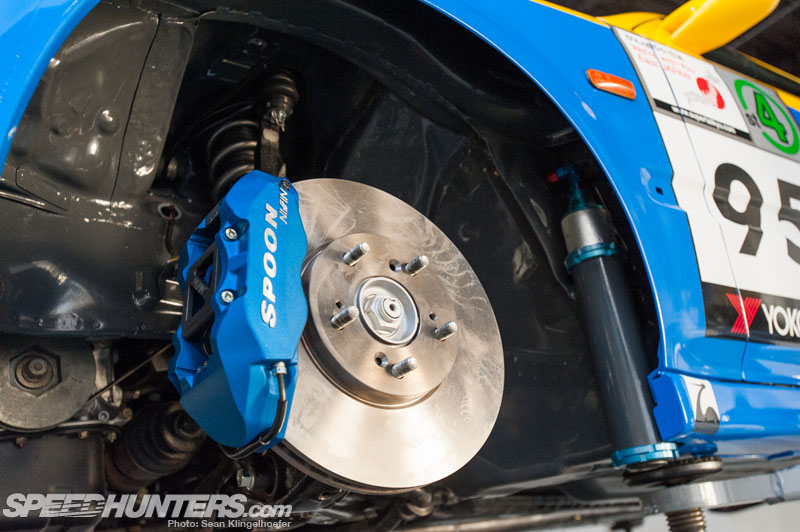 I don't care who you are, a Spoon brake kit is dead sexy! From the underside of the car you can really start to appreciate the amount of work that has been done to get this chassis up to competition spec. Any other guys out there that are serious FF Honda heads will also notice the rolled and tack-welded upper fender seam – a must for track cars.  Also, take note of the air jacks…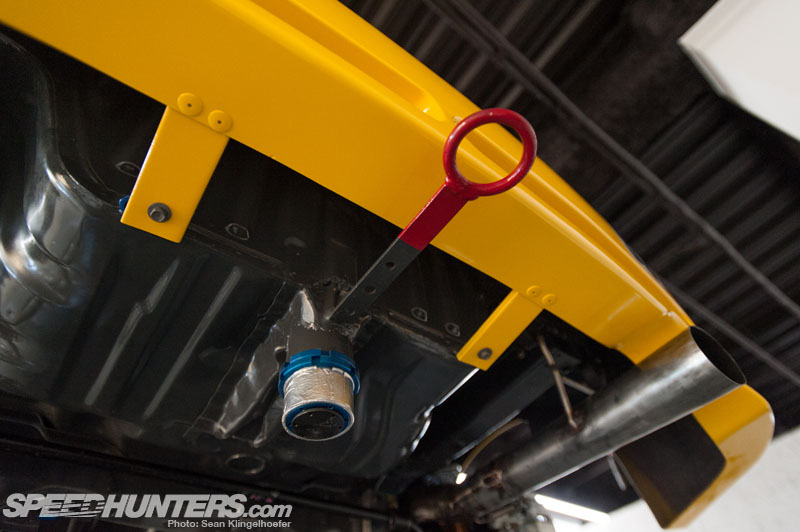 There are two in the front and one more in the back to get the car up in the air quickly during a pit stop. The car also uses proper welded tow hooks instead of the lightweight aluminum pieces Spoon Sports sells… sorry fan boys!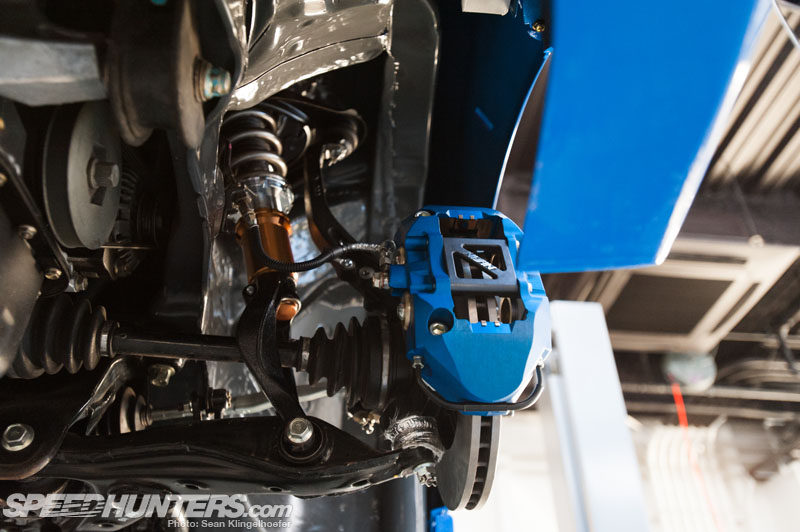 Many of the suspension components have remained standard, most likely as part of the rules stipulation for the ST-4 class in Super Taikyu which the car is being built for. However, certain optional factory components like Civic Type-R N1 crank pulley which lacks a groove for the A/C and P/S belts are allowed.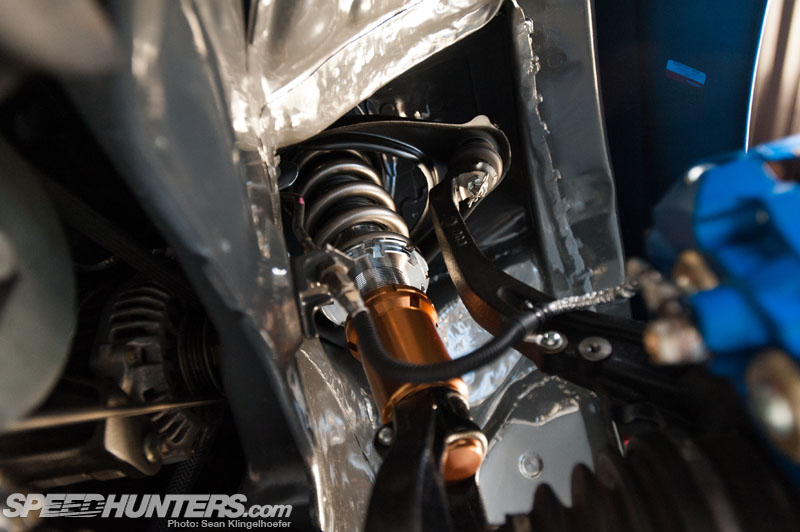 The main modification to the footwork is a set of Spoon's sport damper system. Spoon has pretty deep connections within Honda's parts bins which extends to many of the OEM suppliers who in turn also make Spoon's components; in this case Showa dampers and Nissin calipers. It's the little details like this that keep Spoon one level above most aftermarket brands.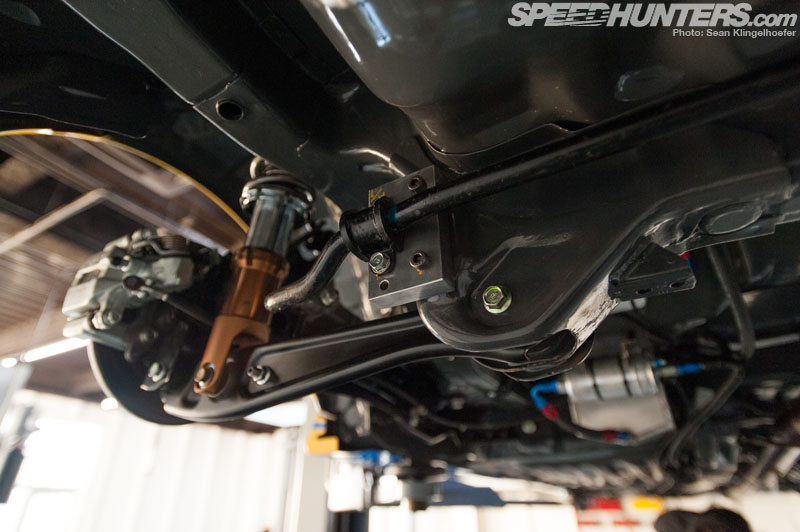 Around back I found a very interesting rear sway bar reinforcement bracket. It's common these days for people to use a piece of billet that runs the entire length of the subframe from which you can mount the swaybar, but I would presume this little section is about as far as the rulebook will let you deviate from the standard fitment.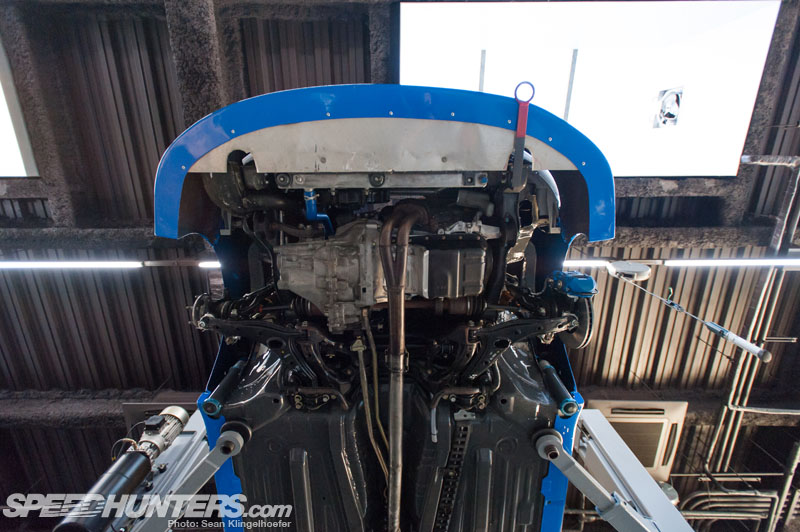 Overall, the entire underbelly of the car is lightly modified but restored to perfection. My god how I wish that the bottom of my EK looked like that! The exhaust system is one of the more loosely regulated items in the S-Tai rulebook, so that sucker shoots out straight as an arrow…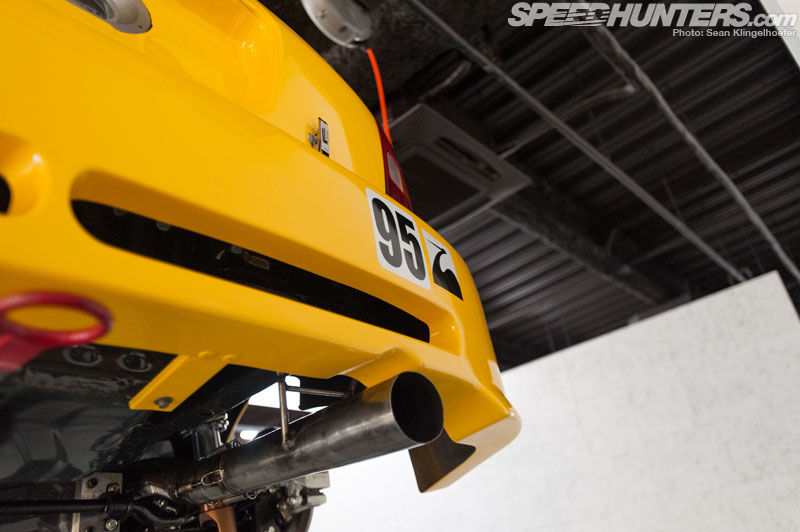 To the rear where it has a single bend to kick up over the control arm before terminating out of the rear bumper sans muffler. Although I didn't hear it fire up, I can assure you this slip-fit exhaust is extremely loud and raspy, just the way a B-series should be!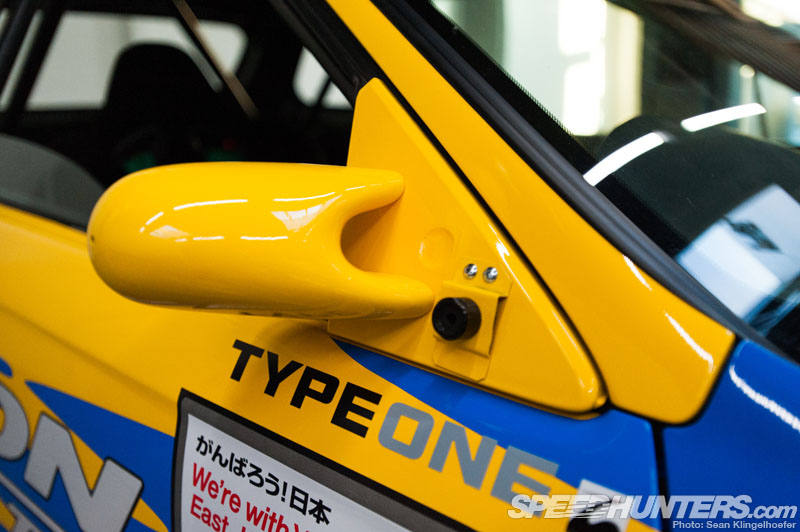 The outside of the car follows suit in a very similar fashion, with a few small components changed out from stock. Here we see an extremely rare EC-Works type C mirror, only diehard JDM nuts will recognize these. Perhaps a little strange that they didn't use one of their own Spoon mirrors, but very cool all the same. The little circular lens affixed to the mirror is for the infrared receiver for the on-board lap timing unit.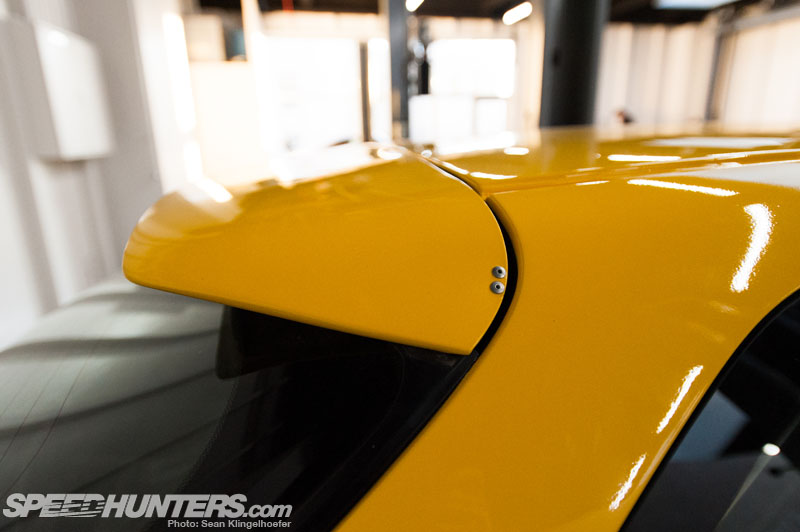 Another legendary Spoon piece that seems to have gone missing is the iconic duckbill rear spoiler, but this time around I'd suspect that's more of a rules and regulations issue. Since the ST-4 class requires the cars to carry a very close shape to the factory vehicle I'd bet that a major aerodynamic component like a rear wing change is forbidden.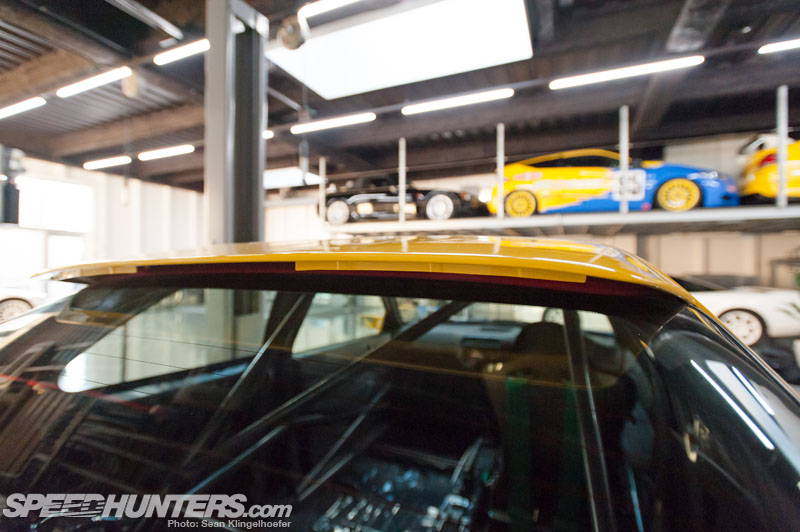 However, that doesn't mean you can't tune it! Ironically, this wing belongs to a lower-end EK4 model rather than the Type-R, so technically it isn't "stock" but I'm sure Spoon has their reason for using it. TYPE ONE applied their motto of "we know the meaning of light weight" to the rear wing by cutting out the underside and removing the third brake light and all the other plastic bits, leaving a clean metal shell. Pretty clever eh?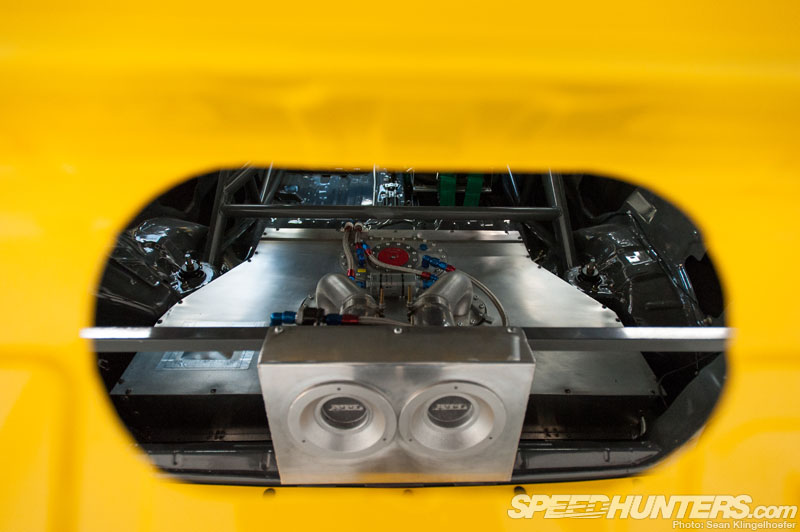 Of course a fuel cell isn't only an allowed modification for endurance racing, but is actually a requirement. The more fuel you can carry on board, the less you have to refuel and that adds up to precious time on the circuit.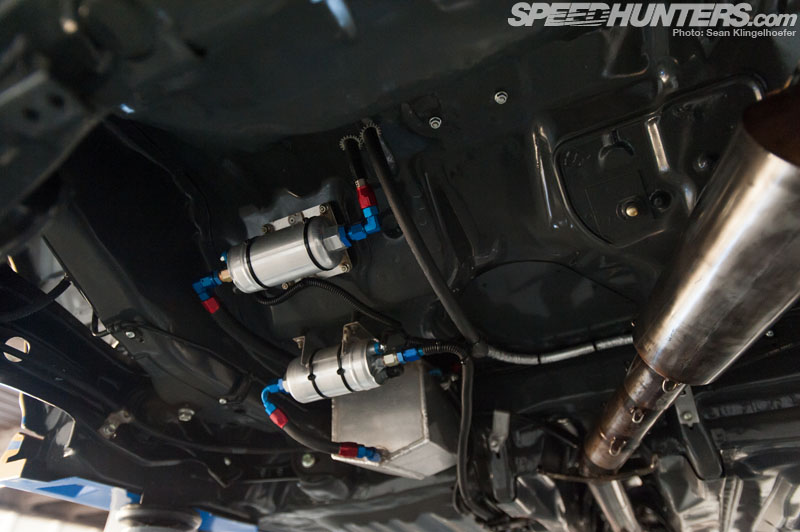 Ensuring proper fuel feed is also critical as starvation can damage an engine quickly. Therefore it's not uncommon to see clever surge tanks and other failsafe techniques applied to cars like this.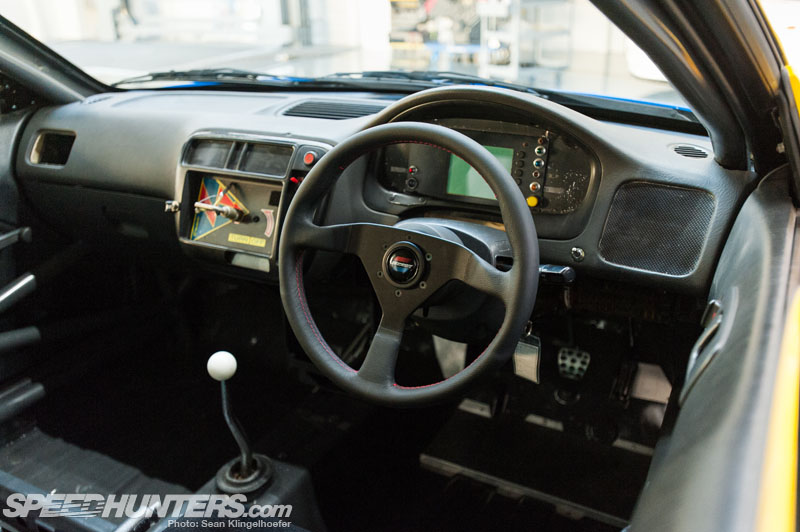 The cockpit is pretty stripped down, as you'd expect of a race car. Yet again, another holy grail amongst Spoon collectors – the ultra fancy blue-faced, green-needled EK cluster – is missing. In its place is a no-fuss digital readout which is capable of quickly and reliably displaying any parameters the driver might need. At least the Spoon steering wheel is there!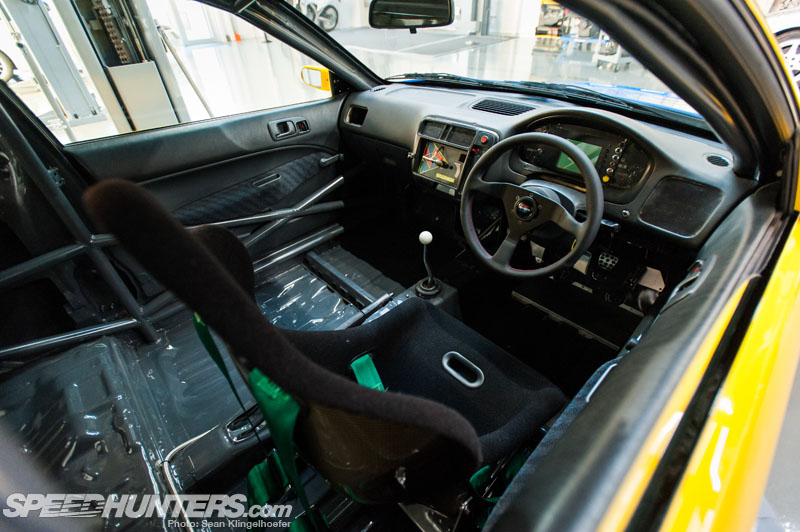 There's also a very lightweight Spoon Sports carbon-Kevlar bucket seat installed which should add some saving grace amongst Spoon fanatics. Those with a very keen eye will have noticed the roll-up windows which was a feature on not common on the Type-R and found only on the N1 base model, a car sold by Honda as a more complete version of a body-in-white for racing.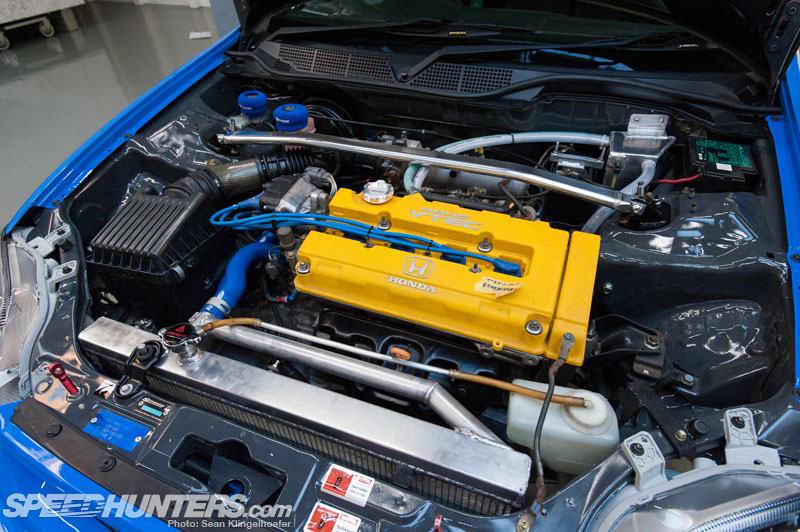 If you've been taking notes on the car thus far, you're probably not surprised to see that the engine compartment is also fairly tame.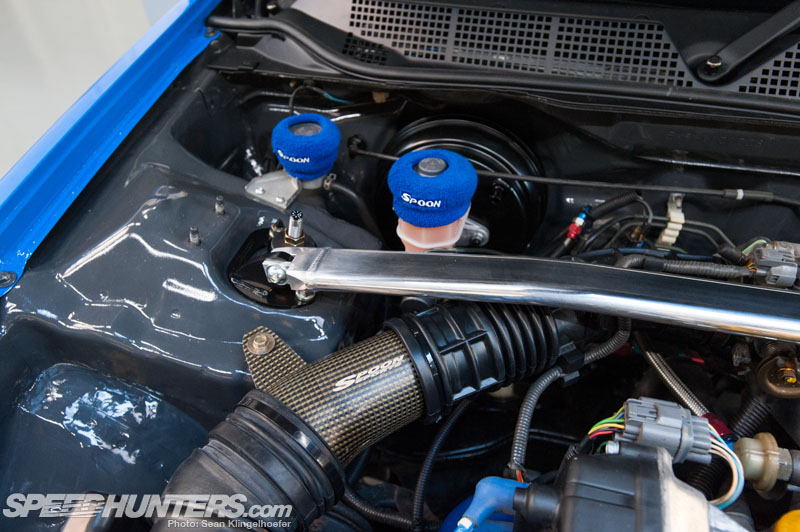 As I mentioned in the TYPE ONE article earlier this week, Spoon has long been criticized for selling parts that don't make gobs of power, like the Kevlar intake elbow seen here. But the reason for this part is because that's about the only section of the induction system that the Super Taikyu rules allow you to change, and any improvement – even a very small one – is worth investigating in Spoon's eyes.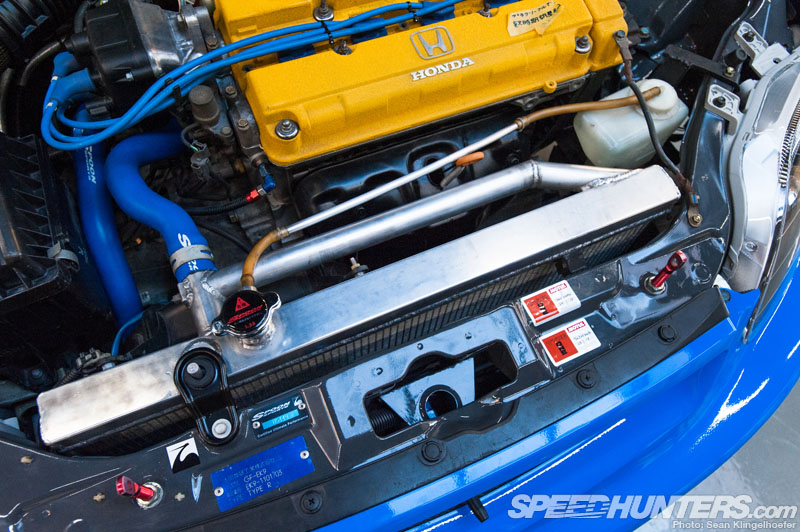 One of the things I was most intrigued about was the full length radiator with a funky double-waterneck. When I asked Ichi about this I expected he'd say it had something to do with cavitation, but apparently they've built the radiator in a way that it effectively has two separate banks and they can only use one half of the radiator at colder events. What a trip.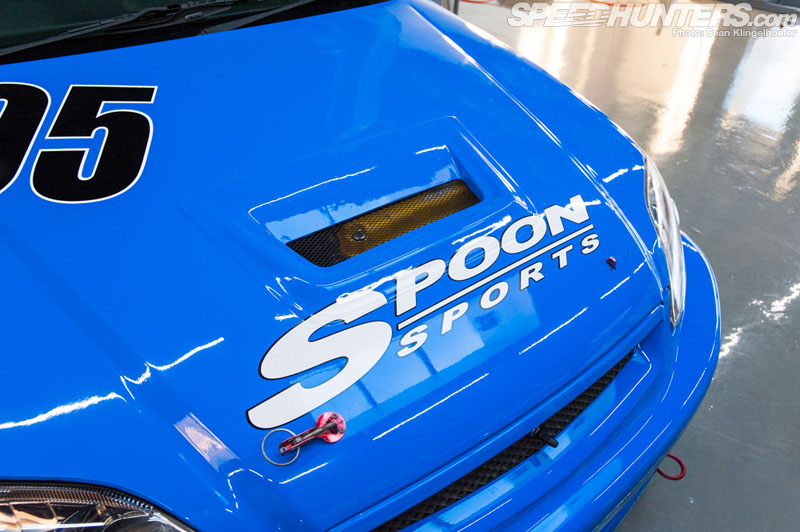 So there you have it (Spoon) sports fans, a completely new build on an old favorite from one of Honda's best known tuners. Not a bad way to start our FF mini theme wouldn't you say? Stay tuned as there's plenty more FWD awesomeness to come!
TYPE ONE shop tour on Speedhunters
More stories by Sean Klingelhoefer on Speedhunters
-Sean