In your head will be the perfect workspace. It might be buried under a pile of magazine articles or lost in the middle of project plans that have yet to come to fruition, but it's there. For some it will be clinically clean: tiled floors, tools aligned in unison waiting for usage. Others may crave big wooden beams and swirls of engine-turned swarf on the floor. For all of us though I'll bet there's a toy cupboard in there somewhere. A place to stash all your best parts, those spares that have found their way into your possession and no way are they leaving.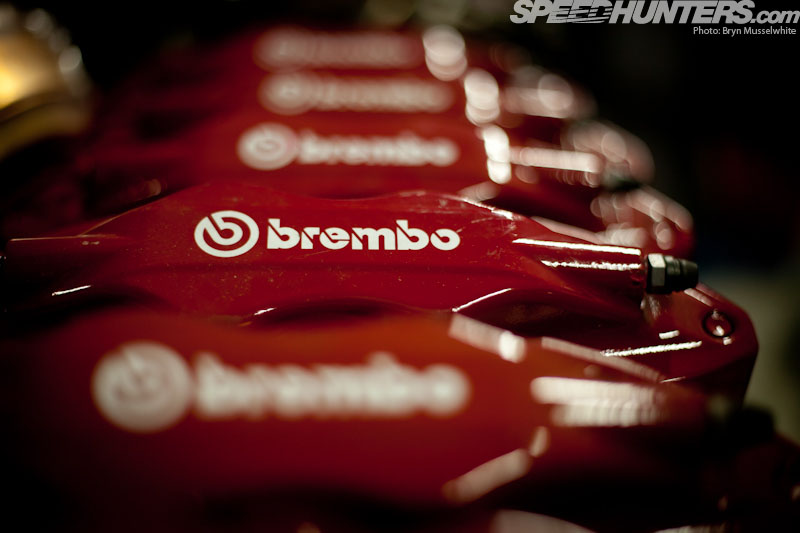 If so, then Sajid Moghal is winning right now. He set up Jap Performance Parts in the south of England seven years ago. Having previously worked for the government he could finally indulge his passion for Japanese cars, his strap line being 'High performance spares, tuning & salvage'. What this means is that I'm surrounded by workshops and storerooms all filled with some of the best tuning parts in the world – so pretty much the ultimate toy cupboard.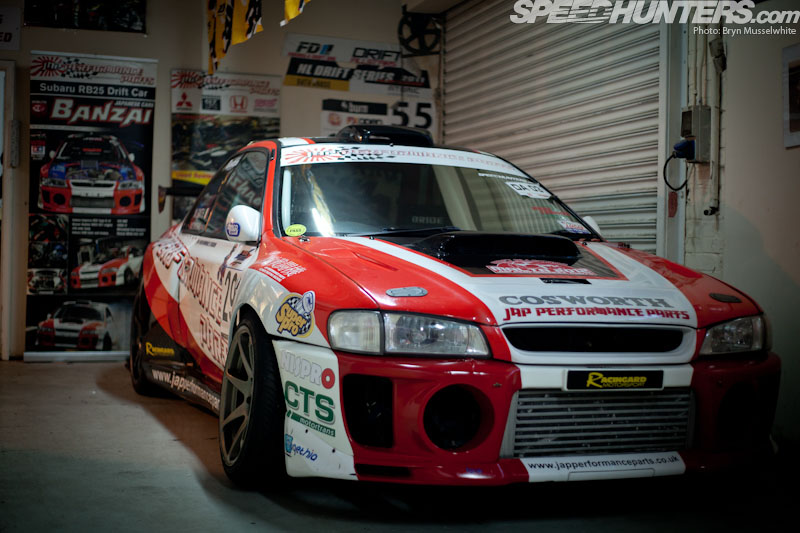 If you locked the gates, I reckon you could build an insane project right here. You may well be familiar with their 520bhp, RB26 DET engined, RWD GC8 Subaru drift car. It's been driven by Walton Smith for the last three seasons all over Europe, so Saj understands the worth of getting out there and showing the customer what JPP are all about. So this makes his Celica a curious one for me, as he doesn't deal in any old school spares as a rule and doesn't even deal in many Toyotas aside from the odd Supra, preferring the Subaru and Mitsubishi brands.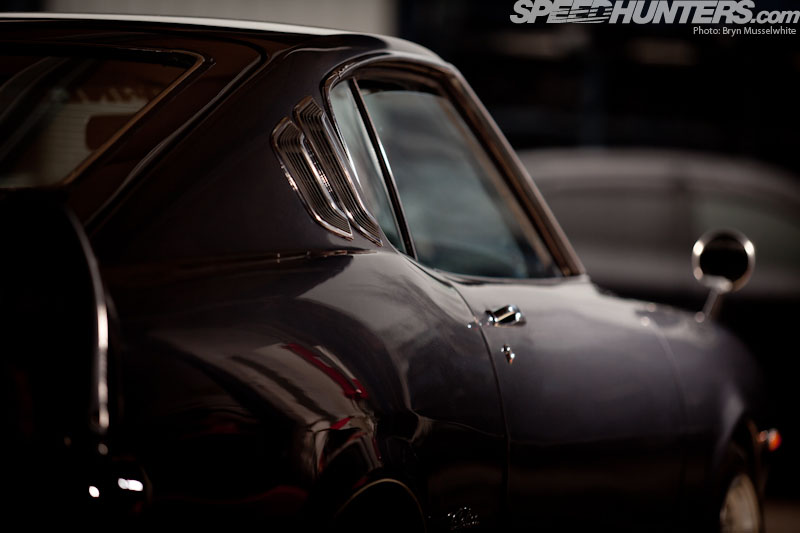 But hey, as the old saying goes: nobody with a good car should have to justify themselves. And this is a good car. A really good car. The earlier Celicas all had glorious curves that were slowly robbed by things like the '80s. Those curves are supposed to have got them in trouble with other manufacturers too, seeing as Saj also wanted a Datsun 240Z, but couldn't find one for reasonable money… The TA27 works well, huh?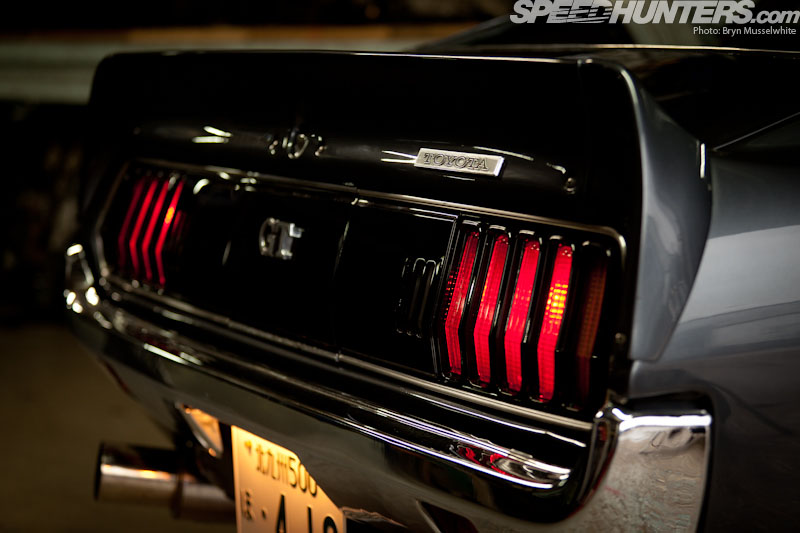 So why go old school? Because Saj says, he likes "doing things differently". He's owned GT-Rs, Evos, Spec C and RA Imprezas – but he adds that none of these carry the charm and simple beauty of the classics. Taking a look around the Japanese markets, he quickly realised that the cultural side of things was missing from the UK, so decided to bring in some old school creations and see how they went down.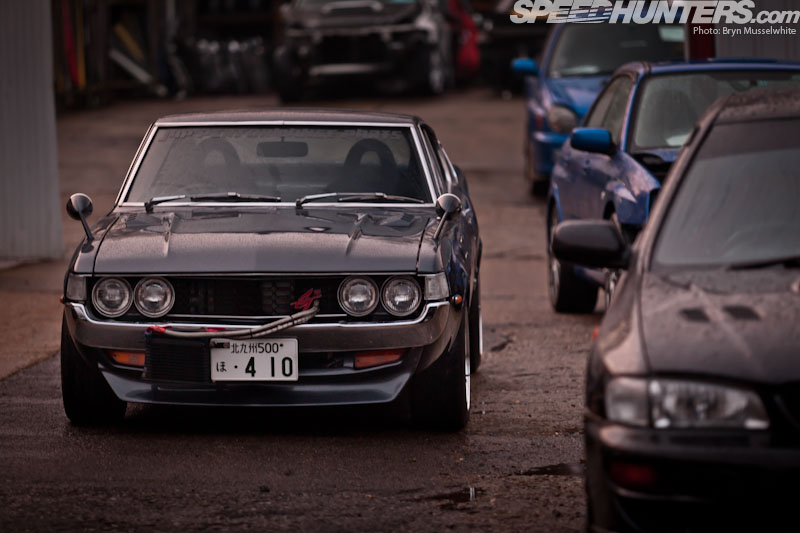 First up he imported three Datsun 1200 pick-ups, in various states of tune but these didn't want to sell. At the same time Saj found two Celicas, one 1600 ST which was stock and needed restoration and one white RA28 2000GT.  This was lowered on SSR wheels and had throttle bodies – sounds cool, huh? Saj: "I got the bug at that time but after two or three years I sold it."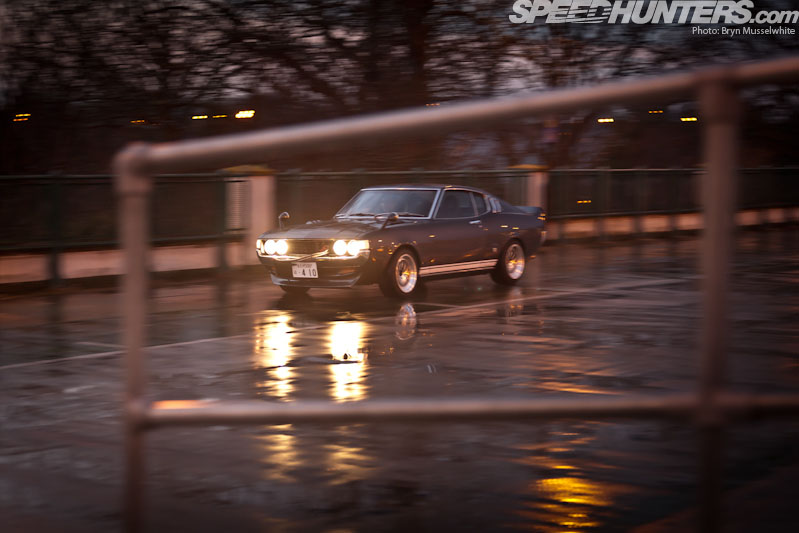 Deciding another Celica would make the perfect base for a demo car, it seemed natural to source the base car in Japan again. We got the TA27 body style in the UK, but if you can find one it'll generally be rusty or expensive – or worse still, both.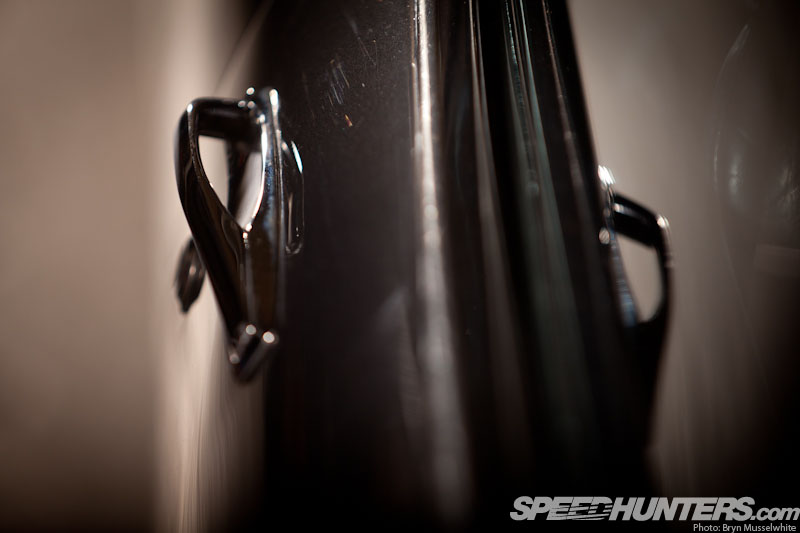 What came over on the boat was a 1975 GT, with the 2T 1600 twin cam engine and five-speed box. It was actually bought in Japan as a 'non-runner', but when it turned up the Celica had only covered 47,000 kilometres and drove fine. This ultimately didn't matter as the plan was always to replace the engine with something more modern, but still keeping it Toyota.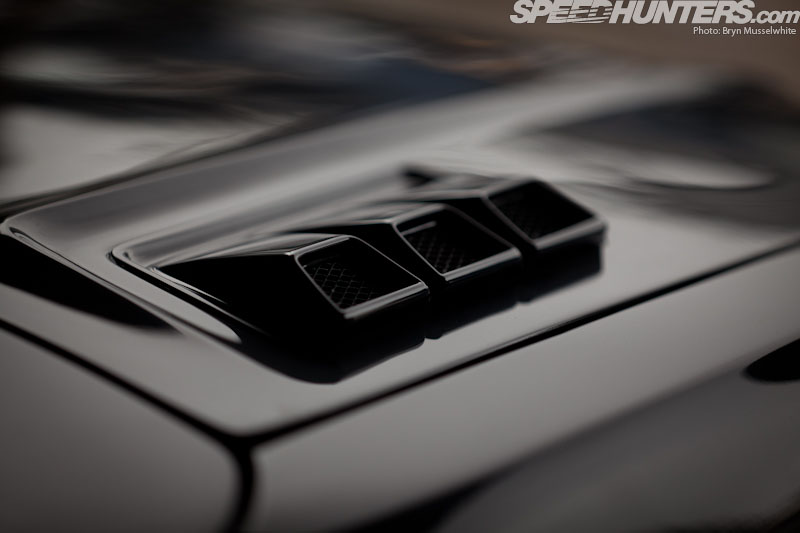 The bodywork was in good condition to start with, but still needed remedial work on the sills, arches, doors and tailgate edges. All the interior was good and the chrome work too – worth considering if you had to find replacements. Things like this are almost more important for Saj when considering a project, as getting new panels and parts or repairs done will be costly compared to the stock pile of tuning bits he has at his disposal.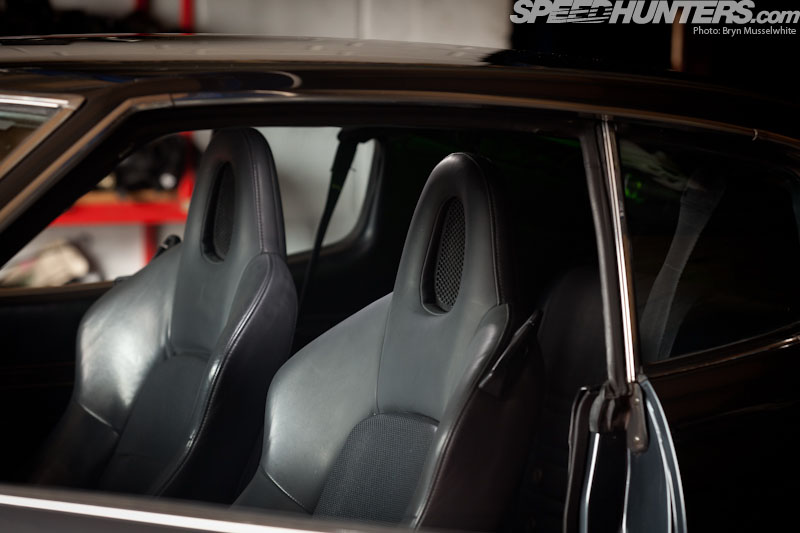 Like the Honda S2000 seats: in place they actually look pretty period and are an inspired choice as they didn't need retrimming.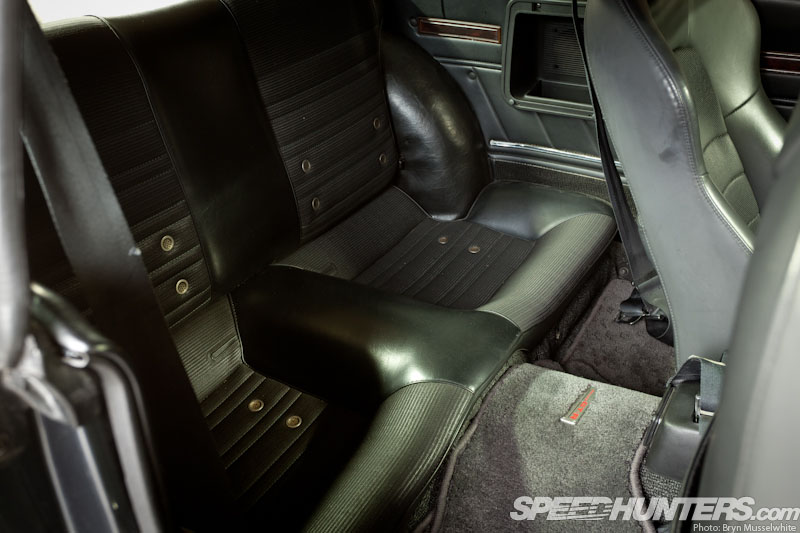 The original rears have those wonderful alloy vent hole rivets in them, which reminds me of a GT40 bucket seat from the '60s. I love how the Japanese paid so much attention to what looked good and then flowed it in to their own designs. You can also see part of the complete R32 Skyline carpet mat set, which fits surprisingly well and protects the original carpets.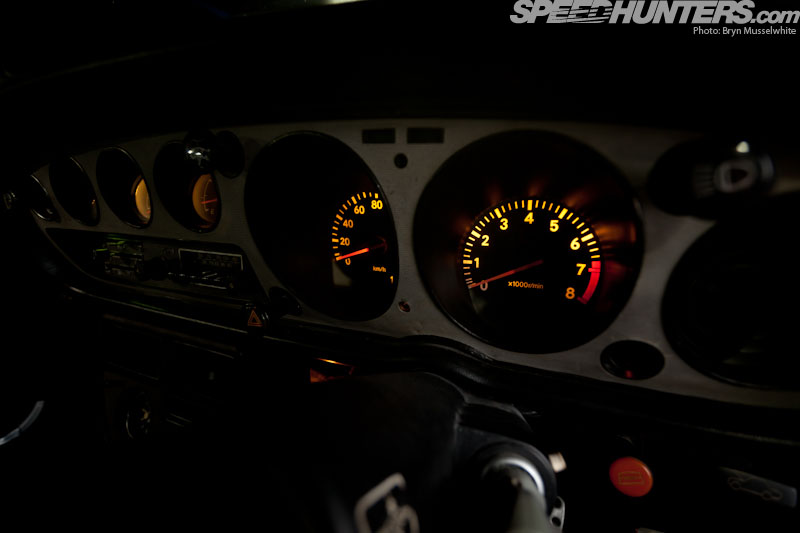 Then I take a closer look at the rest of the interior and Saj points out exactly what I'm looking at: a Mk4 Supra tacho and rev counter modified to fit the original gauge cluster, Evo 8 gear gaiter…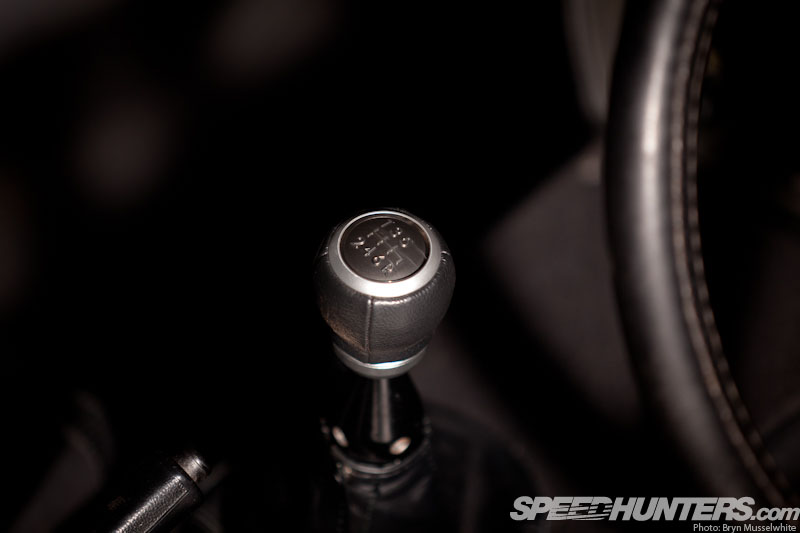 …and Impreza STi gearknob – it is six-speed after all. Hidden away behind the dash is a small rally-spec aftermarket blower unit. There was no room left to keep the original as the tunnel has been modified. It's the original head unit though: there's no modern double-DIN hiding away in there.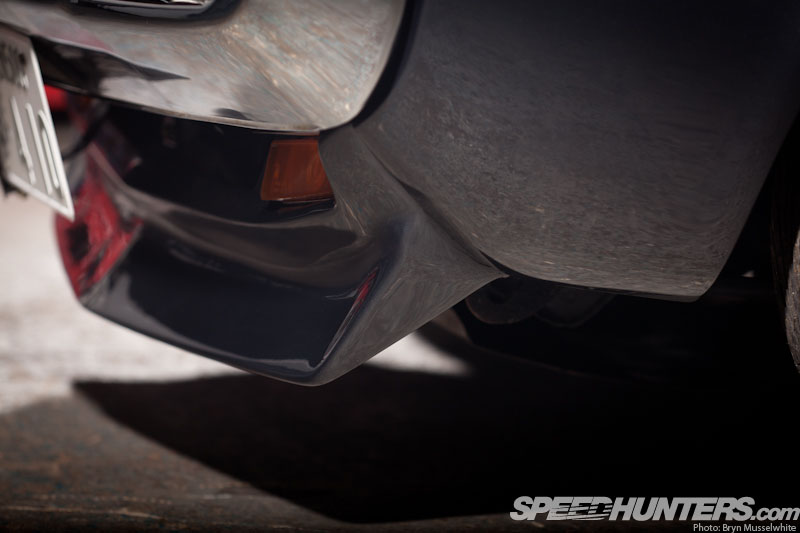 Everywhere you look the subtle detail mixes in perfectly with the more obvious changes. The remodelled JDM front lip and rear spoiler add some period perfection to the lines.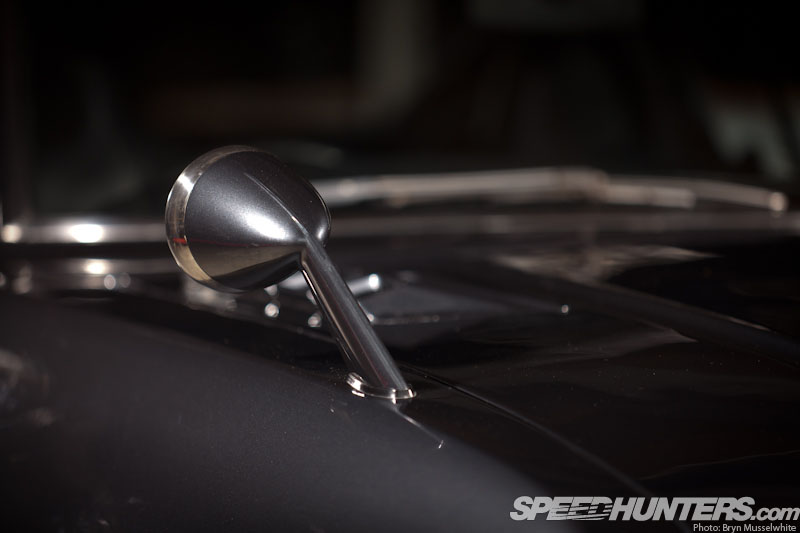 They might look great and be an obvious choice now they're on, but JDM mirrors are a brave move when it comes down to a completed project. They're hardly subtle, but I for one love them.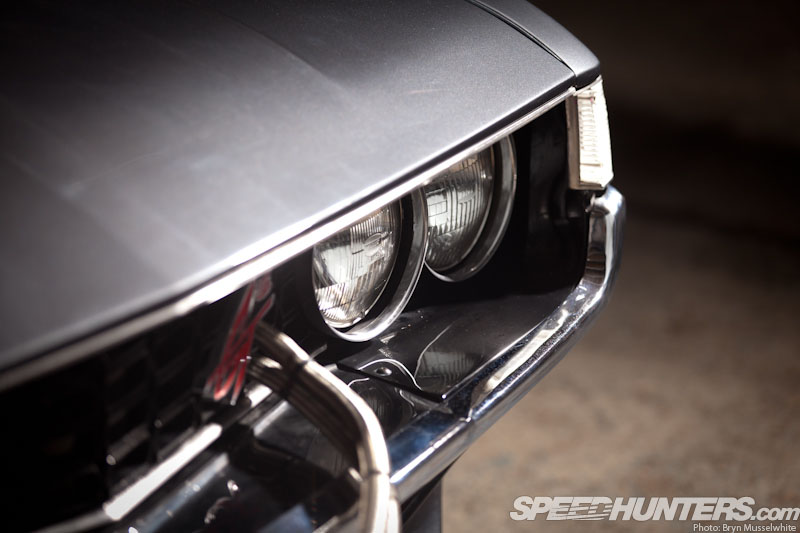 And of course there's the front-mounted oil cooler…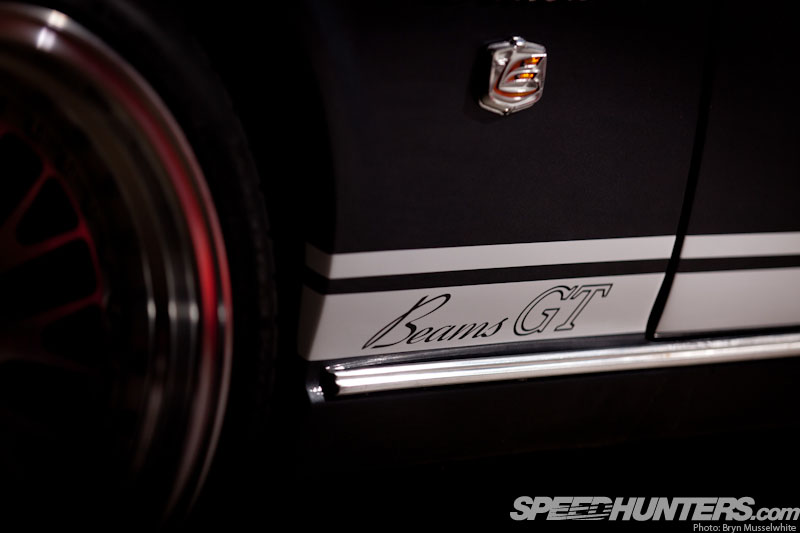 The entire shell was stripped back and sprayed in Mercedes AMG Tenorite Grey – a really good choice and not obvious at all. So many people seem to opt for straight black, white or maybe a pastel shade these days with old school builds. The Beams GT logo on the rear lower quarter is just a little hint at what's under the bonnet.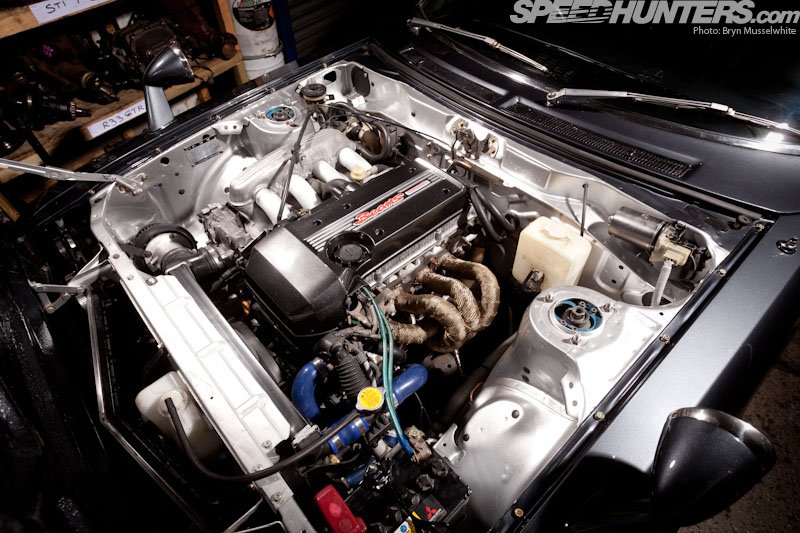 Which of course is an Altezza-sourced 1998cc Beams unit. It's got dual variable valve timing and the stock engine gives 210bhp. The guys got the 3S-GE engine in there cleanly with minimal modification. For simplicity they used the Altezza wiring harness and ECU, which is now the brain behind all the original Celica switchgear. A nice touch, huh?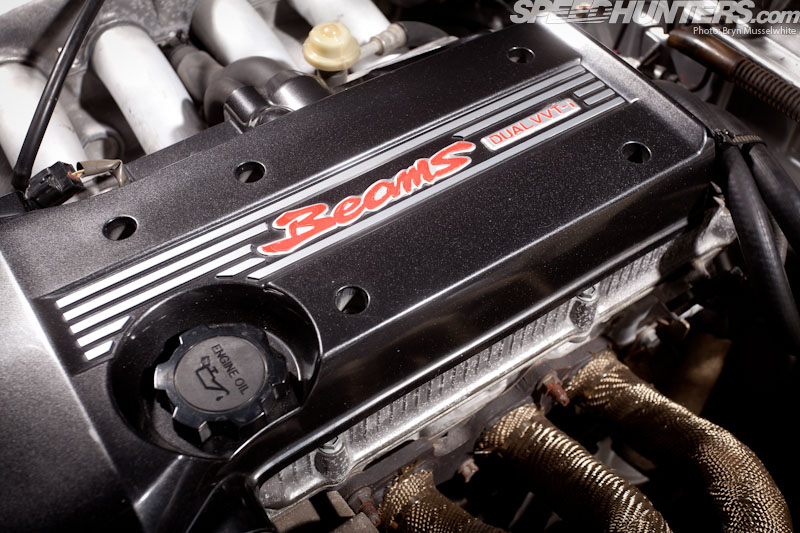 There are some modifications at the back to accomodate the Altezza in-tank fuel pump and an Integra DC2 Apexi exhaust system has been modded to work with the custom exhaust manifold. This is another piece of JPP fabrication, mating the original 2T tubular manifold to the Altezza-sourced head flange.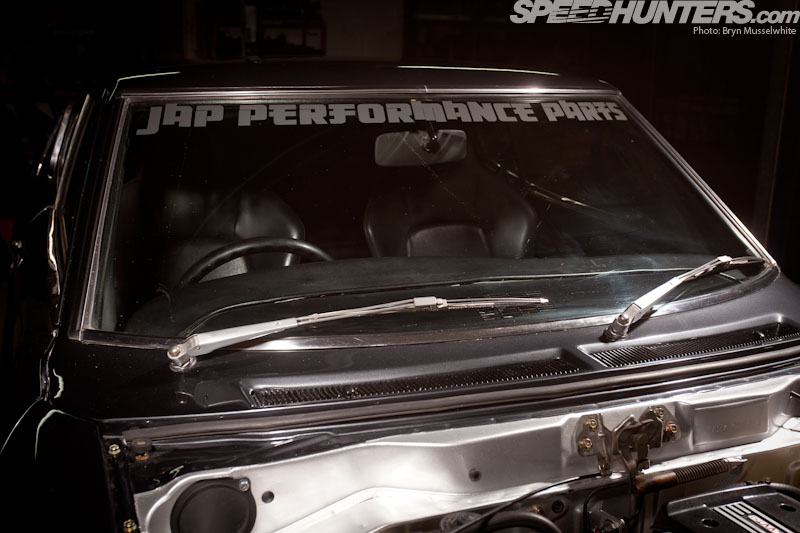 The Altezza came with the J160 six-speed gearbox, so that was used too. To get it in there, the tunnel had to be made taller (hence the heater delete) and the guys did this by using the front half of the original Lexus tunnel, cut out of the donor car. Another problem solved was that the linkage is fixed to the bodywork on the donor and goes straight in to the 'box on the Celica. The gearbox crossmember is now a mix up of Celica and Subaru.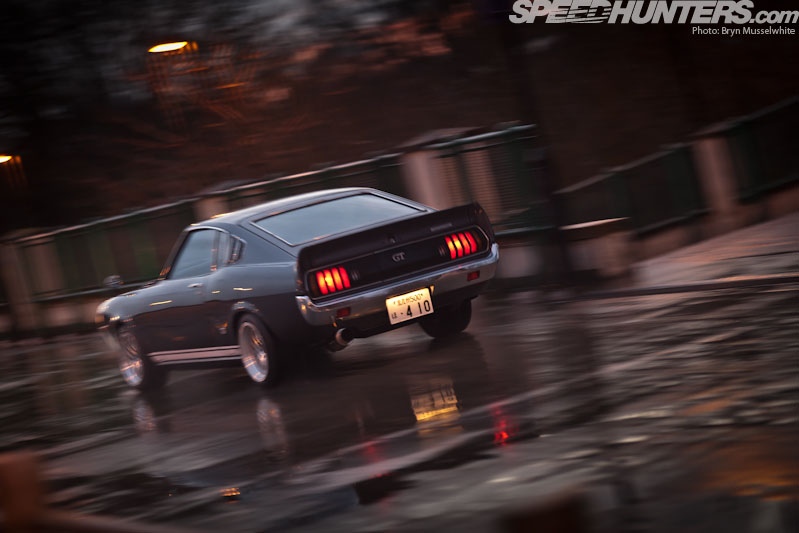 As a mix up though, it works really well. We're in Surrey, England, and what Saj has created is a tasteful street car – something that maybe Dino could stumble across in Japan.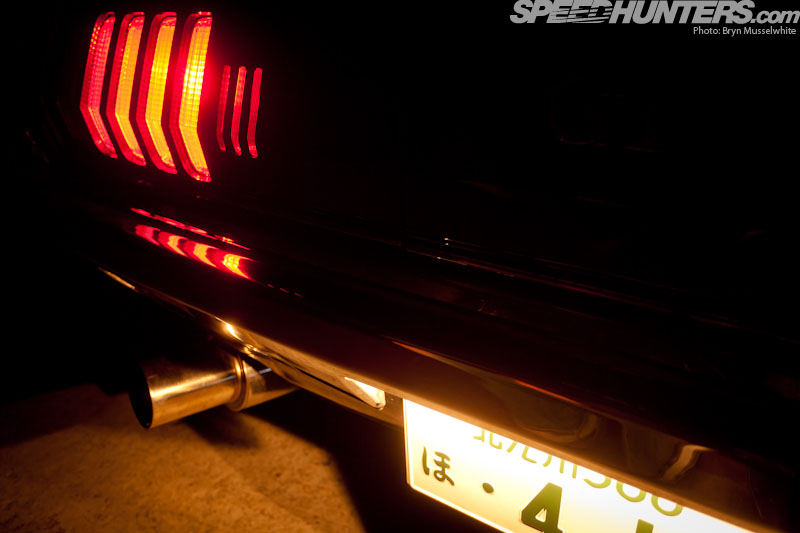 Each time I take another walk around the TA, I like it more. The eclectic selection of parts fit so well together.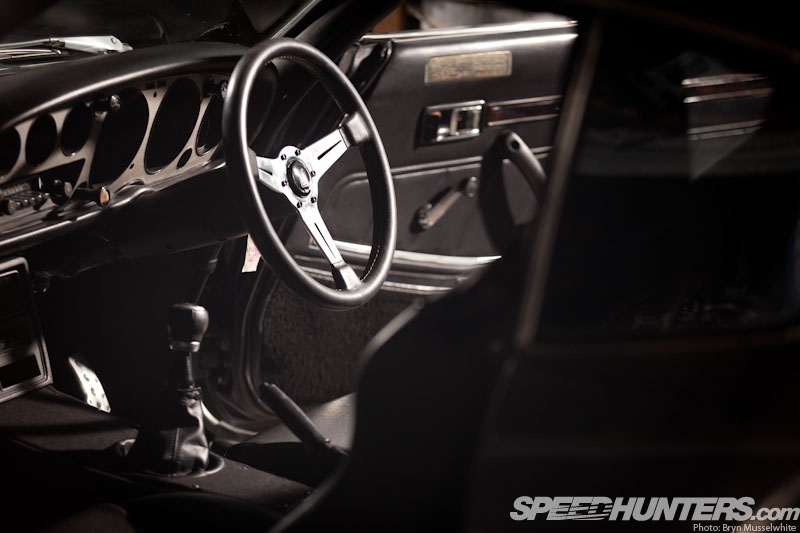 So when Saj says we should go out for some food, I'm keen to feel the Celica from the passenger seat. The ride is obviously firm, but the stiffness has a supple side too. Saj worked hard to get the right amount of stretch on the Vaarstoen wheels, settling on 195/50 and 215/45. So they're low-profile but hardly rubberband, giving some sidewall flexibility that older cars need. That modified Apexi Integra DC2 exhaust giving the stock Beams unit a bark as it revs, which it does so well. Working on the standard power figure of roughly 210bhp, the Celica is really happy in traffic and given some clear road can pull in the corners quickly when Saj wants it too.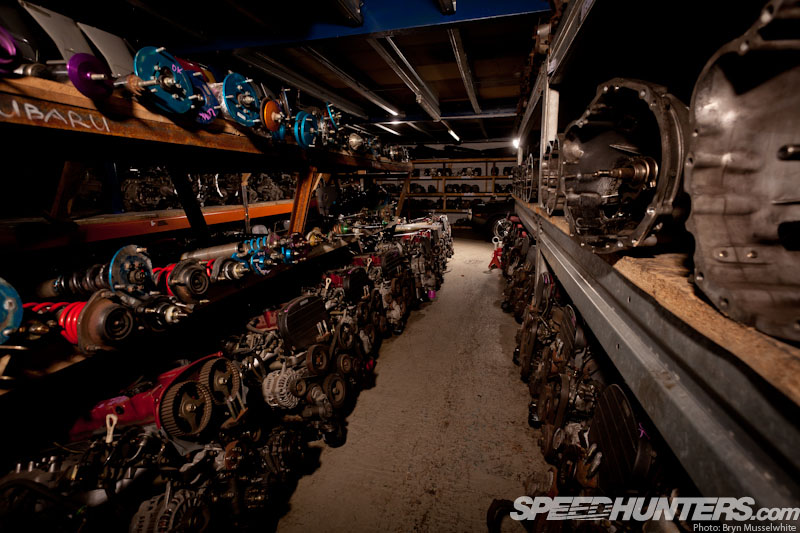 Given all the parts Saj could have picked and the previous Subaru drift project, I'm almost suprised how subtle the Celica has turned out…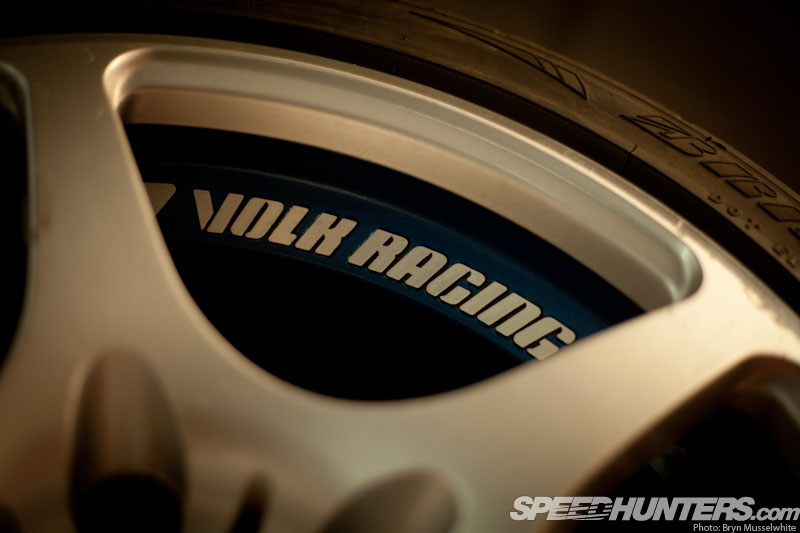 …because everywhere you turn in JPP there are desirable parts waiting for a project to happen. It starts to make more sense when I realise that the Celica is for Saj. Sure, he may have kept an eye on the shelves as to what could be utilised, but having sold his previous Celicas, this one was going to be done right and then kept.
So I guess sometimes you can have the best toy cupboard, but it really is all about what toys you put in it…
Bryn Musselwhite
Engine
3S-GE BEAMS 1998cc 16-valve Dual VVT-i, Altezza wiring harness and ECU, uprated oil cooler, Altezza in-tank fuel pump, VW Polo radiator, Mishimoto slimline radiator fan, Apexi induction kit, custom exhaust manifold, Integra DC2 Apexi modified exhaust system, silicon hoses
Transmission
J160 six-speed manual gearbox, one-piece prop made from Altezza front and Celica back half, original Celica crossmember with a Subaru section added
Brakes
Vented discs and original drum brakes
Wheels and tyres
8×15-inch (front) and 9×15-inch (rear) Vaarstoen V3 alloys, Nankang Ultra sport, 195/50/15, Bridgestone B530 215/45/15
Suspension: Cusco coilovers, camber adjustable, modified steering bars, polybushed front TCAs, Skyline R33 GT-R rear springs,
Exterior
Full respray in Mercedes AMG Tenorite Grey, JDM remodelled front lip and rear spoiler, custom side stripes with Beams GT logo, fibreglass bonnet
Interior
Honda S2000 front seats, modified seat rails, Skyline R32 GT-R carpets, Mk4 Supra tacho and rev counter, rally-spec heater, Evo VIII gear gaitor, Impreza STi gearknob, Nardi steering wheel, factory radio, Altezza pedals
Thanks to Customize Bodyworkz for paintwork, Lee from Crawley Auto fit for Welding and Vit from JPP for his patience with the wiring…
Take a look at this video of Saj and the Celica which was made by Togethia Media, hear him tell the story in his own words and see it in action.
Follow this link to the JPP website