Now that I've shared some of my initial thoughts and observations from this year's Osaka Auto Messe, I thought I'd go ahead and jump right in with a Spotlight-O-Rama with some of my favorite cars from the show. I'll begin with the tough looking Toyota 86 you see above.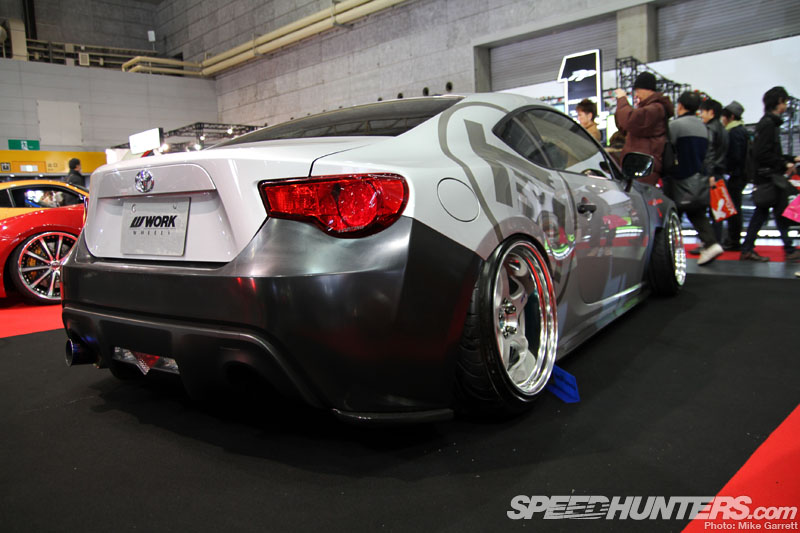 Built by Todoroki Auto, this hachi-roku seems to take a lot of influence from Japan's AE86 street drift cars. I believe the unpainted front and rear bumpers were left as a direct throwback to the AE86, and the large katakana Toyota logos are also a cool touch.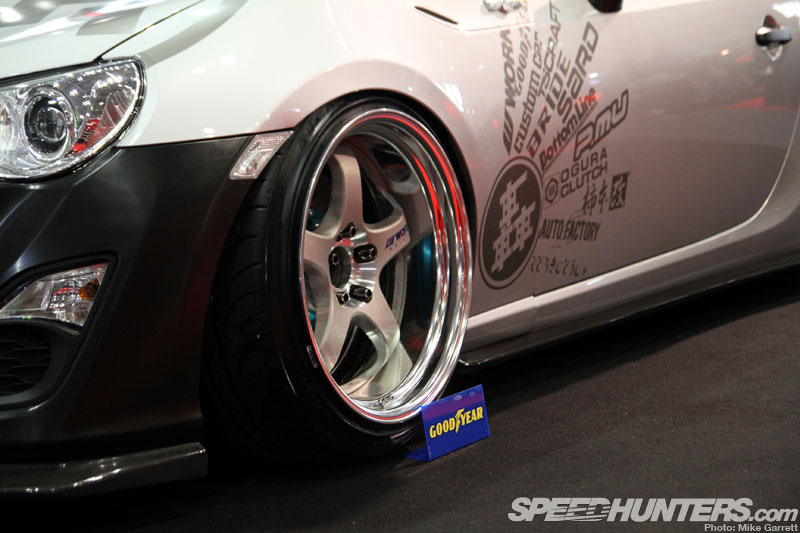 The car sits low on a set of Stance coilovers turned down to the max with custom Todoroki Auto arms. The wheels are Work Meister S1Rs, 18x10J +12 in the front and 18×10.5J +18 in the rear with Goodyear rubber.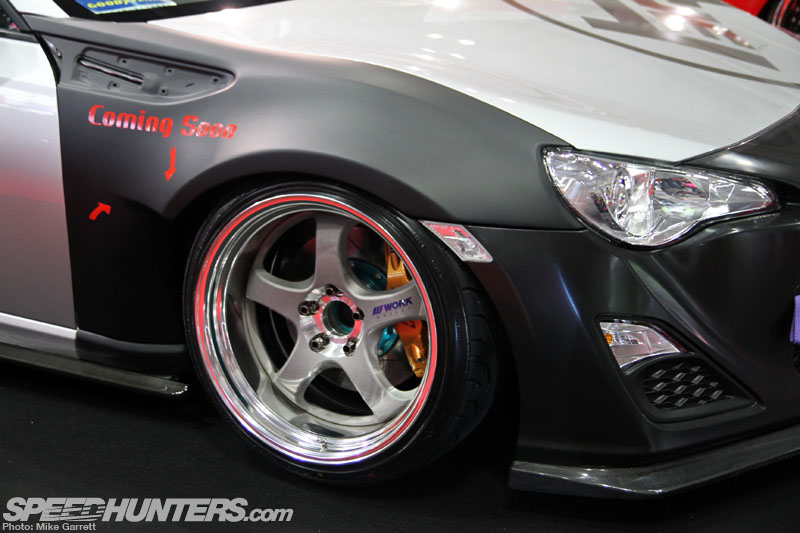 Here you can catch a glimpse of the car's future bodywork plans. Other modifications include big brakes, a Cusco cage, Bride seats, and Kakimoto exhaust.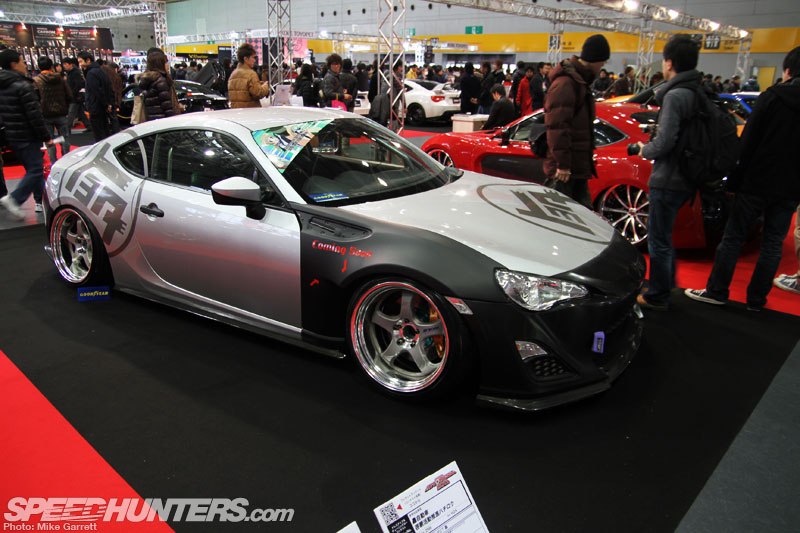 This car wasn't the most extensively modified 86 on the show floor, but it really won me over with its aggressive, retro-inspired street style.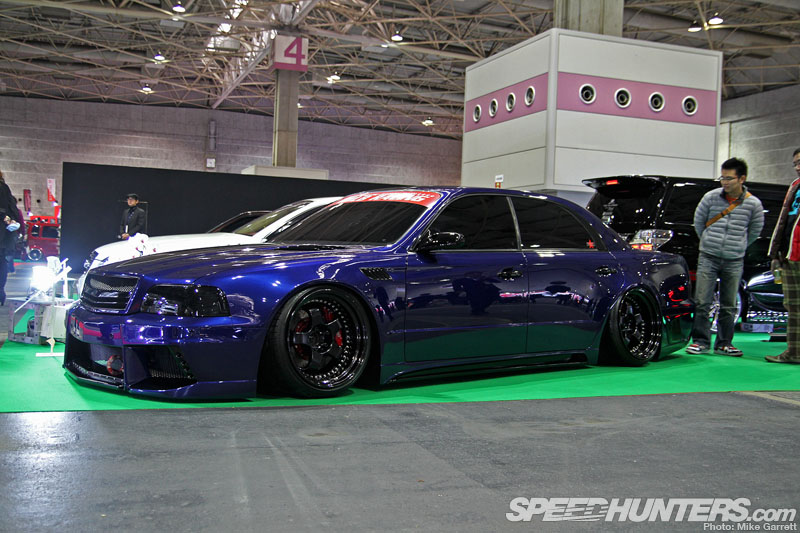 With so many incredible VIP cars being shown, it was impossible not to include some here. This UZS141 Majesta from Signas is a perfect example of the Auto Messe's mad sedans.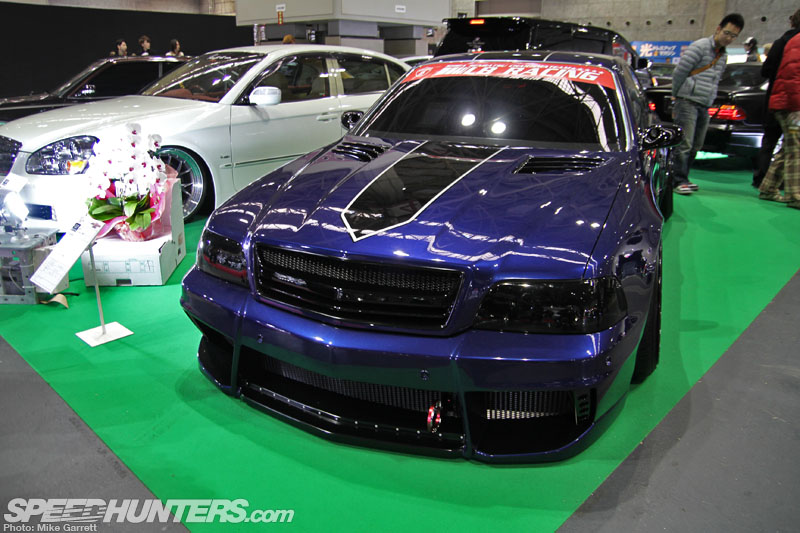 All of the bodywork on the car is one-off, including the hood, bumpers, trunk, and the blister fenders…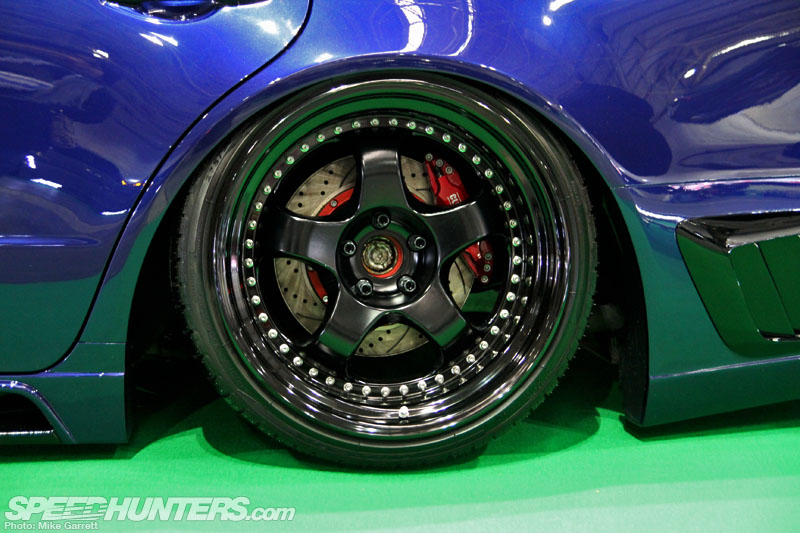 …which perfectly contain a set of 19×10 and 19×12 Work Meister S1s. Like the majority of the VIP cars at Auto Messe, it's sitting on one-off coilovers rather than airbags.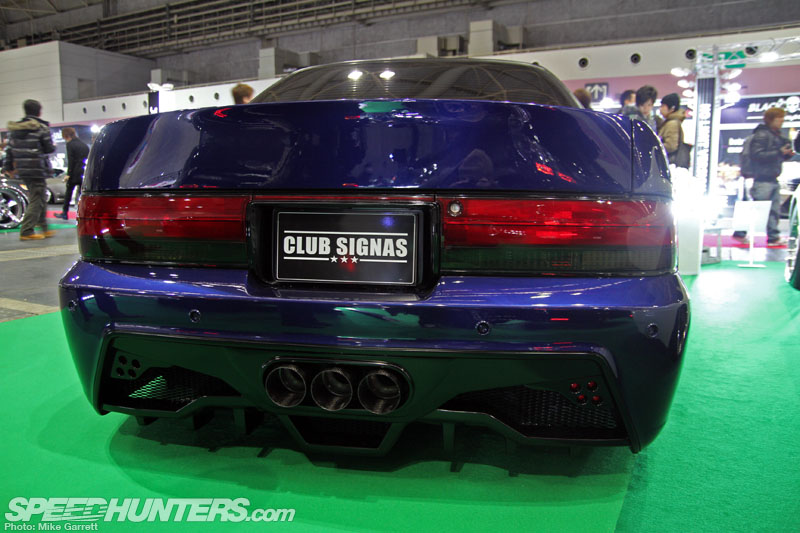 The triple tip exhaust and exotic rear bumper fit perfectly with the rest of the car's style…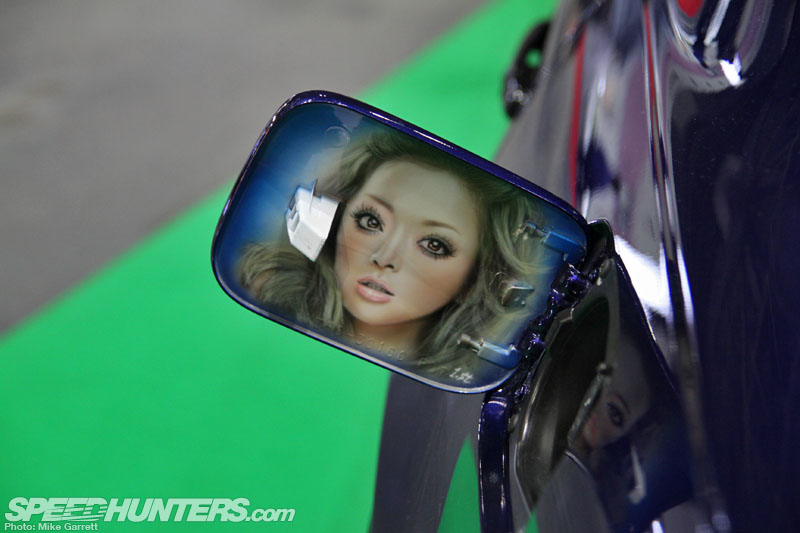 And for the finishing touch we have an airbrushed portrait of Ayumi Hamasaki (or at least a girl that looks a lot like her) on the gas cap. You just have to love it.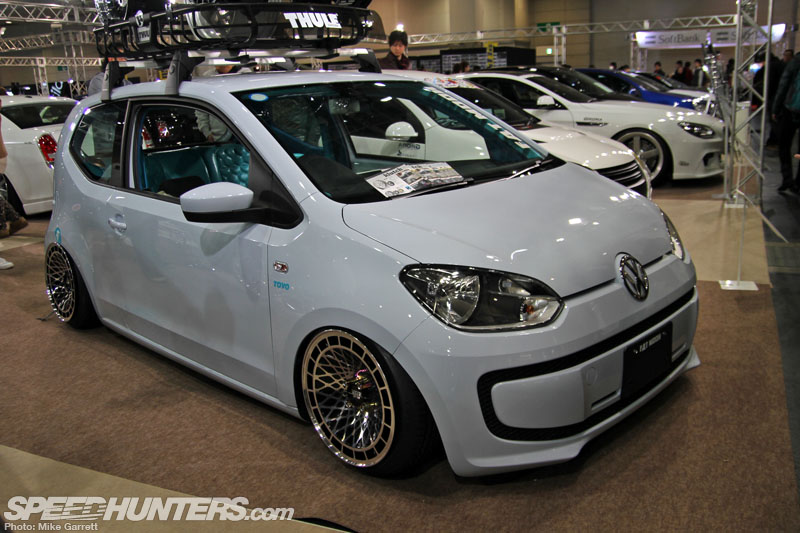 I mentioned the popularity of the Volkswagen Up! in yesterday's post, and one of the coolest examples was this one from custom shop Fat Moon.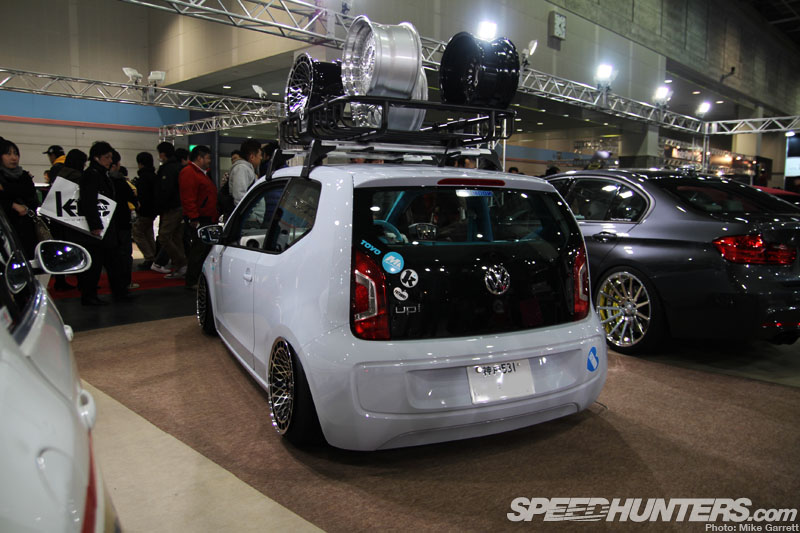 The little VW is dumped on an Air Runner kit, with a number of chassis (C-notched frame) and suspension mods to achieve maximum lowness. I also quite like the color choice, which is a factory Volkswagen option.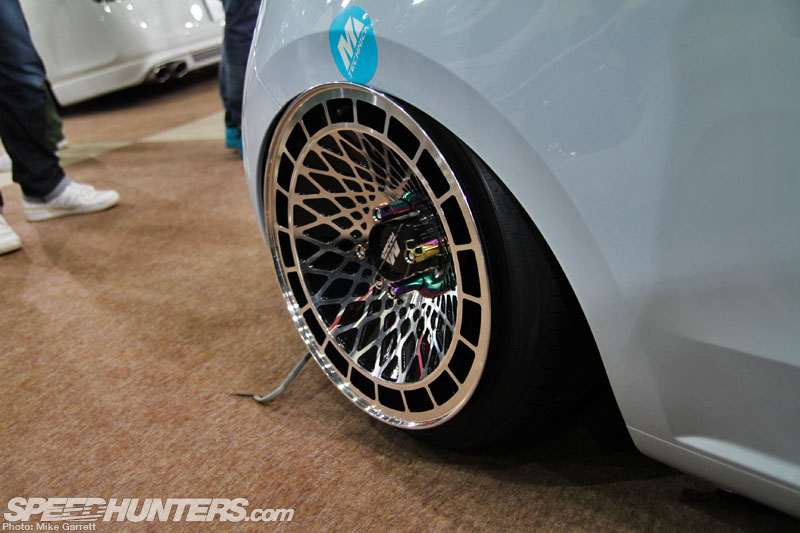 The wheels are 16×8.5 M-Technica Turbos from Memory Fab in the US, with a radically stretched set of 165-45-16 Toyo BRD tires.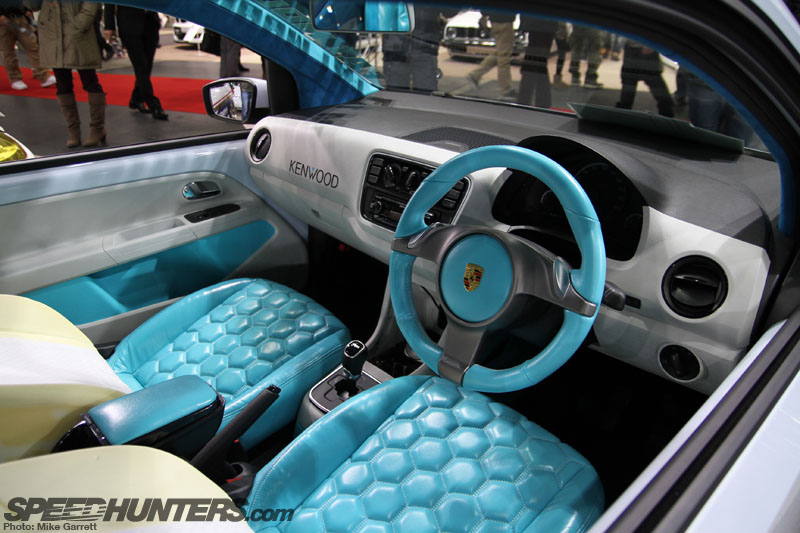 The interior has been fully customized to match of course. Love that Porsche steering wheel!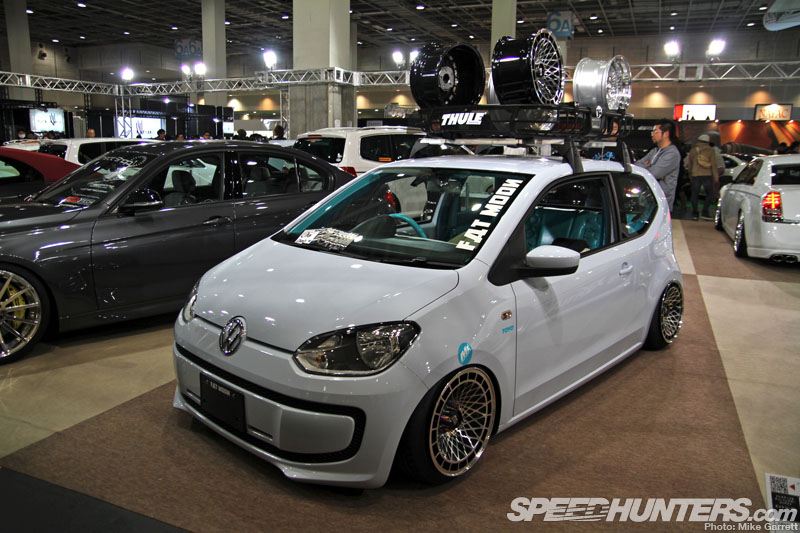 There was just something about this mix of European, US, and homegrown Japanese elements that made this one of my favorite cars from the show.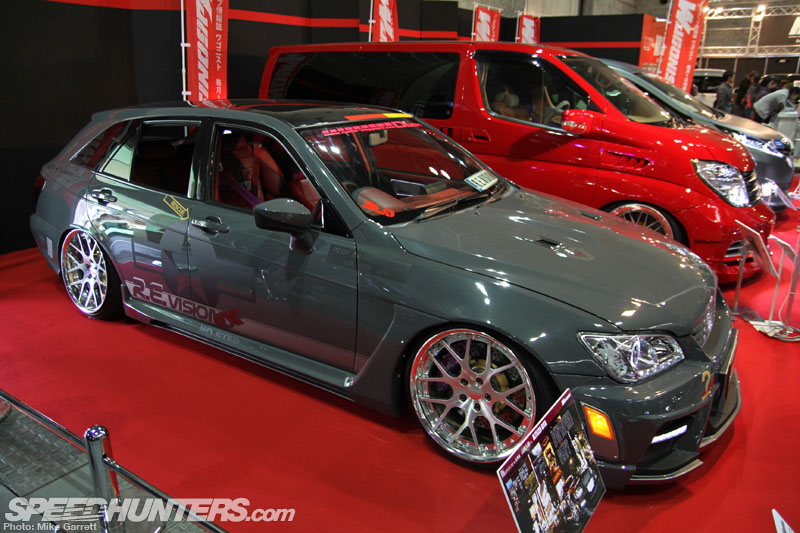 Over in the Wagonist Magazine display, I found this crazy Toyota Altezza Gita wagon (or SportCross as it's known in the United States).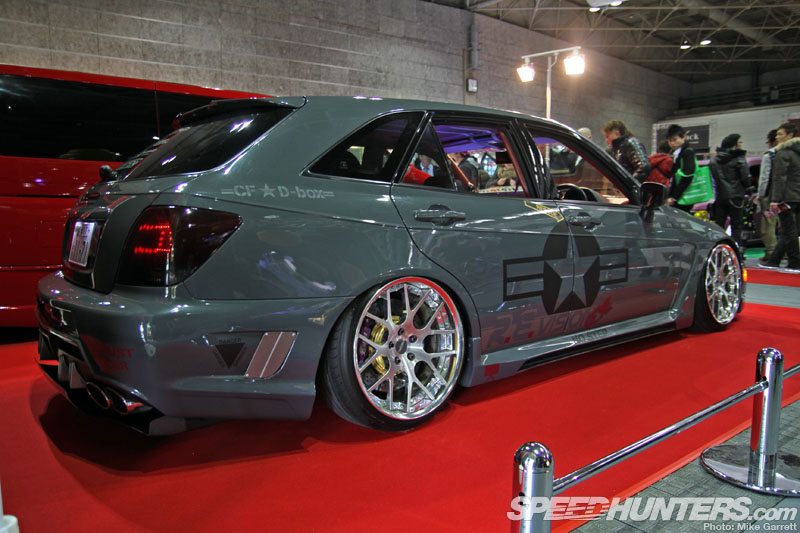 The Gita is a rare machine in any form, so I was very surprised to see this heavily customized version on the show floor. This one mixes your typical VIP and dress-up elements with a hint of fighter plane style.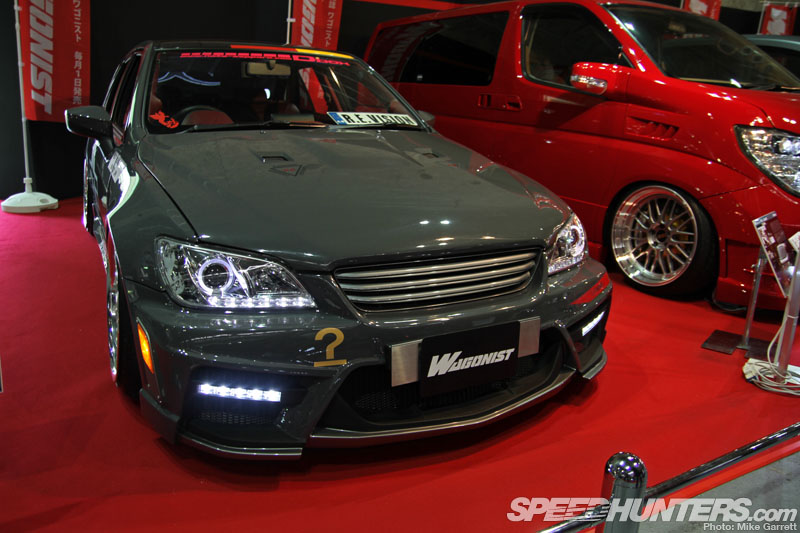 The body has been made with parts from a number of different cars. The front bumper for example was modified based on aftermarket Aristo parts, the sides were built from Black Pearl Celsior skirts, and the rear was made from a mix of both Aristo and Impreza parts.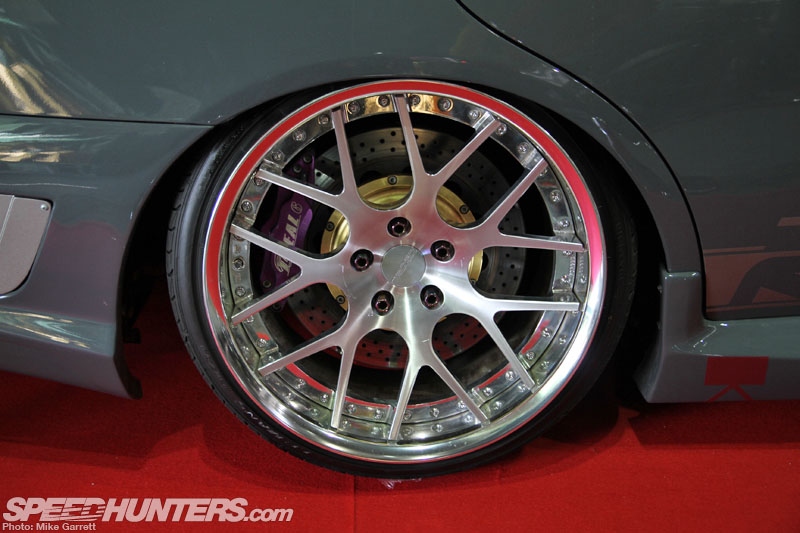 The wheels are 19″ Hyper Forged HF-C7s with impressively large brakes lurking behind. Even if these cars aren't built for hard driving, you'll be hard pressed to find a VIP machine at Auto Messe without a set of supercar-sized stoppers to fill its wheels.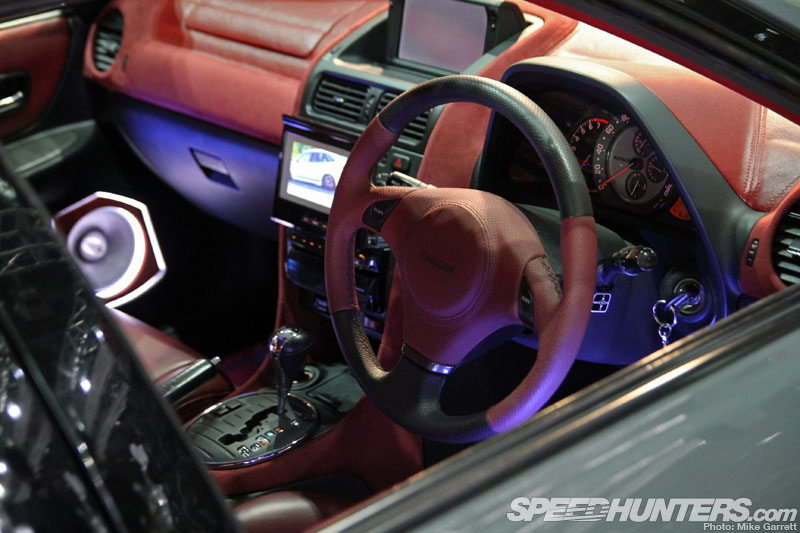 Naturally, the Gita's interior has lots of custom leather upholstery and high end audio equipment. It's pretty much a given in this scene.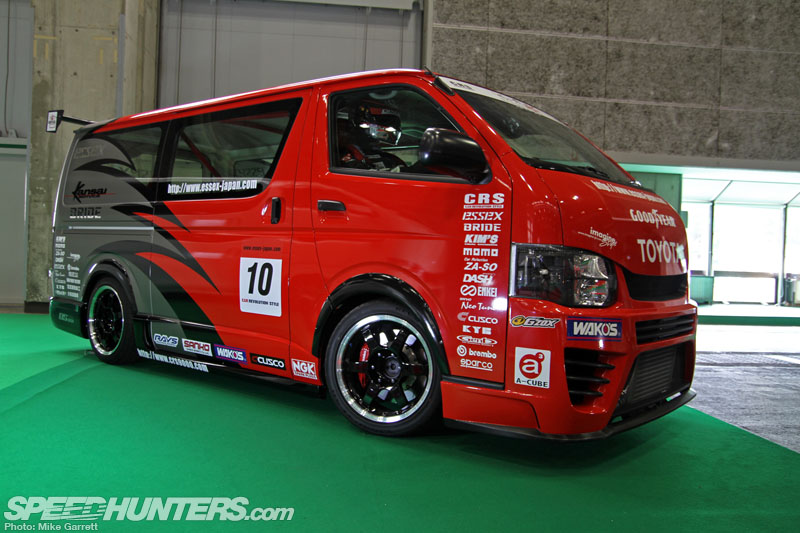 Next up comes one of the most unusual, and also one of the coolest vehicles from this year's show – the drift Toyota Hiace from CRS. Yes you read right, this boxy van has been built specifically to go sideways.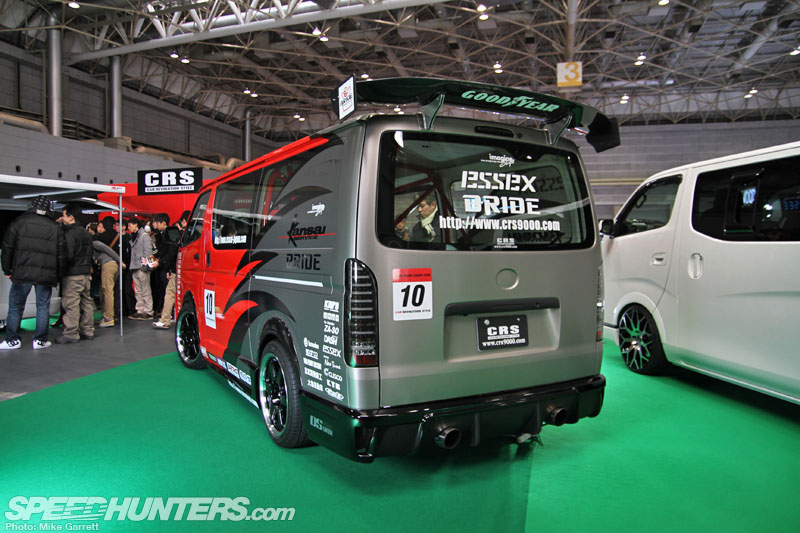 The Essex aero looks like it comes straight off a race car (or race van?) and the interior has been stripped out and fitted with Bride Exas II buckets and a full 10-point roll cage. Yep, I'd say the cage is a good idea considering the high center of gravity here…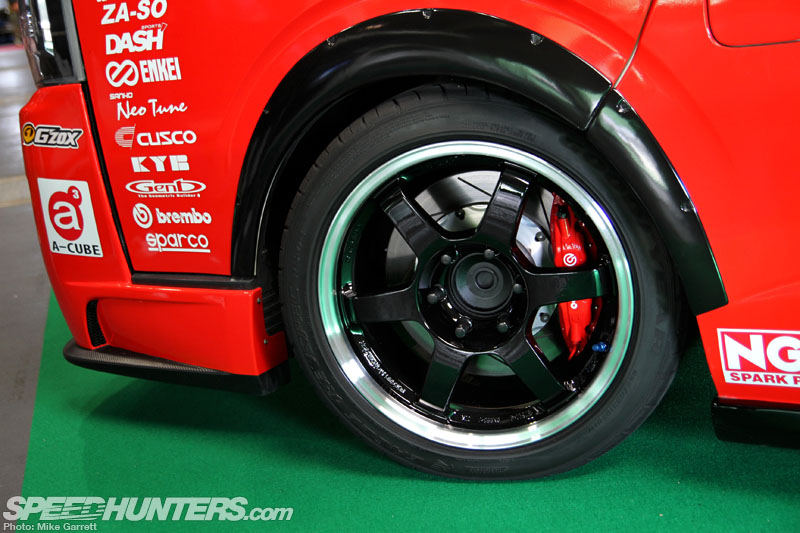 Check out the over fenders, 18″ six-lug TE37s and Brembo brakes. Serious stuff.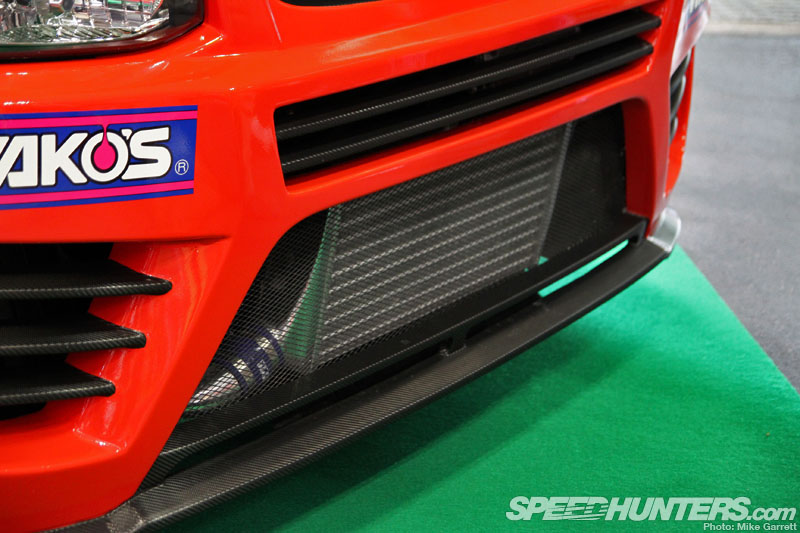 The engine has also been fitted with an HKS supercharger kit to help get those rear tires smoking…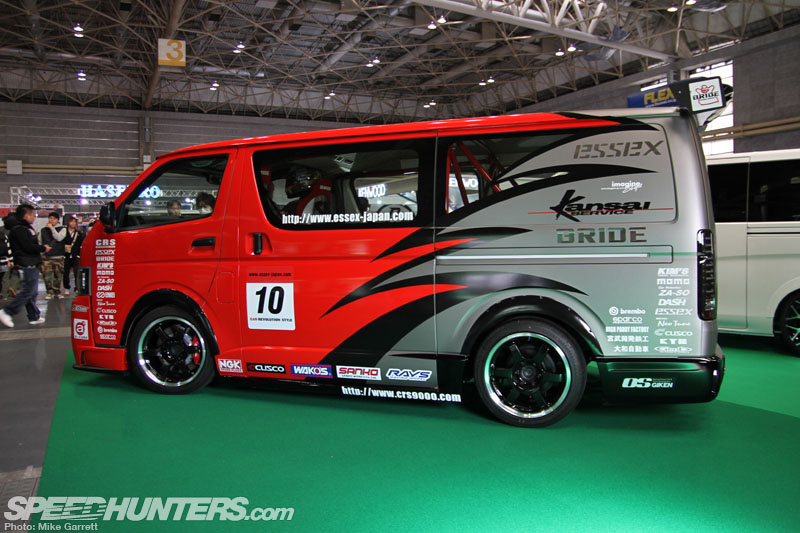 A Hiace with built for drifting with the look of a Super GT car? I think I'm in love.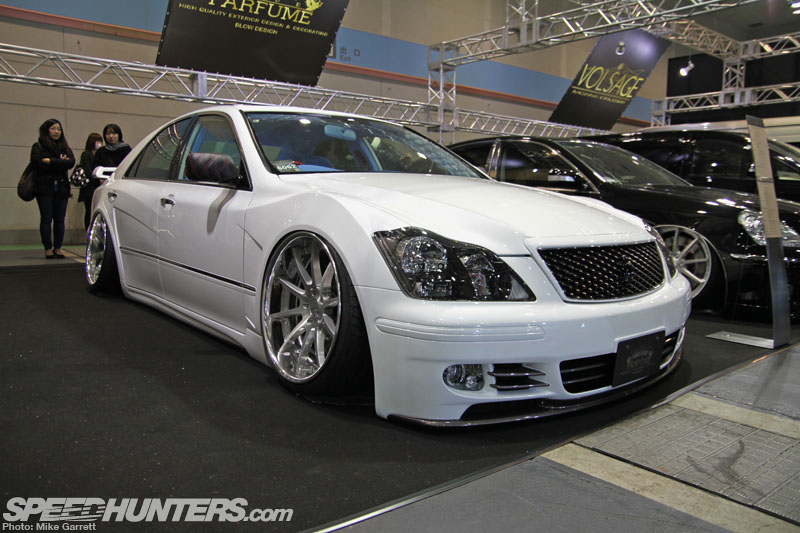 I'll finish up here with what I think was my favorite VIP car of the show – the Mode Parfume GA-MU Regalia Crown Athlete. To me, this car defines everything that makes Auto Messe's VIP selection so amazing.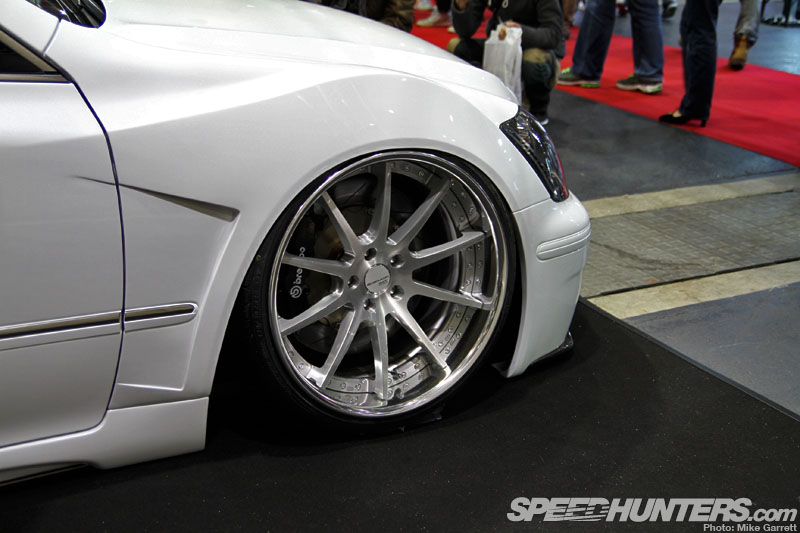 While the car is still immediately identifiable as a GRS180 Crown, the wide wheel openings, Garage Excelent blister fenders and the one-off hood give the sedan a dramatically different look. The 20″ SSR Executor CV01s and big Brembos also help.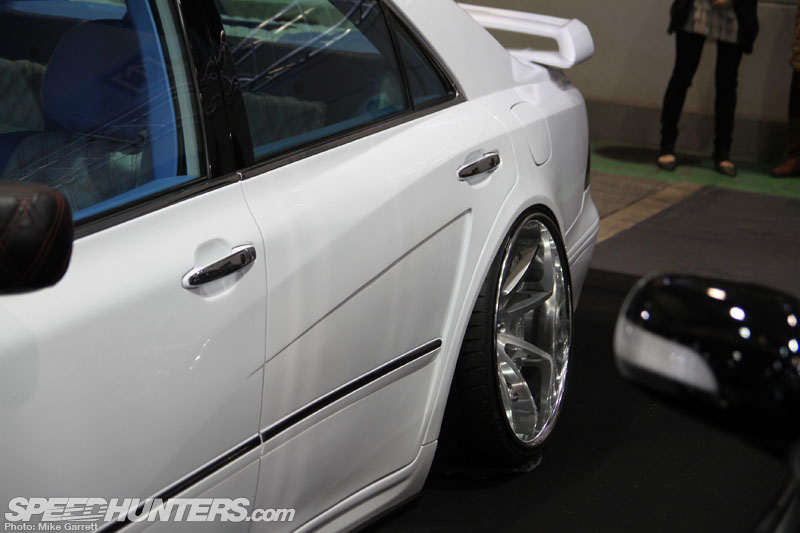 Take a look at the design on the rear doors and quarter panels. It's very aggressive, but the work has been done so well that it almost looks factory.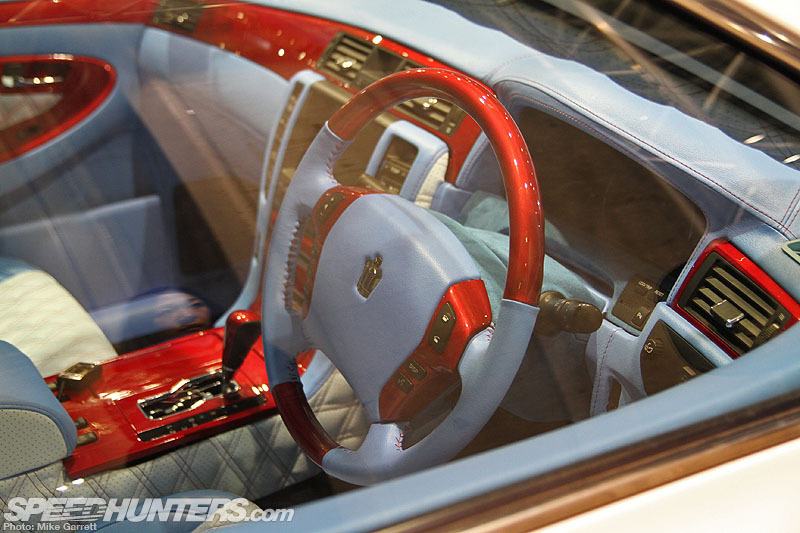 That interior looks like a very nice place to be…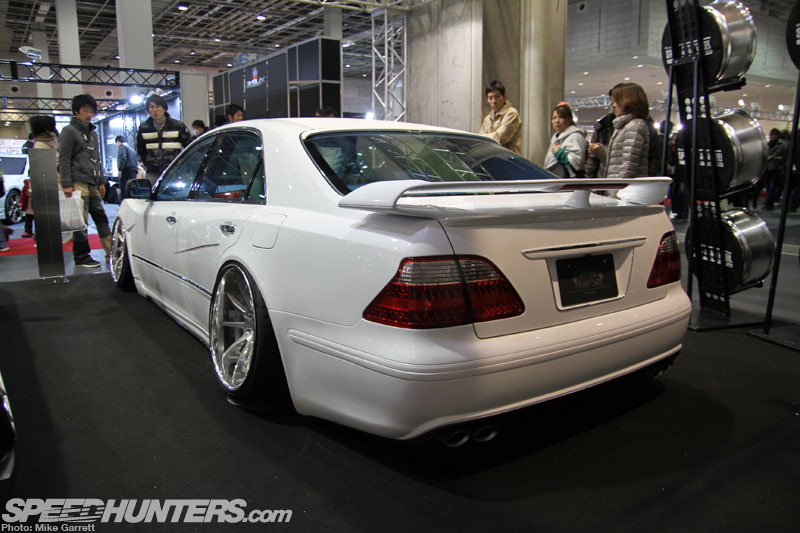 With as wild as it is, this Crown was actually subtle by Auto Messe standards – and it was that mix of aggression and attention to detail that really sold me on the car.
Back soon with more from Osaka!
-Mike