For me, visiting Japan is an exercise in constant amazement. Wherever I go in the country, I'm greeted by incredibly passionate people doing incredible things with incredible cars. During the 35 days that I spent there on this most recent expedition, I was able to see an unprecedented array of Japanese car culture. Picking a single favorite moment from my journey is impossible, but if I had to sum up my feelings on the entire trip with just one event, it would be the M&L Party in Osaka.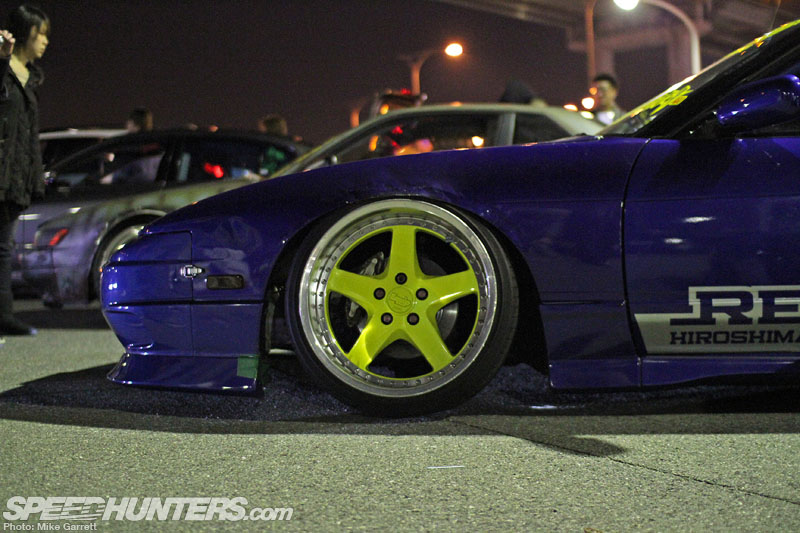 I've been to some amazing car meets during my time as a Speedhunter, but nothing compares to this. I have no clue what the world's biggest parking lot meet is, but at around 1,300 cars total the M&L Party is certainly up there.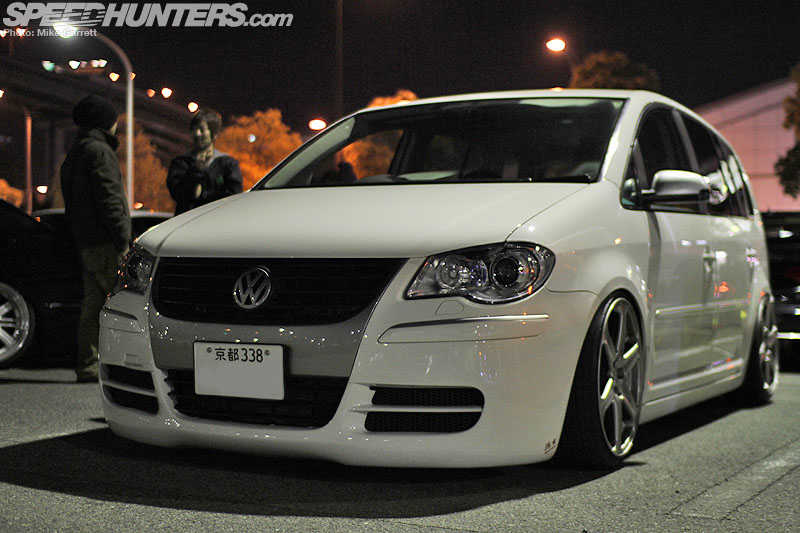 But it's not just the number of cars that impressed, it was the quality and the diversity of them. I'm honestly not sure if I have ever seen a bigger or more impressive mix of modified street cars in one place. The SEMA Show comes to mind, but that's a global trade show, and this is a local late night parking lot gathering…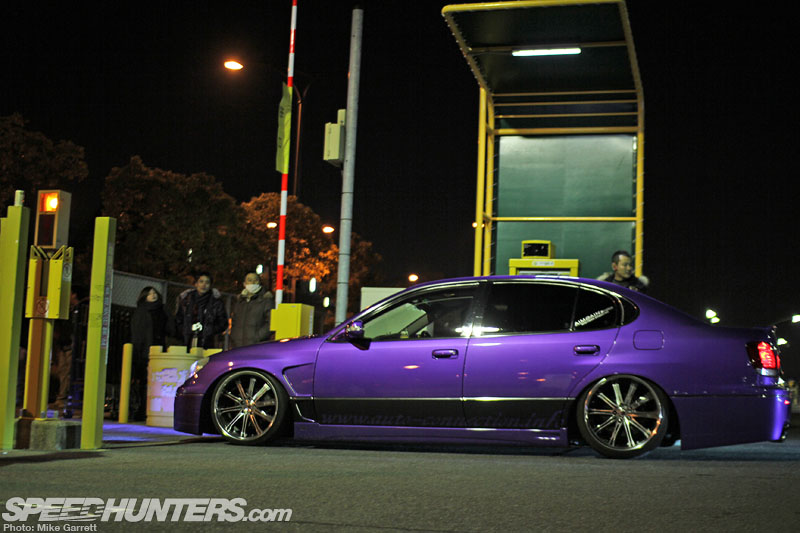 This was another one of the many times on this trip where I was struggling to process everything I was seeing. With so many cars gathering for such a short time, I'd see car after amazing car cruise by out of the corner of my eye, only to have them disappear somewhere into the vast Sakurajima parking lot.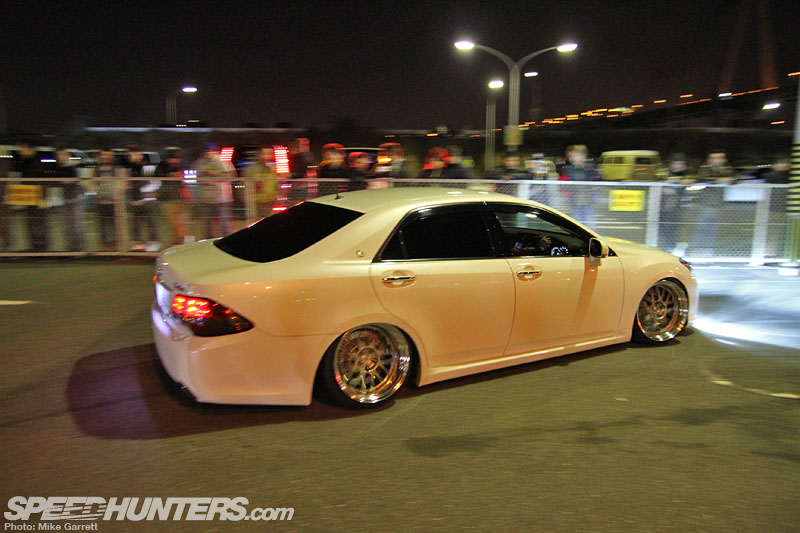 For all the great machinery that you see in these photos, there was so much more that I never even got the chance to look at. For the entirety of the night, cars were constantly rolling in and out of the gates. There was no break, no time to sit back and really absorb what I was seeing.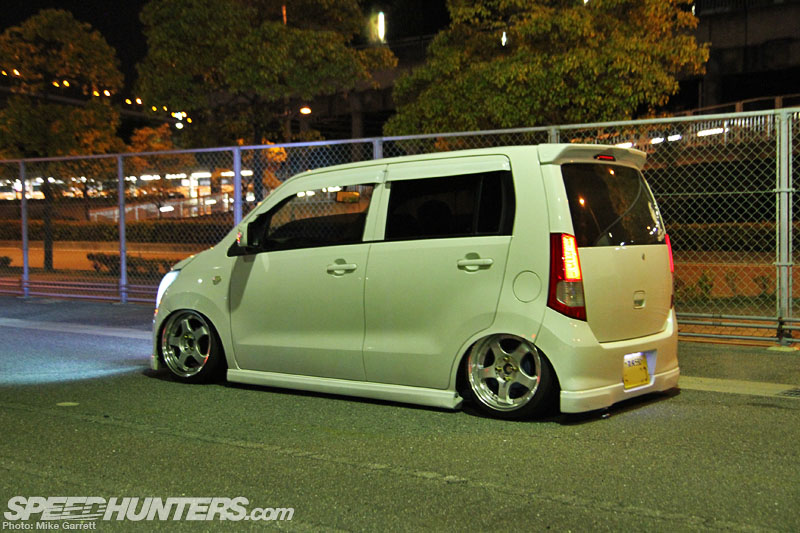 The M&L Party was held for the first time, and I was fortunate enough to attend after being invited by the good people from Team Madame and Tactical Art. I was impressed with last year's meet of course, but 2013 was at a completely different level. Word spreads fast among car enthusiasts in Japan, and modified machines were lined up for blocks waiting to get in – well before the meet officially started.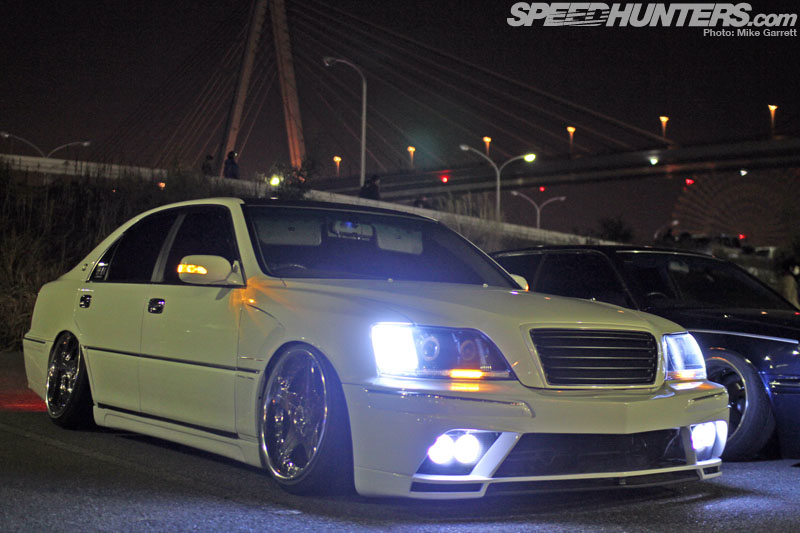 I also like to think that the announcement that Speedhunters would be present at the event also helped raise the excitement level. Based on the warm welcome I got from everyone involved, this seems to be the case.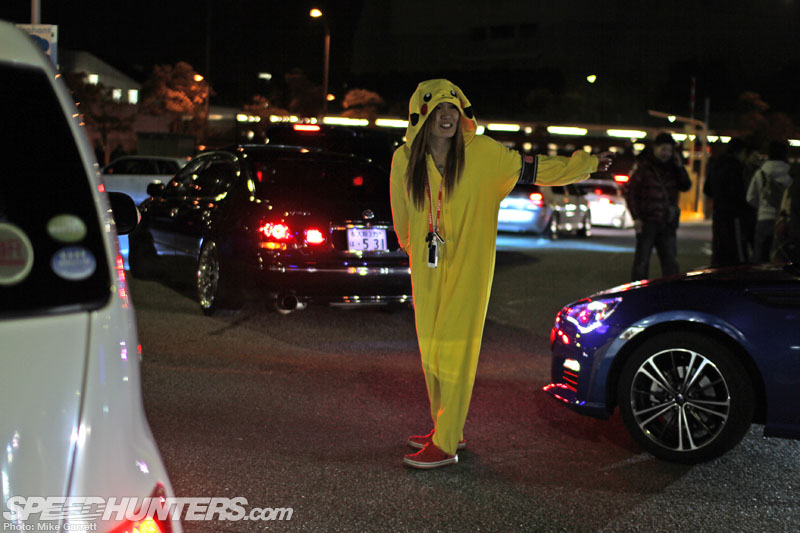 What's especially cool is that the whole thing was put on by a small group of friends who simply wanted to have a gathering where all types of cars and their owners could gather in one spot and have fun. There was no entry fee and no money to be made. It was a group of kind volunteers that spent the entire night making sure things proceeded as smoothly as possible and that everyone enjoyed themselves.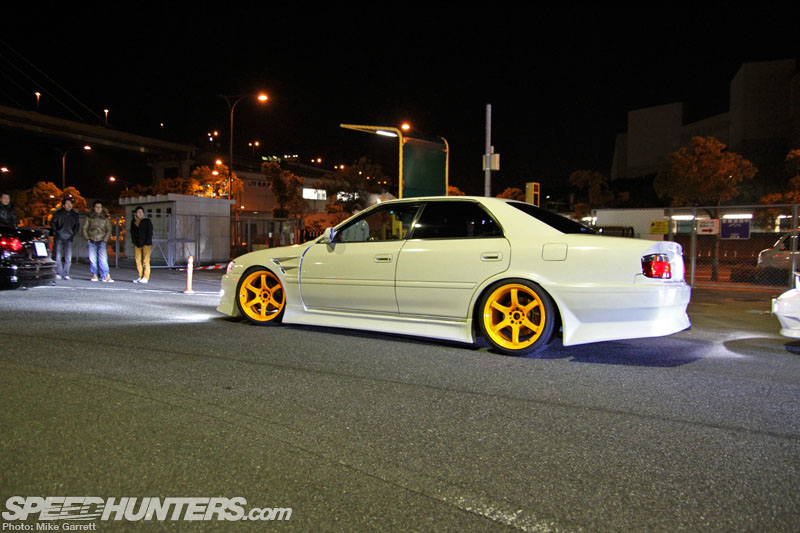 You might be wondering what the local law enforcement thought of so many modified cars gathering in one place. The reason the meet was held at the Sakurajima Parking lot is because the lot is the private, pay-to-park variety – making it a completely legal environment for this sort of thing. It would be impossible to hold a meet this large at a public lot or highway service area without the Police breaking things up. During the day this lot is used by visitors to the adjacent Universal Studios Japan theme park, so there are plenty of spaces.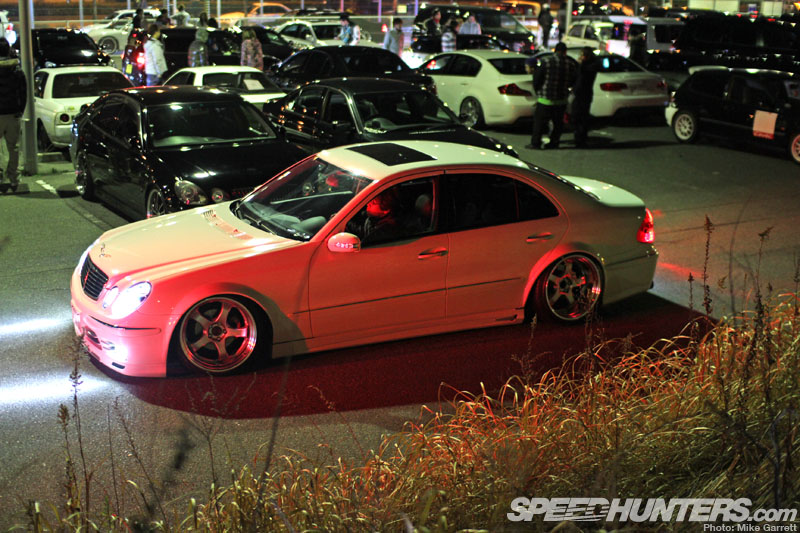 Perhaps the most amazing thing about the M&L Party is the diversity of the cars that participated. In most cases a night meeting like this will consist of a specific type of car, but I don't think there was any genre that went unrepresented on this night.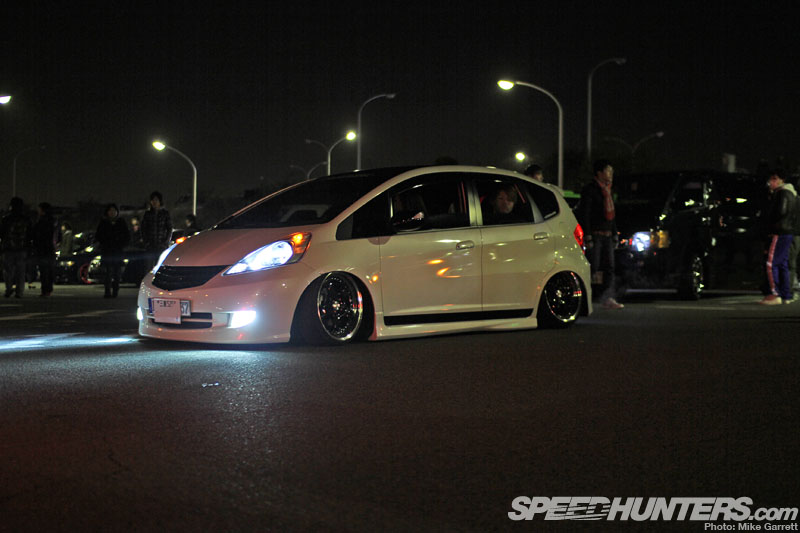 Being Osaka, one quality that tied many of the cars together was having a shakotan stance. Here we have a Honda Fit which had to be the lowest example of this model I've ever seen.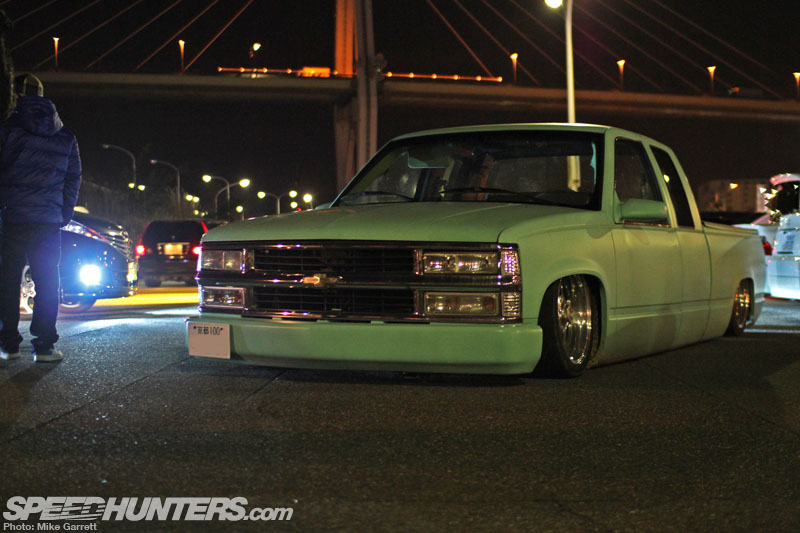 I was particularly surprised by the turnout of custom American pickup trucks. It's probably not the first thing that comes to mind when you think of Japan, but Kansai folks love their pickups and they love 'em low.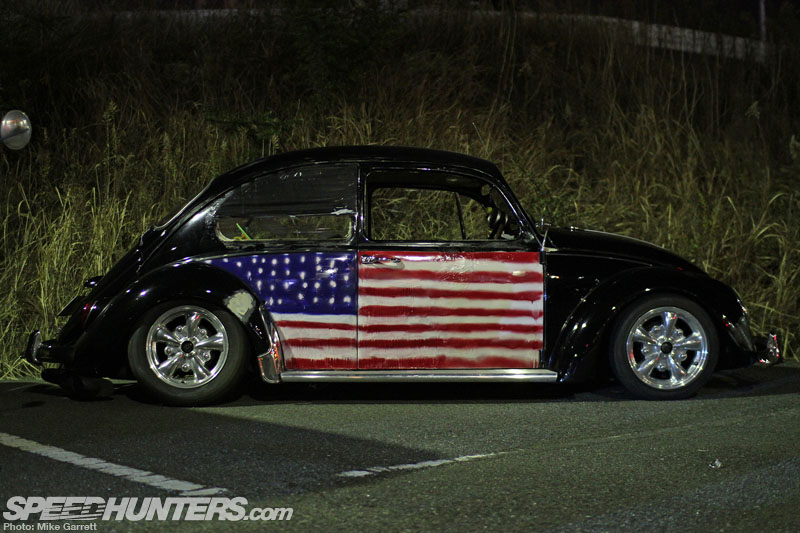 It may be a German car, but the paint and stance make it obvious where the owner of this Beetle gets his inspiration from.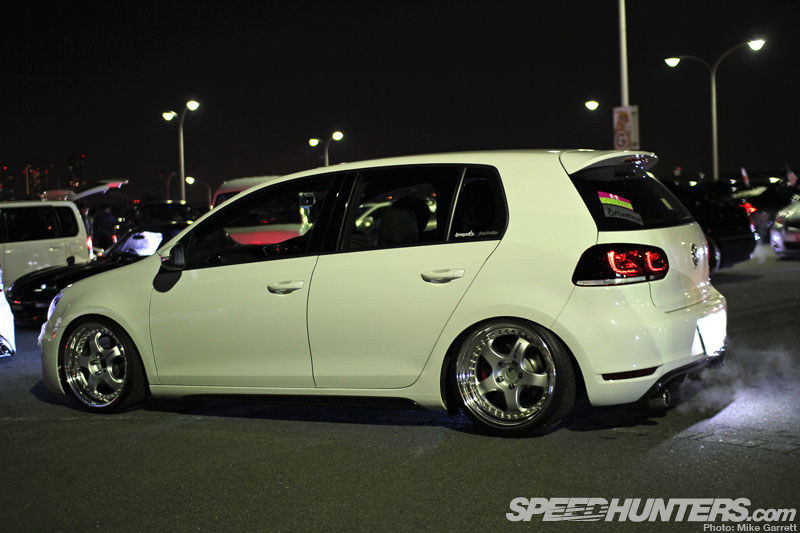 The sprinkling of air-cooled VWs were joined by a much larger group of their water-pumping counterparts. Here's a particularly fresh looking Golf 6 GTI I came across. Hmm…ideas.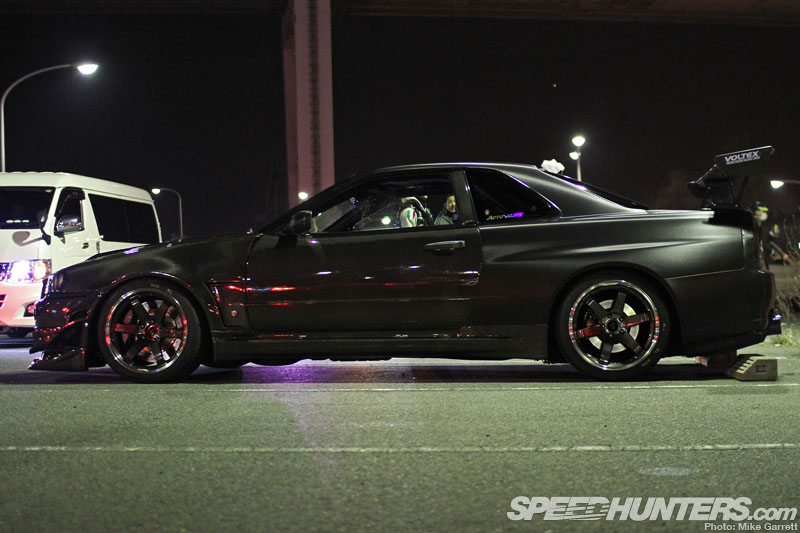 Here's a car that fits the "traditional" image of Japanese car meet a bit better – a completely wicked Auto Select-tuned R34 GT-R.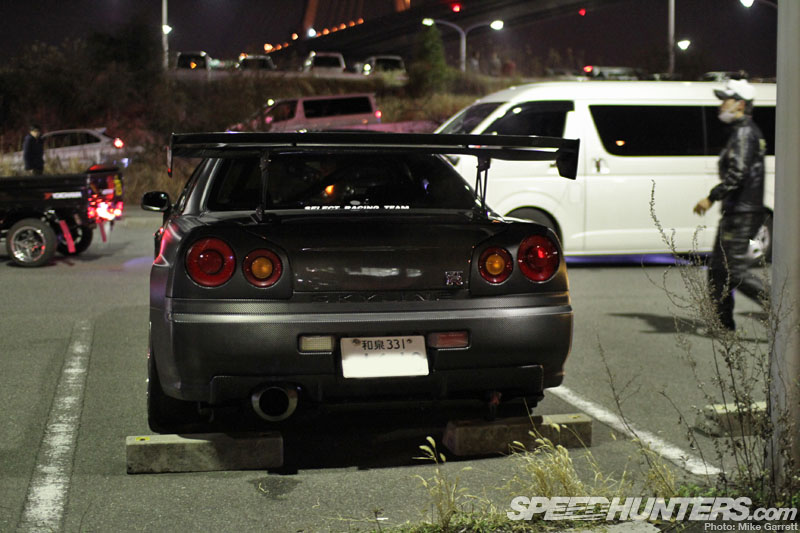 In a parking lot full of super low custom cars, the full-carbon GT-R may have been the most serious, buttoned-up performance machine on hand. Then again, who knows what else was lurking out there?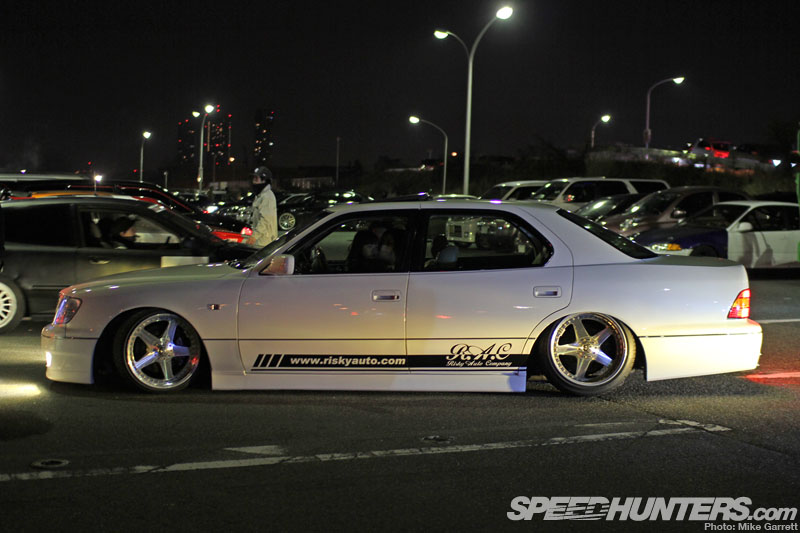 Plenty of Osaka's hometown VIP sedans came out as well, most rolling around at seemingly undrivable ride heights.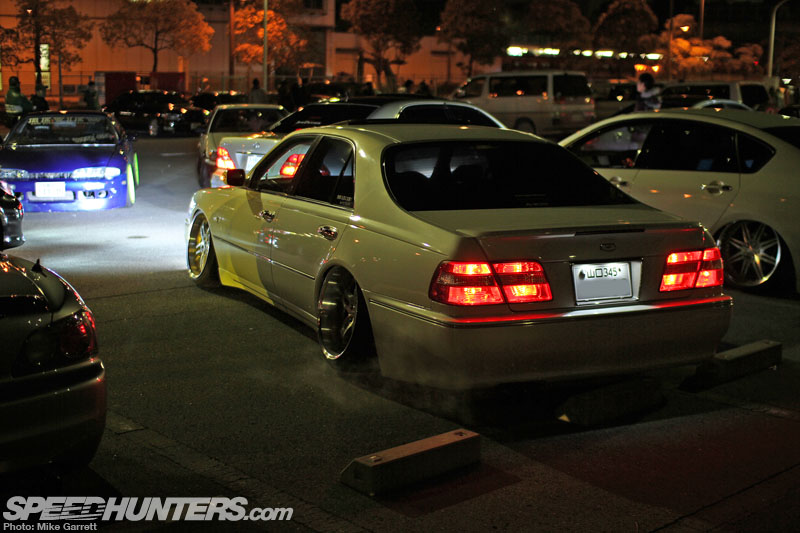 I think the most common sound of the night was that of chassis dragging along the ground. Yes, Osaka is in a world of its own when it comes to rolling low.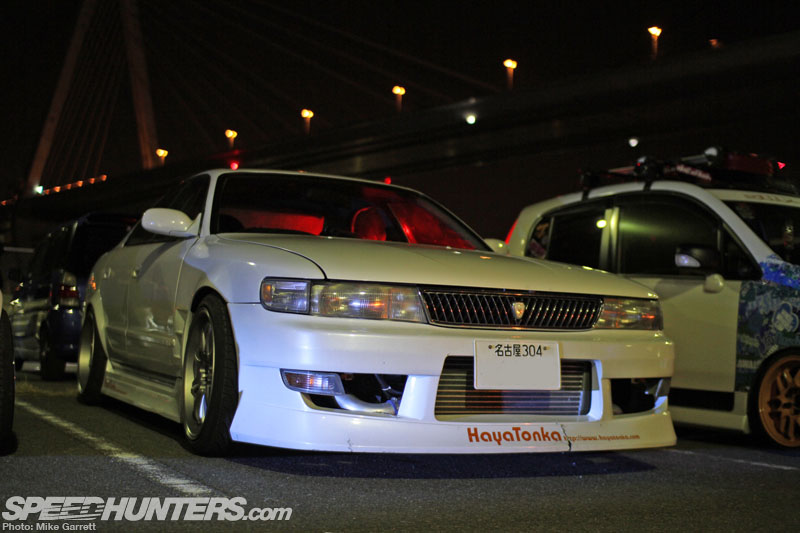 Drift cars? Plenty of those as well, including a number of bitchin' Toyota sedans making sweet 1JZ music as they entered and exited the lot.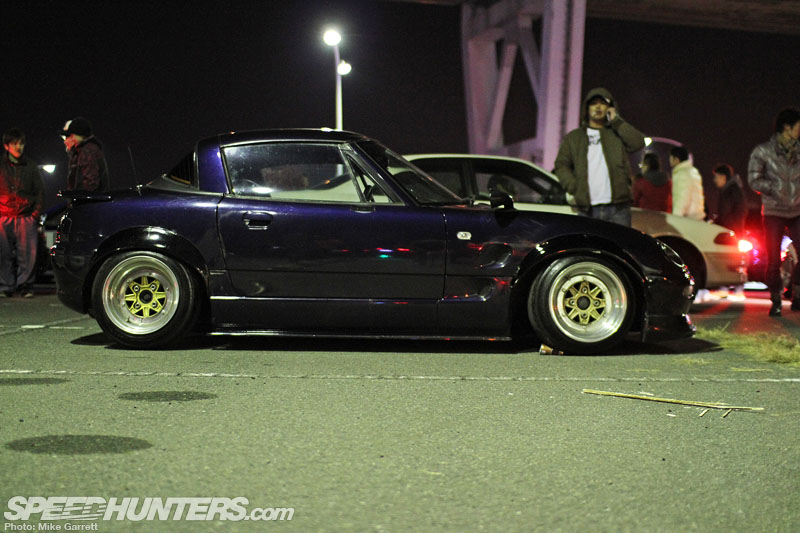 I've never felt a stronger to desire to own a Suzuki Cappuccino  than I did when I saw this one dumped on a set of SSR Mk. IIIs. Perfection.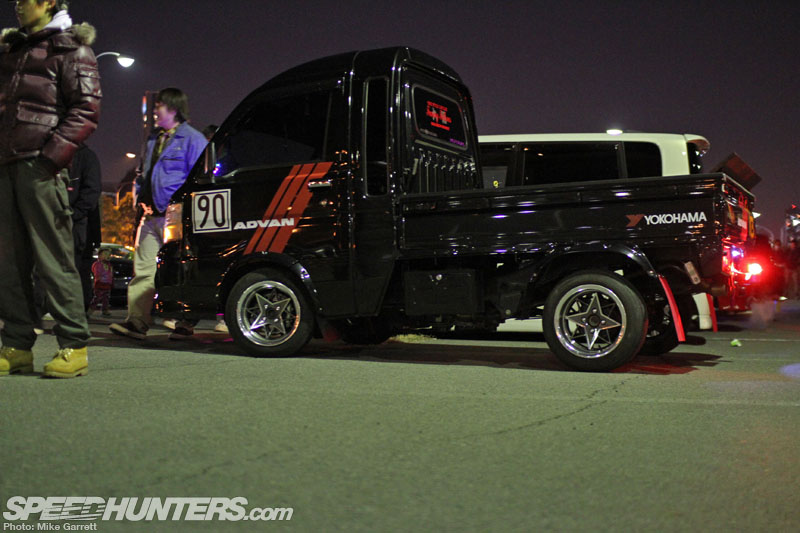 Advan racing colors on a kei truck? You just have to love the imagination and sense of "fun" that goes into these cars.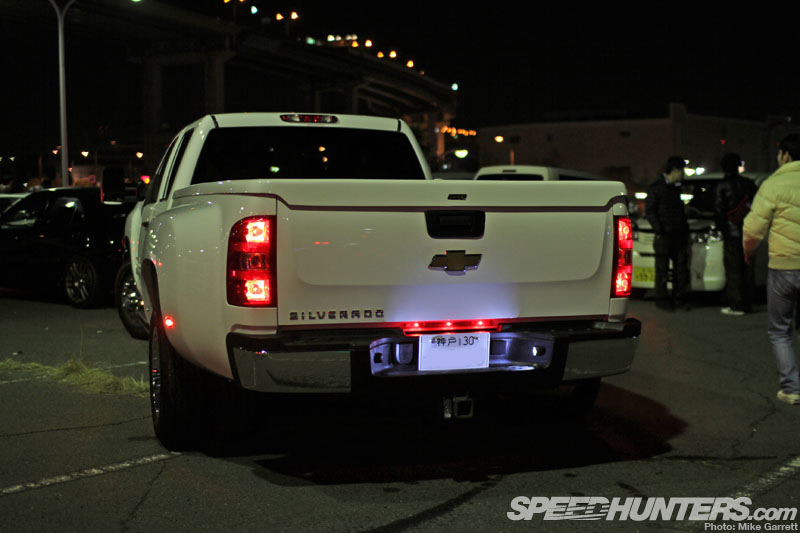 I have no doubt the kei truck in the previous photo would fit right in the bed of this Chevy 3500 dually truck.  This thing was completely stock, but it's an absolute trip to see one of these giant rigs rolling around the streets of Japan.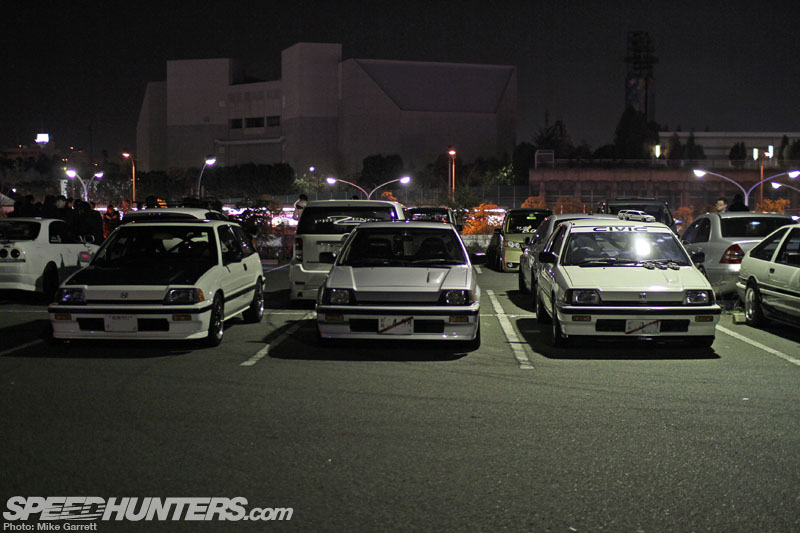 Given the location and time of the evening, it was only natural that some of Osaka's legendary Kanjo racers would stop by to add even more color to the festivities.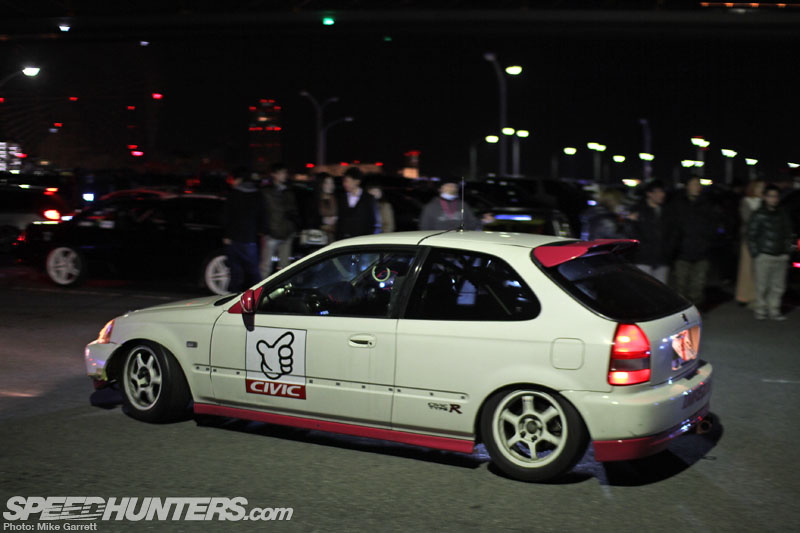 I don't want to spoil things for now, as I'll have a more detailed investigation of these cars coming up next week when we run our FF mini-theme. Keep an eye out for that.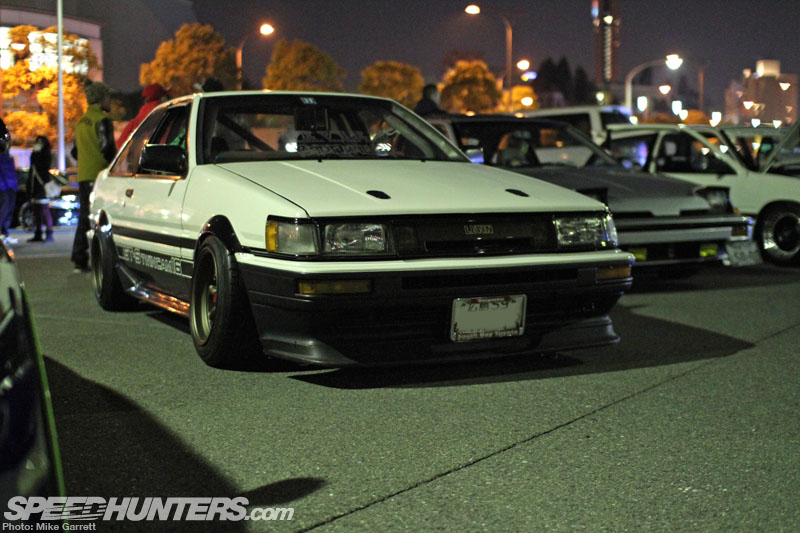 Some folks traveled some serious distance to join the meet, including the fun-loving guys from Team Review who made the trip over from Hiroshima just to hang out.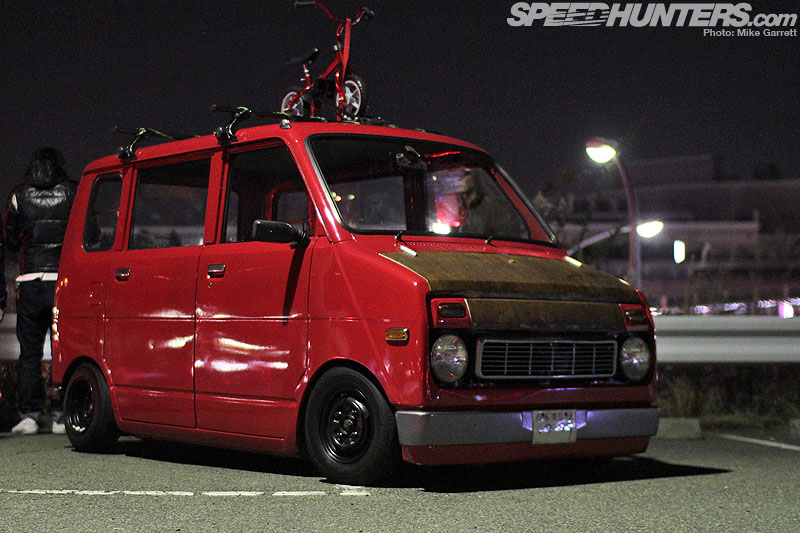 Just like last year, I was asked to help pick the winners for the informal awards that were given out. It was an incredibly difficult choice, but one car that particularly impressed me was the Honda Life Step Van owned by Ogishi-san from Kyoto. Not only did I find his vintage micro van very cool in itself, but he drives the 360cc box all over Japan – including a trek to Tokyo for the New Year Meeting a couple weeks prior.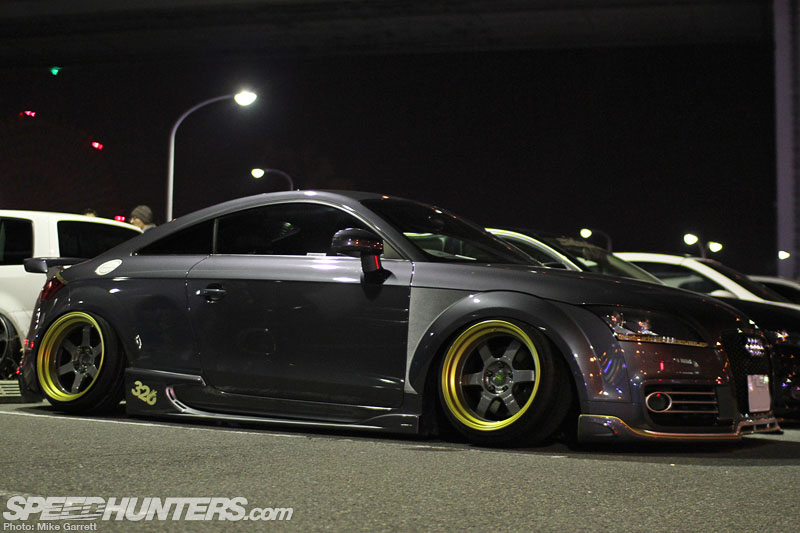 Another car that stood out was the 326 Power-built Audi TT from Hiroshima. Haruguchi-san and 326 Power are known for stylish drift cars, but recently they've jumped into the Euro scene and this wild Audi is one of the results.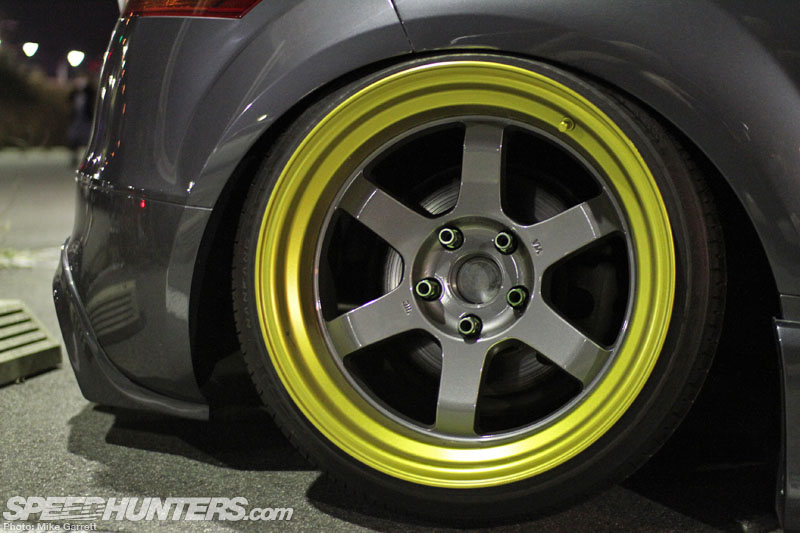 Yep, those are custom-painted Volk TE37Vs. Not something you'd expect to find on a TT, but there's no arguing with the result. Very creative.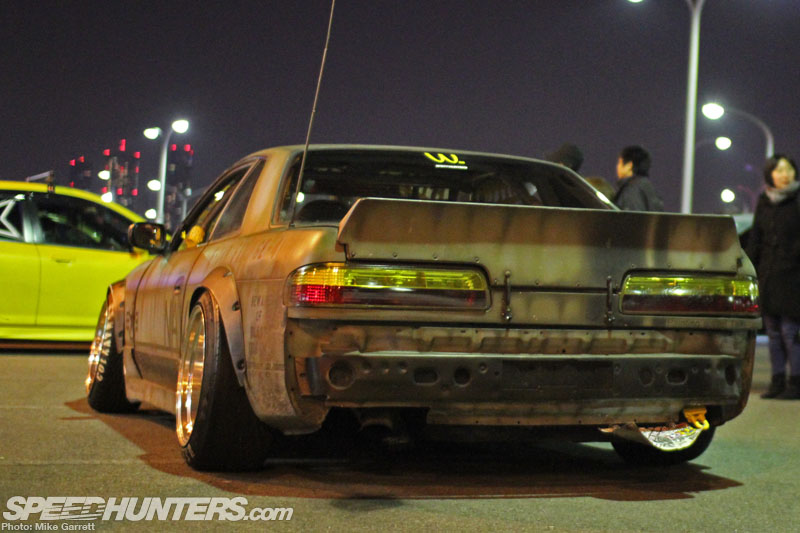 Speaking of being creative, I also found myself very attracted to Takashi Mine-san's US Navy-themed S13 Silvia from Kobe. In fact, I liked this car so much that I decided to shoot a feature on it that you can expect to see soon.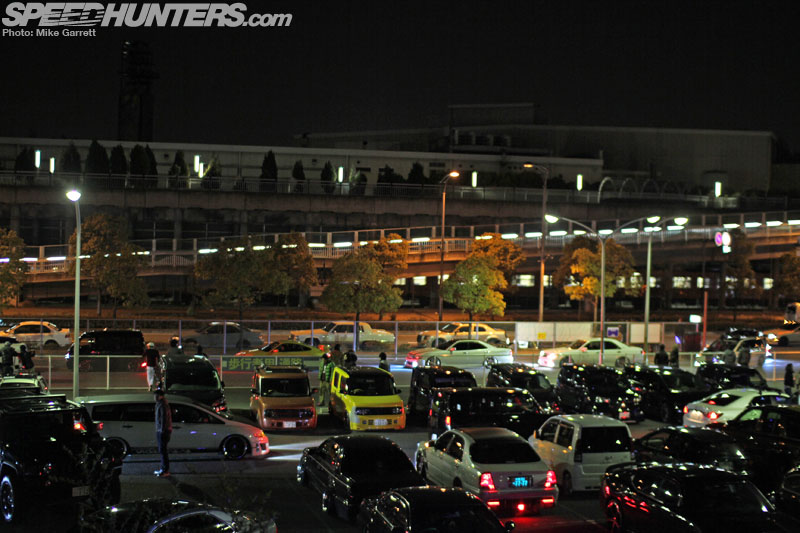 I don't think any combination of photographs and words can fully convey what the M&L Party was like, but hopefully this will give you a little idea of what went down in Osaka that night.
I'll be back shortly with some more scenes from this unforgettable evening.
-Mike