For some reason, it has felt like an eternity since our last #IAMTHESPEEDHUNTER post. This post however has been a long time coming as we can finally share the best submissions from the Slow Shutter Speed theme we posted earlier in the month. After many hundreds of submissions, we picked out the best photographs which most accurately reflected the brief given. This isn't about sharpness, rather it's about what happens when you push to one extreme end of the scale…
(Above) Maarten has absolutely nailed this slow shutter shot from up high. The fire breathing Aston obviously helps, but Maarten told us that it took a couple of attempts to get this shot just right.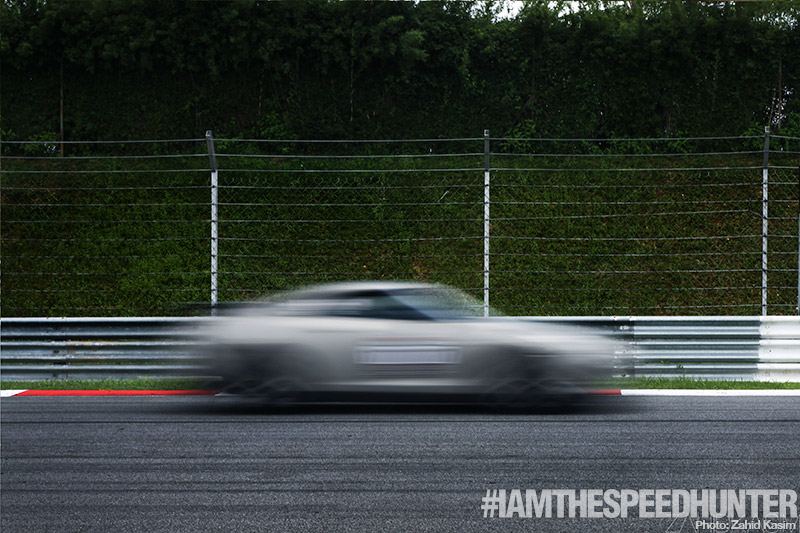 This is what happens when you don't pan. Zahid has chosen just the right shutter speed to create the passing blur whilst still retaining the unmistakeable profile of an R35 GT-R.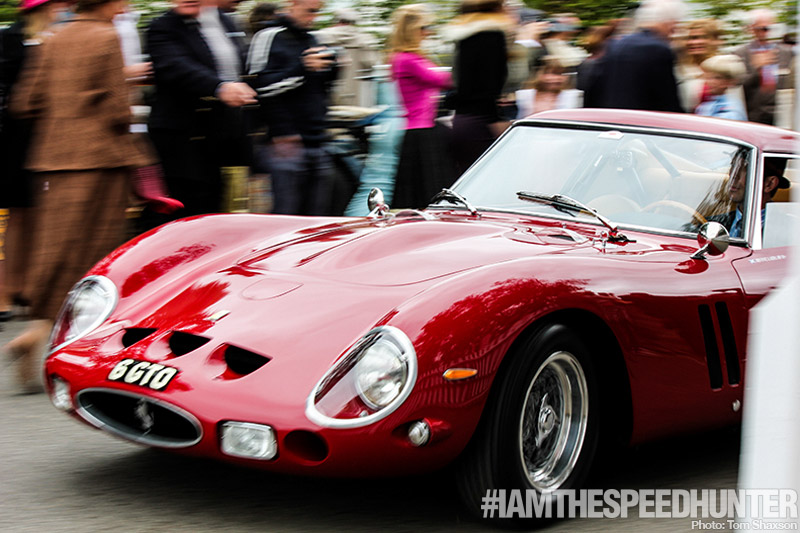 It can be messy trying to capture something interesting in a situation like this, but by dragging the shutter and panning with the car you can create something almost painterly.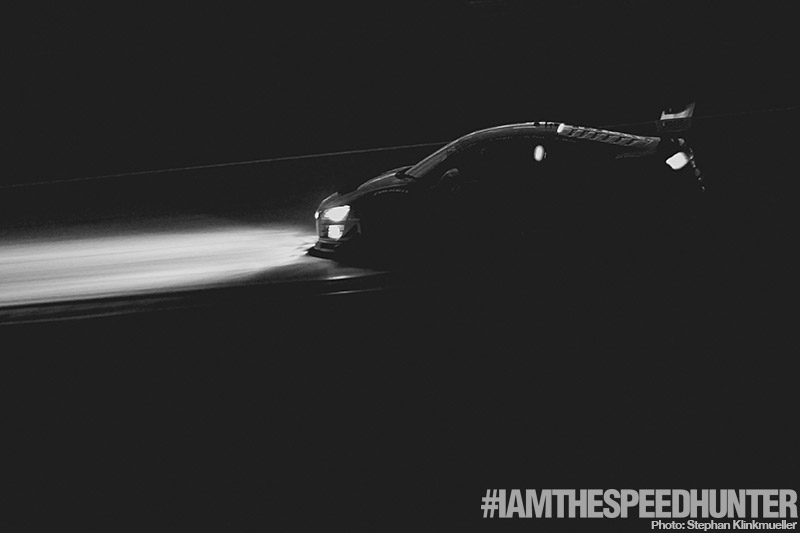 This beautiful black and white from Stephan hides most of its slow shutter speed qualities in the shadows, but it's still very impressive.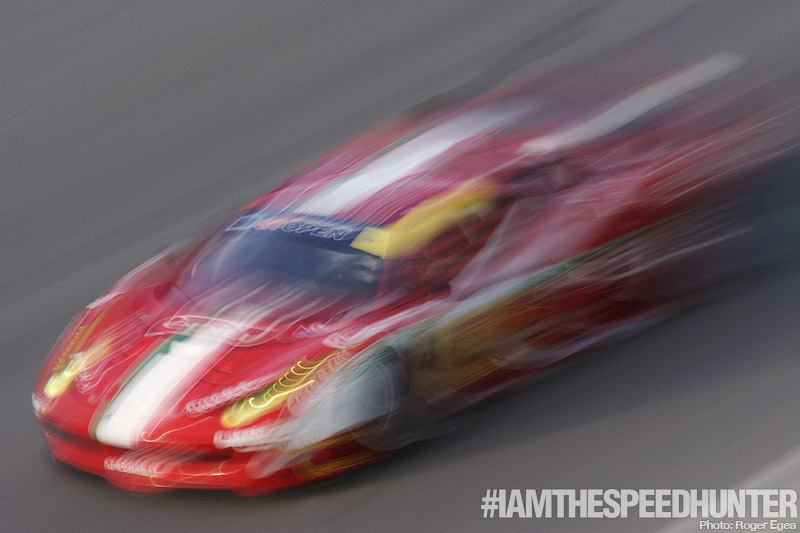 This a great example of what I hoped someone would submit. The 458 is literally bleeding into the background.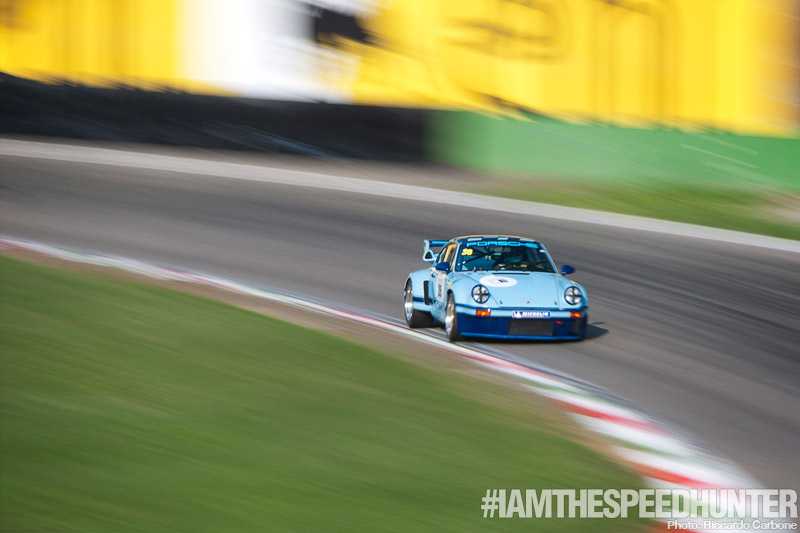 With enough practice, you can really capture perfect panning shots. You should be aware however that sometimes, depending on the radius of the corner and the speed of the car / shutter speed, it's not possible to get the entire car sharp back to front. You can however choose which part of the car is sharp by following the particular point with your AF point.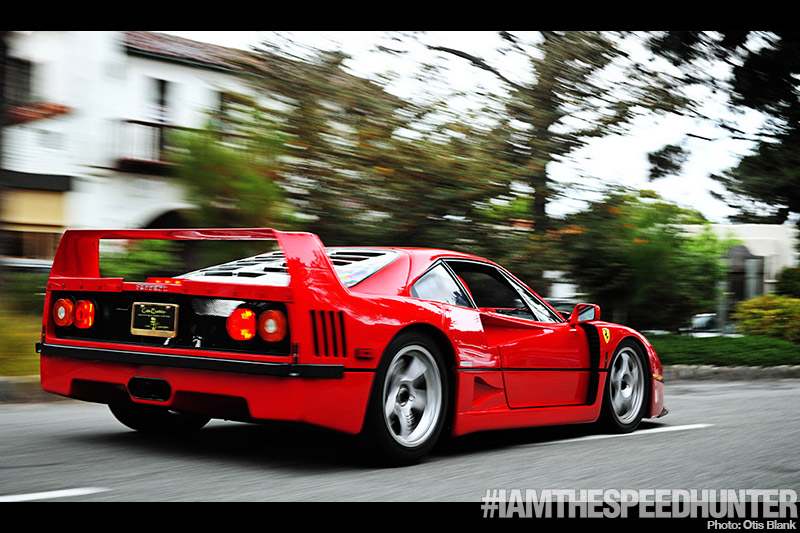 You can see how parts of the car are sharp and how other parts a little shaky. When you get into shutter speeds this low, some things are outside of your control. Make no mistake though, this isn't an easy shot to capture. Most people would fail to capture a sharp static shot at these shutter speeds.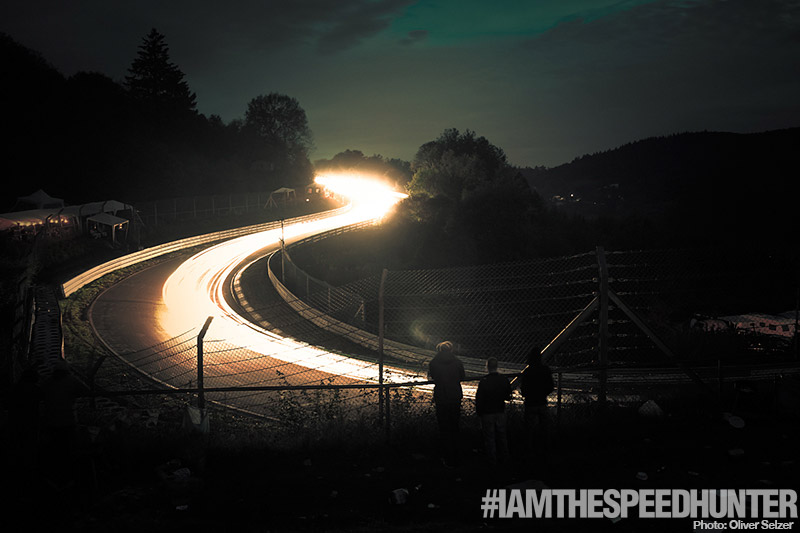 The obvious alternative to what has already been posted is to allow the light to do the work. Set your camera on top of something solid and let the world do its thing. In this case, the headlights of the car are tracing their way across the photograph. The longer the shutter is open, the more intense and bright this becomes.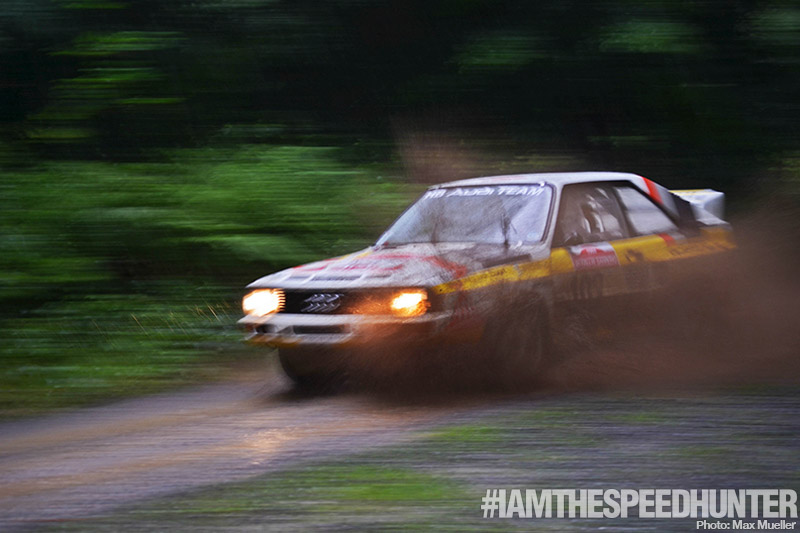 There was a couple of really good rally related submissions. This first one from Max Müller really captures the mud and grime on this particular stage.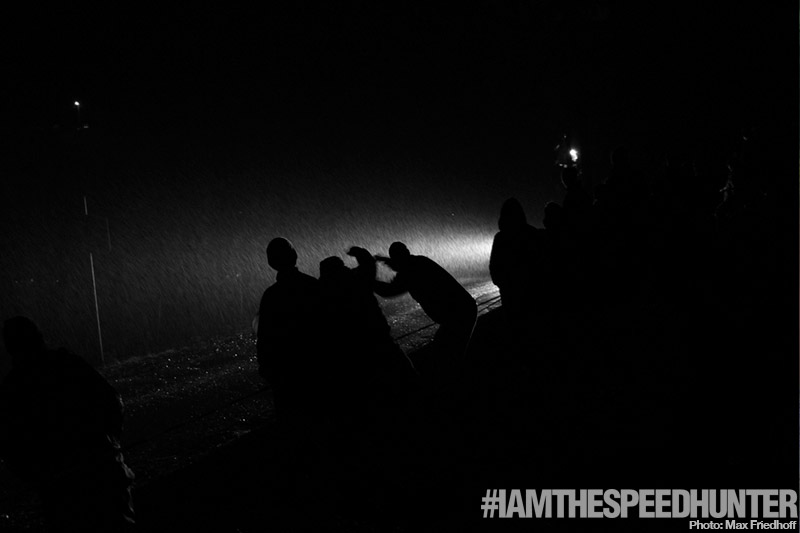 I like how this shot is about the people on the side of the rally stage. The lashings of rain and the movement of the spectators cheering the incoming car on. Beautiful.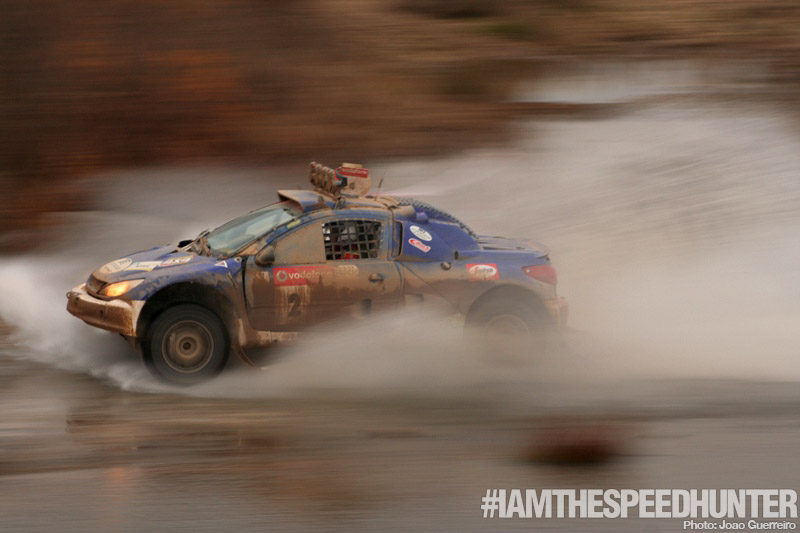 When you drop slow enough, water can ghost and become something more interesting. It is worth noting that you have to allow for the up and down movement of the car, especially over rough terrain.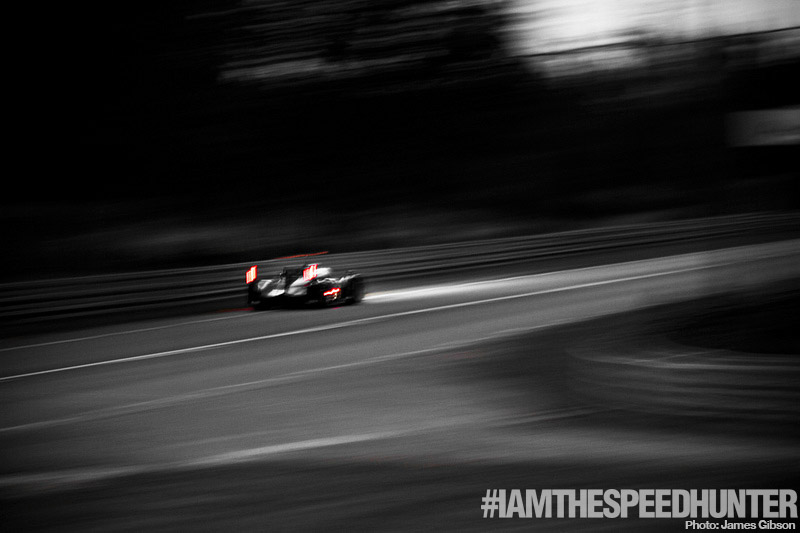 Despite the darkness, this is an unmistakeable photograph – Audi at Le Mans. Can you picture how dull this would be if everything was static?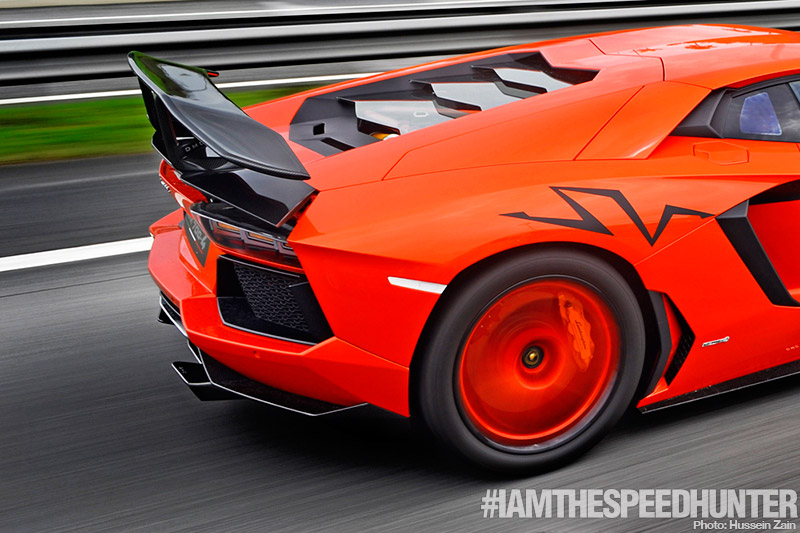 Tracking shots are another interpretation of the slow shutter theme.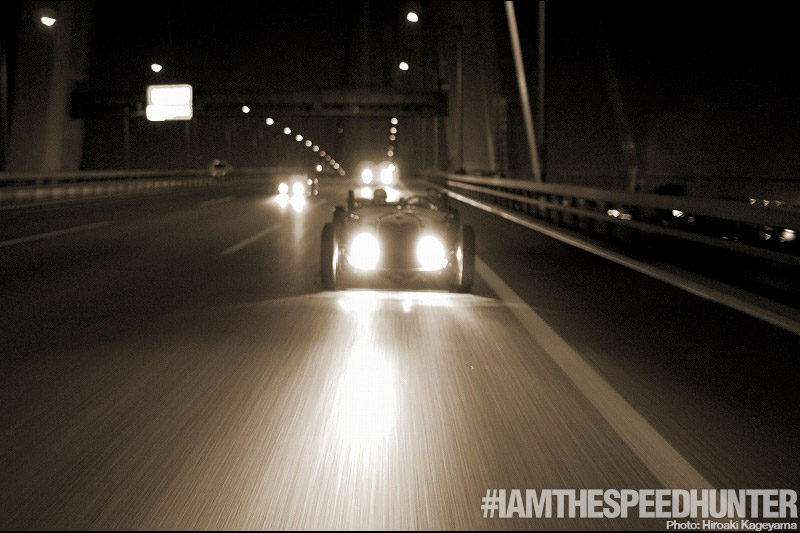 You obviously need to be very careful, ensure you're wearing the right safety equipment and that you're securely attached to the camera vehicle. The results however can be very effective.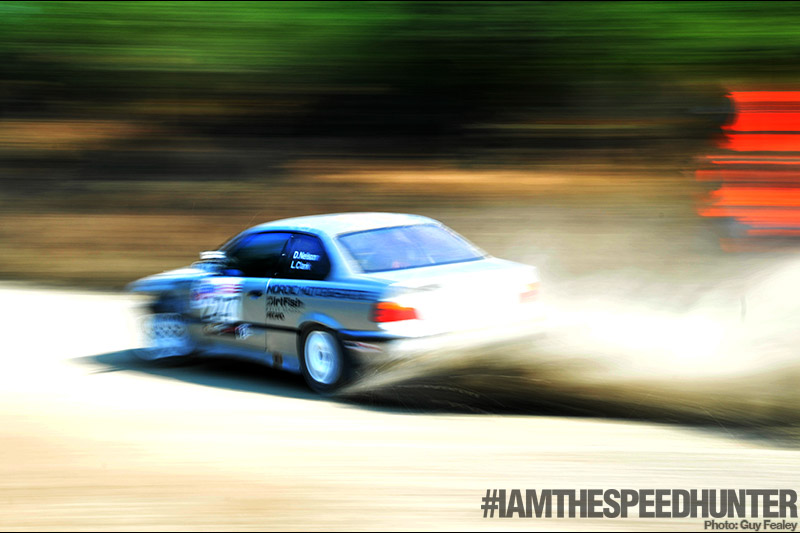 Although it usually results in a better shot, standing on the outside of a corner on a gravel / loose stage ultimately means you're going to need a shower immediately after the event.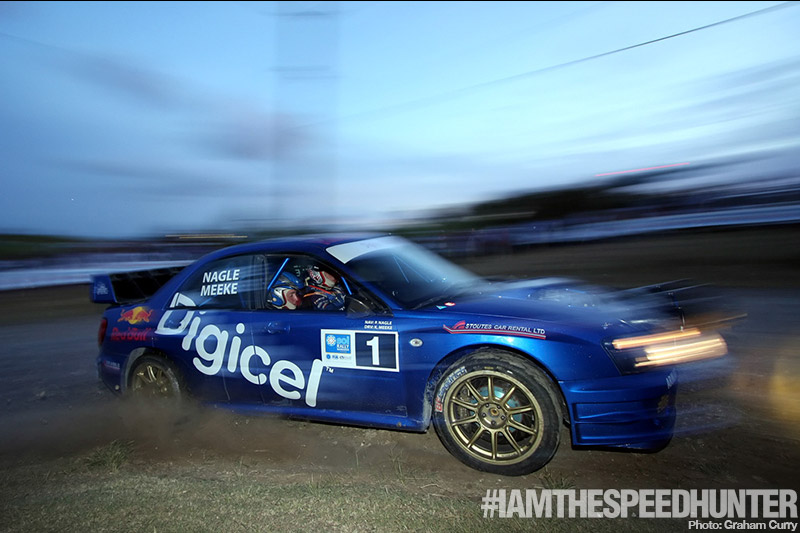 Here, Graham has used a flash combined with a slow shutter speed to create this image. The slow shutter speed obviously creates the blur, but the flash freezes whatever it can reach resulting in this contrasting effect.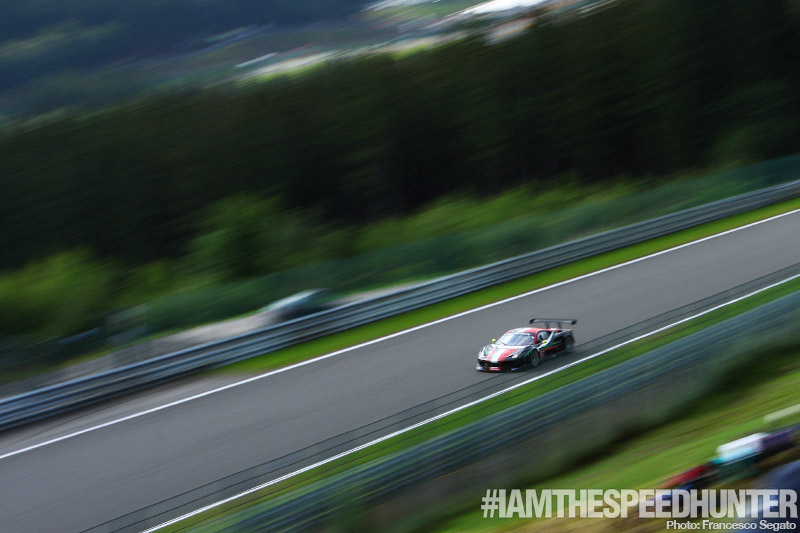 I've often found that a slow panning shot framed wide can be the most effective use of the technique. With a wider focal length, it's also easier to keep the subject sharper.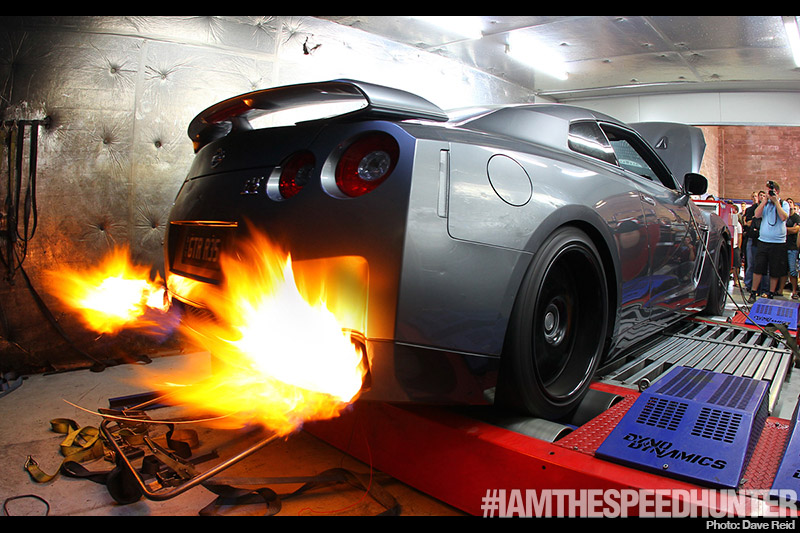 Although not the slowest of shutter speeds, it was more than enough to capture the flaming exhausts and the motion of the wheels on top of the rollers.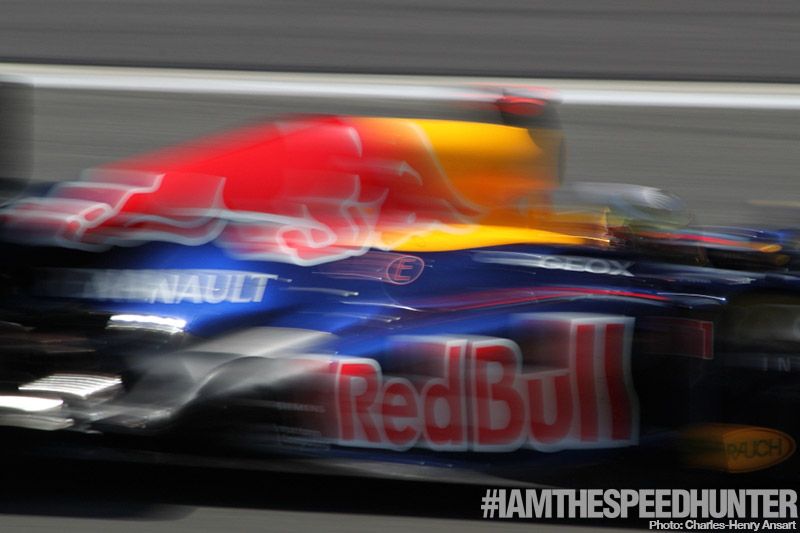 The slower you go, the more the colours bleed into each other.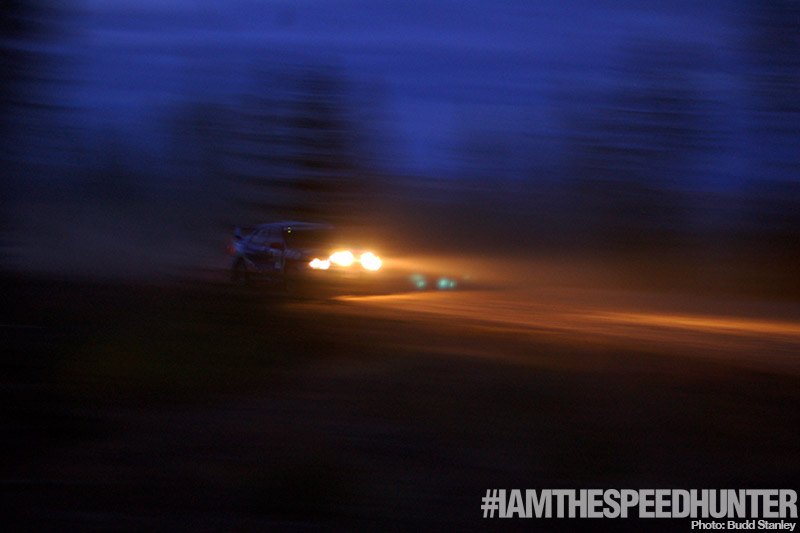 It does become more difficult to get a result, but those results are usually more than worth it.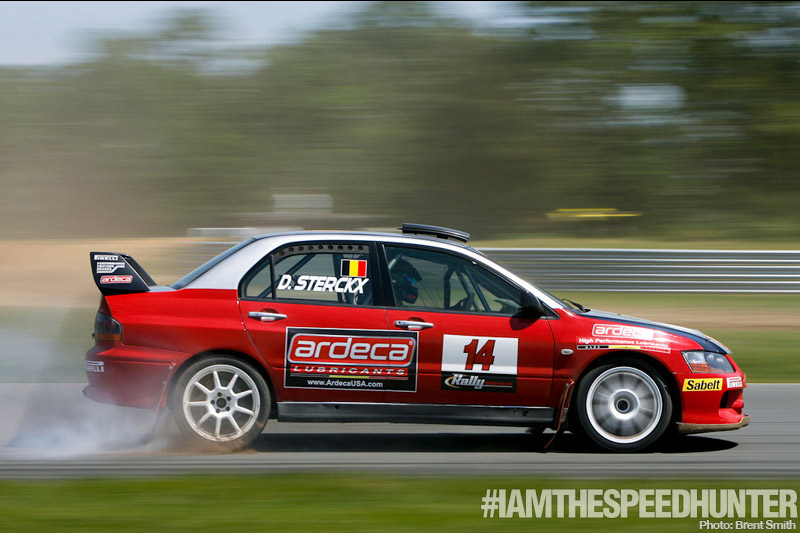 If you learn to understand how drivers will approach a certain aspect of a particular course, you can set yourself up to catch something like the above. If this was a fast shutter shot, it wouldn't be half as dramatic.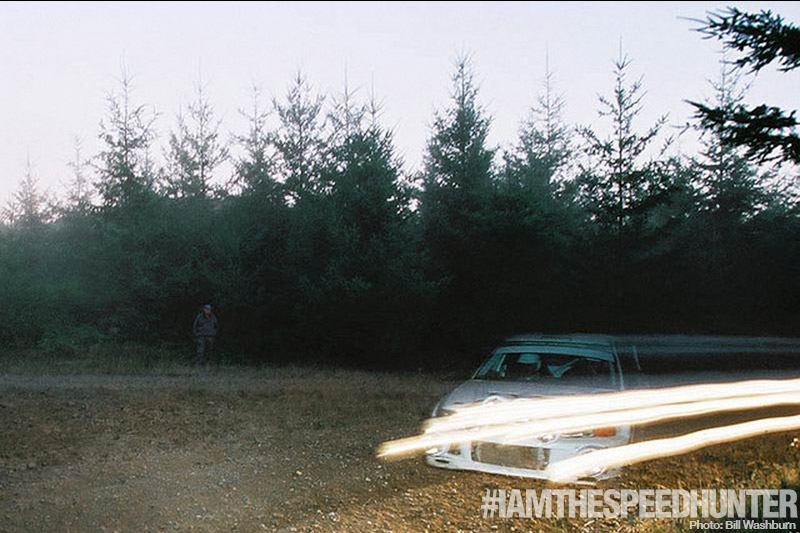 Bill Washburn has been experimenting with this technique for years, as evidenced by the many 35mm film scans he submitted to us. It's much harder when you only have 32 shots on a roll and don't know if you're shot worked until after the event.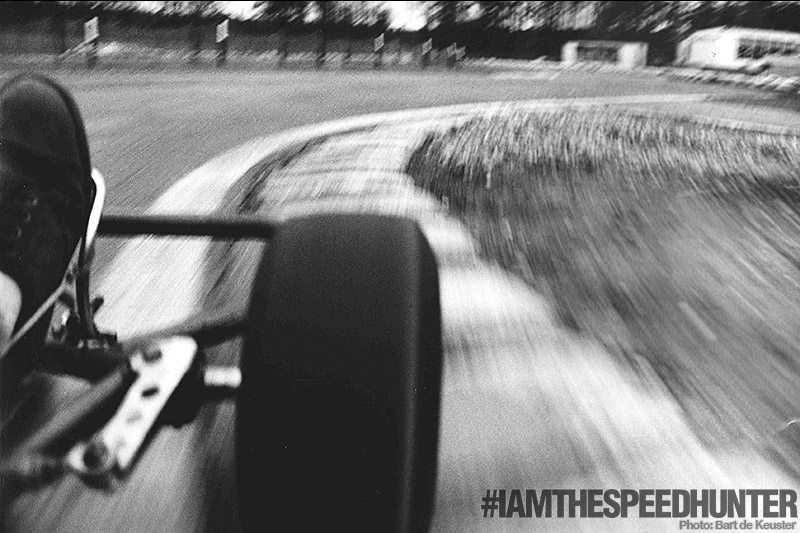 Bart was another person to submit a a more traditional photograph. Shooting and driving at the same time takes skill.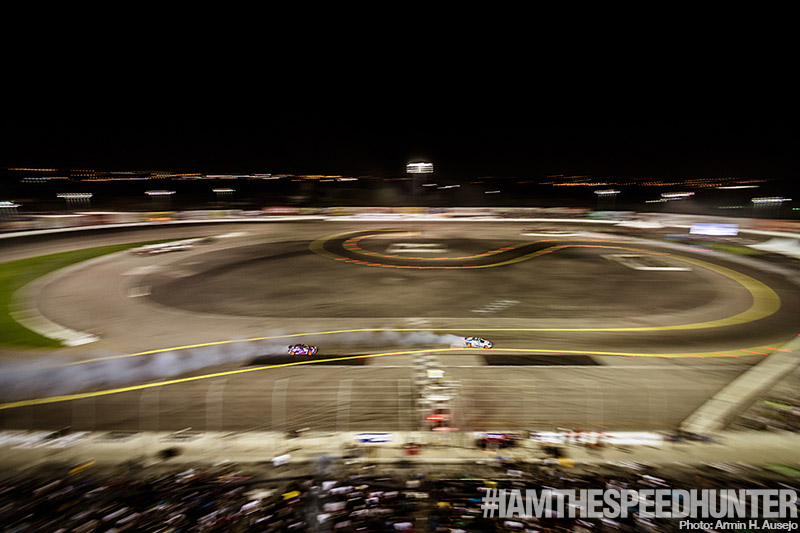 Armin captured this shot at Irwindale. The wide view creates a great sense of scale whilst the slow shutter emphasises the action.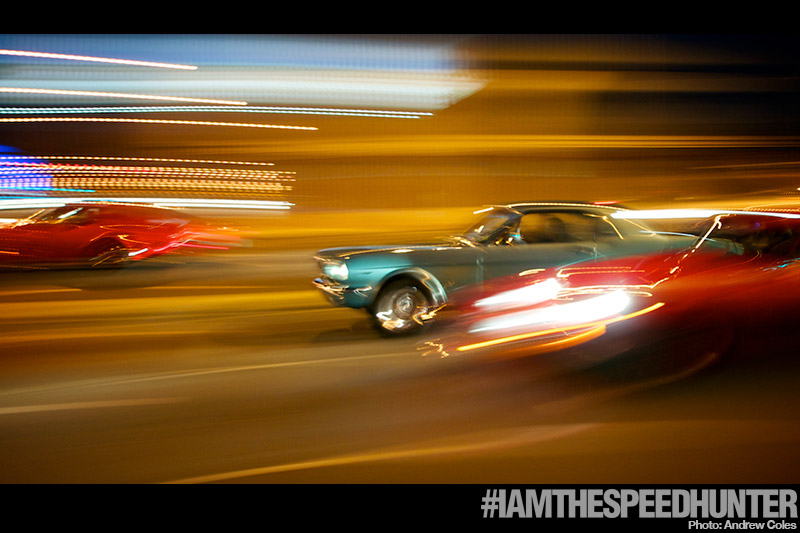 The colours, the speed, the motion – there's just so much soul and character to these photographs.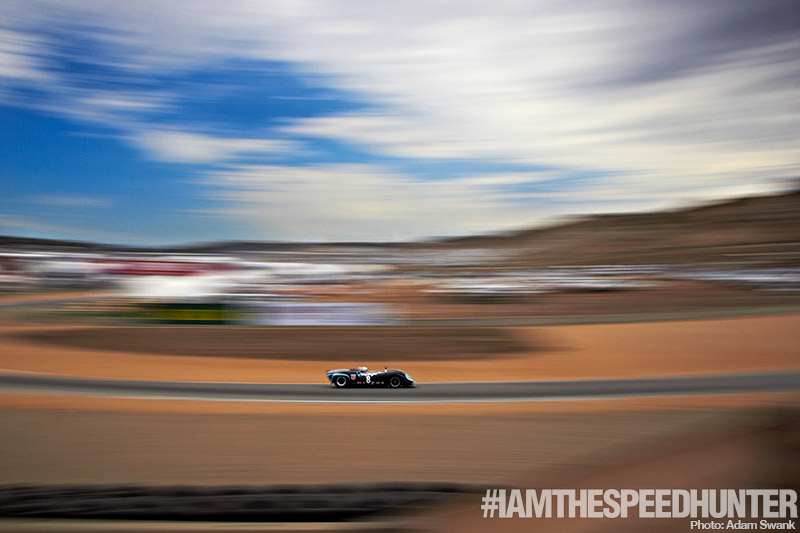 The next time you're out shooting, try to mix in some slow shutter speed work. You'll never know until you've tried it.
–
Paddy McGrath
paddy@dev.speedhunters.com
About #IAMTHESPEEDHUNTER
We created #IAMTHESPEEDHUNTER to allow you the opportunity to share your skills and car culture experiences from around the globe with the rest of the Speedhunters audience.
How do you get involved? It's simple…
Flickr - Join our #IAMTHESPEEDHUNTER Flickr Group and share your favourite photos with us and others.
Instagram – Follow us on Instagram at @TheSpeedhunters and tag your own car culture images with #IAMTHESPEEDHUNTER
Twitter – Follow us on Twitter at @SPEEDHUNTERS and share your tweets with the #IAMTHESPEEDHUNTER hashtag.
Tumblr – Visit our Tumblr page to view the latest #IAMTHESPEEDHUNTER tagged images.
E-Mail – If you've been to a cool event and captured some amazing images, be sure to e-mail them to us on iamthespeedhunter@dev.speedhunters.com and tell us a little bit about the event. The images need to be a minimum of 800×533 pixels.
Have you submitted already but yet been featured? Here are some tips to help you…
DO – Submit your best work, regardless of when it was taken.
DO – Take your time shooting and consider each detail
DO – Try to submit each image no larger than 1000PX wide.
DON'T – Put a huge watermark on it. We'll make sure you're credited!
DON'T – Send us huge image files that kill our e-mail system!
日本のSpeedhunters読者にお知らせです。
Speedhuntersでは、週一回#IAMTHESPEEDHUNTERにて、読者の皆さんから寄せられたカーシーンの投稿写真を紹介しています。
投稿写真は、カーレース、カーショー、イベント等、車に関するものならなんでもOKです。
Speedhuntersで皆さんの撮ったカーシーンショットを世界中のファンに紹介して、あなたもSpeedhunters記者の仲間入りしましょう!
#IAMTHESPEEDHUNTERには、ツイッターかインスタグラムにて簡単に写真を投稿していただけます。
上記方法で写真を投稿する際は、写真に#IAMTHESPEEDHUNTERのハッシュタグを付けてください。
また、メールアドレスiamthespeedhunter@dev.speedhunters.comでも投稿受付しています。
写真は、800×533 ピクセル以上のJPGのフォーマットでお願いします。
上記サイズより小さい写真ですと、すばらしい写真でもサイトの写真サイズの関係上掲載できないことがありますのでお気をつけください。
投稿された写真は世界中のSpeedhunters読者とシェアされますので、あなたのベストショット写真を投稿してくださいね!
また、写真に併せてどういった写真なのか、どこで撮られた写真なのかの説明と投稿者様のお名前を明記の上投稿お願いします。
皆さんからの投稿お待ちしています!