The Group A era, from the 1980s through to the 1990s, gave us a lot to be thankful for. On racetracks and rally special stages all over the world, fans were treated not only to some of the best racing ever seen, but afterwards, if they wished, they could drive the cars home. Not the racecars of course, but the sometimes-only-slightly-watered-down road-going variants that car manufacturers were required to put into production and market to people like you and me in order to meet their Group A racing homologation requirements. Group A gave us the Ford Sierra RS Cosworth, the BMW M3, the Subaru Impreza WRX and the Mitsubishi Lancer Evolution among many others. Group A also gave us the BNR32 Nissan Skyline GT-R.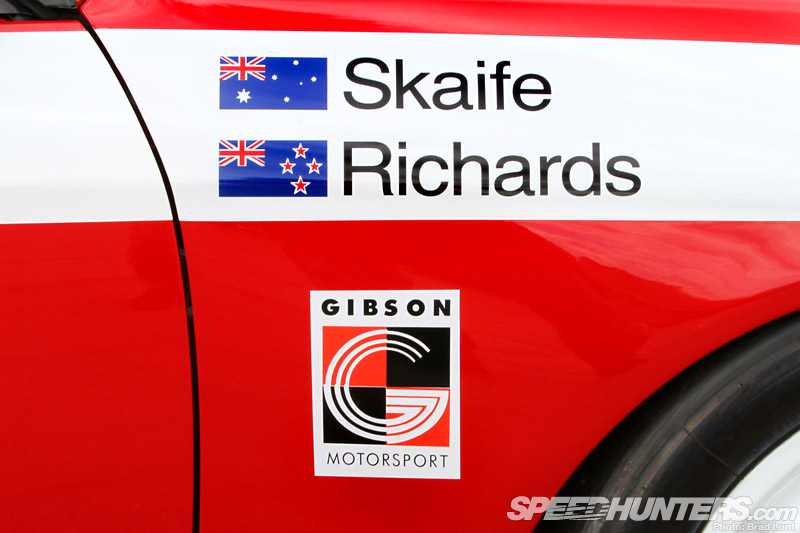 With a production car based racing heritage dating back to the  legendary Hakosukas of the early '70s, Nissan didn't rest on its laurels when it revived the hallowed 'GT-R' grade for its new 1989 Skyline. Instead, it pooled talent from around the world and created (arguably) the greatest Group A touring car of them all.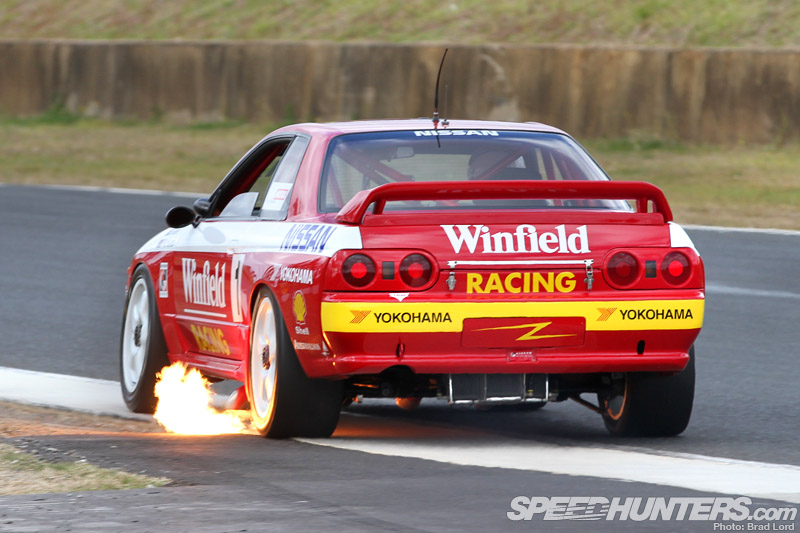 The fire-breathing Group A GT-R was based on the BNR32 Skyline's 'Evolution' version – aka the 1990 NISMO-spec GT-R. A minimum of 500 road cars were required for homologation, but all-told 560 cars were produced in the specification: 500 for public consumption and 60 for competition use.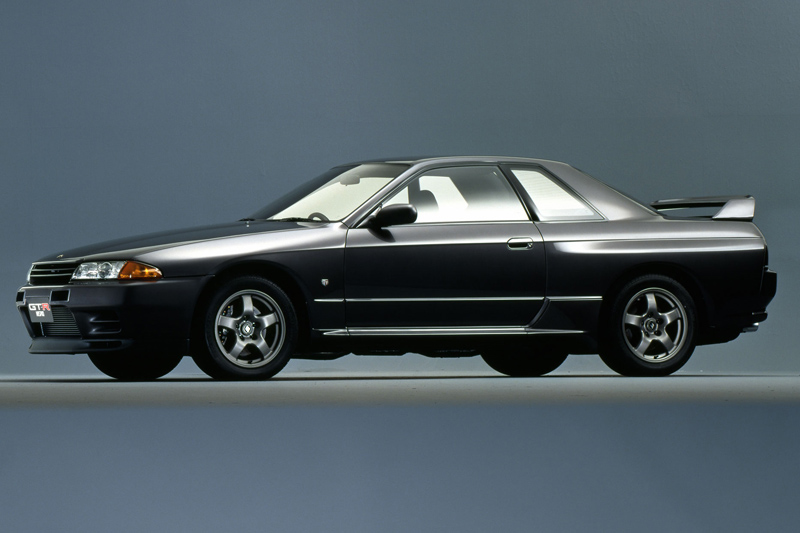 The NISMO variant allowed Nissan to homologate a number of different parts over and above the run-of-the-mill Skyline GT-R, as well as creating a specification more suited to a competition base. The car received intercooler cooling ducts in the front bumper and a NISMO body kit that included a subtle hood lip spoiler, side skirts and a small trunk spoiler below the rear wing. The factory T25 turbos also had their ceramic compressor wheels replaced with steel items in preparation for more boost. But it wasn't all gains. In its spec form the NISMO lost ABS, air-conditioning, its rear screen wiper, intercooler mesh and some weight.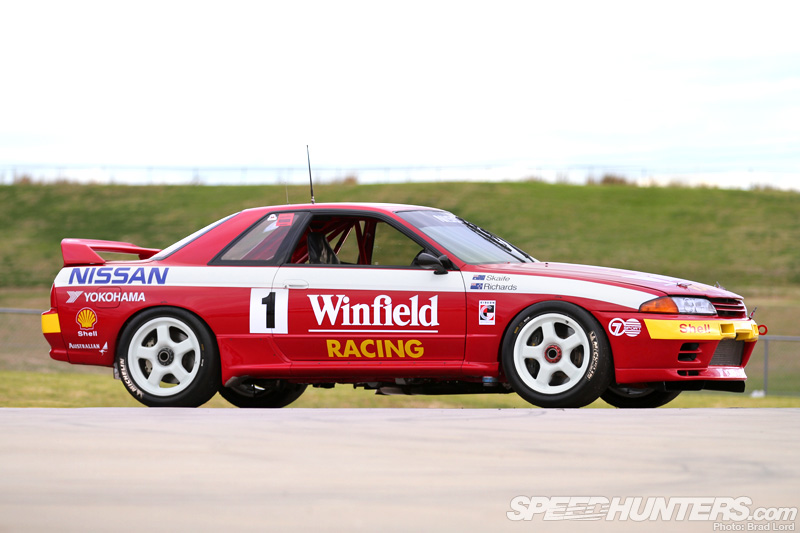 Although their silhouettes were the same, the NISMO road car and the Group A race car were two very different machines. As Nissan's official motorsport arm, NISMO ran the Group A operation out of Japan where it designed the GT-R's racing specification and prepared cars (including the iconic Calsonic GT-R) for local Group A-based competition. Right from the get-go Nissan had planned to campaign the new car new in Australia, as it had done with previous models including the Bluebird Turbo (from the early '80s Group C era) and both the DR30 and HR31 Skylines. The Skylines had both been run on behalf of Nissan by Australian race driver Fred Gibson, who had taken over the local Nissan Motor Sport operation in 1986 and renamed it Gibson Motorsport. Given the success he had with the Skylines – especially the HR31, which ran for three seasons – it was a no-brainer that Gibson Motorsport should manage the Nissan's Group A GT-R works programme down under.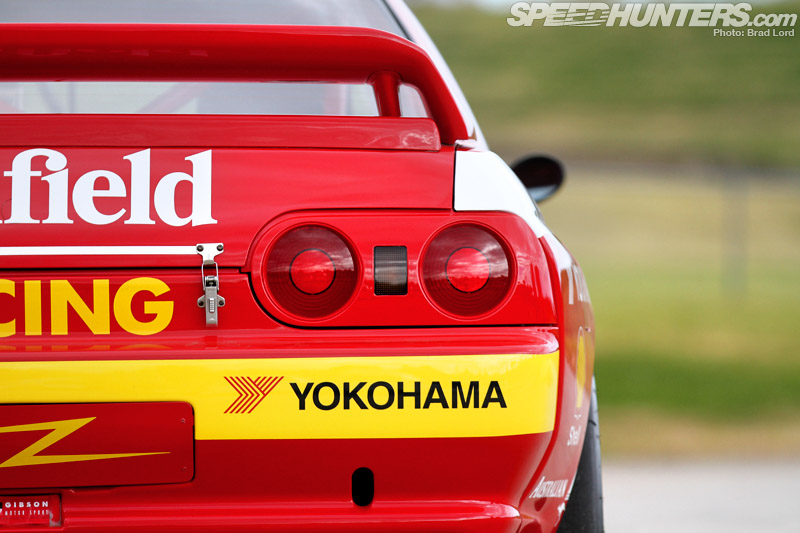 From 1990 through to 1992 five cars were prepared in Australia. This particular one, chassis #5, was the last Gibson car built and the most famous. Even though both the Japanese and Australia Group A cars were cut from the same cloth and the teams worked closely with each other on R&D, in many respects the cars differed in specification and look. Their goals were the same though: Group A domination.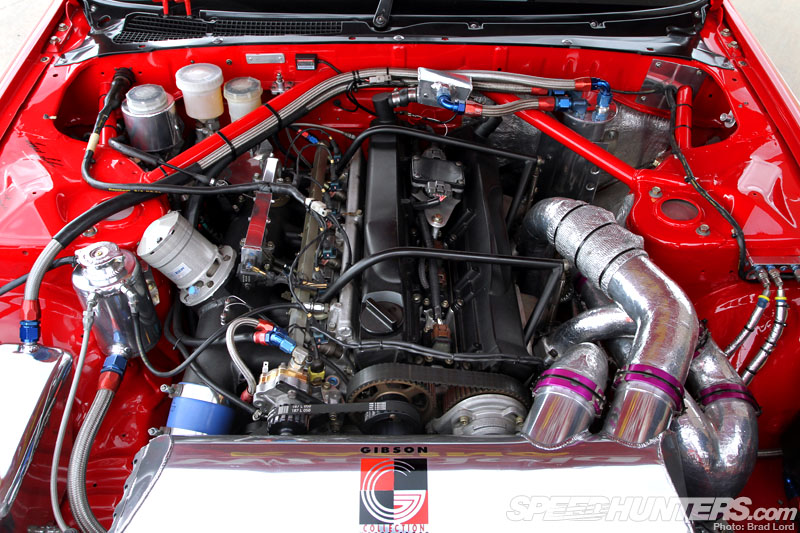 For competition use the NISMO-developed Group A-spec RB26DETT was reworked with a strengthened engine block and race-grade internals, and fitted with upgraded ancillaries. Gibson Motorsport's version was both powerful and beautiful.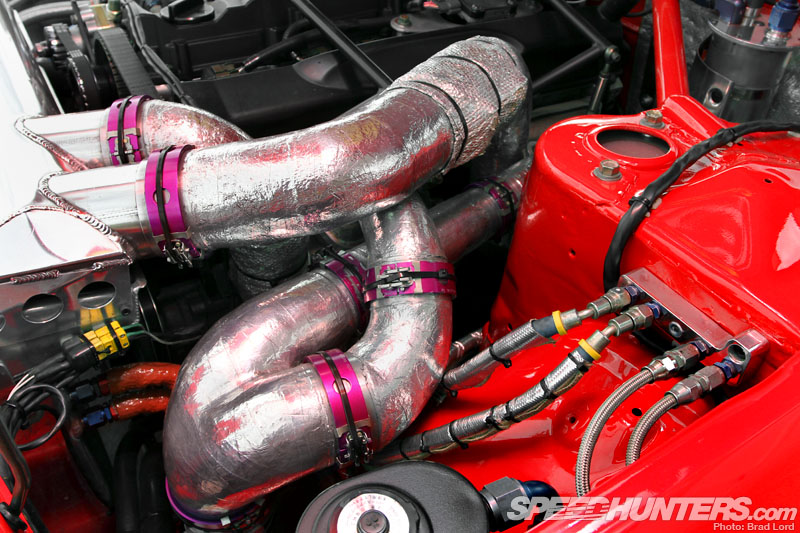 In their original race trim, with close to 30psi (2.0kg/cm2) of boost  running through their veins, the Gibson GT-Rs output an easy 600hp (450kW). And that, coupled with their purpose-tuned ATTESA E-TS four-wheel-drive system, equipped the cars with decimating performance. Graphic illustration of that came a 1990 Tooheys 1000 at Bathurst, when after dismally qualifying in 11th, the Mark Skaife/Jim Richards entry had moved up to eighth by the end of lap one, and by lap 10 it was leading. In the latter move Richards waved to Klaus Niedzwiedz (ANZ Ford Sierra Cosworth RS500) as he squeezed on the gas pedal and powered by up Mountain Straight. By lap 20 the GT-R had a 20-second stretch on the field.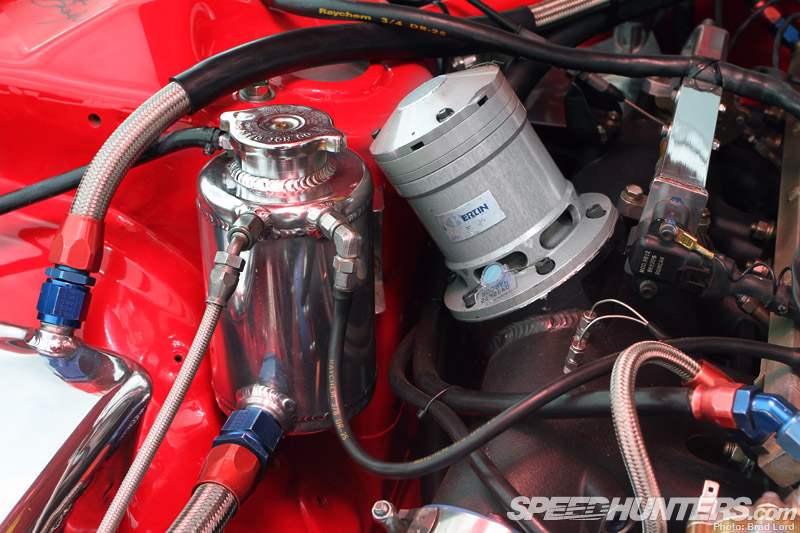 No prizes for guessing then that the Skyline GT-R was the Group A machine that all others were measured against, both in Australia and abroad where NISMO-prepared cars were enjoying similar success. In what is essentially a production car-based form of circuit racing, there's only so long that you can get away with that sort of thing though, and for the Gibson Motorsport team having weight and power restrictions thrown at them for the '92 season came as little surprise. Power output was addressed through the use of a boost pressure limiting pop-off valve that was required to be attached to the engine's intake manifold and then sealed by championship officials so it's setting couldn't be tampered with. If you're familiar with turbo IndyCar engines you'll probably recognize this type of device.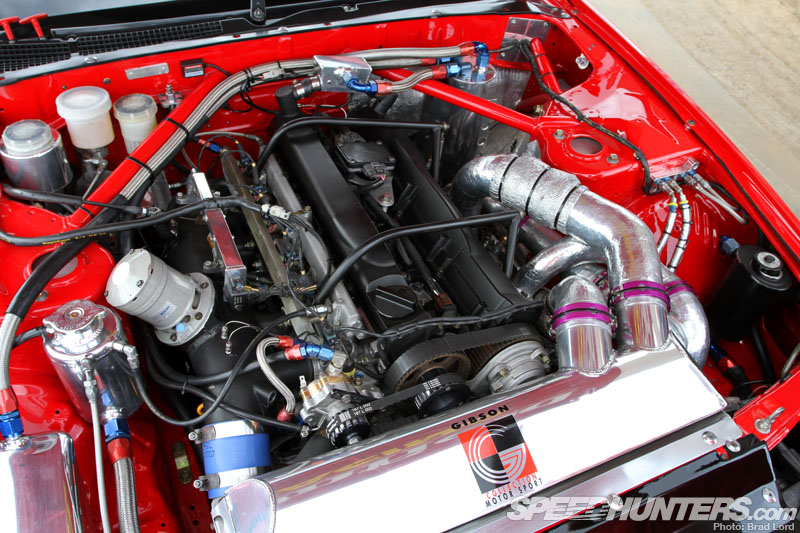 With the boost restrictor in place peak output dropped to around 470hp (350kW), but even with extra ballast on board to bring them up to their redefined race weight the GT-Rs kept winning.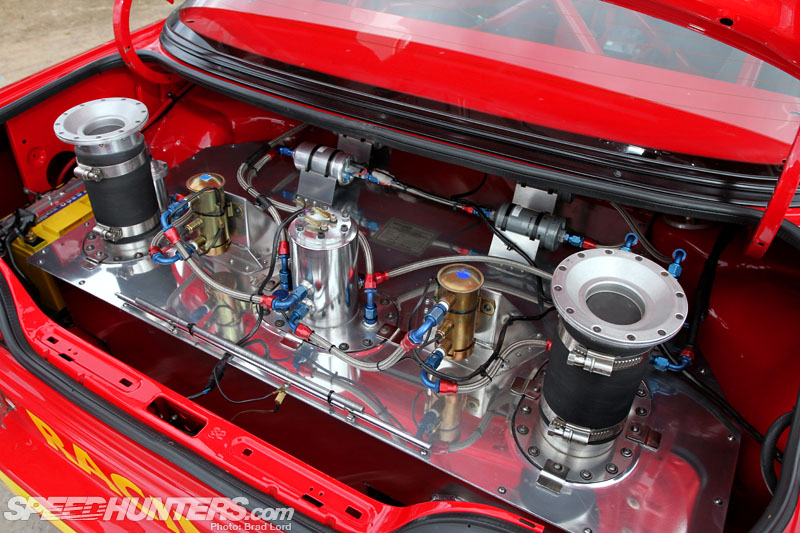 Which team built the better GT-R:  Australia's Gibson Motorsport or Japan's NISMO works team,  is often a point of discussion among afficionados of Nissan's Group A glory days. Both teams had so much to do with each other – NISMO supplying the base package to begin with and Gibson's team fine-tuning the set up – that it's much easier to just celebrate their individual successes in what were two very different championships. There's absolutely no disputing the fact that Gibson Motorsport knew how to prepare a race car, though – both in the way it performed on race day and how it was presented. That's evidenced by the spectacular dual dry-break fuel system in the trunk; a set-up unique to the Aussie Group A GT-Rs.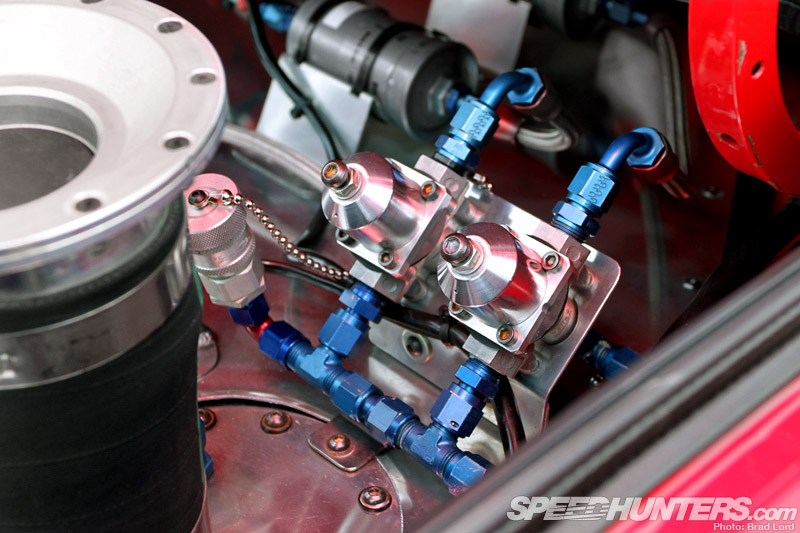 Although chassis #5 was completely restored by Fred Gibson after its retirement from racing, it was as polished to perfection during its racing life as it is now. It's inch-perfect original too, right down to the early '90s laptop computer and software used to tune the Electramotive (USA) engine management system.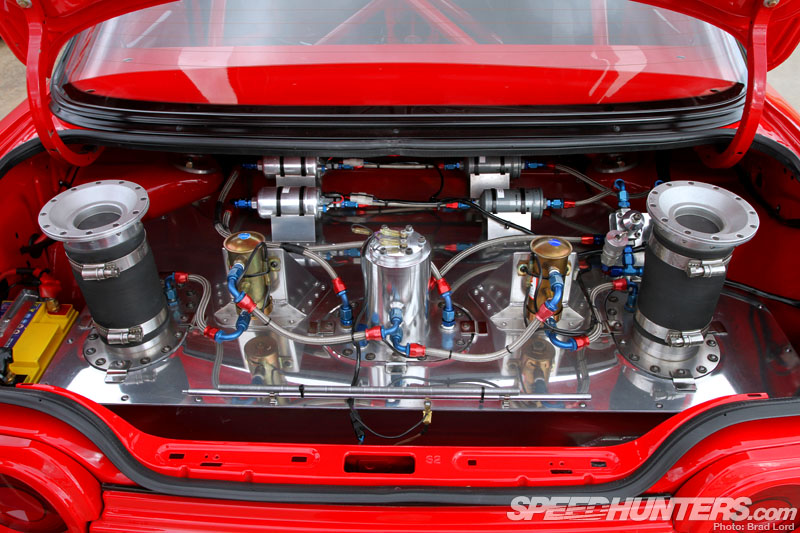 I spent a lot of time gazing into the trunk, most likely with my mouth wide open.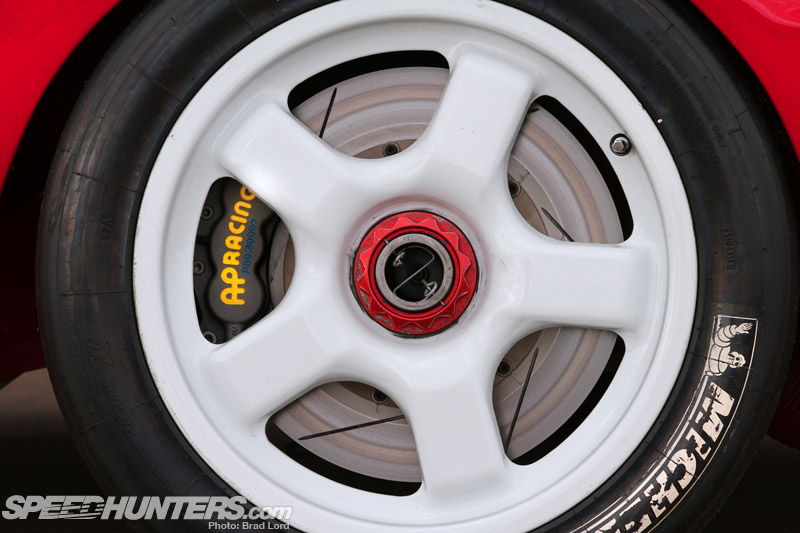 It's only when you get to witness up close the uncompromising level of detail that you start to understand and appreciate why each of these cars reputedly cost around $700,000 to build back in the early '90s.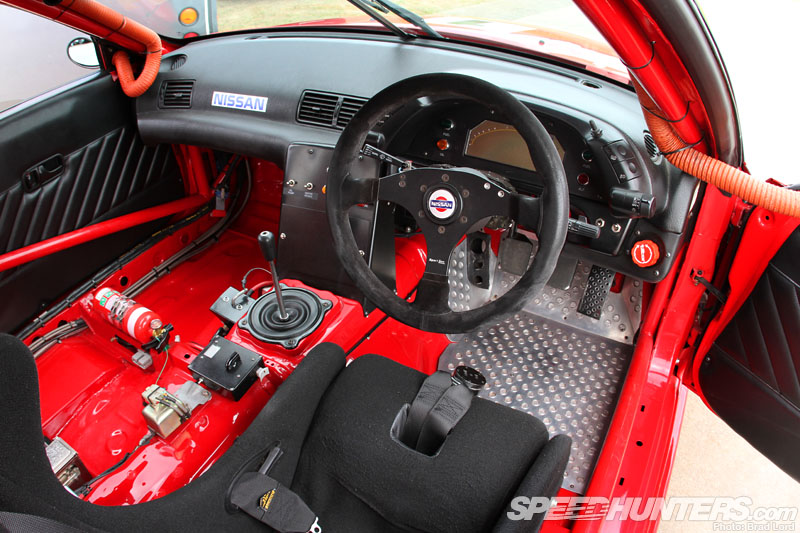 Given its level of performance and the fact that the car could – at Bathurst – hit 300kph (186mph) down Conrod Straight before taking The Chase sideways at 280kph (174mph), the Skyline's roll-over protection seems rather stark by today's standards.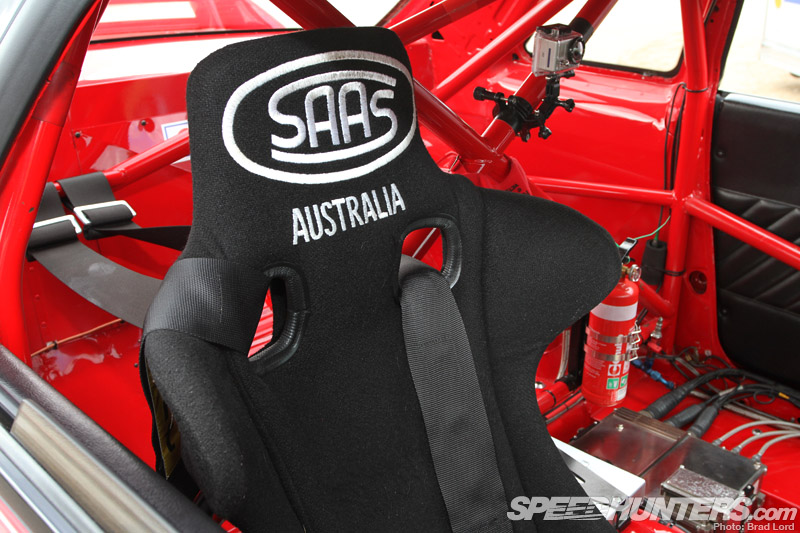 But then again, its design as a racecar is 23 years old this year. I still think of the GT-R as a modern classic, but in reality it's rapidly heading toward being an actual classic. Because of its racing pedigree and colorful history, this car's already there and is currently valued at over $1,000,000.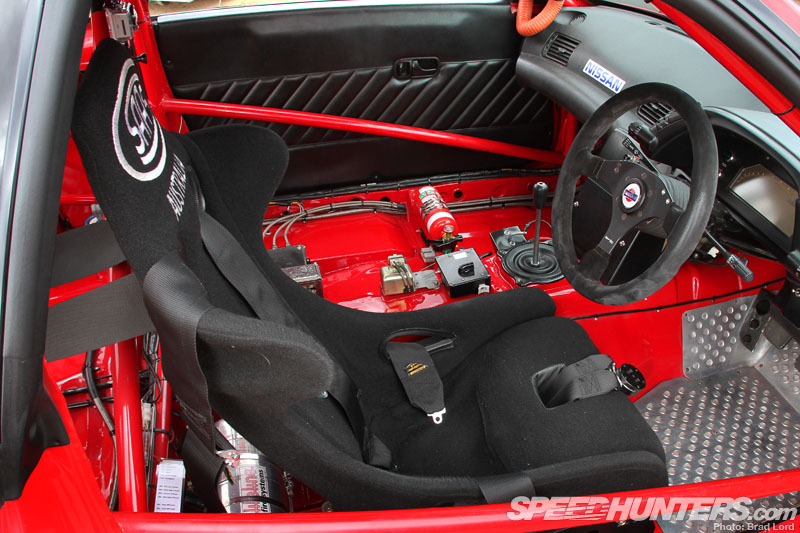 It's on the market too, I should add. After purchasing the car directly from Fred Gibson back in 2001, I'm sure its current owner will be very sad to see it go. It has to be said that Terry Ashwood has done an amazing job of looking after the car, while never shying away from an opportunity to get it out on the track.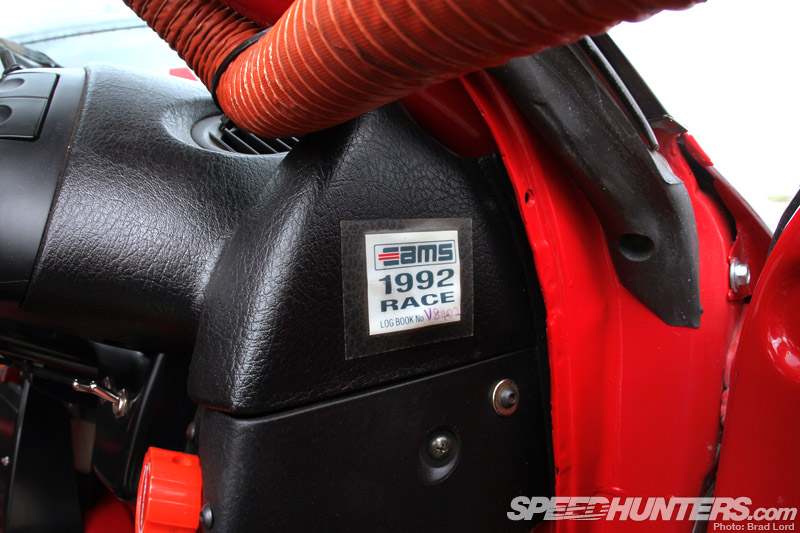 It's probably safe to say that many people will only remember the Gibson GT-Rs for the 1992 Bathurst 1000 incident. That event was marred with controversy when on lap 144 (less than 20 laps short of the full 1000km distance) a huge downpour sent cars still running on slick tires spearing off the track in all directions. The Winfield-sponsored GT-R of Skaife and Richards was no exception. Ford stalwart Dick Johnson crossed the finish line first in his Shell-sponsored Sierra RS500, but afterwards the race was counted back one lap, meaning the Gibson Motorsport entry – which had led for most of the day but left the track on the back of a tow truck – was still pronounced the winner.
In this clip from 2007 Jim Richards and Mark Skaife recount the infamous day at Bathurst. A second win on The Mountain by a Japanese car (the same pairing had claimed victory the year prior in the GT-R) was too much for the riled-up crowd that gathered beneath the winners' podium, and although there wasn't a riot, there very nearly could have been…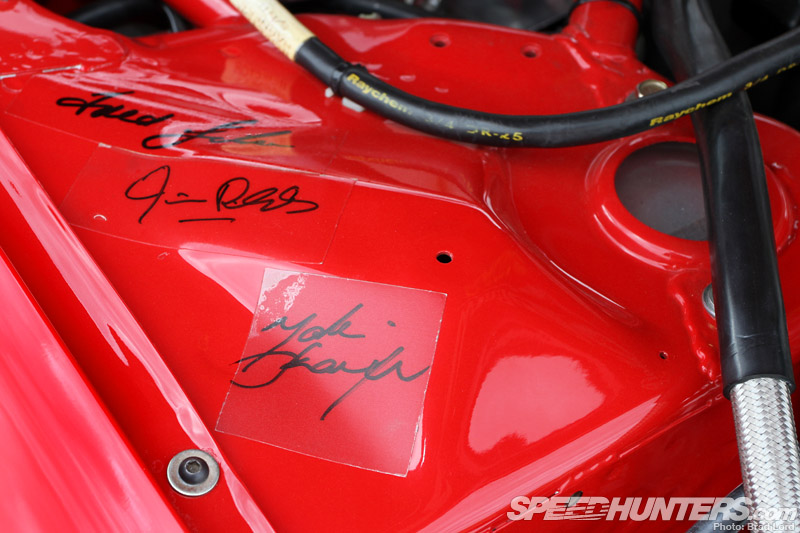 After winning the Australian Touring Car Championship for two years running, the '92 Tooheys 1000 was ultimately the Group A GT-R's last race in Australia. For 1993 the ATCC's governing body turned the series on its head by effectively banning turbocharging and four-wheel-drive systems in favour of an exclusive GM-Holden (Commodore V8) and Ford (Falcon V8) series. According to CAMS the cost of the turbo car (which supposedly  averaged out at more that $500K a piece) was the main factor in the decision, but it's also reported that pressure had been applied by GM-Holden and Ford with indirect threats of abandonment if the new format wasn't introduced. Consequently the GT-R dream was over for Fred Gibson, Jim Richards and Mark Skaife.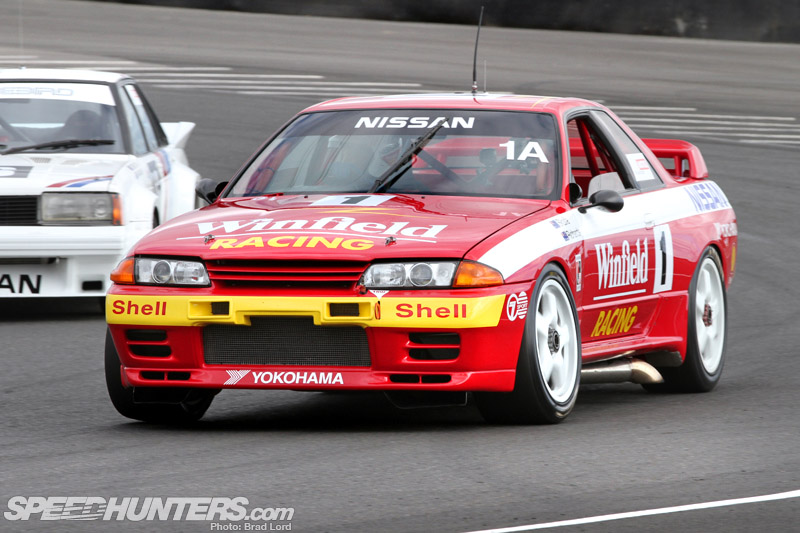 Regardless of CAMS' decision, by '94 the Group A circuit racing era had all but come to an end. It's been a GM-Holden versus Ford battle ever since, but coincidently that's all about to change when the 2013 V8 Supercar season kicks off in two weeks time. Nissan is back in the fold and Mercedes-Benz has joined the party too. But with control chassis across the board and naturally aspirated V8s the only accepted engines, it's not quite the same. The Group A GT-R may be gone, but I very much doubt it'll ever be forgotten.
Brad Lord
SPEC
Gibson Motorsport BNR32 Nissan Skyline GT-R Group A
Chassis: Steel/alloy
Engine: Nissan Group A-spec RB26DETT, 2.6L DOHC 24V inline-six, twin Garrett T25 turbochargers
Driveline: Holinger 6-speed H-pattern dog box, tuned ATTESA E-TS
Power: 600hp (470hp with boost pressure restriction in '92)
0-60mph: 3 seconds
Standing 1/4 mile: 10.99 seconds
DESKTOPS