In Yesterday's Kanjo post, I provided a little glimpse into a fascinating and notorious piece of Japanese car culture grown on the streets of Osaka. Today we'll stay in Japan's most colorful city for a visit to Tactical Art – a shop where a group of very passionate individuals have blended their Kansai roots with a decidedly international influence.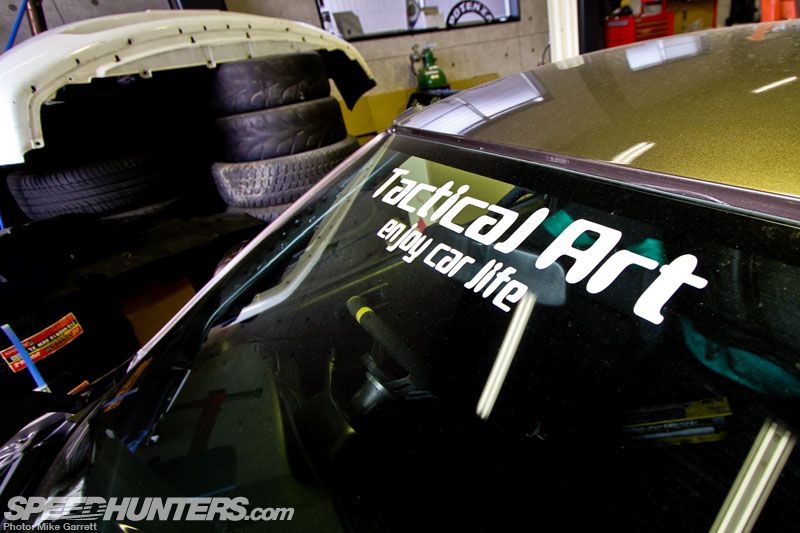 What exactly is Tactical Art? What do they do? The shop hasn't been around for a long time,. but with their technical know-how and keen sense of style they've become quite well known. Not just in Osaka, but across Japan and overseas as well. Historically the shop's primary business has been doing custom car audio setups and dress up work, but recently their reach has gone far beyond that. Tactical Art has lent their hand to everything from custom European luxury cars to slammed kei wagons and pure circuit cars. As the motto beneath their logo says – "Enjoy Car Life".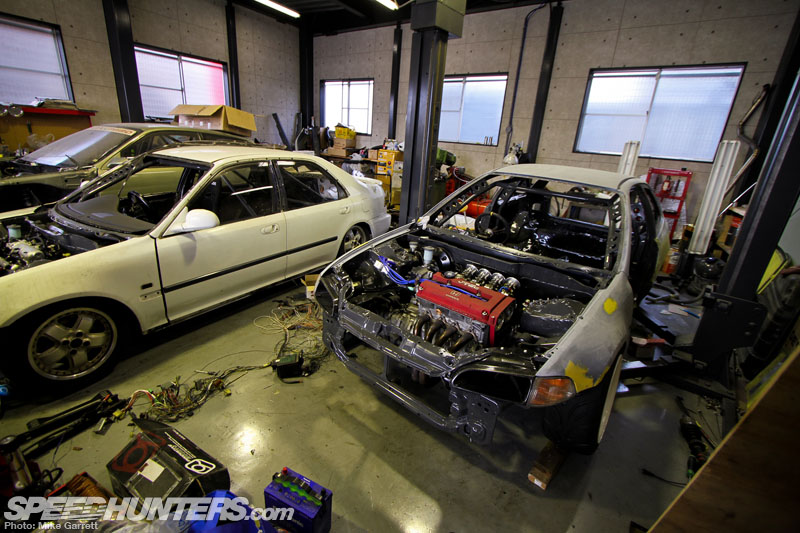 In fact, when you walk inside the shop you'd think you were in a hardcore racing garage rather than any sort of audio or dress up shop. On the day I visited, the lower floor of the shop was packed with stripped out, heavily modified Civics. As you saw in the Kanjo coverage, the passion for these cars runs deep in Osaka and that's very much the case for Tactical Art's Atuki Tubouti and Yasutaka Shimomukai who have been building and racing Hondas for all of their lives. The passion for fast Hondas also extends to the rest of the Tactical Art Family.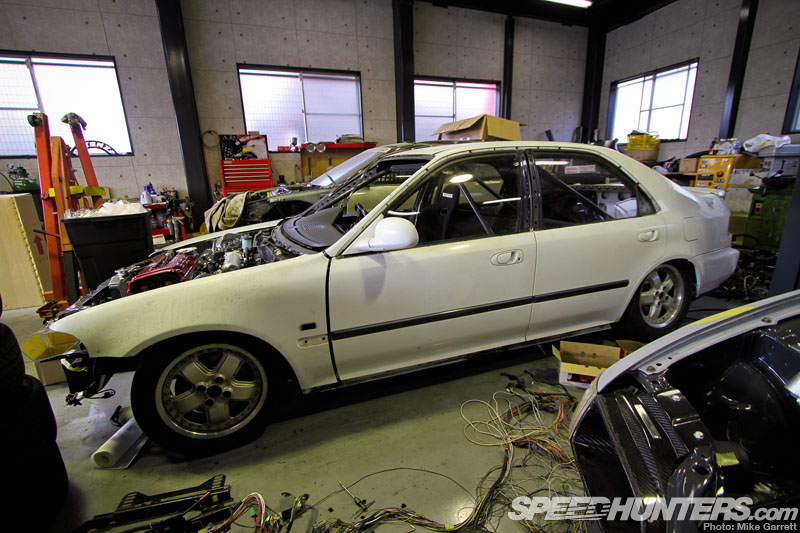 And when I say "family" I really mean it. The customer-shop relationship is tight at Tactical Art. This Civic Ferio for example is being built for Kazuya Kawashima, better known around the shop as "Chibi-Chan".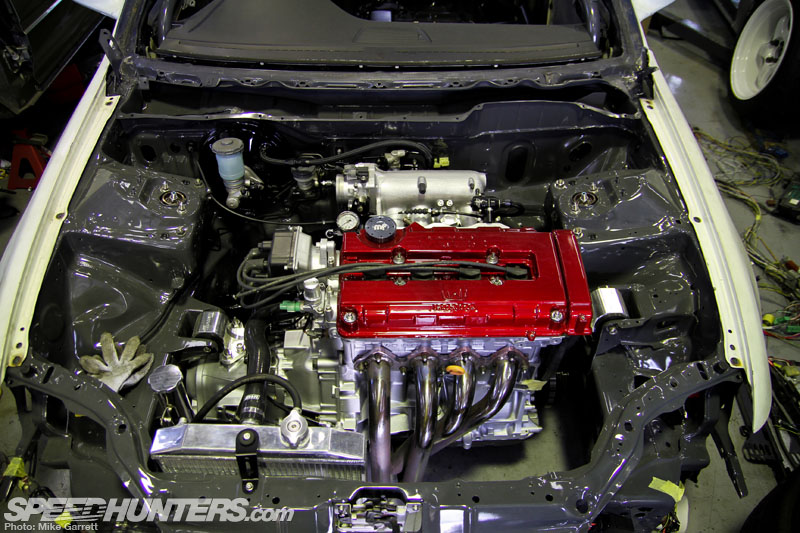 When I asked Chibi-Chan what the plans for his sedan were, the world omakase came up. You may be familiar with the term. It's often used at sushi restaurants when diners choose to eat whatever the chef recommends rather than picking from a menu. There's still a long way to ago on the build, but as you can see from the highly detailed engine bay, it's off to a good start.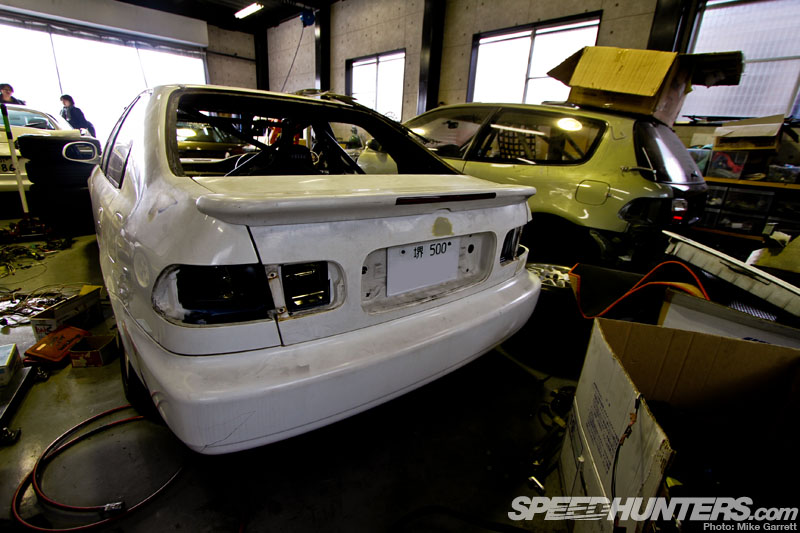 At this point I'm not sure if anyone knows exactly what the finished project will look like, but it's safe to say that the Ferio is in good hands…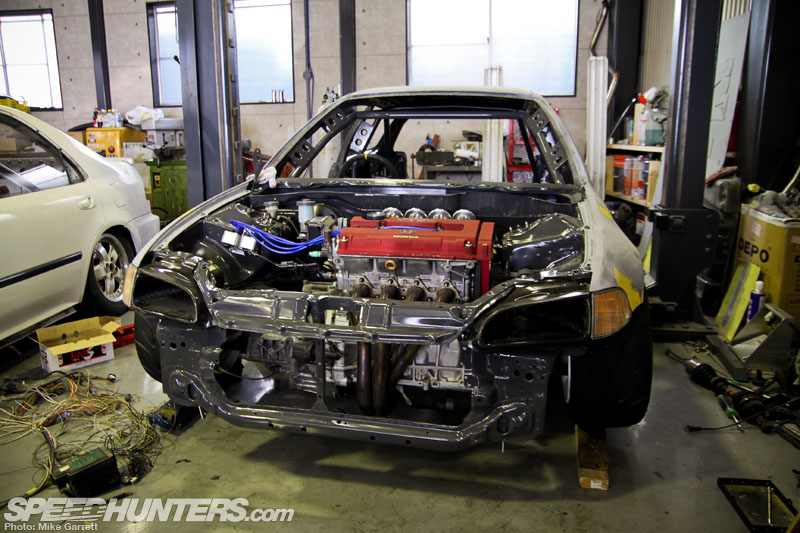 To know why customers put so much trust in Atuki and Yasutaka, all you need to do is look at their own personal machines – which also serve as Tactial Art's demo cars. This is Atuki's EG6 – a car which you may have seen when it was painted black and featured in Super Street Magazine not so long ago.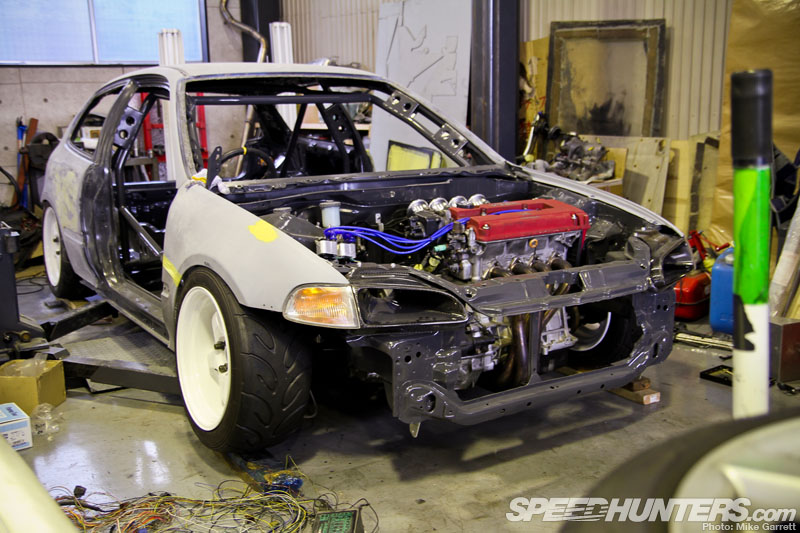 With one glance you can tell this EG6 is a pure race car, and it becomes even more obvious when you start looking at the details.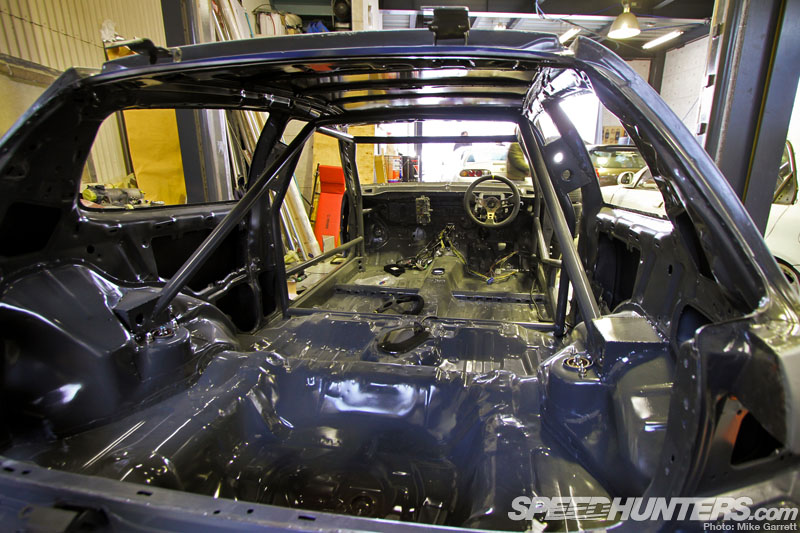 Besides overseeing the shop, Atuki is also a very talented fabricator and it shows when you look at the new roll cage that he's built for the Civic.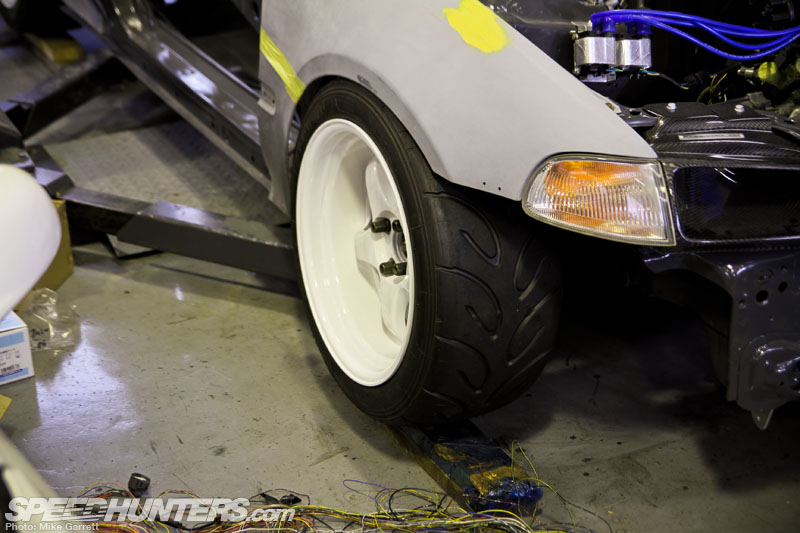 The EG6's athletic-minded approach is also evident in its wheel choice – 16″ Work Meister S1s with the heavy front stagger that most Honda track cars run to increase front end grip and weed out understeer.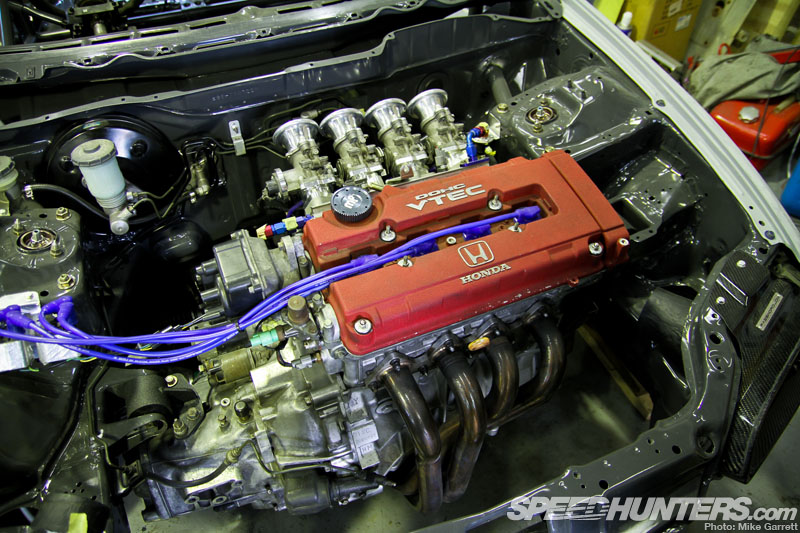 Under the hood, the individual throttle body-fed B18C should give the car all the juice it needs when the boys head out to play at Central, Okayama, or Suzuka Circuits. With that said, there's more to it than just the selection of parts and tuning philosophy.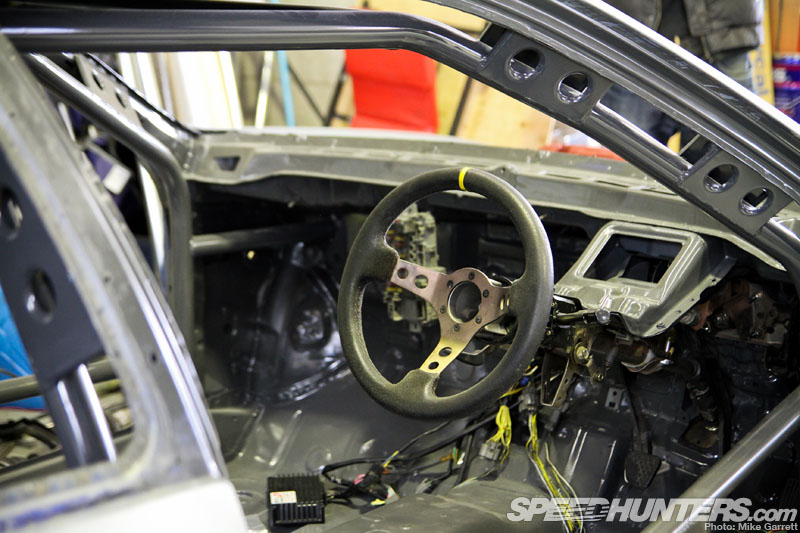 Besides high quality craftsmanship, the cars that Tactical Art build have a strong aesthetic sense and an attention to detail that you really don't see in most track cars. That's where the American influence come comes in.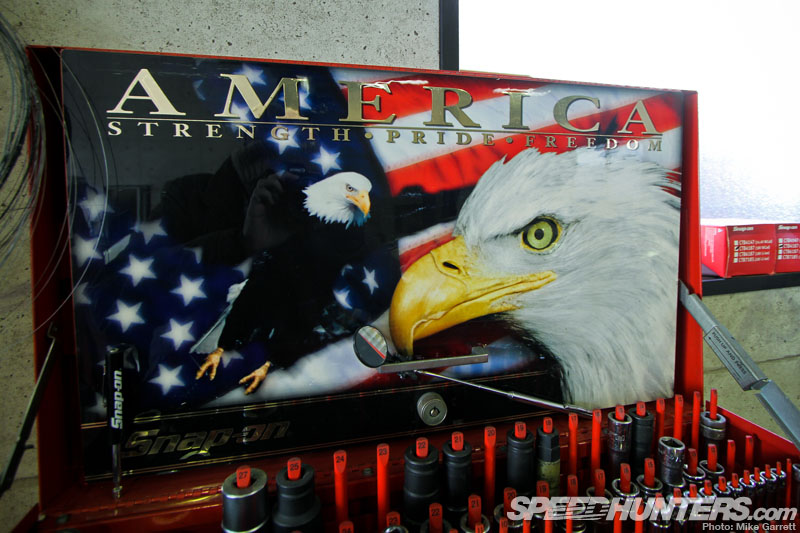 Atuki, Yasutaka, and everyone associated with Tactical Art all pay very close to attention to what's going on in the USA. They are regular visitors to the SEMA Show, they bring in a lot of parts from established American brands, and most importantly they draw tons of inspiration from America's own high quality car builds. It's that USDM influence mixed with homegrown Osaka style and car building know-how that's come to define the shop. Just look at their Snap-on tool box! It was so damn patriotic that I had to stop and salute it.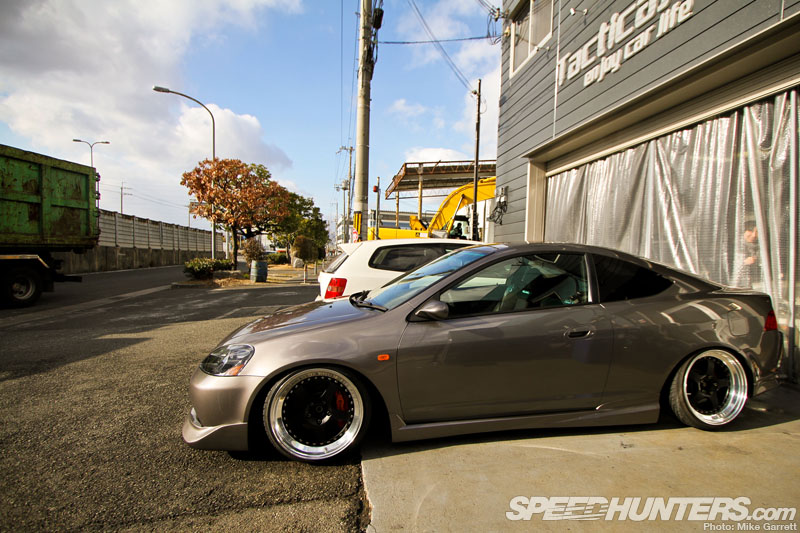 As an example of this American influence, take a look at Atuki's street car. It's a genuine DC5 Integra Type R, but one that's been dressed down and restyled with a strong US vibe. It's riding on a set of wheels from CCW, a brand which Tactical Art has been importing recently.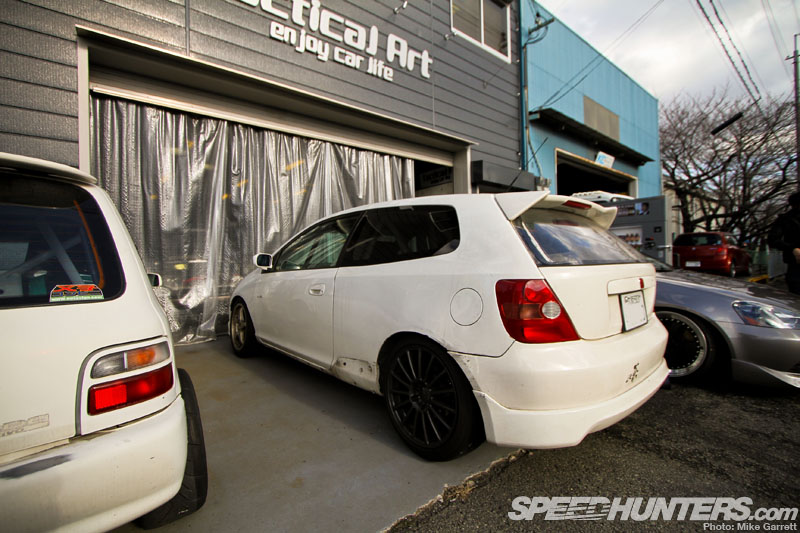 Speaking of daily drivers, check out Yasutaka's new EP3 Civic Type R project. When I saw the mismatched wheels, gutted interior, roll cage, bucket seat, and hydraulic handbrake, I asked him if this was a race car project. He replied with "No, it's my new commuter!". I think that's all you really need to know about Yasutaka-san…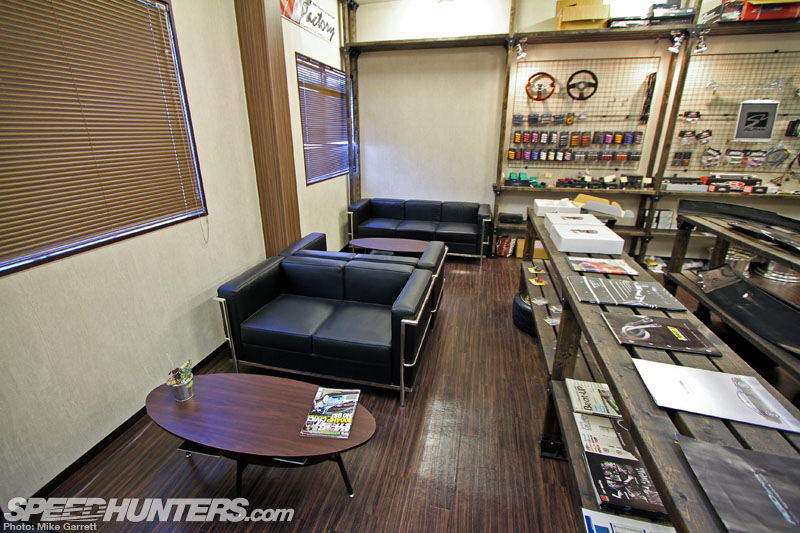 Heading to the shop's second floor office and showroom area, the atmosphere is much different than the garage below. It's spacious (especially by Japanese standards), relaxed, and very fashionable. The feeling is more lounge than it is car shop.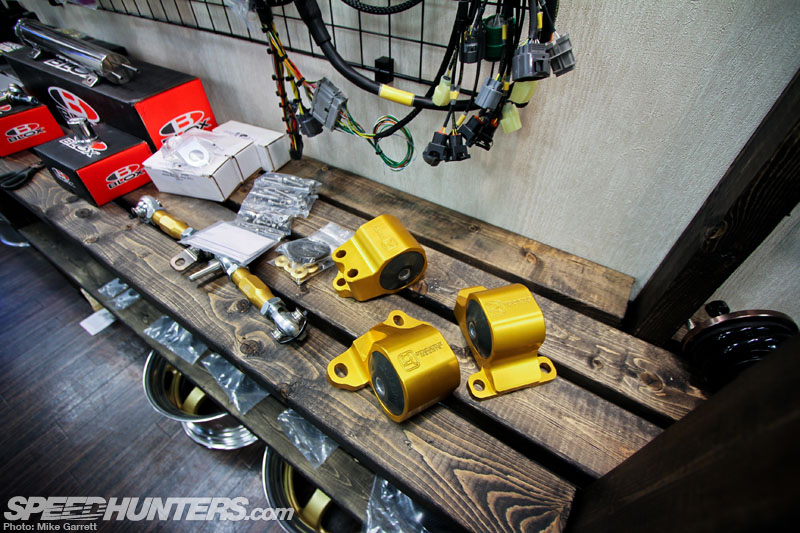 The display shelves and tables themselves are particularity impressive – handbuilt by Atuki-san, the master fabricator.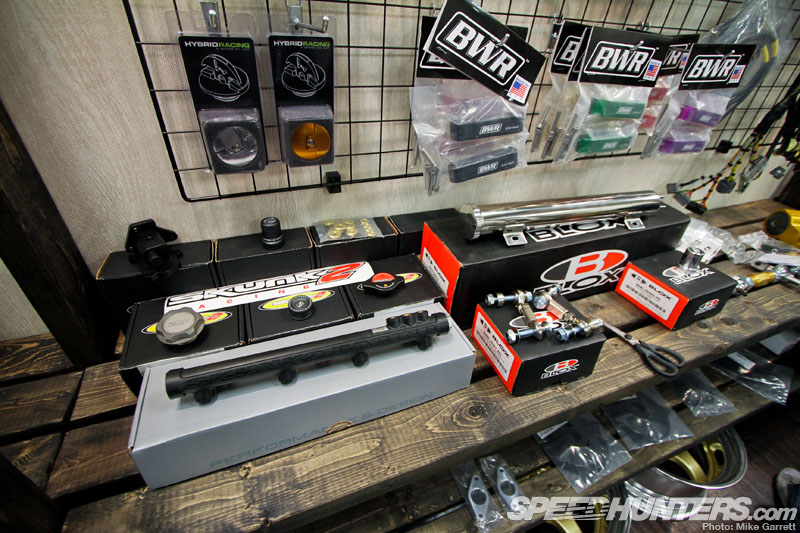 The displays are filled with a variety of parts, most of which were brought over from the United States. Given the long history of the Honda tuning scene in the states and the current USDM boom, it's not surprising that there would be a solid market for these products in Japan.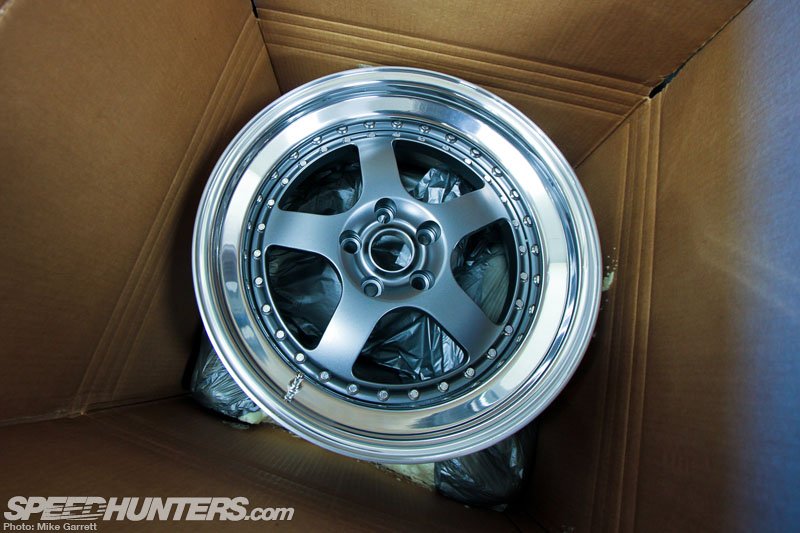 In the couple weeks it's been since I visited the shop, these CCWs may have very well found their way onto a car on the streets of Osaka.  It's just one example of the US style that Tactical Art has been spreading around Japan.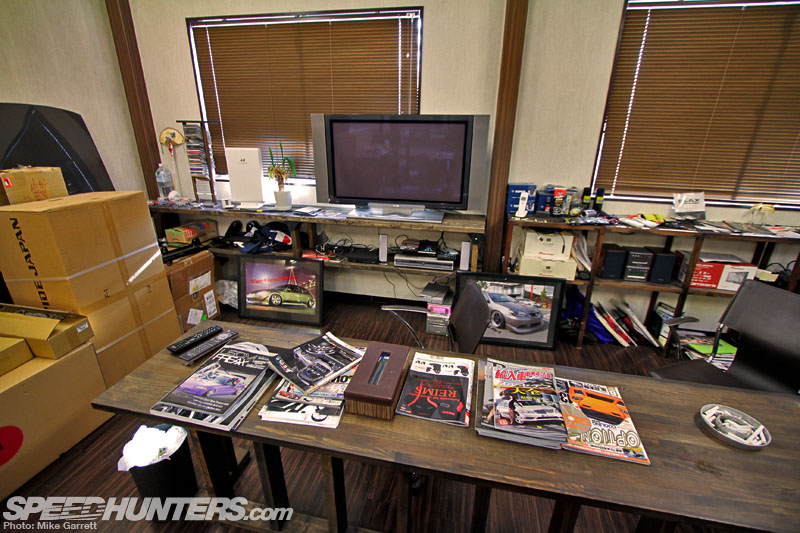 I mentioned a moment ago that the showroom feels more like a lounge than anything else. After hours, this place becomes the setting for hang out and video game sessions with customers and friends of the shop. It's all part of that family atmosphere I spoke of earlier.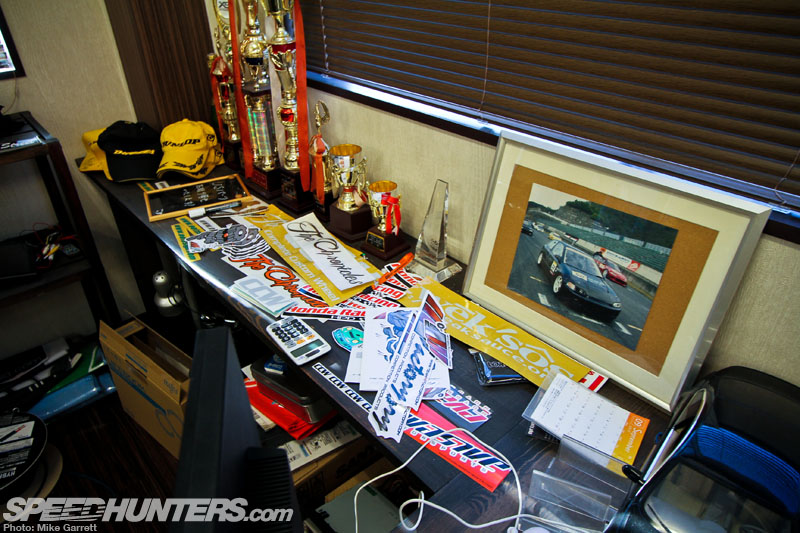 Elsewhere, the office is littered with items that tell of Tactical Art's interests and inspirations. Stickers from overseas shops and blogs like The Chronicles, trophies and photos from race events, and more…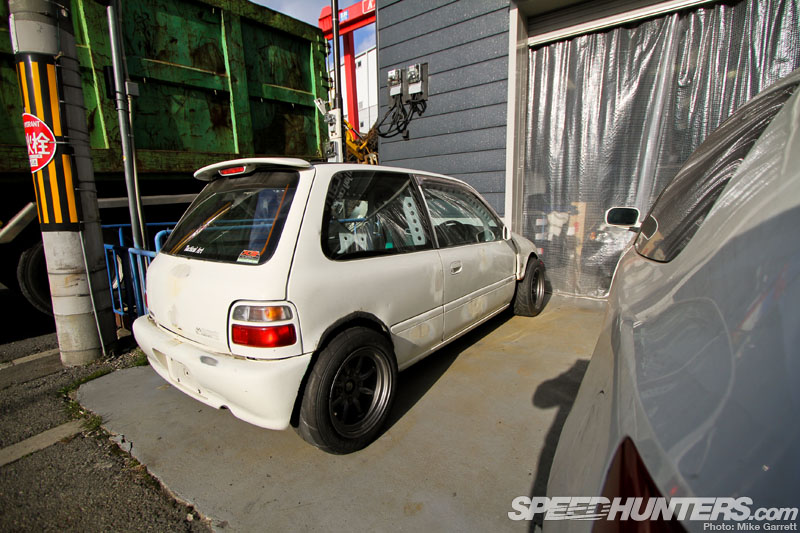 While the heart of Tactical Art's operations involve building Hondas, they are by no means a Honda exclusive shop. This bitchin' little Suzuki Cervo was another one of the machines hanging around the shop when I visited. Dig those wide fenders and oversized RS Watanabes.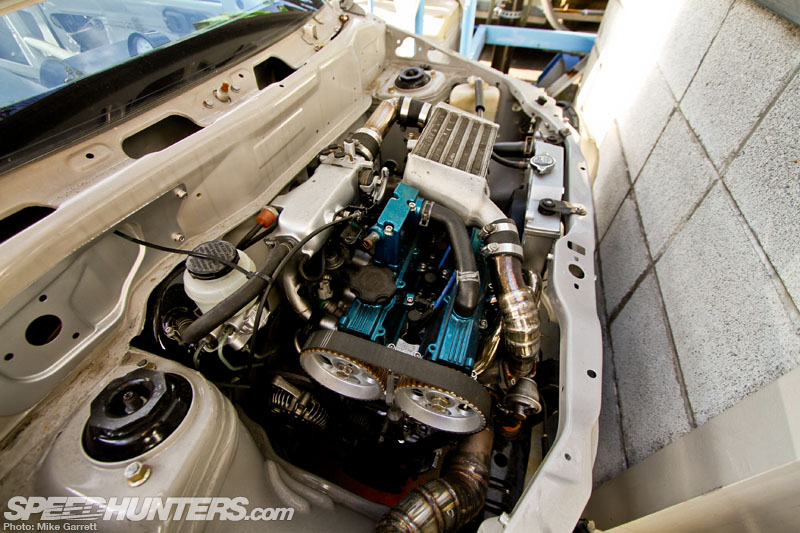 I have no doubt this boosted kei car would be just as fun to throw around the track as the Civics sitting inside the garage…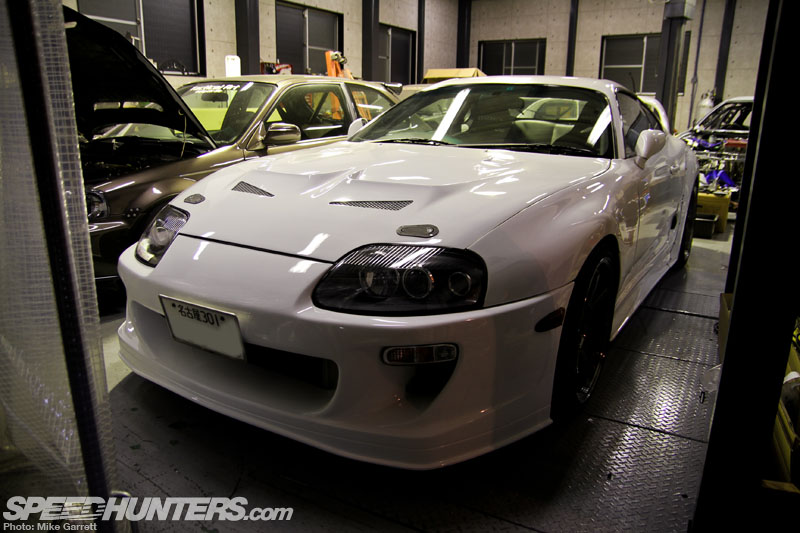 Although this monster Supra isn't a Tactical Art build, I think just the fact that it was in for some basic work is a testament to the shop's reputation.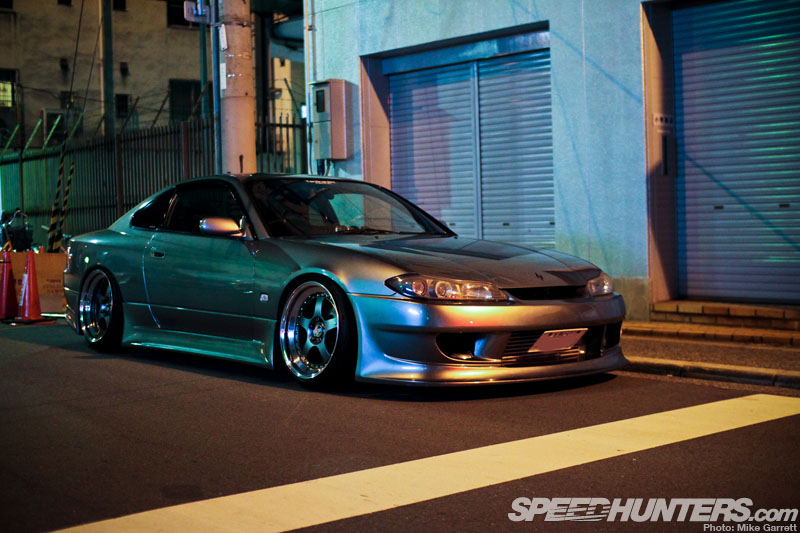 Another member of the Tactial Art Family is Tomoyuki Sakoda and his strikingly clean S15 Silvia Spec R. In case you were wondering, that's another set of CCWs.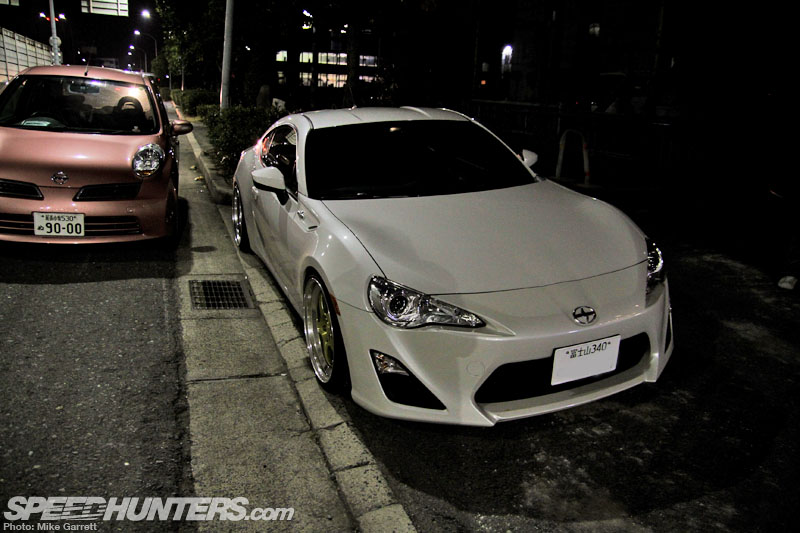 Hey, that's a cool 86! Actually, it's not a Toyota 86 but a Scion FR-S imported from the USA and owned by Keisuke Morita, a sales engineer at HKS. Although he lives in Shizuoka-ken near the HKS factory, Morita-san is a close friend of Tactical Art and he stops by the shop whenever he's in the Osaka area.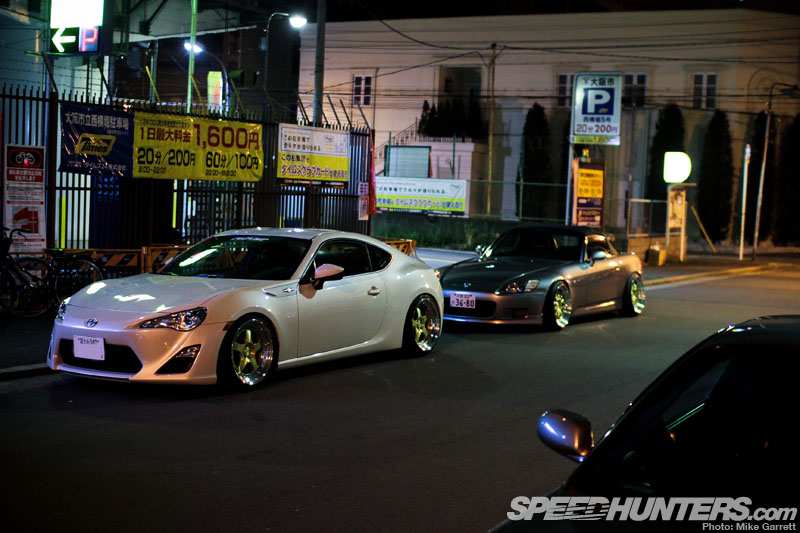 In addition to the expected HKS parts on the car, Tactical Art is also lending him a hand with the build (CCWs again!).  I'm interested to see how it will progress.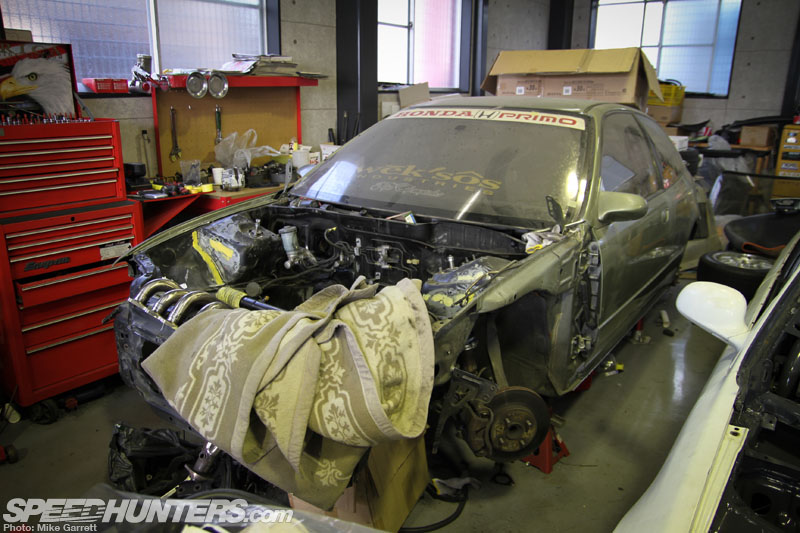 I'll close this out with Yasutaka's EG6, the same car that he was driving when I first met him at last year's M&L Party. As you can clearly see, it's currently under the knife for a full rebuild – just like Atuki's race EG6. Was there anything wrong with either car in their previous states? Nope, not at all. Both were well-sorted, magazine worthy builds with a unique blend of both form and function.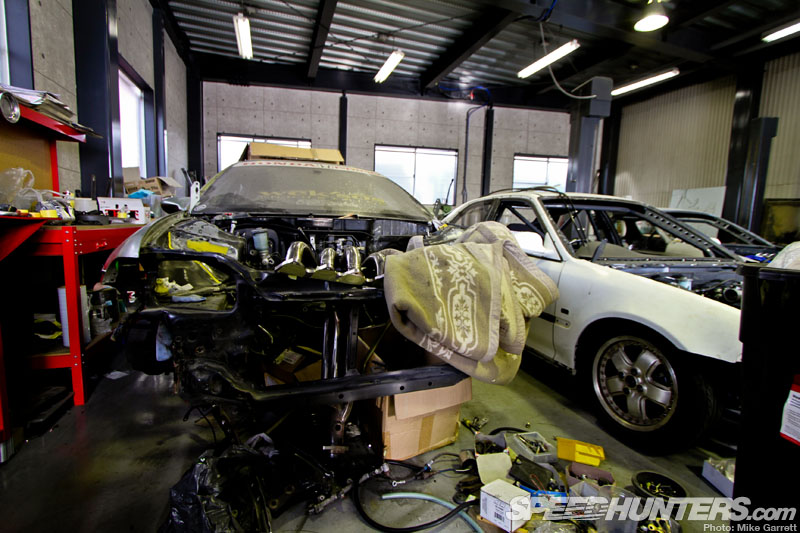 But that's how Tactical Art works. Like with a lot of the world's great car builders, the progress never stops. The guys are constantly building, driving hard on the track, cruising the street, and then rebuilding. They are always thinking of ways to make their machines faster, cooler, and better. No matter what sort of cars you may like, that's something to be respected.
In other words, Tactical Art is "Enjoying Car Life" to the fullest.
-Mike