If there's a fine line between genius and insanity, when it comes to building cars, New Zealander Carl Thompson walks that line. Need proof? Then look at his latest creation, because this built-to-drift Lexus GS300, is both brilliant and at the same time borderline crazy.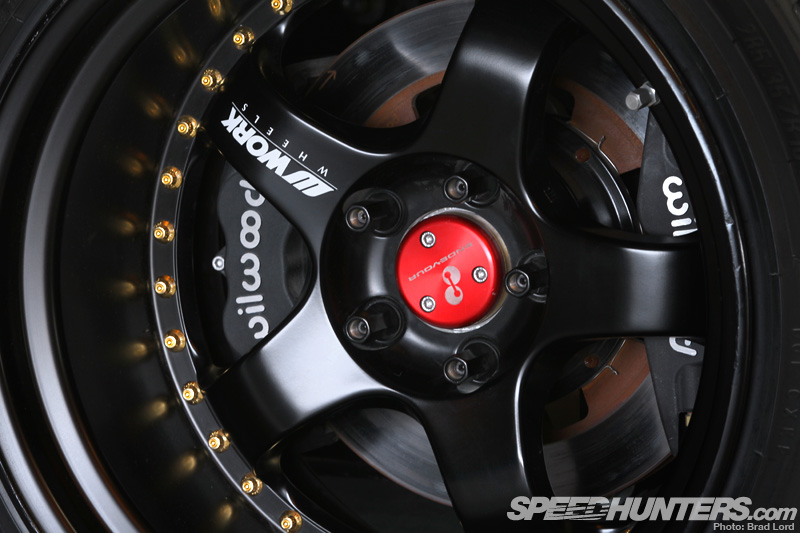 If you're social media savvy then there's a pretty good chance you've already seen – and heard – the car in question; albeit via a short, off-the-cuff YouTube clip walk-around shot by Speedhunters' own Mad Mike Whiddett. Within the space of just one week it had generated over quarter of a million views. If you haven't done so already, turn up your speakers and watch it, then you might understand why.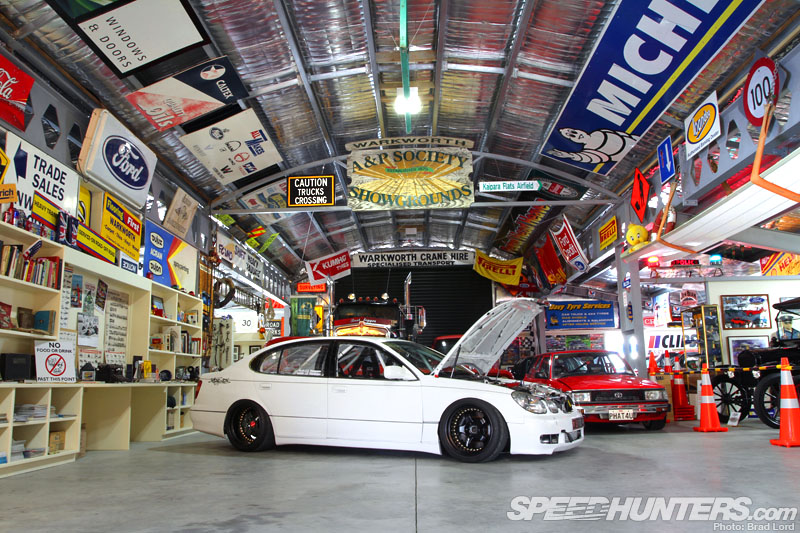 I first laid my eyes on the car back in 2011 when it was nothing more than a bare, rolling shell having its roll cage sorted at M3 Racing after some serious chassis modification courtesy of M3 and Rolling Addiction. I chanced upon it again last year when it was in the throes of having its engine fired up at CBR. Now, three years on since Carl and his father Jamie set out to build what is quite possibly the craziest Lexus drift machine the world has ever seen, we meet again – this time on its own turf.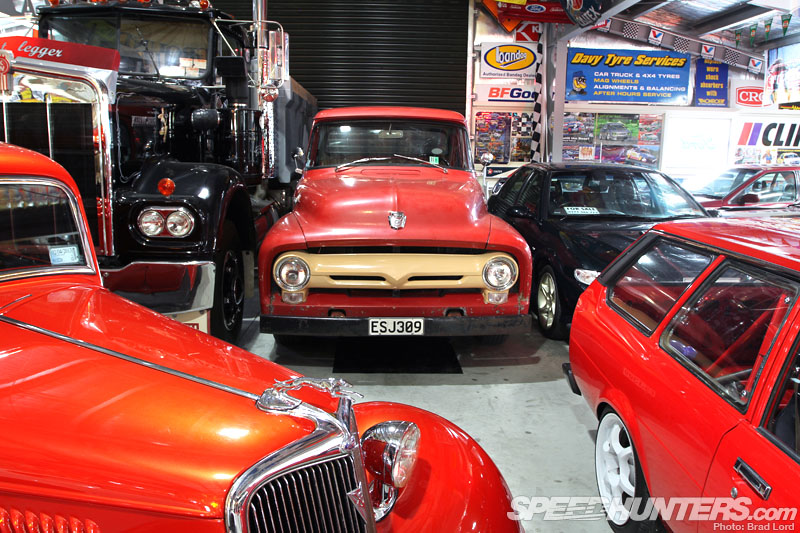 The Thompson compound is a very cool place, and while the guys did some last minute detailing I took a walk around what is essentially Jamie's private auto museum. I'll show you a little more later in the post…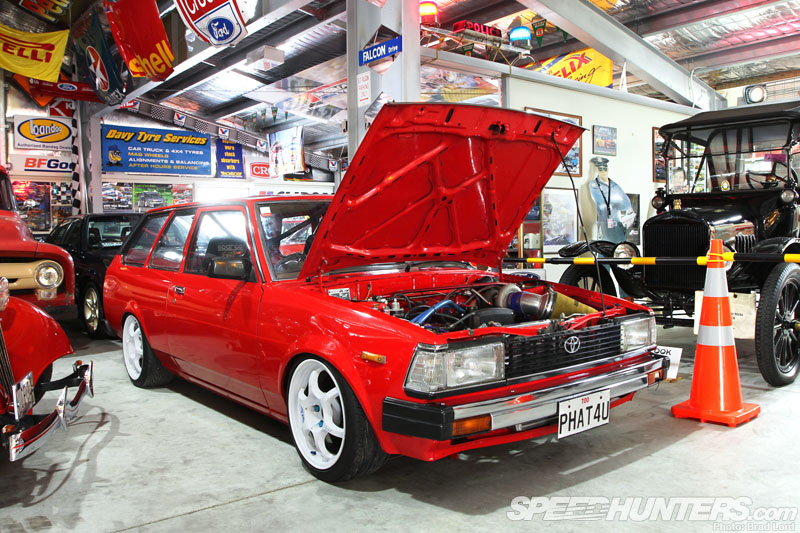 Amidst a large collection of old school classics, I found the car that started it all off for Carl. He got the Corolla when he was just 13, and within five years it had gone from stock 4K-powered to pushing close to 450hp to the rear wheels through a built 1.6L, turbocharged 4A-GZE. And that was without factoring a large shot of nitrous oxide at the ready should the need for even more power arise. Which, for Carl, it did.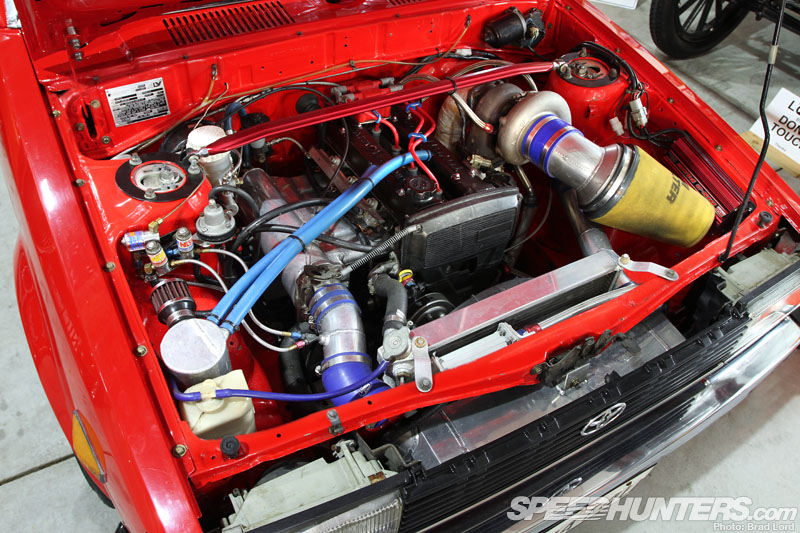 In many ways this rabid (and rapid!) little Toyota was the catalyst for the Lexus build. Having owned three GS300 (aka JDM-spec Toyota Aristo) road cars previously, Carl had his mind made up on exactly where he wanted the drift project to start. Engineering the car with a similar power-to-weight ratio and the same questionable demeanor as the Corolla is where he wanted end up.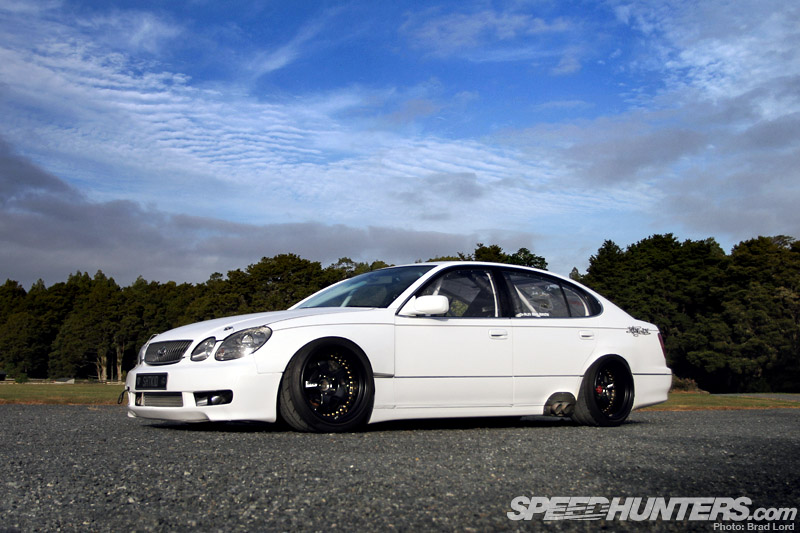 To that end the Lexus was essentially built as a "scaled up" version of the Corolla, but with pure race car functionality and absolute high-end build quality in mind.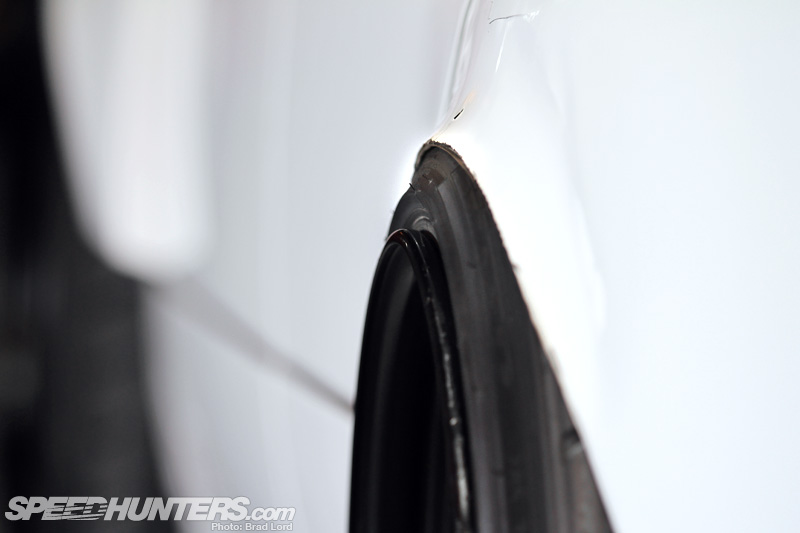 On the flip side, Carl had clear intentions about what the car should look like too; and in this respect wheel type, ride height and fitment all shared the number one spot on his priority list. Of course, there are two ways you can go about achieving perfect stance: the right way, and the wrong way. This one's had custom chassis work including a 7″ body drop and tubbing for the cause, so I don't think I need to spell out which route was taken.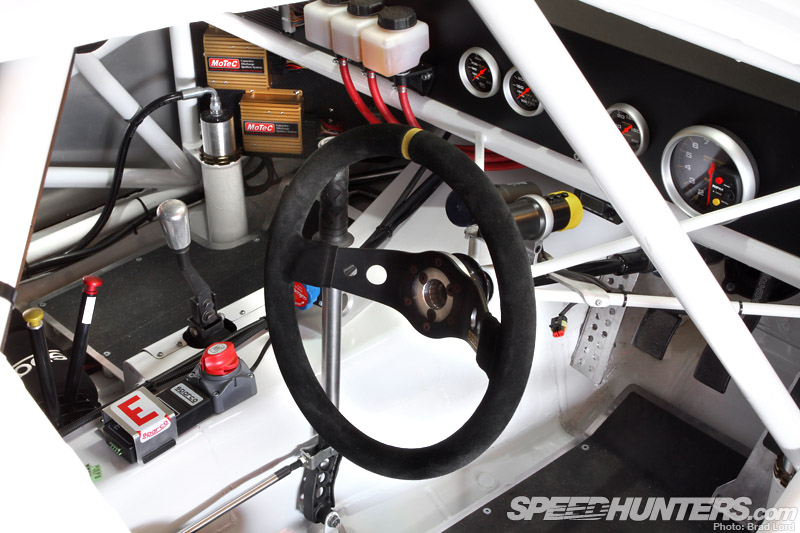 Meticulous attention to detail is common theme throughout the car, and absolutely no corners were cut, or compromises made, during the intensive build period.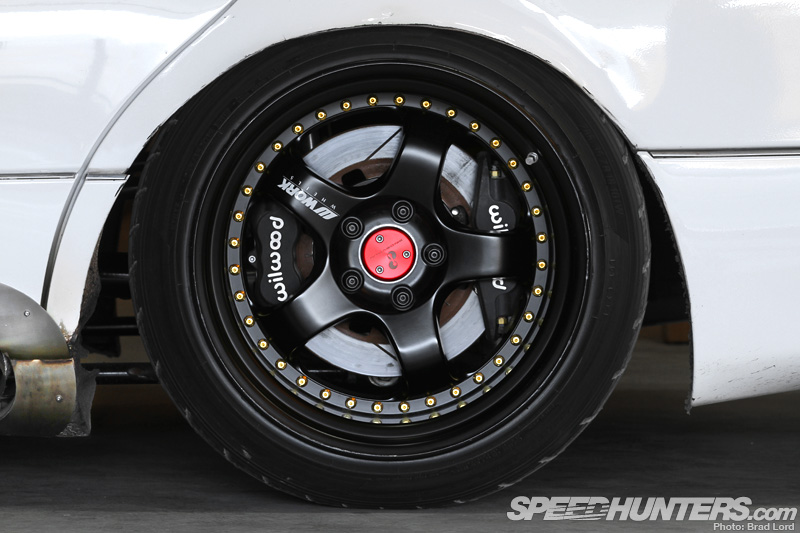 When I was talking to Mike about the car a few months ago, he suggested that it might just be the best drift build he had ever seen. I don't think he's wrong either, because the more you look, and the deeper you delve into the car, the better it gets. Take the 18×12.5″ Work Meister wheels, custom full floating Endevor Engineering hubs and dual Wilwood 4-pot calipers (one pair exclusively for the e-brake) on the rear end for example.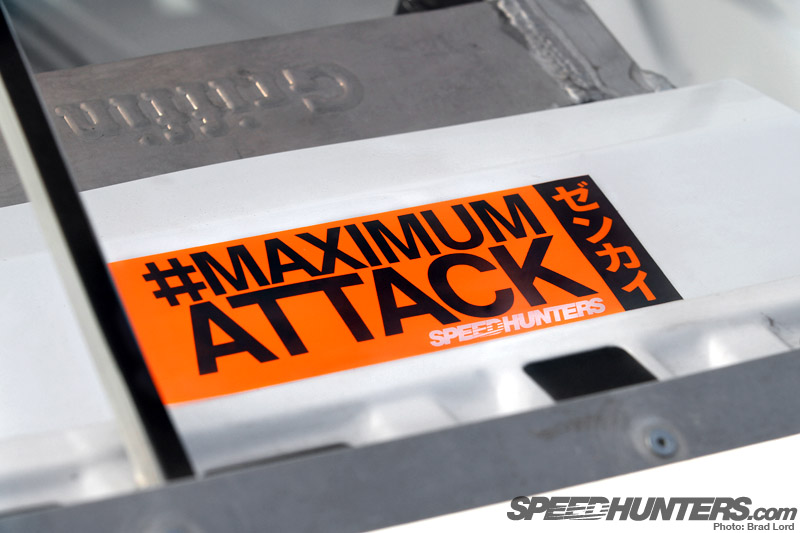 And that said, there was absolutely no questioning the fact that it needed a limited edition Speedhunters #MAXIMUMATTACK sticker stuck on it!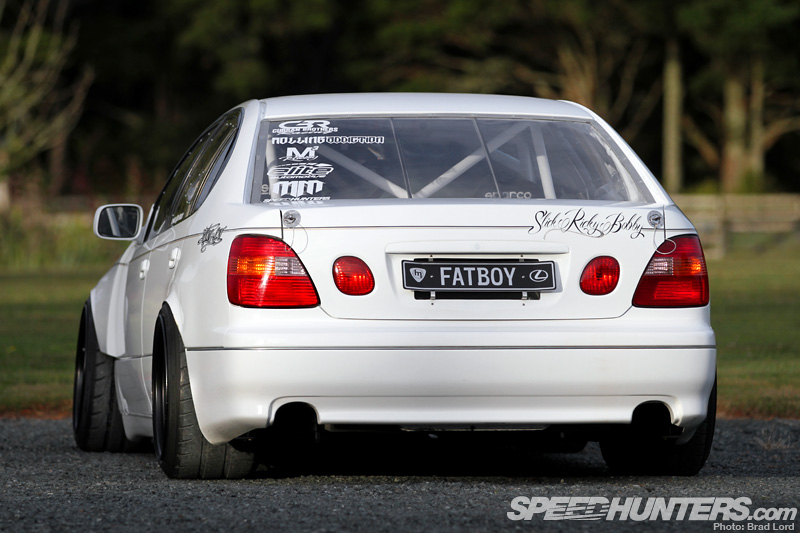 The one detail that did change during the build is actually its defining factor. Initially a Toyota 2J-GZE was destined to give the big car the big power it needed – four digit horsepower output the required goal. Although started that engine build was never completed, at by which time Carl had his sights set on a less conventional approach.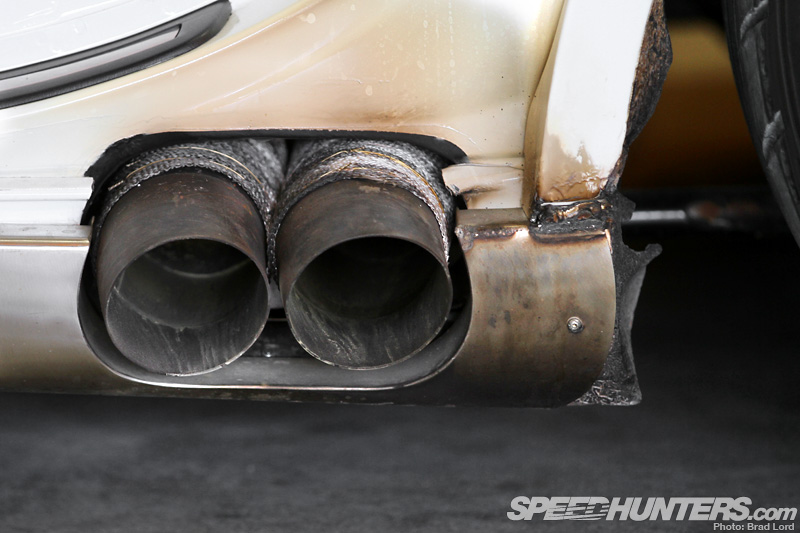 And the flame-throwing and subsequent metal-warping result of that idea is nothing short of spectacular.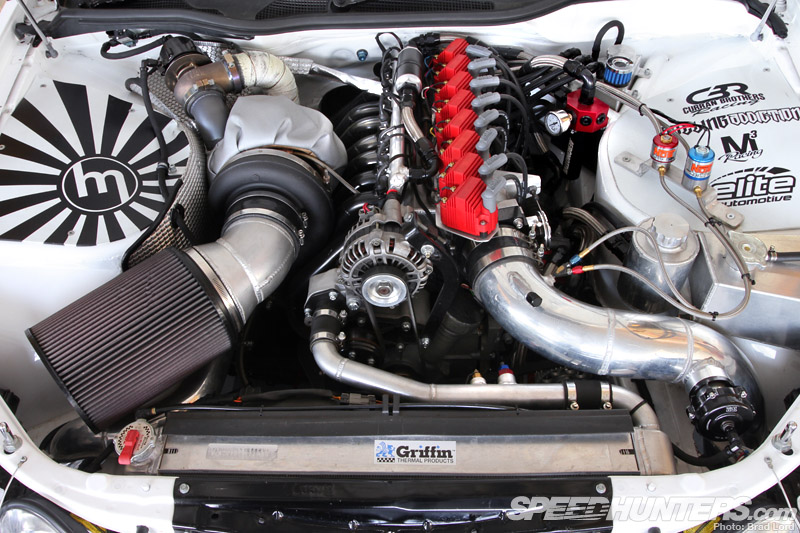 At the heart of the GS300 is one of the angriest rotary engine packages you're likely to find outside a methanol-guzzling drag motor. It's the handiwork of Curran Brothers Racing – or more specifically the man behind the Auckland-based operation – Brent Curran. In it's simplest form you're looking at four-rotor peripheral-ported motor built from a quartet of CBR race-prepped 13B rotors and housings, wrapped around a Precision Engineering (NZ) four-rotor crankshaft. Even without pushing the ignition switch it's a work of automotive art. When it fires into life it's nothing short of mind-numbing.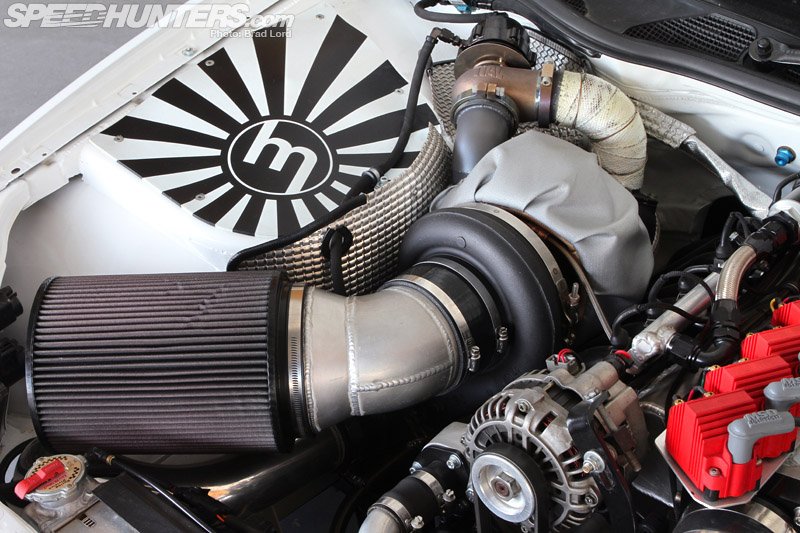 A four-rotor engine on its own is cool enough, but for the task at hand the motor required a little extra motivation. That's come about through a custom BorgWarner turbocharger of substantial size, and a greater system that features dual 600x300x75mm intercoolers with custom aluminum pipework and a TiAL 60mm V60 wastegate employed to control boost pressure. With 1.5kg/cm (22psi) dialed up, 900hp at the rear wheels – an easy thou' at the crank – is the result.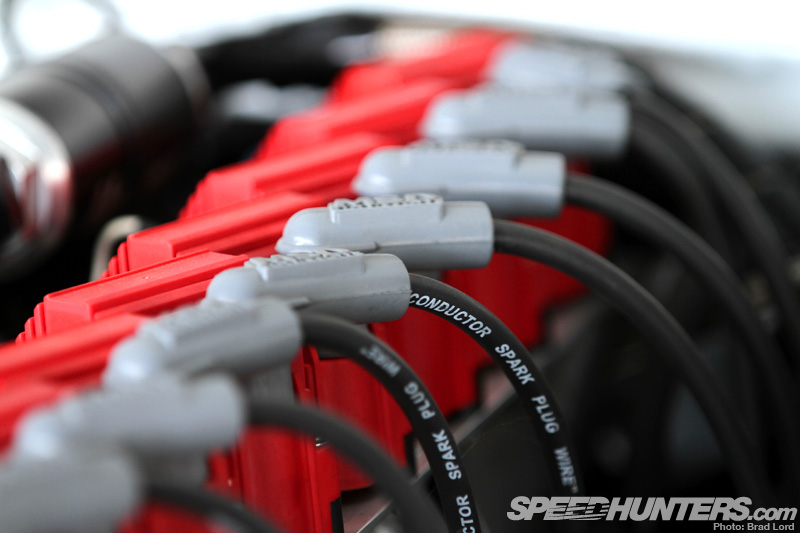 To meet the engine's high RPM demands there's an equally serious ancillary system. For spark, eight MSD coils are employed…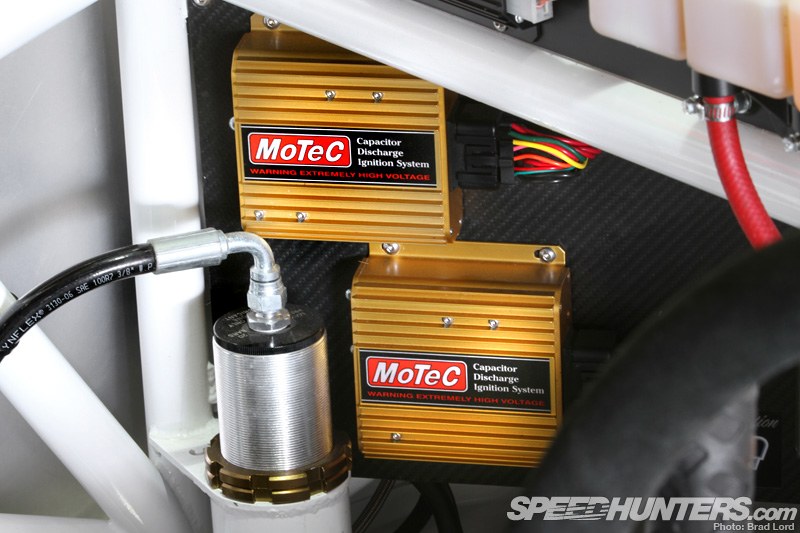 …Powered up through of pair of MoTeC Capacity Discharge Ignition System (CDI) modules. This photo also shows one of four D2 Racing air jacks on board.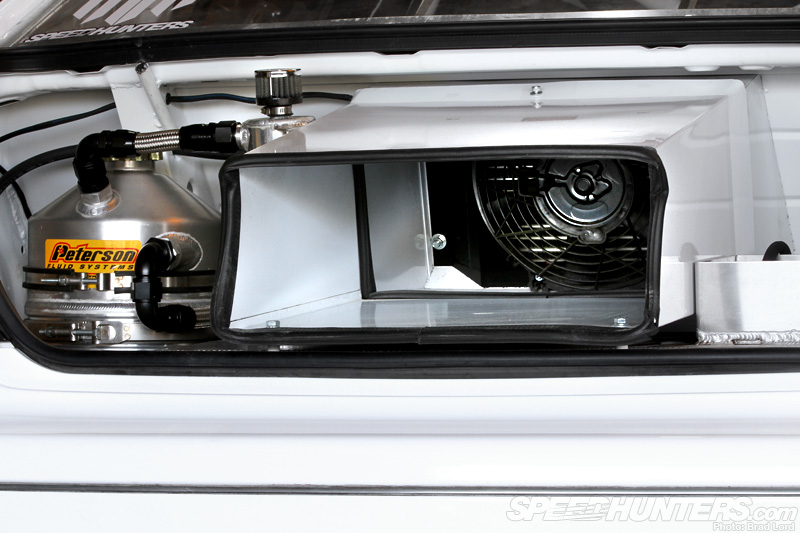 A custom-built 80L fuel cell in the trunk supplies a strict diet of E85 to the engine through large braided lines via a mechanical pump, an Aeromotive adjustable fuel pressure regulator, and eight 1600cc/min fuel injectors. The cell shares space in the truck with an oil tank – one part of the Peterson dry sump system – along with shroud (complete with electric fan) that draws heat through…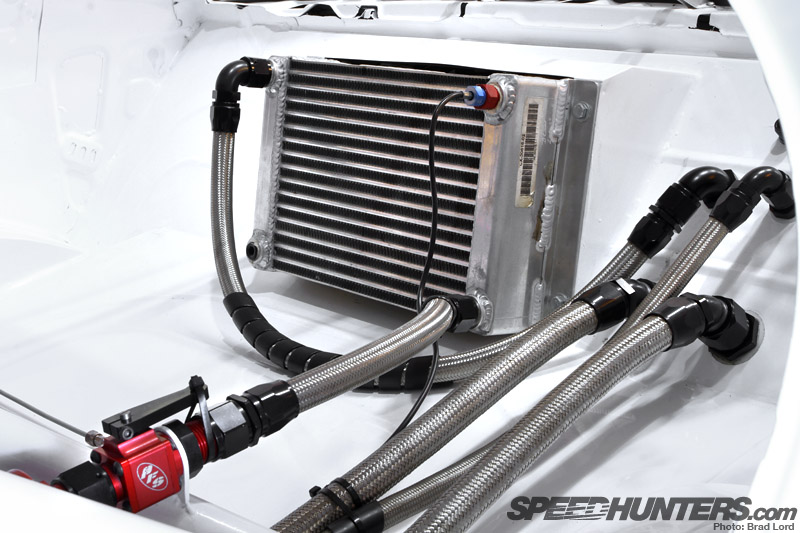 …A rear-mounted Griffin oil cooler. Ducting from both rear side glass-coated Lexan polycarbonate windows to channel cool air towards the core is still to be fitted. It's mounted here mainly through a lack of available space at the front end of the car, but also because of the safety factor in case of a frontal impact.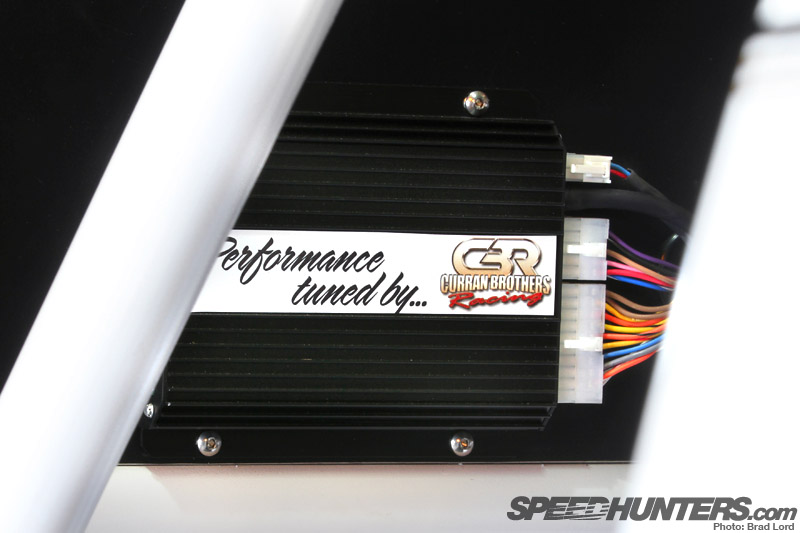 Meanwhile, a MicroTech engine management system tuned by CBR looks after fuel control.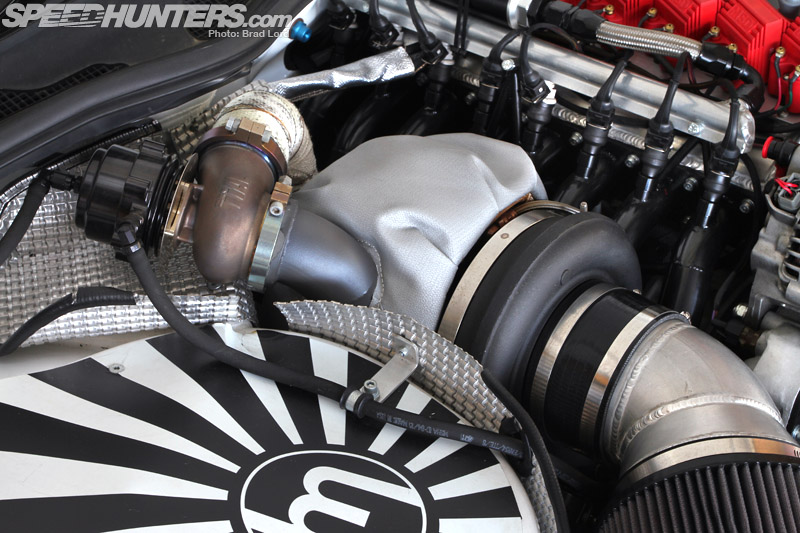 As it stands the engine is making good numbers but the turbo has proven to be the limiting factor, especially in regard to whereabouts in the rev range maximum boost is produced.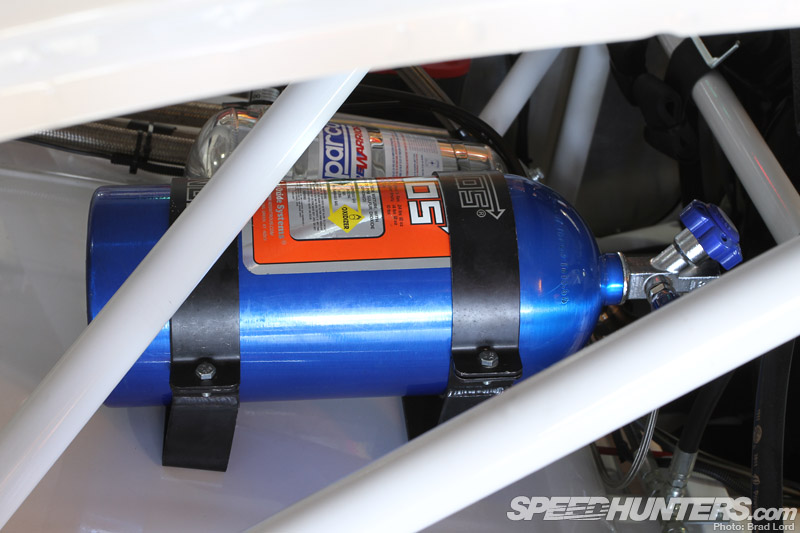 Installed but not yet employed is a big ol' shot of nitrous, which like in the Corolla will be used mainly to bolster performance through the low and mid-RPM rev range.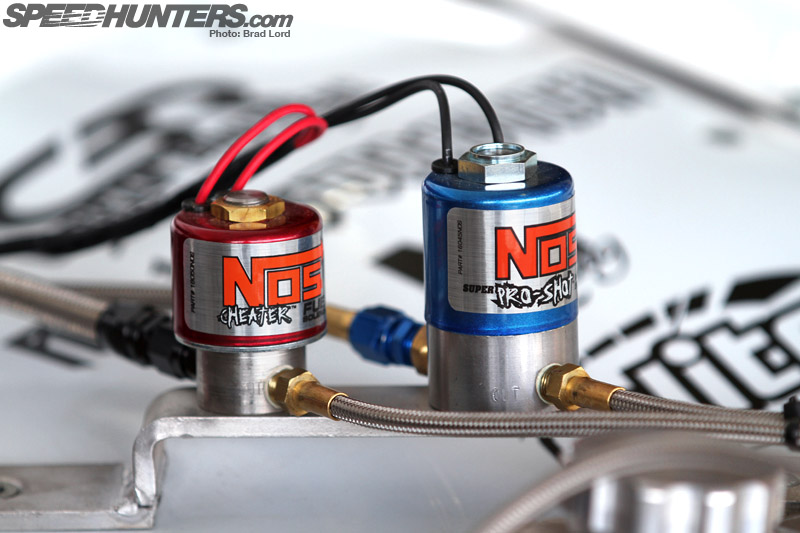 And when that happens, an extra 200hp will be available, and right where the engine needs it.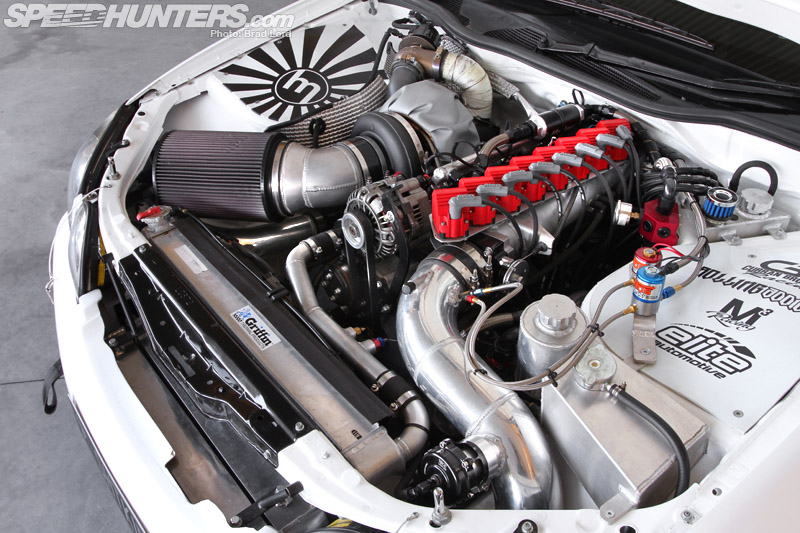 Before that happens though, there's a larger BorgWarner turbo to be fitted, and more boost – 2.0kg/cm (30psi) – to flow from it. For the time being, however, Carl can only imagine what kind of hell will break loose when the package is full sorted and the nitrous switch is tripped. When that happens I've been promised a ride, but I'm not entirely convinced that accepting it would be a good idea…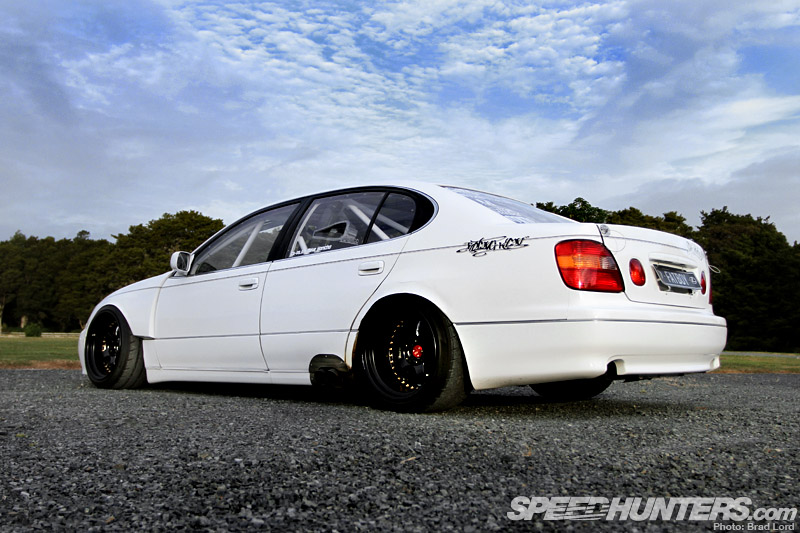 Another important aspect of the car, but one you can't see, is the rear-end set up. Some serious work has gone on in this region including the fitting of a Strange Engineering 9″ differential (currently running 3.75:1 gears) in a Moroso Competition Racing housing. Local company Endevour Engineering supplied a pair of race-ready axles and the aforementioned full floating hubs. Suspension-wise Koni custom-valved dampers and platform-adjustable King Springs coils hold up all four corners. Revised arms allow for alignment adjustment and roll center adjusters are also used. And just in case you're wondering – no, the current ride height, which was wound low for the car's official unveiling at the 2013 4&Rotary Nationals in Auckland this weekend, is not the height it's driven at. Low – yes, but not this low.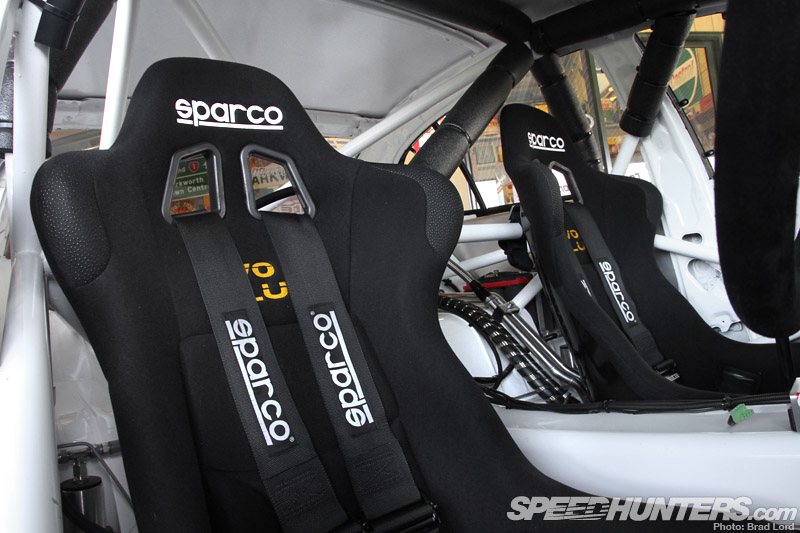 In the cockpit you'll find pair of Sparco Evo Plus seats and Sparco harnesses. From this angle you can also see some of the custom steel work inside the car; the revised tunnel – part of an entirely replaced custom floorpan – and the enlarged rear wheel tubs, which happily accommodate 285-section wide tires, at a very low ride height.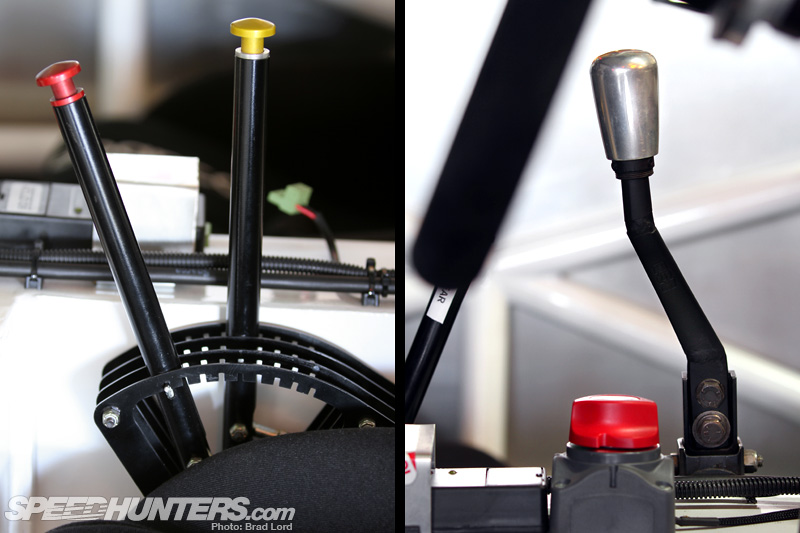 The suspension set up also features adjustable blade sway bars front and rear by M3 Racing, which can be tightened up or softened off depending on requirements and track conditions. The gear lever drives a Roltek 4-speed straight-cut dog box via a Direct Clutches twin-plate clutch, although using the clutch to make shifts is not required once the car is moving.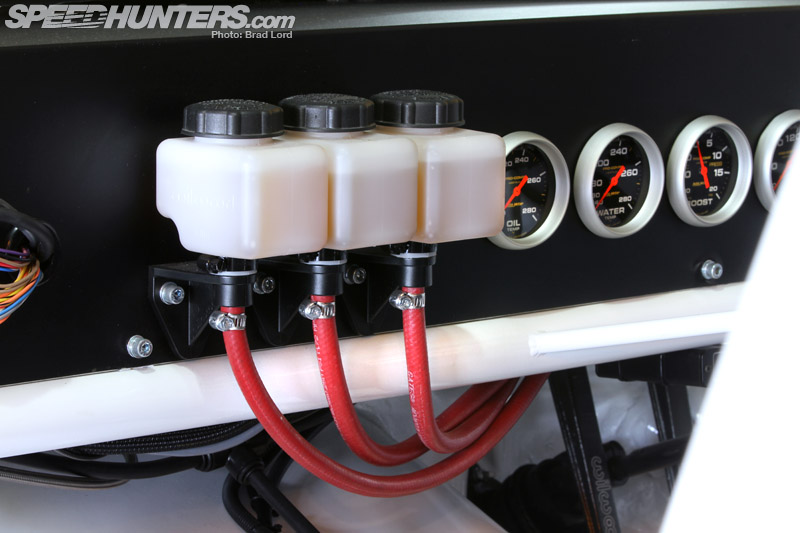 Remote reservoirs allow fluid levels to be monitored from within the cabin, while an array of Auto Meter Pro-Comp gauges keep an eye on the engine's operating condition.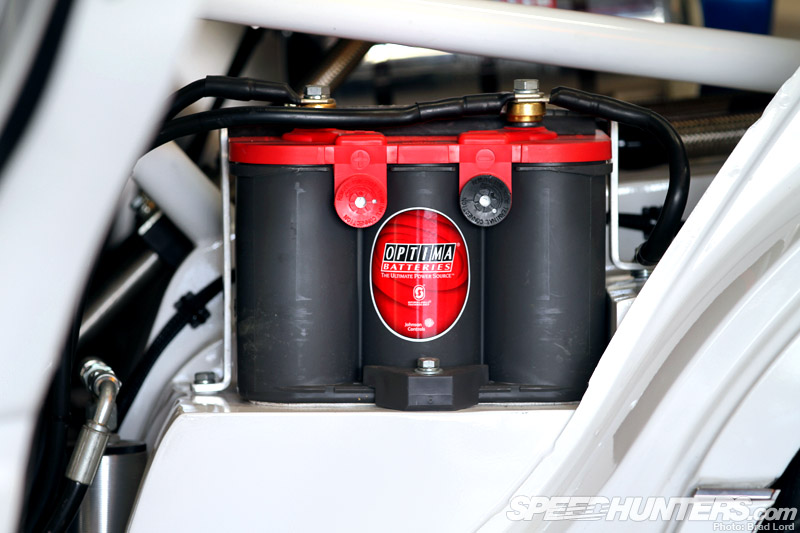 The battery is one of many components specifically positioned in the car to improve weight distribution. Furthermore, the GS300 has been subject to a session of corner weighting.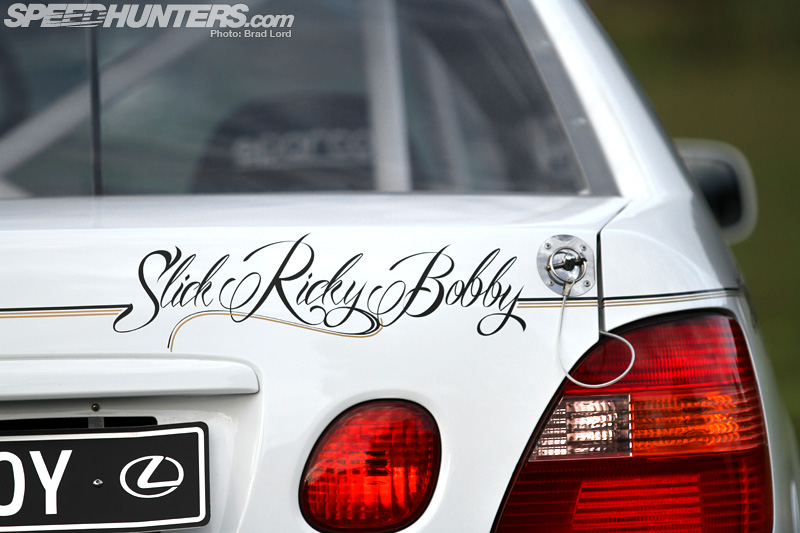 Along with the performance focus, the car has plenty of personality too. Mr. Mad Mike Whiddett can be credited with all the vinyl and pin-striping work.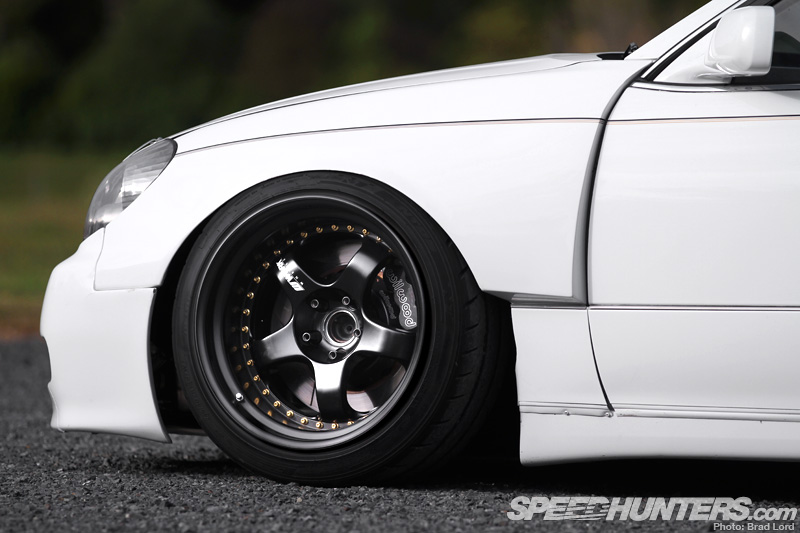 The body on the other hand is mostly factory-spec fare. Carl's not big on body kits, instead relying on subtle enhancements – in this case cut and boxed front steel fenders to allow the 18×10.5″ wheels to fit – to pull the look together.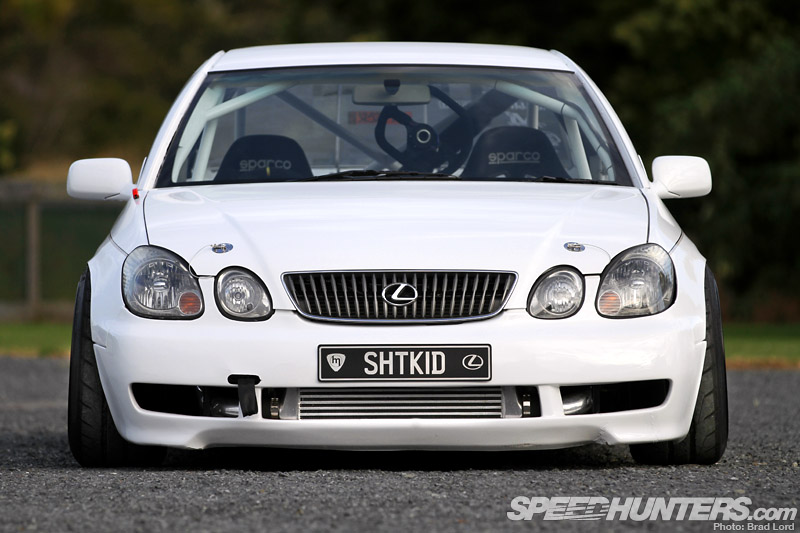 To line-up with the fenders, the front bumper was cut though the middle and widened to suit.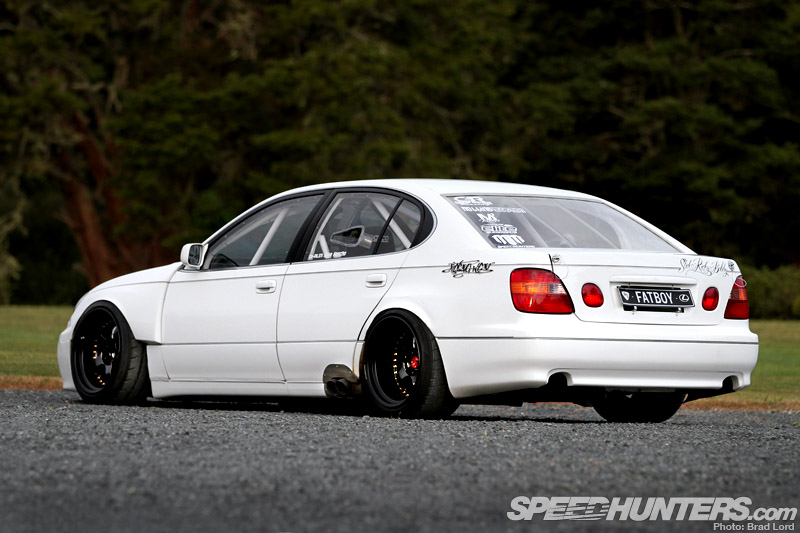 At the rear the fenders have been massaged outwards, but they'll soon be sliced up to make way for removable fiberglass over fenders that will run to the taillights.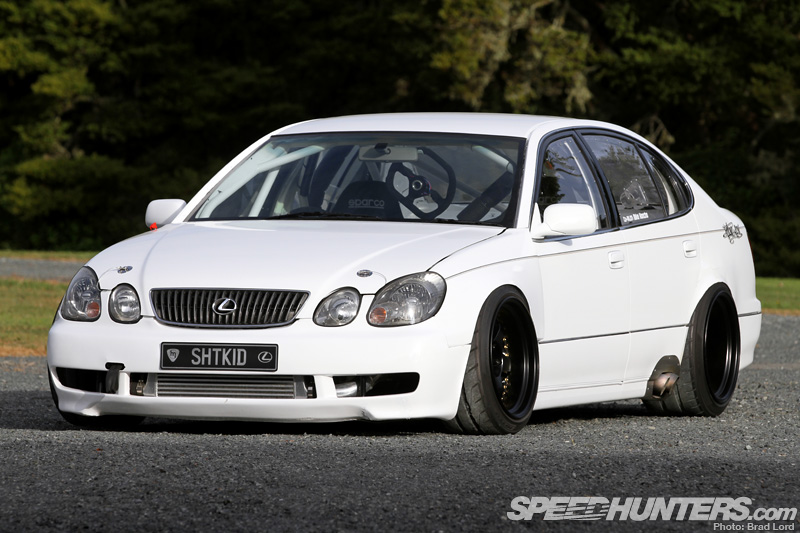 Having such a competitive package at his disposal, the only thing left for Carl now is to gather as much seat time as possible. At its first private track shakedown a month back it showed stacks of promise straight off the trailer, and according to Carl, felt exactly as he hoped it would –  just on a slightly larger scale than he's become accustomed to with the Corolla.
Crazy or brilliant? In my mind this might just be the perfect combination of both…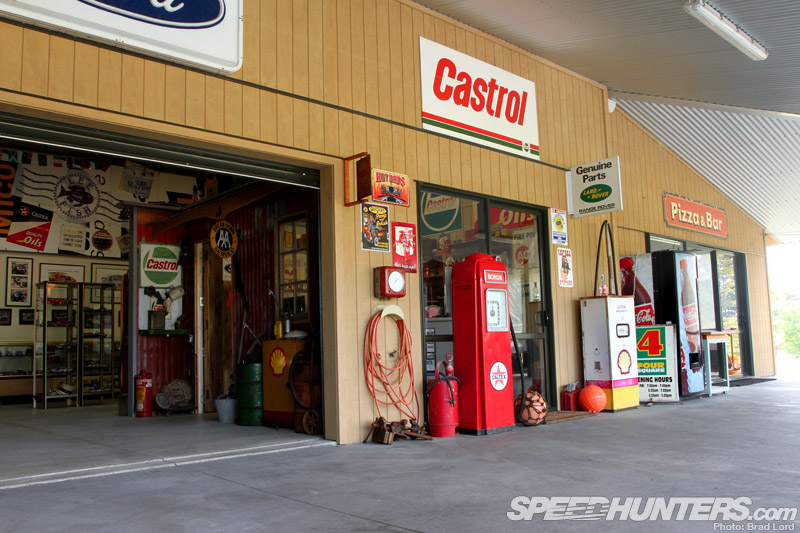 Before I wrap up this post, I thought I'd include a few more photos from inside one of the coolest garages I've had the pleasure of spending a day in.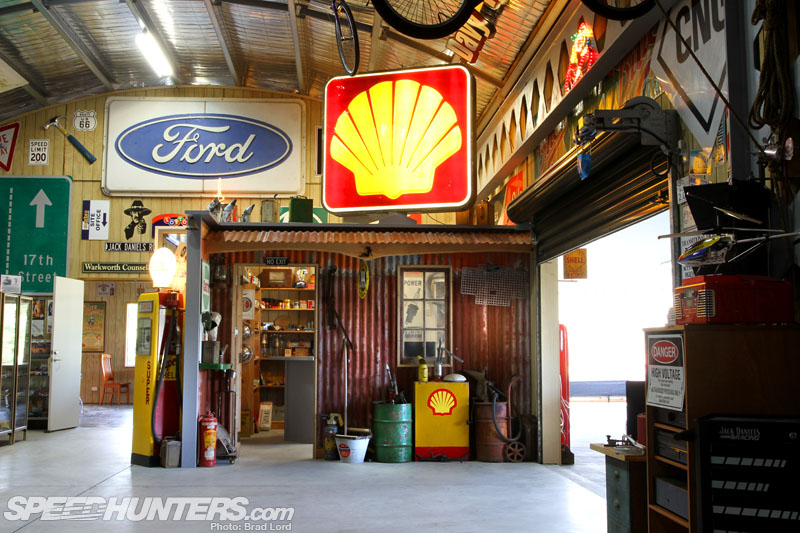 The iron clad shed doubles as an office for Jamie, but at the same time houses a collection of old oil tins and cans.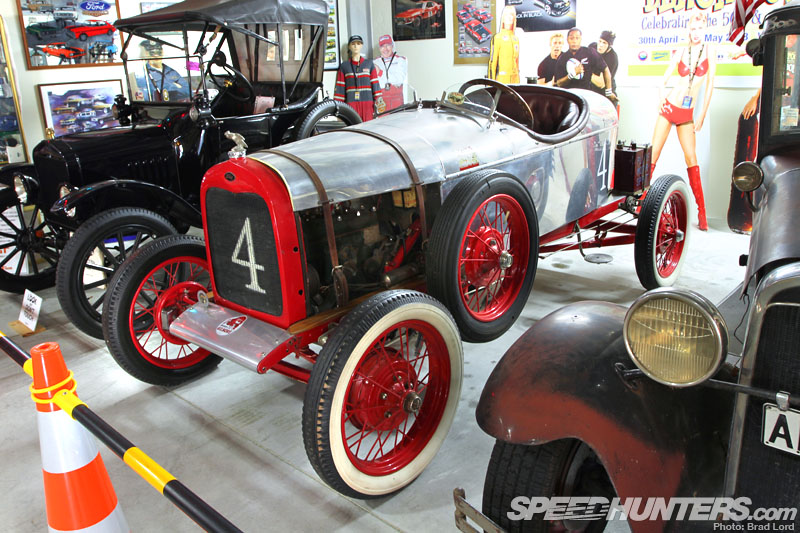 The collection is predominantly Ford-based, but there's still room for Carl's Toyotas, of course.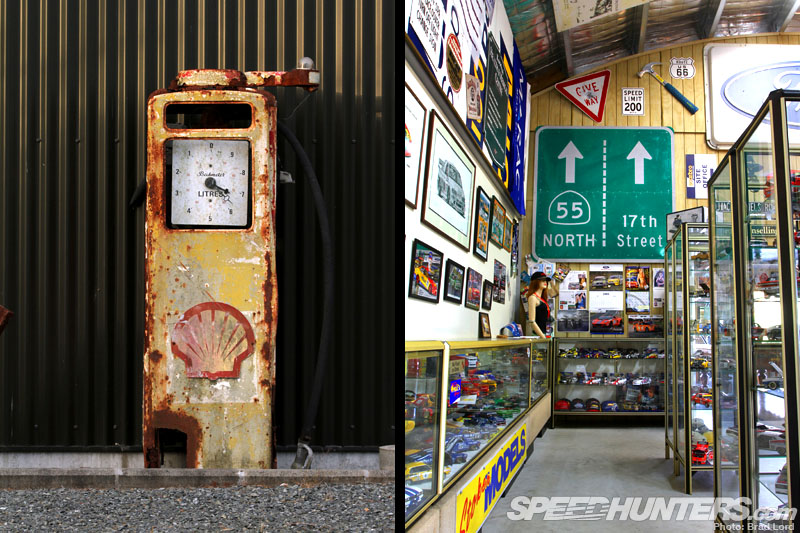 Gas bowsers and model cars are well represented in the collection, and perfectly displayed to boot.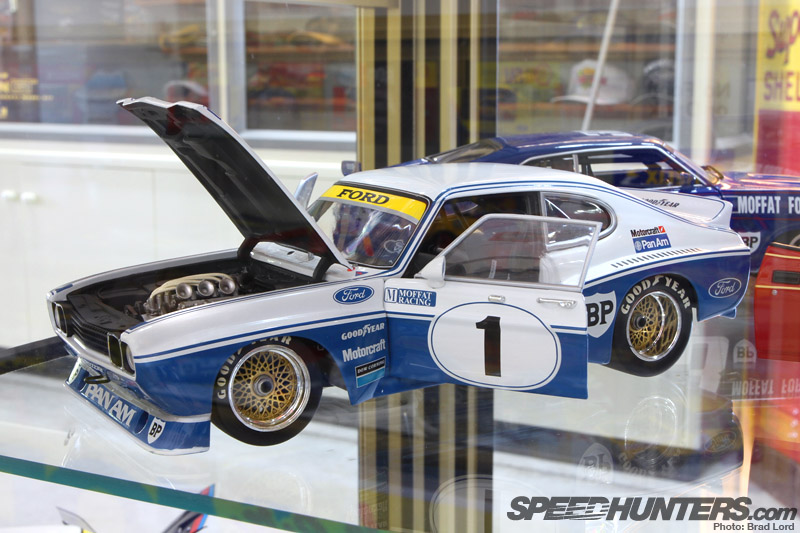 If you saw my post on the 2013 NZ Festival of Motor Racing you might have seen the actual Cologne Capri this model was scaled from.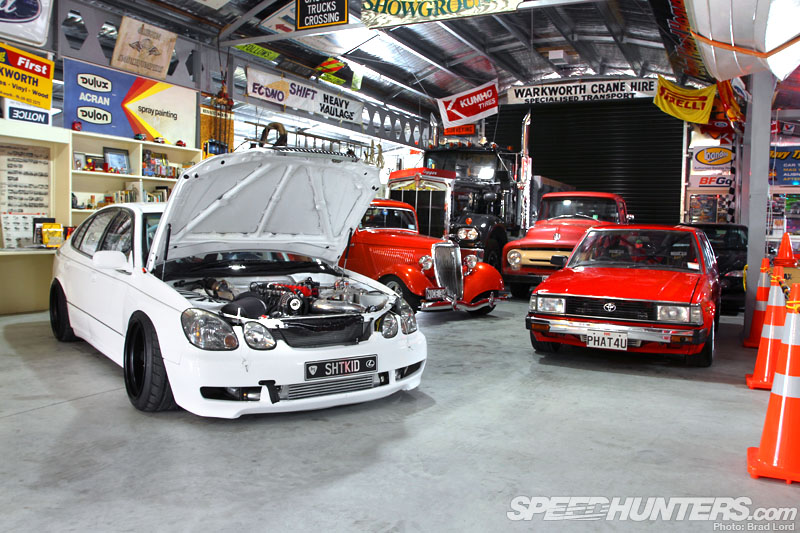 Big thanks to Carl and Jamie for letting Speedhunters drop by!
Brad.
SPEC
Engine: Curran Brother Racing (CBR) custom-built 26B four-rotor Mazda rotary; Precision Engineering four-rotor eccentric shaft; 8x MSD coils; 8x 1600cc fuel injectors (E85); CBR-spec BorgWarner turbocharger; TiAL 60mm external wastegate; TiAL 50mm blow-off valve; 2x 600x300x75mm front-mount intercoolers; custom aluminum intercooler pipes; 5″ exhaust from turbo, 2x 3.5″ side-exit pipes;  2x MoTec CDI modules; custom engine mount plate; Peterson dry sump pump; Peterson dry sump tank; Griffin rear-mounted oil cooler; Griffin aluminum race radiator; 90mm throttle body; Aeromotive adjustable fuel pressure regulator, Aeromotive mechanical fuel pump; custom 80L fuel cell; custom fuel surge tank; custom header tank, catch can and power steering reservoir;  XRP steel braided lines & fittings, Nitrous Oxide Systems 200hp kit; custom wiring
Engine Management: MicroTech, tuned by CBR
Driveline: Roltek 4-speed straight-cut dog box; Direct Clutches twin-plate clutch; custom 2-piece driveshaft; Strange Engineering differential; 3.75:1 gears; Moroso Competition Racing 9″ diff housing; Endevour Engineering full floating rear hubs; Endevour Engineering custom-built axles;
Suspension: Front/Rear – custom-built Koni adjustable dampers; King coil-over springs; M3 Racing adjustable blade sway bars front/rear; modified arms, custom castor arms, performance bushes; adjustable roll center
Brakes: Front – Wilwood 365mm rotors, Wilwood 6-pot callipers; Rear – Wilwood 330mm rotors; twin Wilwood 4-pod calipers; Wilwood adjustable bias; hydraulic e-brake
Wheels/Tires: Front – 18×10.5″ -14 Work Meister alloys; 245/45R18 Nitto NT05 tires; Rear – 18×12.5″ -14 Work Meister alloys; 285/35R18 tires
Body: Factory Aristo; widened front bumper; cut/widened front fenders, Lexan glass-laminate door and rear windows
Interior: Custom-chassis rail modifications & 7″ body drop; front & rear wheel tubs; MSNZ-spec roll-cage; Sparco Evo 2 seats; Sparco harness belts, custom dash panel; Auto Meter gauges; Sparco suede steering wheel; D2 Racing air jacks; Sparco plumbed-in fire suppressant system; custom floorpan
Thanks: Colin @ Rolling Addiction, Kerry @ M3 Racing, Brent @ Curran Brothers Racing, Karl @ Elite Automotive, Mike @ CRE8GRFX, Matt @ Nitto Tires/YHI New Zealand
DESKTOPS