Following on from Amemiya-san announcement last year that the NA-7 would be his final RX-7 based project, I'm sure I wasn't the only one wondering what on earth he would come up with for this year's show. It's become almost a tradition for RE-Amemiya to create some kind of crazy car for TAS, and for 2013 crazy doesn't even begin to describe what everyone's favorite punch-perm sporting, rotary-master brought to the show.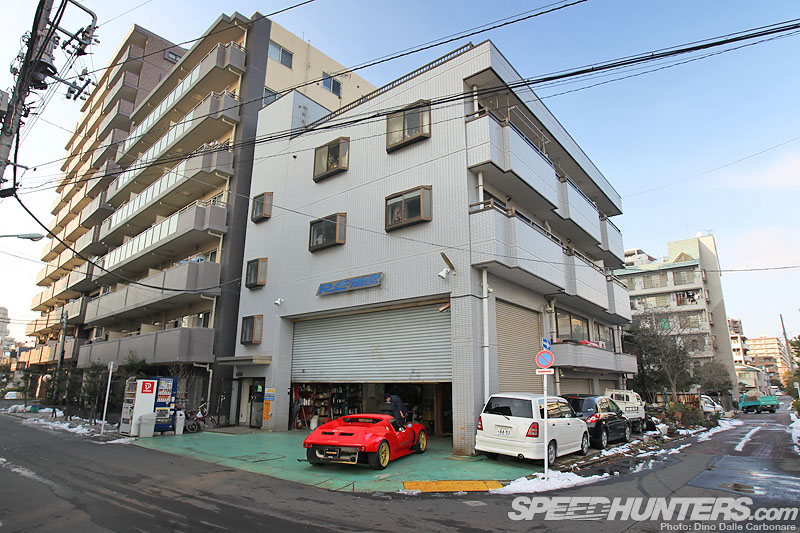 The fact that the car wasn't even a Mazda no doubt raised a few eyebrows with the more die hard fans out there, but hey with Mazda preferring to concentrate on clean diesel engines right now, we can only take our hats off to Amemiya-san for trying something different. And amazingly it isn't a Toyota 86! To find out more, a few days after the show, we headed to the RE-Amemiya's shop in Tokyo. Mike will be bringing you a little tour of this small workshop, the place where all of Amemiya's demo cars and race cars have been built.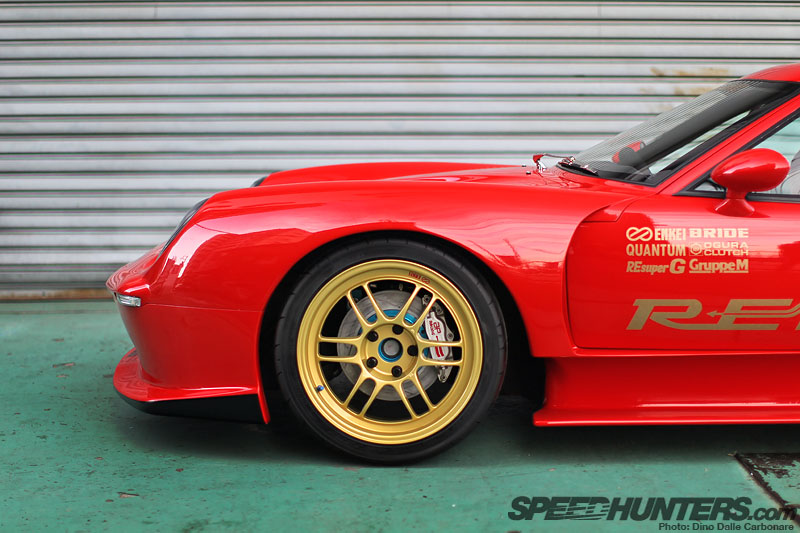 But it was this tiny little car that we were all there to see, a strange hybrid interpretation of the Lotus Europa…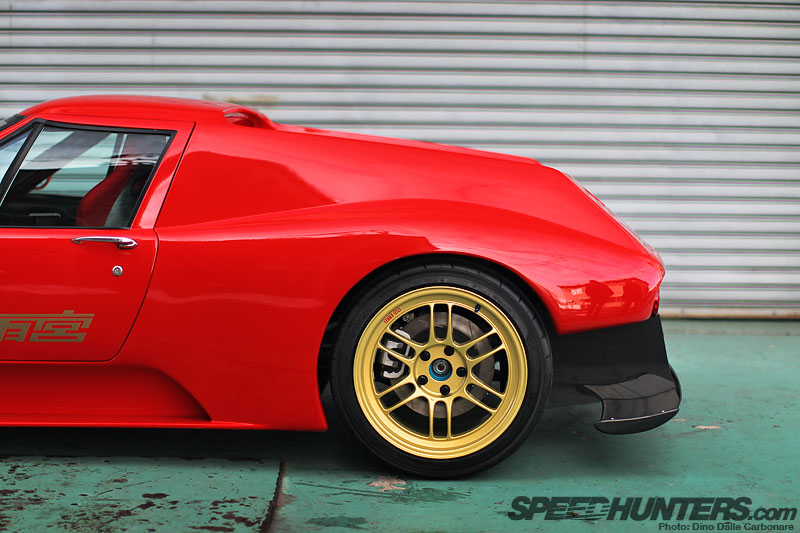 …sculpted and built in the way only Amemiya-san would know how.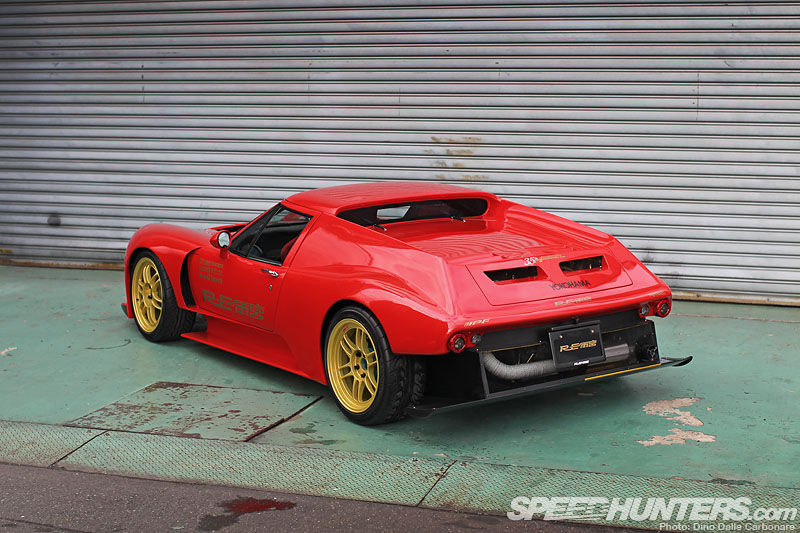 While you would be forgiven to confuse the front end with an FD Super GReddy conversion running 911 headlights, there is no arguing that rump is pure Europa. Amemiya-san built upon the awkward rear styling by giving more defined fenders, round cut wheel arches rather than the horizontally shaped original items…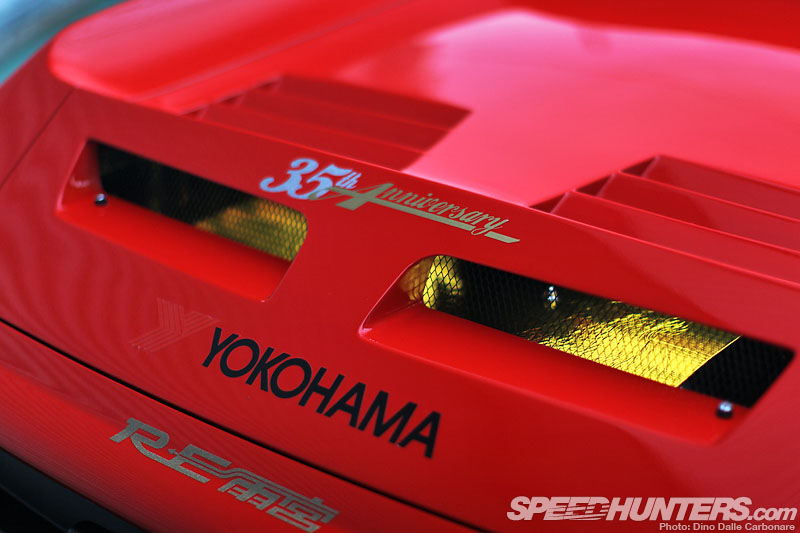 …as well as a redesigned engine cover. The car was put together to celebrate RE-Amemiya's 35th anniversary and has got nothing to do with Ama-san's Lotus Europa project from the 80's; they are two different cars.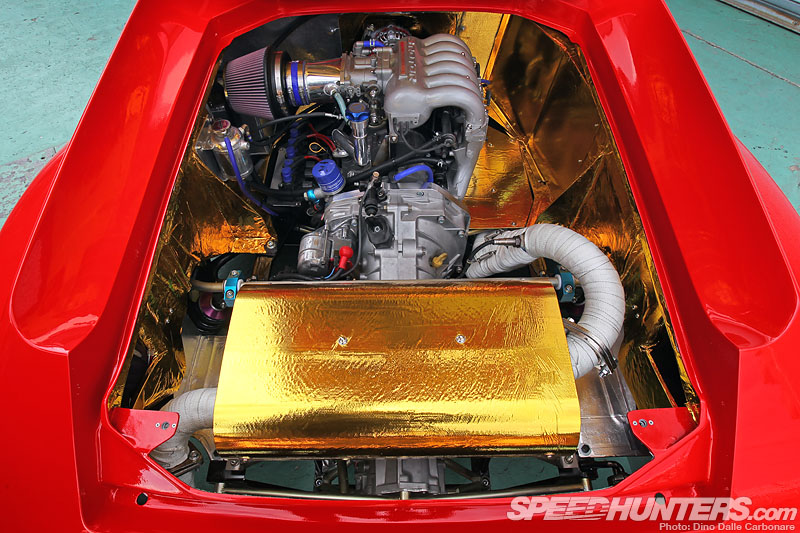 The only similarities is that they are both rotary powered, except while the old project ran a 13B…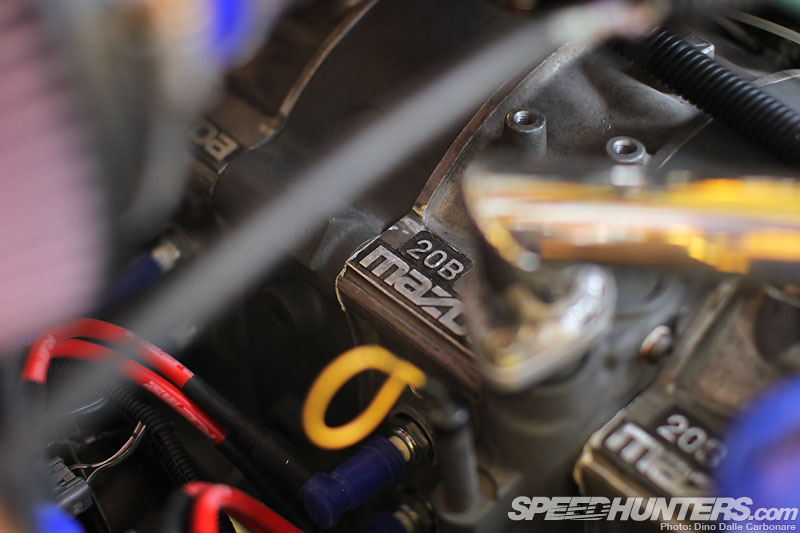 …this Europa boasts a 20B engine swap.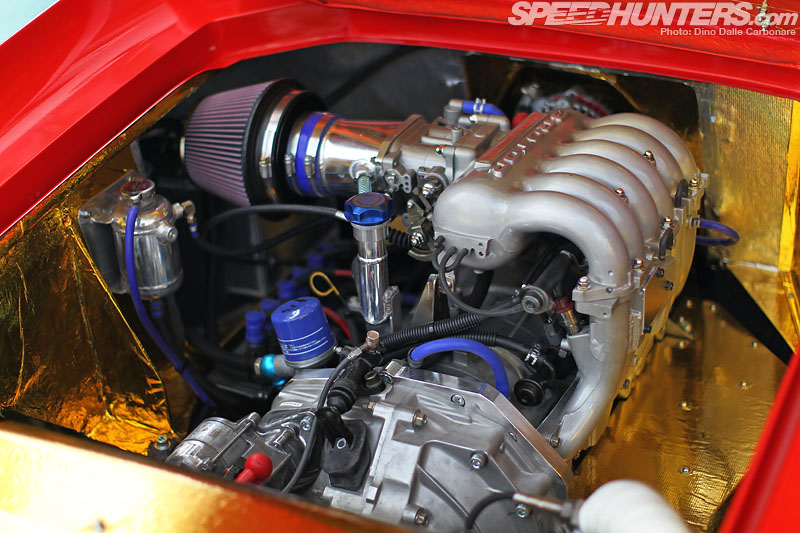 Just like the NA-7 from last year, the Europa takes the naturally aspirated route, because simply put, with a curb weight of just over 700 kg there isn't really a need for big power or torque. The 20B provides the sort of linear power delivery a lightweight car like this would benefit from…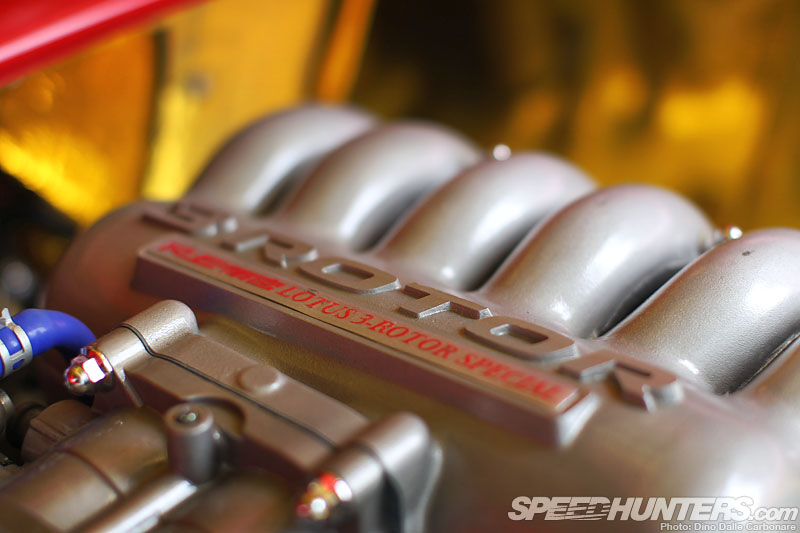 …topped off with that unmistakable rotary sound. The most incredible thing about the Europa is that it was all put together in just over a month. Ama-san went to work on the chassis first, reinforcing the tubular frame, before moving onto making the 3-rotor fit just right.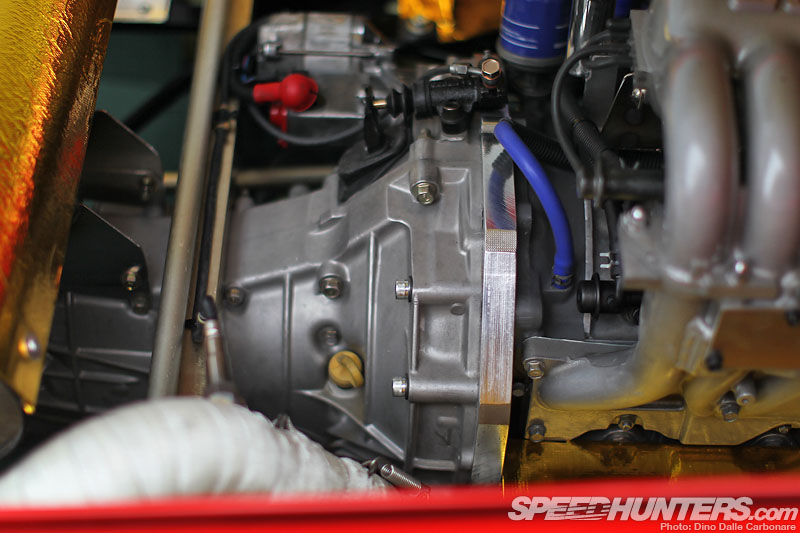 The compact dimensions of the 20B meant that there was plenty of space to fit it as far centrally as possible within the Europa's chassis, but the biggest hurdle was finding what gearbox to use. After weeks of discussion and research Ama-san and his crew decided to go with a 5-speed manual transmission from a BG Subaru Legacy. This 'box was the perfect choice as they could use the front shaft output to drive the wheels and cap off the rear of the housing where, on a Legacy, drive is transferred towards the rear diff. What Ama-san had to do was fabricate an adaptor plate of the right thickness to line up the transmission correctly…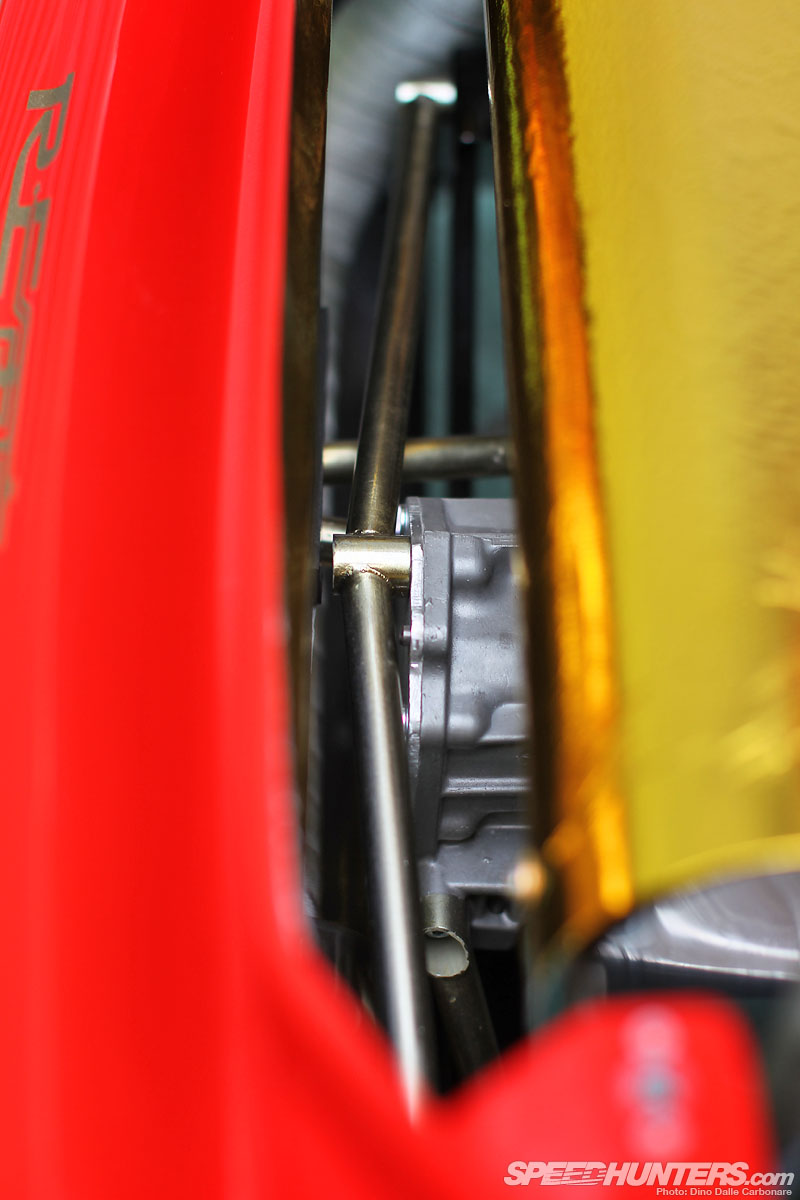 …as well as a little subframe at the rear to hold it all in place. Above you can also see where the gearbox has been closed off. Voilà a custom transaxle driveline!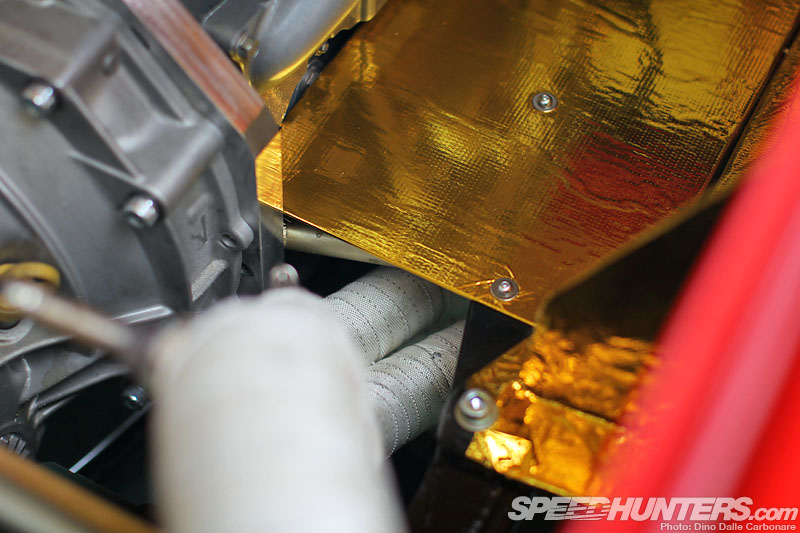 One of the biggest concerns on any rotary engine is heat, especially on naturally aspirated configurations. This is because the intake ports are located directly on top of the exhaust ports requiring serious heat shielding to alleviate heat soak into the intake manifold as much as possible. Aside from thick metal baffling, Ama-san threw on copious amounts of gold heat shield…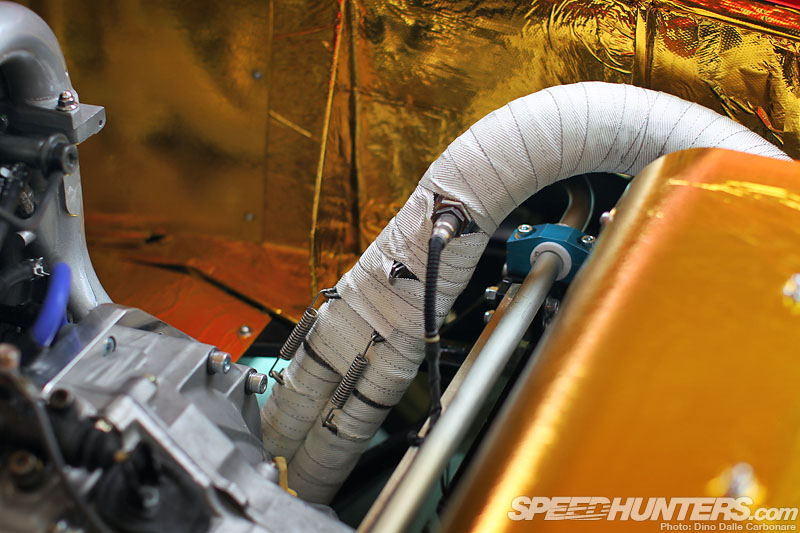 …as well as making sure that the exhaust was wrapped all the way from the headers…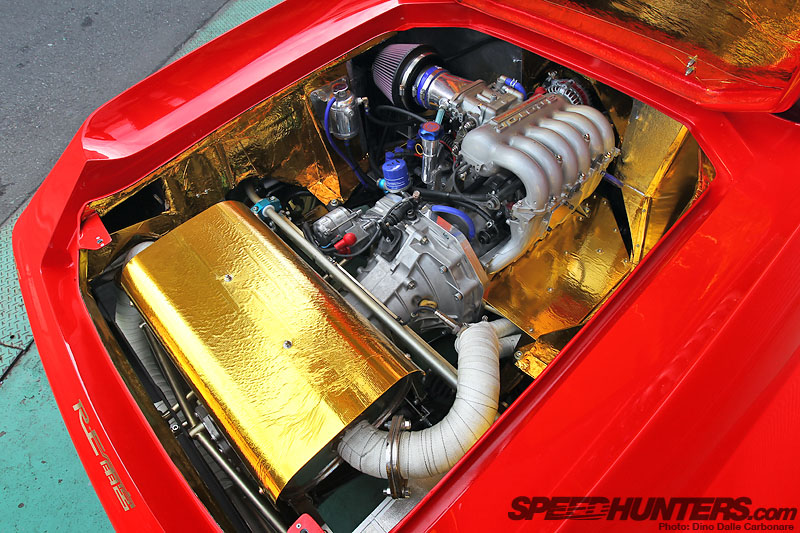 …to the main silencer, which again has been covered in that lovely gold stuff.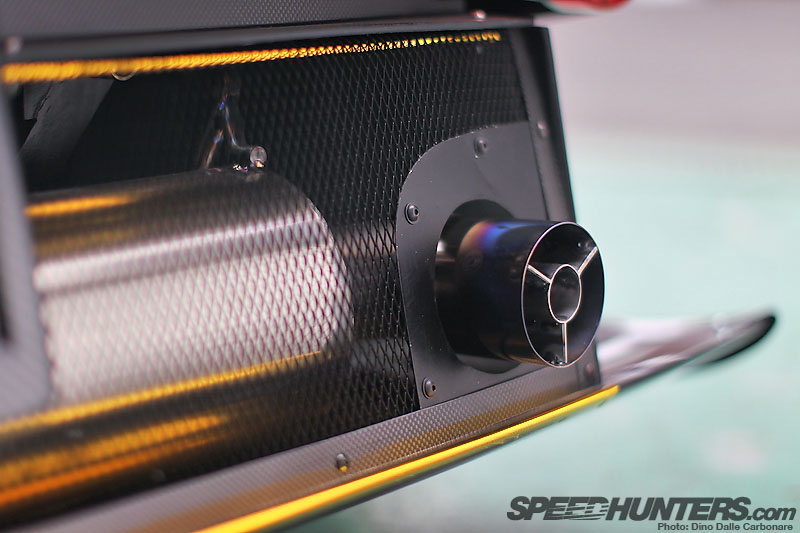 A secondary titanium silencer has even been added, because apparently a naturally aspirated 20B is quite loud! RE-Amemiya expect about 300 HP from the engine, but since the car hasn't even been set-up yet it's just a guesstimate at the moment.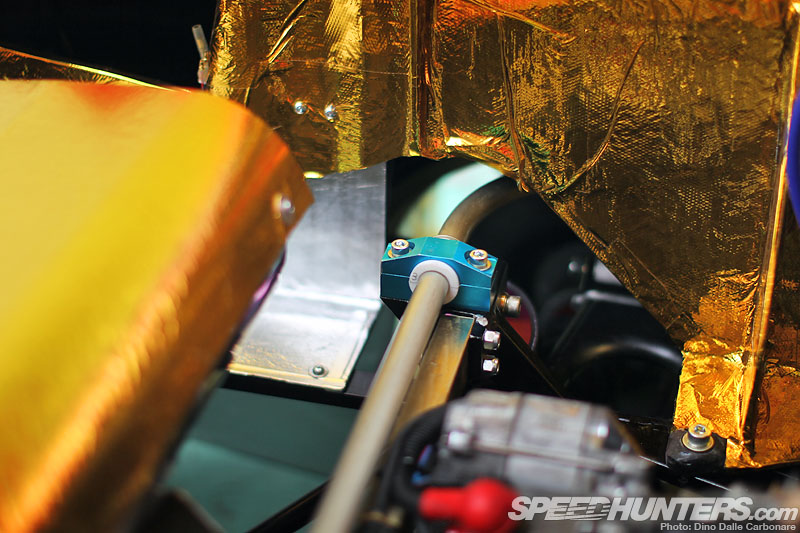 The suspension was completely redone too, the stock Lotus arms joined by custom sway bars…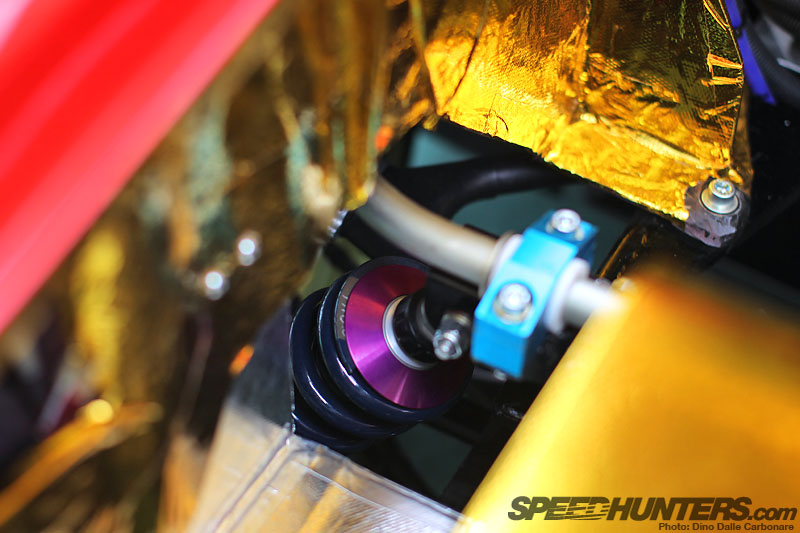 …and a set of adjustable Quantum dampers.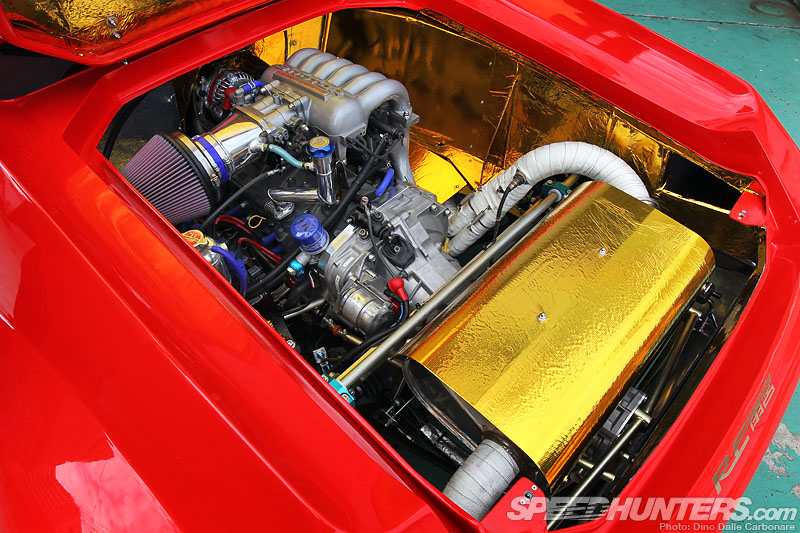 The result is something very special, an engine bay that you find yourself examining in its smallest detail.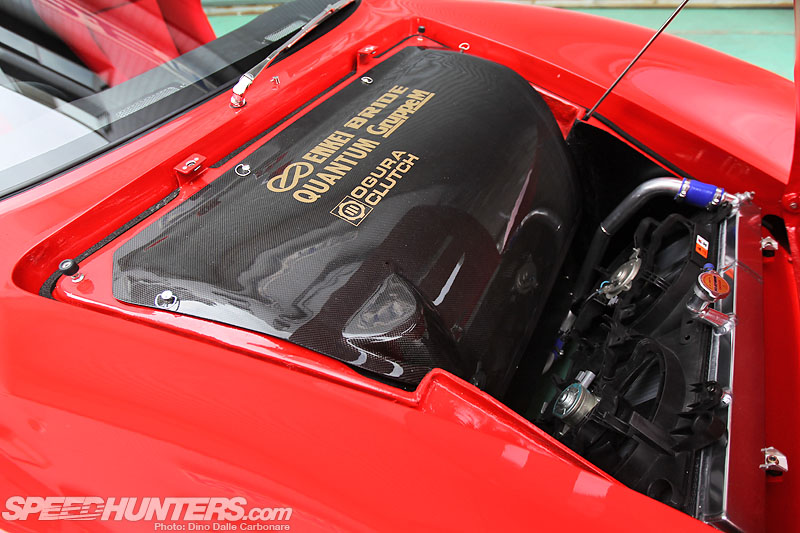 Cooling is taken care of by a modern aluminium radiator, boasting a nice and thick core as well as two extractor fans. Considering how quickly it was all put together, the attention to detail is quite impressive, as you can see by the wet carbon piece above that hides the battery and other ancillaries.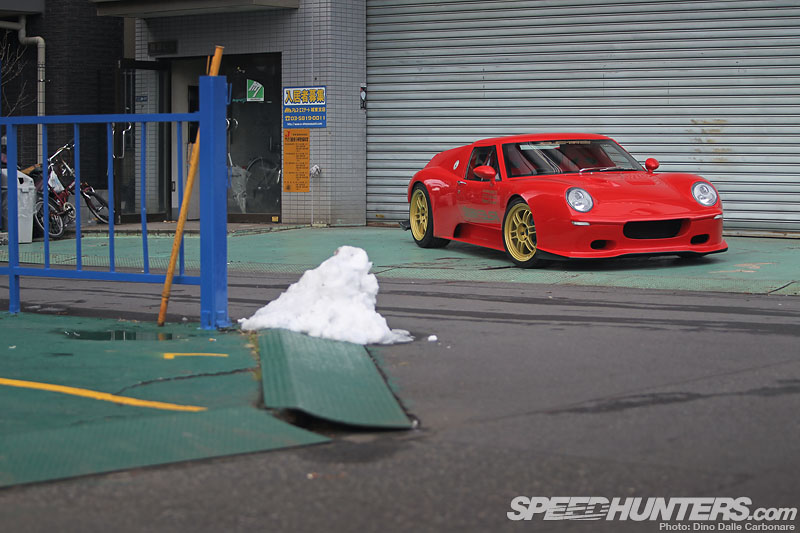 With all the mechanical things taken care of, Ama-san was left with the body, an area of the car that he always shapes, moulds and paints himself. While Lotus fanatics out there will cringe to see their beloved car modified in such a way, there is no denying that the front end conversion works rather well. As Sean pointed out, the 911 lights ended up sitting in an almost cross-eyed position, sort of  resembling the front end of a Morgan Aero 8!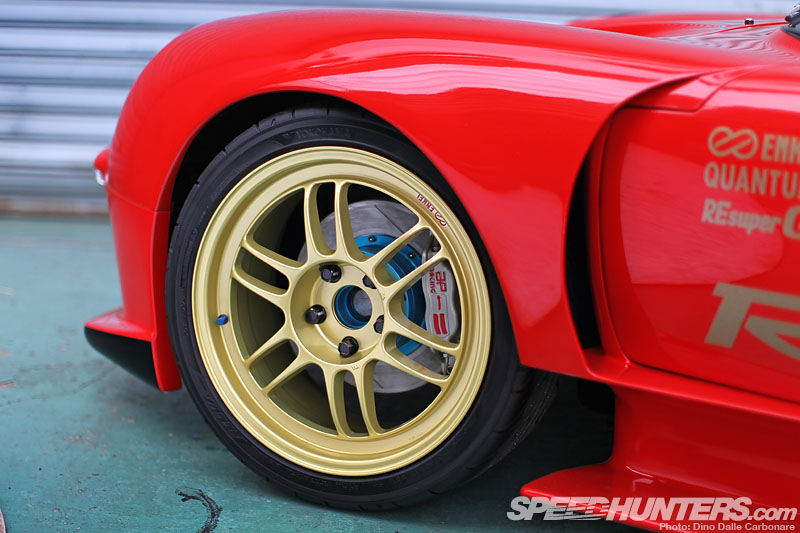 Like all RE-Amemiya cars the Europa rides on a set of Enkei wheels, gold RPF1s in 8Jx17″…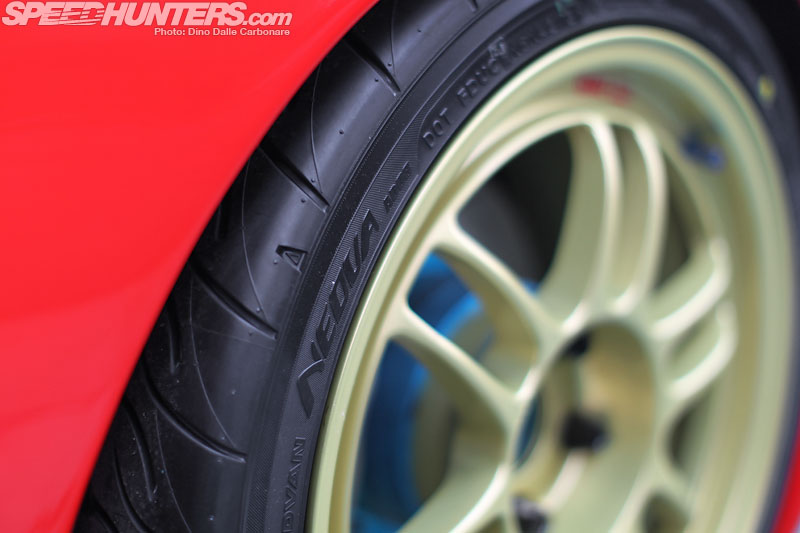 …shod with a nice and sticky set of Advan Neova AD08s, 215/40R17 front and rear.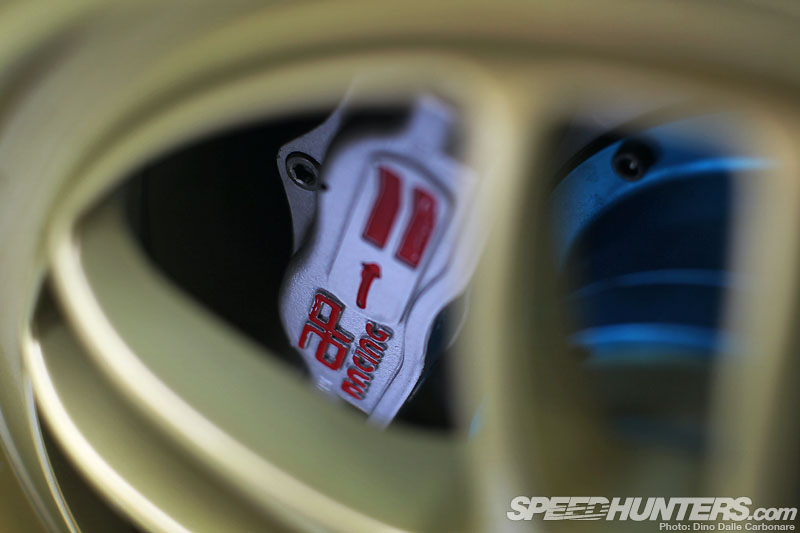 Easily seen through the spokes are the AP Racing front calipers, a vintage set of 4-pots that back in the day used to be quite popular in rally racing. They are mated to grooved Endless discs and performance pads from the same brand. The rear end is stabilized with a set of RX-7 calipers and Endless rotors.
I found it interesting how Ama-san managed to successfully integrate modern day design cues like side intakes and an integrated front splitter into the Europa's classic shape. A true bespoke creation.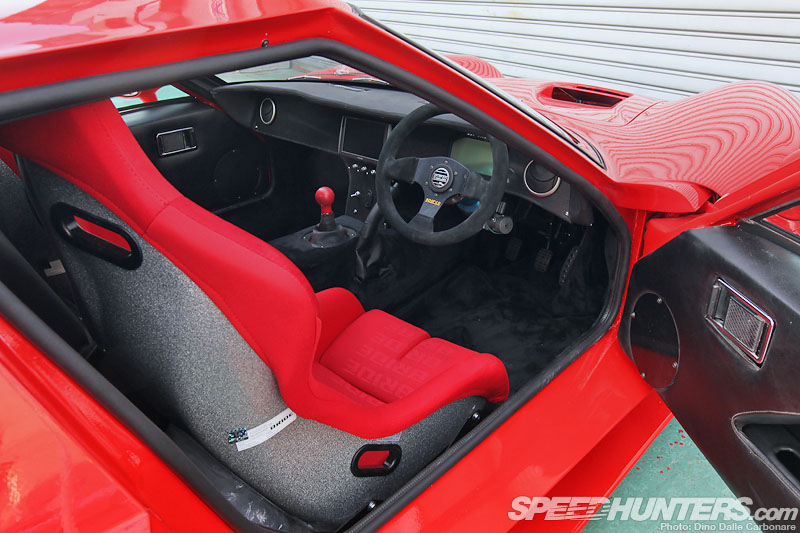 The modern feel is carried over into the interior which has very little in common with the original car.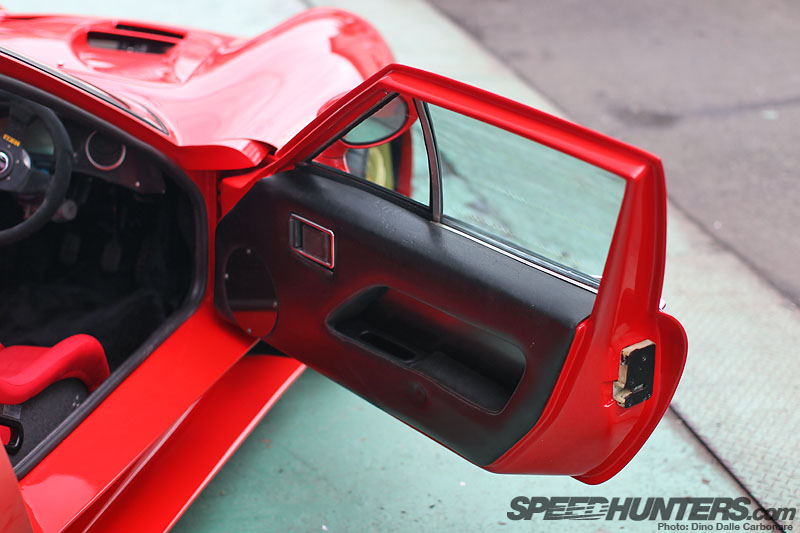 In fact I think it was only the door trim that had been left untouched!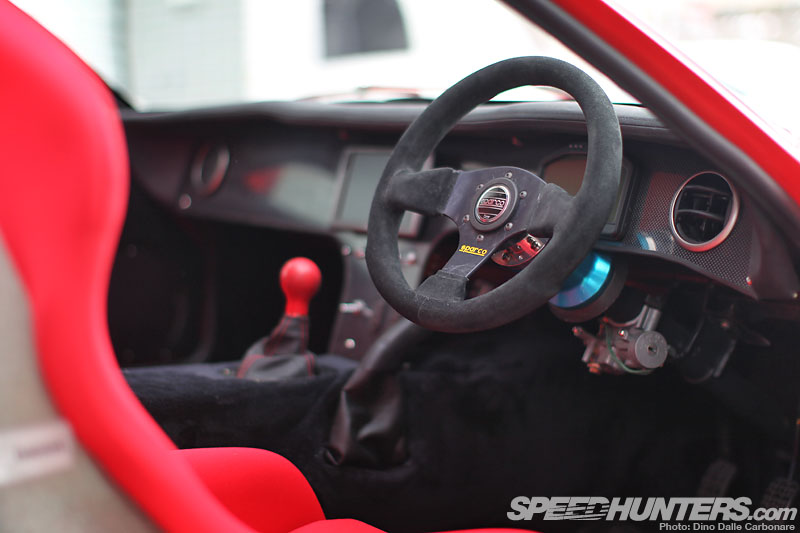 Along with a custom carbon dashboard the rest of the interior has been kept very simple and functional with an obvious racing theme starting with the tiny Sparco steering wheel…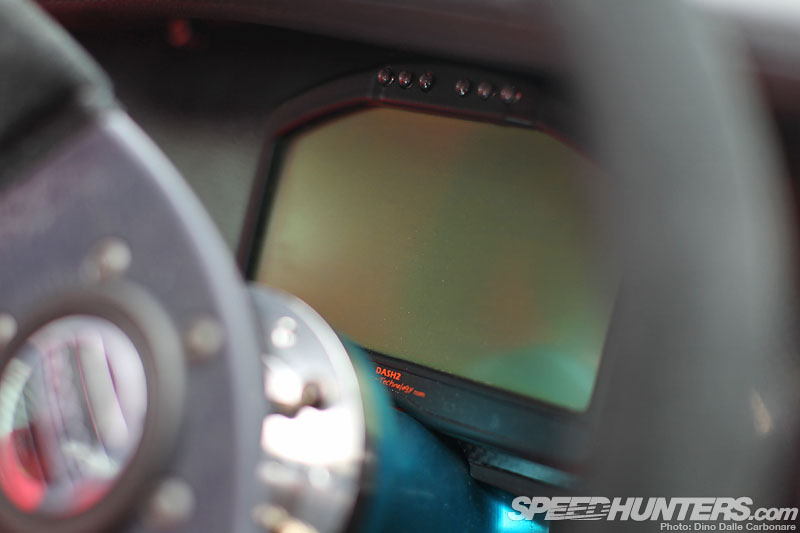 …and the digital dash display.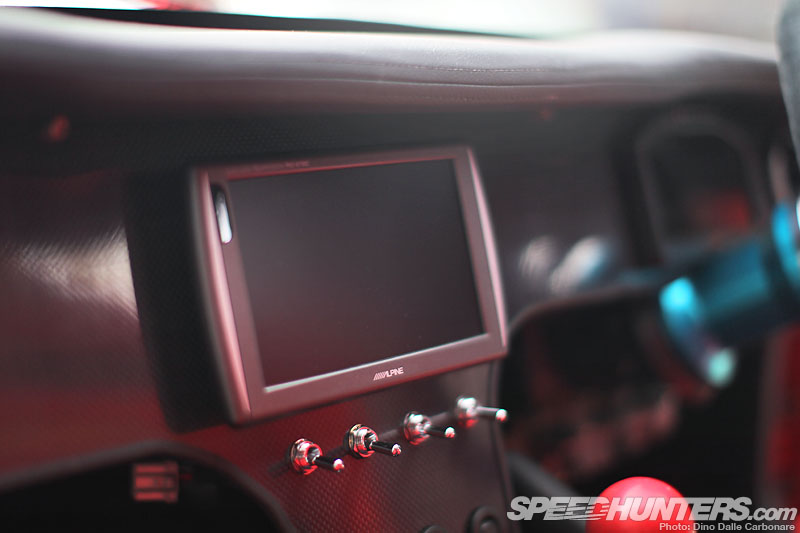 Seeing there is almost no visibility through the tiny rear window, a small Alpine LCD screen was added onto the center part of the dash, at the flick of a switch engaging…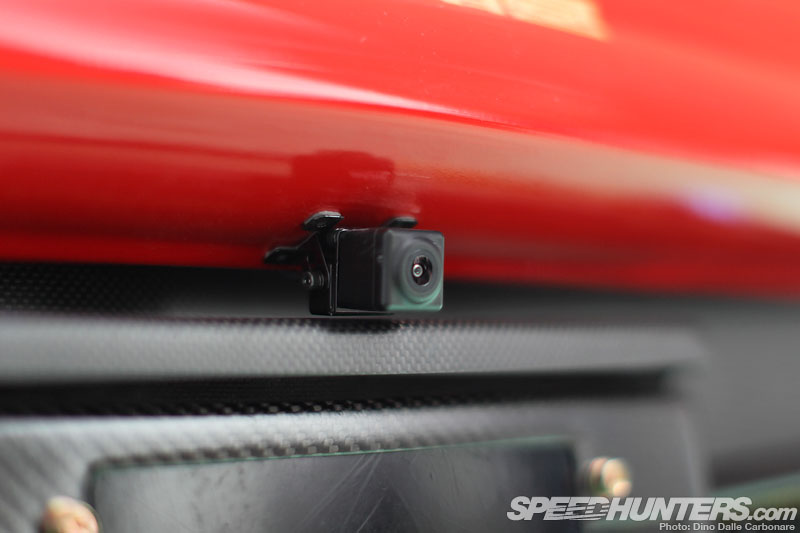 …the rear mounted camera to give a better view of what's happening behind.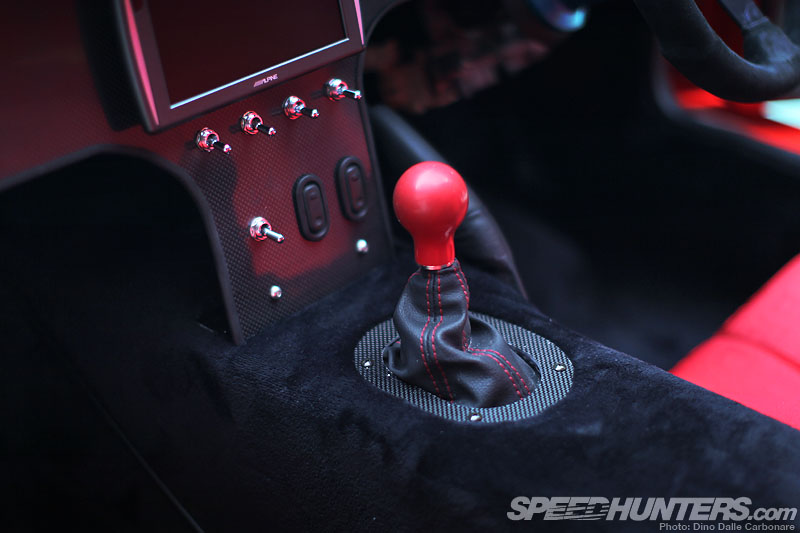 The freshly carpeted cockpit is a very cozy place to be in, provided you can actually fit. Even if you do mange to wiggle yourself inside…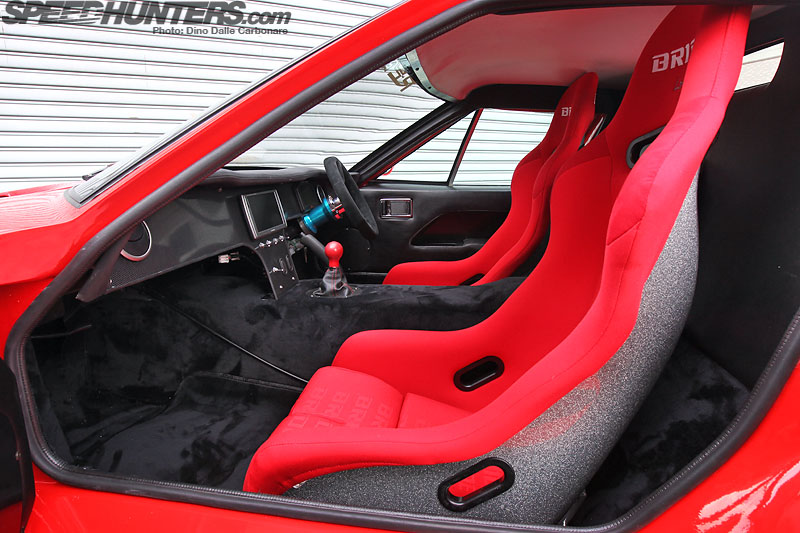 …you will still have to clear the narrow Bride buckets.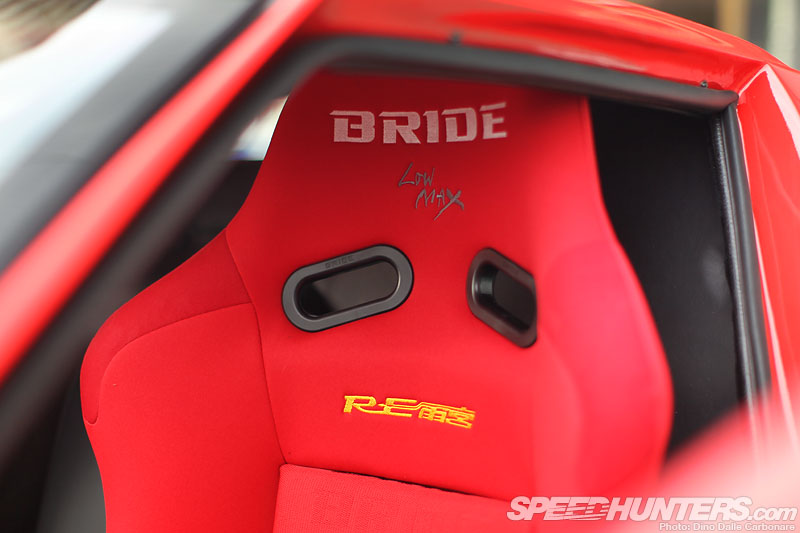 Only JDM-sized body types need apply.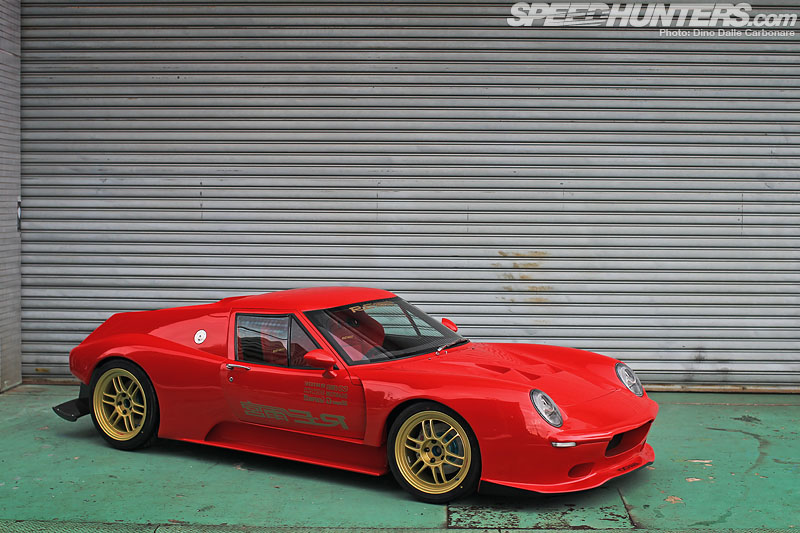 So there you have it. Ama-san stuck to his word and came up with a very unique project to celebrate his 35-years as one of the most recognized figures in the rotary world. I really hope RE-Amemiya complete this car and take it to some track events as I'm sure I'm not the only one that wants to see this Europa in action!
Specs:
Engine: 20B custom swap, custom engine mounts, K&N cone air filter, one off titanium exhaust headers, one off titanium exhaust system with twin silencers, RE-Amemiya ECU
Driveline: BG Subaru Legacy 5-speed transmission, custom transmission mounts & subframe, upgraded clutch
Suspension & Brakes: Adjustable Quantum dampers, RE-Amemiya custom sway bars, AP Racing 4-pot calipers, RX-7 rear calipers, Endless discs & pads all round
Wheels & Tires: Enkei RPF1 8Jx17″, Yokohama Advan Neova AD08 215/40R17
Exterior: RE-Amemiya one off body, 911 headlight conversion IPF LED taillights
Interior: Bride Low Max RE-Amemiya bucket seats, Sparco steering wheel, custom carbon dashboard, LCD dash/data logger, Alpine LCD for rear view camera
Tokyo Auto Salon 2013 coverage & features on Speedhunters
-Dino Dalle Carbonare