Car culture enthusiasts from all walks of life have largely the same mentality: they pay tribute to the automobile in some way or another. What do you guys do? Of course you visit Speedhunters and read about the cars you love, but what else? Buy posters and plaster them on your walls? I personally collect miniatures scale models of the cars that I love and dream of eventually owning one day. Well Sheikh Hamad Bin Hamdan Al Nahyan is a car fanatic, but instead of collecting miniatures he builds monuments to his favorite vehicles. He then houses them in his personal pyramid-shaped garage, which is open to the public for people like you and me to enjoy.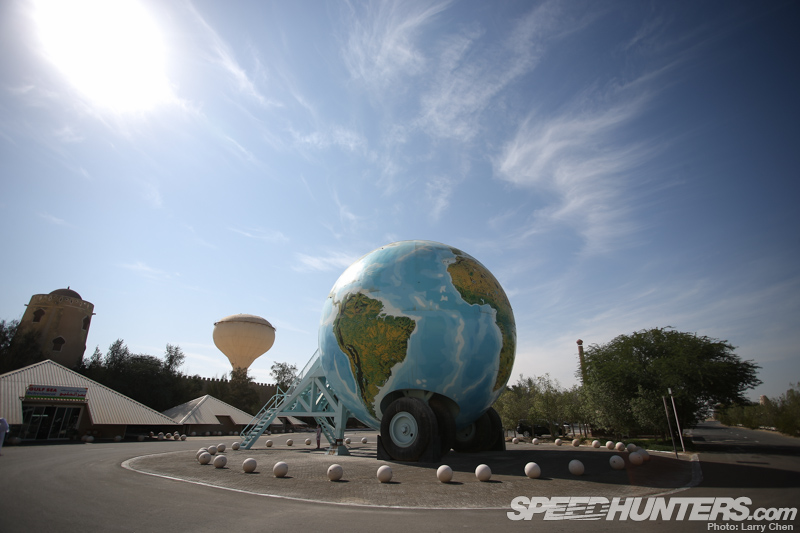 This is the Emirates National Auto Museum, located in the desert 45 minutes outside of Abu Dhabi.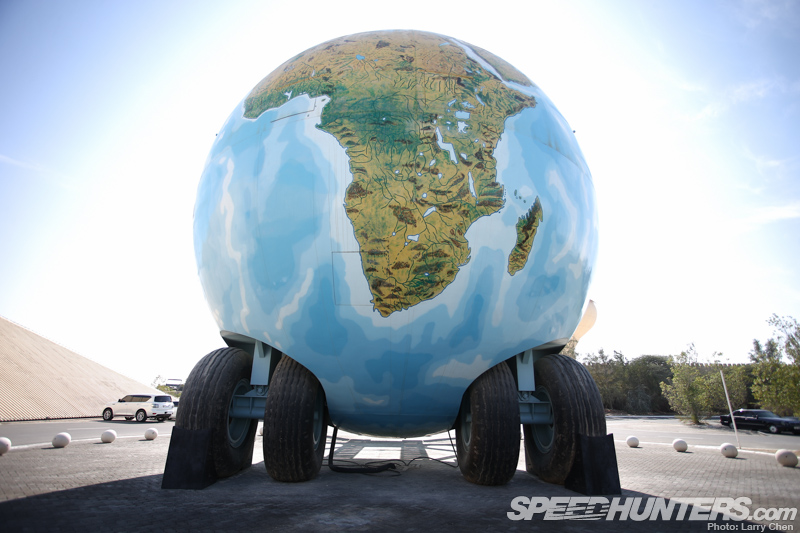 Right off the bat it's clear that this isn't going to be any ordinary car collection. This globe is actually a nine-bedroom, nine-bathroom caravan. I don't think the roads are wide enough for this to be useful at all, but it sure is cool looking.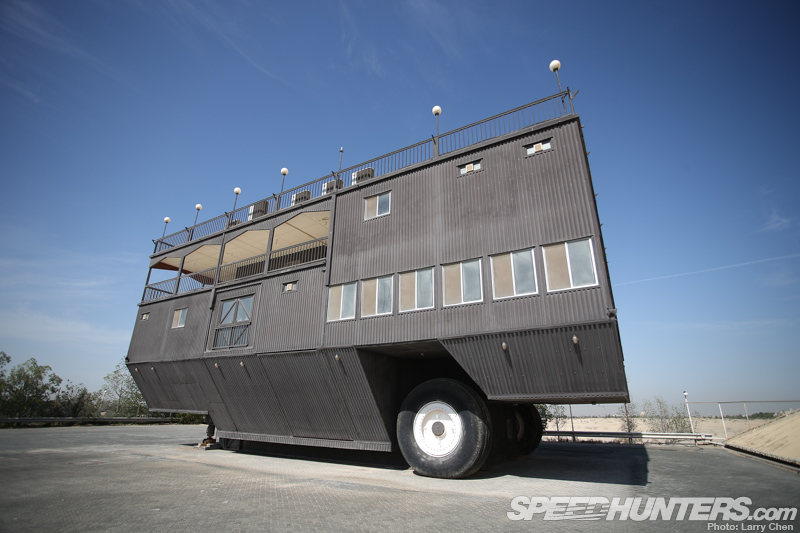 Right next to it was a vehicle right out of Star Wars. It immediately reminded me of the Sand Crawler used by the Jawas.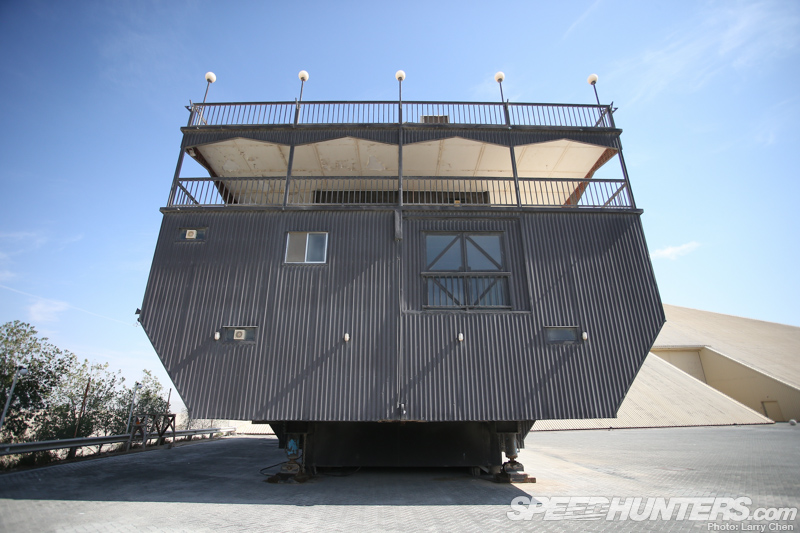 This is the largest caravan in the world. I can't imagine what is needed to pull this thing around. It is just so cool.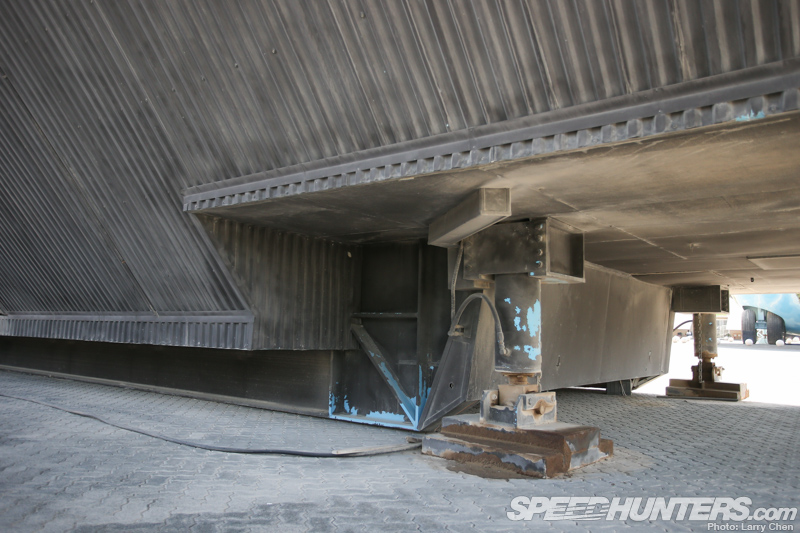 Here's some more Star Wars protruding out of this thing. Doesn't that look like the landing gear from the Millennium Falcon?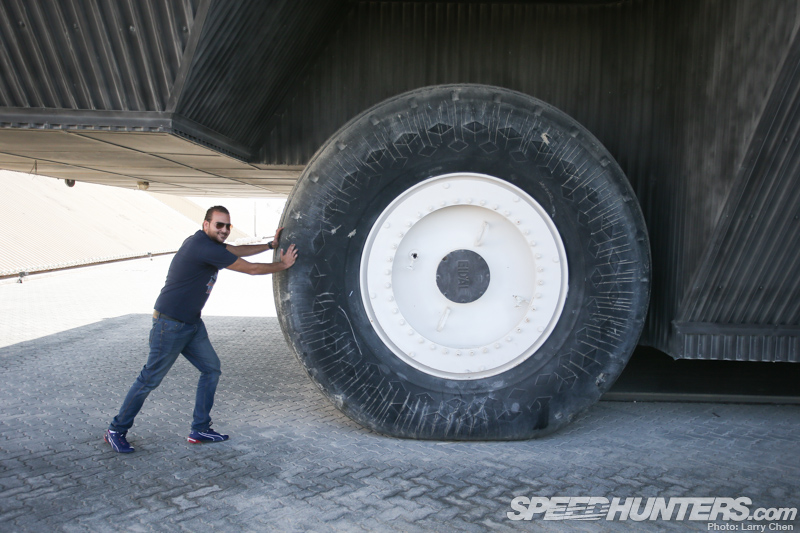 Here is an idea of how big the caravan actually is. That is my friend Aymin, and he nearly pulled a hernia trying to move this thing.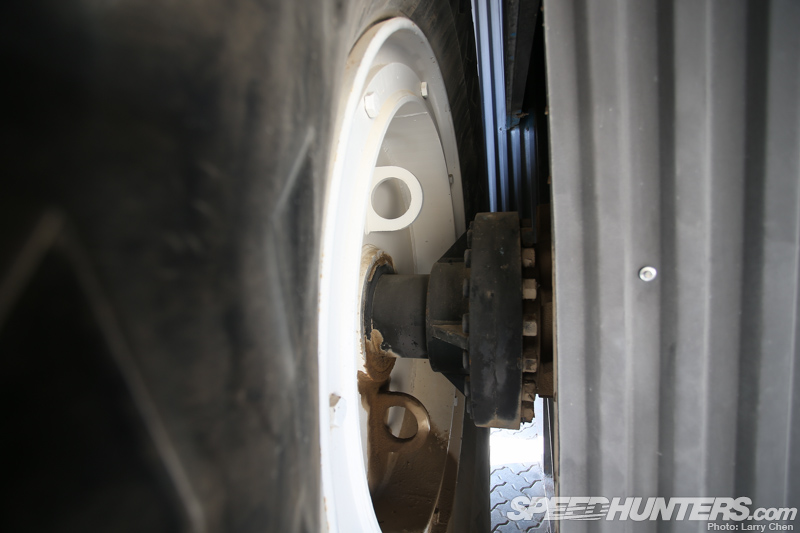 Check out the axle: pretty heavy duty if you ask me.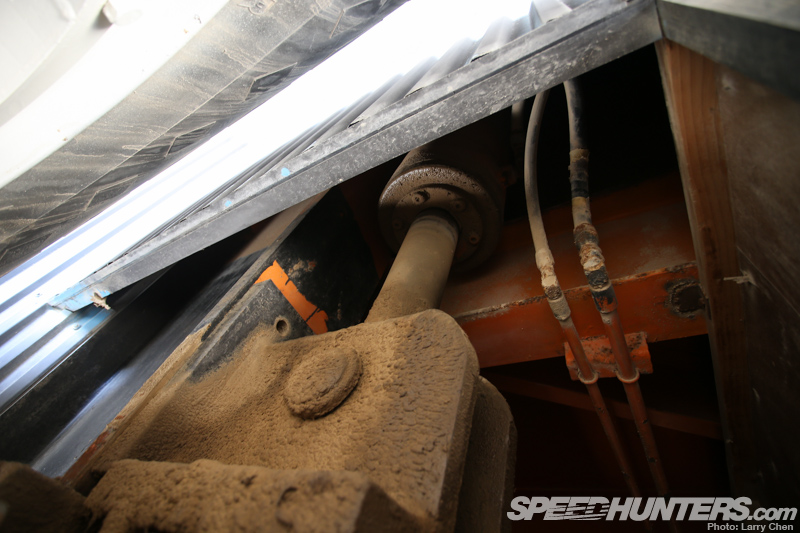 That suspension strut is larger than my entire body.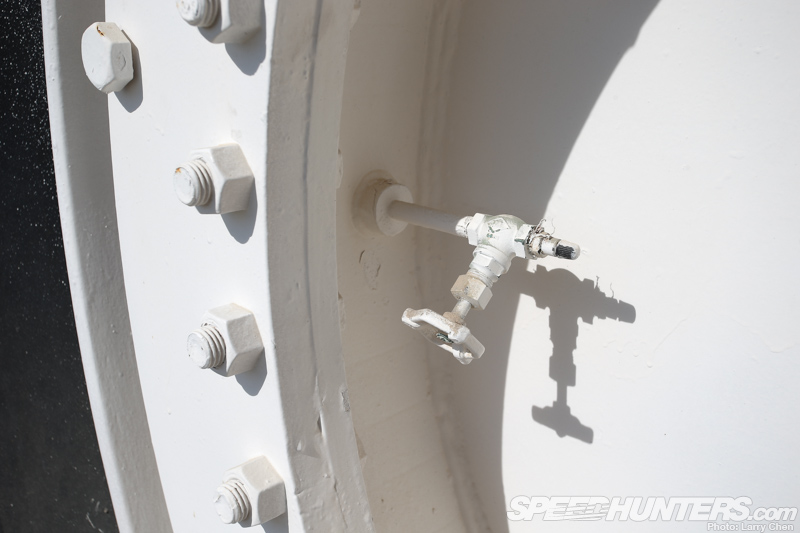 And how about the heavy-duty valve stem on this monster. It must take days to change one tire.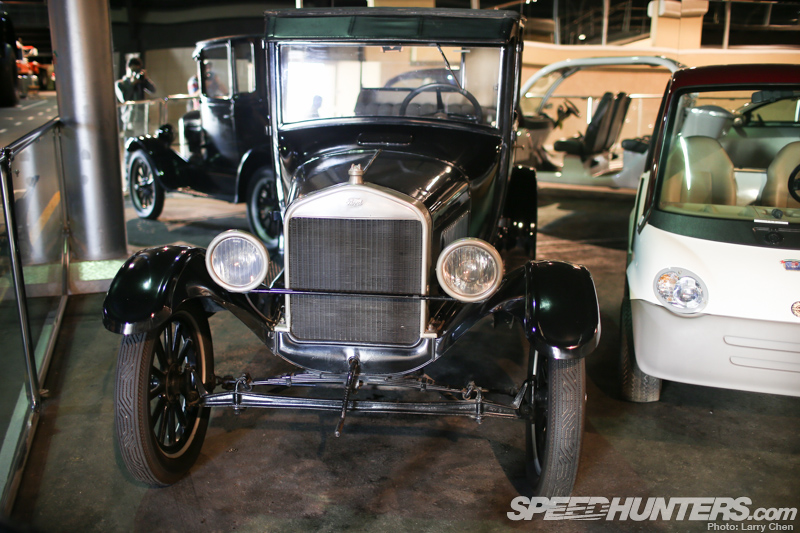 After spending quite a bit of time outside we figured it could only get crazier inside. Well, the first car you see when you walk in is a Ford Model-T. I think this is a must for any serious car collection and this one was restored to near mint condition.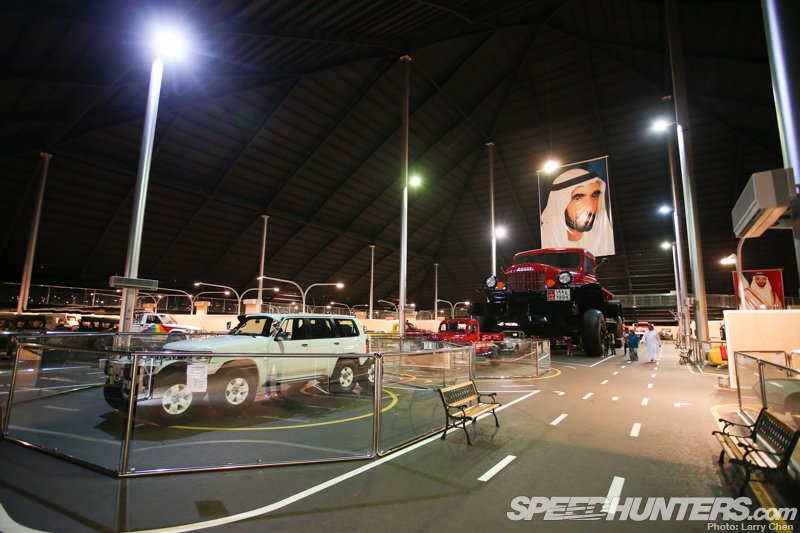 The elephant in the room was in the form of a Dodge Power Wagon. No matter how hard we tried we could not stop staring at it – but there were hundreds of cars that were just begging to be prodded and poked.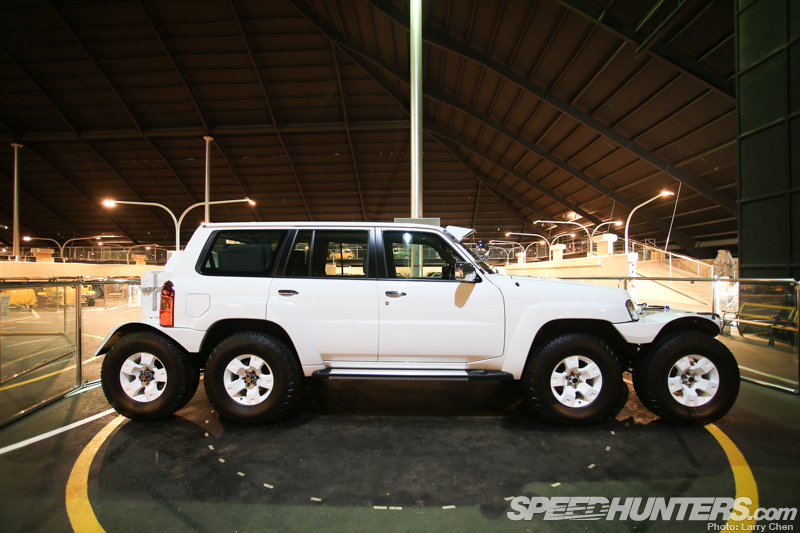 In front of the behemoth was this eight-wheel drive Nissan Patrol. This was the car of choice as it is great for driving around the sand dunes. I guess too much traction is never a bad thing.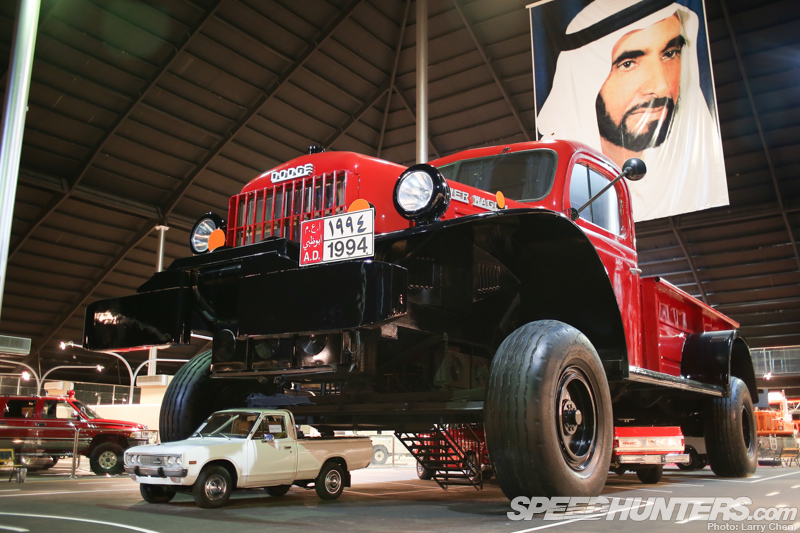 Just to give you guys a scale of the Power Wagon they parked a regular little Datsun pickup underneath it.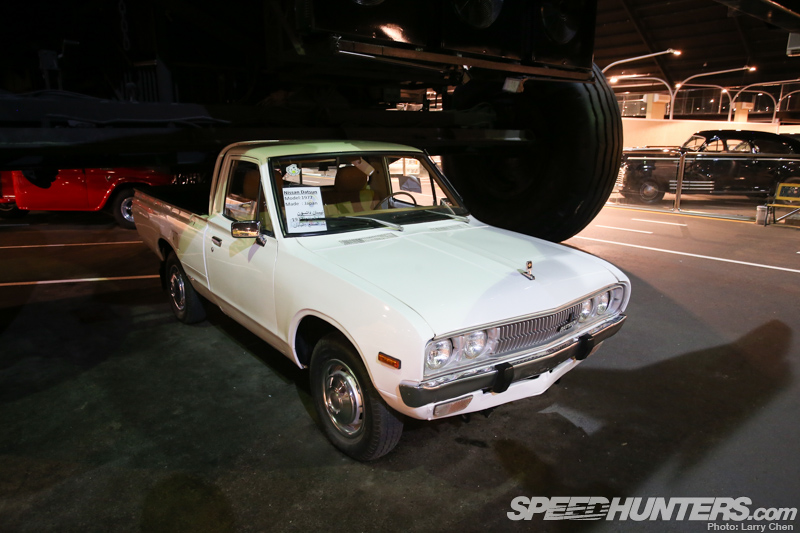 The pickup was super clean and fully restored; in fact I don't think I have ever seen a cleaner example of this truck.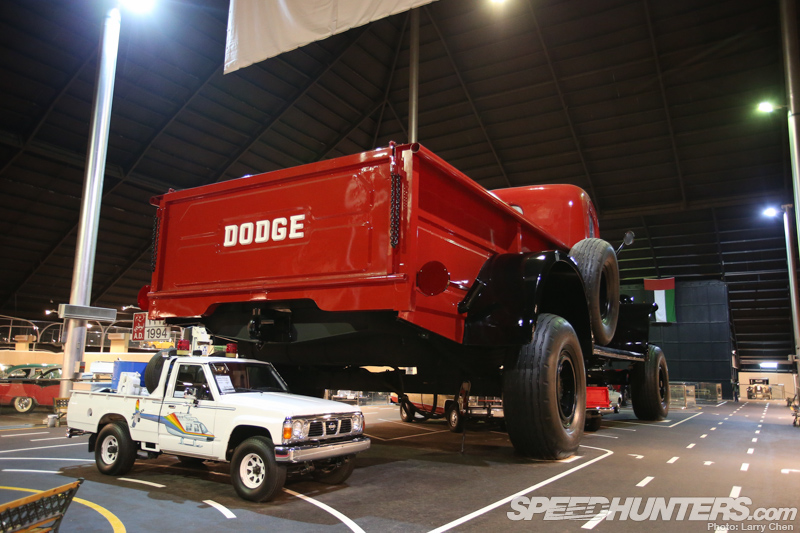 Sheikh Hamad built this 50-ton Dodge Power Wagon as a tribute to his favorite truck, because the UAE got a kickstart from this hard-working truck when they first discovered oil in the late 1950s.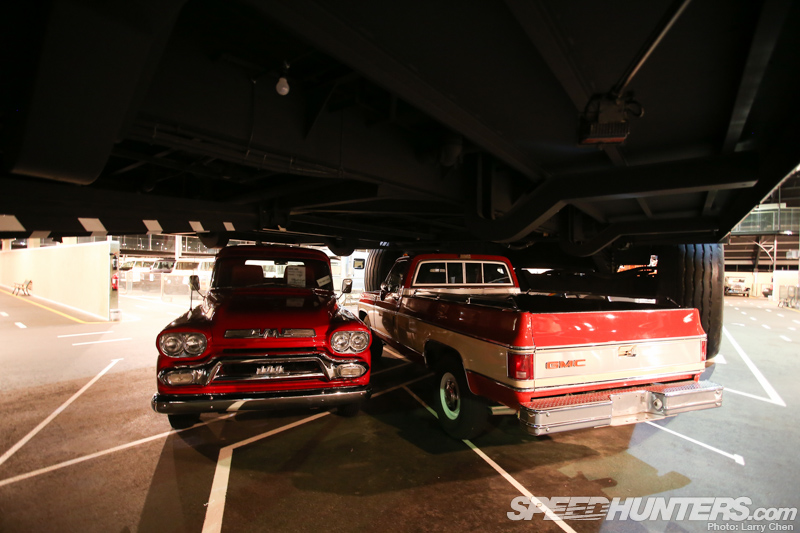 It is eight times the size of the original Power Wagon and large enough for standard cars to drive under without a problem. In fact I could stand up completely straight under it.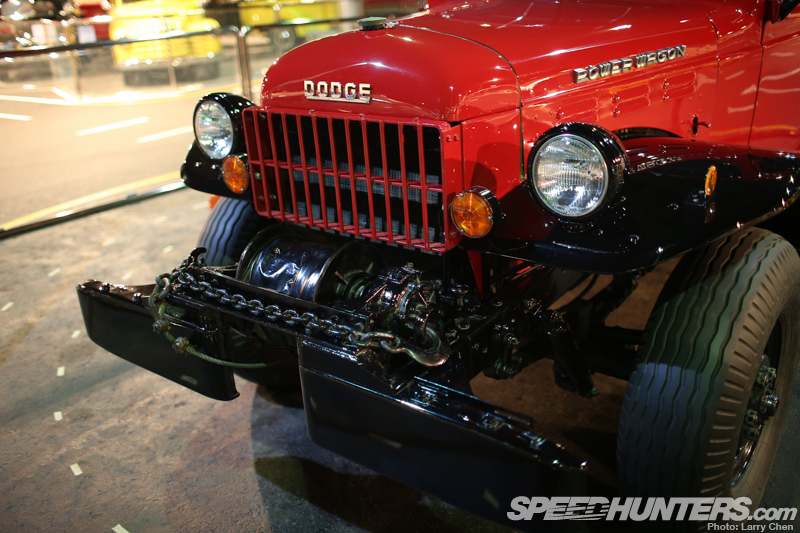 In front was a perfectly restored normal-size Dodge Power Wagon, which looked like it had just rolled off the factory floor. So the actual truck has a winch in the front.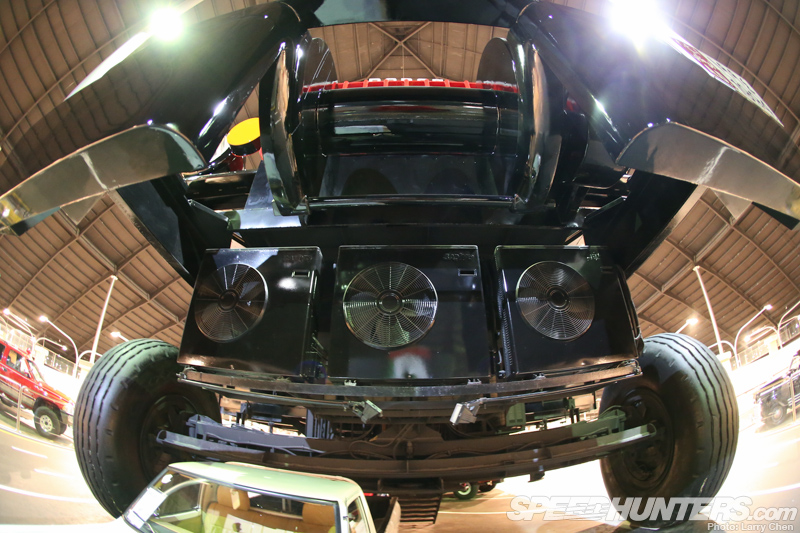 The larger version had three air conditioning units.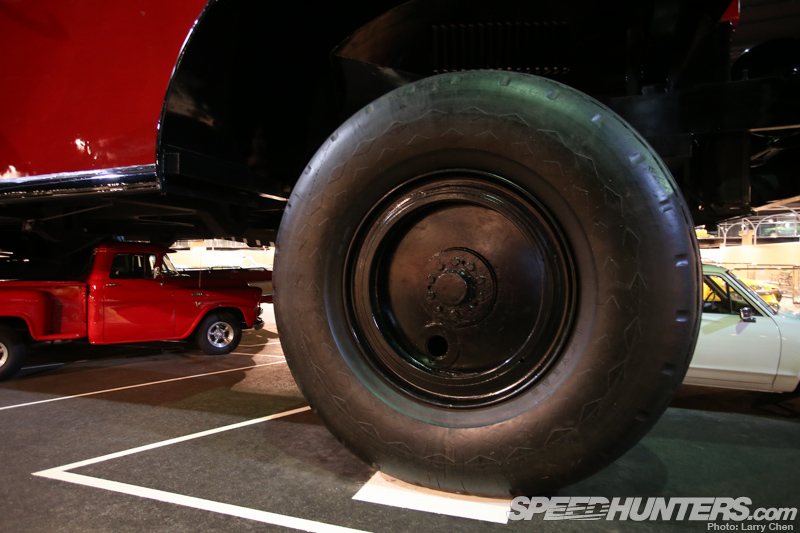 Just check out the massive tires – they have been supporting this truck for almost 20 years.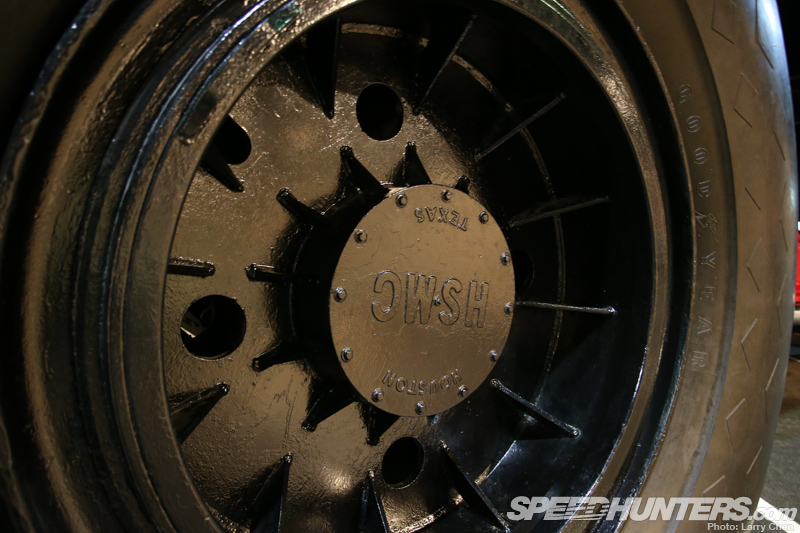 The wheels are from an oil rig transport. I guess everything really is bigger in Texas.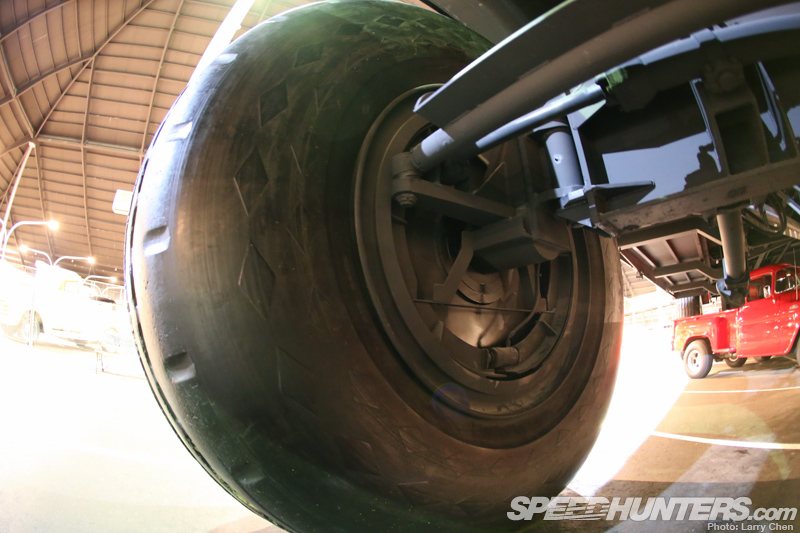 The massive brakes stop this truck from its top speed of 40kph.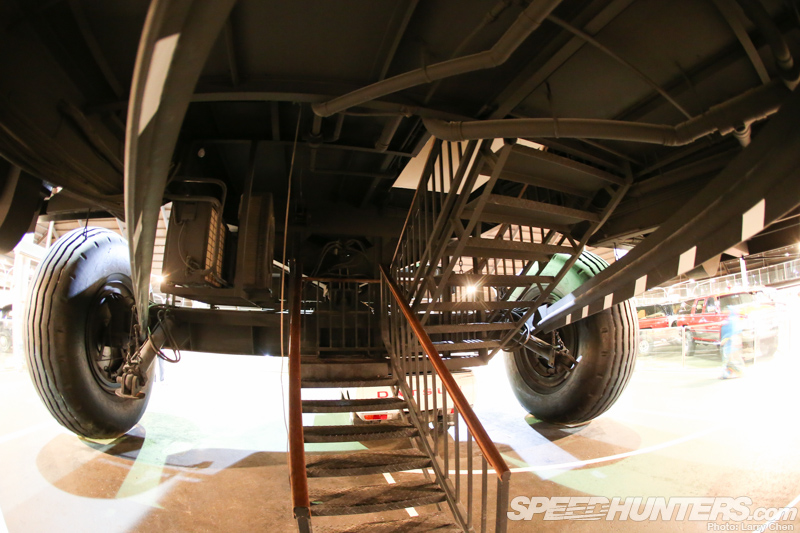 So what was inside this thing? Well there was a set of stairs that led into the cab.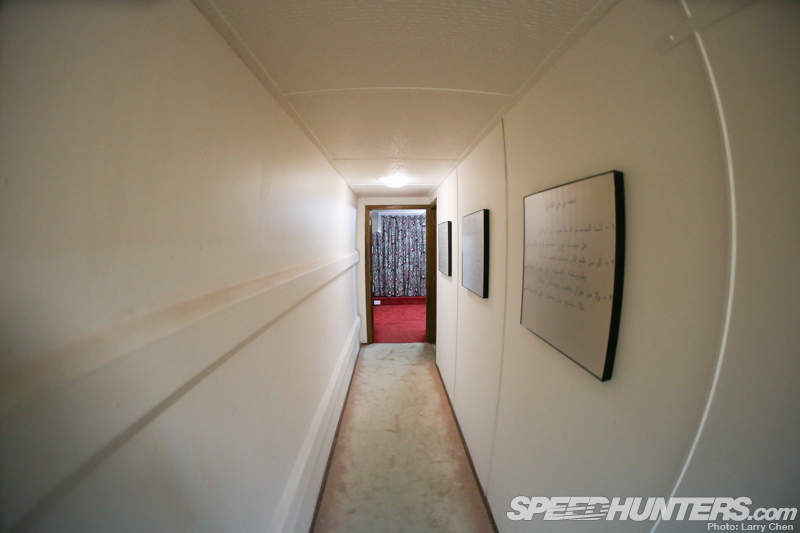 Inside was a lavish apartment from the '90s.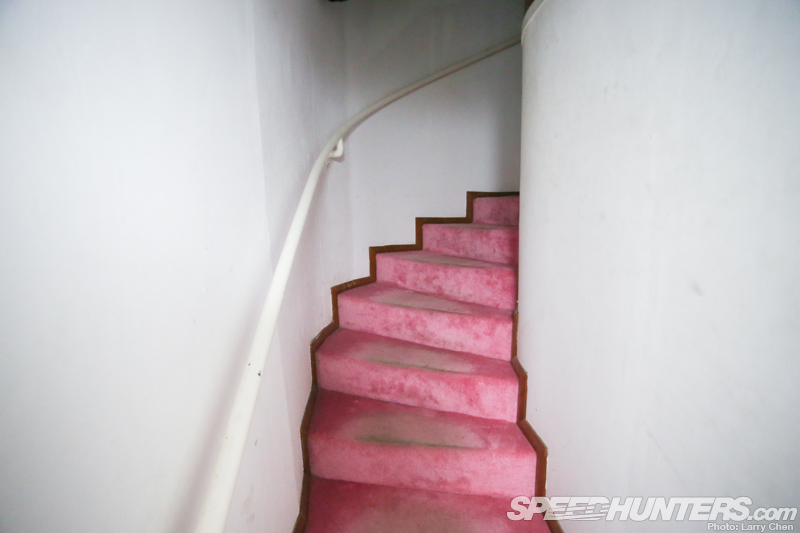 There were some pink stairs that led up to the second floor, so as always I continued exploring.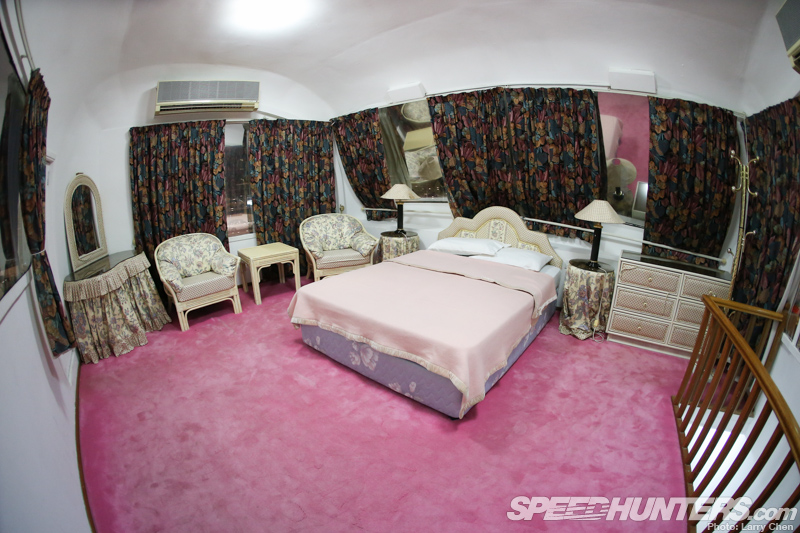 On the second floor where the cab would be was the master bedroom. You can see the windshield right behind the headboard of the bed. Behind me was a balcony that led to the outside of the truck bed.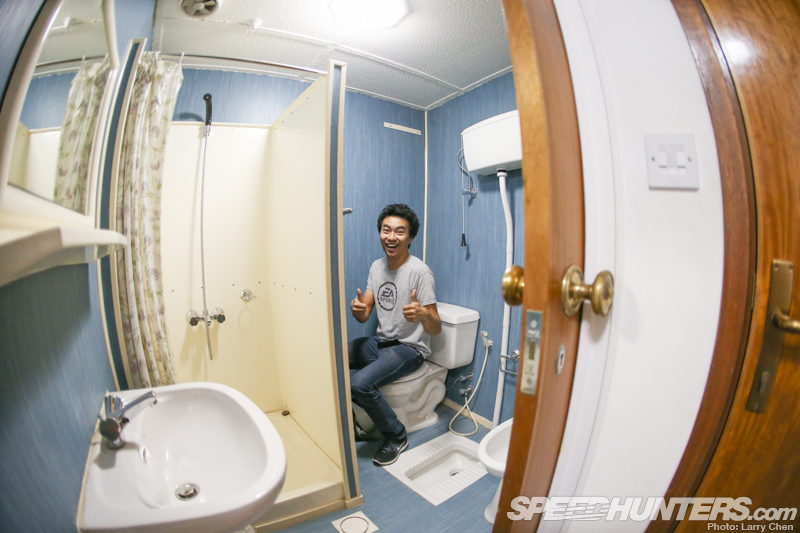 I went back down to the first floor to find the bathroom. There was a Western-style toilet as well as something you would find in mainland China and Japan: AKA 'the squatter'.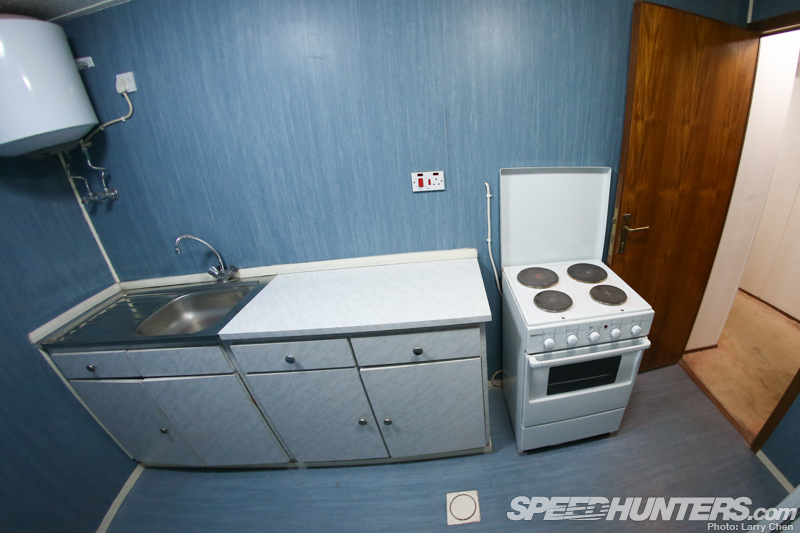 There was even a kitchen with a working stove and faucet equipped with a hot water heater.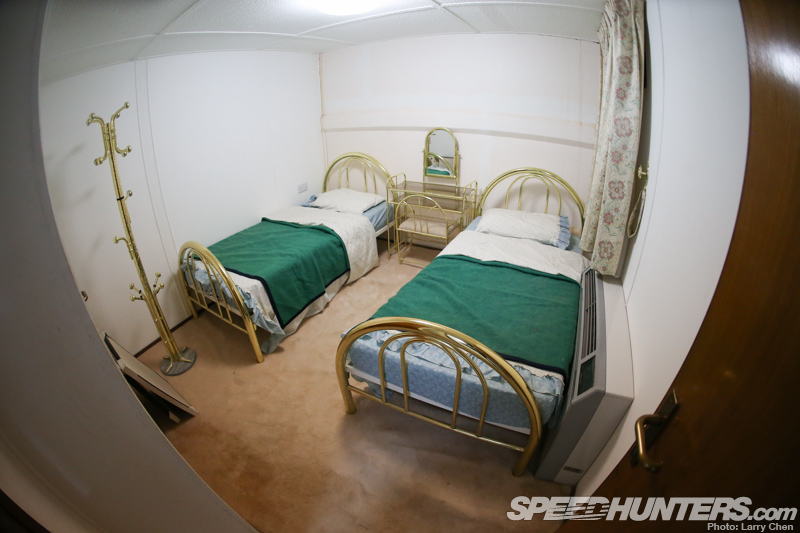 This was even a room for the kids. In total this mobile villa had four bedrooms.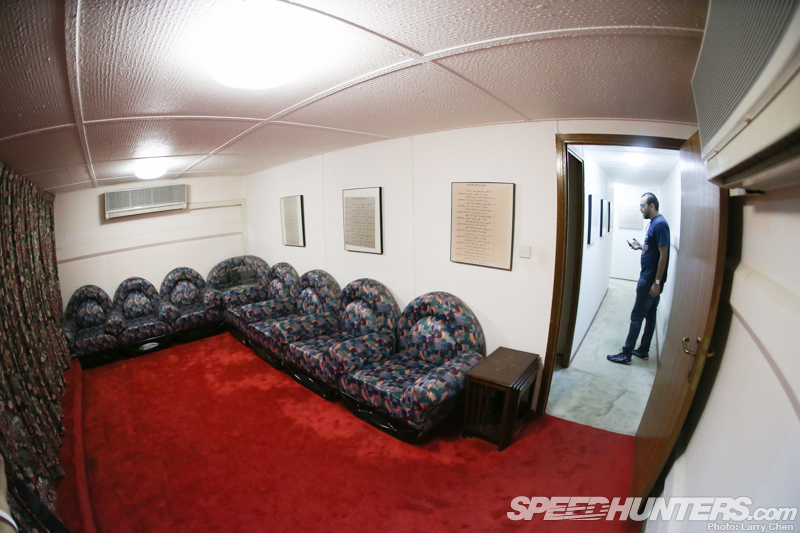 This was the living room. I can only imagine the important deals that were made in this very room.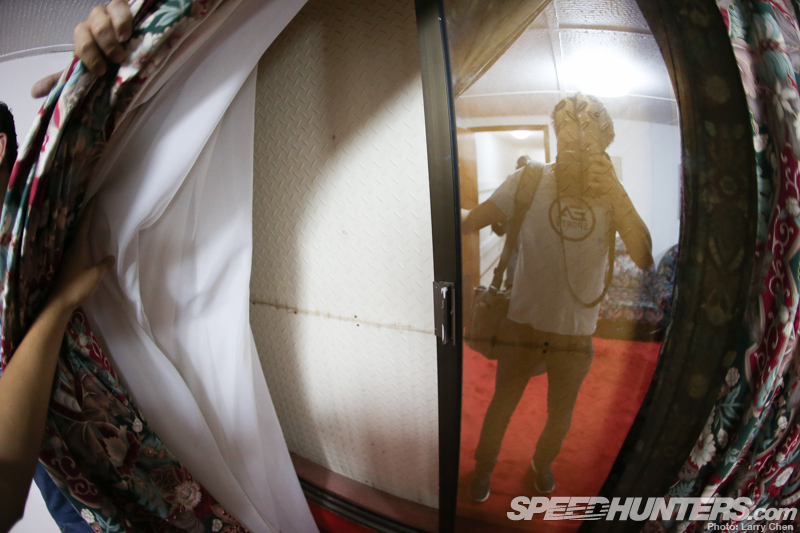 If I showed anyone the photos of the interior they would not believe that it was inside a pickup truck. My mind was blown. If you opened the sliding glass door from the living room you found the tailgate.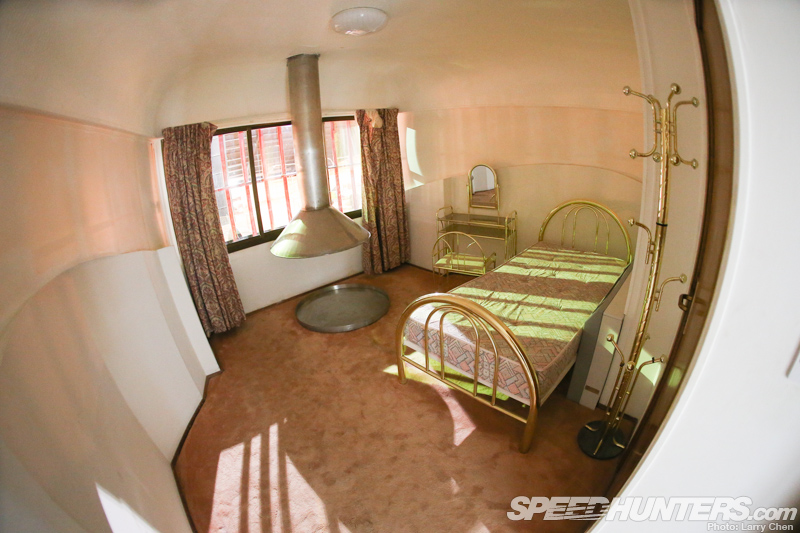 Where the engine would normally be was another bedroom, which looked like it had a working fireplace.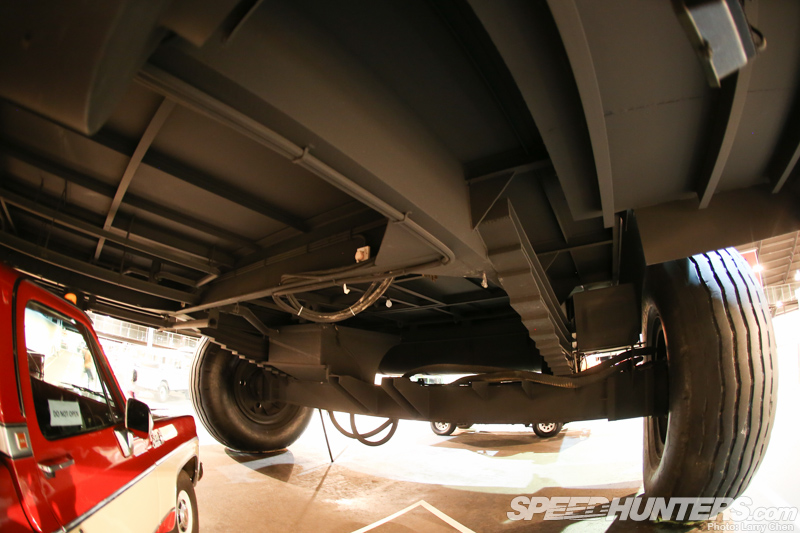 So where does the driver sit? Well I was wondering the same thing when I was inside of the thing. I figured there would be a huge command center like in a submarine or an aircraft carrier. Actually the driver sits below the truck in a cage at the rear that also houses the engine, which is just an inline-six Dodge diesel putting out 300 horsepower. The unit was being restored so I could not grab any pictures, but it's cool to know this thing actually drives.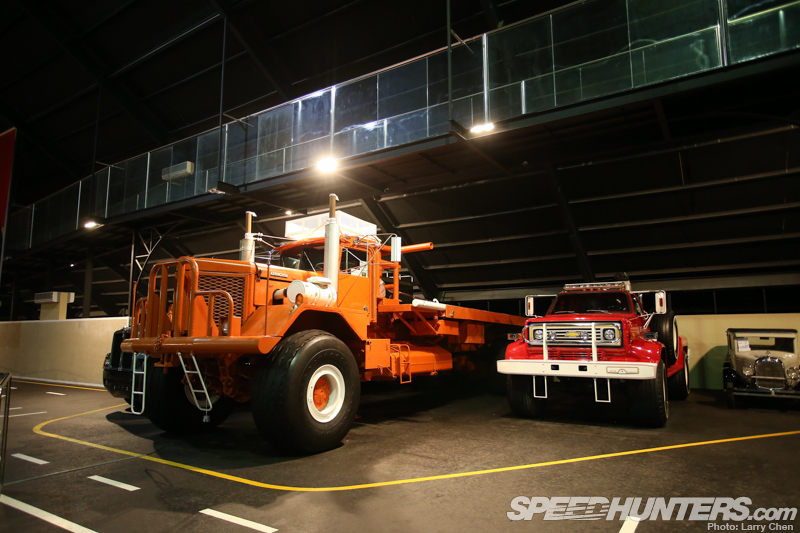 All the other trucks in Sheikh Hamad's collection looked tiny in comparison.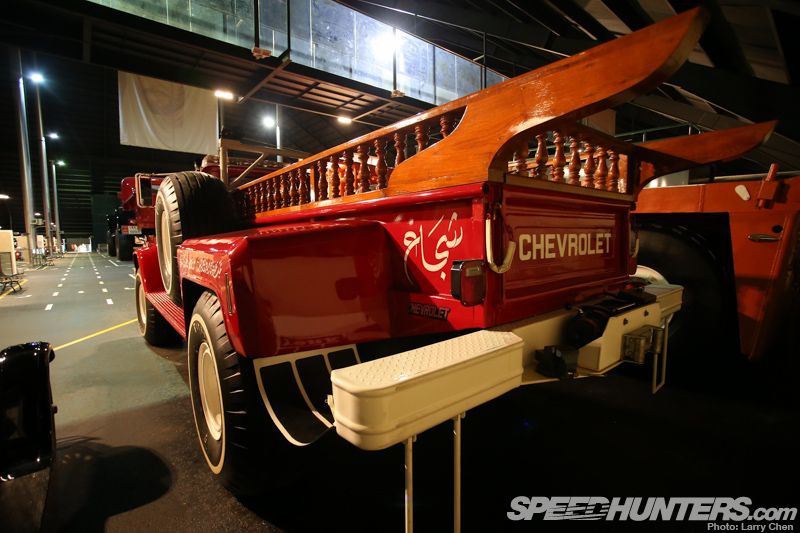 Although they were still very cool and as always were perfect copies of that truck.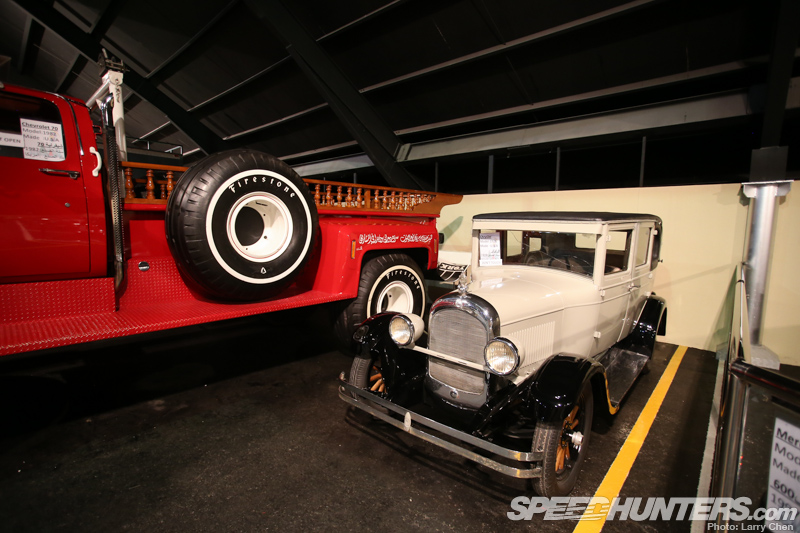 The thing that I had to keep reminding myself was the fact that this was a real garage, because all of these cars looked like they were in running order.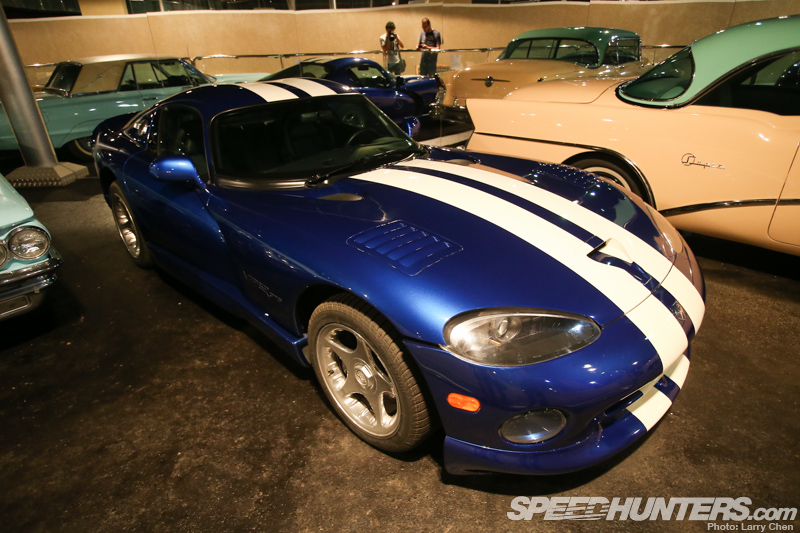 They were either kept brand new from the factory…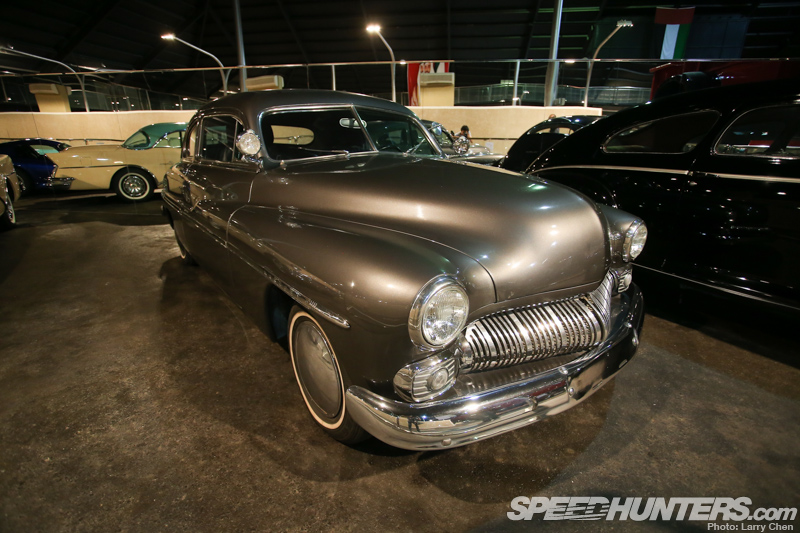 …or they were restored to perfection.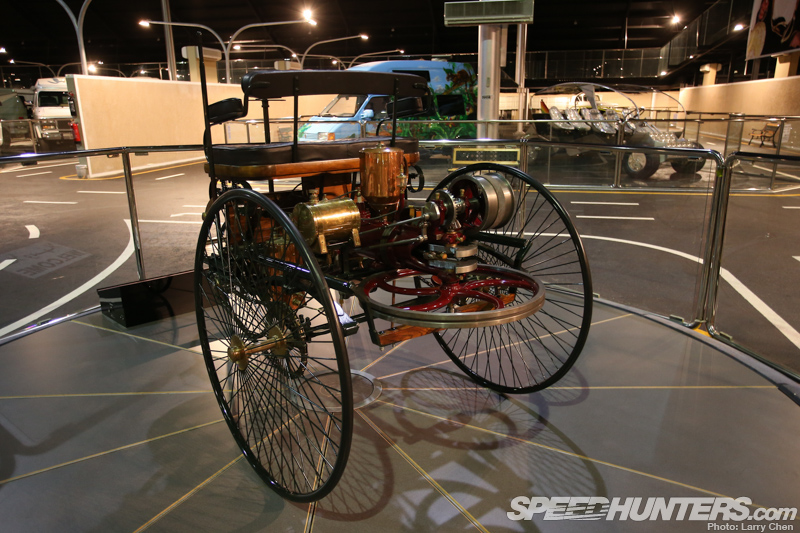 I am not sure of the origin of this 1889 Mercedes, as it may or may not be a replica, but all of the other cars in the collection are authentic so I am assuming this one is real.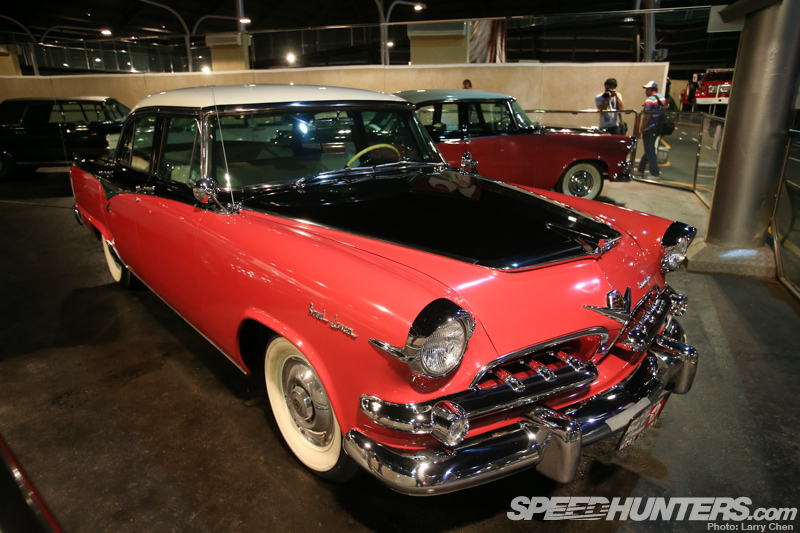 Sheikh Hamad seemed to have a thing for American cars. Just check out this cherry 1955 Dodge Royal Lancer. I have never even seen this car before.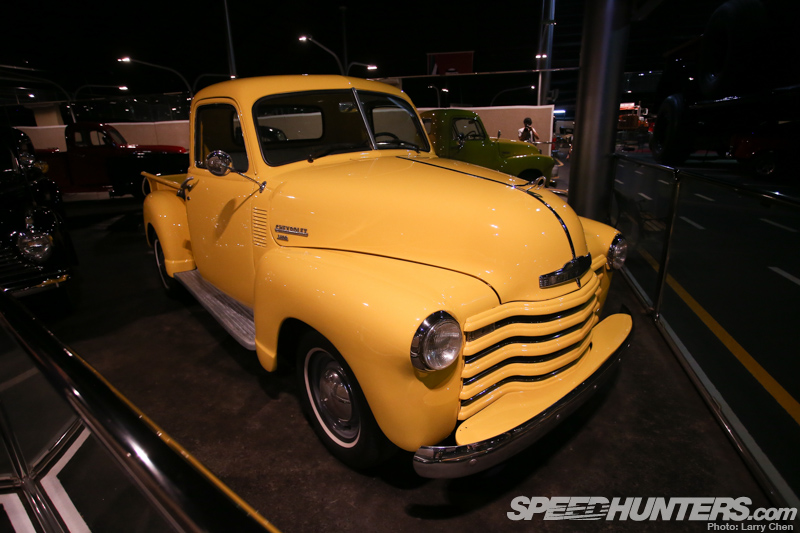 Many of them are classic, but like all of the other cars in his collection they are restored and modified to his liking. Check out this super squeaky-clean 1950 Chevy 3100.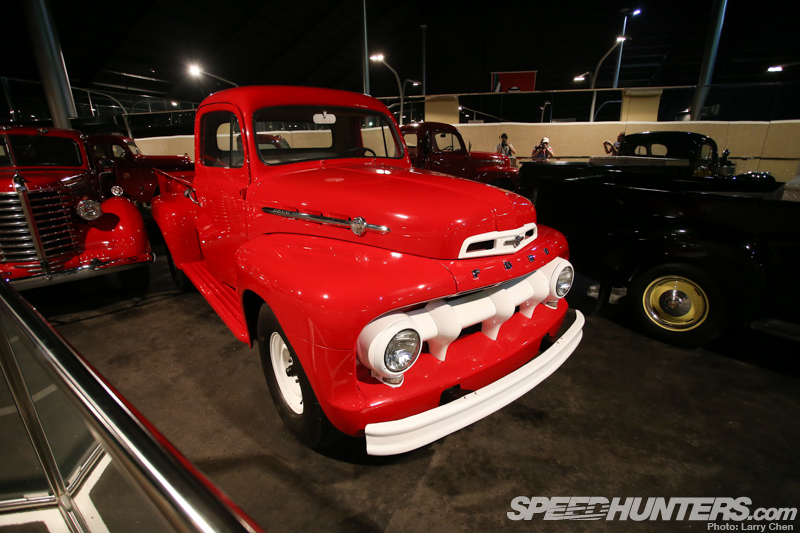 And close by was the Ford counterpart; this F3 was also from 1950.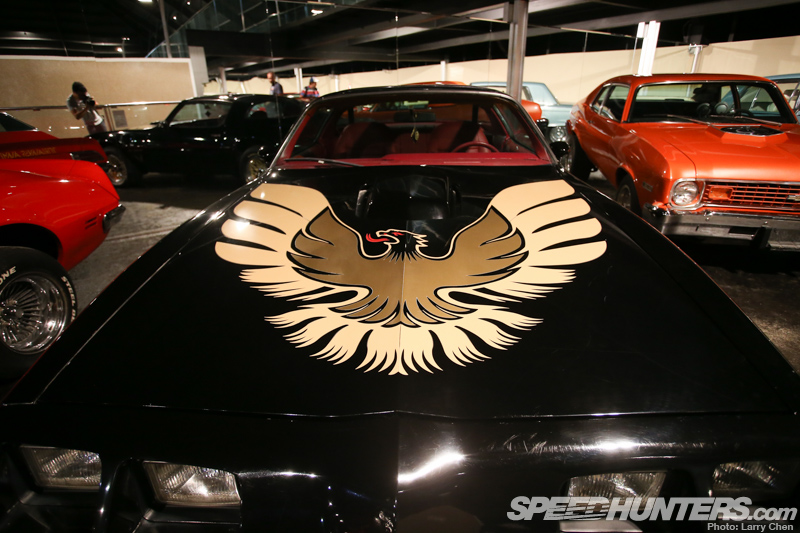 But just as I thought I had the Sheik's mindset figured out he would throw me a curveball.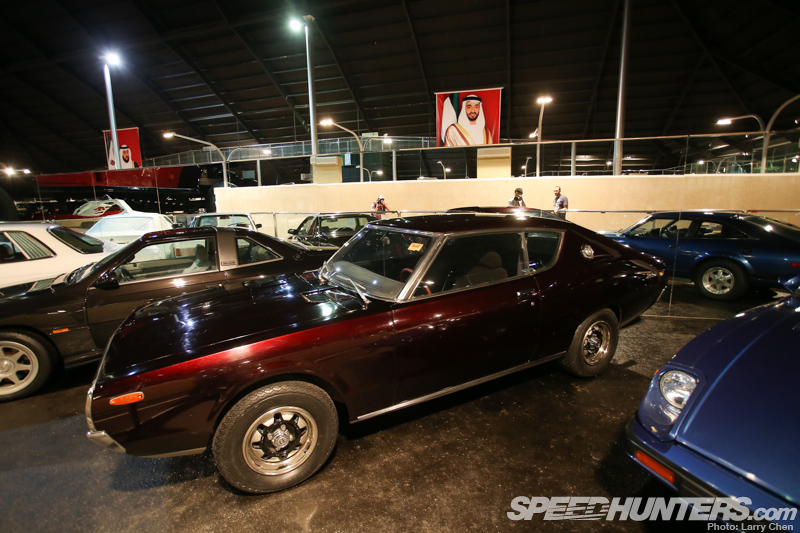 The collection was all over the place in terms of car selection. There was no rhyme or reason why there was a particular car present.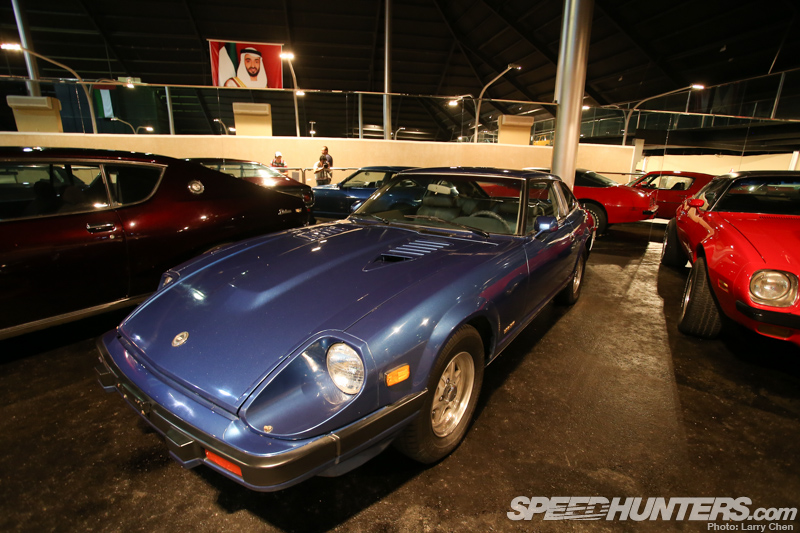 He simply just liked them. Just check out this brand new 280ZX: it was perfect inside and out, like a time capsule from the '80s.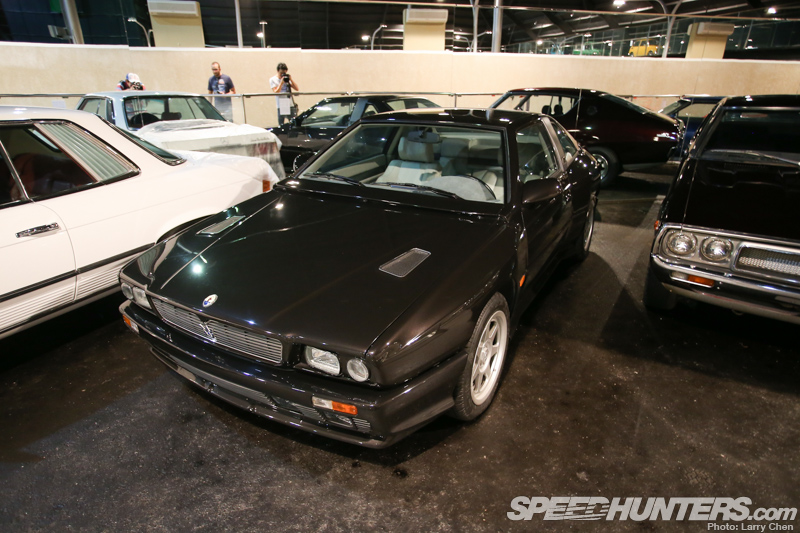 Many of the cars were given to the Sheikh as gifts, so that may explain some of the more out-of-place cars like this Maserati.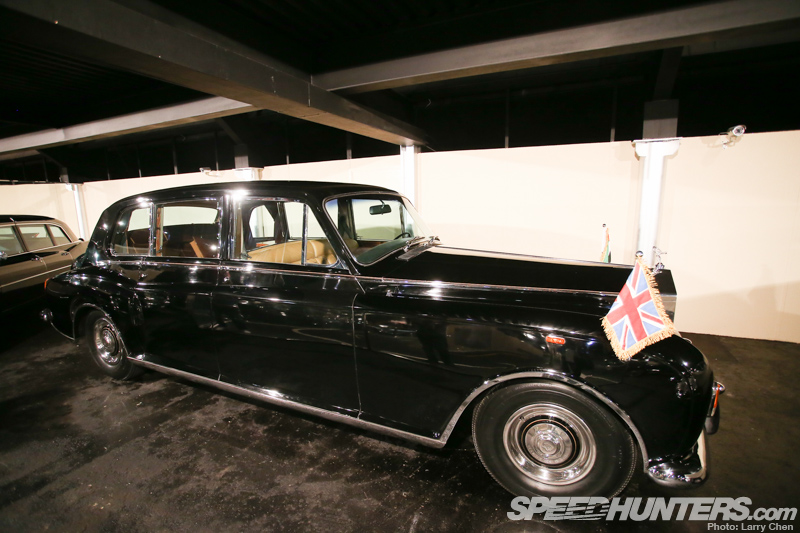 Some of them have historical significance. This 1963 Rolls Royce Phantom 6 was last used as a personal transport for Queen Elizabeth II during a visit to Dubai in 1979.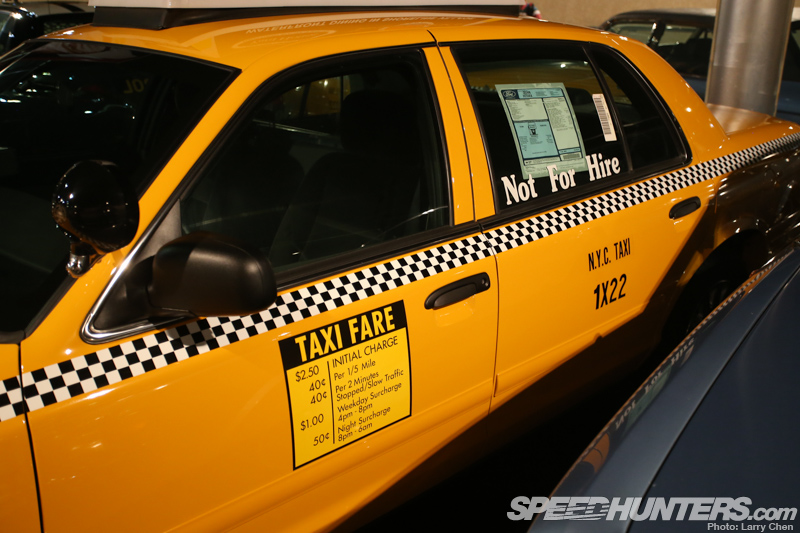 Some of the cars were very iconic, but also very common. This was a brand new New York City taxi. It even had the window sticker still on it. When I ride in these I try taking up as little buttock space as possible, as they usually smell of body odor.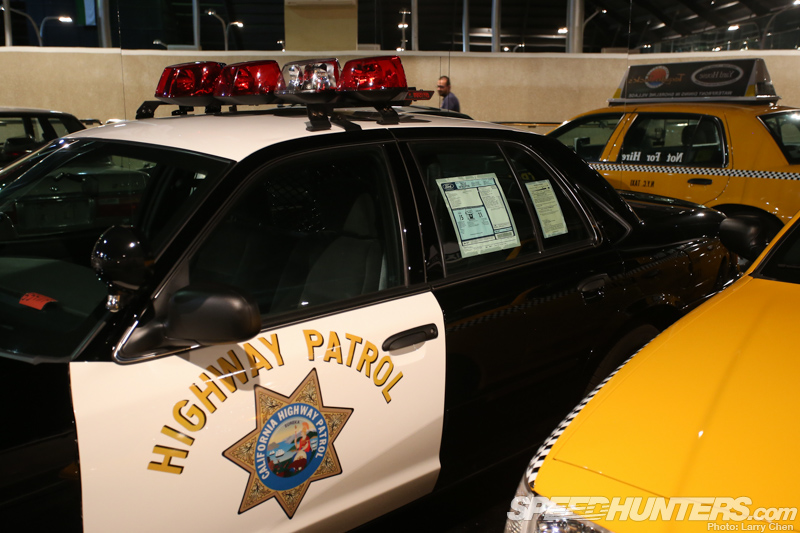 This was a sight that I try to avoid, as I have had many friendly encounters with the CHiPS.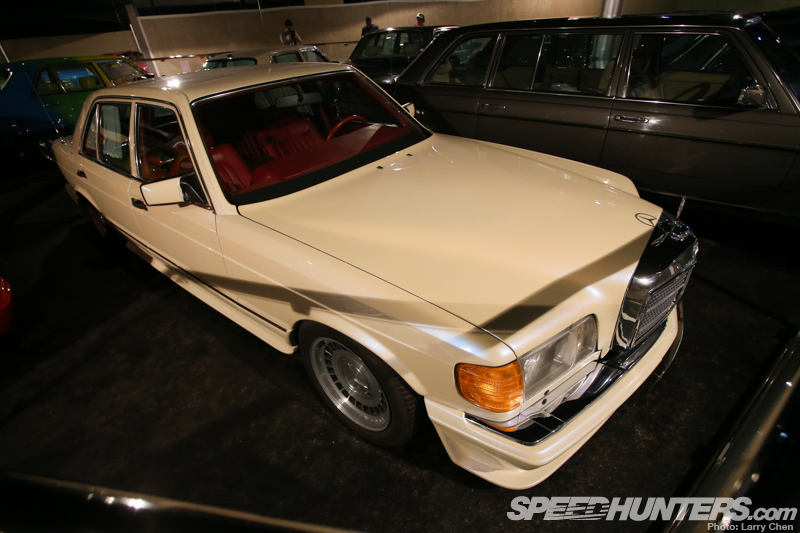 Sheikh Hamad is known for his love of Mercedes. I didn't even know this exsisted, but it is a 1983 Mercedes 1000SEL. Does this mean it had a 10-liter engine? No, it is just a modified 560SEL. Mercedes never actually made a 1000SEL: these were modified by shops in Germany and were supposedly twice as good as the 500 SEL – hence the name 1000SEL.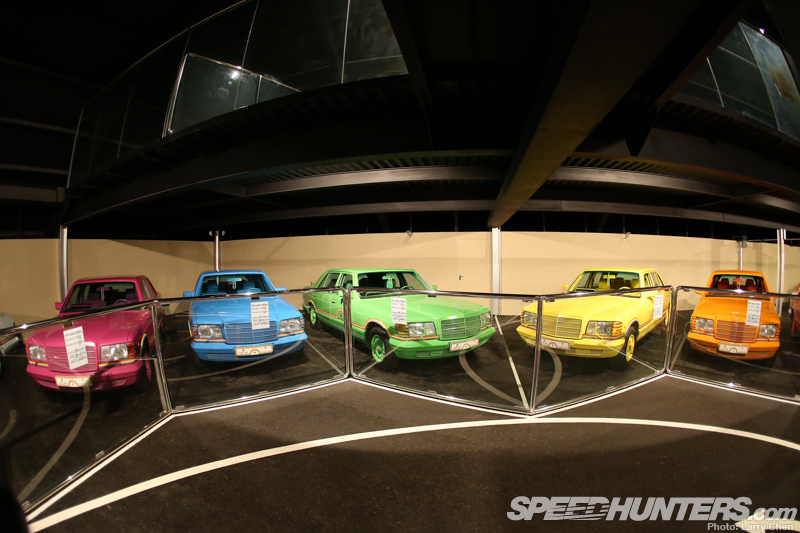 He also had an S-class for every day of the week, which were all different colors.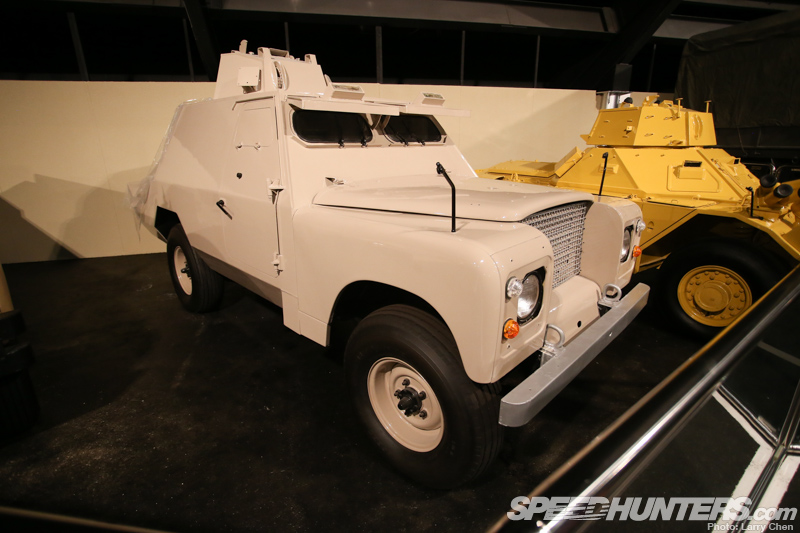 There were also a few military vehicles; this was a 1972 Land Rover Shortland.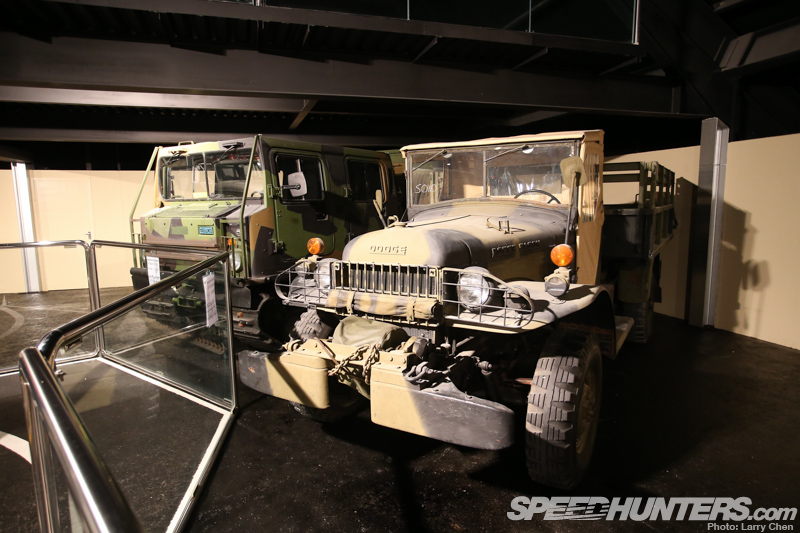 Every car collector needs armored personnel vehicles in their collection.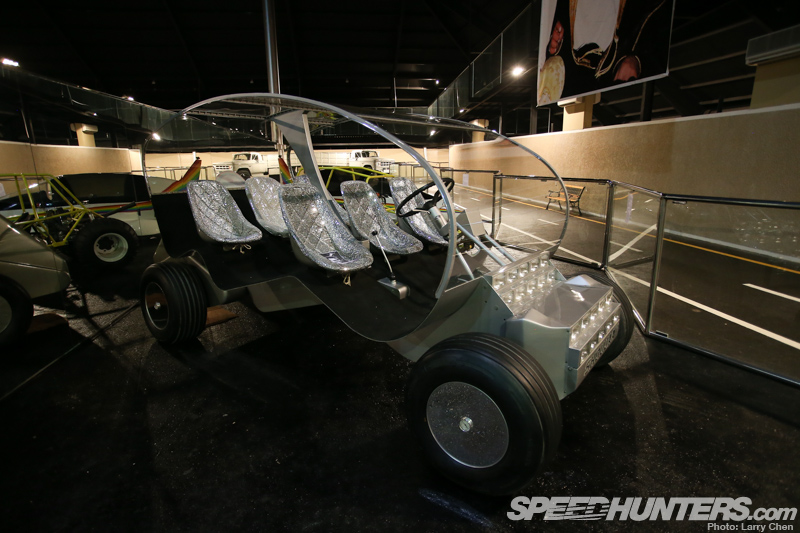 There were also a few concept cars that were made in Dubai, like this electric vehicle from the future.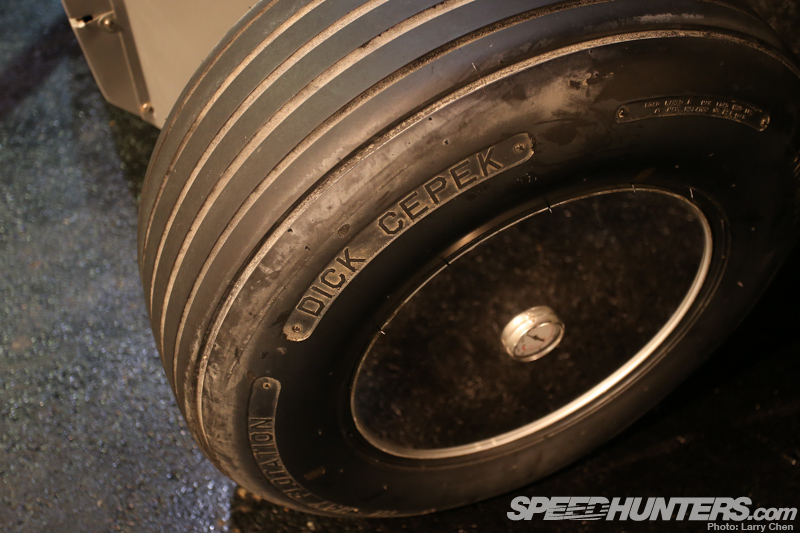 The tires it was running were from the future as well.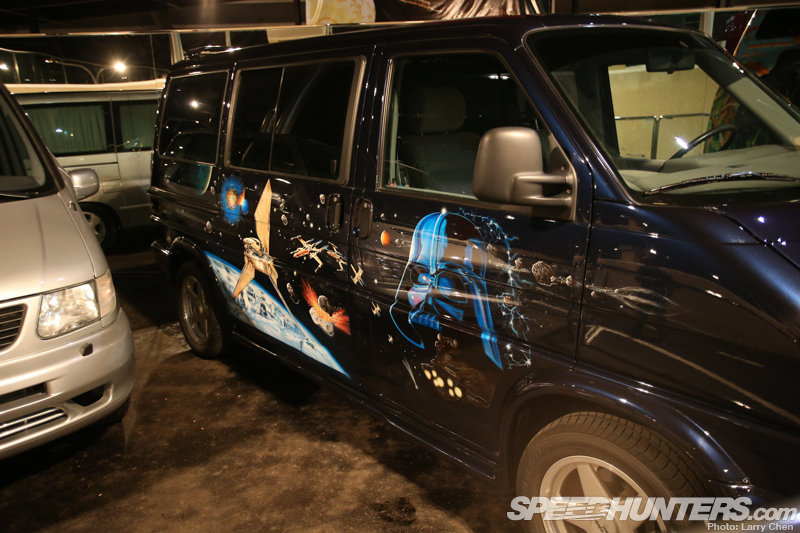 I was beginning to see a trend… It seemed that the Sheikh really was a Star Wars fan.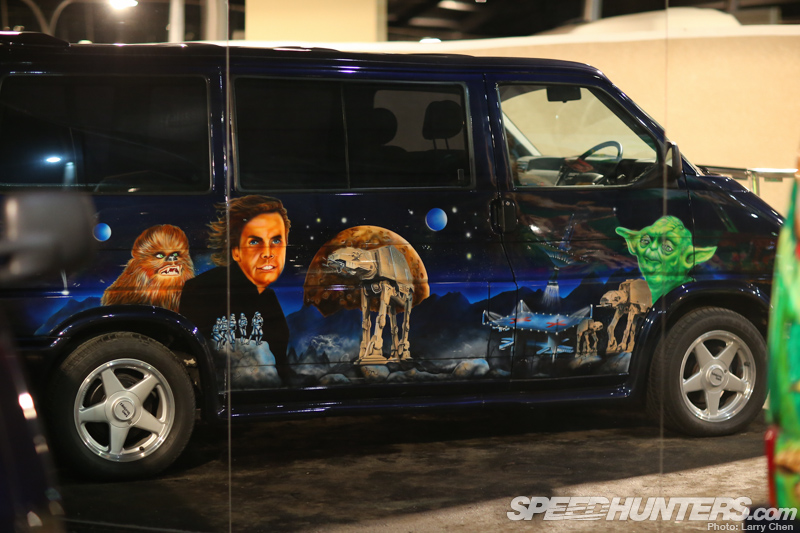 This VW Euro van had the wildest Star Wars mural. It looked to me like there was a little something from Episodes 4 to 6.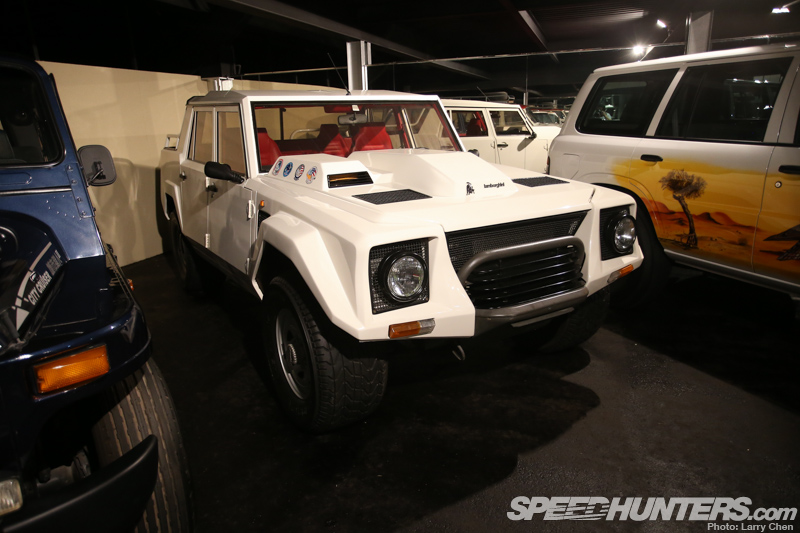 There were some absolutely outrageously rare cars like this Lamborghini SUV, but what blew my mind was something parked just a few meters away…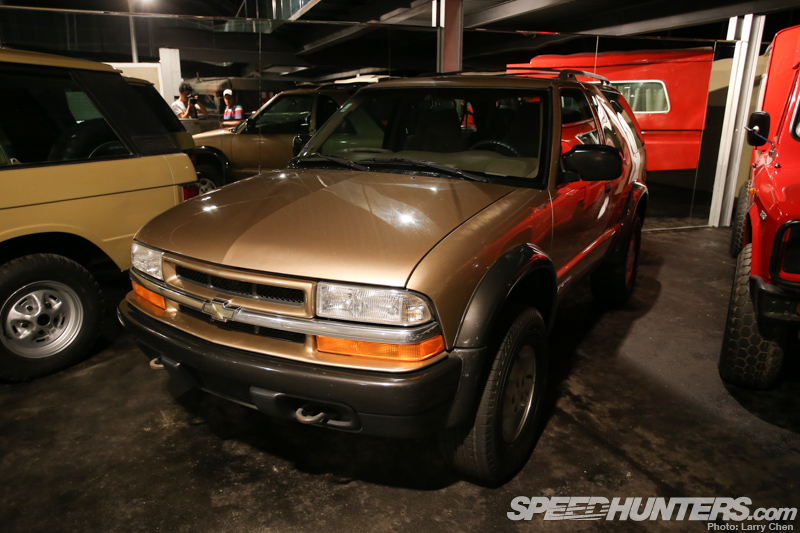 It was this completely standard Chevy Blazer. I had some fond memories of this car from high school, when my friend would take his parents' Blazer out and we would go cruising, but I never thought one would end up in an auto museum.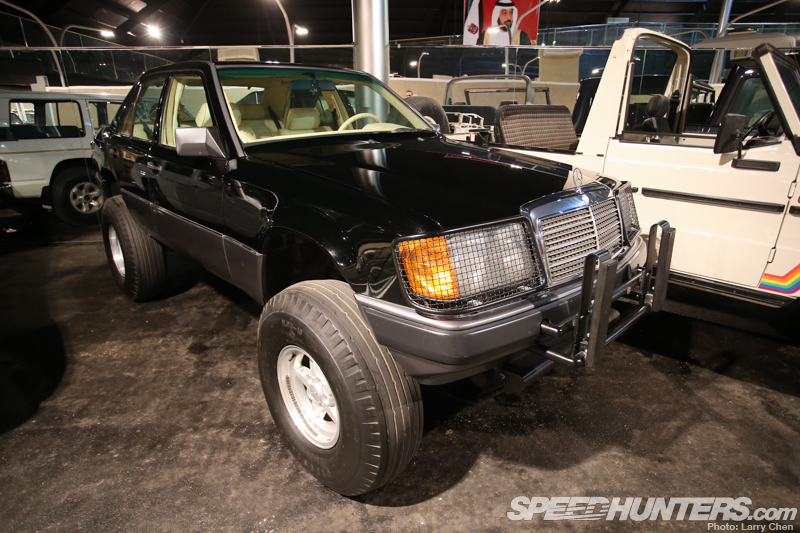 Things went back to 'normal', as a few more rows down was this 4×4 Mercedes E-class. I bet this would be so fun to drive around town.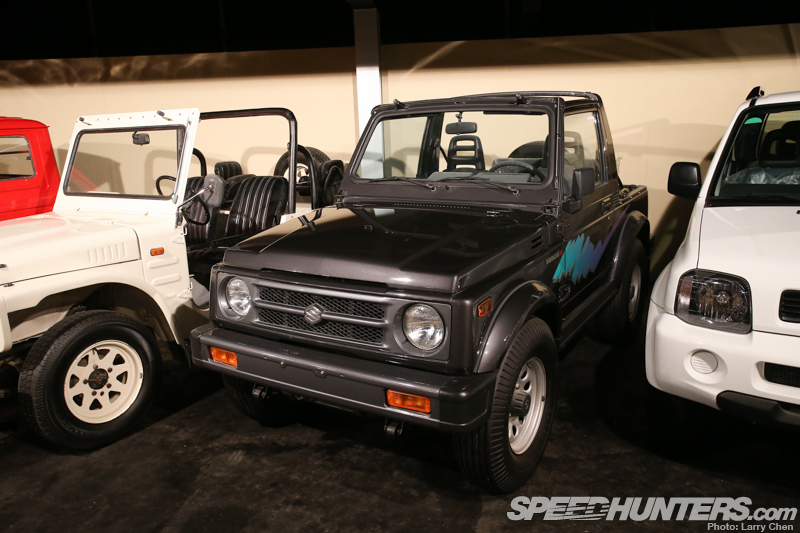 I didn't think anyone would want to be seen in the Suzuki Samurai over here in the Middle East, but apparently they're very sought after. Lightweight and all-wheel drive, it was perfect for driving on the sand dunes.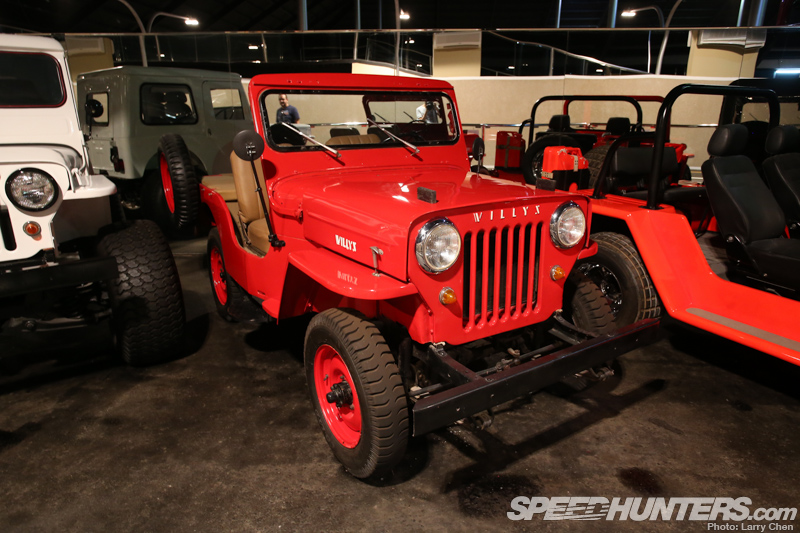 If I had to guess what Sheikh Hamad's second favorite car was I would have to say it was the Willys Jeep. Why, you ask?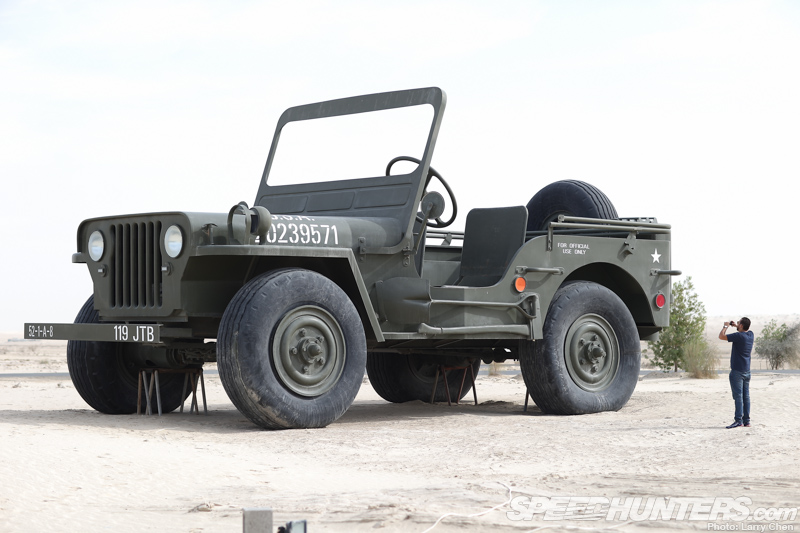 Because there was a 4:1 scale version outside behind the pyramid.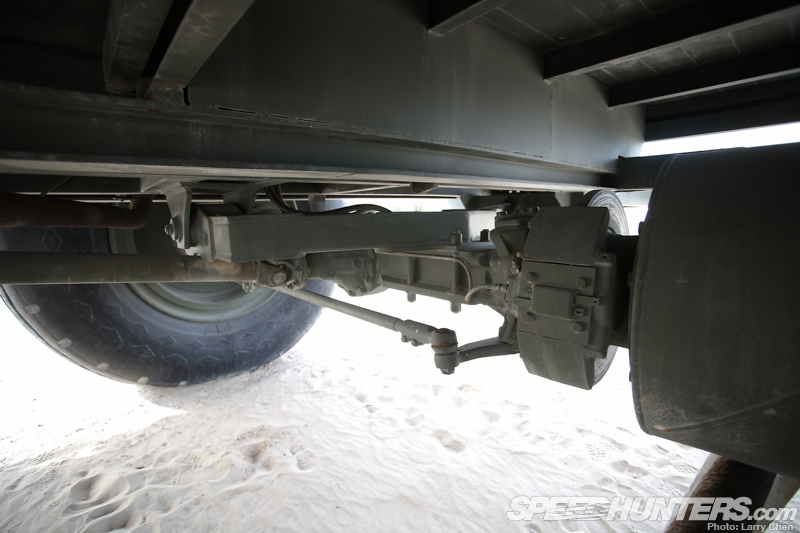 Just check out the massive hardware and those huge calipers. Like the Dodge Power Wagon this thing actually drives!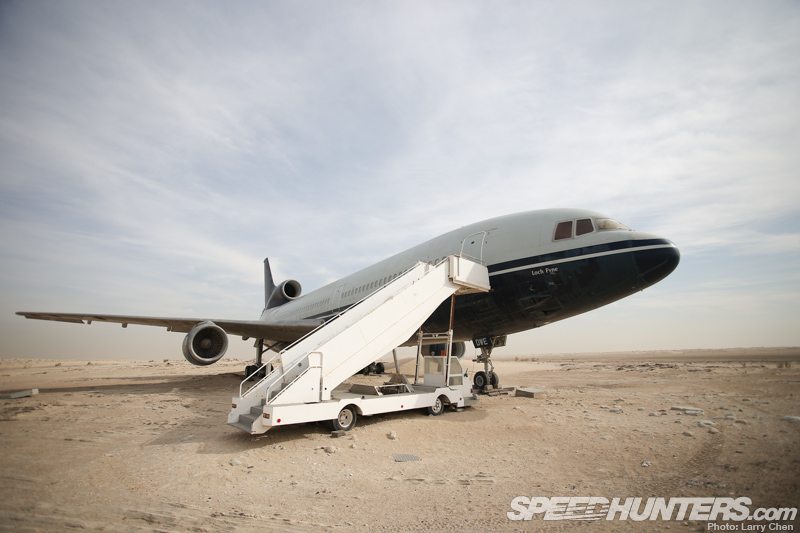 To top it all off, next to the scale jeep was an abandoned passenger jet-liner.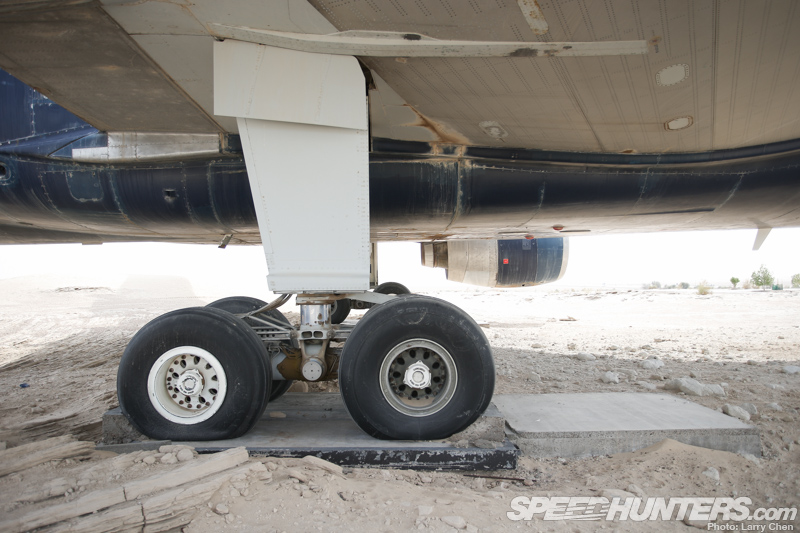 They are eventually planning on turning it into a themed hotel…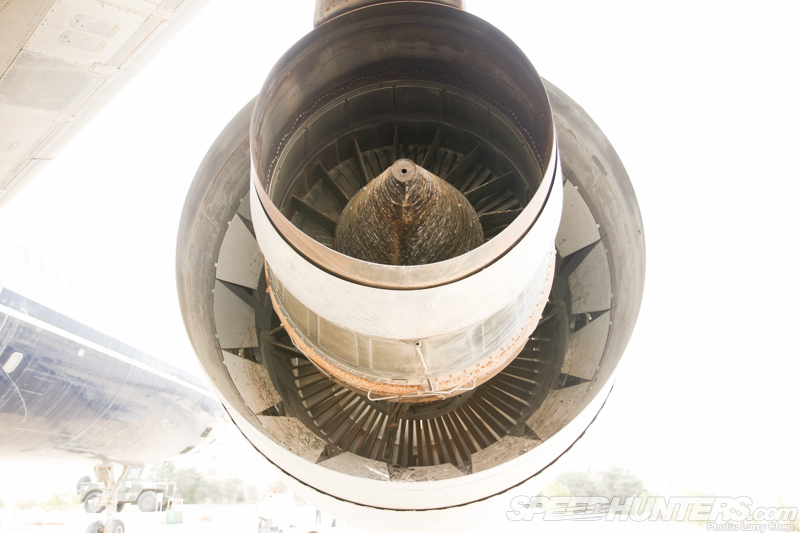 …but till then it will be a nice nesting place for the local birds.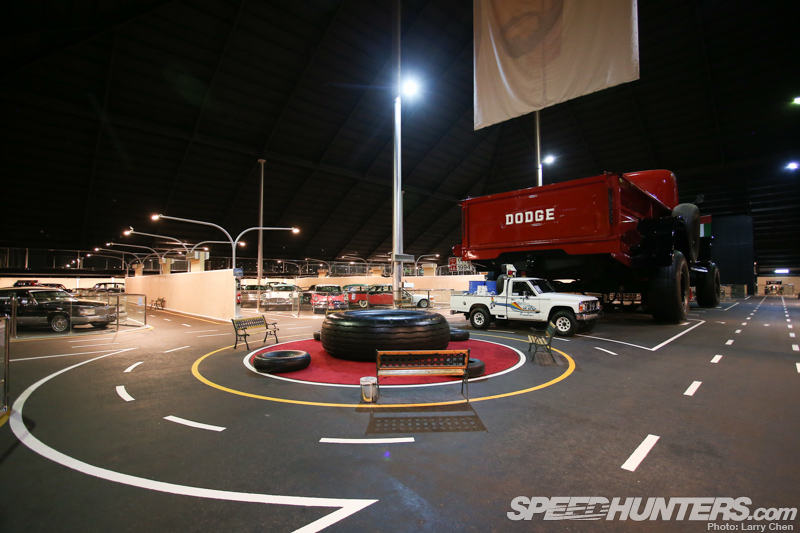 After seeing Sheikh Hamad's car collection I have come to the conclusion that he would be an awesome car enthusiast to hang out with. However, it makes me wonder what sort of cars he has at his underground garage in the royal palace…
Larry Chen
larry@dev.speedhunters.com
Instagram: larry_chen_foto
More museum stories on Speedhunters