I believe the BAC Mono is what people call a game changer. It certainly is for me.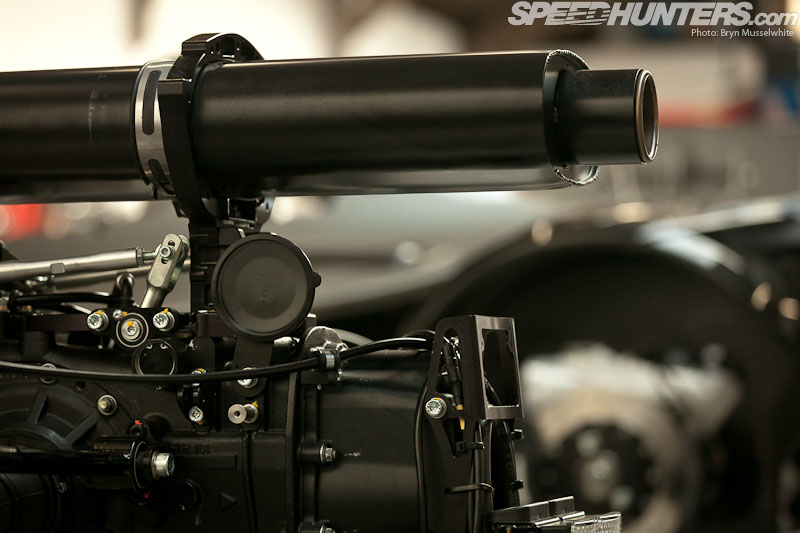 Because what you're looking at it is very much a road car. A wonderfully focused, exquisitely engineered and executed road car. For one person (at a time) to enjoy. Underneath that bespoke centre exit exhaust, mounted on one of over 200 seperate, billet alloy milled components that the Mono employs… Is a tax disc holder.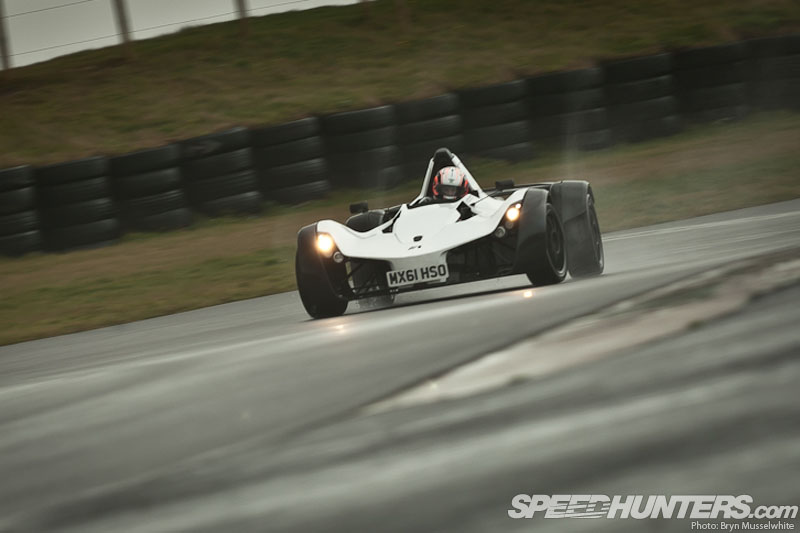 It might look like a single seat race car and the truth is that's kind of intentional, but no, for some reason the brothers Briggs (Briggs Automobile Company), Ian and Neil to be precise, decided to make their lives much more complicated by creating from scratch the most focused drivers car you can buy today. If you think I'm wrong and your argument involves a vehicle with a passenger seat, then prepare to be convinced otherwise. I kid you not, this thing is immense and I thought that before even driving it.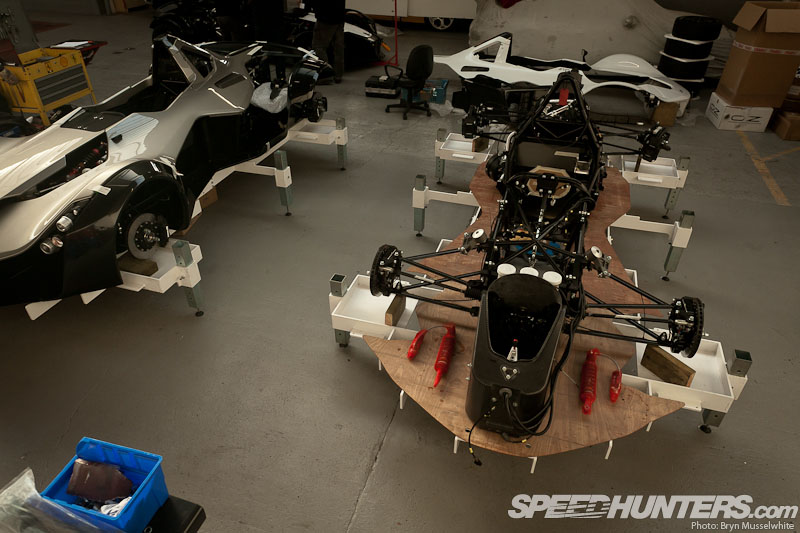 I'm due to drive the Mono tomorrow, but today I'm taking a look around the factory as it's on the way to the circuit, I'm a Speedhunter and who in their right mind would refuse such an offer? It's like taking a look around the kitchen, trying the ingredients before the meal is prepared for you by the best chef. Sure it'll taste the same, but don't you want to know how they did it? Here you can clearly see the undertray which the body sections bolt to. Note the cut-outs around the front wheels, just enough for some lock, the  material used is a plywood impregnated with Shellac and acts as a sacrificial barrier between the body and ground, it's much easy to replace this than more valuable elements.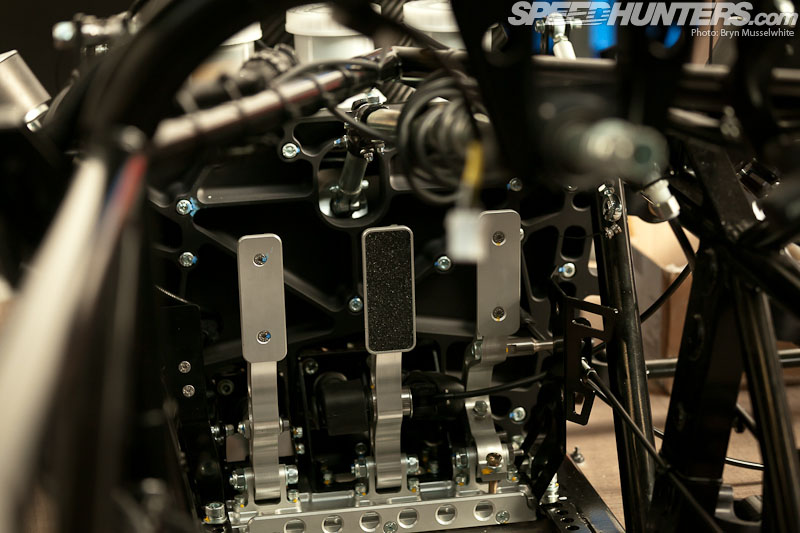 As with all good ideas, the premise is simple. You have a tube frame chassis, which components are bolted to, look closer at the picture above and you can see the ribbed architecture of a milled billet of aluminium, a bulkhead if you like. The CDS safety cell bolts to this and it acts as a point of strength, with everything forwards of it like the carbon fibre luggage pod, acting as a crumple zone. Sat neatly below it is the pedal box, mounted on a sled, this makes it adjustable for driver leg length and comfort… It's road car. Remember? You should also know that those pedals are ball bearing mounted billet alloy, do your feet deserve them?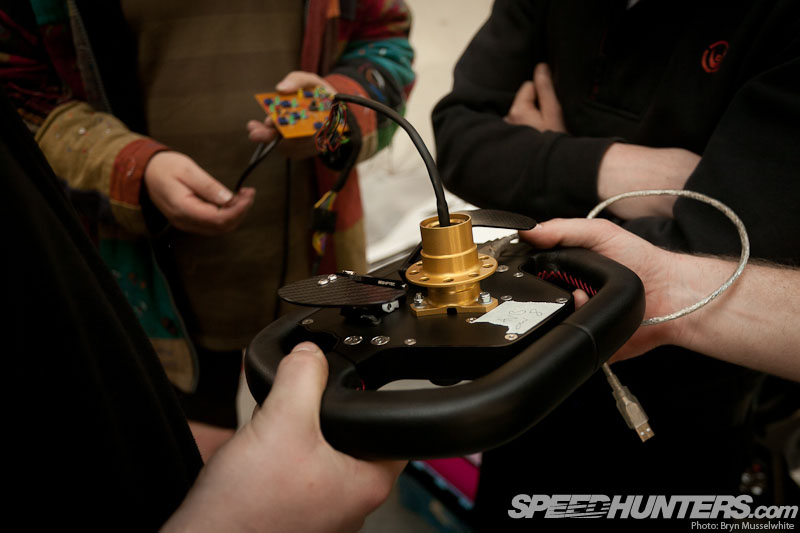 The more you look at the Mono the more it makes sense, that's not to say it didn't to start with. I always approach a new way of doing things or the unknown with no pretention, you can't get anything wrong that way. For a start it's been built with real hands, real people. The computers are humming away elsewhere, but the factory has enough 'artisan' about it to feel human. I've been in awe of some of the workshops I've seen where money is no object, sanitized and clinical, but after a while you can feel uneasy, alienated and uncomfortable. For me you enter into a relationship with a vehicle, so it's fundamentally important that as the components are put together they've got a bit of soul to go with the technology. Don't worry I never hugged a tree, okay so I named a car once. Once.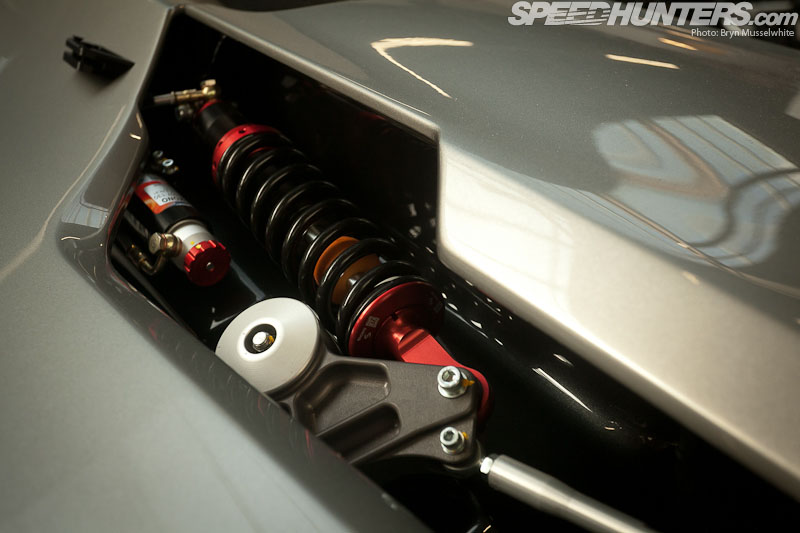 Plus I love the way it looks, exposed shapes show ingenious suspension solutions, so amongst the purity of purpose there is sheer design to marvel at. Imagine a normal car is somebody with excess body fat and work overalls on, the Mono is personified by the Olympian with muscle and sinew on show.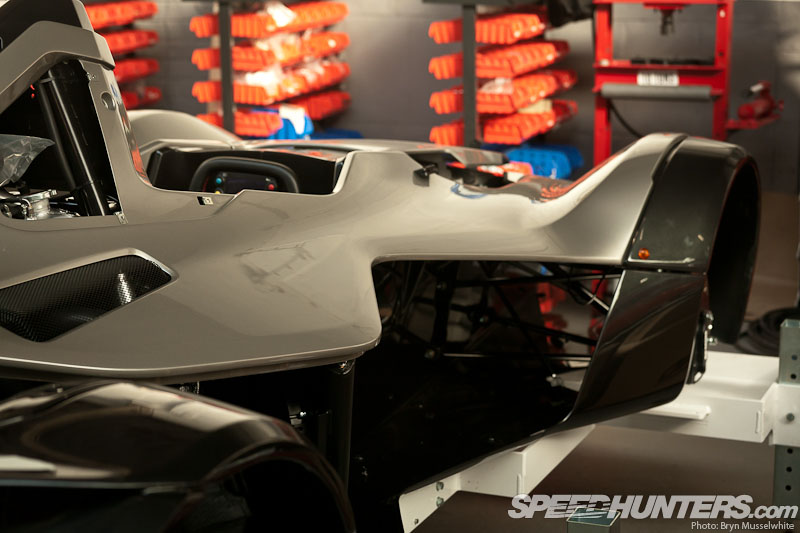 I think this is probably my favourite angle of the Mono, it's as though air has cut a shape over time and given it just enough smooth edge that makes it tactile, like a tide worn pebble. Look how the outer body line intersects with the wheel arch, yet somehow there's still a fluidity. Then there's the hint of pure arcade game when you see the top of that squared off steering wheel. Coloured buttons get my mind going, because realistically they could be launch control… Nitrous boost. Maybe.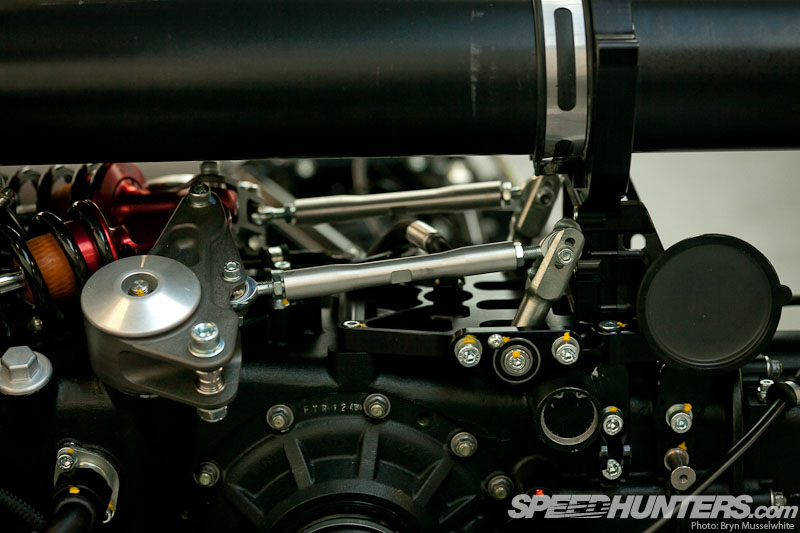 Looking at the bare bones Mono, I'm going to take you back to that tax disc, to use it as an indicator of scale (for those non-UK readers, it's roughly 100mm across). Look just to the left of it and you see a very short upright and in the background another, linking these two is the rear anti-roll bar. Really. That's one of the things that sums up the Mono, it makes you look at things in a way you're not akin too. Knowing as I do that the Briggs brothers started with a pretty comprehensive manufacturer based background, what they've produced must have made even them think twice, or twenty times.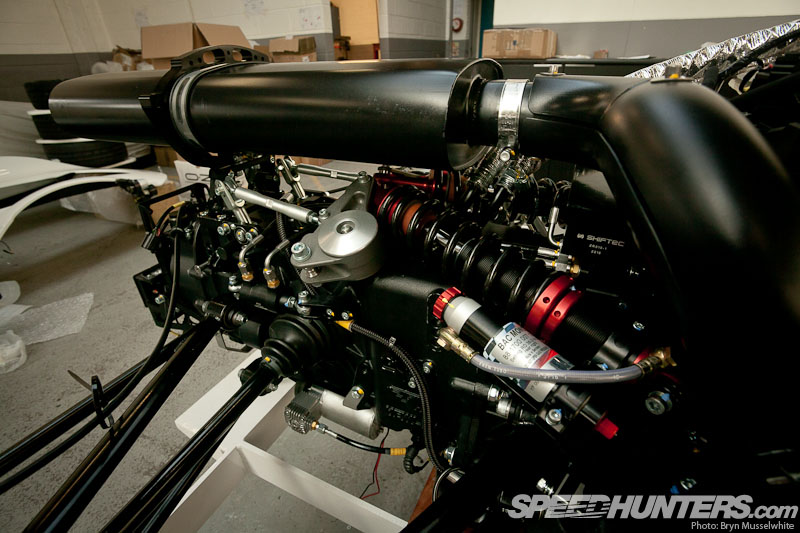 Here's the rest of the rear suspension, the remote reservoir Sachs Racing dampers are numbered and handed too. Again, even though the Mono is undoubtedly technical, it's also laid bare for you to see. So unlike say a Lamborghini that's clothed, almost hidden, the Mono has no secrets. Another reflection of Neil and Ian to me, the guys couldn't be more helpful or willing to talk about their creation and don't get confused, this has been a hard slog from day one in 2007. Sacrifices have been made, just not where it counts, in the finished product.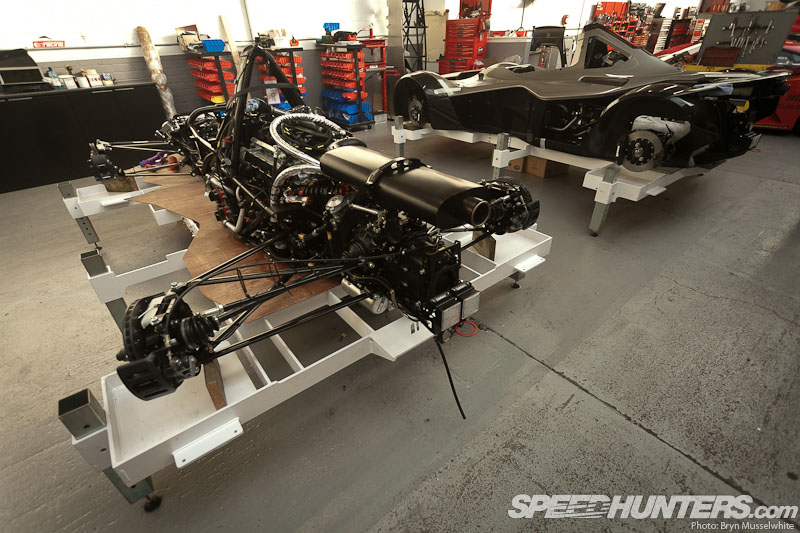 Stripped of it's carbon fibre bodywork you can see just how long those suspension arms are, in all honesty I can understand the mechanical side of how the suspension works but the subtle nuances of geometry and set-up are beyond me. It makes any suspension set-up I've ever owned just seem so agricultural in comparison. I've driven some notable drivers cars in the past but again, looking at the bare bones just makes me hungry for the meat which I'm sure is what the driving experience will add.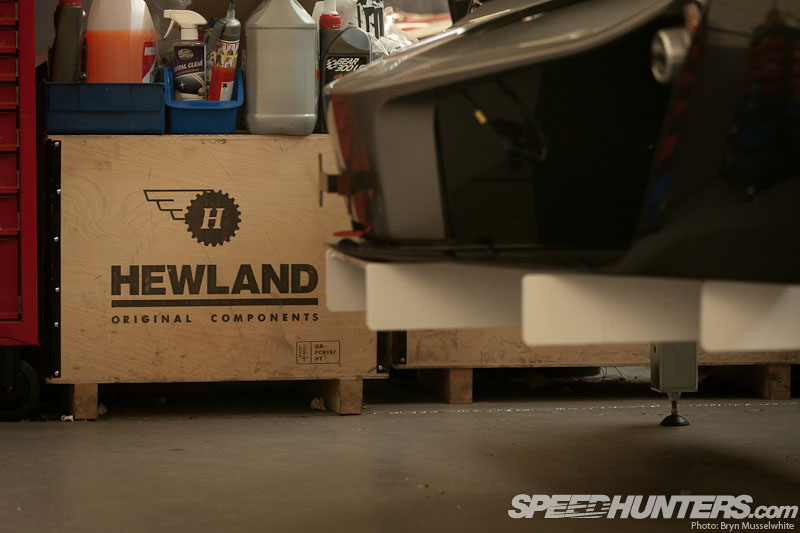 The 2.3ltr Cosworth built engine is based around the Duratec block, but that's about as close as it gets to being even slightly 'factory' or anything not special. The international measurements of awesomeness are 280bhp and 280Nm of normally aspirated excellence. I also love the way that each MONO is surrounded by the componentary waiting to be mounted, like kids waiting around the pool, itching to jump in. The Hewland six speed sequential gearbox is available with custom gear sets if you're feeling clever or have a particular need in mind, shifted by steering wheel mounted paddles.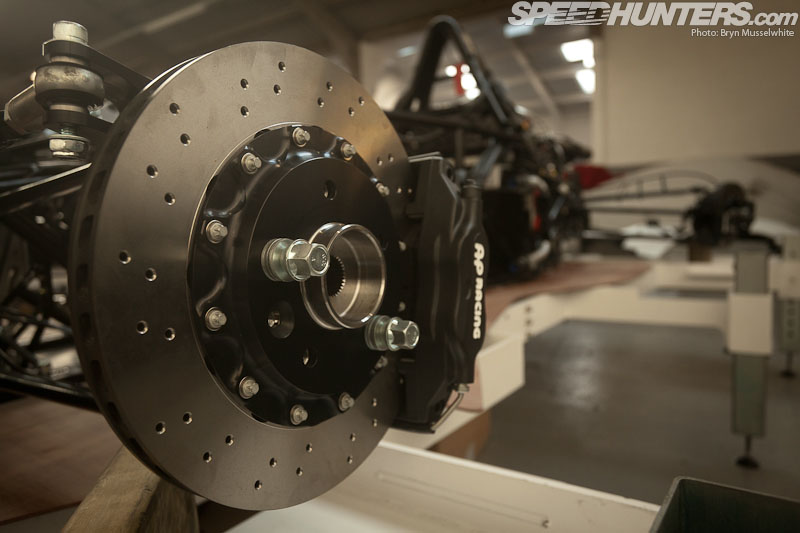 An interesting point I noted was that the brakes are the same size 295mm size all round, Ian Briggs tells me this is simply because they work well (0bviously) but also means only one size of disc is needed for spares, the same for pads. Simply clever.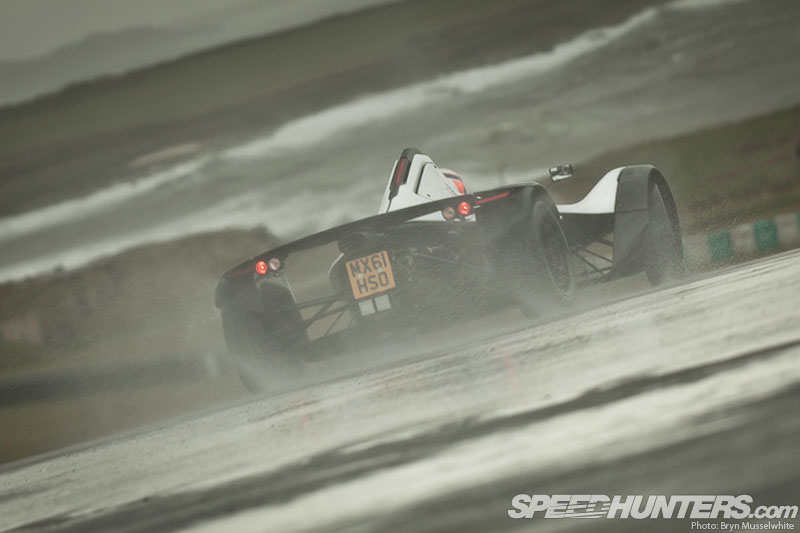 Okay, so for all my words about cakes, chefs, emotion and that… The sole purpose of the MONO is to be driven, side effects are admiration and intrigue amongst others, but no, the primary concern here is how does it drive?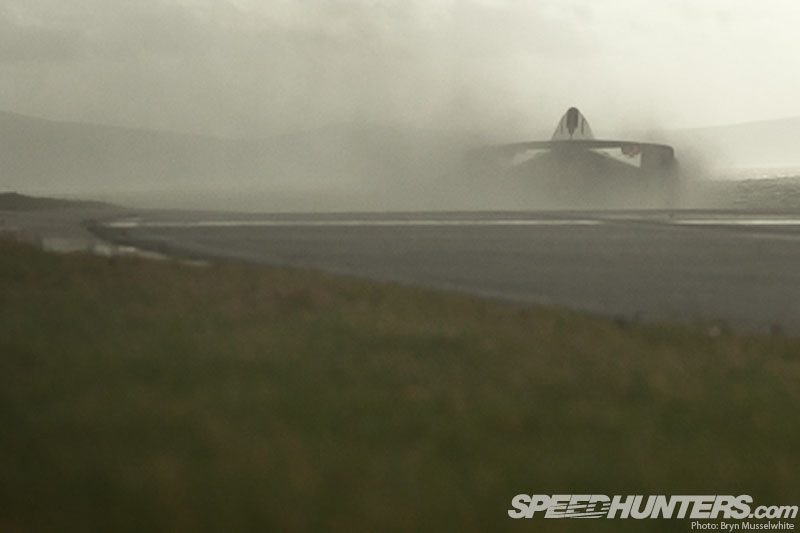 To be honest I'd built up a sense of dread about driving the MONO, it doesn't bother me to tell you I'm not the best driver in the world. So to be faced with a very, very wet Anglesey Circuit in the North western most corner of Wales was not really what I wanted to see. The team are here for some testing and it seemed like the perfect time to tie up for some photos and a drive.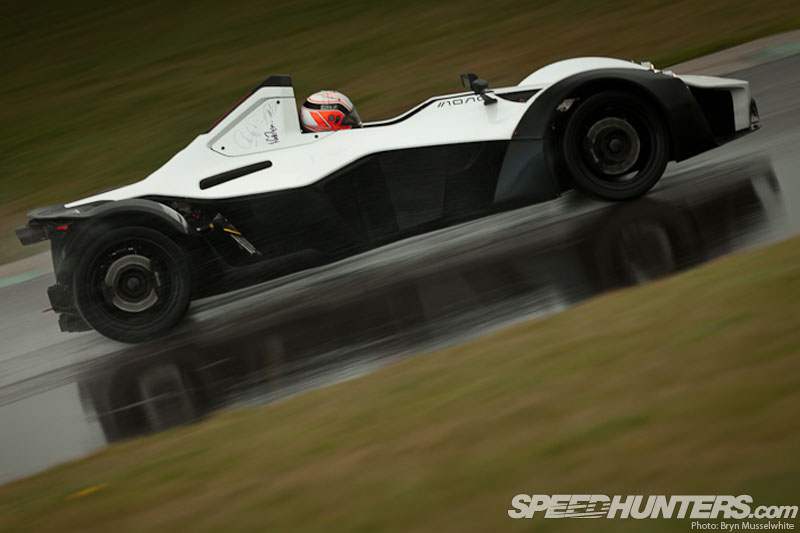 I like Anglesey as a track, it's a tricky mix of elevation and corners. All set amongst some of the most stunning scenery I've ever viewed from a circuit. But as the day progresses, the rain falls hard, teasing us with glimpses of dry skies only to dump again.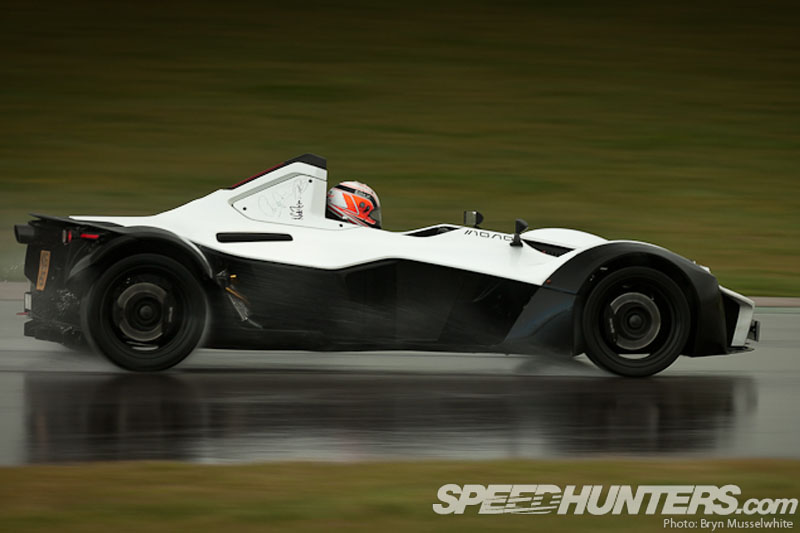 I watch the Mono work the track, seemingly predictable at every turn but always in the hands of an experienced driver.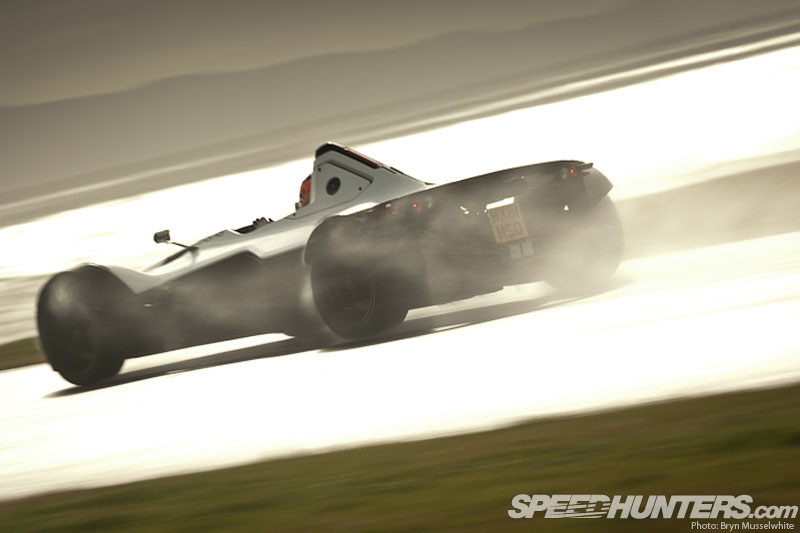 I tell Neil that I'm going to leave it as late as possible to drive the MONO, just on the off chance it does start to dry out. We're right on the coast here and the wind will dry the track quickly if the conditions change.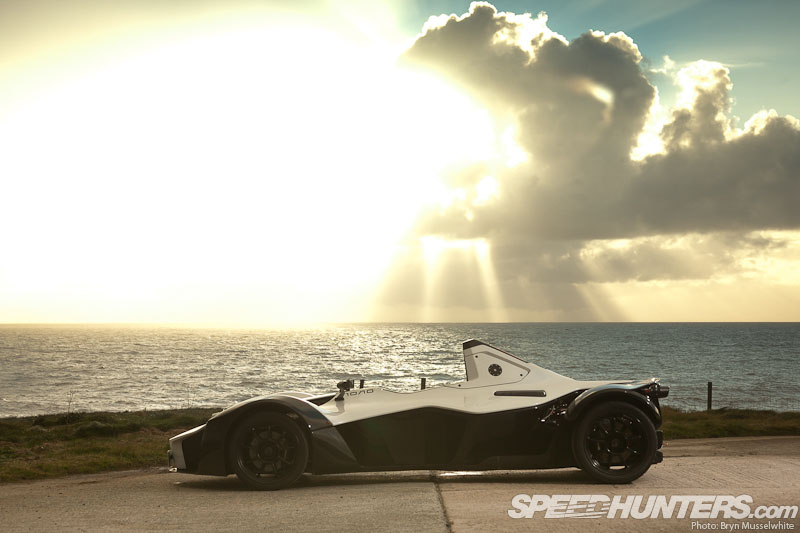 And what do you know? They only went and changed… I may have done a small dance.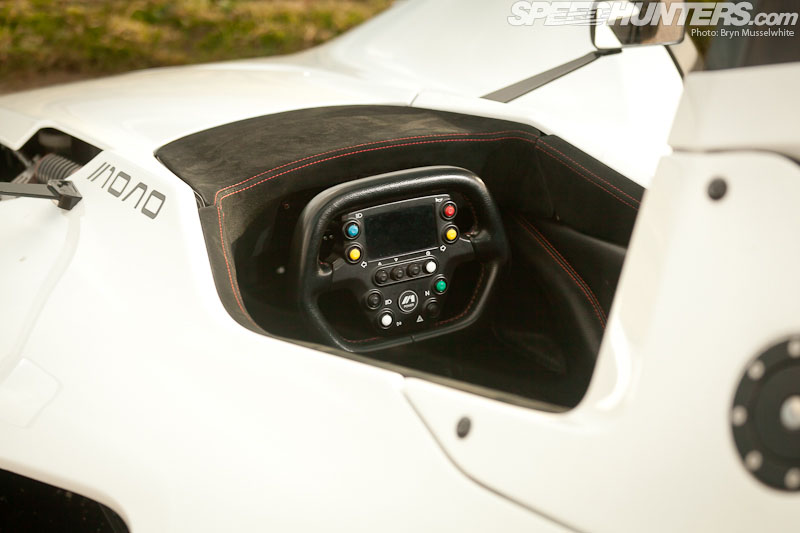 First up, this is as close to a real arcade game that you're ever going to get. Can you think of another seating position that even comes close? I've sat in race cars before that you give you that focused arcade feel…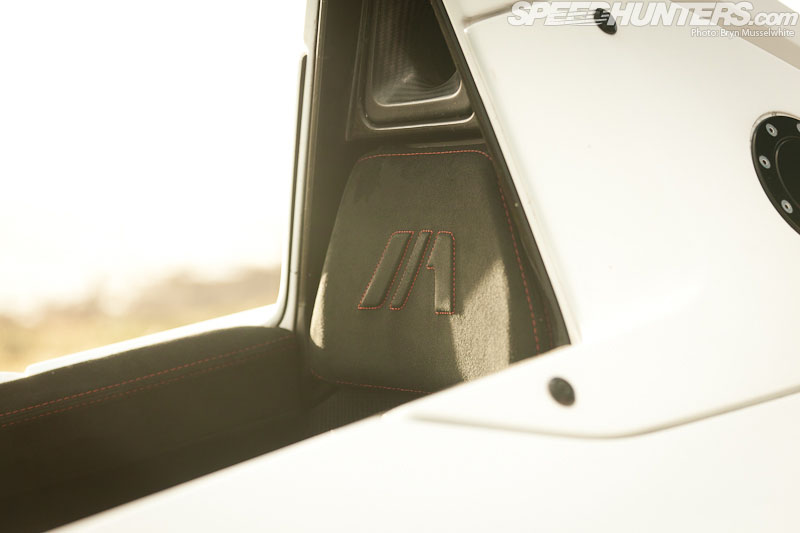 But never one trimmed in selected, high tech waterproof materials.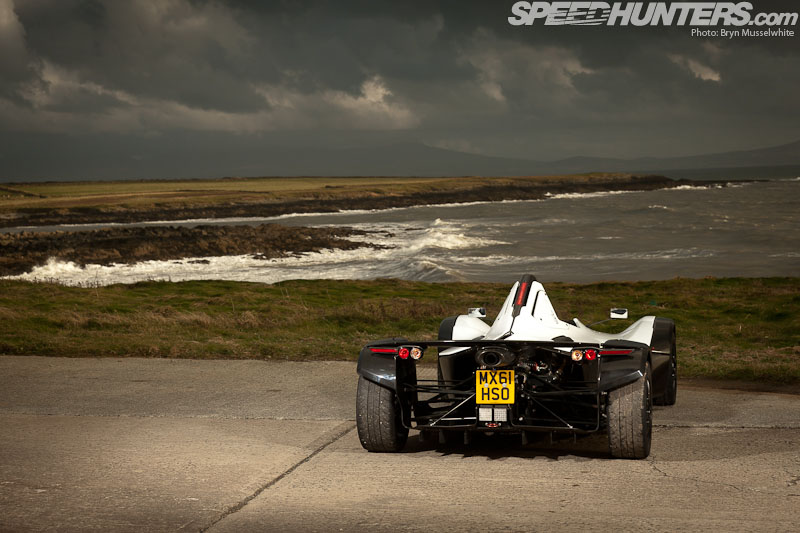 Settled in the seat, it feels almost horizontal compared to a road car. Consider also that I've spent a few laps in some exotica today and they felt positively remote compared to this, the MONO fits like a monkeys paw in a wet velvet glove. Now there are no more excuses and after a quick run through of the controls, which all seem rather straightforward I slip on my helmet and tell myself this is a road car, one more time, just for good measure.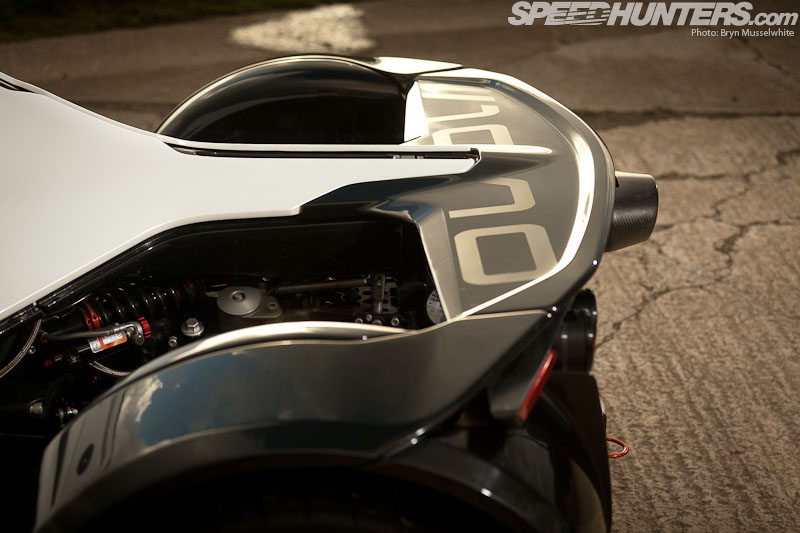 And you know what? Something special happened, the MONO took my slightly awkward input signals and turned them in to something good, giving me back something I could never have expected. Most supercars need to be driven with the upmost of respect and observation, but I think the manufacturers have had their time. The MONO shows that there's no need for scare tactics, all that bravado posturing is exactly that.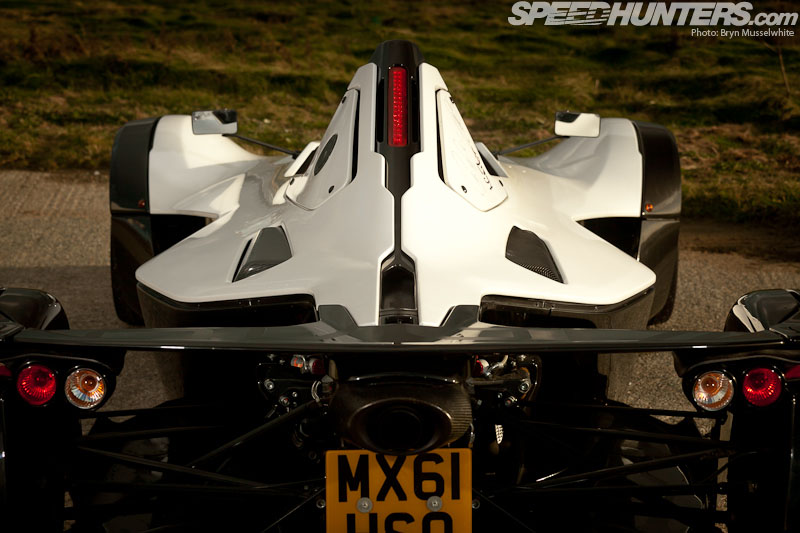 I selected first and used what I considered to be the right amount of throttle and I moved away smoothly, no stalling and no kangaroo across the pit. Entering the track, I was being chaparoned by another vehicle and to be completely honest I think I probably got to use 40% of what I think the MONO is capable of, which in turn is probably 40% of what it's really capable of.  But instead of being temperamental, it felt fluid, the shift is smooth yet decisive. If we weren't on a circuit, I'd adopt a neck warmer and hat with goggles low on my forehead blocking the wind, I drive my beach buggy like this and the visibility with no screen is amazing.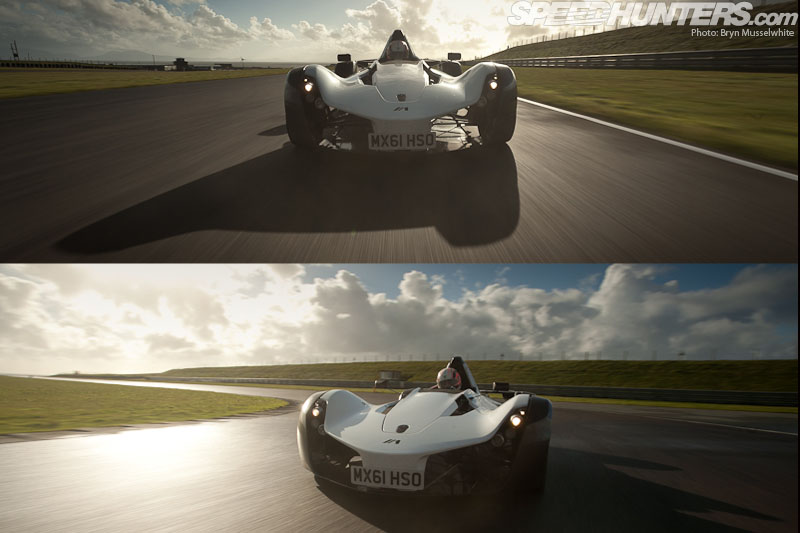 If there was one thing above all others that really sticks in my head, it's the amount of mechanical grip the MONO has, I drop back from the car in front and drive in to and out of a corner, applying more and more throttle. As I exit I realise I've got that sicky feeling in my stomach you get on a roller coaster, it's caused by a release of adrenalin to help you handle an unfamiliar feeling. This is the MONO hinting at just how good it is. Within three short laps the MONO has made me a friend, it's a confidence inspiring experience. Enter in to it with suitable sense of trepidation and the transition is a lovely feeling, I pull myself up and out and genuinely feel silly for having been so preoccupied throughout the day. At last somebody has made a sensible car.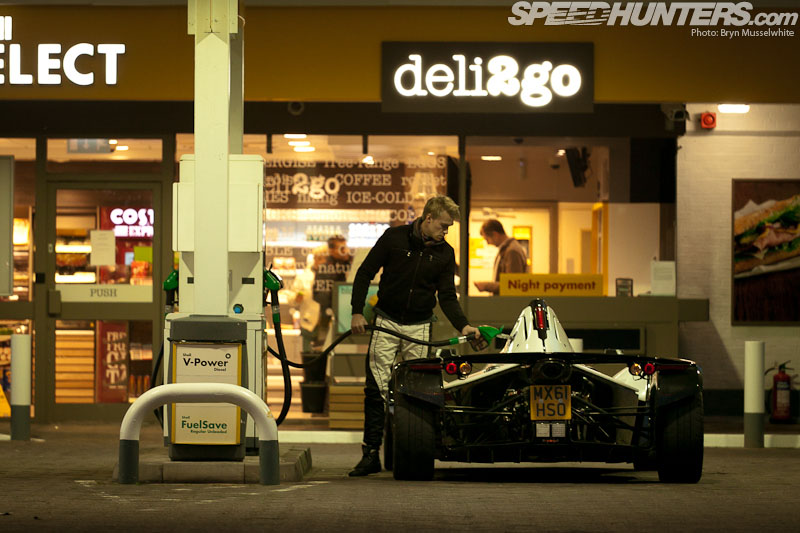 With more laps, more time and more skill I could ruin myself forever. But we have to head back across North Wales… Pump fuel? Of course, is sir collecting reward points? Every single mile my friend.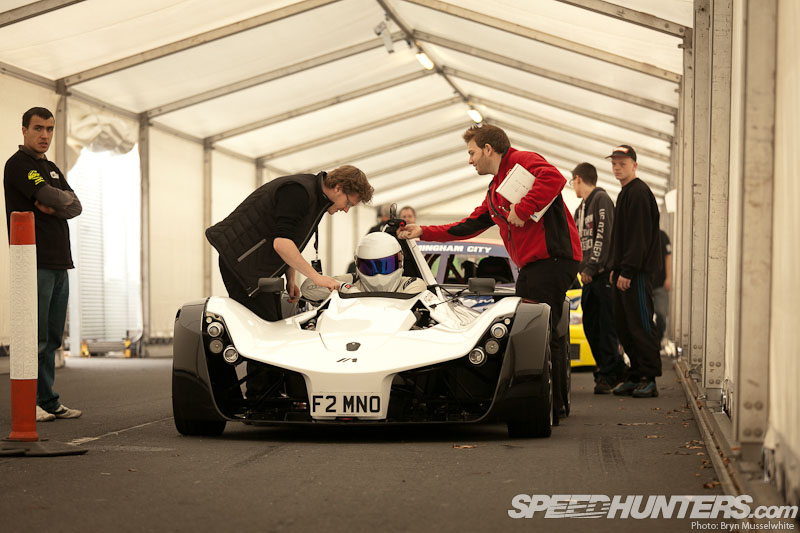 A week later I'm at Top Gear live watching Vaughn Gittin Jnr work the arena in his Mustang, whilst back stage Top Gear's Stig straps himself in to the MONO.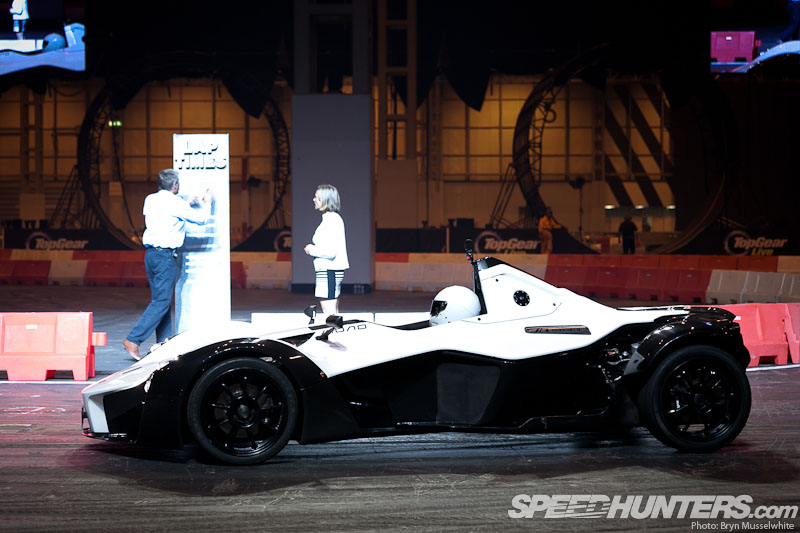 When pitted against some of the worlds best exotica, the MONO completed the course a full ten seconds quicker than the nearest rival. So to call it a rival is a bit unfair really.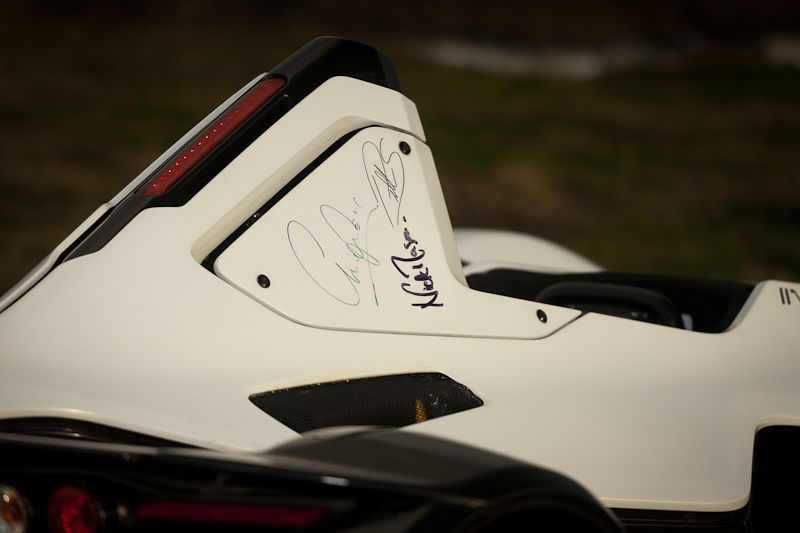 Okay, so I'm a fan and I'll stand by my initial statement that it's a game changer, plenty of knowledgeable people agree with me too. The sum of the parts is greater than the resultant product, in so many ways the MONO has been built like no other car before it. Will the game actually change though, I mean realistically where do you go from here? Do you pump a load more power in that demands crazy tyres or big aero, especially as it doesn't need it. In fact I can't think of anything the MONO does need.  Especially not a passenger seat…
Bryn Musselwhite
To find out more about the MONO contact BAC 
The Mono was cleverly driven by the annoyingly talented Oliver Webb in these pictures
…………………………..
Engine – Normally aspirated, 4-cylinder, in-line, structurally mounted, 2300cc, 16 valve Cosworth, forged rod and pistons, dry sump with internal scavenge pump, BAC/ITG aero optimized carbon inlet, remote filtration system and carbon airbox, Cosworth/BAC developed 4-2-1 stainless steel exhaust manifold and centrally mounted system, GEMS EM40 Ecu with Cosworth/BAC developed calibration
Max power 280bhp @7700rpm 280Nm @ 6000rpm
Transmission – AP Racing clutch, Hewland FTR six speed sequential box, fully stressed with integral oil tank, Powerflow LSD, Shiftec Electronic/Pneumatic semi-automatic closed loop system operated via steering wheel mounted paddles, GKN/BAC developed low friction driveshafts
Motul fluids used throughout
Suspension
Front – Adjustable pushod activated twin wishbone system with needle roller bearing mounted bell cranks, rising gate, optimized camber change and roll centre position, full Ackermann geometry, shim adjustable camber
Rear – Gearbox mounted, adjustable pushrod activated twin wishbone system with needle roller bearing mounted bell cranks, rising rate, optimised camber change and roll centre position, shim adjustable camber
TIG welded, seamless CFS3 steel aero tube wishbones, Ultra light, billet aluminium uprights front and rear, two way adjustable Sachs Racing RDS dampers, 36 Formula system, Race spec H&R 325lb front and 375lb rear springs, rising rate jounce rubbers, adjustable front and rear torsion bar
Mono construction
Ultra light weight carbon fibre/foam, TIG welded CDS tube safety cell, RAC MSA & FIA compliant roll over protection system, carbon fibre crash box, side impact structure, BAC/FKFS developed and tested low drag aero package, 35ltr custom alloy tank with internal baffles and collector system, lockable billet aluminium filler cap, ATL in tank fuel pump with two stage filtration
Brakes – AP Racing, Formula car caliper, radial 4-piston type, AP Racing 295mm ventilated discs, cross drilled, billet machined mounting bells, AP Racing pedal box, ball bearing mounted billet pedals
Wheels and tyres – OZ Racing/BAC developed HRT alloy 7.5&8.5 x17in, Kumho/BAC developed V70a 205&245/40 R17
Interior (okay, where you sit…) – Tillett/BAC developed fixed position carbon fibre seat, trimmed in Extreme waterproof leather, Microcare MC waterproof 'suede', BAC 290mm diameter billet aluminium steering wheel with GEMS LDS4 colour display system, 16pin quick release steering boss, starter button, Willans safety restraint system, FIA compliant
Available in a range of manufacturer colours or a colour of your choice
Available for motorsport use – cockpit adjustable brake bias, race spec pads, dampers, towing eyes, fire extinguisher, additional rim set, visible carbon lower panels, master kill switches
Care – Car jack, remote battery charge socket, indoor car cover, external waterproof car cover, tonneau cockpit rain cover, tracker, helmet bluetooth, profiled seat