Today we have a special guest blog from our friend Nino Karotta from Hungary who is here with the tale of an amazing Datsun S30 build. The car is amazing and so is his story. Enjoy!
-Mike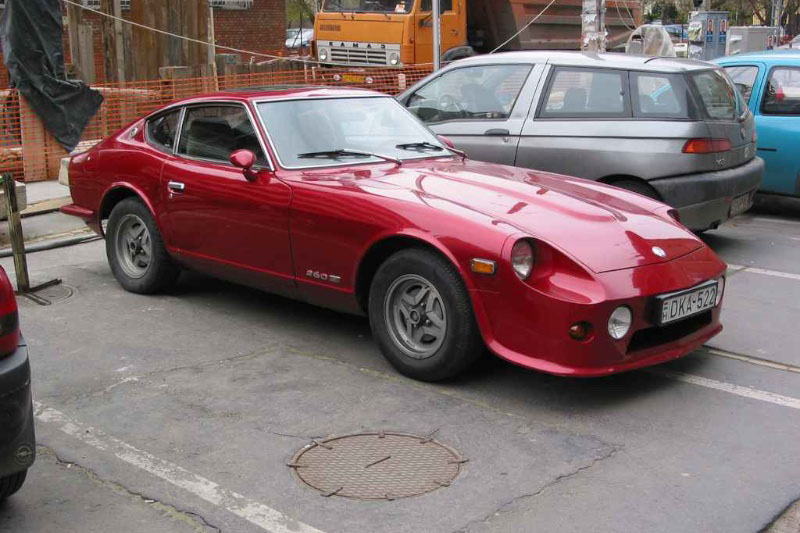 It's been more than a decade since on my way home from work one evening  I first laid my eyes on that impossibly long-nosed silhouette of this particular S30, a 1974 260Z, parked leisurely on the sidewalk. It wasn't love at first sight. In fact, I'd been in love since early childhood, my brown Datsun toy sports car an all-time personal favorite. But living in post-socialist Hungary, this unexpected encounter was my first chance to see one in the flesh. It was for sale too.
God I was excited. I saw the weird hand-made nose. I knew that the reason behind such customization could easily be accident damage and lack of proper spares. Yet I bought her the next day. For a lot more money than I had. But I had to have her. Meet Aardvark, my super-long nosed Datsun 260Z, named after the ant-eating hunchback mammal of Africa.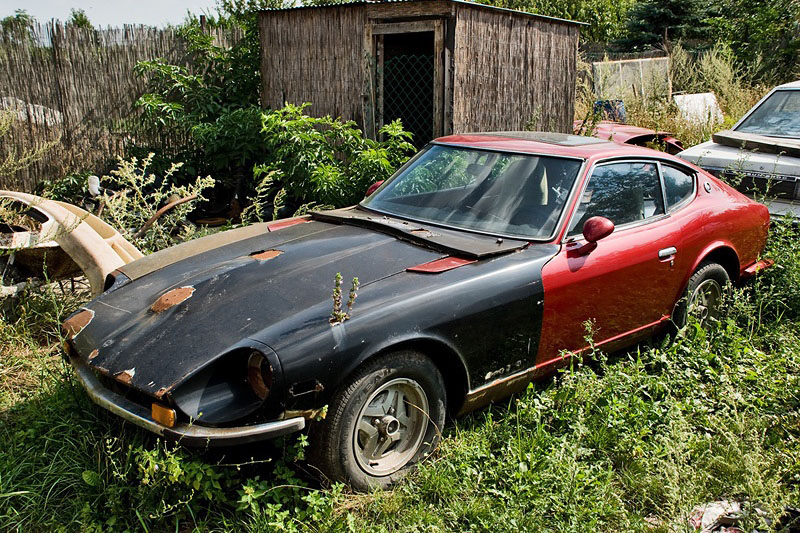 Remember that part about paying more than I could afford? After owning the car for a year or so, it became clear that a ground-up restoration was unavoidable. Yes, it did look decent from a distance, but behind that protruding snout there were crumpled chassis members and mechanical issues. Also bad, deadly structural rust. I was 25, working 14-hour days on what later became Hungary's most popular car website, and lacking time and money, I parked her in a friend's backyard. I wanted to assemble the parts for period-correct modifications, triple Webers, tubular manifolds, fender mirrors, the works. I've managed to source a set of badly battered but original front panels, but nothing else. And then I got bit by the drift bug. So I blew my money on an AE86 instead and hit the track. The rust slowly munched away on my beloved Aardvark.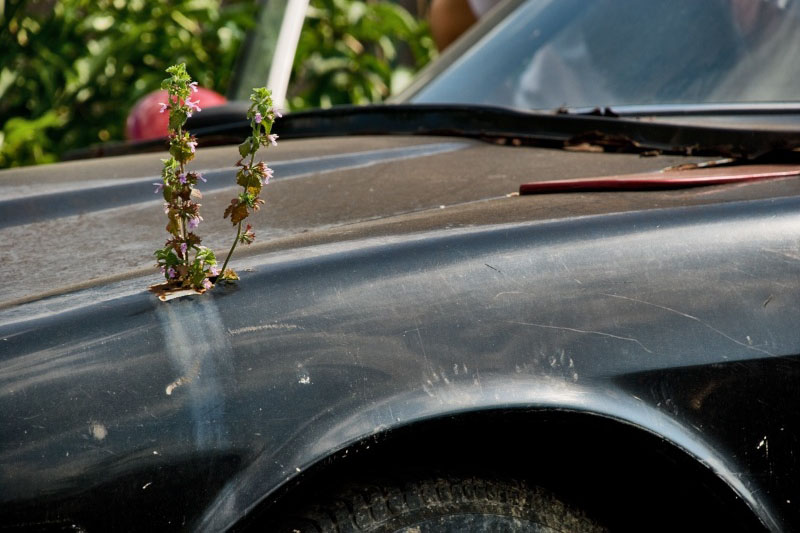 In 2009 I was about to get married. It was time to get sensible. Settle down. But a visit to my friend's yard shocked me with the sight of a sapling growing through the dead body of my old Z. I just couldn't take it. I decided there and then that no matter what, I'd bring her back to life. Yes, it took me 8 years of neglect and bad conscience to finally kickstart the project. But these 8 years have also made me smarter. By now I knew that a mere restoration was off the agenda. Terminal rust made that financially unfeasible. Worse, I haven't matured into a decent classics guy. I still feel the most alive on a racetrack, battling against the clock or against the rear tires. So there was only one way ahead: to turn Aardvark into an all-out race car. One that will look and sound period-correct, but that can take the mental abuse of competitive Time Attack and drifting.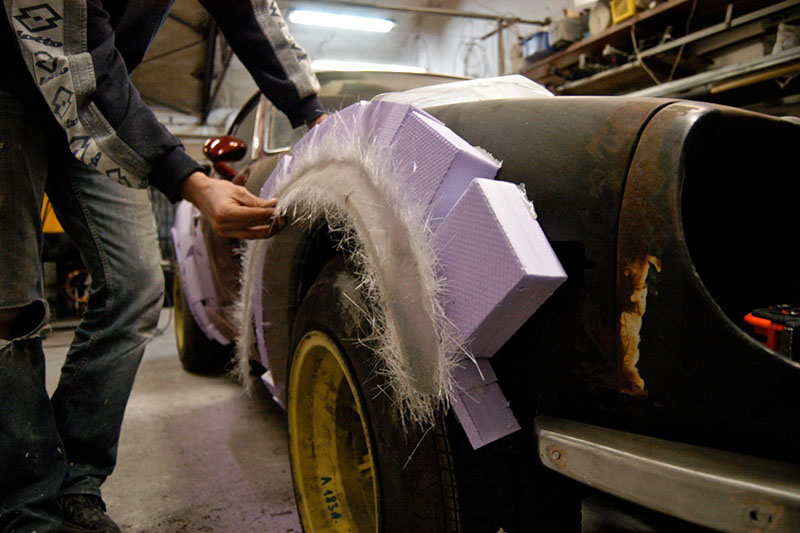 I didn't know the exact path my project would follow but I sure as hell had a vision. I used the gorgeous, sensual yet wildly bad-ass IMSA GTU 240Z and 260Z racers that dominated the US tracks in the seventies as an inspiration. I wanted curvy hips and muscularly round buttocks. I wanted the silhouette, sound and soul of a bygone era brought to today's race tracks without the fragility and complicated maintenance associated with historic racers – especially in Europe, where the S30 is so rare it's nearly extinct. So I had to build my own shell and my own car underneath. One that I can still proudly call a Nissan Z.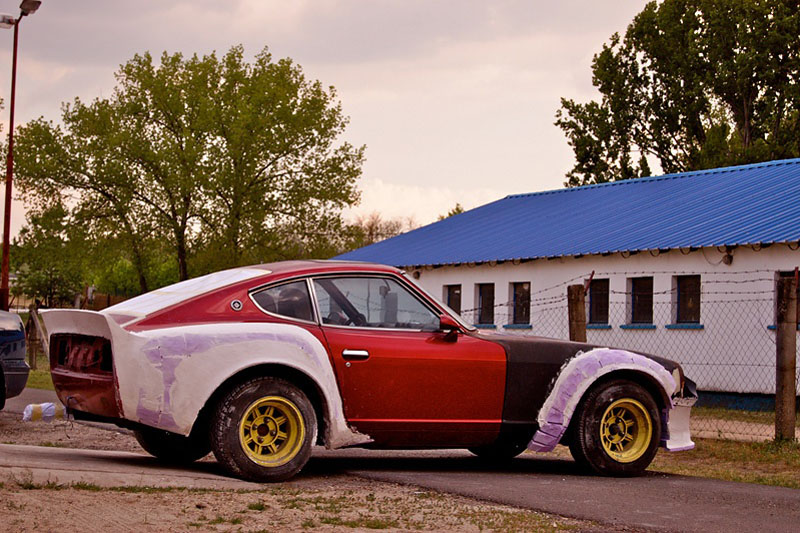 By accident, a friend stumbled upon a set of JDM Hayashi Street wheels in a rural junkyard, hand painted in offensive yellow. I got those. Then I met a team of super talented guys who were experts at making fiberglass bodykits for cars. They loved the project as much as I did. They wanted to help out, but only if we could start immediately, for their schedule was packed. We spent millions of hours discussing the shape, sculpting it from rough slabs of styrol, then from plaster. For long months the shell was shaped, re-shaped, then lovingly hand-sanded, caressed to exactly the way I wanted. Then the molds were made. This – building a shell before any mechanical work has been carried out – is so stupid it hurts. But this is how we did it.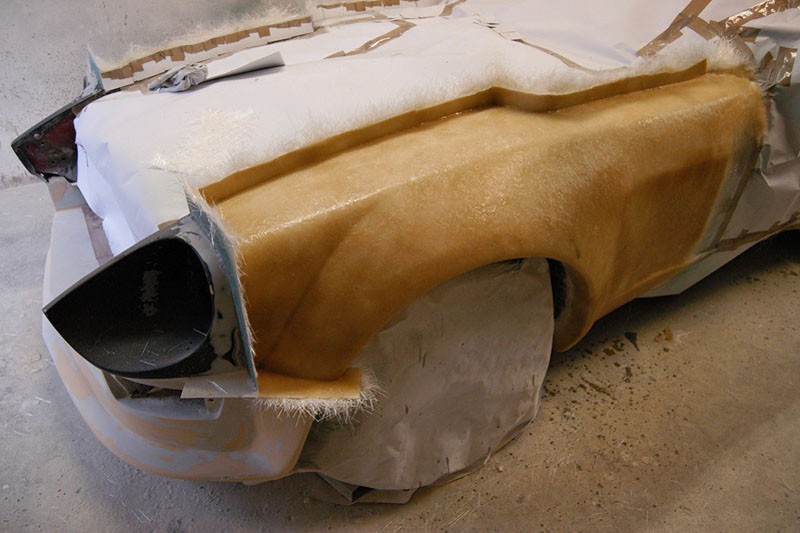 I wanted an all-fiberglass exterior. Partly to save weight, but mostly for ease of repair. This way I'd have the molds, and if (when) I eventually broke something, it's only a matter of hours to cheaply reproduce the part. This affected my new wheel choice as well. First it was determined that, in order to run the brakes required for modern TA, we needed 17 inches or more. As I feel that big wheels are ungainly on old cars, I considered that to be the maximum. I hopelessly lusted after old school JDM wheels, but the vintage items are too small and the moderns simply unattainable. Remember, I'm from Eastern Europe and we don't have supply channels from Japan. As the car will spend all of its time riding kerbs, hitting walls and falling into ditches and gravel traps, I needed wheels that I can replace if broken. Hence the Rotas. Trust me, I'll be here to tell you if they are any good. Or bad. They'll get the worst – yet possibly some of the most stylish – stress tests ever.
Some 13 months after the work on the bodyshell was started, we had a semi-finished roll cage installed with the S13 suspension preliminarily fitted. It was about time to get serious with the fabrication. That was when the 2011 megathrust earthquake and the following tsunami hit Japan. The utter destruction shocked the whole world. We, as lovers of Japanese automobiles and admirers of the culture felt terribly moved. It was decided, that in an upcoming classic cars show, our magazine would organize a mini-exhibit of Japanese exotica, ranging from the minuscule Honda Z600 and S800 through the iconic Mazda RX-3 to the S30, among others. Hell, we'd even build a recreation of a Yaki-imo (焼き芋) [sweet potato] selling minicar to raise money for charity. Now, there are not many vintage Japanese cars around here, so we absolutely needed mine on our stand. That meant that we had to abandon all the metalwork, to quickly have the FRP shell painted for the show.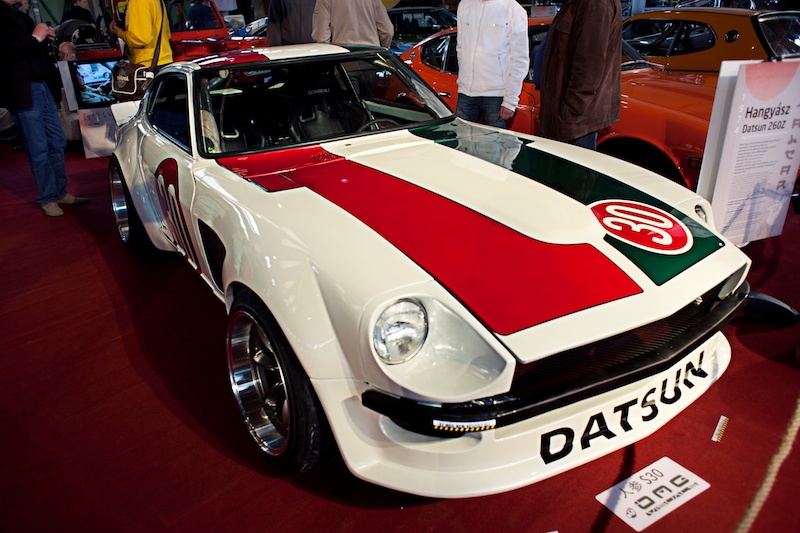 This sad occasion has led me to the final design of the livery. The base color is white, a traditional Japanese racing color. The side view is meant to evoke the rising sun and the flag of Japan. The top view is the Hungarian tricolor of red-white-green. All in all the exterior wanted to symbolize the friendship of our distant nations and our sympathies for those struck by the catastrophe. The painting and final assembly took the best part of two sleepless weeks.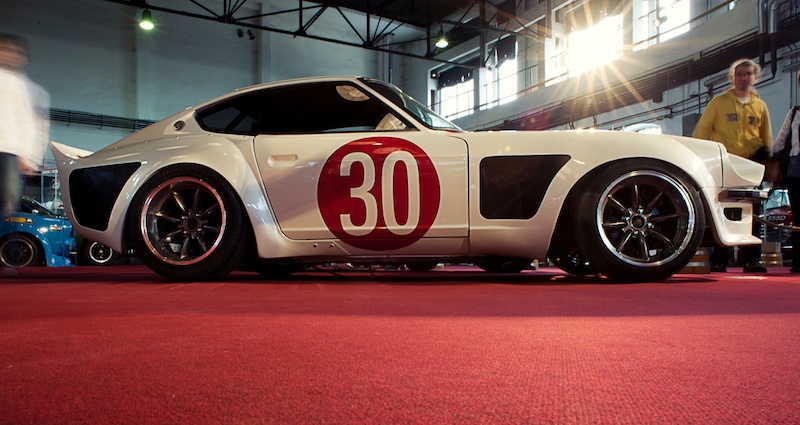 Please note that at this point Aardvark was a barely rolling empty shell. We had no means to adjust ride height or "stance", we just wanted to show to the people that these kind of cars once ripped the tracks of distant countries and ruled the races of the free world. The black vents on the sides are functional, they aid engine and brake cooling and smoke evacuation. Some of you may notice that the B-pillar (the door window rear frame) is gone, and instead, the whole Lexan side screen is one single, undivided unit. This is the way I wanted it to further emphasize the lithe beauty of the Z.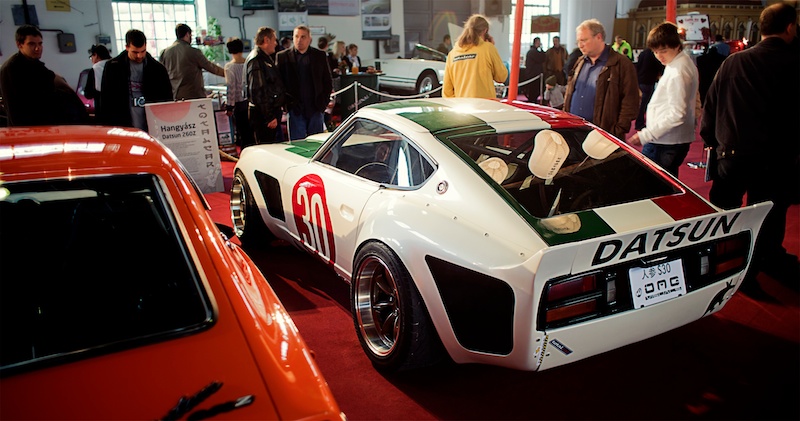 I have to say that the visitors just seemed to love what they saw. The reception was overwhelmingly positive, in a country where the vast majority of people had no idea that such cars ever existed at all. People learned there indeed there was such a thing as vintage Japanese/American racing scene – it's just fantastic. After the three days of the show, it was time to finally build a car under those FRP panels. The size of the task? Well, see for yourself below.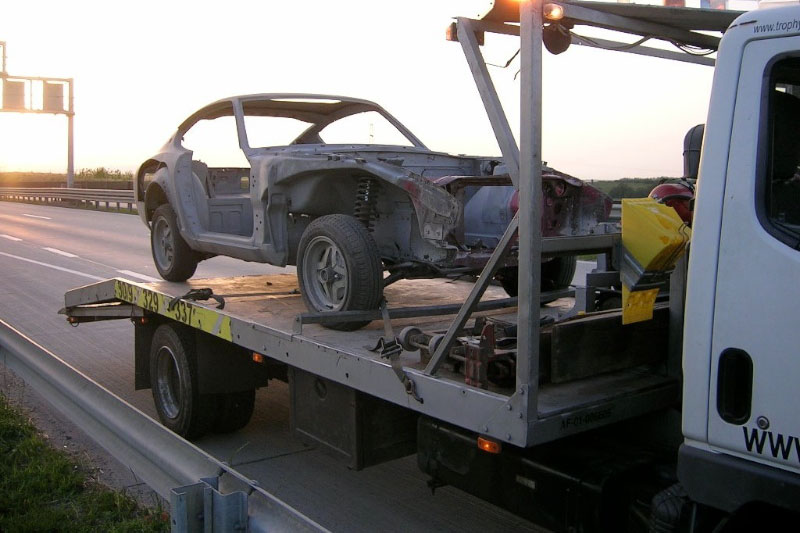 Hello, ladies and gentlemen, this is our front end. The task: engineer and build a frame around that wheel, and a linkage to make it turn. Now as sweet as it would've been to transplant an entire S13 front suspension under the Datsun, it was not meant to be. By this time I'd already bought the engine, a 3.5 litre V6 from a wrecked Nissan 350Z to follow the Z-car blood line. The S13 steering rack would've never cleared the VQ35 sump. so we needed to source components that would allow us to run a  front steer setup, where the steering rack is ahead of the axle line.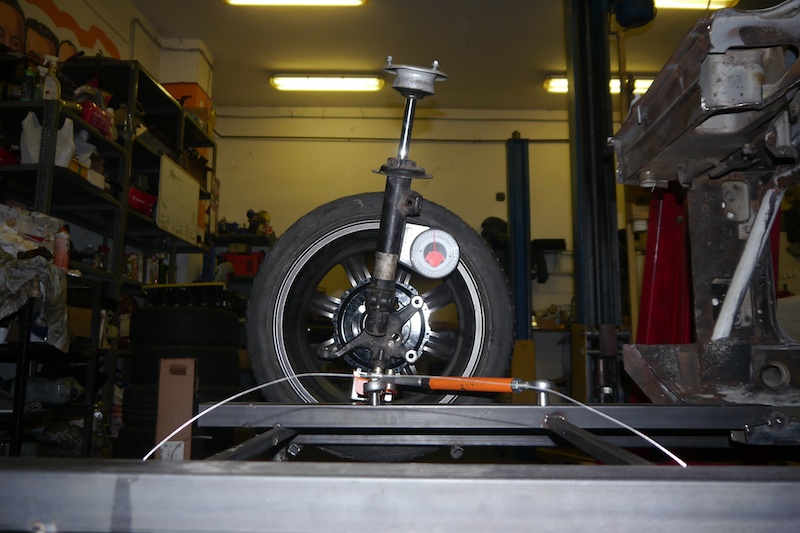 I'll spare you the details on how to design, engineer and build a tube frame and a front suspension that has decent roll center to go with the S13 rear end, proper steering geometry, nice camber gain in roll, low anti-dive and bump-steer and acceptable Ackermann, all while staying true to the 260Z wheelbase and basic proportions. Let me just tell you that during those weeks I spent considerably more time sleeping on my keyboard than on my pillow.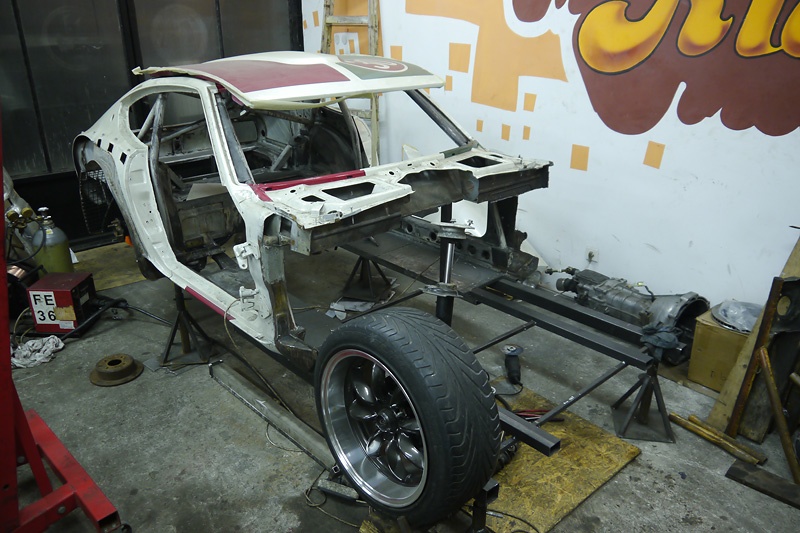 So what does remain of the original shell? Well, the sills, the pillars, some of the firewall, the whole roofline and the majority of the rear unibody, minus the floor. The rest: custom tubing and a comprehensive roll cage, all covered with FRP panels.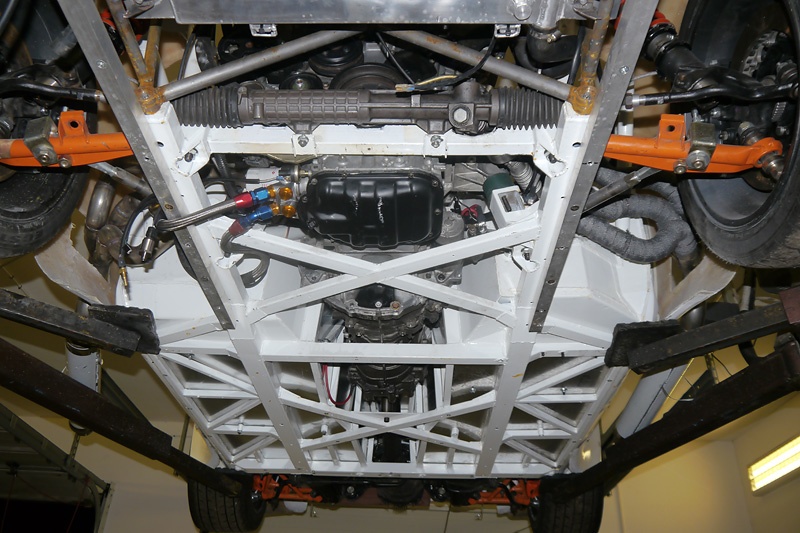 This is how it looks painted and assembled, viewed from the front. You can see how the low sump forces us to use the BMW power steering rack and knuckles. Everything else are race-spec S13 items. The coilovers are from Driftworks, the brakes Wilwood 4 pots at the front, Skylines at the rear. Note that the frame is ready for an aerodynamic flat bottom.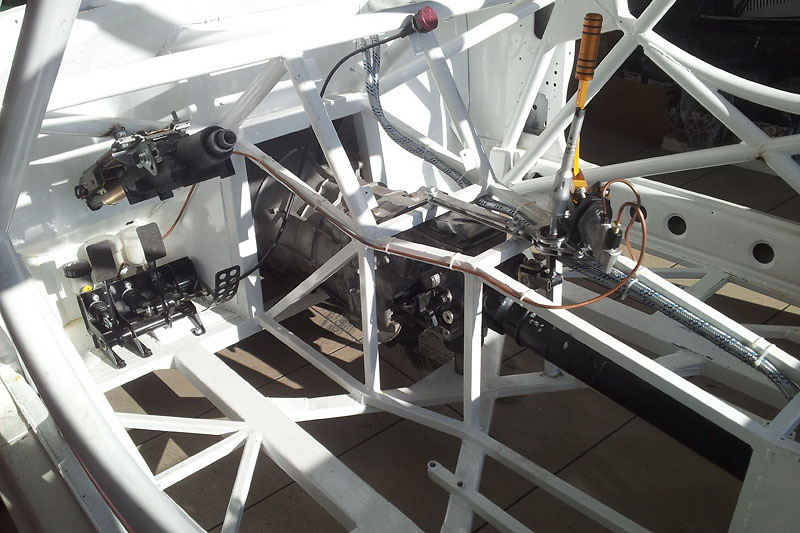 Interior view. Note the custom shorty propshaft, as the 350Z 6-speed tranny nearly reaches the S13 diff, so tiny is the Datsun chassis. Other features: adjustable steering column, pedal box, hydraulic handbrake.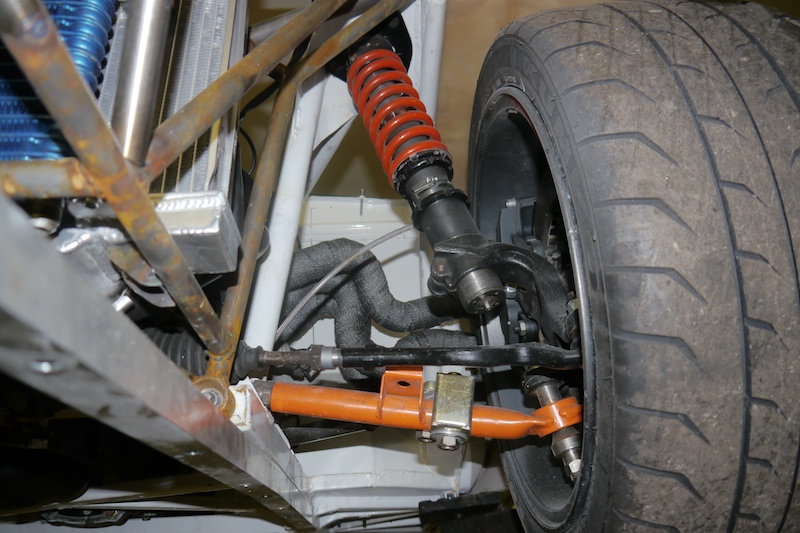 Front Nissan S13/BMW E46 hybrid suspension. Note the yet unpainted front sub-structure supporting the radiators and the undertray. In the background you can see the exhaust primaries in black wrap.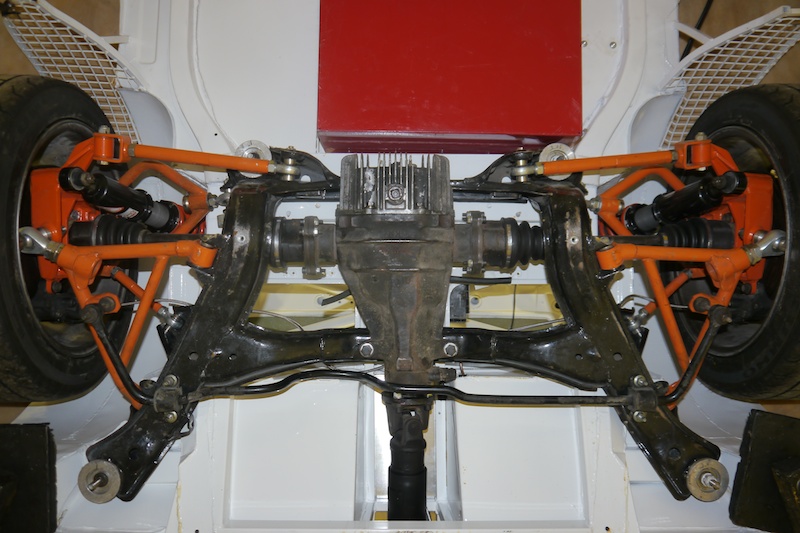 Here's the rigidly mounted Nissan S13 rear end with Driftworks adjustable arms and Geomaster knuckles. You can also see the S13 diff with 2-way Kaaz mechanical LSD and safety fuel cell. Note the metal mesh protecting the FRP fenders from disintegrating tires.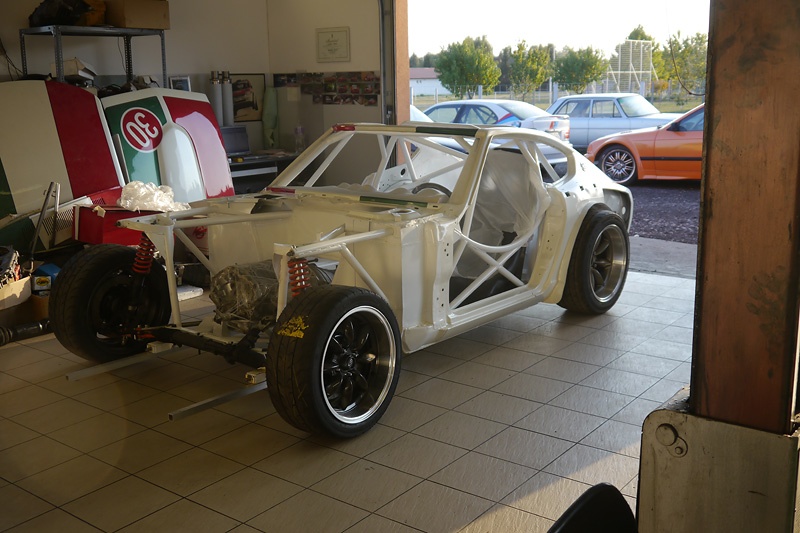 Rolling chassis with engine block trial fitted. As you can probably tell, there is not much in front of the front axle. This is good for weight distribution and low polar moment of inertia, helping turn-in.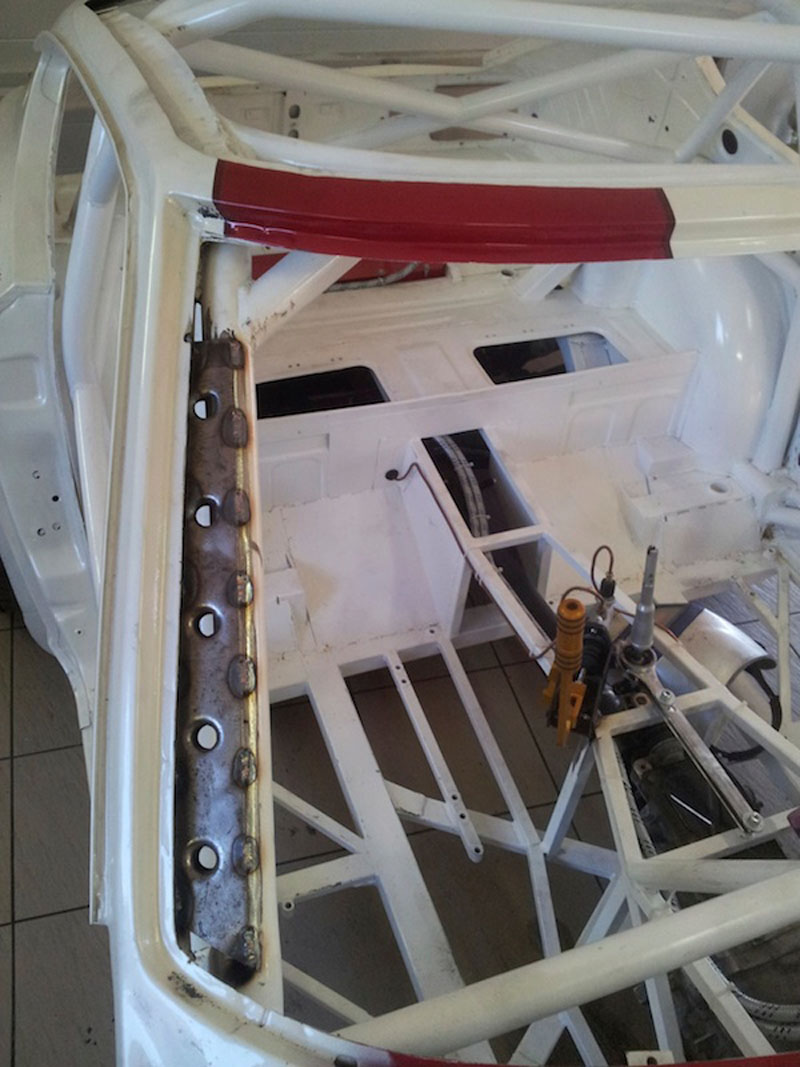 Beautifully gusseted ties between the A-pillars and the roll cage to enhance chassis rigidity.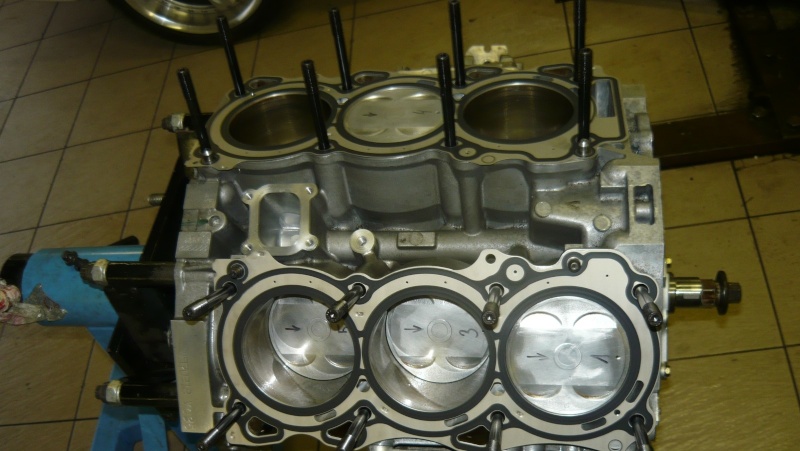 Slightly upgraded Nissan 350Z engine. Why V6, I hear you ask? Firstly, because NA. For me, a classic should never be force-fed. The instant response, the induction noise, the tractability all favor atmospheric engines. Secondly, because of the stubbiness: it's roughly half the length of the original L6 iron block, or the venerable RB25/26/30, which is a huge help with weight distribution.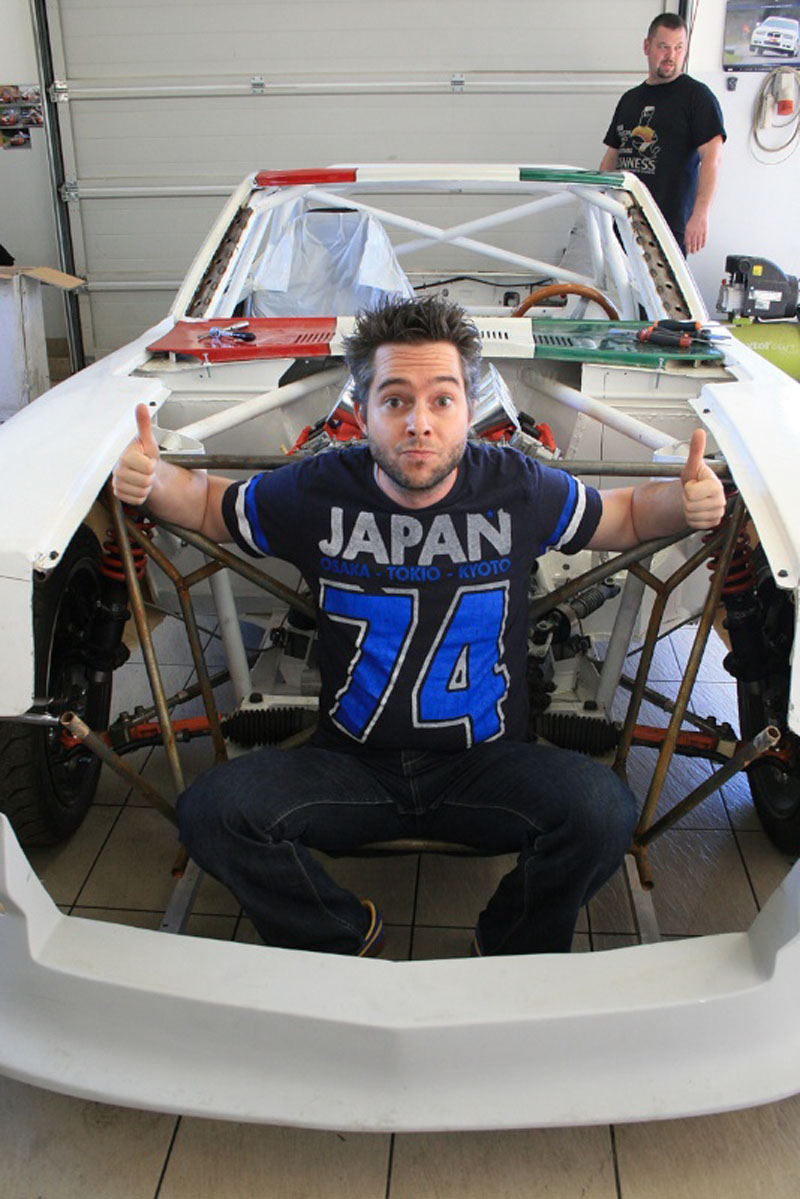 Now you probably understand my engine choice somewhat better. Yes, the VQ35 is actually in the car and I'm in the engine bay as well, sitting on the crossmember, looking silly. There's still room in front of me. That's how long the S30 engine bay is, and how short the VQ engine is.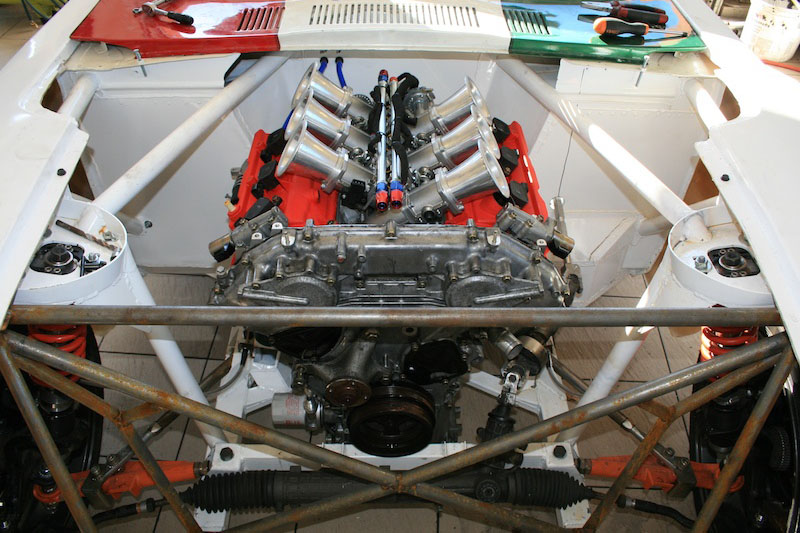 Yes, ITBs, dammit! I've been a sucker for ITBs forever, as those are the closest you can get to carbs in feeling and sound, while giving you the tune-ability of modern fuel injection. The neck-snapping, violent response of a big-lunged, ITB NA engine is second to none. They also tend to emit a proper old-school bark and shriek under load, which is just priceless in a vintage recreation. Under those trumpets sits a set of C8 camshafts from Jim Wolf Technology and six forged Eagle conrods. We've also upgraded the oil pump to the later HR models.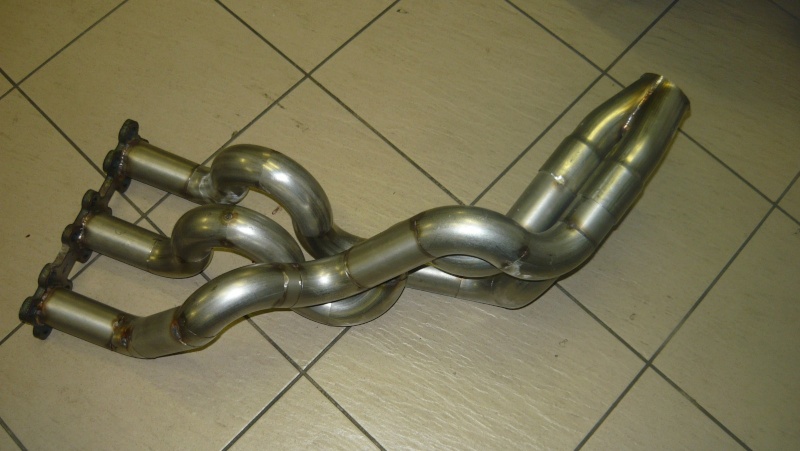 Our custom primary exhaust pipes and the 3-1 collector. Most off-the shelf collectors for the 350Z engine are compromised in order to fit into the crammed engine bay or are meant to meet the factory exhaust components, which is just nonsense for us. Others are meant to hold and feed turbos, which I do not intend to do, ever. So after a lot of number crunching and some excellent fabrication by pwracing in Hungary, here is a set of graceful long-tube headers, optimized for flow and harmonics in the 6500 RPM region.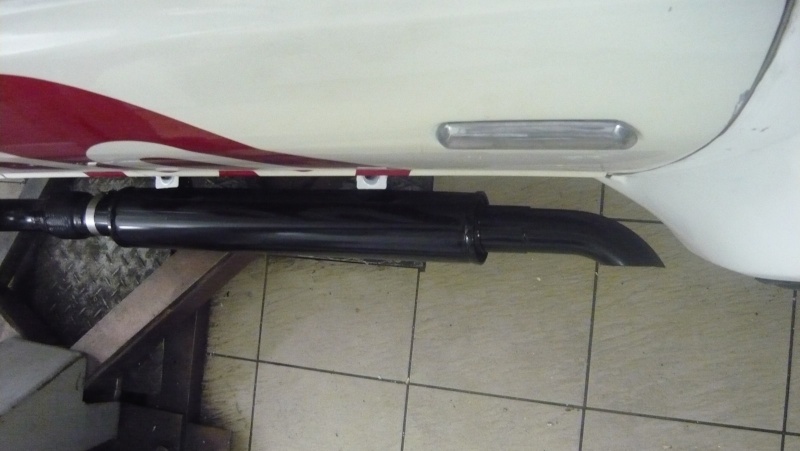 Gases will leave through two black side pipes, as there was no way to fit the exhaust tubes under our flat underfloor, or indeed anywhere else. Believe me, they look rather hot.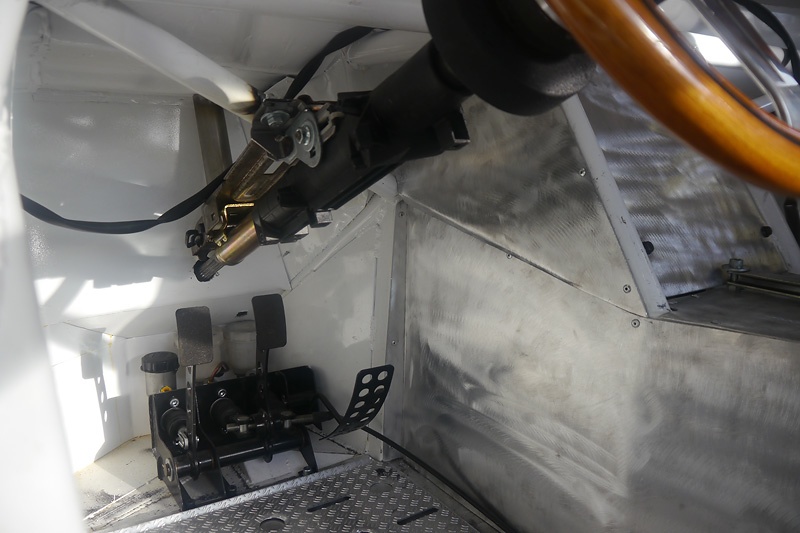 A look at the pedal box and the brushed aluminum tranny-tunnel paneling.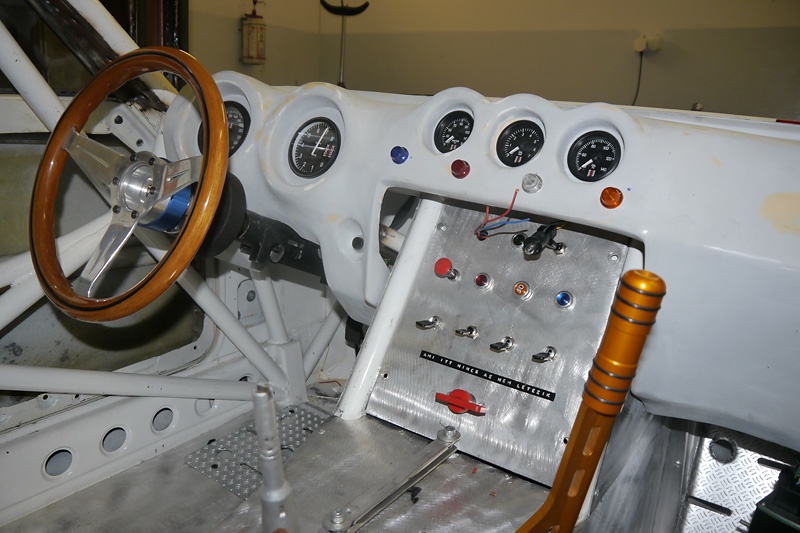 The semi-finished interior with the dashboard recreated from fiberglass. In the end, it will be black. The gauges are analog-faceted but modern, digital Stack items. There's also an old-school Nardi wooden wheel from Japan, period correct toggle switches and warning lamps everywhere.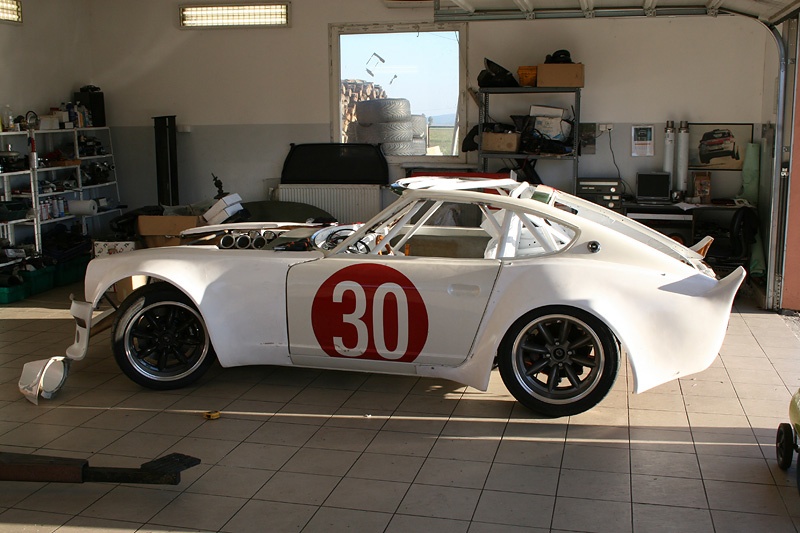 As you can see, both front and rear fenders had to be remade since the classics expo last year. As I've mentioned before, it's downright silly to finish the exterior before the mechanicals. It turned out that at the desired race ride height of 80 mm or 3.1″ there was no way to fit the wheels. So this time the fenders are wider and allow more wheel travel in bump. The ride height is not set, please ignore the high nose for now. Also note how the engine is pushed far back in the chassis.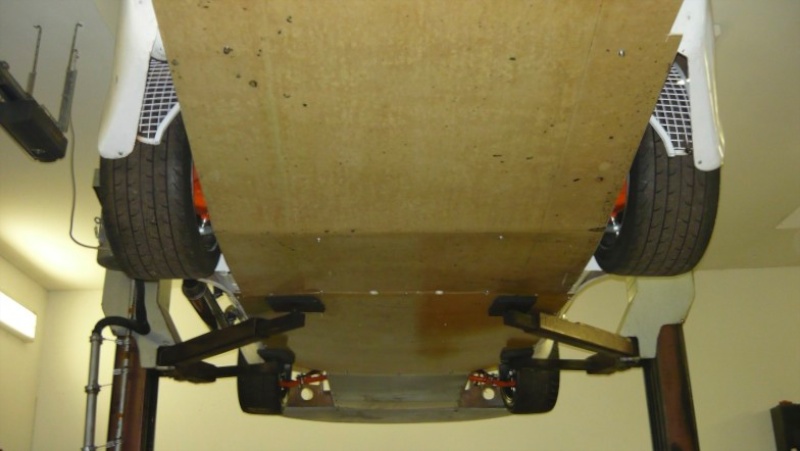 A look at the trial-fitted underfloor with the venturi/diffuser. I'm not keen on mounting wings on a classic, yet we need to get rid of dangerous aerodynamic lift. We've made a fully functional flat composite underfloor, uninterrupted from splitter to diffuser. The venturi begins just in front of the rear axle line. Strakes are not installed yet. You can't see much of this from the outside, but you're sure as hell glad for it when traveling down a straight above 160 mph.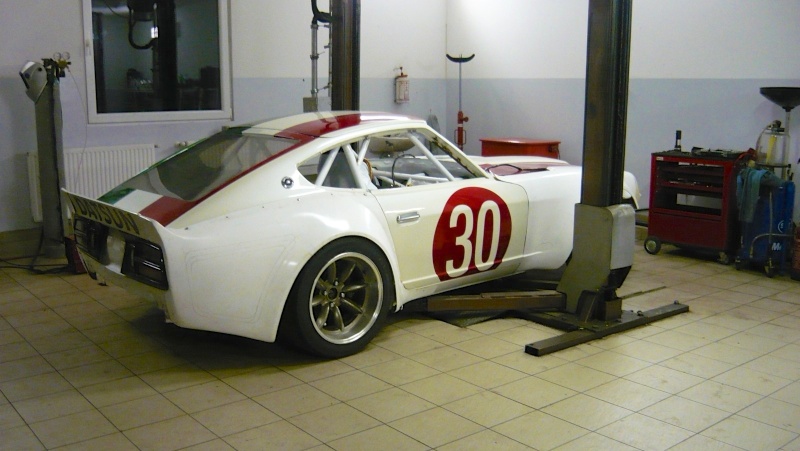 Aardvark nearing completion. We set it on corner scales, and the current wet weight with all fluids, excluding driver and around 30 kgs or 60 lbs worth of miscellanea is 1,008 kgs or 2,222 lbs. That's roughly 15% less than the original weight, with a significant increase in safety and rigidity, and more than twice the power. What's even better, the weight distribution turned out as 48/52% F/R, which means that we managed to build a very slightly rear heavy front-engined race car, without an exotic transaxle keeping all the Nissan parts. That's more than great.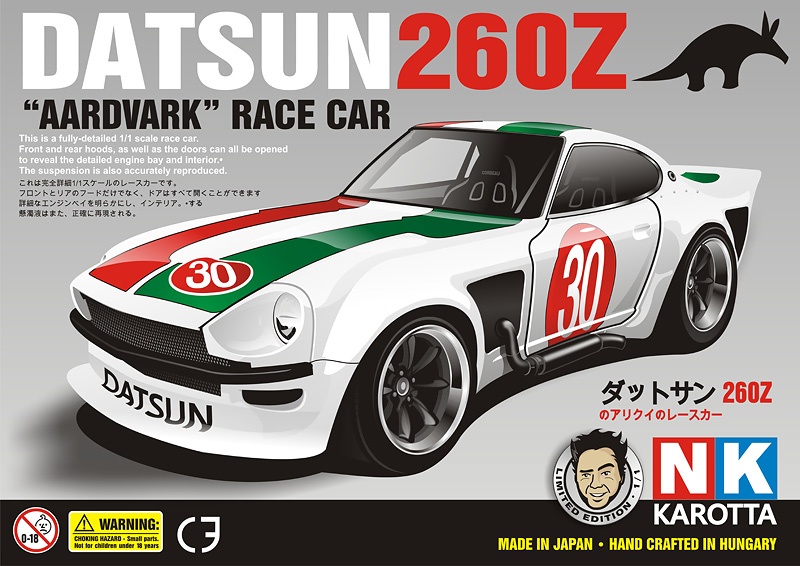 And finally here's a graphic illustration of the soon-to-be finished car, created by a fan of the project in the style of the Japanese Tamiya scale model covers. If you want to hear the sound of the engine at the first start, or see the flames dancing in the ITBs throats, please check out the video.
Or, if you had enough of the old school, but would like to see me drift the new GT86 through Europe to finally pitch it against my old AE86, then head over to Youtube.
I really hope to get Aardvark race-ready by the coming season and to do some visual justice to the incredible amount of work that went into its creation by shooting the mother of all vintage Japanese driving action videos with it. Then another one, documenting its evolution from crude newborn to dialed-in racer. And another one. And then some more.
Thanks to:
My wife Diana for still not divorcing me
PWRacing for the build
OMG Visuals for the bodyshell and the forthcoming film
All the friends and supporters
Cheers,
Nino Karotta