As I mentioned during my coverage last week, the SEMA Show presents a near endless supply of content from a Speedhunters perspective. We could easily spend a month posting observations from the show, but for my final piece of coverage from SEMA I'd like to focus on the engines. Whether large or small, diesel or gas, modern or vintage – the display of horsepower at SEMA 2012 was as great as ever.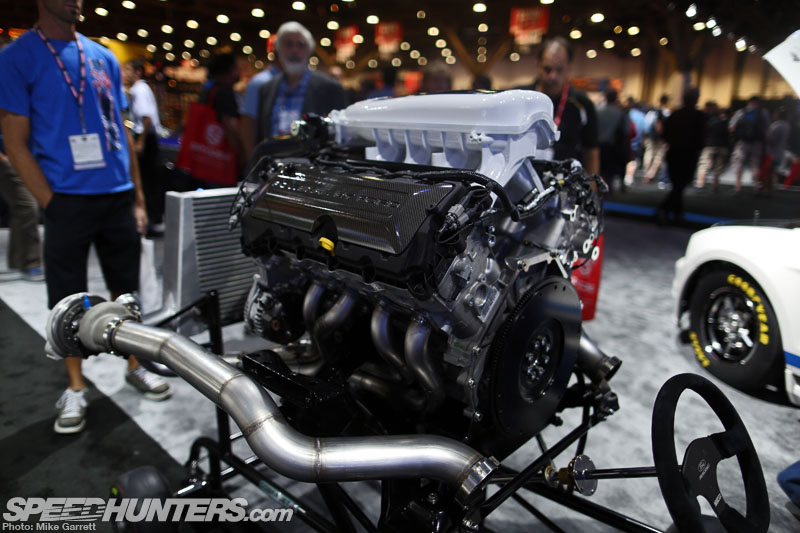 If one single powerplant could be considered the "star" of this year's show, that would probably be the 2014 Ford Mustang Cobra Jet Engine Concept. Ford's racing division threw everything they have at this motor, and it's quite a piece. Based on the proven Cobra Jet race engines, the 5.0 has been fully built to withstand the the boost from its pair Borg Warner EFR turbochargers.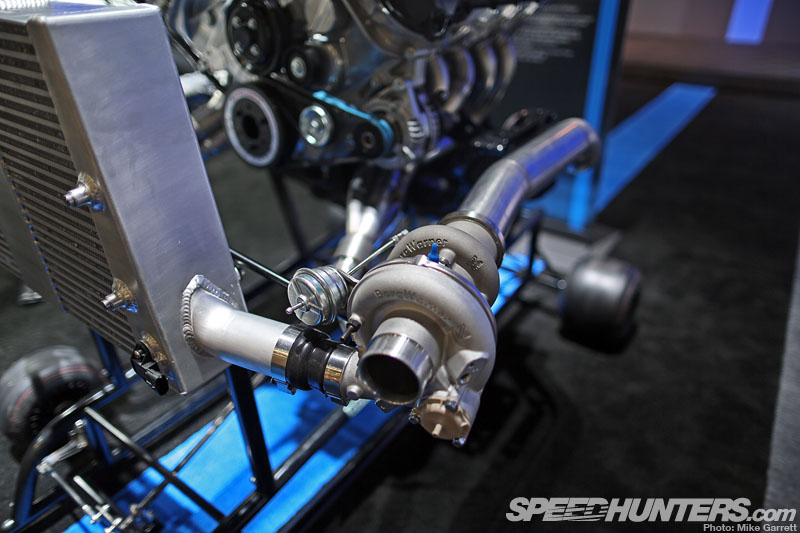 The placement of the turbos is pretty interesting with each turbine sitting well forward and below the engine itself. When the engine is mounted in the car you can hardly see them as they are mounted behind the fog light openings in the front bumper.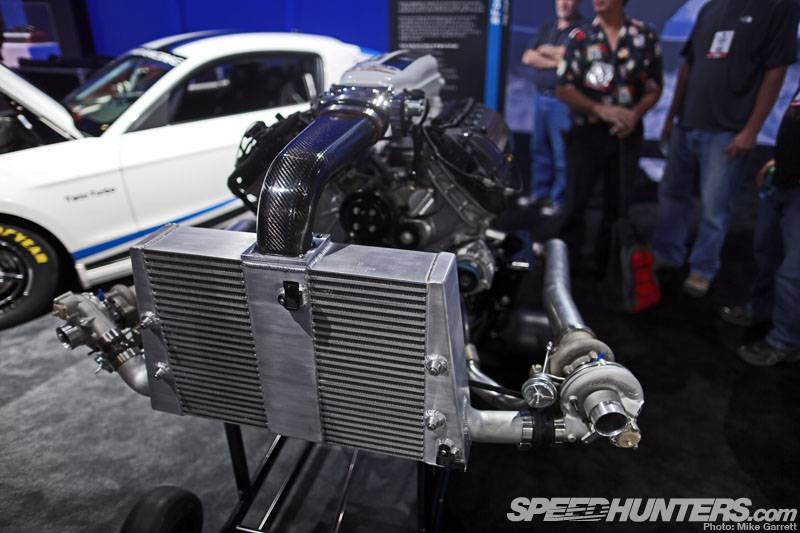 This sort of thing isn't uncommon in the aftermarket, but to see the factory playing with wild forced induction setups is awesome. It's also a fine example of just how much turbocharging has grown in the last couple of years. Ford hasn't announced any horsepower numbers for this setup, but you can bet it's pretty impressive. Anyone care to take a guess?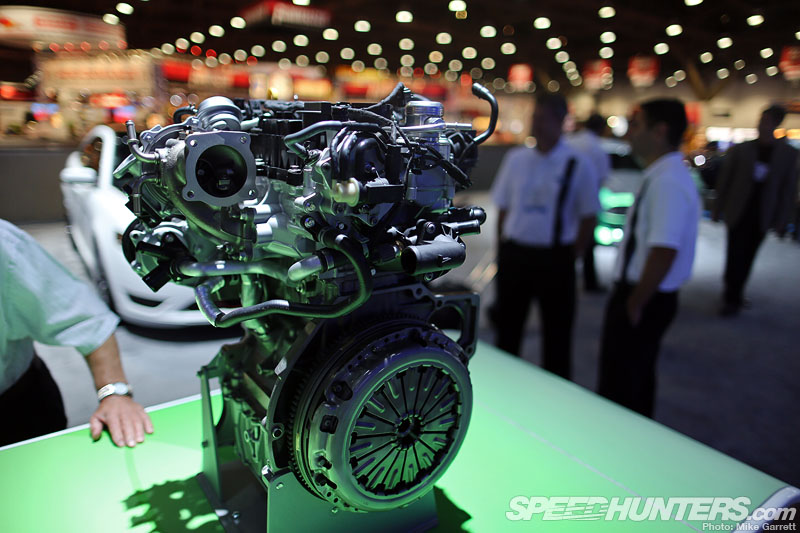 On the other end of the spectrum, Ford is one of many other automakers introducing smaller displacement turbocharged four and sometimes three cylinder motors. Obviously these motors are being designed for fuel efficiency, but I'm excited to see what tuners will be able to get out of them.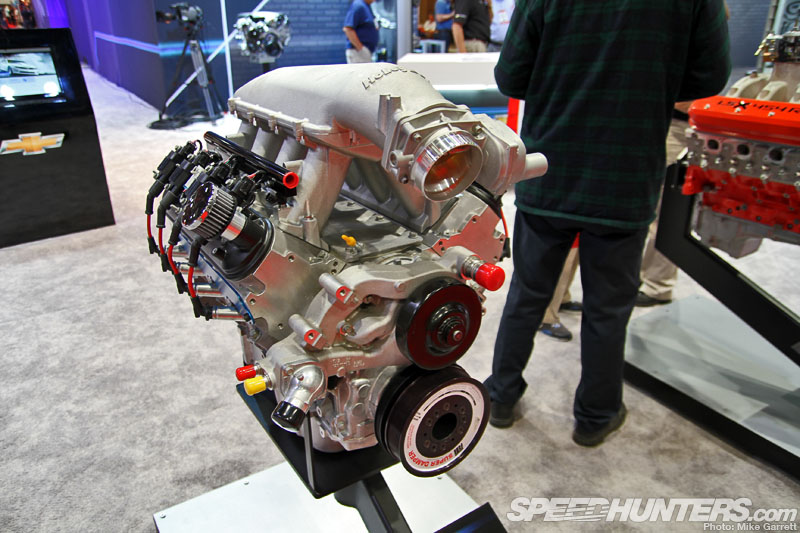 It seems that with whatever Ford does, GM is right there to answer with something of its own. It's like we are right back in the horsepower wars of the '60s. This is the Stock Eliminator 427 available in the COPO Camaro, a high revving NA V8 based off the LS7 from the Corvette Z06. This displacement is of course the same as the original 427 COPO Camaros from 1969.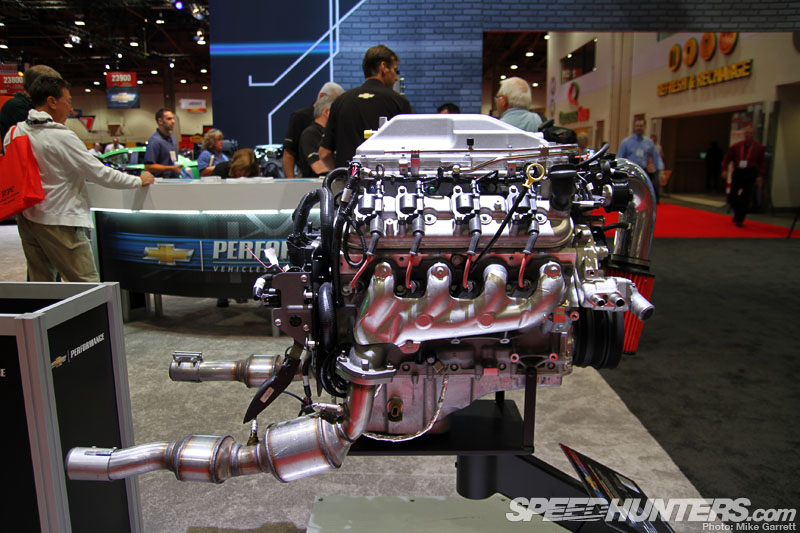 If you are looking for plug and play emissions legal engine packages with tons of horsepower, GM has you covered with their E-ROD line. This is the E-ROD LSA with 556 supercharged horsepower ready to go in whatever you may choose to drop it in.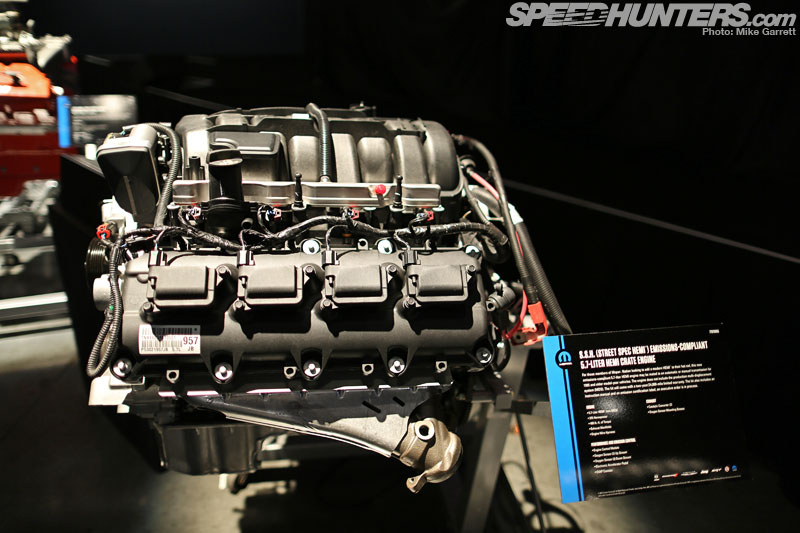 Mopar isn't to be overlooked in this department either. They also offer a full range of ready to go crate motors, like this emissions-legal 5.7 Hemi with 375 horsepower and a 24,000 mile warranty. Like the GM E-RODs, it comes with just about everything you need – computer, cats, wiring harness and more.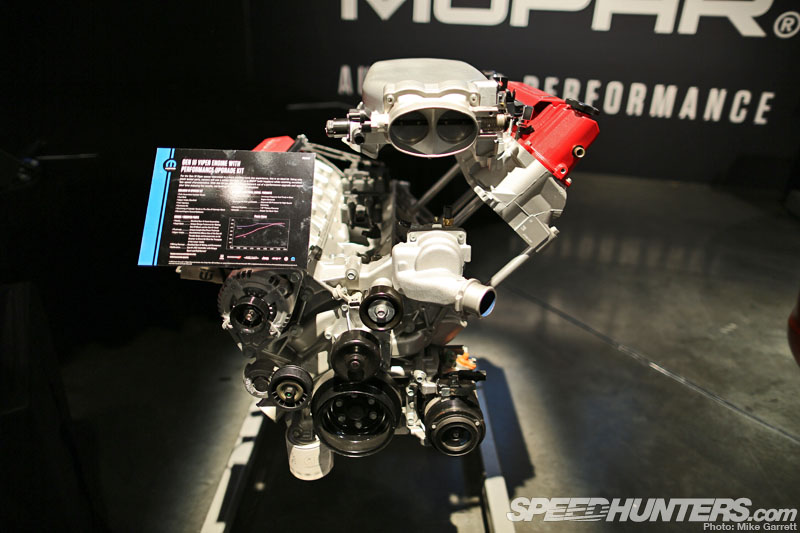 Besides their Hemi line, Mopar also offers a selection of V10 engine kits and parts for those looking to capture the soul of the Viper. Oh how I'd like to drop one of these in a Dodge A100 van from the '60s…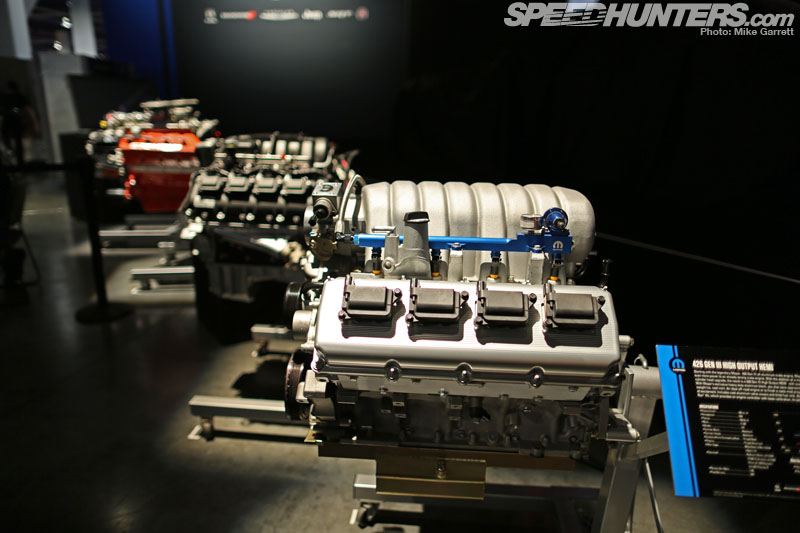 Whether its Ford, GM, or Mopar I just think it's fantastic that these companies offer so many different forms of factory-proven engine packages and upgrade parts for enthusiasts. We are truly living in a golden age of Hot Rodding with motors that burn cleaner, run smoother, and make more horsepower than ever.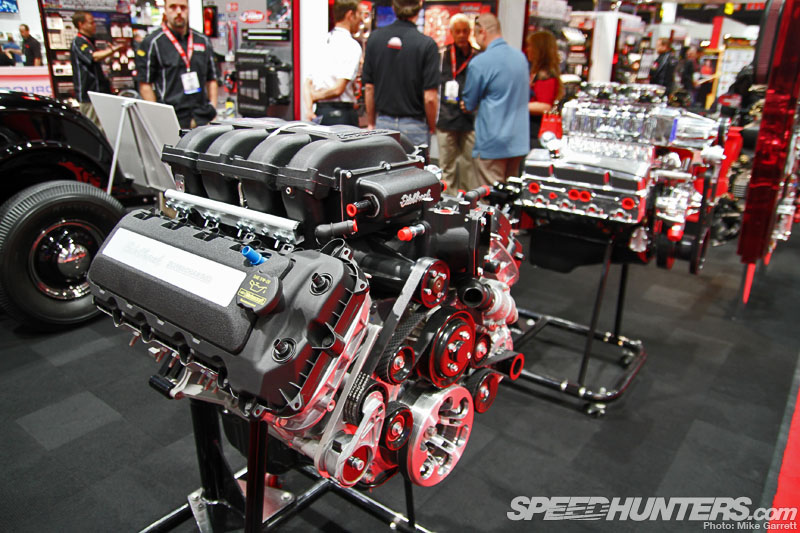 It's not just the OEMs themselves that offer complete engine packages, but aftermarket companies as well. Edelbrock for example offers this complete supercharged Ford Coyote crate motor making a solid 700 horsepower and 606 foot pounds of torque on 91 octane pump gas. Never before has horsepower been so easy to come by…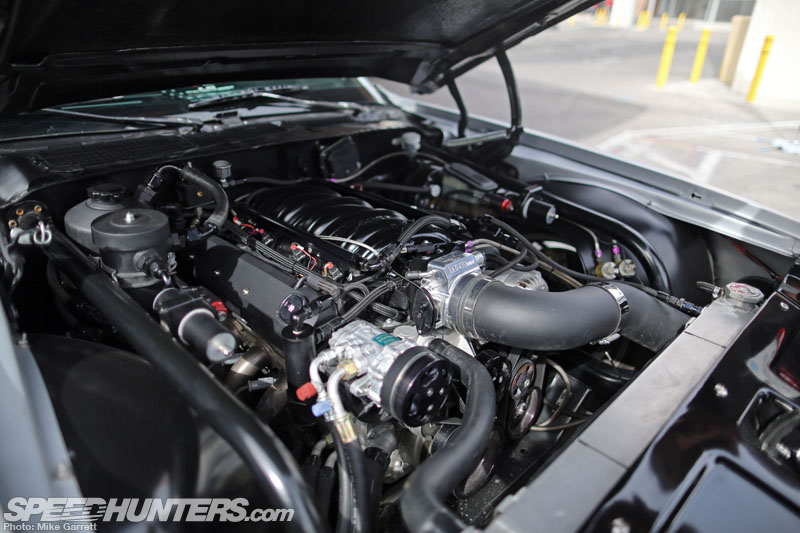 All around the show you can see these engines being put to use under the hoods of cars from their respective makers – and sometimes vehicles from completely different brands. The LSX is of course dominant mill, being found in everything from Street Rods and Pro Touring cars to drift cars and dune buggies.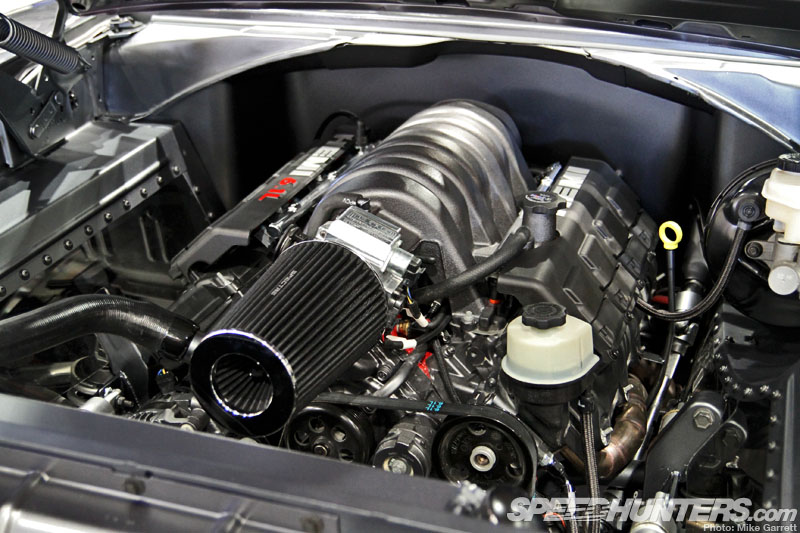 Naturally, most of the Pro Touring Mopars run modern Hemis like this 6.1 under the hood of a '70 Charger out of Milwaukee, Wisconsin.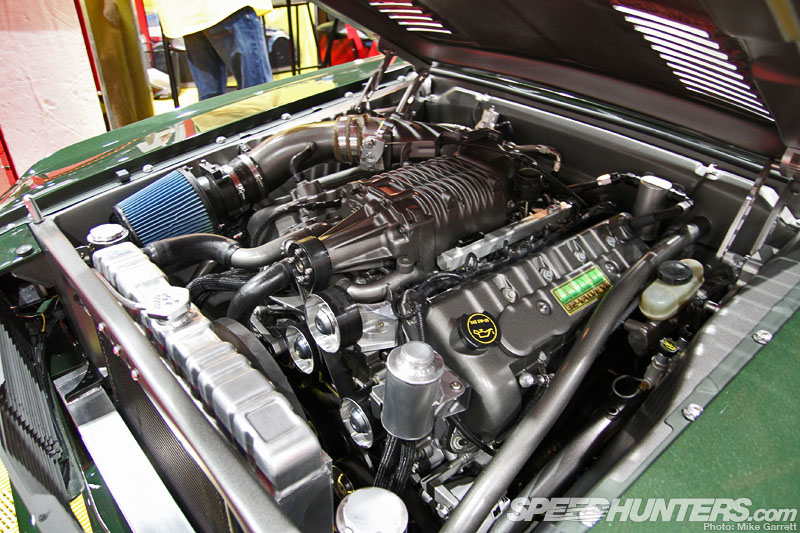 Ford's modern motors meanwhile pop up in the Mustang and other vintage FoMoCo builds – usually with a supercharger thrown on for good measure.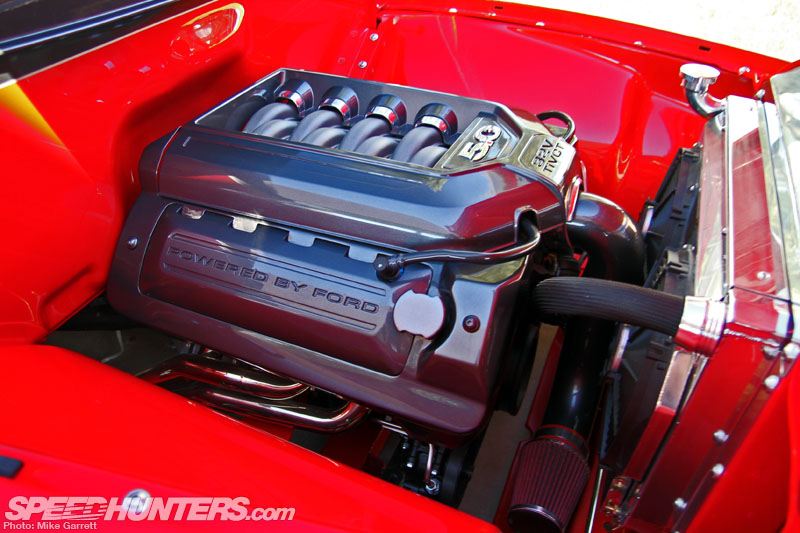 The 5.0 Coyote V8 continues to find its way into more and more vintage builds. This one was found in the engine bay of a customized 1950s era F100 pickup.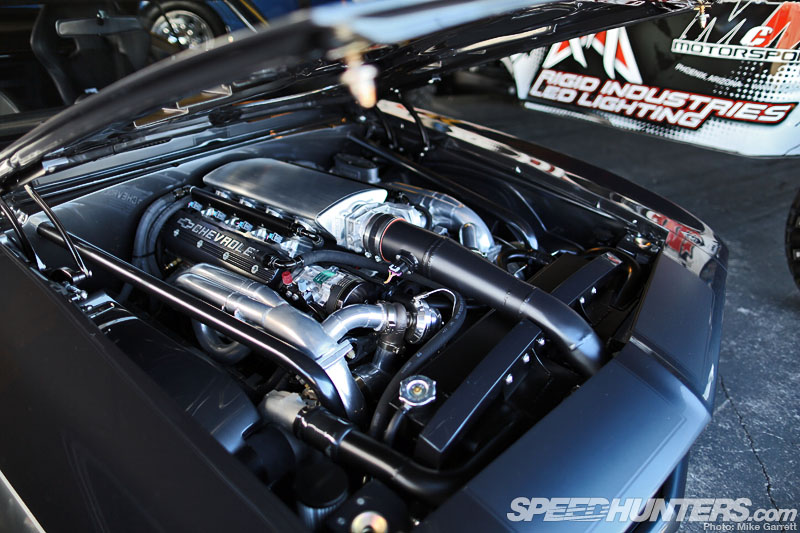 Is 2012 the year of the snail? It certainly seemed so with all of the crazy forced induction setups at SEMA this year. With the way these cars keep advancing, naturally aspirated engine setups and 500 horsepower just aren't cutting it for many builders.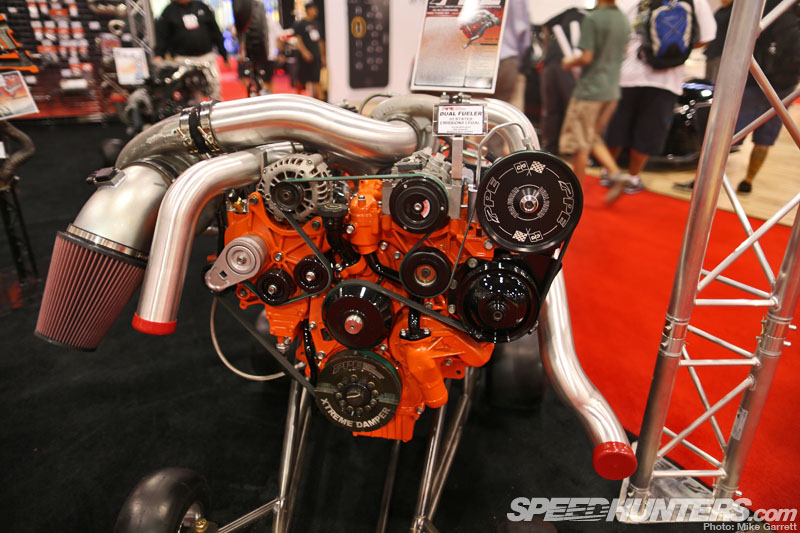 While on the subject of turbochargers and massive horsepower figures, you also have some pretty radical Diesel engine setups shown at SEMA. PPE offers this kit for the Duramax that makes an easy 1,000+ horsepower while being totally comfortable on the street.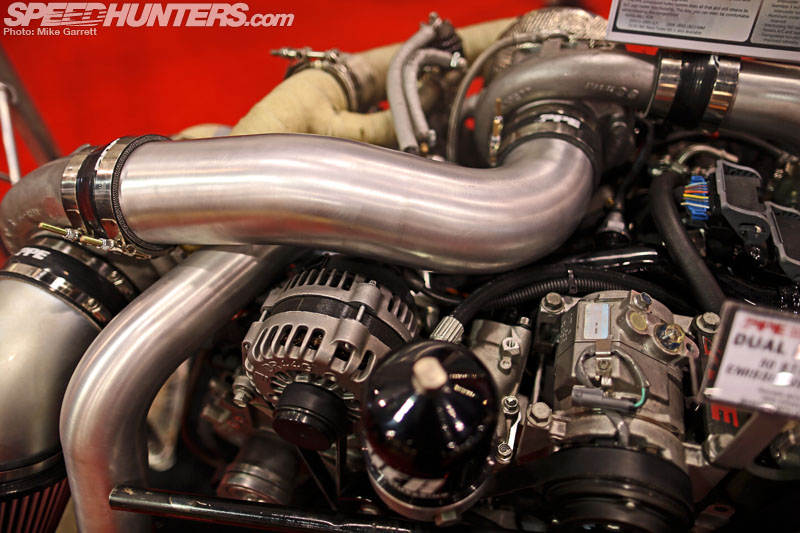 Those numbers might sound wild, but it's actually pretty common stuff in the realm of Diesel tuning. Americans might not have excepted Diesel passenger cars in the mainstream like Europe has, but we sure love our big trucks with boatloads of horsepower and torque.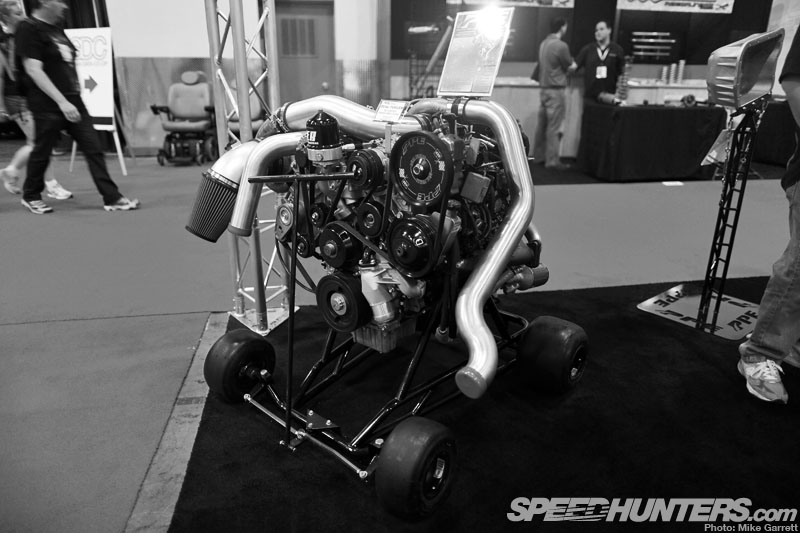 Besides all that, the engine stands that PPE was using in their booth are downright bitchin'…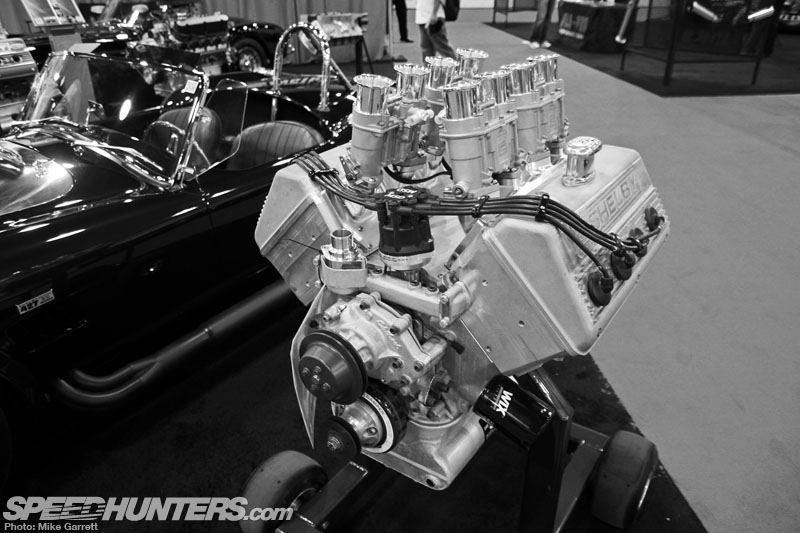 Then again even with all the high tech engine setups at SEMA, there's still a place for doing things the tradiitonal way. You'll still find many examples of old school horsepower production on the show floor.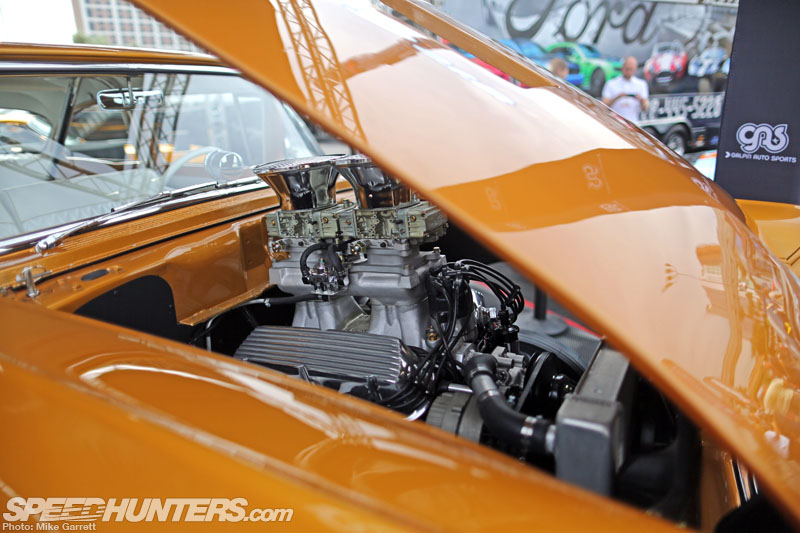 This tunnel ram-equipped Ford small block is found under the hood of Galpin Ford's "Galpin Gasser III" '57 Ford. Sure you could get the same horsepower and much better fuel economy from a Coyote, but it just wouldn't have the same feel.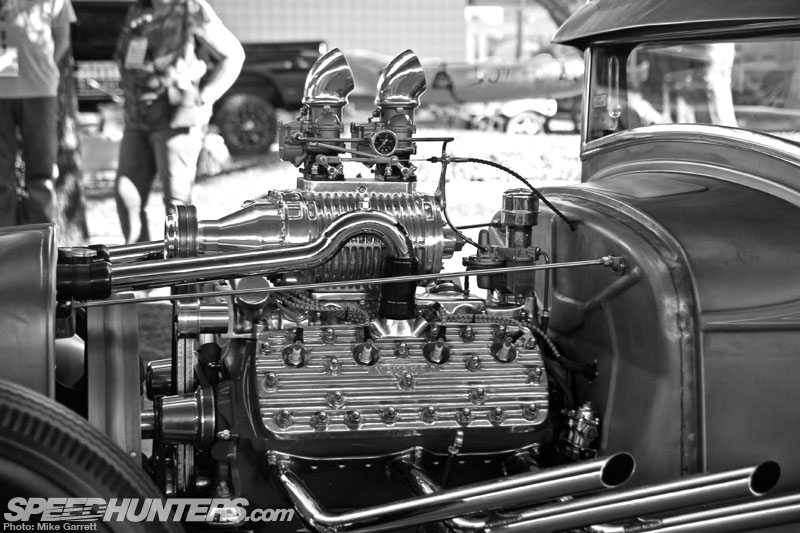 It doesn't get more traditional than a Flathead, right?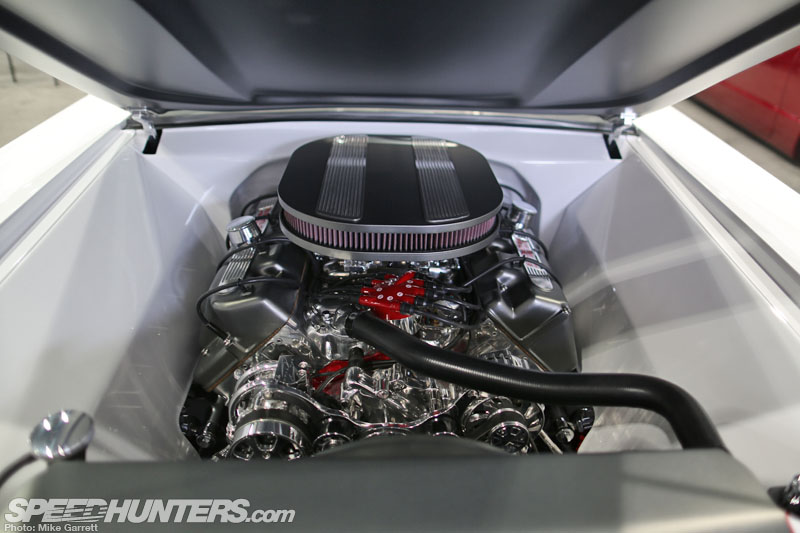 Besides the engines themselves, it needs to be said that the bays of some of these SEMA show cars are amazing. As you can see, the top guys go far beyond tucking wires and shaving a few things. Not much resemblance to factory Ford Fairlane engine bay is there?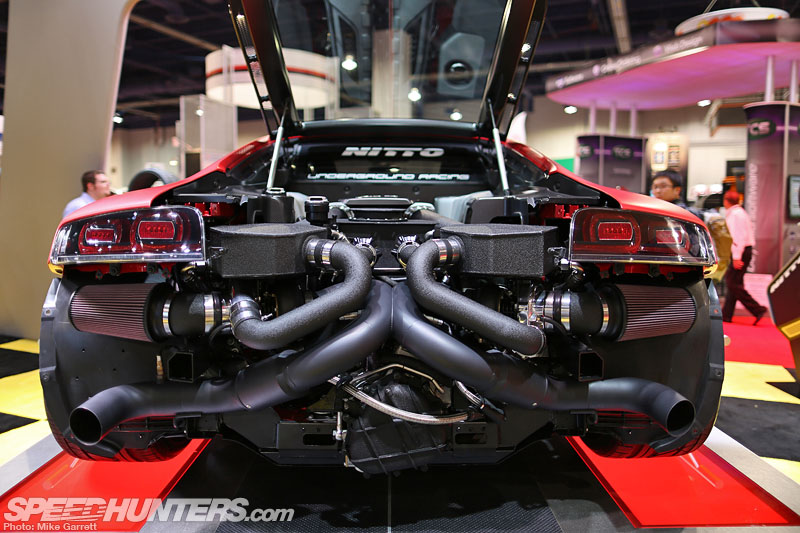 I'm sure you've noticed that the majority of what I've posted so far are American V8s of some sort, and to be honest that's where most of SEMA's engine magic is. That's not to say there aren't other engines that grab your attention though. You can always count on Underground Racing to deliver in this department.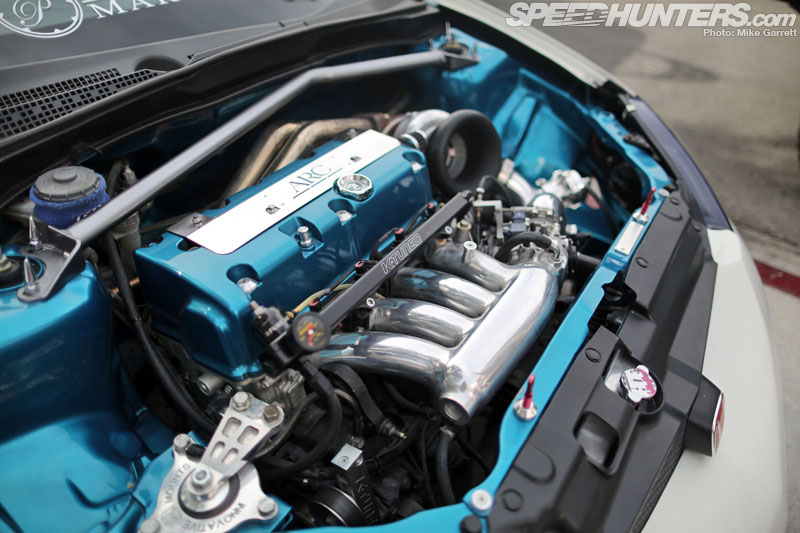 As popular as they are on the street. you really don't see a whole lot of Hondas at the SEMA Show. I can't really explain why, but I did find this boosted RSX representing for the Honda crowd.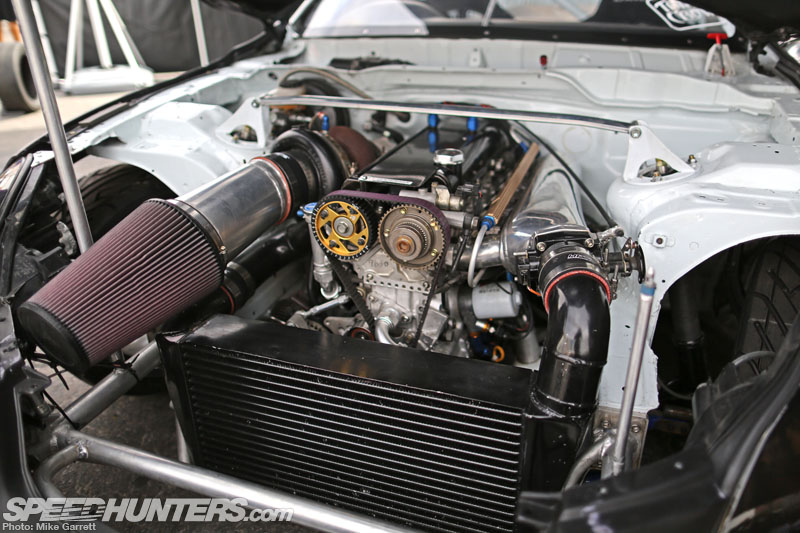 Here's a peek under the hood of  a certain Formula Drift championship winning Lexus SC430. This is one of those cases where the engine bay of a race car is better than most show cars.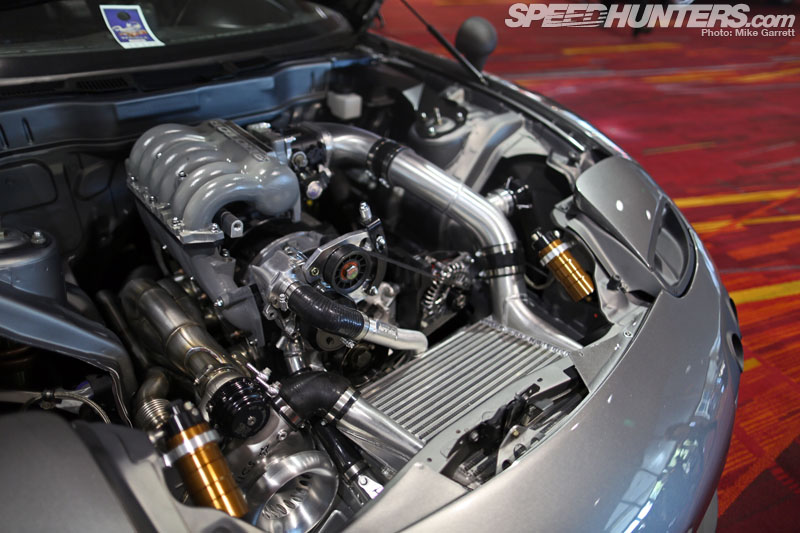 Tucked in a corner of the North Hall's lobby, I came across this pretty wicked circuit style FD3S RX7 with turbocharged three-rotor power under its vented hood. Another nice change of pace from the usual SEMA lineup.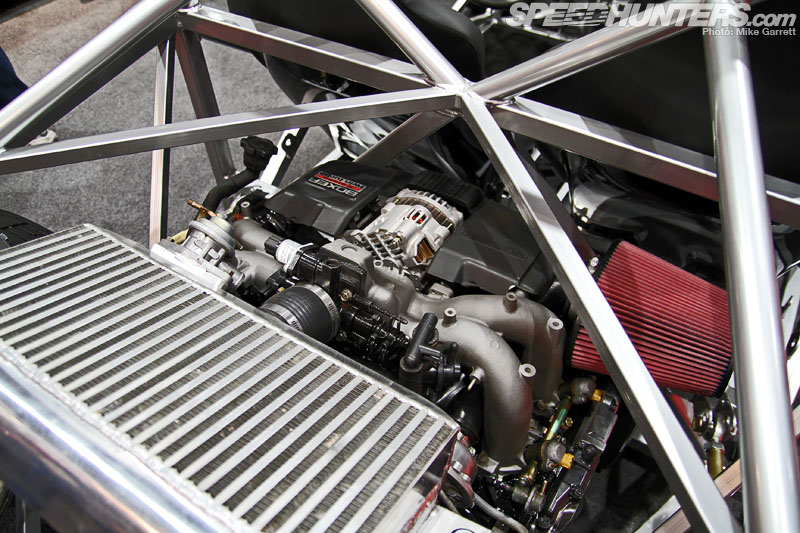 Yes, that's a Subaru WRX motor but what's it in? That would Factory Five Racing's latest kit car – the "818". The 818 is an ultra lightweight tube chassis sports car to be built with running gear from an 2006-2007 Impreza donor car. Kit prices begin just under 10 grand.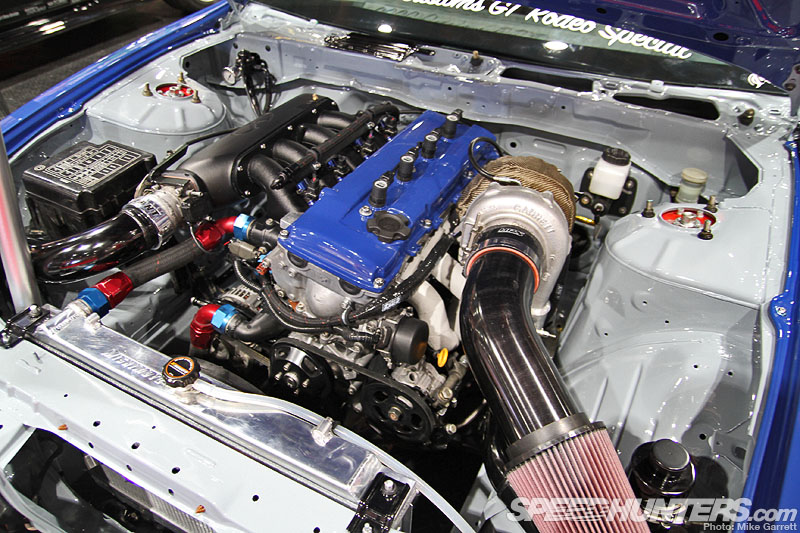 How about some rarely seen Nissan KA24DET muscle? This fully built and boosted KA was under the hood of DSport Magazine's S14 project car.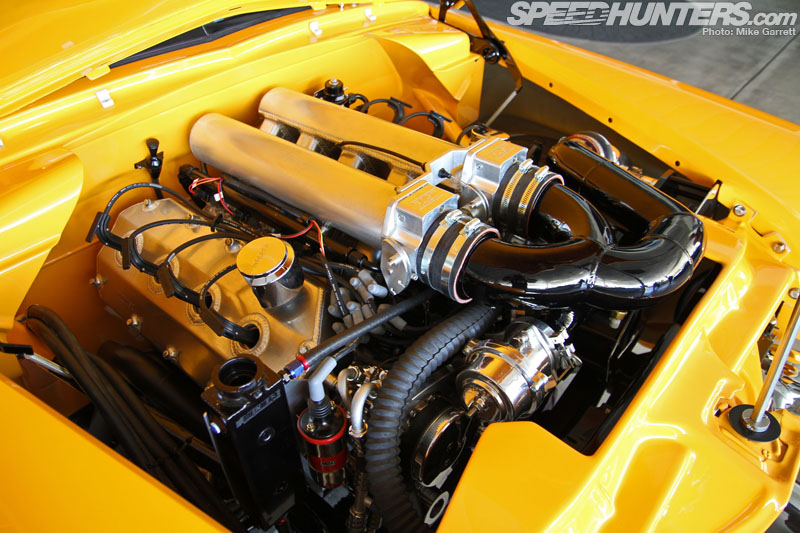 SEMA may have an image of being about big rims, loud paintjobs, and lots of flash, but as we've seen the show always delivers plenty of hardcore engine porn as well.
That will do it for my end of our SEMA event posts. Hope you've enjoyed.
-Mike